I didn't see this one coming! Emirates is known for their awesome onboard bar, at the very back of the A380 upper deck. It's a great place to socialize and pass time on a flight.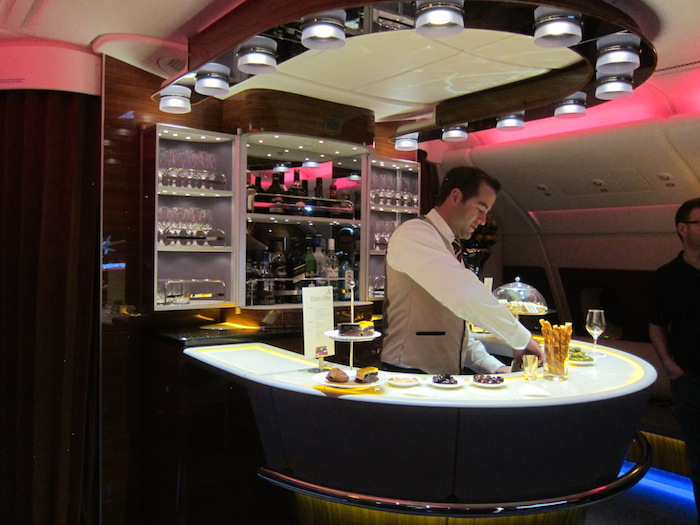 It's a lovely space, though I'd argue that Qatar Airways' A380 onboard bar is a bit nicer, as it's more spacious and has a more elegant design.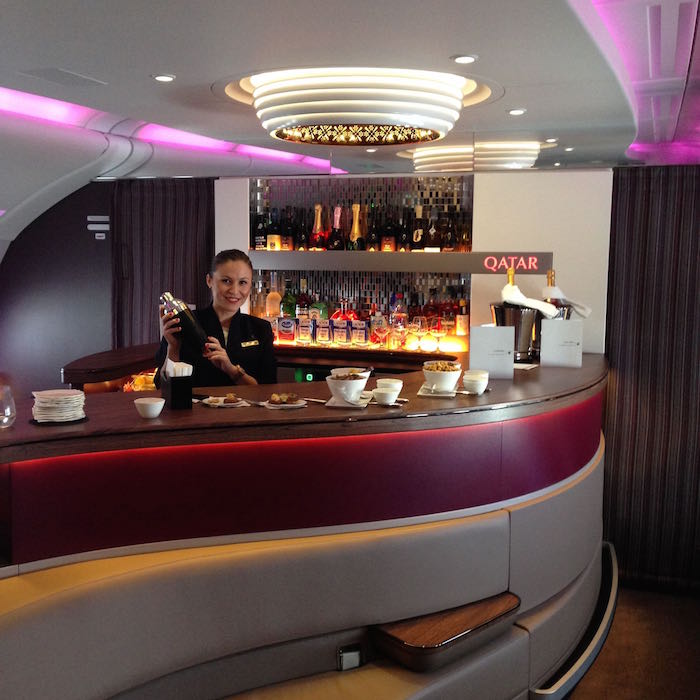 However, it looks like Emirates will soon be changing up their A380 bars for the better, and I love the new design.
Emirates' new A380 onboard bar
Emirates will be unveiling their new A380 onboard lounge at ITB Berlin in a few weeks, and will be available on the first A380 starting in July 2017. The new space looks stunning. Here's how the new onboard lounge is described in the press release:
"Since we first launched the product in 2008, our A380 Onboard Lounge has gone through small but successive enhancements in line with customer feedback to increase the amount of space for our customers to interact in the lounge. In our latest revamp, we have taken inspiration from private yacht cabins, and amongst other thoughtful touches, we have increased the seating space, and also made it more intimate and conducive for our passengers to socialise or enjoy our lounge service."
Indeed, when I saw the pictures, the first thing that came to mind was that this looked like a cabin on a yacht or private jet. It's almost a bit surprising, since I'd argue the design doesn't really match Emirates' current interiors very well. This interior is actually elegant, rather than the typical over-the-top bling that Emirates has. I actually wish Emirates would design their entire cabins similar to the new lounge.
I'm also happy to see that Emirates is introducing soundproof curtains to separate the onboard lounge from the cabin:
Emirates will also introduce soundproof curtains to partition the Onboard Lounge area from the other cabins, put in additional soft ambient lighting options, new window blinds with integrated LED mood lighting, and subwoofers for surround sound. The lounge also features a 55 inch LCD screen so customers can view the latest flight information, or enjoy live TV broadcasts of the latest news or sports updates.
I feel really bad for the people seated in the last row of Emirates business class, as there's barely any separation from the lounge. Even when the lounge isn't full, I imagine it gets quite noisy.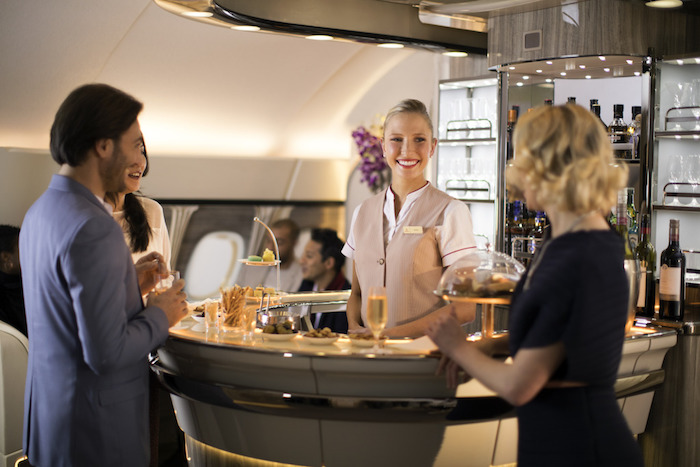 Here's a video of the new onboard lounge:
Bottom line
I think Emirates' new lounge looks great, and the tables along the side of the cabin look like a nice improvement over the benches that are currently installed in the lounge area.
Ultimately this isn't really a game changer, though I do think the new bar is gorgeous.
Rumor has also had it that Emirates will be unveiling their new first class product at ITB Berlin in a couple of weeks, which has the potential to be much more exciting. The press release about the new onboard lounge doesn't mention that specifically, though it does reference other changes coming as well. It would make sense that the first A380 to feature the new onboard bar also features the new onboard suites.
So I can't wait for ITB Berlin, as we'll also see Qatar Airways' new "super business class" then!
What do you make of Emirates' new onboard lounge?
(Tip of the hat to Chandan Bhat)