I've flown Emirates' A380 well over a dozen times, almost exclusively in first class. I've reviewed Emirates first class on many routes, including from London to Dubai, Singapore to Dubai, Dubai to London, Los Angeles to Dubai, Dubai to Singapore, Dallas to Dubai, and Dubai to Manchester.
Well, I recently flew Emirates A380 business class for the first time from Dubai to Los Angeles. While I'll have a full trip report shortly, some readers asked if I could do a side-by-side comparison of Emirates' first and business class product, which is what this post is about.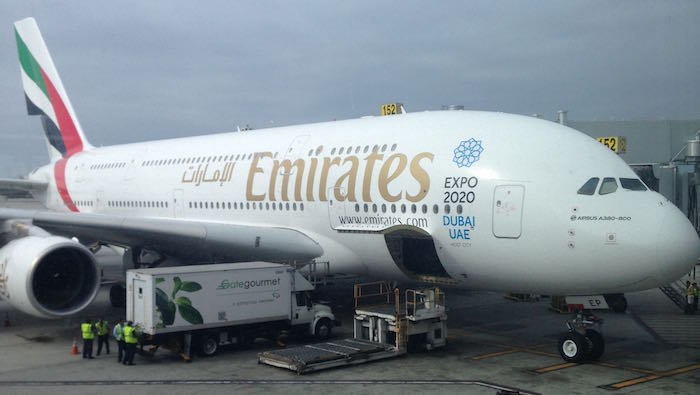 Is there actually a big difference between Emirates first and business class? Here are my thoughts:
Emirates A380 seats
Emirates has 14 first class suites on the A380, each featuring direct aisle access. The suites are incredibly blinged out and comfortable, though they're definitely on the tight side as far as A380 first class seats go. Personally I don't mind one bit, but the product isn't as spacious as Etihad's A380 first class, for example.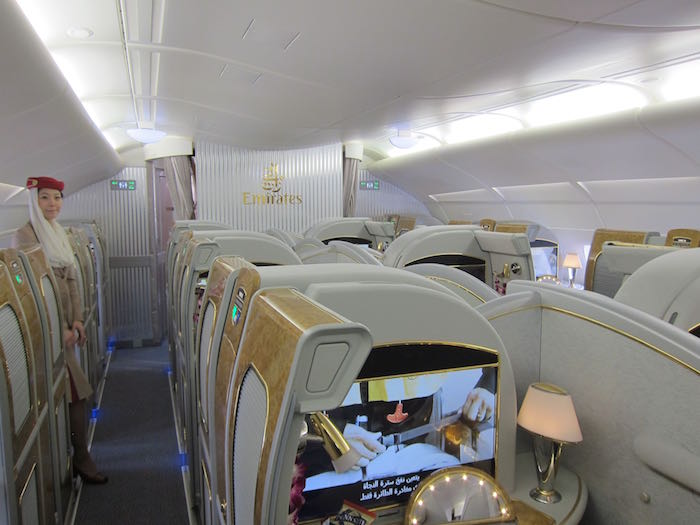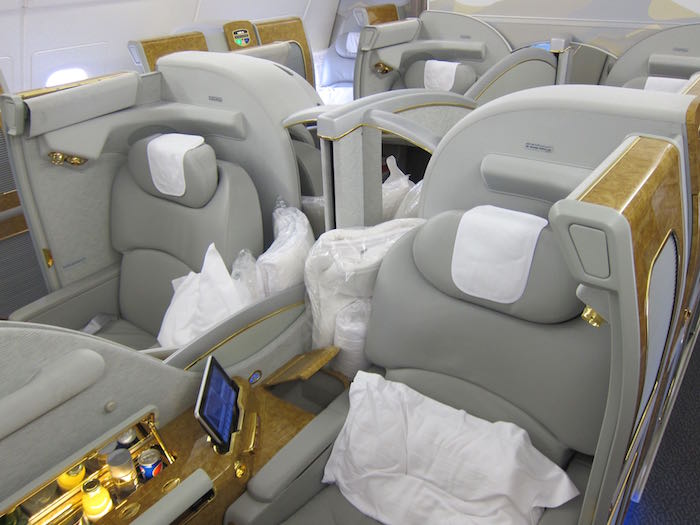 Meanwhile Emirates' A380 business class features direct aisle access from every seat as well, and quite a bit of privacy. If you can snag one of the best seats (specifically, a "true" window seat), you'll have a lot of privacy as well.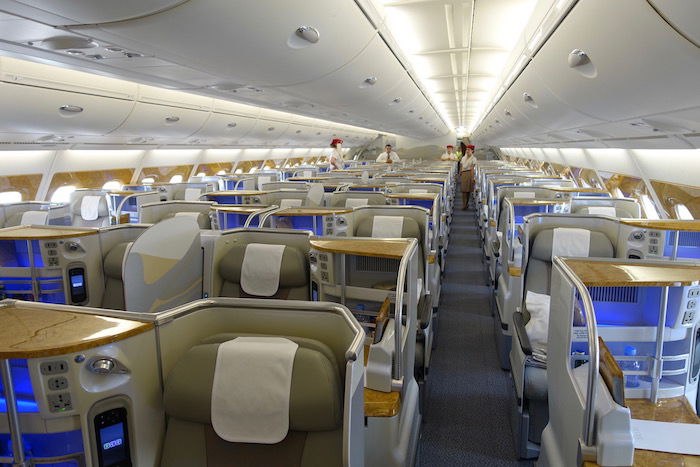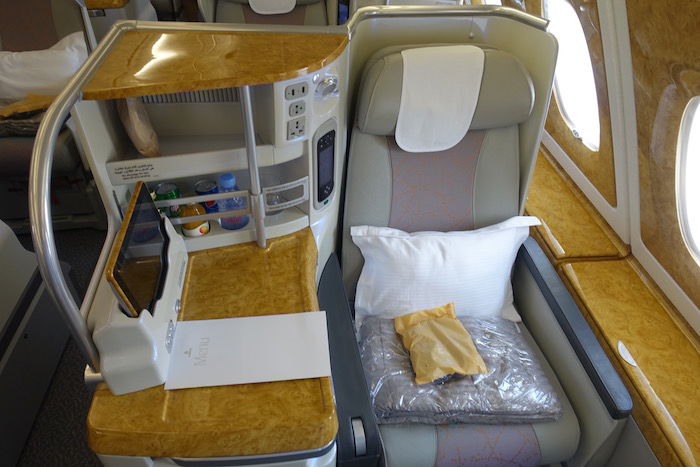 So the first class seat is of course better than the business class seat, but I actually found the business class seat to be extremely comfortable, especially thanks to the bins along the side of the aircraft, which are great for storing things.
Emirates food
This is probably what surprised me most — when it comes down to it, the food in first and business class isn't that different.
Yes, in first class there's a caviar course.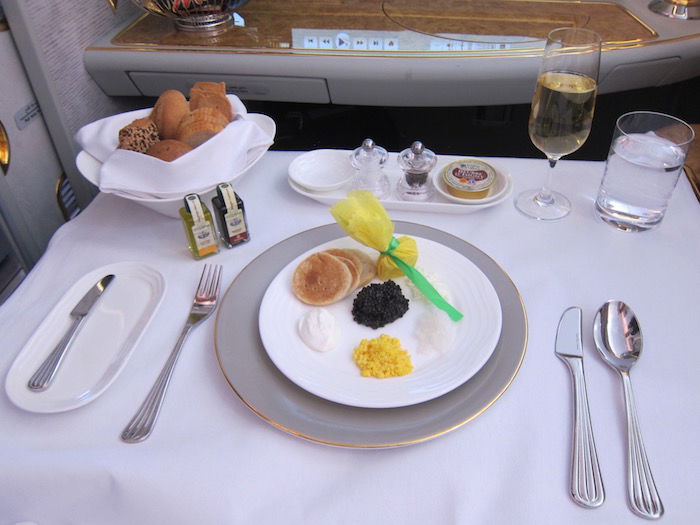 And yes, the first class mezze is a lot more impressive than the business class mezze.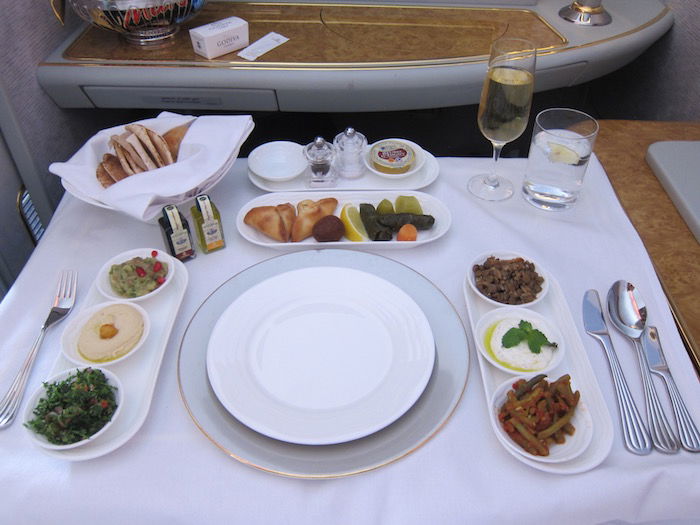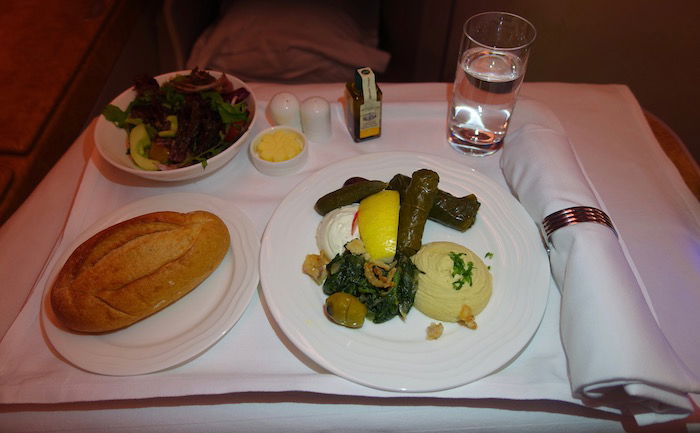 But other than that, I found the food remarkably similar. Most of the main dishes are actually the same in first and business class, but they're just plated differently.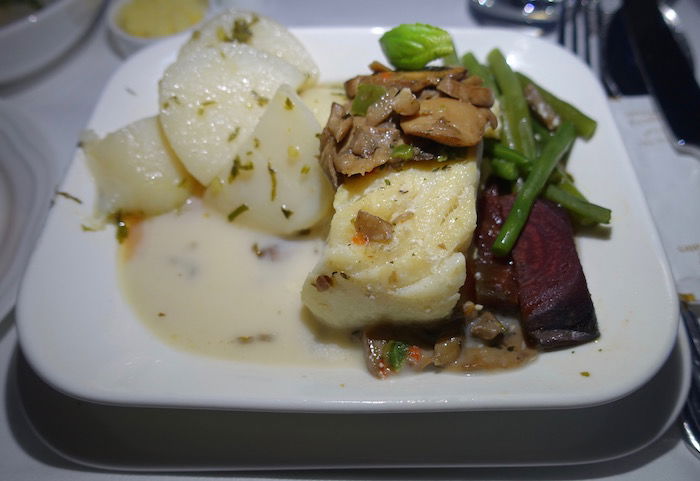 The same is true for dessert, cheese plates, cappuccinos, etc.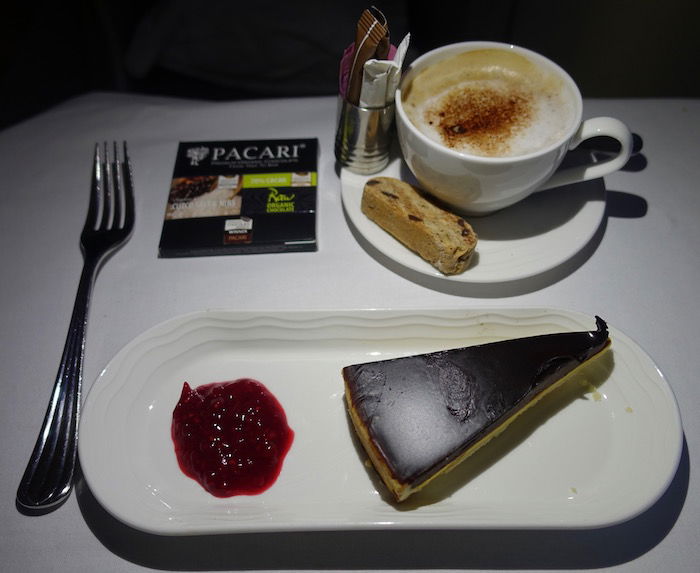 The major difference is that in first class you have dine on demand and a more extensive menu, where you can eat what you want when you want. Meanwhile in business class you have to eat the main meals when they're served, and don't have much flexibility.
So first class certainly has some nice touches and added flexibility, but in terms of actual quality (aside from caviar), I didn't find there to be that much of a difference.
Emirates drinks
Emirates is known for their ridiculous first class drink selection. They serve Dom Perignon, and also serve Hennessy Paradis, which is the most expensive drink in the sky.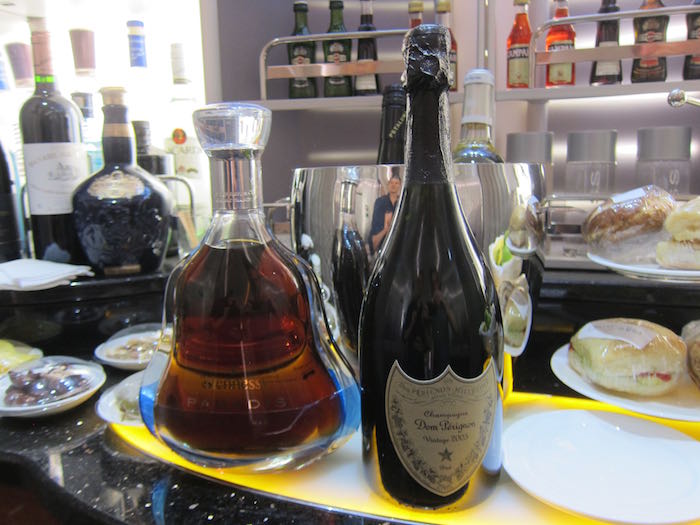 However, in business class they have Veuve Clicquot, and an all around impressive selection of liquor.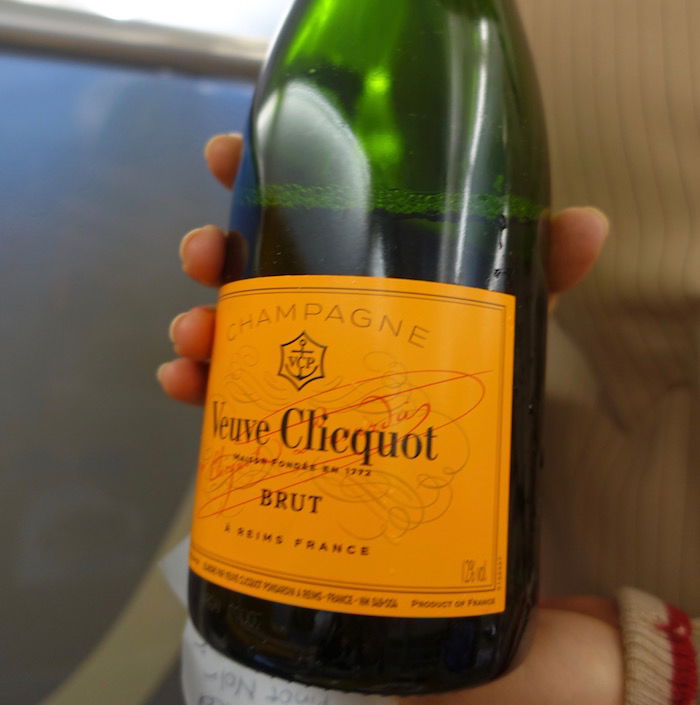 The first class drink selection is certainly more over the top, though you won't go thirsty in business class either. 😉
Emirates service
This is perhaps the biggest point of differentiation. Let me start by saying that I find service on Emirates to be somewhat inconsistent — sometimes you get an incredible crew which couldn't be more proactive, while other times you get a lazy crew.
However, in theory first class service is fully customized. You get what you want when you want.
In business class service feels like an assembly line. That's probably what disappointed me most about Emirates business class. While the crew was friendly, you're served during the meal times, and if you want one of the main meals at another point, you're out of luck. The service is so systematic and robotic that it almost feels like economy.
Again, this has nothing to do with the friendliness of the crew, but rather with how robotic the procedures are. Emirates has room for improvement in this regard, given that Etihad and Qatar offer dine on demand in business class.
So I think this is a huge point of differentiation.
Emirates A380 entertainment and Wi-Fi
This is identical in first and business class (and even economy). Emirates has the best entertainment selection in the sky, with so many movies, games, TV shows, etc.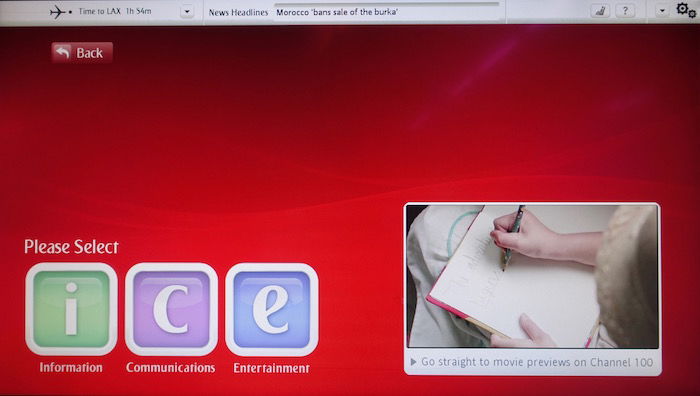 Emirates also offers 500MB of Wi-Fi for $1 in all cabins. While I appreciate the concept, the Wi-Fi is so excruciatingly slow that it's almost useless.
Emirates amenity kits, bedding, etc.
In terms of bedding, there's a huge difference between first and business class. In first class you get a proper turndown service with two pillows, a great mattress pad, and a comfortable duvet.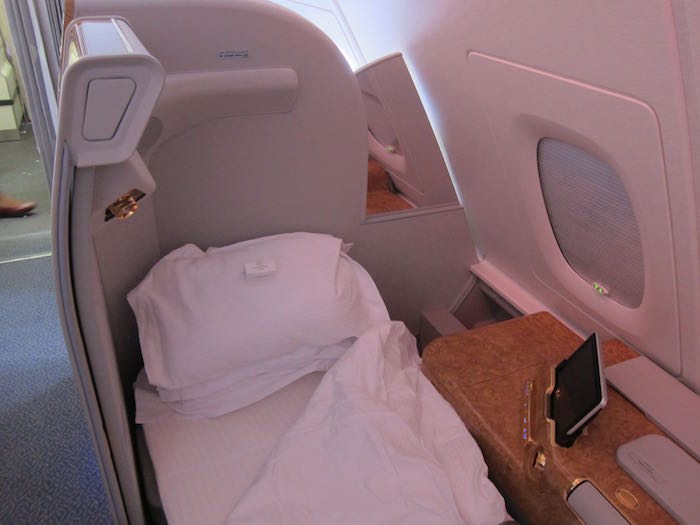 In business class you get a single pillow and a basic blanket.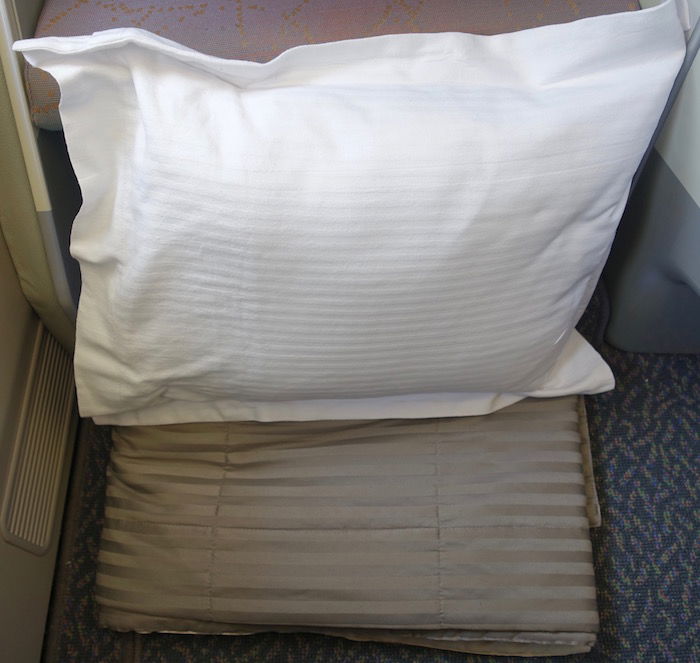 Don't get me wrong, you'll still be able to sleep well, but it's not quite like sleeping in a bed on the ground.
In terms of other amenities, Emirates has fantastic pajamas and amenity kits in first class. They actually recently updated them even further, and now have the world's first "moisturizing" pajamas.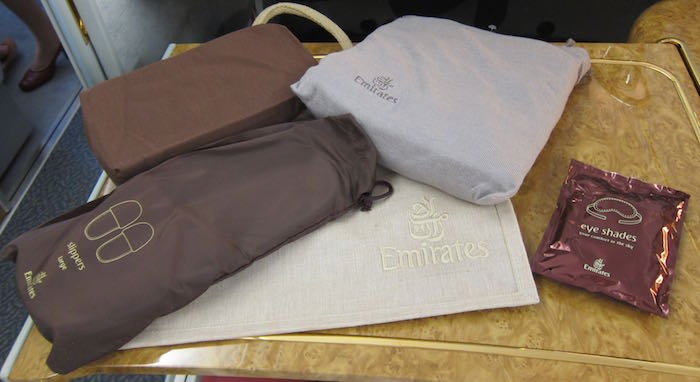 In business class Emirates offers a nice amenity kit with Bulgari amenities, though no pajamas.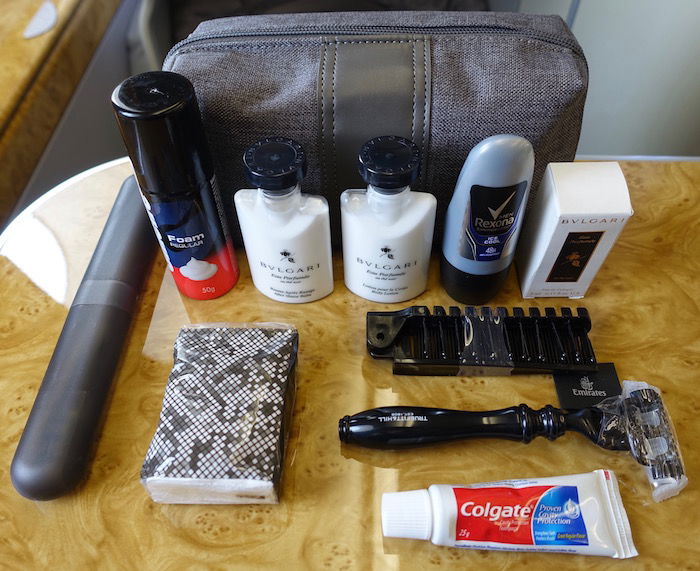 I do wish Emirates would improve their business class bedding and maybe even add pajamas (as Qatar Airways offers in business class), but ultimately none of this is the end of the world.
Emirates airport lounges
At outstations, Emirates doesn't differentiate between first and business class for lounges. Their lounges are a shared space for all premium passengers, so there's no difference.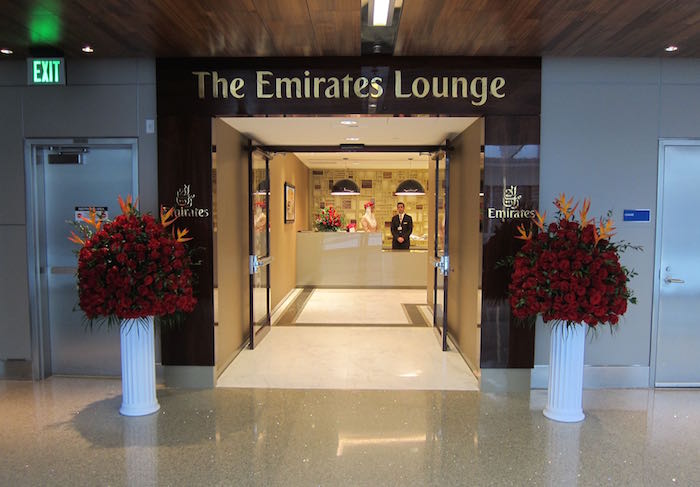 In Dubai, Emirates has separate first and business class lounges, though the differences aren't huge. In the "A" concourse the lounges are roughly the same size and have similar decor. The major difference is that the first class lounge has a la carte dining, while the business class lounge only has a buffet.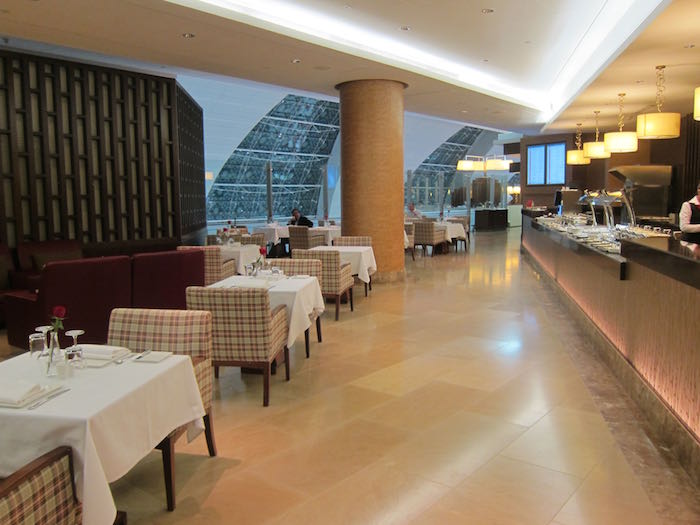 First class passengers are also entitled to a complimentary 15 minute treatment in the Timeless Spa, while business class passengers have to pay for treatments.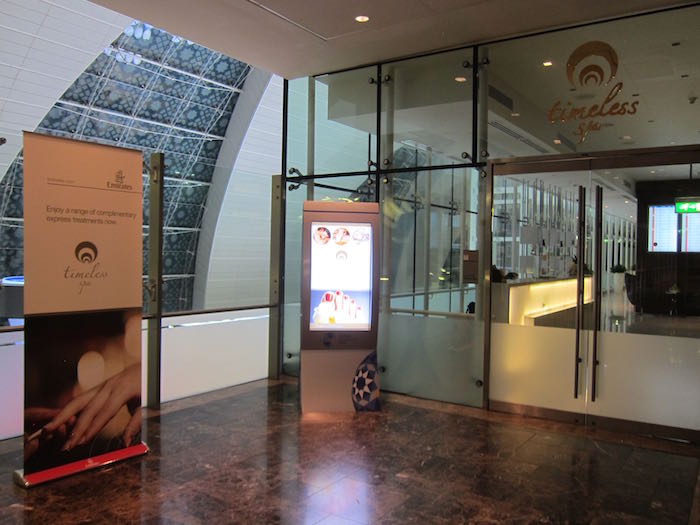 Emirates A380 amenities
Probably my single favorite thing about the Emirates A380 is the shower suite, which is available to first class passengers. If you're an airline geek and haven't yet showered on a plane, you're really missing out. Okay, admittedly it's just a five minute shower, but still, there's something amazing about it.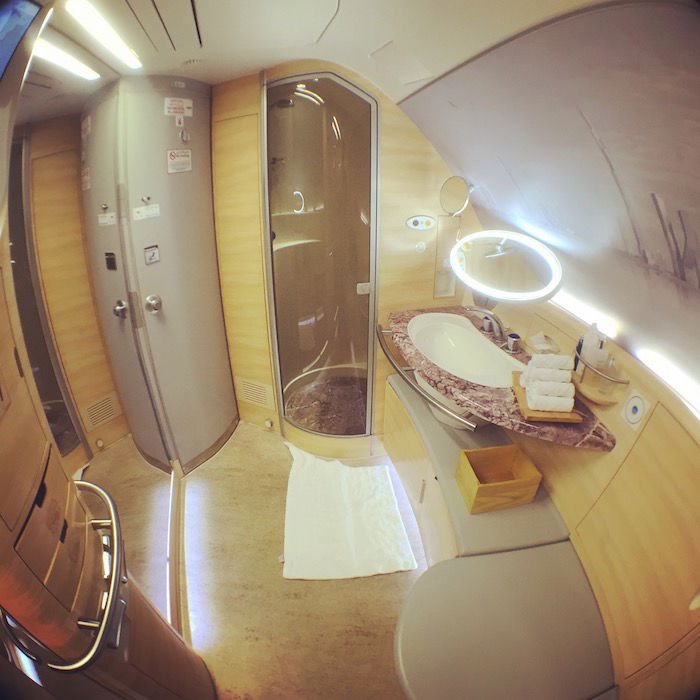 My other favorite amenity on the A380 is the onboard bar, located at the back of business class. It's shared between first and business class, and is such a fun place to hang out. Often when I'm in first class I'll spend half my time there, though almost feel like it's a "waste," since I could spend my time there when in business class as well.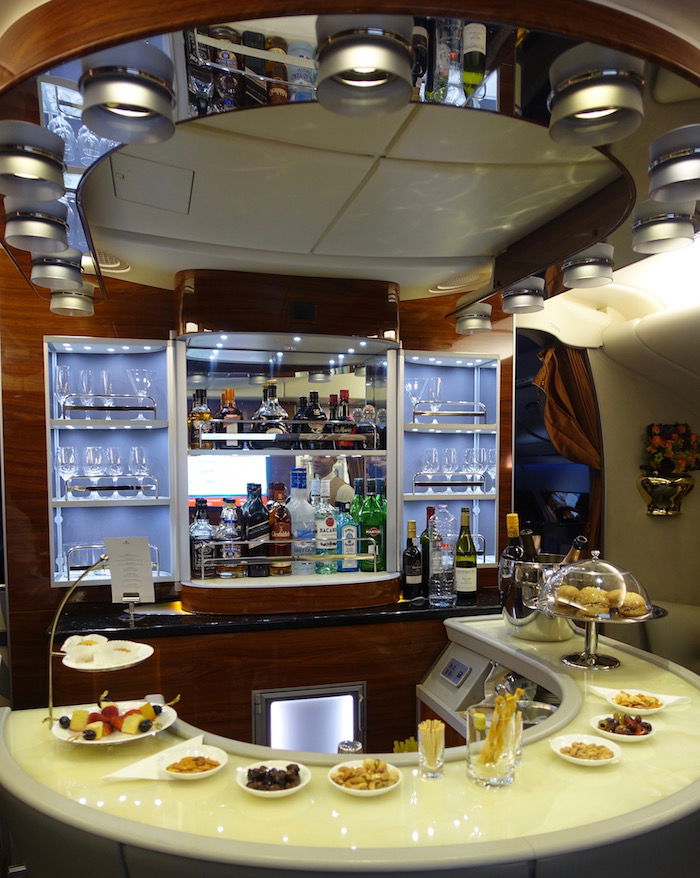 Bottom line
Emirates' A380 first class product is one of my favorite in the world, so it was interesting to see how their business class compared. I simultaneously think there are big differences between the two products, and also think a lot of things are very similar.
What stands out about first class? The service, the bedding, the pajamas, the improved drink selection, the caviar, and the shower.
What's more or less the same? The food, a private seat that's comfortable for sleeping and relaxing, access to the awesome onboard bar, entertainment, Wi-Fi, etc.
So I do certainly have a strong preference for Emirates first class, though it's possible to get great sleep in business class, and also have a lot of fun thanks to the onboard bar.
Of course there's still something really fun about Emirates first class — it's one of the most well rounded first class products out there. So while it's worth the premium if you swing it, you won't be bored in business class either.