Hello from Dubai! Ford and I just took the 15hr10min flight on Emirates in first class from Los Angeles (this was a paid first class fare, thanks to an amazing fare sale Emirates published last year, which will earn us a ton of Alaska miles). While I'll have a full trip report soon, in this post I wanted to share my initial impressions.
While I flew Emirates' new 777 first class earlier this year, it has been a couple of years since I've flown Emirates' A380 first class, which I typically consider to be the most fun first class products in the world… and this flight reinforced that.
On the surface Emirates' A380 first class cabin isn't that private or spacious, as it has 14 seats, but in my experience it's rarely more than half full (on this flight there were four other passengers).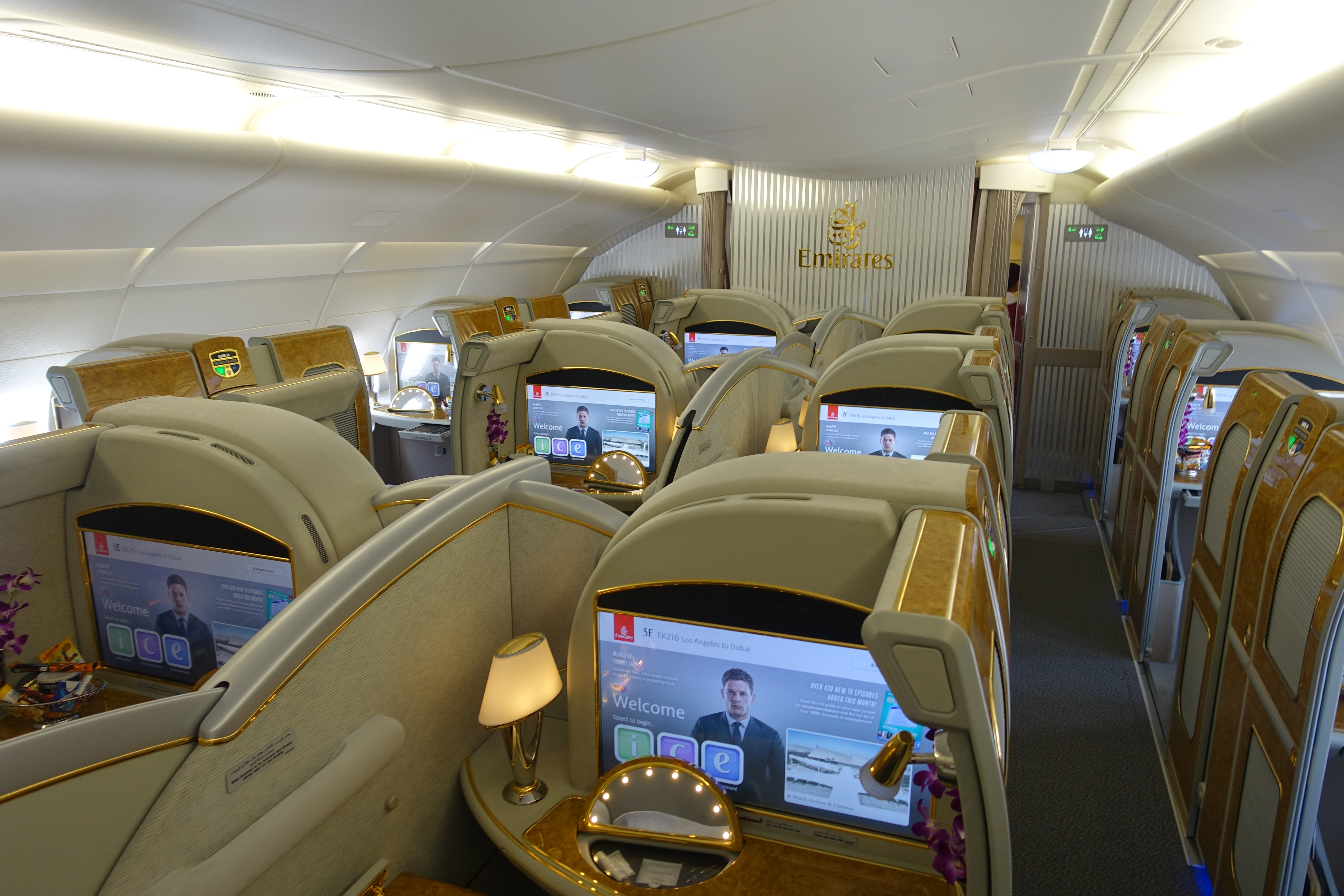 Even though there are substantially more spacious first class products out there (Singapore has just six suites in the same area where Emirates has 14), this is still my favorite first class experience in the world if I'm traveling with someone and want to have fun. It's nice to have a great first class seat while still being able to sit next to your travel companion.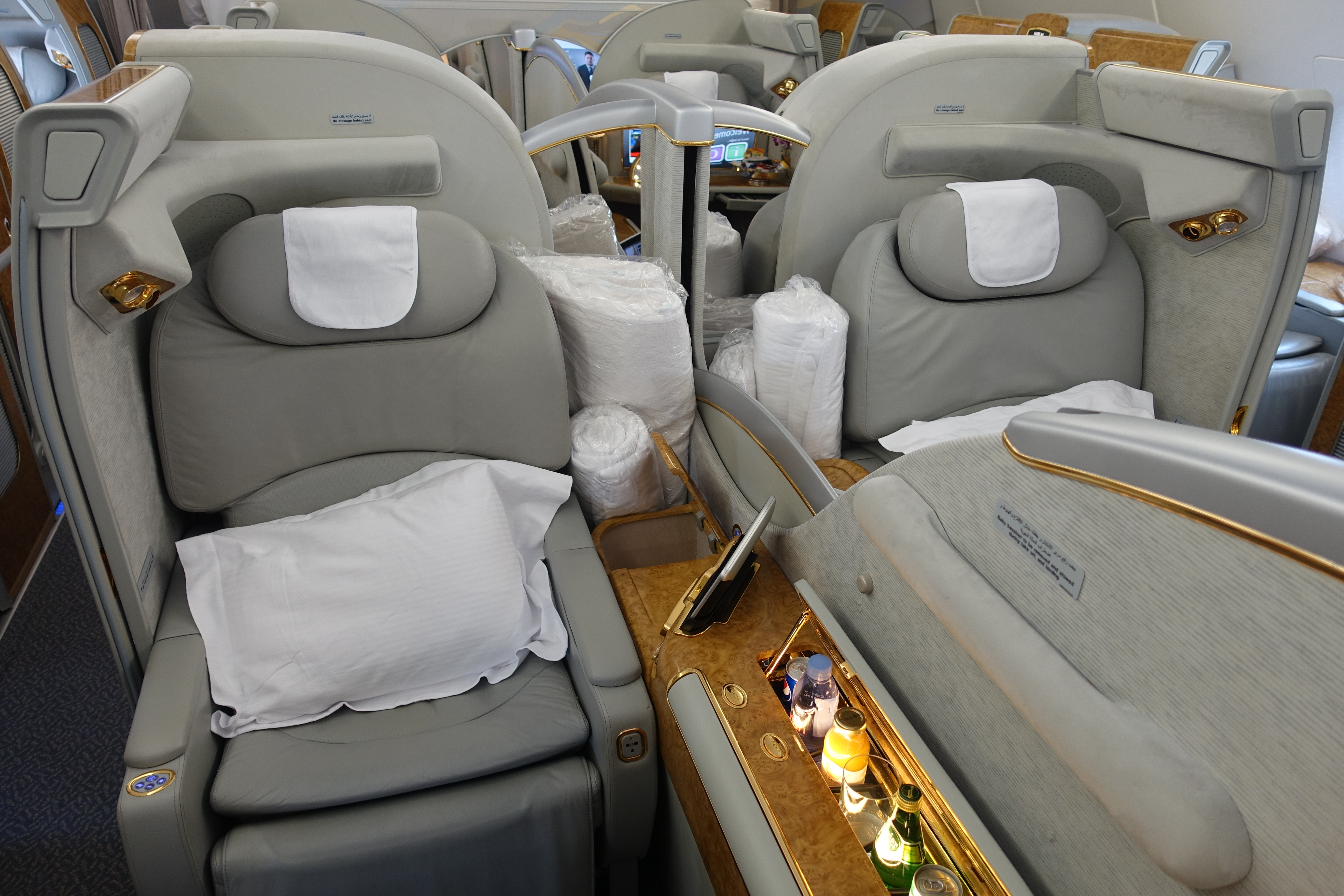 I feel like Emirates gets just about everything right with their first class, from the dine on demand menu, to the amenities, to the onboard shower and bar, to the ridiculously over the top and unnecessary amenities.
Upon boarding we received a tote bag with our pajamas, amenity kit, and slippers, all of which were excellent.
There was an extensive dine on demand menu, though given Emirates' impressive alcohol selection, we ended up consuming mostly liquid calories. Dom Perignon 2000 P2 and Hennessy Paradis? Yes please! And the two combine to make a lovely champagne cocktail. 😉
We did save room for some caviar though, and later in the flight I had an exceptional miso glazed cod.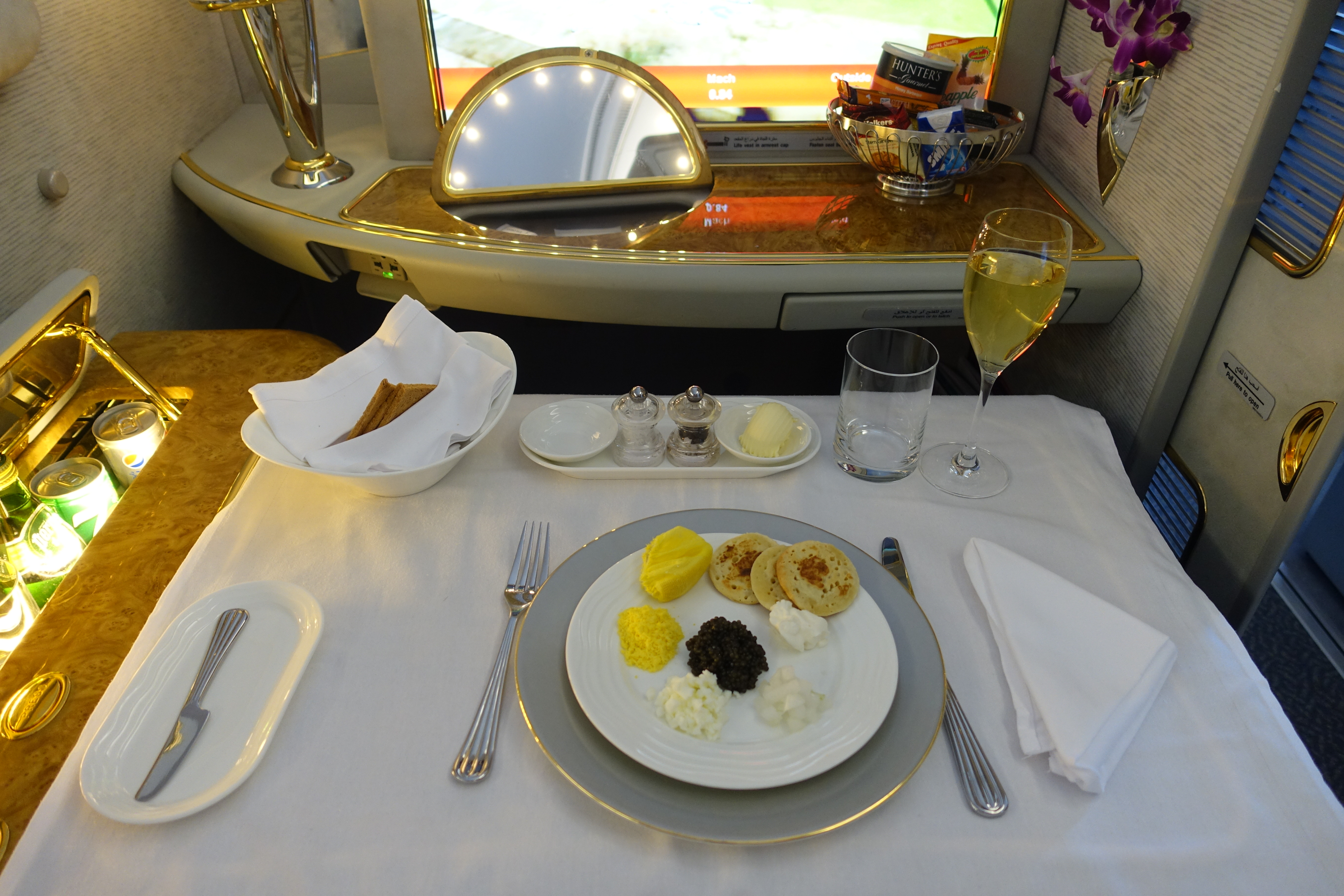 Hanging out at the onboard bar was a lot of fun, and we had a few cocktails there, including an espresso martini.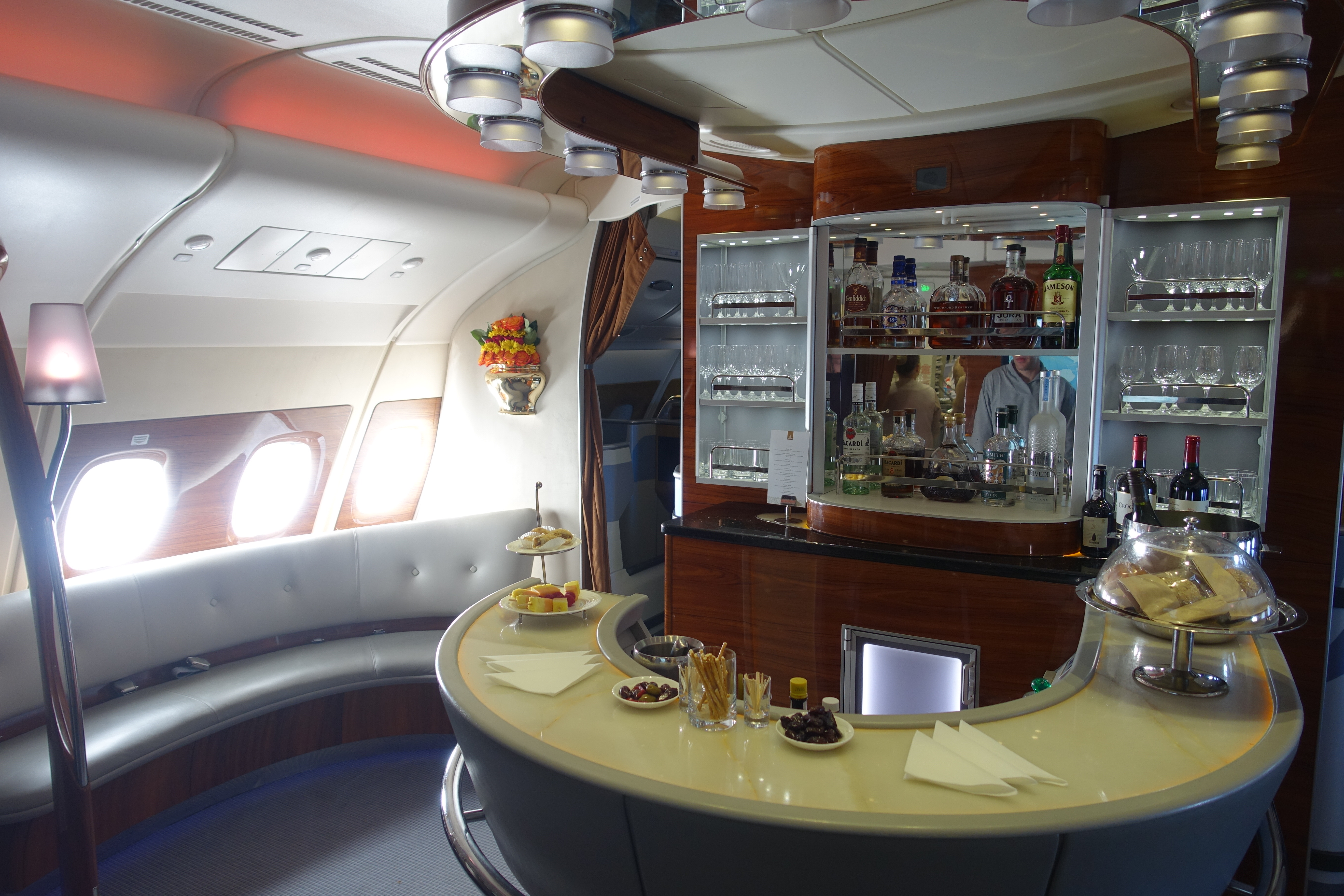 After a few fun hours enjoying most of the things that Emirates first class has to offer, it was time to sleep. I got a solid five hours of sleep, and appreciated that the seat had two individual air nozzles, and that on top of that the cabin was kept cool. There are more spacious first class suites out there, but I still find Emirates' to be one of the most comfortable.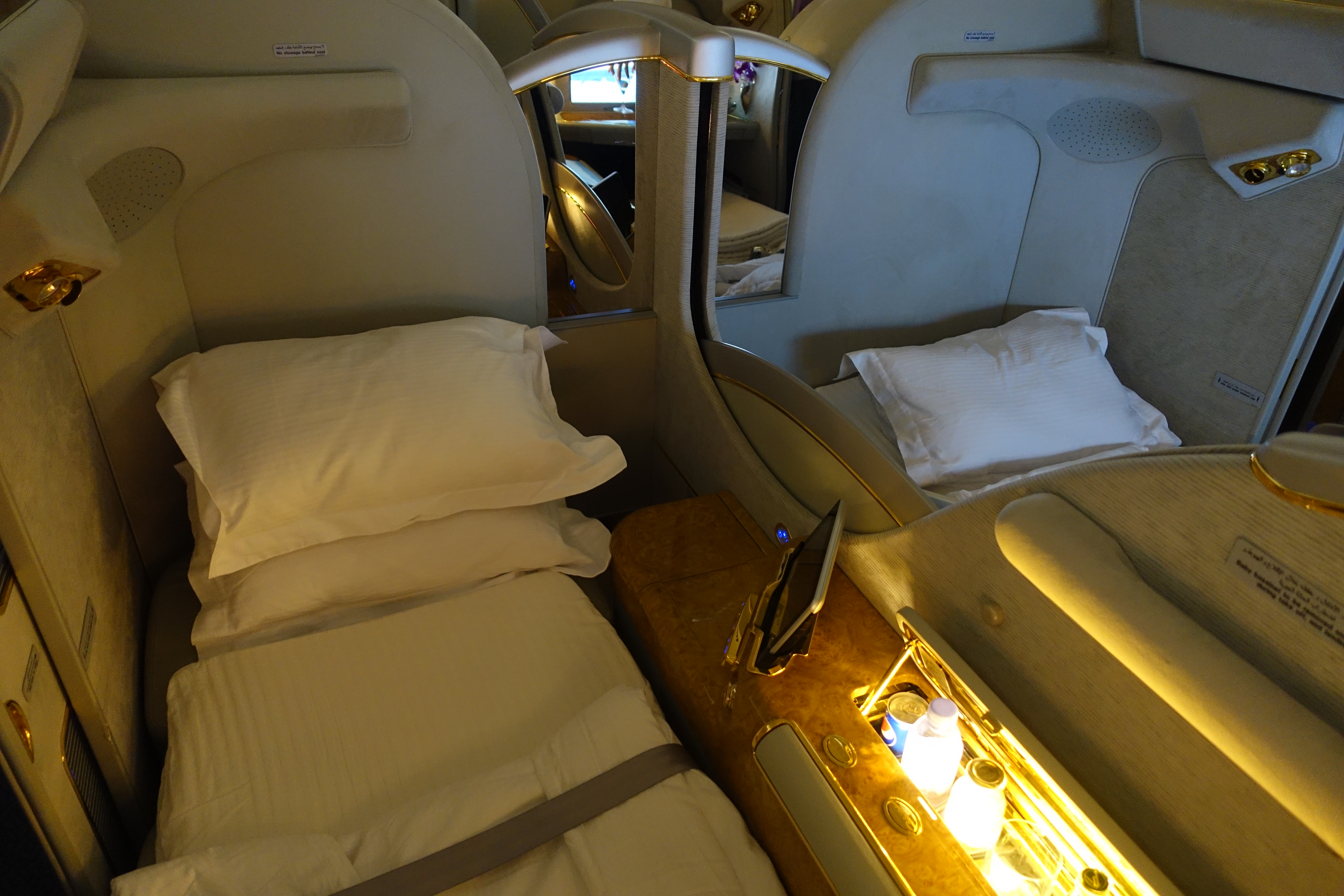 After some rest it was time for a shower. I've taken at least a couple of dozen flights in Emirates first class at this point, and the onboard shower never ever gets old. I still giggle every time I enjoy my five minutes of water on the A380.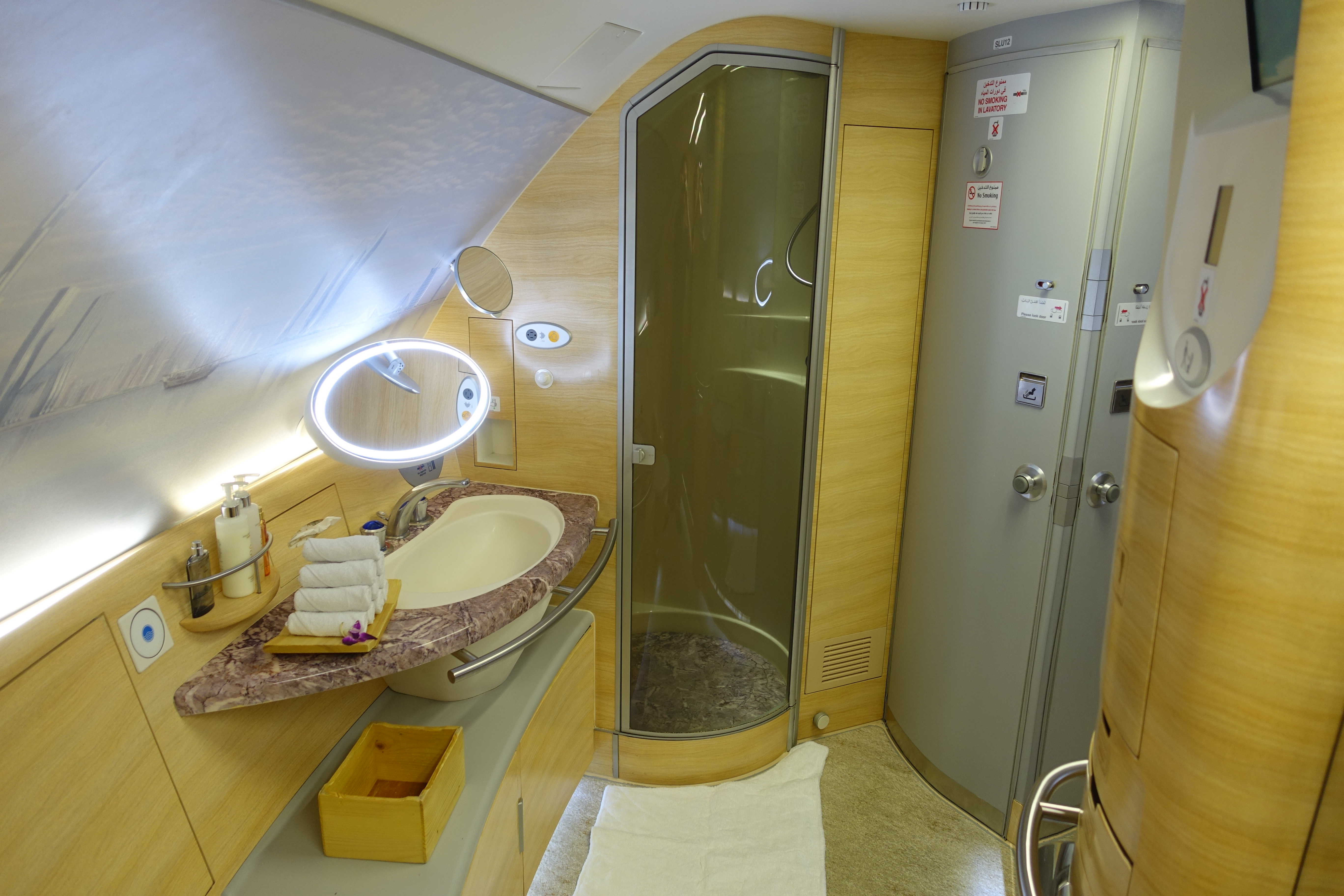 Then there are all kinds of little touches that make me love Emirates first class. To me it's the little things that set the first class experience apart, and I love the fact that Emirates has excellent cappuccinos, soy milk (at least on US flights), French press coffee, and spotless bathrooms with a perfect towel pyramid every time you go there, just to give a few examples.
Service on this flight was among the best I've had as well. The two ladies taking care of us were from Algeria and Ireland, and both were friendly, attentive, and just all around lovely people.
Unfortunately not everyone seemed to enjoy their flight as much as we did. There was a couple seated in front of us, and towards the end of the flight the guy was clearly drunk as could be, as he and his significant other got into a loud argument. The flight attendants came running up to them because they thought something was wrong, but I guess they were just having a disagreement. The flight attendant apologized to us and said "sorry, he's really drunk."
Then the purser came around before landing to ask everyone how the flight was, and this guy loudly rattled off a ridiculous list of complaints. "The Indian food wasn't good, the caviar wasn't good, the drinks weren't good." The irony of the drunk dude complaining about the alcohol selection on Emirates wasn't lost on me.
There are some airline products that I enjoy less with repetition, but Emirates first class amazes me in the same way it did when I first flew it. It's truly something special, in my opinion, and when traveling with someone there's no product I'd rather fly.