---
To finish off my Miami to Beijing itinerary I was flying Cathay Dragon's A330 business class from Hong Kong to Beijing. While I had flown Cathay Dragon first class before, this was my first time in their business class.
Booking My Cathay Dragon Flight
As I outlined in the introduction post, the outbound portion of this trip was a paid ticket. I had booked a roundtrip ticket from Miami to Beijing, with the outbound in paid business class and the return in paid economy, for about $1,600.
The outbound portion looked as follows, after I applied a systemwide upgrade to get first class on the Dallas to Hong Kong flight:
12/08 AA2524 Miami to Dallas departing 7:36PM arriving 9:52PM [Business]
12/09 AA125 Dallas to Hong Kong departing 10:40AM arriving 5:35PM (+1 day) [First]
12/10 KA906 Hong Kong to Beijing departing 7:00PM arriving 10:10PM [Business]
For reference, I could have also redeemed oneworld miles for my Cathay Dragon flight, as they are a oneworld affiliate airline. For example, booking the Hong Kong to Beijing flight in business class would have cost :
Cathay Dragon Business Class A330 Review
My connection in Hong Kong ended up being just over 90 minutes. So after landing from Dallas I headed to transit security and then decided to head straight to my gate. I had some work I needed to get done before my Wi-Fi-less flight, so it seemed easiest to just sit in an empty gate area with free Wi-Fi.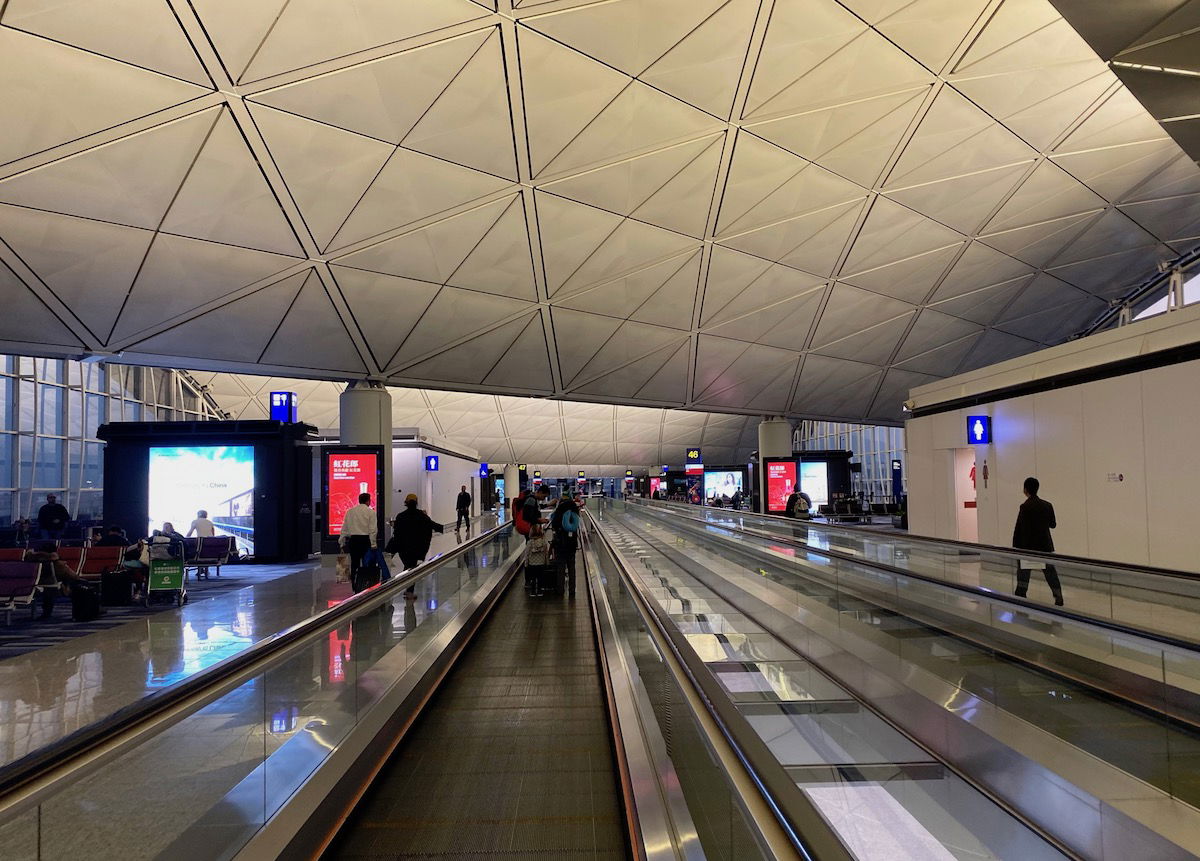 Hong Kong International Airport terminal
My flight to Beijing was departing from gate 50, right at the end of one of the piers of the terminal.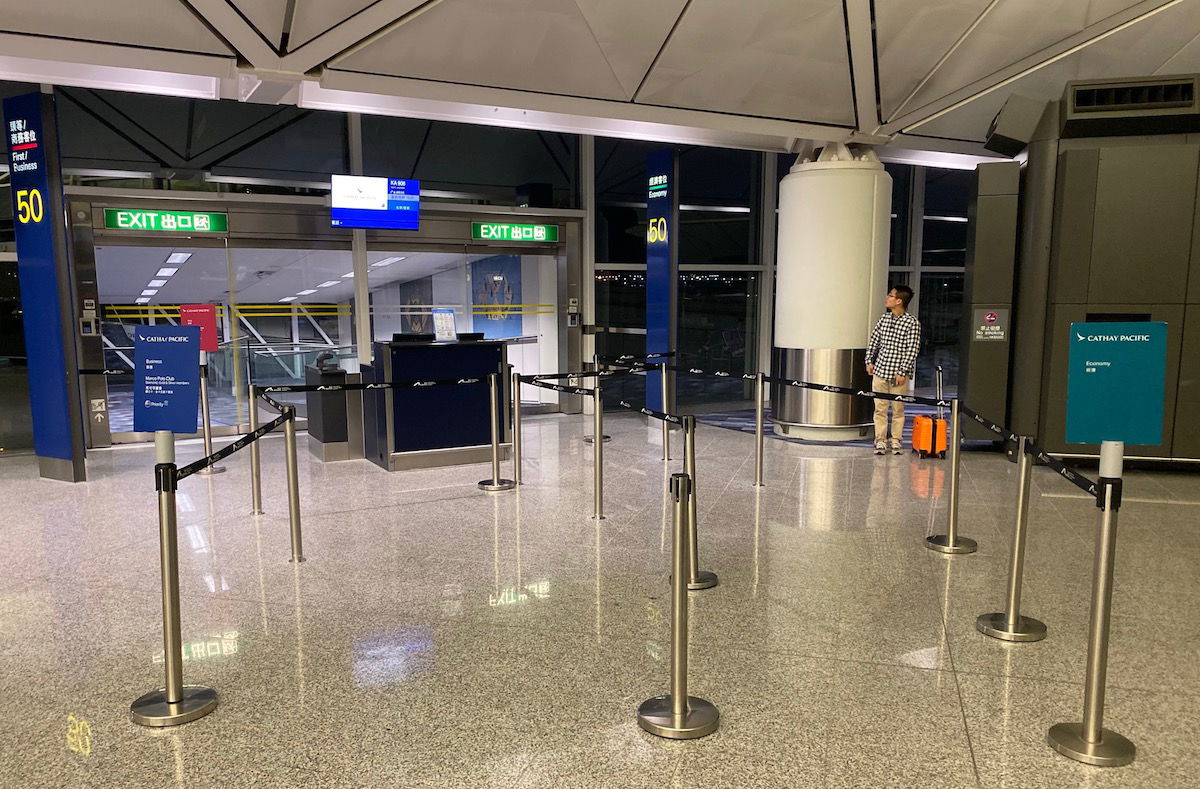 Cathay Dragon departure gate Hong Kong
Boarding was scheduled to start at 6:20PM, and ended up actually starting five minutes after that. First class and oneworld Emerald members were invited to board first, followed by business class passengers and oneworld Sapphire members.
Cathay Dragon 906
Hong Kong (HKG) – Beijing (PEK)
Tuesday, December 10
Depart: 7:00PM
Arrive: 10:10PM
Duration: 3hr10min
Aircraft: Airbus A330-300
Seat: 18K (Business Class)
I boarded through the forward door. I was impressed immediately by the service, because the crew tried to escort each business class passenger to their seat.
I first found myself in the eight seat first class cabin, which consists of reverse herringbone seats (which I've reviewed before, and will review again in the next installment on my flight in the other direction).
Cathay Dragon has a total of 42 business class seats on the A330, spread across seven rows in a 2-2-2 configuration. In the forward cabin, between doors one and two, are a total of 24 seats, spread across four rows.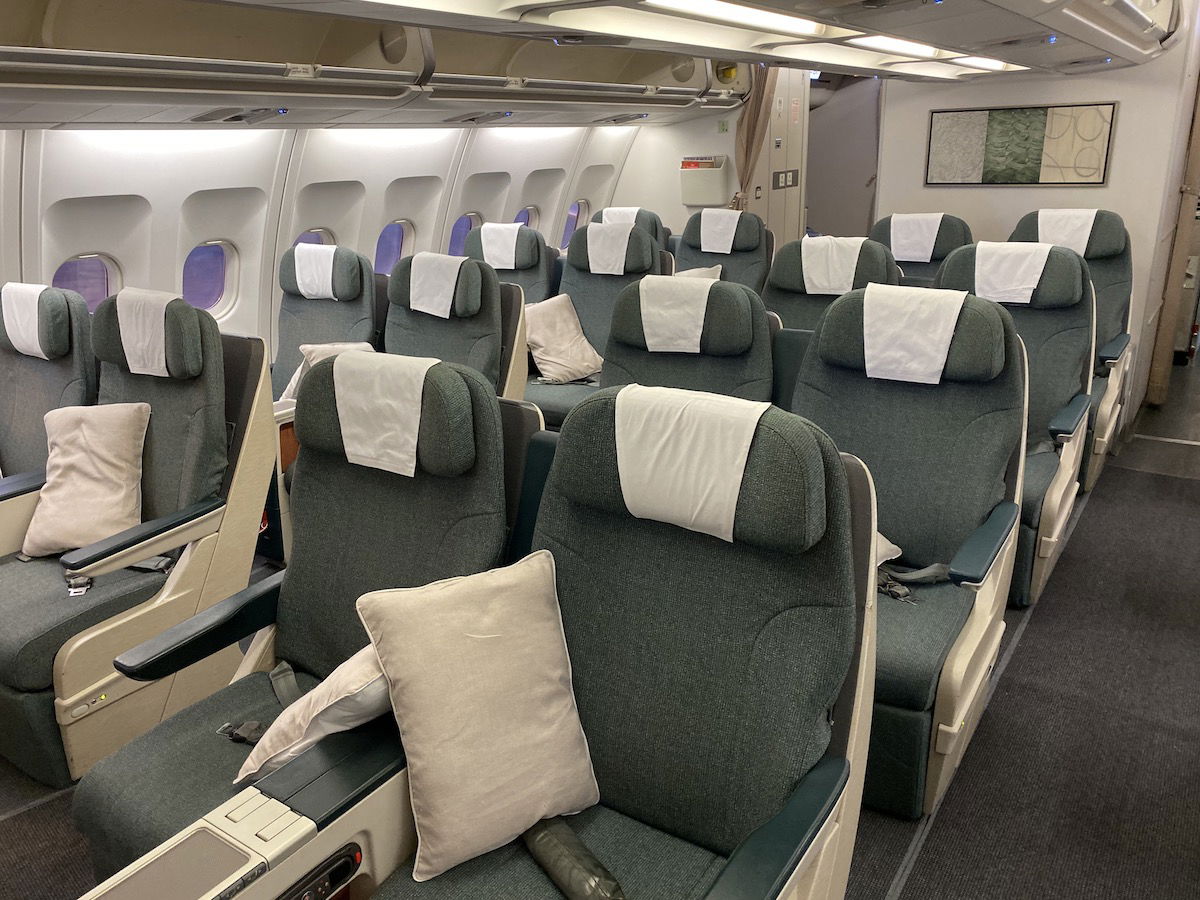 Cathay Dragon A330 business class cabin
Then there was the rear cabin, consisting of a further three rows.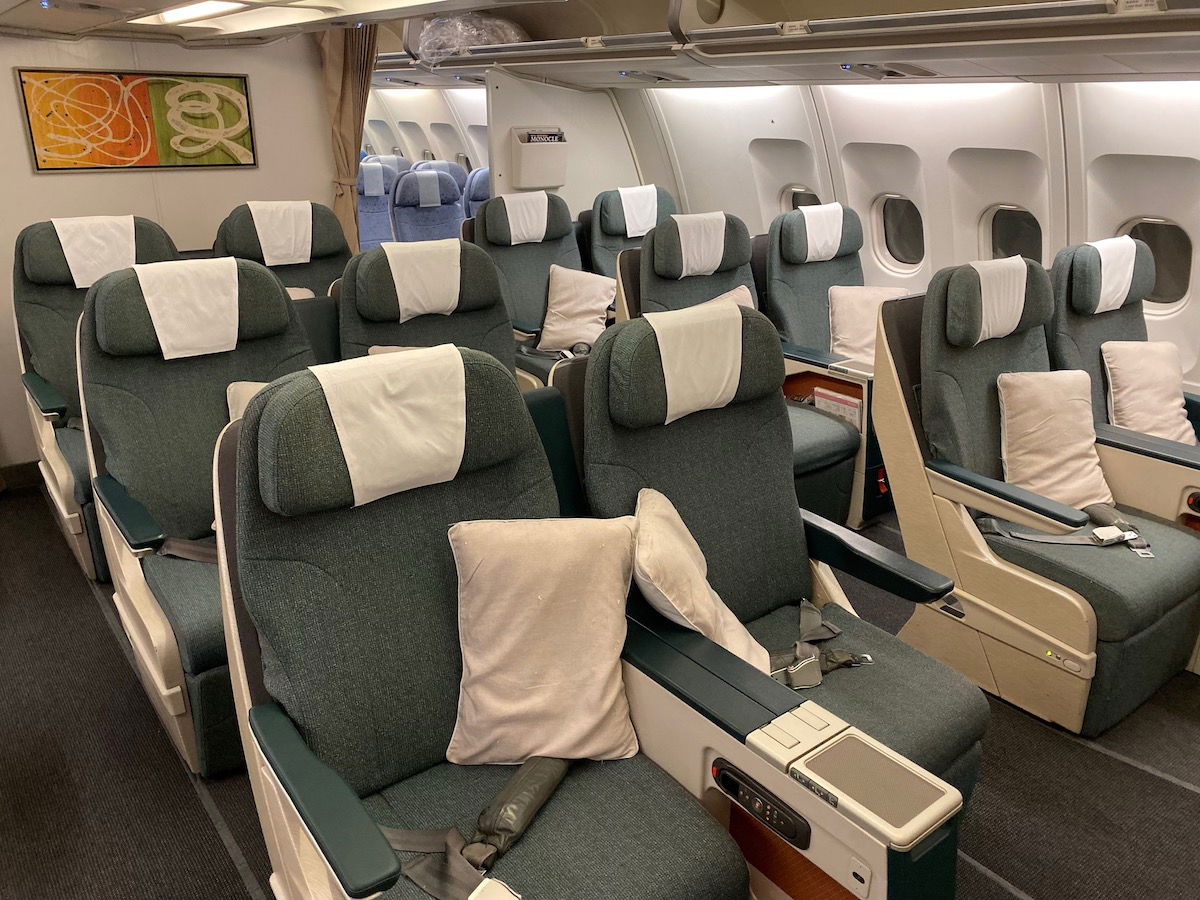 Cathay Dragon business class cabin A330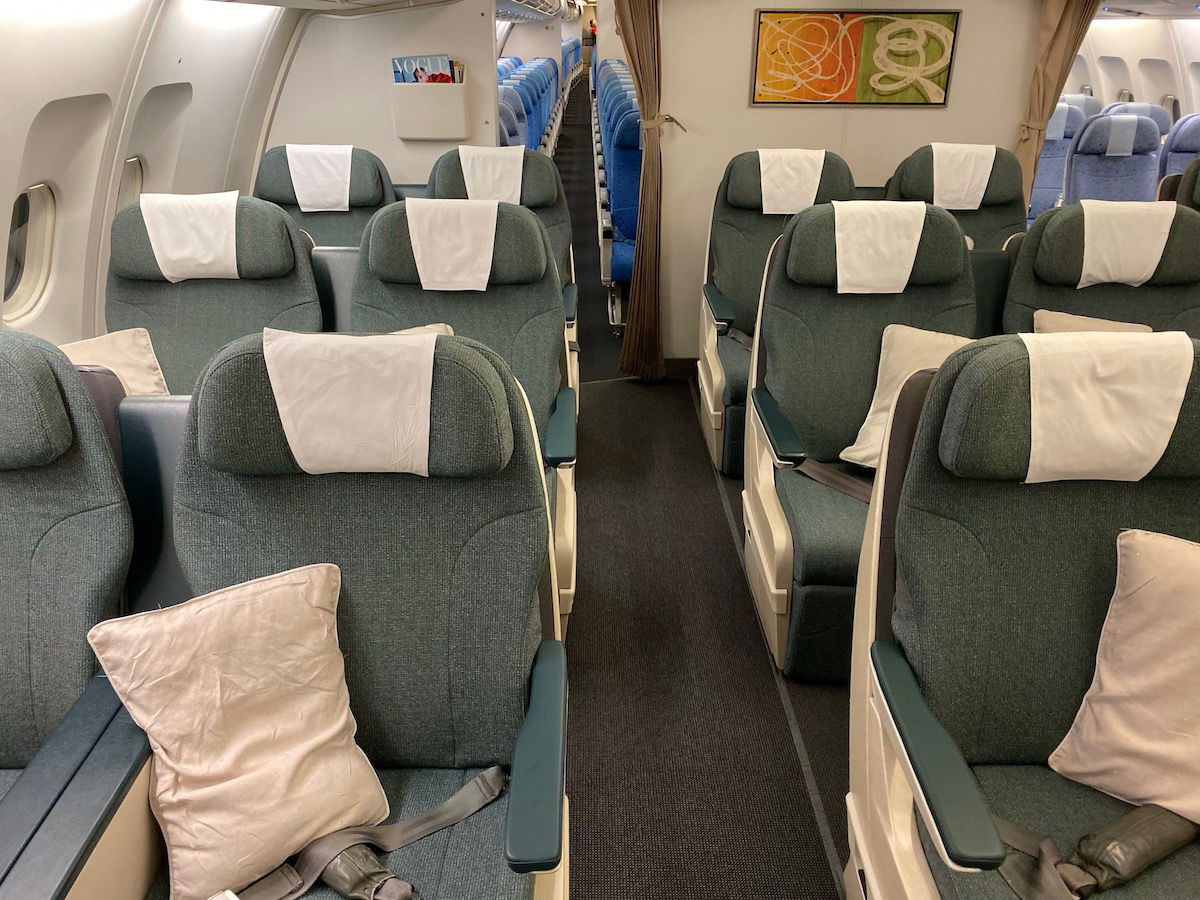 Cathay Dragon A330 business class cabin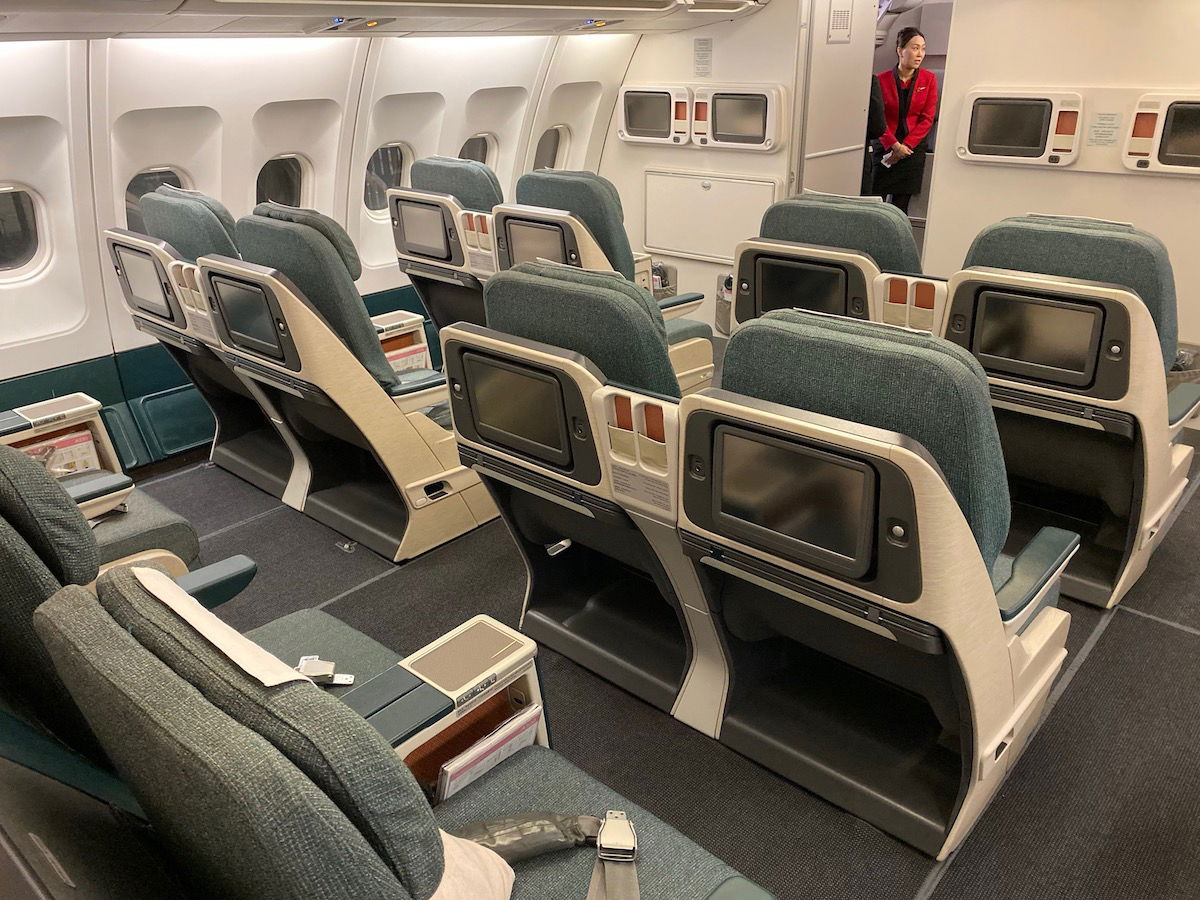 Cathay Dragon business class cabin A330
I also quickly glanced into the economy cabin, which was in the standard 2-4-2 configuration you'll find in economy on most A330s.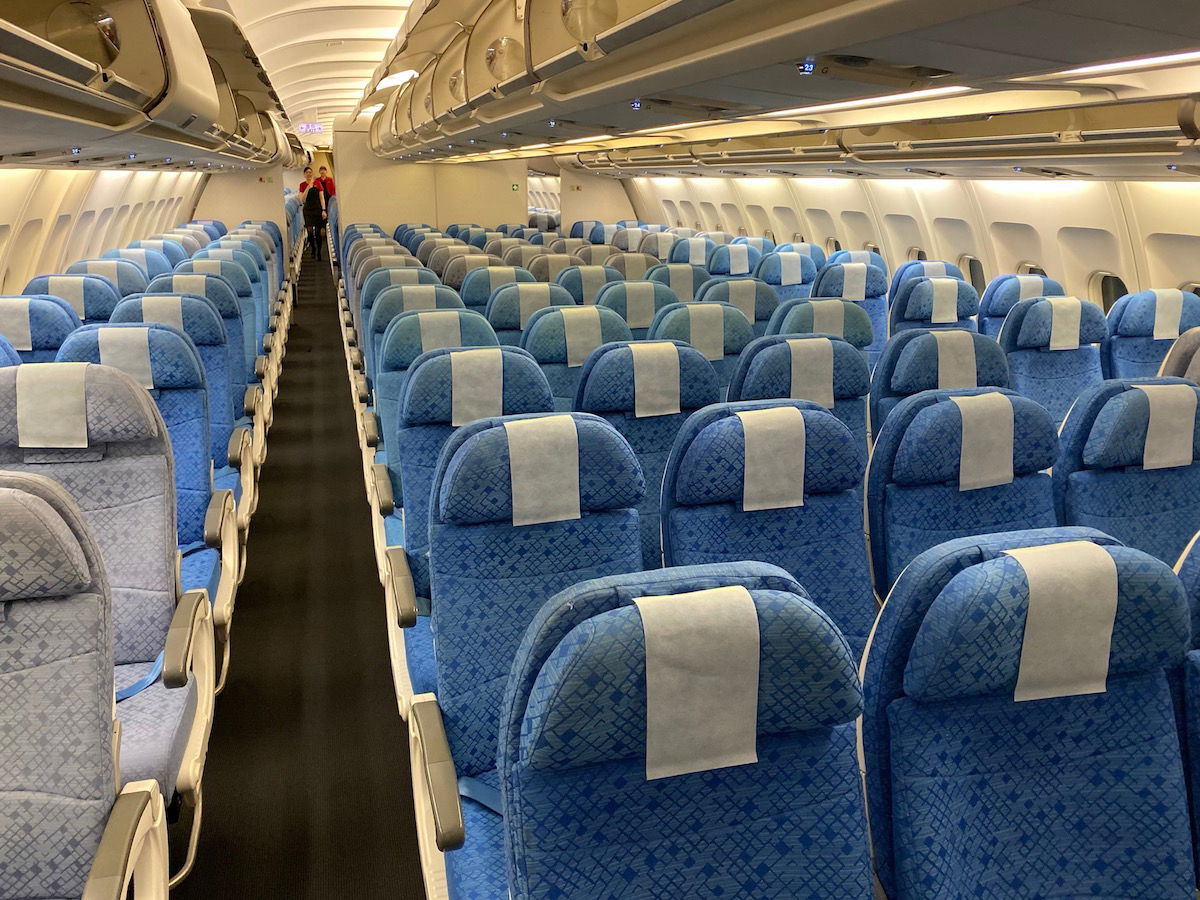 Cathay Dragon economy cabin A330
I had assigned myself 18K, the window seat on the right side in the last row of business class. I didn't realize this seat was missing a window, though that wasn't a big deal, since it's not like there were many views on this nighttime flight.
The regional business class seat used by Cathay Pacific and Cathay Dragon is unique. It's a "shell" seat, meaning that when you recline your seat it shifts forwards, and doesn't impact the space that the person behind you has.
The thing is, the seats have 45″ of pitch (which is a lot), and they're not particularly comfortable, so I feel like the space isn't very well utilized.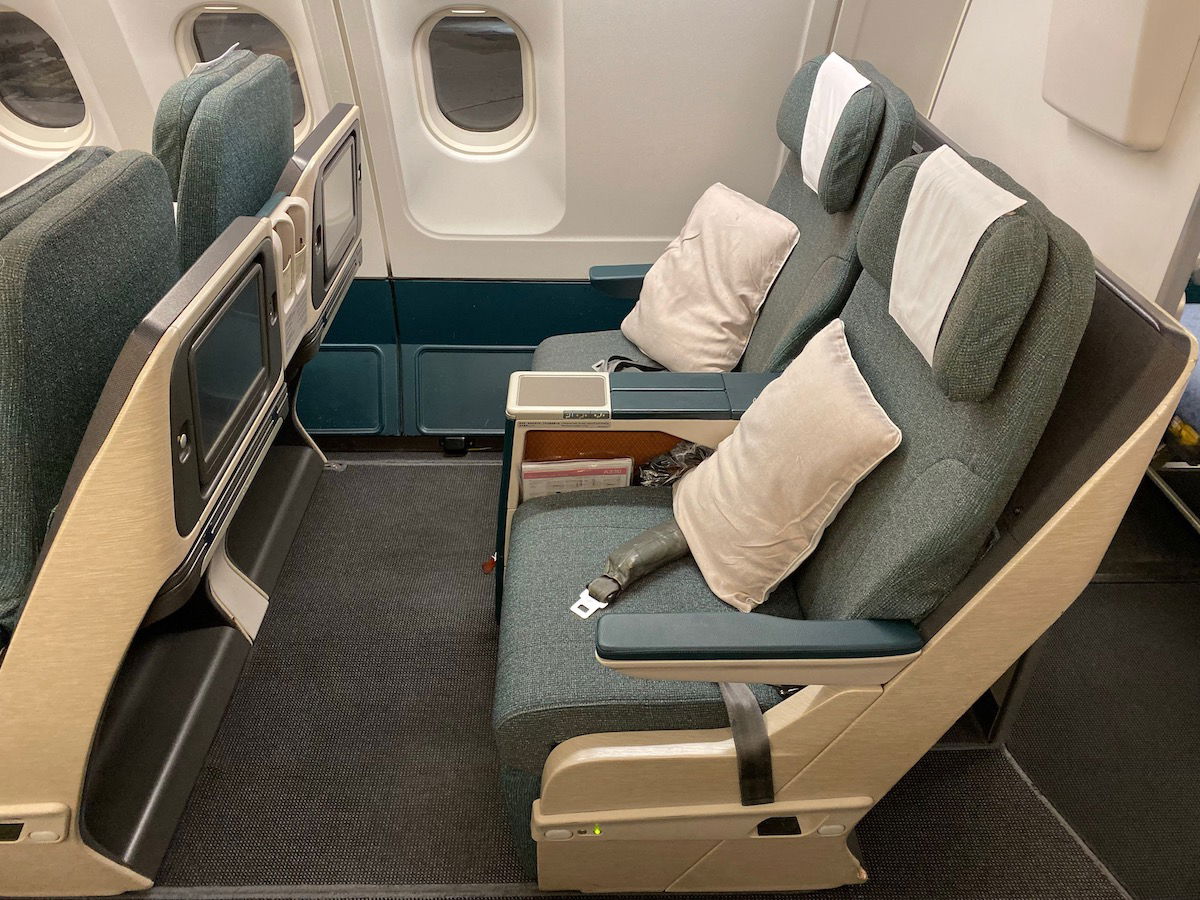 Cathay Dragon business class seats A330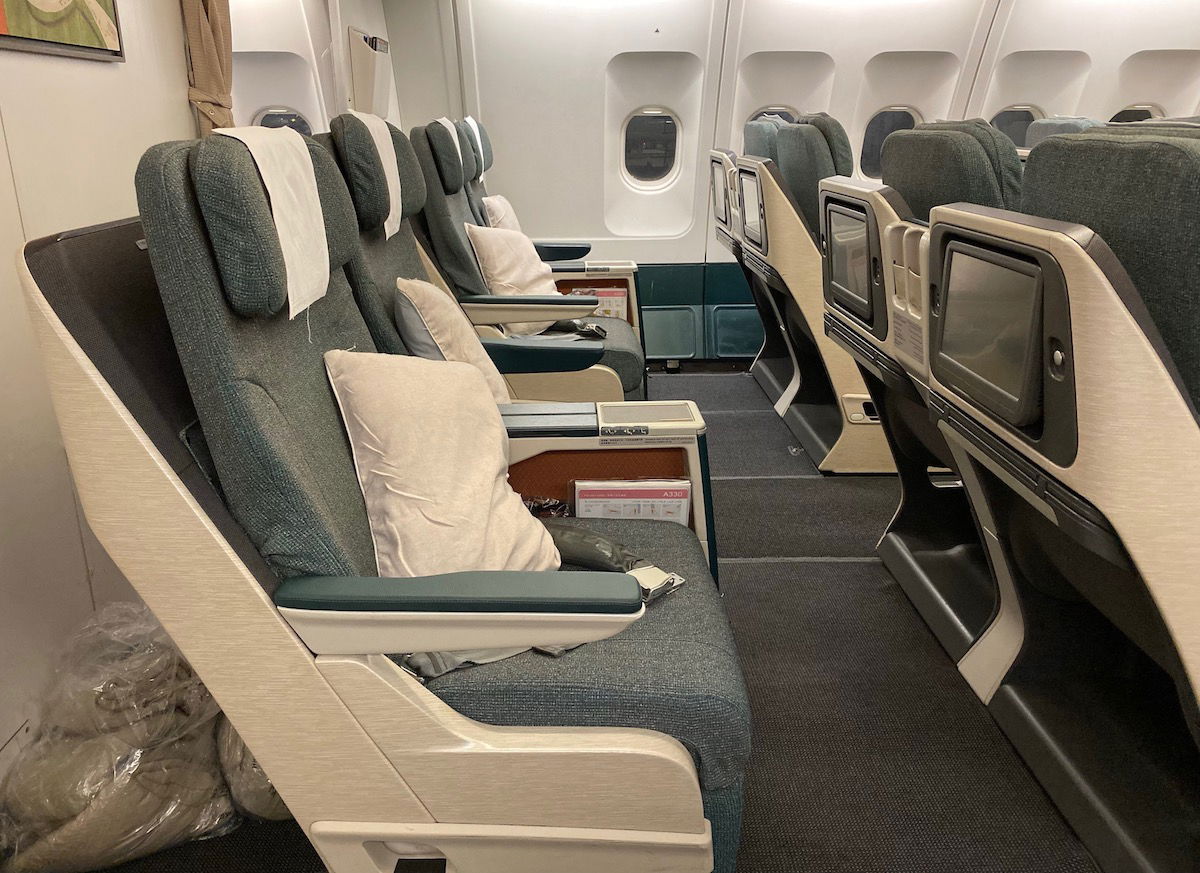 Cathay Dragon business class seats A330
The seats have personal televisions that are a decent size.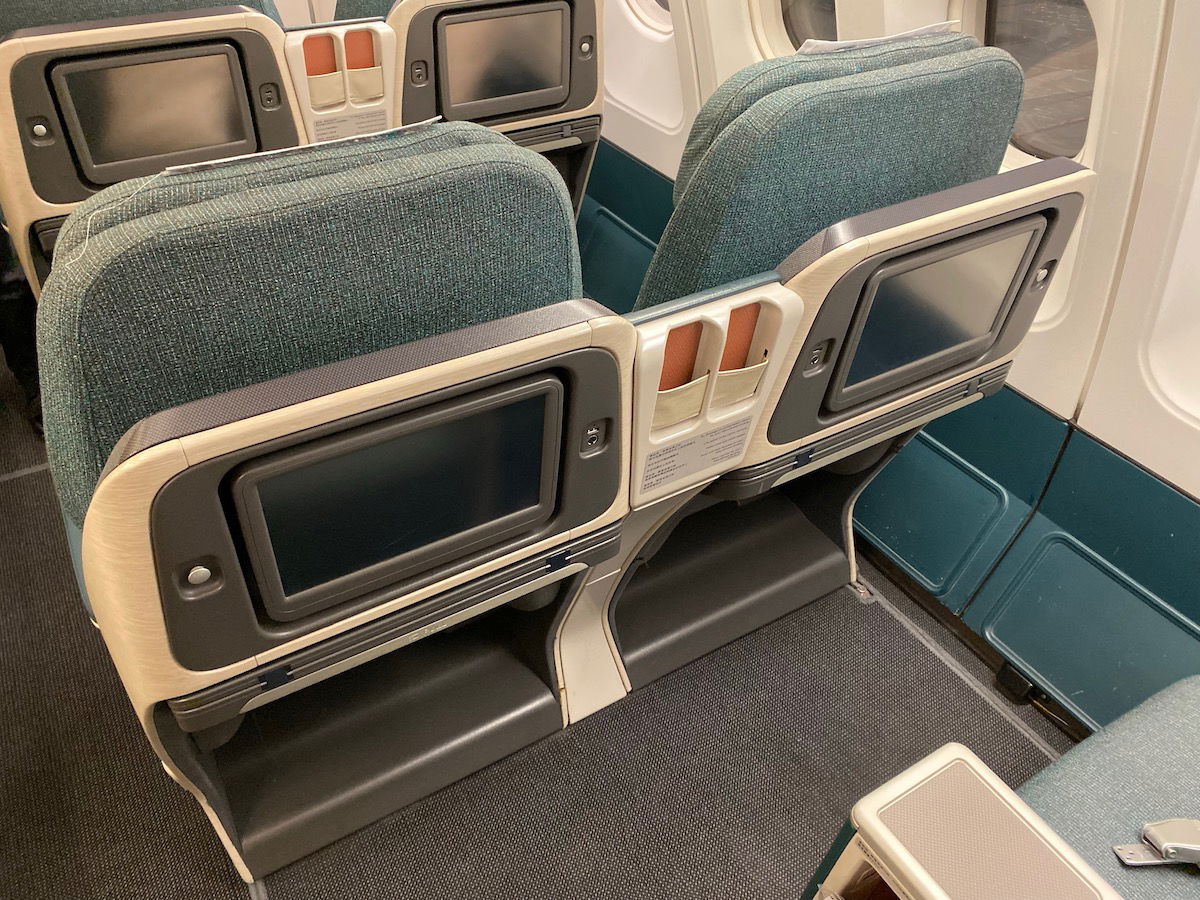 Cathay Dragon business class seats A330
The tray table folds out from the back of the seat in front, and then can be extended further out if you'd like.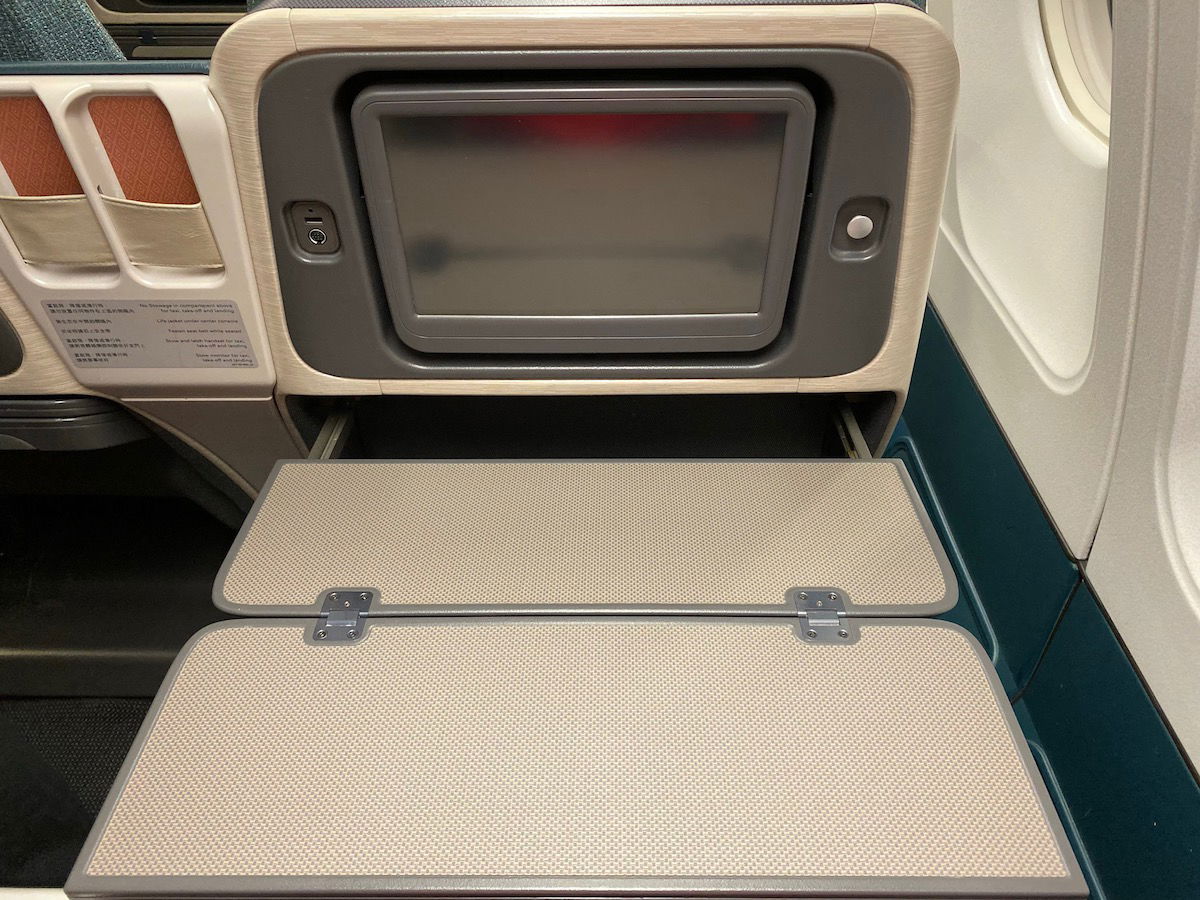 Cathay Dragon business class tray table
In the area between the TVs is some storage where you could place a phone or a pair of reading glasses.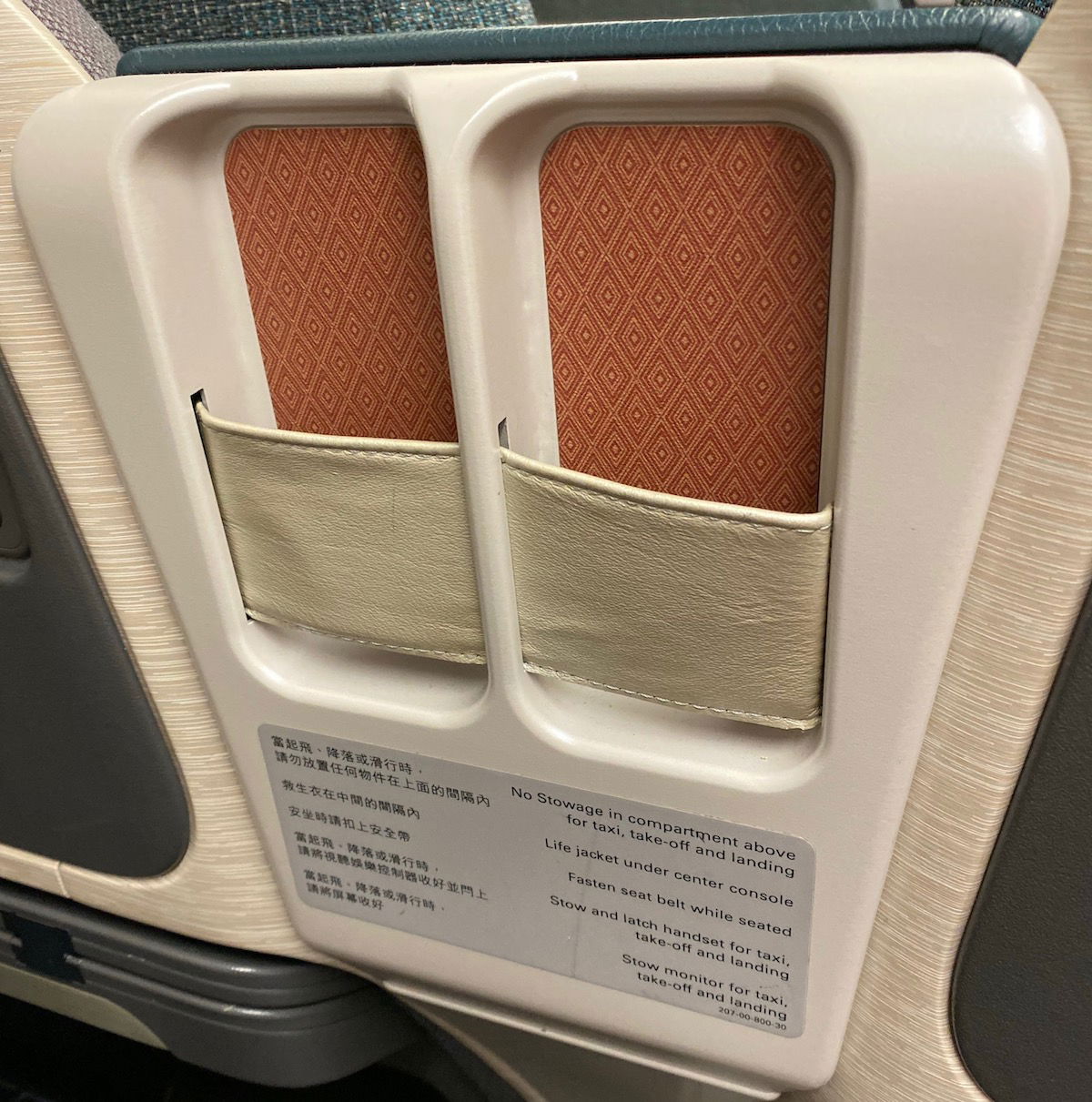 Cathay Dragon business class seat storage
There's an entertainment controller underneath the center armrest.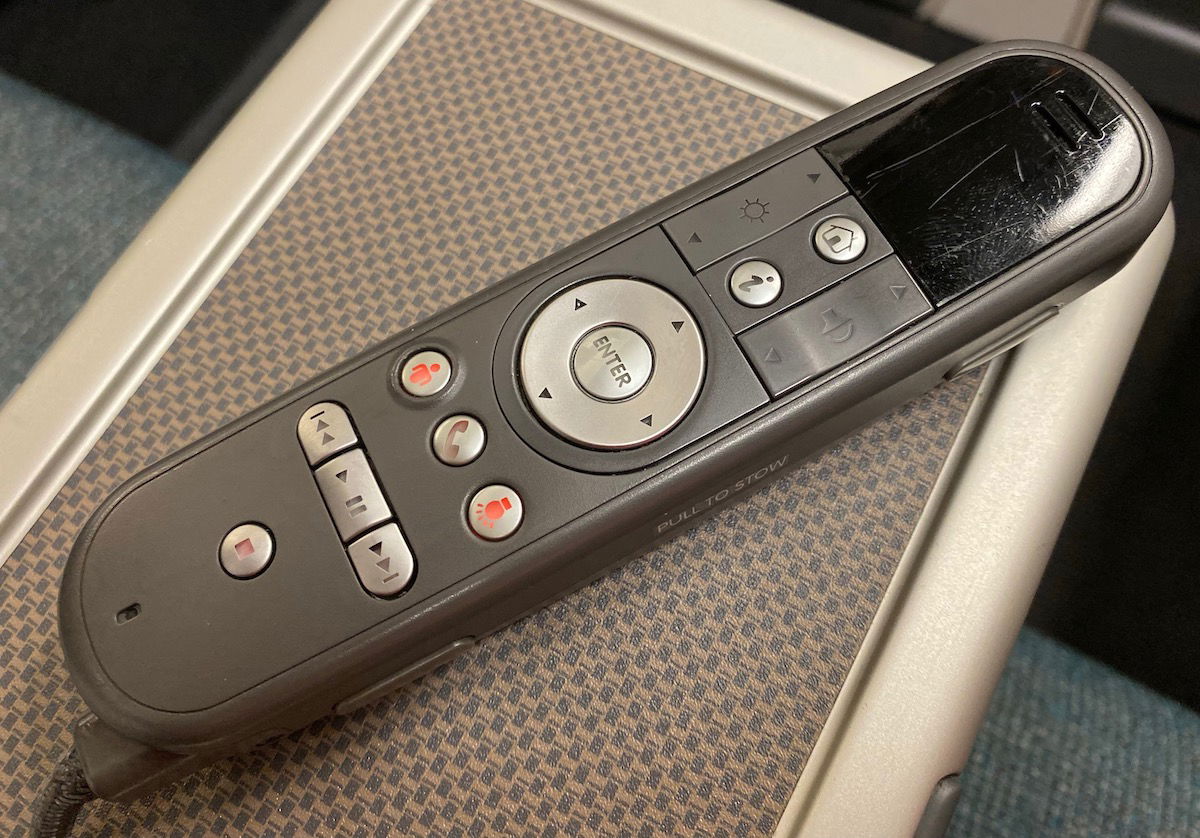 Cathay Dragon business class entertainment controller
Then on the front side of the center armrest are two 110v outlets.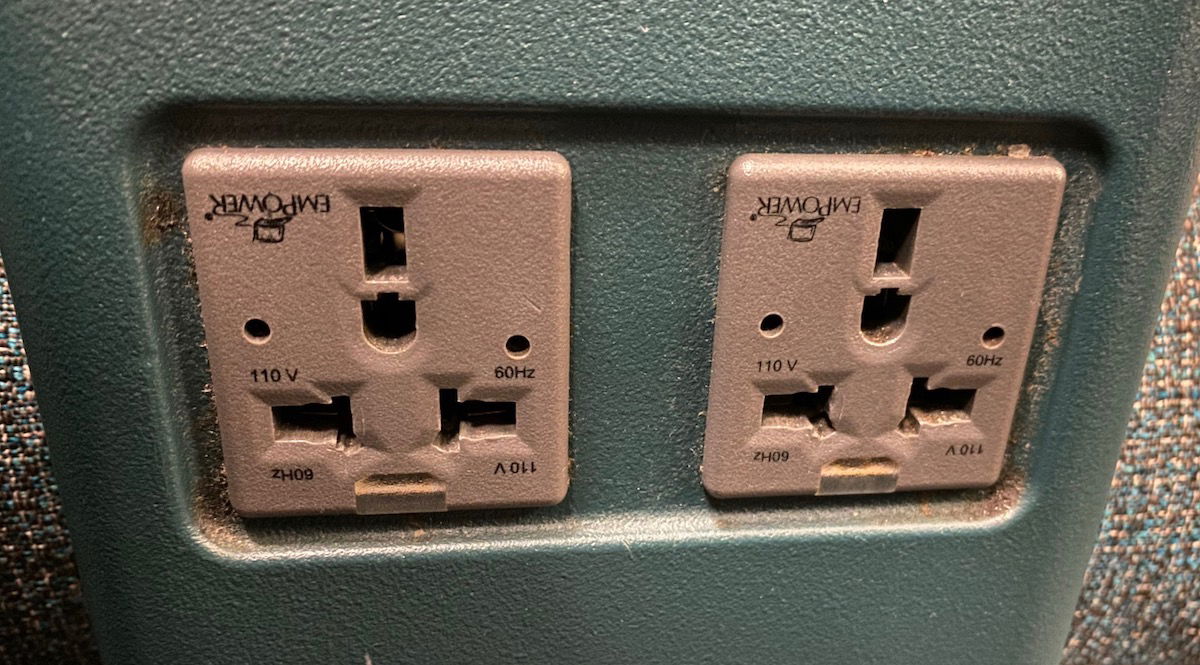 Cathay Dragon business class power outlet
The seat has manual controls that are on the center armrest, allowing you to adjust either the legrest or the seatback.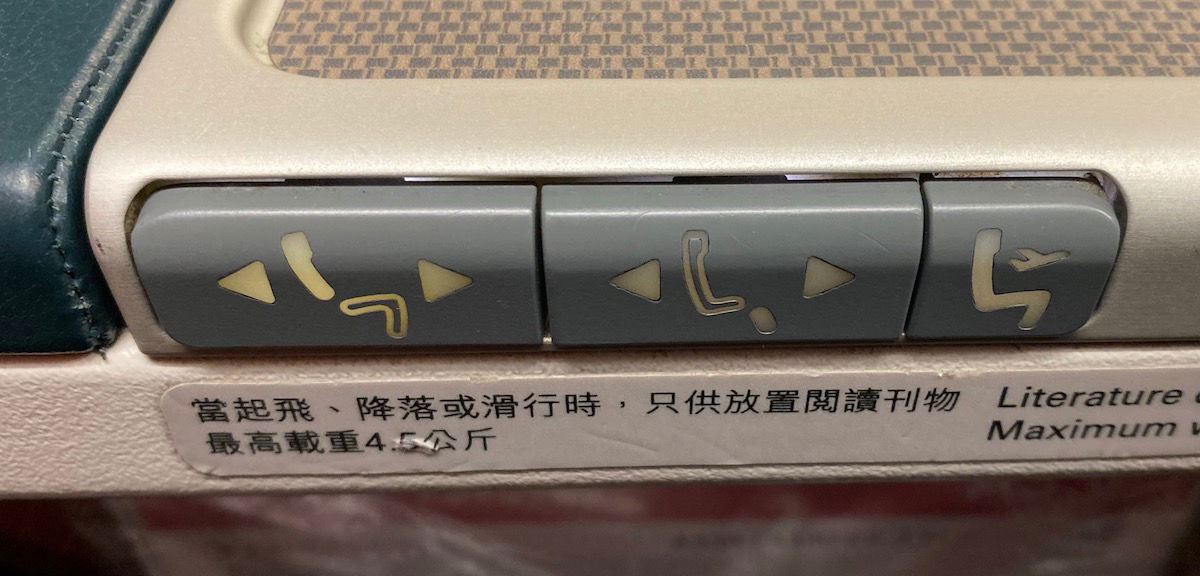 Cathay Dragon business class seat controls
The seat reclines a fair amount, more than I was initially expecting. It's still far from even being an angled seat, but the recline is significantly more than you'd find in domestic first class on a US airline, for example.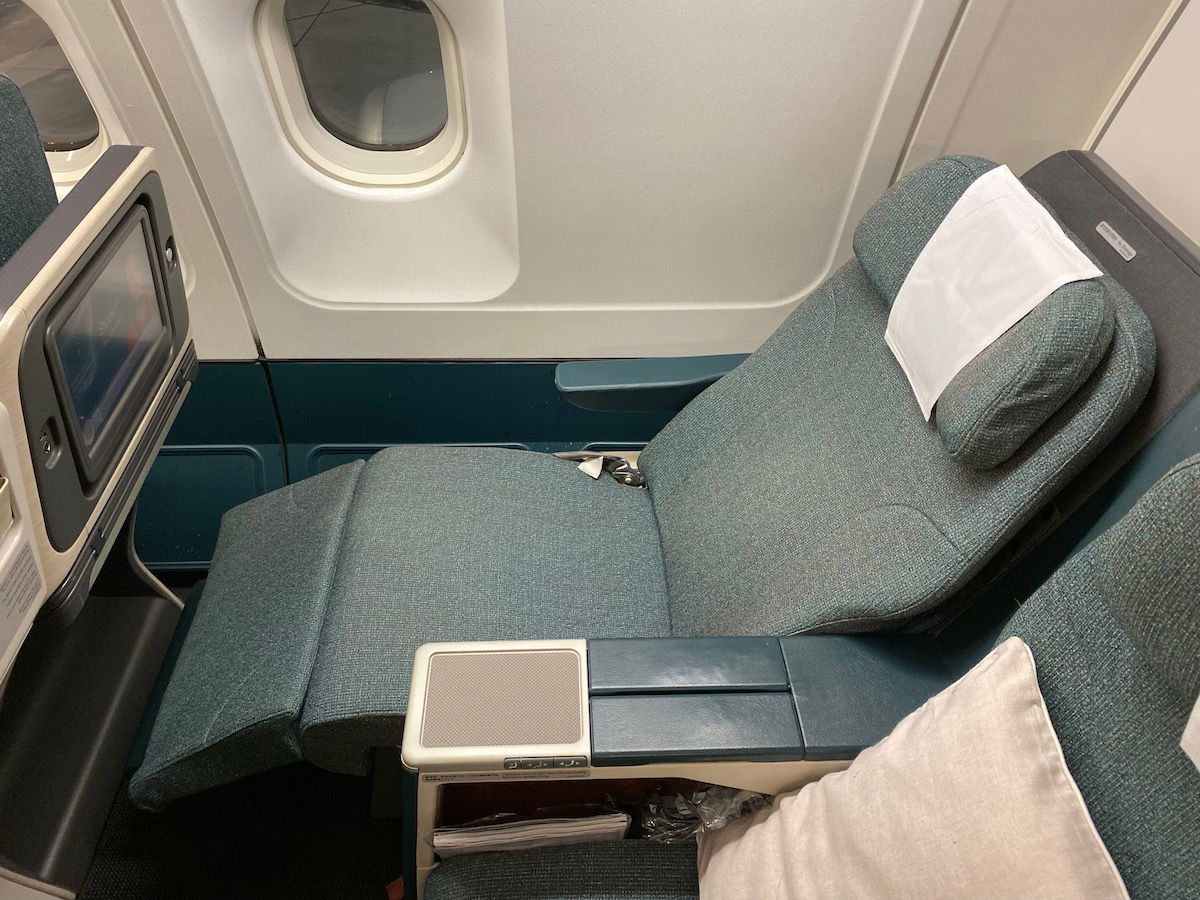 Cathay Dragon business class seat recline
That being said, the seat simply isn't comfortable when reclined. First of all, it feels like you're sitting in a dentist's chair, no matter how you slice it. Second of all, the area where you can place your feet when the seat is reclined is quite small, and constraining.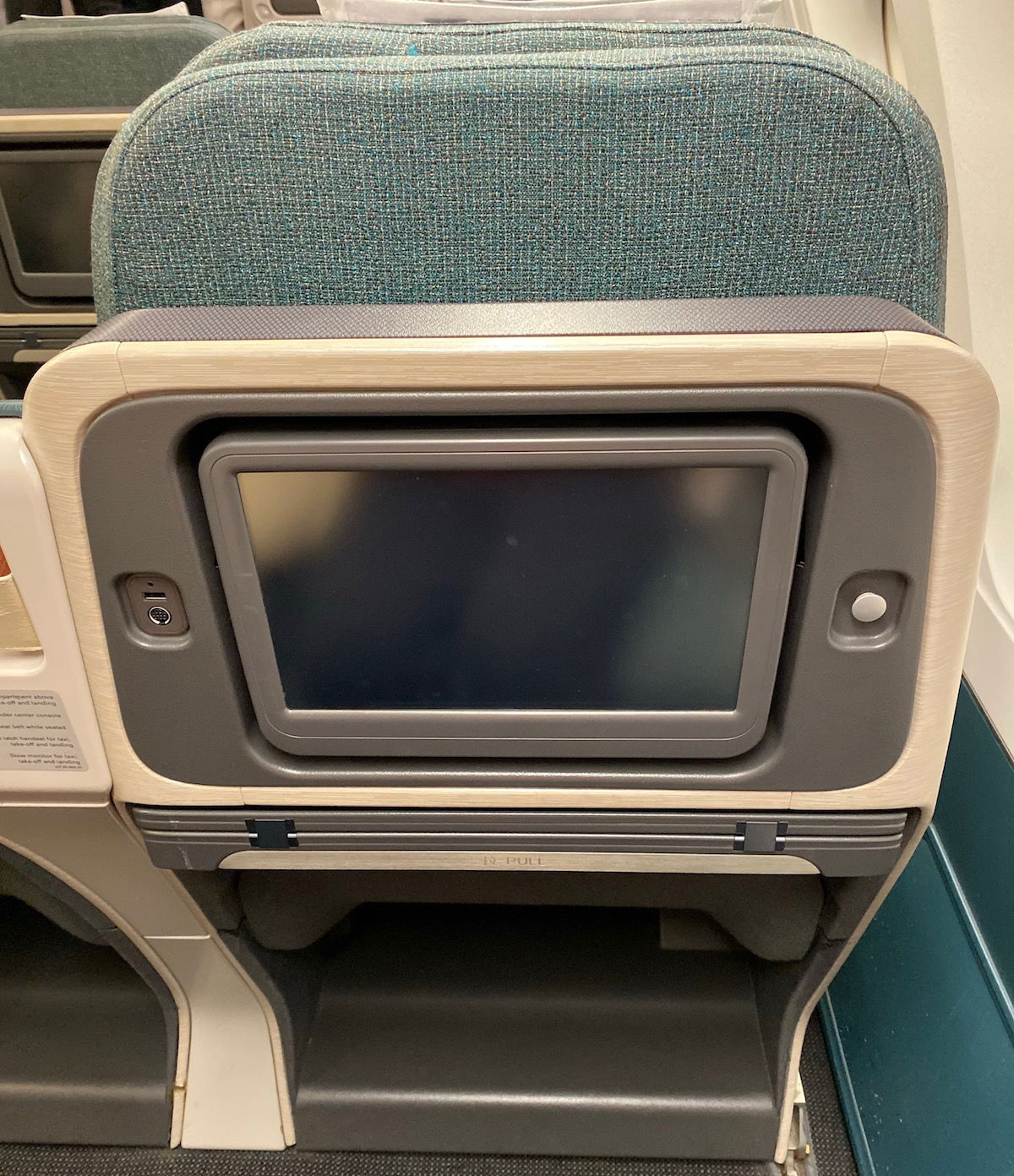 Cathay Dragon business class seats A330
So for a three hour daytime or evening flight this seat is totally fine. Like I said, Cathay Pacific and Cathay Dragon have the same seat. The difference is that Cathay Pacific also has long haul configured planes flying regional routes, while this is the business class seat throughout Cathay Dragon's fleet.
So I would try to avoid this seat on redeyes or flights that are significantly longer than three hours, assuming there's a better option.
The only other aspect of the hard product that I'd note is that Cathay Dragon has no individual air nozzles.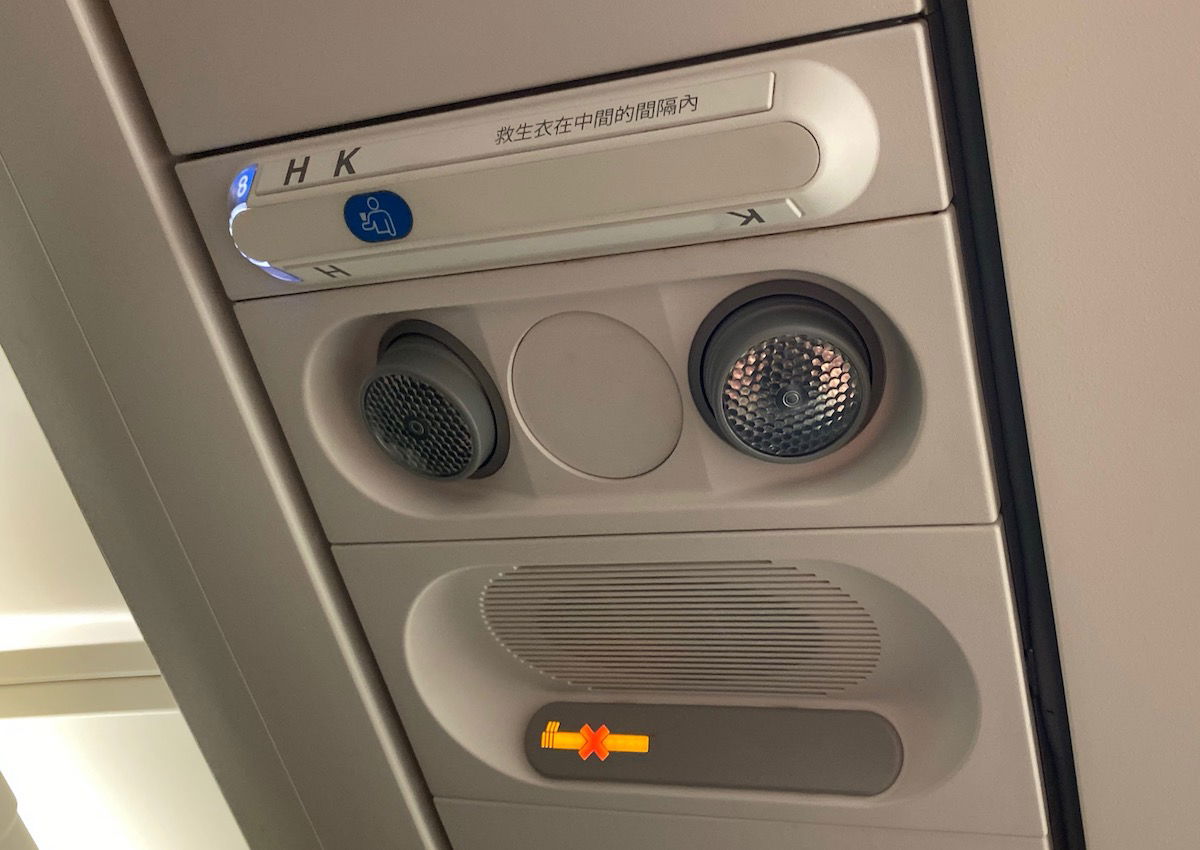 Cathay Dragon business class overhead consoles
Waiting at each seat upon boarding was a light pillow and blanket. There were no amenity kits or slippers.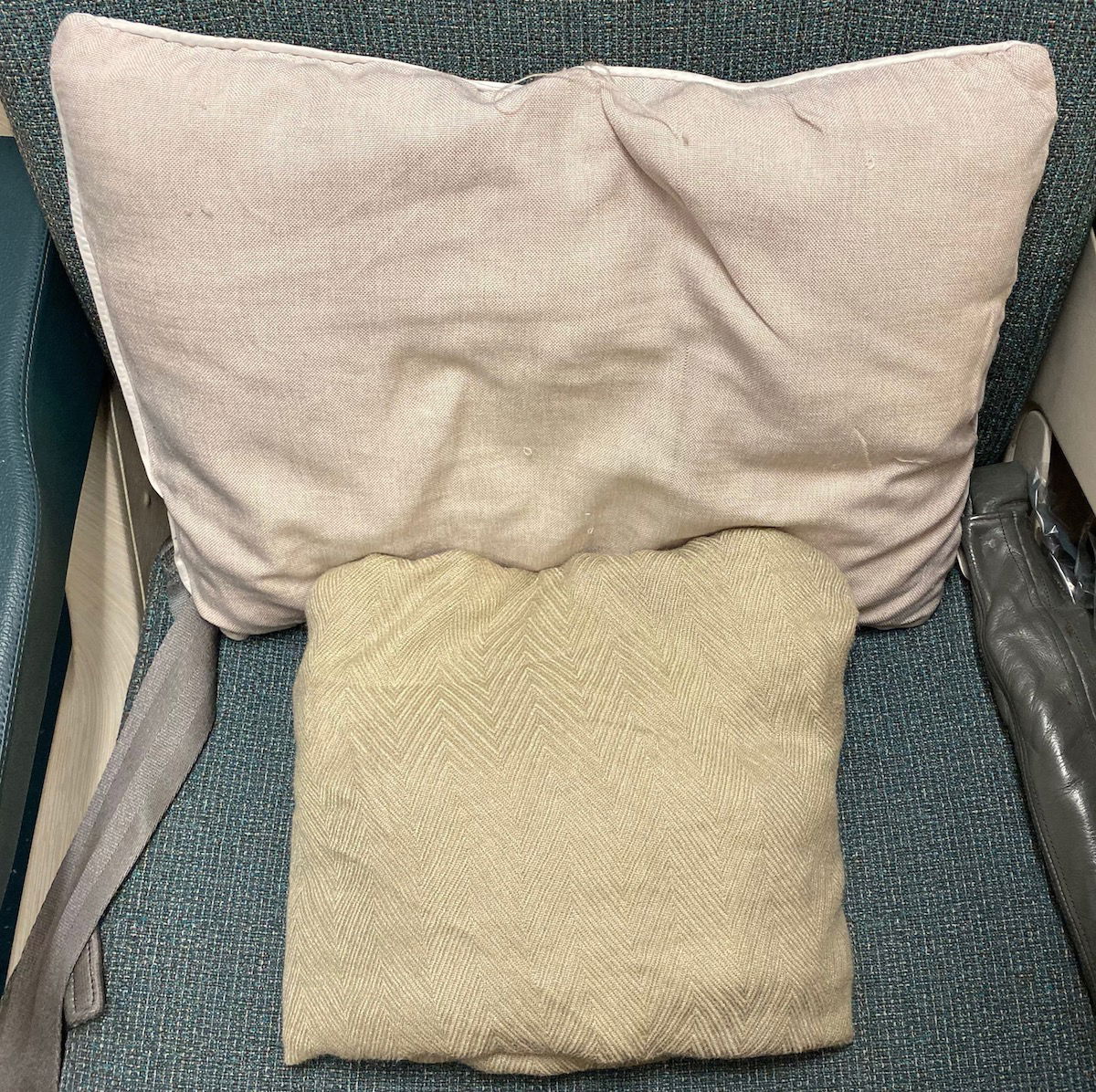 Cathay Dragon business class pillow & blanket
Also waiting at my seat were a pair of headphones.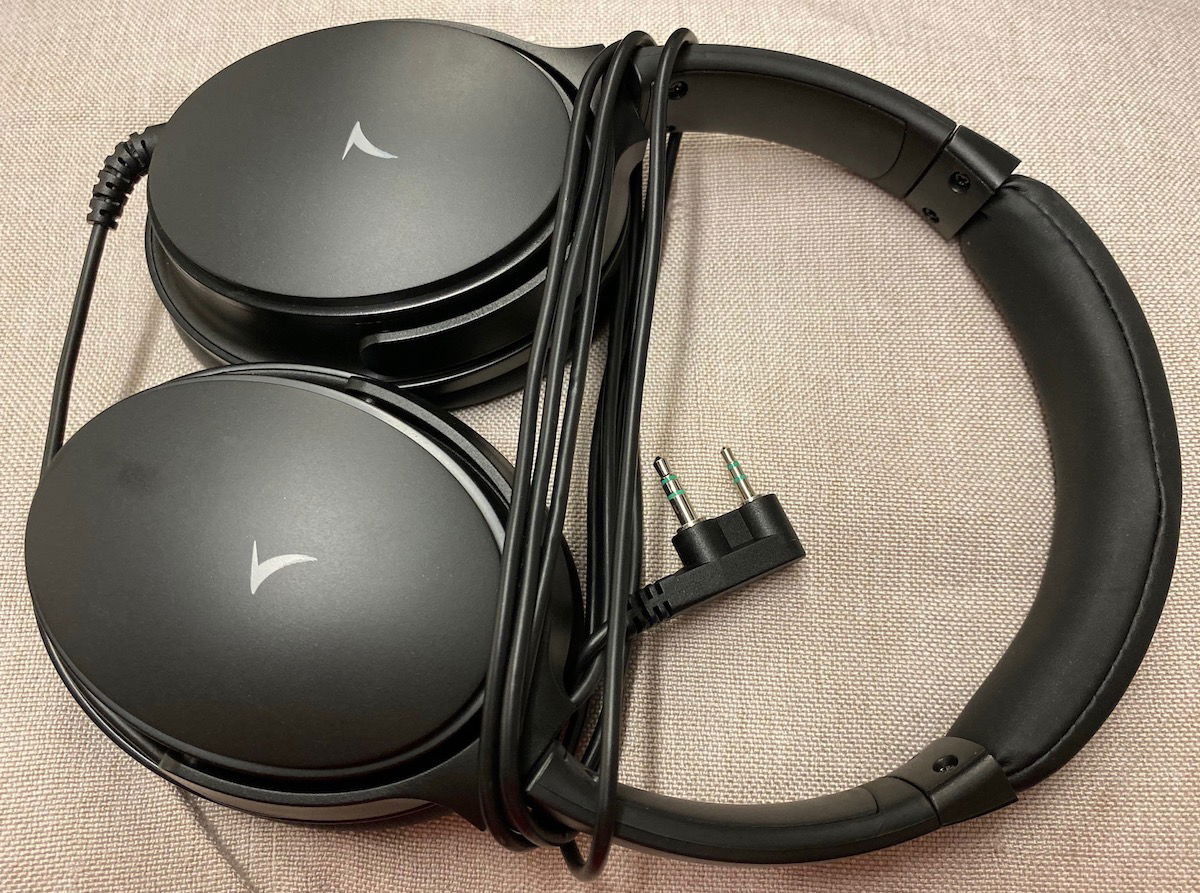 Cathay Dragon business class headphones
About 15 minutes after boarding, pre-departure drinks were served, with the choice between water, orange juice, and the signature (virgin) rose infinity drink, consisting of apple juice, grapefruit juice, and sparkling water. I was also offered a packaged towel.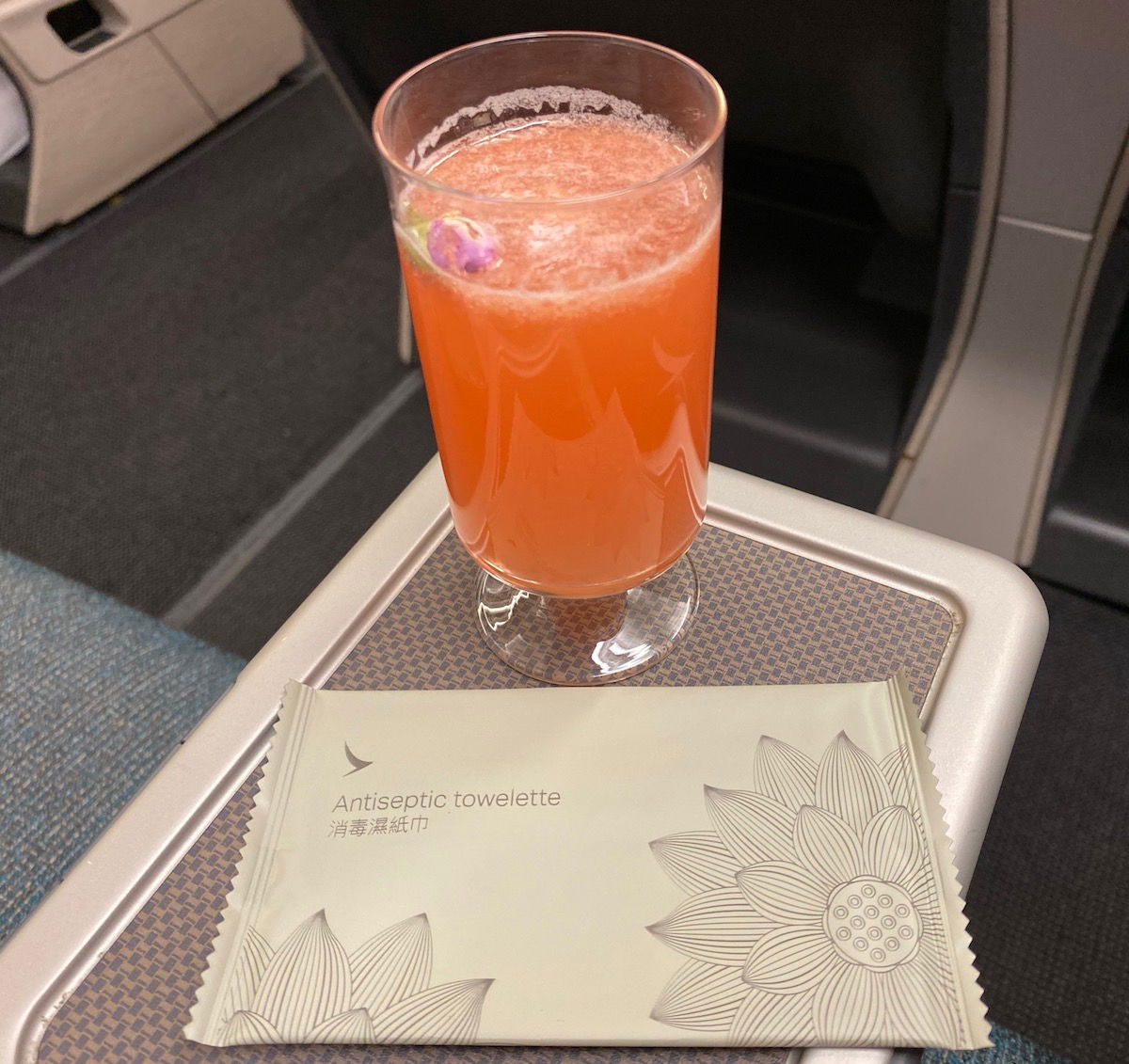 Cathay Dragon business class pre-departure drink
About 10 minutes later I was offered the menu for the flight, as well as the landing card for China.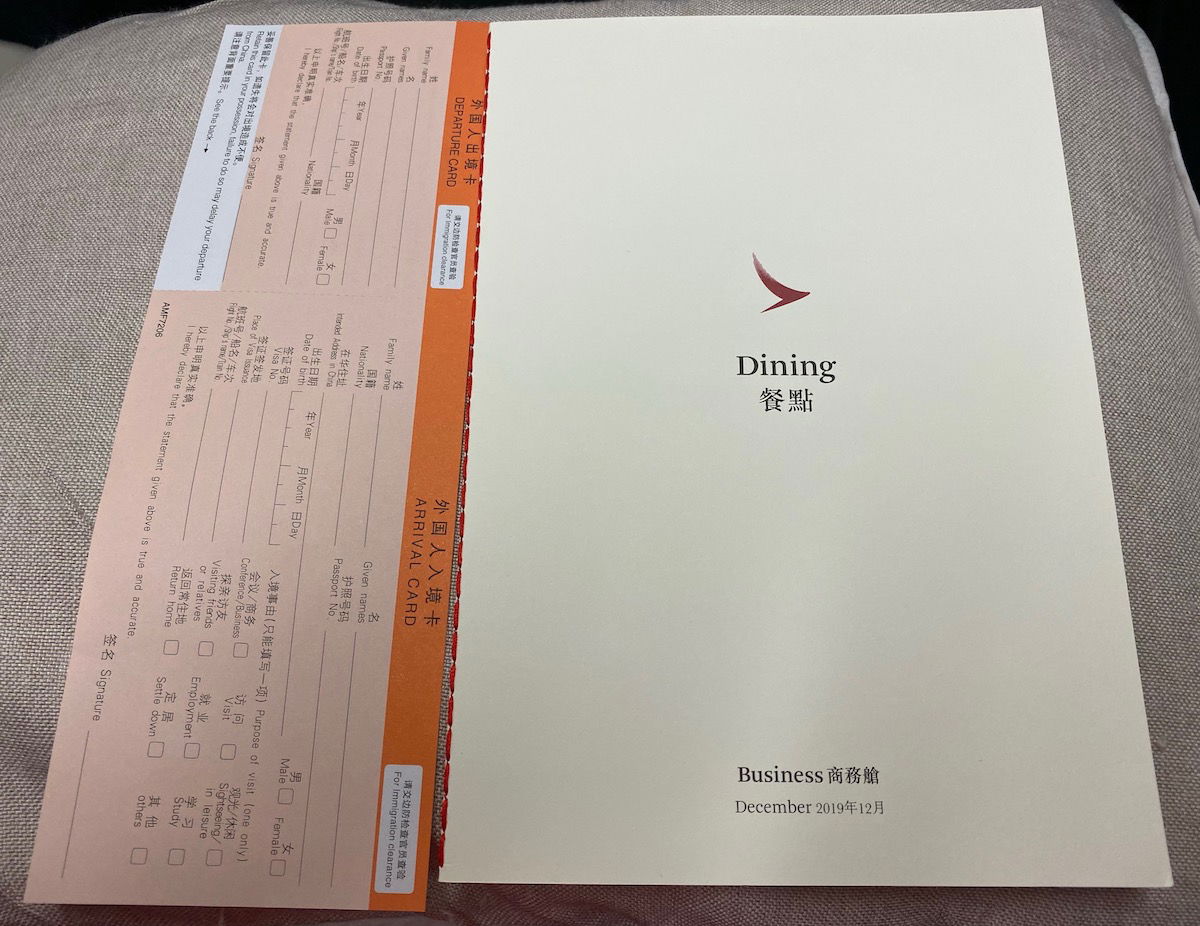 Cathay Dragon business class menu & landing card
Given the current relations between Hong Kong and Beijing I was expecting the flight to be quite empty (I had heard all kinds of stories of flights between the two cities having just dozens of passengers), but much to my surprise there were only three empty seats in business class.
At around 6:55PM the captain made his welcome aboard announcement, informing us of our flight time of 3hr10min. After that the flight service manager, Cathy, made her welcome aboard announcement.
Interestingly virtually all the other announcements on the flight were automated (about the service, seatbelt sign, etc.), which is something I really like. I find it to be much more soothing than "real" people constantly making announcements.
The door closed right on time at 7PM, at which point the safety video was screened. Five minutes later we began our pushback. We taxied out to runway 7R, and about 20 minutes later were cleared for takeoff.
As we climbed out I browsed the entertainment selection. Cathay Dragon's entertainment system is called "StudioKA" (Cathay Pacific's is called StudioCX — "KA" is the airline code for Cathay Dragon).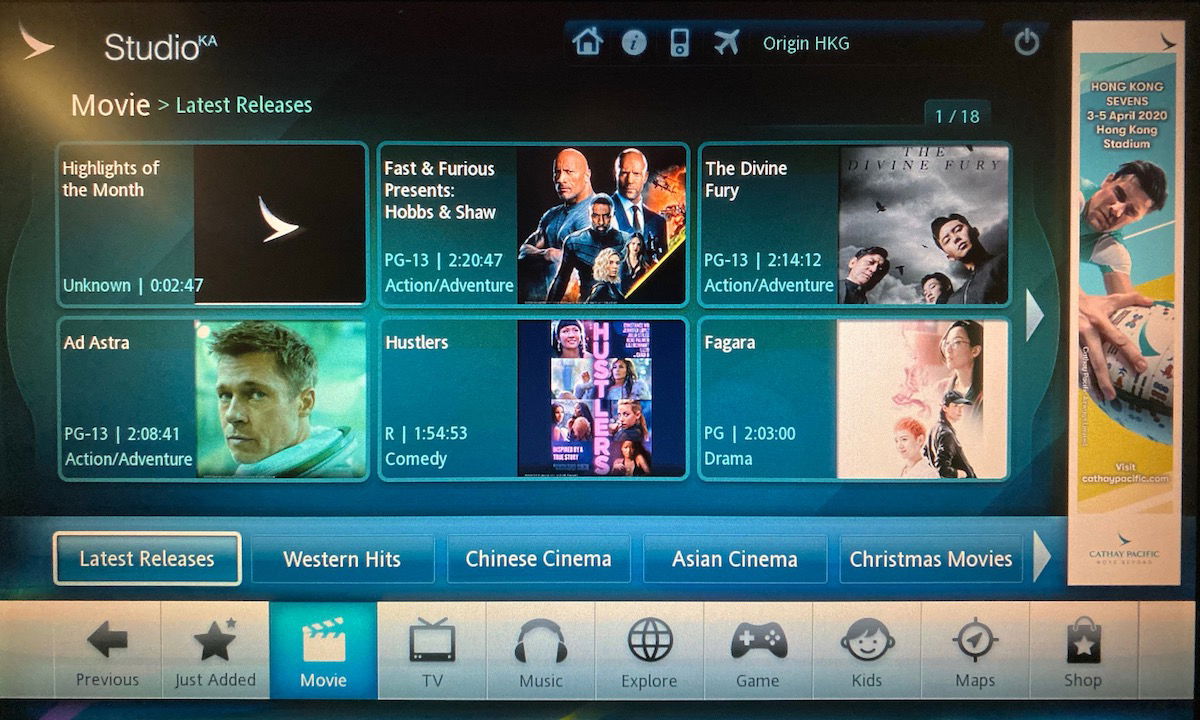 Cathay Dragon entertainment system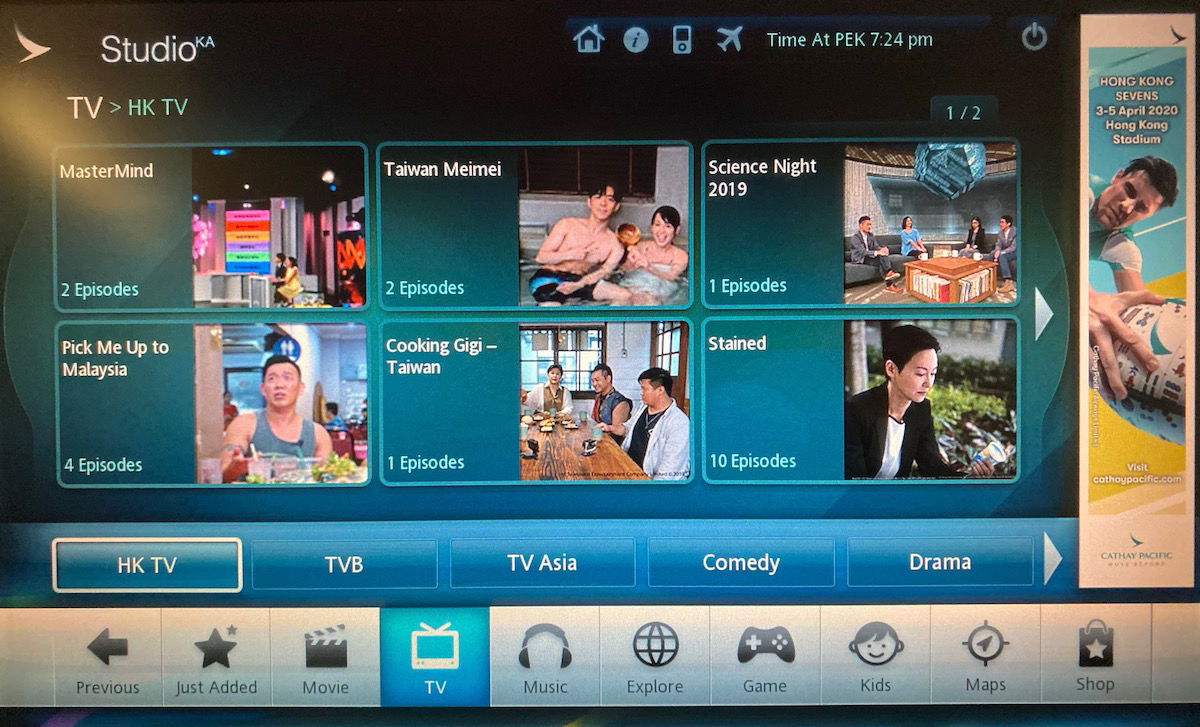 Cathay Dragon entertainment system
The selection as such was good, the problem was that the monitors were just so low resolution and had a lot of glare. The below picture isn't blurry, that's just the resolution the screen has.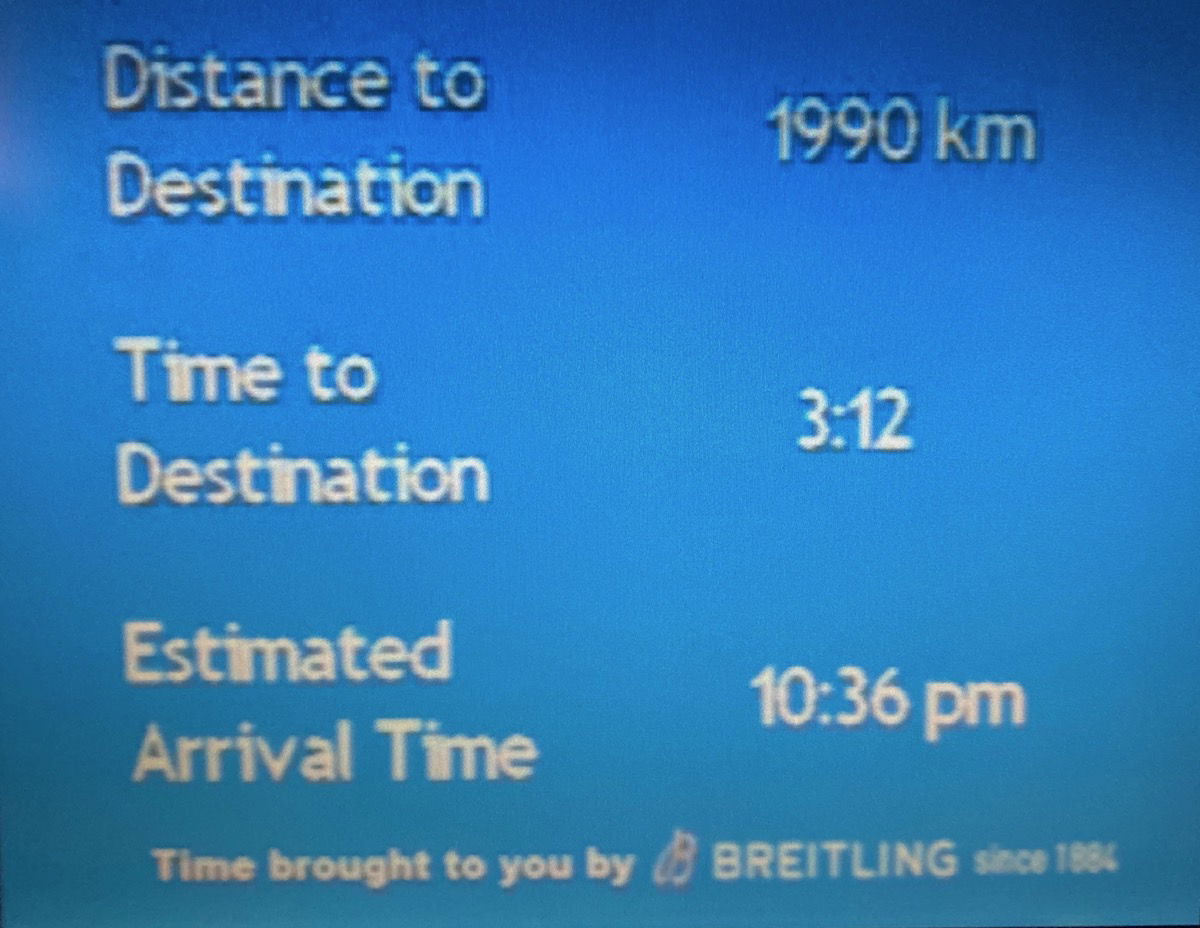 Cathay Dragon entertainment system
I ended up watching some episodes of Family Guy.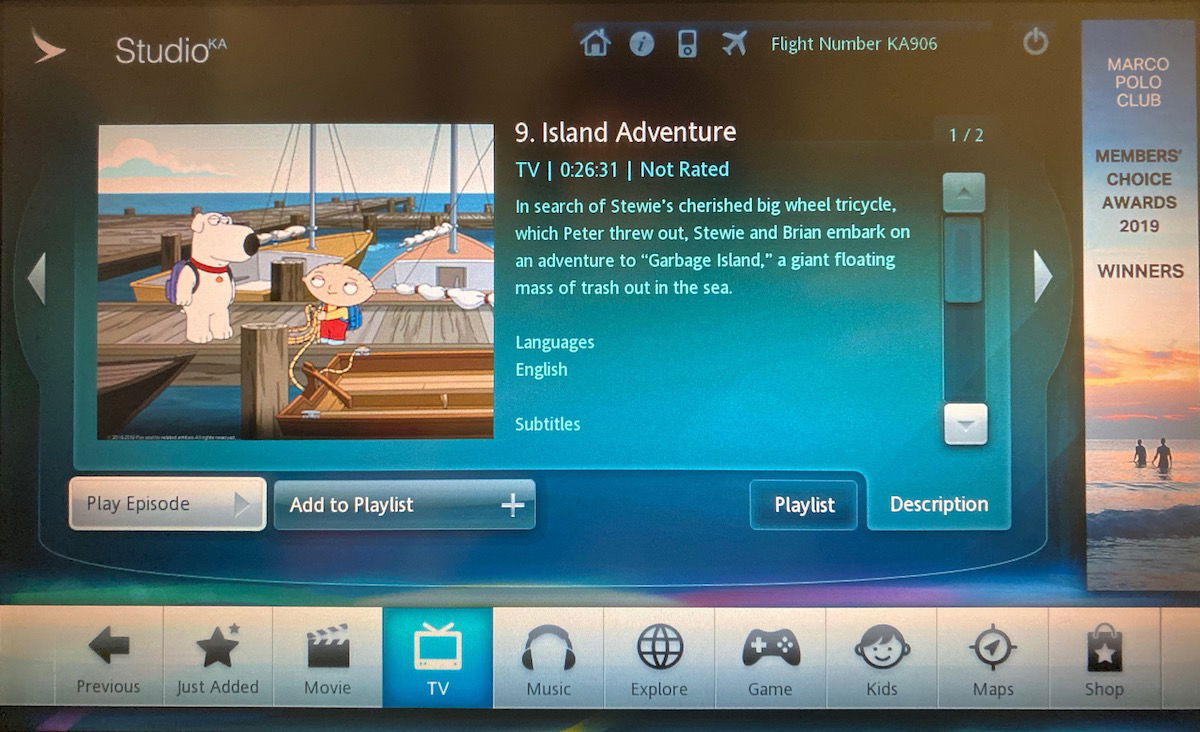 Cathay Dragon entertainment system
Unfortunately Cathay Dragon doesn't yet have Wi-Fi on their A330s, though they should eventually.
The seatbelt sign was turned off 10 minutes after takeoff. 15 minutes after takeoff the flight service manager stopped by my seat to say hello (I think she came around to oneworld Emerald members), and then a couple of minutes later drink orders were taken.
I hadn't really looked at the menu at this point, so I tried to order a Cathay Delight (Cathay Pacific's signature drink), though they told me they didn't have that on Cathay Dragon — fair enough, I guess the products are otherwise aligned so much that it hadn't occurred to me that they'd have different drinks.
The dinner menu read as follows: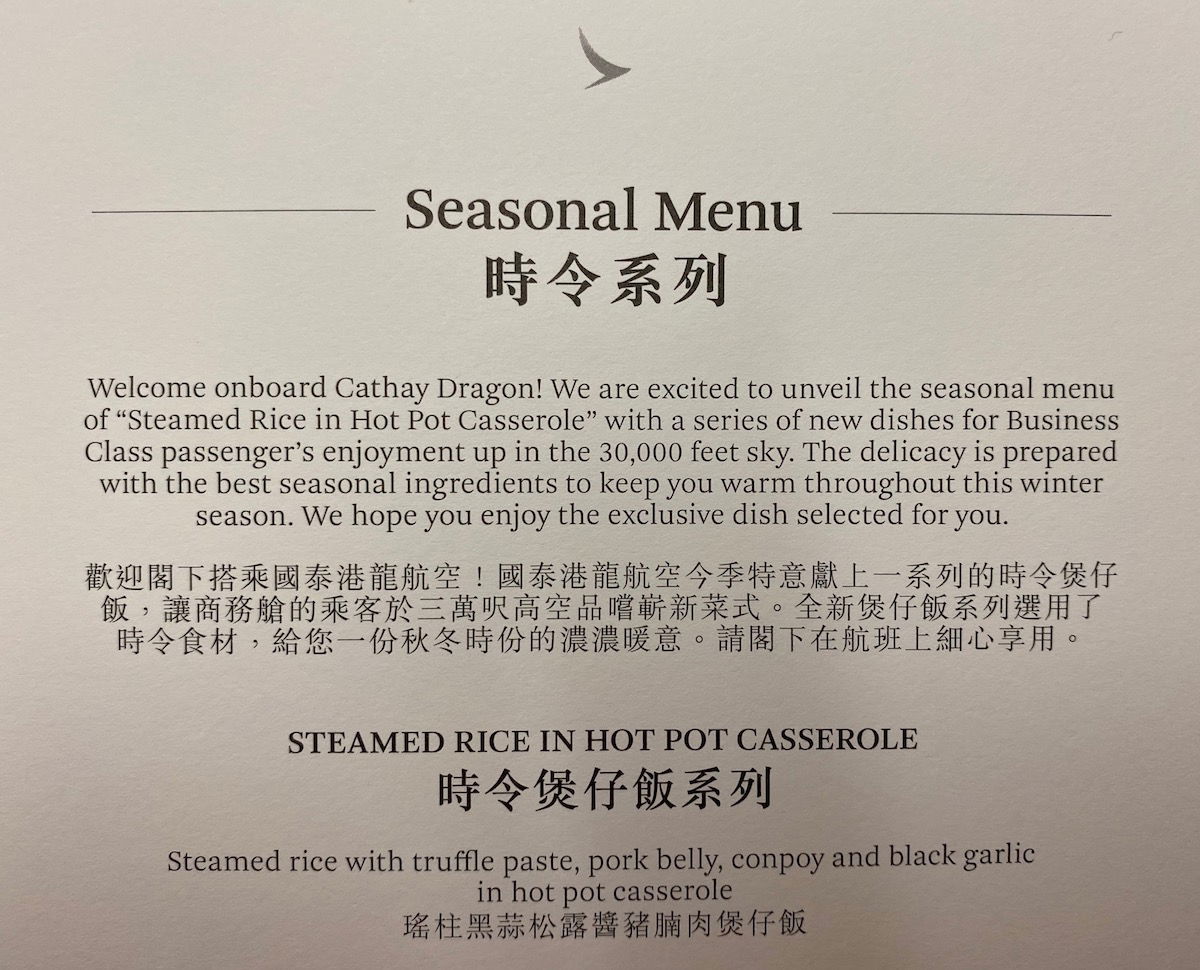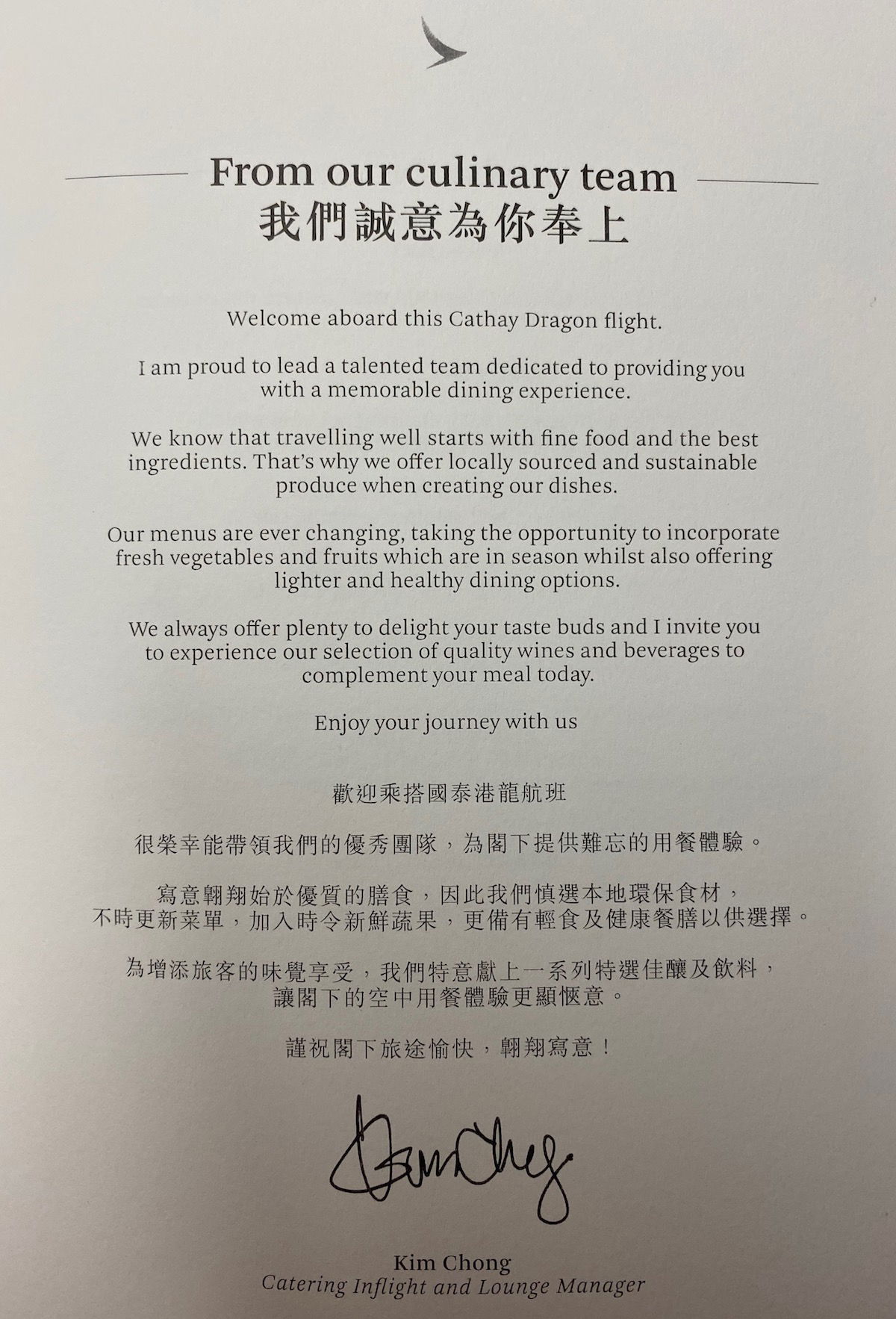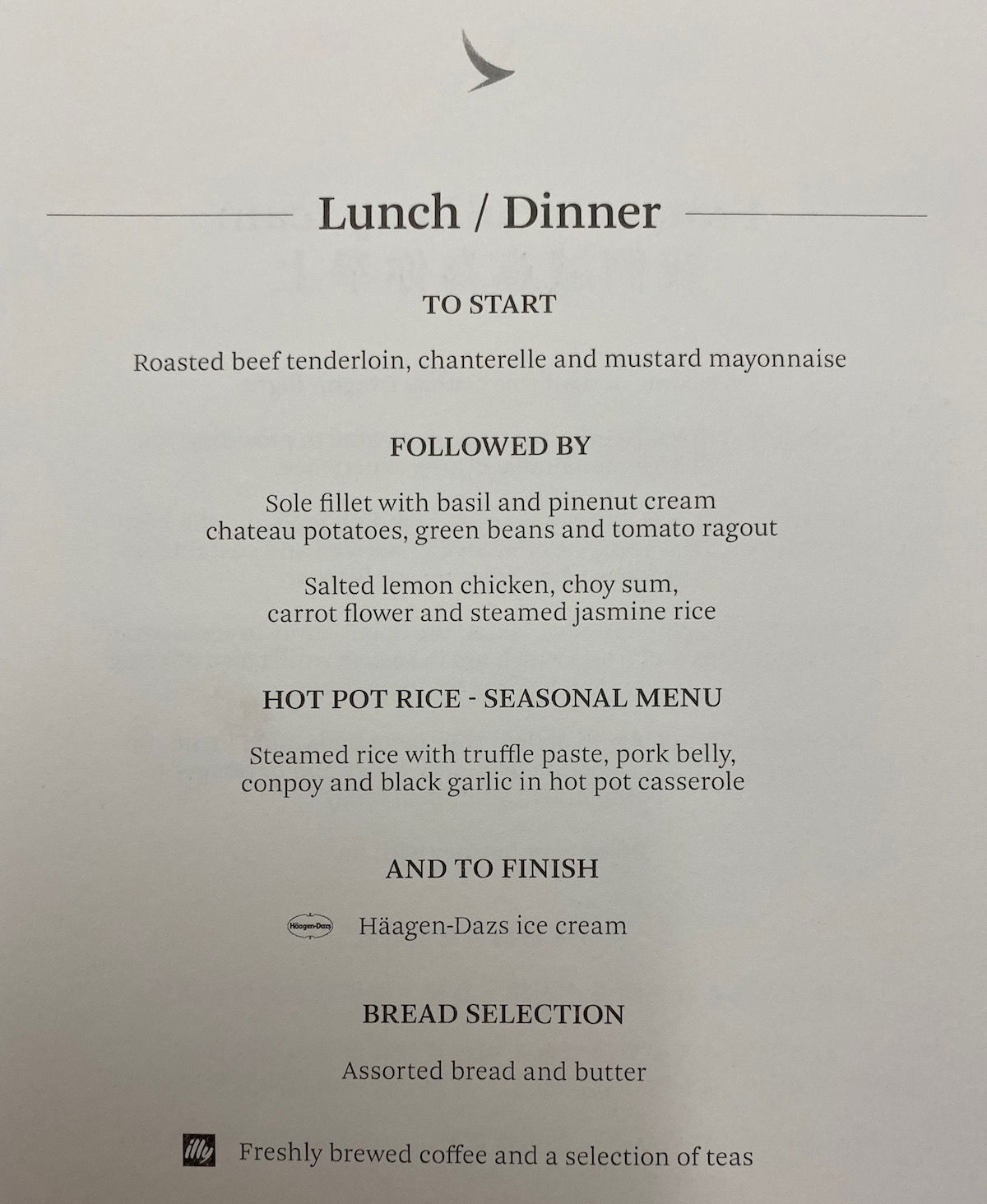 The drink list read as follows: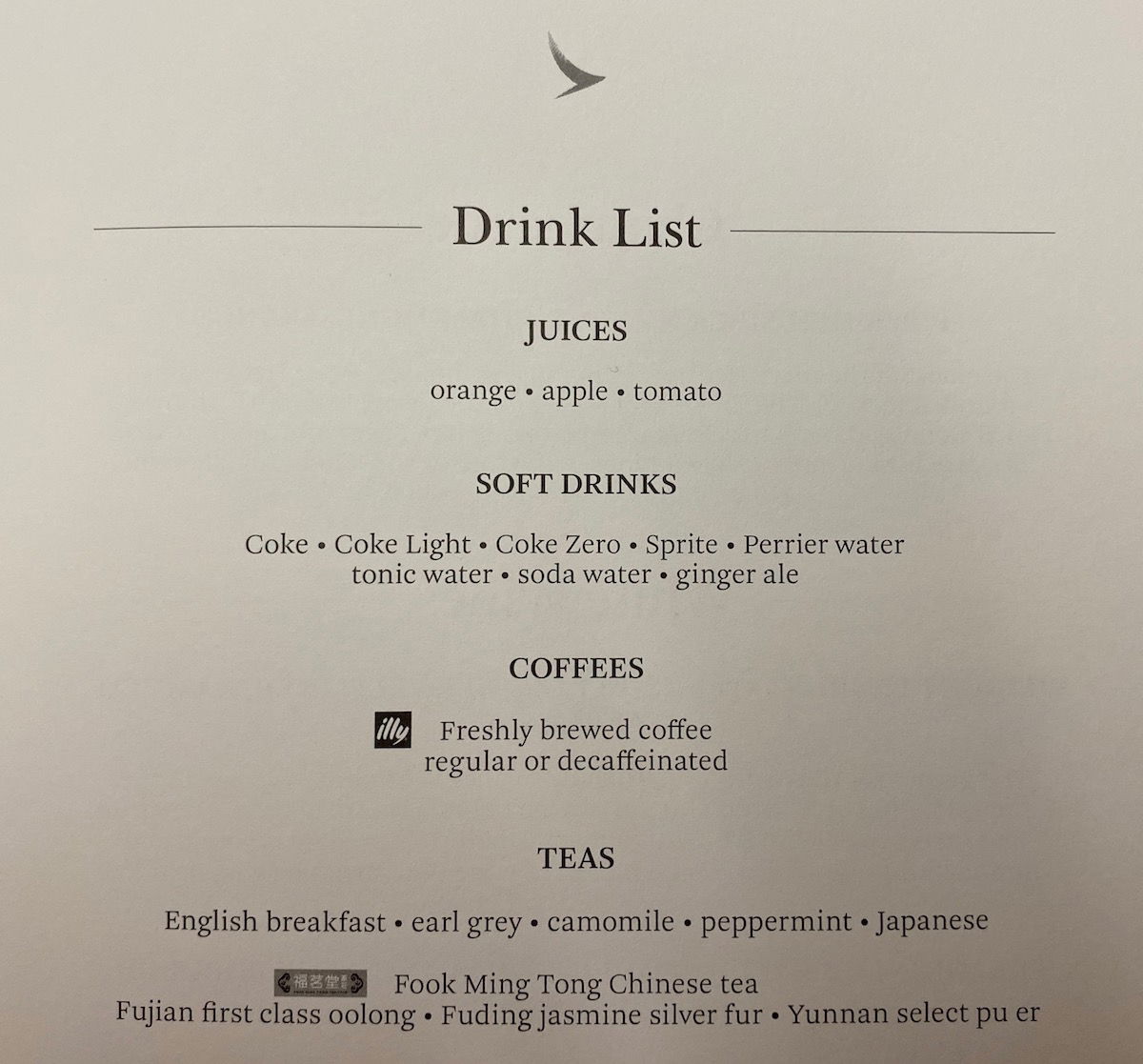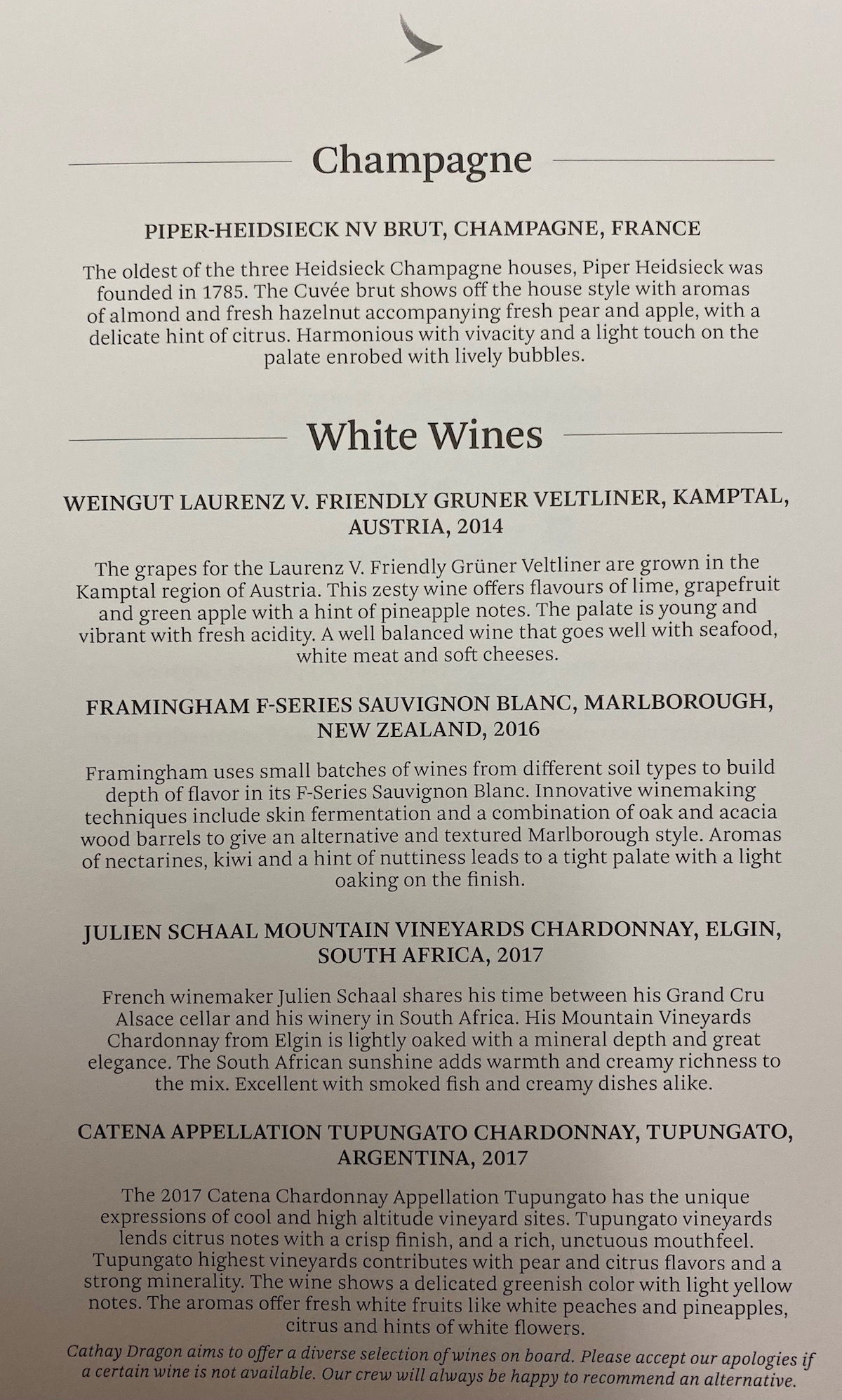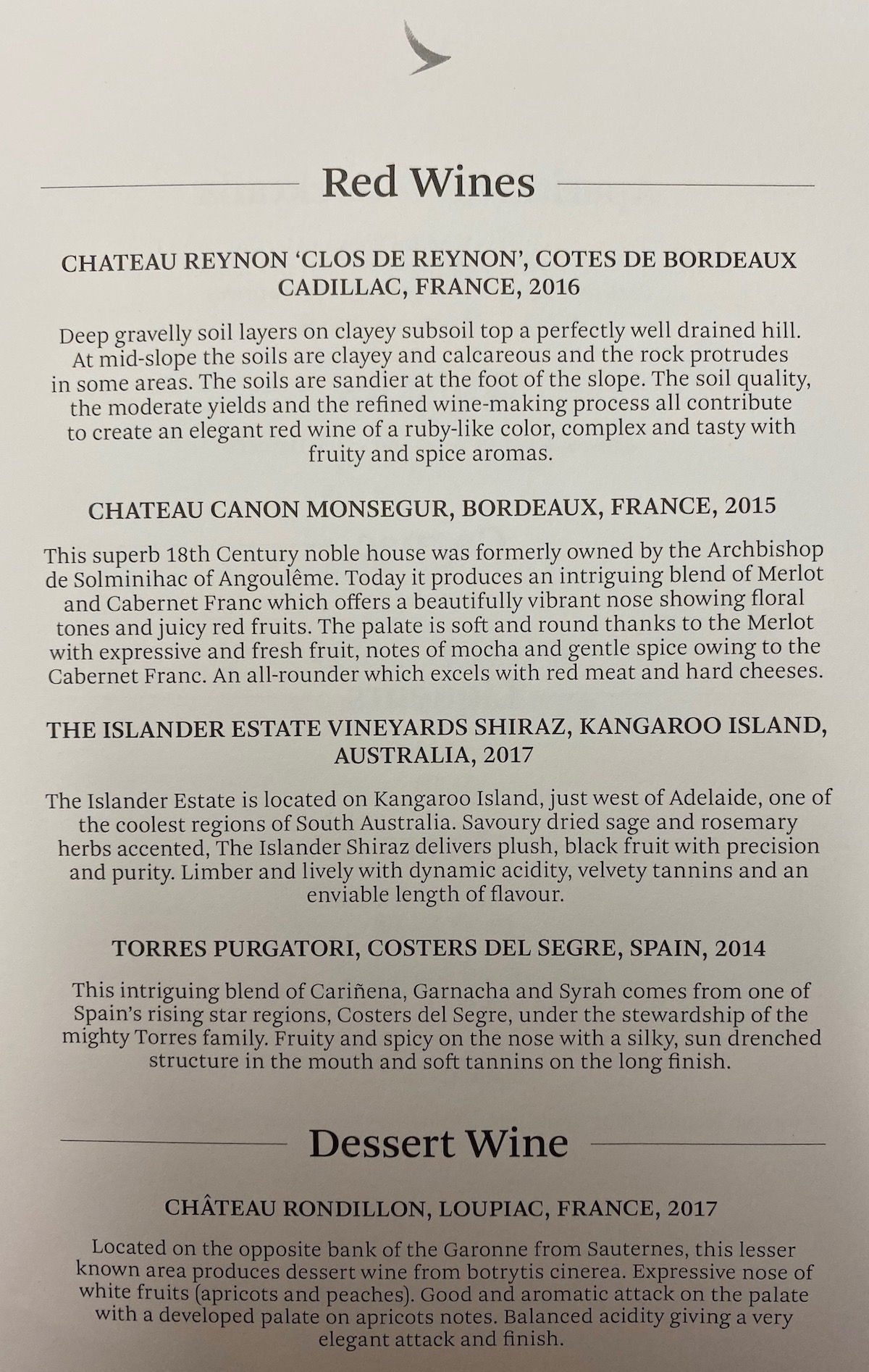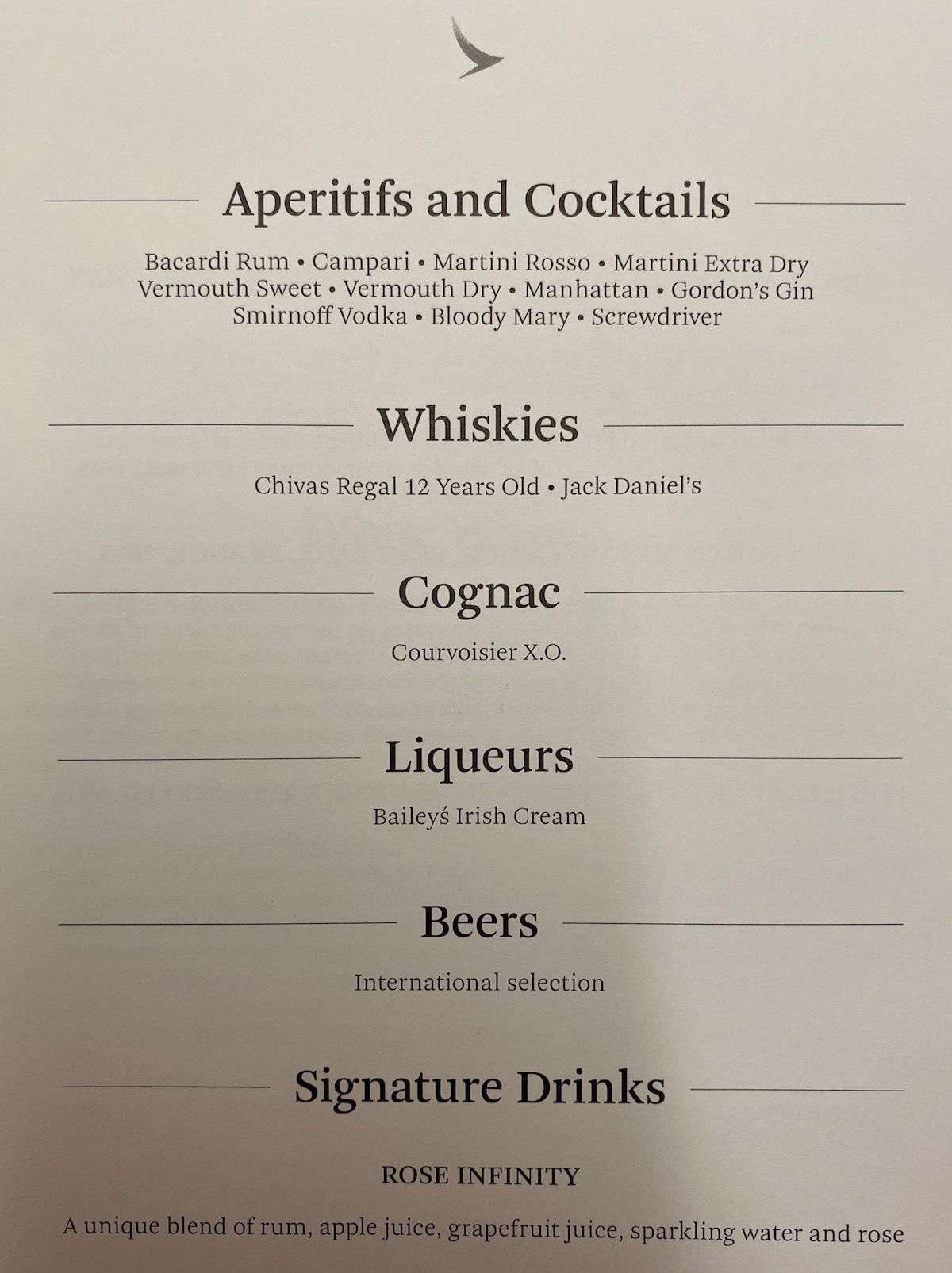 About 30 minutes after takeoff drinks were served. I found the service flow to be odd — they took drink orders in advance, and then rolled out a cart that had all the drinks pre-poured. Typically you'd either see them just ask you what you want when the cart is at your seat, or bring them out on a tray.
Anyway, I just had a still water, and was offered packaged mixed nuts to go along with it.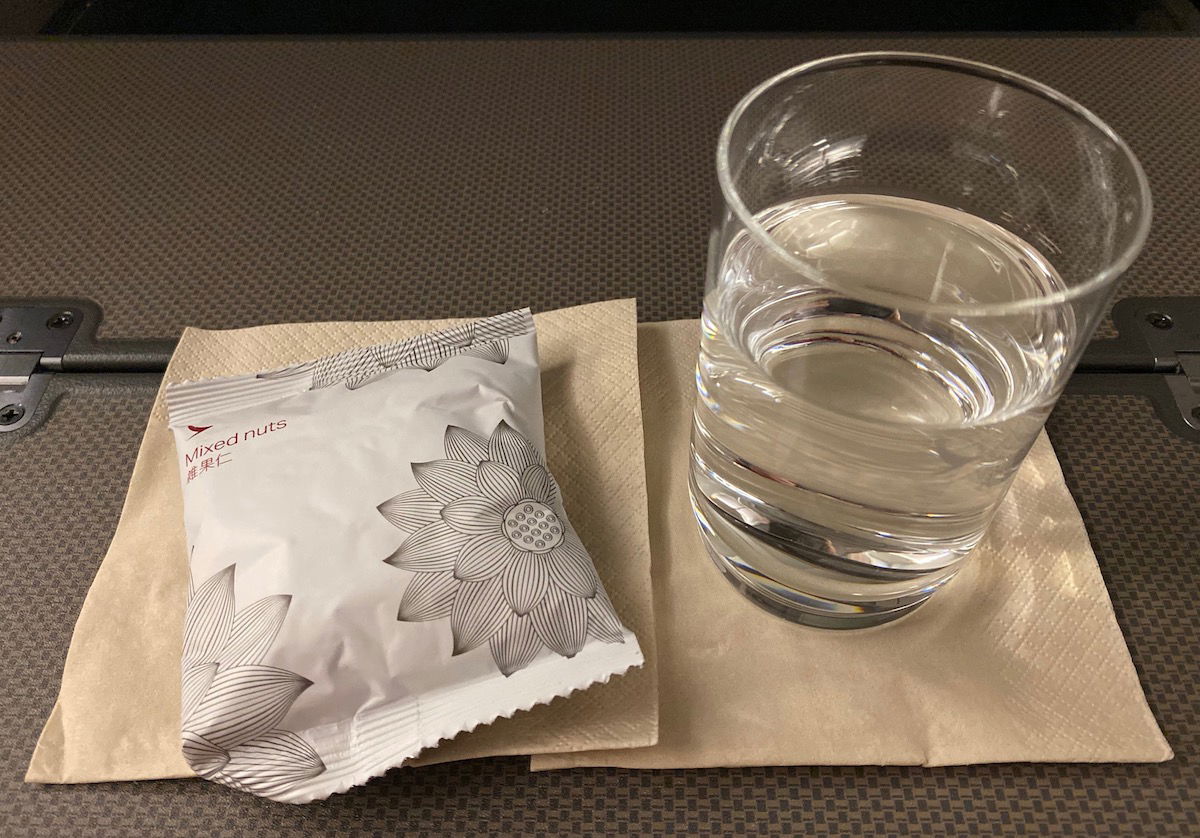 Cathay Dragon business class dinner
45 minutes after takeoff tablecloths were distributed, and then a minute later a tray with the starter was brought out. The only choice for the starter was roasted beef tenderloin, chanterelle, and mustard mayonnaise, which was reasonably good, though I'm not a big beef person.
There was also a selection from the breadbasket, and I chose the always excellent garlic bread.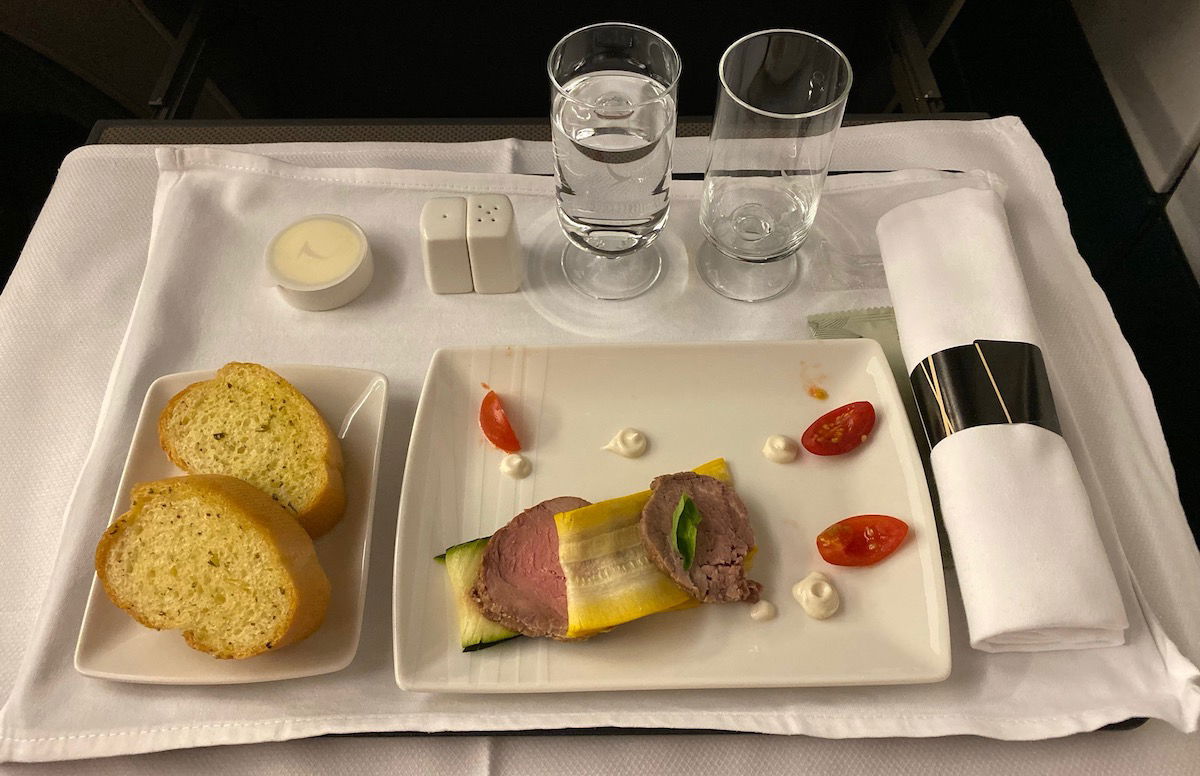 Cathay Dragon business class dinner — appetizer
About an hour after takeoff the main courses were served. These were all just brought out on a display trolley, so that you could see all the options and then decide what you wanted. Even though I was in the last row of business class, they still had all options available.
I selected the sole fillet with basil and pinenut cream, chateau potatoes, green beans, and tomato ragout, which was much better than I was expecting, and also better than it looked.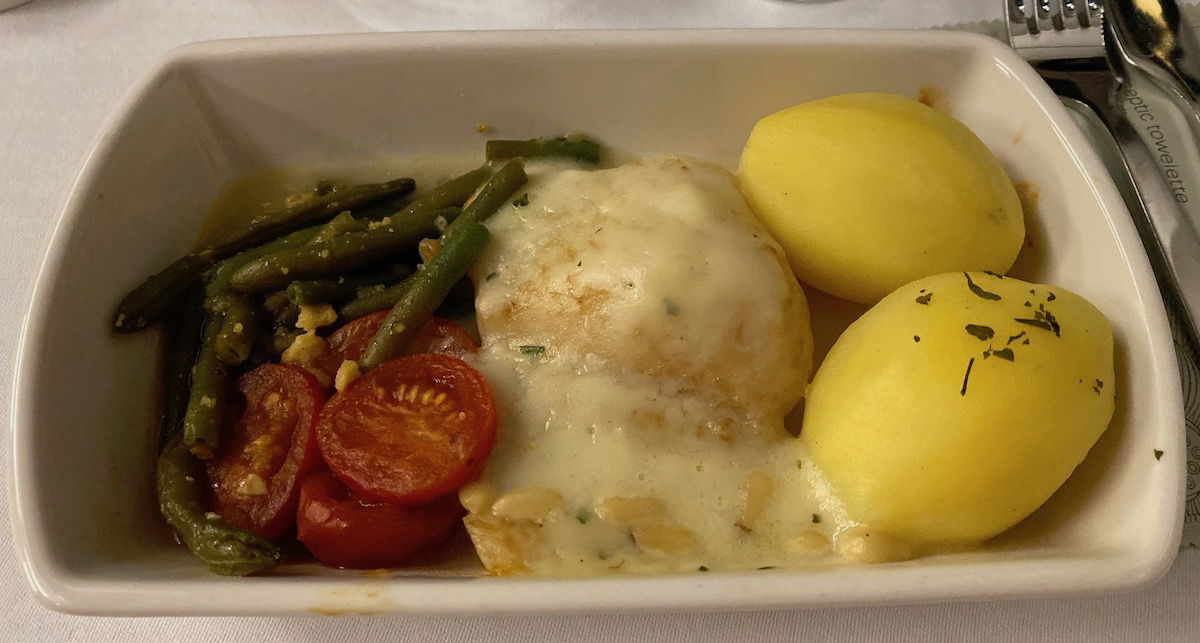 Cathay Dragon business class dinner — main course
For dessert there was Haagen-Dazs ice cream, with a few flavor choices. I selected the dark chocolate & almonds.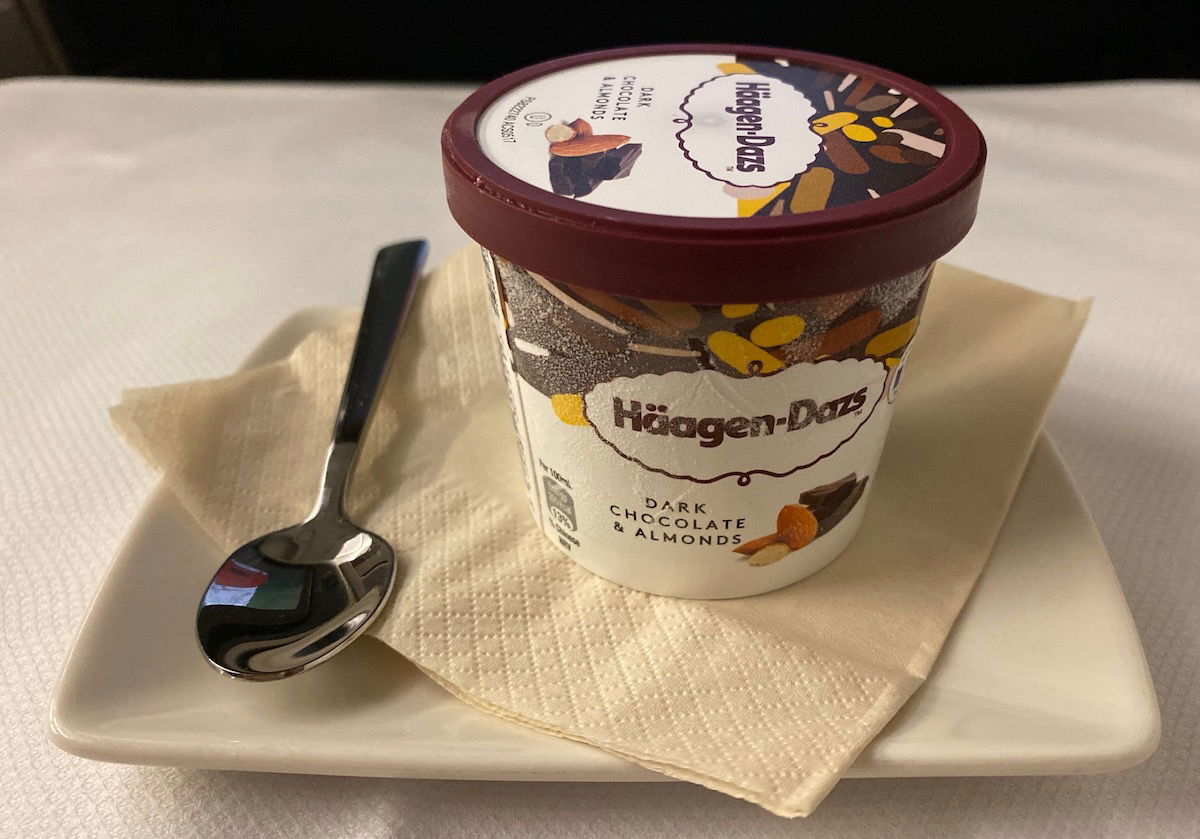 Cathay Dragon business class dinner — ice cream
Once that was cleared I was offered coffee or tea, though I passed, and I was then given a small box with a chocolate.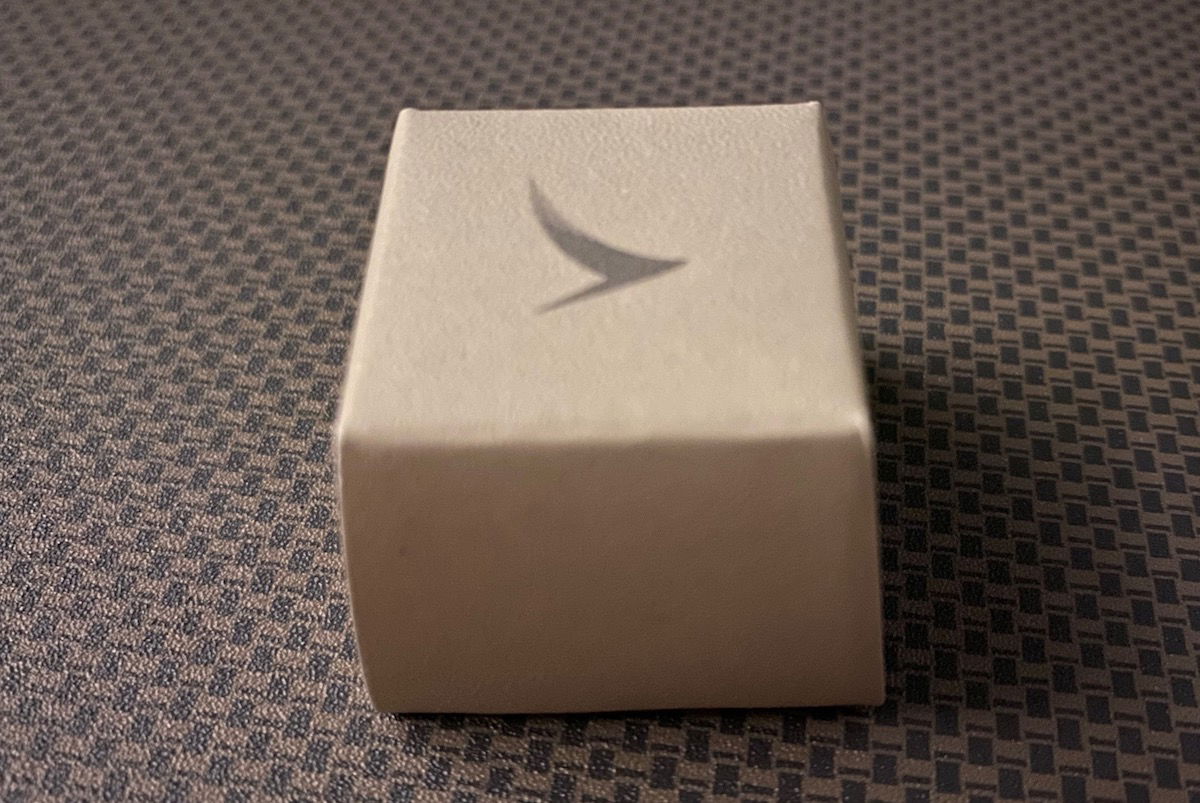 Cathay Dragon business class dinner — chocolate
Overall I thought the meal was quite good for a regional business class flight. The crew was extremely friendly, though the service definitely feels like an assembly line, as it used to feel in Cathay Pacific's long haul business class (they've since changed that, though not totally for the better).
I tried to nap for the remainder of the flight, though didn't have much luck. Towards the end of the flight I checked out the lavatory, which was clean, and even had the toilet paper folded into triangles. There were two lavatories at the very front of business class, and then two between the two business class cabins.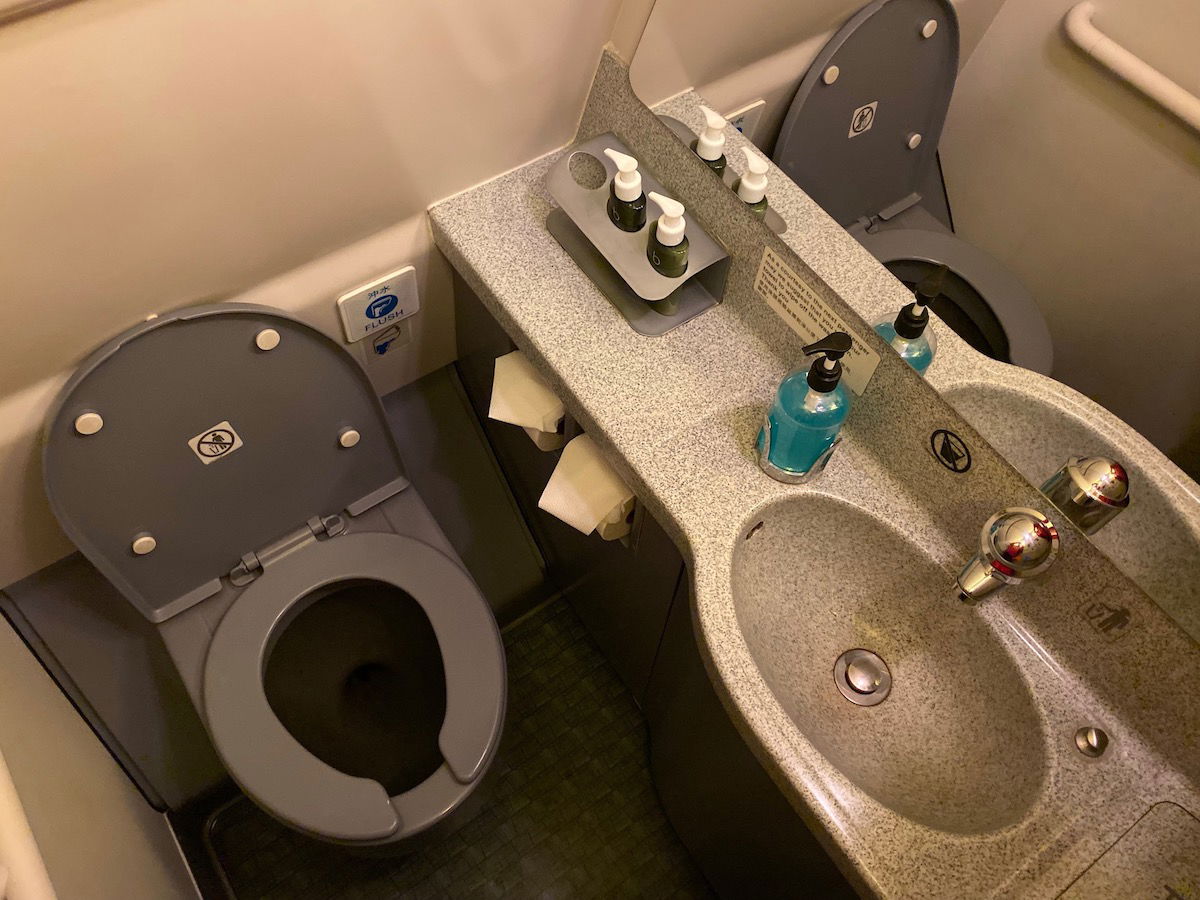 Cathay Dragon A330 lavatory
In my experience flights to mainland China always take longer than the direct air distance suggests, both due to vectoring and also the weird altitudes planes seem to fly at in Chinese airspace sometimes. For example, over 50 minutes before landing we were already cruising at 26,500 feet, which is awfully low.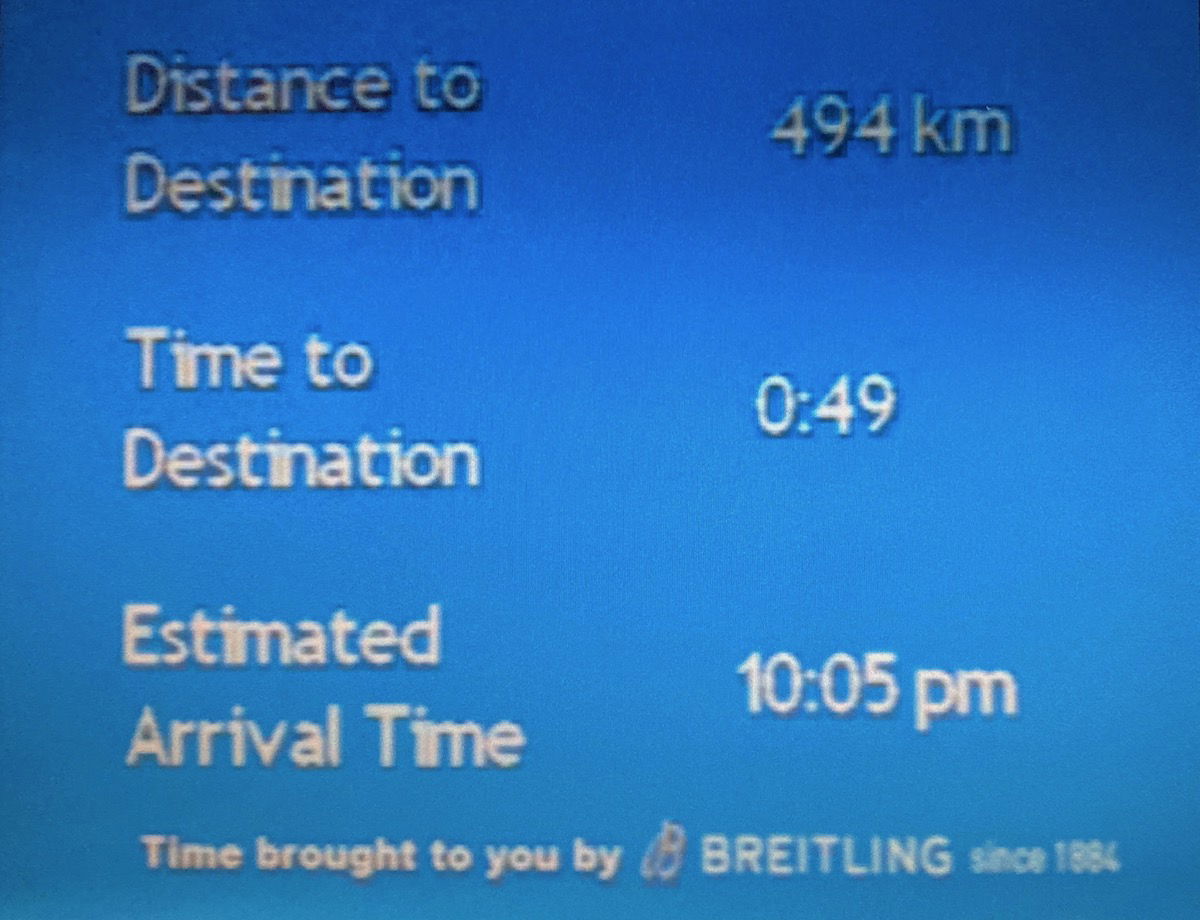 Map enroute to Beijing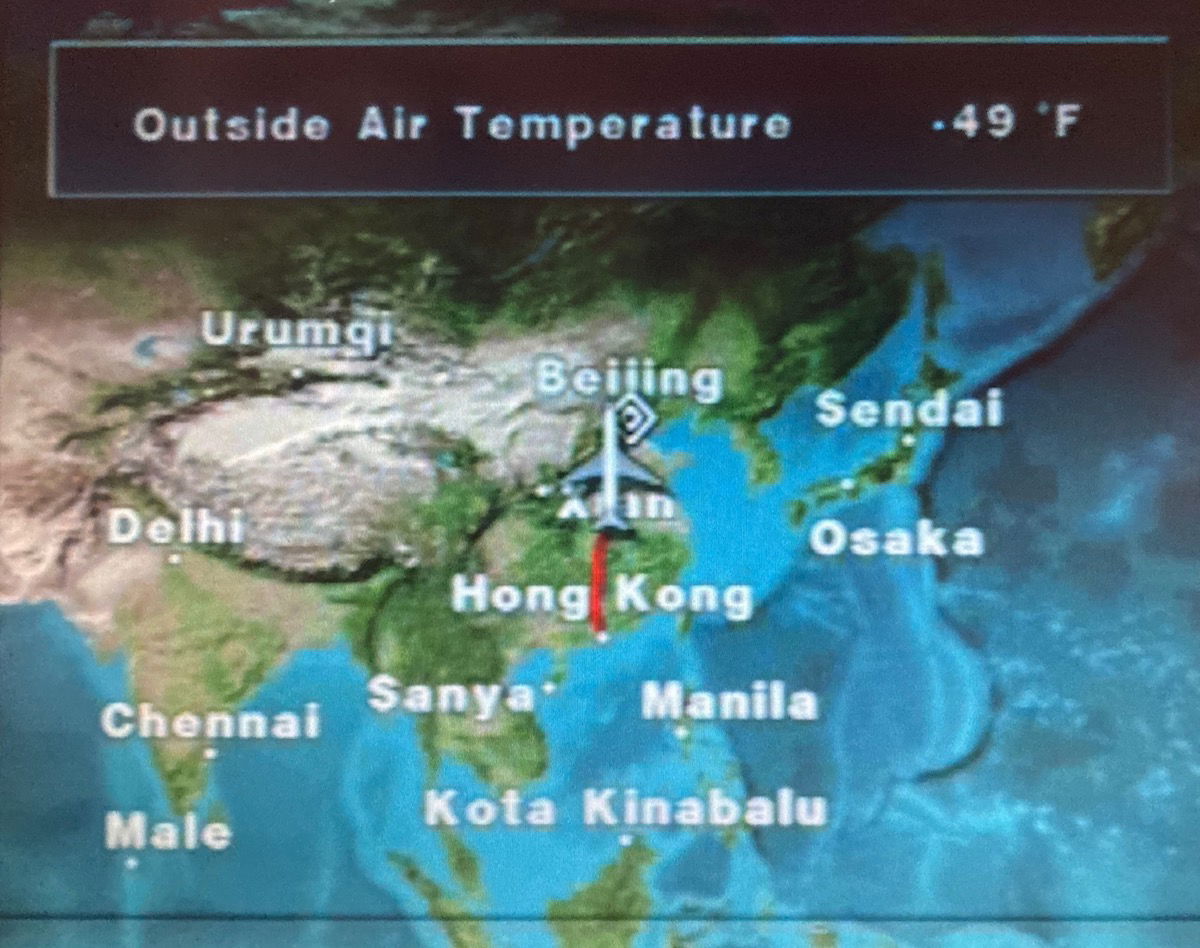 Map enroute to Beijing
At 9:35PM the captain announced that we'd be landing in 30 minutes. About 15 minutes later the seatbelt sign was turned on.
We ended up landing at 10:10PM, and from there had a really long taxi to our arrival gate, where we pulled in at 10:25PM. The 15 minute taxi doesn't really do justice to just how far we taxied, since we were going fast.
I headed towards immigration. While there was only a very short line, it ended up taking about 40 minutes until I was out of the airport. Beijing Capital Airport isn't one of my favorites, to put it mildly.
I was looking forward to getting some rest in a real bed at the Hilton Beijing Airport, even if It would be a very short night.
Cathay Dragon Business Class Bottom Line
Cathay Dragon business class isn't industry leading, or anything, but they do offer a solid regional business class experience. The seats were comfortable enough, the crew was extremely friendly, and the food was quite good.
The challenge with intra-Asia business class is that there's massive variability in terms of the quality of products. Some airlines fly long haul configured planes around Asia, so obviously those are way better than regionally configured planes.
Lastly, I've always found the relationship between Cathay Pacific and Cathay Dragon to be interesting. Cathay Dragon is a wholly owned subsidiary of Cathay Pacific, though it's not explicitly a low cost carrier.
While their crews are paid less, the airline is considered more of a regional operation, with the same service standards as Cathay Pacific otherwise. There are even some routes that are served by both Cathay Dragon and Cathay Pacific, where the airlines are offering the same seats, and virtually the same service. Interesting stuff.
If you've flown Cathay Dragon business class, what was your experience like?