Now it's time for a review of American's infamous Dallas to Hong Kong flight…
Booking My American Airlines Flights
As I outlined in the introduction post, the outbound portion of this trip was a paid ticket. I had booked a roundtrip ticket from Miami to Beijing, with the outbound in paid business class and the return in paid economy, for about $1,600.
The outbound portion looked as follows, after I applied a systemwide upgrade to get first class on the Dallas to Hong Kong flight:
12/08 AA2524 Miami to Dallas departing 7:36PM arriving 9:52PM [Business]
12/09 AA125 Dallas to Hong Kong departing 10:40AM arriving 5:35PM (+1 day) [First]
12/10 KA906 Hong Kong to Beijing departing 7:00PM arriving 10:10PM [Business]
The Beijing to Miami return flight (which I'm upgrading to business class) will be flown early next year.
As a point of comparison, a saver level award ticket on this flight would ordinarily cost 110,000 miles one-way. However, saver level award space is very hard to come by. Sometimes this flight might be cheaper when redeeming miles if American is running a Web Special Award.
Before I Get Into The Review…
I don't want to beat a dead horse, so let me start by pointing to my post where I talked about the embarrassingly bad service on this flight. That post is a must-read before reading this review.
With that out of the way, I won't address the service in this review, since I think I've covered that sufficiently.
American First Class 777-300ER Review
After a good visit to the Flagship Lounge and a not-so-good visit to Flagship First Dining, it was time for the ultra long haul flight to Hong Kong. My flight was departing from gate D23, located right next to the lounge.
Boarding started at 9:50AM, a full 50 minutes before departure. Concierge Key members were invited to board first, followed by first class. This gate used biometric boarding, so you just had to look at a camera and were then invited onboard, with no need to even show your boarding pass.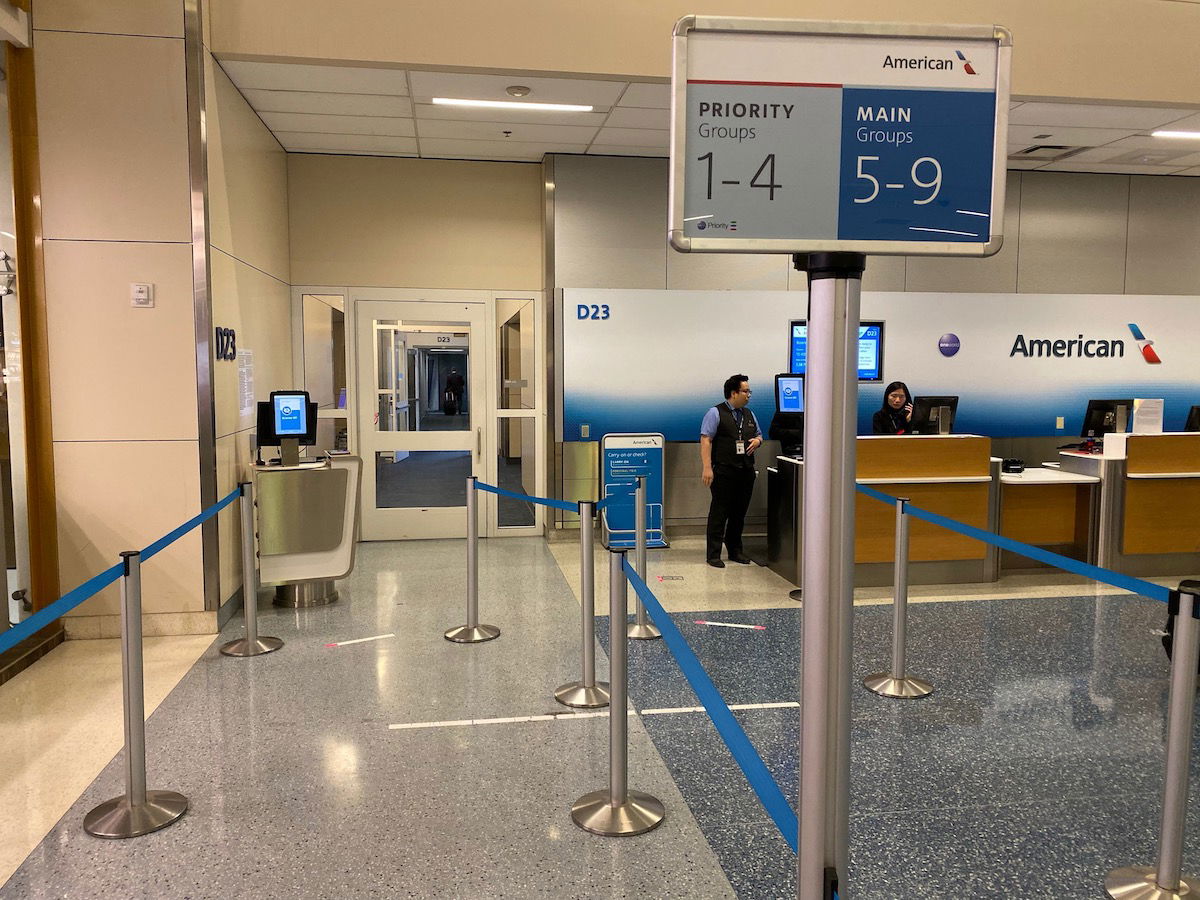 American Airlines boarding gate at DFW
American Airlines 125
Dallas (DFW) – Hong Kong (HKG)
Monday, December 9
Depart: 10:40AM
Arrive: 5:35PM (+1 day)
Duration: 16hr55min
Aircraft: Boeing 777-300ER
Seat: 2J (First Class)
I boarded through the second door on the left, and was pointed to the far aisle and to the left, towards the first class cabin. American has a total of 16 seats and four rows between doors one and two — there are two rows of reverse herringbone seats in business class, and then there's the first class cabin.
American's 777-300ER first class consists of a total of eight seats, spread across two rows in a 1-2-1 configuration.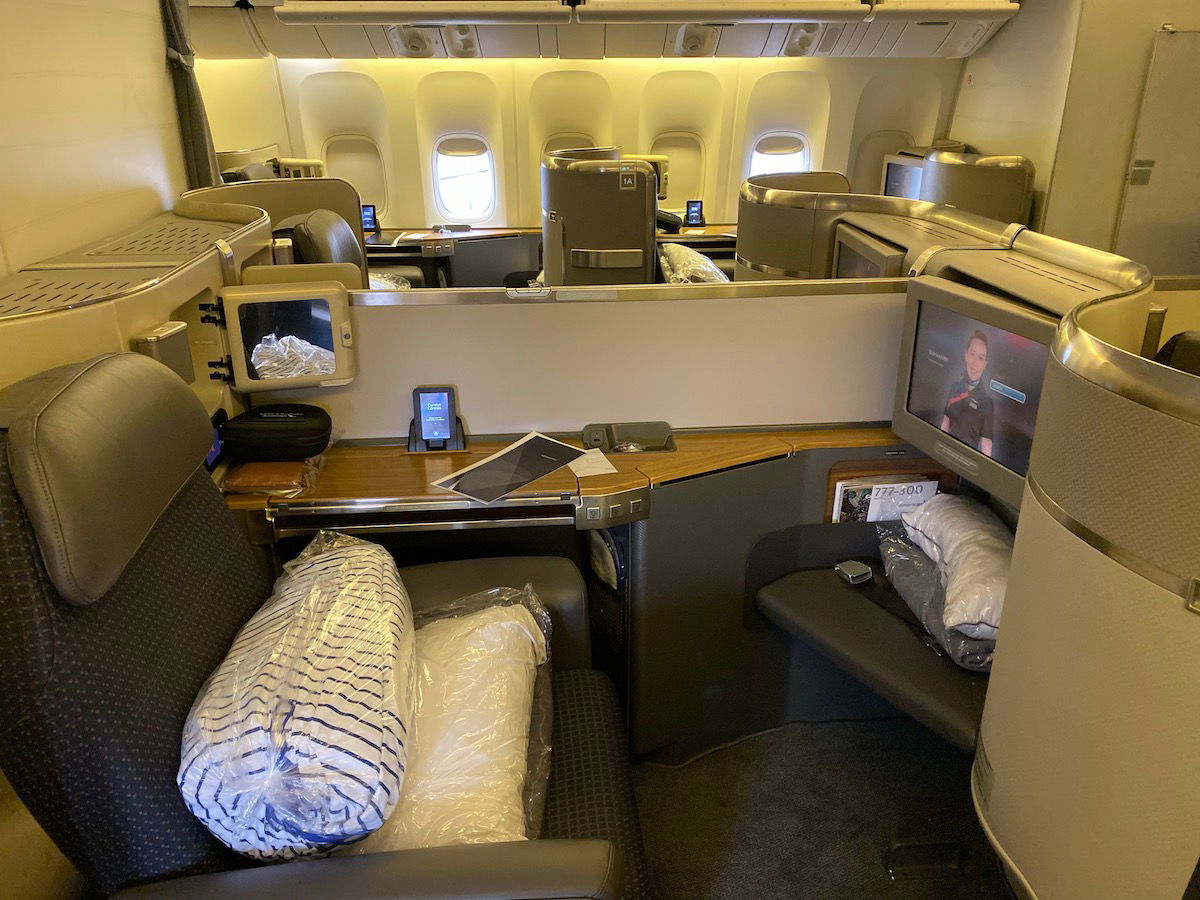 American Airlines 777-300ER first class cabin
The seats are no doubt more spacious than in business class, so when you're sleeping and relaxing you'll definitely appreciate the added personal space. However, I really feel like they could have done a lot more with these seats without them having to take up more "real estate."
For example, the seats feel incredibly exposed, and when you're sitting you in many ways have less privacy than in business class, where there's at least a "shield" to the side of the seat. I'm not saying they had to install doors, or anything, but I wish they would have extended the privacy shields a bit more.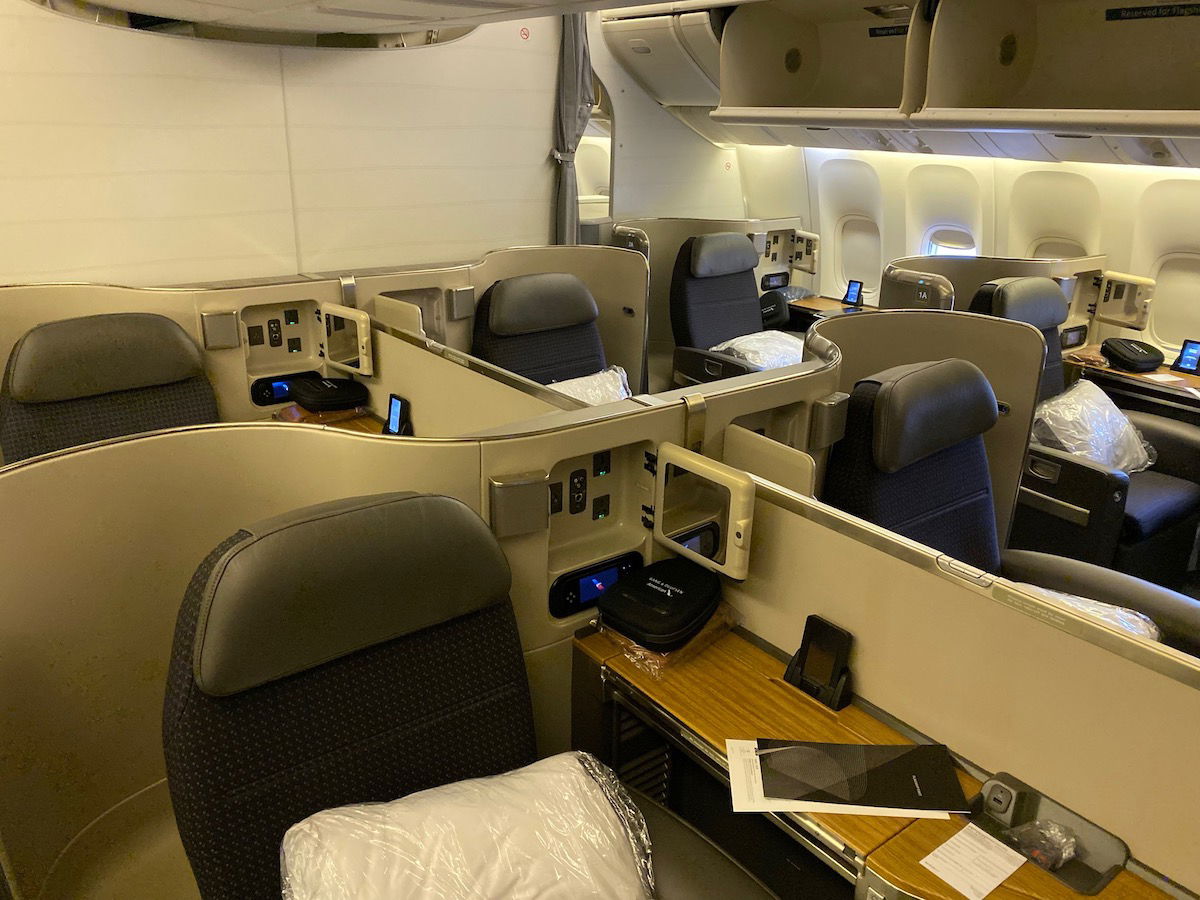 American Airlines first class cabin 777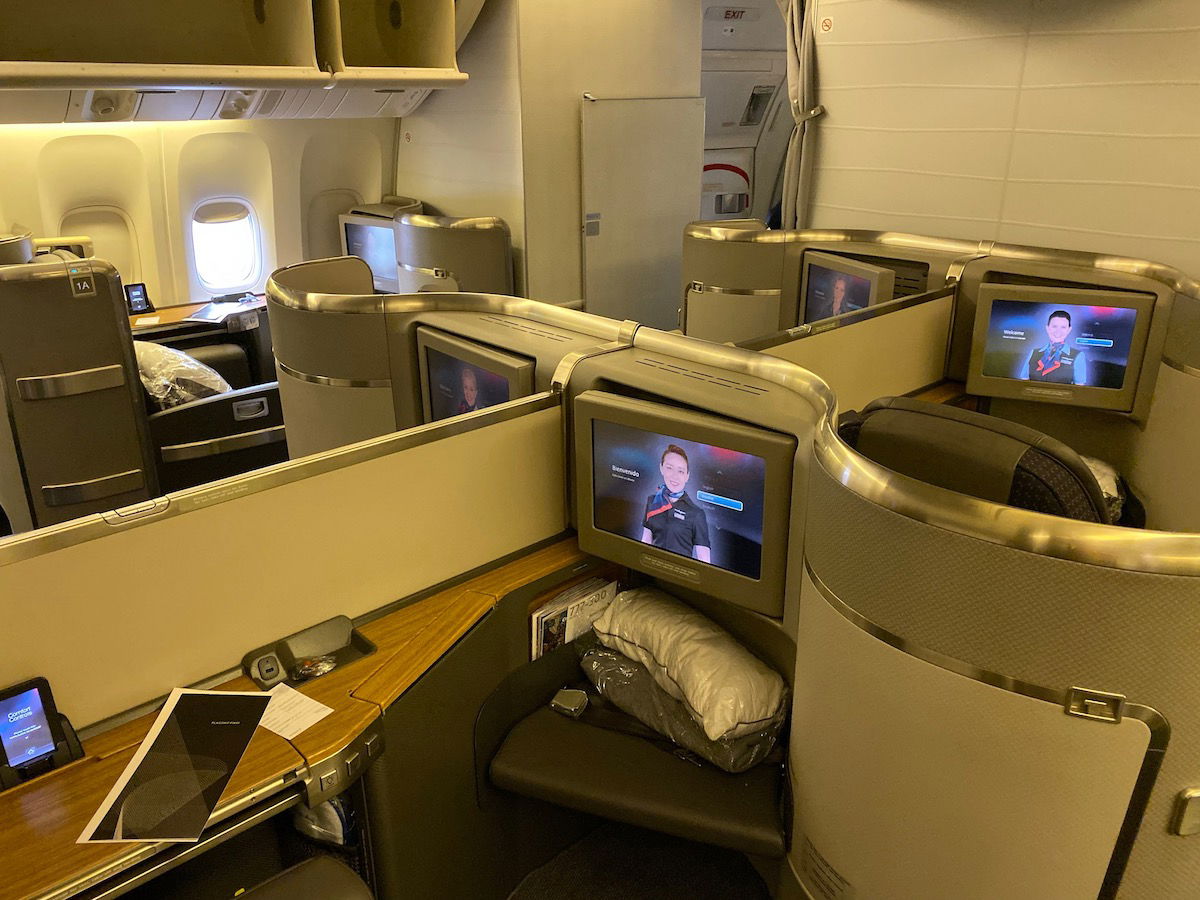 American Airlines first class cabin 777-300ER
If you're traveling with someone then the center seats are probably ideal. There's a privacy partition that can be lowered, though if you're traveling alone that stays raised, and then you have just as much privacy as in any of the other seats.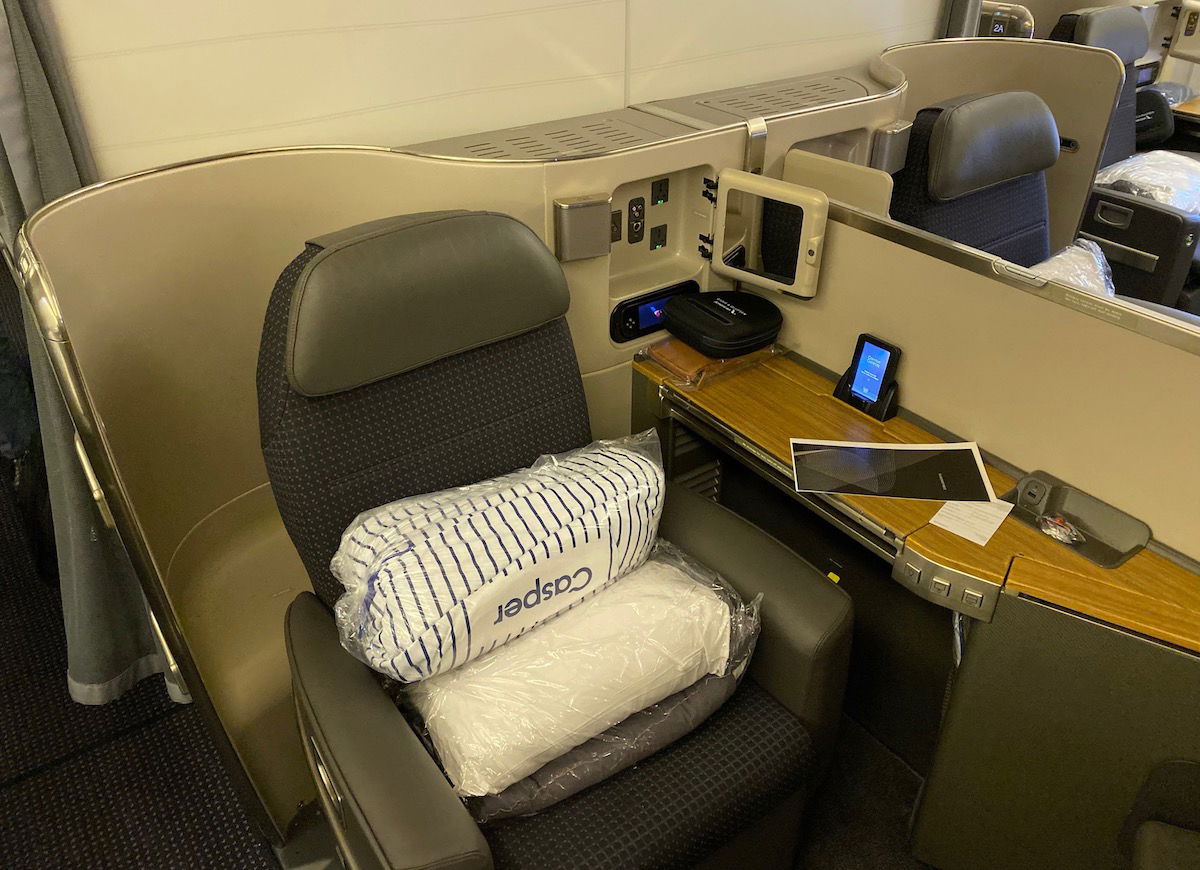 American Airlines 777 first class seats
I had selected seat 2J, the window seat in the second row on the right side. This is my preferred seat, since it's furthest from the galley and bathrooms, and also there's generally more foot traffic in the left aisle than the right aisle.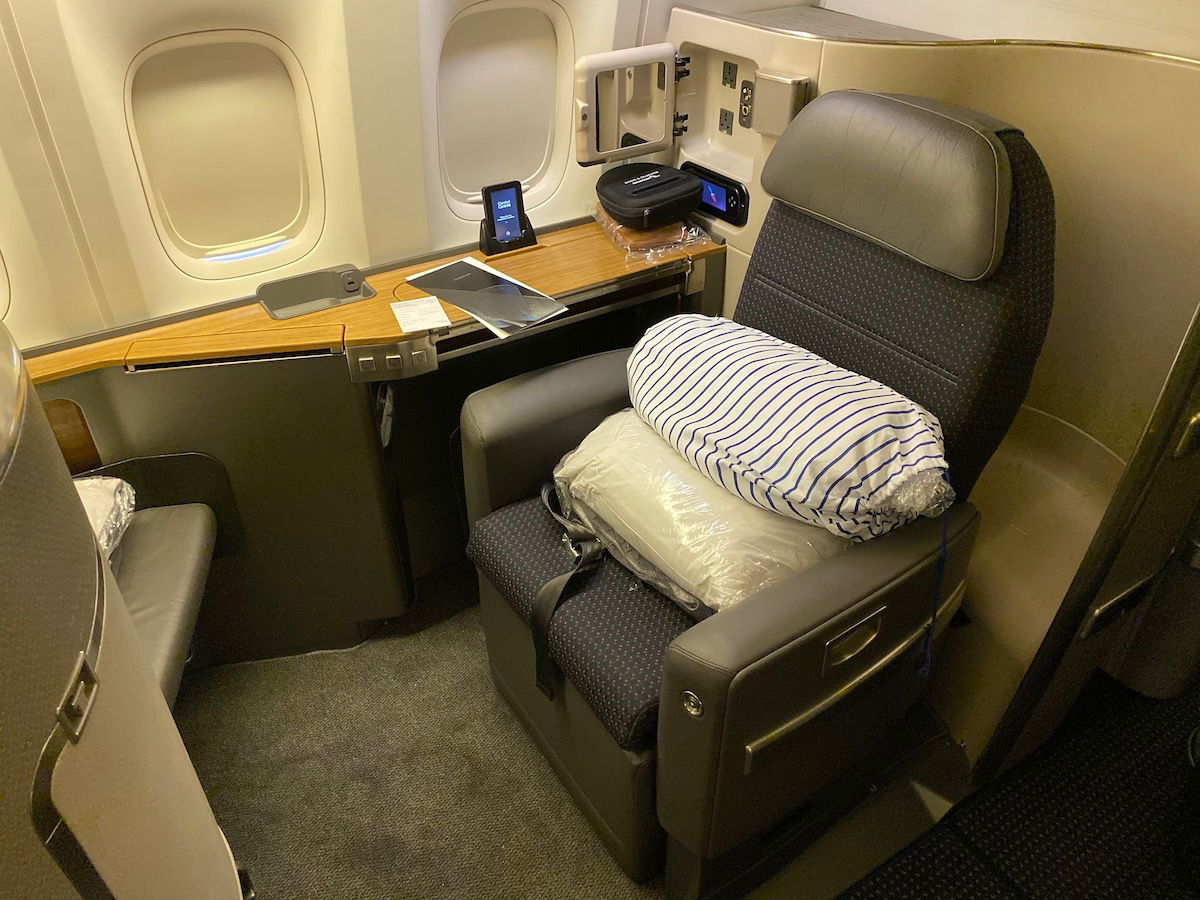 American Airlines 777 first class seats
The American first class seat swivels, so there's a button you can push to turn your seat as much as 90 degrees. For example, when you want to relax and put up your feet up, you turn your chair about 10 degrees to the side, and it locks, so it lines up with the ottoman.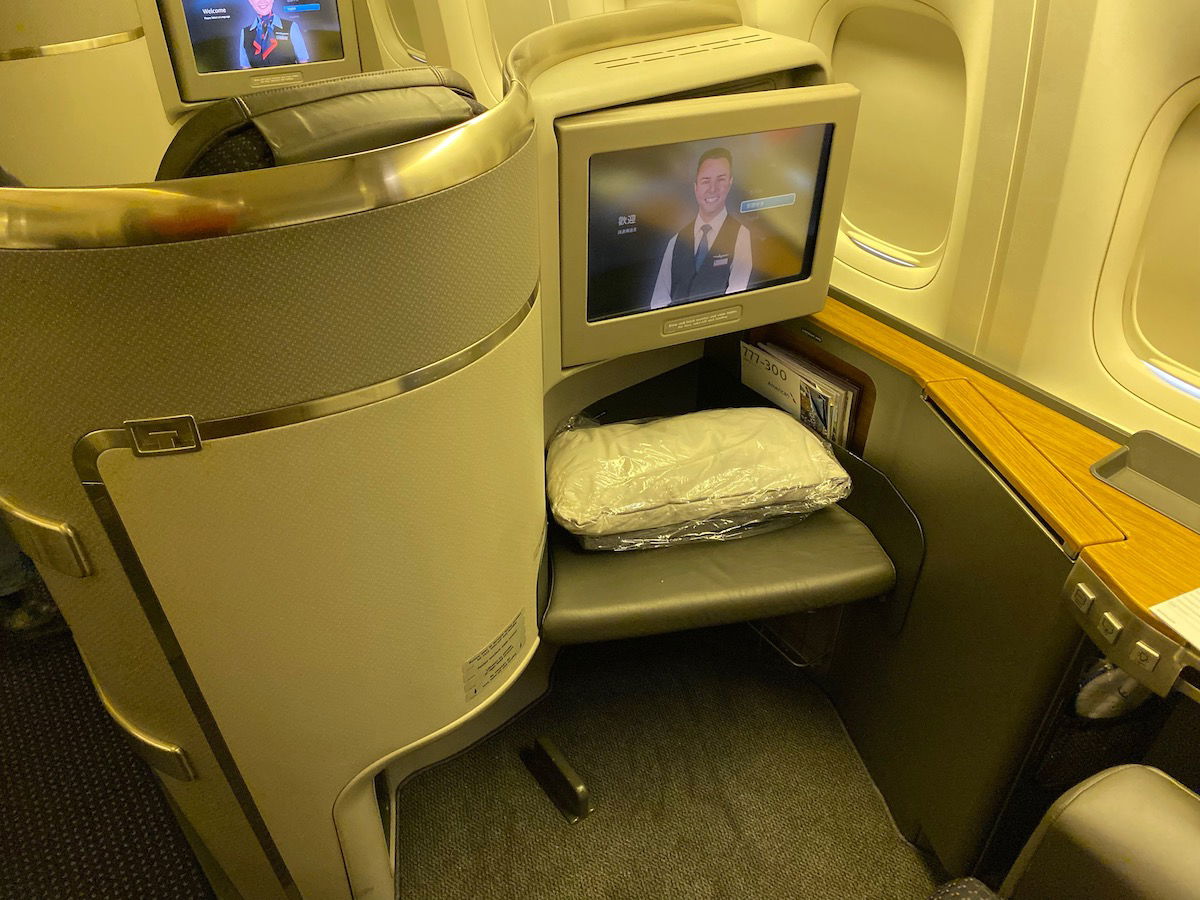 American Airlines 777 first class seats
The ottoman can also double as a buddy seat, should you want to dine with someone.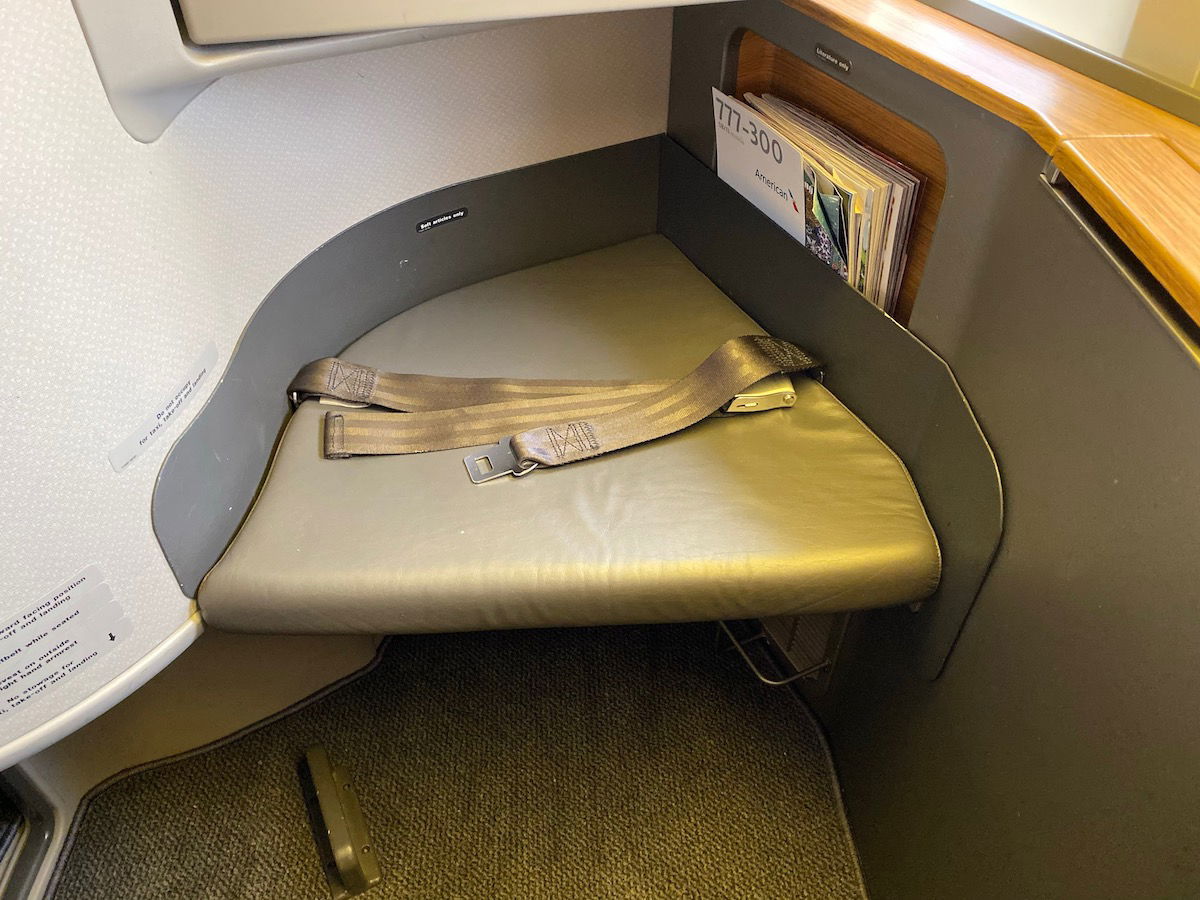 American Airlines first class seat footrest
To the back right of the seat was a small compartment that had two 110v outlets and the headphone jack, along with a mirror. Immediately underneath that was the entertainment controller.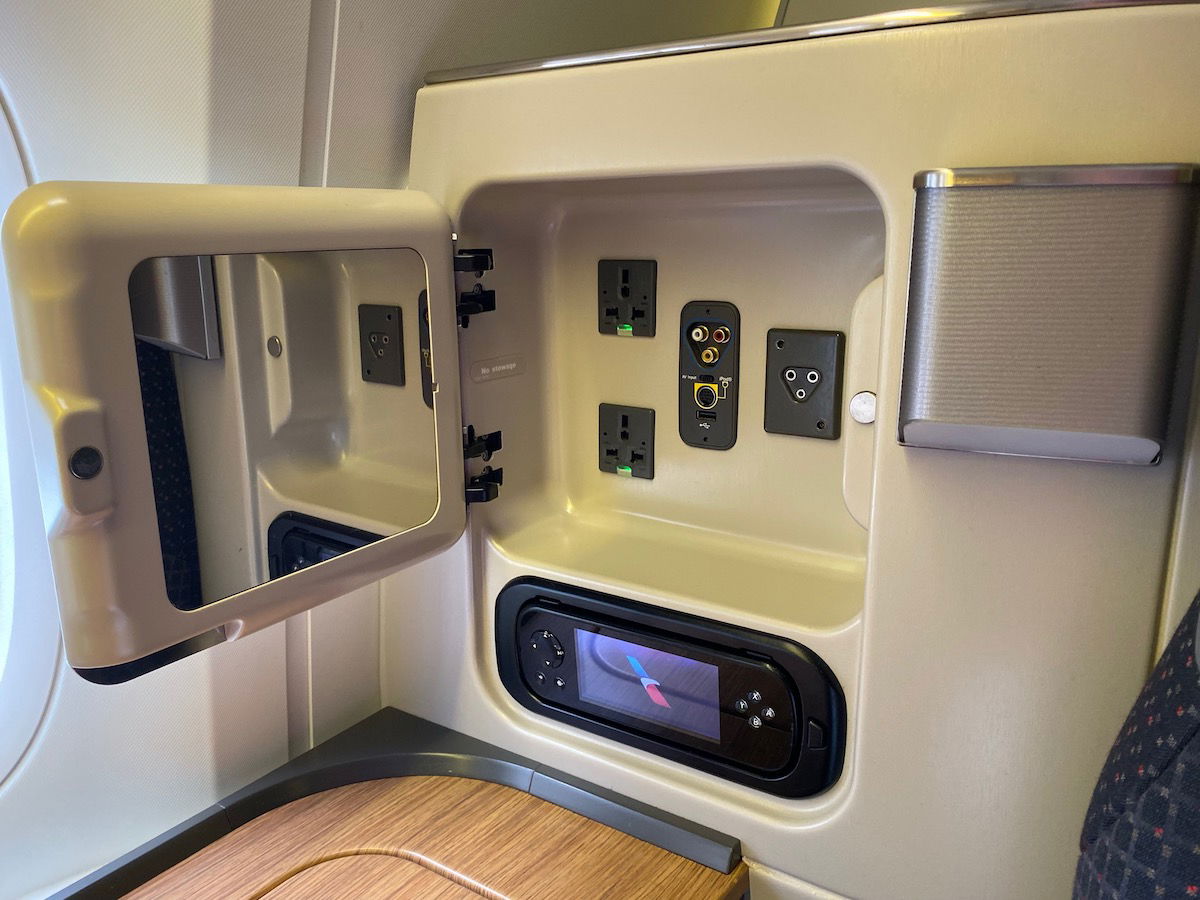 American Airlines first class entertainment controls & power outlets
To the side of the seat was a little tablet that controlled the seat functions. You could even remove this from the holder, as it had a cord.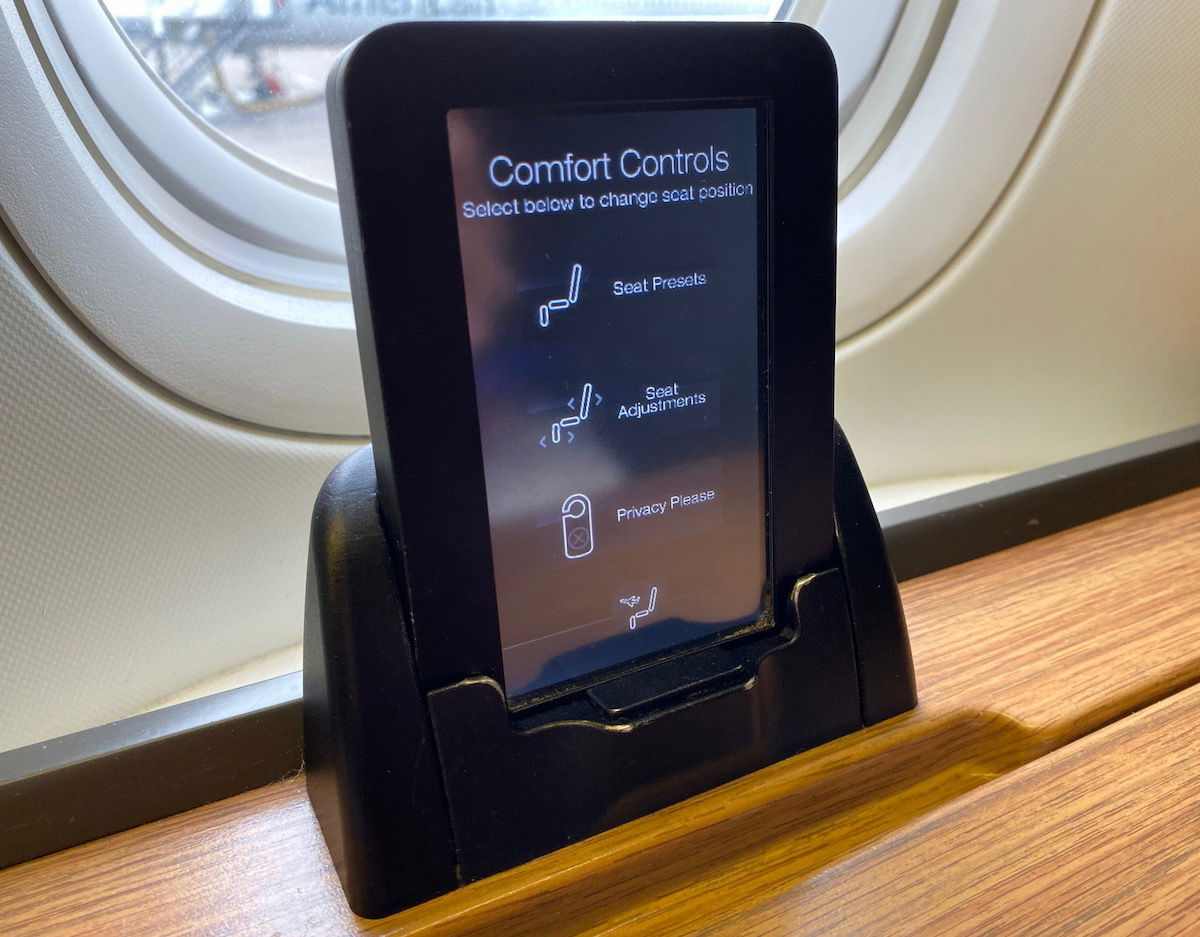 American Airlines first class seat controls
Also to the side of the seat was a USB outlet, as well as an area where you could place your phone or glasses. To the side of the seat was the button to release the tray table.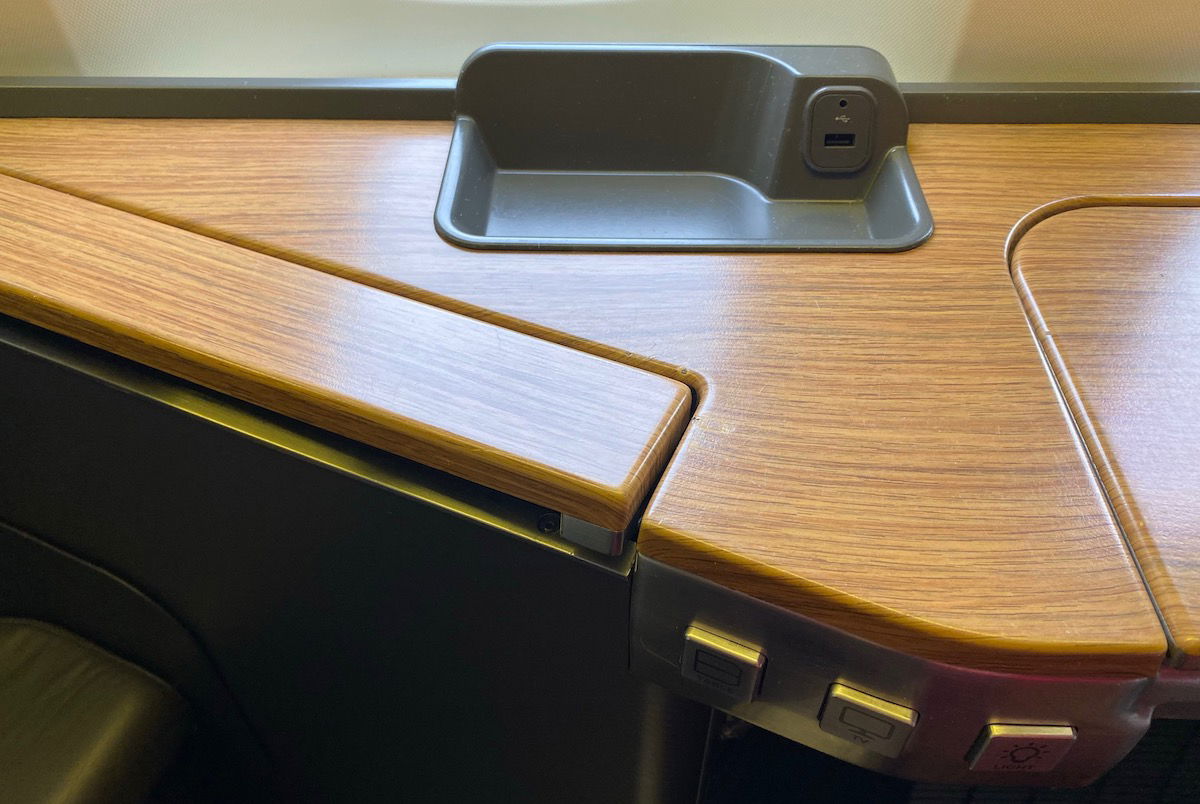 American Airlines first class seat console
The tray table was massive, almost unnecessarily so, given how heavy it was to move around.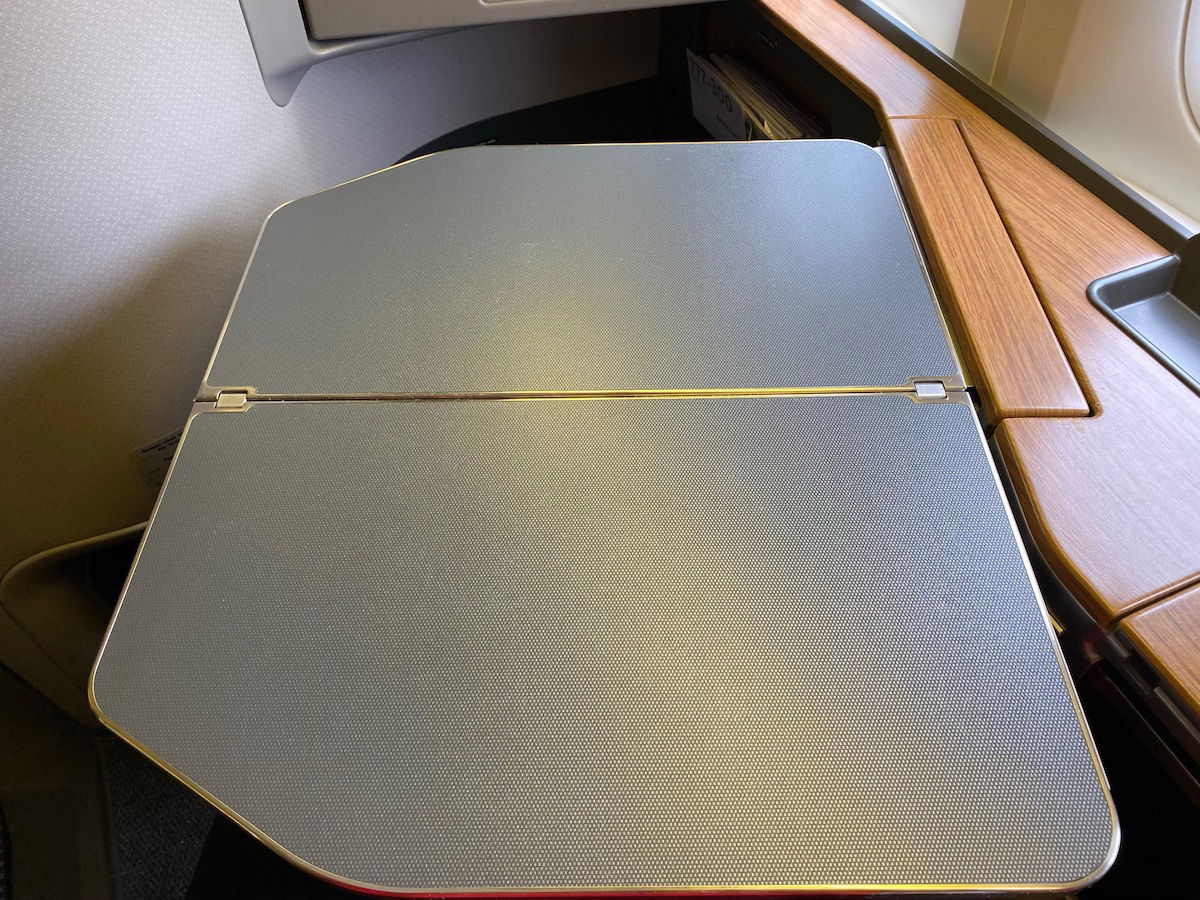 American Airlines first class seat tray table
The only truly impressive feature of this seat (relative to other first class seats) is that you can swivel the seat 90 degrees so that you're facing the window, and then there's another tray that folds over. This is a really cool setup for working.
However, I feel like on ultra long haul flights it's always encouraged to keep the windows down the entire flight, so the practical benefits of this are limited.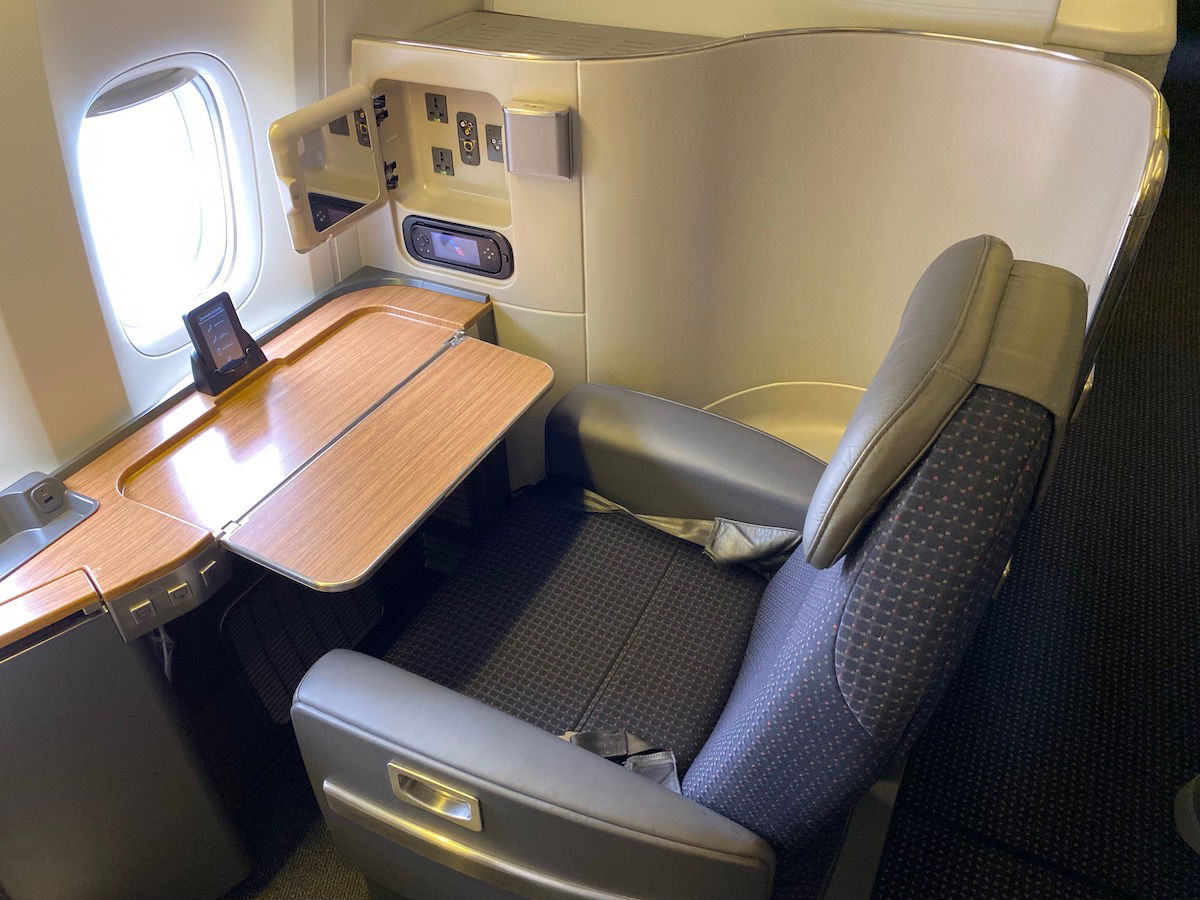 American Airlines first class seat in "office" mode
On the plus side, American has two individual air nozzles at each first class window seat, which I sure do like.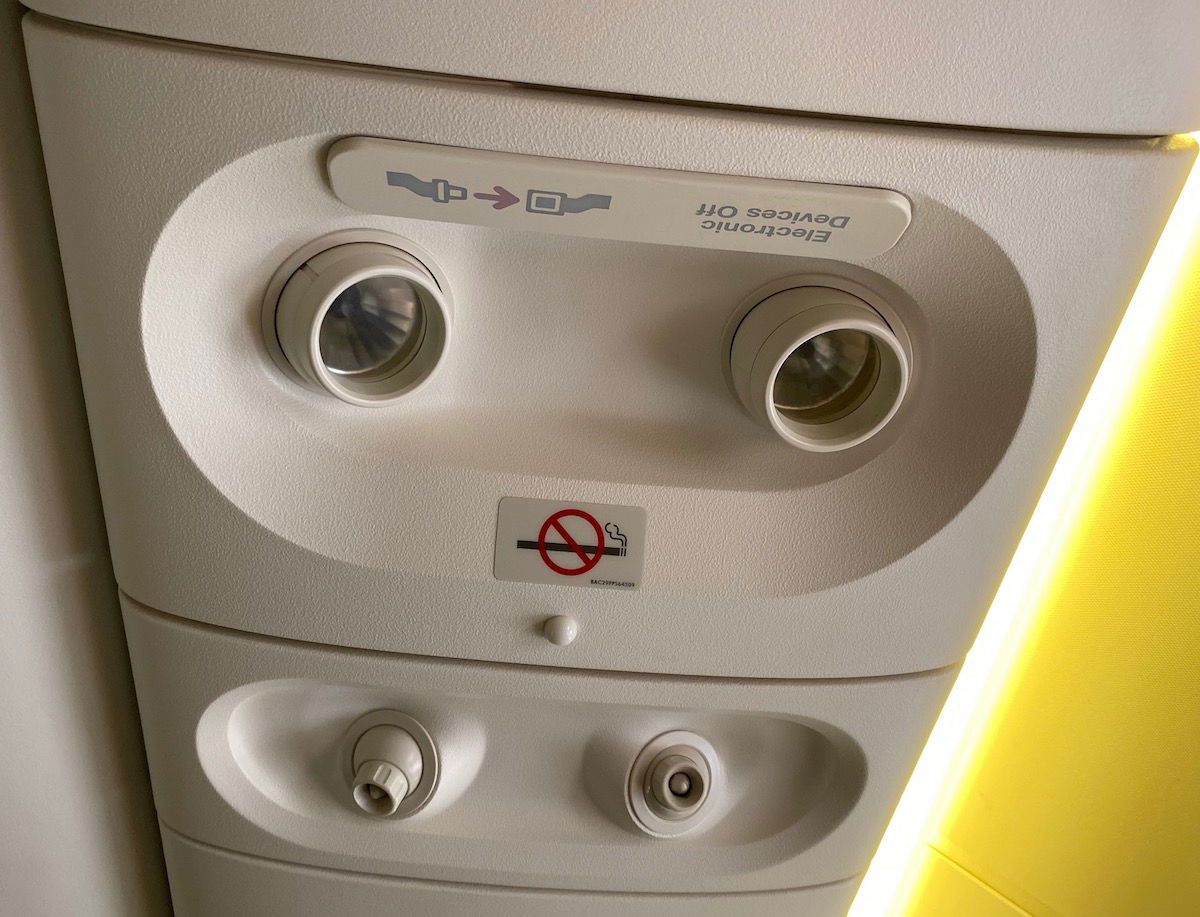 American Airlines first class individual air nozzles
So yeah, overall I find the seat to be significantly more spacious than the business class seat, though I still don't find it to be very well designed. The seat has virtually no storage, and the seats also lack privacy. I'd take this seat over business class when using a systemwide upgrade, but that's about it.
As far as the soft product goes, already waiting at my seat upon boarding were Bang & Olufsen headphones. American made the switch from Bose a while back, and while I know B&O is supposed to be higher quality, personally I didn't like them quite as much as the Bose ones. They're still excellent, especially when you consider that this is an area where other airlines skimp.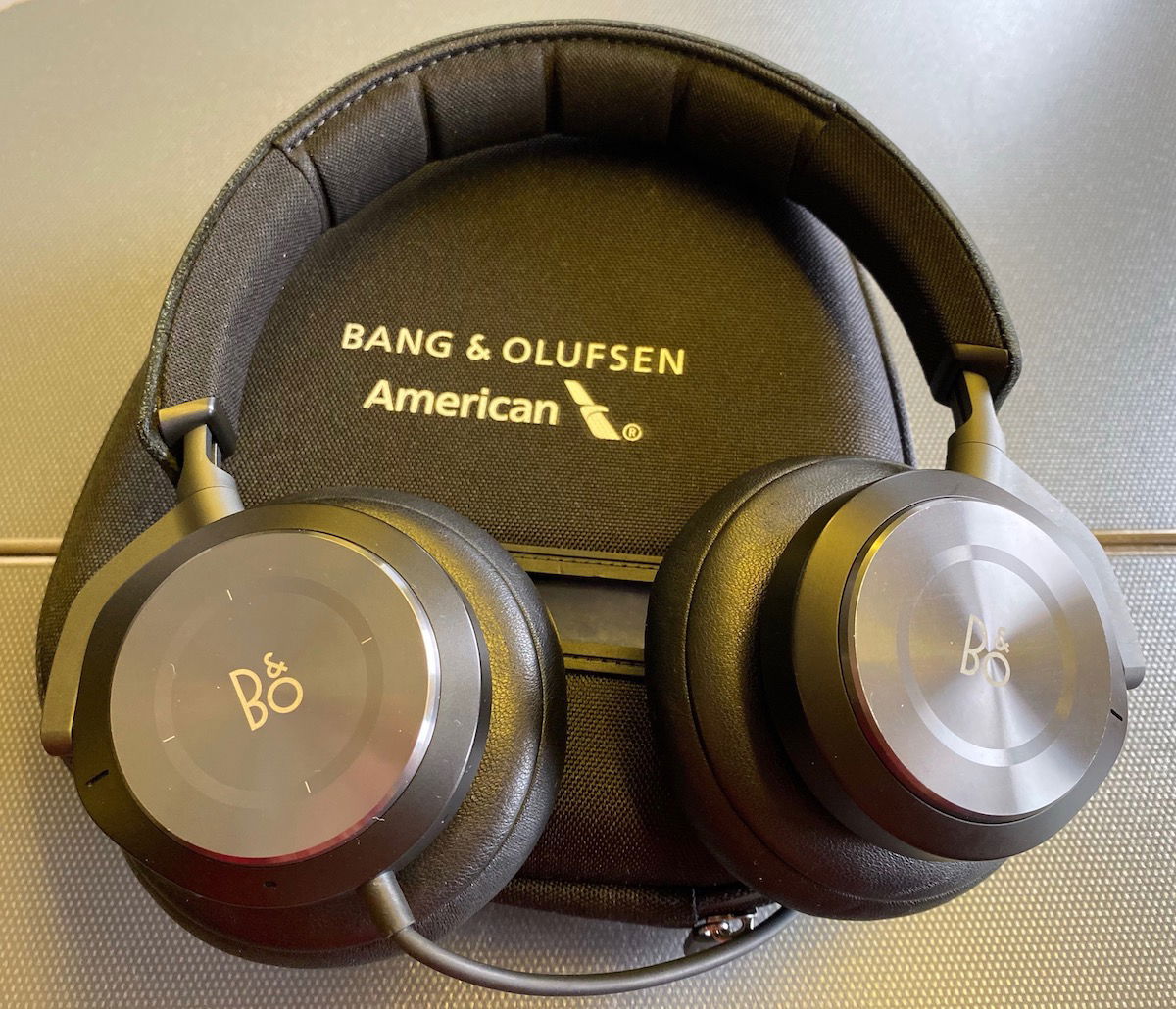 American Airlines Bang & Olufsen headphones
The menu and wine list for the flight were also already waiting at the seat.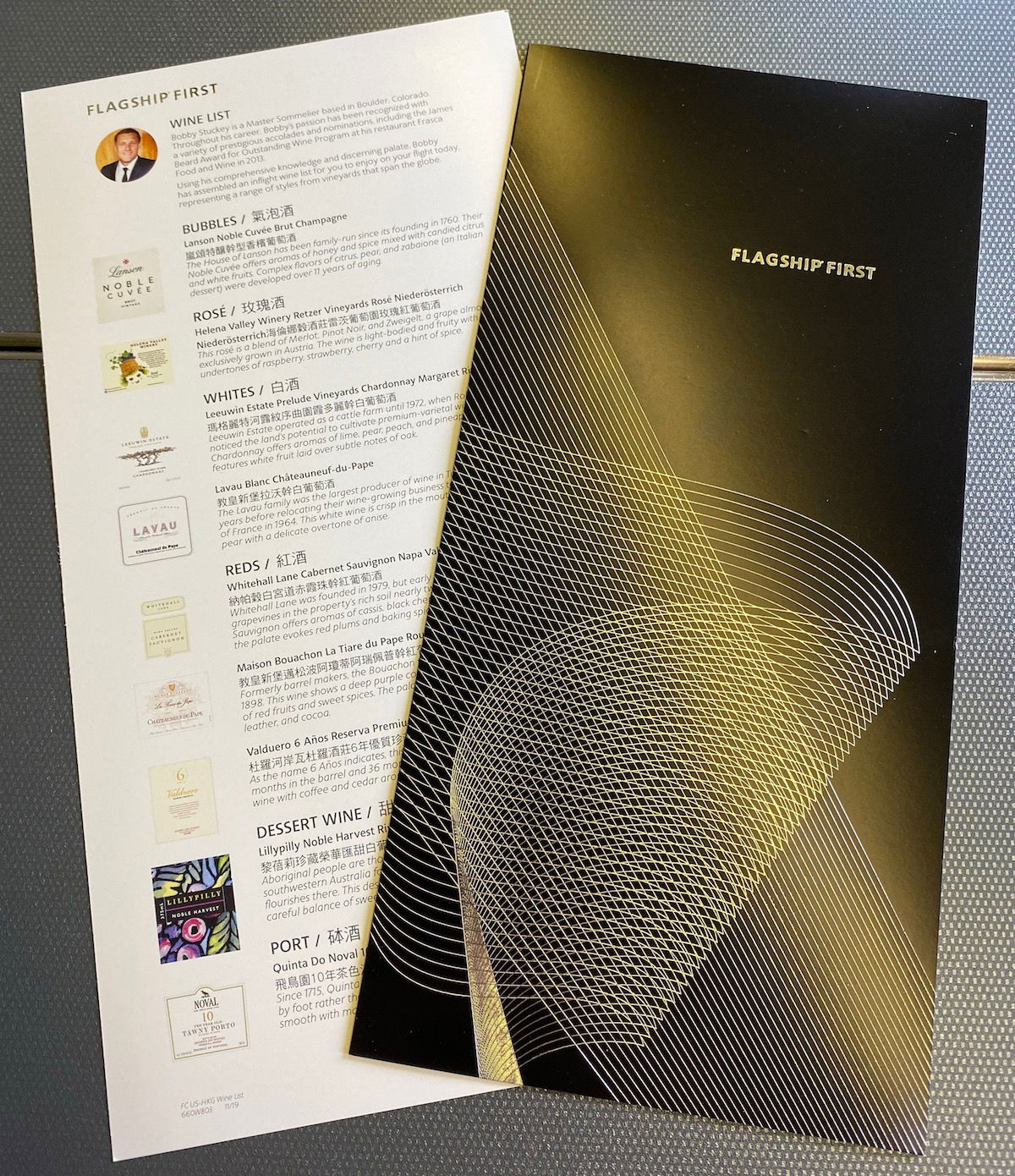 American Airlines first class menu & wine list
Then there was the amenity kit, which was reasonably well stocked. The kit itself was from This Is Ground, and then the skincare products were from Allies Of Skin.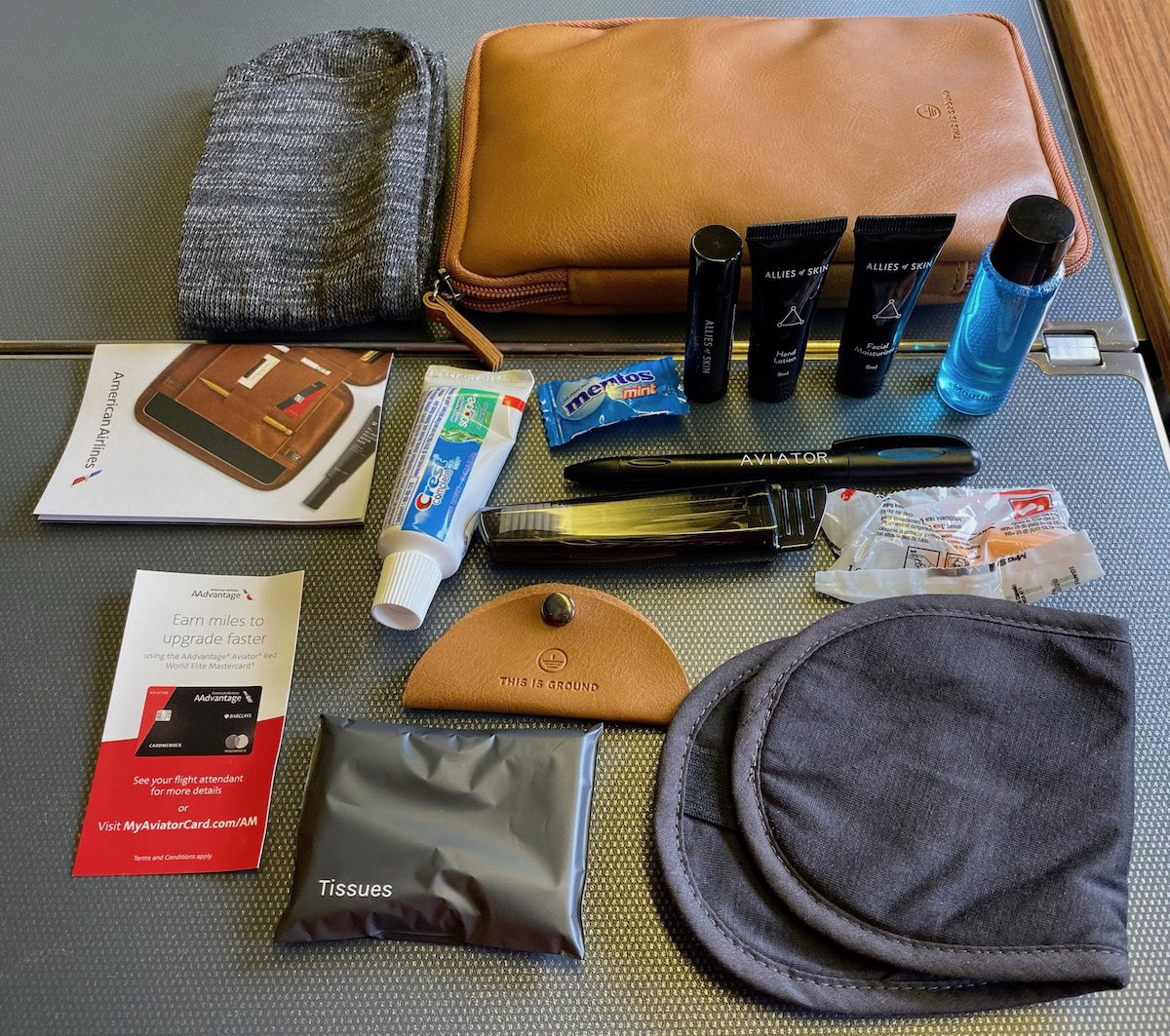 American Airlines first class amenity kit
American has Casper bedding in first class, which was excellent. They had a pillow, lumbar pillow, duvet, and day blanket.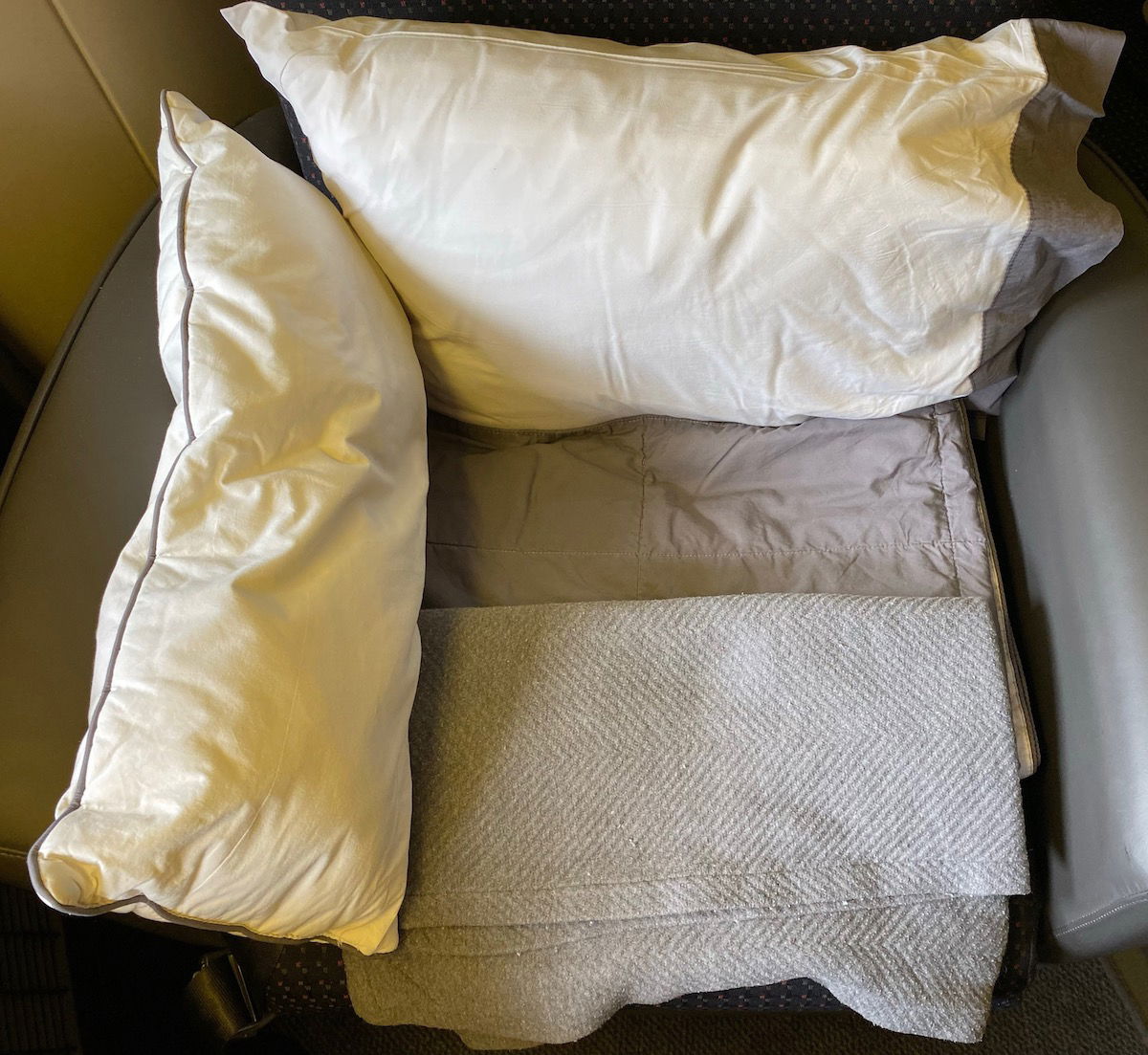 American Airlines first class Casper bedding
Then they also had a mattress pad from Casper. The mattress pad wasn't just a sheet (unlike some other mattress "pads"), but rather did add a layer of padding.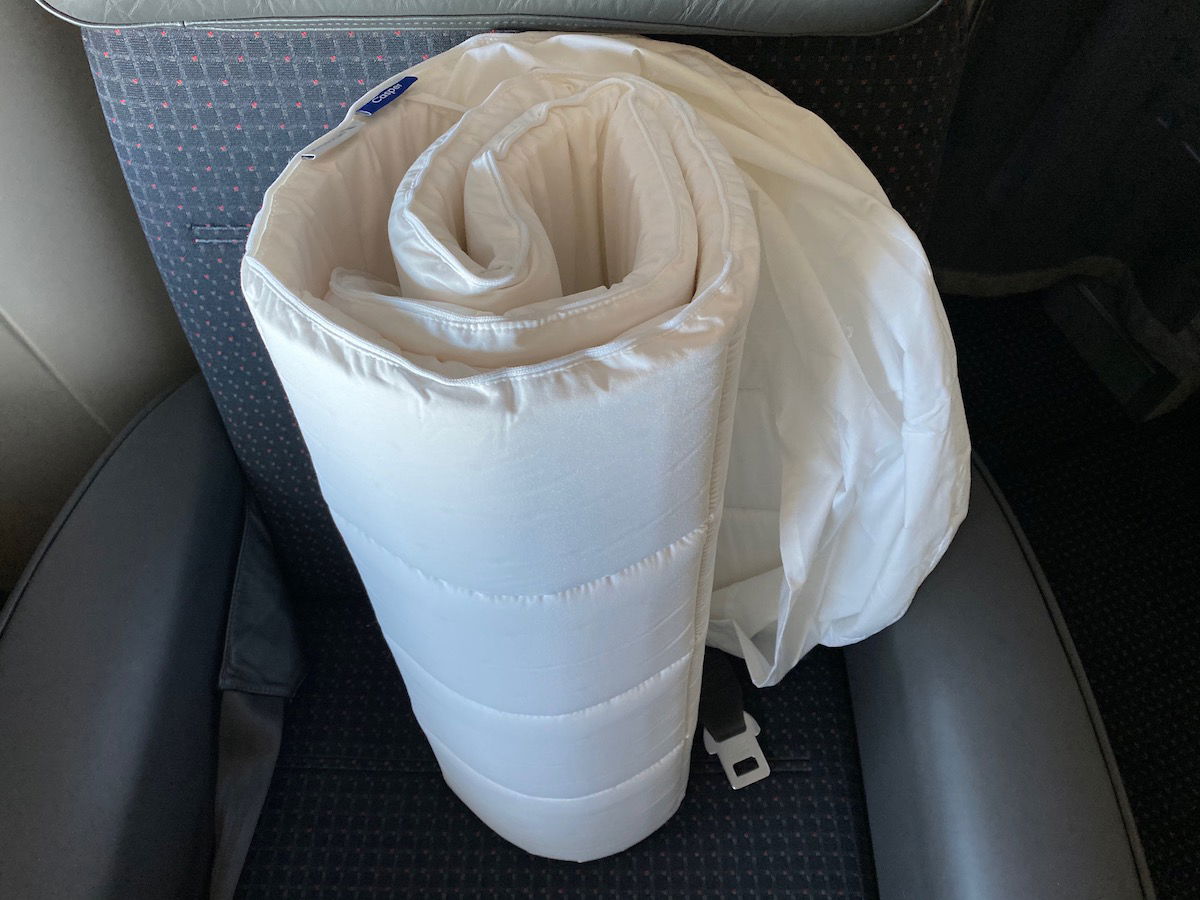 American Airlines first class Casper bedding
About 20 minutes after settling in I was offered a pre-departure drink, with the choice of champagne, water, or orange juice. That's a legit pour!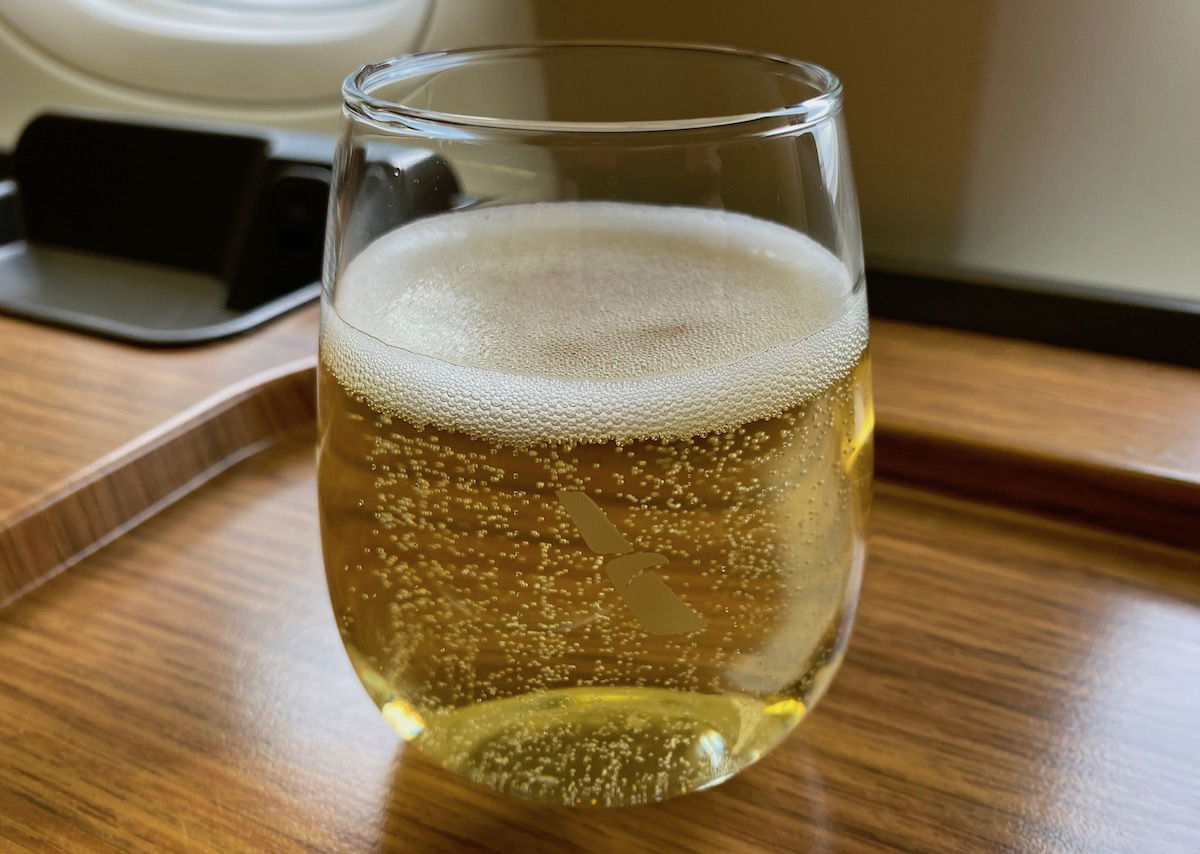 American Airlines first class pre-departure champagne
About 10 minutes later I was offered Casper pajamas, which were light and comfortable.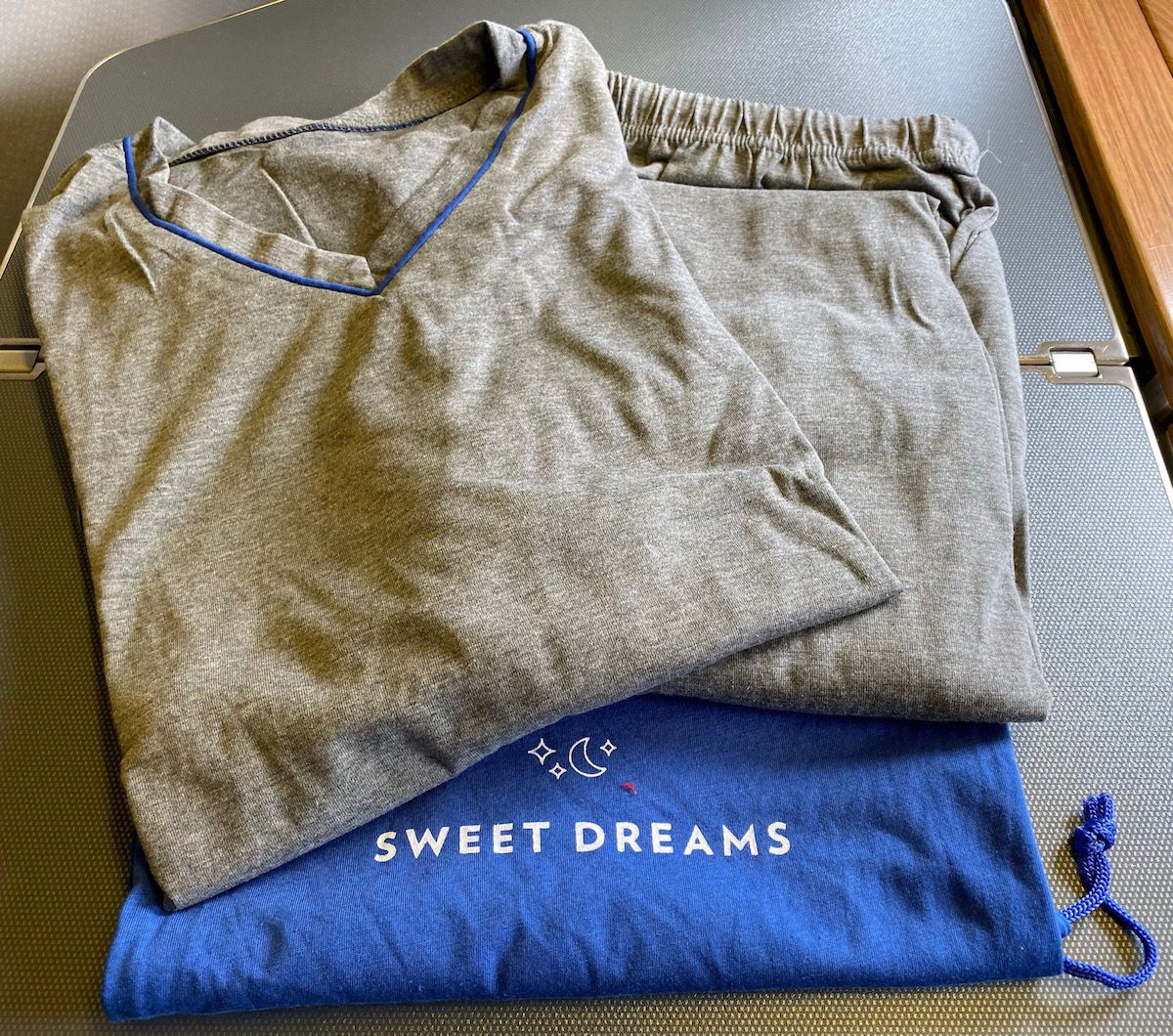 American Airlines first class pajamas
About 30 minutes after boarding meal orders were taken.
Then at 10:30AM the main cabin door was closed (first class was full, as it always is on American), and then five minutes later we began our pushback.
As we taxied out the purser made her welcome aboard announcement, informing us of the flight time of 16hr28min, and the cruising altitude of 28,000 feet (we did eventually get higher than that). After that the safety video was screened.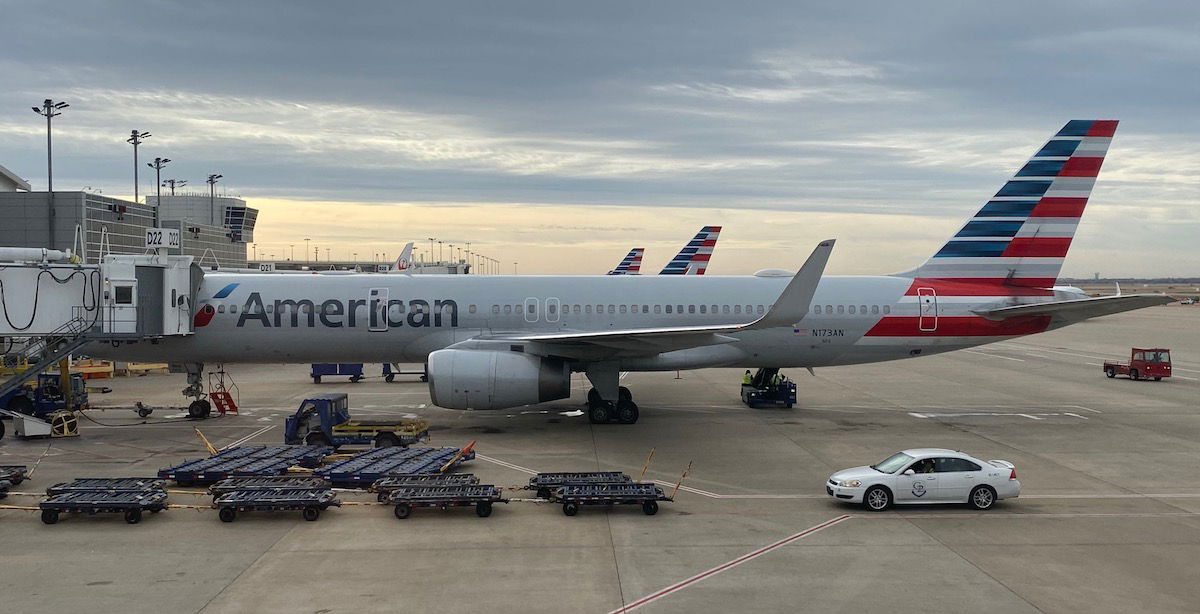 American Airlines 757 DFW
We had a quick taxi out past some of the other wide bodies, and by 10:50AM we were cleared for takeoff on runway 18L.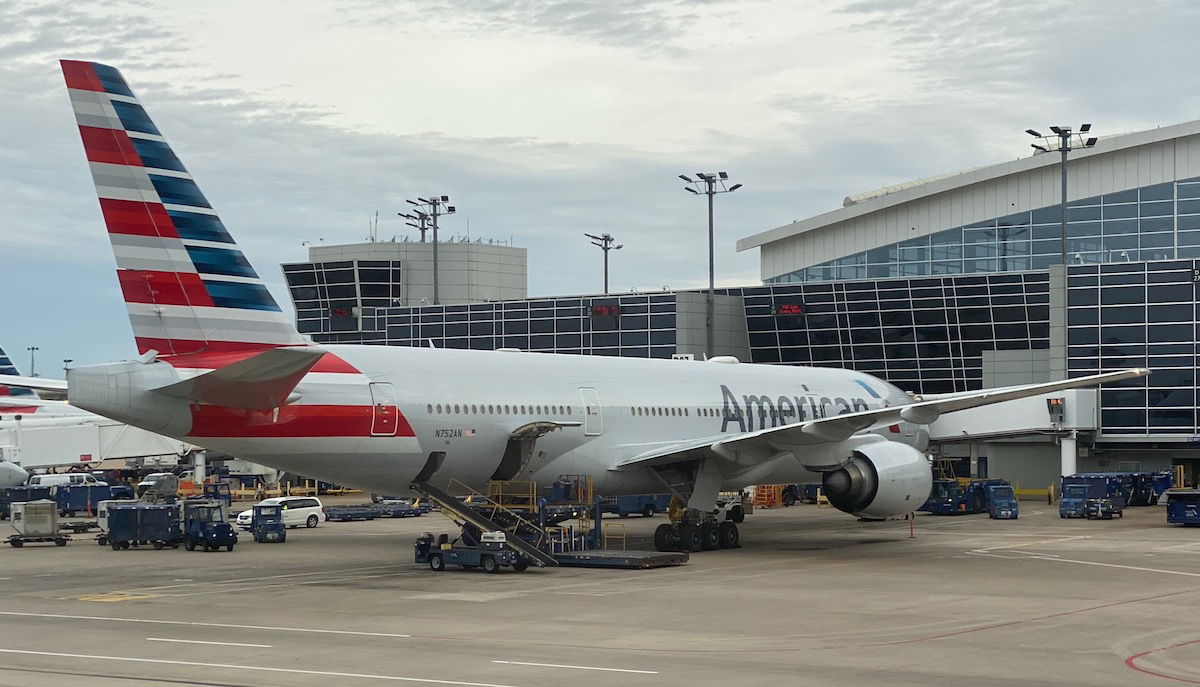 American Airlines 777 DFW
We had a long takeoff roll, as you'd expect for a fully loaded 777. The climb out was smooth and gradual, and views were fairly nice, though not all that inspiring.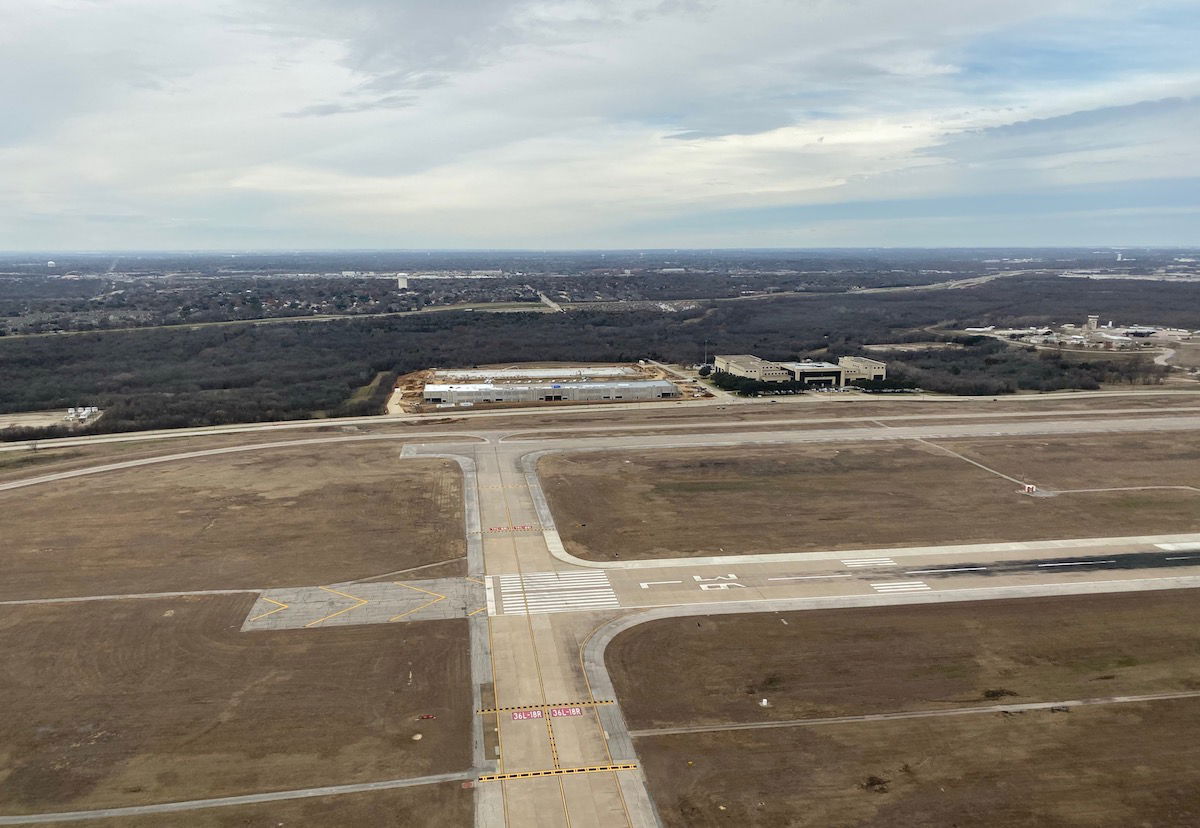 View after takeoff from DFW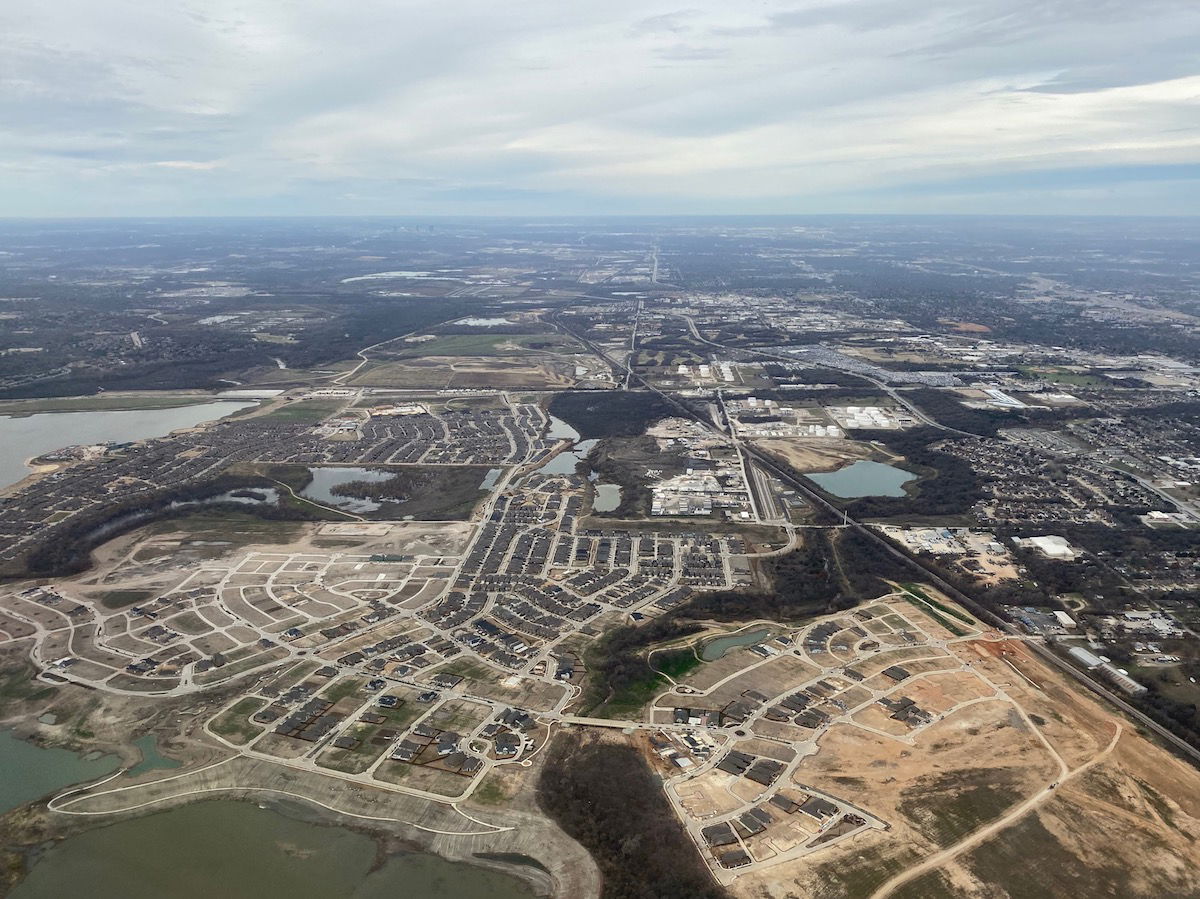 View after takeoff from DFW
Since it was midday on a Monday it was time to get some work done. American has Panasonic Wi-Fi on the 777-300ER. Pricing is based on duration, with no data caps, as follows:
Two hours costs $12
Four hours costs $17
A flight pass costs $19
That's a reasonable price, and you can switch between devices.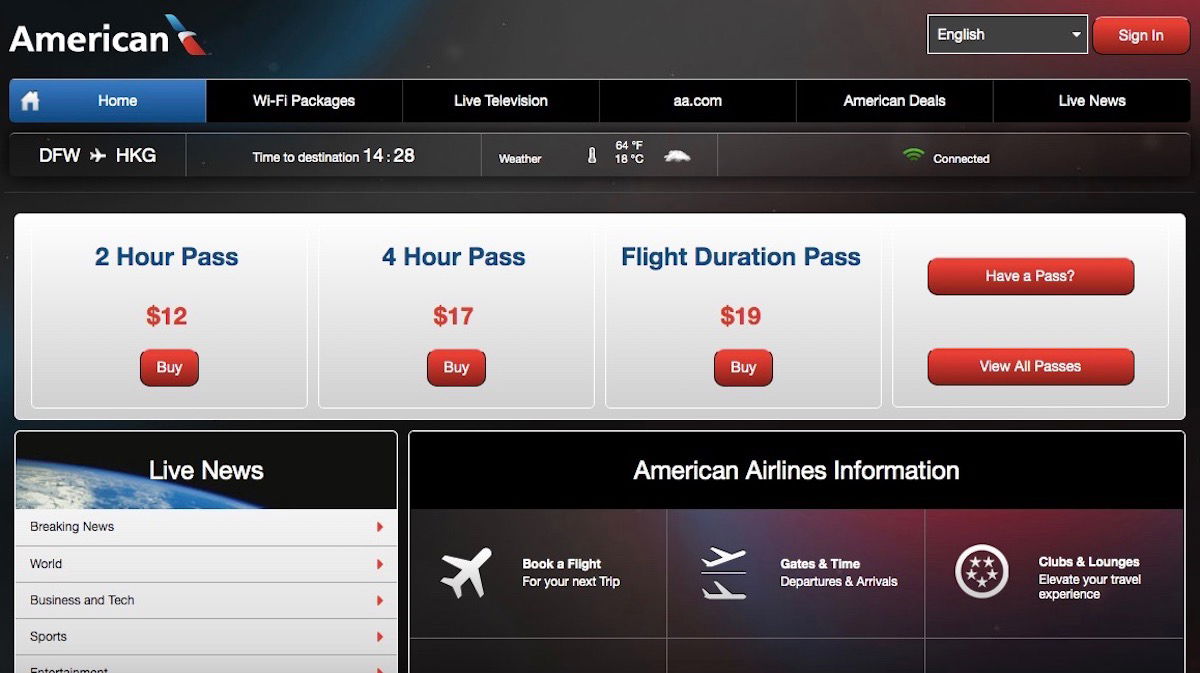 American Airlines Wi-Fi 777-300ER
The Wi-Fi speeds were decent, though this doesn't compare to Viasat or Gogo 2Ku, for example.
I also took a look at the entertainment selection. While the variety of movies and TV shows was good, I found the screen to be rather low quality, and to have horrible glare and brightness, even with window shades closed.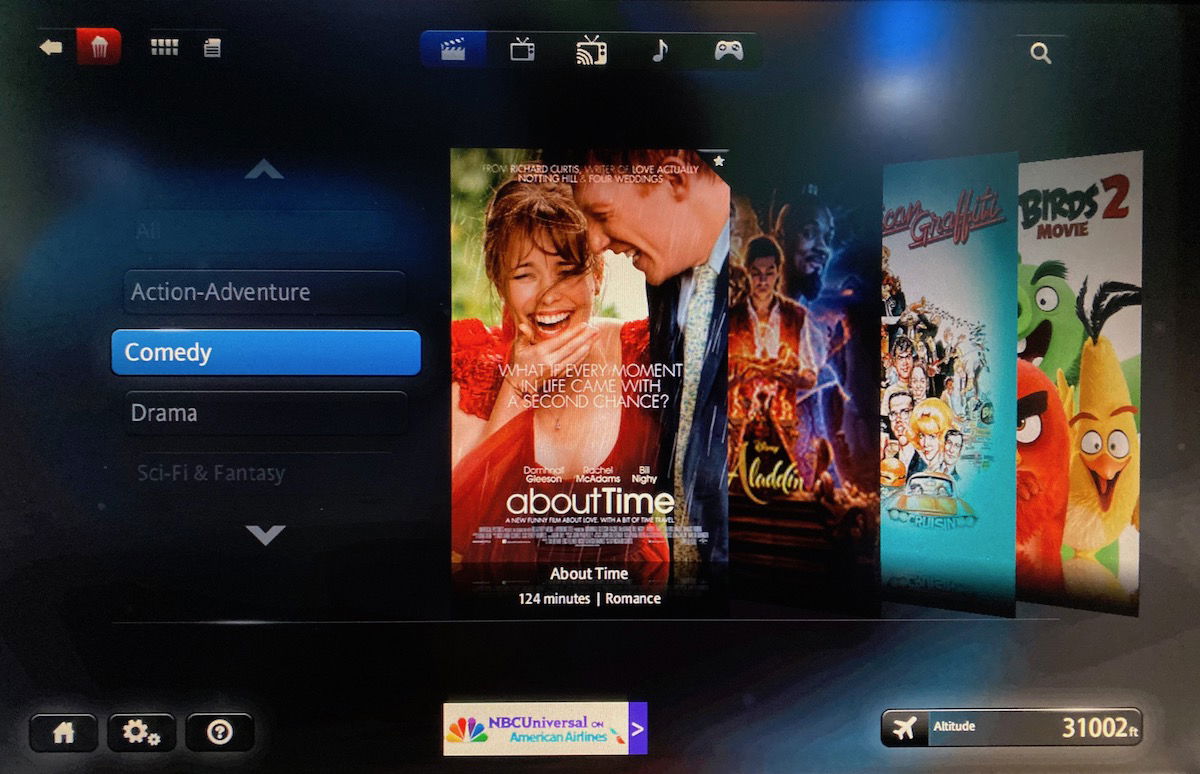 American Airlines entertainment selection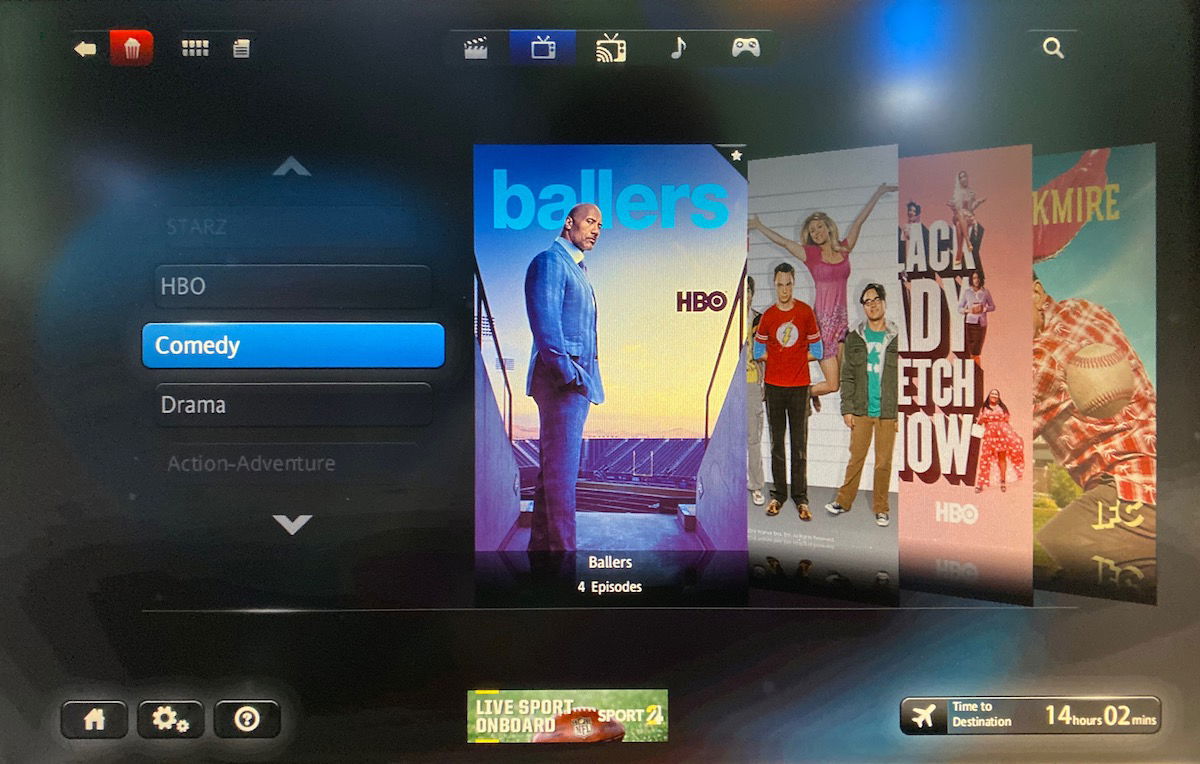 American Airlines entertainment selection
Service was very quick to get started after takeoff. 15 minutes after takeoff the purser took the tray table out of my seat without saying anything (shoot, I said I'd not comment on the service, so that's the extent of what I'll say).
The menu read as follows: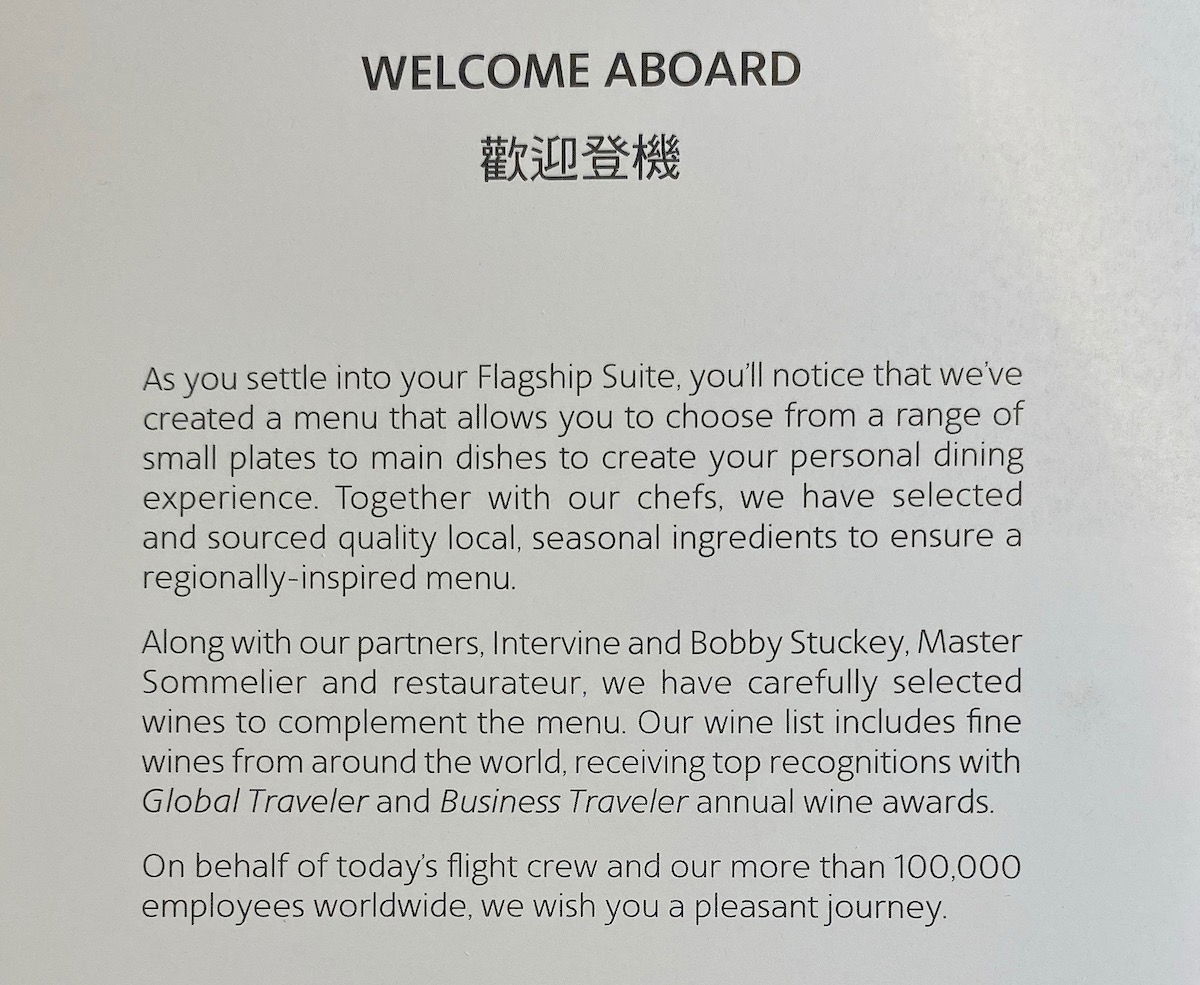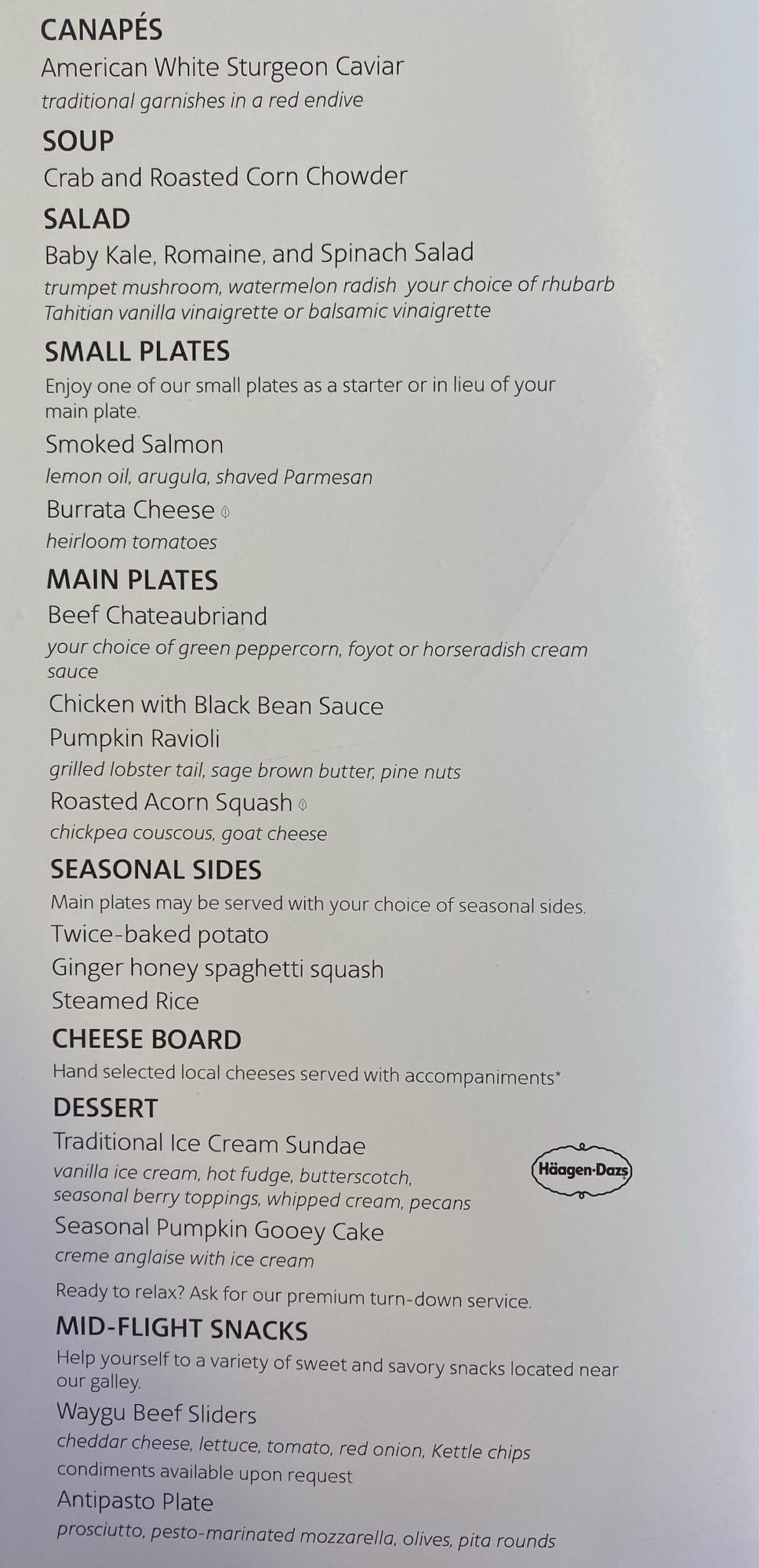 The drink list read as follows: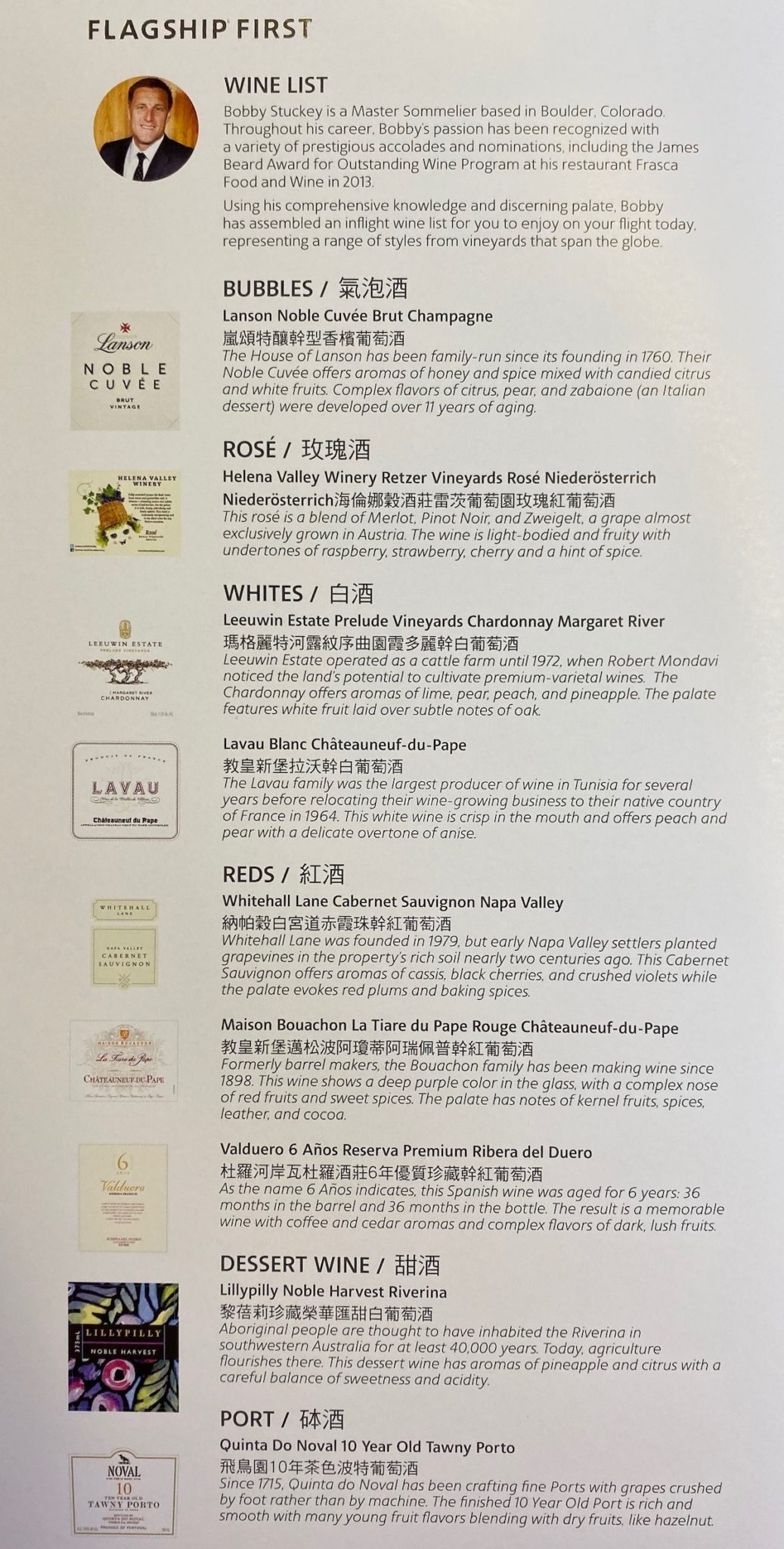 Before I talk about the food quality as such, I want to mention that I was shocked by the quantity of food being served — I mean that both in terms of the number of courses, and the size of each course.
Service was quick to get started after takeoff, and 30 minutes after takeoff I was brought a tablecloth as well as my first drink. I ordered a glass of champagne — they were serving Lanson Noble Cuvee Brut, which was quite good. I was served some salted almonds to go along with that, and was also given a glass of still water.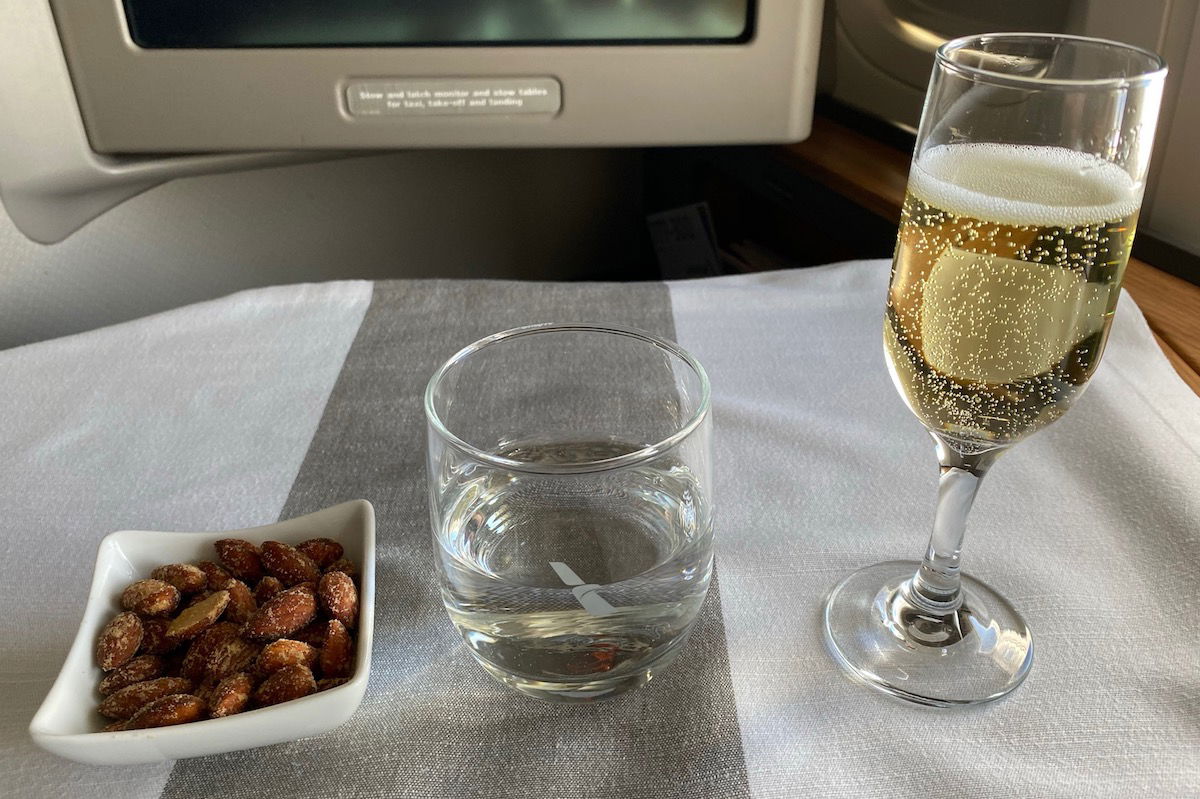 American Airlines first class lunch — drinks & nuts
I was then brought another small plate with some vegetable chips and olives.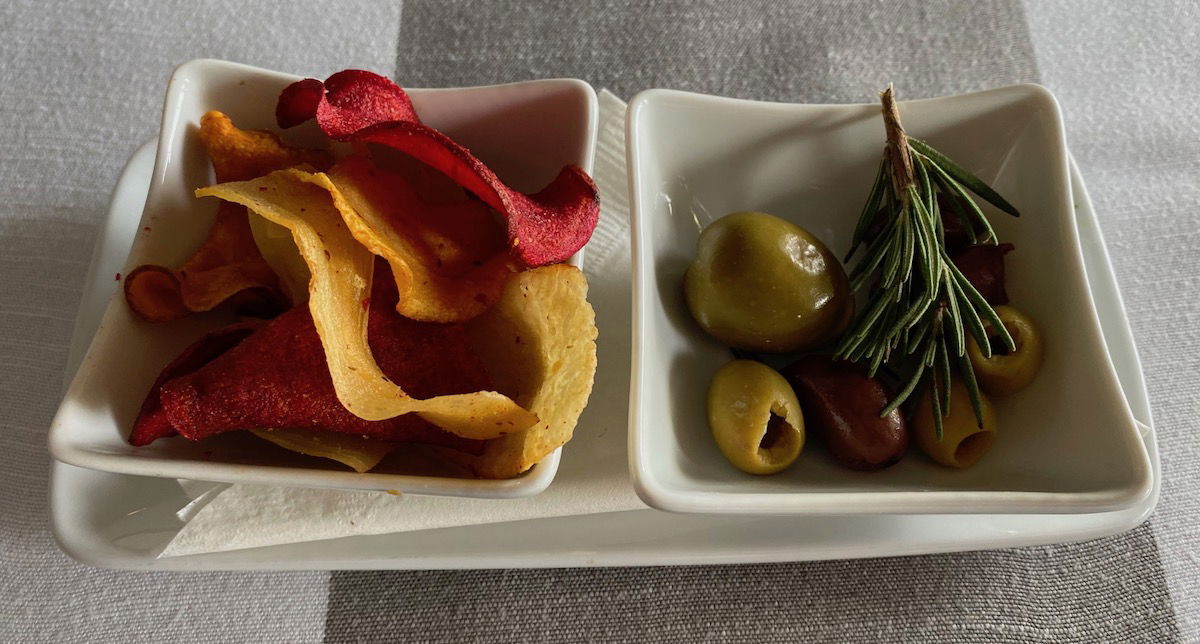 American Airlines first class lunch — chips & olives
Then I was brought the canapé.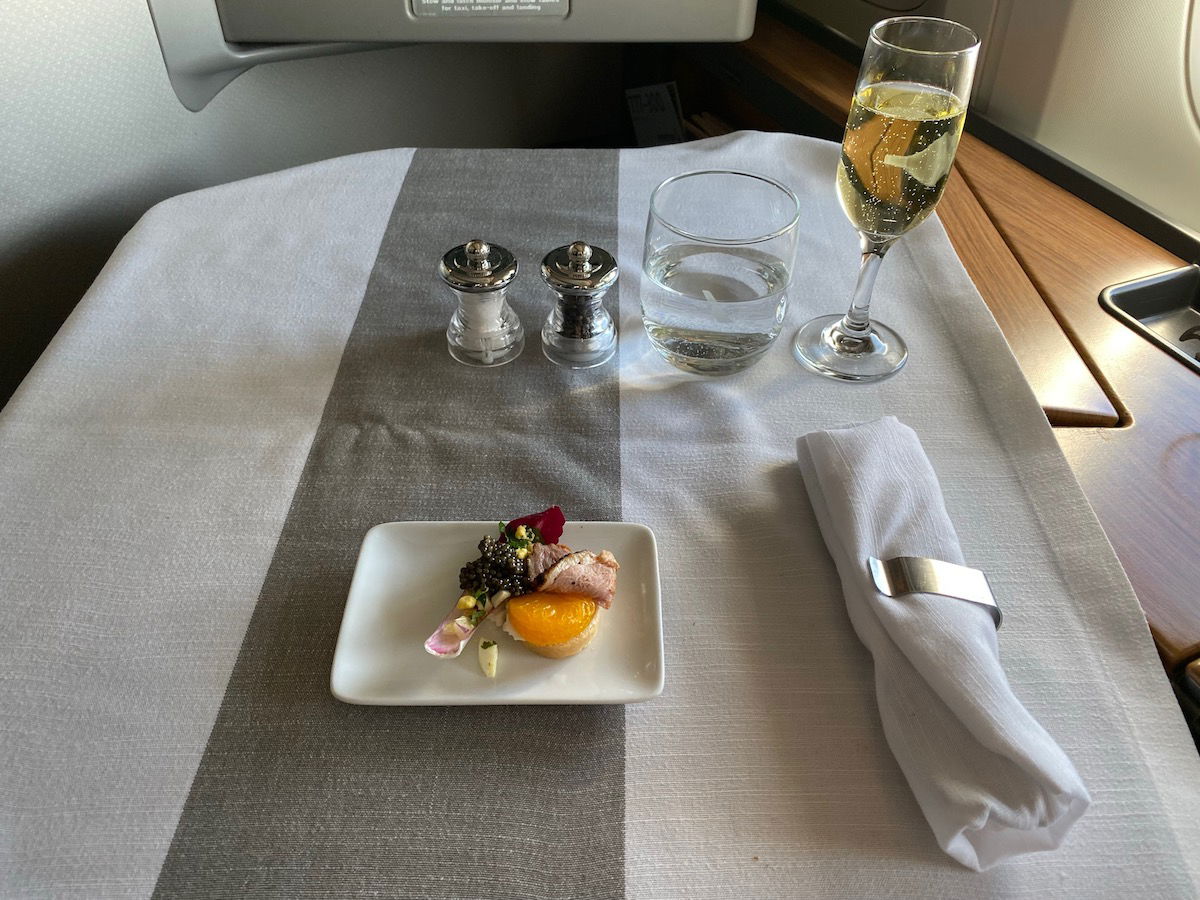 American Airlines first class lunch — table setting
The canapé was described as American white sturgeon caviar with traditional garnishes in a red endive, though the menu didn't describe what was next to it, which seemed to be some sort of duck and orange, or something.
I guess it's nice that they have caviar at all, but this hardly compares to the caviar presentation on some other airlines. 😉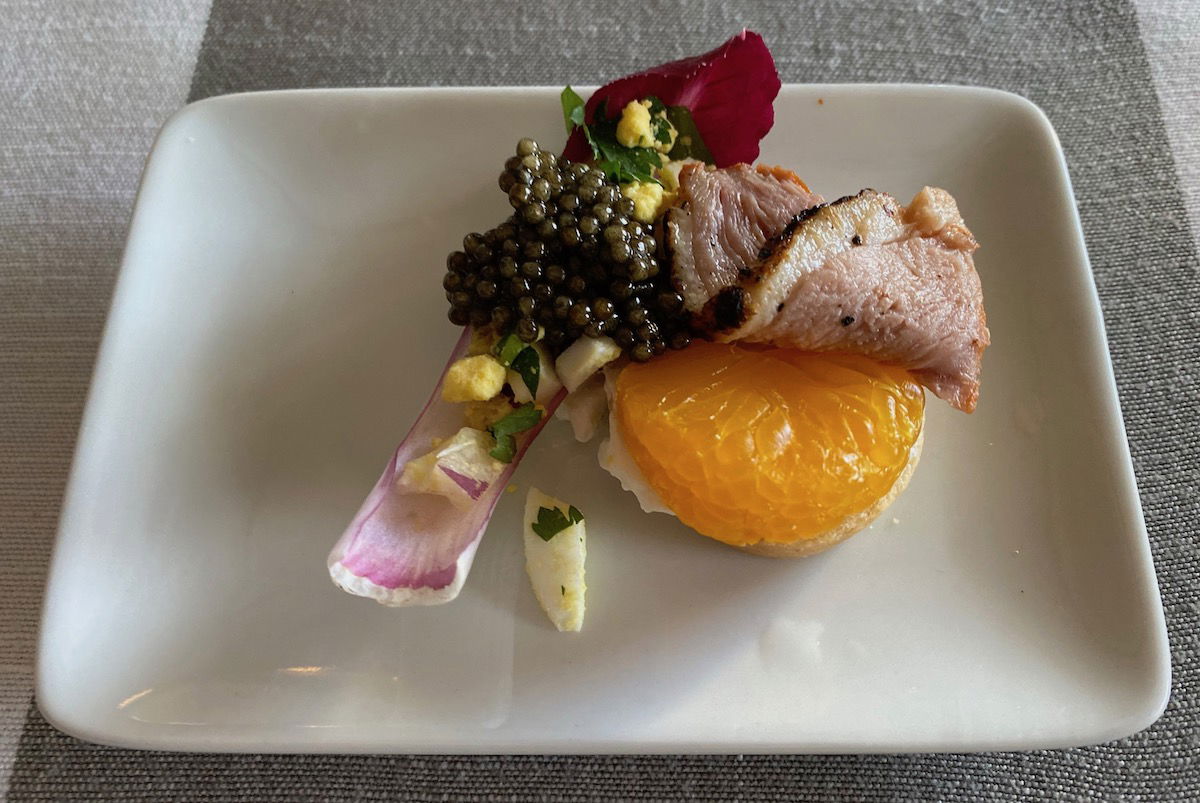 American Airlines first class lunch — caviar
Next up I had one of the small plates, and selected the smoked salmon with lemon oil, arugula, and shaved parmesan. I'm not sure on what planet this is considered a "small plate," as the salmon was a large main course portion, and most definitely not a small plate.
The salmon was super salty and kind of delicious…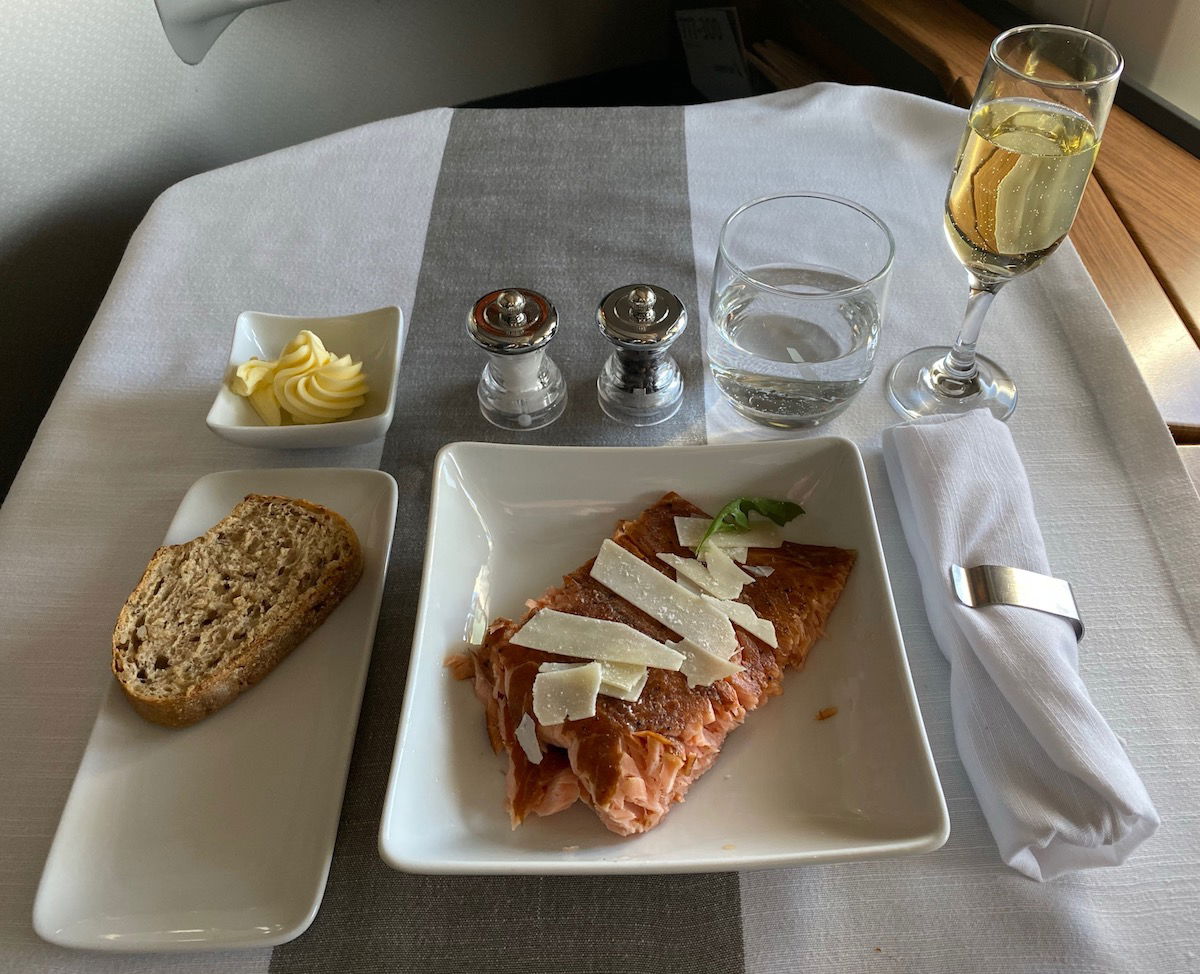 American Airlines first class lunch — small plate
Next up was the soup, which was a crab and roasted corn chowder, which wasn't great.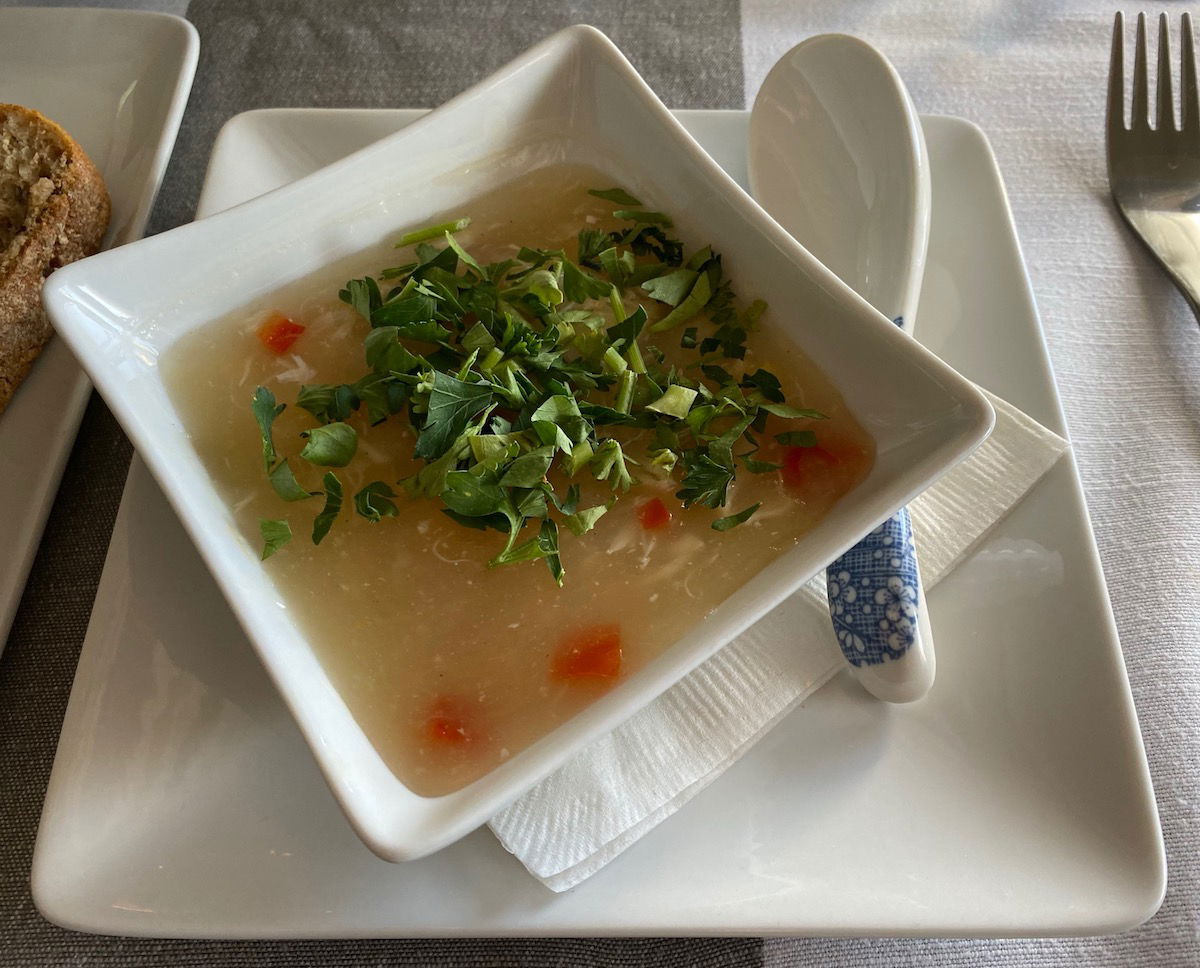 American Airlines first class lunch — soup
Then there was a salad, consisting of baby kale, romaine, and spinach salad, with trumpet mushroom and watermelon radish. I thought the salad was bland.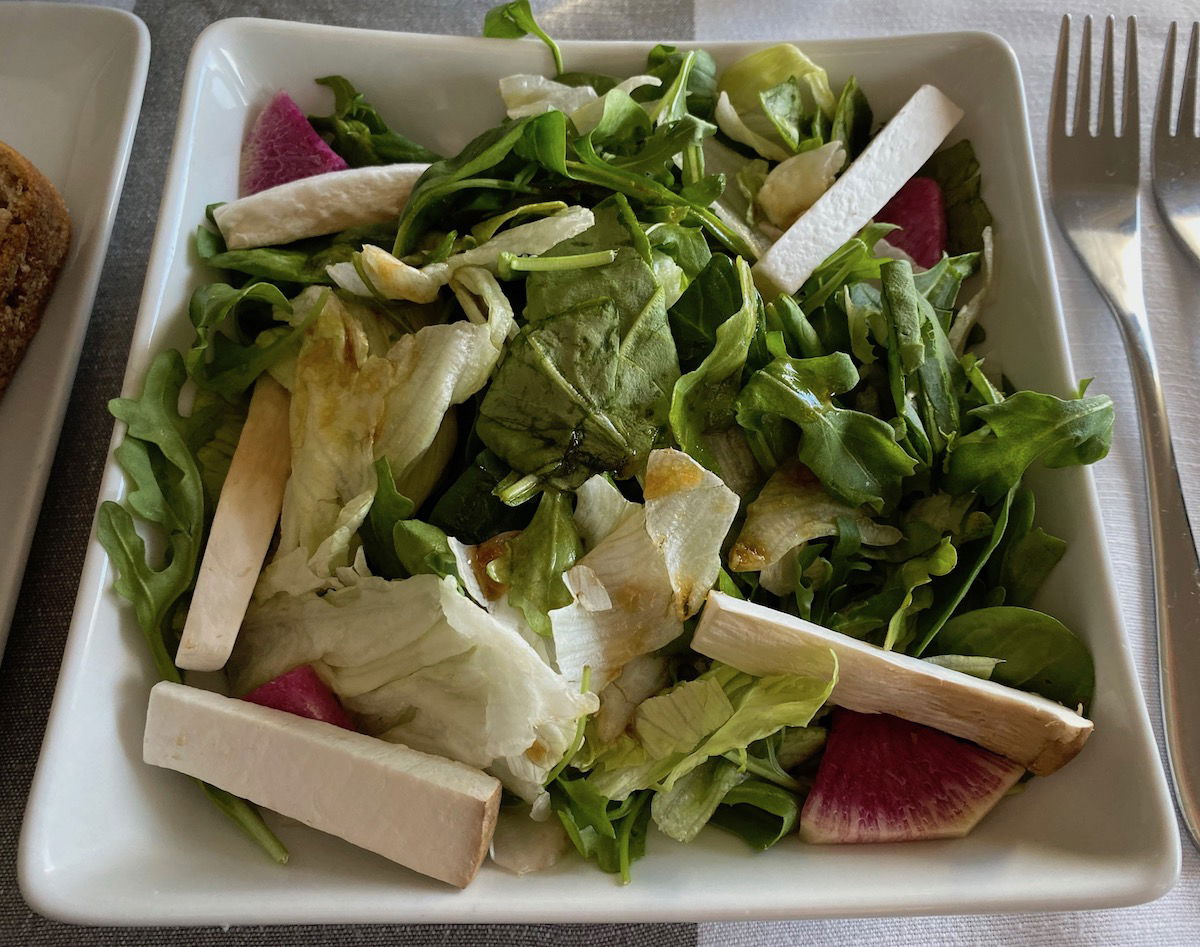 American Airlines first class lunch — salad
For the main course I ordered the chicken with black bean sauce. While the food up until this point was mostly pretty good, this dish was bad — the chicken was low quality, and the entire dish just tasted like it came out of a microwave dinner box.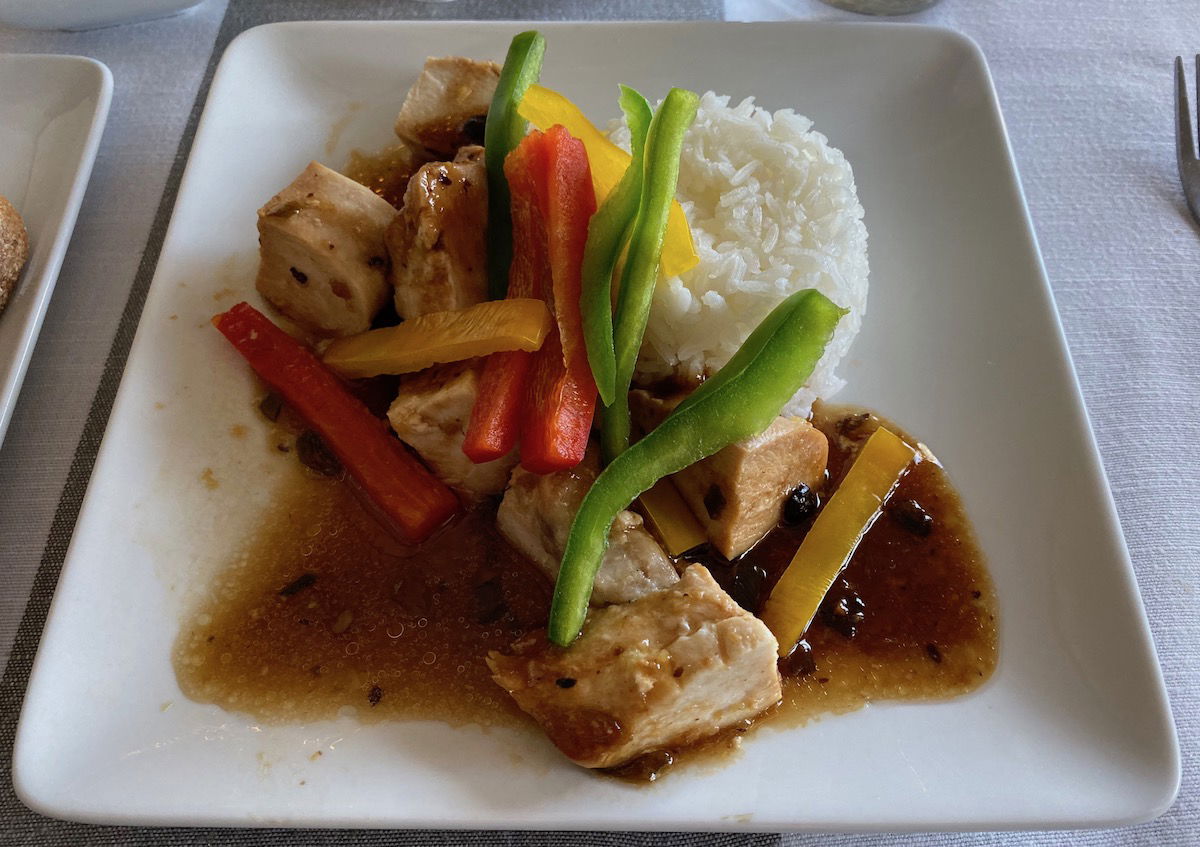 American Airlines first class lunch — main course
While the traditional dessert on American is an ice cream sundae, I decided to mix it up, and ordered the seasonal pumpkin gooey cake with creme anglaise and ice cream. It was every bit as delicious as it looked — I mean, what's not to love with the amount of sugar there?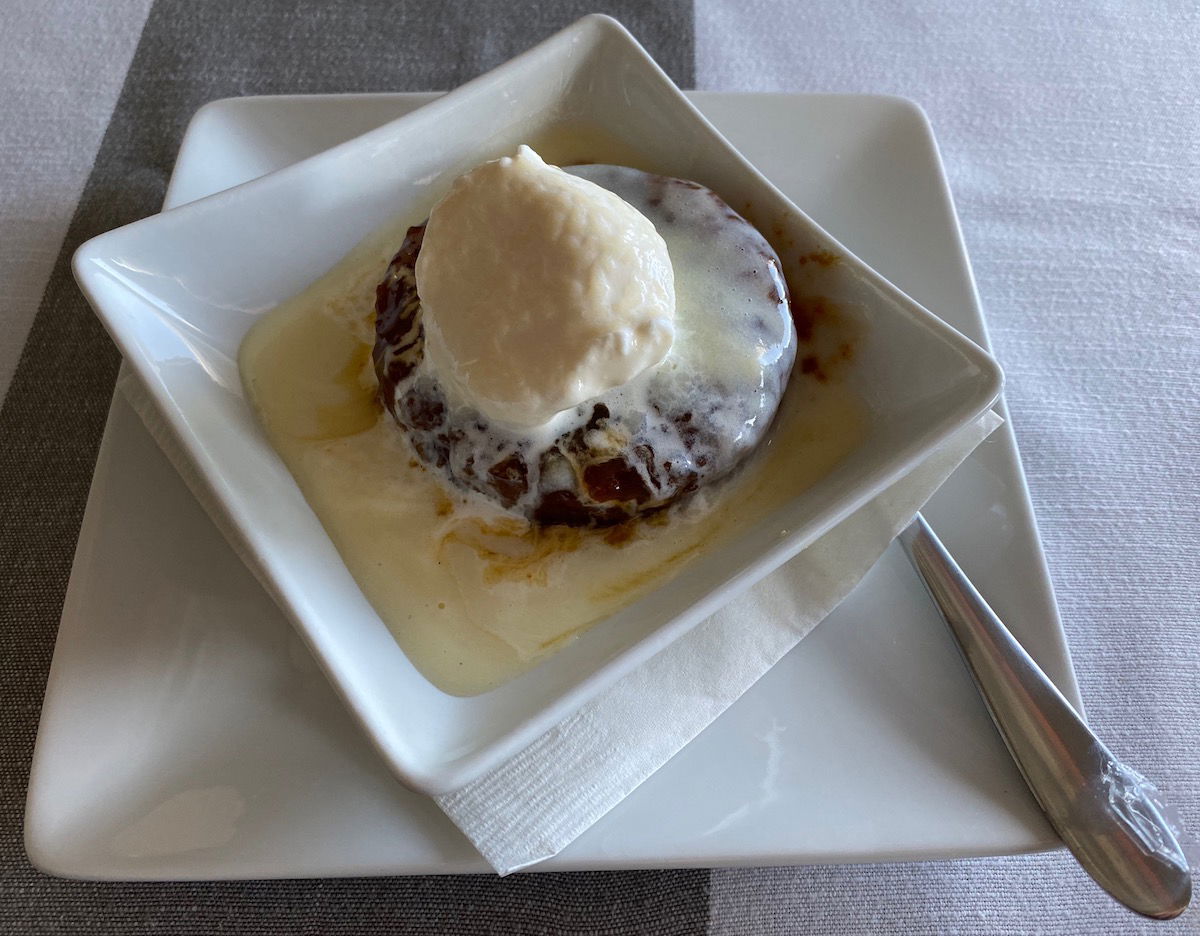 American Airlines first class lunch — dessert
Overall the meal was reasonably good, I think? I mean, it was great by American Airlines standards, but also not really competitive to other international first class products. The quantity of food was huge. I loved the starter and dessert, while I found the soup, salad, and main, to not be that good.
After the meal I tried to get some rest. While it doesn't bother me, there is one weird quirk about American's first class seats — they don't actually go fully flat! I had noticed this in the past, and I find it really weird. I don't mind it because I rarely recline my seat all the way (I like to keep an incline of a few degrees, to account for the nose-up angle of the plane). But it's still odd.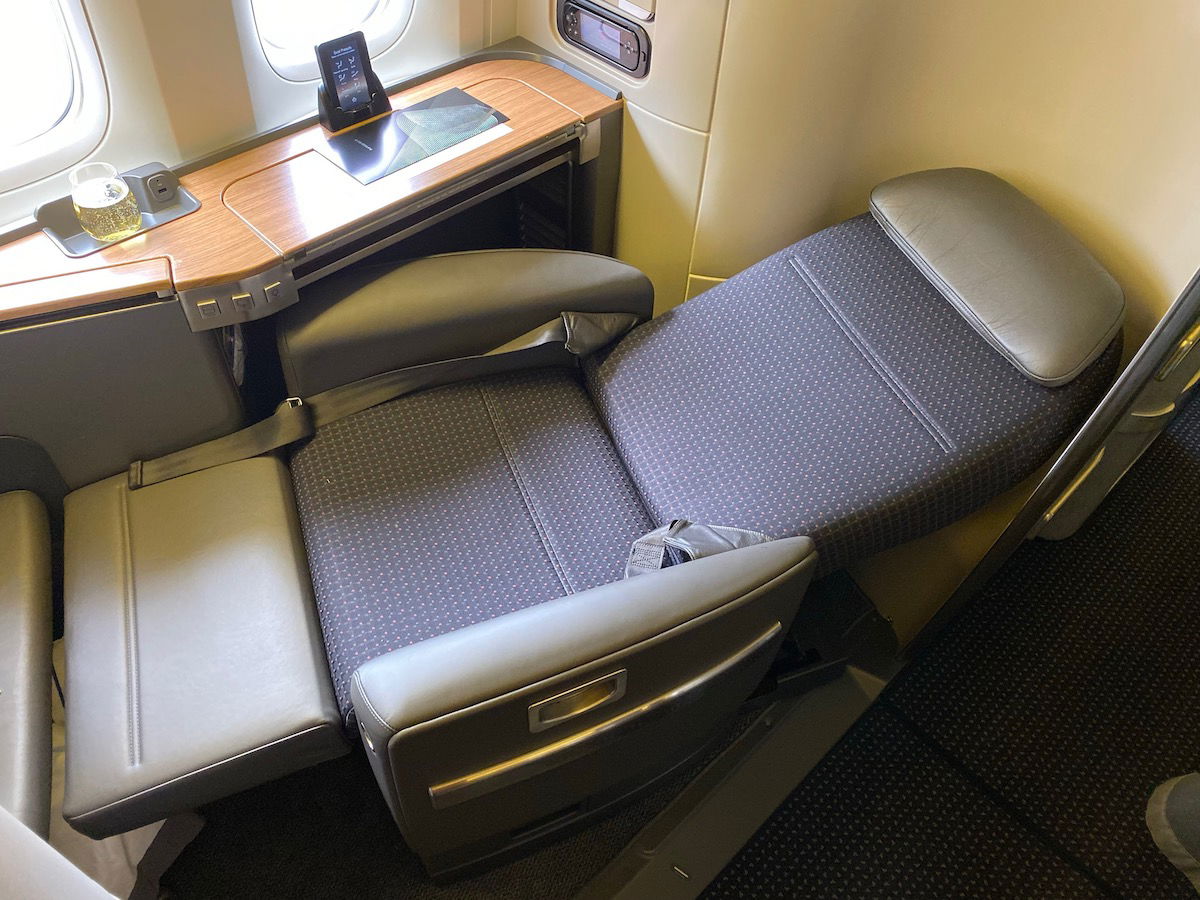 American Airlines 777 first class bed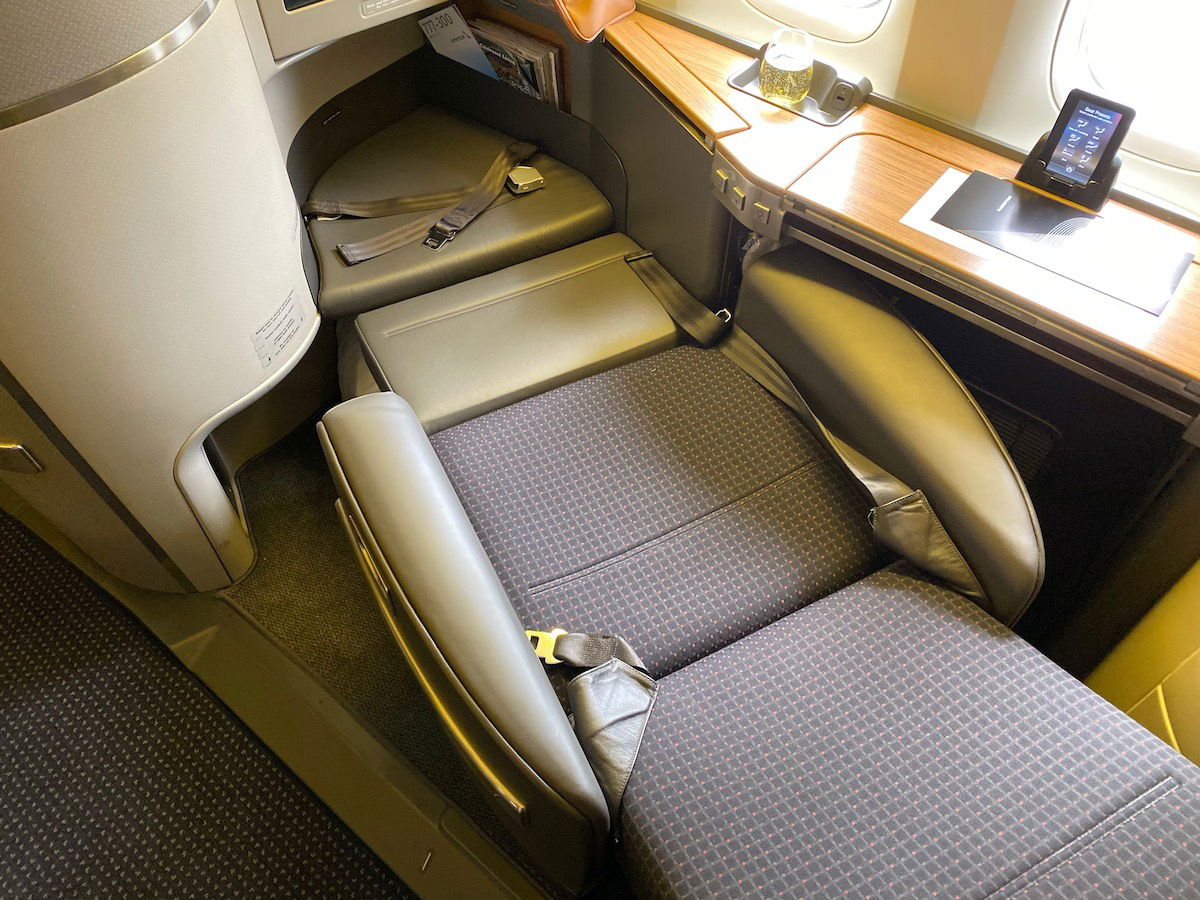 American Airlines first class bed 777
At this point I requested American Airlines' "premium turn-down service" (as it was described on the menu). No comment…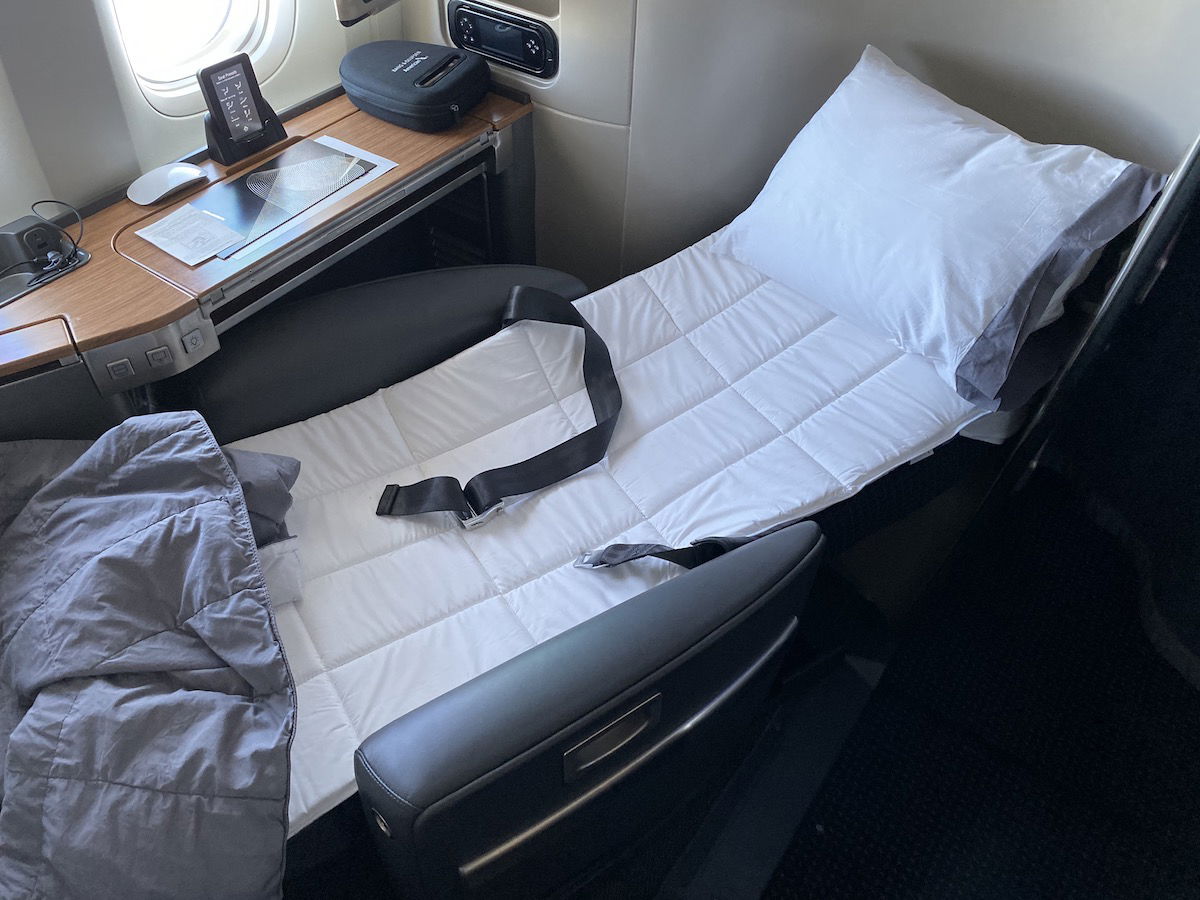 American Airlines first class turndown service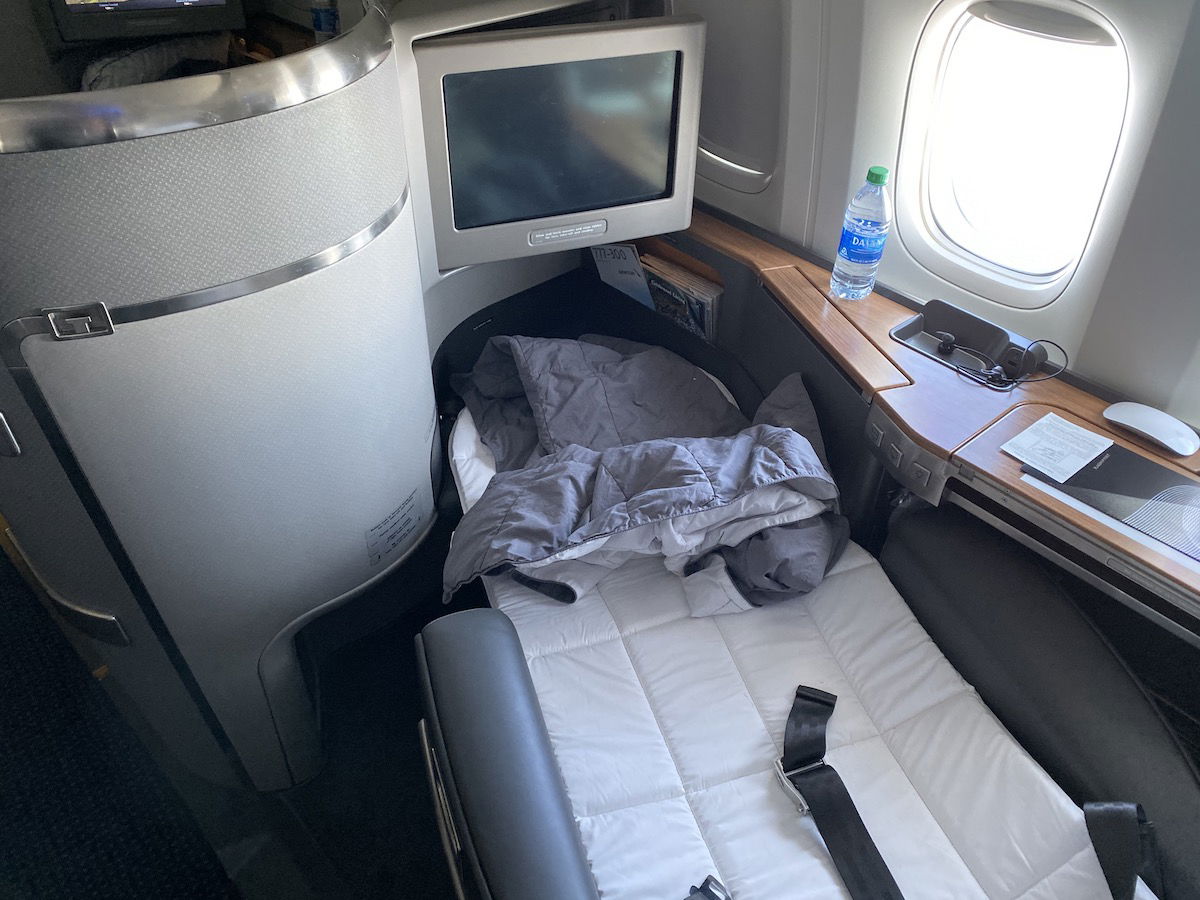 American Airlines first class turndown service
At this point I checked out the lavatory — there are two at the front of the cabin, though they're shared with the cockpit, so there are times where you can't visit them.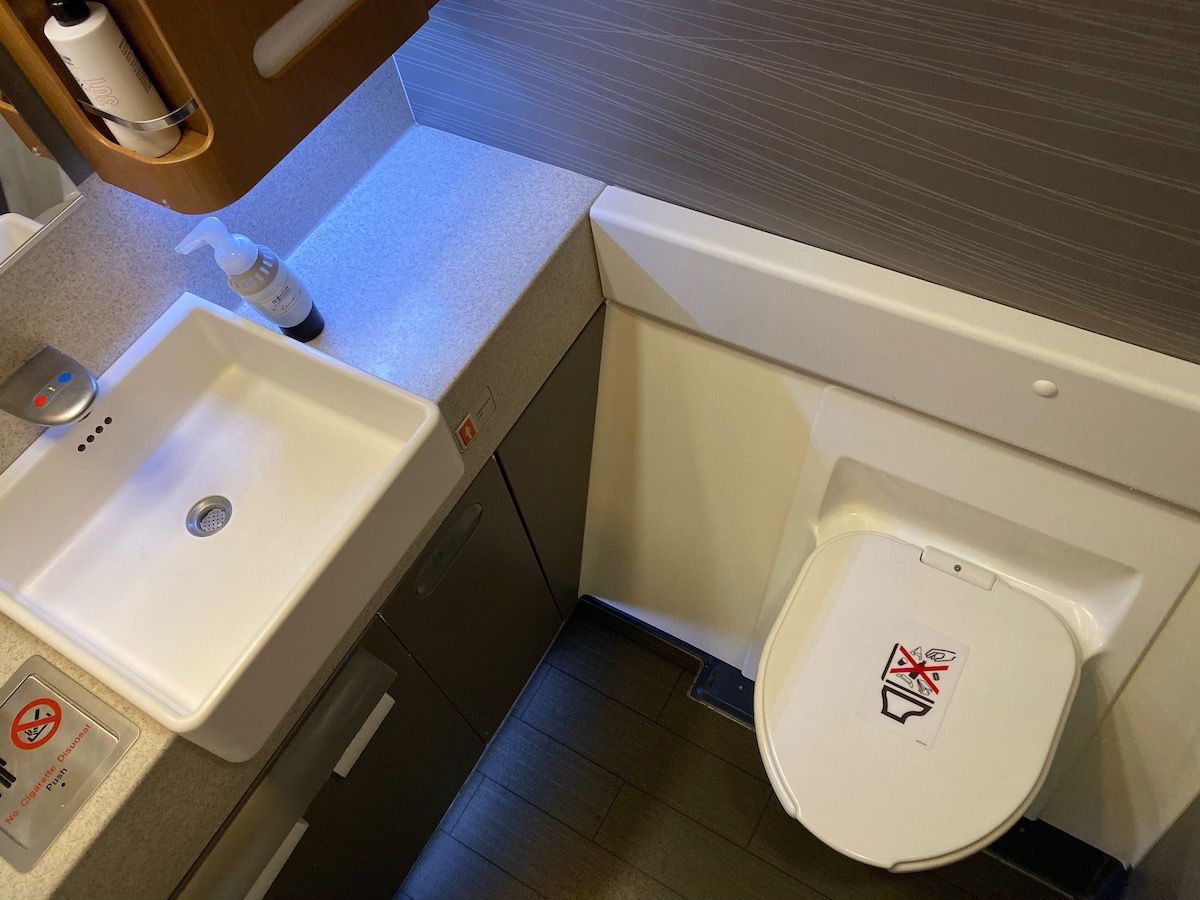 American Airlines first class lavatory
I went to sleep about 2.5 hours after takeoff. Before going to sleep I checked out the map for the flight, and found our rather unusual path. When heading to Asia I usually find either a "very" Polar path (where we're flying right near the North Pole), or a route over Alaska. In this case we were flying North of Alaska.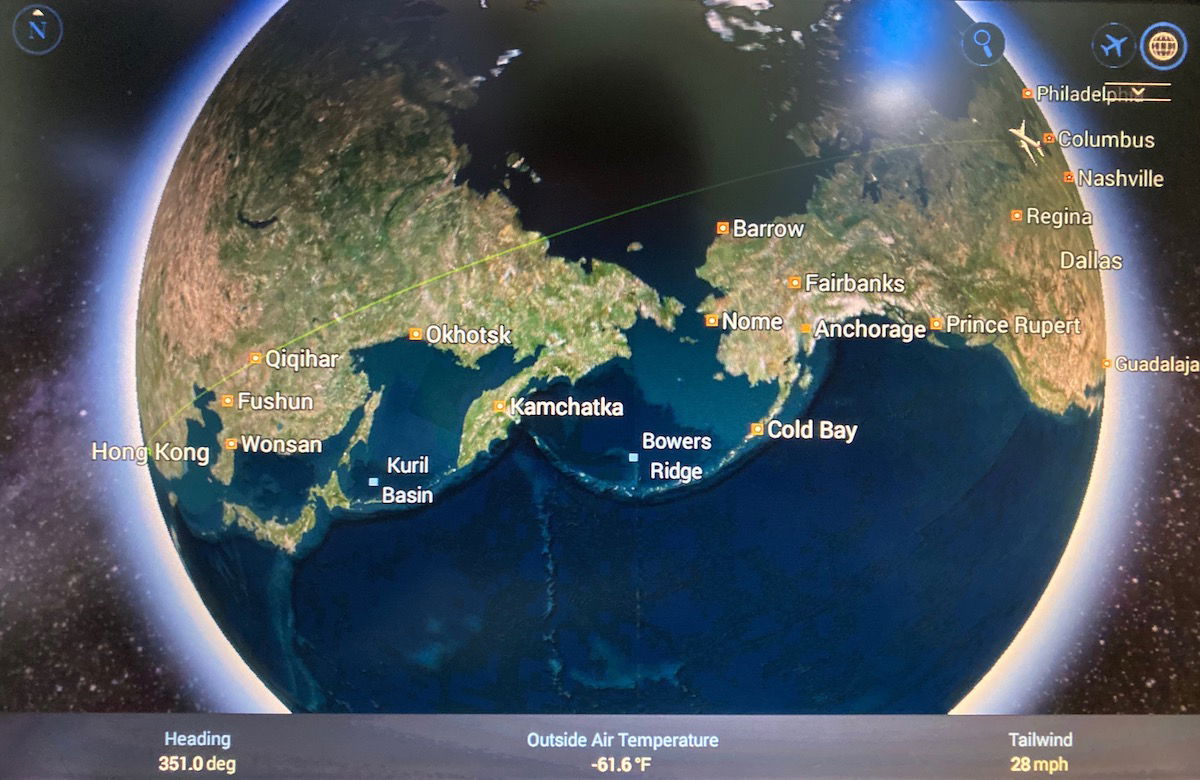 Map enroute to Hong Kong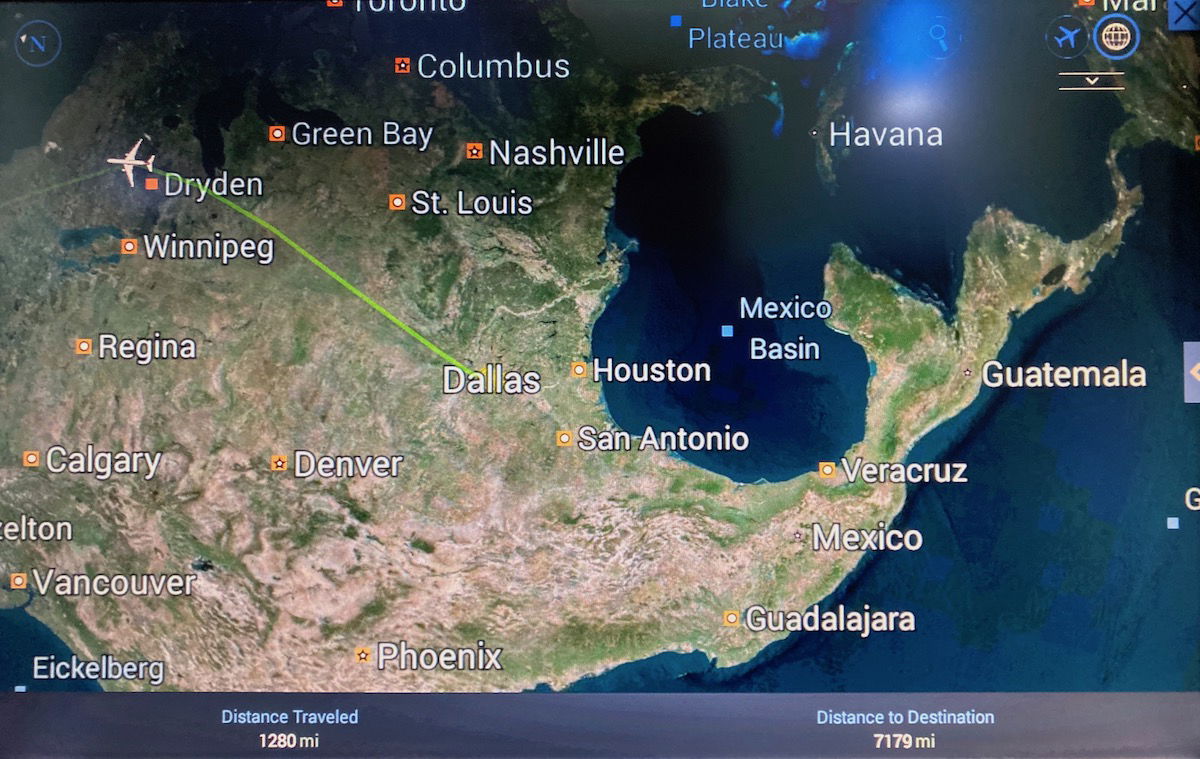 Map enroute to Hong Kong
I managed to get about 2.5 hours of sleep, which was fairly good given that it was the middle of the day. I woke up as we were still over Northern Canada.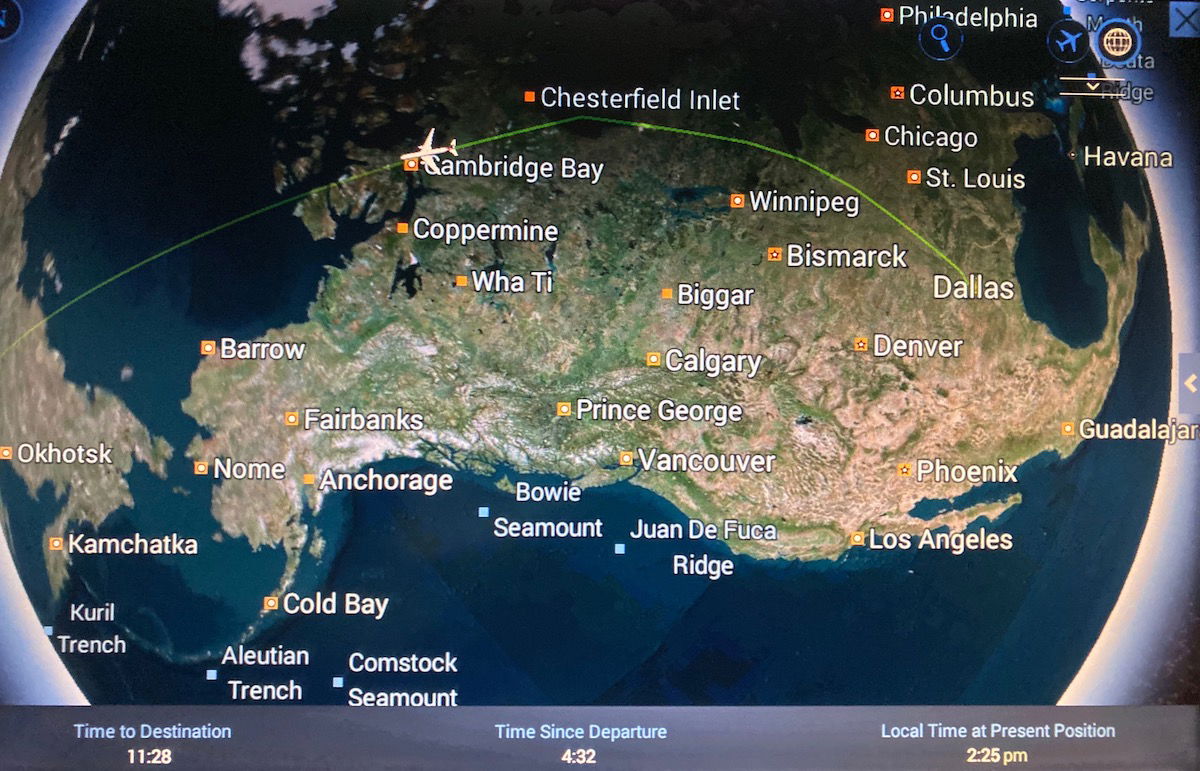 Map enroute to Hong Kong
I wasn't hungry, though checked out the snack bars that they had set up. The nicest snack setup is in business class, near door two. However, American has hugely cut back on their snacks since they introduced 777-300ER service several years ago, and now there were mostly just packaged snacks.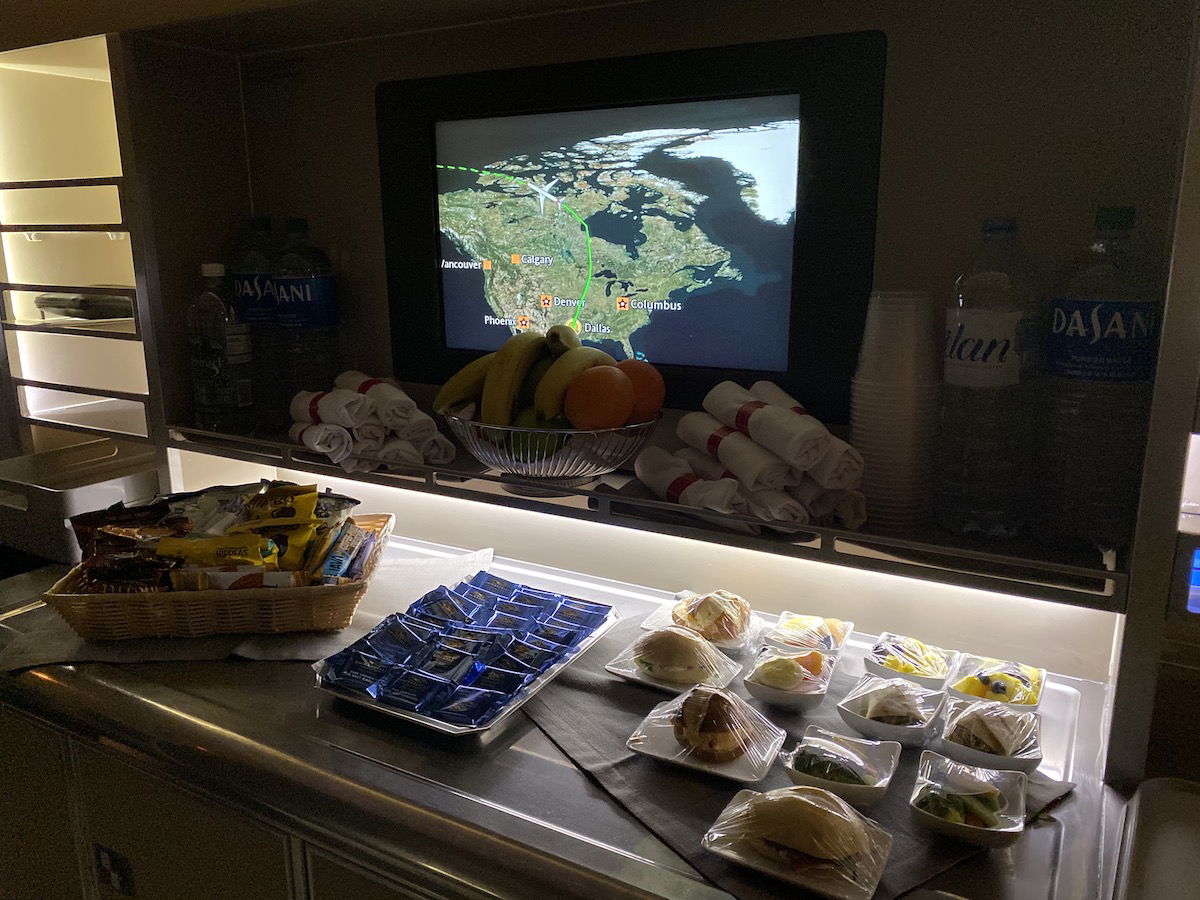 American Airlines business class snack bar
Meanwhile there was also a small bar in first class, though I find the whole setup awkward since it's right in the galley, and the crew simply glares at you every time you dare to approach.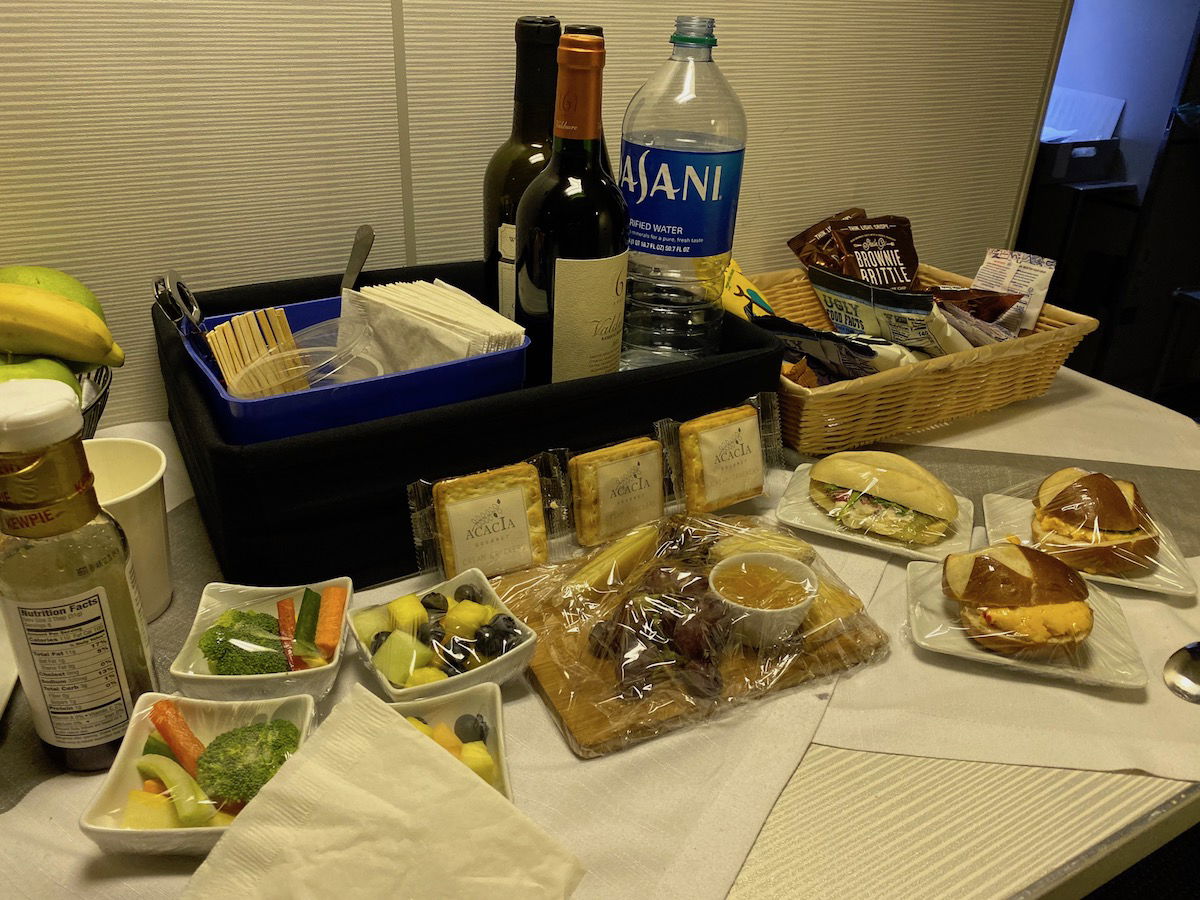 American Airlines first class snack bar
Eventually I decided to order a cappuccino. The cappuccino tasted way off, to the point that my theory is that they used cream or half & half as the base.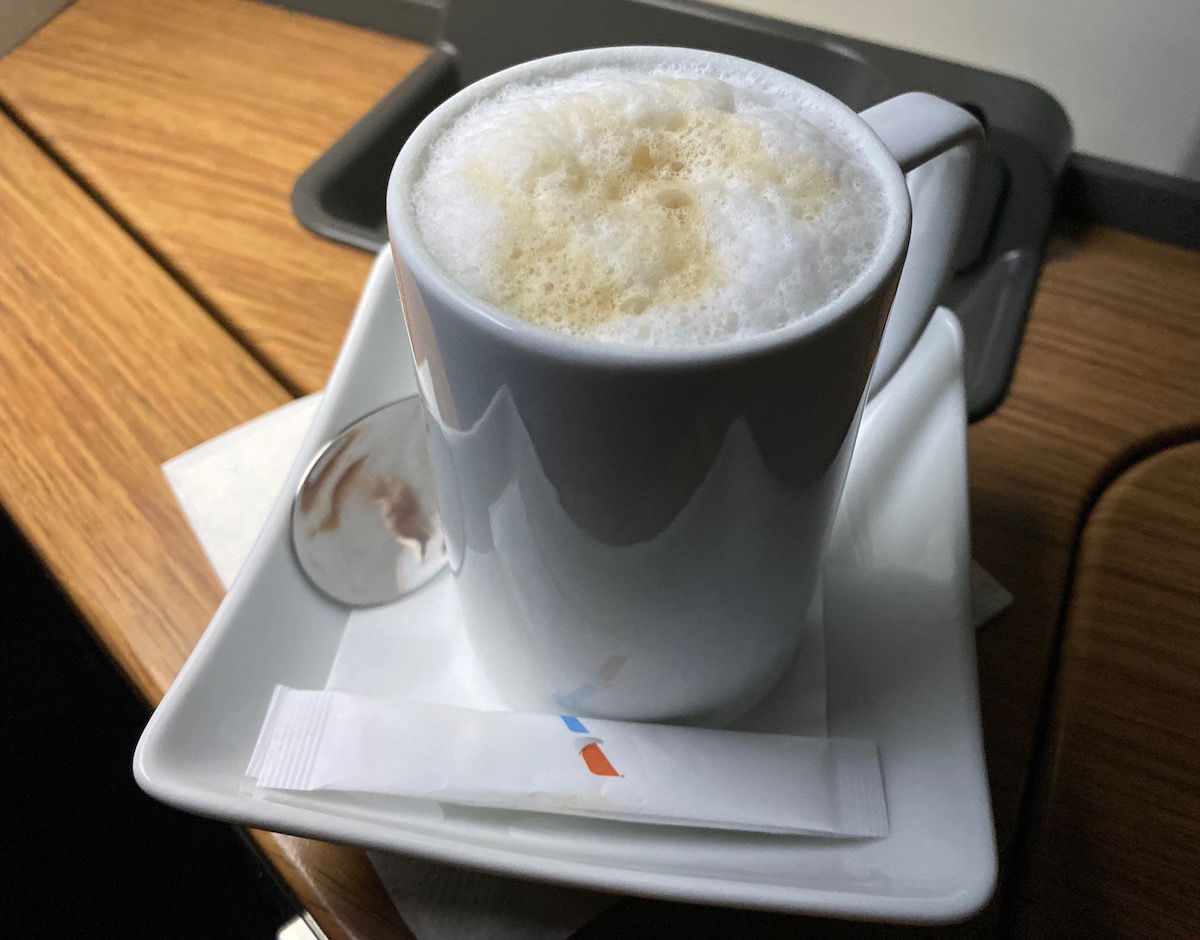 American Airlines first class cappuccino
I spent several hours working, and about nine hours before landing decided to order something from the midflight snack menu.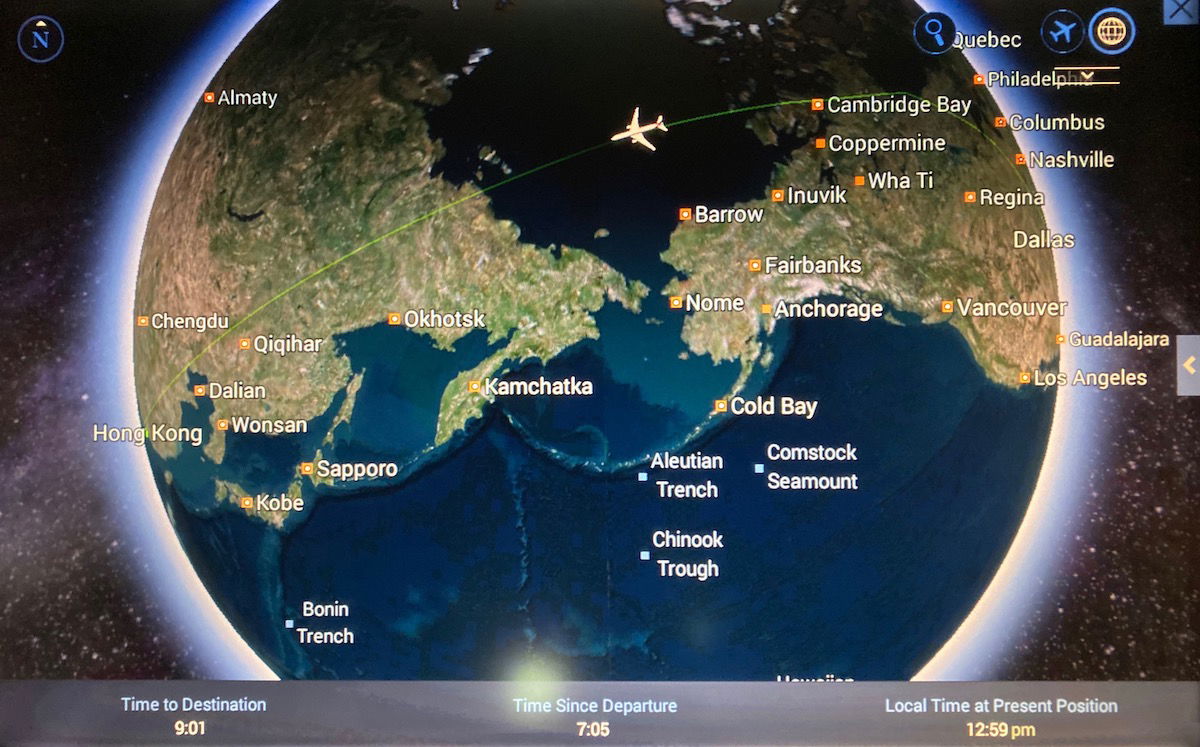 Map enroute to Hong Kong
There were two options — wagyu beef sliders or an antipasto plate. I ordered the latter, though it wasn't very good — as you'd expect, the pita rounds were stale as could be.
American Airlines first class snack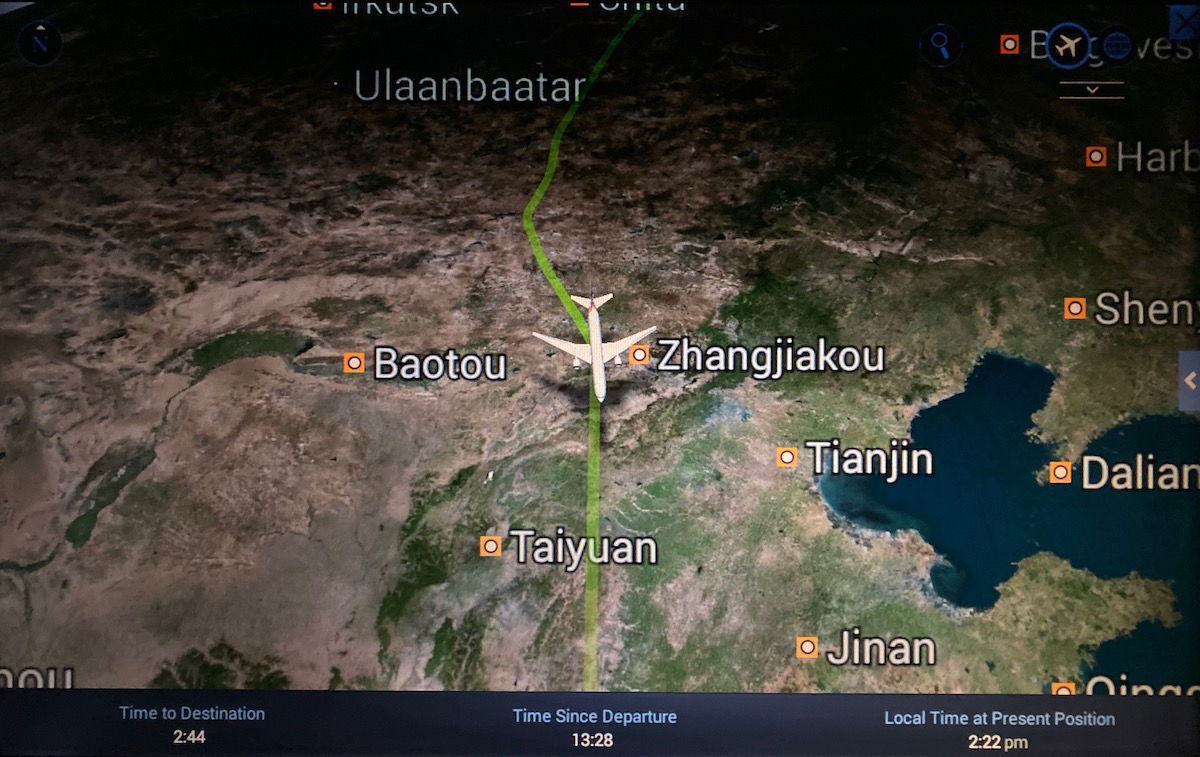 Map enroute to Hong Kong
I ended up going back to sleep with about 6hr30min remaining to Hong Kong, and woke up about three hours before landing. I was happy to get more sleep!
Upon waking up I worked a bit more, and then about 90 minutes before landing the pre-arrival meal was served.
The menu read as follows: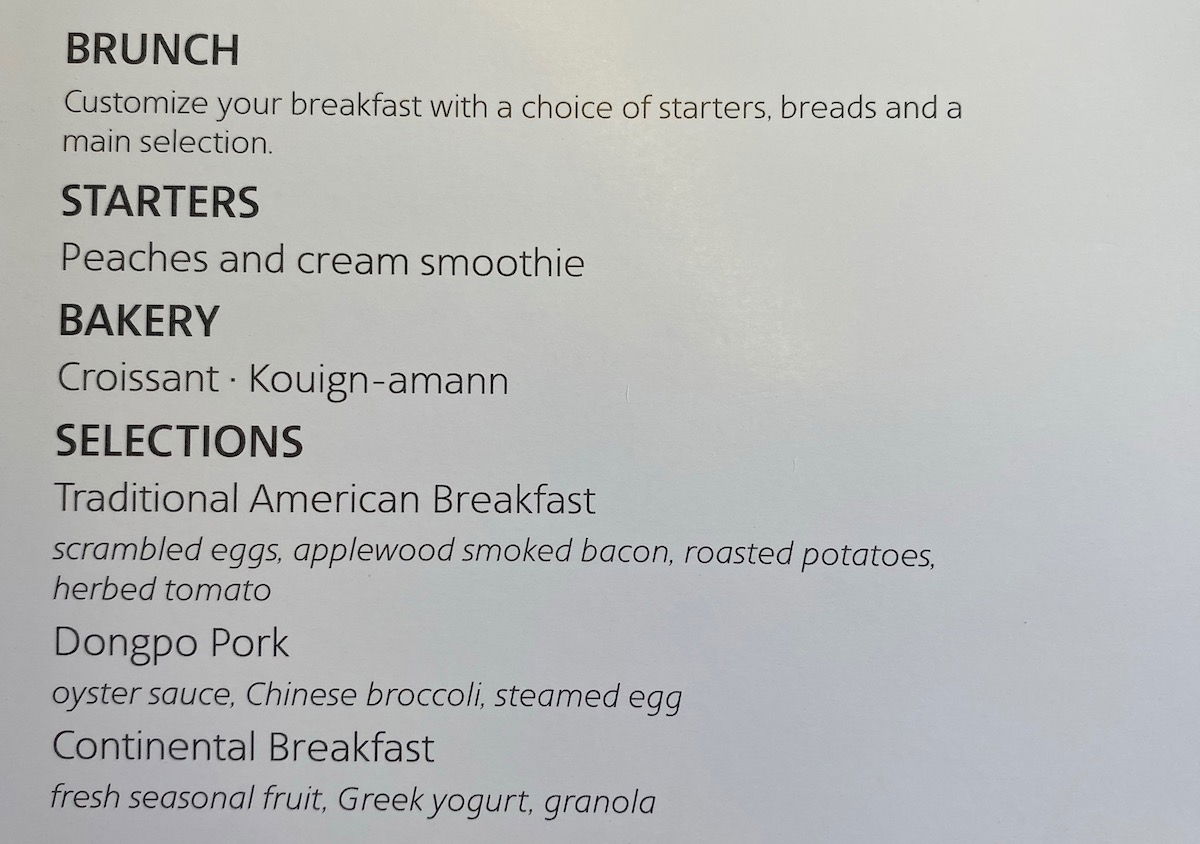 First I was offered a glass of orange juice or a peaches and cream smoothie, and I chose the latter.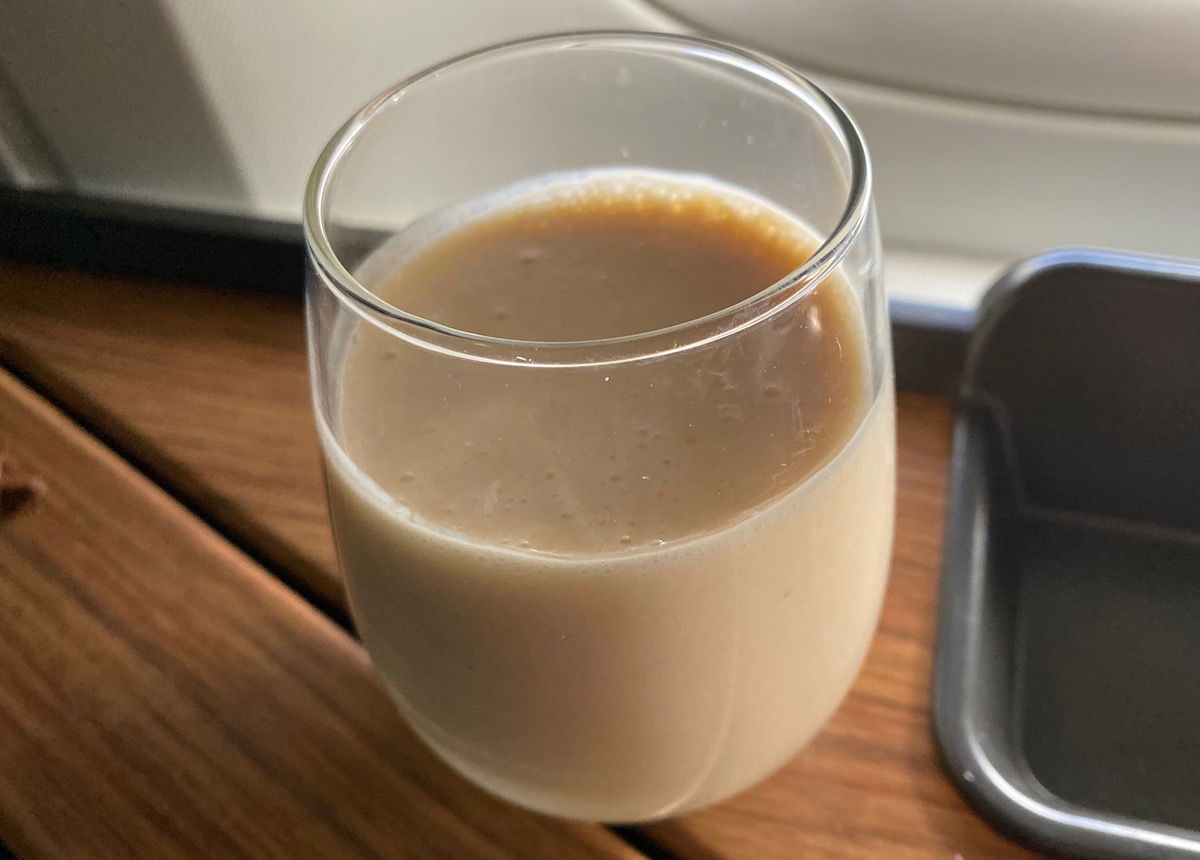 American Airlines first class smoothie
I chose the continental breakfast, consisting of fresh fruit, granola, and Chobani yogurt. It was all decent enough, and in particular the croissant was the best I've had on American.

American Airlines first class breakfast
At around 4:40PM Hong Kong time we began our descent, and 10 minutes later the captain announced that we'd be landing in 20 minutes. While it was dark for at least half the flight, it was a beautiful afternoon at this point.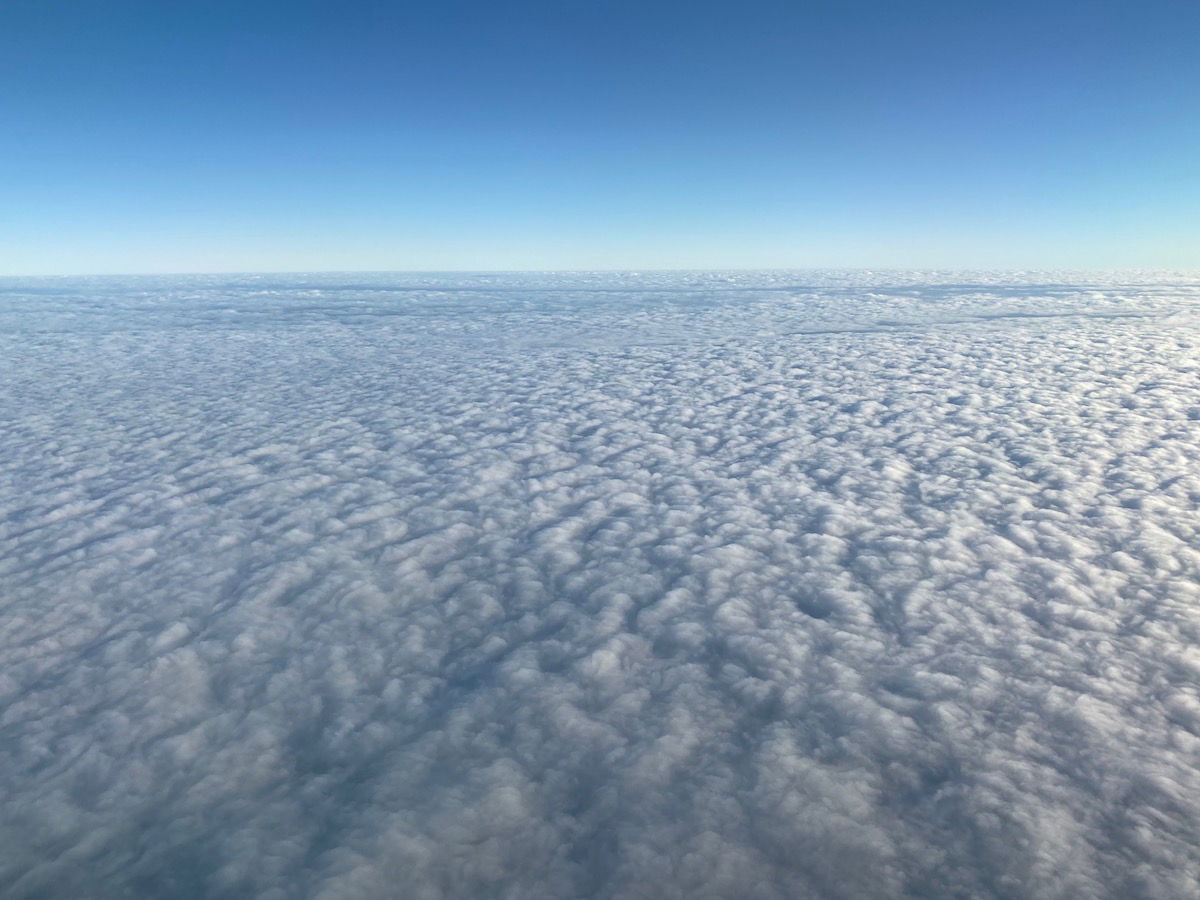 Beautiful afternoon enroute to Hong Kong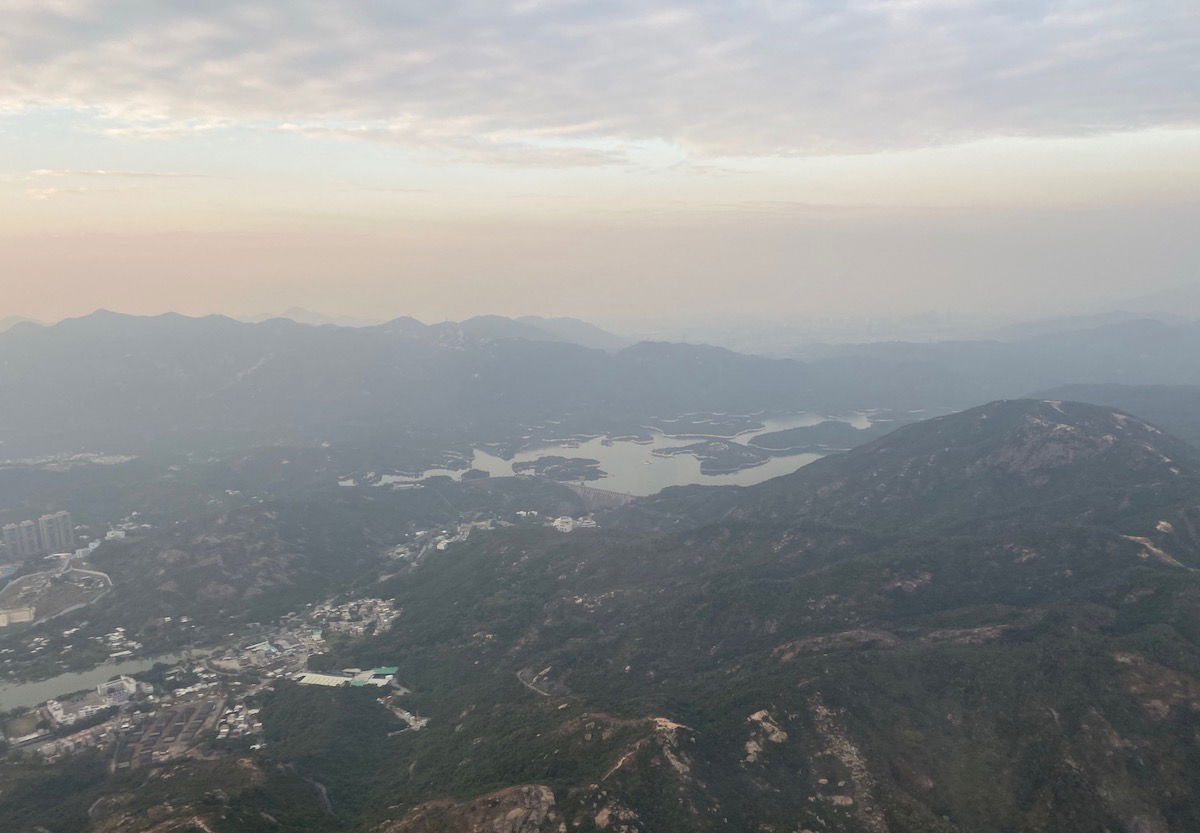 View approaching Hong Kong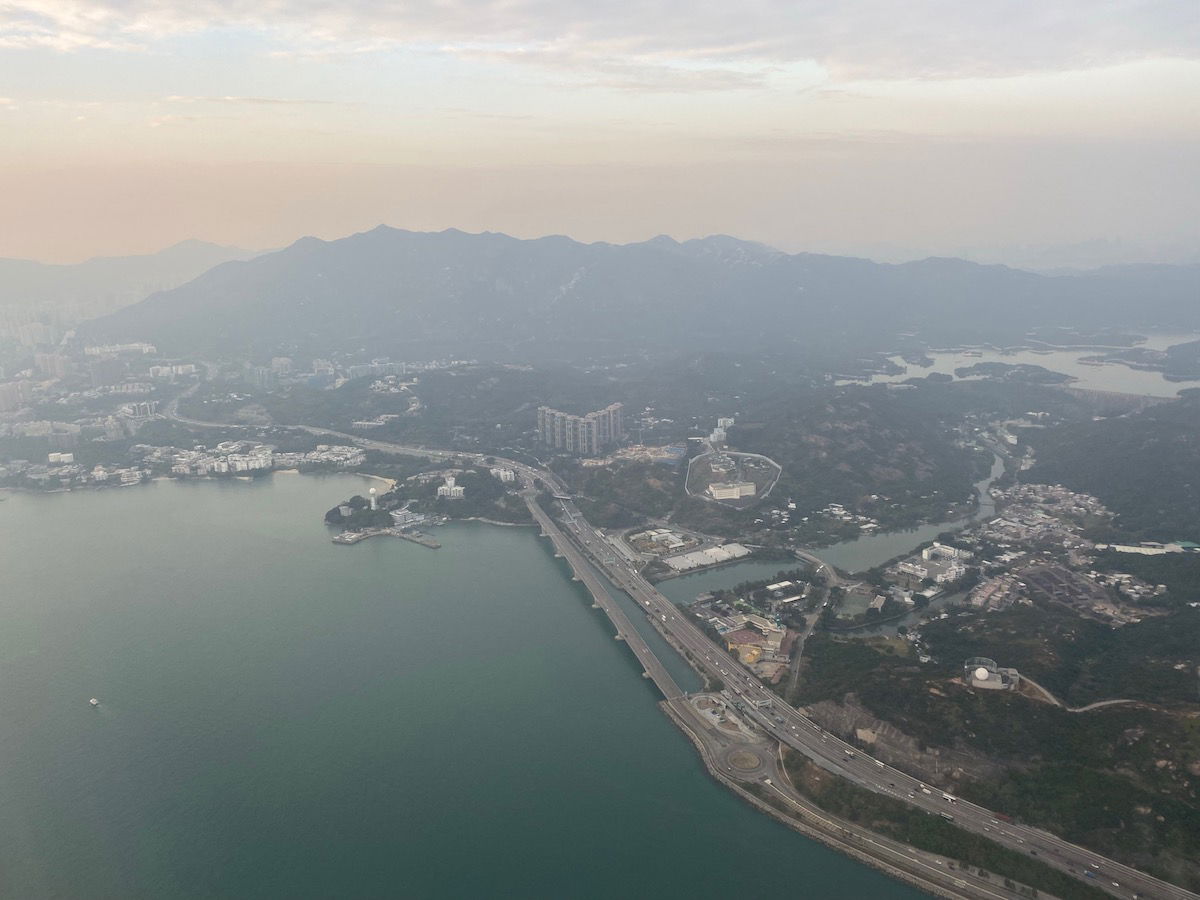 View approaching Hong Kong
We ended up touching down in Hong Kong at 5:10PM on runway 25R.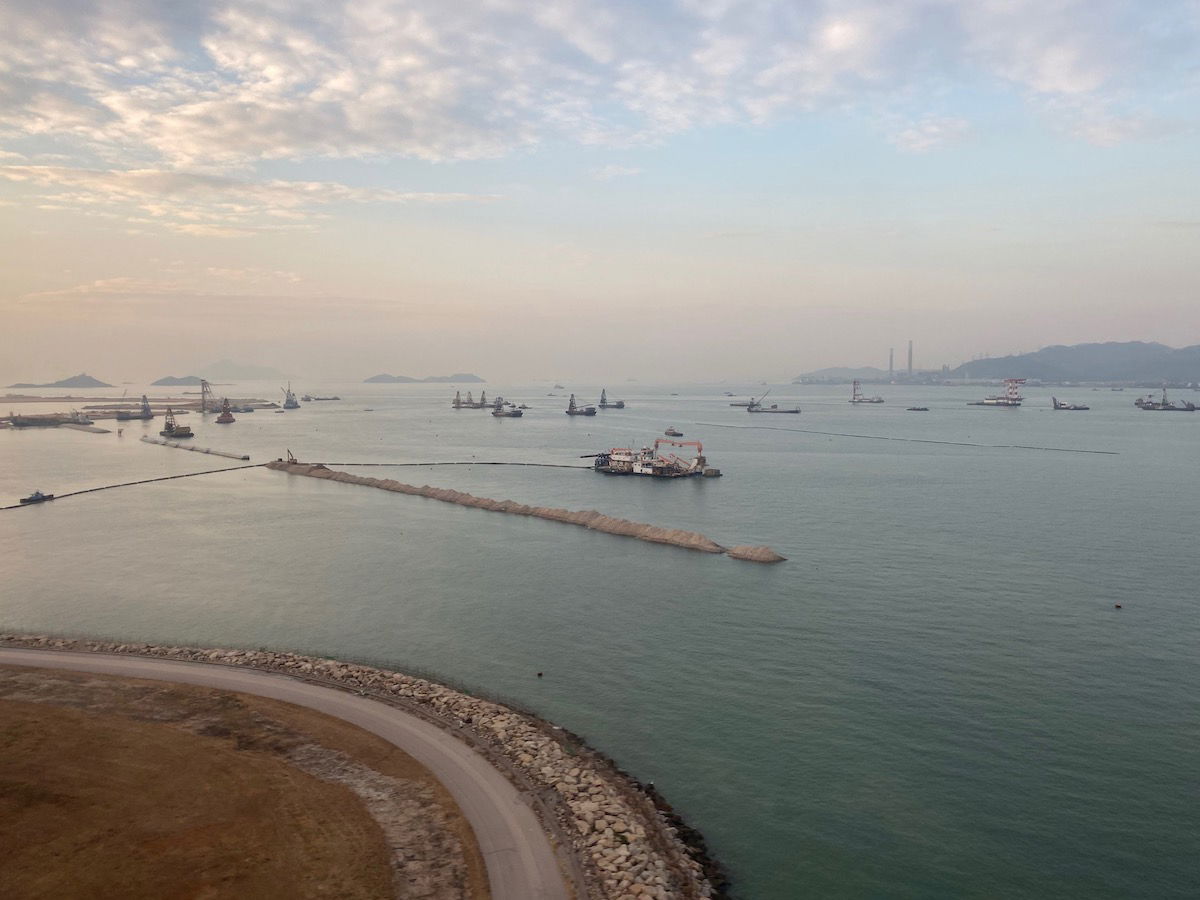 View approaching Hong Kong
From there we had a 10 minute taxi to our arrival gate, with a beautiful sunset in the distance as we taxied.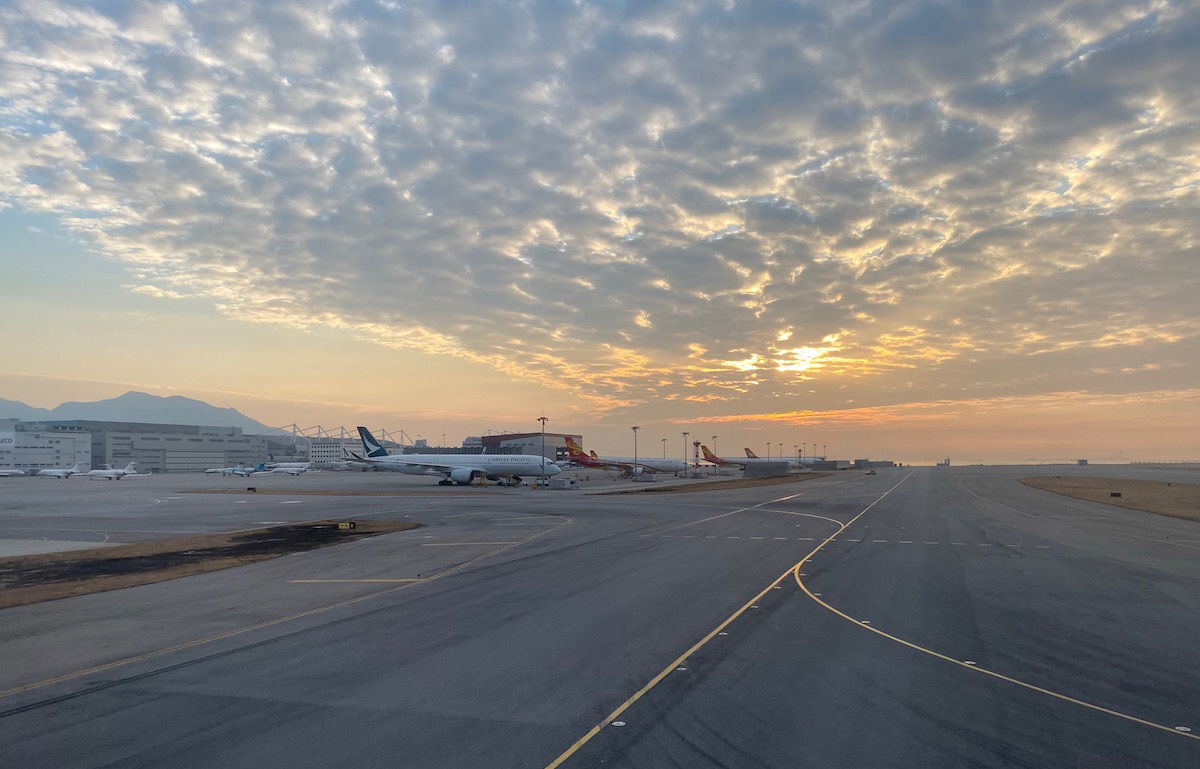 Taxiing Hong Kong International Airport
We ended up arriving about 15 minutes ahead of schedule, leaving me plenty of time for my otherwise fairly tight connection to Beijing.
American 777-300ER First Class Bottom Line
Let's start with the positives.
On the plus side, it's really easy to upgrade from business to first class on American (though finding saver award seats is a different story). First class seats are more spacious than business class seats, the Wi-Fi was reasonably priced, and the amenities were pretty good, in particular the bedding and pajamas.
The food was plentiful and largely pretty decent compared to usual American Airlines catering, though otherwise not really comparable to other first class products.
Where American first class really falls short is with the service, which was downright bad on this flight. You'll find some good crews on American in first class, but it's going to be a consistently inconsistent experience.
So yeah, this wasn't my best international first class flight ever, that's for sure…
If you've flown American's international first class, what was your experience like?