---
British Airways 278
San Jose (SJC) – London (LHR)
Monday, April 9
Depart: 8:05PM
Arrive: 2:25PM
Duration: 10hr20min
Aircraft: Boeing 787-9
Seat: 2K (First Class)
I boarded through door L2, where I was welcomed by name and escorted to my seat in the first class cabin (coincidentally, that was the only time during the flight that I was addressed by name). I could tell immediately by the age of the flight attendants that this was one of British Airways' mixed fleet crews.
For those of you not familiar with the distinction here, British Airways' "mixed fleet" flight attendants are those that were hired on ridiculously cheap contracts, frequently referred to as "poverty wages." So while they're typically incredibly well intentioned and even bubbly, they're not going to be as polished as the crews who have been doing the same job for 30 years. I'd say the average age of cabin crew on this flight was maybe early 20s. There was maybe one flight attendant on the plane older than me.
After turning left from the second door I first walked through two rows of business class, which was in a 2-3-2 configuration.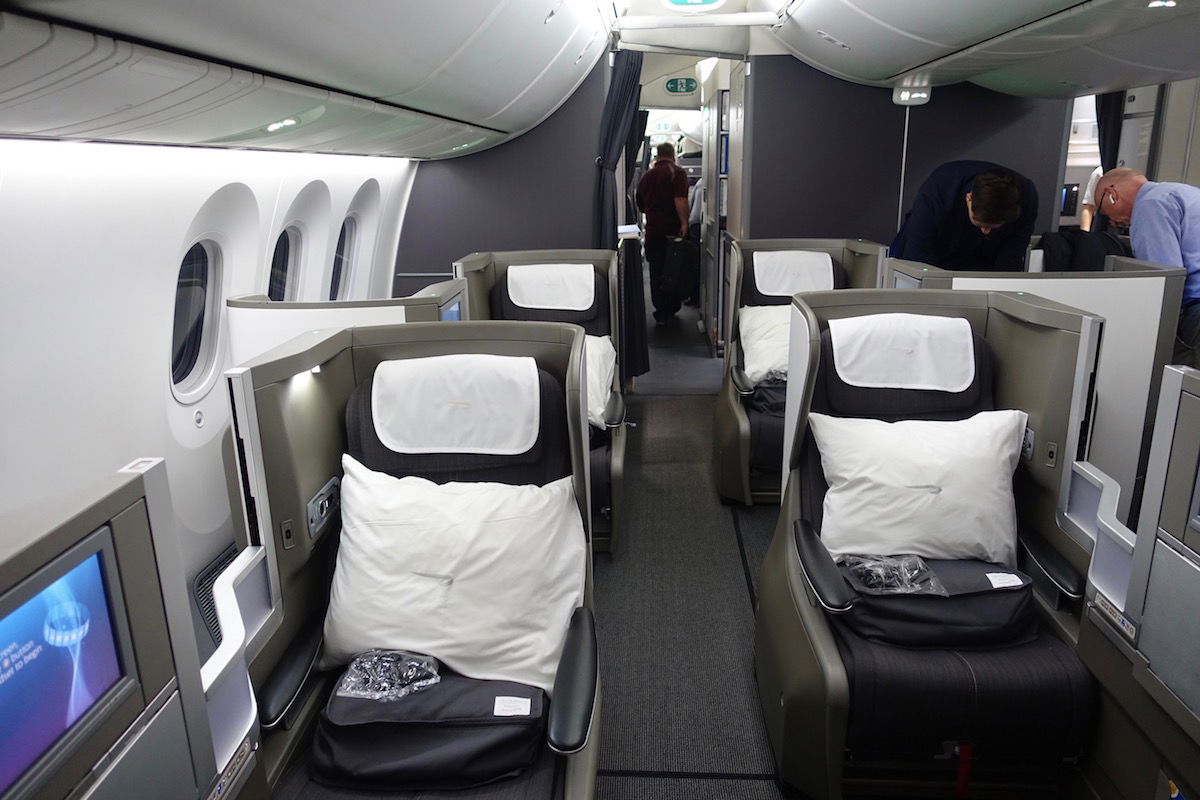 British Airways 787 Club World cabin
Then I was in the intimate first class cabin, which had just eight seats, spread across two rows in a 1-2-1 configuration. This is significantly smaller than the first class cabins that British Airways has on their other planes, which have 14-16 seats each.
I thought the cabin's design was sleek. That's one area where I've found that British Airways has long excelled with their first class cabin design, as the cabins look great, between the pattern on the bulkhead and the black finishes.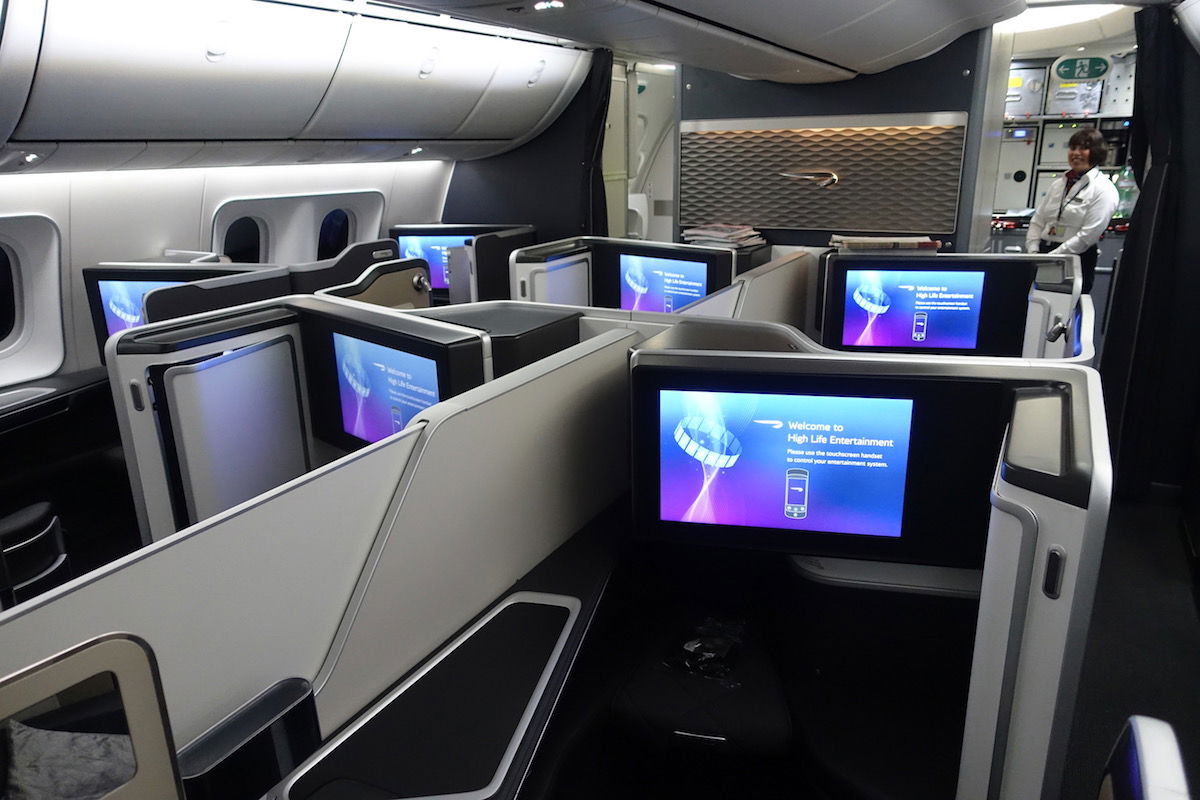 British Airways 787 first class cabin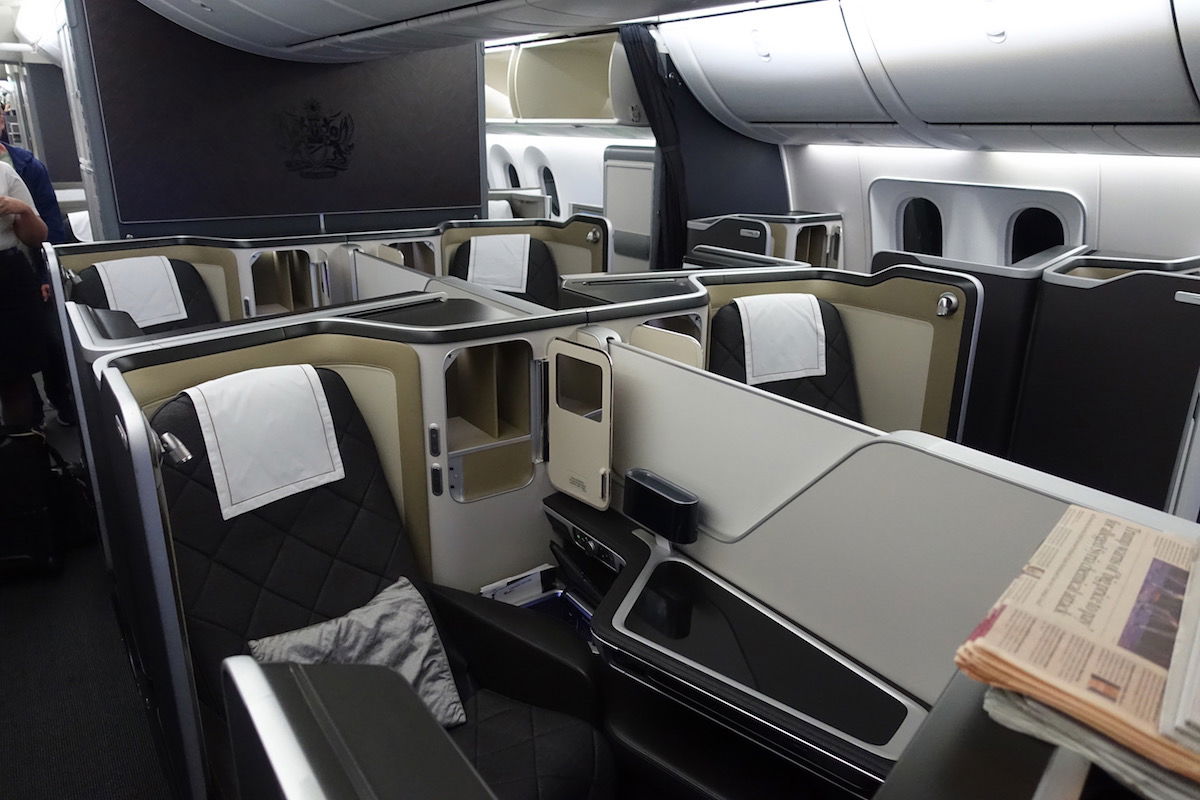 British Airways first class cabin 787
I had assigned myself seat 2K, the window seat on the right side in the second row. While I thought the seat looked nice and was comfortable, it was on the snug side as far as first class seats go. The seat felt to me like a hybrid between a first class suite and a reverse herringbone seat that you'd typically find in business class.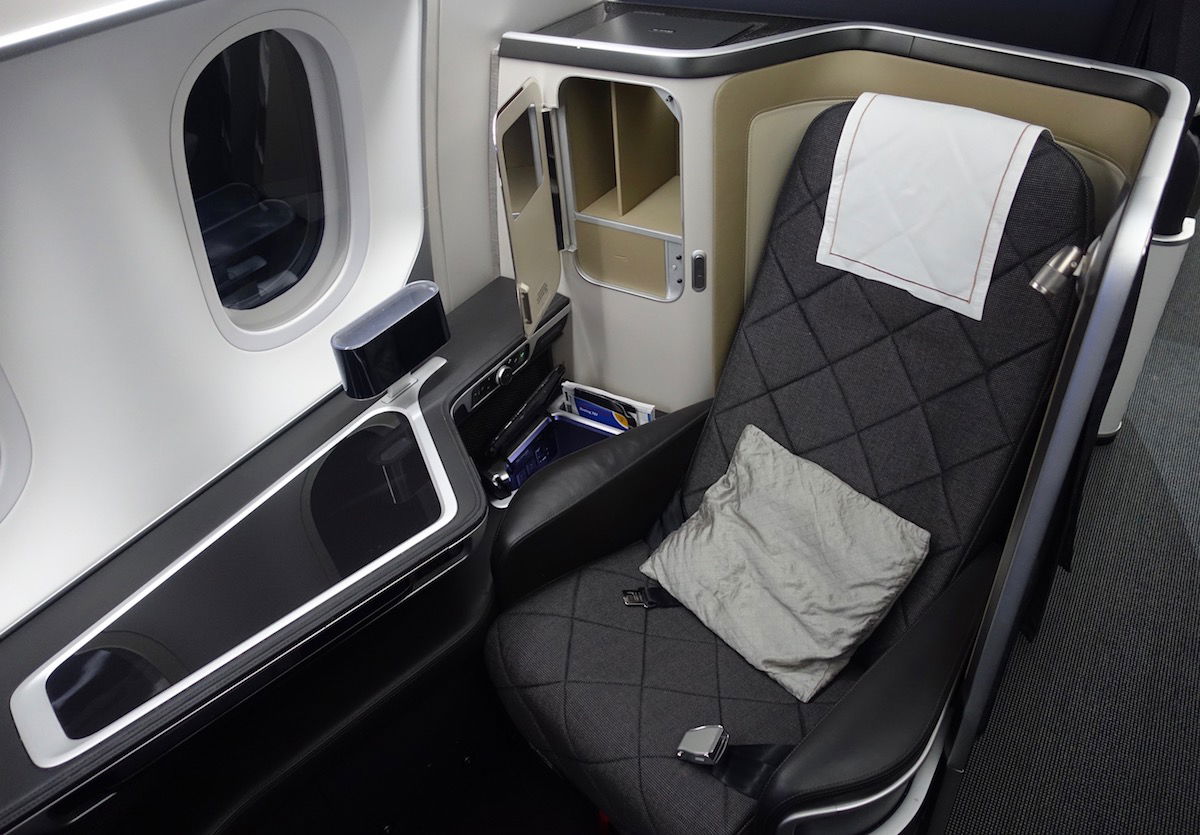 British Airways 787 first class seat
As you can see, the seat had an ottoman as well as a TV mounted to the back of the seat in front. The biggest advantage over a reverse herringbone seat was that there was plenty of space for my feet. While reverse herringbone seats have fairly limited room for your feet, this seat had plenty of space to stretch out, even when sleeping.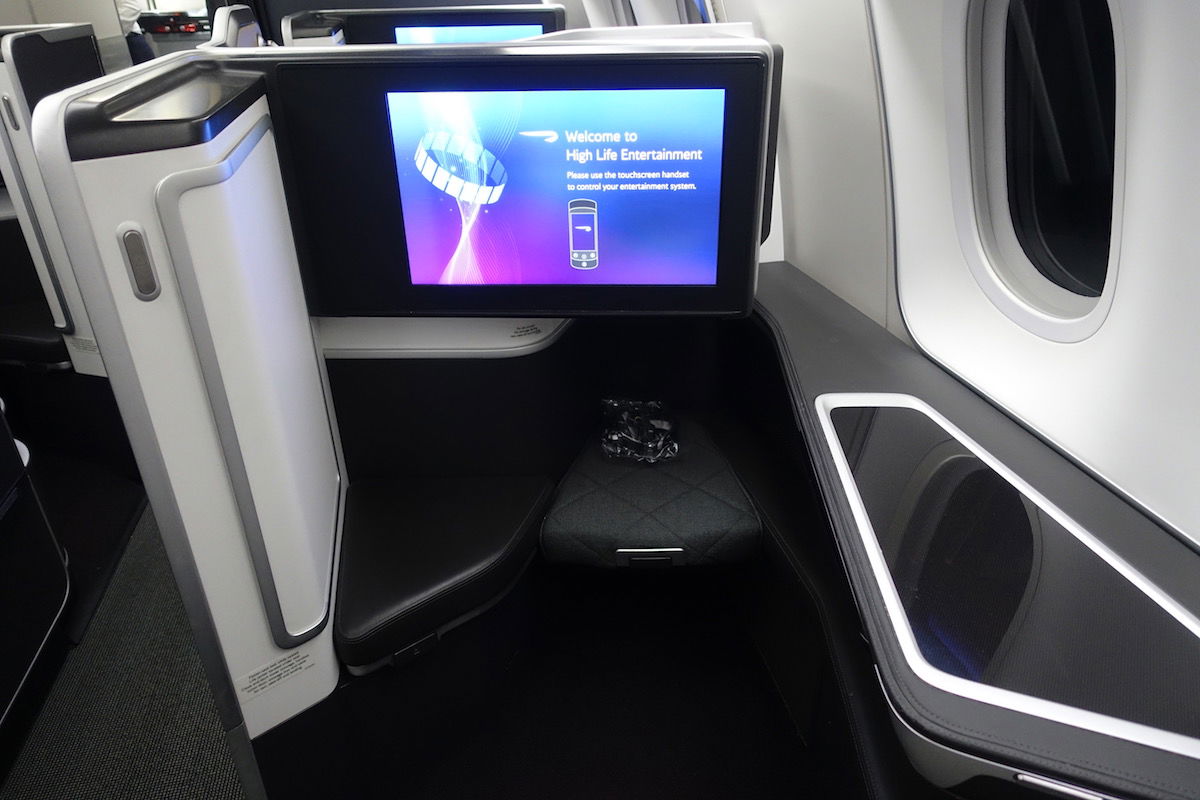 British Airways first class seat 787
To the side of the seat was an enclosed compartment (perfect for storing glasses, a passport, and/or a phone), which also had a mirror.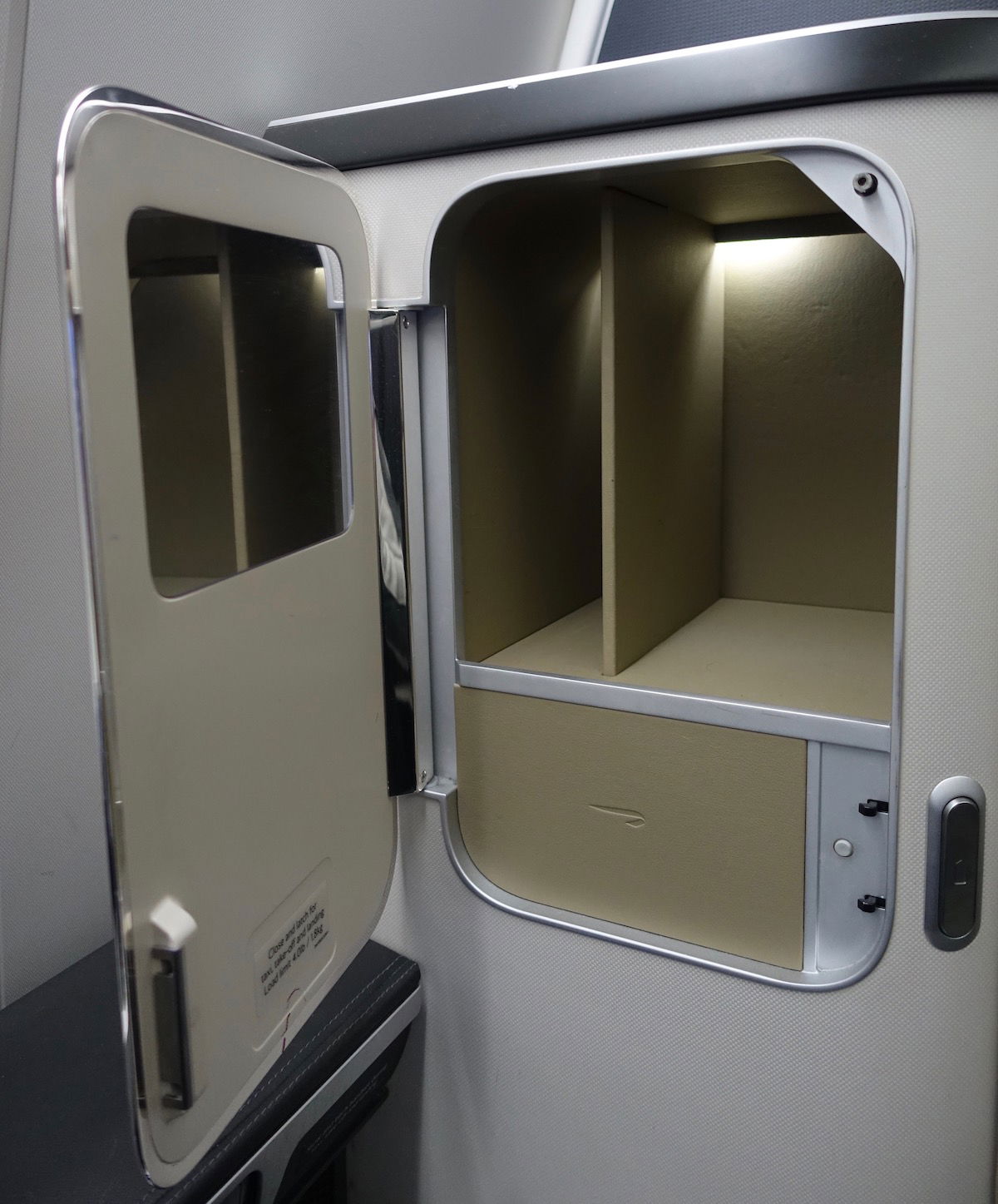 British Airways first class seat storage
Underneath that compartment and to the side of the seat was another compartment, which was quite deep. Above this compartment were the primary seat controls, including pre-sets and lighting controls. One of the things I like about British Airways' seat design is that they have a knob you can turn that adjusts the seat in an intuitive way. Sometimes it's nice to be able to twist a knob to adjust your seat, rather than having to adjust specific positions.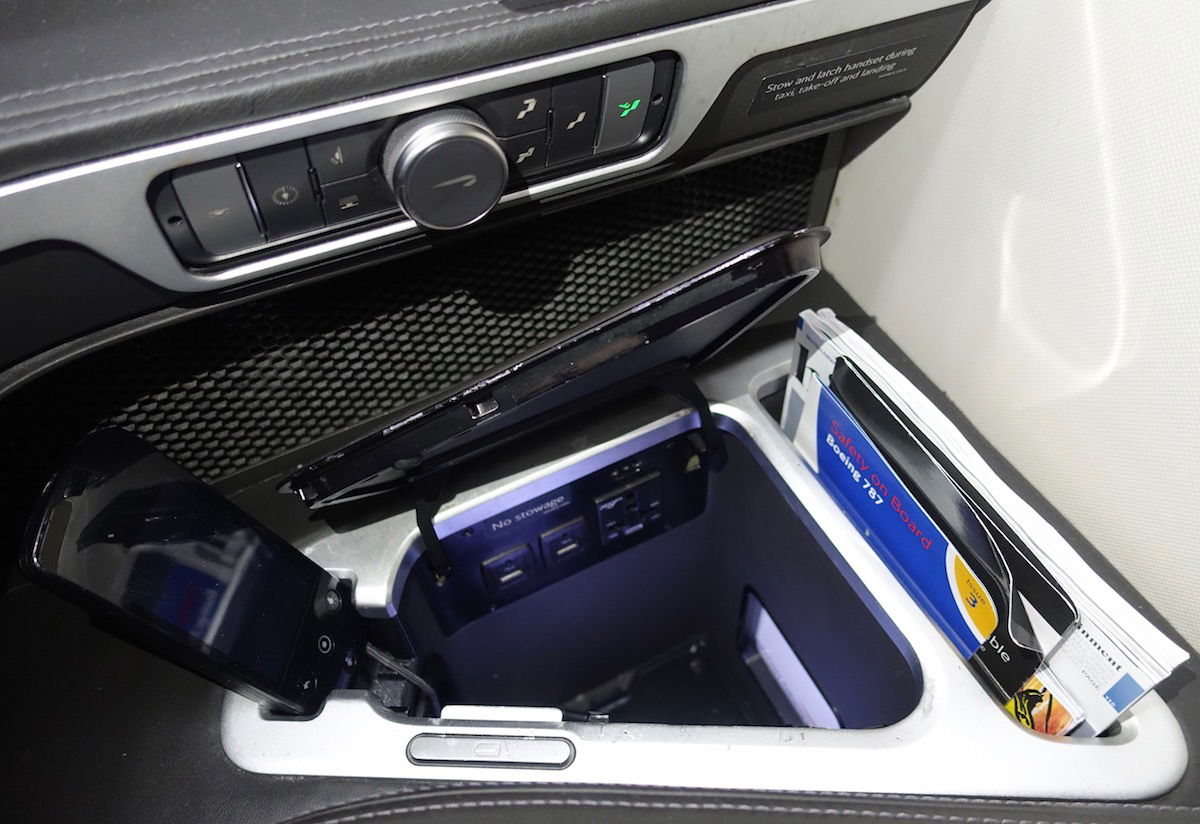 British Airways first class seat controls
Inside the compartment (which said "no stowage, curiously), were two USB outlets and a 110v outlet.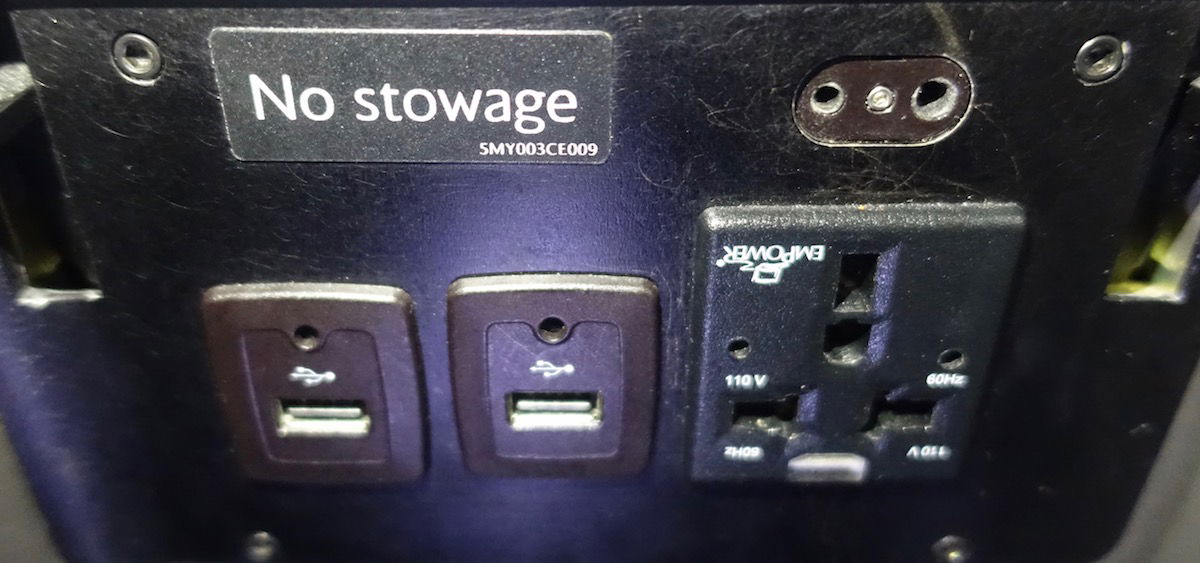 British Airways first class seat outlets
Then there was an entertainment controller that was positioned above that, though it had a cord so that you could pull it closer to you if you wanted.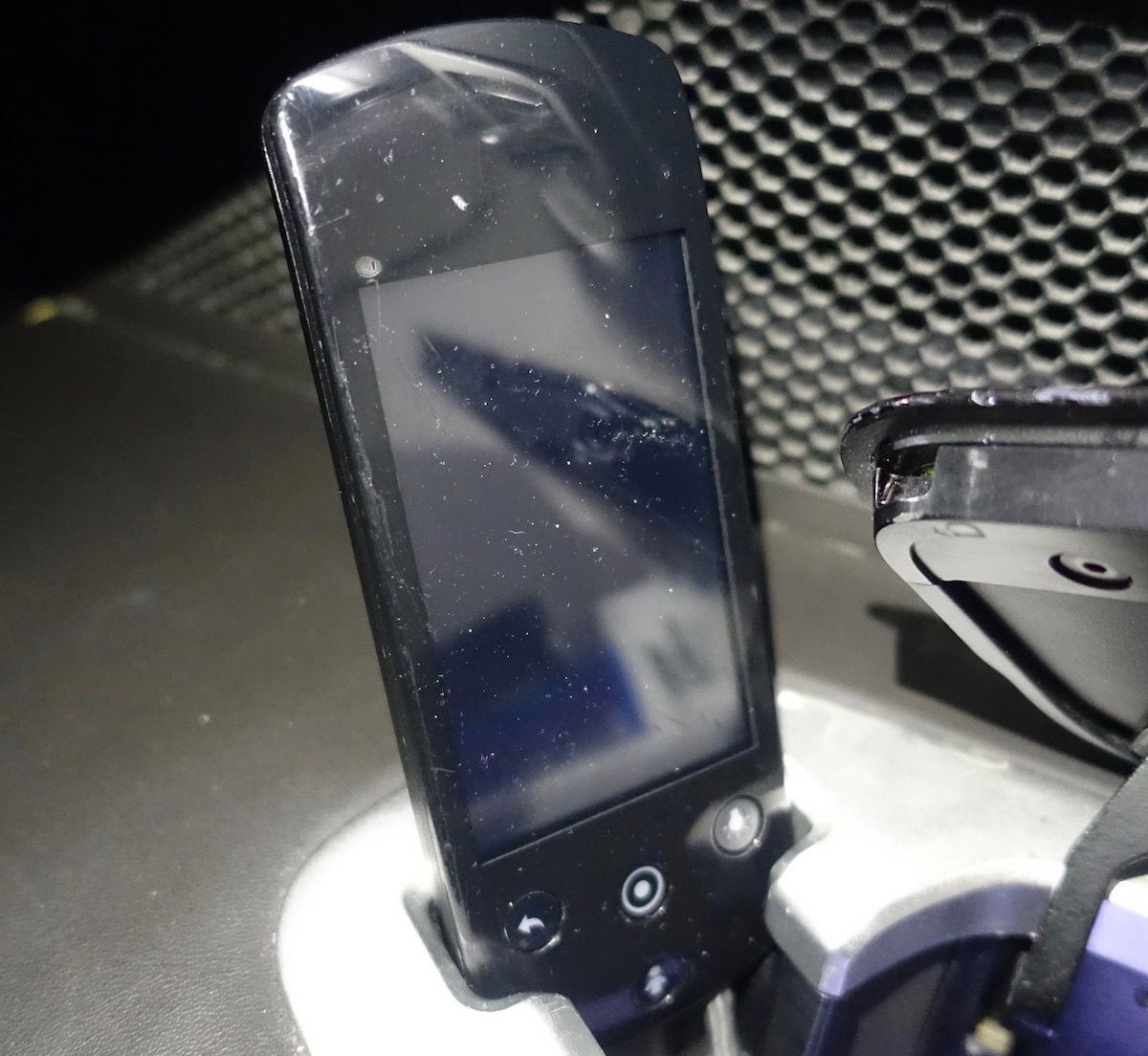 British Airways first class entertainment controls
Past that compartment was a shiny counter.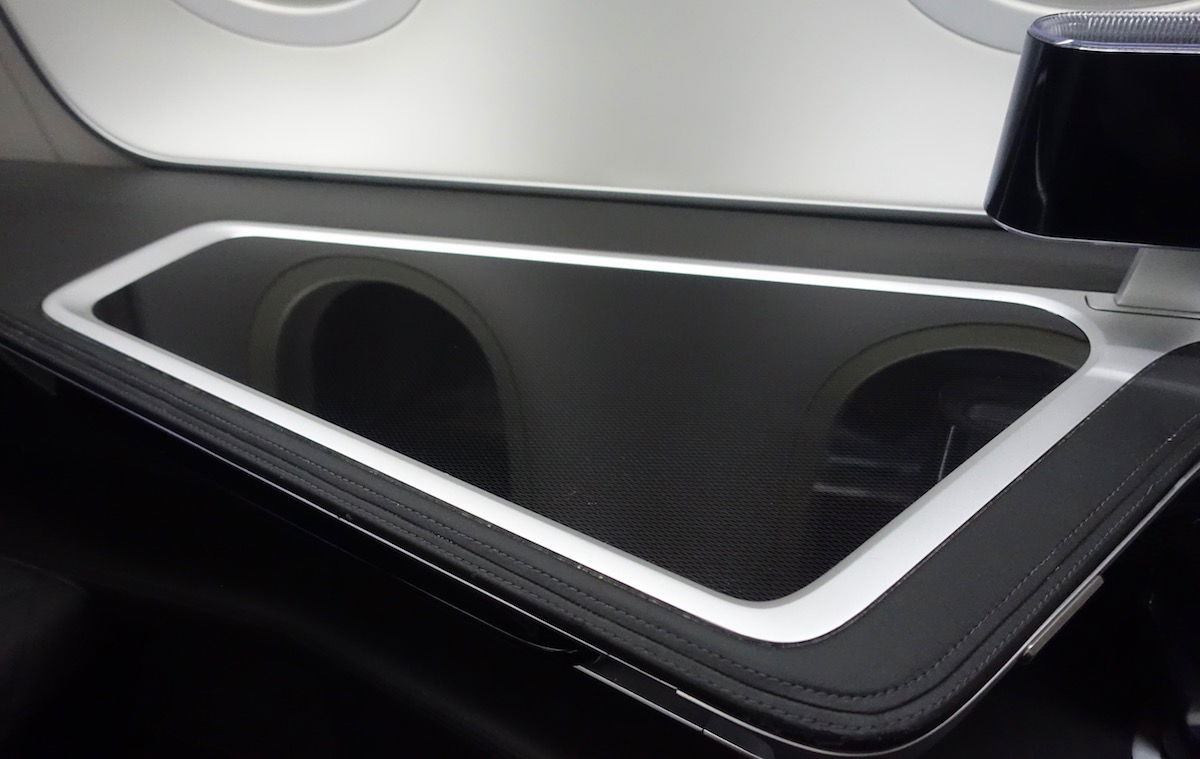 British Airways first class seat counter
The large tray table (which could be folded over in half) was underneath that.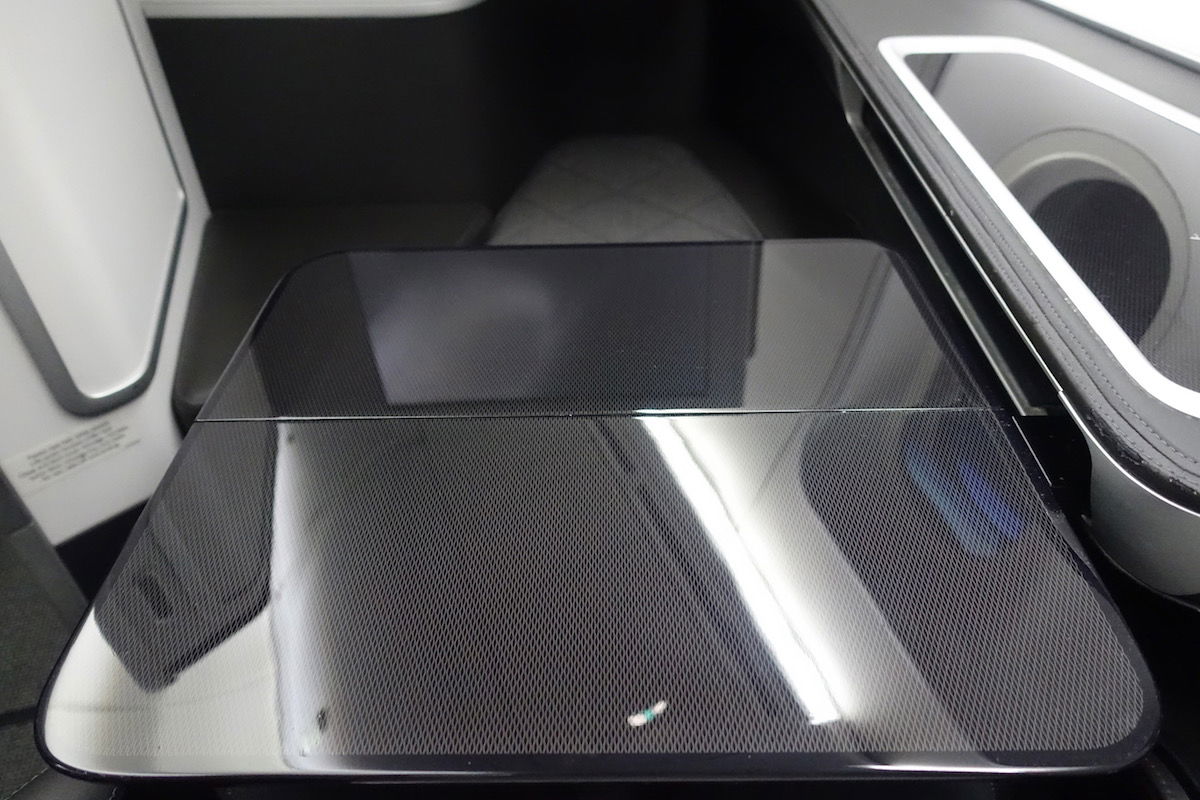 British Airways first class seat tray table
On the other end of the seat was a closet, though it was tiny, only big enough to store one or two articles of clothing (you probably couldn't even fit a garment bag in there).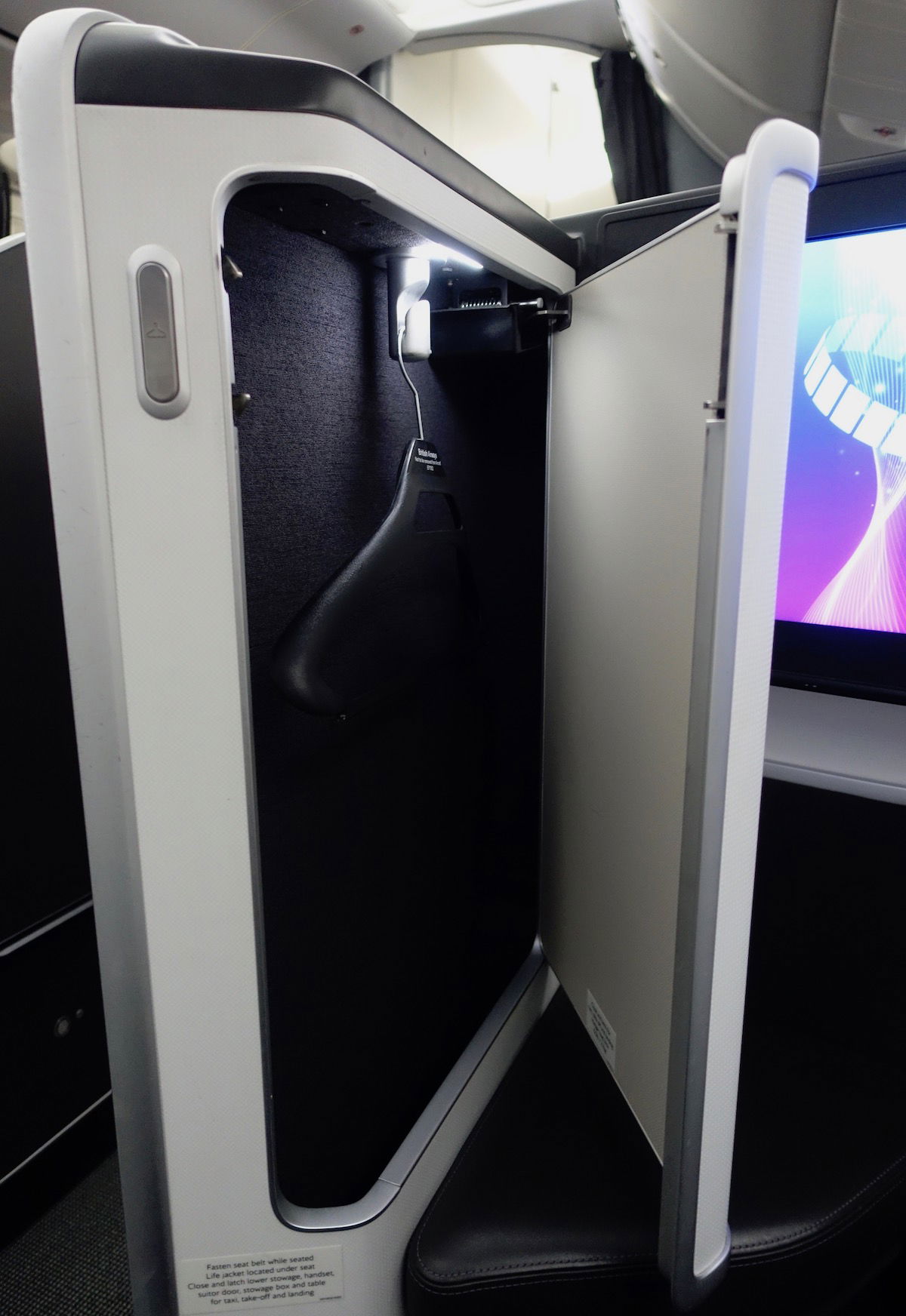 British Airways first class seat closet
Underneath that was yet another storage compartment, which was the biggest compartment of all. However, rather annoyingly it couldn't stay open. You'd think that if you extended it all the way it would stay open, but it automatically closed, so you always had to hold it with one hand.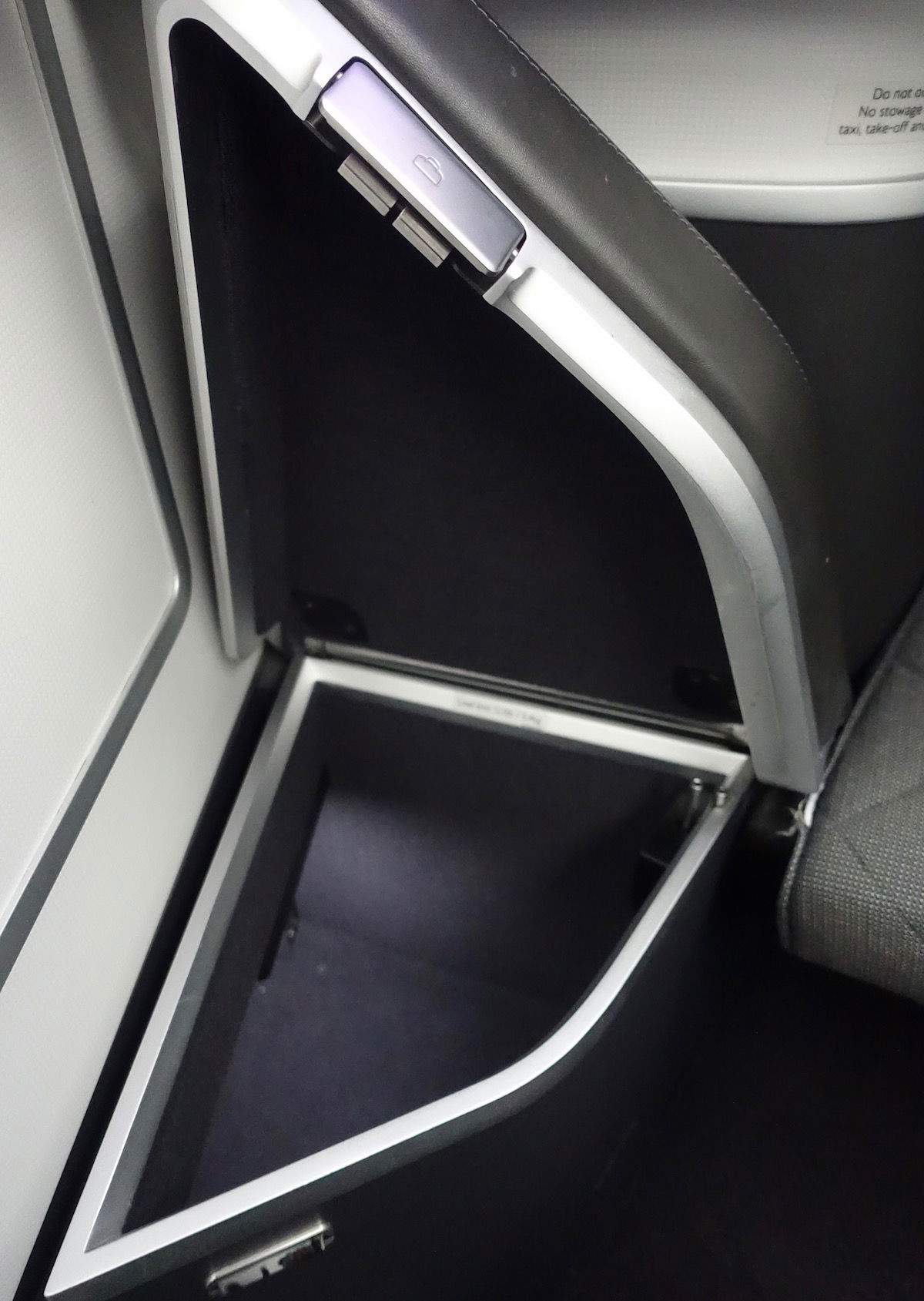 British Airways first class seat storage
One annoying thing to note about the seats is that there are no individual air nozzles. I'll never wrap my head around why airlines don't all offer these.
A moment after settling in, one of the two first class flight attendants came by my seat to offer me the menu and ask if I wanted anything to drink. I ordered a glass of champagne, as British Airways serves the excellent Laurent-Perrier Grand Siecle.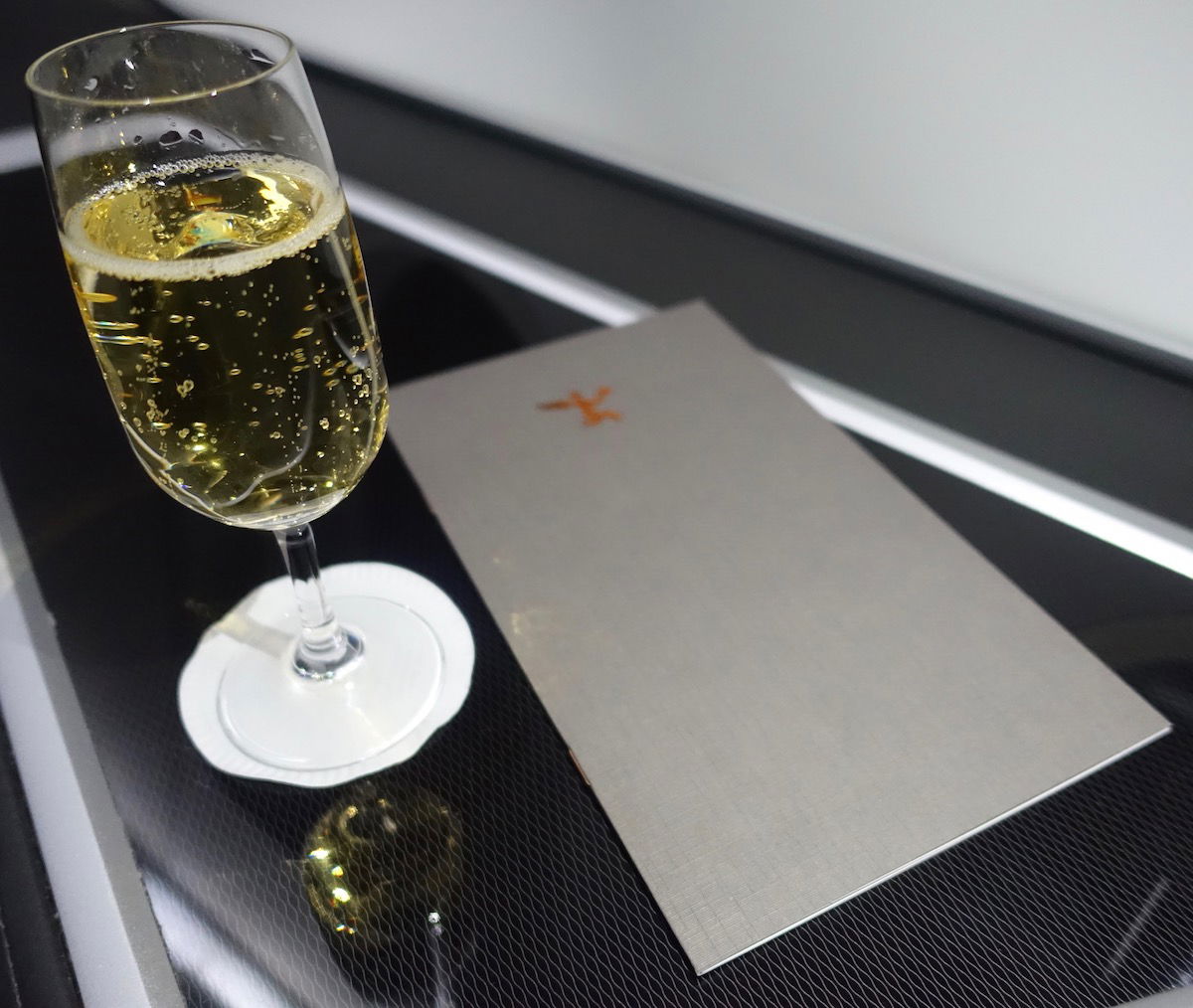 British Airways first class pre-departure champagne & menu
A moment later I was also presented with the amenity kit and a set of pajamas — they only had small and large ones left, despite the fact that I was one of the first people to be offered one. I also wasn't offered any slippers.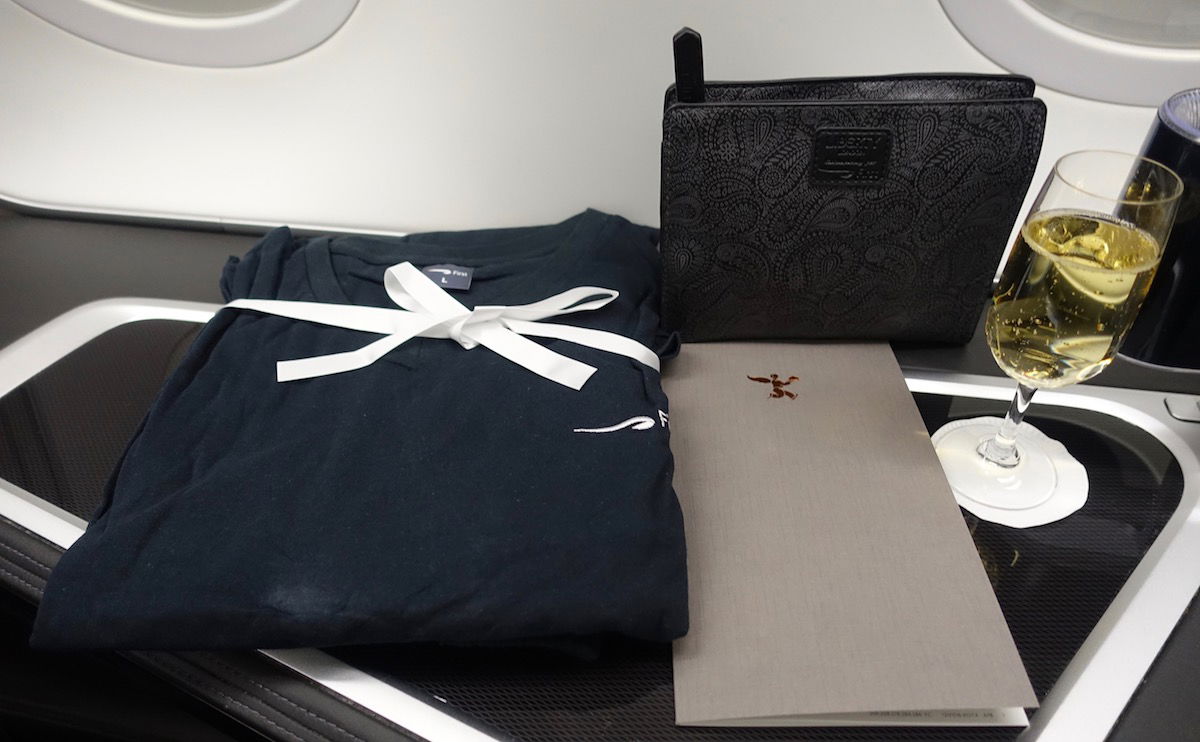 British Airways first class champagne, menu, amenity kit, and pajamas
I quite like British Airways' pajamas, and in particular the way they're branded, and how they're presented with a ribbon around them. If you do decide to keep them you'll want to air dry them, or else they'll turn into clothing for toddlers.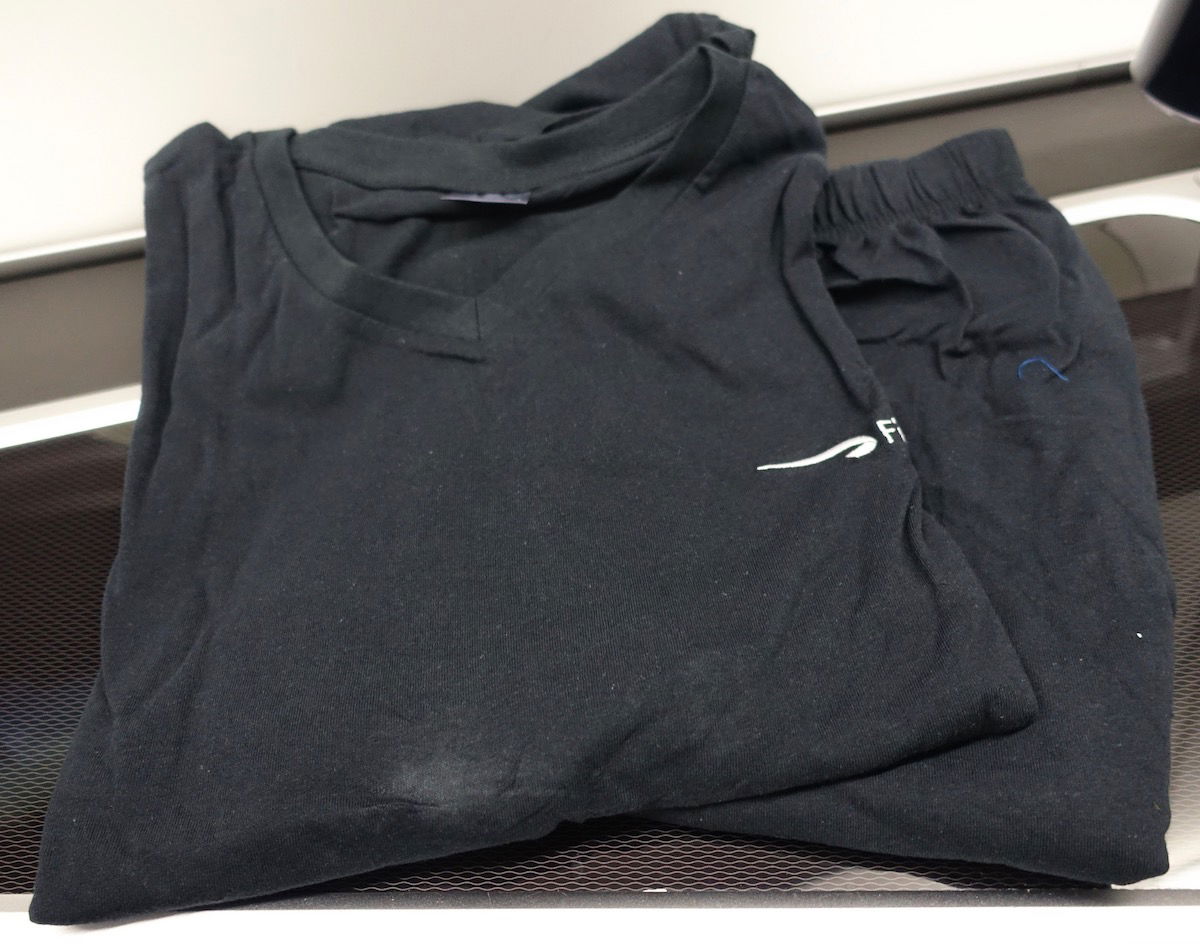 British Airways first class pajamas
The amenity kit itself is from Liberty London, and is quite beautiful, in my opinion. The kit has eyeshades, socks, a hair brush, a pen, earplugs, a razor, a toothbrush and toothpaste, moisturizer, shaving gel, and deodorant.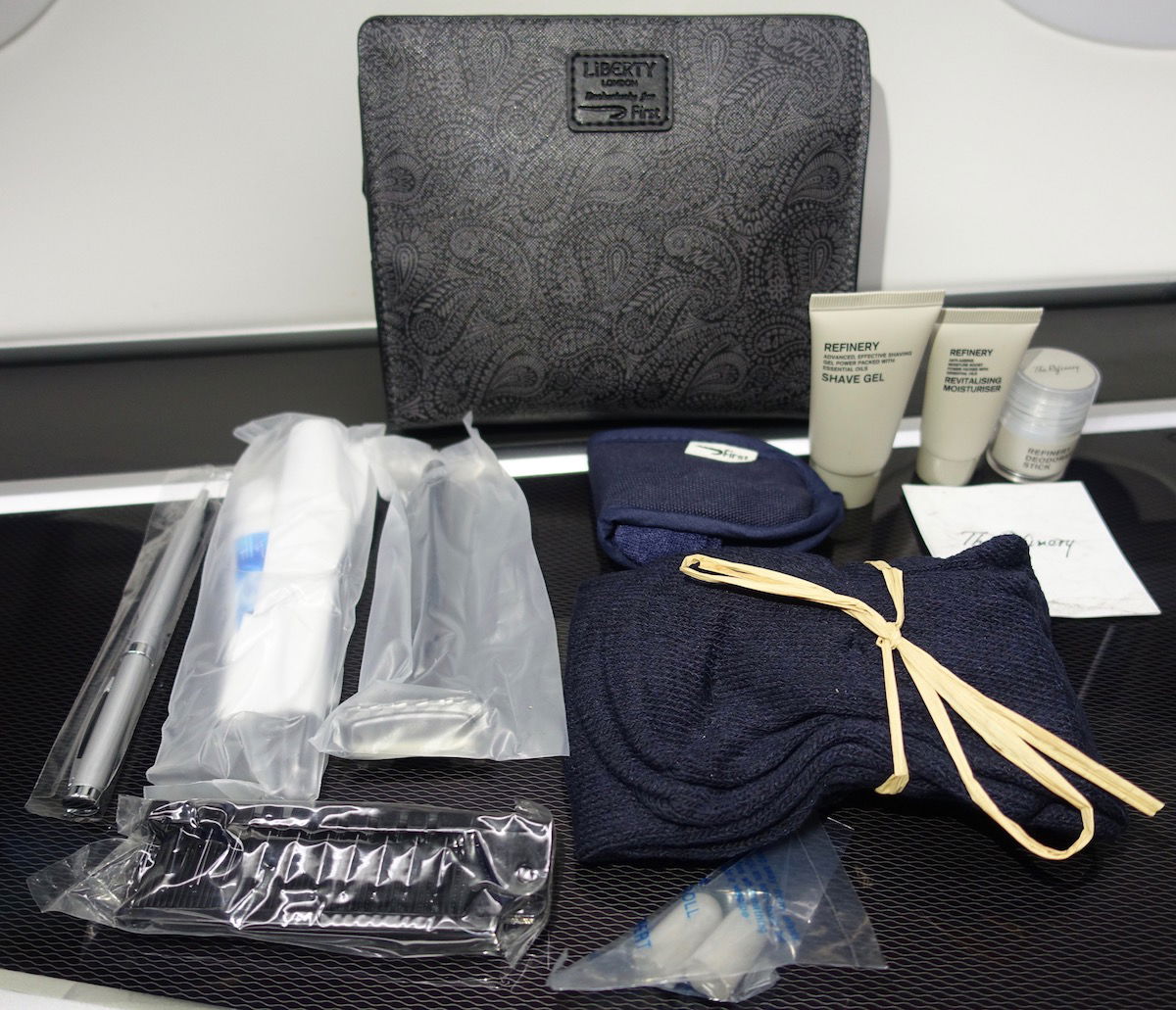 British Airways first class amenity kit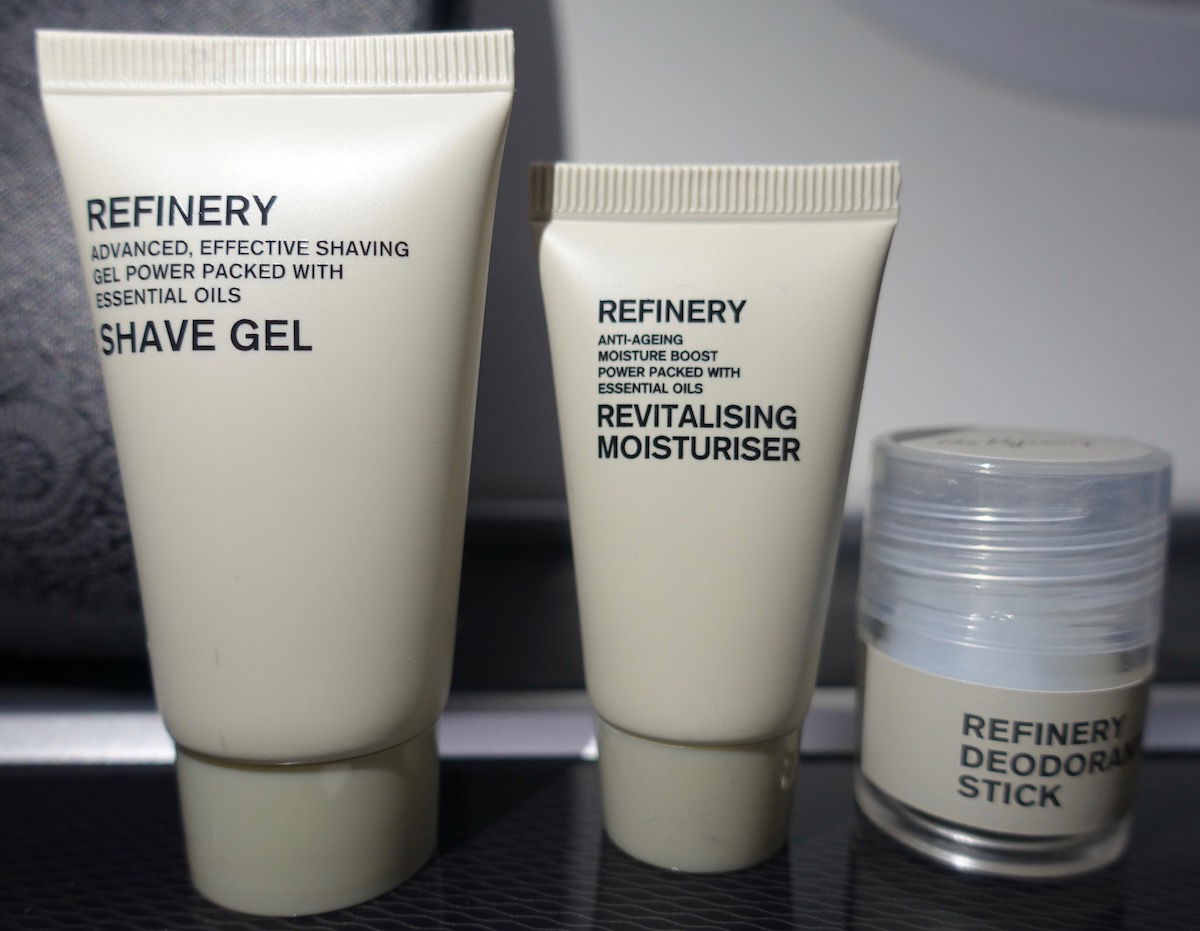 British Airways first class amenity kit contents
I was also presented with headphones, which were low quality for first class.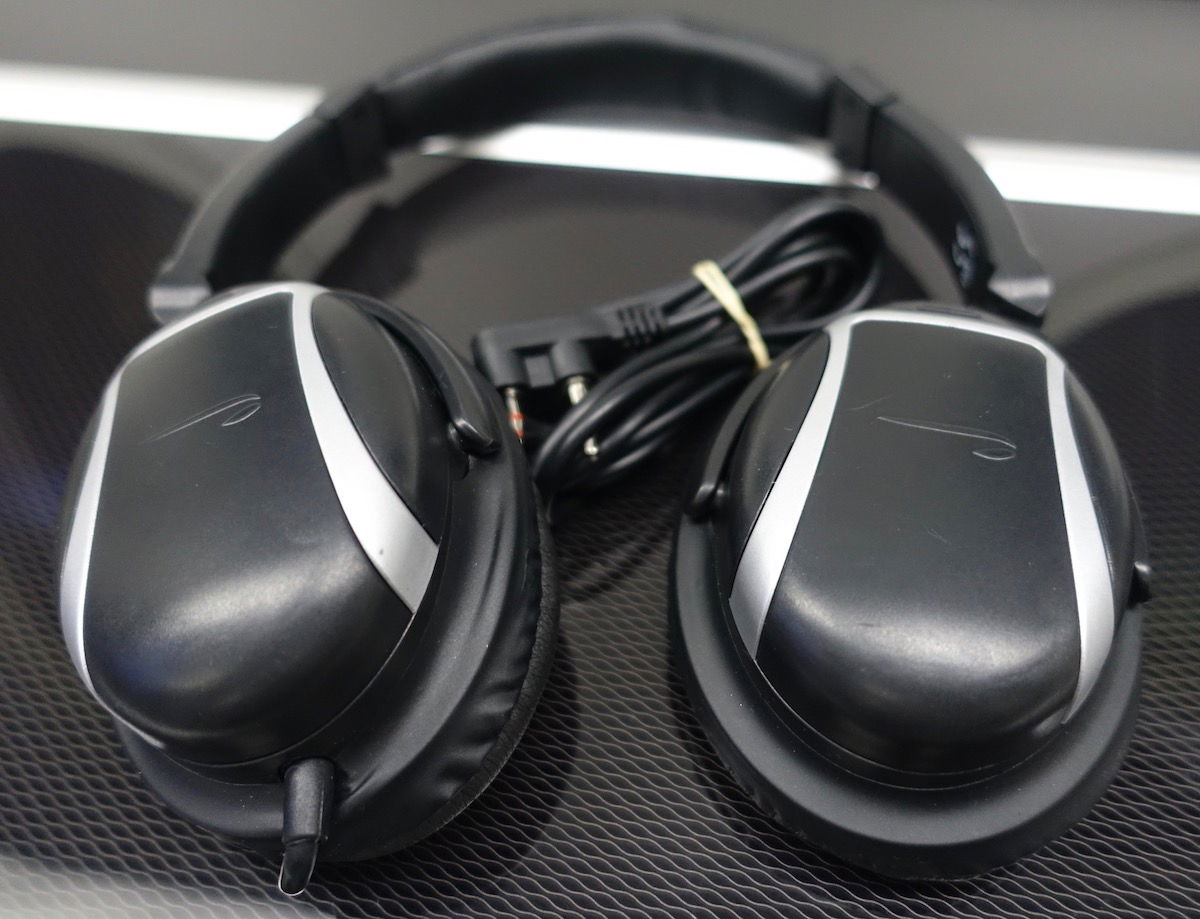 British Airways first class headphones
The first class cabin on this fight was full, as I believe there were a few last minute operational upgrades. All the first class passengers were onboard within a few minutes, so it was hectic for the crew.
My initial impression of the crew was that they were about in line with what I'd expect from a mixed fleet crew, except they weren't all that enthusiastic. That's to say that the service felt a lot more like what you'd get in business class than in first class. When I boarded I wasn't asked if I knew the features of the seat, the flight attendant didn't introduce herself by name, she didn't address me by name, etc. The whole service flown just felt a lot more like what you'd get in business class than in a top first class product.
At 8:05PM Captain Simon made his welcome aboard announcement, and informed us of our flight time of 10 hours, and anticipated smooth journey. Five minutes after that we began our pushback. The crew did a manual safety demonstration — I'm not sure if that's standard or not on the 787 — but due to the way the seats are configured, I couldn't actually see the flight attendant doing it in the aisle.
At 8:15PM we began our taxi, and 10 minutes after that we were cleared for takeoff, and made a series of turns before getting onto our northeasterly heading for the night.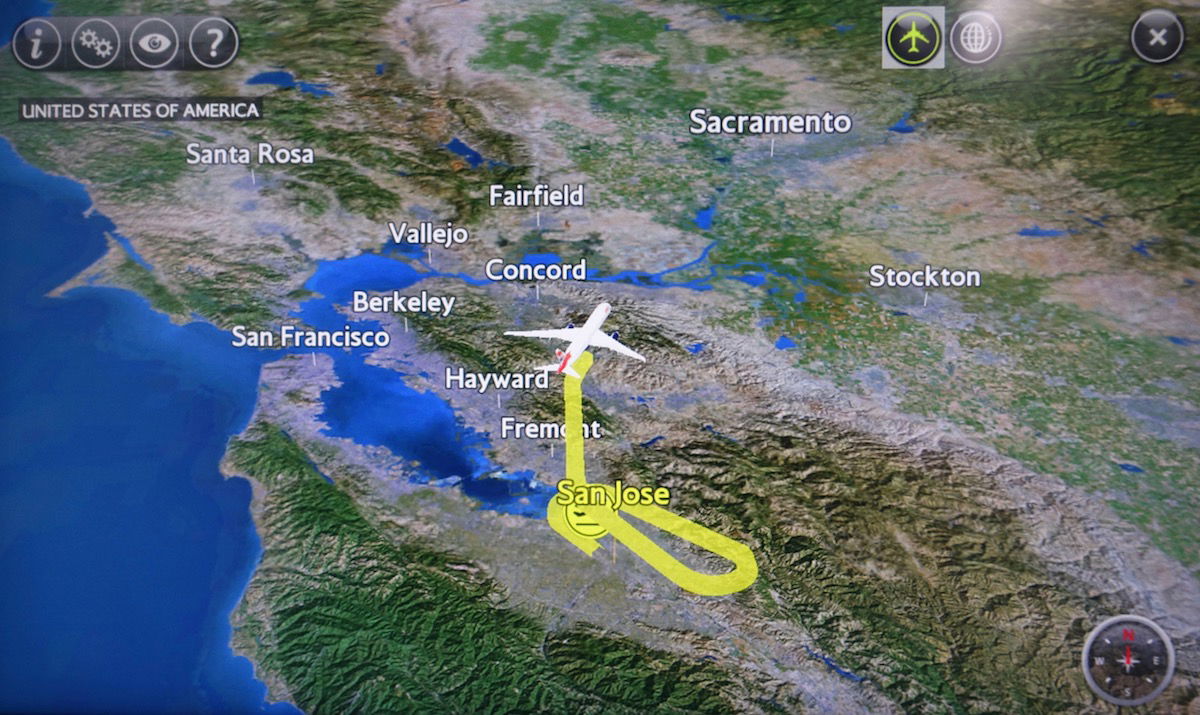 Airshow enroute to London Heathrow
As we climbed out I browsed the entertainment selection. As I mentioned earlier, there's a small handheld device you can use to browse the entertainment selection. The main TV isn't actually touchscreen, and I couldn't figure out a way to display the options on the TV. I thought that was annoying, because I find that browsing through a big selection of movies and TV shows on a handheld device is cumbersome. On the plus side, the quality of the selection impressed me, and there were a good number of movies and TV shows to choose from.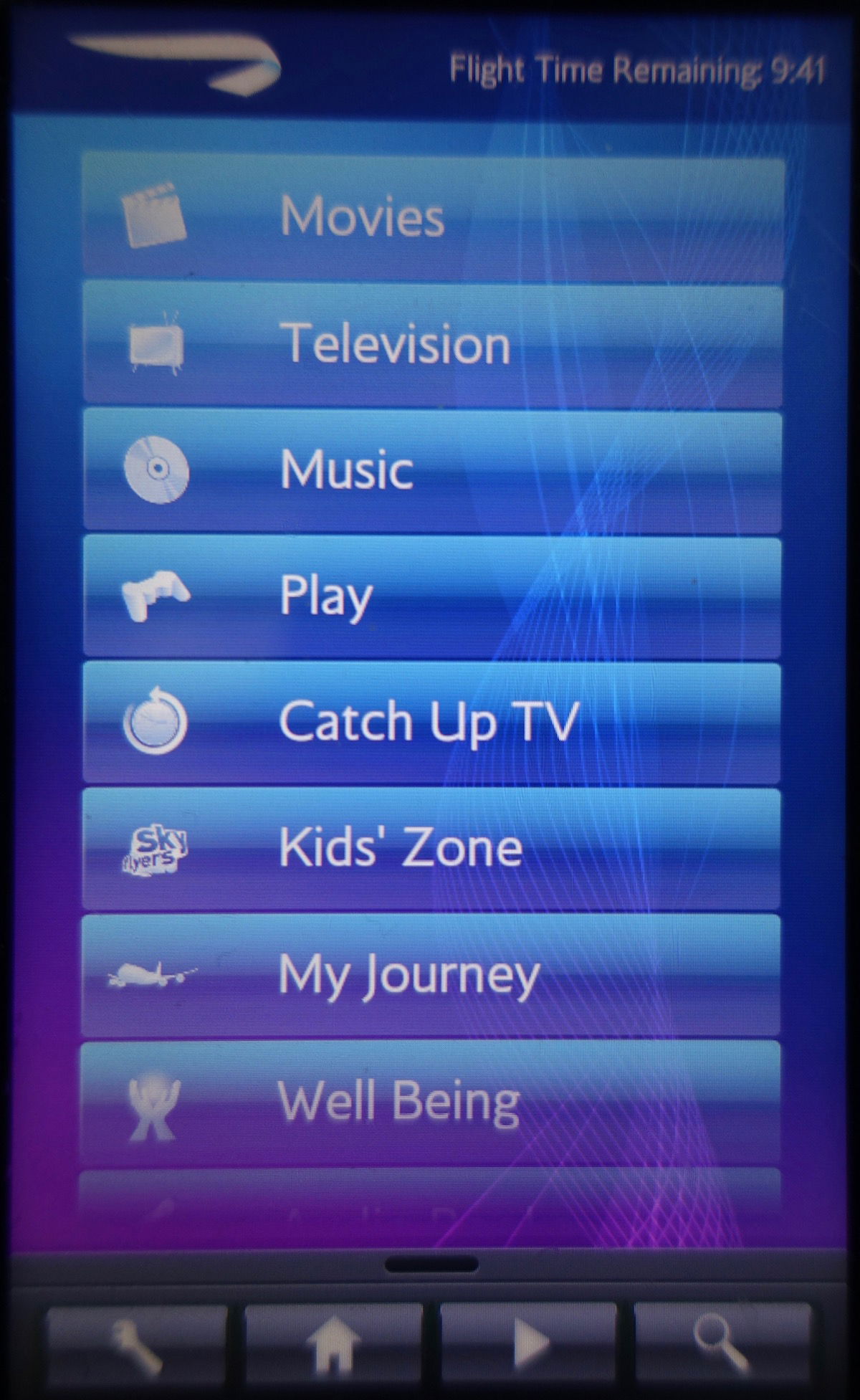 British Airways entertainment selection
I decided to watch a few episodes of Curb Your Enthusiasm (which I had seen before, but that's the one show that never gets old for me).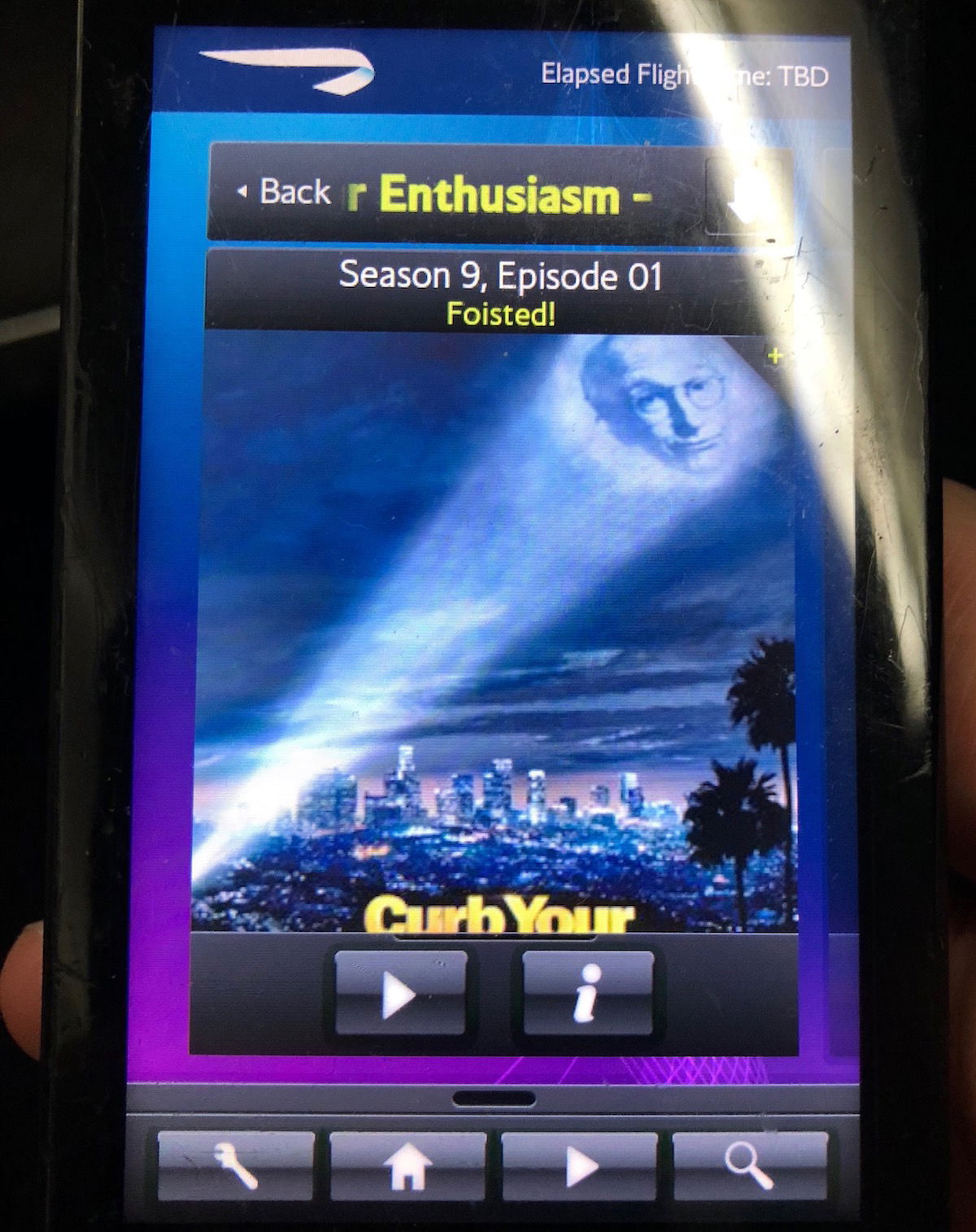 British Airways entertainment selection
Service got started very quickly once airborne, as I was presented with a warm towel just five minutes after takeoff. British Airways uses really cheap towels in first class, which are similar to what you'd find in business class on American, for example.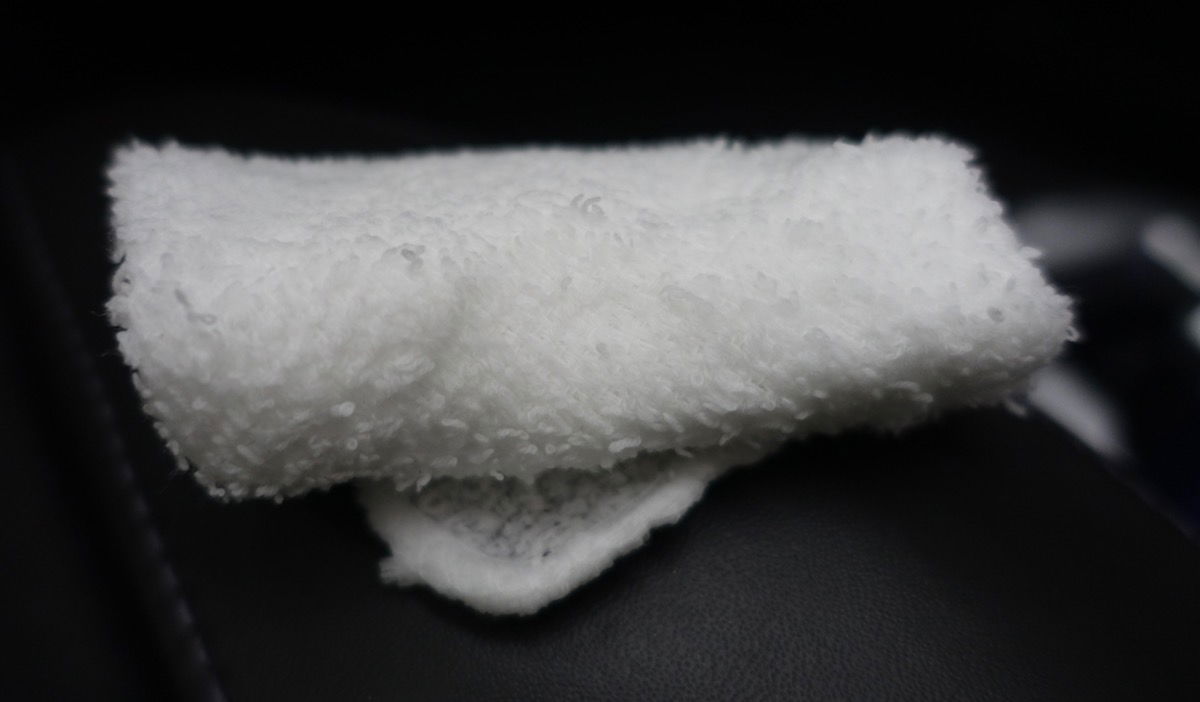 British Airways first class warm towel
A minute later a flight attendant passed through the cabin with landing cards for the UK. As she walked down the aisle she yelled "landing cards." I get that's the only practical way to do it in economy, but typically in first class they'll ask personally, or at a minimum don't walk down the aisle yelling.
About 10 minutes after takeoff my meal order was taken. I asked for the seabass, though was informed it was out, even though I was just the third person to have my meal order taken (as far as I could tell). That's a shame, because it was the only option that sounded appealing to me — I didn't want macaroni and cheese, I try to avoid airplane beef, and while chicken is generally a fine alternative, chicken Kiev is one of my least favorite chicken dishes out there.
For reference, the dinner menu read as follows: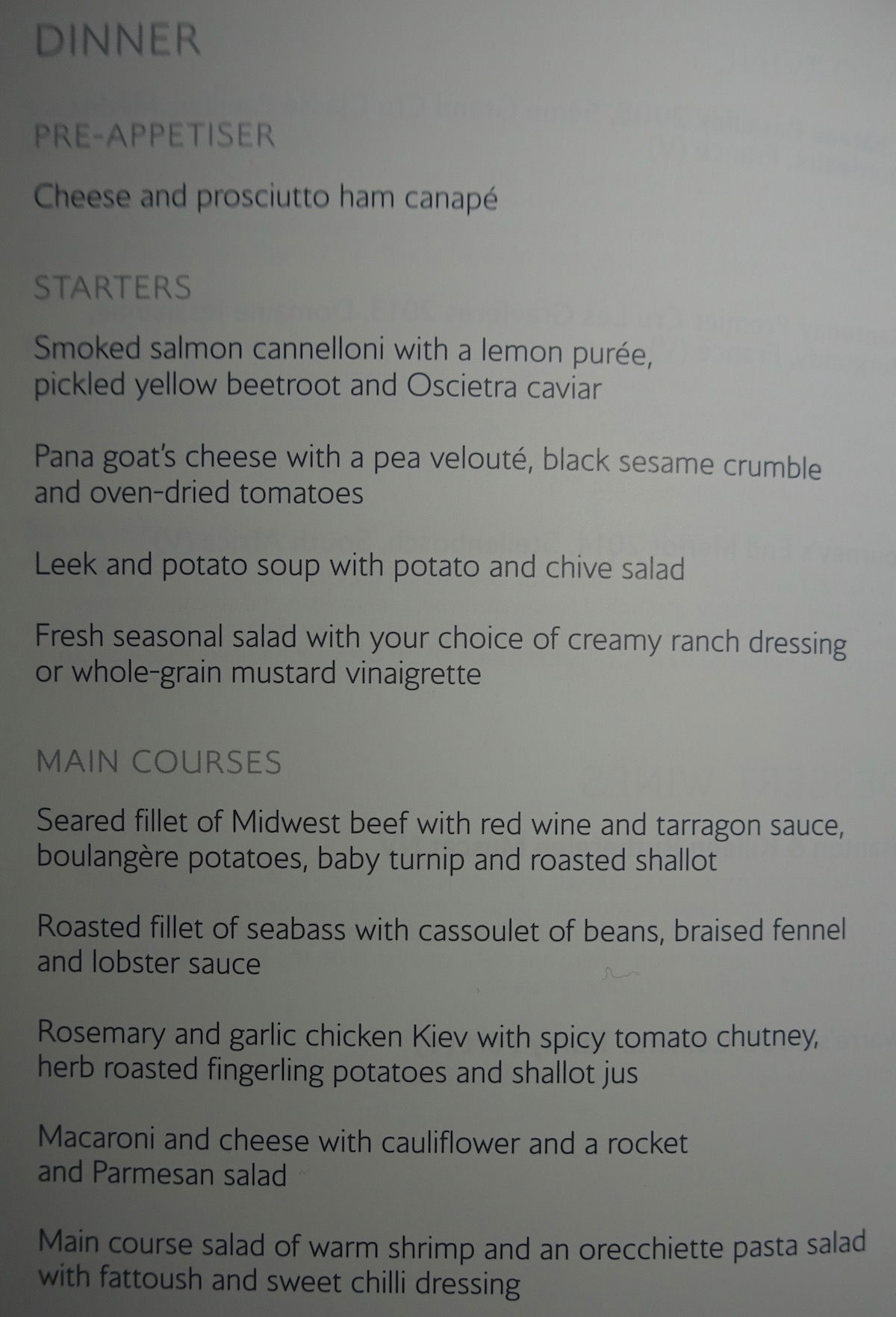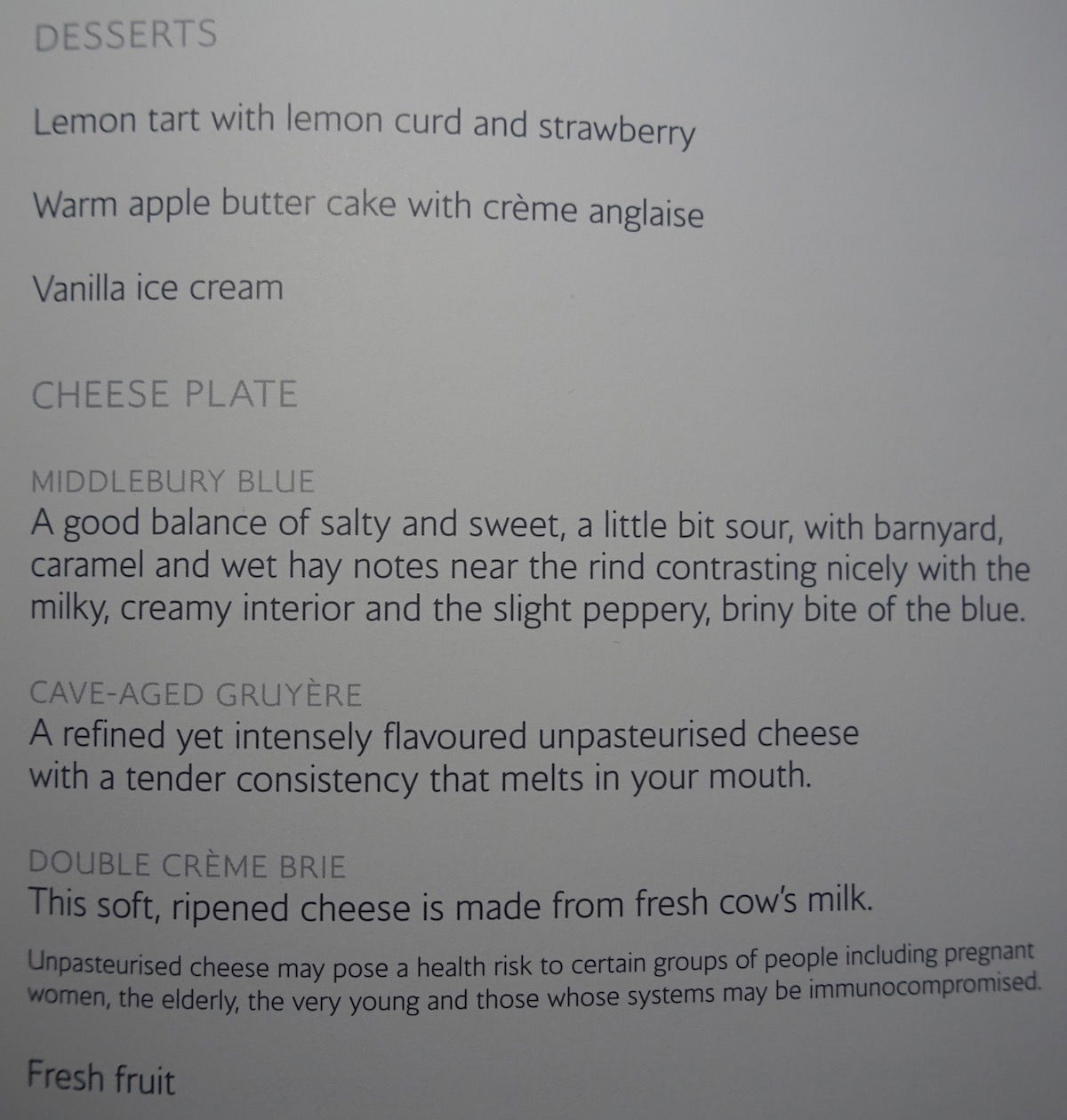 The drink list read as follows: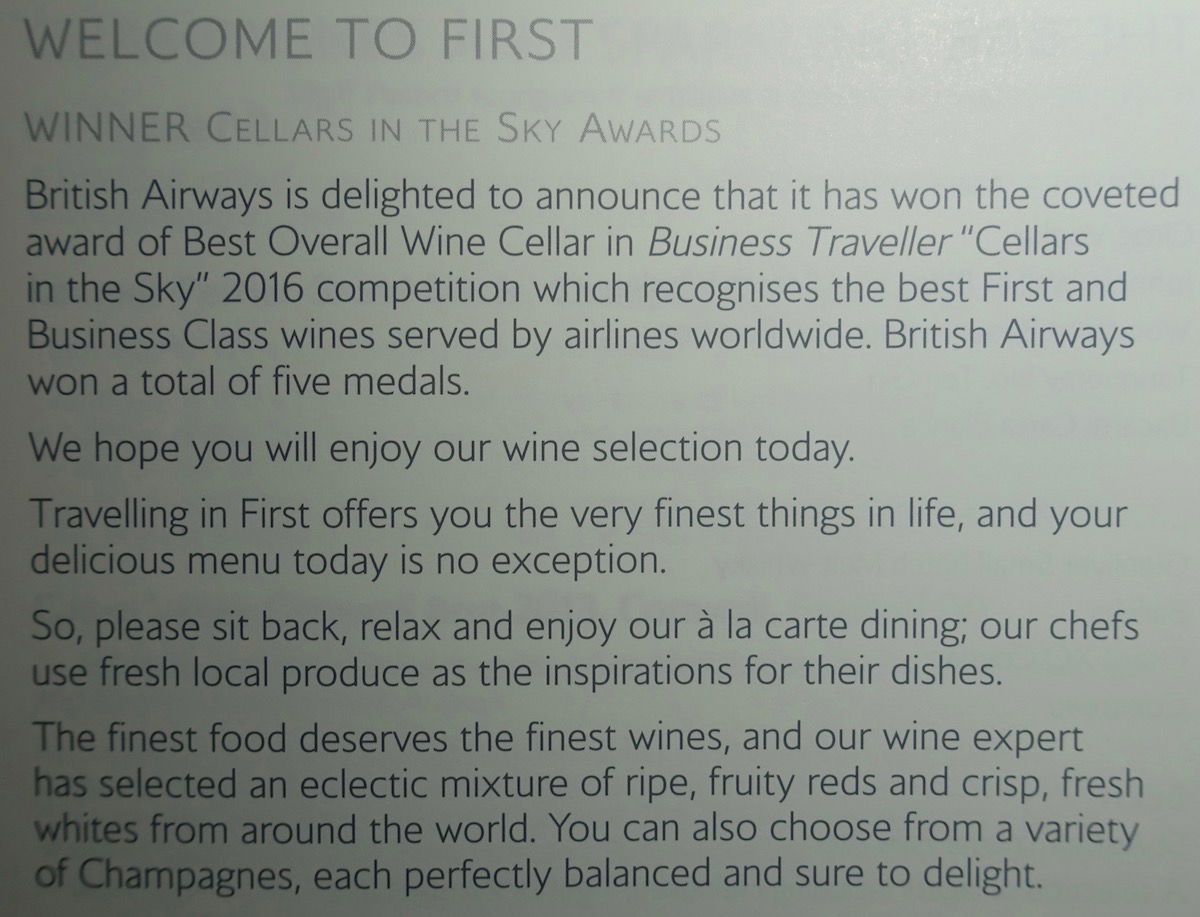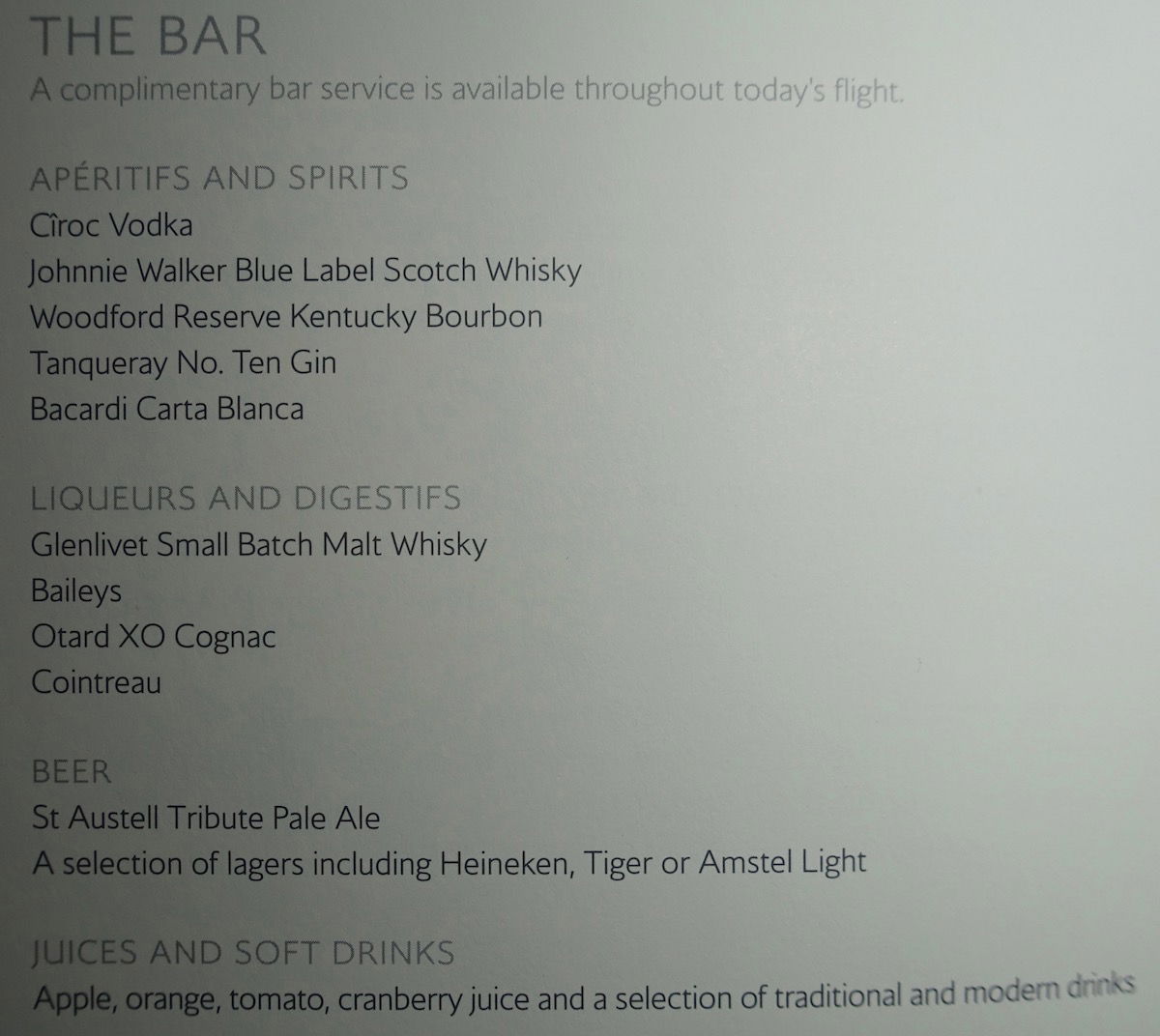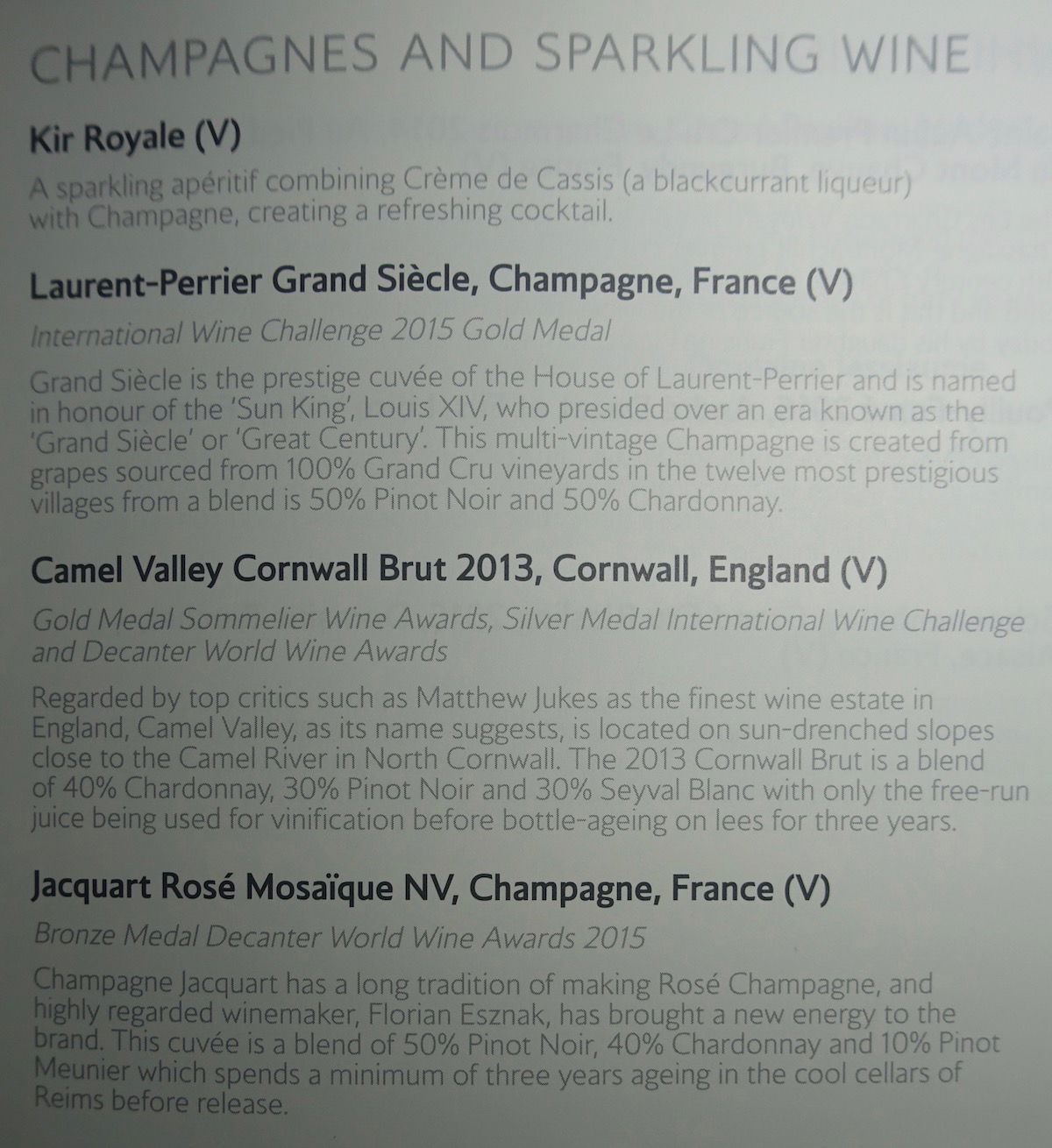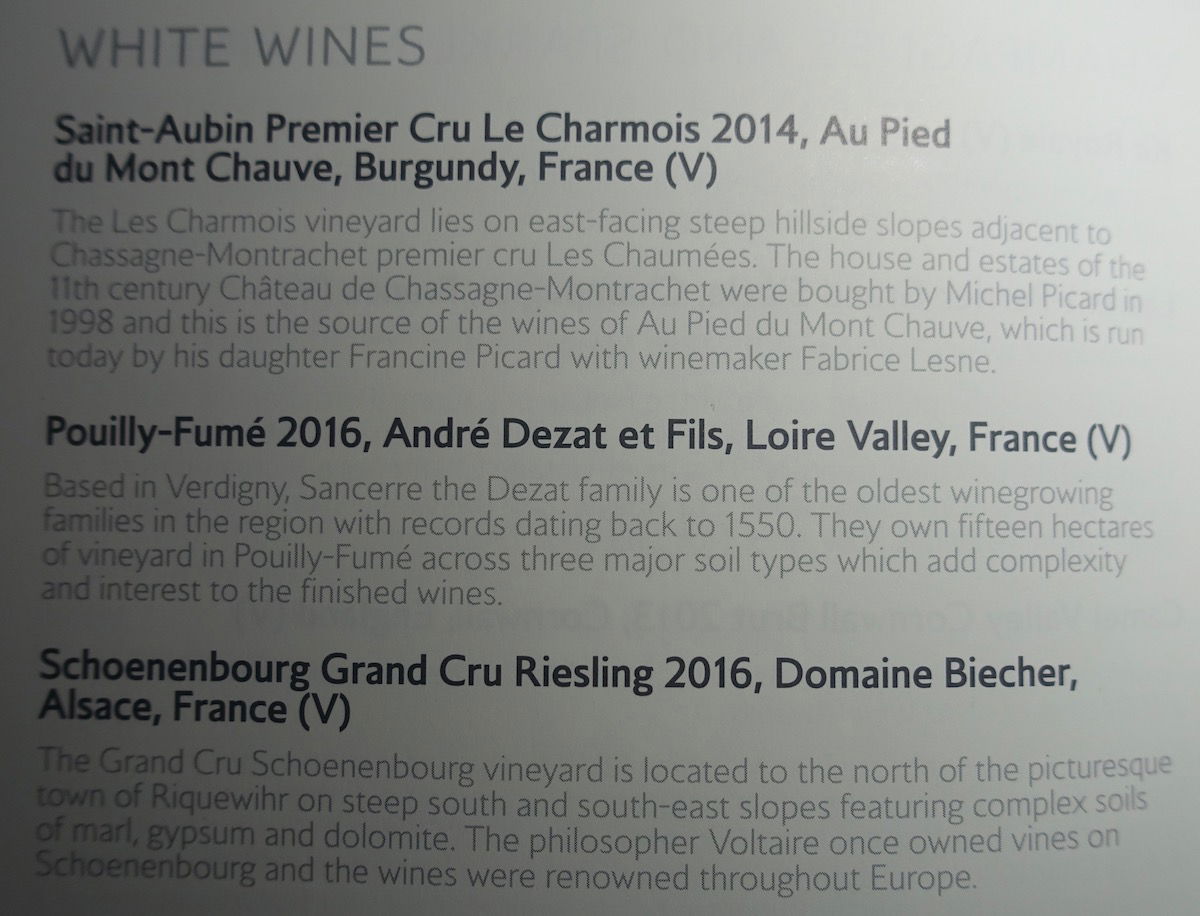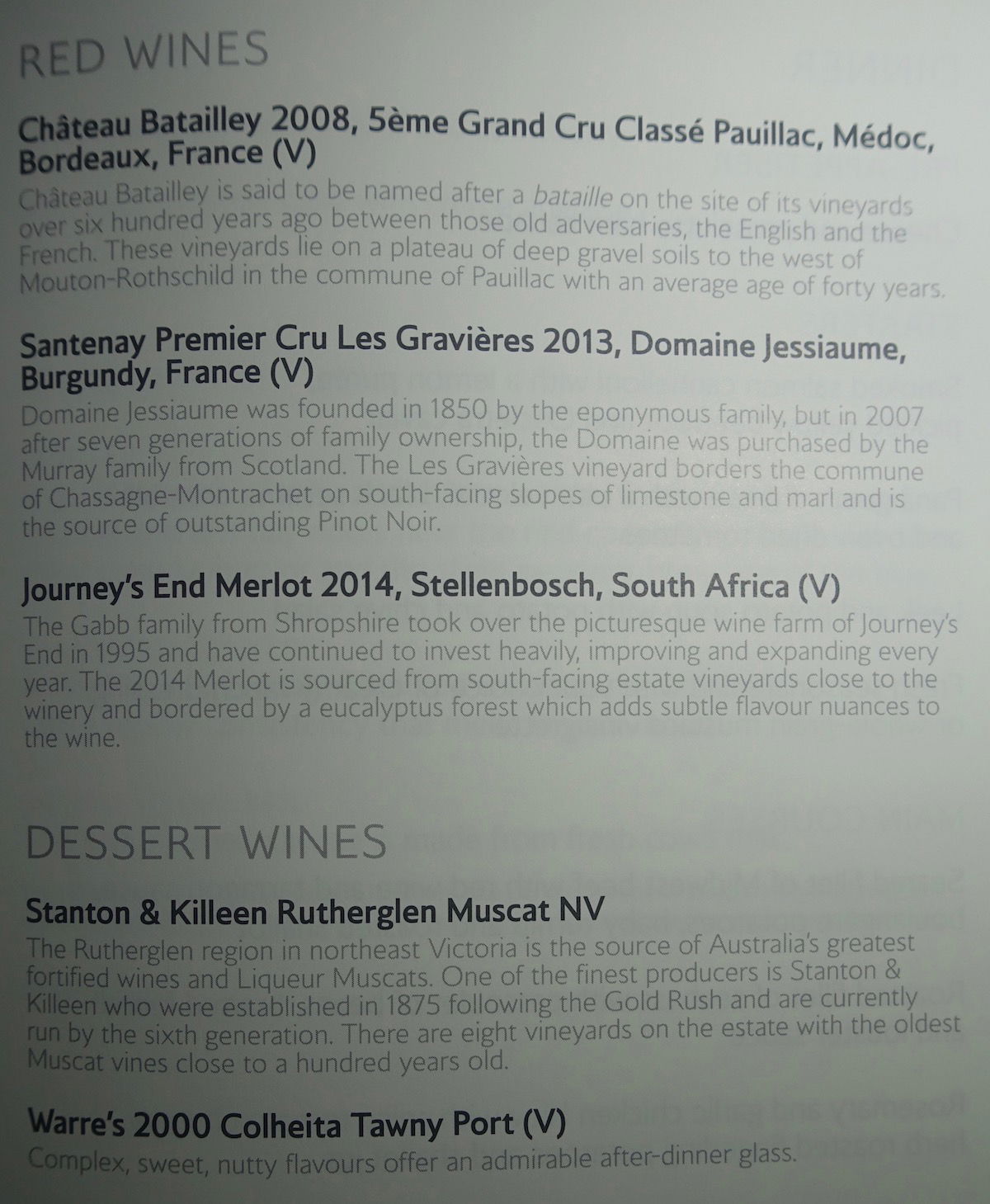 About 20 minutes after takeoff the seatbelt sign was turned off, and five minutes after that I was served a glass of champagne and some warm mixed nuts. British Airways has different mixed nuts than most airlines, as they're candied. In moderation I like the variety of that.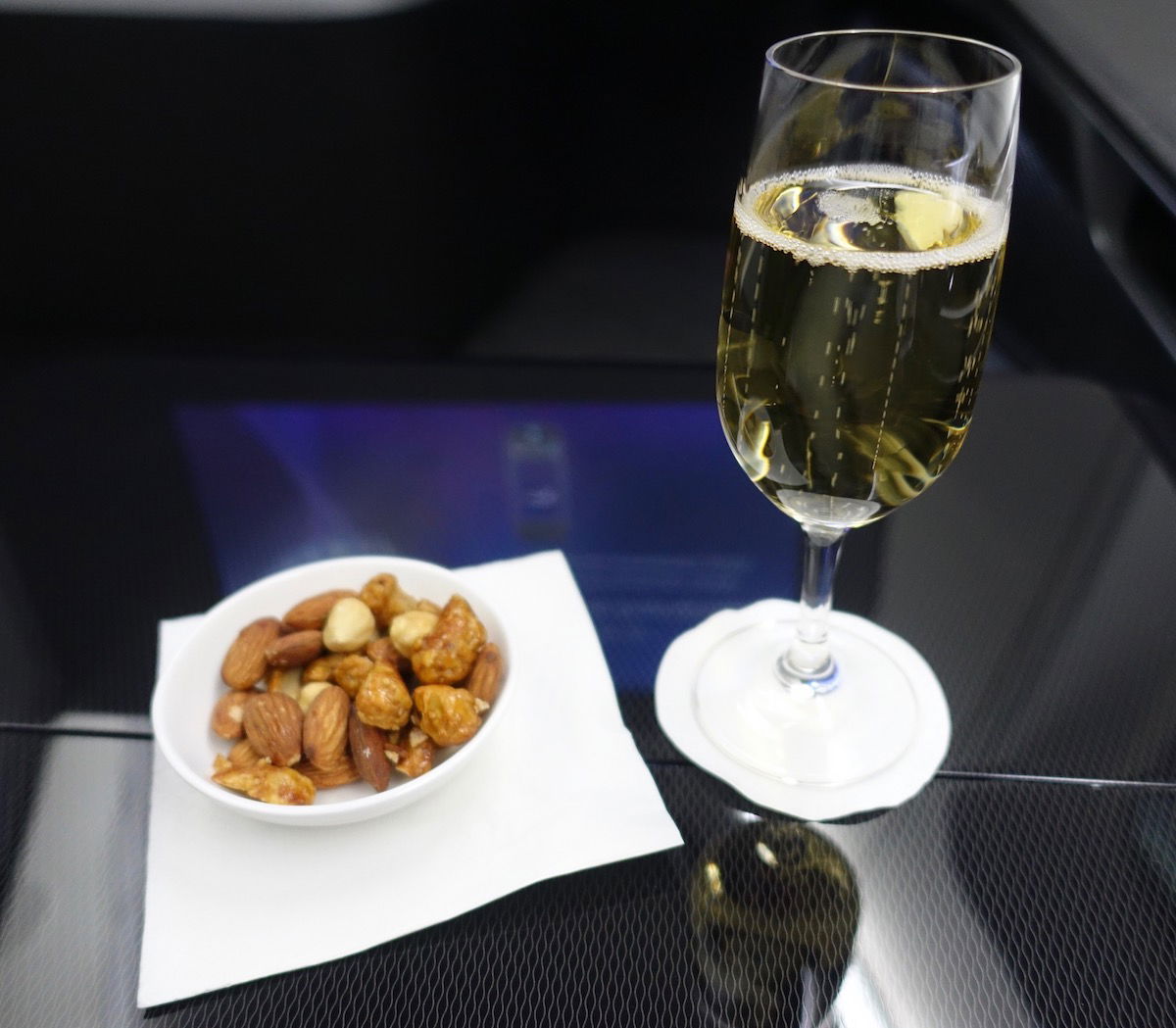 British Airways first class dinner — champagne & mixed nuts
Just under an hour after takeoff my table was set for the dinner service, and I was offered a canapé and a selection of bread from the breadbasket. While the water glass British Airways offers in first class looks nice, it's not practical, as it seemed the flight attendants couldn't easily tell how full it was. I was never proactively offered a refill on water.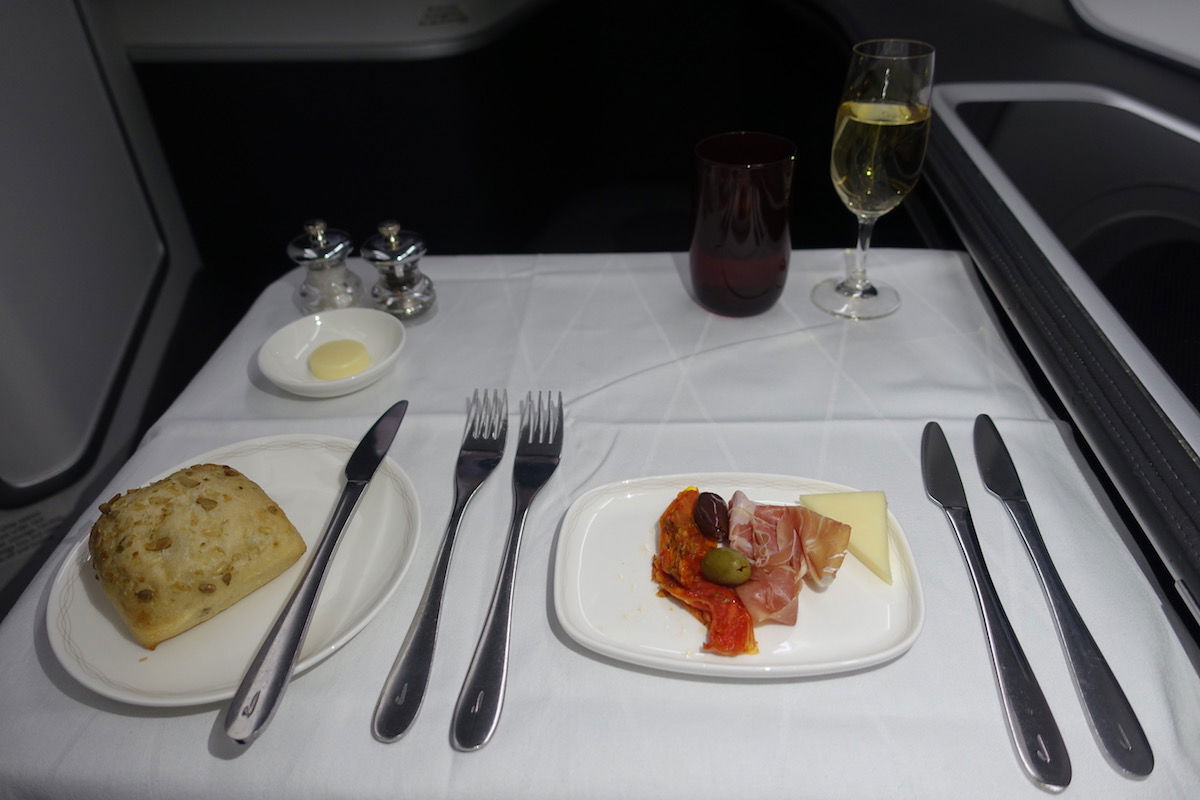 British Airways first class dinner — table setting
The canapé consisted of cheese, prosciutto, olives, and sundried tomatoes. I generally don't eat pork, so I picked around that.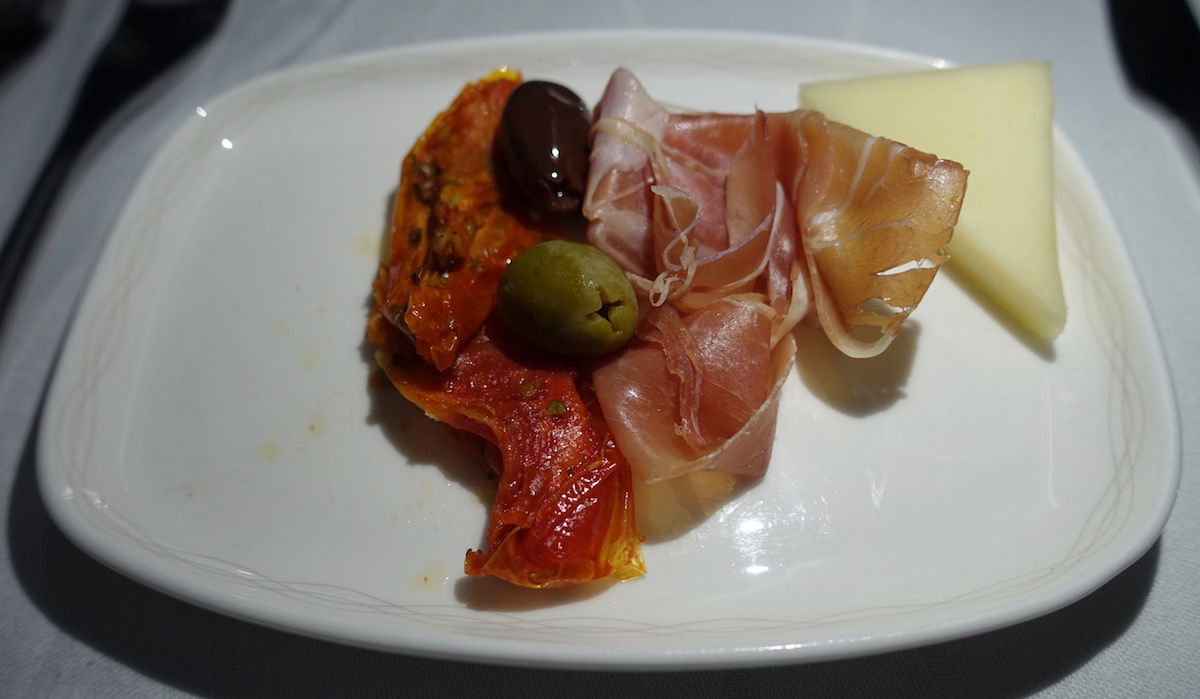 British Airways first class dinner — cheese and prosciutto ham canapé
10 minutes later the starter was served, which consisted of smoked salmon cannelloni with lemon puree, pickled yellow beetroot, and a little bit of caviar. It was quite good, probably the high point of the meal aside from the dessert.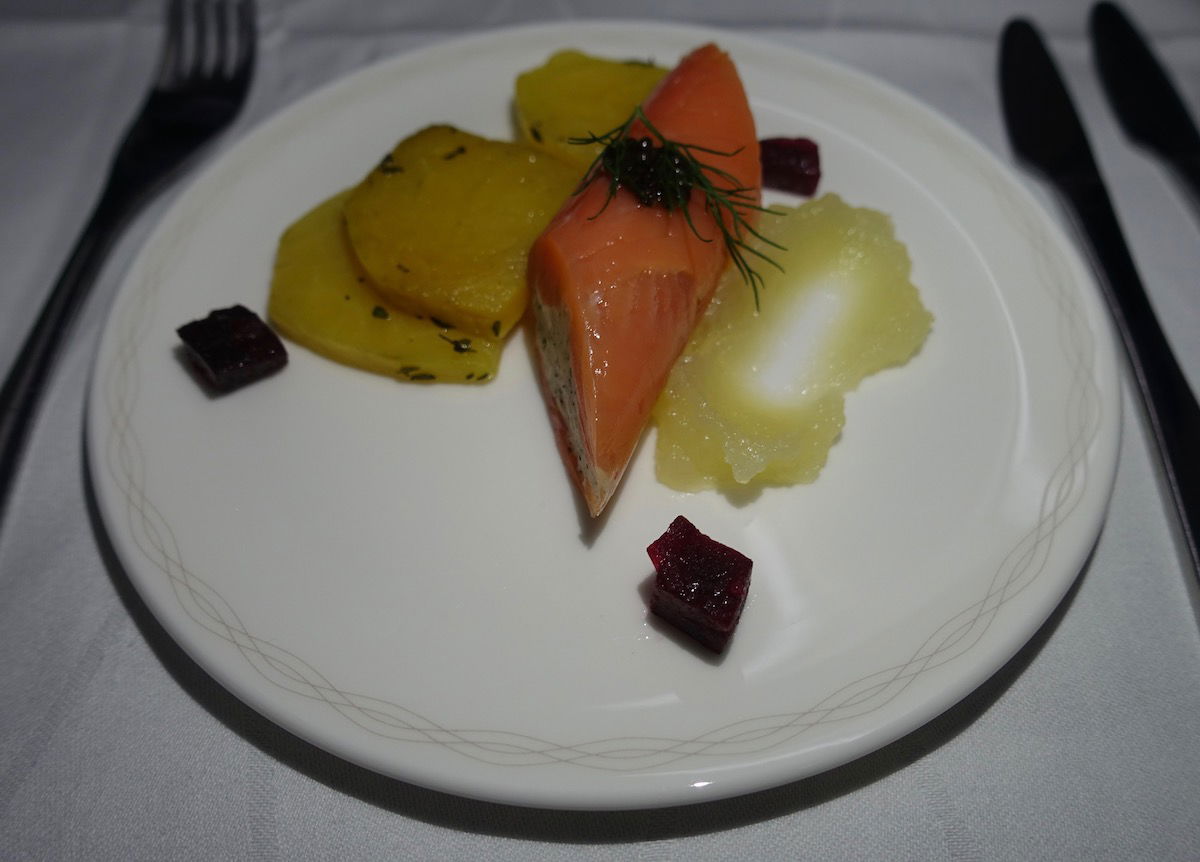 British Airways first class dinner — smoked salmon appetizer
As my starter was cleared the flight attendant told me it would be about 20 minutes until my main course was ready. I reminded her that I had ordered the soup as well, and then moments later she brought that out. This was a leek and potato soup, which had a lot of flavor but was watery as could be, which doesn't work out too well given that the soup spoon was small and flat.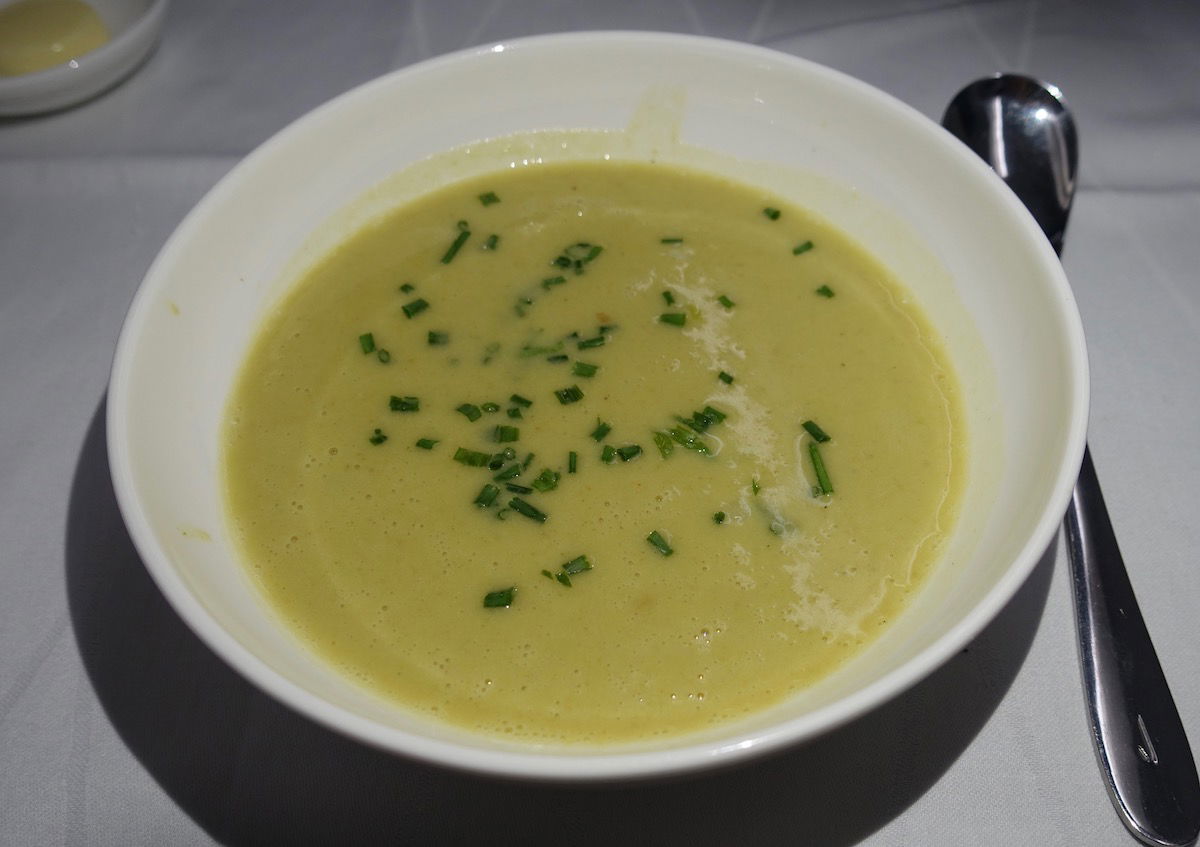 British Airways first class dinner — leek and potato soup
About 10 minutes after the soup was cleared I was offered the main course, which was a rosemary and garlic chicken Kiev with spicy tomato chutney, herb roasted fingerling potatoes, and shallot jus. While the potatoes and asparagus were good, the chicken was disgusting. I don't like chicken Kiev to begin with, but this had to be one of the worst versions I've had. It was super chewy and flavorless. I had one bite of the chicken and sent it back.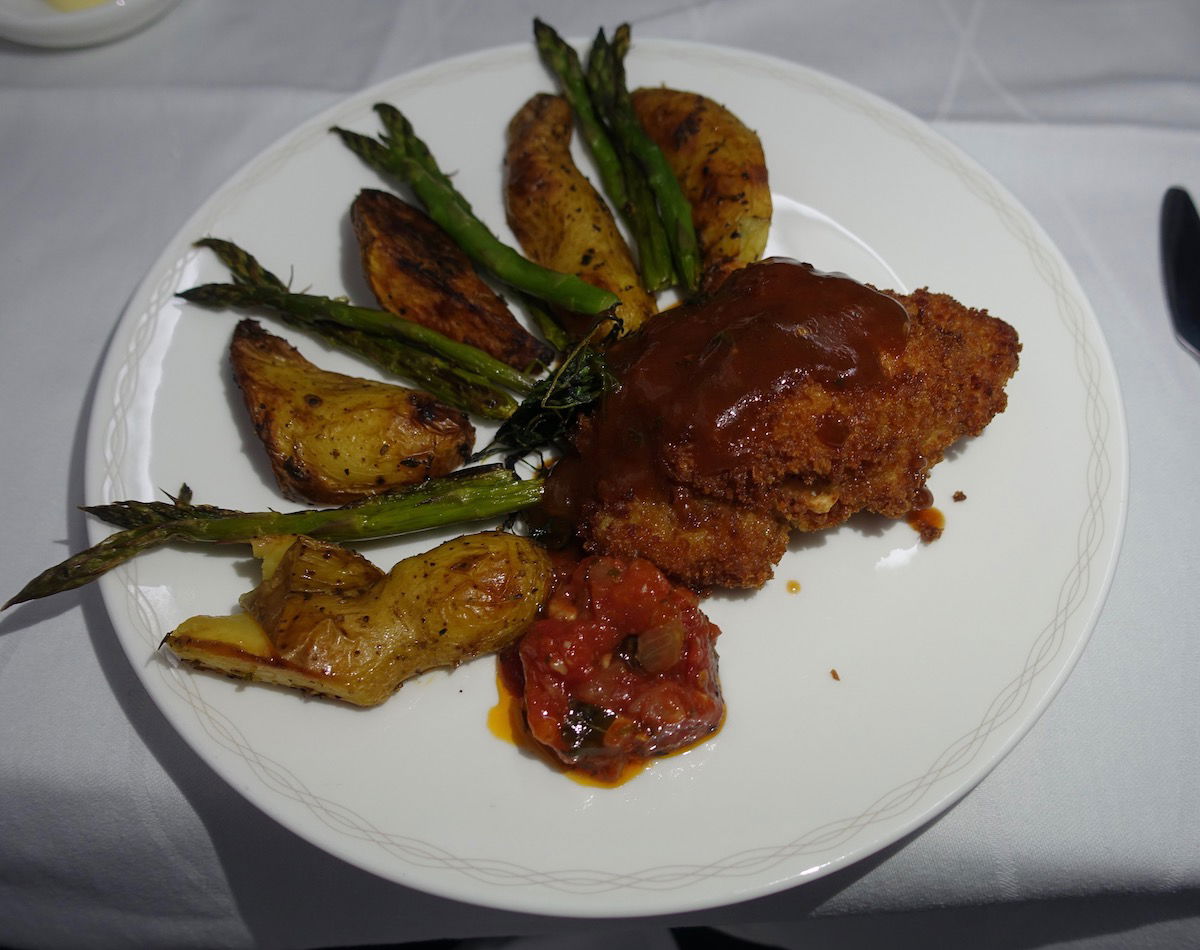 British Airways first class dinner — chicken Kiev main course
I was offered dessert at around 10PM, just over 90 minutes after takeoff. I selected the lemon tart with lemon curd and strawberry.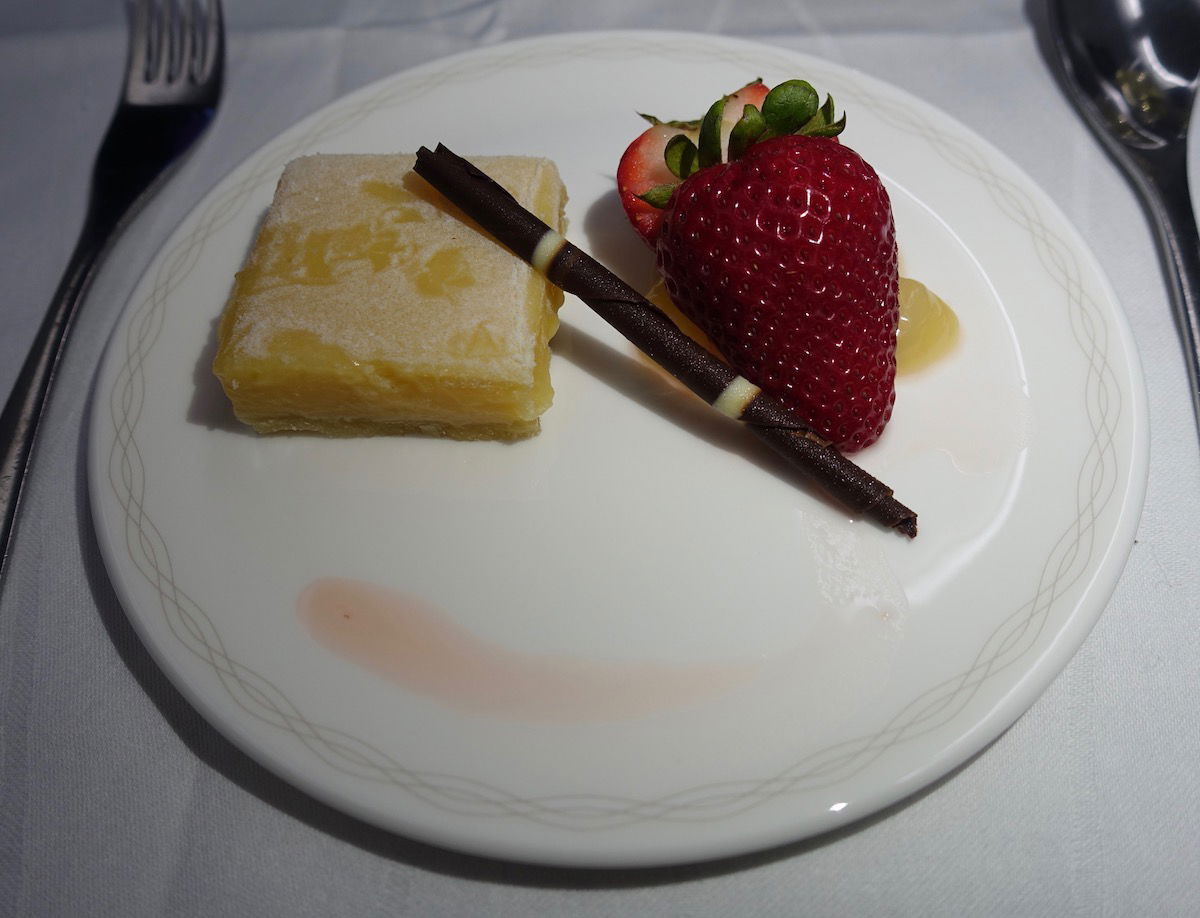 British Airways first class dinner — lemon tart dessert
I was then offered a selection of chocolates from a box, though I passed.
On the plus side, the entire meal service was pretty efficient, though that's about all I can say about it — the dessert was excellent, the appetizer was fairly good, the soup was meh, and the main course was awful. Service was about what you'd expect in a good (but not great) business class product, and I was disappointed that they ran out of both my preferred pajamas size and main course choice.
After the meal I asked to have my bed made, and while that was being done I headed to the lavatory. There's only one lavatory at the front of the first class cabin, which really doesn't do the trick between the passengers and crew (including pilots) who were using it. Just about every time I wanted to use the bathroom there was a wait. Speaking of the lavatory, next time I'd try to select seat 2A over 2K, because the galley is on the right side. When I went to the lavatory I felt like I was invading the crew's space, which I wouldn't have felt if coming from the other side.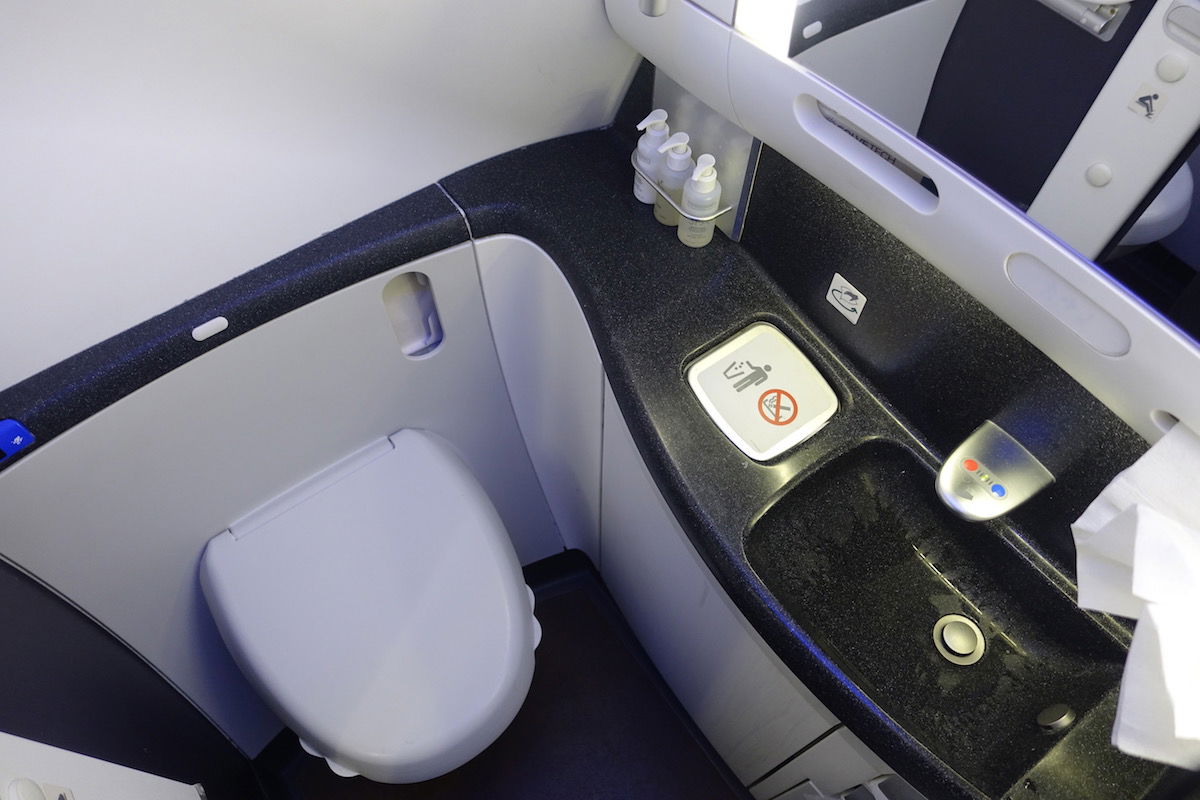 British Airways 787 lavatory
The lavatory was on the small side, and had The White Company products.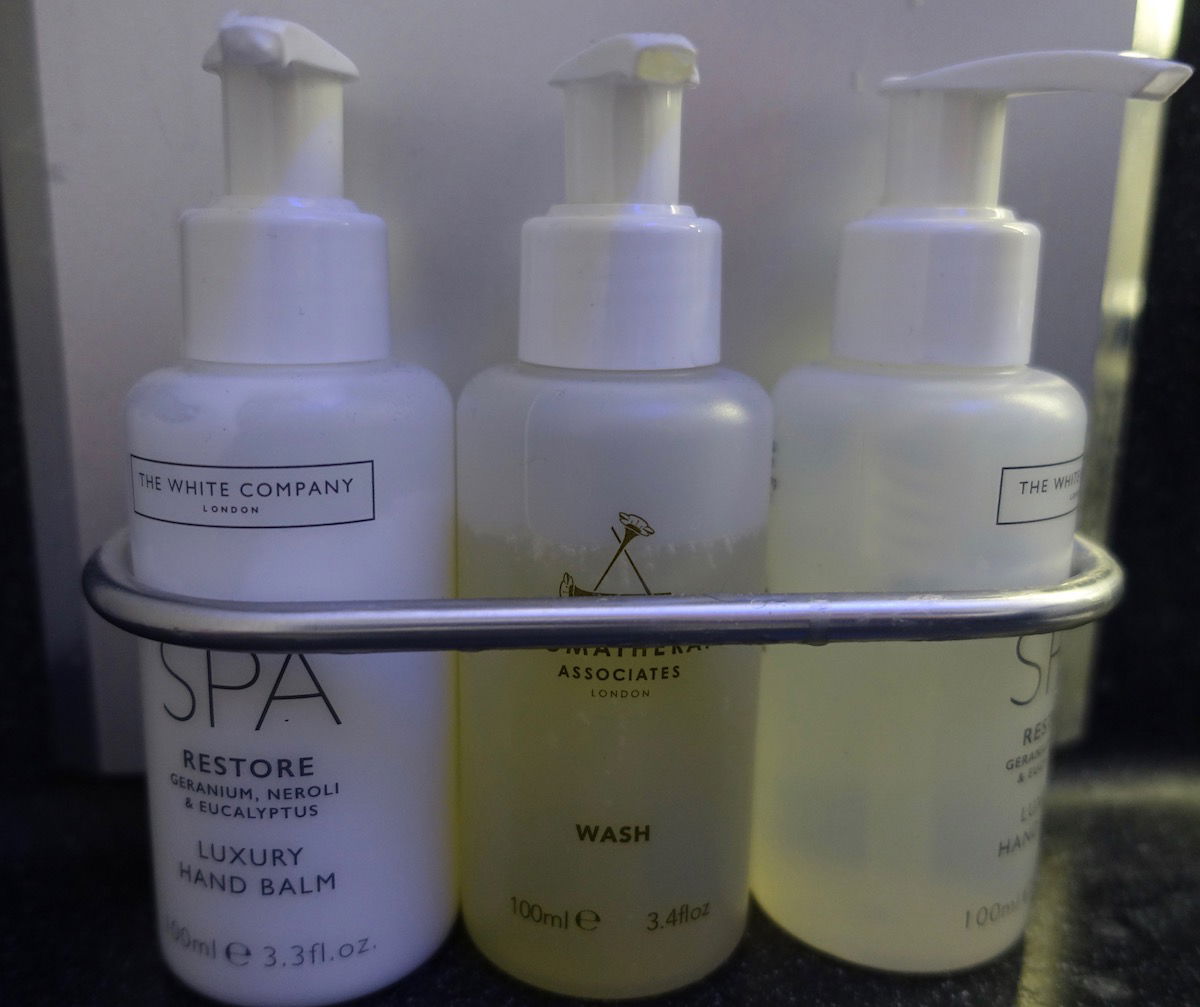 British Airways lavatory amenities
I found the bed to be quite comfortable. The duvet was decent (though not as good as what you'd find in LATAM business class, for example), the pillow was nice (though I feel like in first class there should ideally be two proper pillows), and the mattress pad was more like a mattress sheet than a comforter.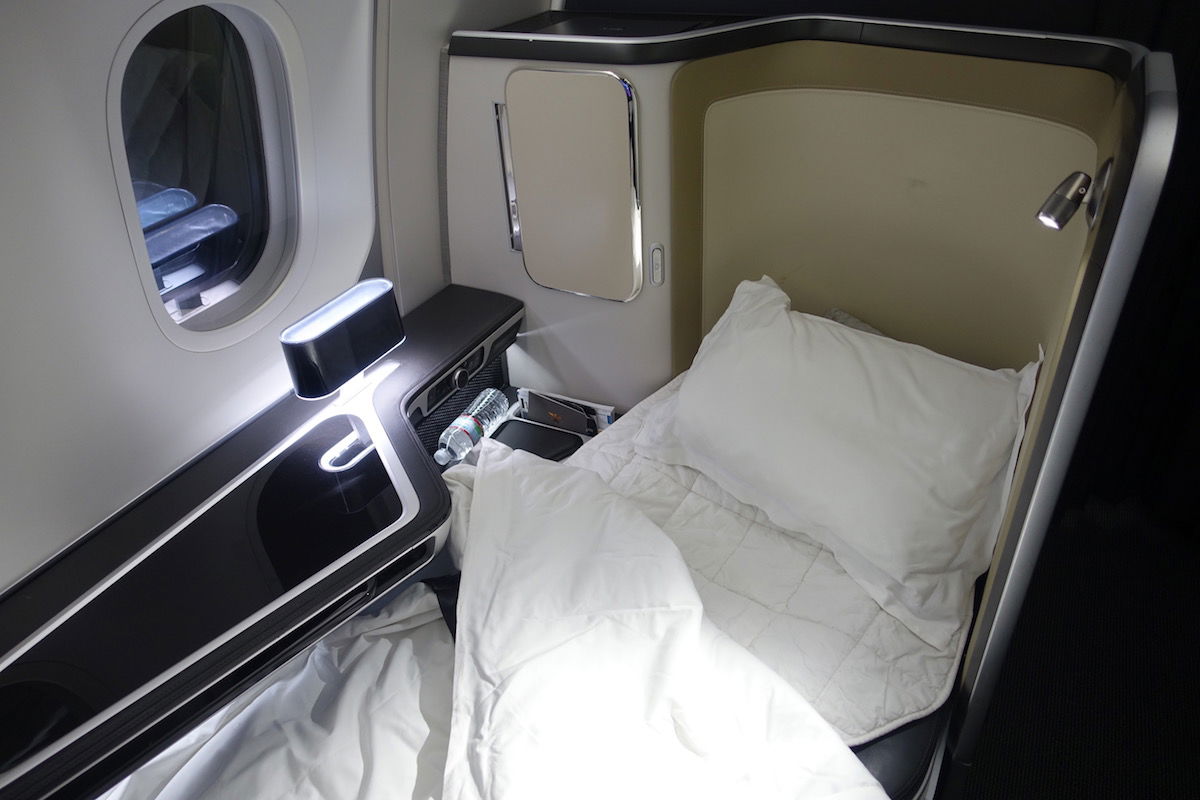 British Airways first class bed 787
While this isn't an especially spacious or private first class seat, I still found it quite easy to get comfortable, thanks to the ability to sleep with my knees bent without any sort of a protrusion.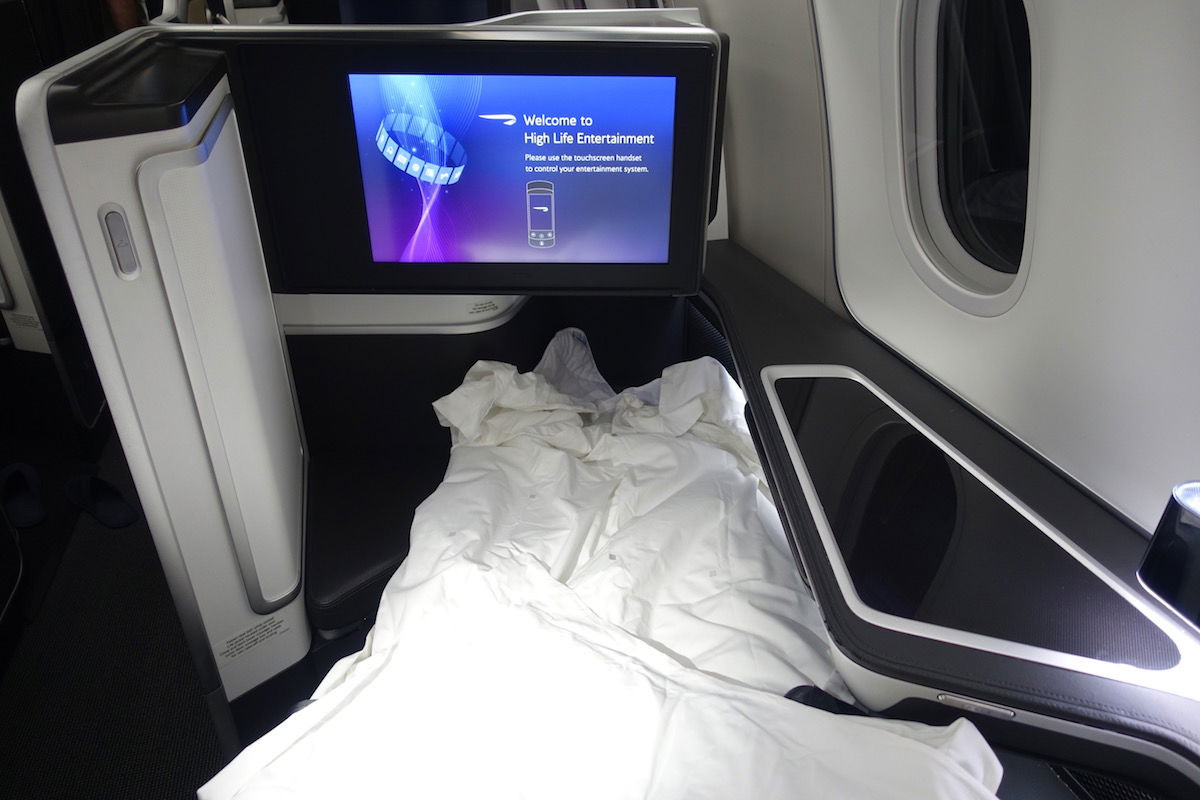 British Airways first class bed 787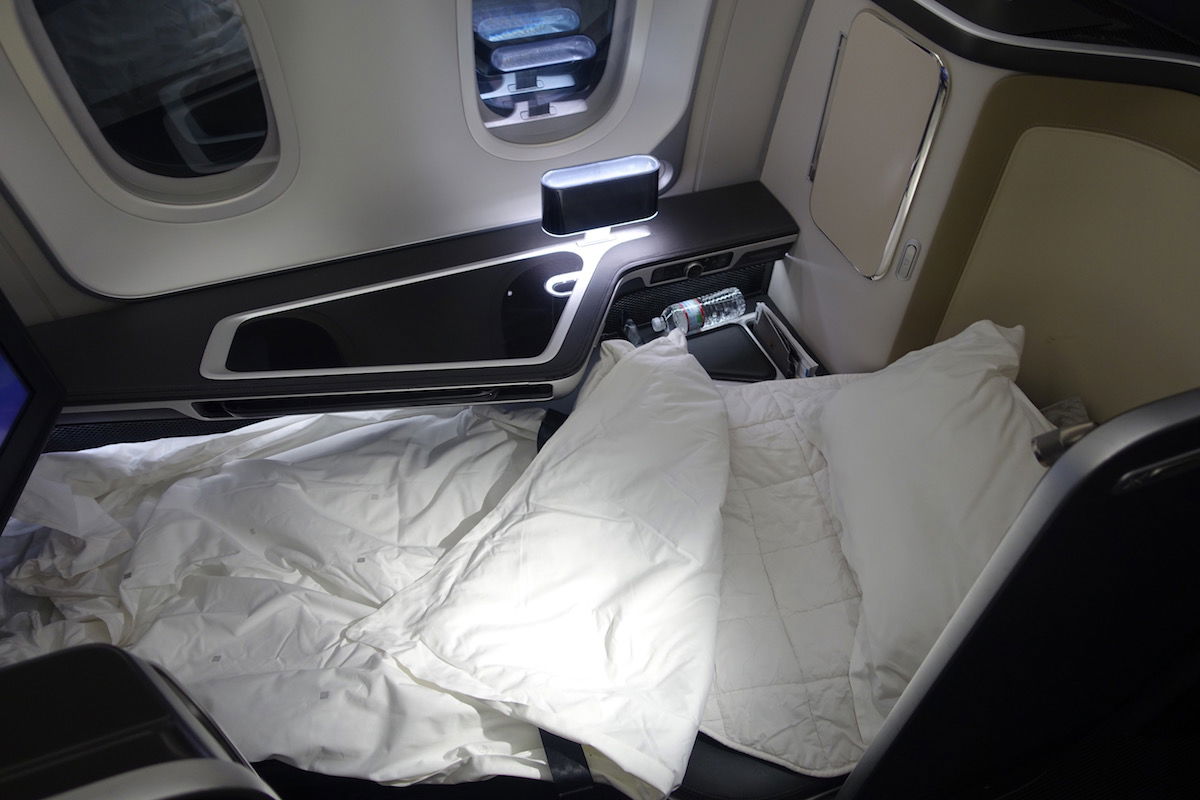 British Airways first class bed 787
I was also offered a bottle of water with the turndown service.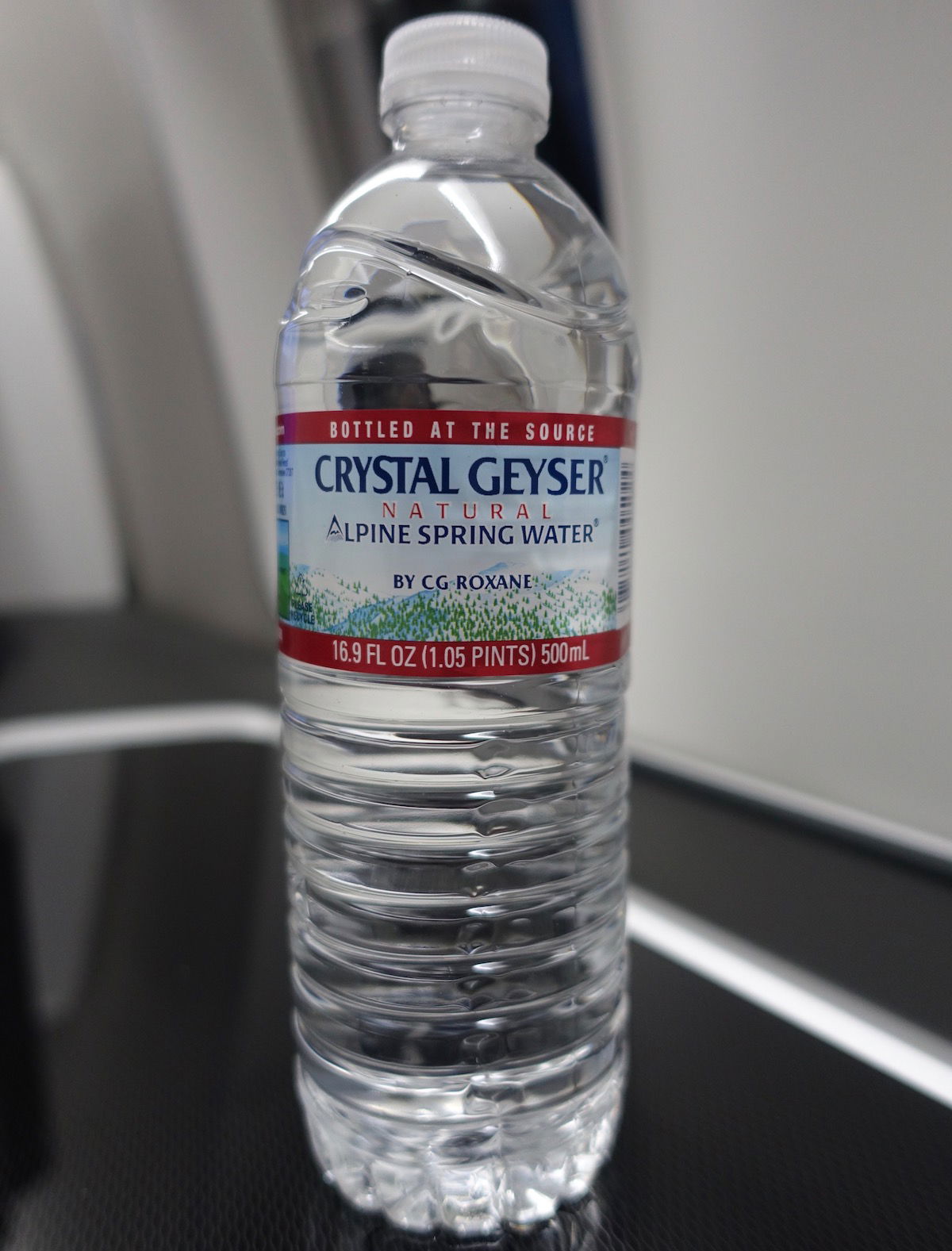 British Airways bottled water
I was also asked to unplug my phone from the power port while sleeping, as I was told it was a fire hazard. I guess that's reasonable enough, I've just never had that request before.
By the time I was ready for sleep we were over Wyoming, with about eight hours remaining to London.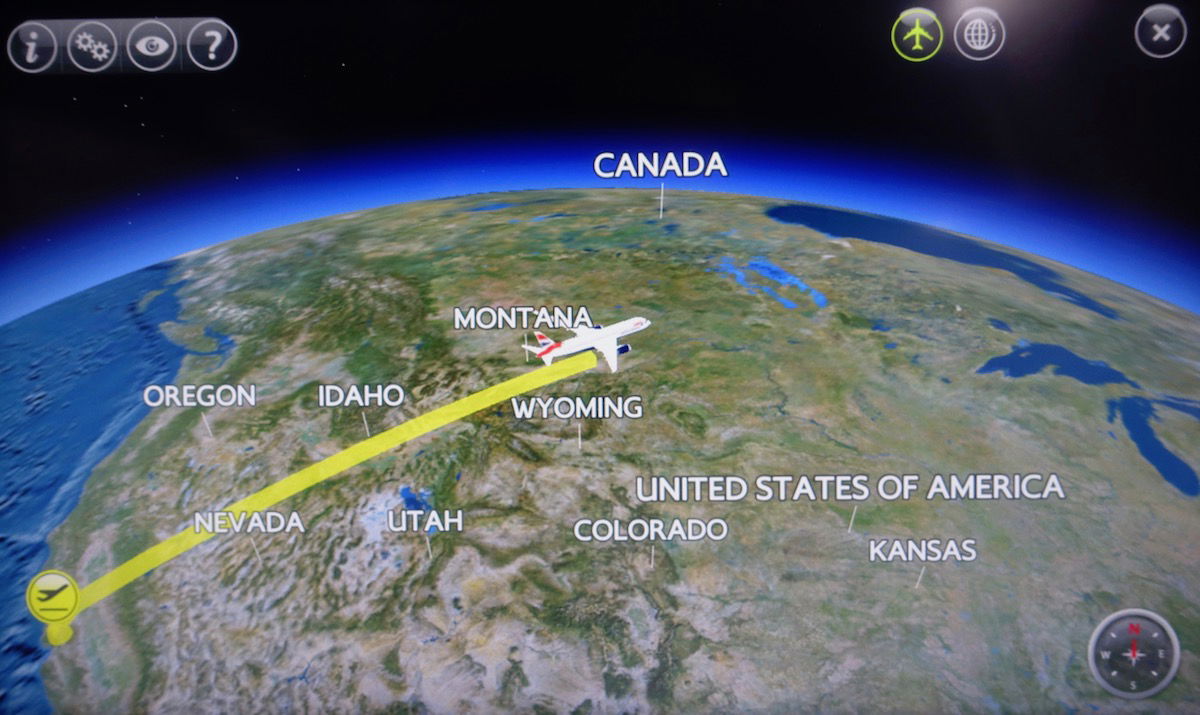 Airshow enroute to London
I managed to get some solid sleep, though woke up earlier than I was hoping to. I woke up with over three hours remaining to London, as we were just passing Greenland.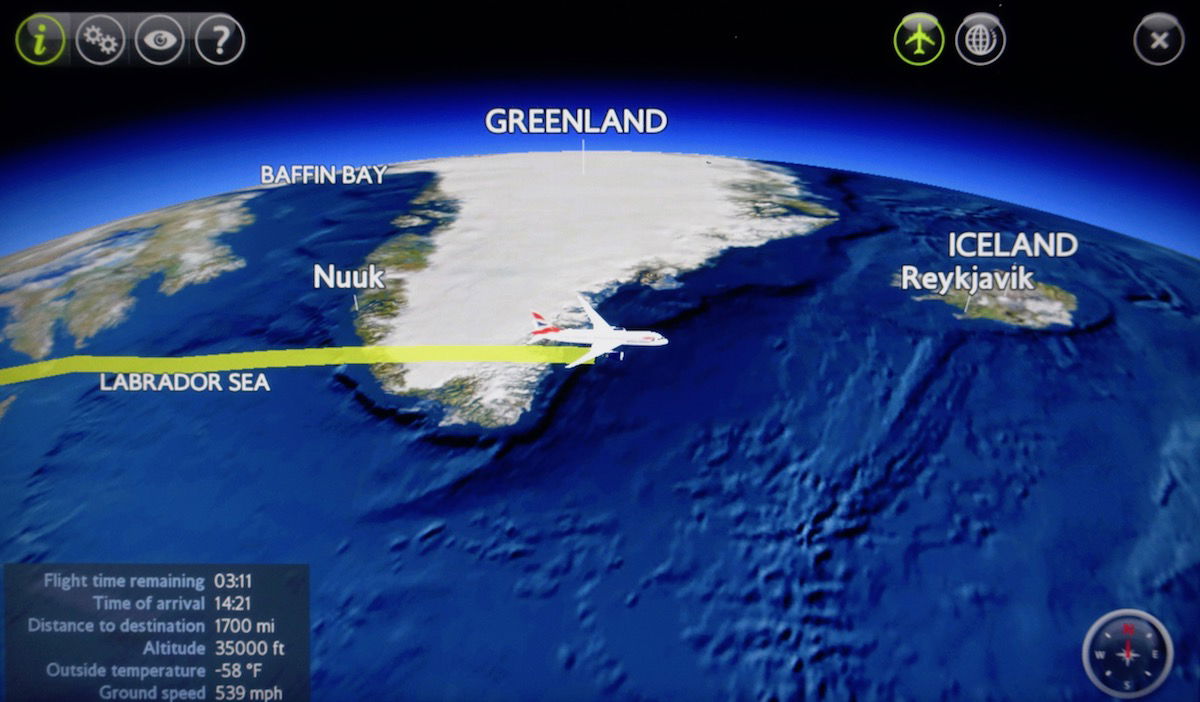 Airshow enroute to London
I pressed the flight attendant call button to order a cappuccino. I was informed that the cappuccino machine was broken, but that I could have a coffee with milk. In the end, the "coffee" still looked and tasted similar to a cappuccino, so it did the trick.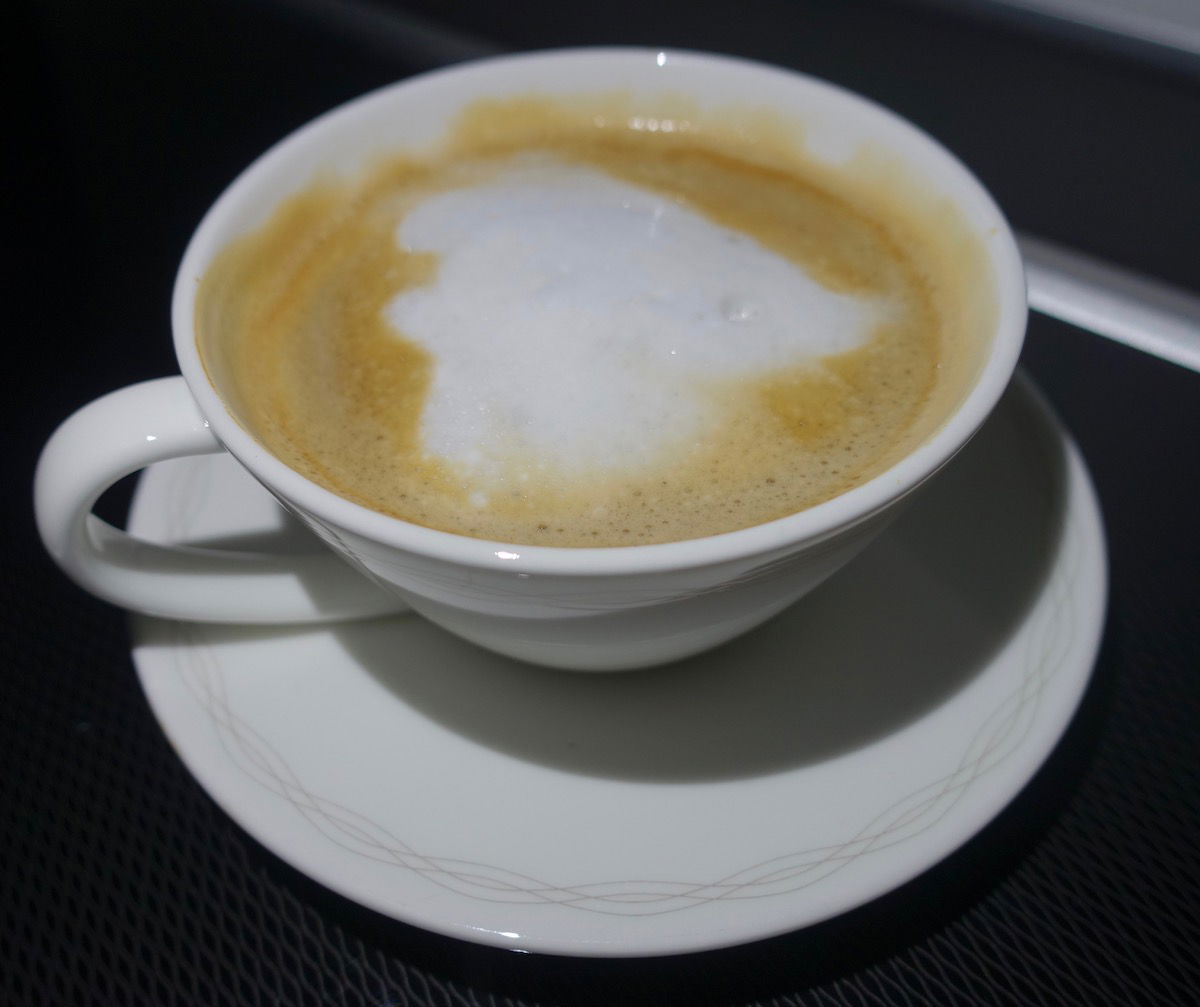 British Airways first class coffee
I spent the next 90 minutes on my laptop. I'd note that the flight attendant never came by my seat again to see if I wanted anything, or to clear my cup of coffee. Finally just under 90 minutes before arrival I was asked if I wanted breakfast.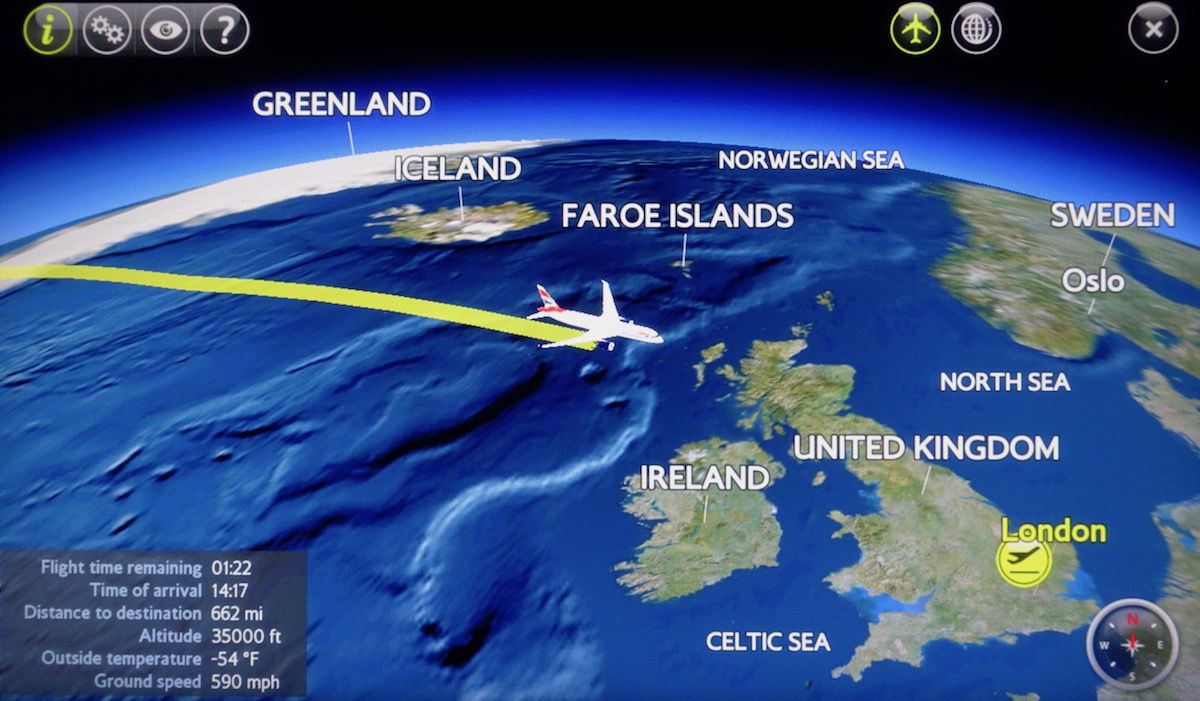 Airshow enroute to London
The breakfast menu read as follows: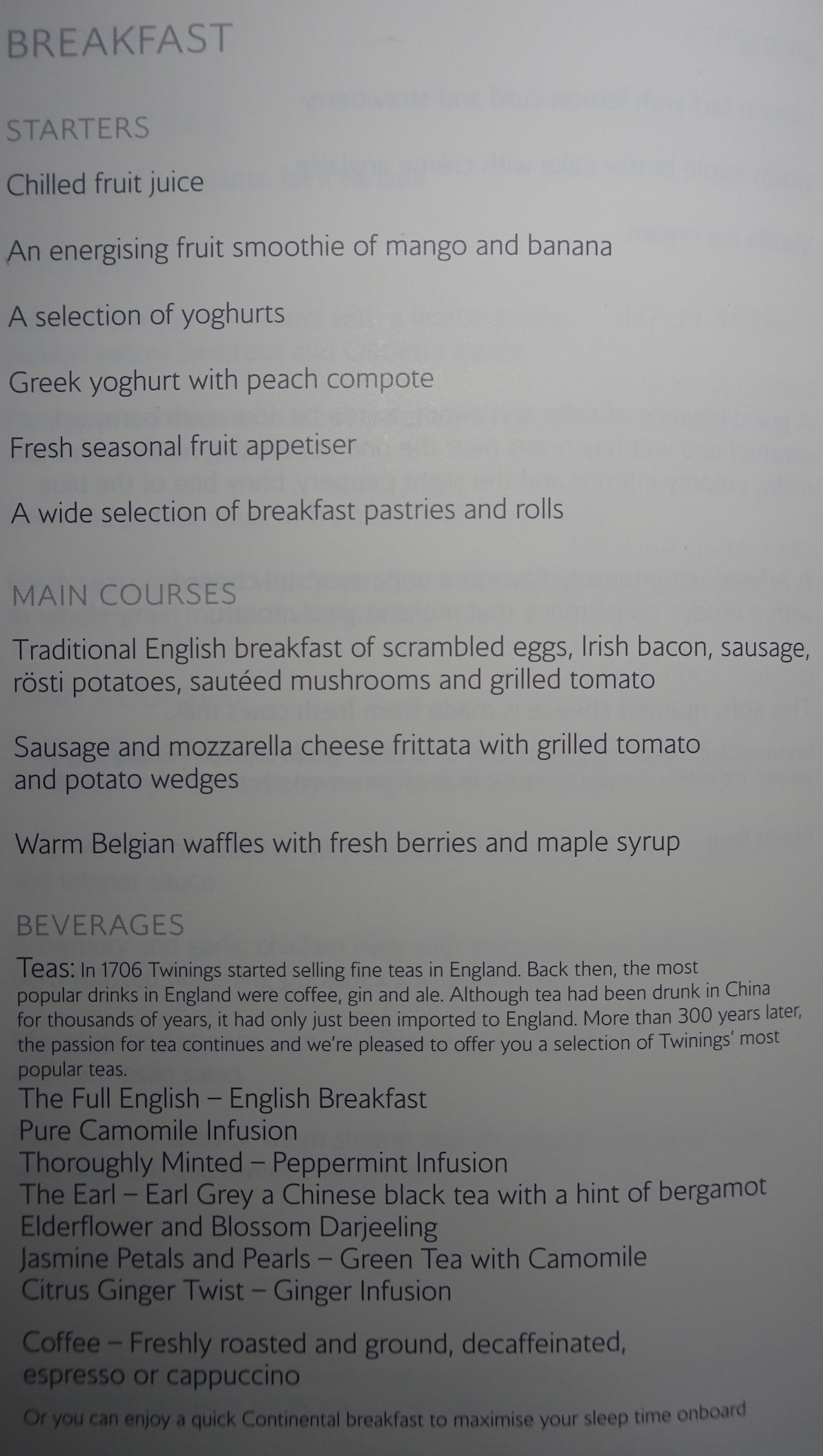 A few minutes later my table was set, including being served another coffee, a mango and banana smoothie, and a fresh fruit plate. The fruit plate and smoothie were both very good.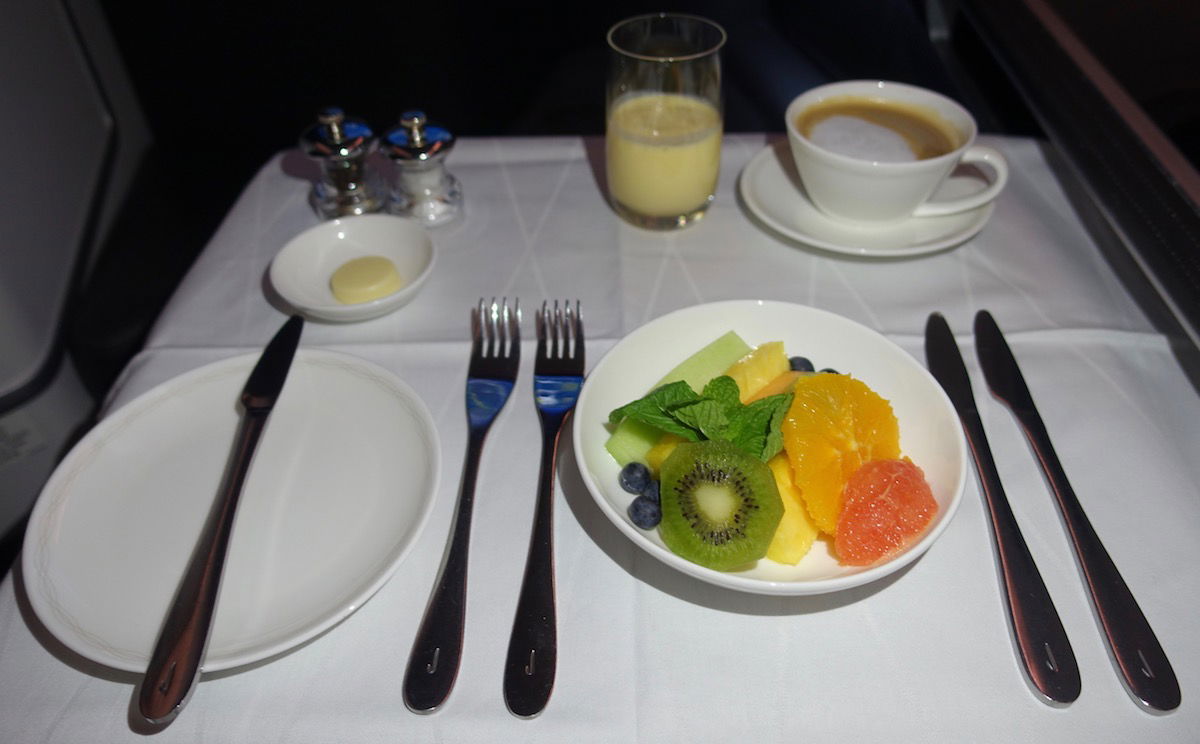 British Airways first class breakfast
I was also offered a selection from the breadbasket, and selected a croissant.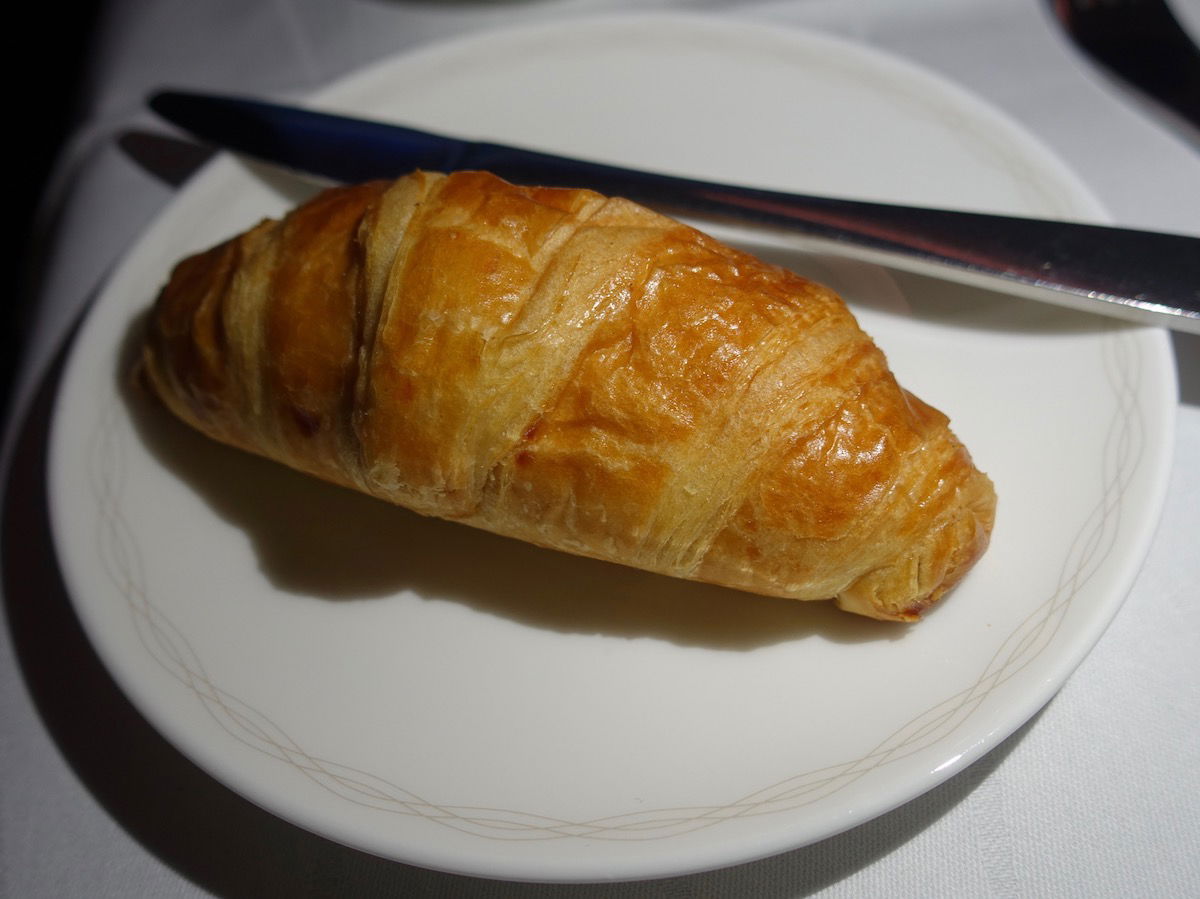 British Airways first class breakfast — croissant
I struggled with deciding which breakfast option to go with. I'm not at all a fan of English breakfast, and I was trying to avoid the Belgian waffles, so I ended up ordering the sausage and mozzarella cheese frittata with grilled tomato and potato wedges. I picked around the sausage, and it was alright.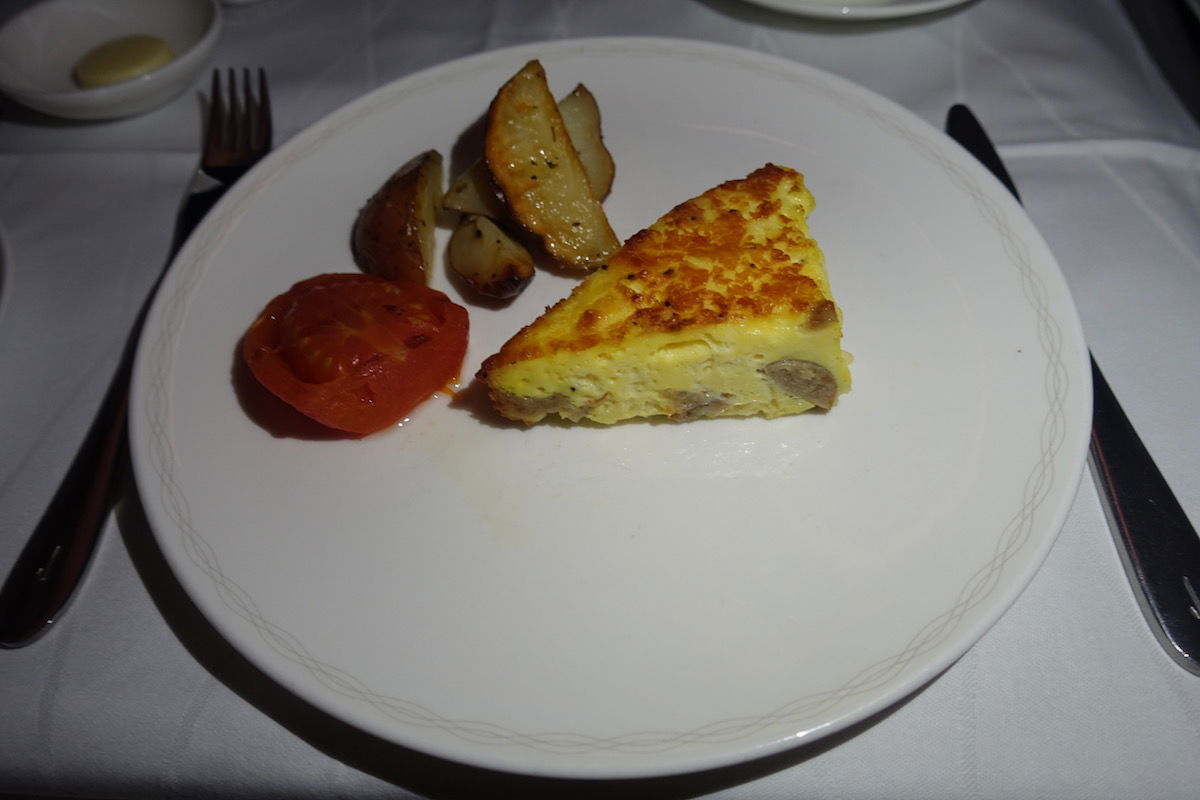 British Airways first class breakfast — frittata
30 minutes before our arrival the captain announced that we'd soon be descending, and that we may have to enter a holding pattern (which fortunately didn't happen). Around this time the cabin service manager came around to see how everything was. Usually they do this after takeoff, but she apologized and explained it had been a busy flight due to the people being rebooked from Oakland.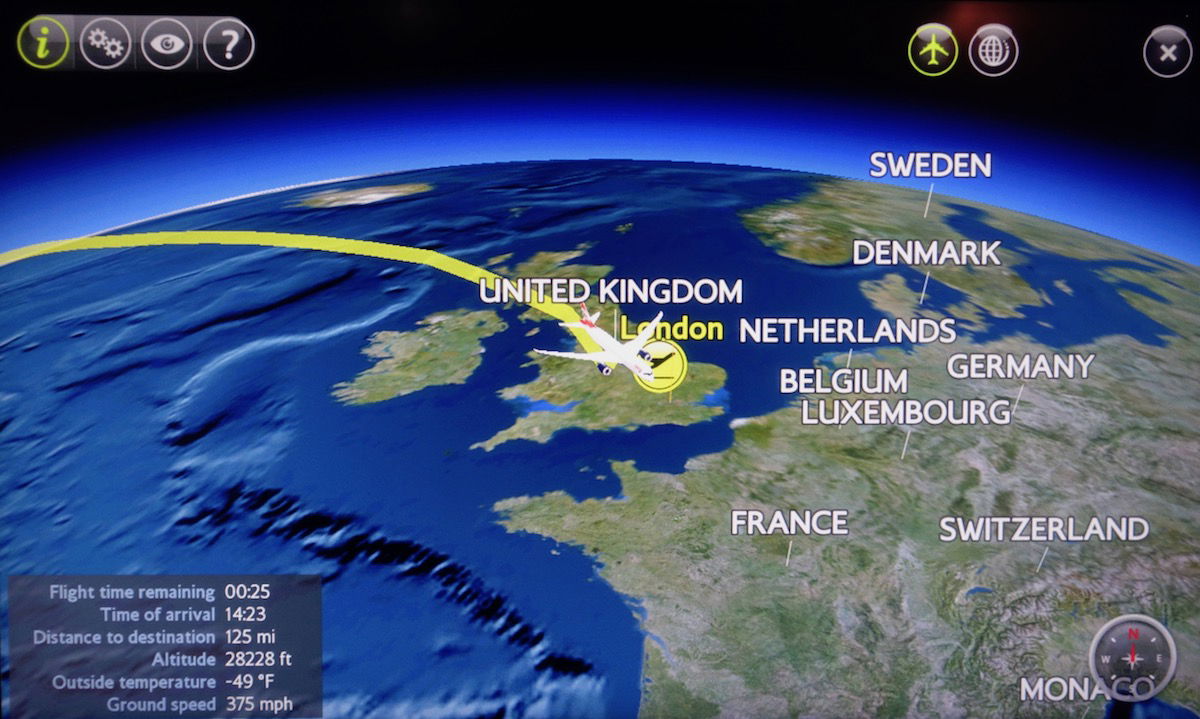 Airshow enroute to London
Our descent was pretty quick, and as we passed through about 10,000 feet we hit one huge air pocket. Otherwise the flight was smooth, so it got my heart racing for a moment.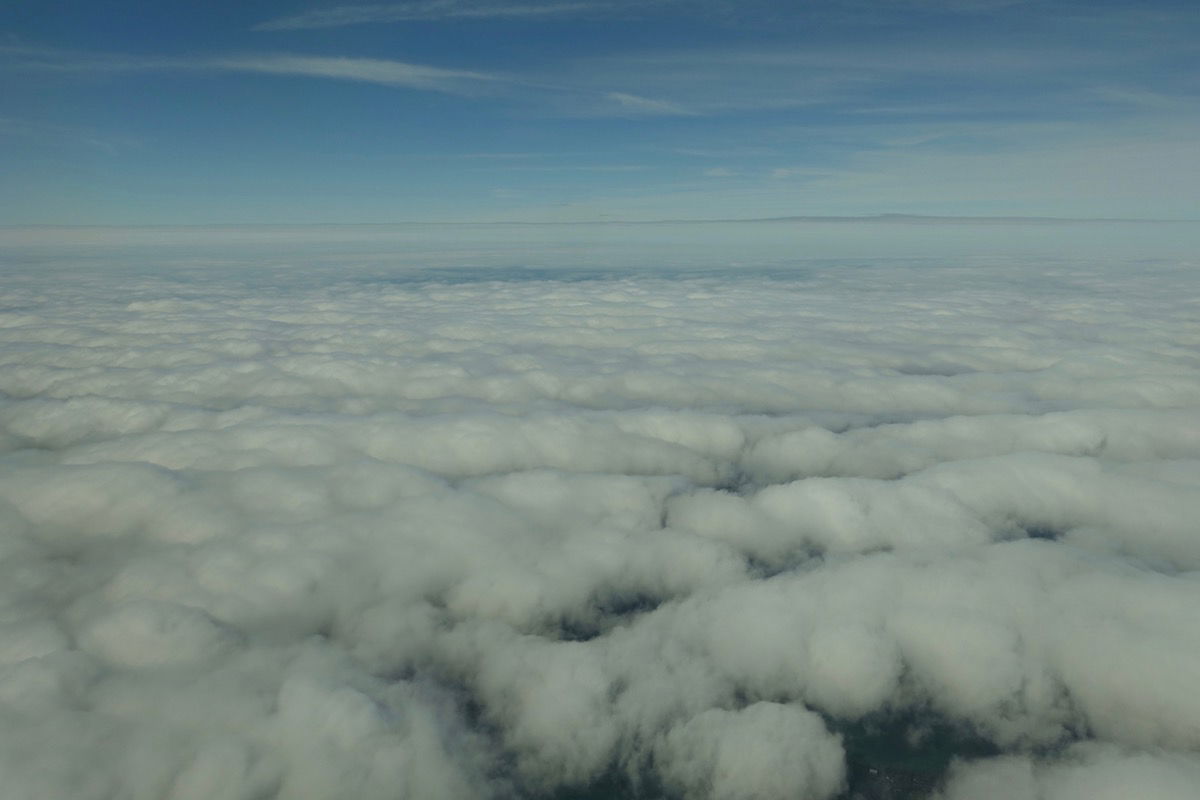 View approaching London
There weren't many views on descent until we got to a low altitude.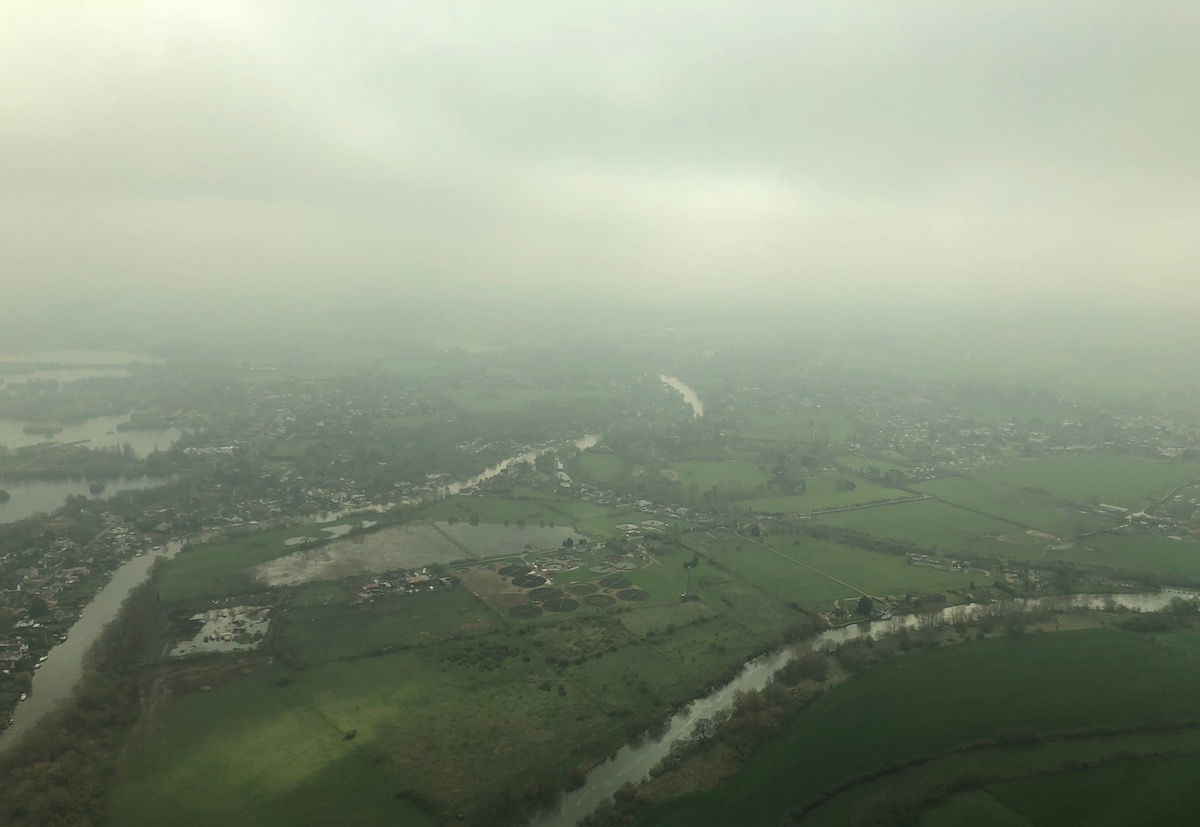 View approaching London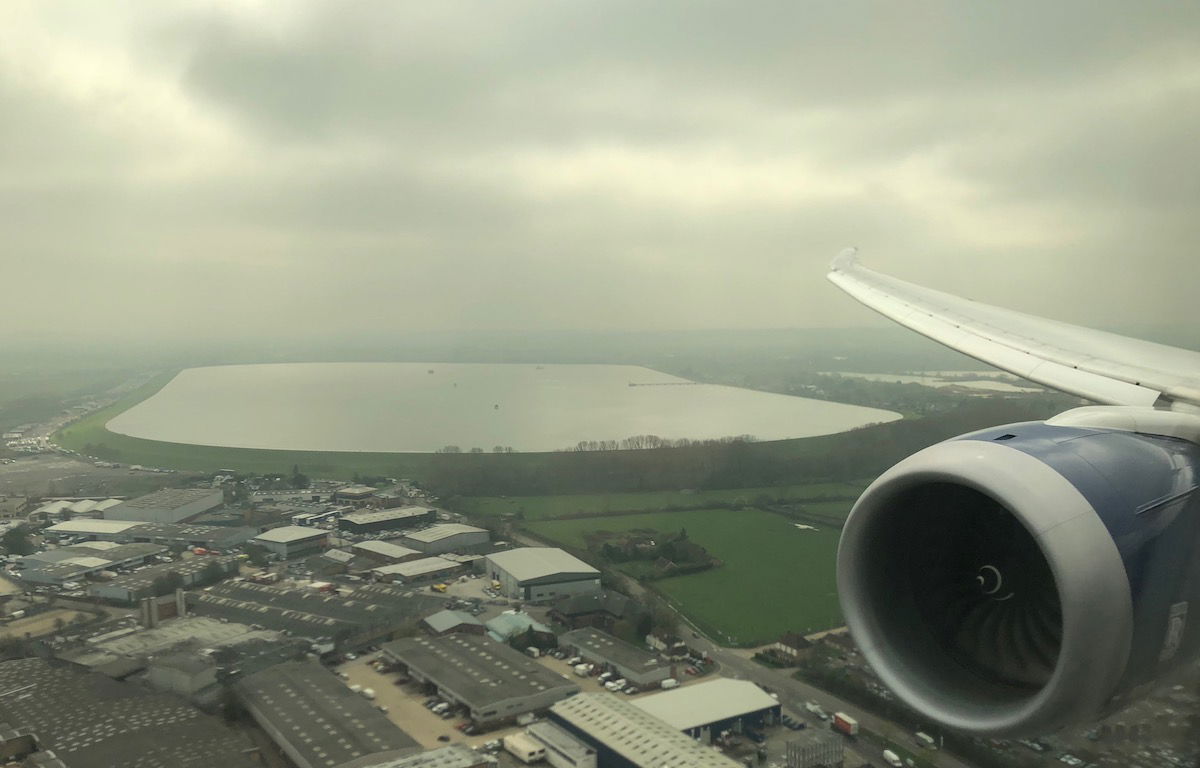 View approaching Heathrow
We touched down on runway 9L at Heathrow at 2:30PM.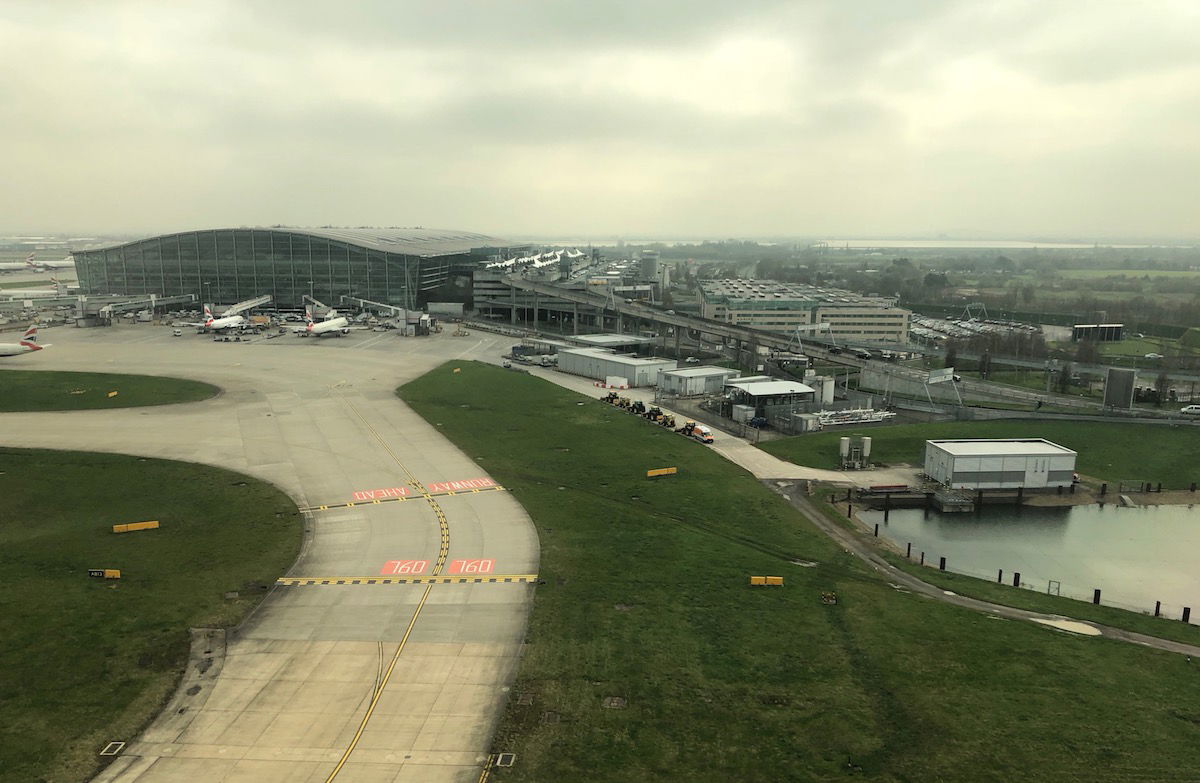 View approaching Heathrow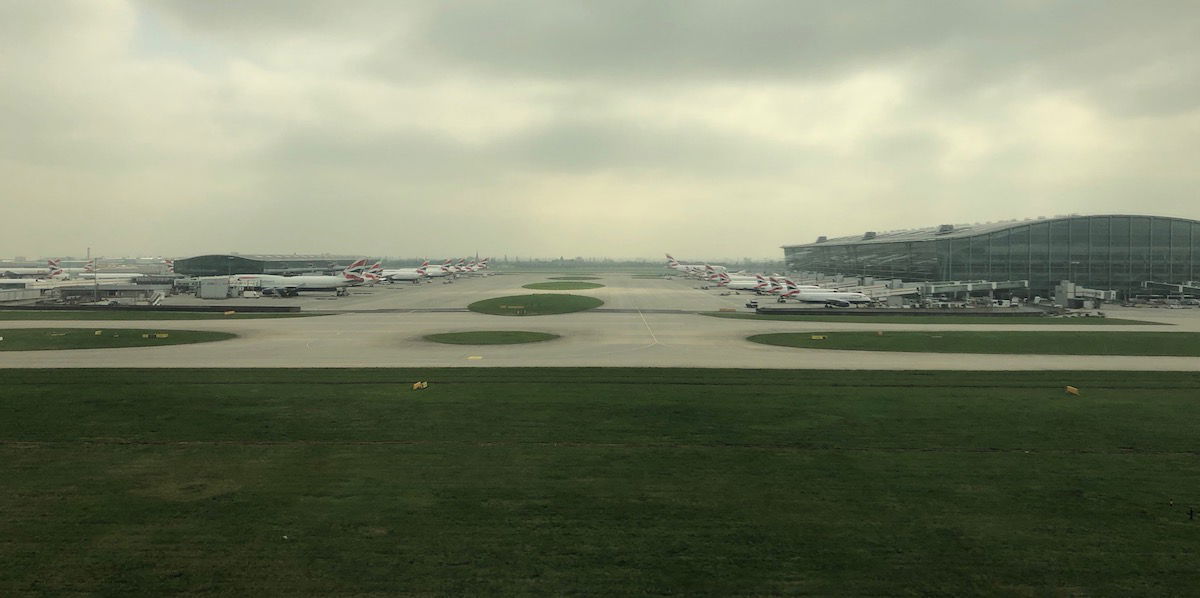 Touchdown Heathrow
From there it would have been a fairly short taxi to Terminal 5, though we had to wait about 10 minutes for a plane to clear the gate we'd be arriving at. A Kuwait Airways 777 landed right after us.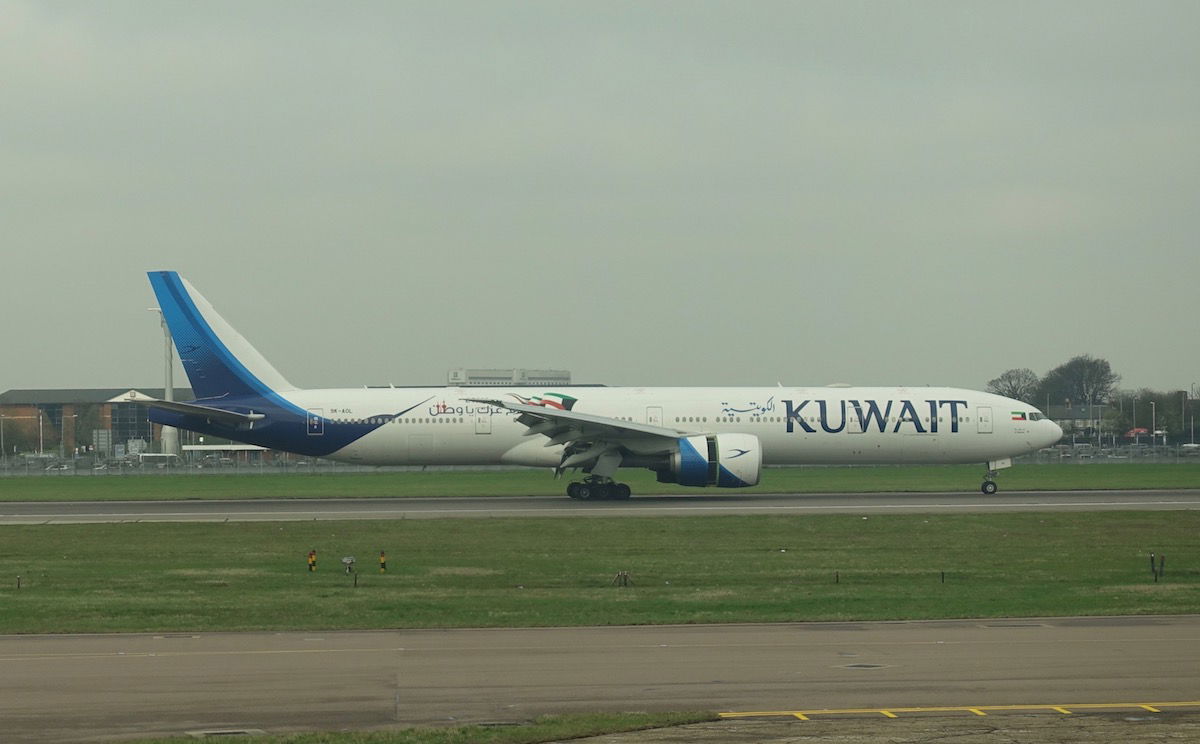 Kuwait Airways 777 Heathrow
We eventually made it to our arrival gate at 2:45PM, and parked next to a British Airways 747.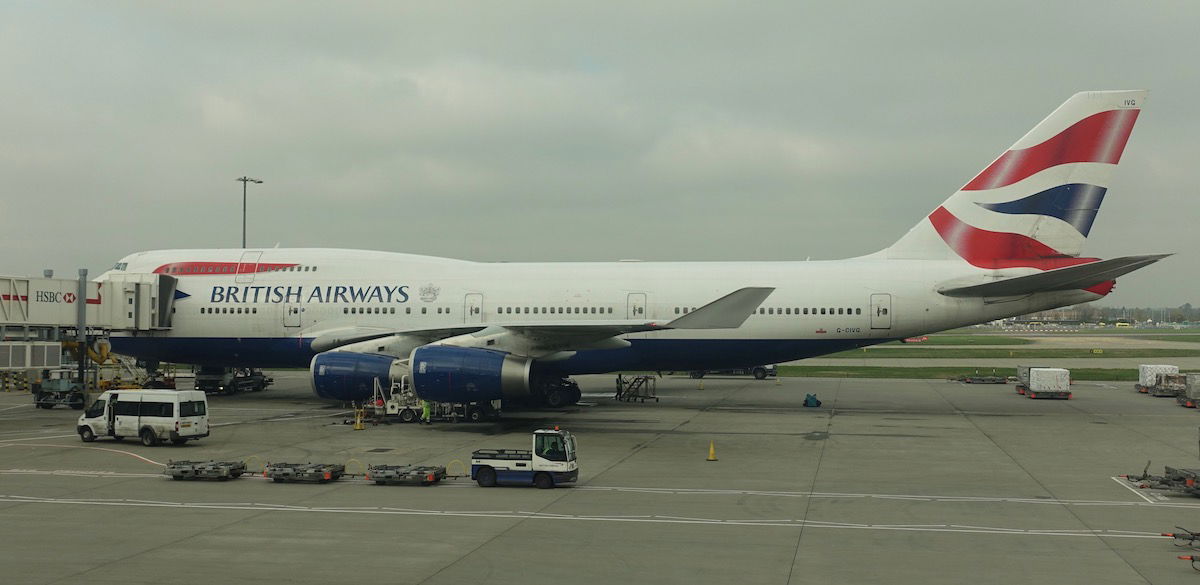 British Airways 747 Heathrow
British Airways 787 first class bottom line
Let's start with the positives. The British Airways 787 first class cabin is sleek, and is intimate, especially compared to British Airways' other planes. I'd say along with the A380, this is the nicest first class cabin British Airways has. I also quite liked the amenity kit, pajamas, and champagne.
Other than that, though, this felt like a business class experience in terms of the food quality and service.
Now, I do have to acknowledge that when it comes to redeeming miles, British Airways remains the best option for first class on transatlantic flights. The only other European airlines to offer first class on transatlantic flights are Air France, Lufthansa, and Swiss.
Air France first class awards can only be booked by elite members of the FlyingBlue program and the cost is 200,000 miles one-way, Swiss first class awards can only be booked by Miles & More elite members, and Lufthansa first class can only be booked through partner frequent flyer programs at most 15 days out. Meanwhile British Airways first class is easier to book in advance, assuming you're willing to pay the $500 one-way fuel surcharges (though award availability isn't as good as it used to be).
So yeah, I wouldn't hesitate to fly British Airways first class again on miles, even though it's my least favorite transatlantic first class product offered by a European airline. When it comes down to it, though, I think I'd rather just book myself in American business class and save the mileage premium and the big carrier imposed surcharges.