We were departing the Seychelles on a Turkish Airlines flight at 9:10PM, so we took the evening flight from Desroches Island to Mahe, which got us into Mahe at 5:40PM. We arrived at the domestic terminal, where several turboprops were parked.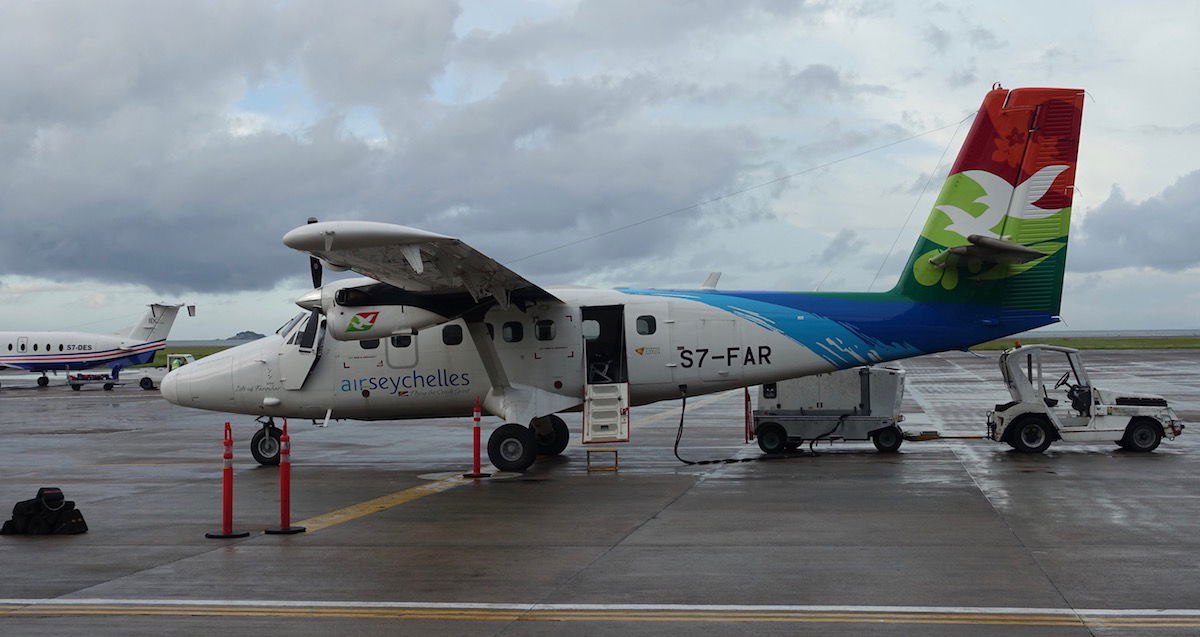 Air Seychelles Twin Otter Mahe Airport
There we were greeted by a representative from the Four Seasons, who said he'd be helping us with the transfer process (everyone else on our flight was terminating their travels in Mahe for the evening). He also explained we had access to a special lounge, which came as a surprise to me. I'm not sure if this is arranged for all Four Seasons guests, or what.
We followed the signage to the international terminal.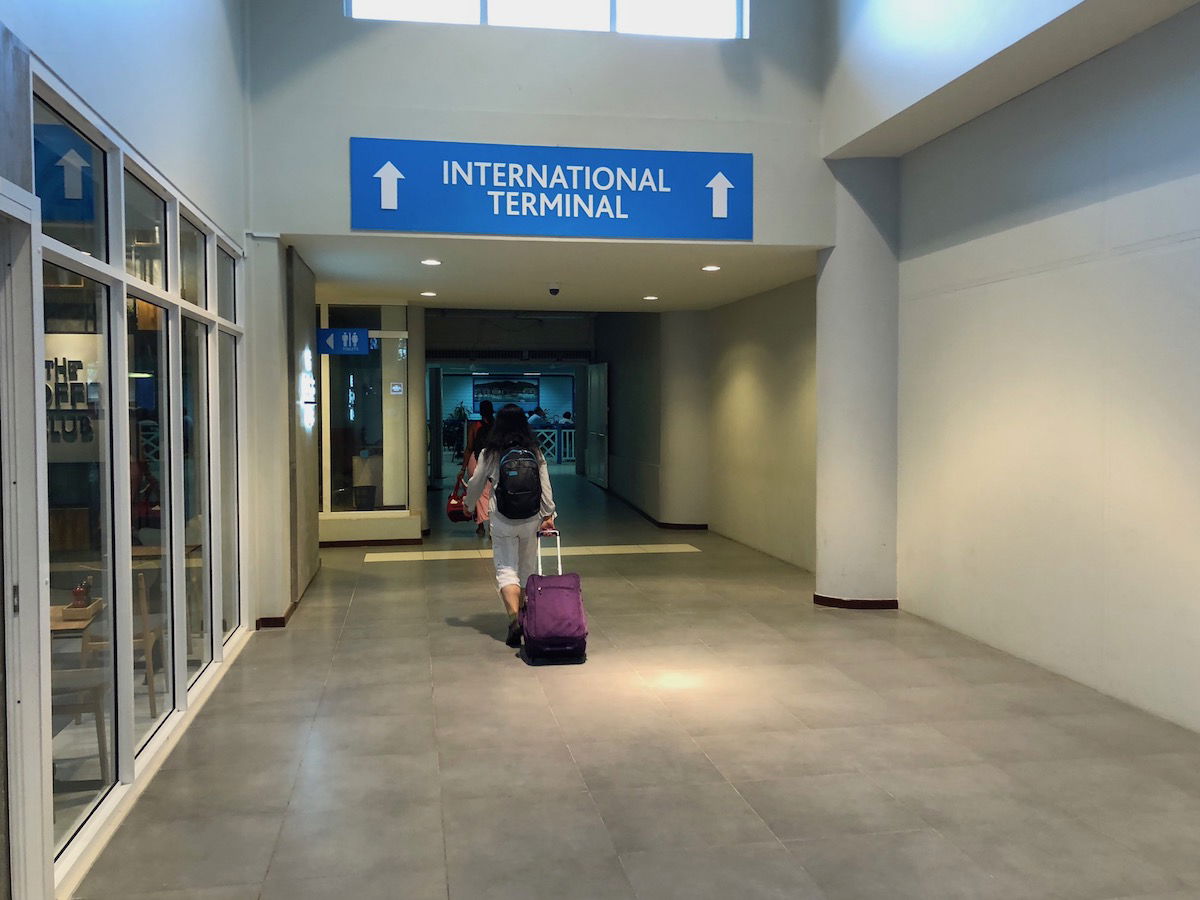 Walking to Mahe Airport international terminal
We passed the open air check-in area, and continued walking towards the other end of the airport — I had no clue where we were going.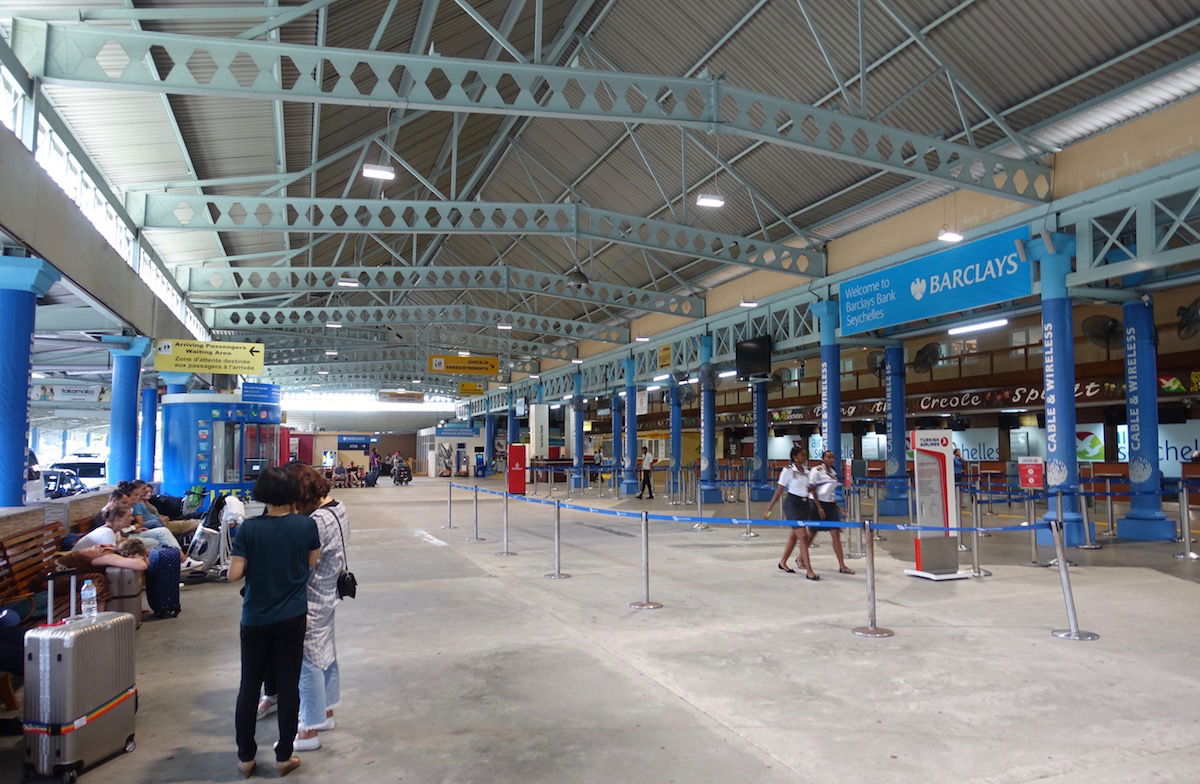 Mahe Airport international terminal
As we walked past the terminal and car rental area we walked down a small road, and then found ourselves at a gate, where our passports were checked. At this point it became apparent we were being given access to some sort of a VVIP Lounge (like The Private Suite at LAX), which was cool.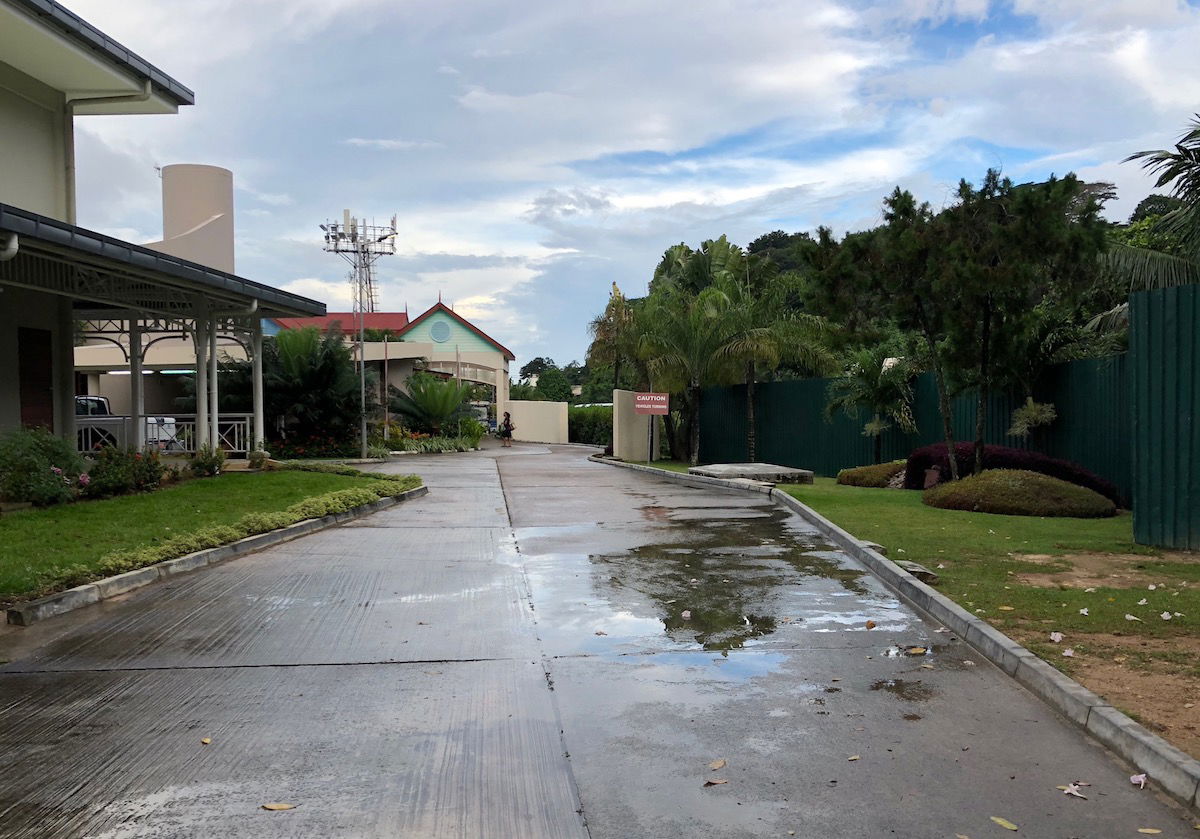 Walking to Air Seychelles VIP Terminal
The main entrance to this lounge area had a golf cart parked there, though there was no one in sight.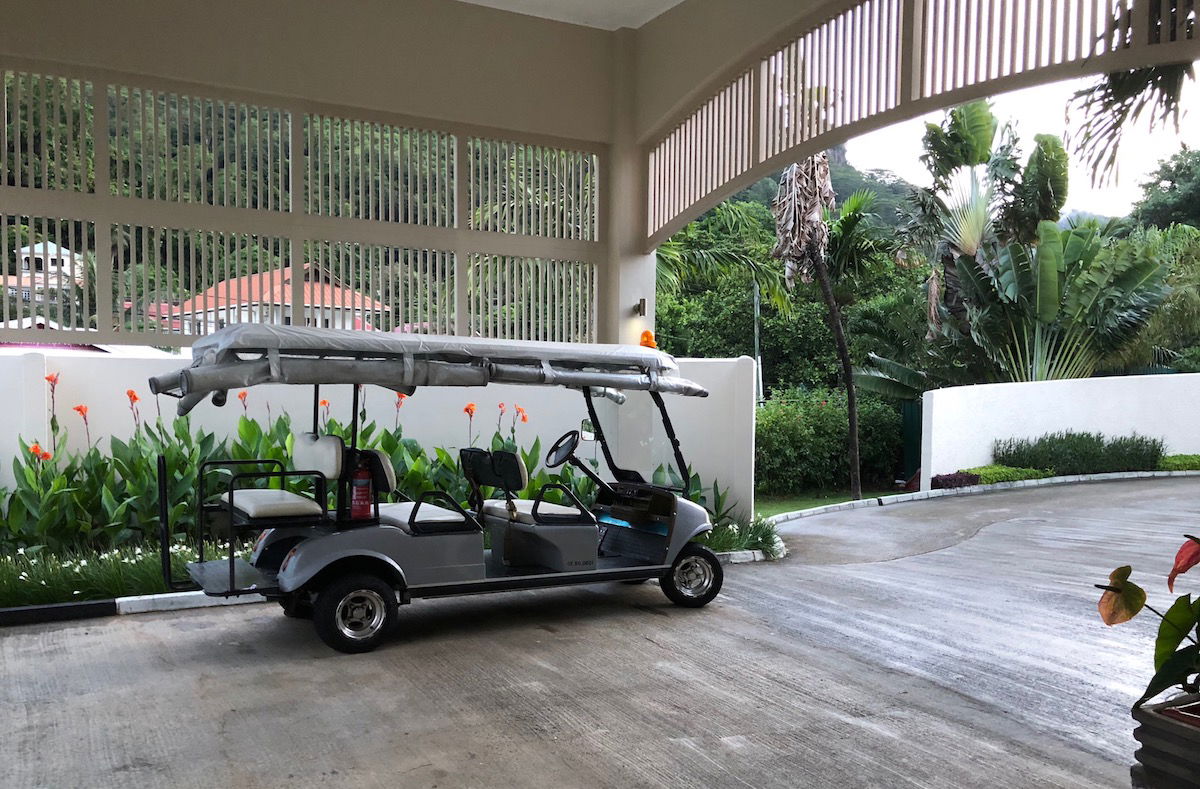 Air Seychelles VIP Lounge exterior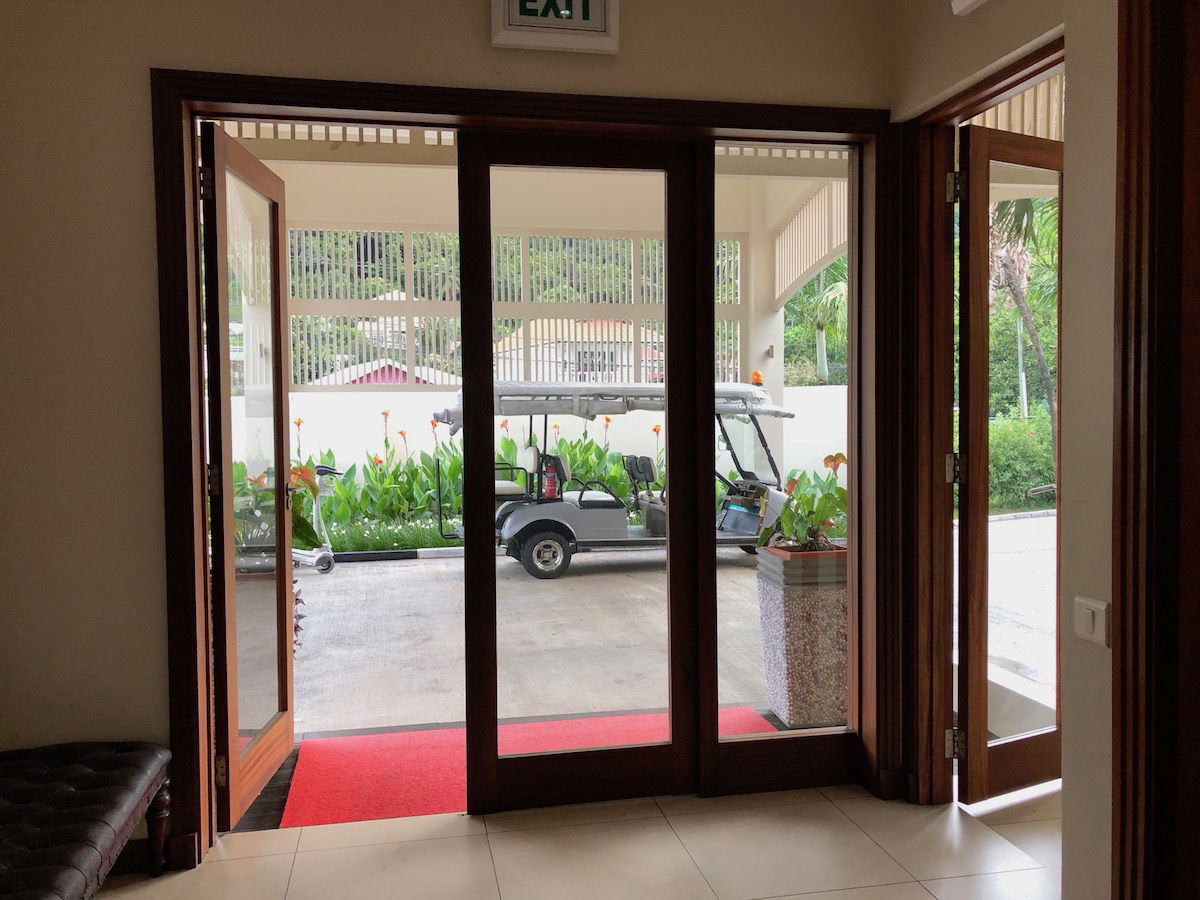 Entrance to Air Seychelles VIP Lounge
Based on doing some searching online it appears like this is the airport's VIP Lounge, different from the standard business class lounge. This lounge had four private rooms, with the intention being that each party gets a private room during their stay here. There was no one else in the lounge, so we had the main room to ourselves. The lounge had quite a bit of seating and a TV by the wall.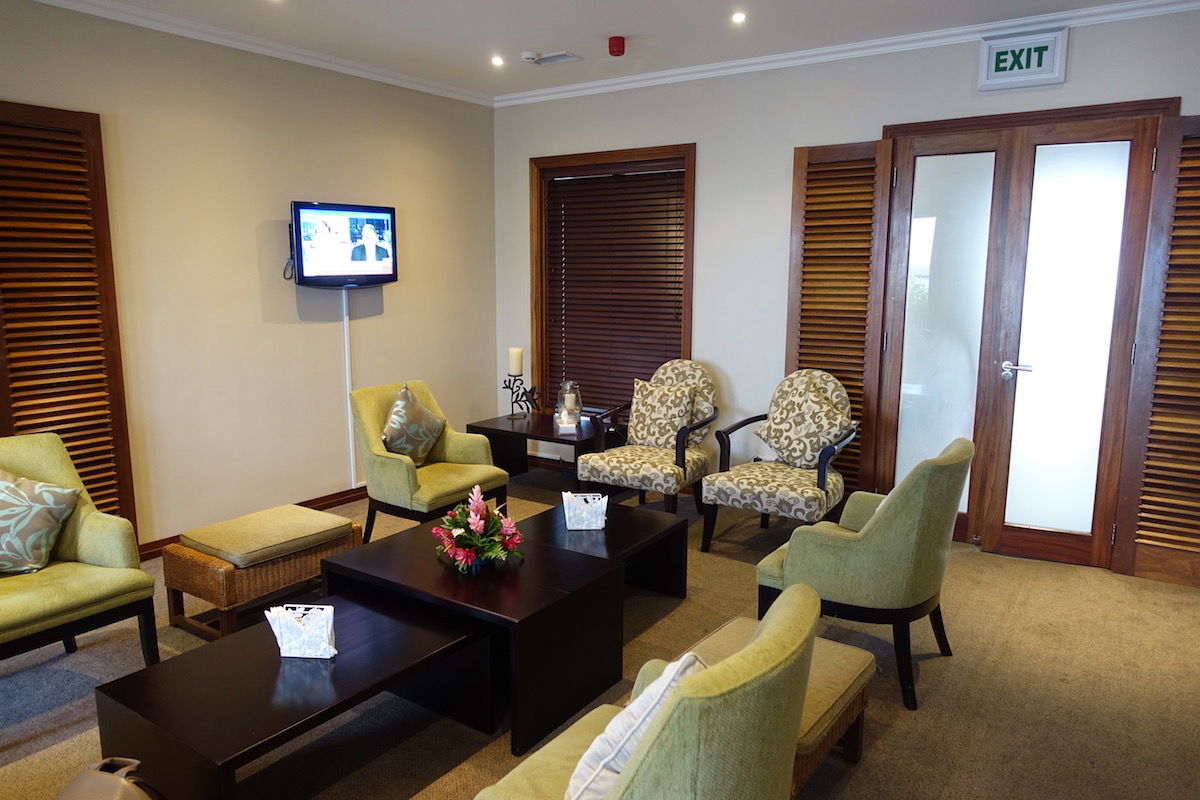 Air Seychelles VIP room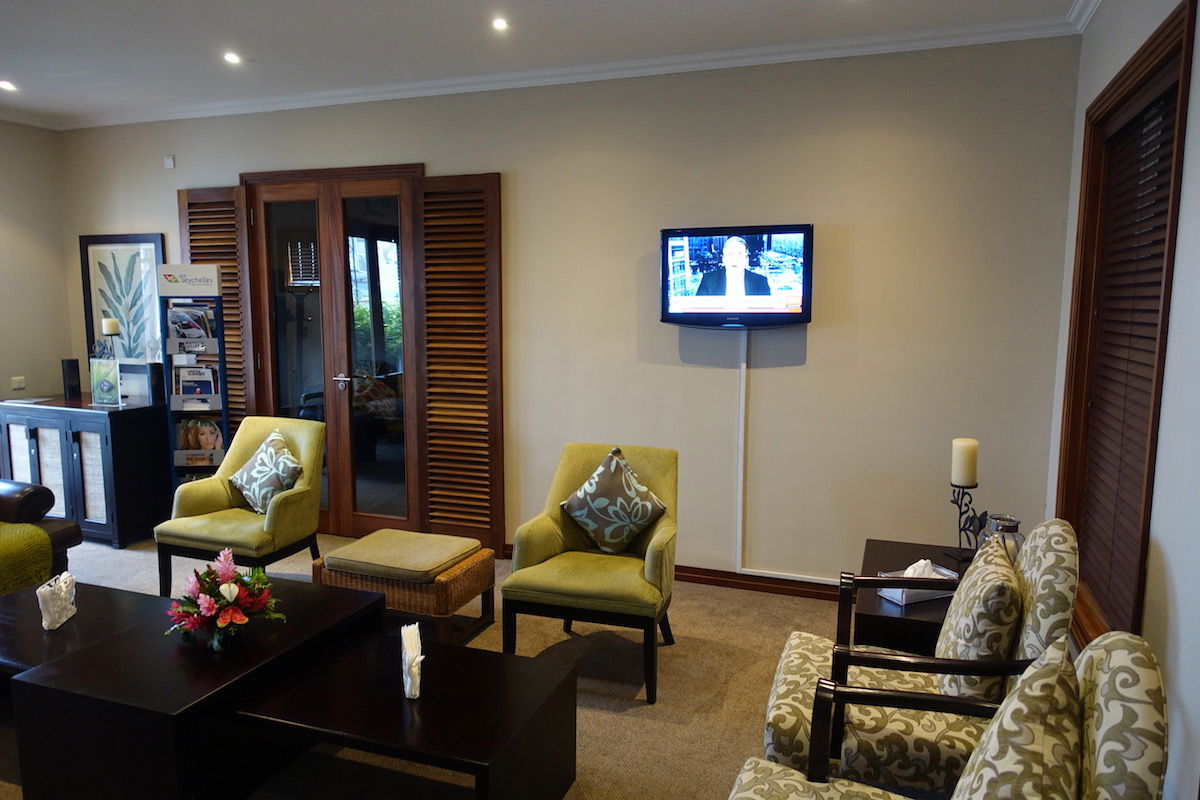 Air Seychelles VIP room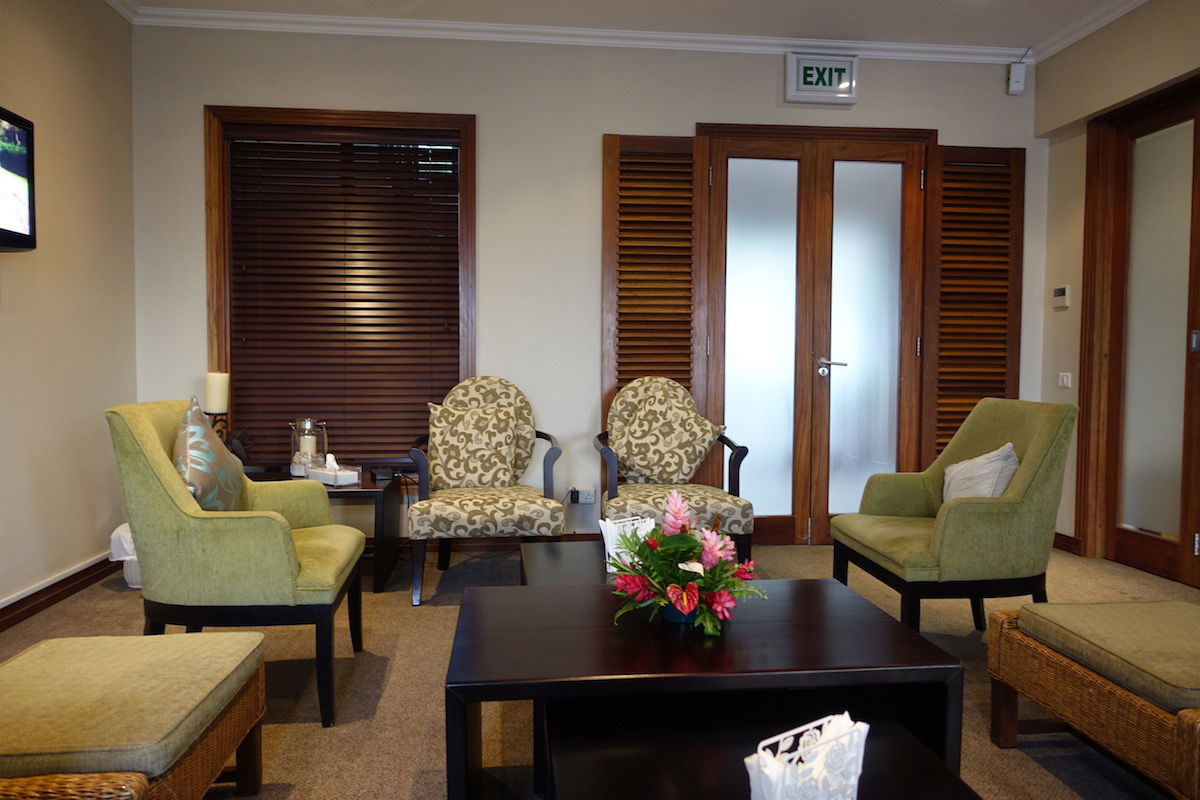 Air Seychelles VIP room
There was a smaller room off to the side, which was the only one of the other three rooms I looked at.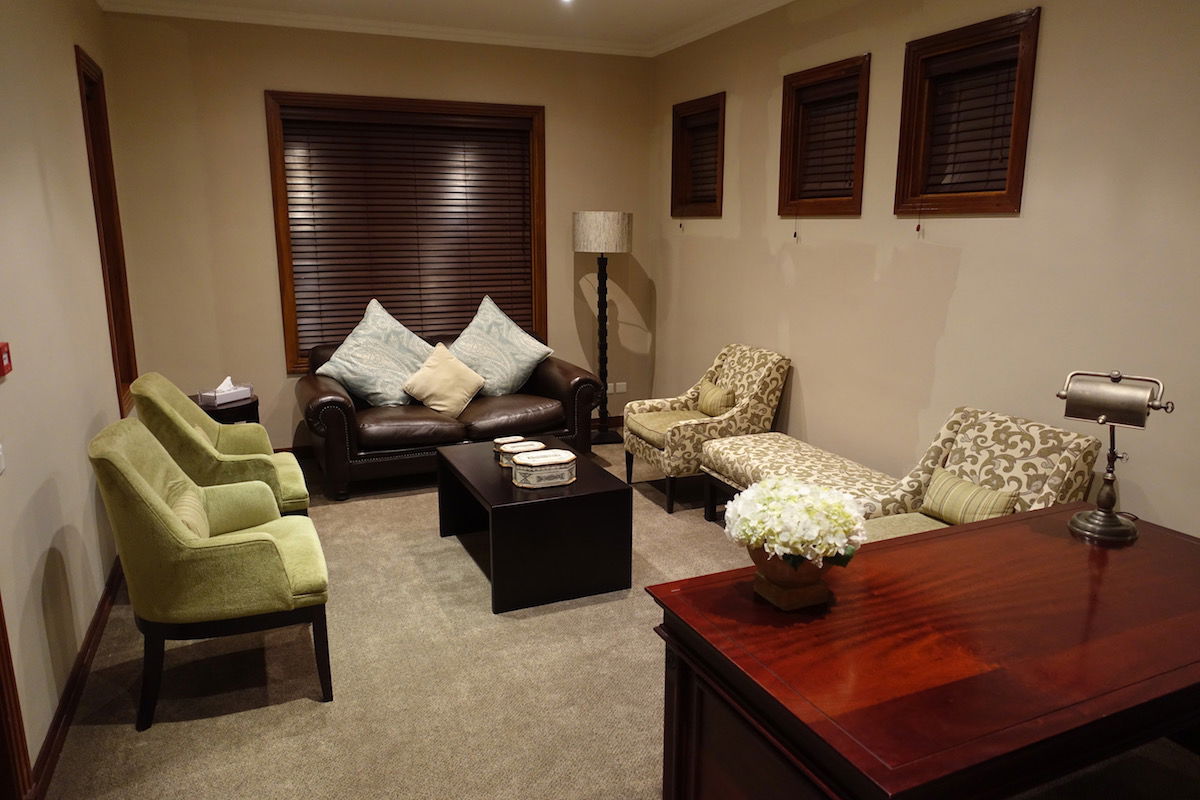 Air Seychelles VIP room
The lounges all had private bathrooms as well.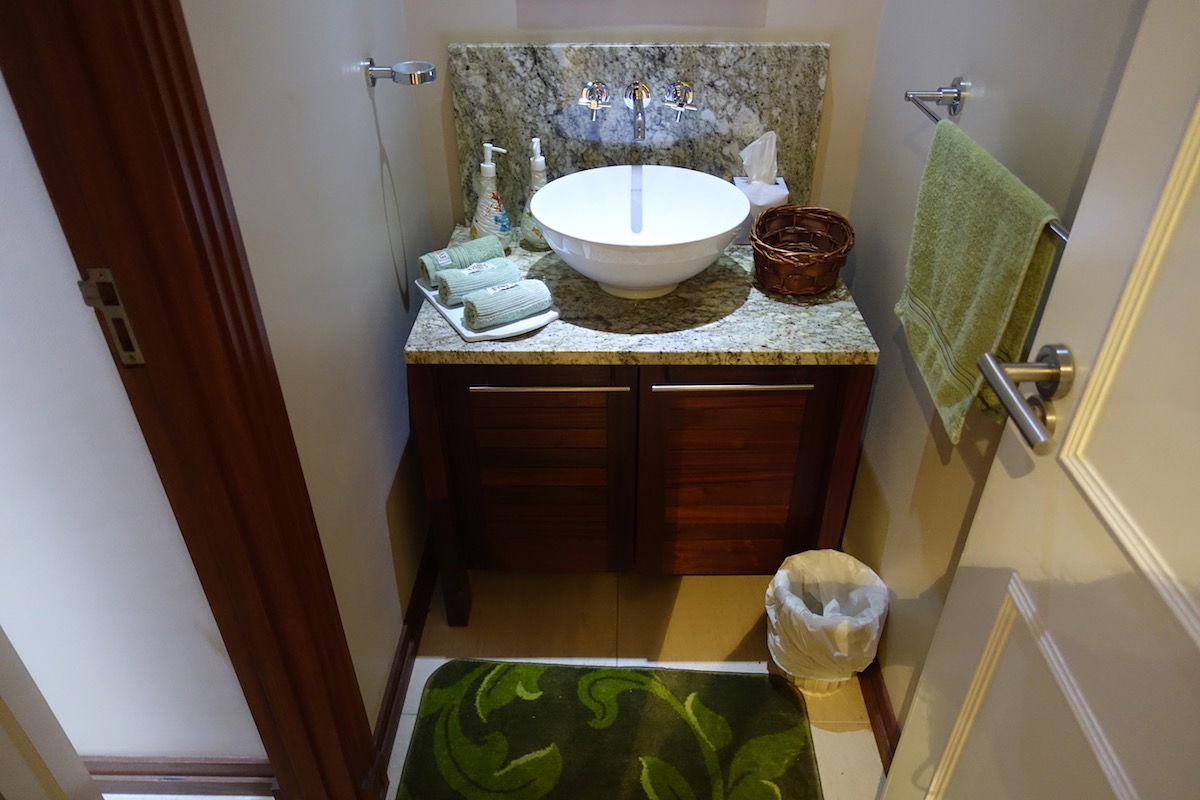 Air Seychelles VIP room bathroom
Perhaps the coolest part was that there was a door leading directly to the apron, where they take you when the flight is ready for boarding.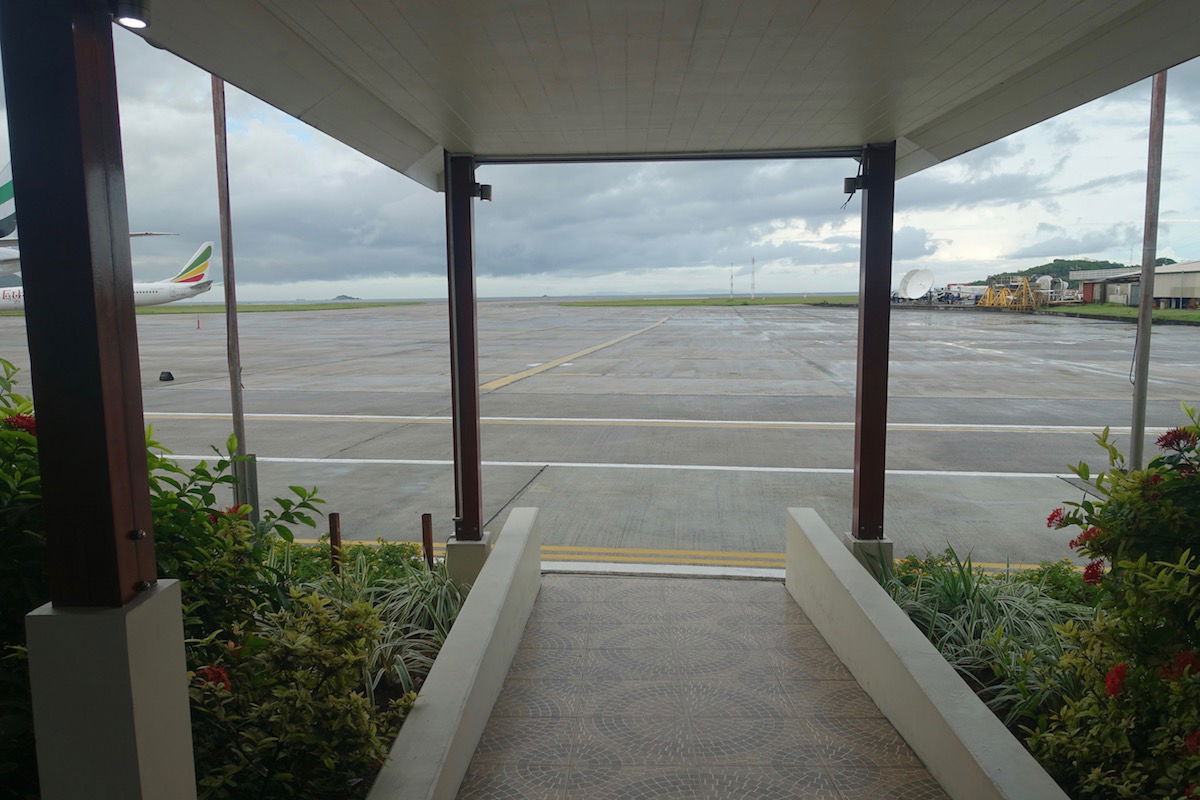 Direct access to apron from VIP lounge
Once we were settled in the Four Seasons representative handed us over to the lounge attendant and bid us farewell. The lounge attendant presented us with a drink list, which read as follows: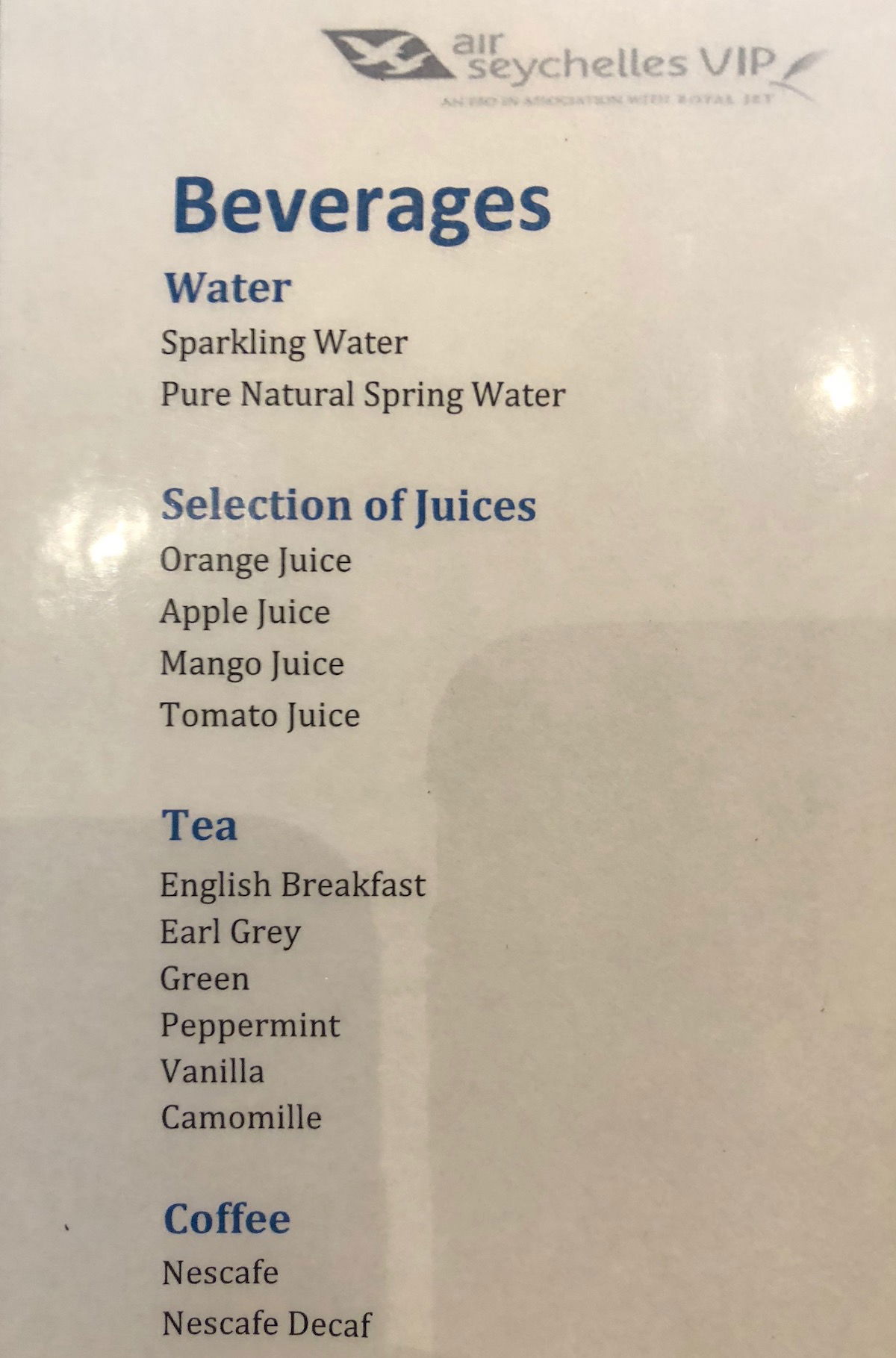 We were offered cold towels, and each ordered a sparkling water.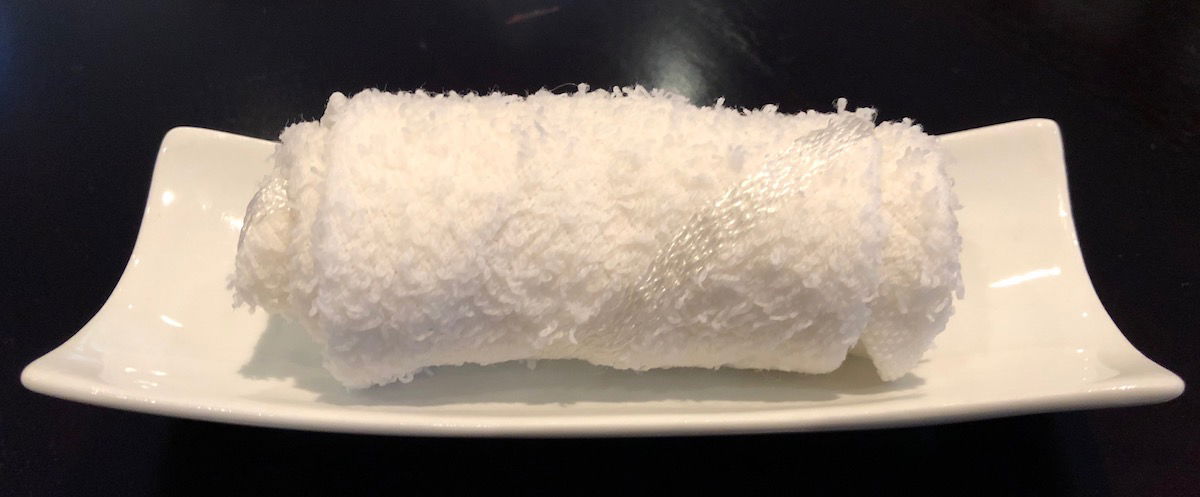 Air Seychelles VIP lounge cold towel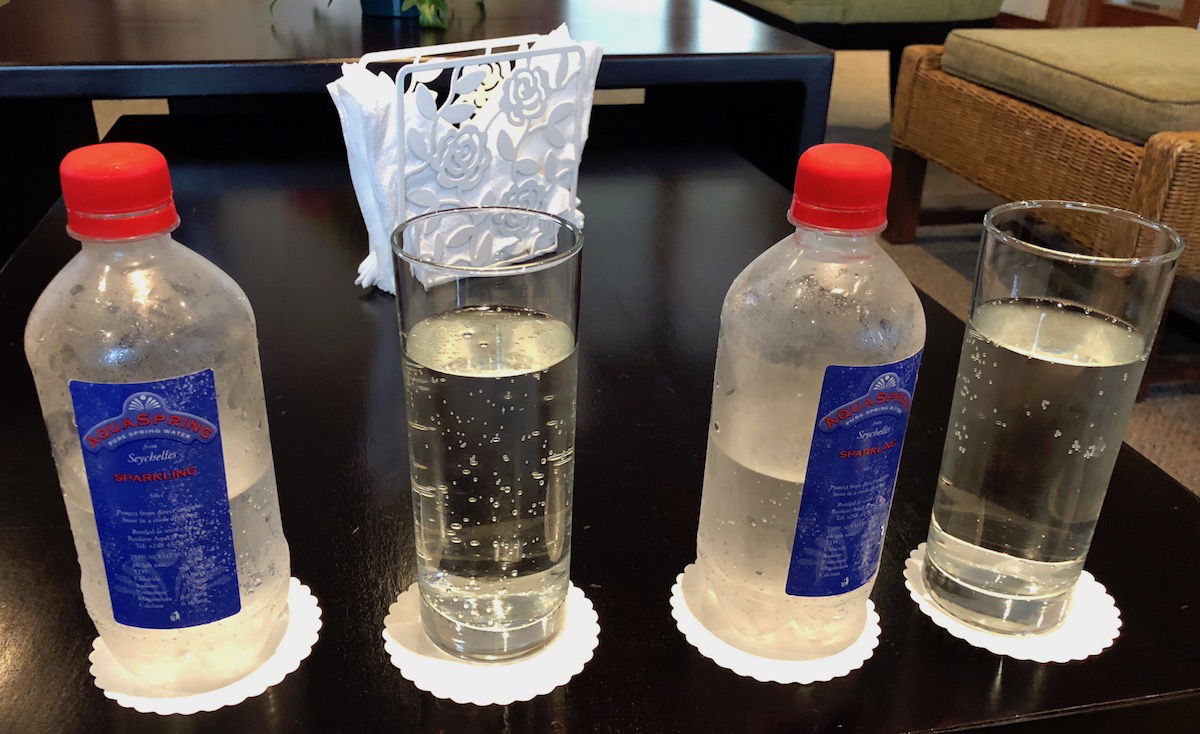 Air Seychelles VIP lounge drinks
There was Wi-Fi in the lounge which was fast, though there was no food or alcohol (I imagine that could be arranged, but since Four Seasons has presumably negotiated some sort of a contract with the facility, I'm guessing that wasn't offered — the normal cost for this service is apparently $230 per person).
A few minutes later another representative showed up and asked for our passports, so he could check us in. He asked if we wanted to stay in this lounge until boarding, or if we wanted to visit the main business class lounge. I said that we wanted to also check out the main business class lounge, as that would be the most useful review for the blog.
Rather oddly the representatives disappeared, and we didn't see anyone for the next hour. I found it strange because we walked into the other room, and into the office, but there was no one anywhere. We could have just walked right out onto the runway if we wanted to.
One of the benefits of the lounge is that they offer immigration and security from the lounge, which sounds like a nice feature, though it wasn't terribly well organized. At 6:45PM the representative brought an immigration officer to us. He looked at us and then left again.
Once again there was no one in sight for almost 45 minutes, until 7:30PM, when we were told it was time to go to the main lounge. The lounge has a private security checkpoint, though the guy told us it would be about 10 minutes until the security people showed up to screen us. Once screened we were driven in a golf cart to the main part of the terminal, which was fun.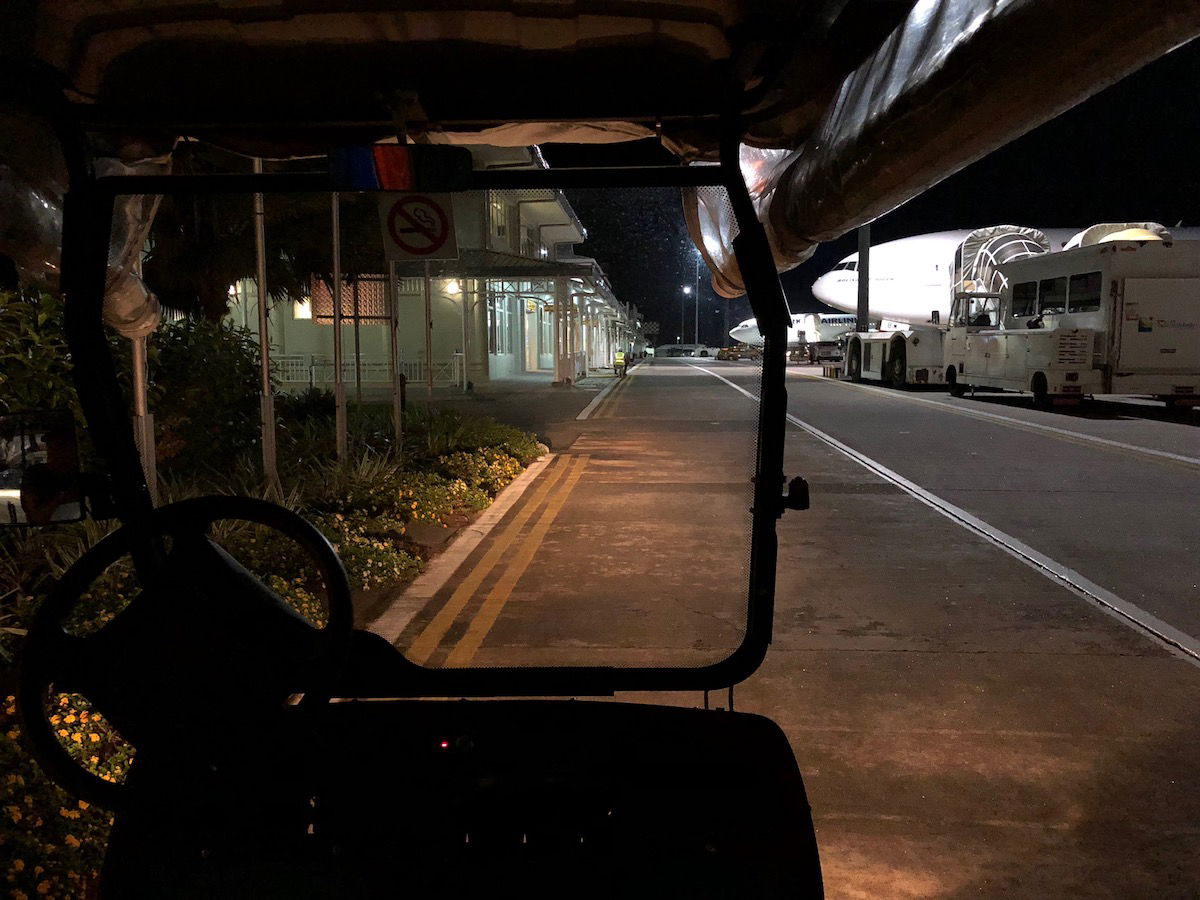 Golf cart to lounge
The airport's terminal was quite small, and we followed the signage towards the lounge, which was up one level from the main concourse.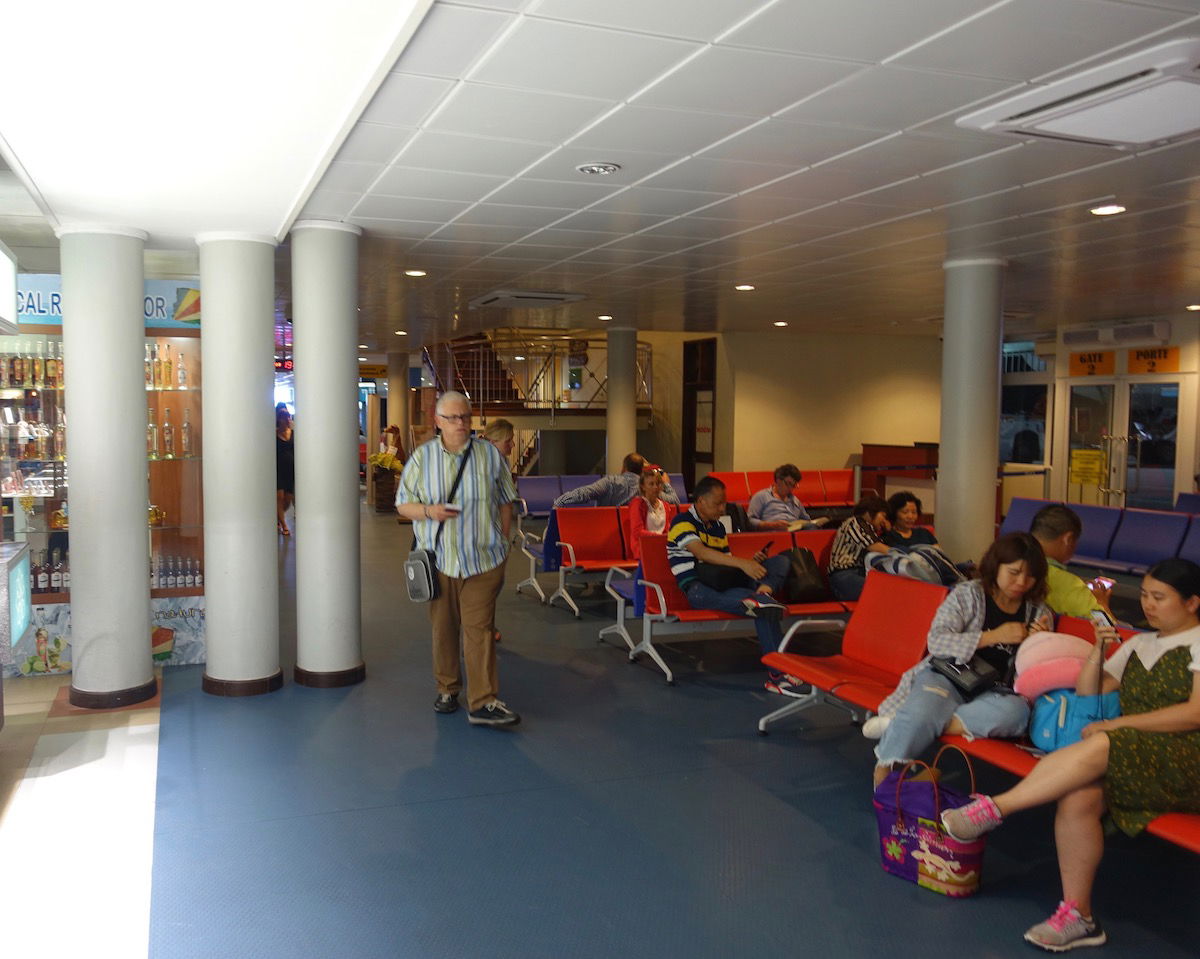 Seychelles International Airport terminal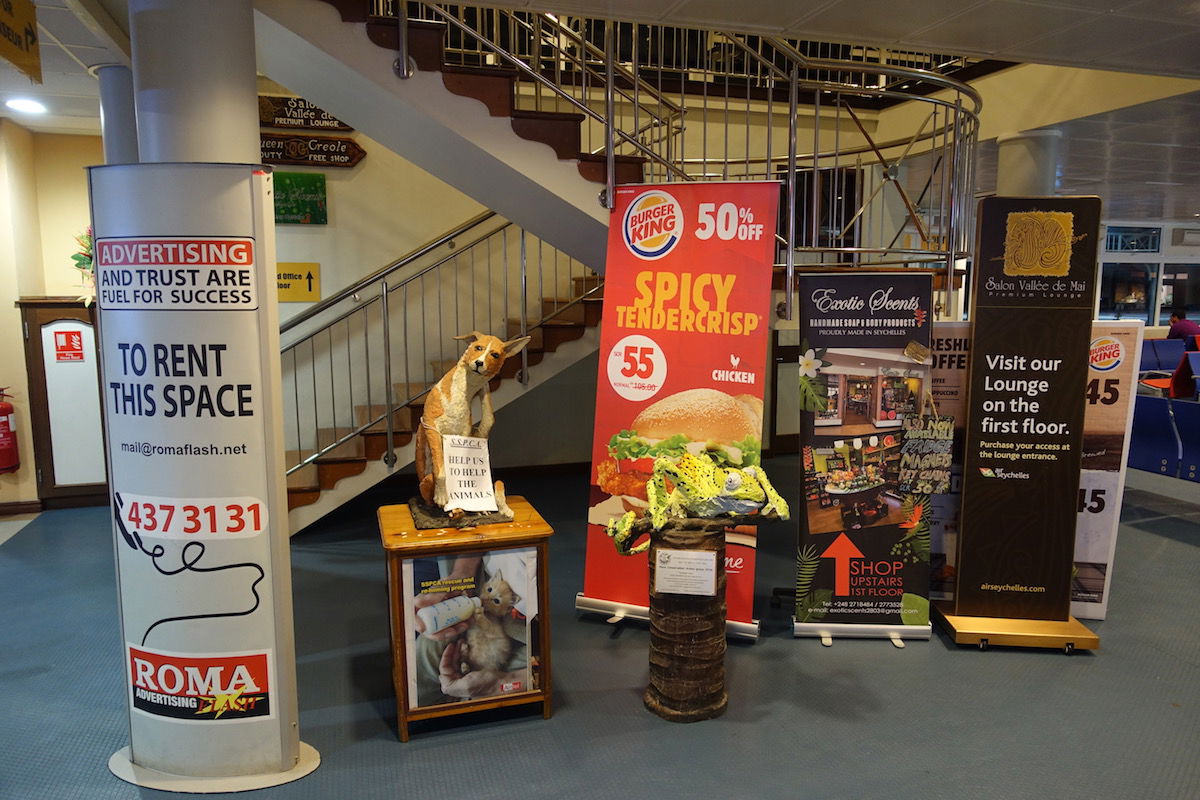 Stairs to Air Seychelles lounge
On the second floor of the terminal was more seating, and then right across from the stairs was the entrance to the Air Seychelles Lounge, which is used by all airlines flying to the airport.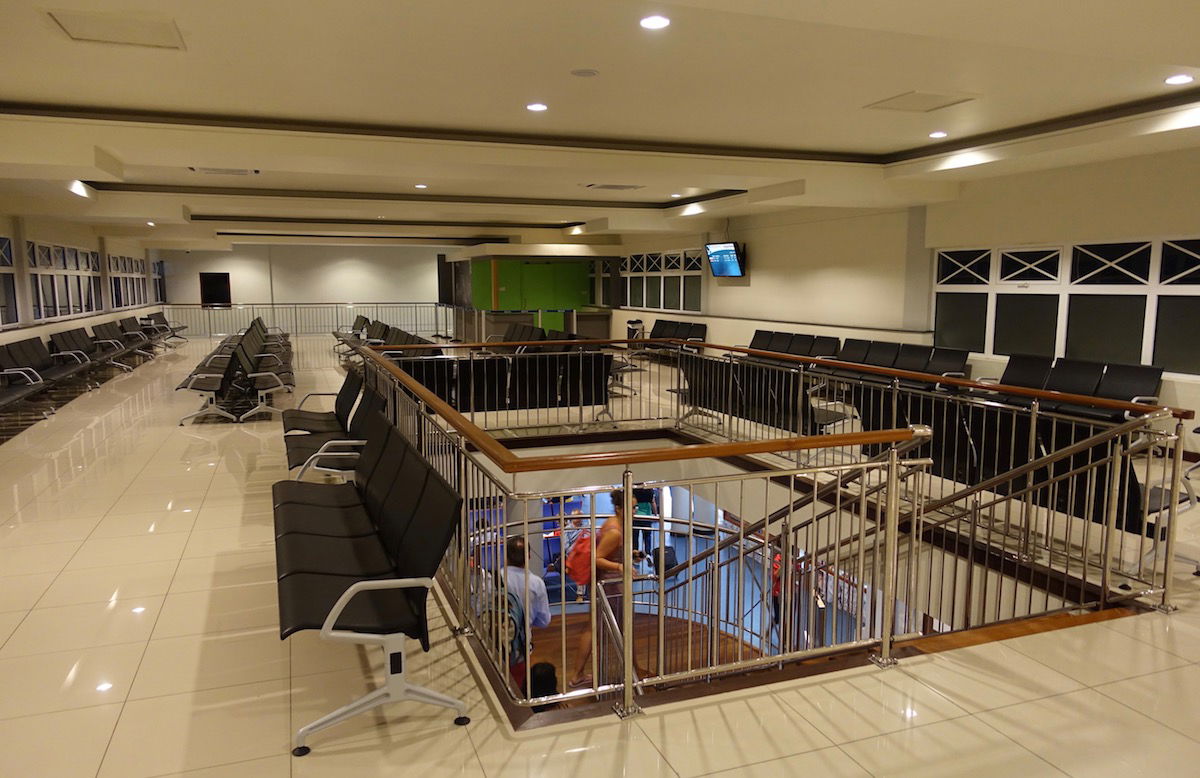 Seychelles International Airport terminal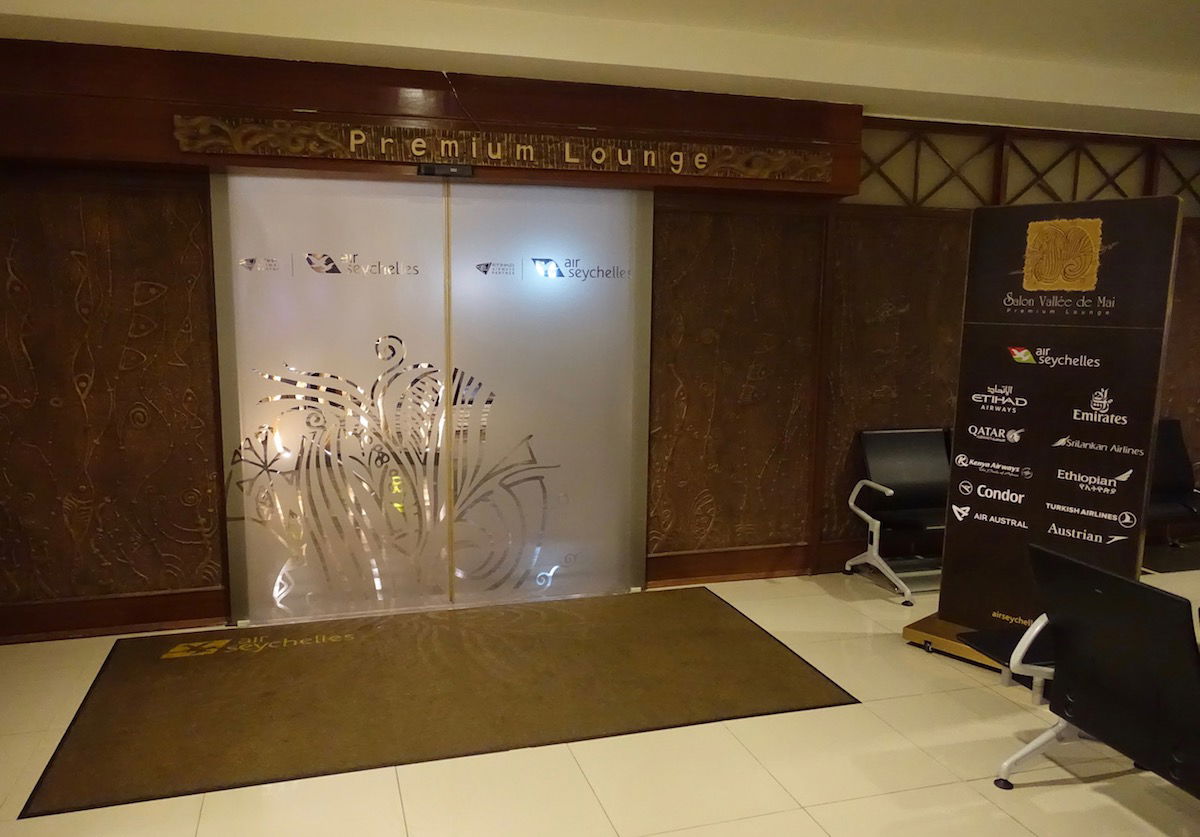 Seychelles Airport lounge exterior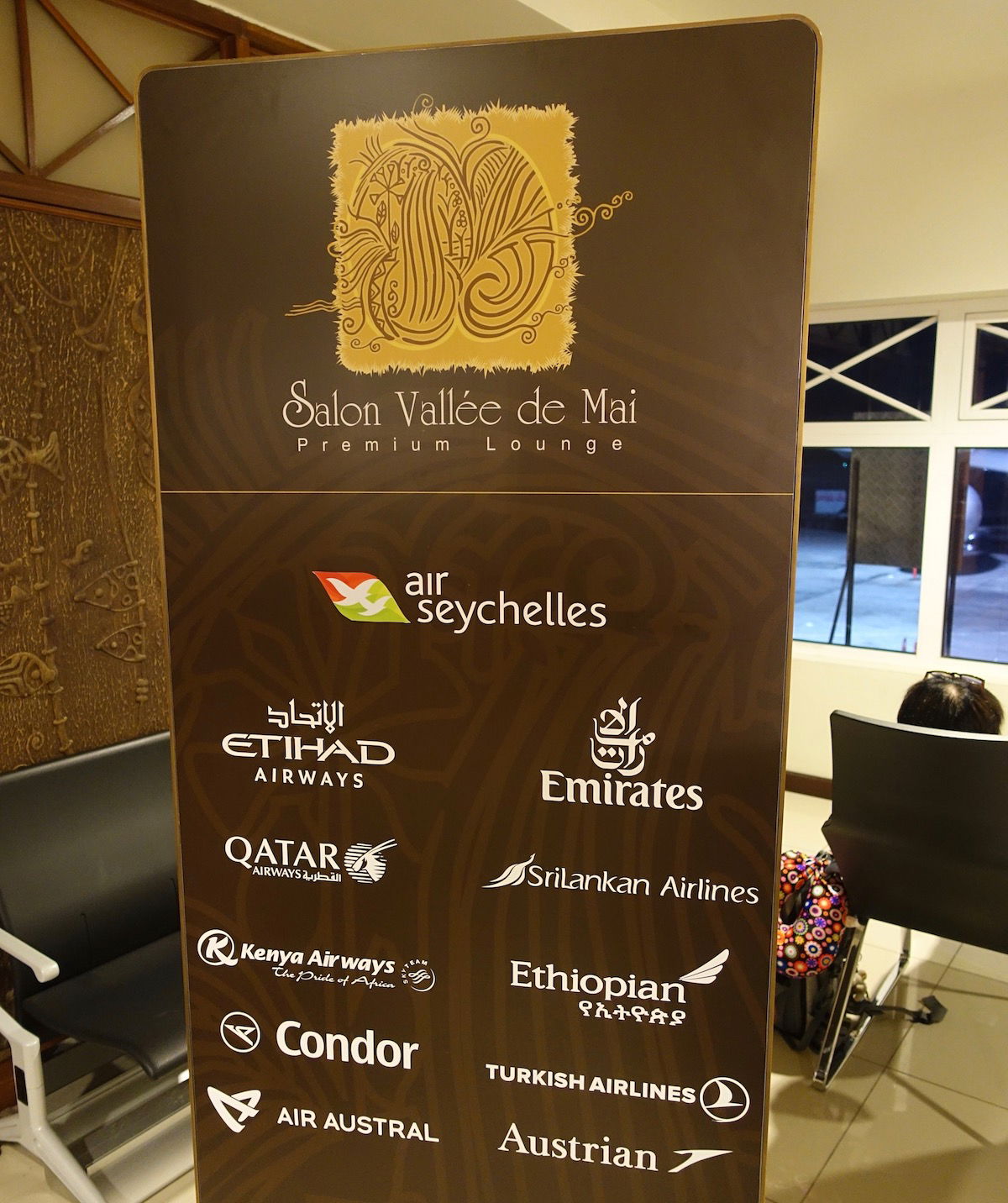 Seychelles Airport lounge signage
At the entrance the lady working at the desk couldn't have been ruder. We handed her our boarding passes.
"Where is your invitation?"
"We weren't given any, but we are in business class."
"Were you a free upgrade?"
"No, we just used the airport VIP service and they got our boarding passes, but didn't give us invitations."
It wasn't what she said as much as her tone that annoyed me. She rolled her eyes, didn't say anything, and motioned for us to enter the lounge. Not exactly Creole hospitality!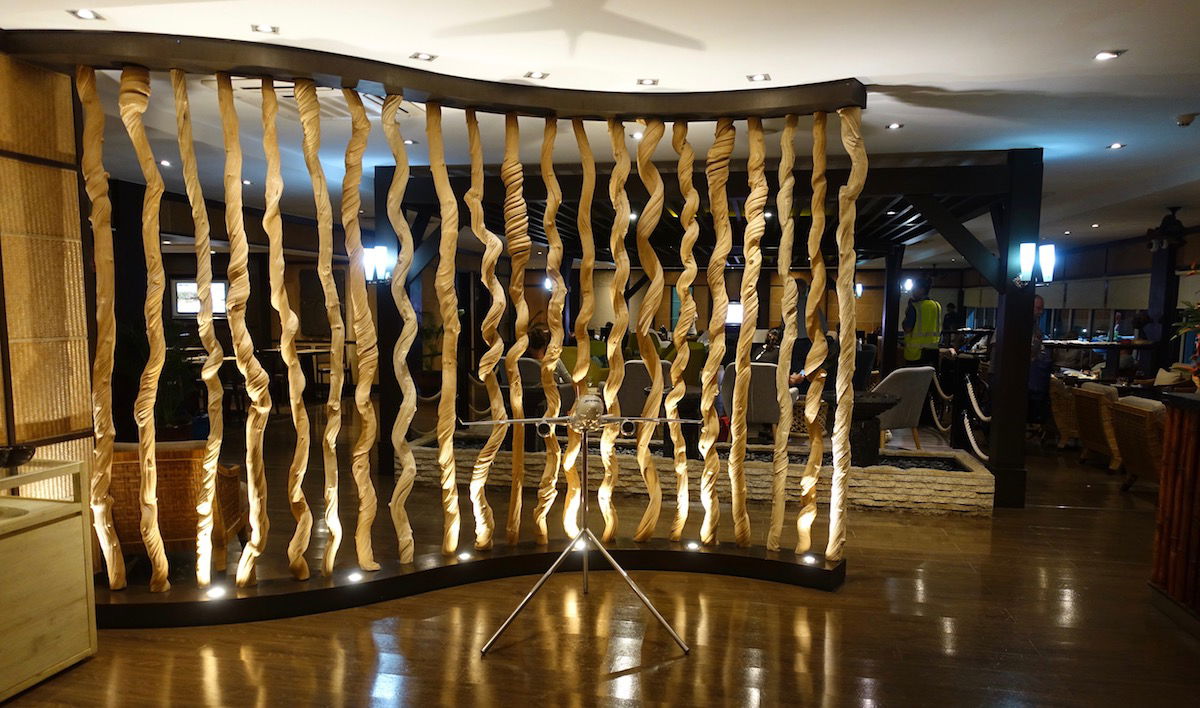 Air Seychelles lounge entrance
Generally I quite liked the decor of the lounge. It felt tropical without feeling run down or cheesy. There was plenty of seating along the windows.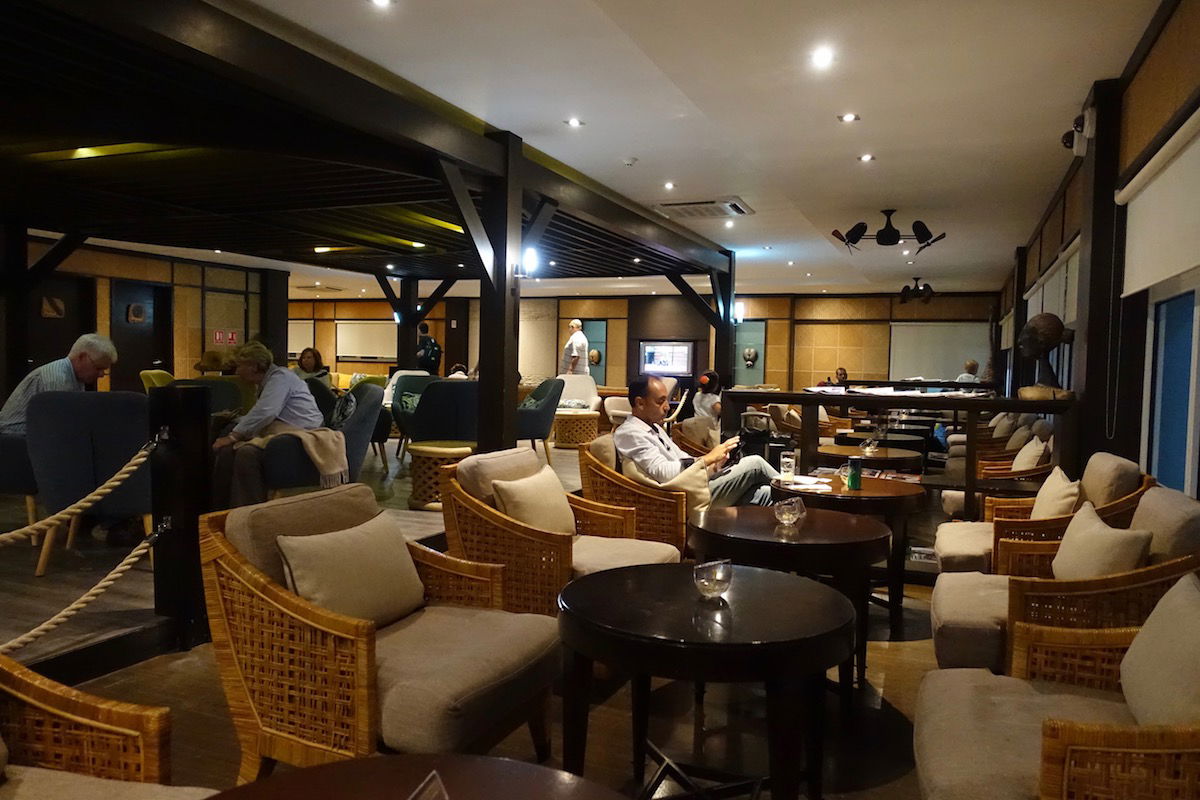 Air Seychelles lounge seating
The windows had a direct view of the Turkish A330 that would be flying us to Istanbul.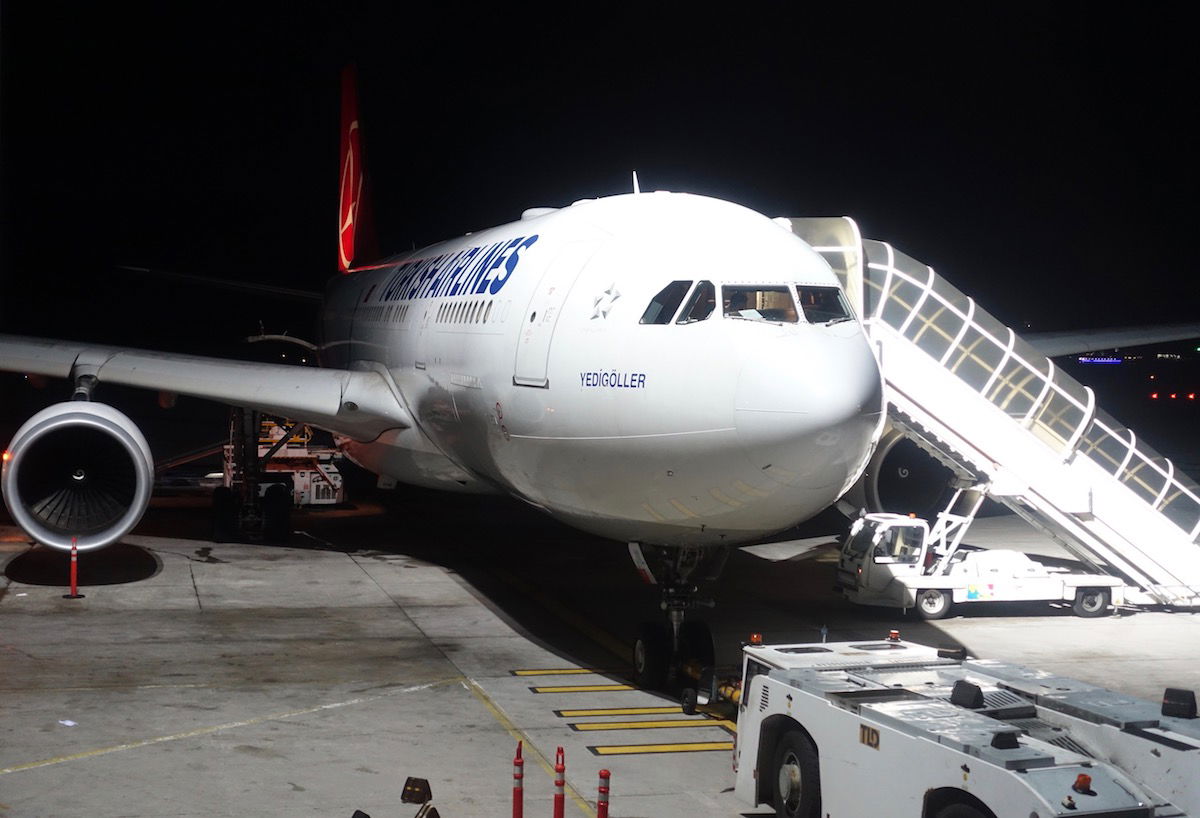 Turkish A330 Seychelles Airport
Then further into the lounge was an area with TVs, and a lot more seating.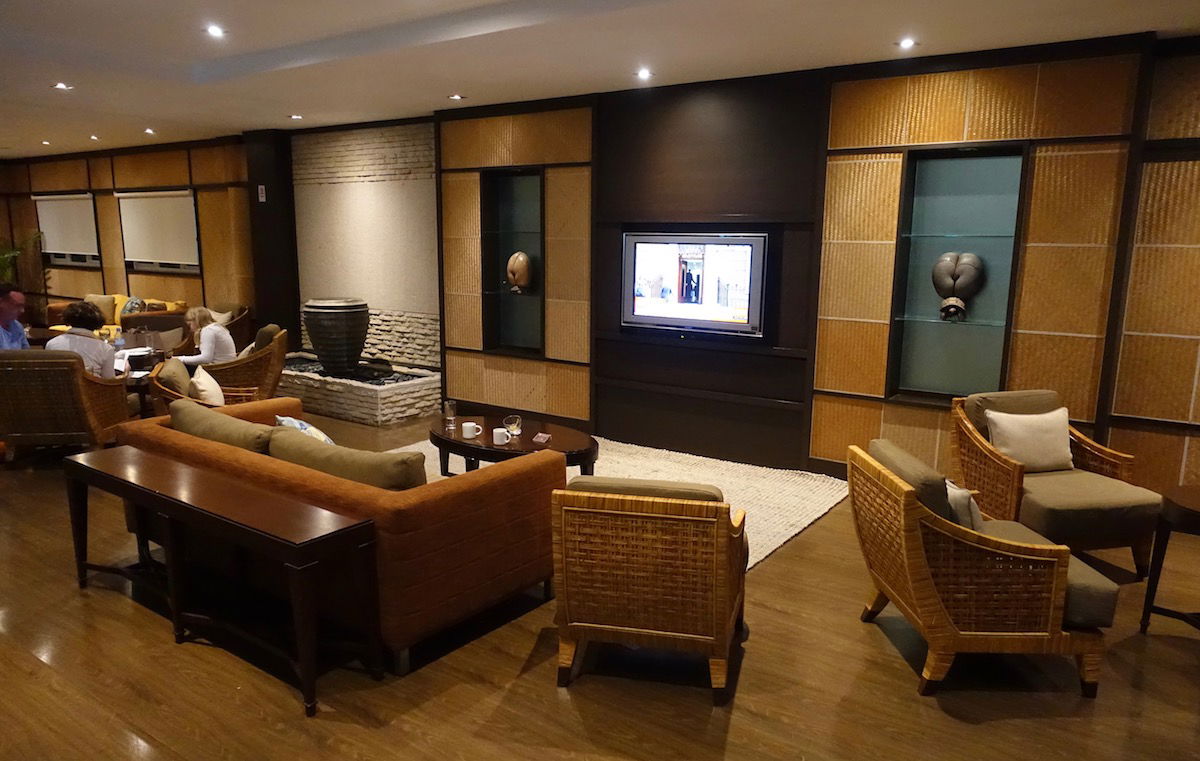 Air Seychelles lounge seating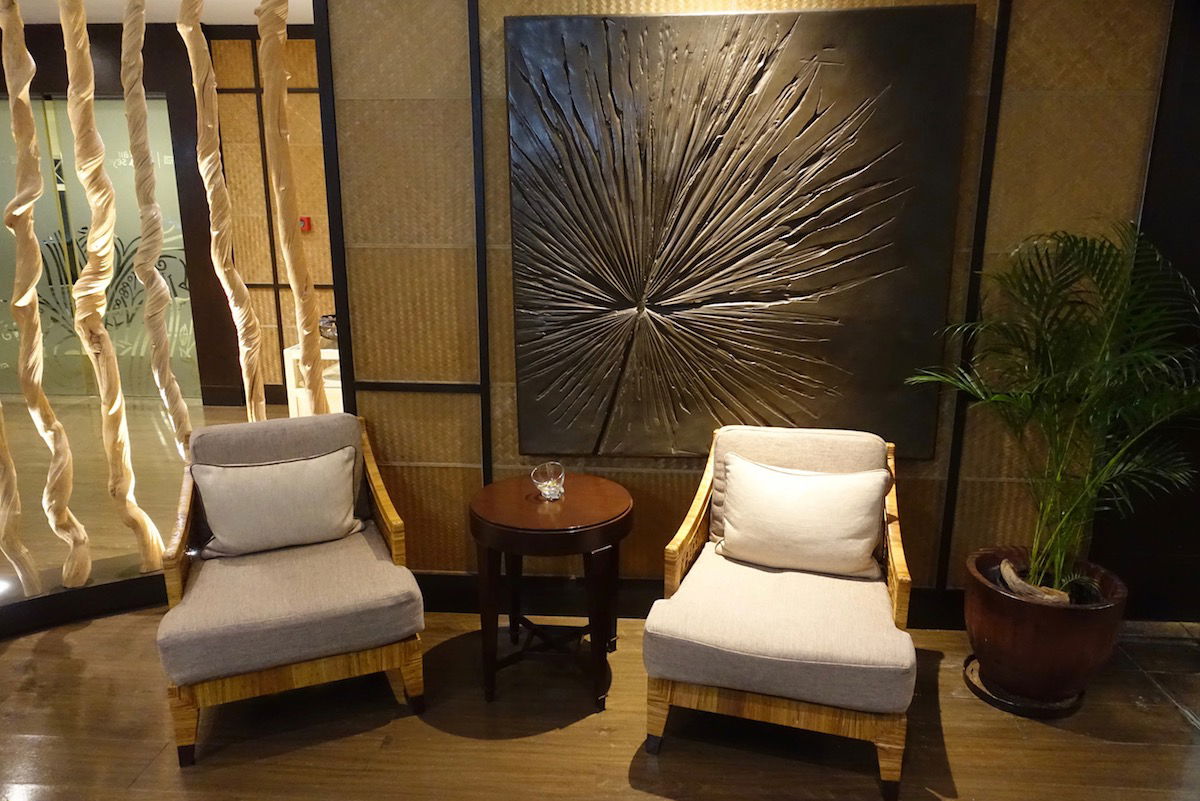 Air Seychelles lounge seating
Along the center of the lounge was an elevated seating area, which had a couple of dozen more seats.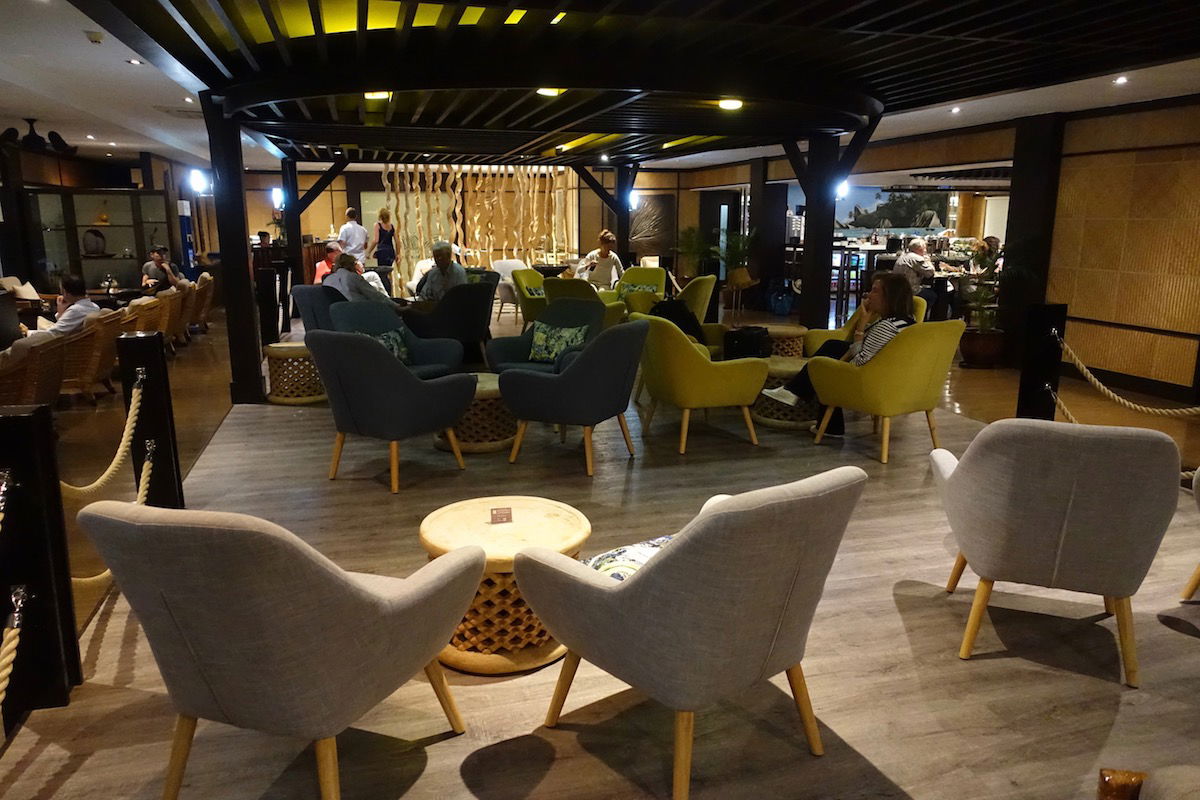 Air Seychelles lounge seating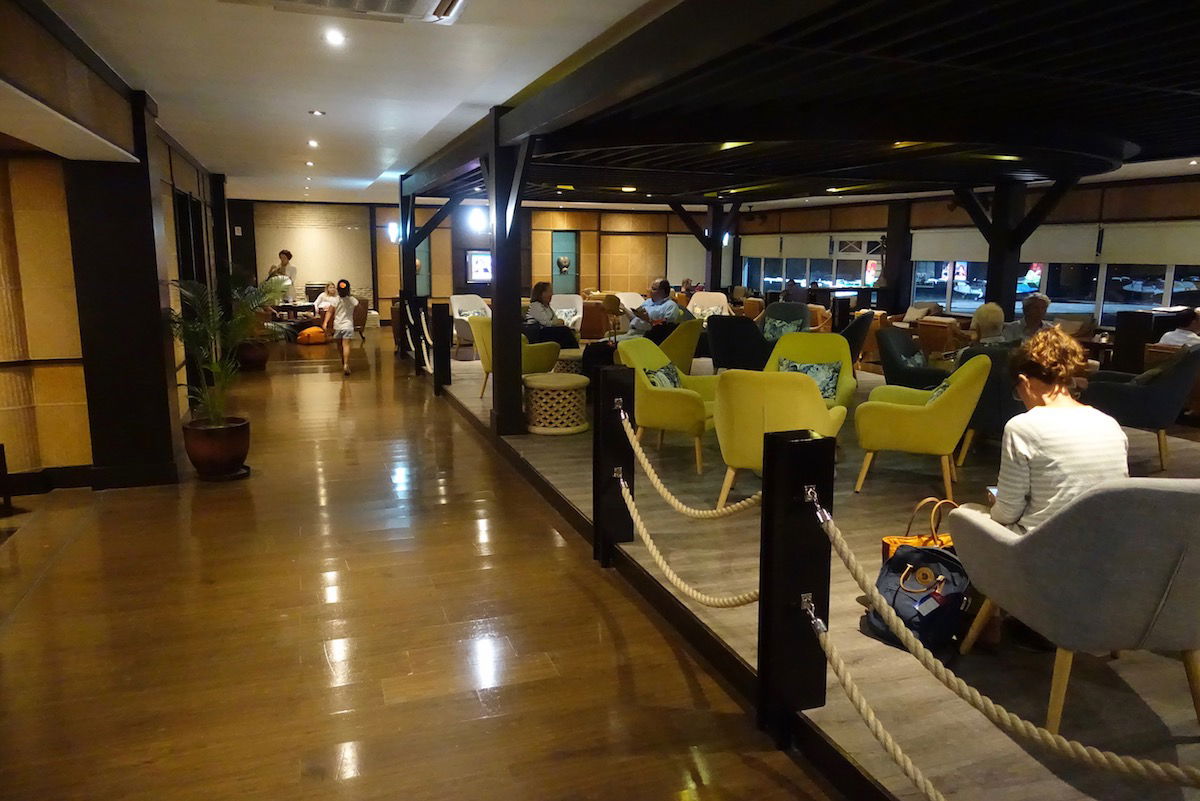 Air Seychelles lounge
The buffet was along the interior wall of the lounge, and the selection wasn't very impressive.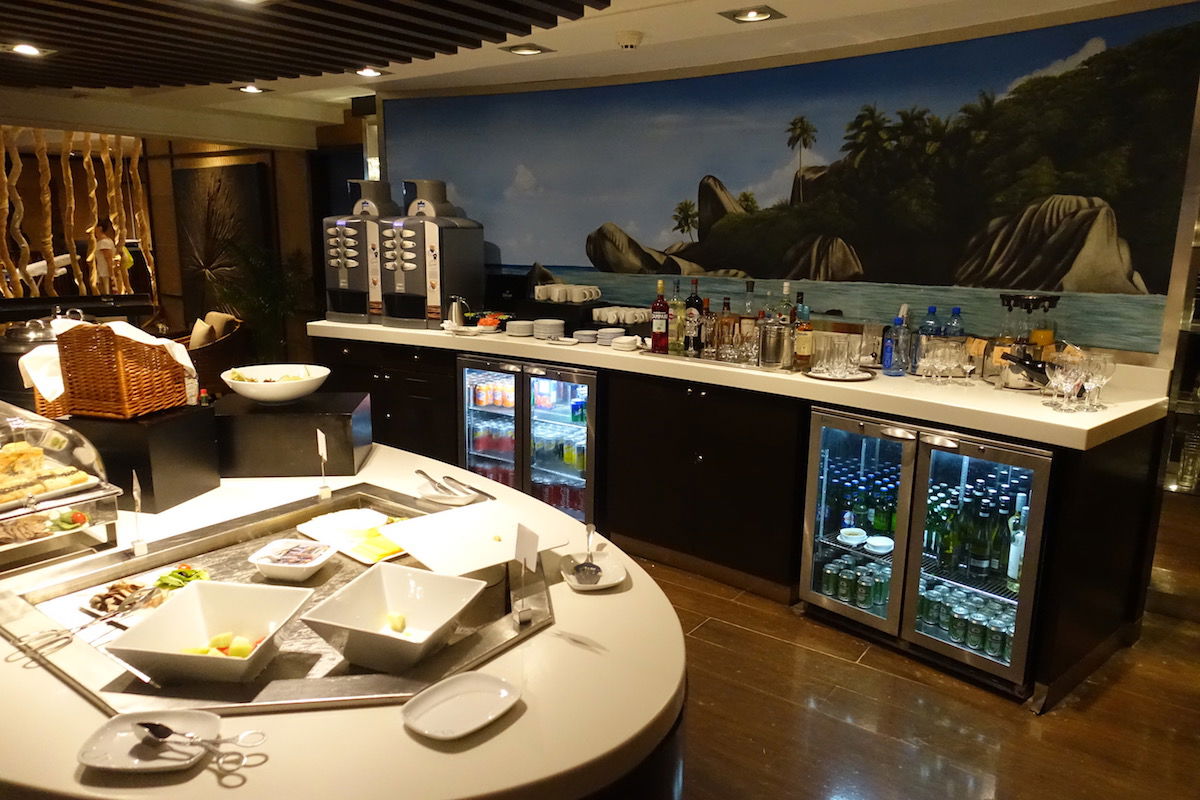 Seychelles Airport lounge buffet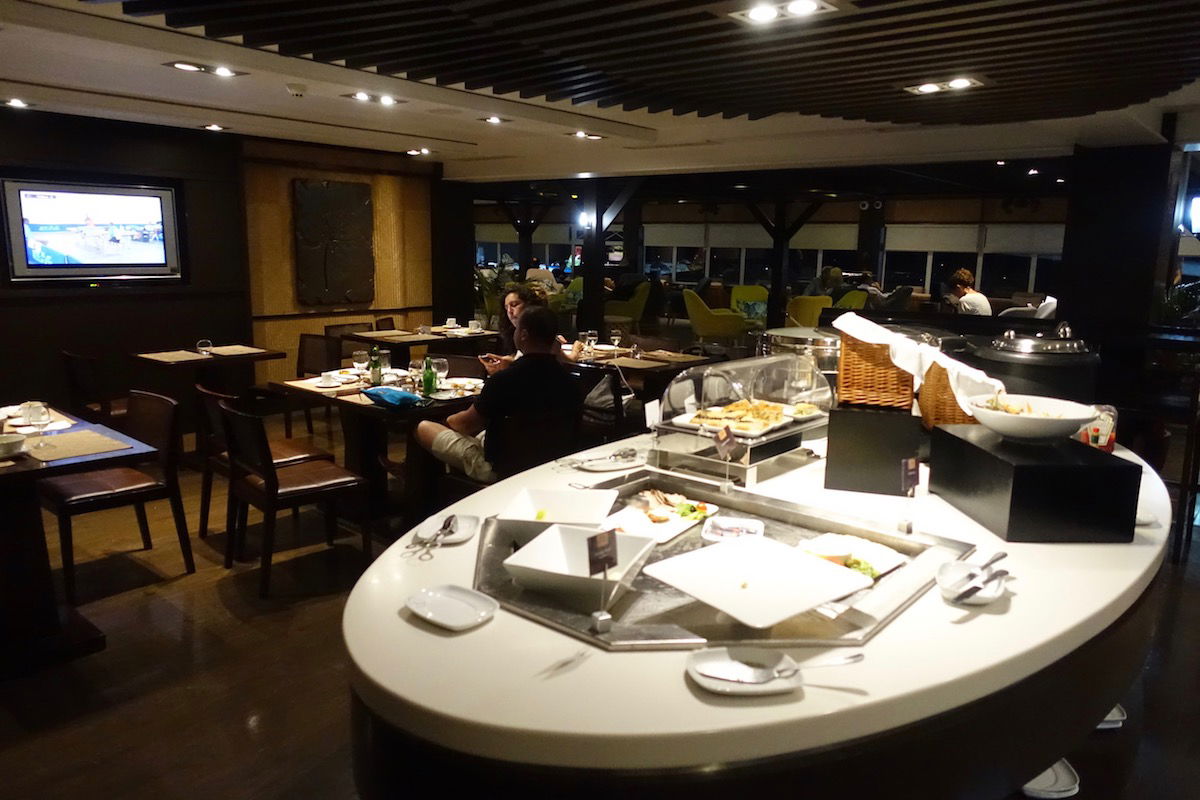 Seychelles Airport lounge buffet
To drink there was a selection of liquor (including the local rum), beer, wine, soda, water, juice, and two coffee machines.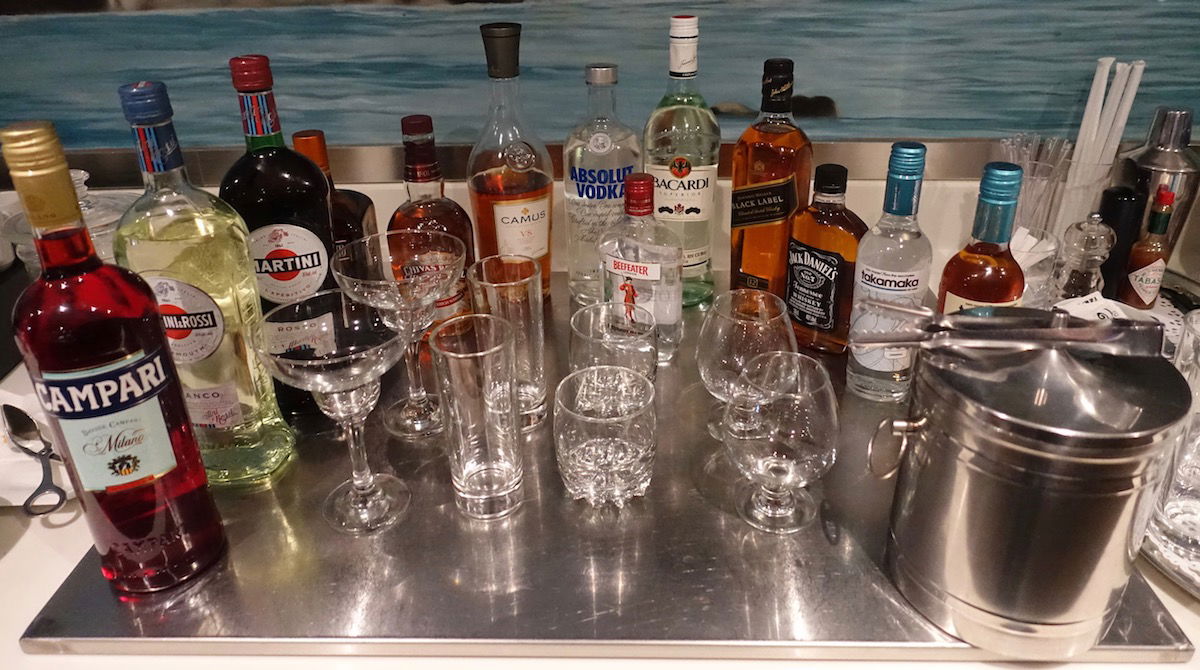 Seychelles Airport lounge liquor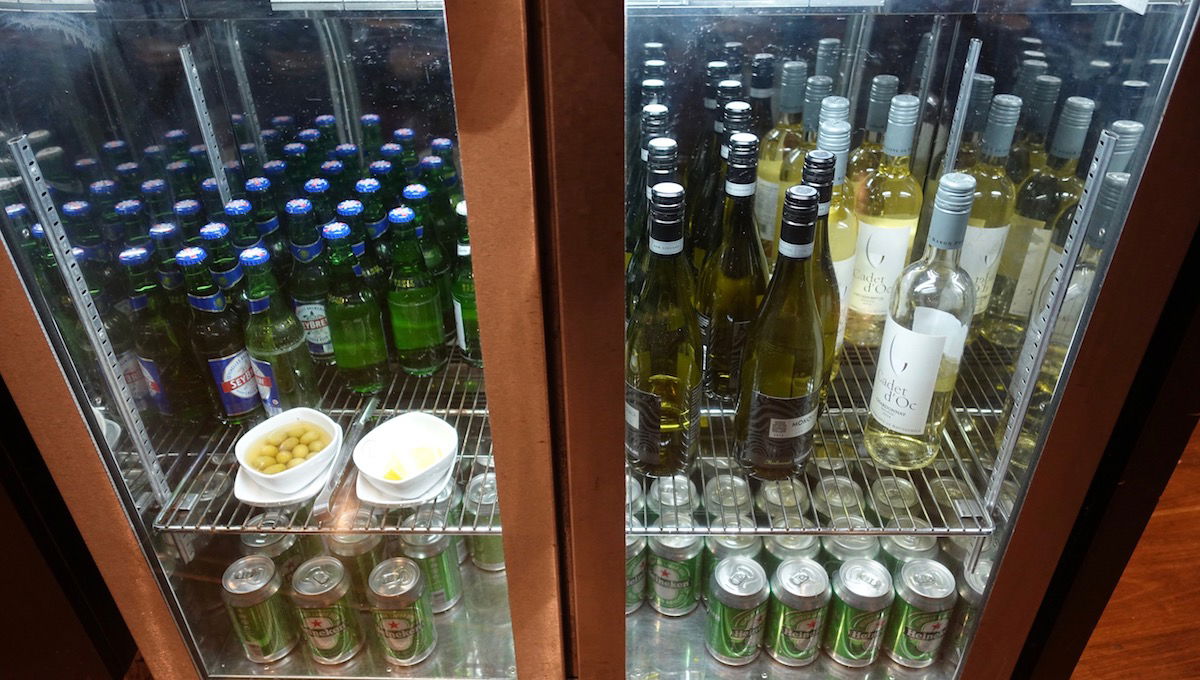 Seychelles Airport lounge beer & wine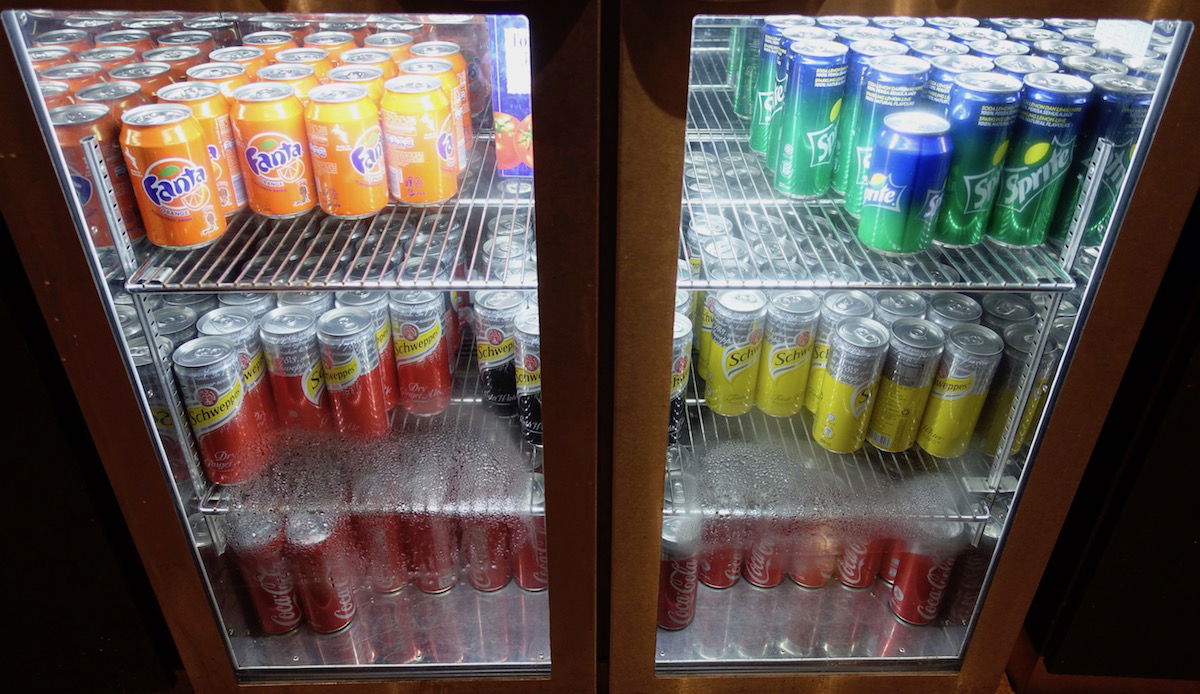 Seychelles Airport lounge drinks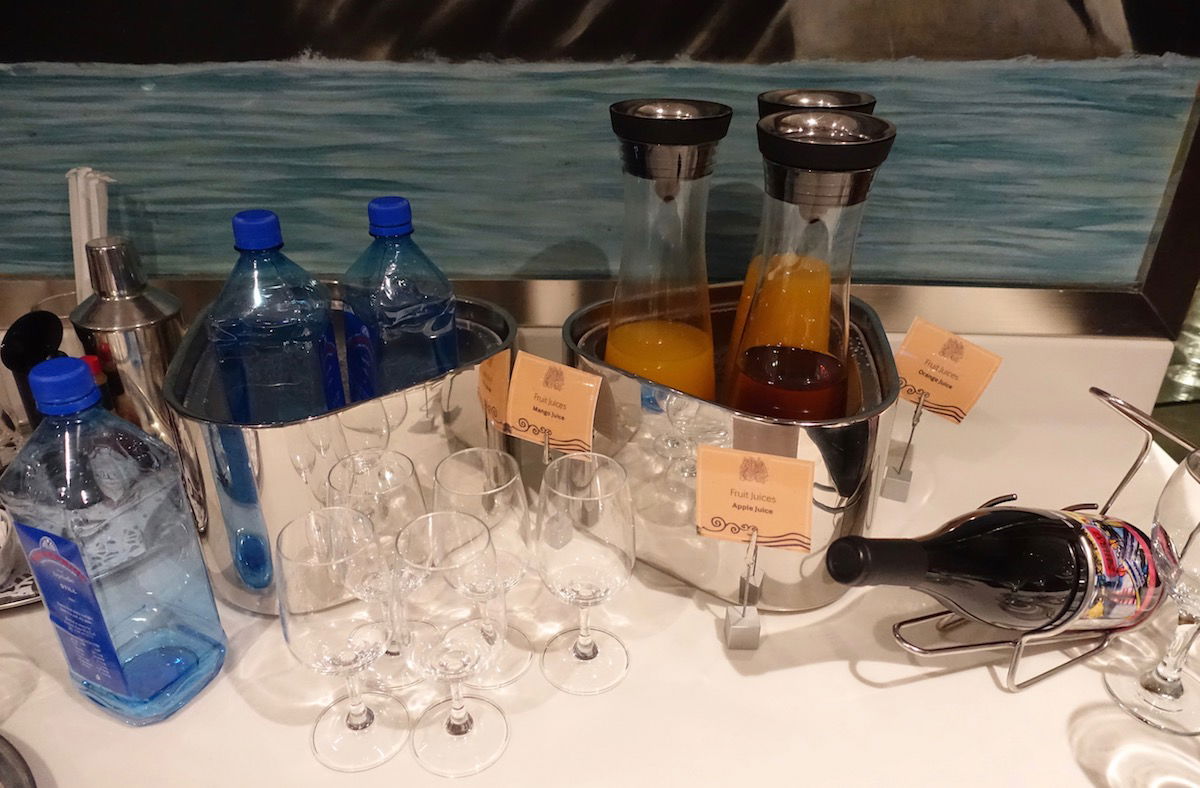 Seychelles Airport lounge drink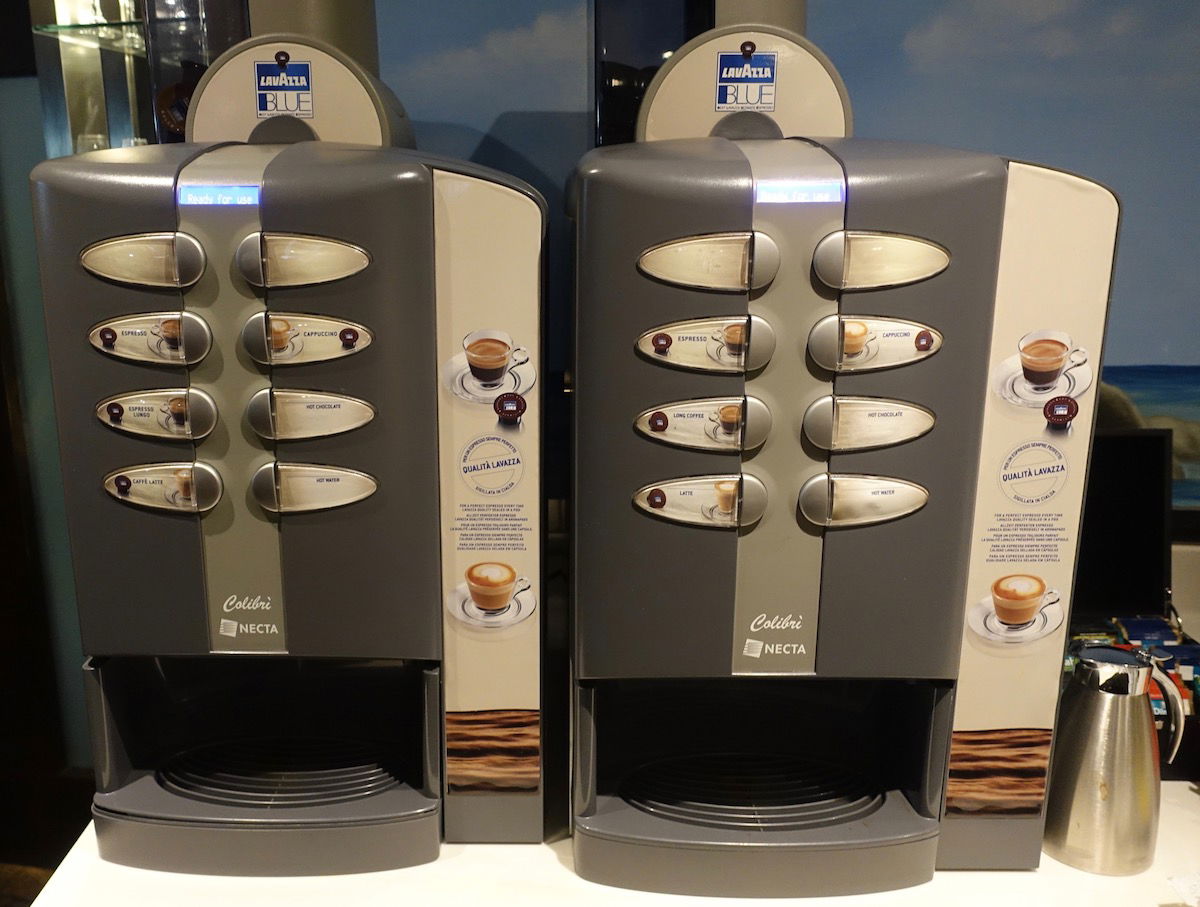 Seychelles Airport lounge coffee machine
The food selection was the worst part, as most things didn't look terribly appealing, and a lot of the dishes were empty.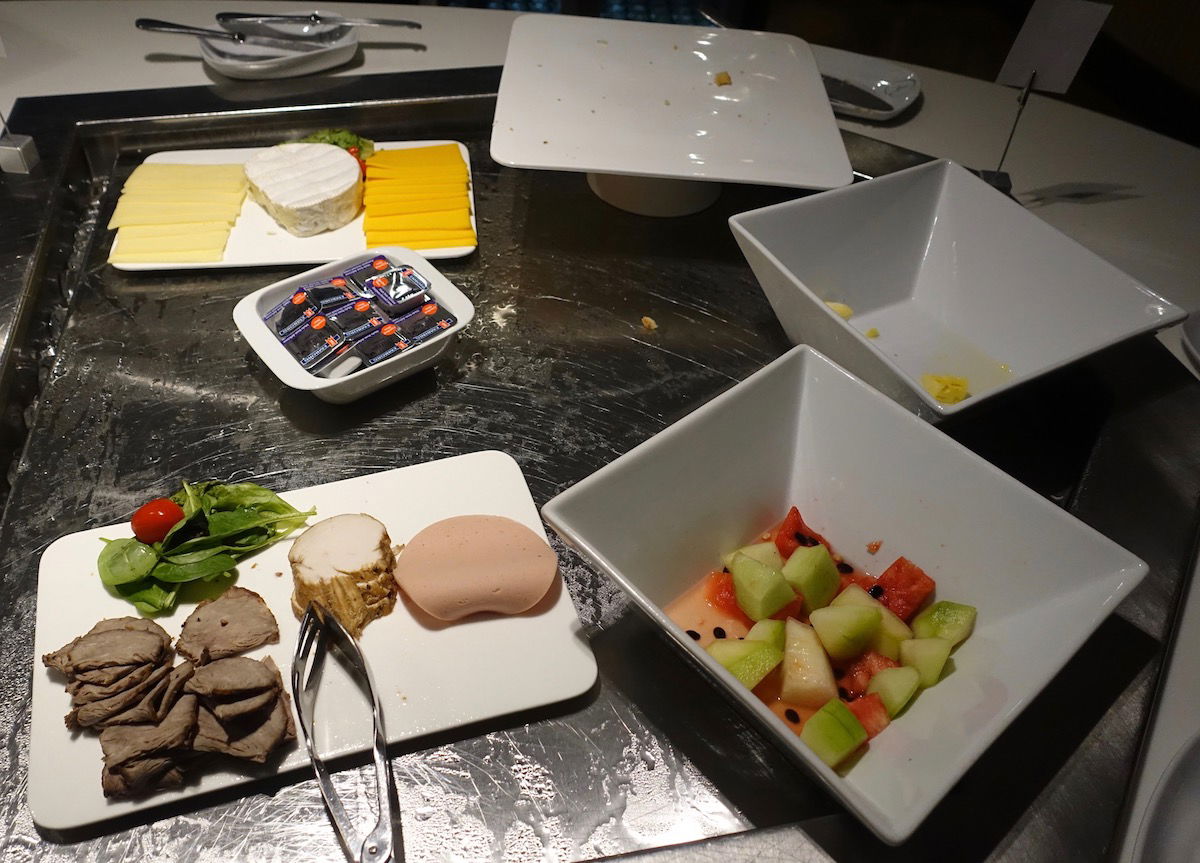 Seychelles Airport lounge food
There was salad, cheese & tomato sandwiches, vegetable quiche, chicken paninis, fruit, and soup.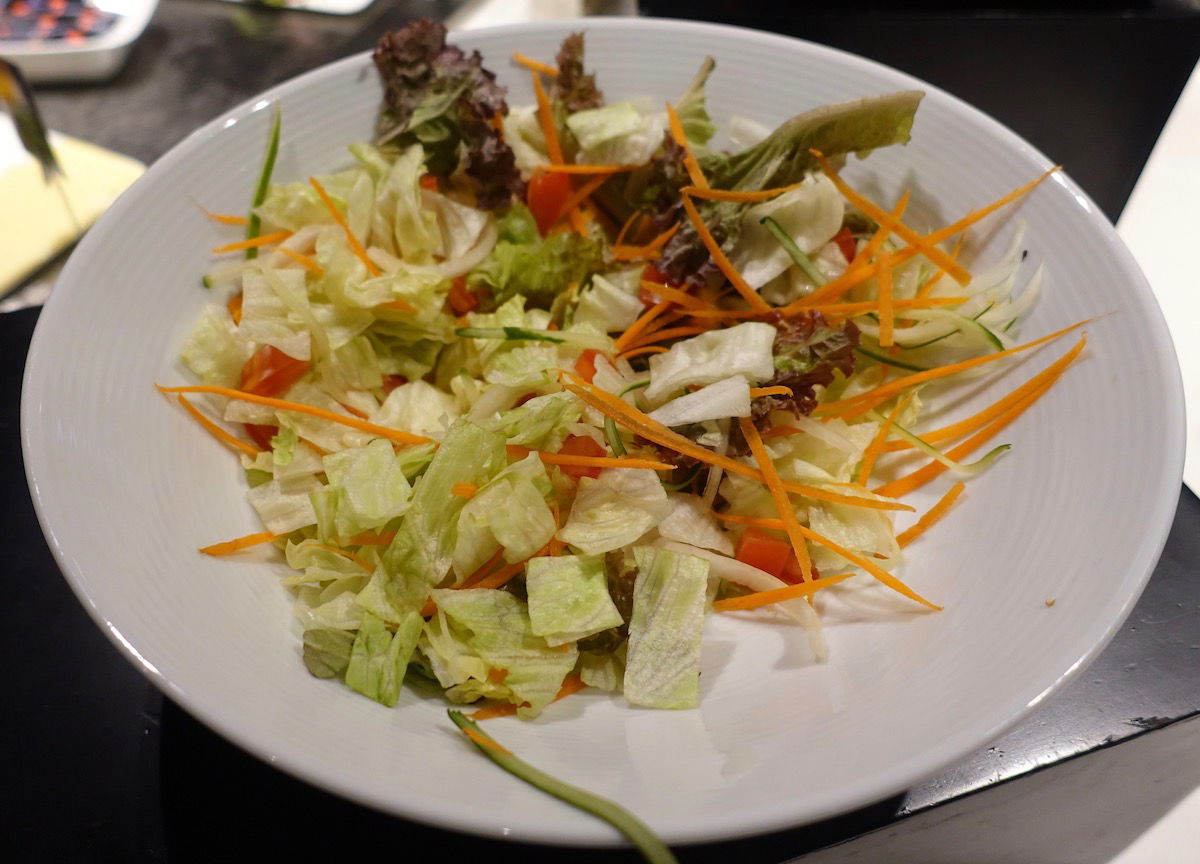 Seychelles Airport lounge food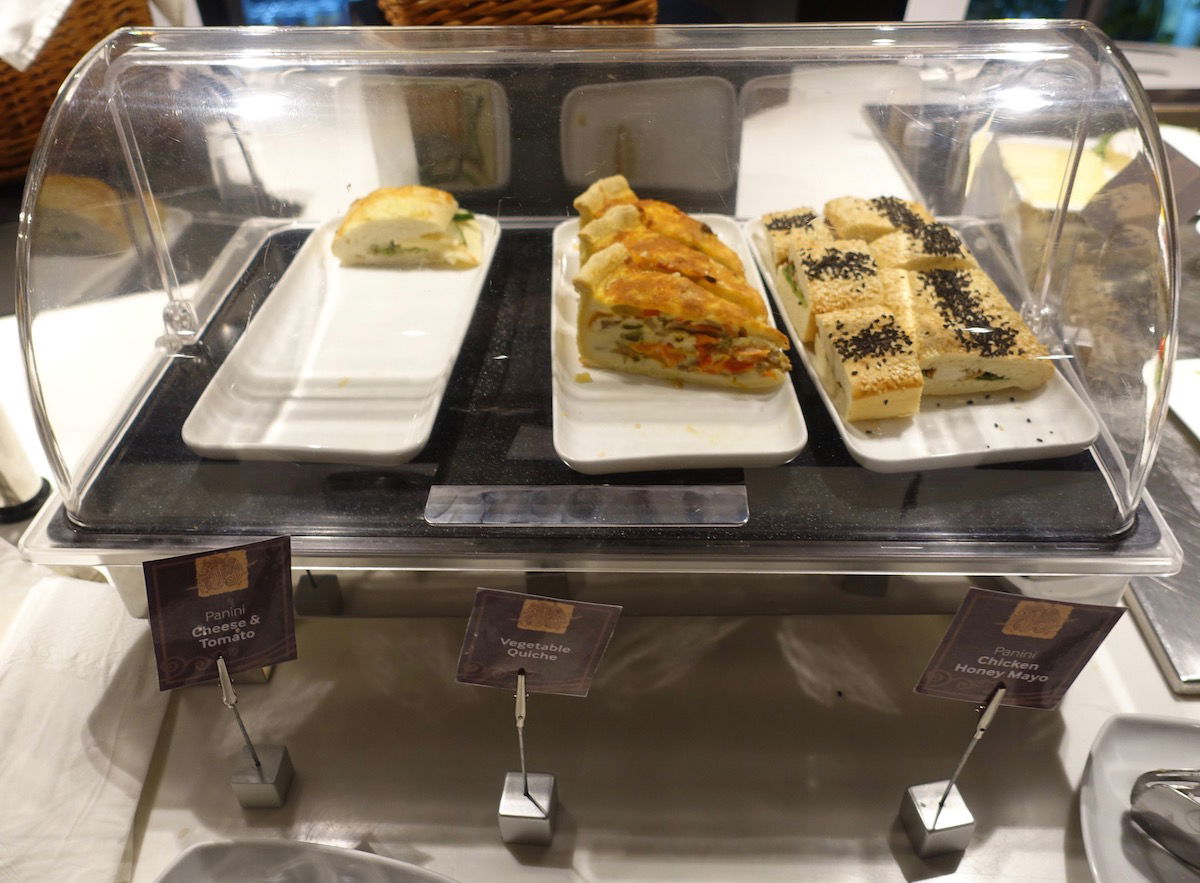 Seychelles Airport lounge food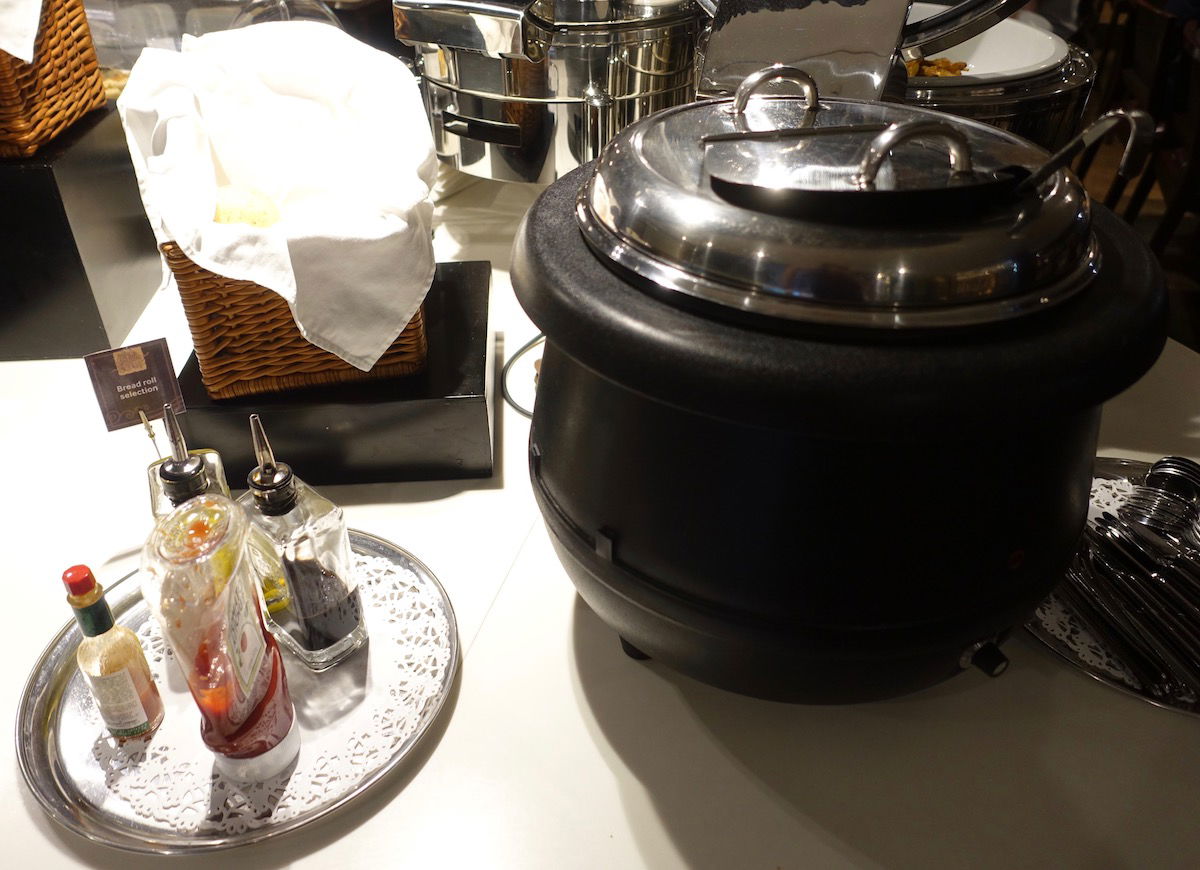 Seychelles Airport lounge food
The hot dishes were limited, and included things like chicken curry puffs and vegetable pinwheels.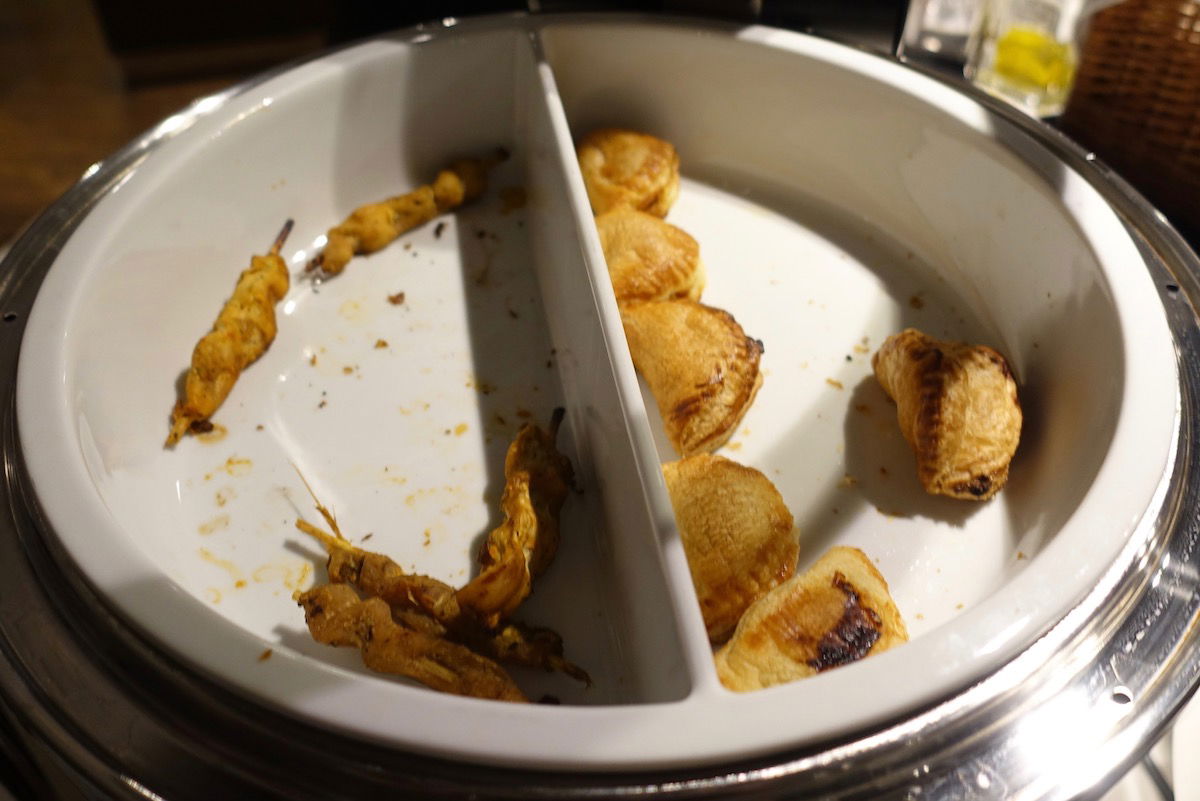 Seychelles Airport lounge food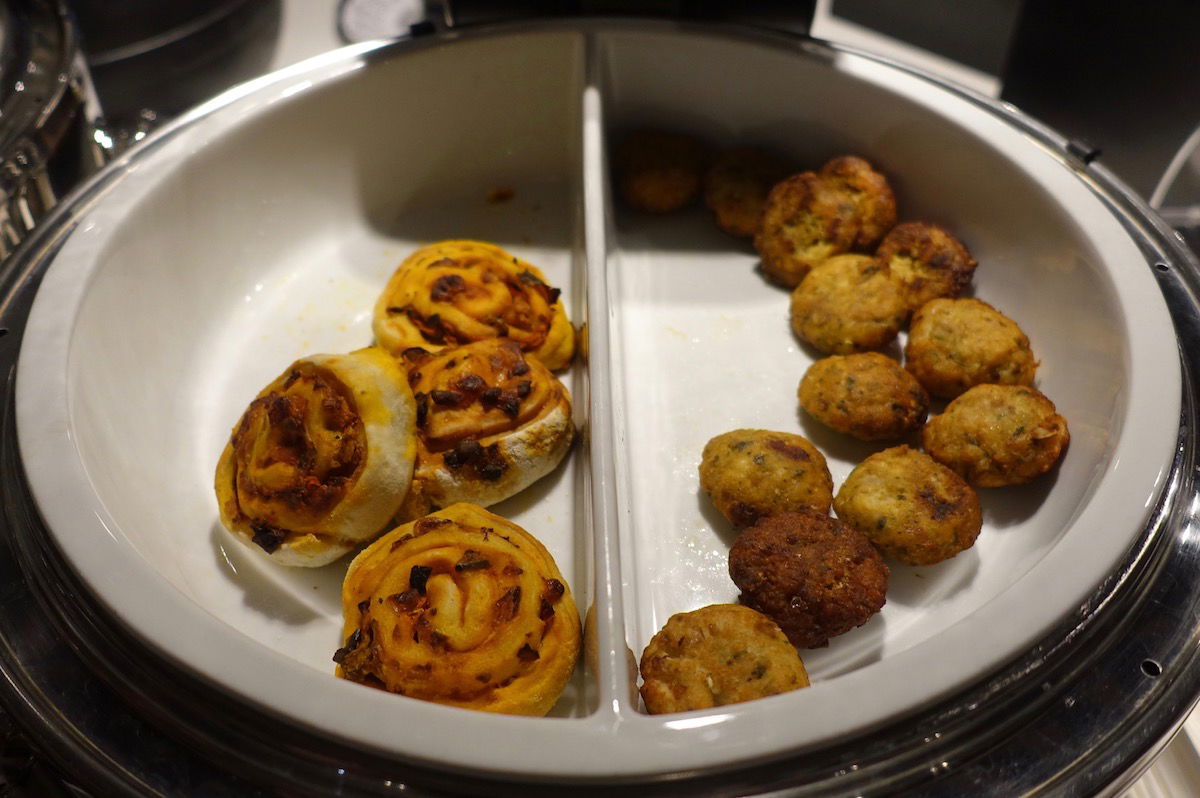 Seychelles Airport lounge food
The lounge's bathrooms were near the dining area, and were small, with a basic shower inside the main restroom.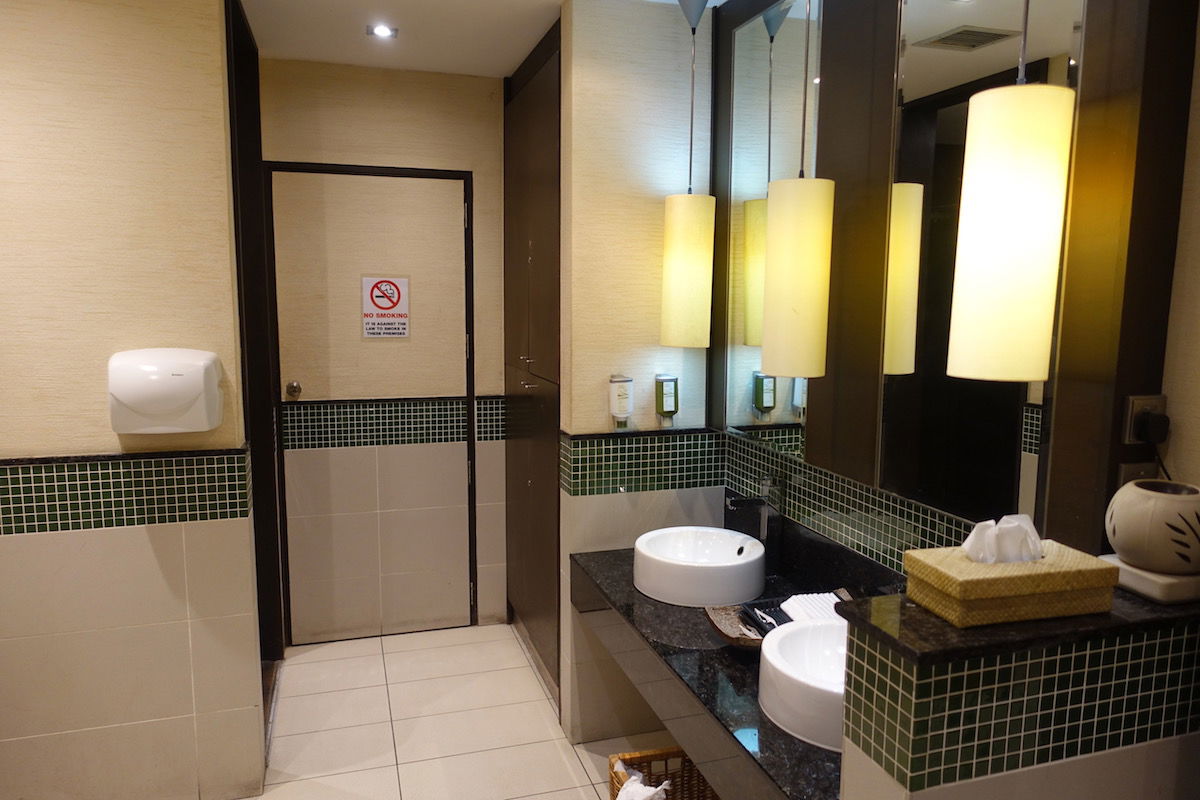 Seychelles Airport lounge bathroom
Our boarding passes indicated that our flight to Istanbul was scheduled to board at 8:25PM, and we decided to head to the gate at around 8PM. To my surprise, boarding was already well underway, a full 70 minutes before departure. As someone who obsessively tries to be the first onboard in order to get pictures, that sent me into a near panic. 😉
Air Seychelles Lounge bottom line
The fact that the Four Seasons offers a special VIP service at Mahe Airport is a nice feature, though the service itself was poorly organized (by Air Seychelles, not by Four Seasons). There was nothing to eat or drink in the lounge, and we were constantly left completely unattended, with no one we could even contact. Personally I would have preferred to just use the main lounge the entire time.
Personally I thought the Air Seychelles Lounge was perfectly alright, though not amazing. It had comfortable seating and wasn't overcrowded, and the drink selection was quite good, though the food options were disappointing. Given that Air Seychelles is an Etihad Airways Partner (and they're very consistent about the lounges they offer), I expected a bit more. These days with so many great lounges out there and credit cards with lounge access, expectations can be pretty high!