---
For our last night five nights in the Seychelles we visited Desroches Island, where a brand new Four Seasons opened in March. The Seychelles consists of over 100 islands, though Mahe is by far the largest, and then there are a few more populated islands. The entire country has a population of under 100,000, and about 85% of those people live on Mahe.
So while a few more islands have populations of a few thousand, there are also some deserted islands, and one of those is Desroches Island. The nearly 1,000 acre island has an interesting history and used to have a resort, though that was closed a few years ago and transformed into a Four Seasons, which just recently opened.
What makes Desroches Island especially interesting is that it's considered a separate territory for the purposes of the Travelers' Century Club, so I know that's a reason some people (including Rapid Travel Chai) have visited this resort. Desroches Island is considered to be part of "Zil Elwannyen Sesel (Aldabra, Farquhar, Amirante Islands)."
Booking flights to Desroches Island
Desroches Island is about 150 miles Southwest of Mahe Island, and while you could presumably somehow arrange a boat to get there (though it would be a long journey), the primary way guests get there is by flying. Here's a map showing the flight path: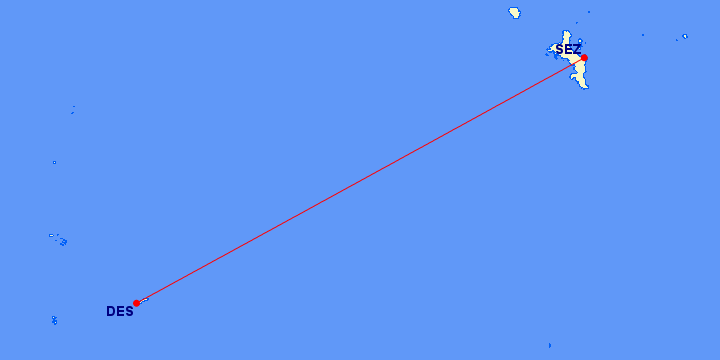 And here it is zoomed out, for some more context: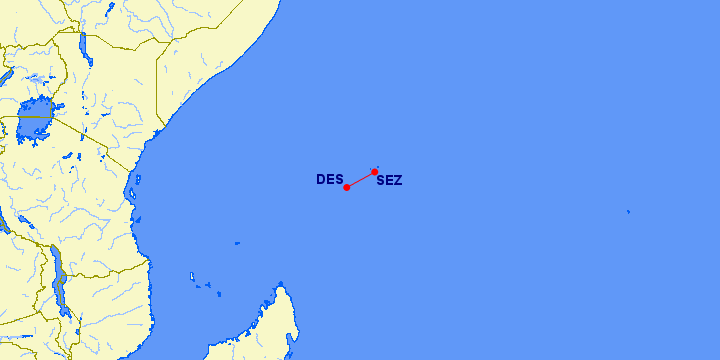 There's a twice daily flight between Mahe and Desroches for resort guests, which operates with the following schedule
Mahe to Desroches departing 10:30AM arriving 11:10AM
Mahe to Desroches departing 4:00PM arriving 4:40PM
Desroches to Mahe departing 11:30AM arriving 12:10PM
Desroches to Mahe departing 5:00PM arriving 5:40PM
As you might expect, these flights aren't cheap. The cost varies based on the time of year you're traveling (prices are roundtrip):
Cost between March 1 and December 25, 2018: 660EUR per adult, 580EUR per child (plus 15% VAT)
Cost between December 26, 2018, and January 15, 2019: 720EUR per adult, 640EUR per child (plus 15% VAT)
All of these flights are operated by an Islands Development Company (IDC) Beechcraft 1900D. There's a single plane that operates this route, which is 22 years old and has the registration code S7-DES (with the "DES" standing for Desroches Island's airport code, which is pretty cool).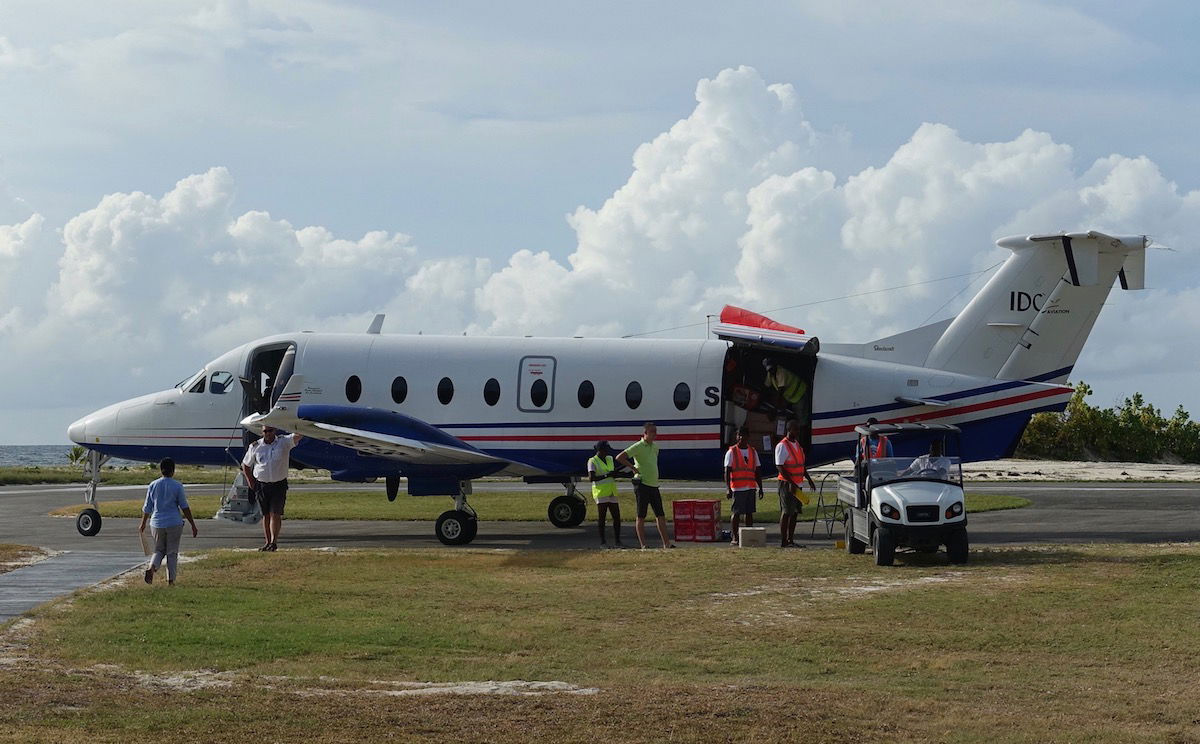 While I'm by no means scared of flying (anymore), I do like to research the airlines I fly, and it is a bit weird to fly an airline that has very little info out there. At least when you fly Maldivian or Trans Maldivian Airways in the Maldives, they operate a larger fleet, you can look up their history, etc.
So, let's get to the actual (brief) review of the flights.
Flying from Mahe to Desroches Island
We took the 10:30AM flight from Mahe to Desroches Island. We arrived at the airport shortly after 9AM, and as we got out of the car we were greeted by the Four Seasons airport representative, Sonia, who would be helping us with the check-in process.
She was an absolute delight, easily one of the best employees of the hotel we came across. While not related to anything, we were amazed by how easily she walked around in high heels — she explained that's all she has ever walked in, and she has an easier time walking in them than flat shoes.
The main check-in hall at Mahe Airport is open-air, though there's a separate check-in area for domestic flights.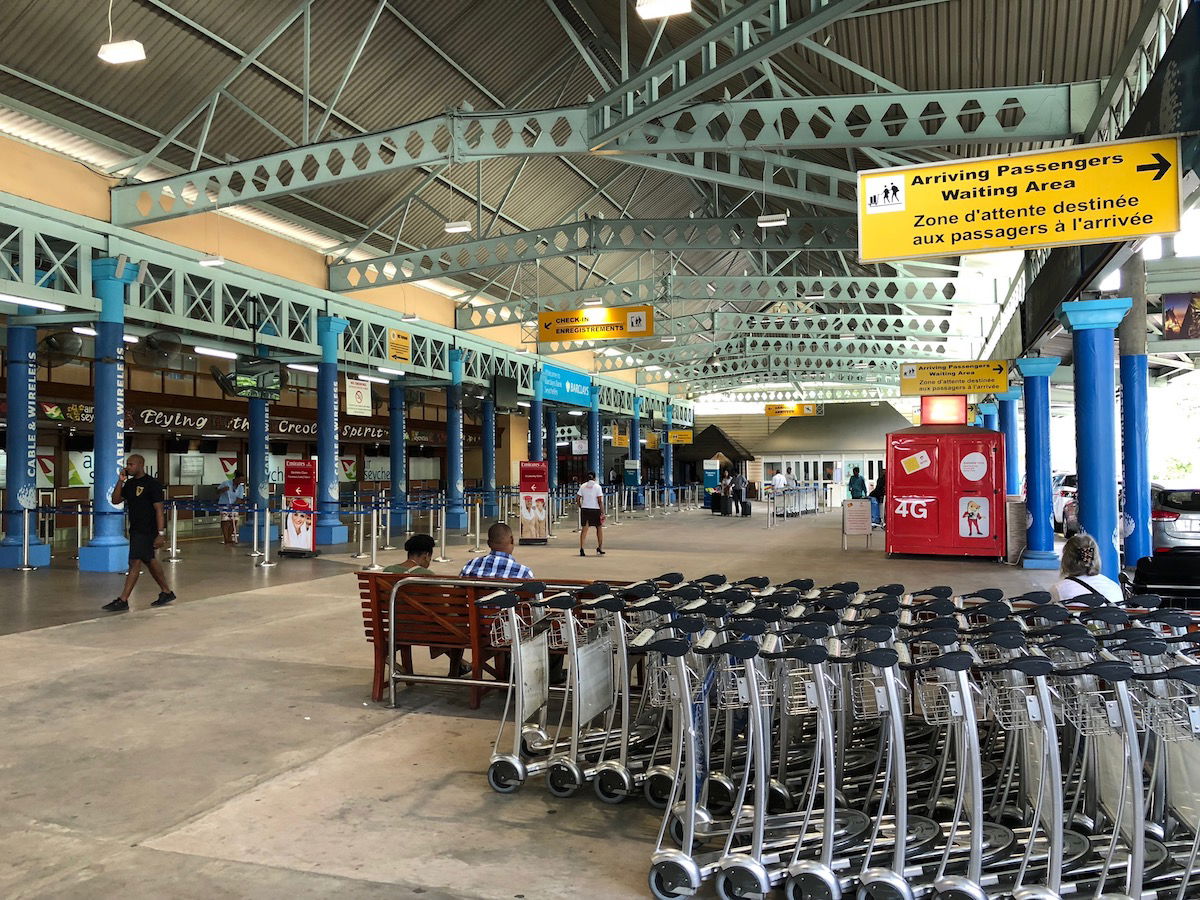 We turned left and walked towards the domestic terminal, which was just a short distance away.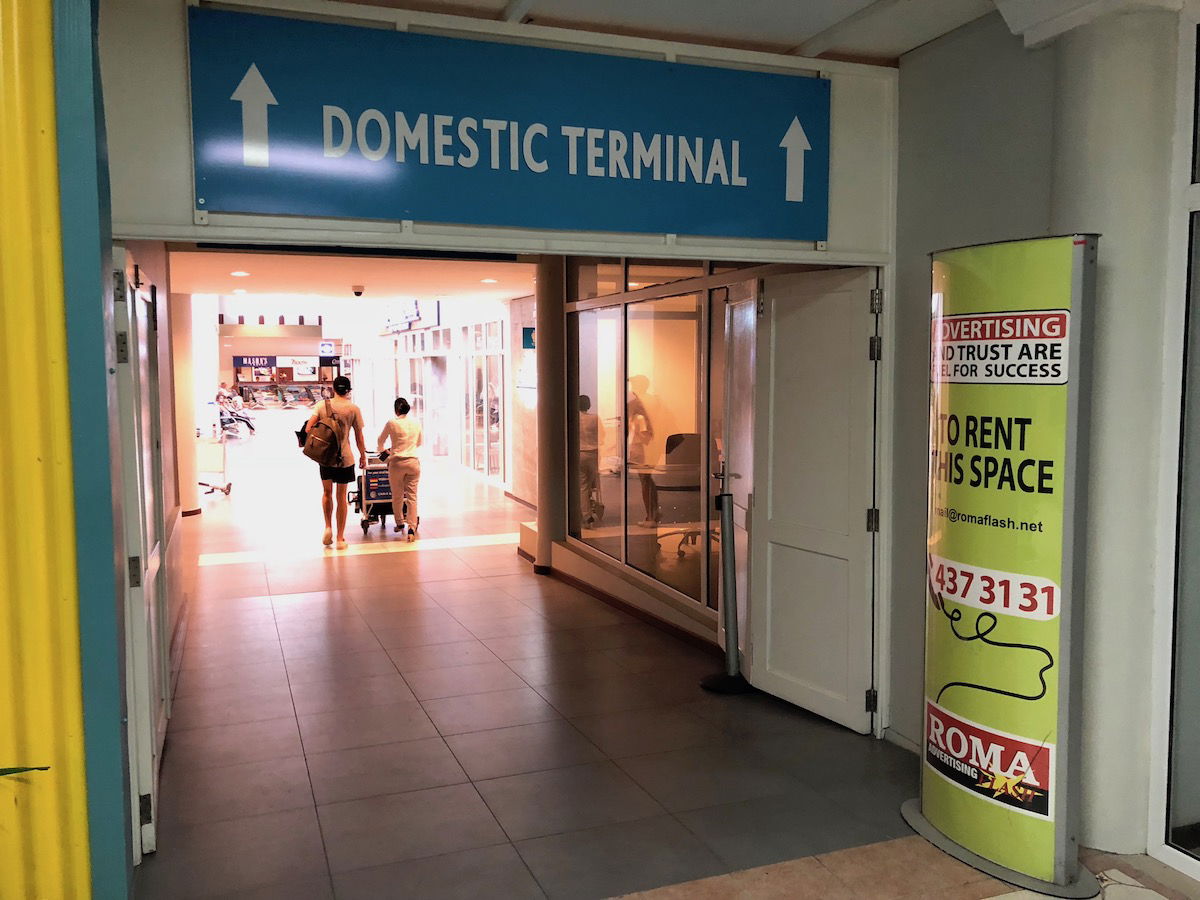 Sonia said that check-in wasn't quite open yet, but that she'd take care of the formalities for us, so we gave her our passports. She recommended we have a seat in The Coffee Club, which is right by the check-in area (there are no airport lounges in this area of the terminal).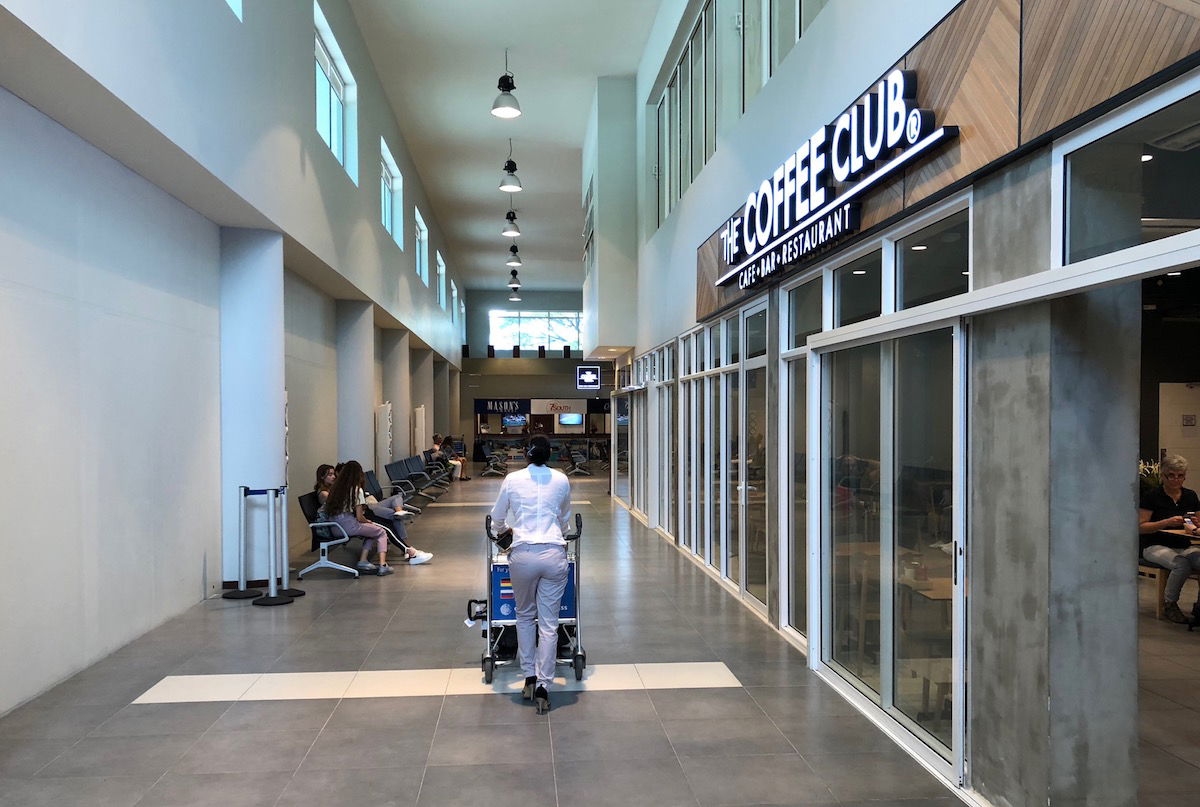 The people working in The Coffee Club had to be some of the rudest human beings I've come across in customer service anywhere in the world. It took us a minute to look at the menu (there was no one behind us), and the lady working the counter literally rolled her eyes and "huffed." She didn't say a word to us the entire time. Not one.
At around 10AM the Four Seasons representative asked us to come to the check-in counter, which was located just a short walk away.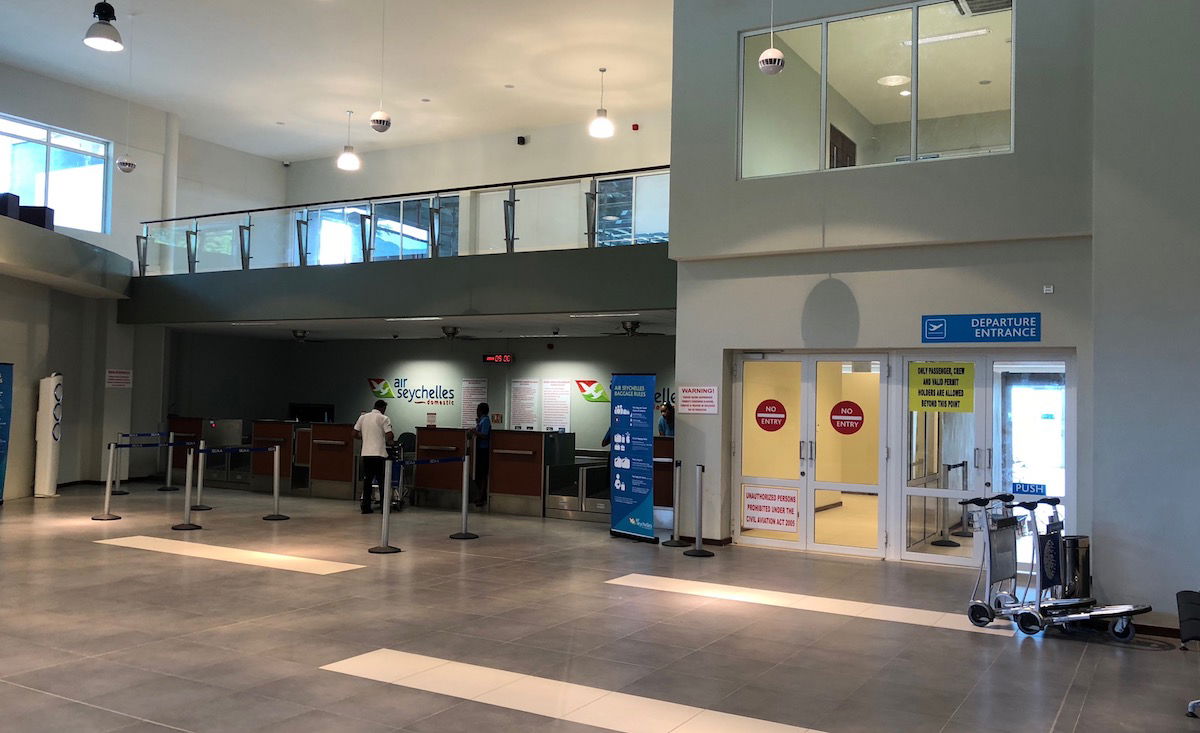 At the Air Seychelles domestic counter there's a special Four Seasons sign.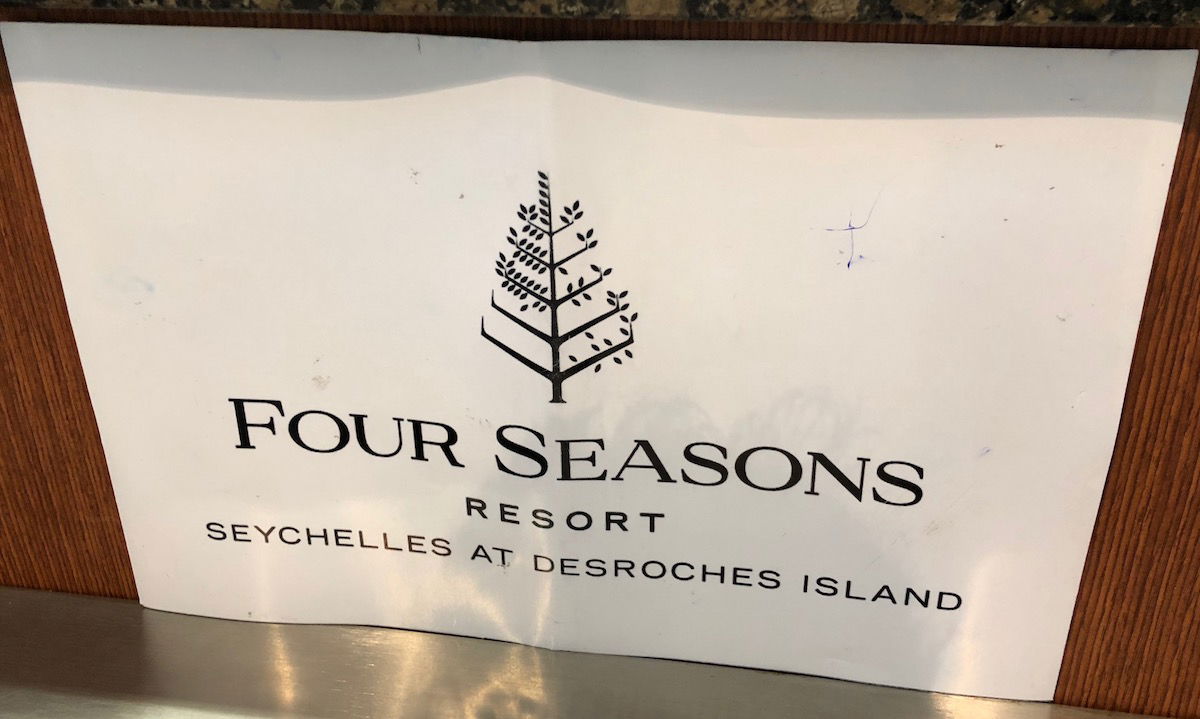 We were presented with handwritten boarding passes.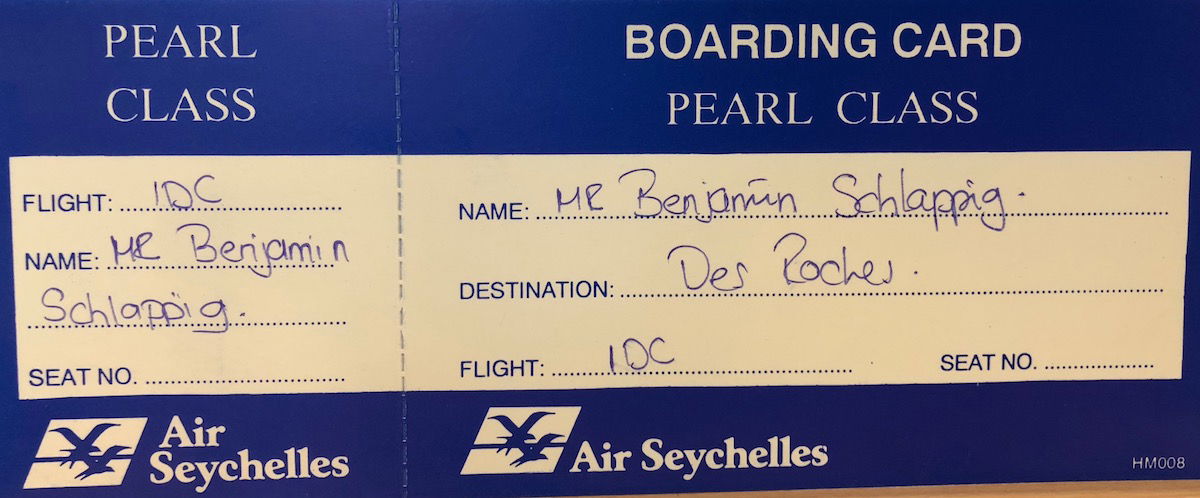 We bid farewell to Sonia and were through security just a minute later, and there were a couple of dozen people sitting in the departures area. Almost everyone was traveling on Air Seychelles to Praslin, as they sometimes have multiple flights per hour.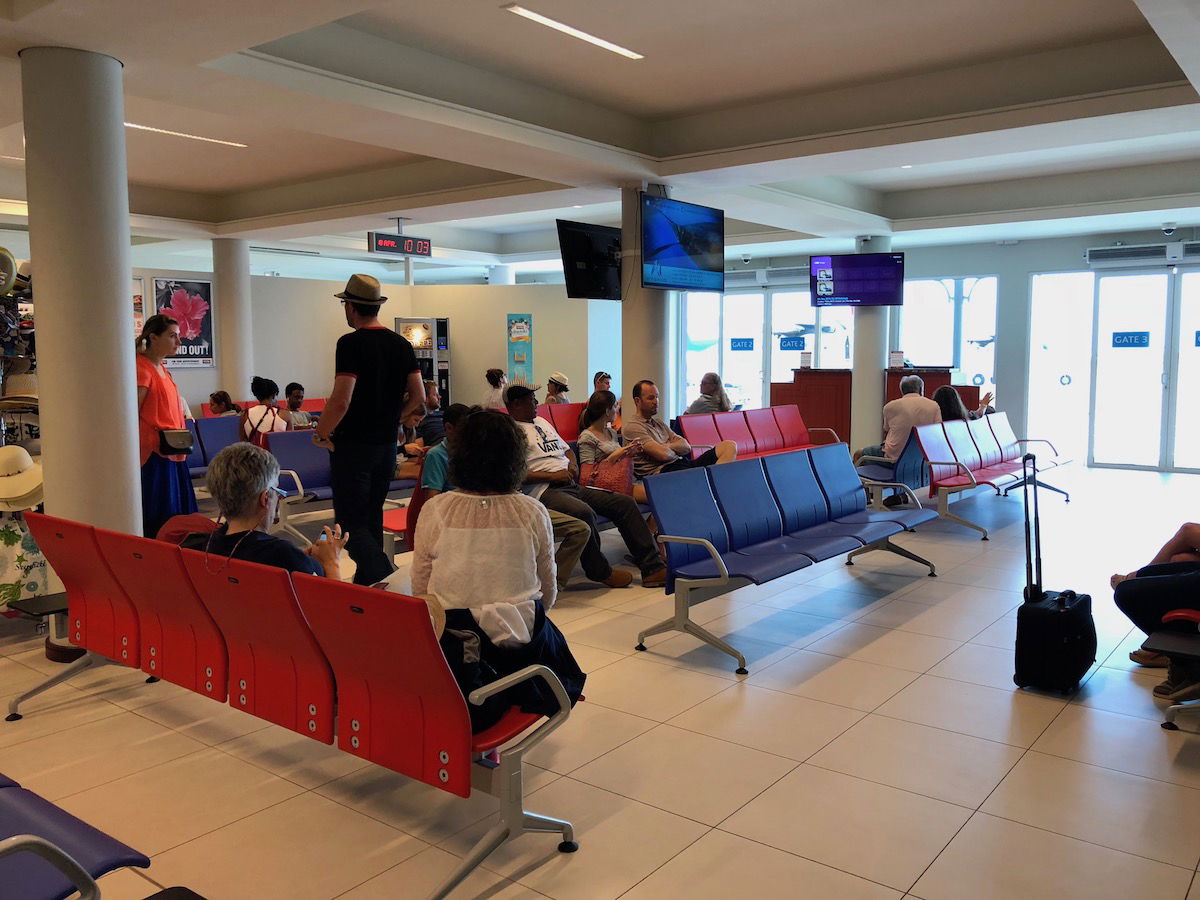 Air Seychelles has a fleet of five Twin Otters, and all five of them were on the ground parked there. That's not exactly great aircraft utilization. 😉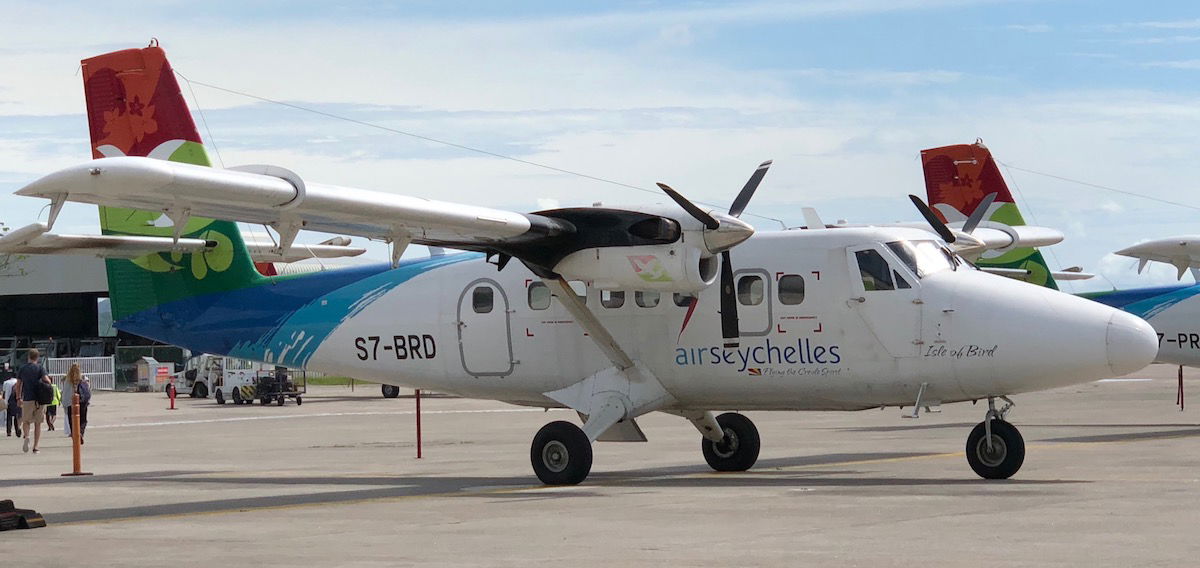 The Air Seychelles employee working the gate area was nearly as rude as the lady in the coffee shop. This is one of the things that disappointed me in the Seychelles. While some people were friendly, I was surprised by how many borderline rude locals I encountered.
Just 15 minutes before departure our plane was still nowhere in sight, though finally it arrived at 10:20AM — I'm not sure where it was arriving from, as it was about to operate its first flight of the day to Desroches Island.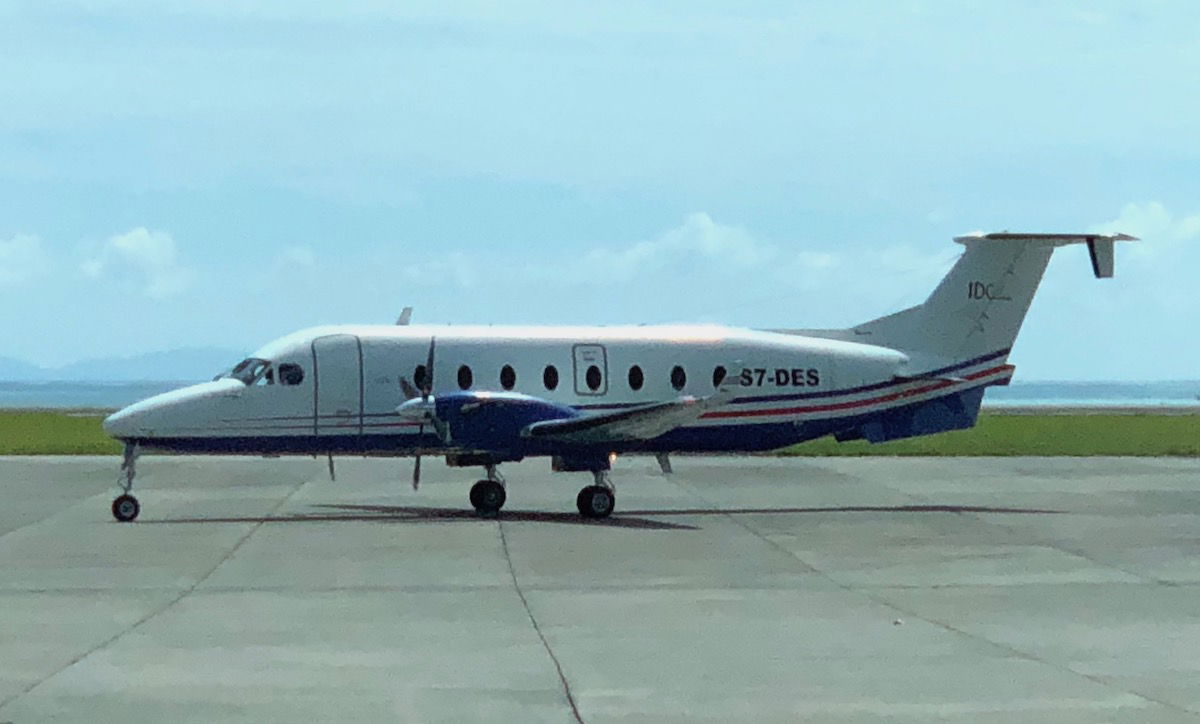 Less than five minutes after the plane arrived we were invited to board. There was just one other passenger on the flight (a hotel employee), so we were escorted on the apron towards the plane.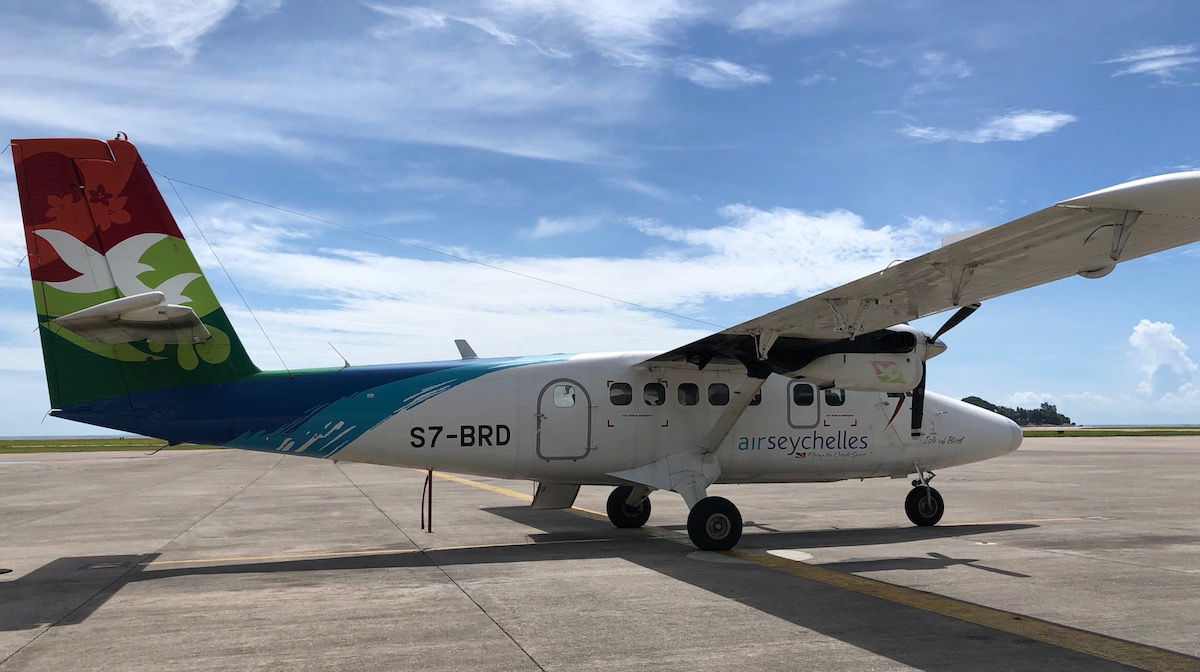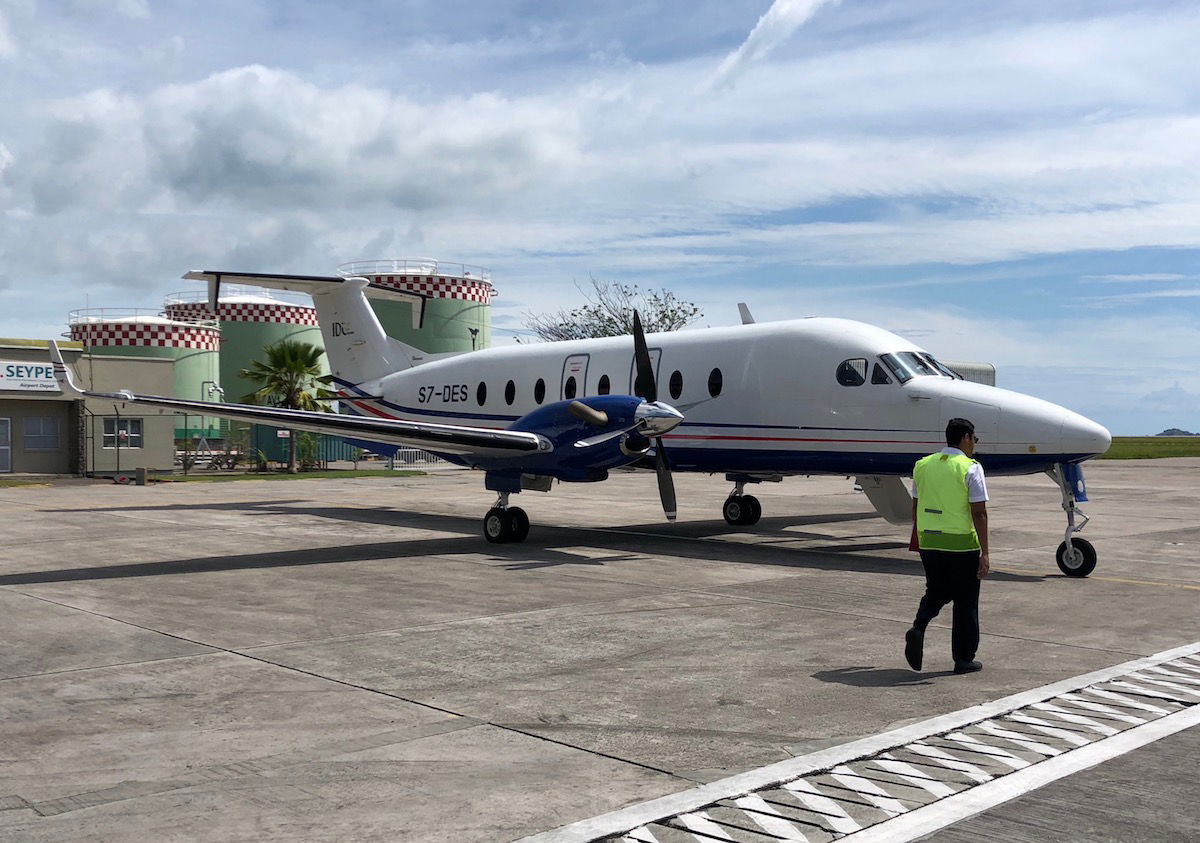 There we were greeted by the first officer, and invited to sit wherever we wanted.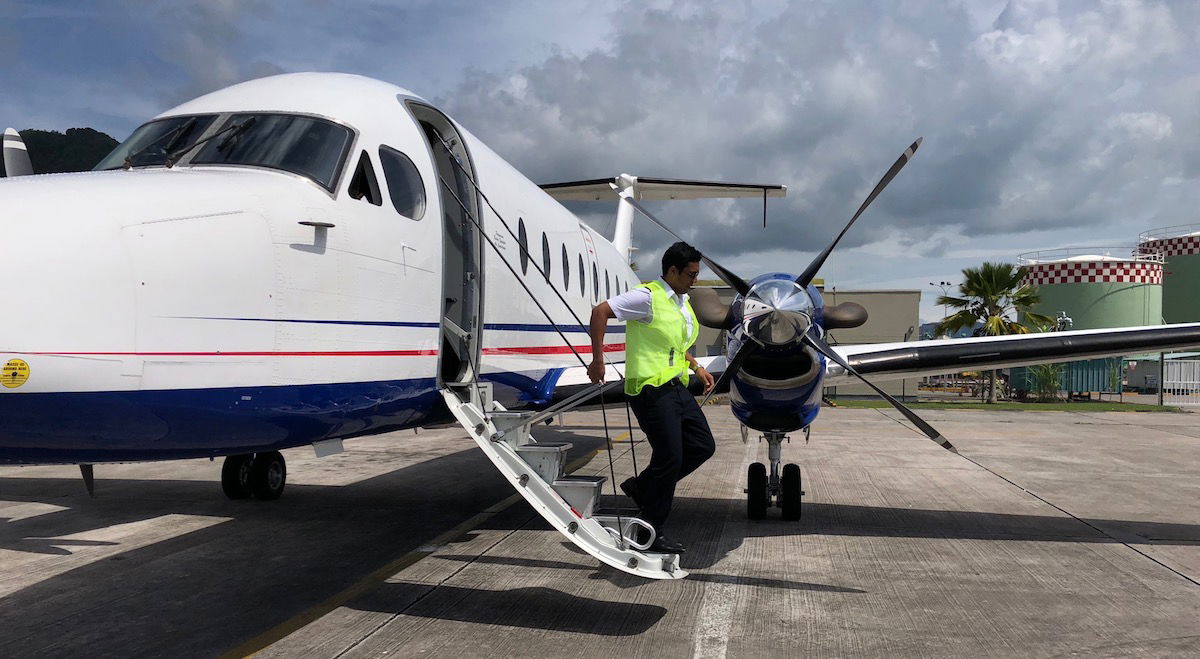 The plane had 16 seats in a 1-1 configuration. The Beechcraft 1900D is an odd plane from a passenger perspective, since it's so narrow yet the cabin is so tall. This one also smelled like a combination of fish and the ocean (or perhaps that's actually the same smell?).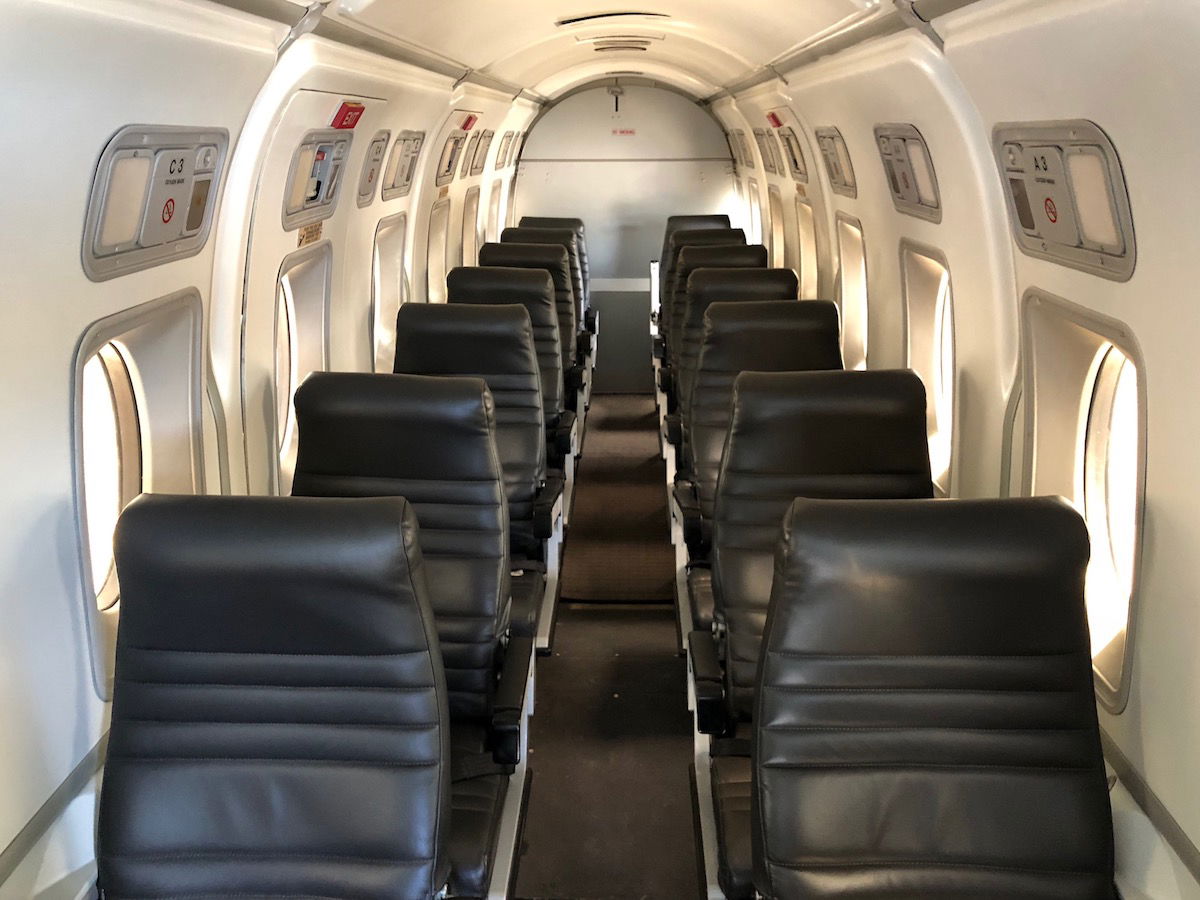 The first officer gave us a quick safety briefing, and told us our flight time was 35 minutes, and cruising altitude was 17,000 feet.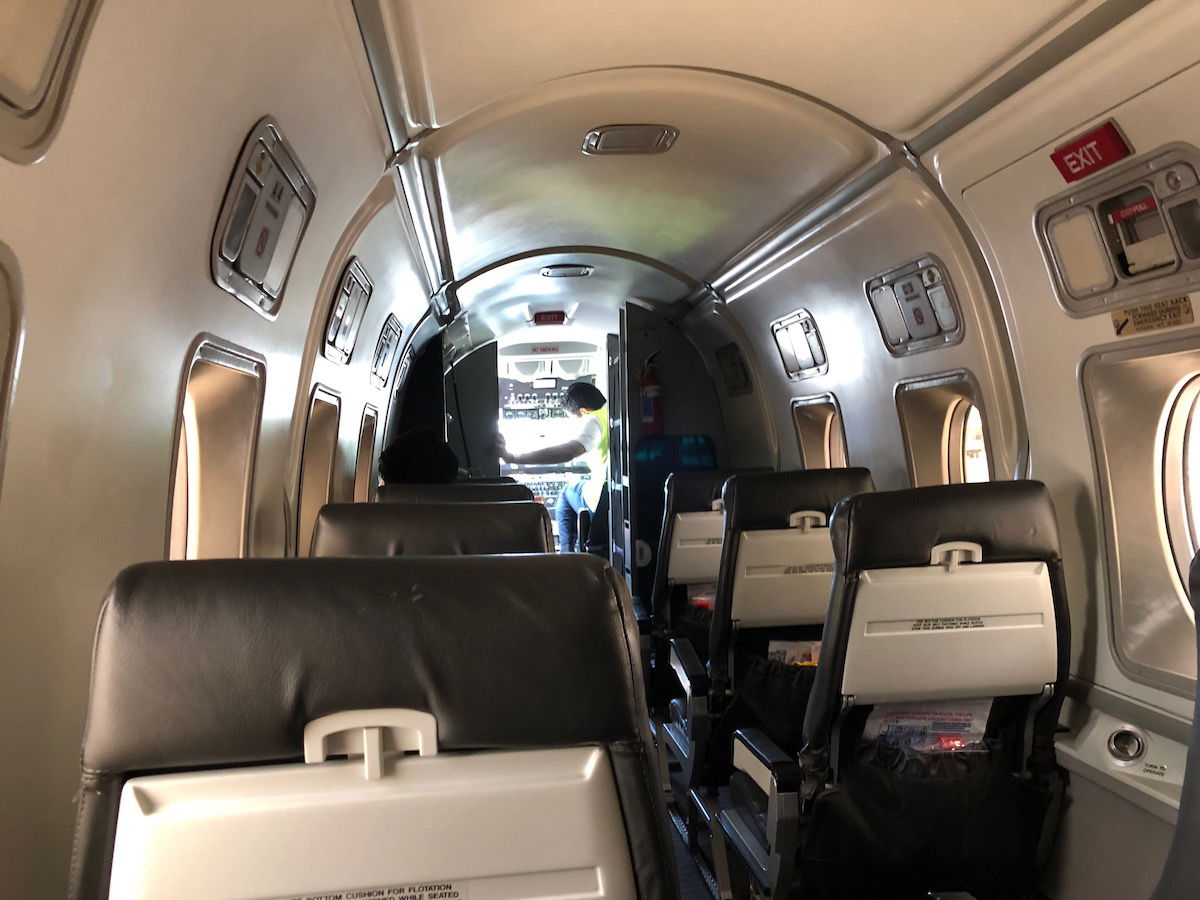 The life vests were within reach, as they were loosely placed in the seatback pockets.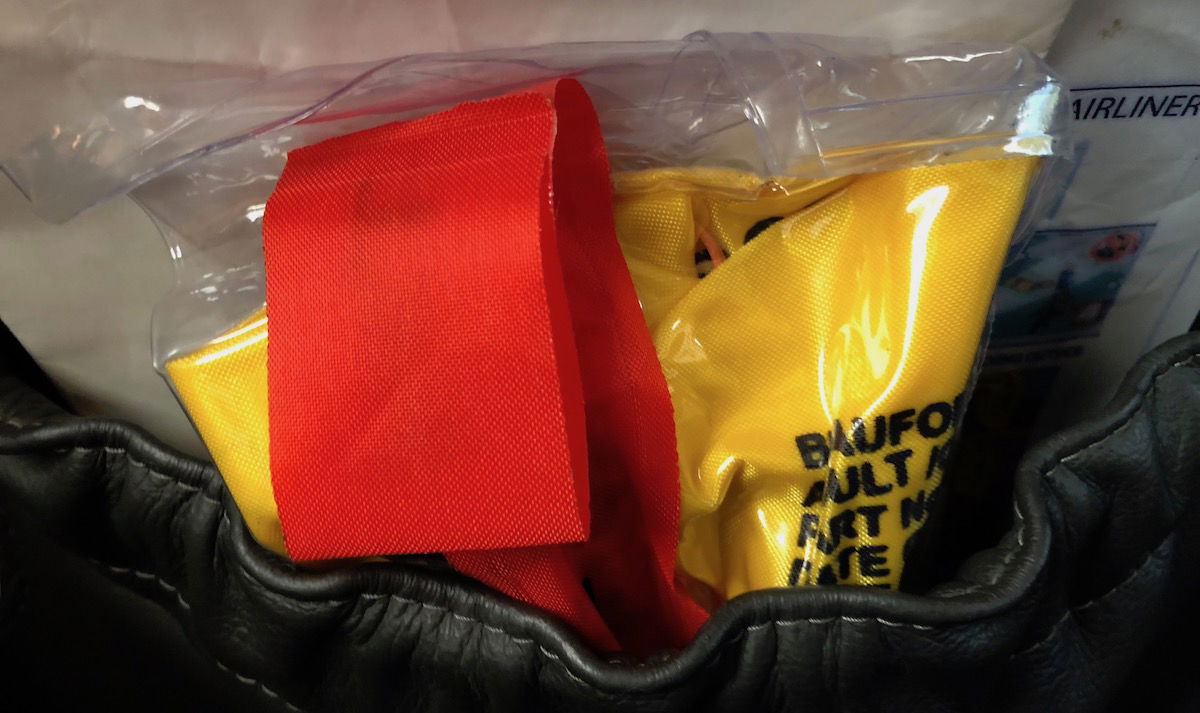 We began our taxi at 10:30AM, and were airborne a minute later.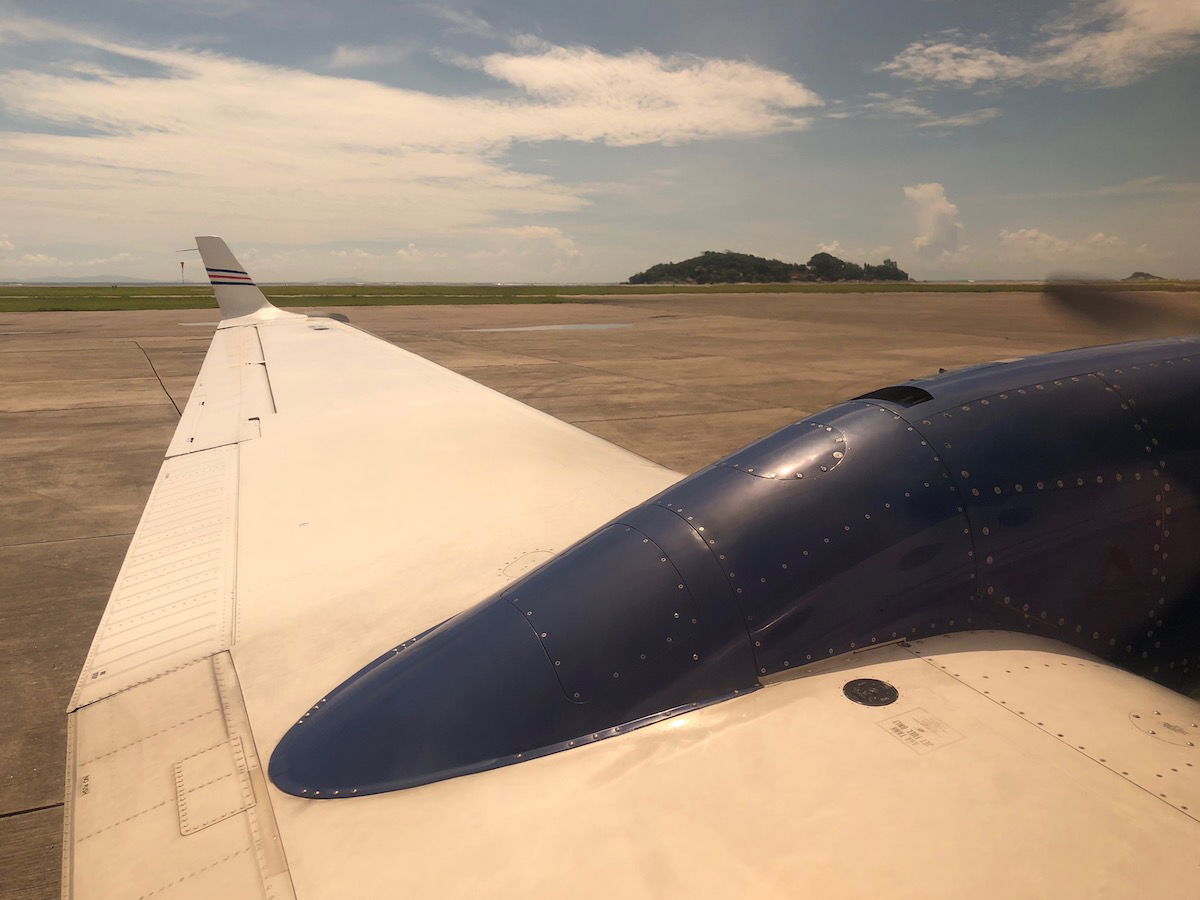 The views for the 35 minute flight were great, and we had a beautiful view of Mahe Island on our departure.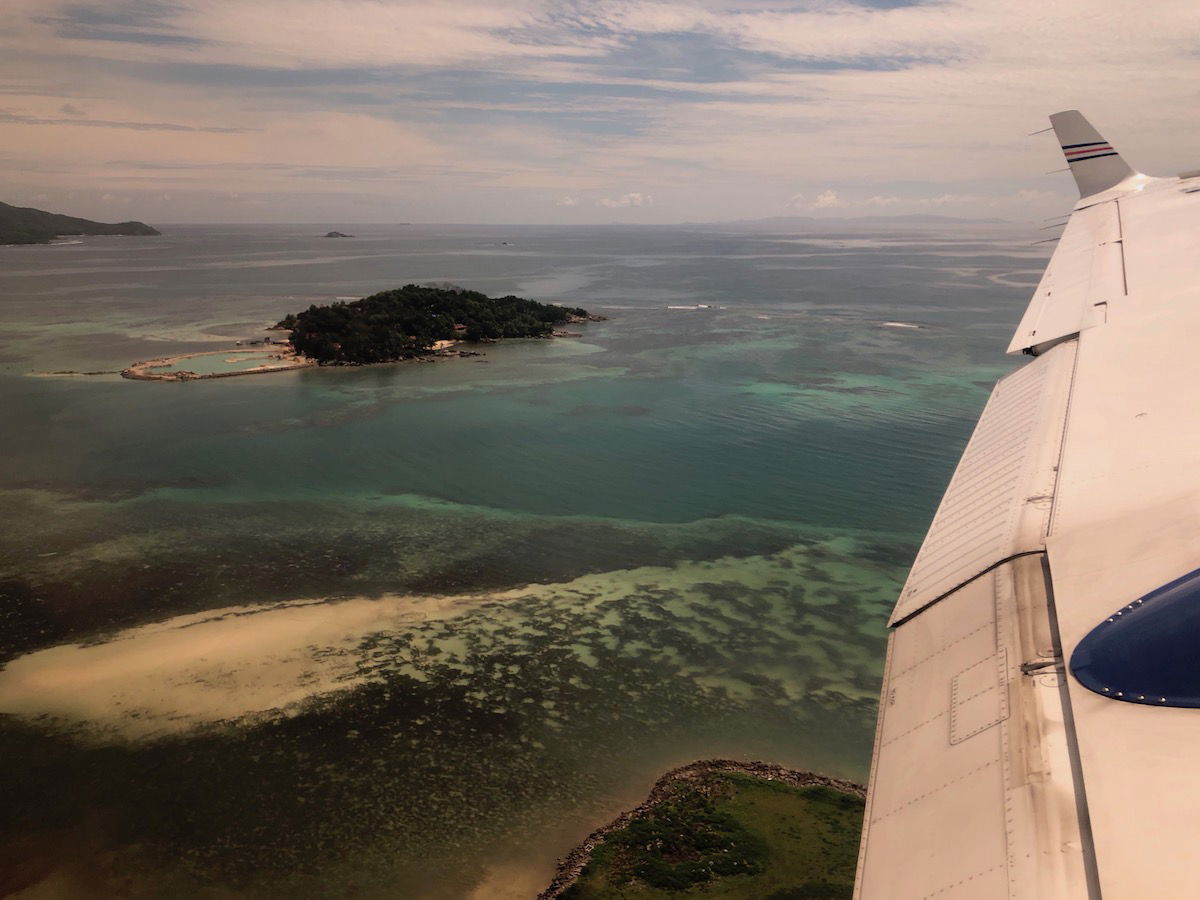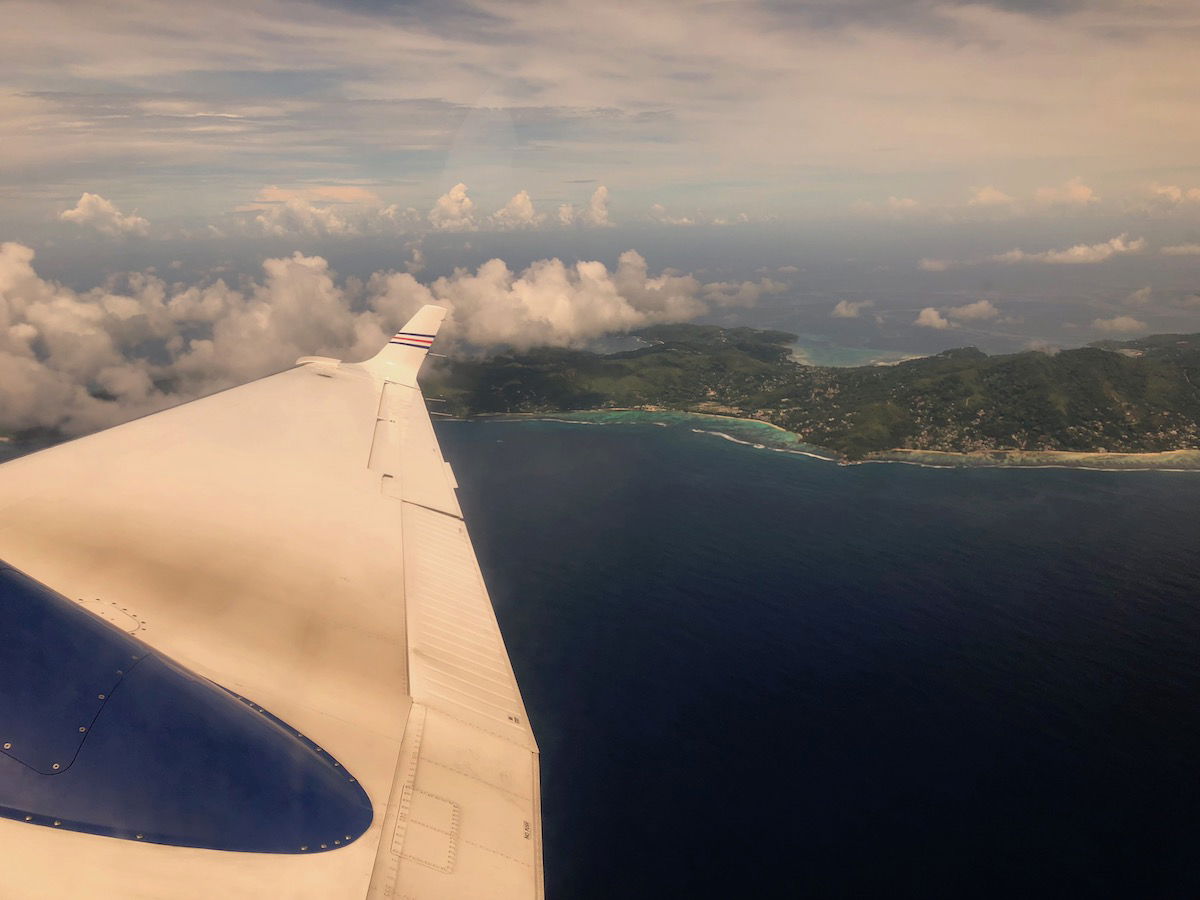 The flight was smooth, and before we knew it we were on our descent to Desroches Island. We had some strong winds on our approach and were swaying side to side, but the touchdown was smooth.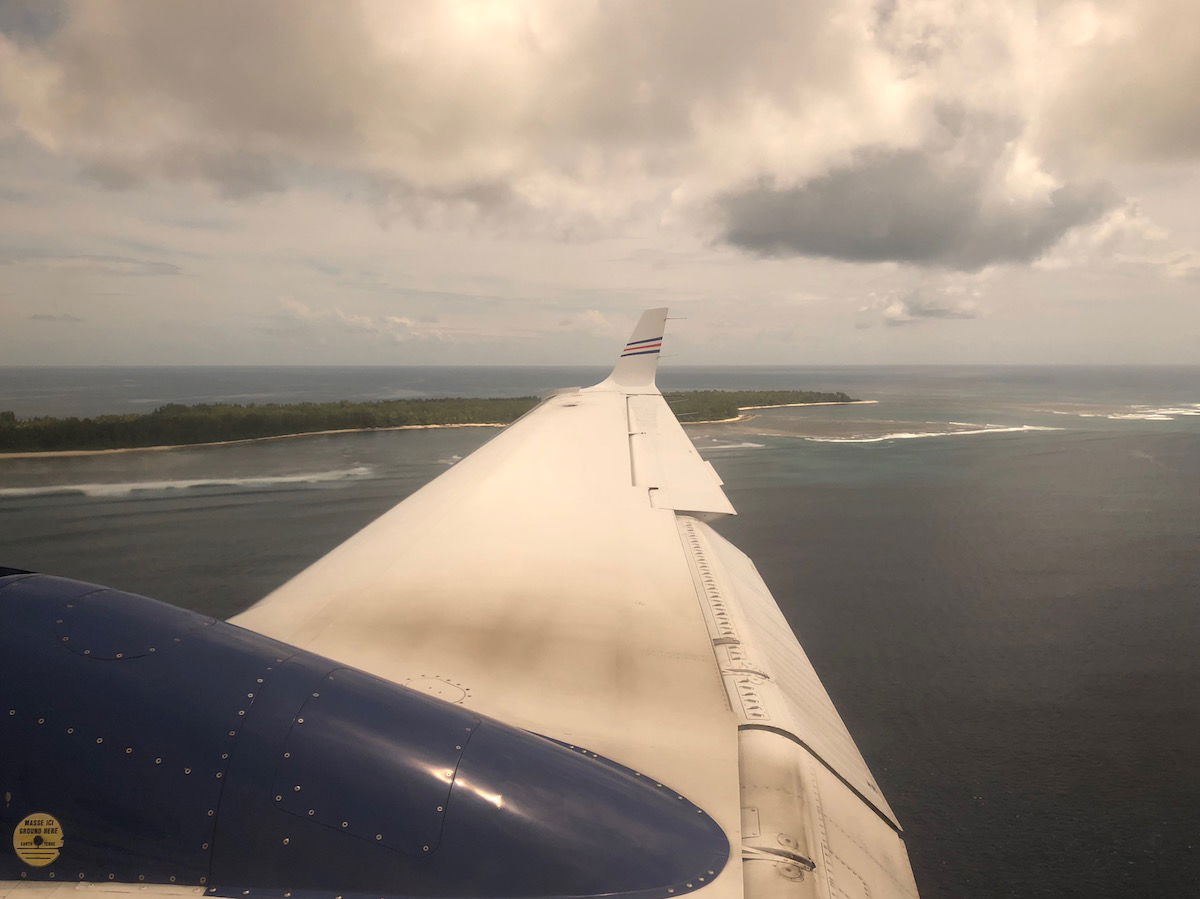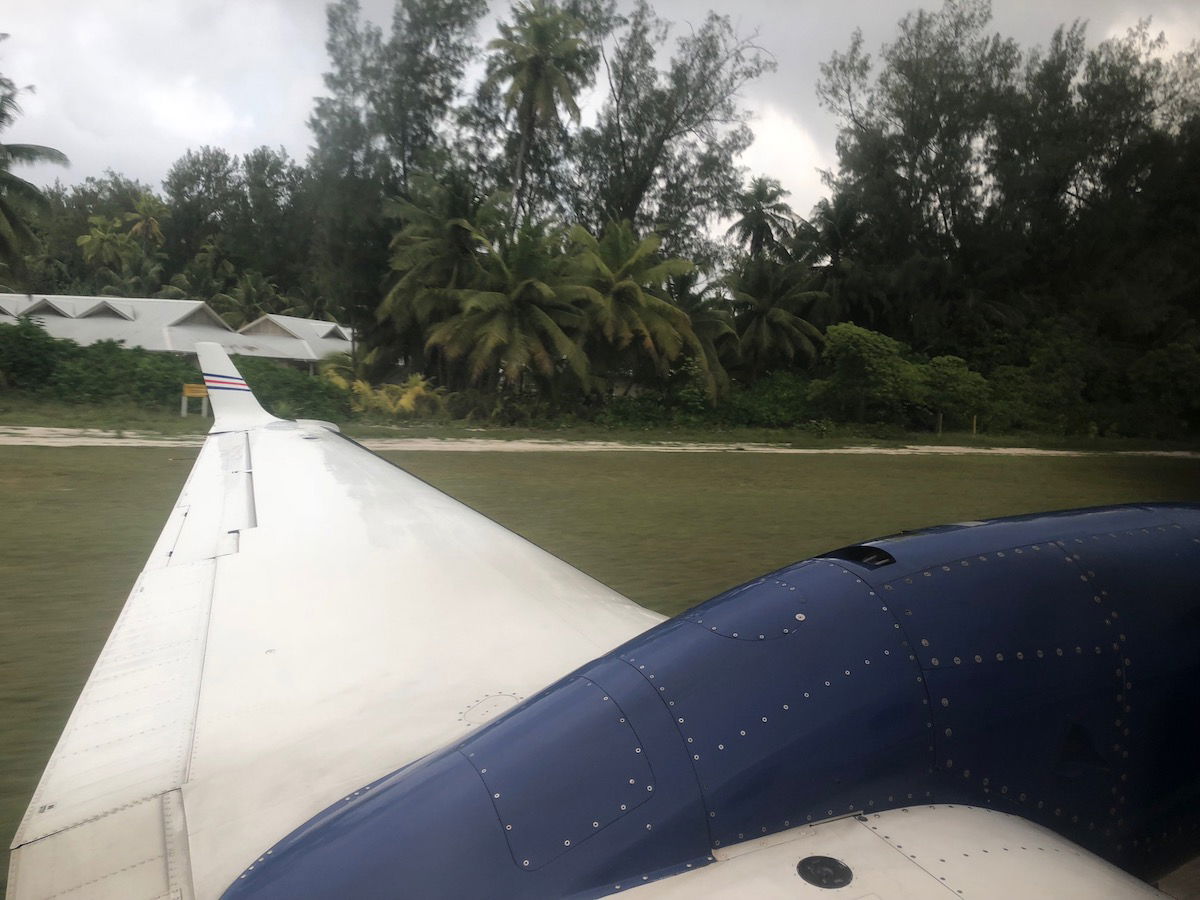 We taxied down to the end of the runway, where there's a small taxiway where the plane parks. This is right by the hotel's reception.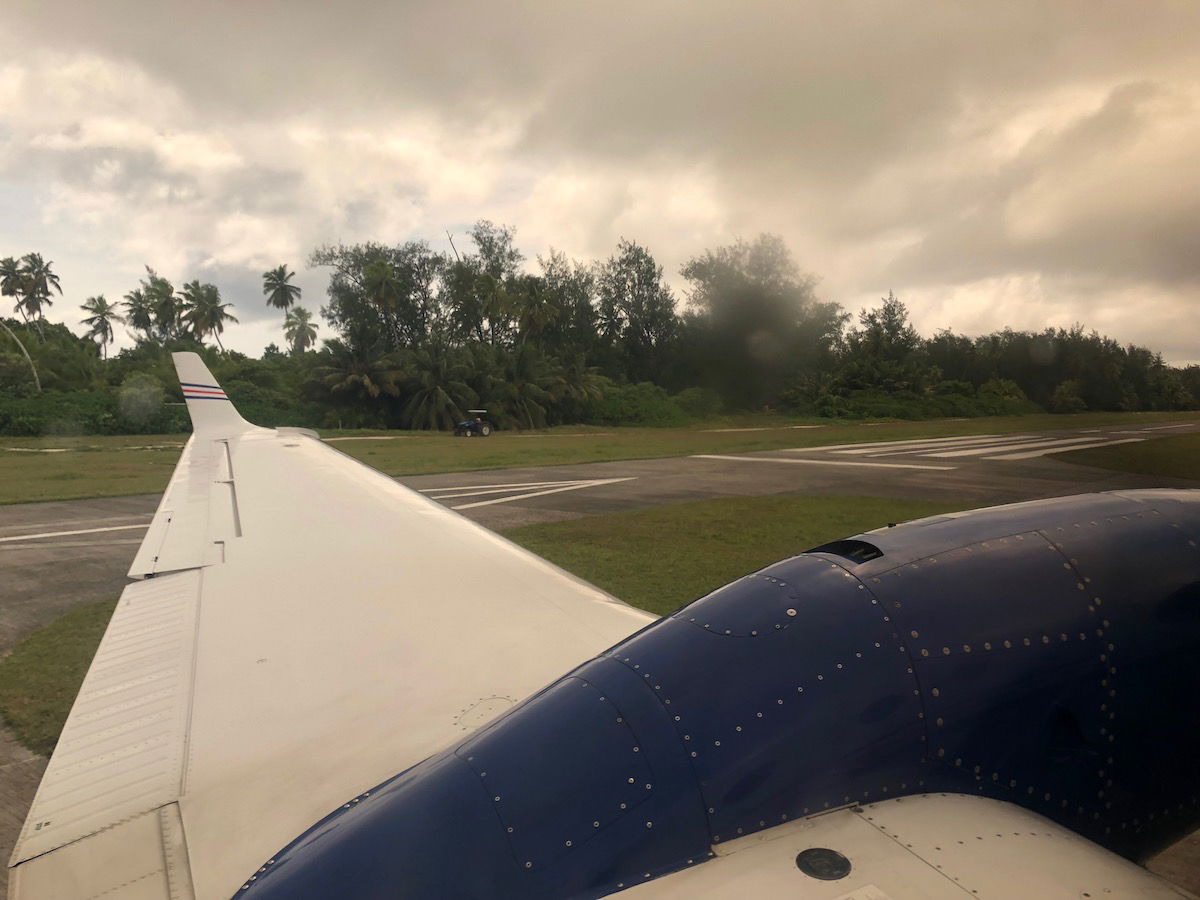 As we pulled in, we were greeted by waves from nearly a dozen hotel employees.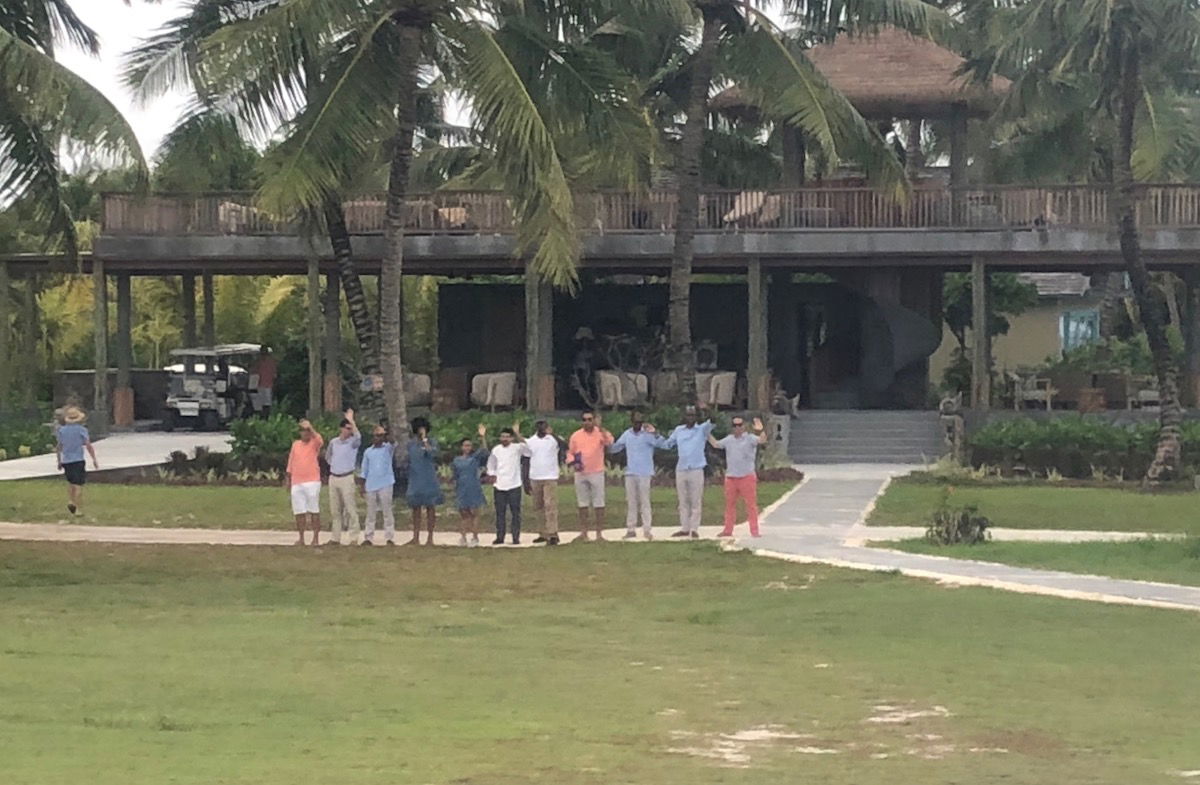 As an aviation geek I just have to emphasize how damn cool it is to have a runway right outside reception. Here's the view you get during check-in.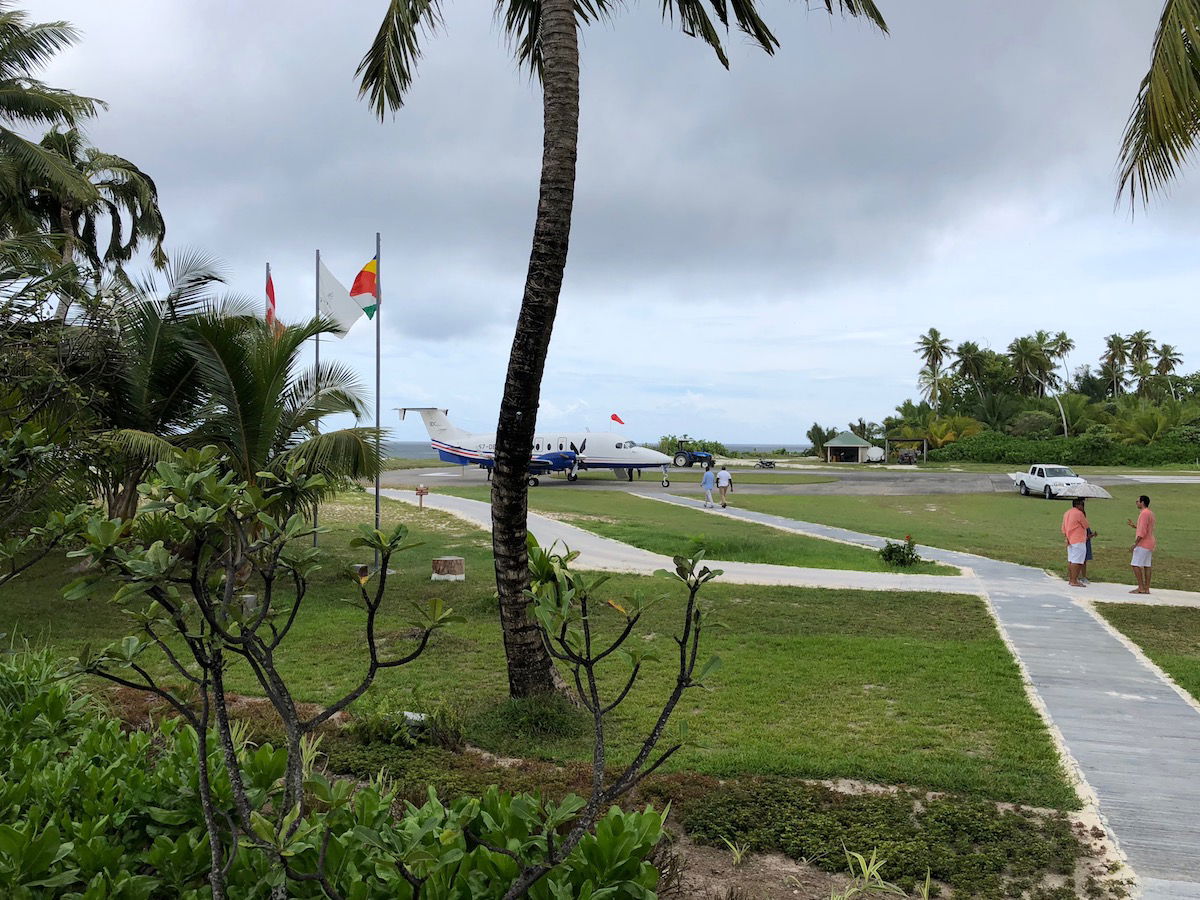 One of my favorite features of the entire island is that you can run or bike up and down the runway anytime, except when the two daily flights are arriving and departing. Talk about "bring[ing] it to the runway… runway… run… run… run… runway" (I apologize to the 90% of people reading this who have no clue what I'm talking about).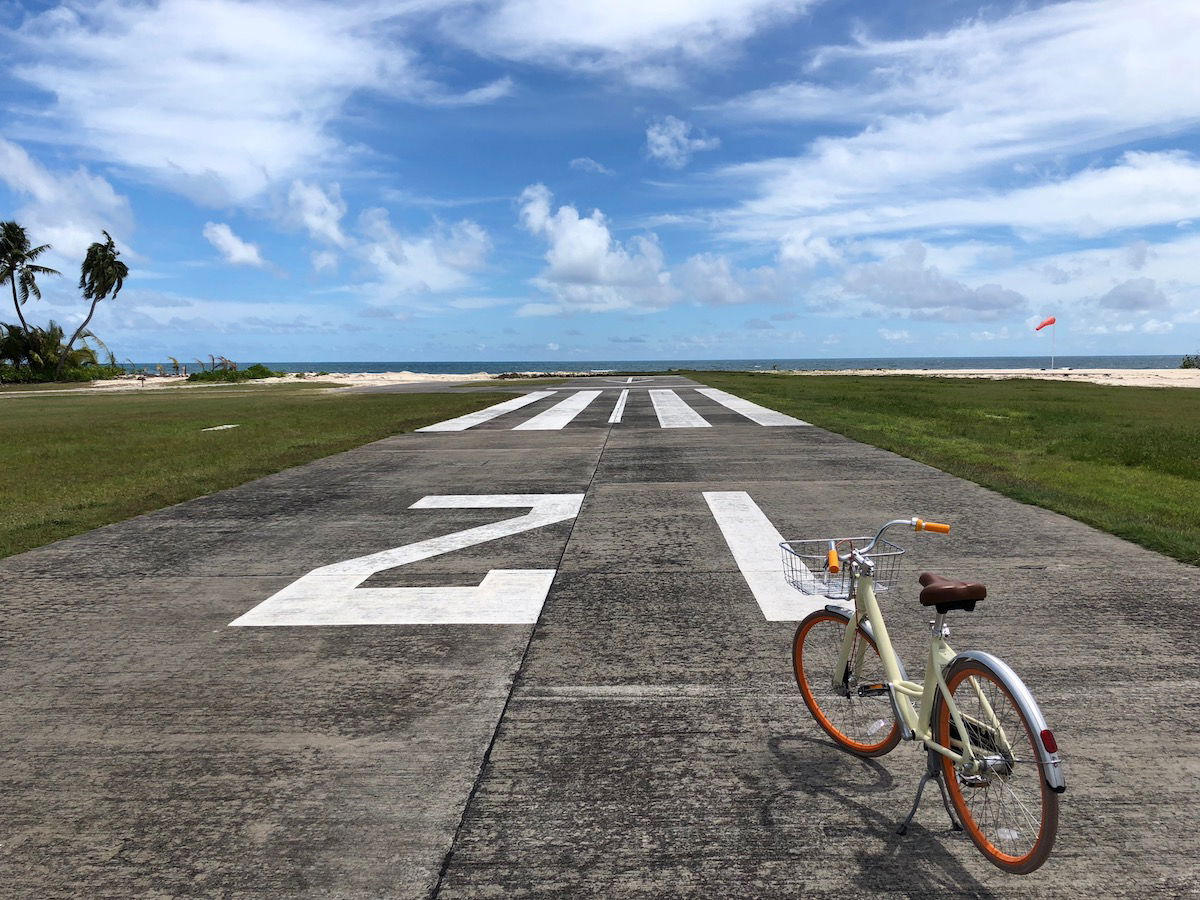 Flying from Desroches Island to Mahe
Obviously I'll cover the actual resort stay in the next installment, but in the meantime I wanted to quickly write up the return flight as well. We took the afternoon flight, given that we were taking a redeye to Istanbul, allowing us to spend the day at the resort.
The plane arrived right on schedule, and shortly before 5PM we boarded.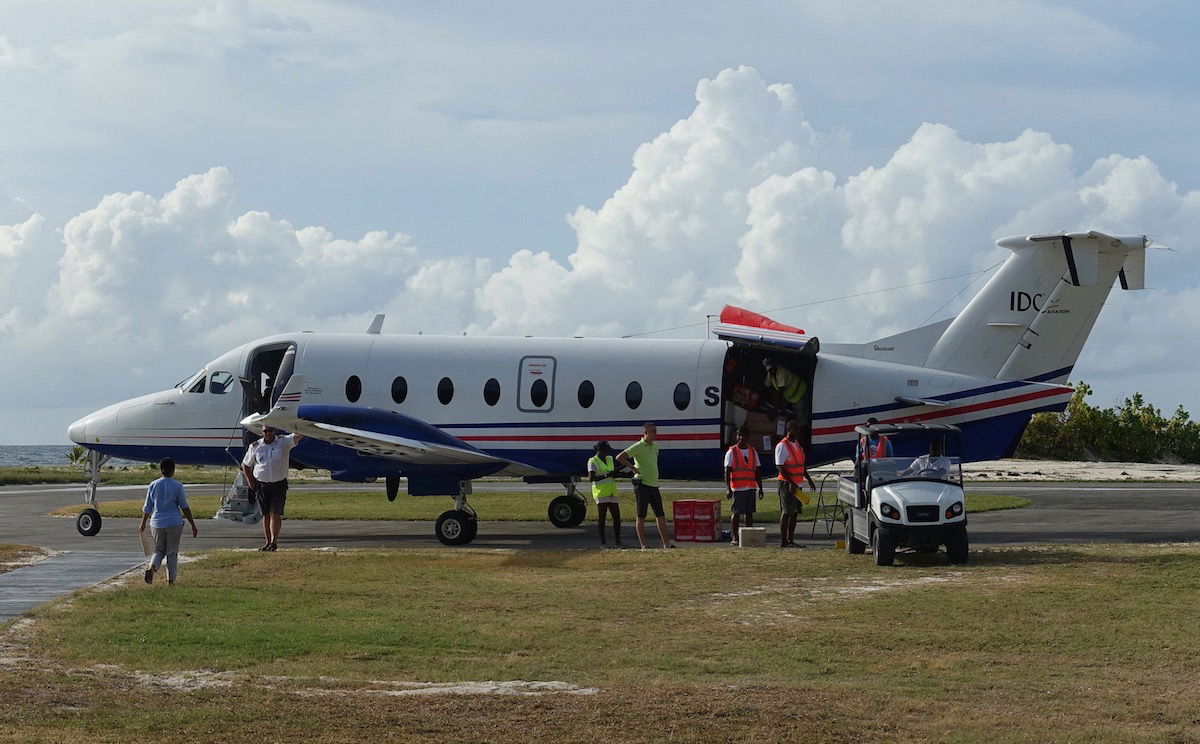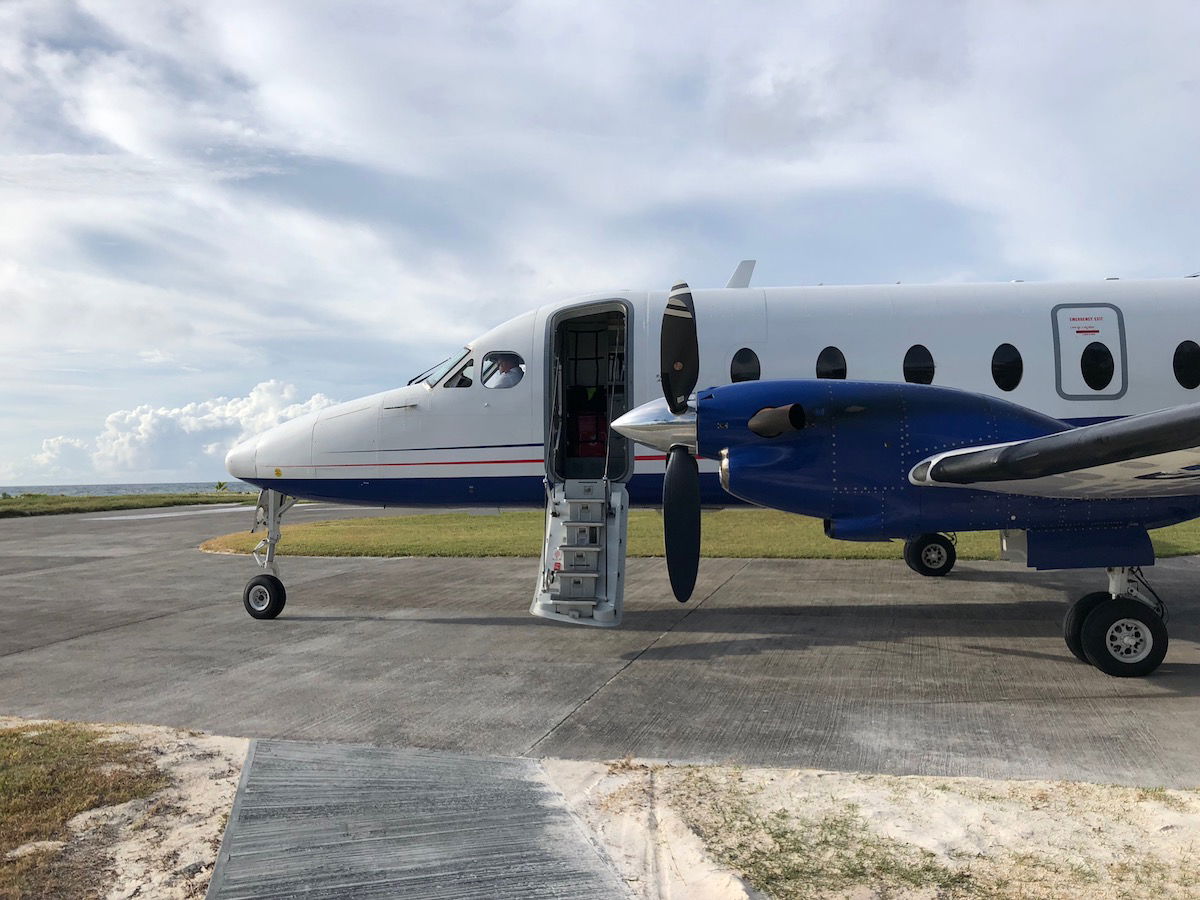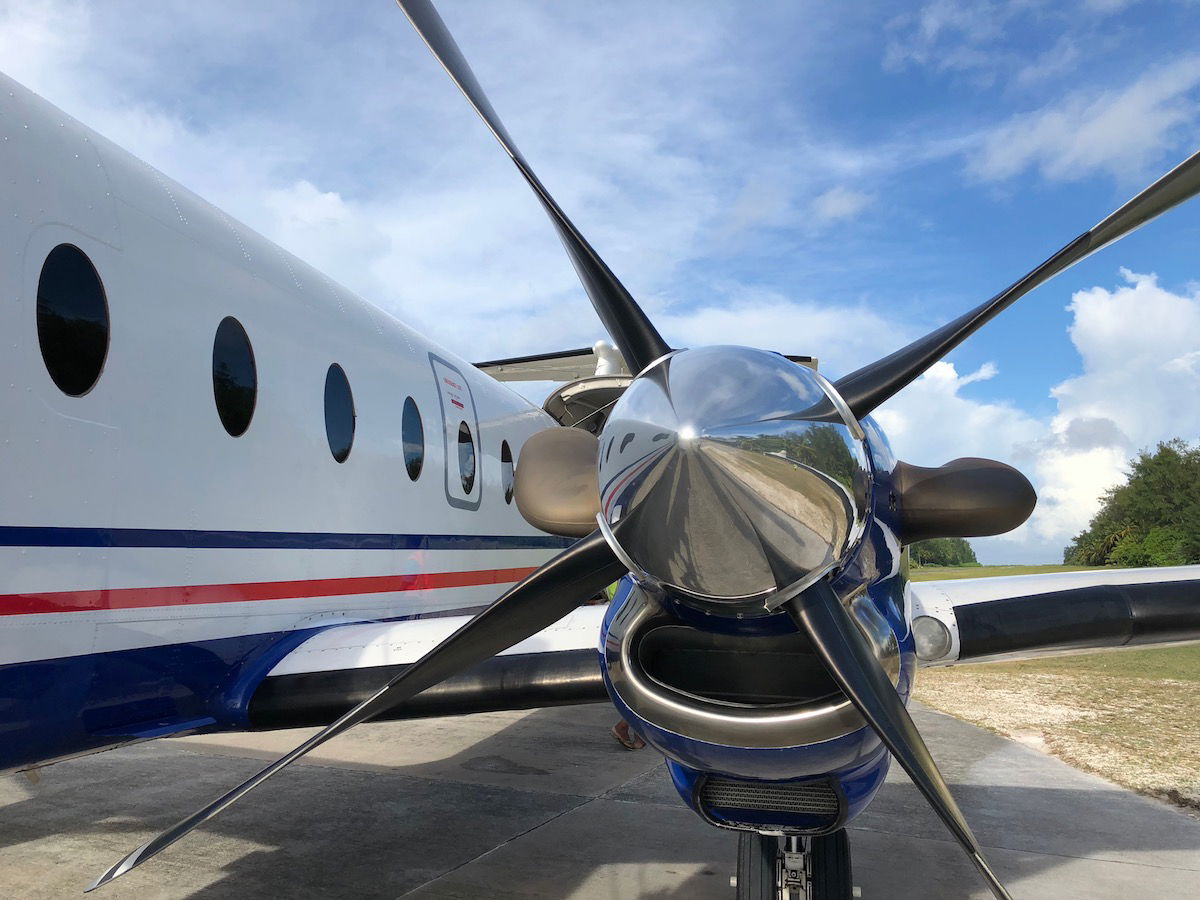 This time the flight was a bit fuller, as there were eight seats taken.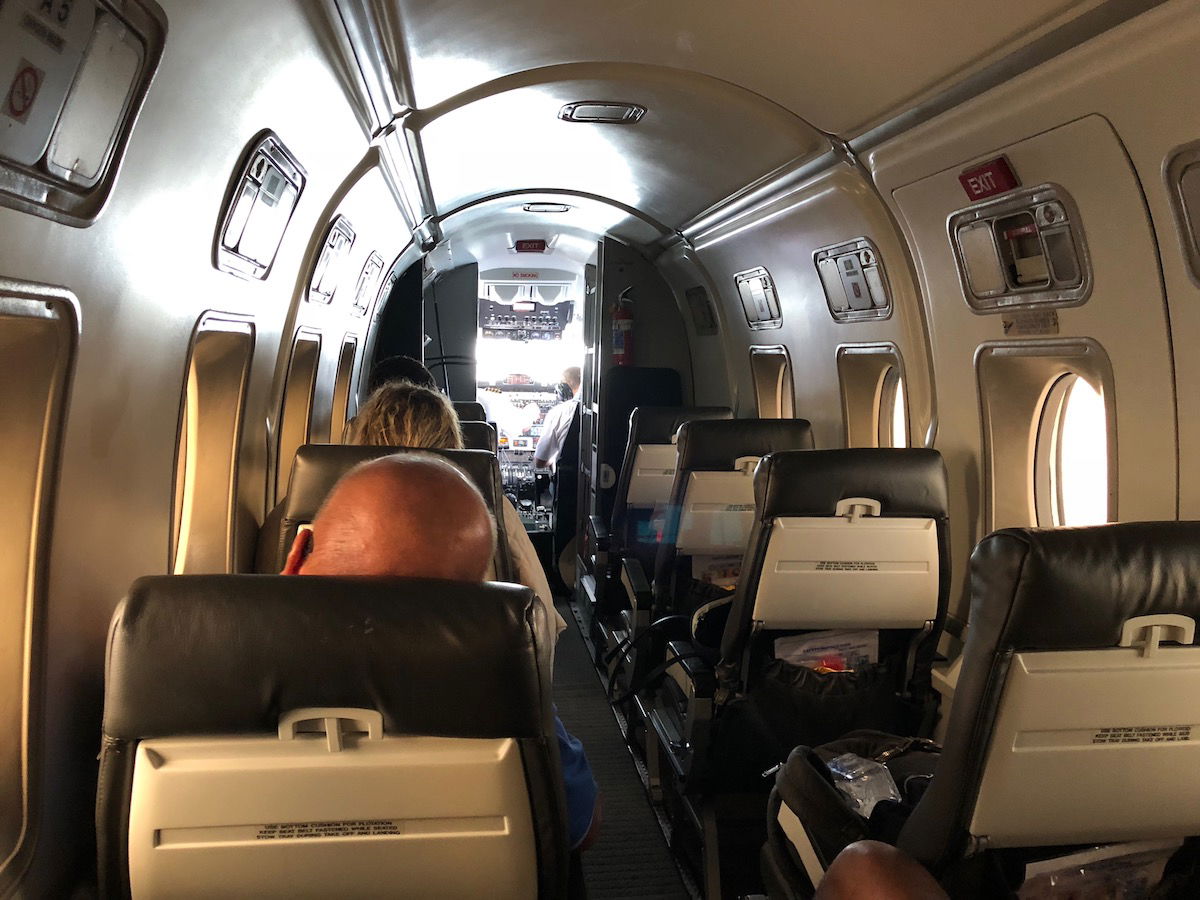 Once again there was a safety briefing, then we back taxied the runway, and two minutes later we took off, as we witnessed the start of a beautiful sunset.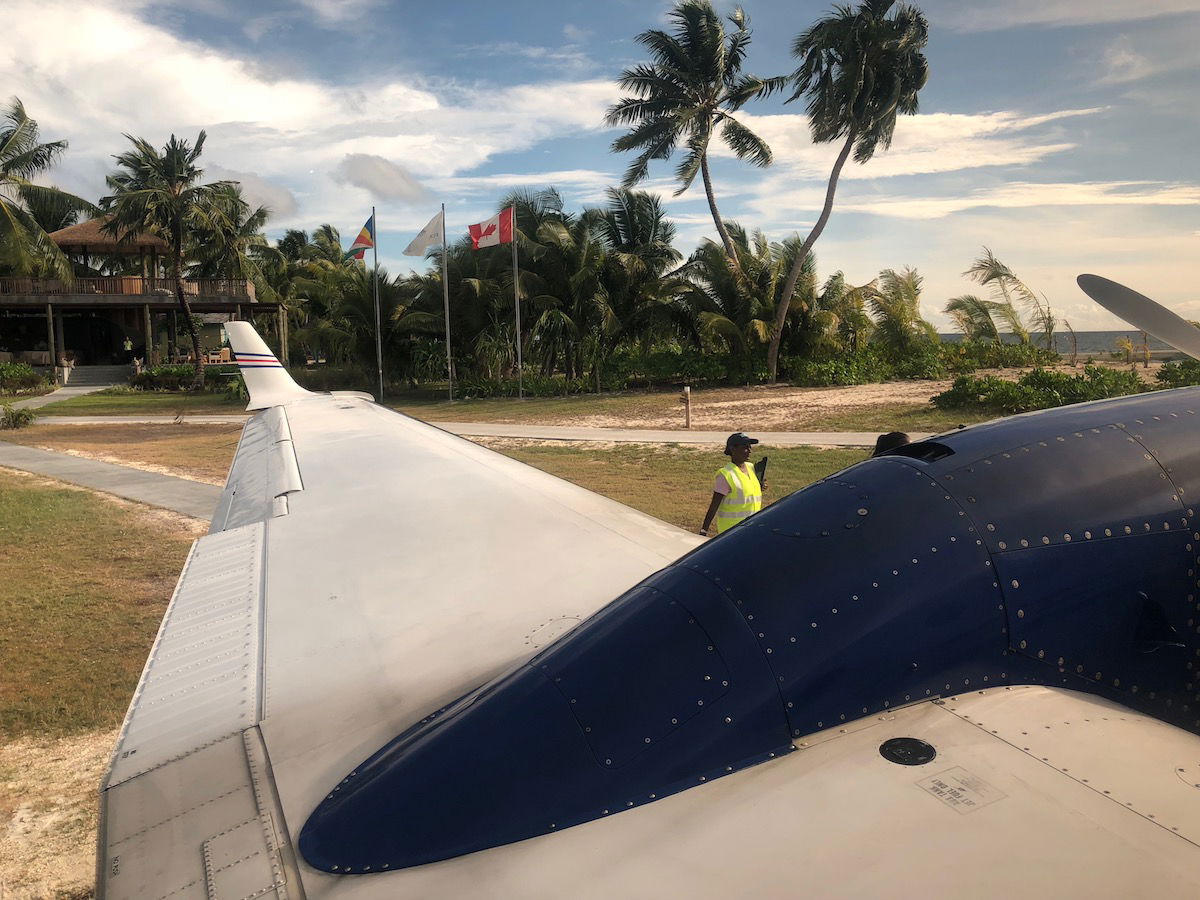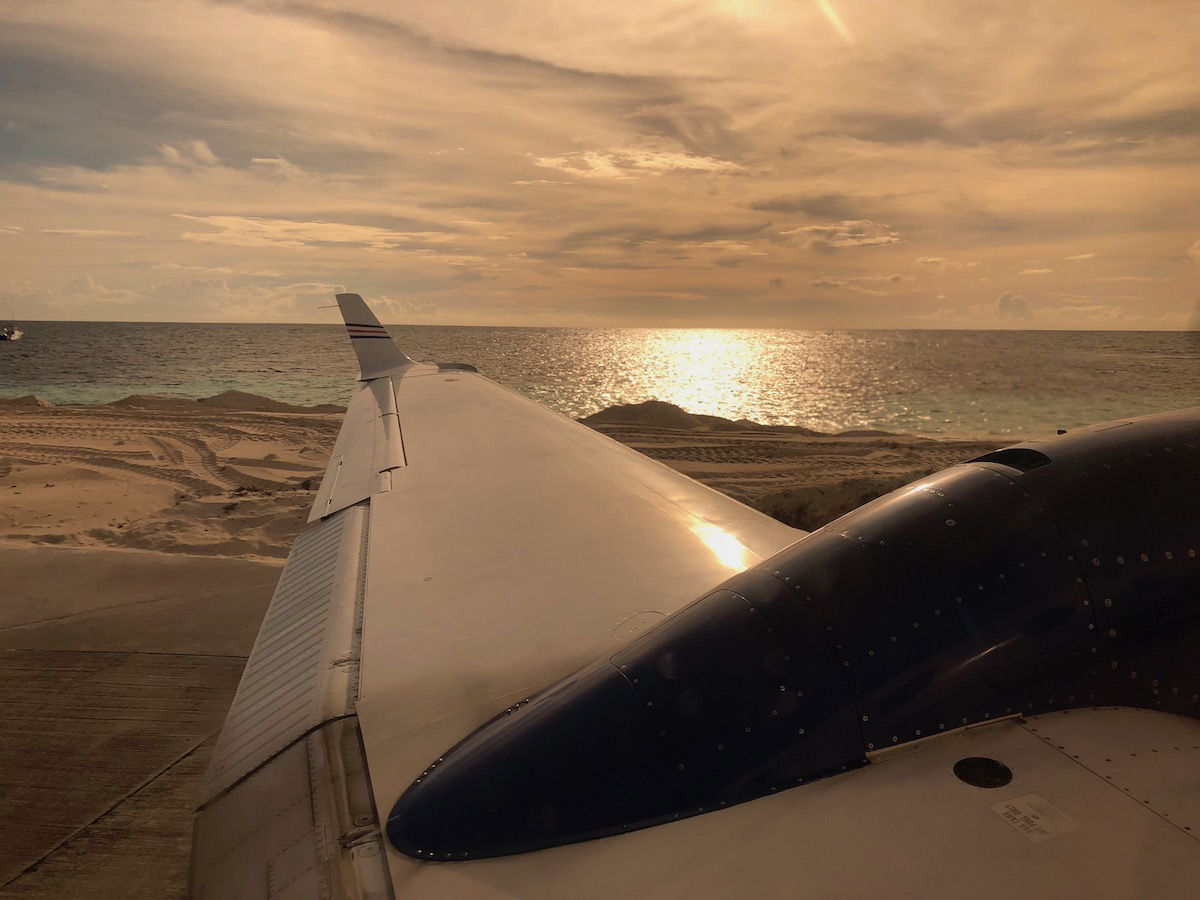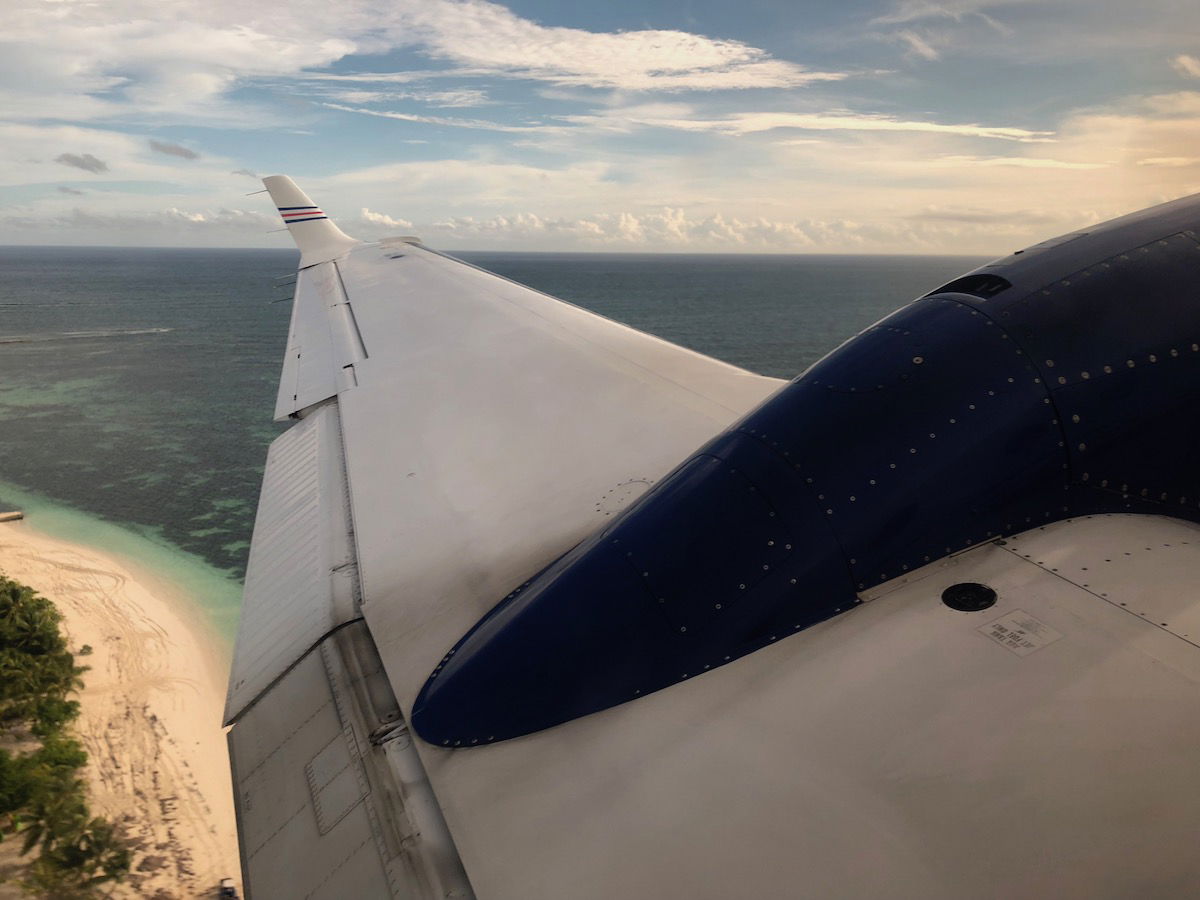 As we climbed out we made a sharp turn, and below you can see most of Desroches Island, including the runway.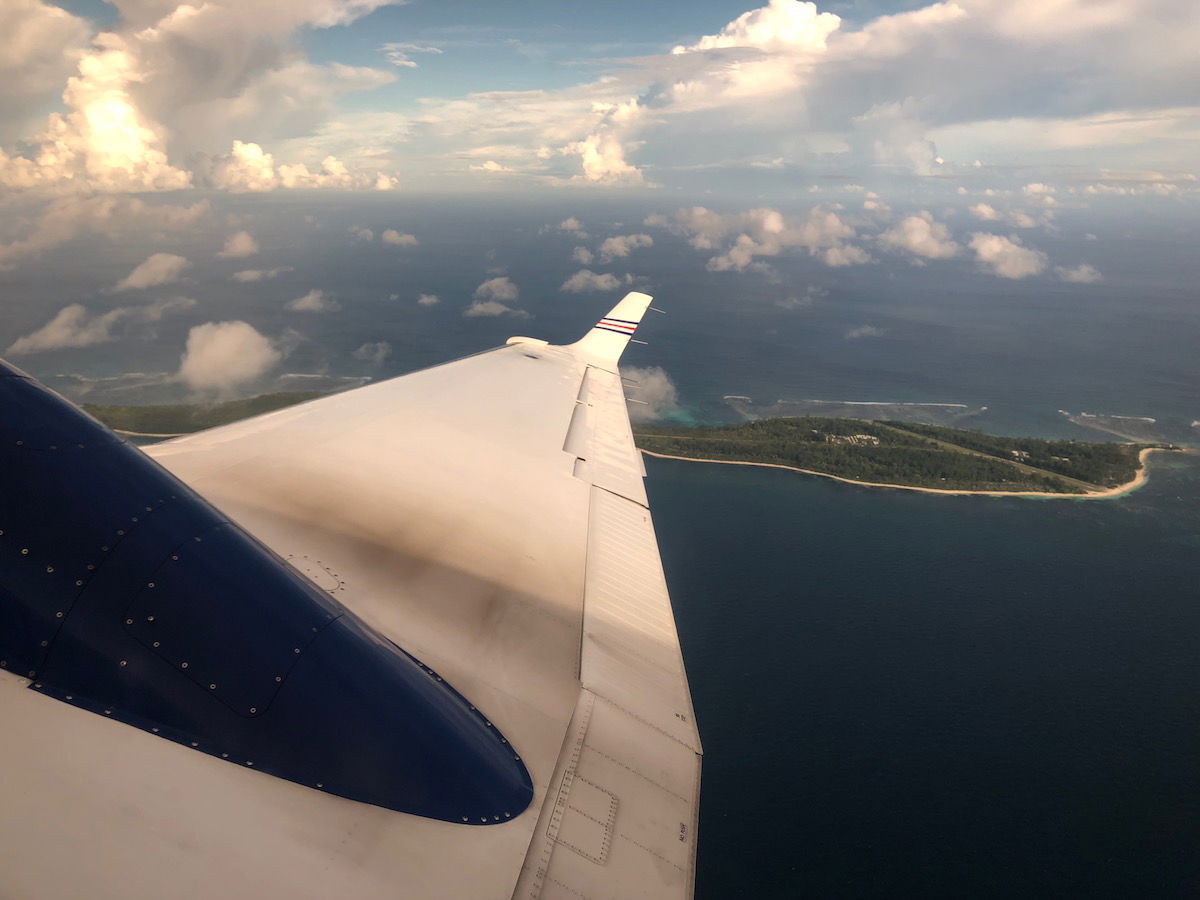 Ford doesn't like small planes (personally I don't love 22 year old Beechcraft 1900Ds being operated by companies I've never heard of either), and on this flight we hit some significant chop, as we were in the clouds most of the way. Ford was a bit scared, so I tried to comfort him.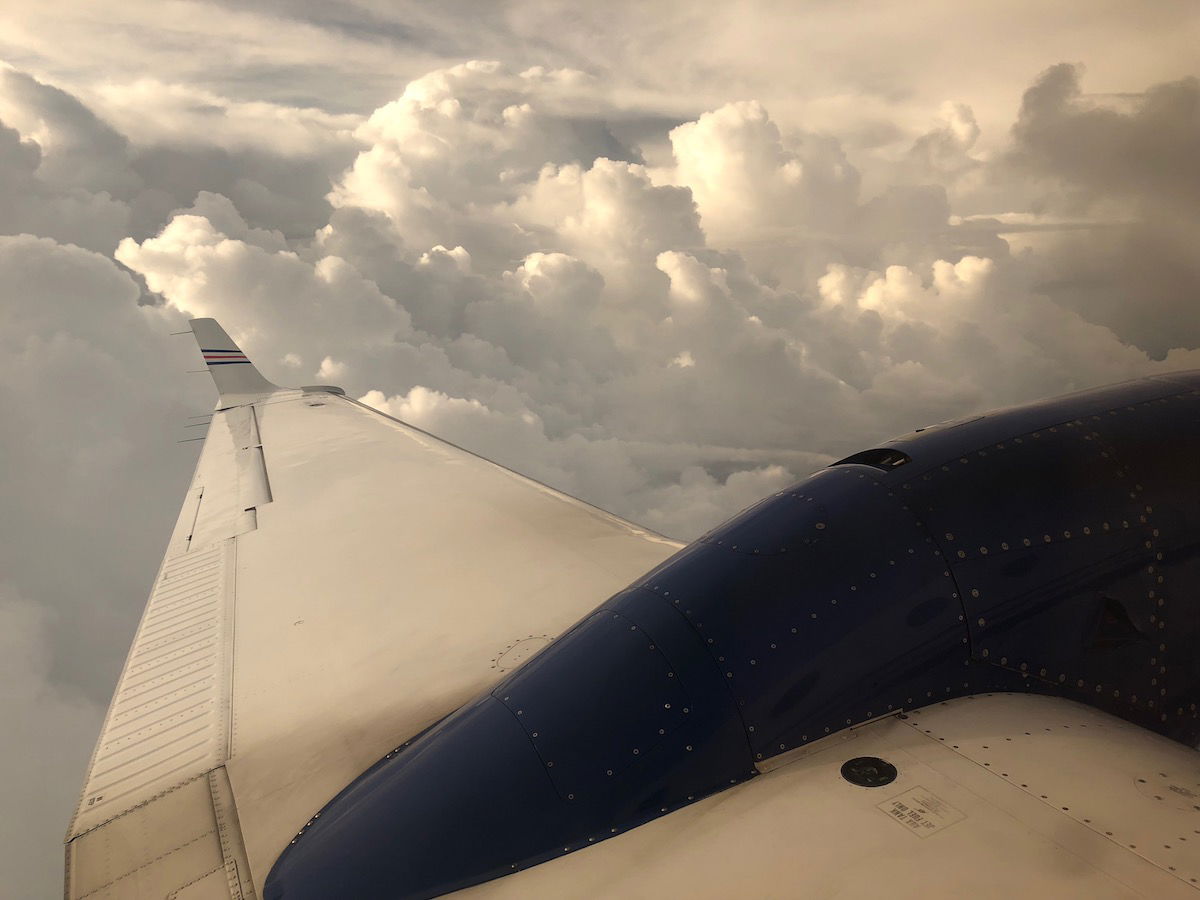 Fortunately we managed to stay distracted thanks to a very interesting lady sitting behind us. She visited Desroches Island for just one night, as she's a "territory counter" who was trying to check this off the list. Her next stop? Mogadishu, Somalia.
About 20 minutes after takeoff the ride got much smoother, and shortly thereafter we began our descent.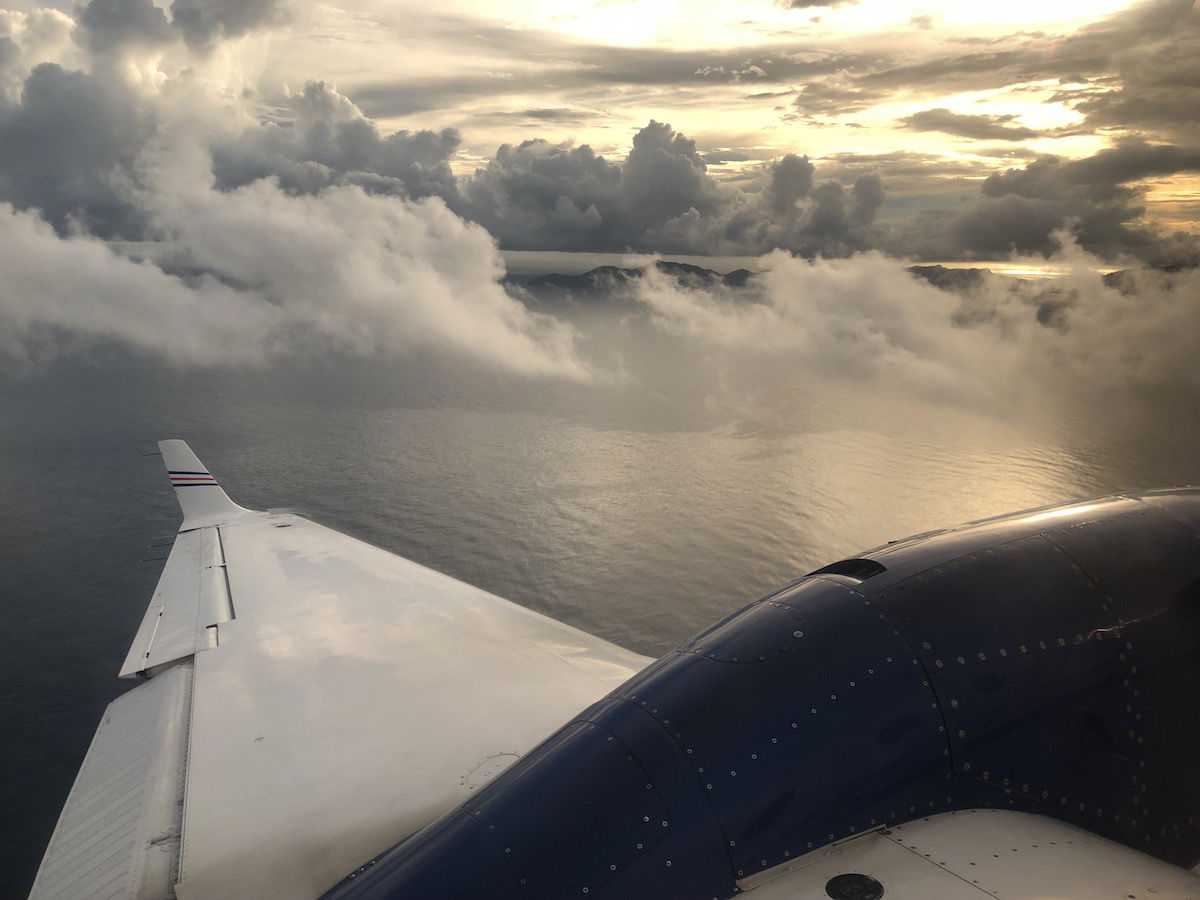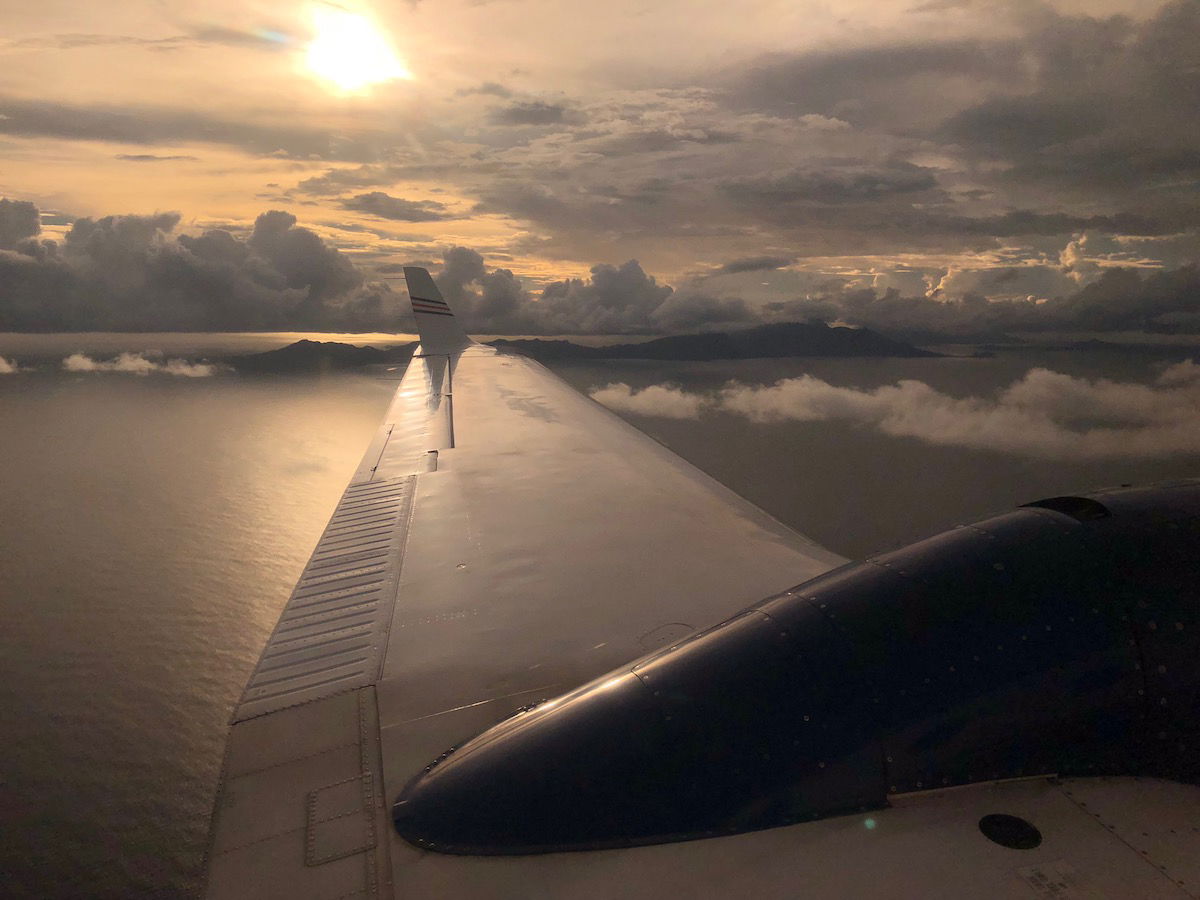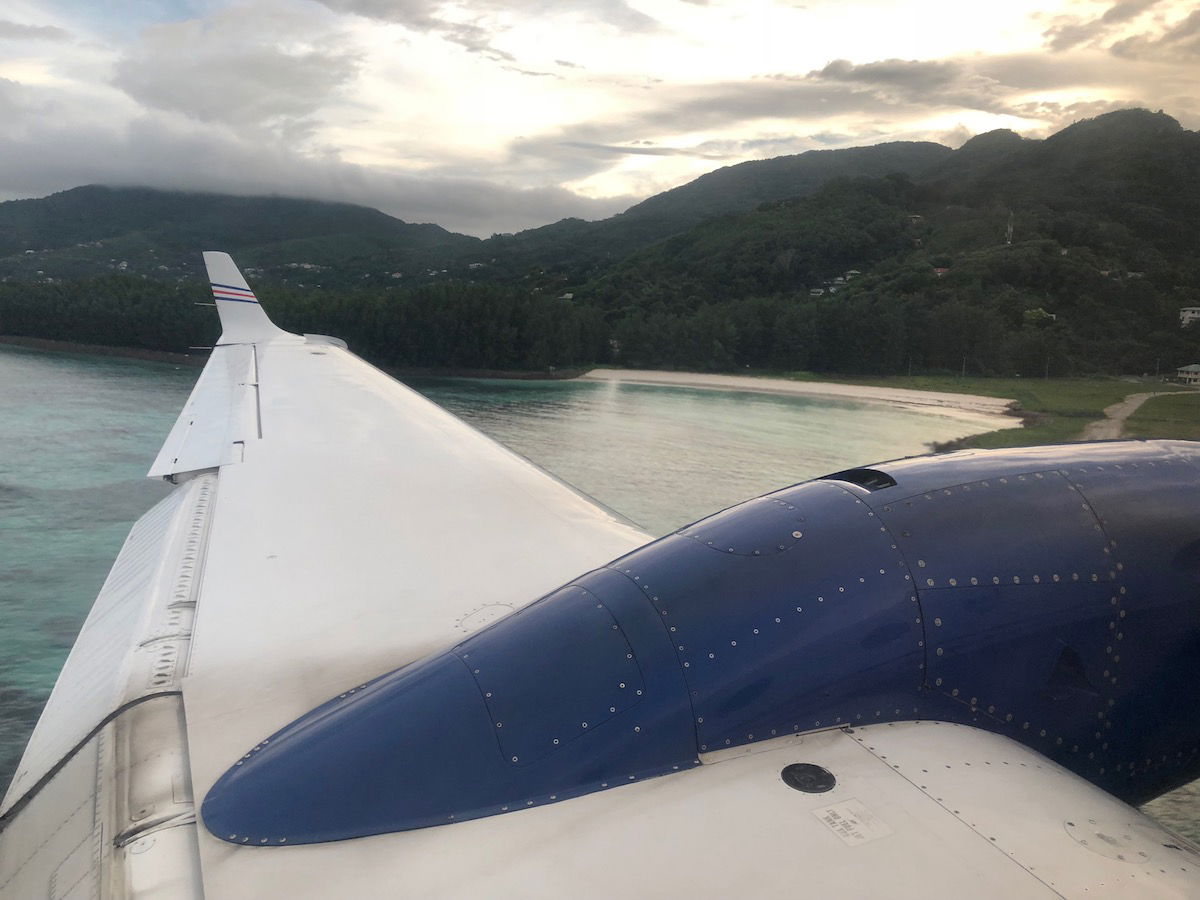 A minute after landing we were at our parking position, where we got to walk next to a Qatar Airways A330, as well as several smaller Air Seychelles turboprops.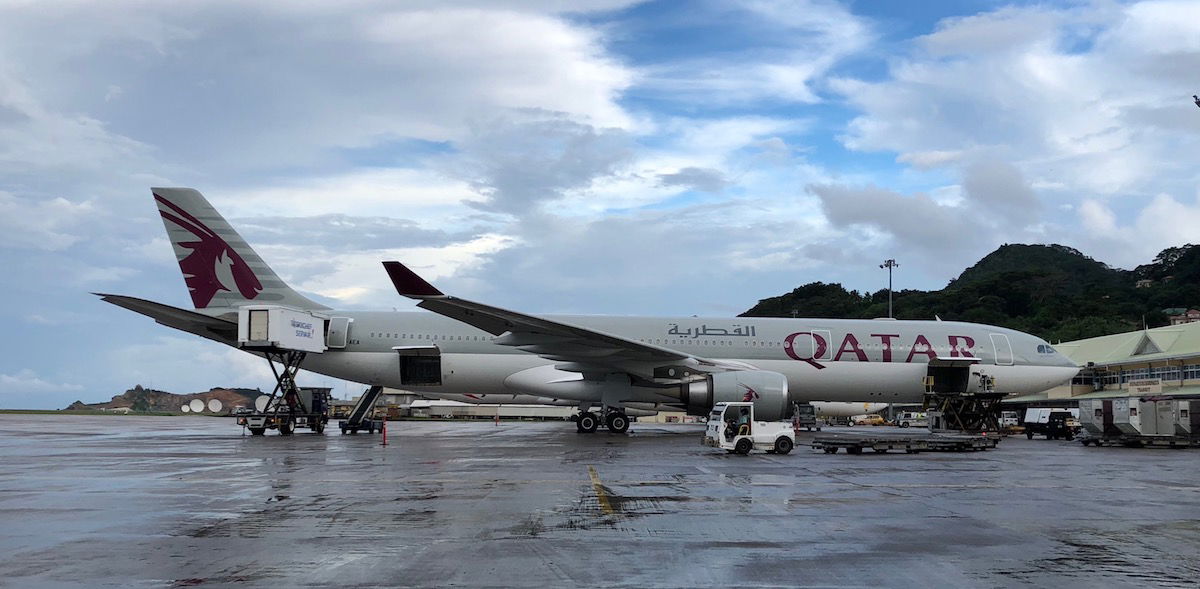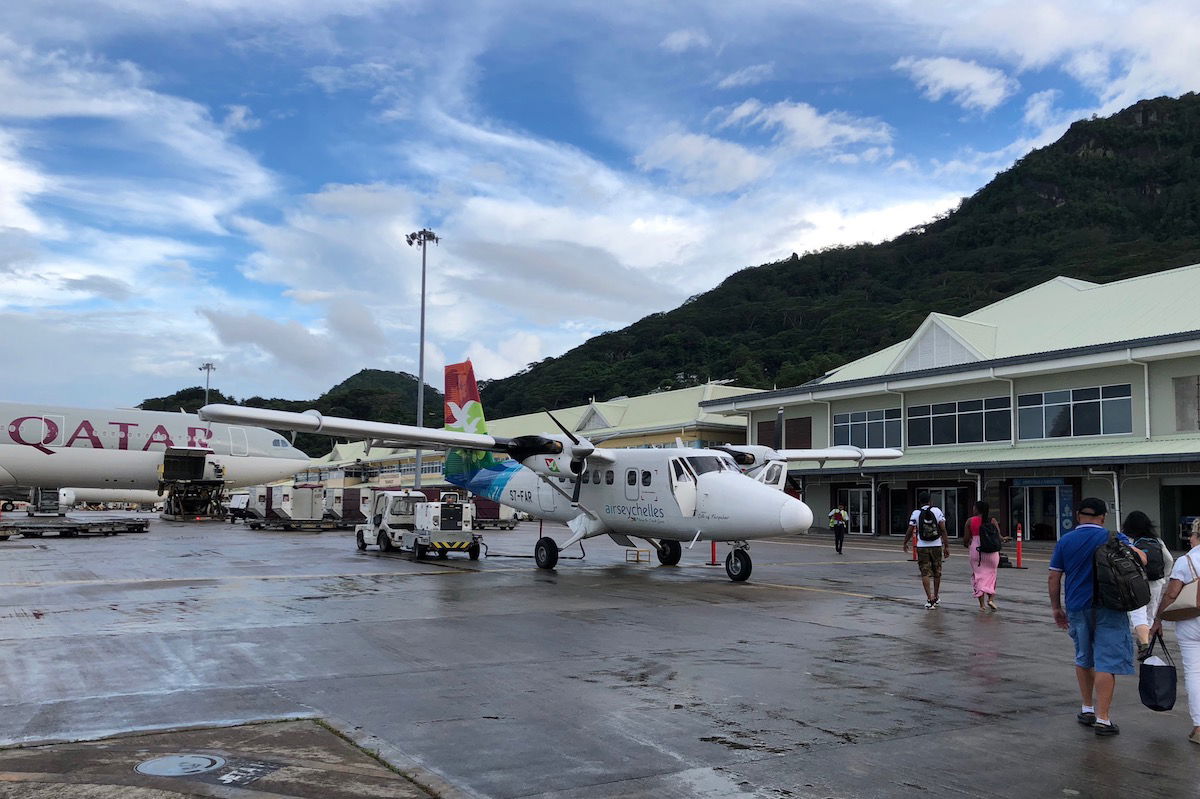 Everyone else on the plane seemed to be terminating their travels in Mahe for the day, so we were the only ones greeted by a Four Seasons representative. To our surprise, he escorted us to the airport's VVIP lounge (like, not the lounge we had access to, but rather the separate private lounge with a dedicated security channel). I'll be reviewing that two installments from now, but it was an… interesting experience.
Bottom line on flying to Desroches Island
It's funny how many of the world's best resorts have to be reached in some not-glamorous ways, but I guess that's the price of going somewhere remote. These flights were expensive, though in fairness they weren't anywhere close to full, so I'm guessing they took a loss on the outbound flight. All around I found the flight experience to be easy, and I was impressed that both flights ran exactly on-time. Furthermore, the help from Four Seasons representatives at the airport on both arrival and departure was a nice touch.
I would note that there's often weather in the Seychelles, so if that's something you're worried about, be sure you leave plenty of time before your international flight, because there is a risk of cancelations.