---
Lufthansa 453
Los Angeles (LAX) – Munich (MUC)
Friday, March 9
Depart: 5:15PM
Arrive: 1:40PM (+1 day)
Duration: 11hr25min
Aircraft: A340-600
Seat: 1K (First Class)
Ah, Lufthansa. Back in the day I'd fly Lufthansa first class all the time, but nowadays I fly them maybe once a year (most recently last May from Frankfurt to Los Angeles on a 747-8). That's partly because of all the award chart devaluations we've seen, and partly because I want to review as many new products as possible. However, I figure it makes sense to write a review of Lufthansa first class at least once a year, to see how things have changed (spoiler alert: for better or worse, very little ever changes about Lufthansa first class).
I boarded through door L1, where purser Petra pointed me towards my seat, 1K. Lufthansa's A340 first class cabin consists of a total of eight seats, in a 1-2-1 configuration. All of Lufthansa's Airbus first class cabins have a similar layout (A330s, A340s, and A380s), while the 747-8 has a slightly different layout due to the cabin being in the nose. The first class cabin feels really open and exposed, though each seat has a privacy partition that can be raised.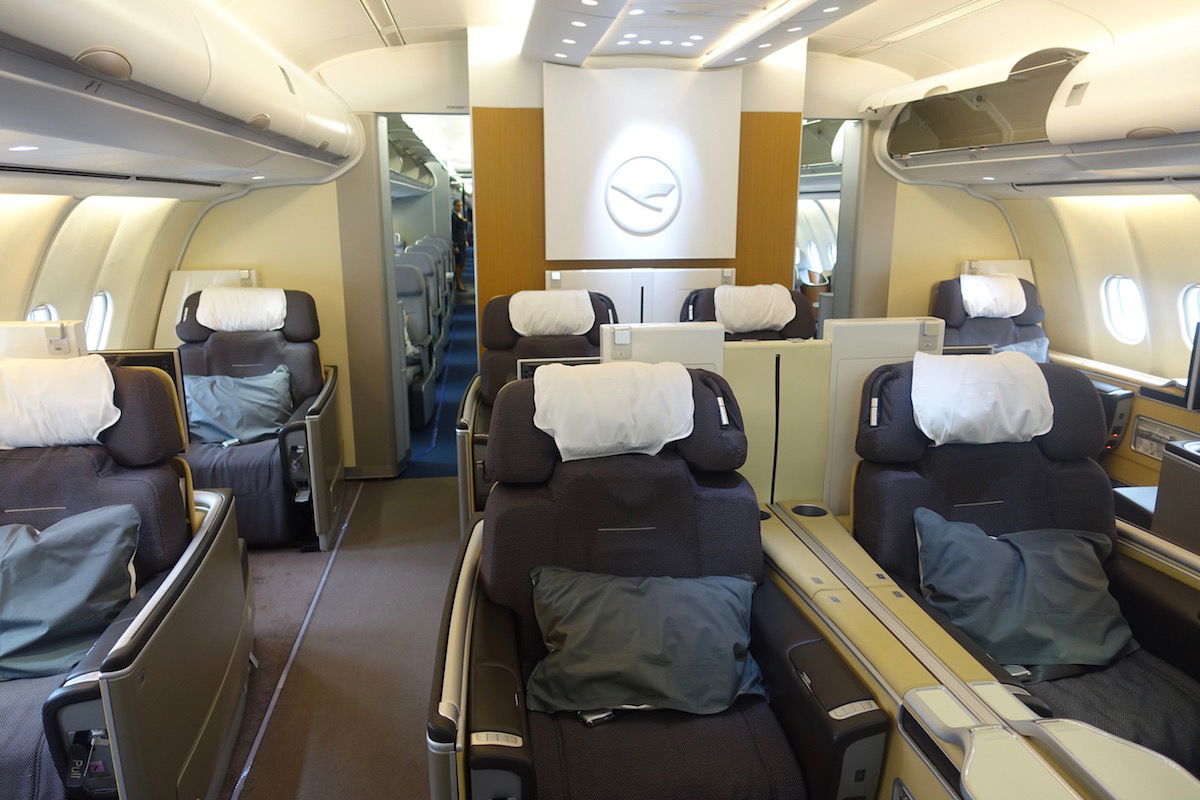 Lufthansa A340 first class cabin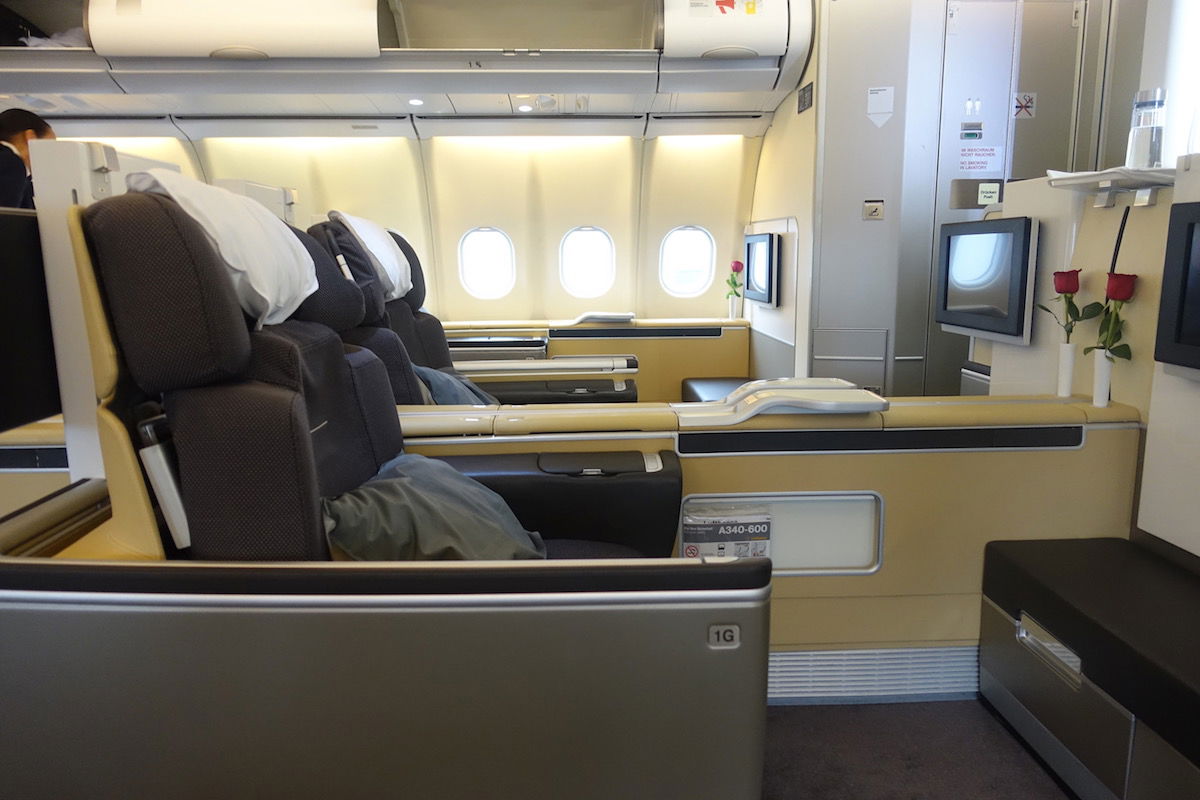 Lufthansa first class cabin
While Lufthansa hardly has a cutting edge first class hard product at this point, it's still comfortable and elegant.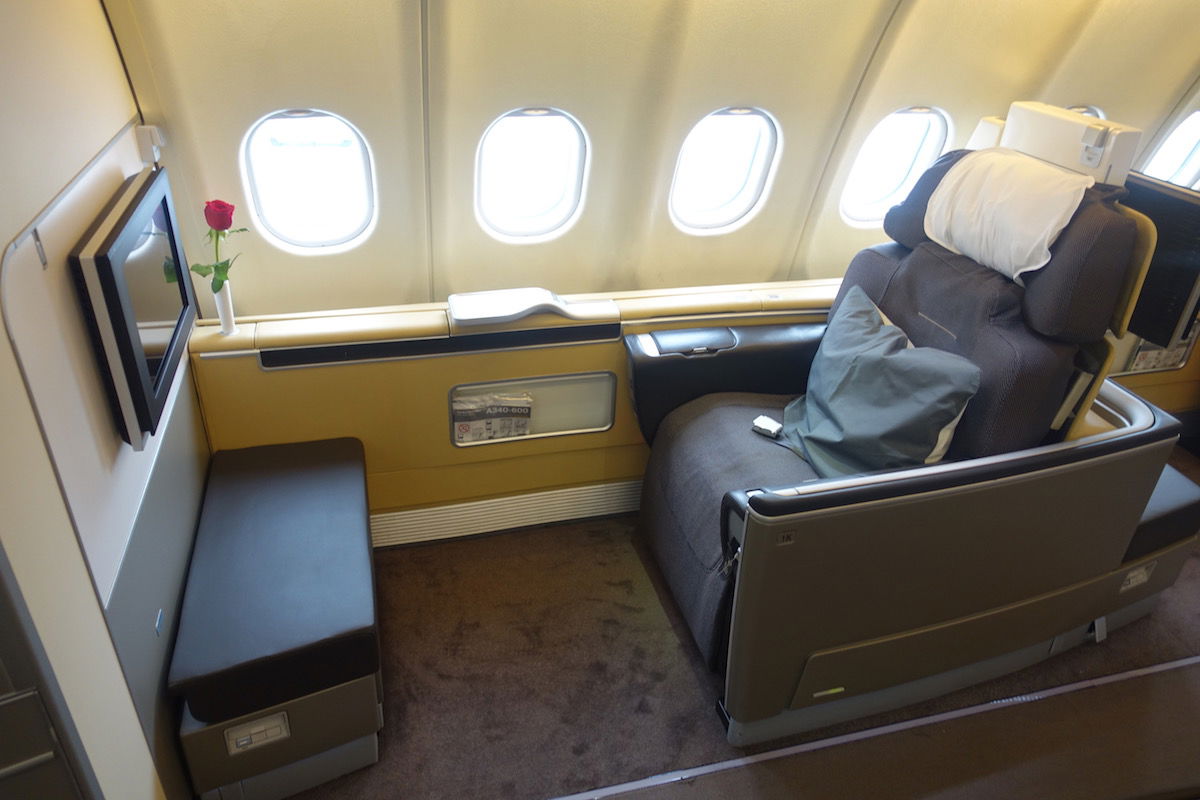 Lufthansa first class seat A340
The seat itself is well padded, so it's even comfortable in the upright position, which is an area where a lot of other airlines drop the ball.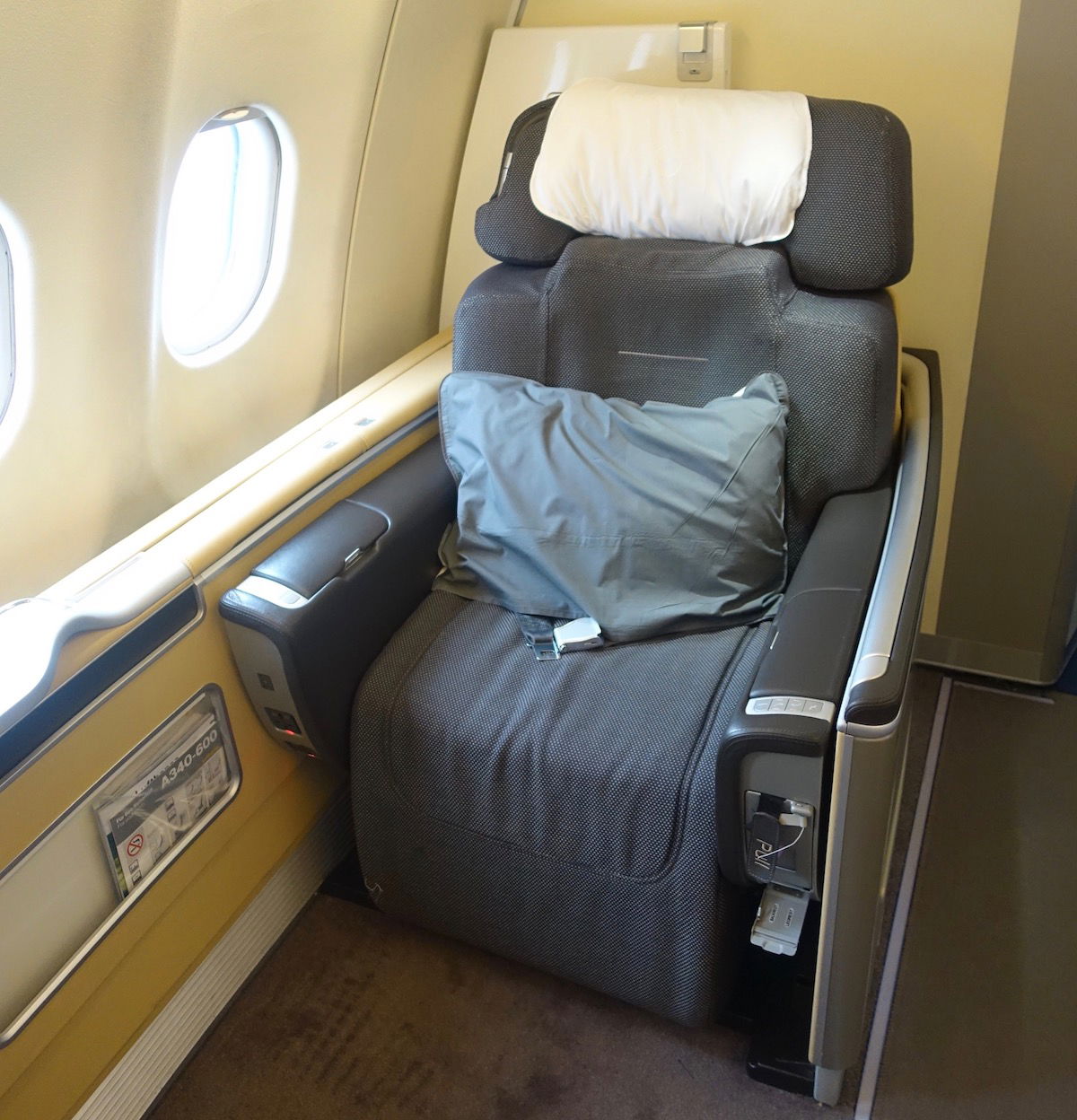 Lufthansa A340 first class seat
Then there's an ottoman that can be moved forwards and backwards, along with an entertainment monitor on the bulkhead.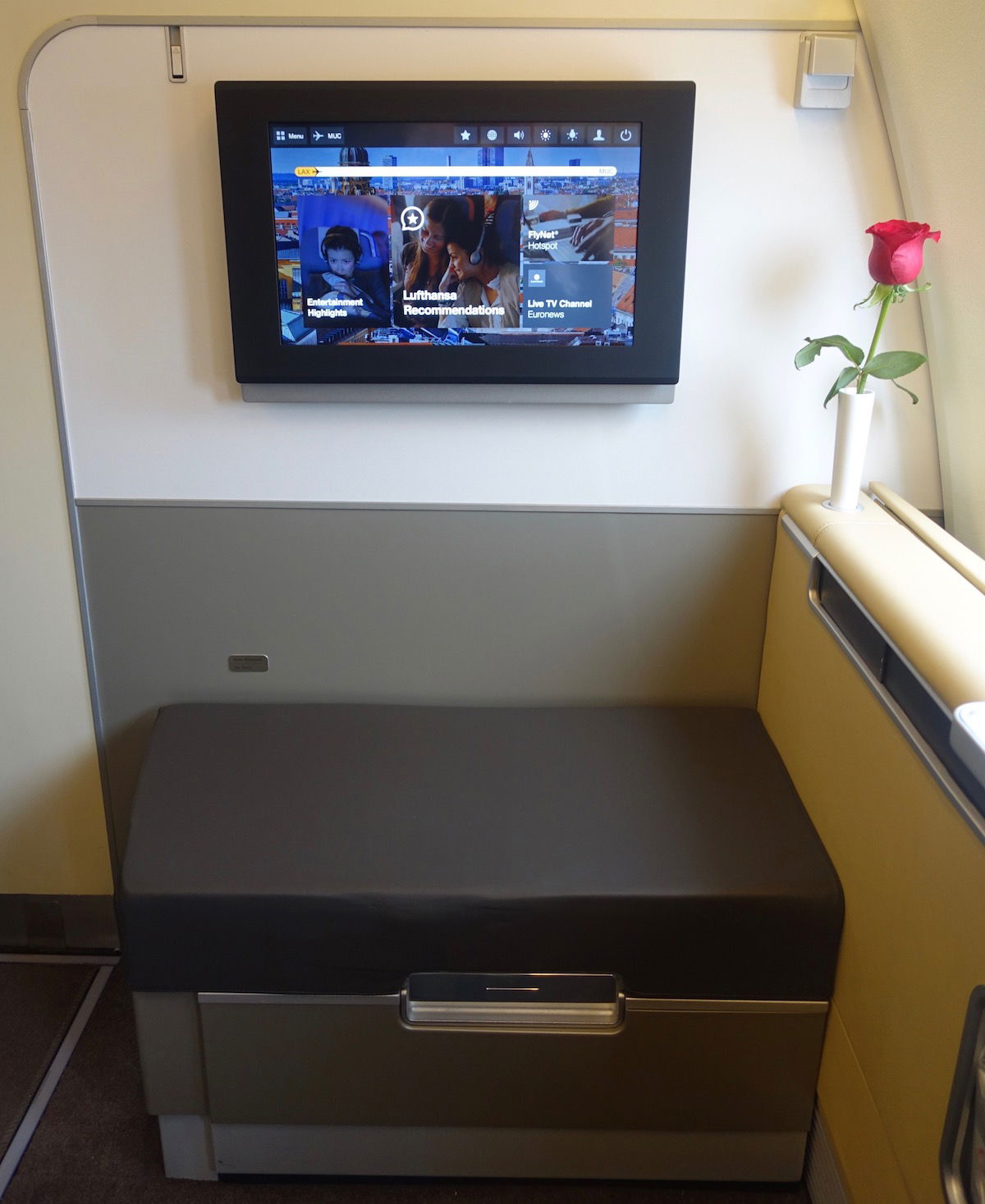 Lufthansa first class entertainment system & ottoman
There's a significant amount of storage inside the ottoman, where you can place shoes or a laptop. They also store a light blanket in there, so you have easy access to it.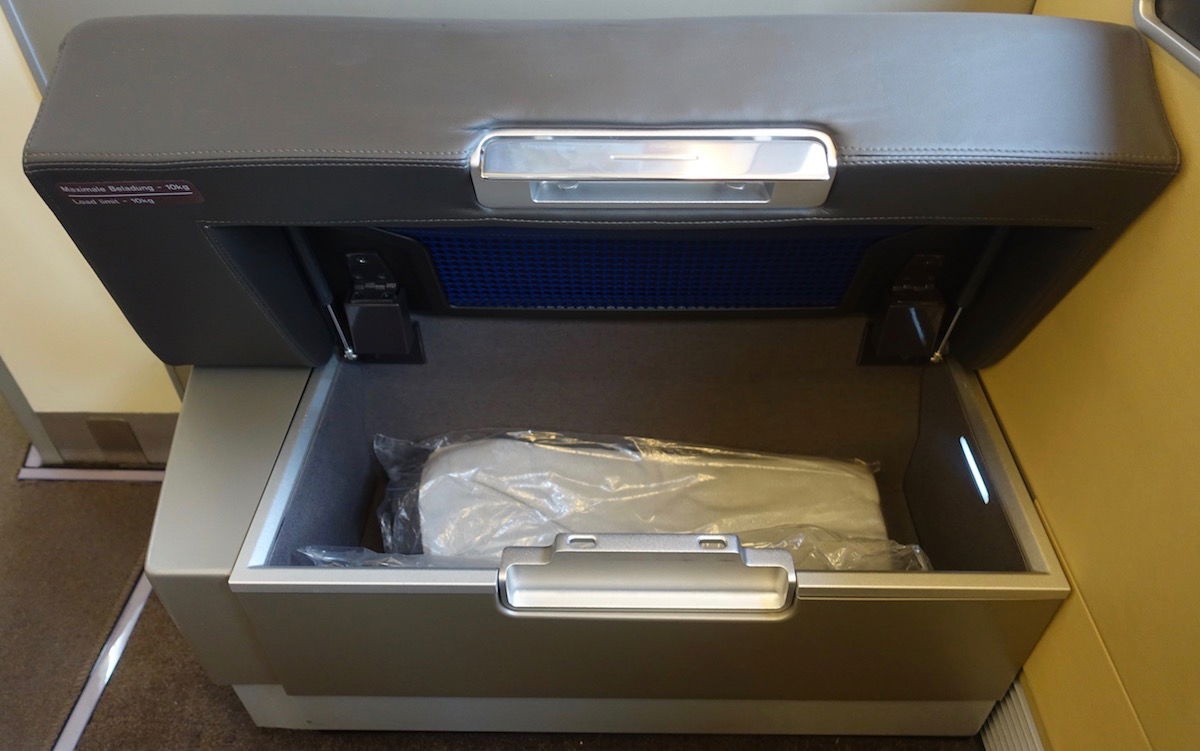 Lufthansa first class ottoman
The blanket in there is intended to be used until you get turndown service. You can always ask for the proper blanket earlier if you want, though.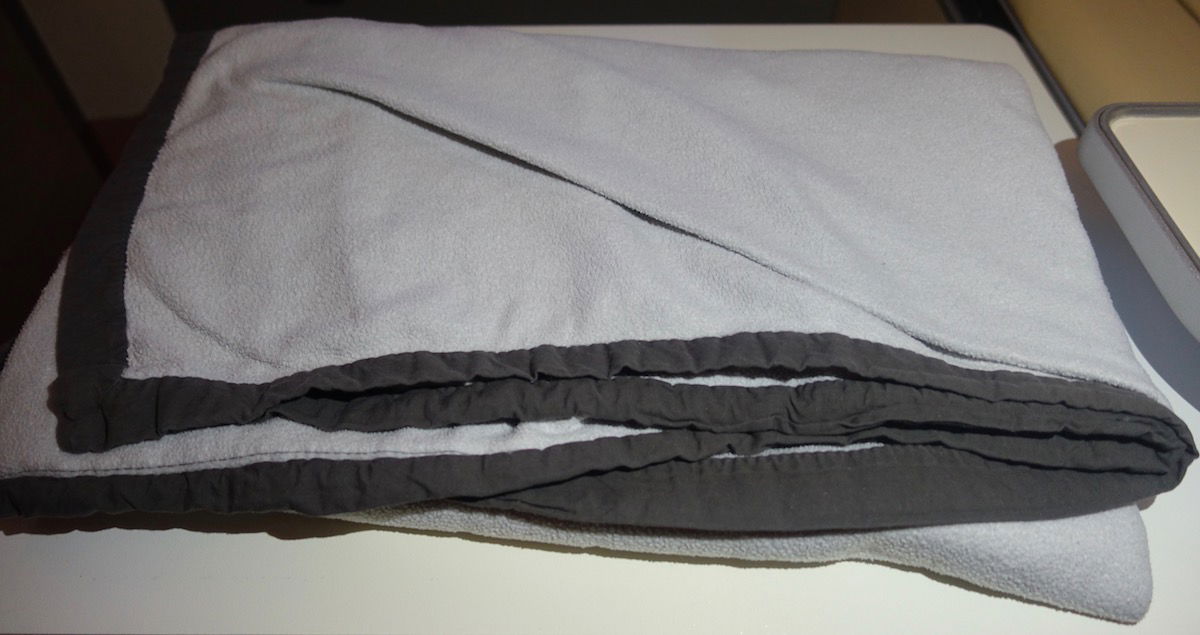 Lufthansa first class blanket
Along the side of the seat is a small surface that's big enough for a drink, without having to take out the tray table.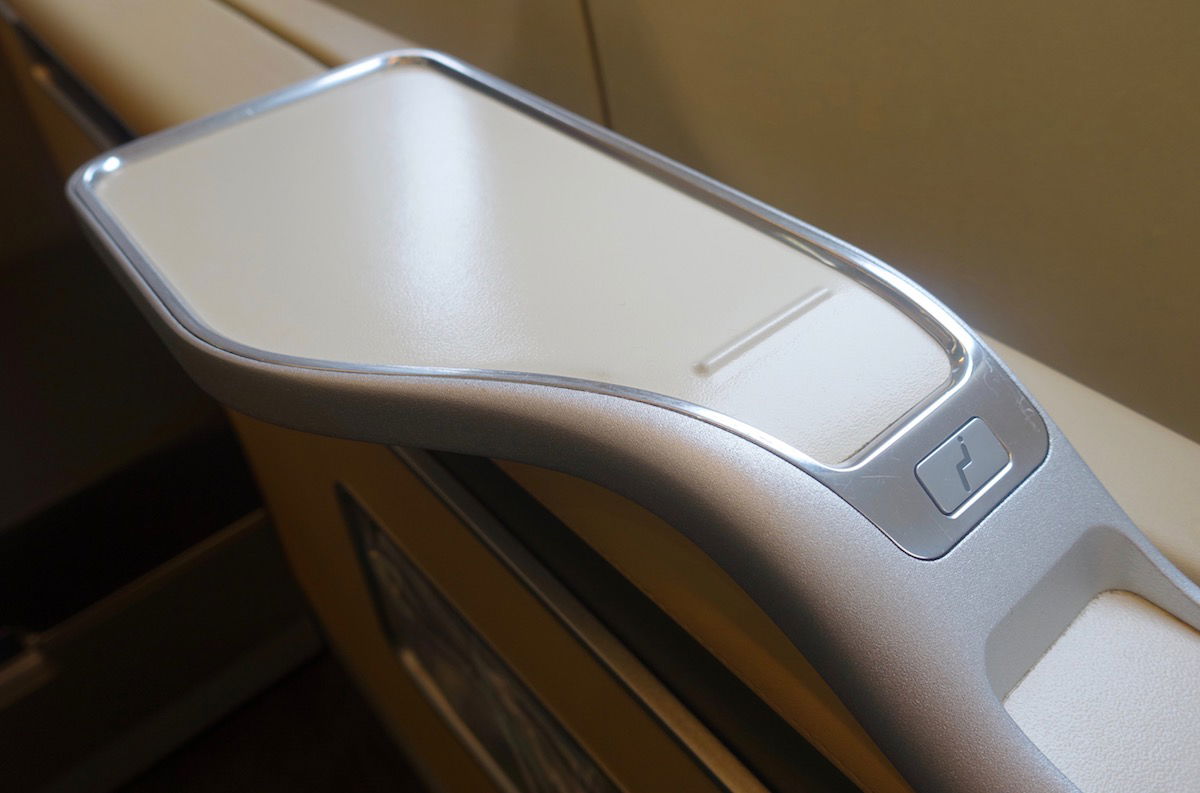 Lufthansa first class side table
The tray table comes out from the very front side of the seat, and then you can slide it as close or far away from you as you want. I like the flexibility of the tray table, since you can easily move it so that you can get up during the meal service.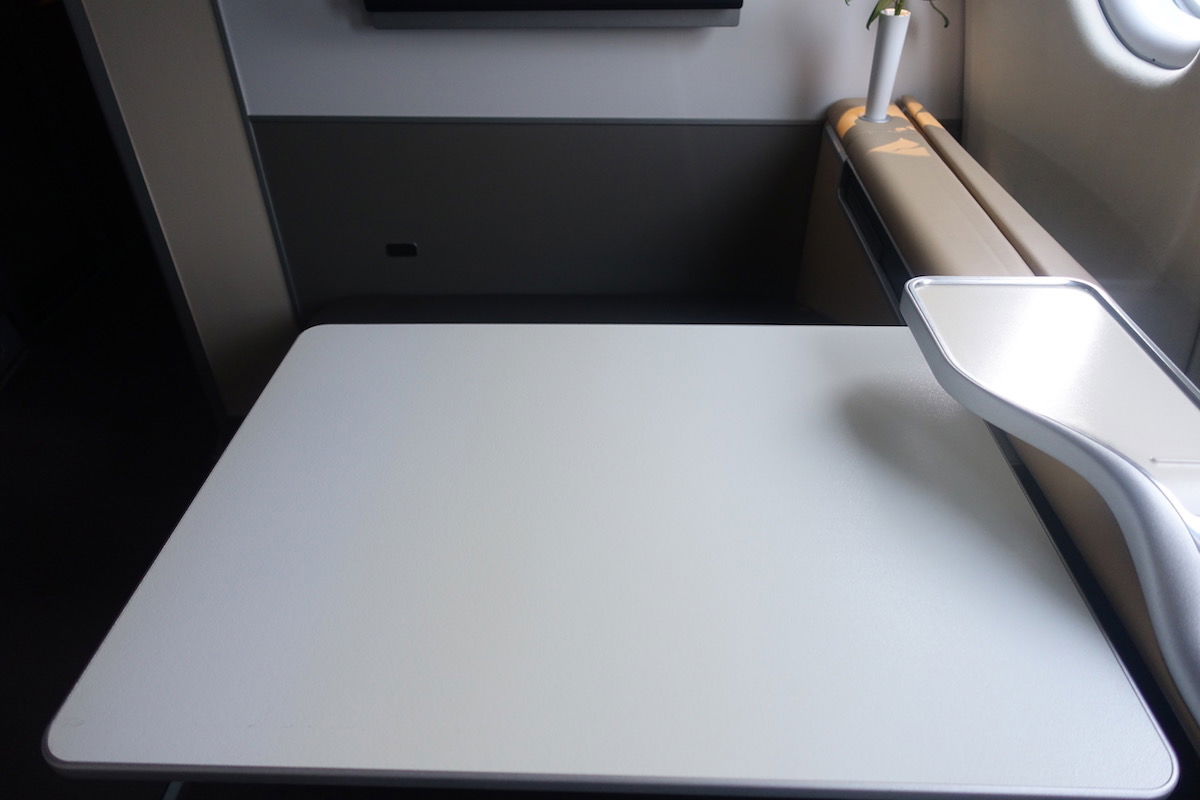 Lufthansa first class tray table
At the back right of the seat is a deep but narrow storage compartment.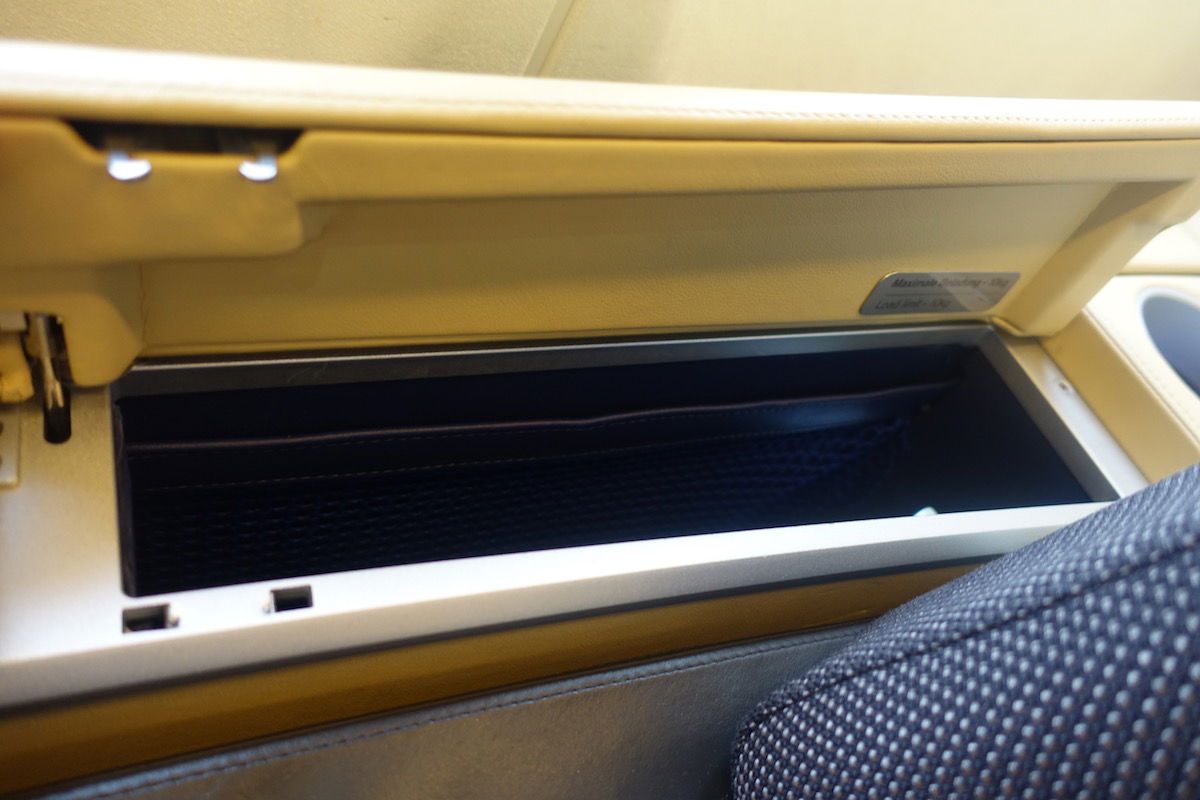 Lufthansa first class seat storage
In the compartment are a pair of Bose headphones. It's great that Lufthansa has these in first class, and even better that they're wired to the seat, so that they don't have to collect them 30 minutes before landing like on American — you can enjoy these headphones gate-to-gate.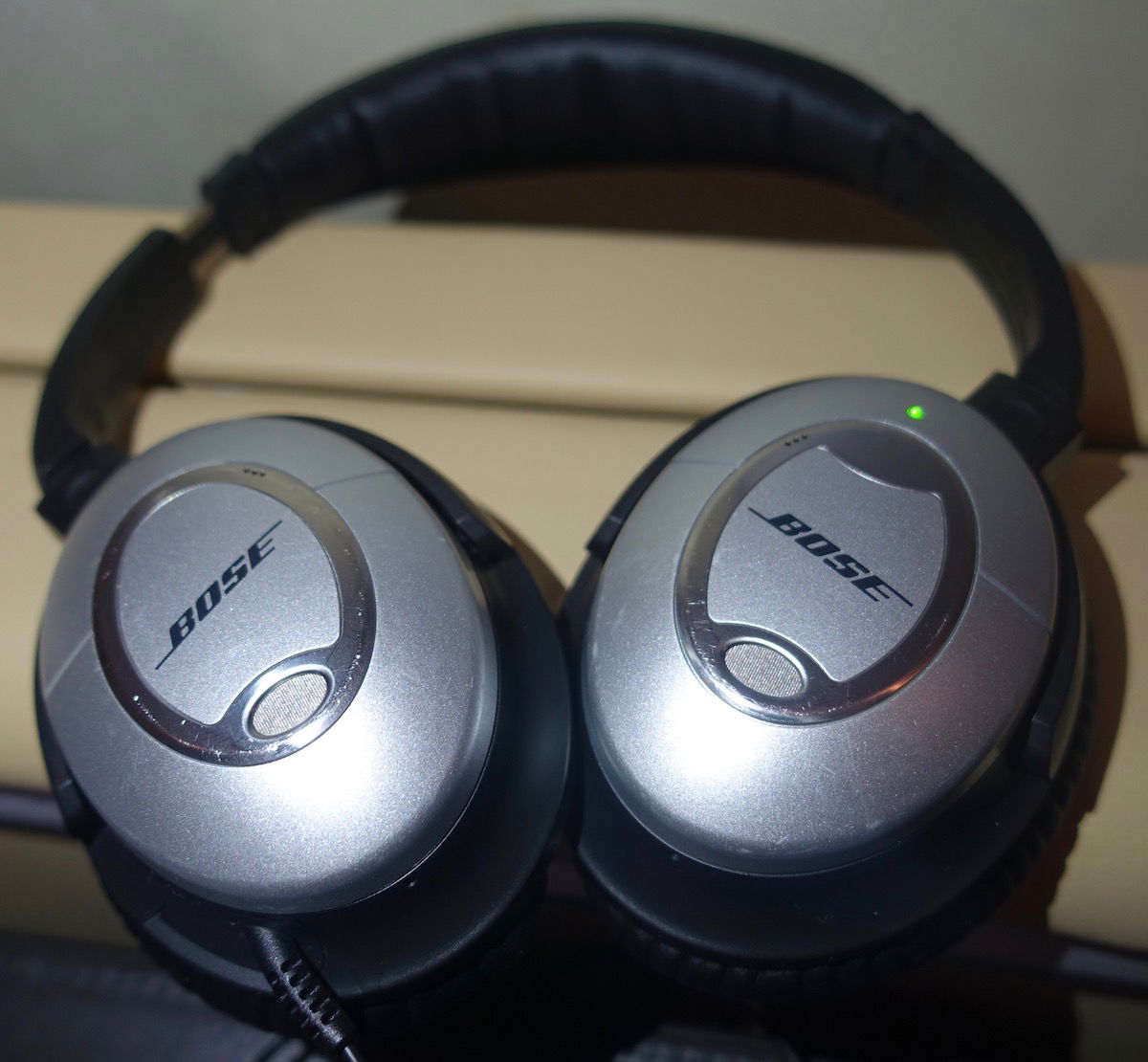 Lufthansa first class Bose headphones
Underneath the seat and to the right are the power outlets. There are two USB outlets and two 110v outlets.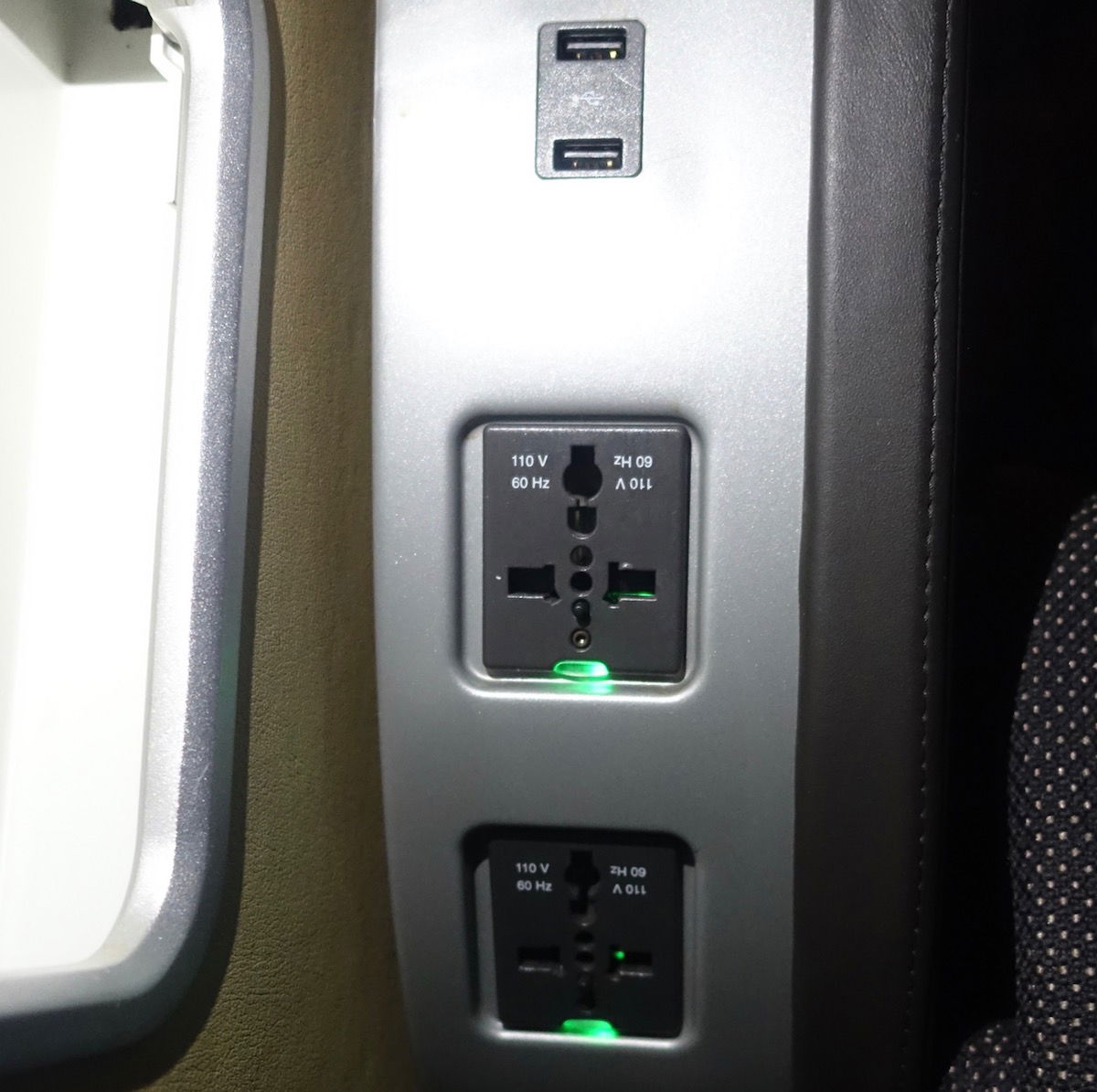 Lufthansa first class power outlets
On the left armrest are the seat controls, which are easy to use. At the top are some basic seat pre-sets, and then you can choose more detailed settings beneath that, including raising or lowering the privacy partition.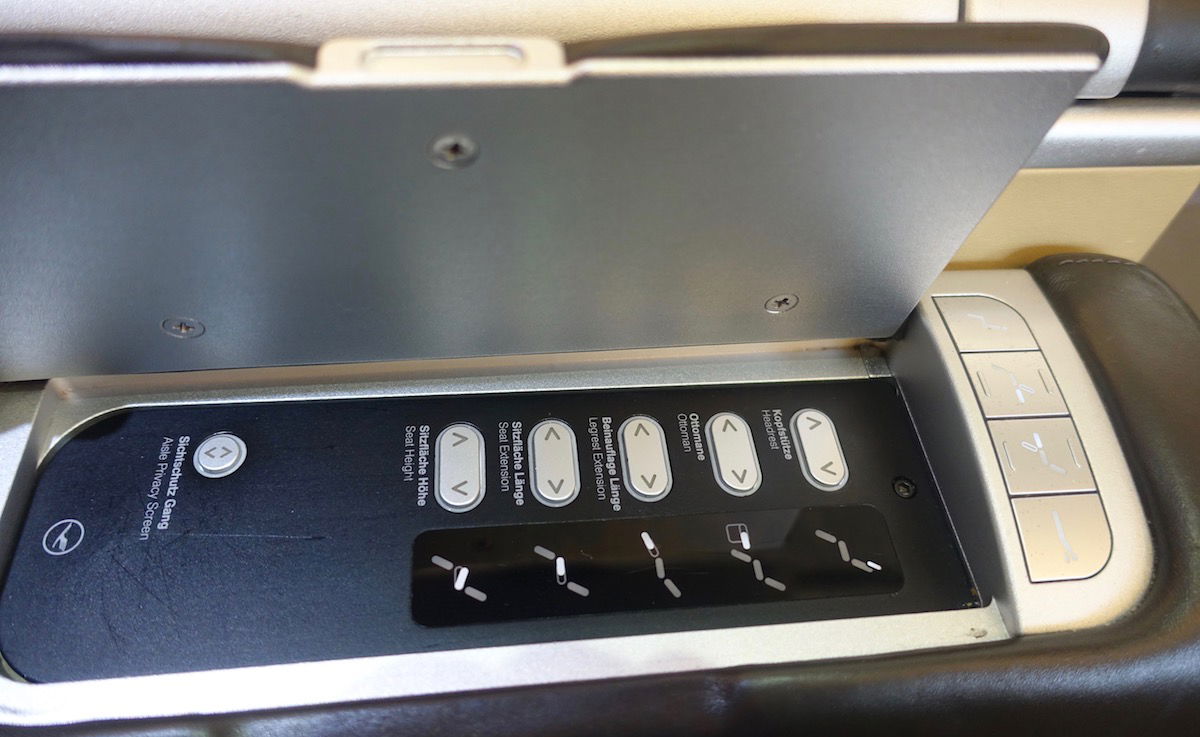 Lufthansa first class seat controls
Then to the right of the seat is the entertainment controller. It has a mousepad of sorts that you can use to select your entertainment preference, which I find to be a pain to use.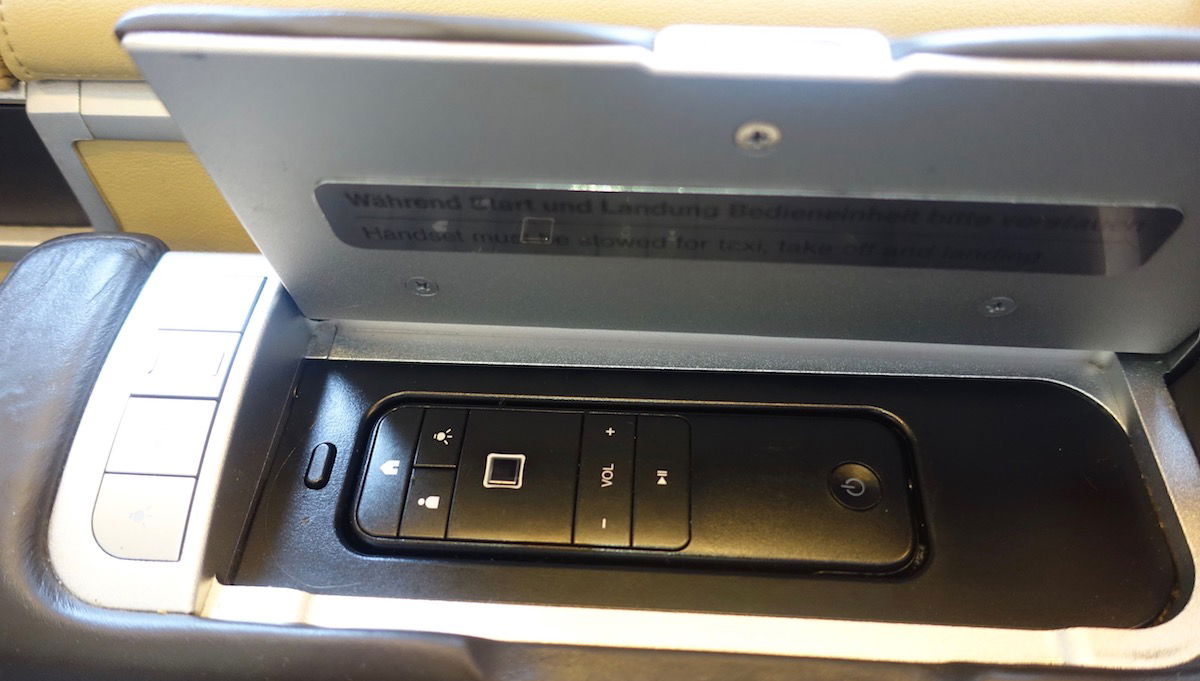 Lufthansa first class entertainment controller
Lufthansa has a beautiful setup at the front of the cabin with pre-departure drinks. I also love the branding on the bulkhead.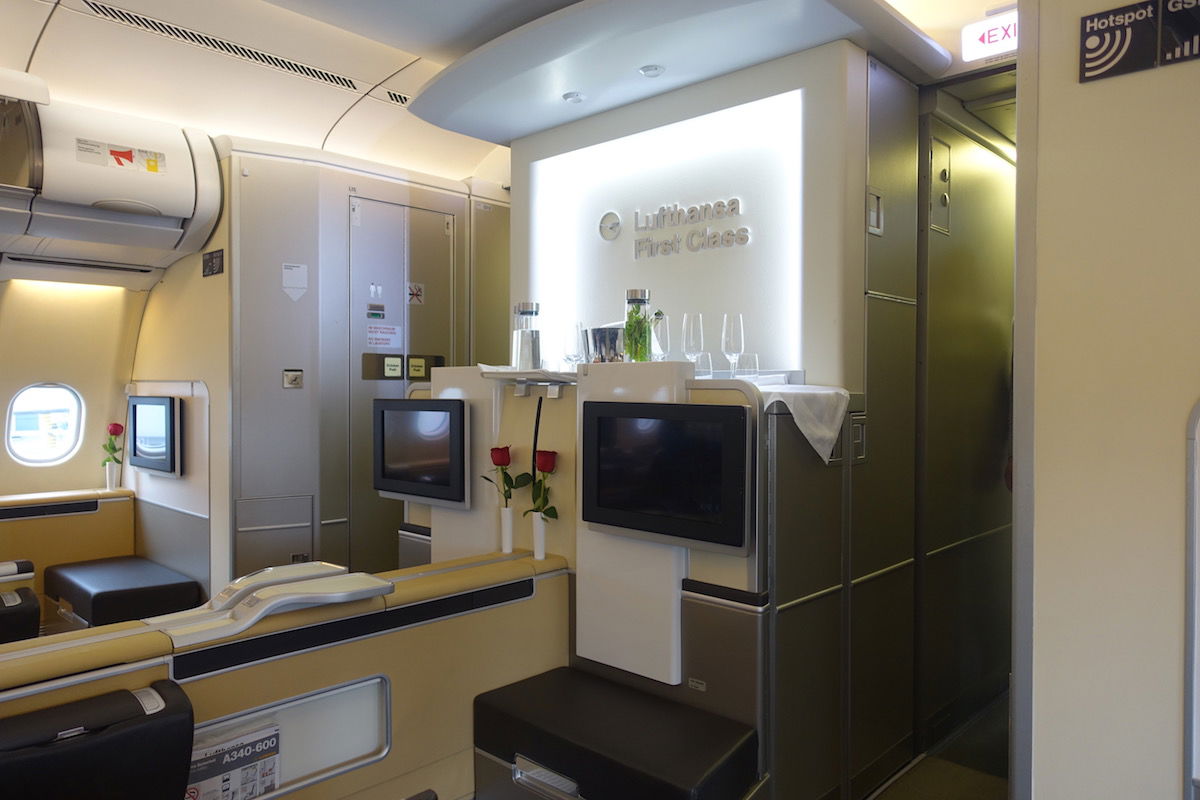 Lufthansa first class cabin
I will say that the cabin feels more cramped to me than in the past. That's probably because so many other airlines have been improving their first class products and have made them more spacious, and also because most of my Lufthansa first class flights have had mostly empty cabins, while every seat on this flight was taken. The two people in the center seats were strangers, and without any partitions being raised, they had less privacy than you'd have in many business class products.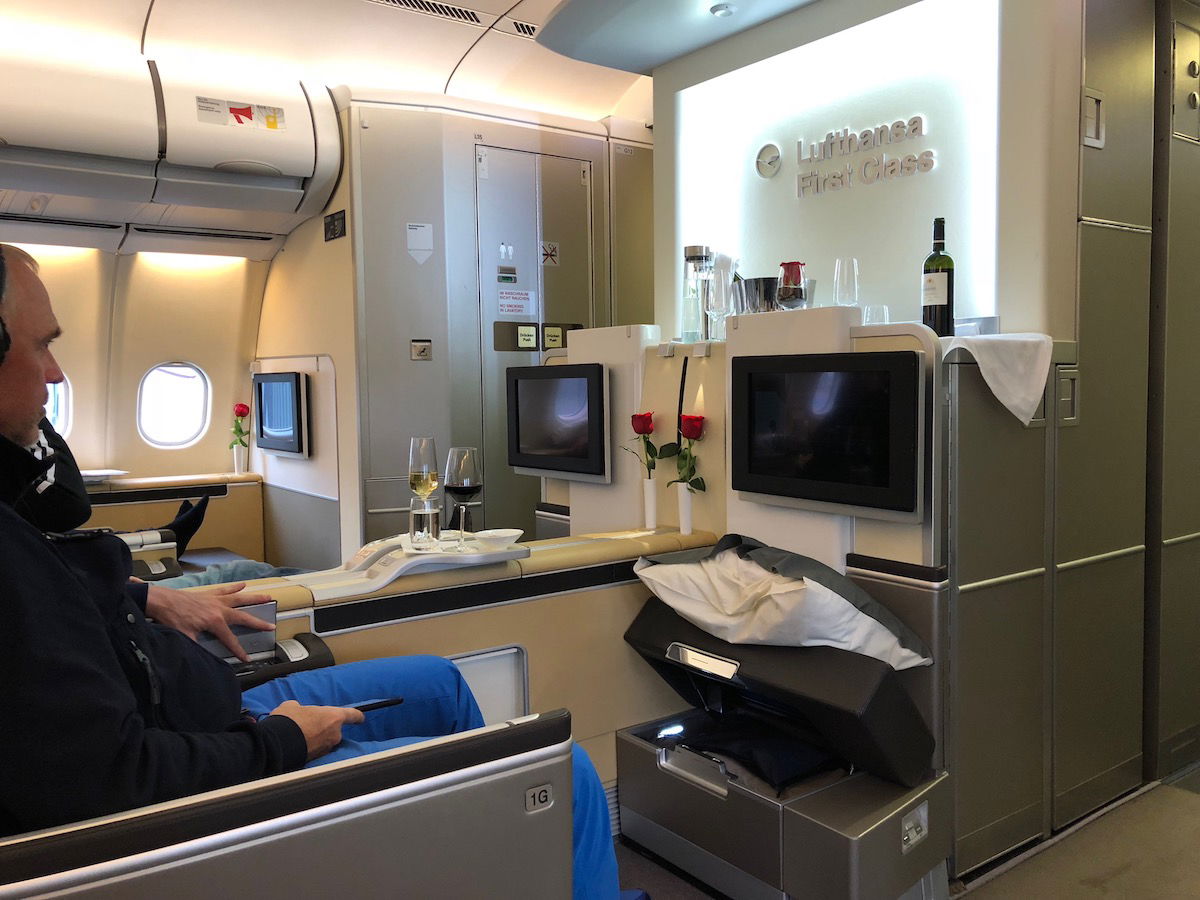 Lack of privacy in Lufthansa first class
Within a few moments of settling in, one of the friendly flight attendants came by my seat to introduce herself and offer me a pre-departure beverage. In general I find that Lufthansa crews in first class are extremely professional, as they're both German (serious and formal) while still being charming and engaging. This particular crew was… average (by Lufthansa standards). That's to say that they were friendly enough, though I can't say they were the most attentive or charming Lufthansa crew I've had.
To start I ordered a glass of champagne, which was served with mixed nuts. The champagne on offer today was 2003 Cuvée Louise, which was excellent.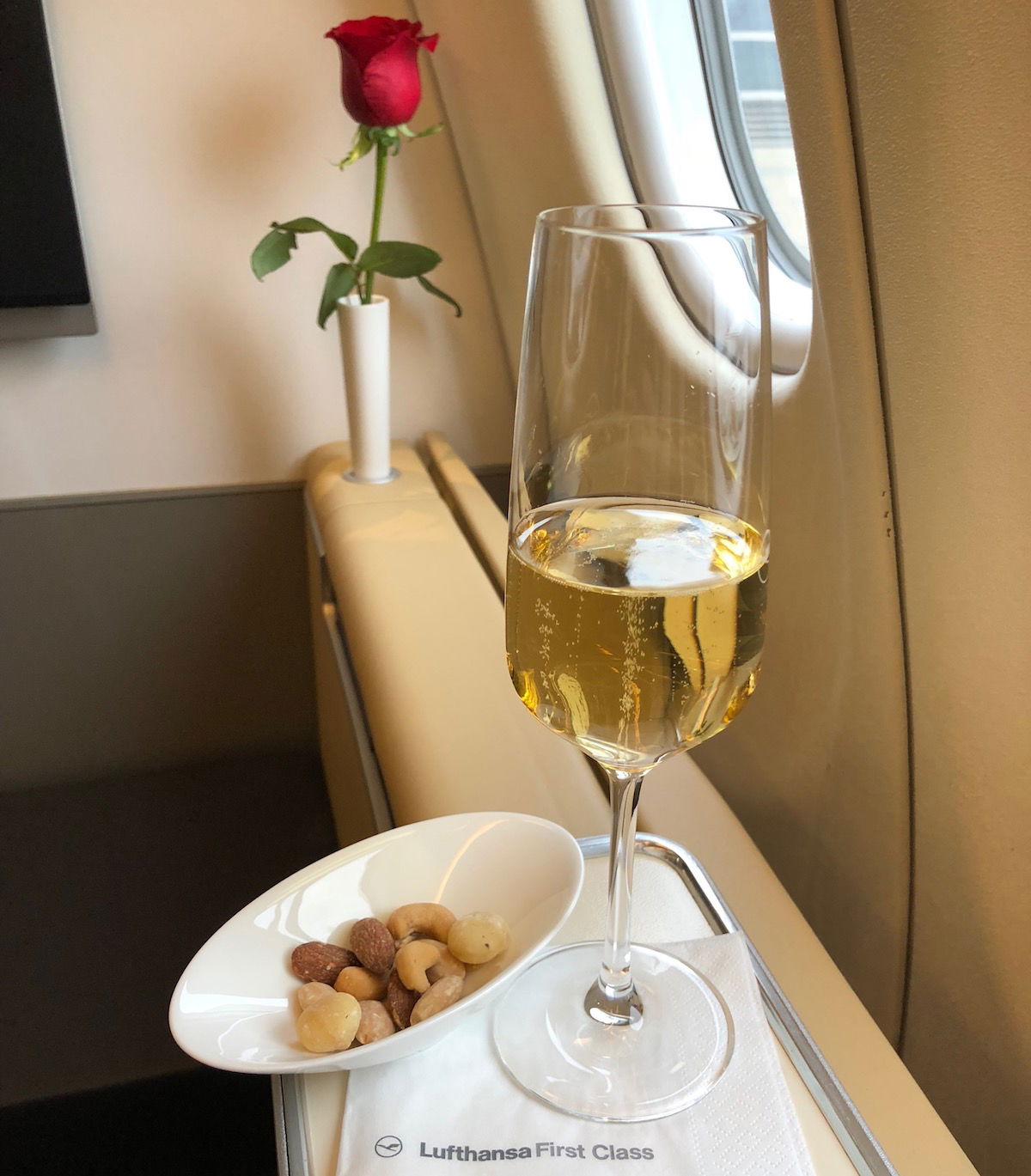 Lufthansa first class champagne & mixed nuts
A few minutes later I was offered pajamas, slippers, an amenity kit, the menu, and the wine list. It's always sort of like Christmas when you first get to your seat on Lufthansa.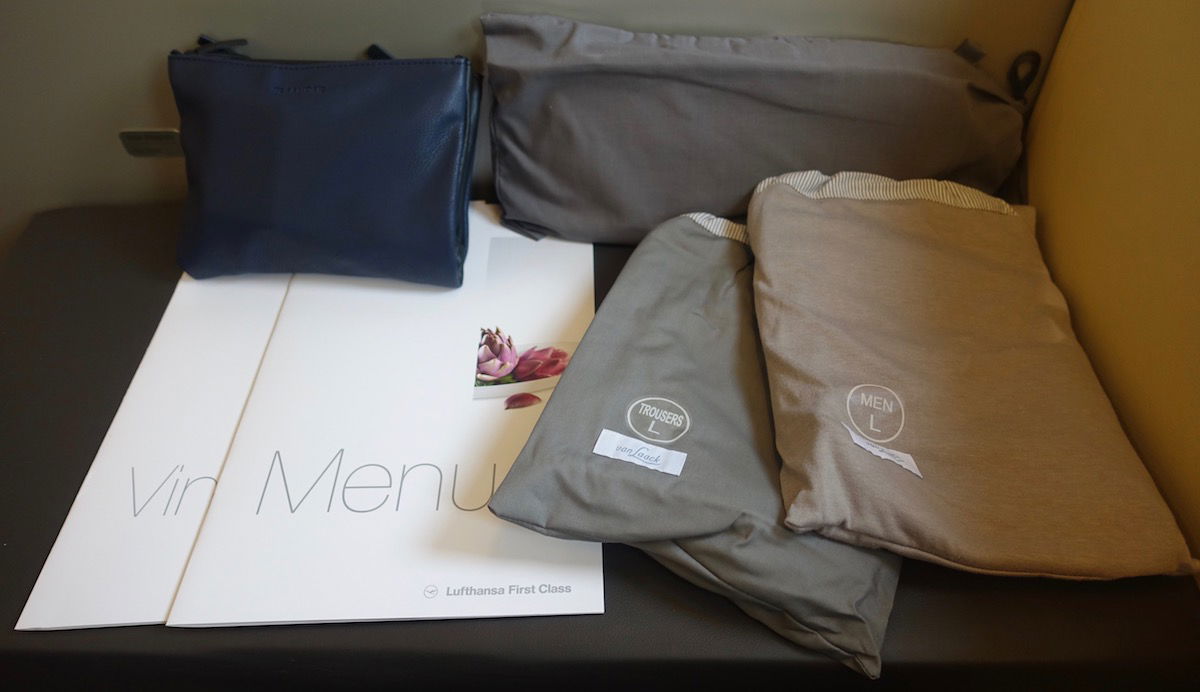 Lufthansa first class pajamas, slippers, amenity kit, and menu
The slippers and pajamas were the same that Lufthansa has had for years. The slippers are sturdy, while the Van Laack pajamas feel high quality. I'm always conflicted about the bottoms, which sort of feel like scrubs. On one hand they're nice and light (which is good, given how warm Lufthansa keeps their cabins), though on the other hand they don't feel like typical pajamas.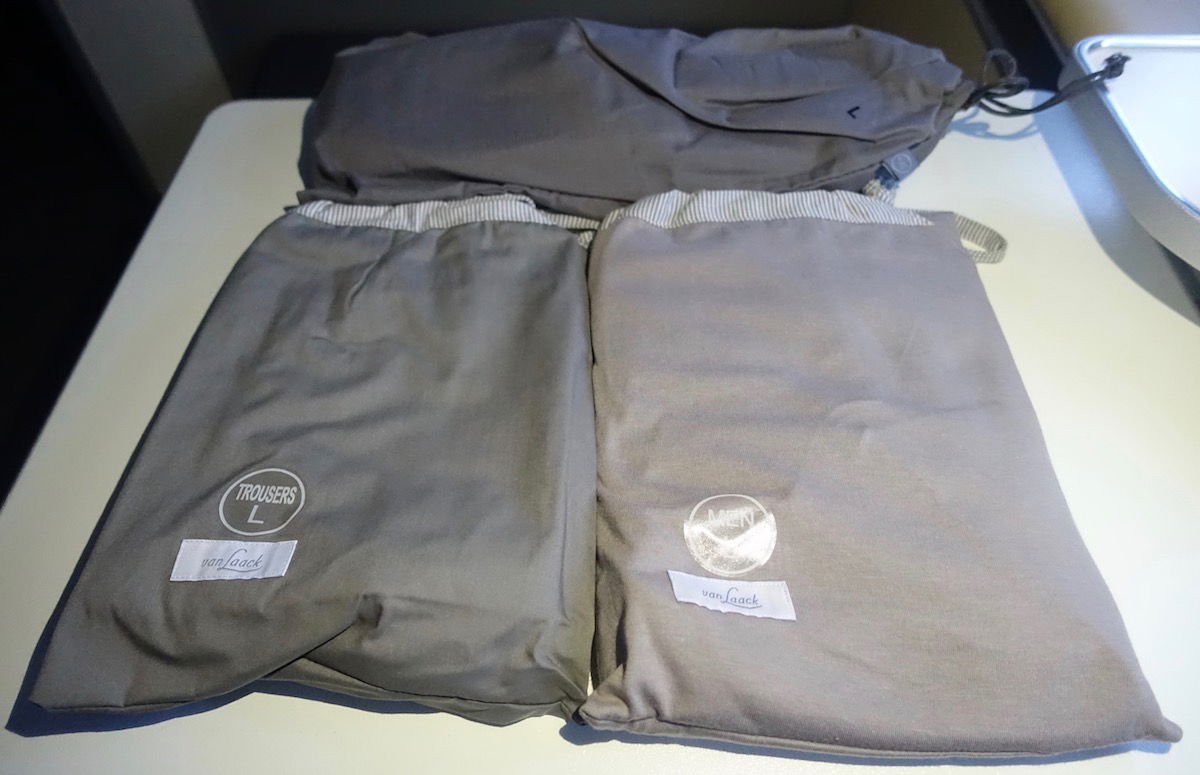 Lufthansa first class pajamas & slippers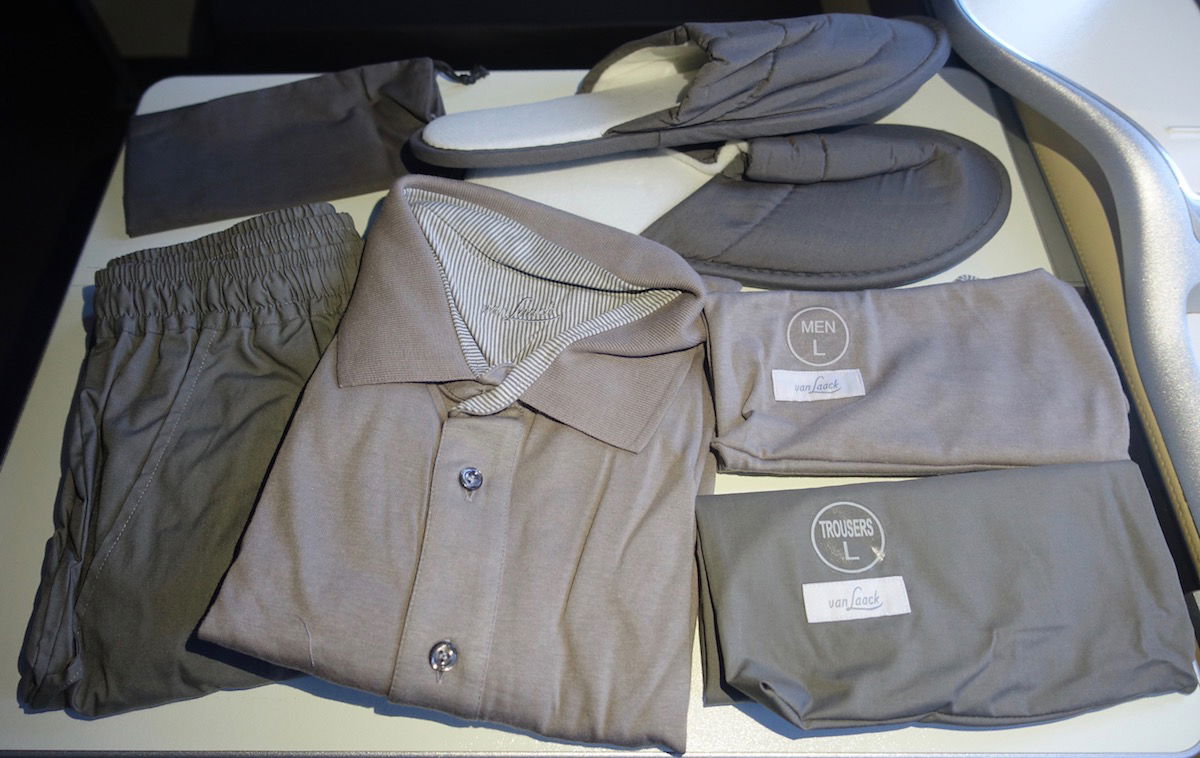 Lufthansa first class pajamas & slippers
The amenity kit came in a zippered pouch. The kit had socks, a shoehorn, a comb, earplugs, a toothbrush and toothpaste, and La Prairie amenities. While the La Prairie products are nice, I find the rest of the kit to be pretty basic, especially the pouch itself. In the past Lufthansa has had Rimowa amenity kits, which were a treat.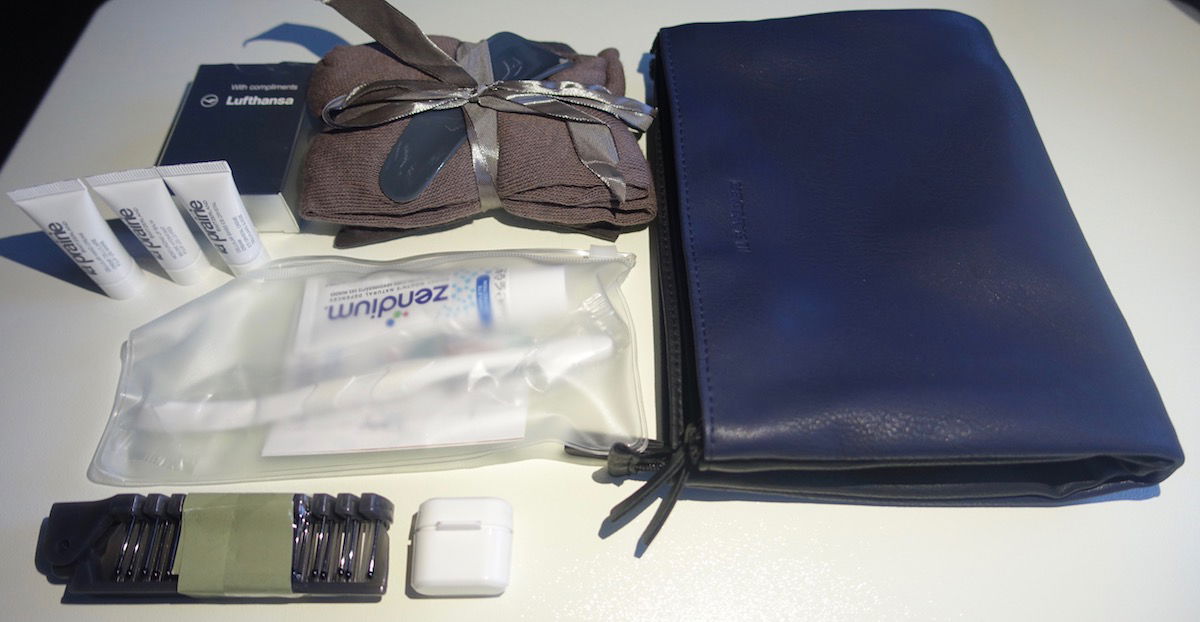 Lufthansa first class amenity kit
Once I was presented with the pajamas I headed to the lavatory to change into them. There's one lavatory on each side, and while they're small, they have many amenities and also have a useful "fold-over" seat that can go on top of the actual toilet.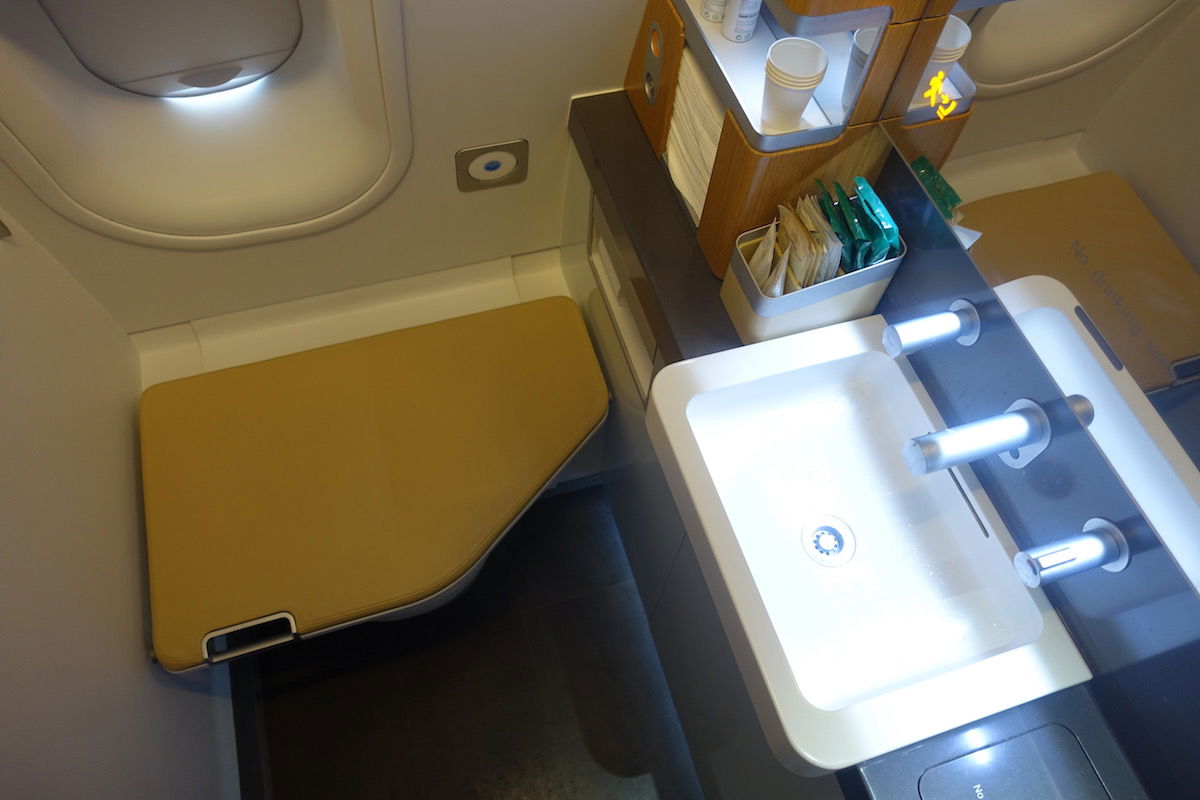 Lufthansa first class lavatory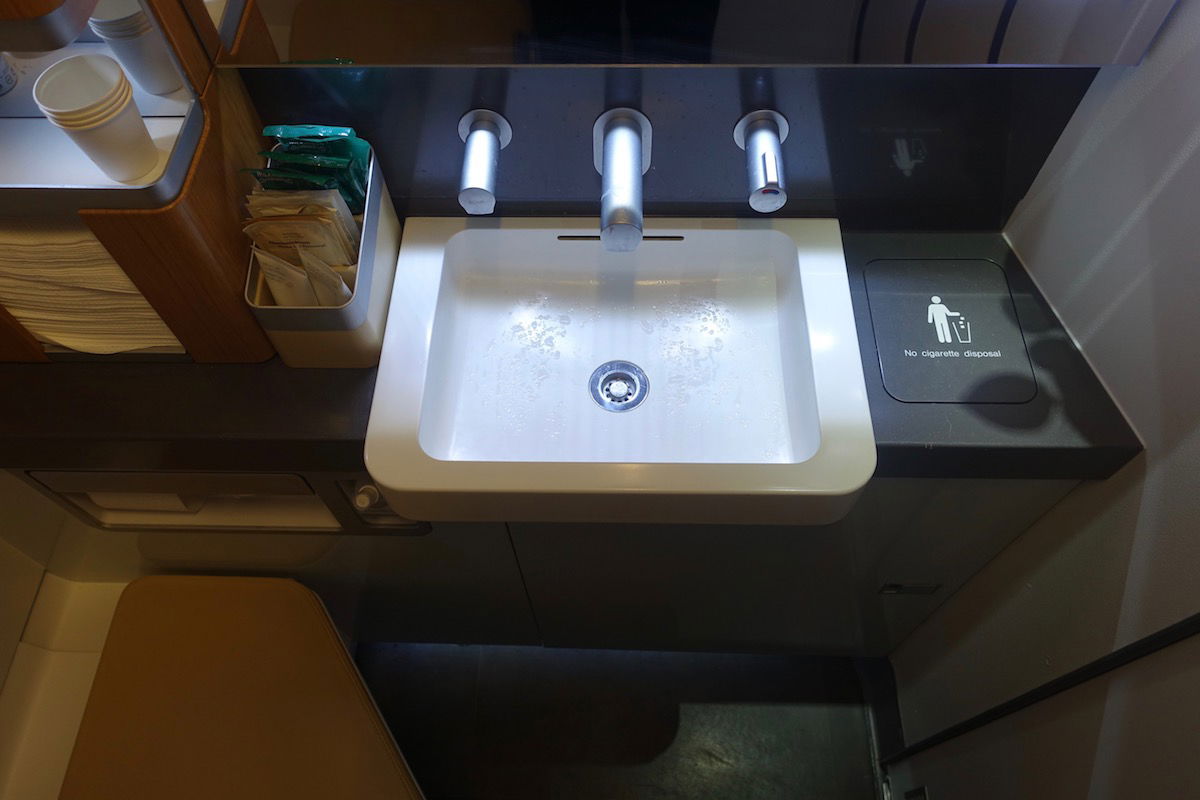 Lufthansa first class lavatory
Towards the end of boarding the purser came by to introduce herself, wish me a pleasant flight, and familiarize me with the menu.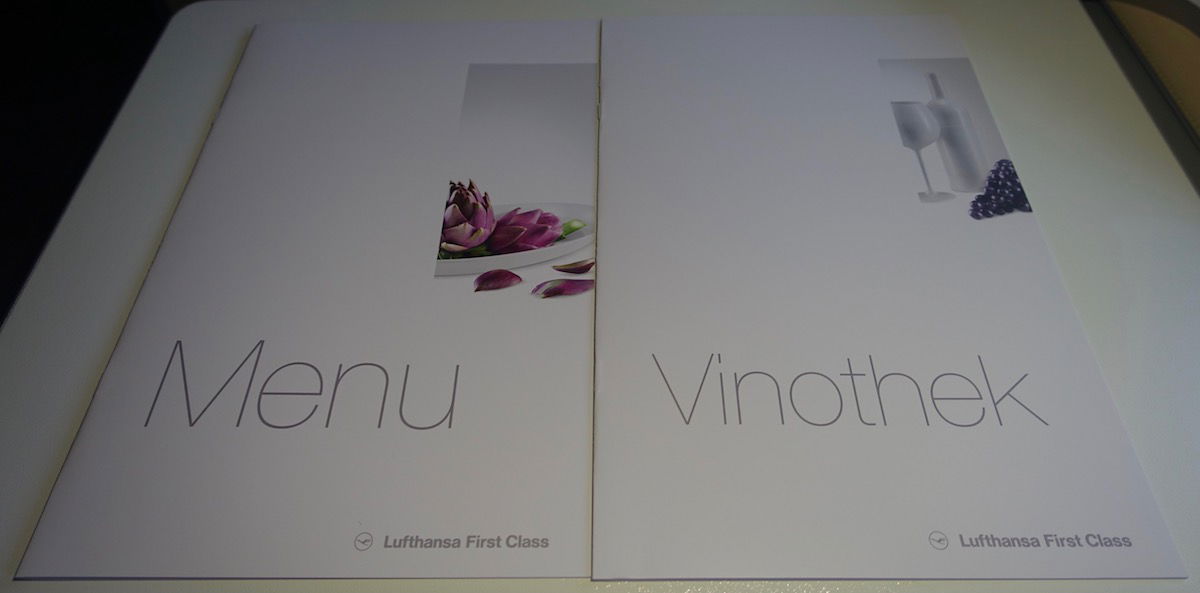 Lufthansa first class menu & wine list
Despite every seat on the plane being taken, by 5:25PM the main cabin door was closed, so it was an efficient boarding process. At that point the captain added his welcome aboard, and informed us of our flight time of 10hr50min to Munich. At 5:30PM we began our pushback, at which point the safety video was screened.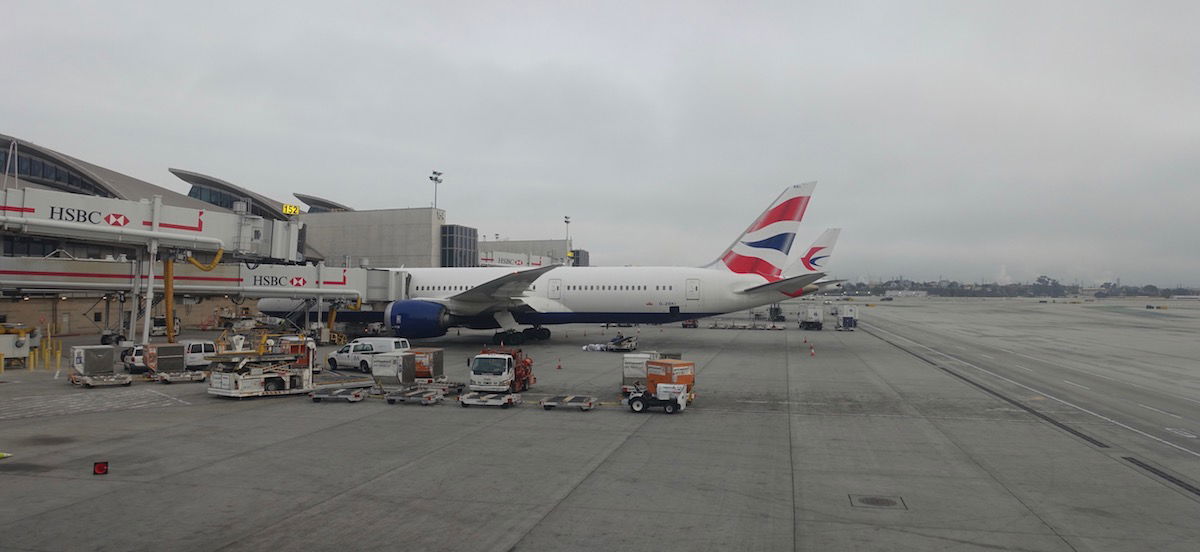 Pushing back at LAX
We taxied out to the north side of the airport, passing an Air France A380 and Swiss 777.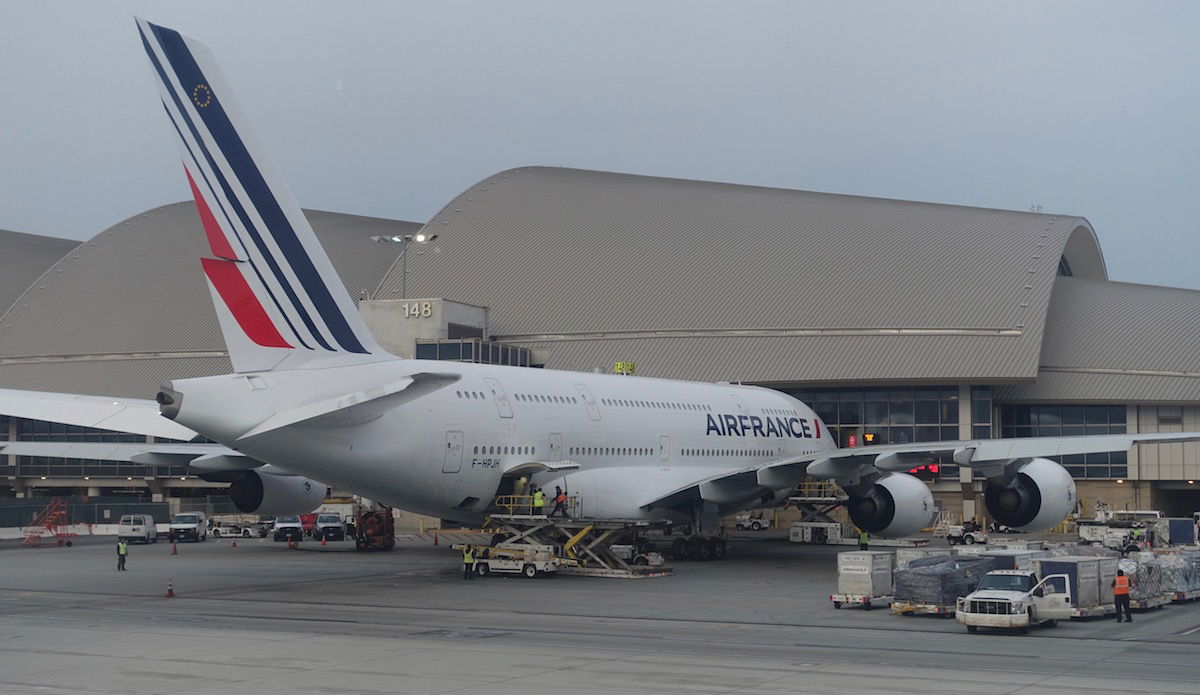 Air France A380 LAX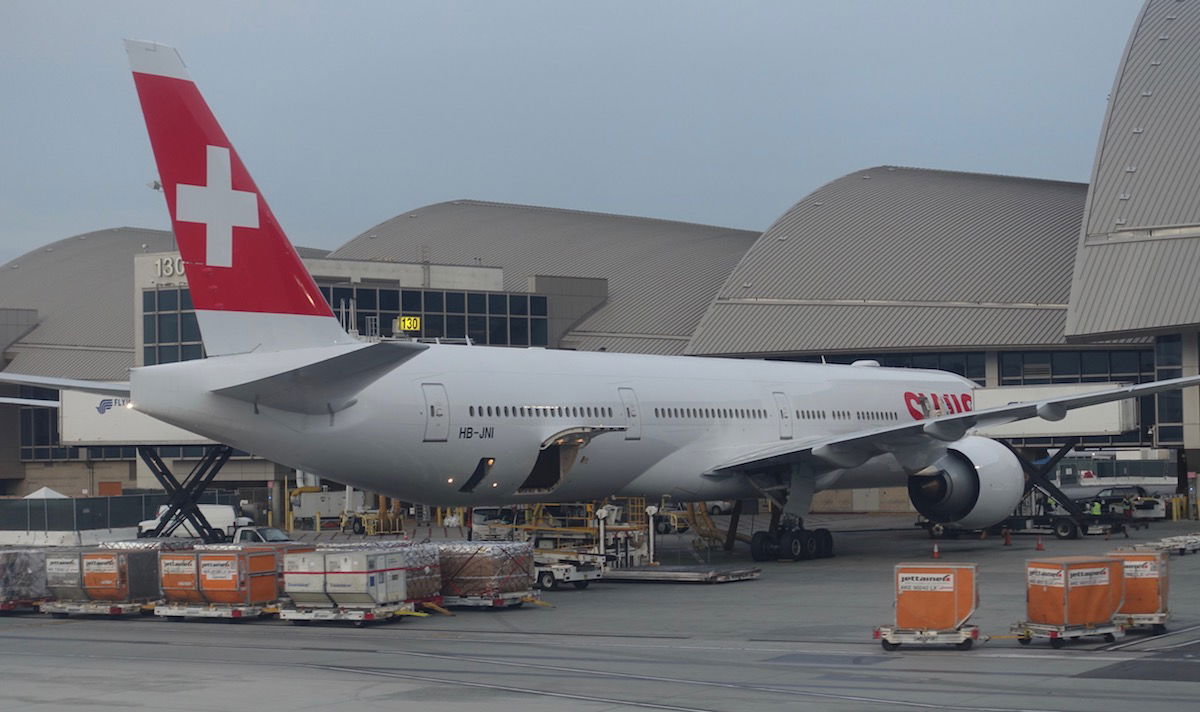 Swiss 777 LAX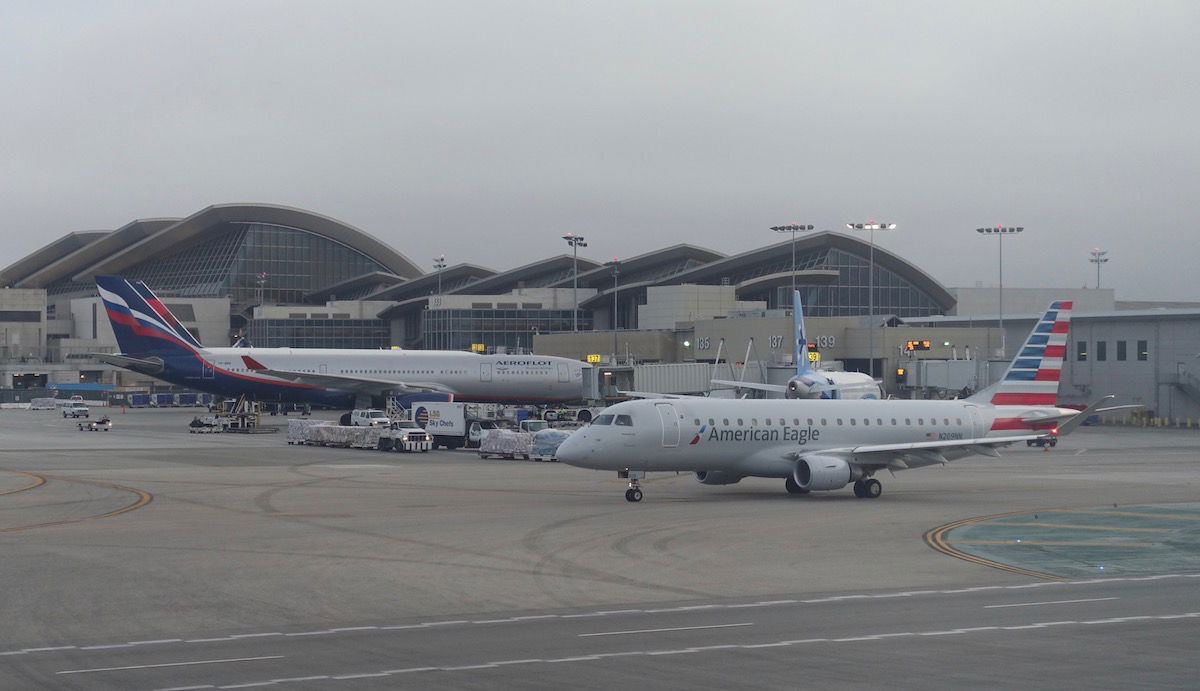 Taxiing LAX
Our taxi was quick, and by 5:45PM we were cleared for takeoff on runway 24L. The A340-600 is quite a bird, and in a way the takeoff performance feels different than on some other planes, as it seems to have a long takeoff roll and then very gradual initial climb out.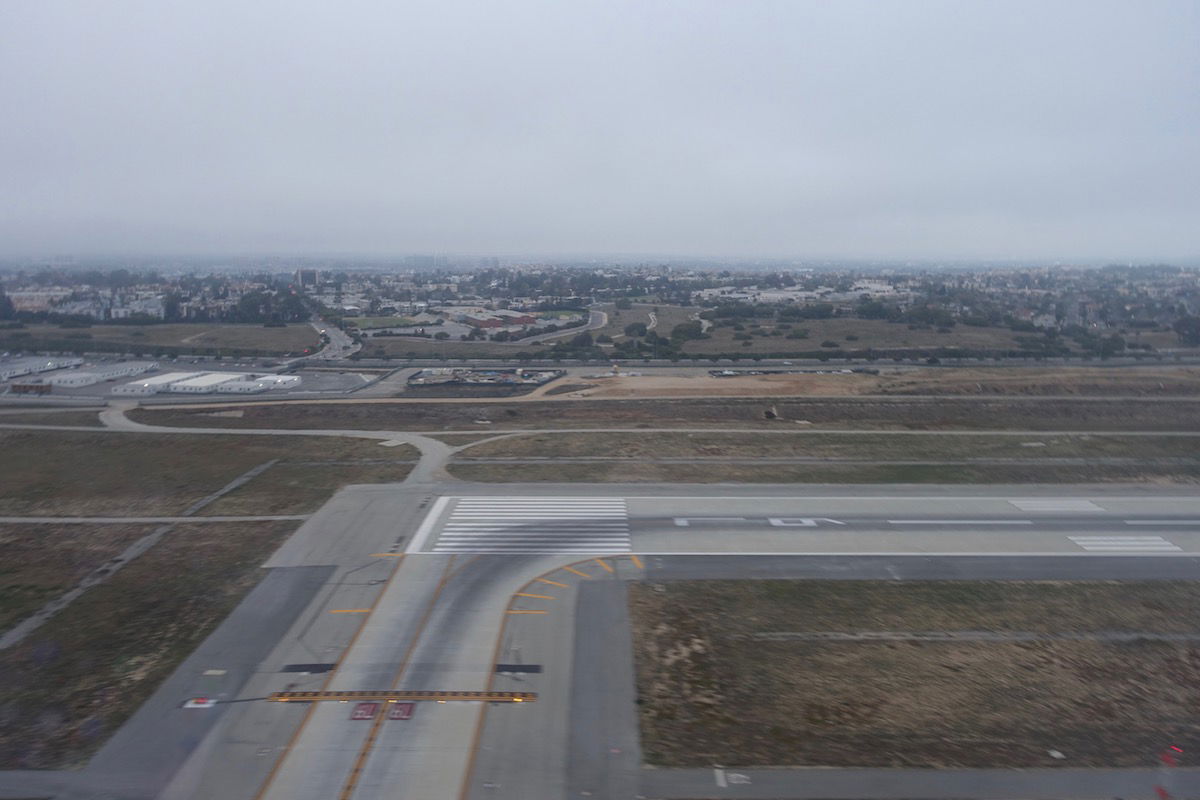 View after takeoff from LAX
The second we were airborne I raised the privacy partition around my seat. This is a nice compromise between having private suites and a completely open cabin.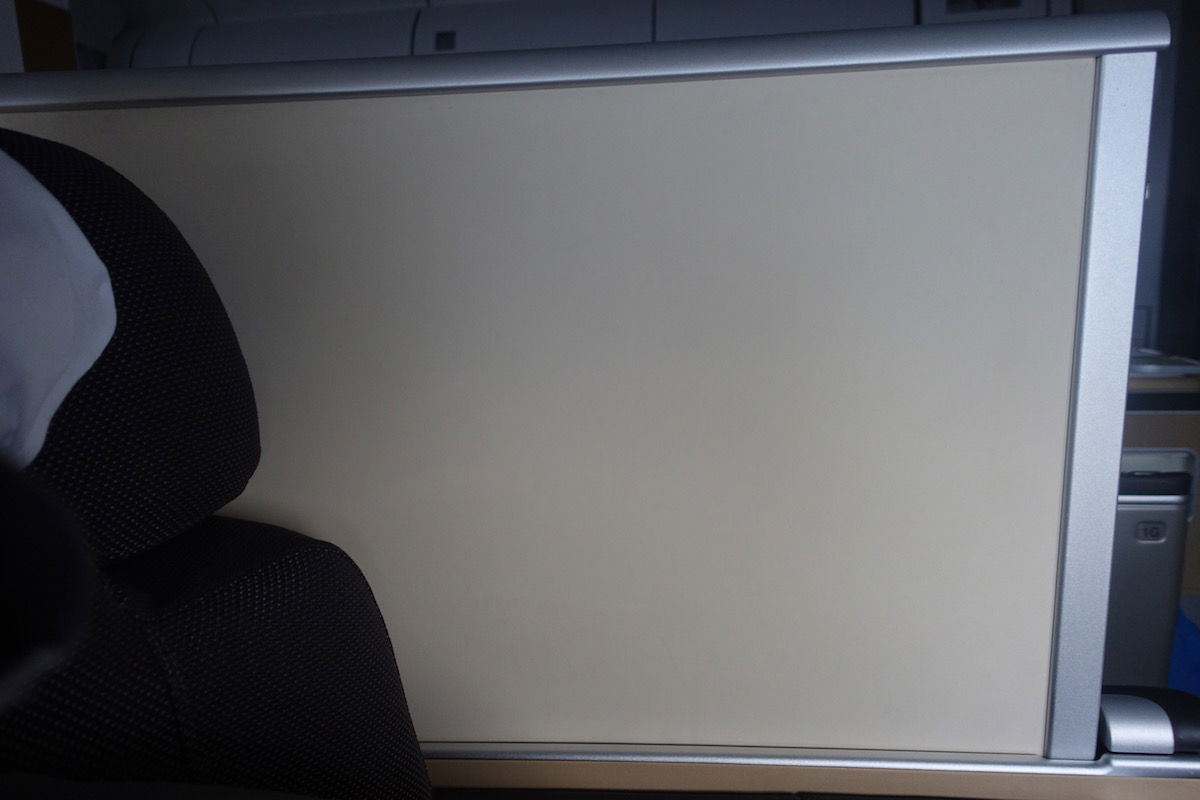 Lufthansa first class seat privacy partition
The sun was setting as we climbed out, with some beautiful views.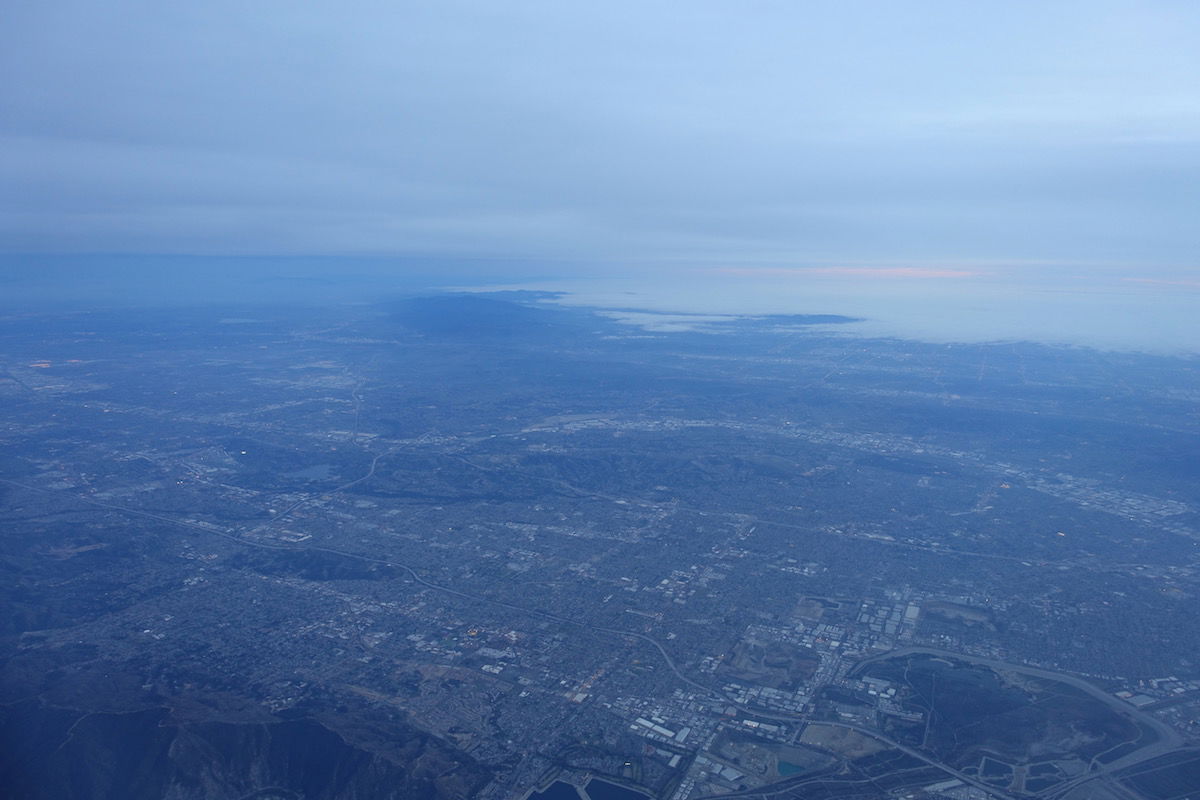 View after takeoff from LAX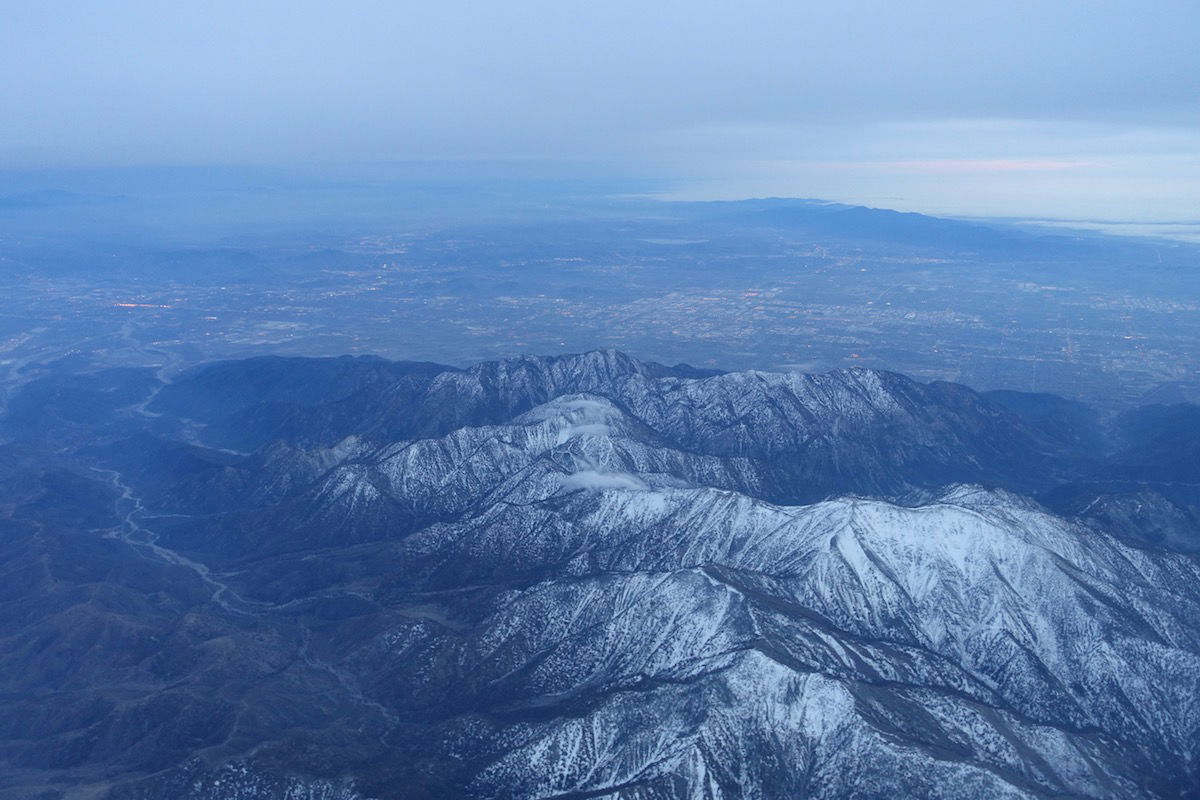 View after takeoff from LAX
As we climbed out I browsed the entertainment selection.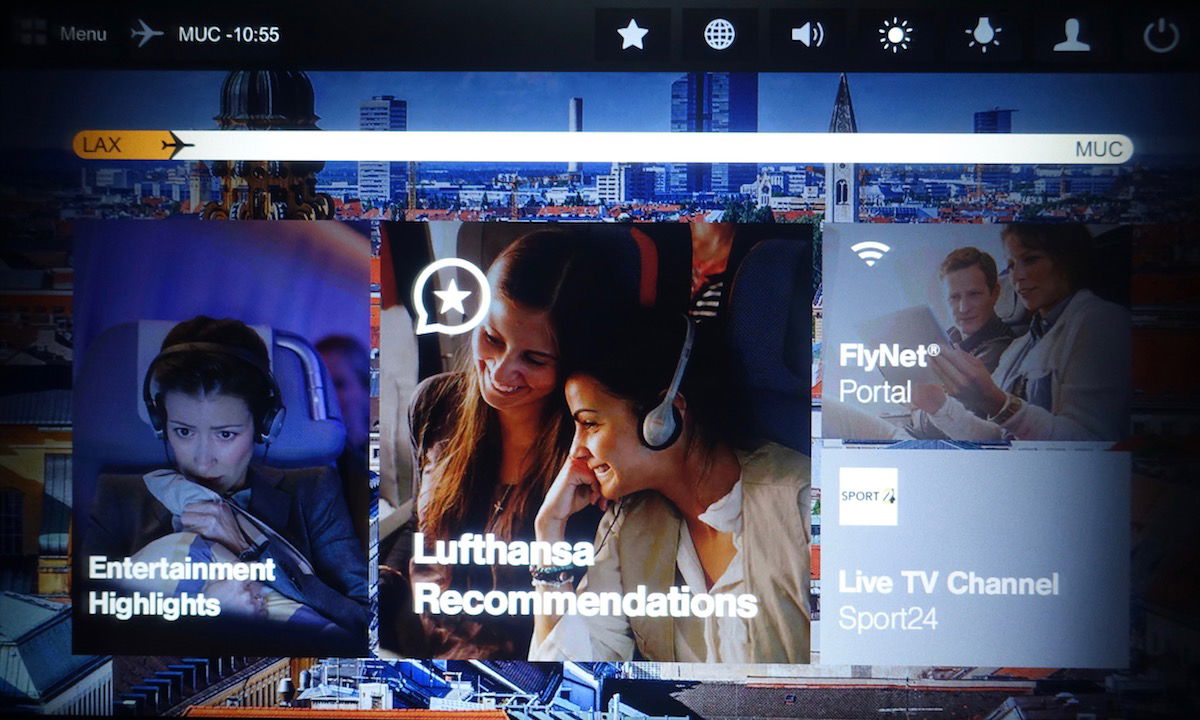 Lufthansa entertainment selection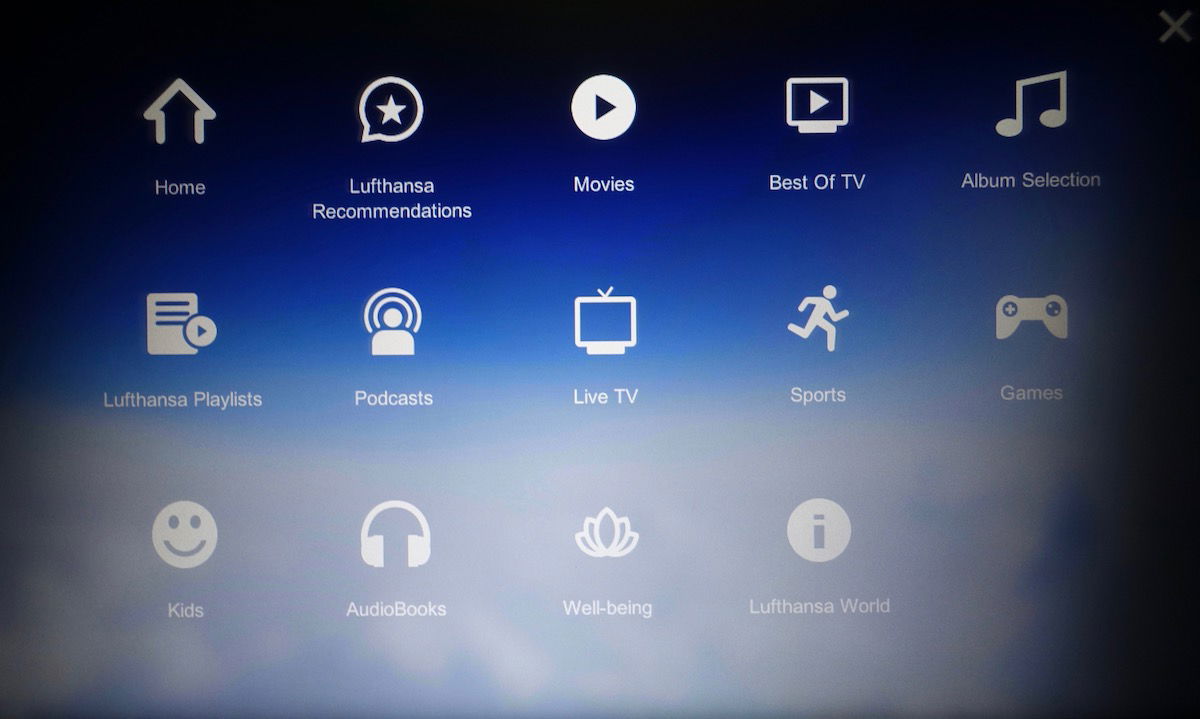 Lufthansa entertainment selection
Lufthansa has greatly improved their selection of movies over the past few years. For example, this flight had 128 movies, and also a respectable number of sitcoms.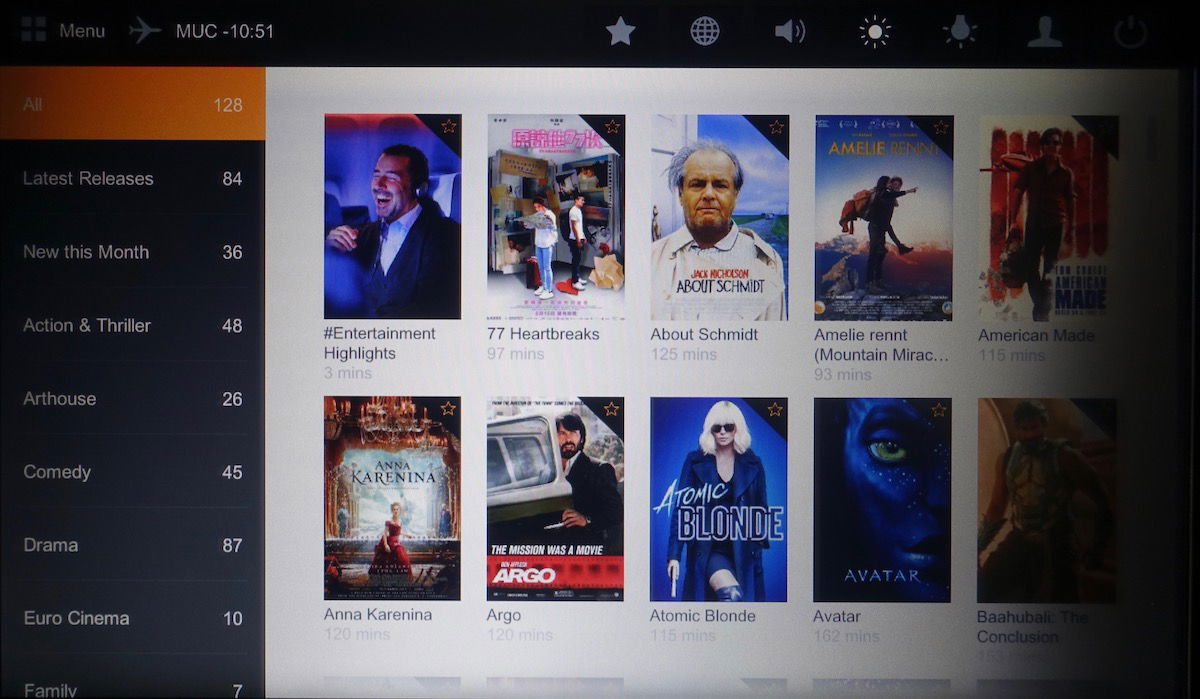 Lufthansa entertainment selection
While the selection has improved, the screen itself still low resolution. Hopefully with any future product they'll have both a larger and higher definitions screen. I also don't love Lufthansa's airshow system, which can't be customized much.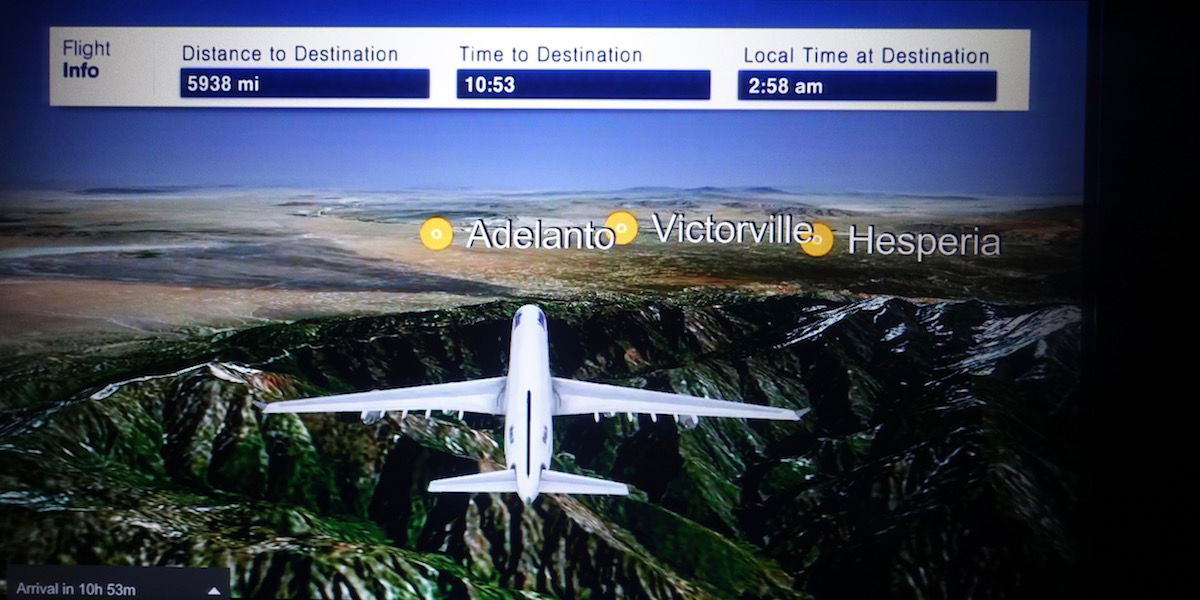 Airshow enroute to Munich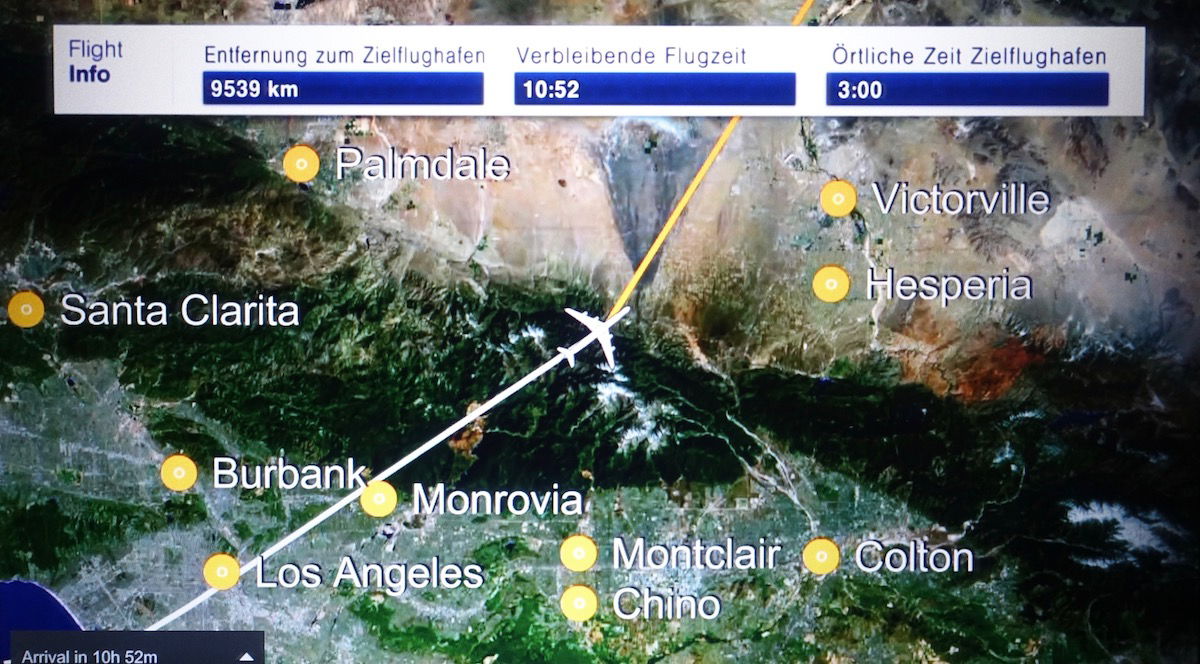 Airshow enroute to Munich
The seatbelt sign was turned off about 15 minutes after takeoff, and just five minutes later I was served my first glass of champagne, along with the amuse bouche, which had shrimp and cucumber.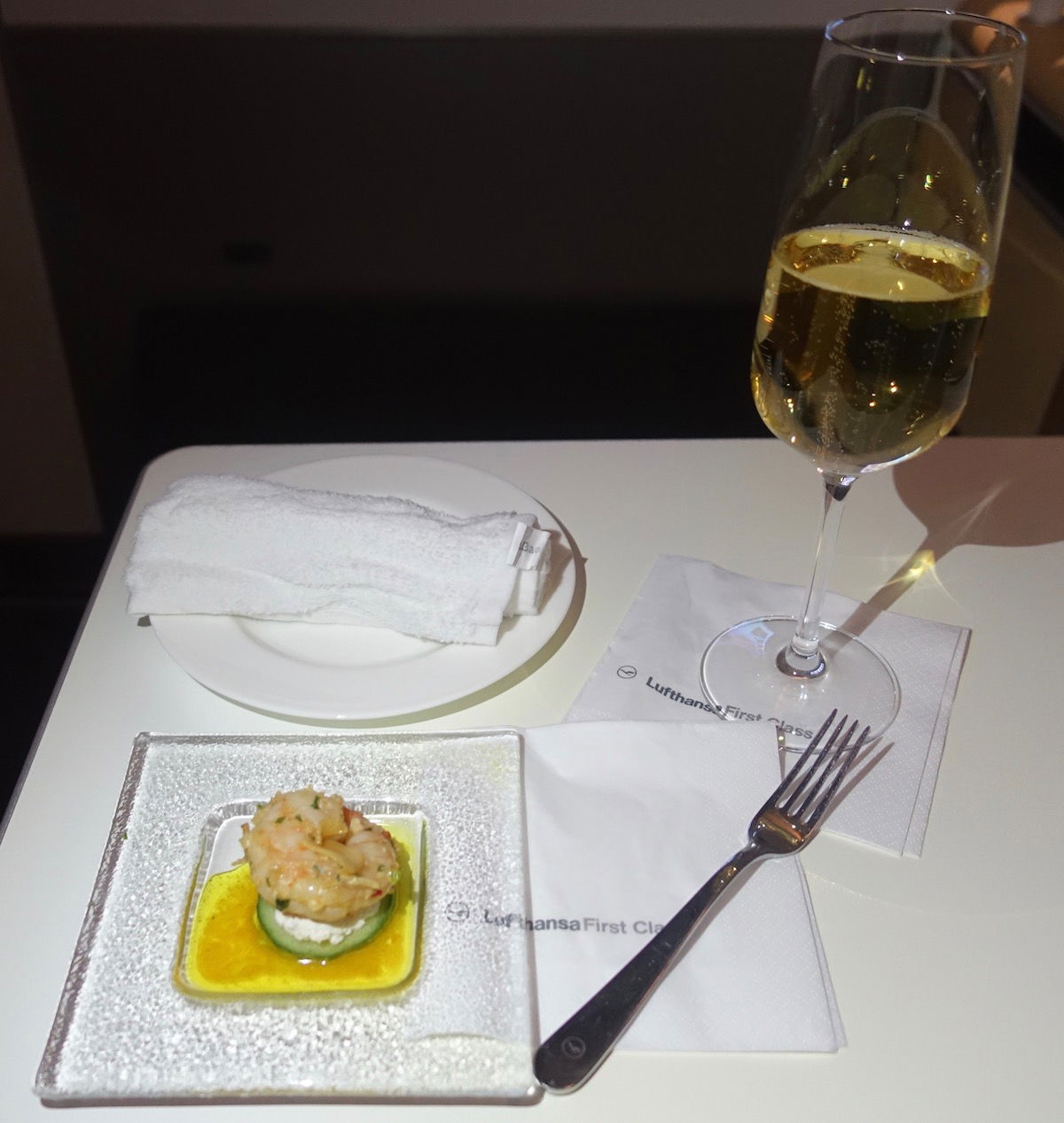 Lufthansa first class champagne & amuse bouche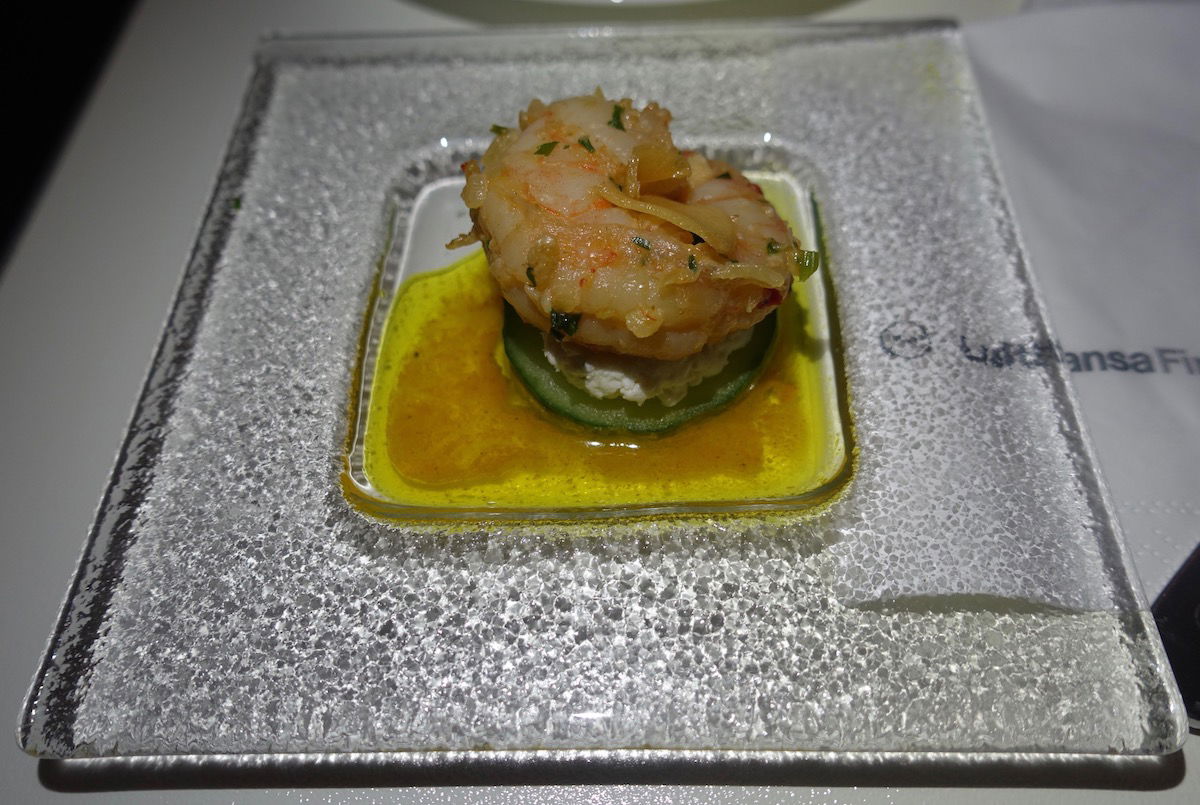 Lufthansa first class amuse bouche
A minute later the purser stopped by my seat to offer me a free Wi-Fi pass. Lufthansa already has among the most reasonably priced Wi-Fi in the sky, though it's very nice of them to now offer it for free for first class passengers. The issue was that the Wi-Fi on this flight didn't work for the past several hours. The flight attendant explained that this was because we had a very northerly routing, though I've had similar routings in the past without issues. When I woke up in the morning the Wi-Fi worked without issue.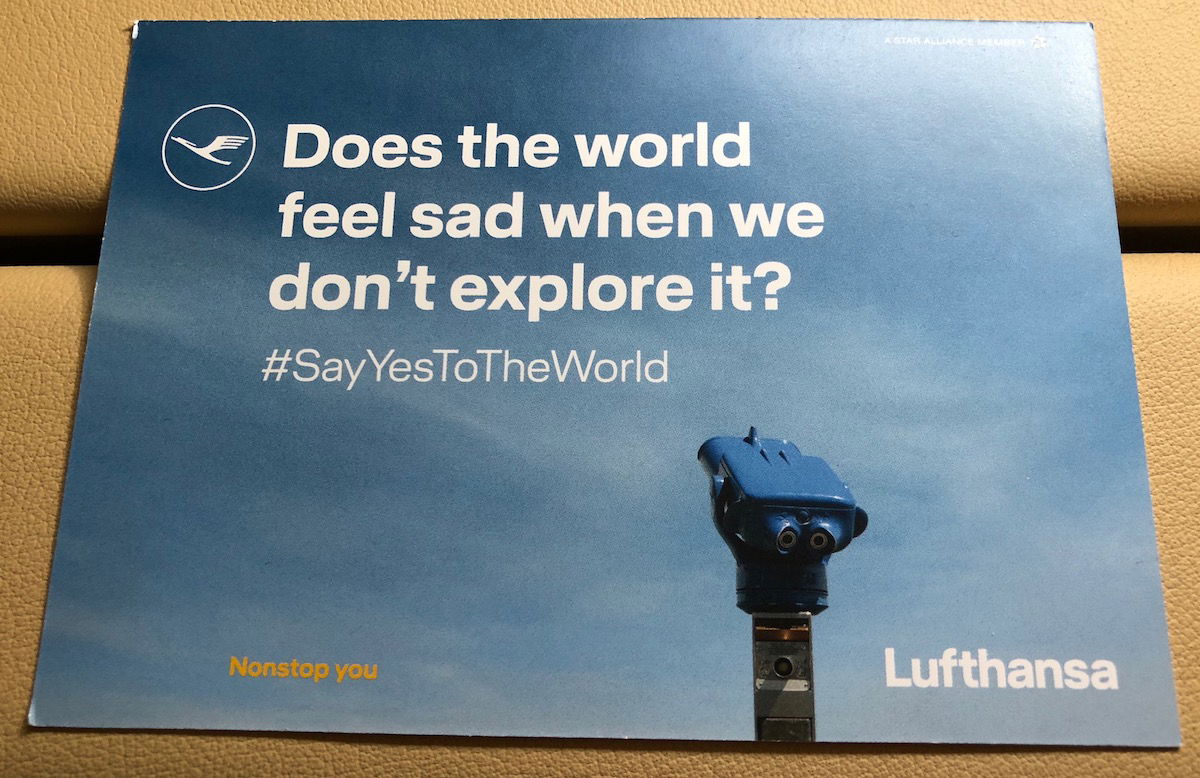 Lufthansa first class free Wi-Fi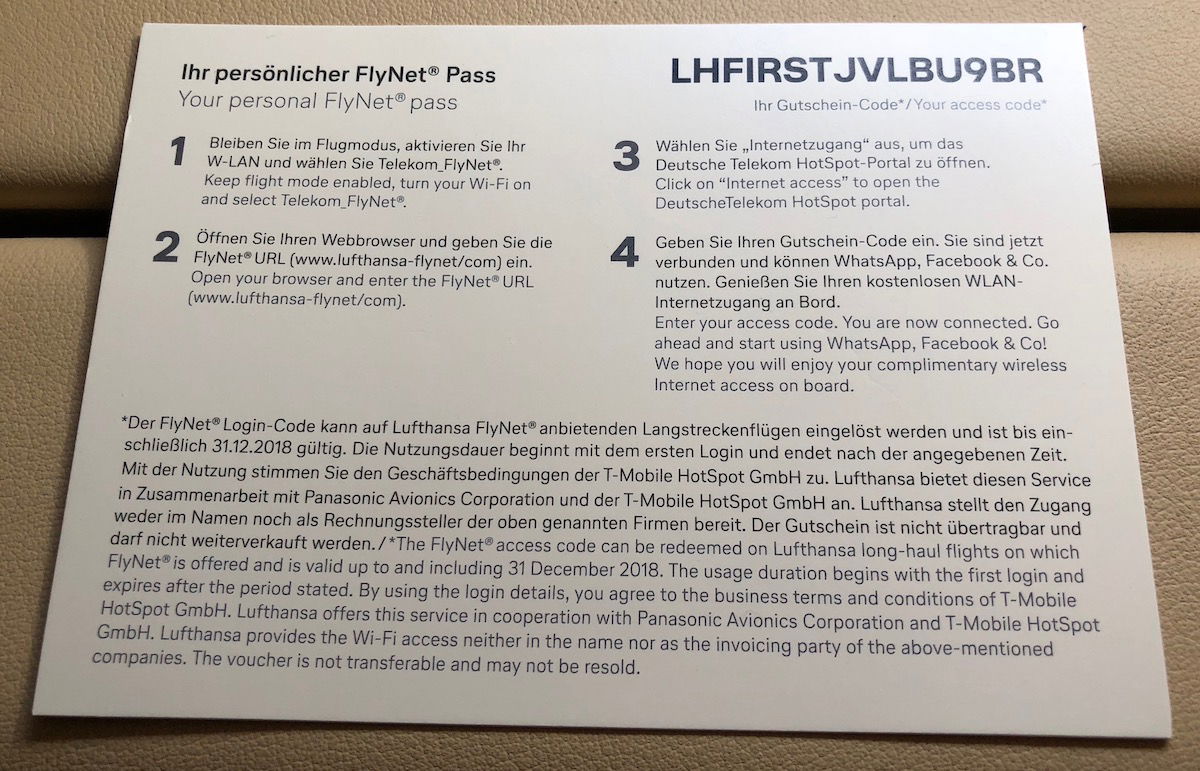 Lufthansa first class free Wi-Fi
While enjoying some champagne I noticed some liquid running out of the bathroom right in front of my seat, so I let the purser know. The purser called the pilots, and then a few minutes later the first officer took a look. At that point the bathroom was taken out of service for the rest of the flight, and I was reassured that the liquid on the floor was "just water."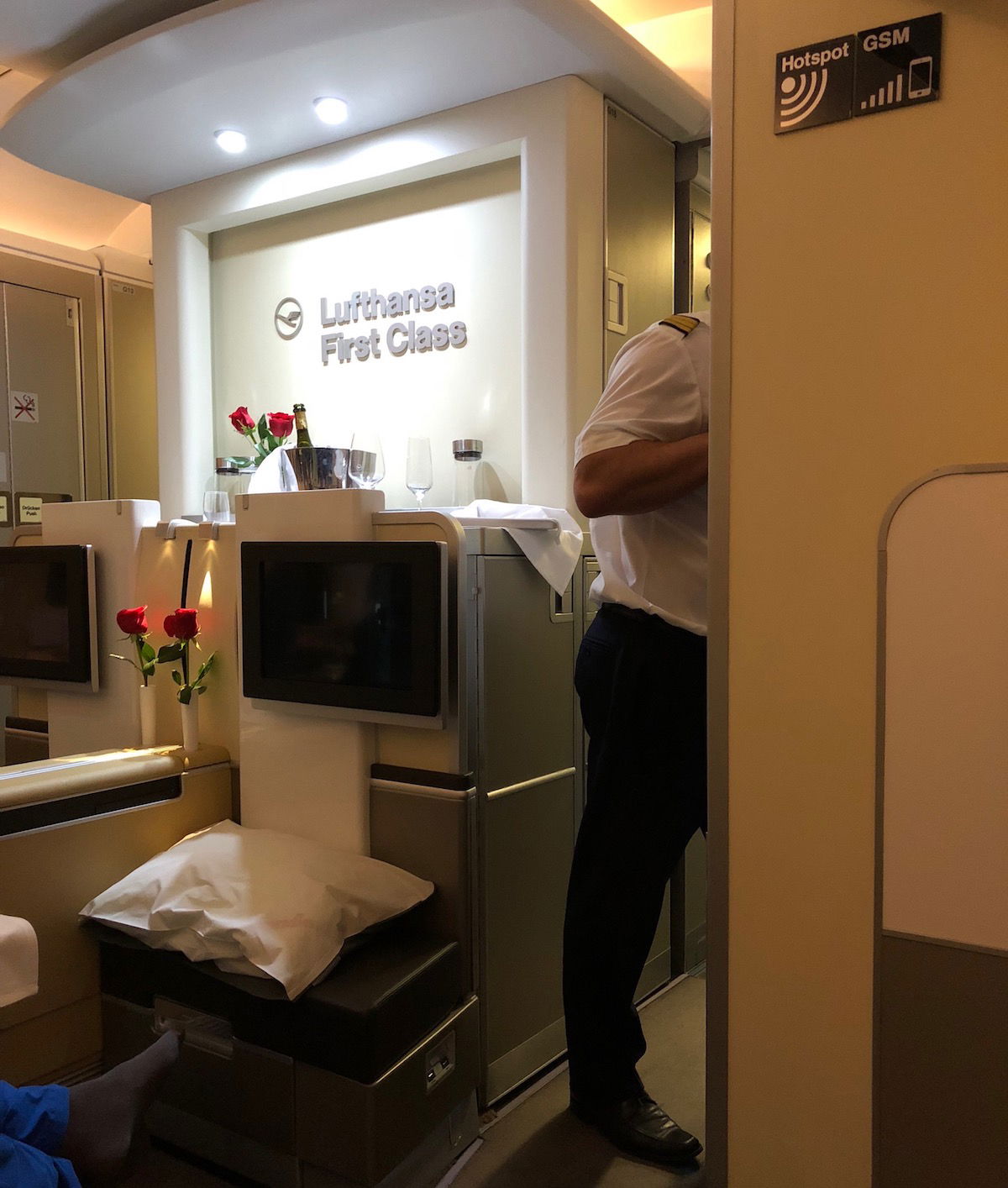 Lufthansa first class toilet overflowing
I was offered a refill of champagne, and about 75 minutes after takeoff the meal service began (which seems like an awfully long time to take, especially since most people want to maximize sleep on this flight). The menu read as follows: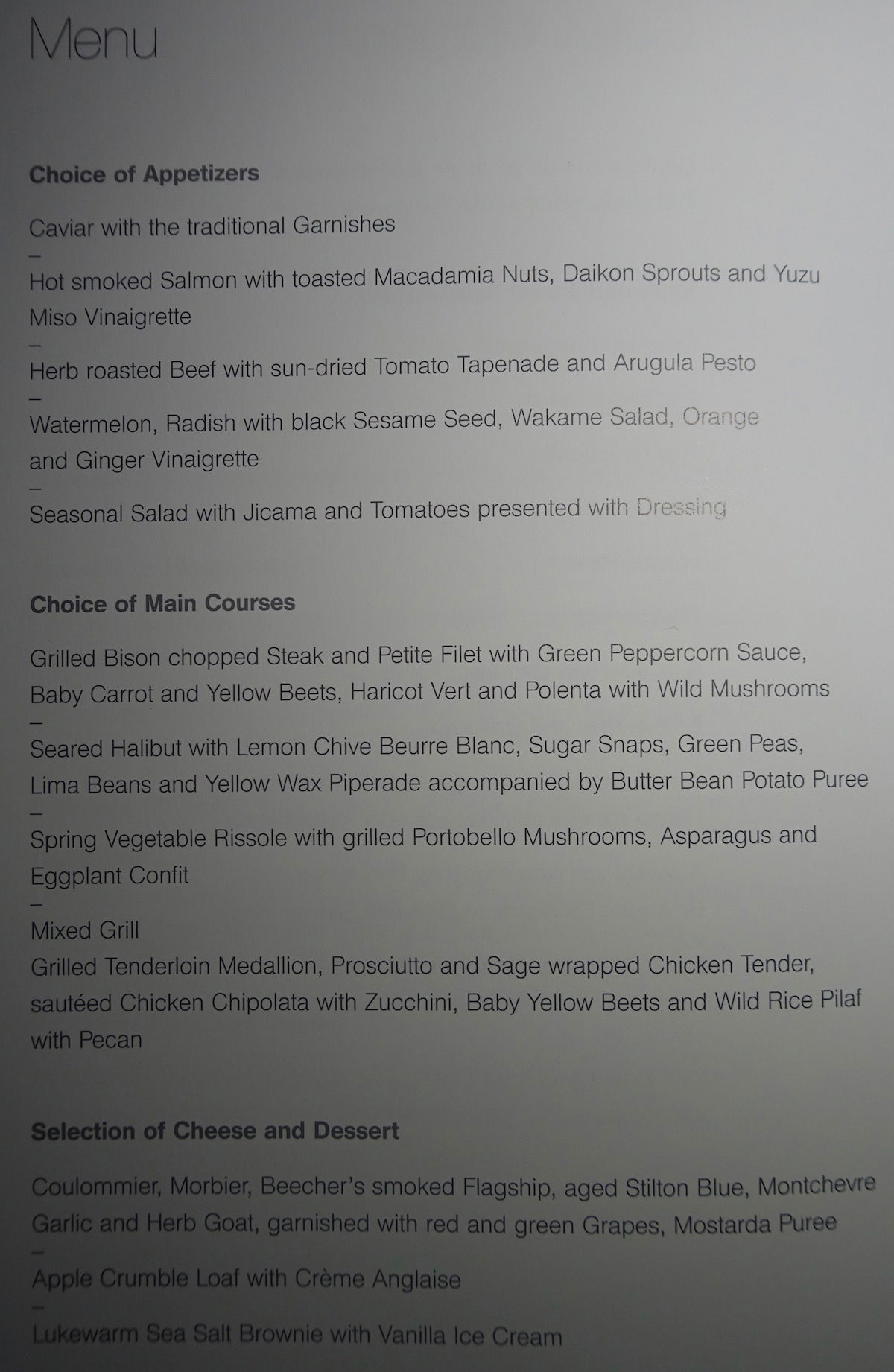 The drink list read as follows: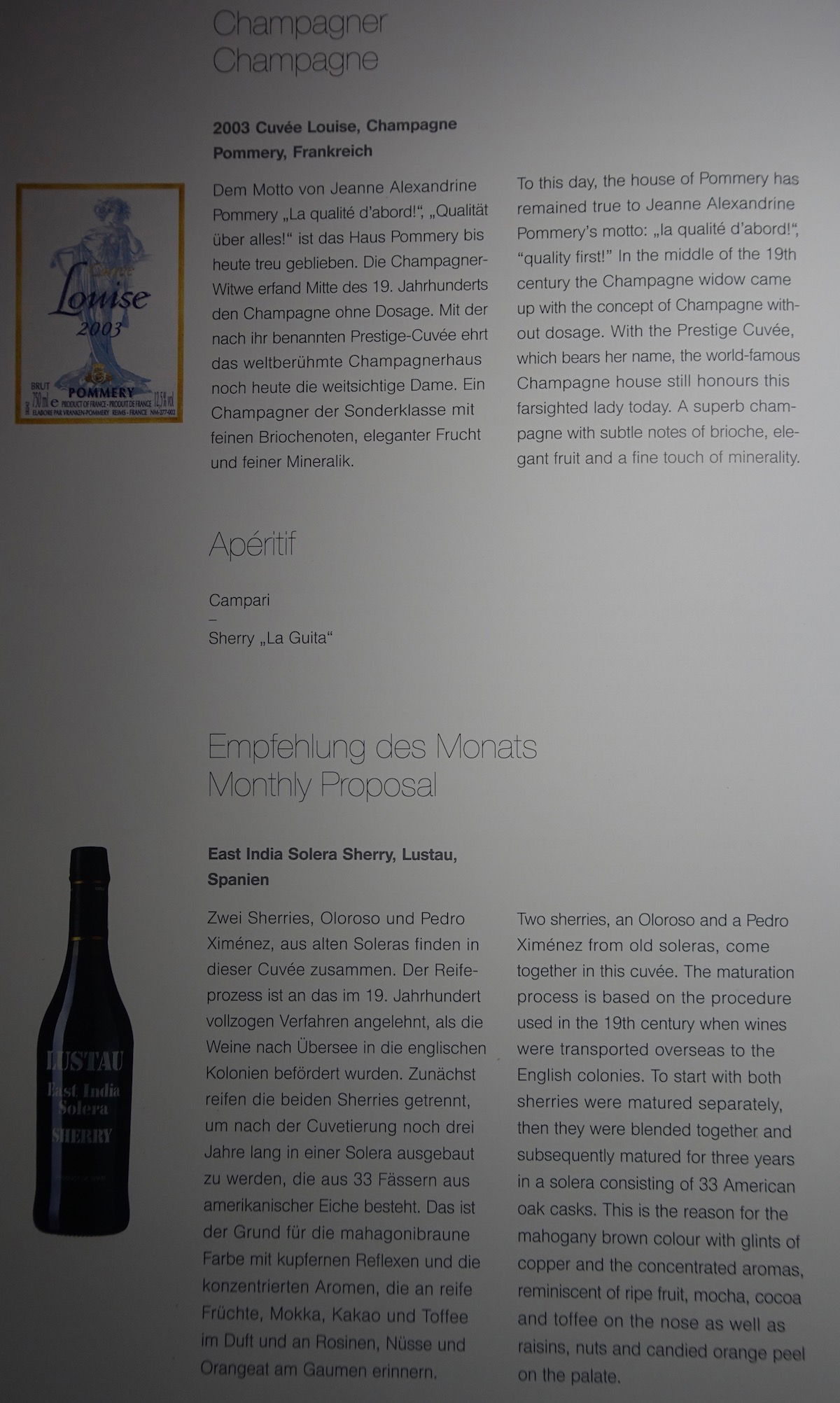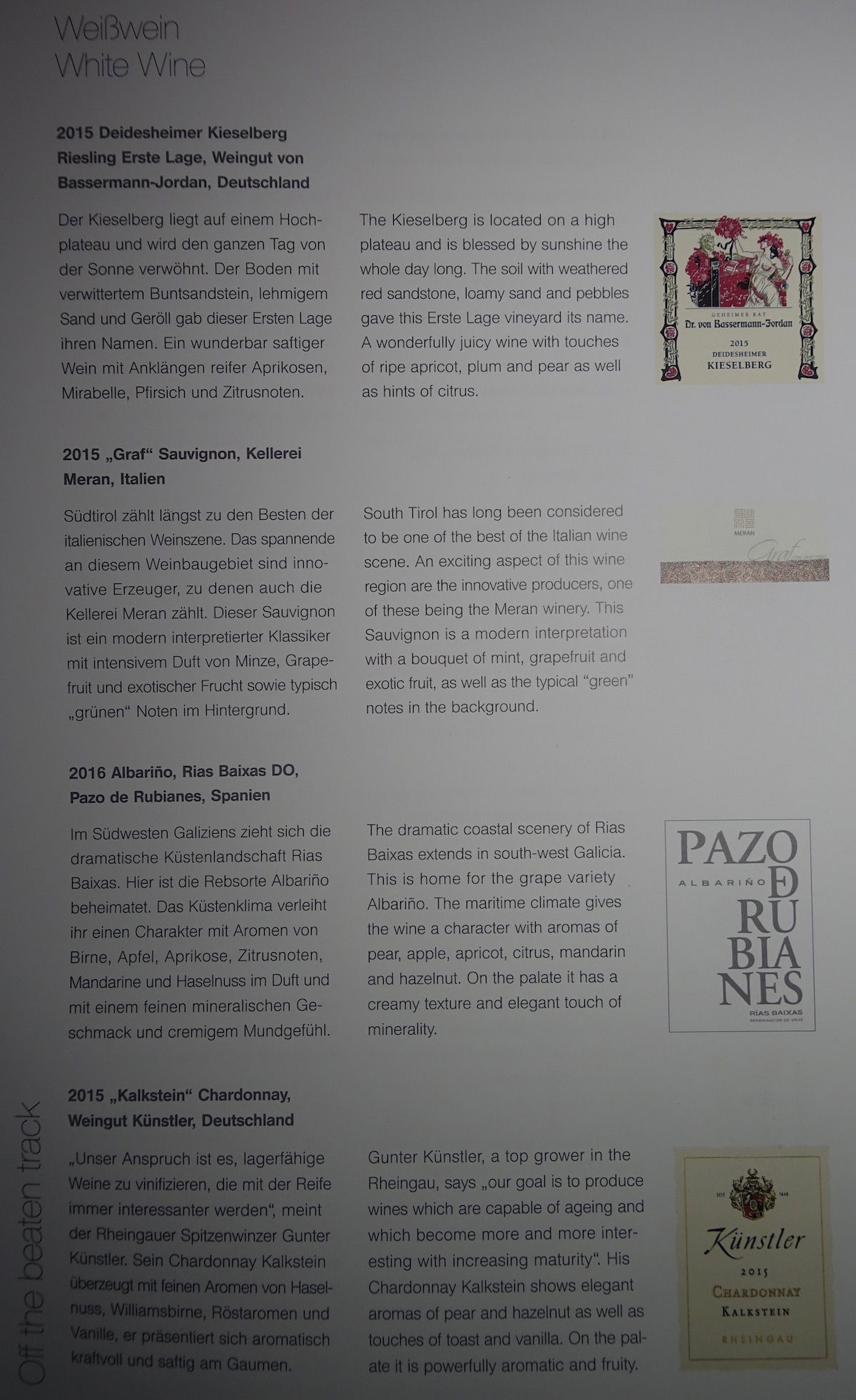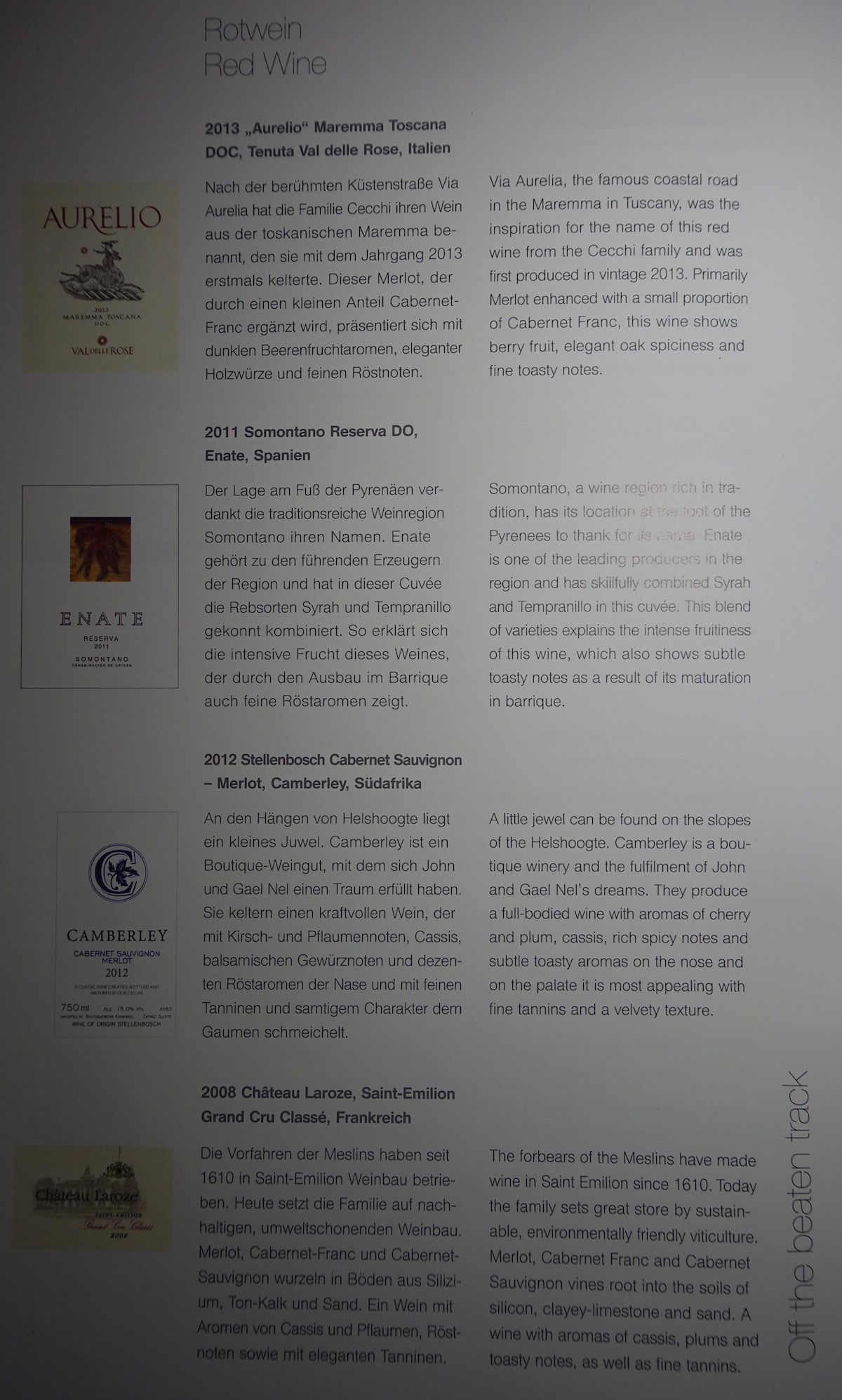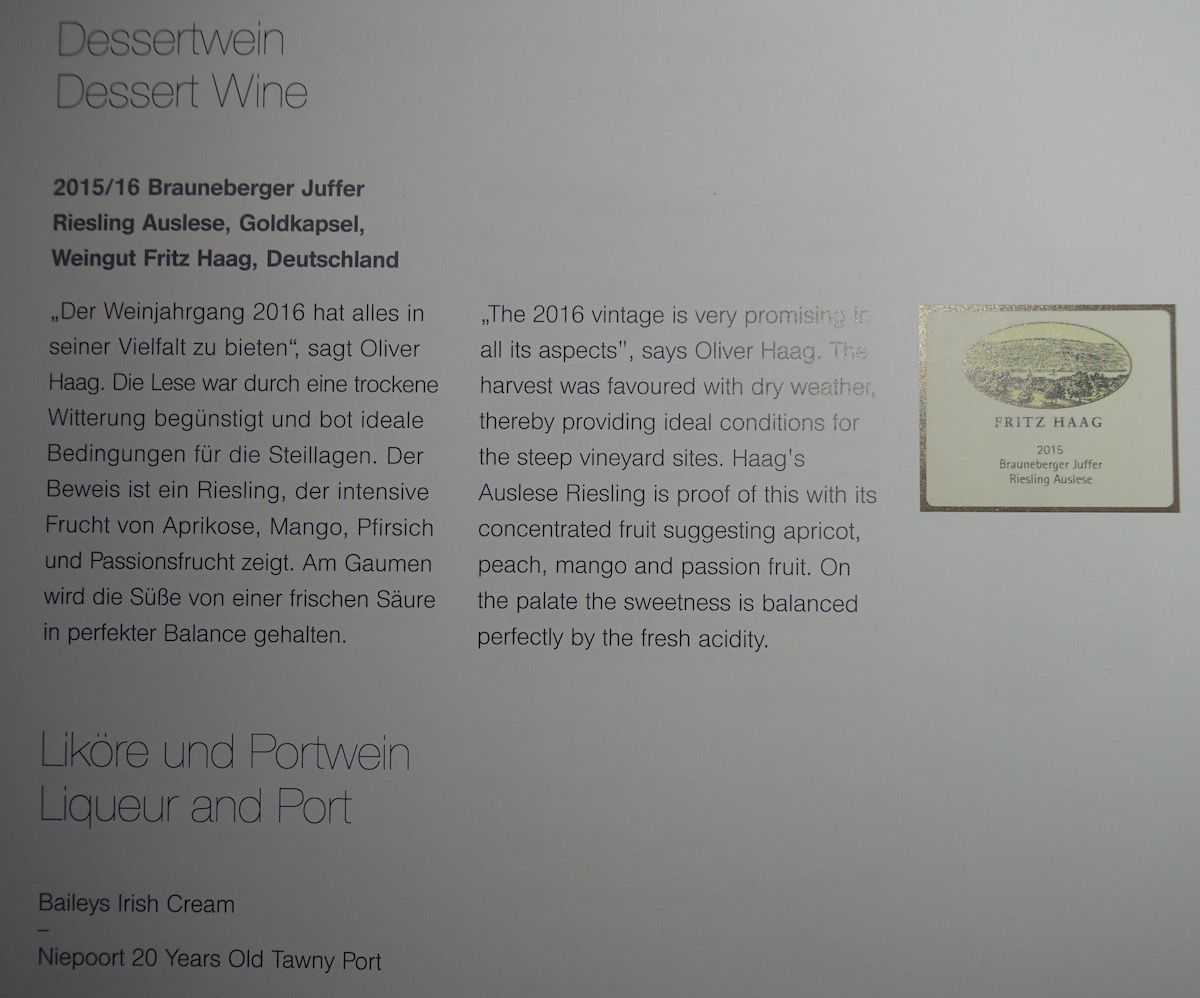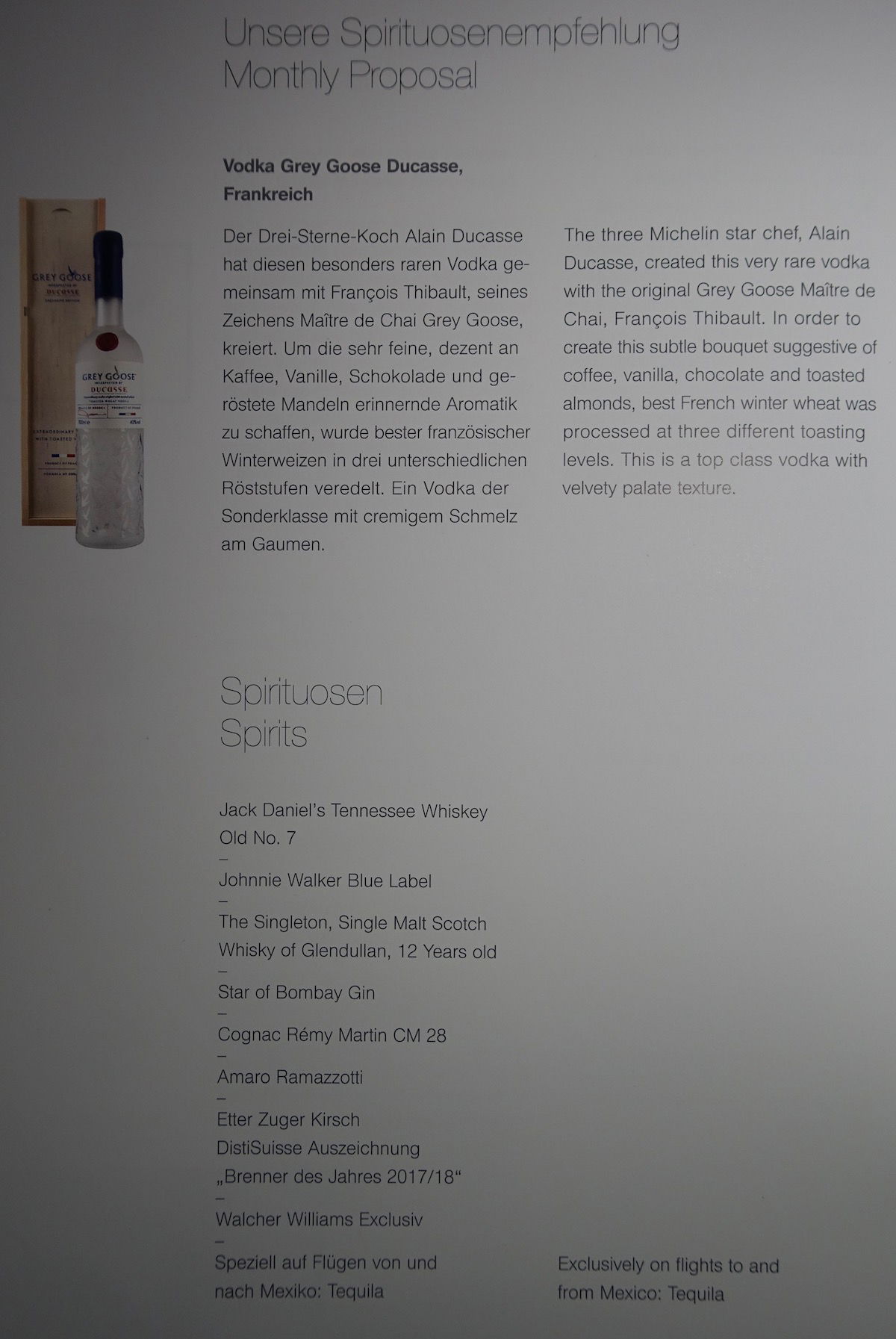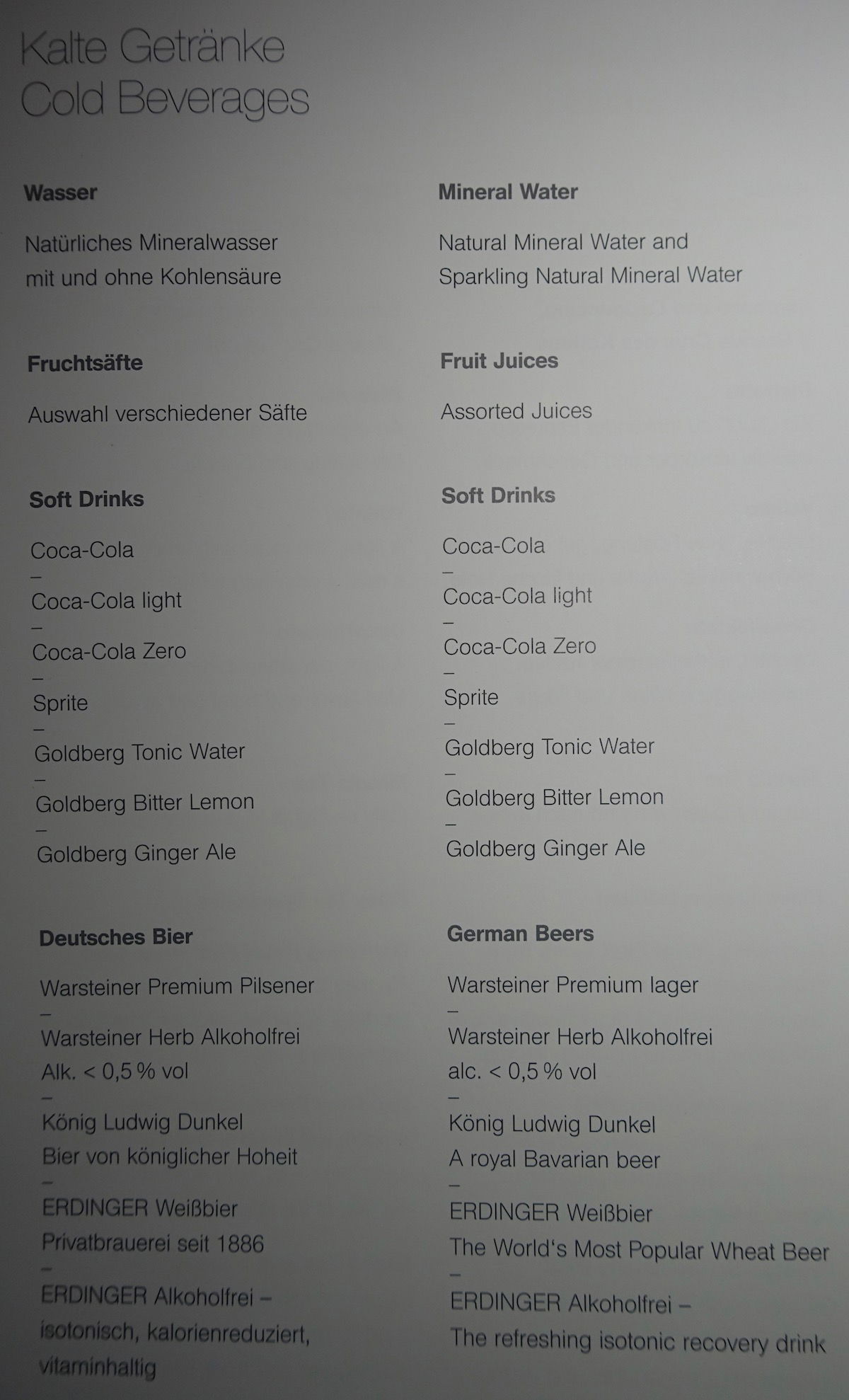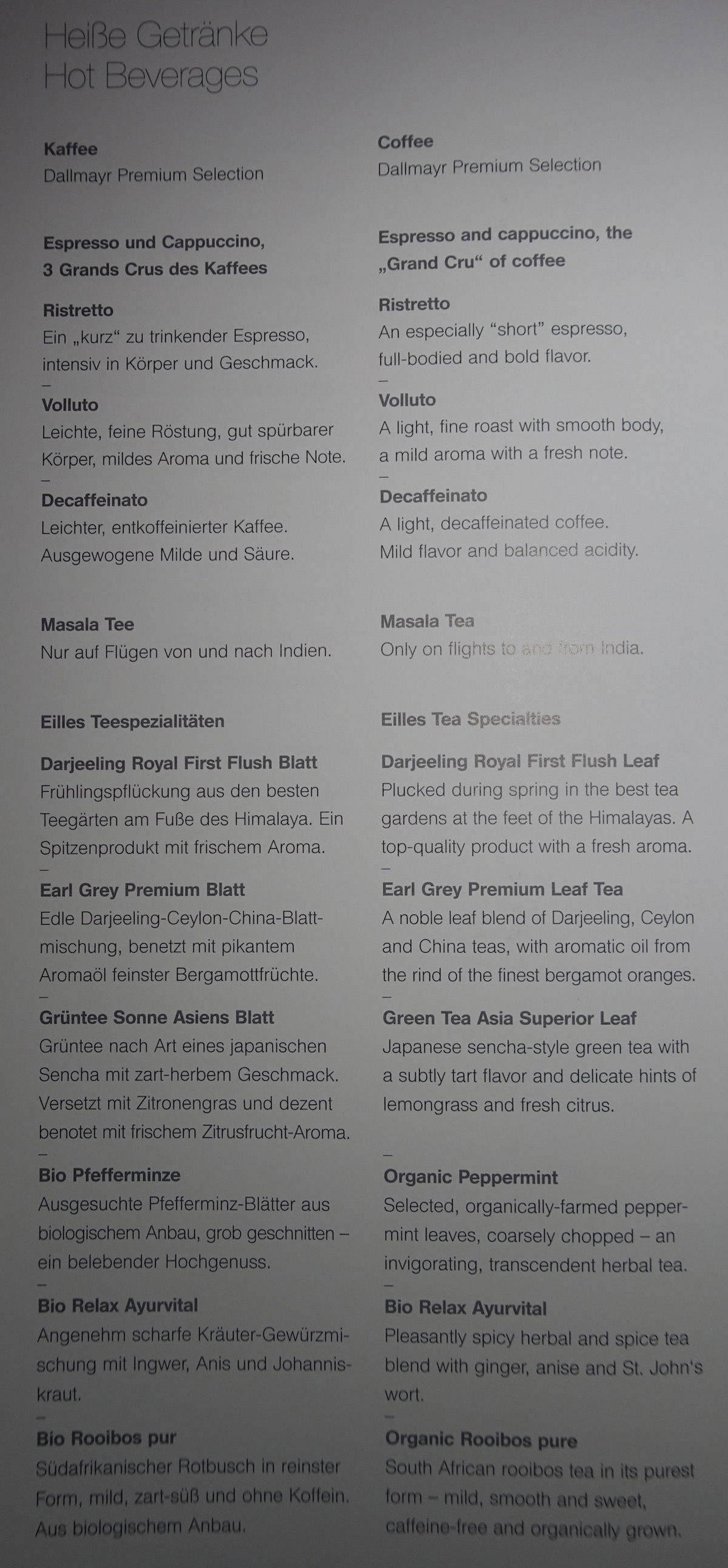 At 7PM the caviar cart was rolled down the aisle. Lufthansa still has one of the most beautiful caviar presentations, as they custom plate it from a cart at each seat.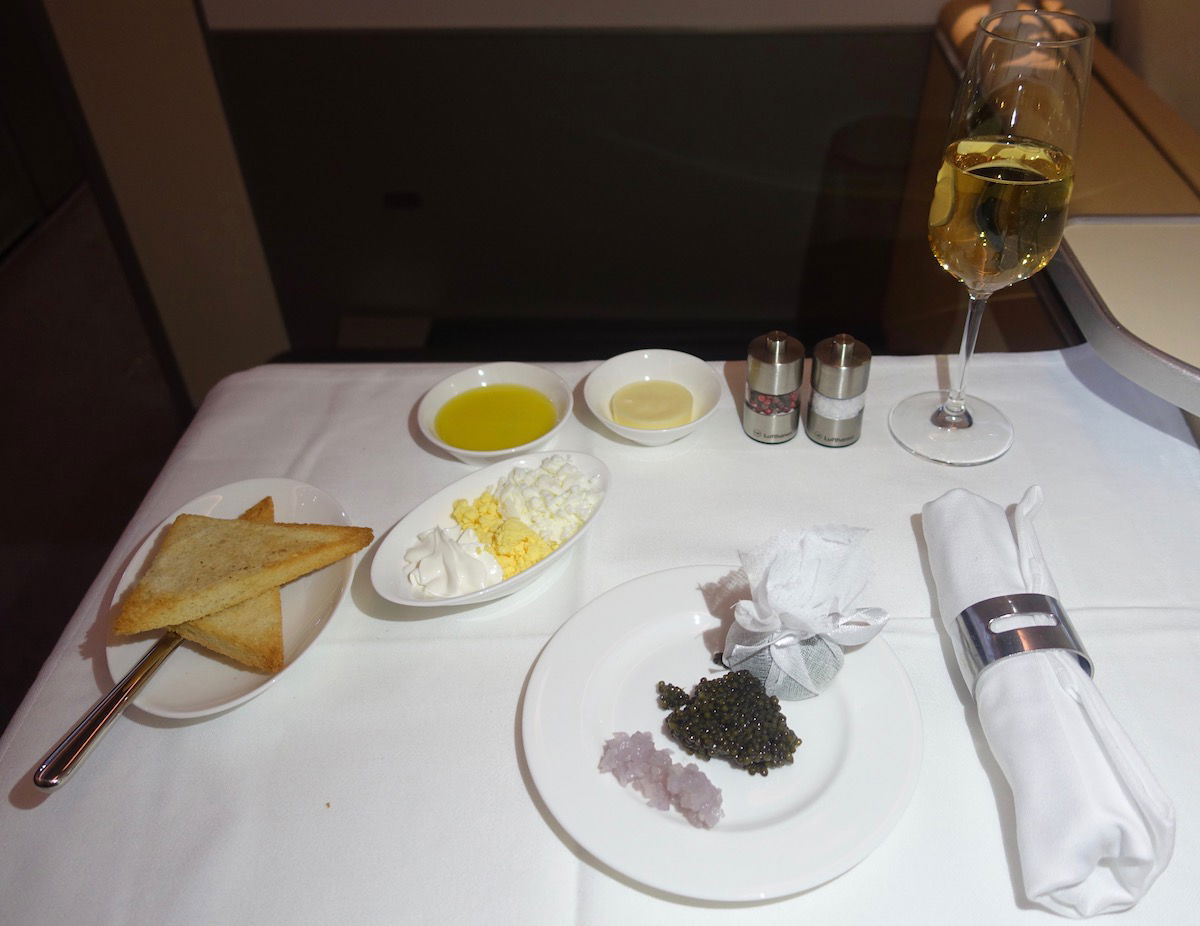 Lufthansa first class caviar service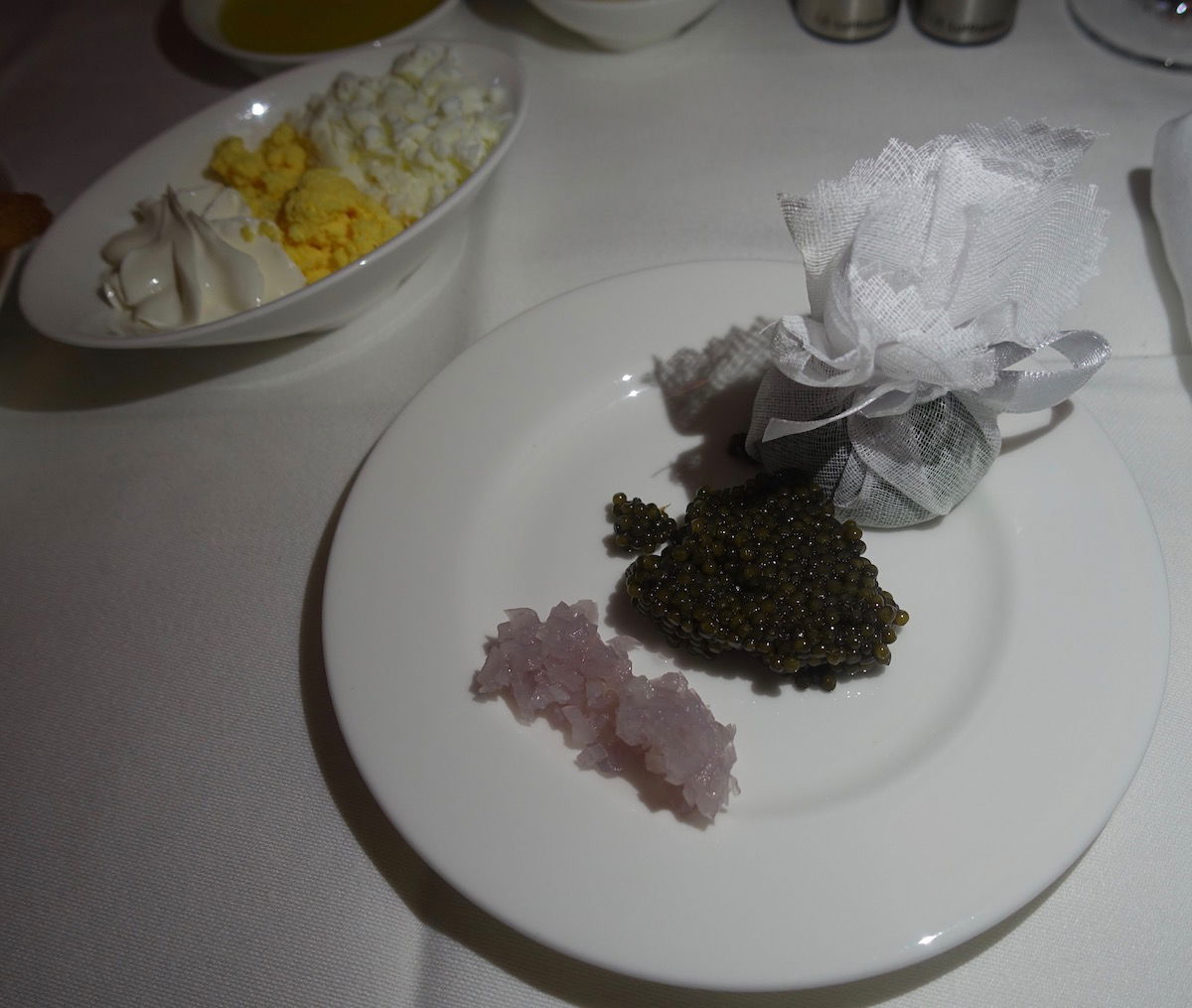 Lufthansa first class caviar service
At 7:30PM it was time for the appetizer cart. There was a choice of three appetizers and a salad. You can have as little or much as you'd like, though if you choose multiple options they serve it on a cool tray. I selected the three appetizers but skipped the salad.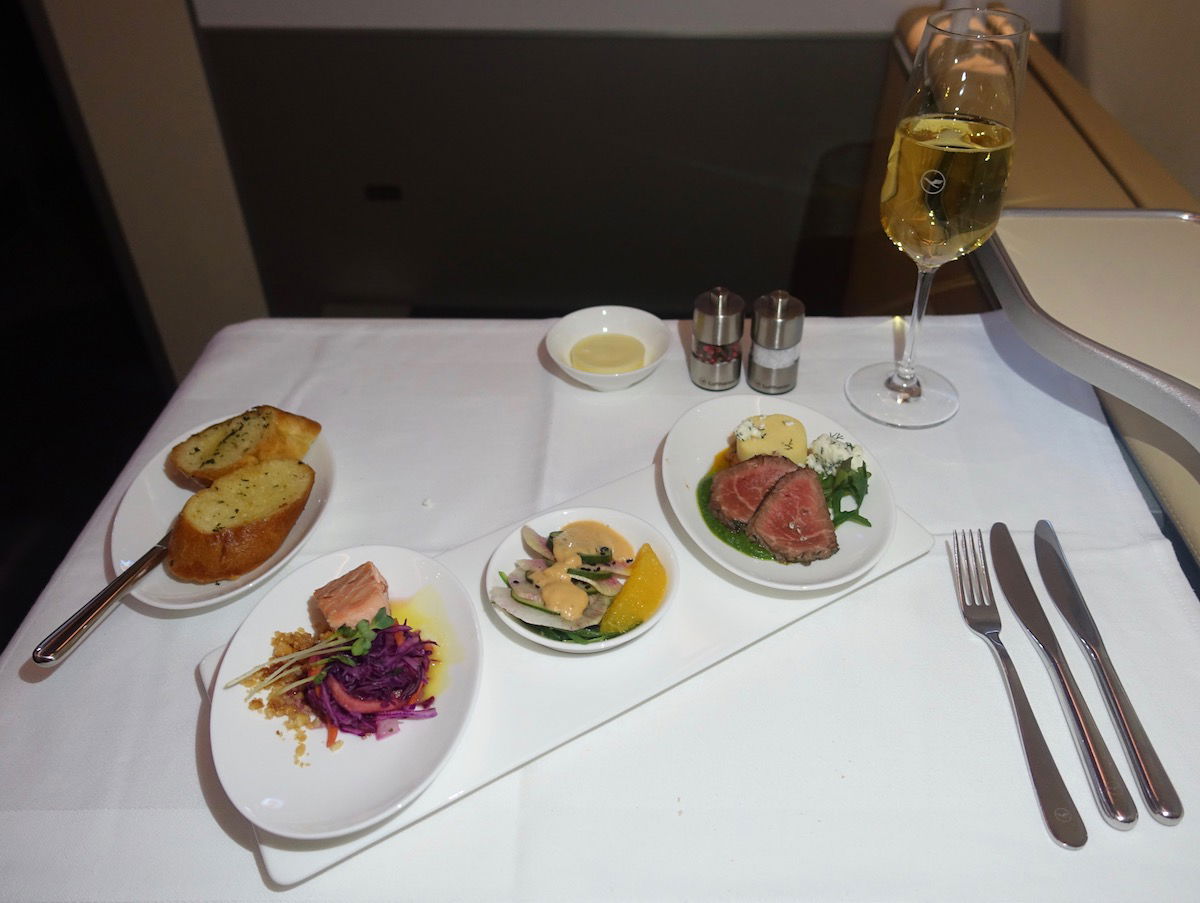 Lufthansa first class appetizers
The appetizers consisted of:
hot smoked salmon with toasted macadamia nuts, daikon sprouts, and yuzu miso vinaigrette
herb roasted beef with sun-dried tomato tapenade and arugula pesto
watermelon, radish with black sesame seed, wakame salad, orange, and ginger vinaigrette
All three were excellent.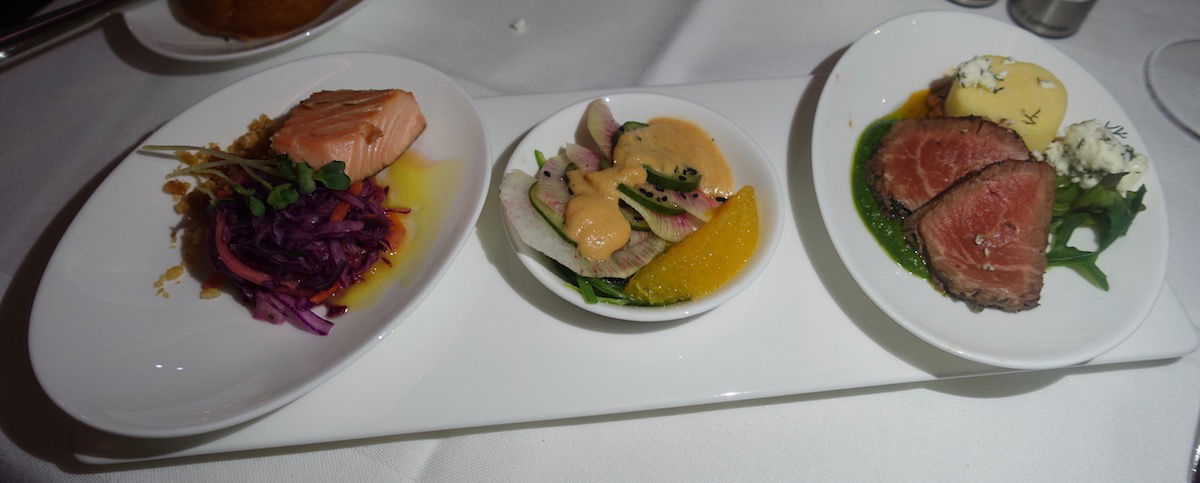 Lufthansa first class appetizers
I was also offered a selection of bread, and chose Lufthansa's consistently excellent garlic bread.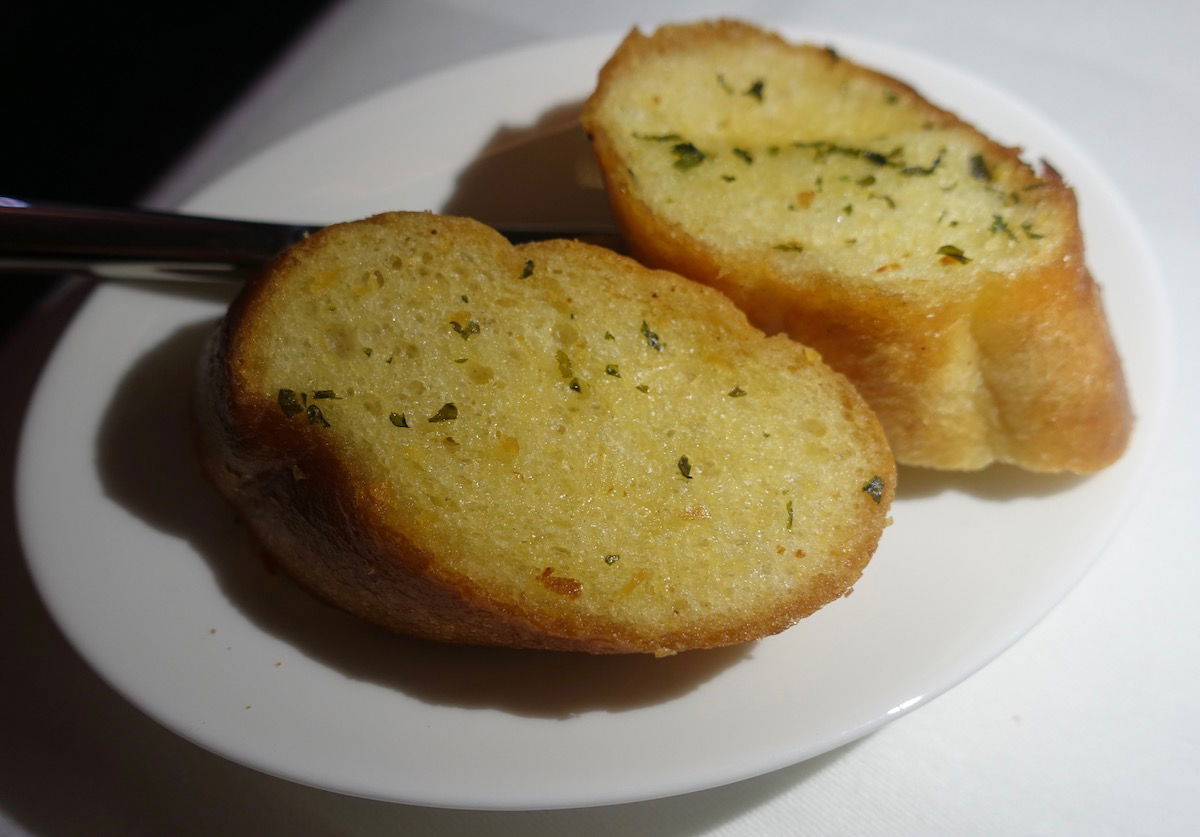 Lufthansa first class bread basket
For the main course I selected the seared halibut with lemon chive beurre blanc, sugar snaps, green peas, lima beans, and yellow wax piperade accompanied by butter bean potato puree. The dish was excellent — the fish itself was good, though it was the accompaniments that made the dish.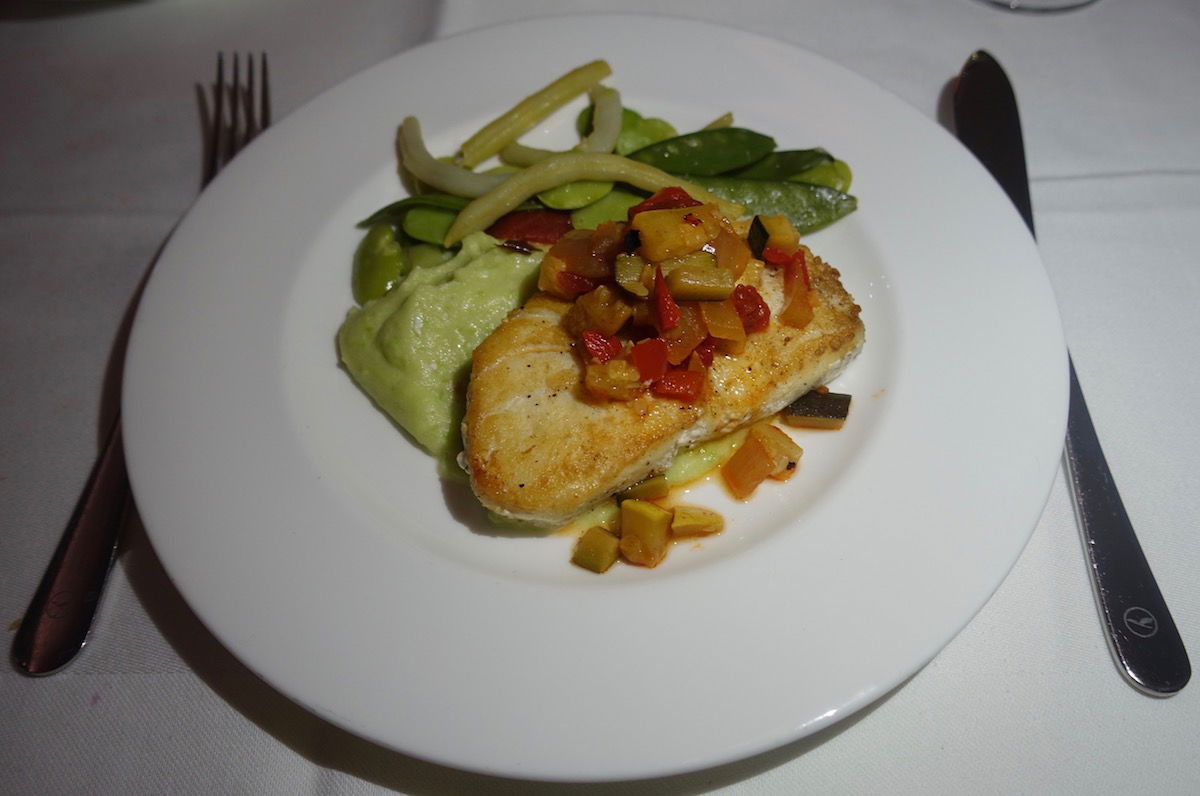 Lufthansa first class main course
Lastly there was a cheese and dessert trolley.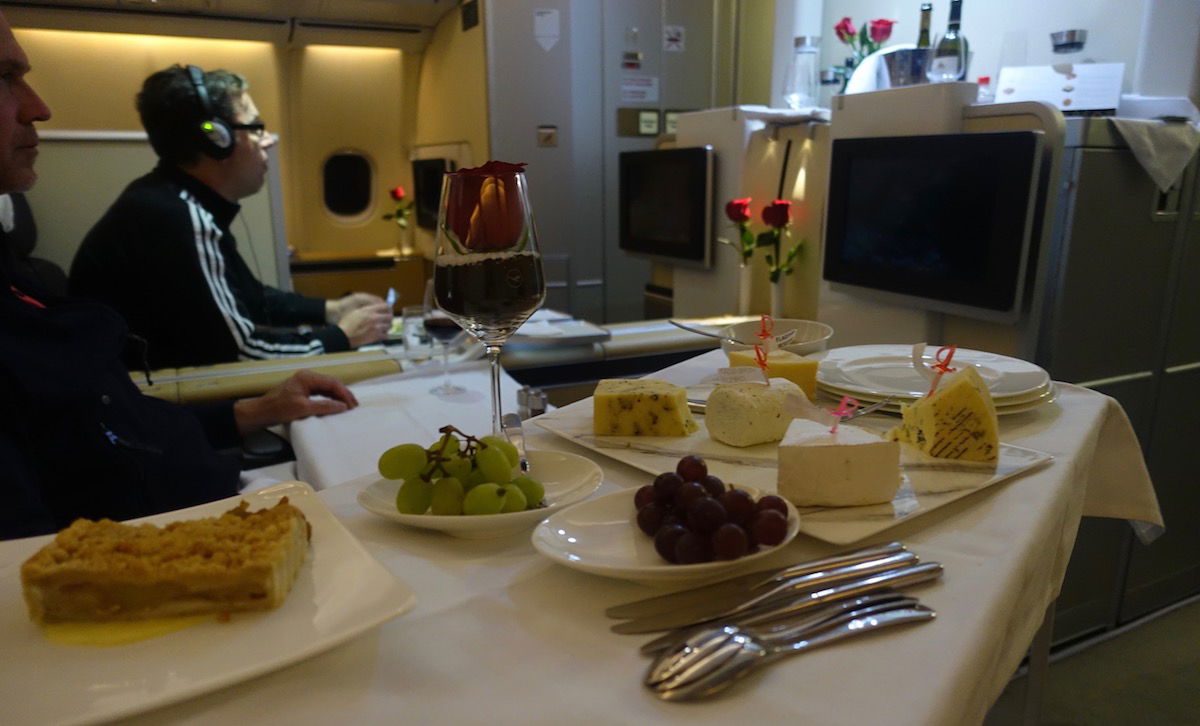 Lufthansa first class cheese & dessert trolley
I was stuffed at this point, though figured I had to order something for dessert. I selected the lukewarm sea salt brownie with vanilla ice cream. Kudos to Lufthansa for being surprisingly realistic with their description of the dish — most food on planes comes lukewarm, though Lufthansa is making it a feature with this dessert.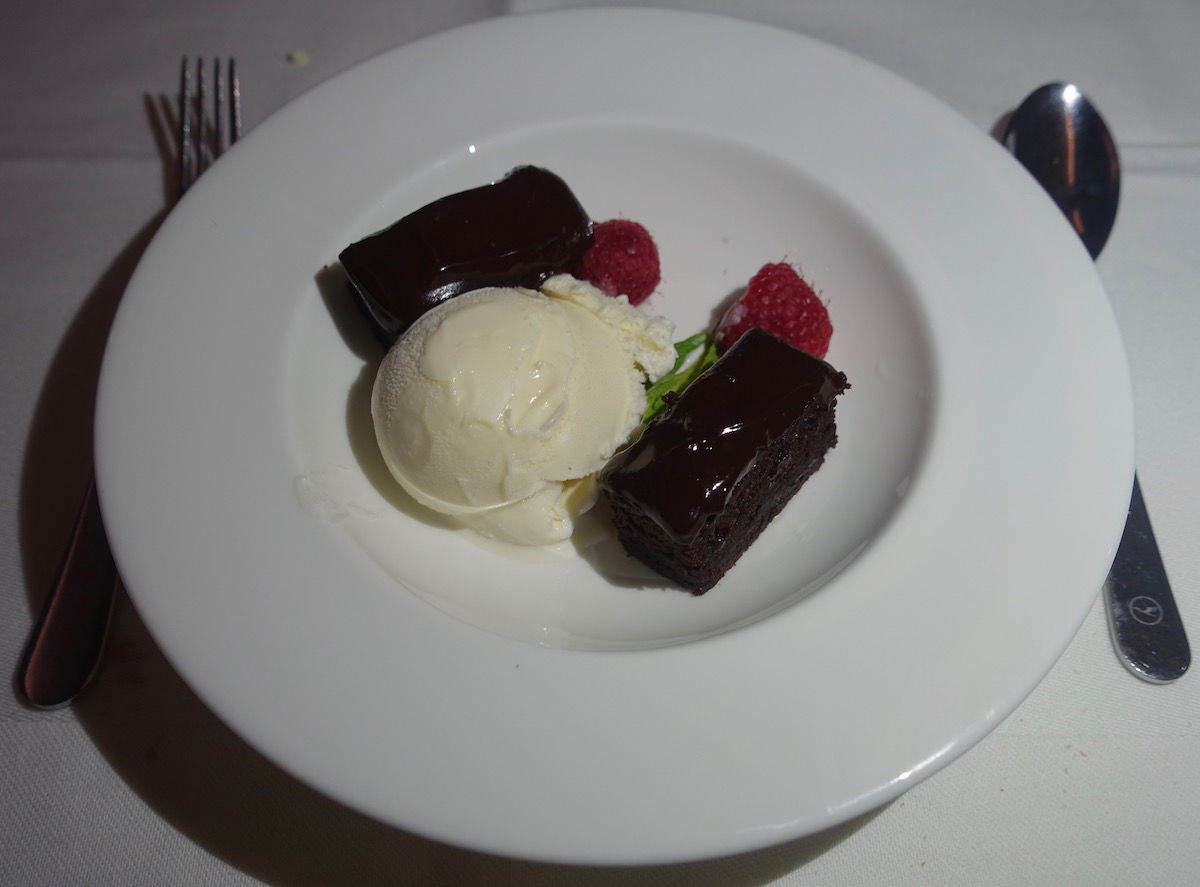 Lufthansa first class dessert
The meal was done by 8:30PM PT, meaning the whole meal took about 2hr45min. The crew was friendly, but I felt like they were so slow, and on a redeye like this maximizing sleep needs to be a priority. The food itself was one of the best meals I've had on Lufthansa.
After the meal I asked to have my bed made, which was quickly taken care of. Lufthansa has excellent bedding, with a soft mattress pad and a plush but light blanket. I do wish they'd have thicker (or more) pillows, though. Fortunately that becomes less of an issue if you just angle the seat up a few degrees. My one major complaint about the sleeping situation on Lufthansa is the lack of air nozzles. They keep their cabins really warm, and there's no ability to control your own airflow.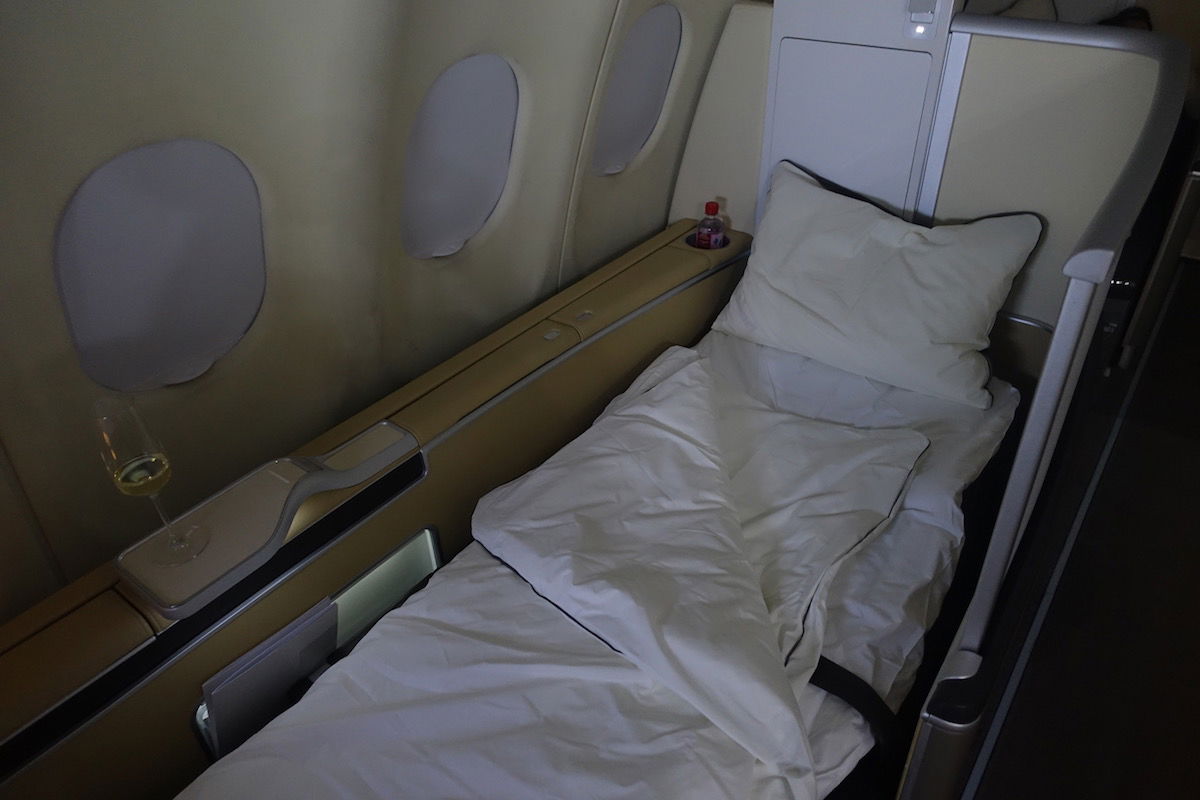 Lufthansa first class bed
I was also given a bottle of water.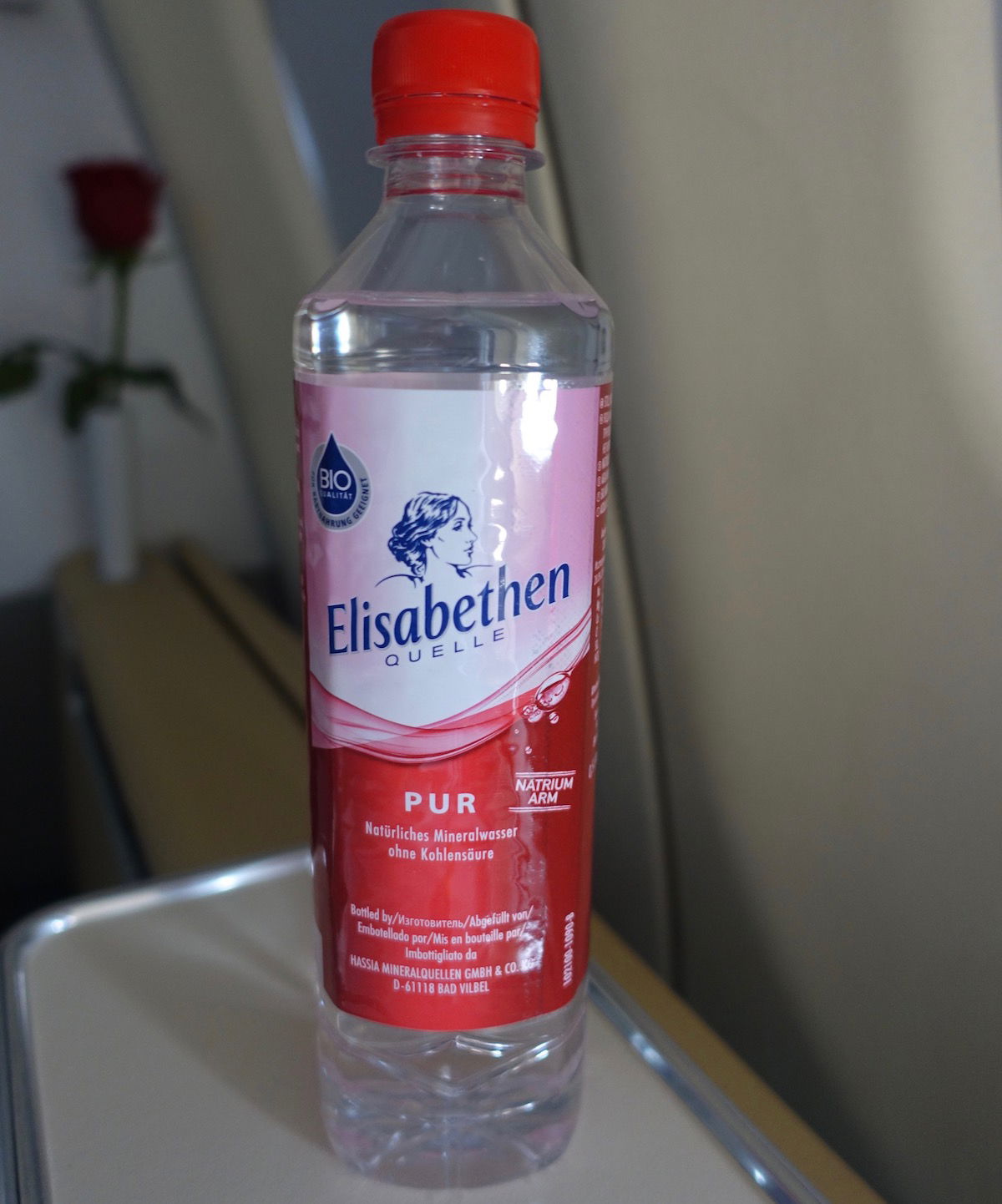 Lufthansa first class bottled water
I fell asleep over Canada, and woke up with about two hours remaining to Munich, so I got about six hours of sleep.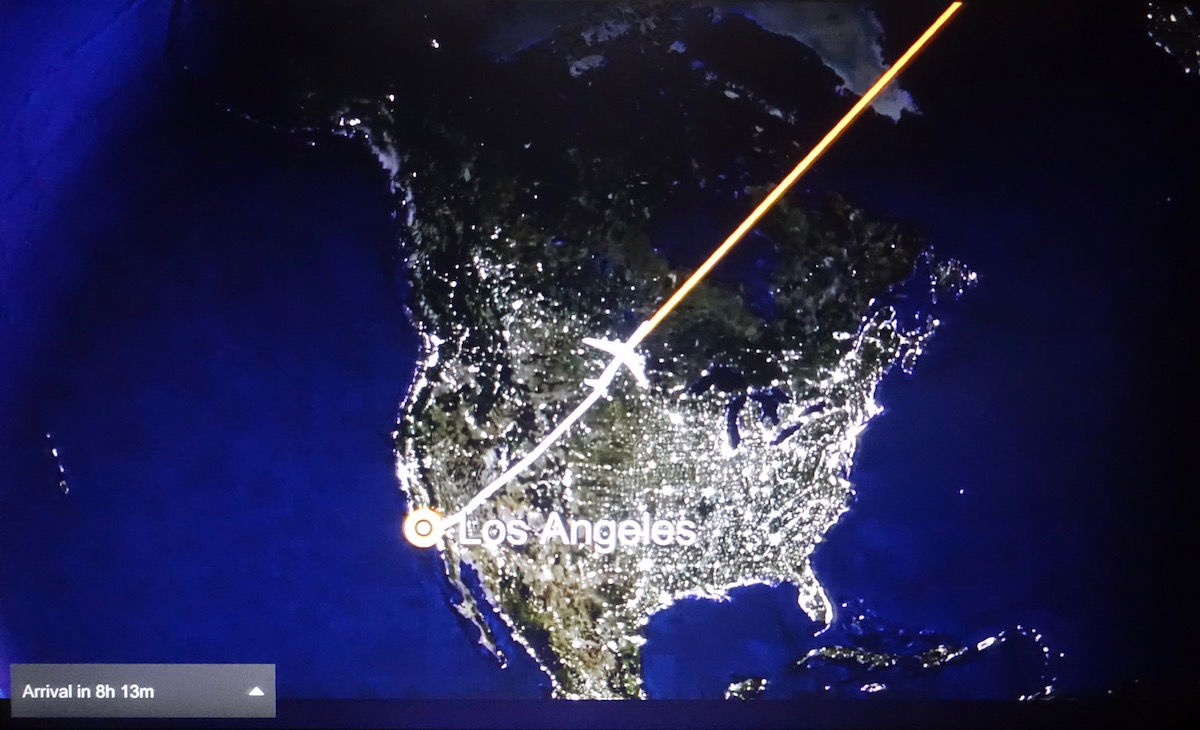 Airshow enroute to Munich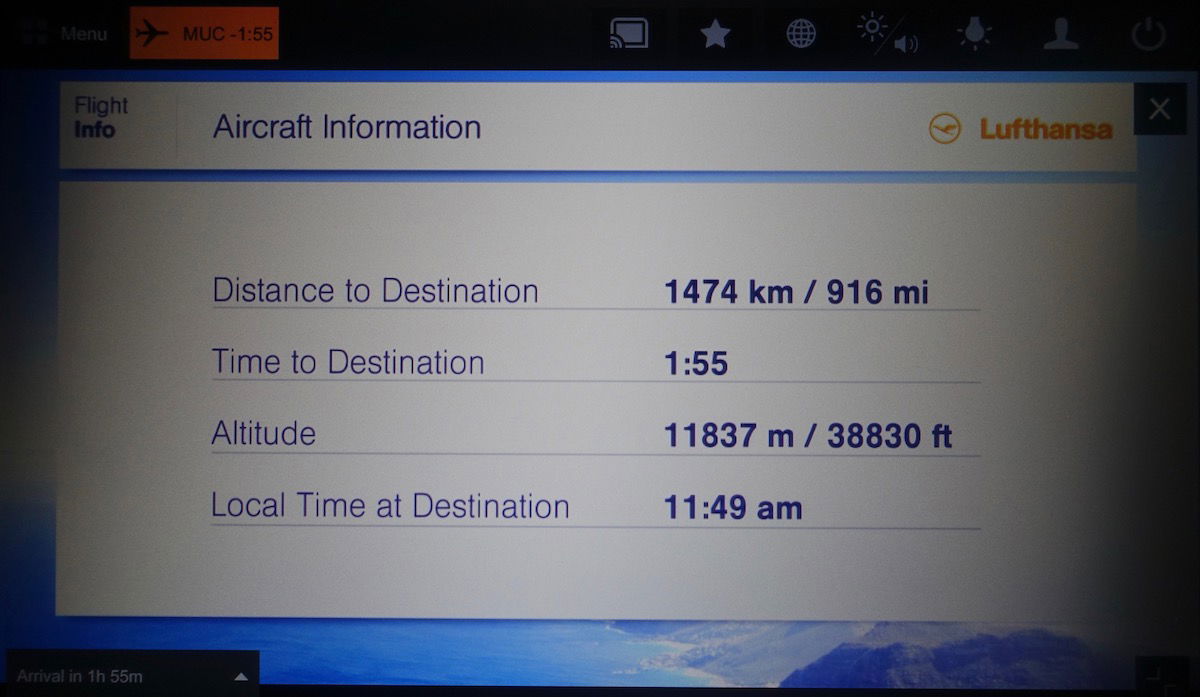 Airshow enroute to Munich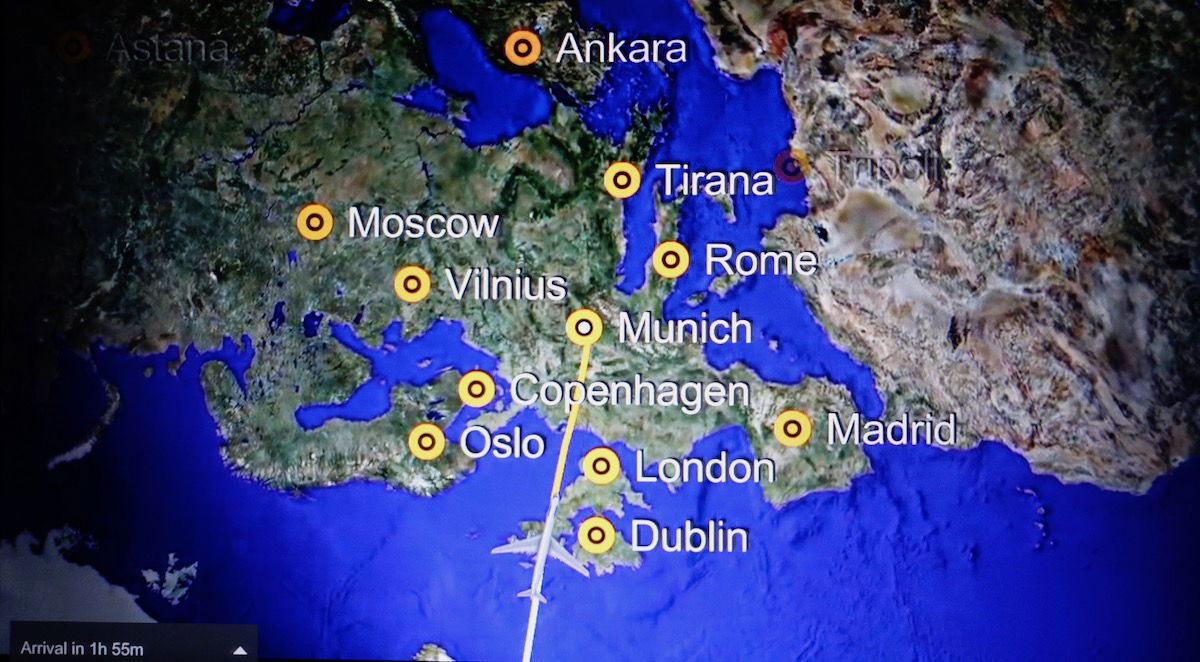 Airshow enroute to Munich
The breakfast service started about 90 minutes out, with orange juice and warm towels.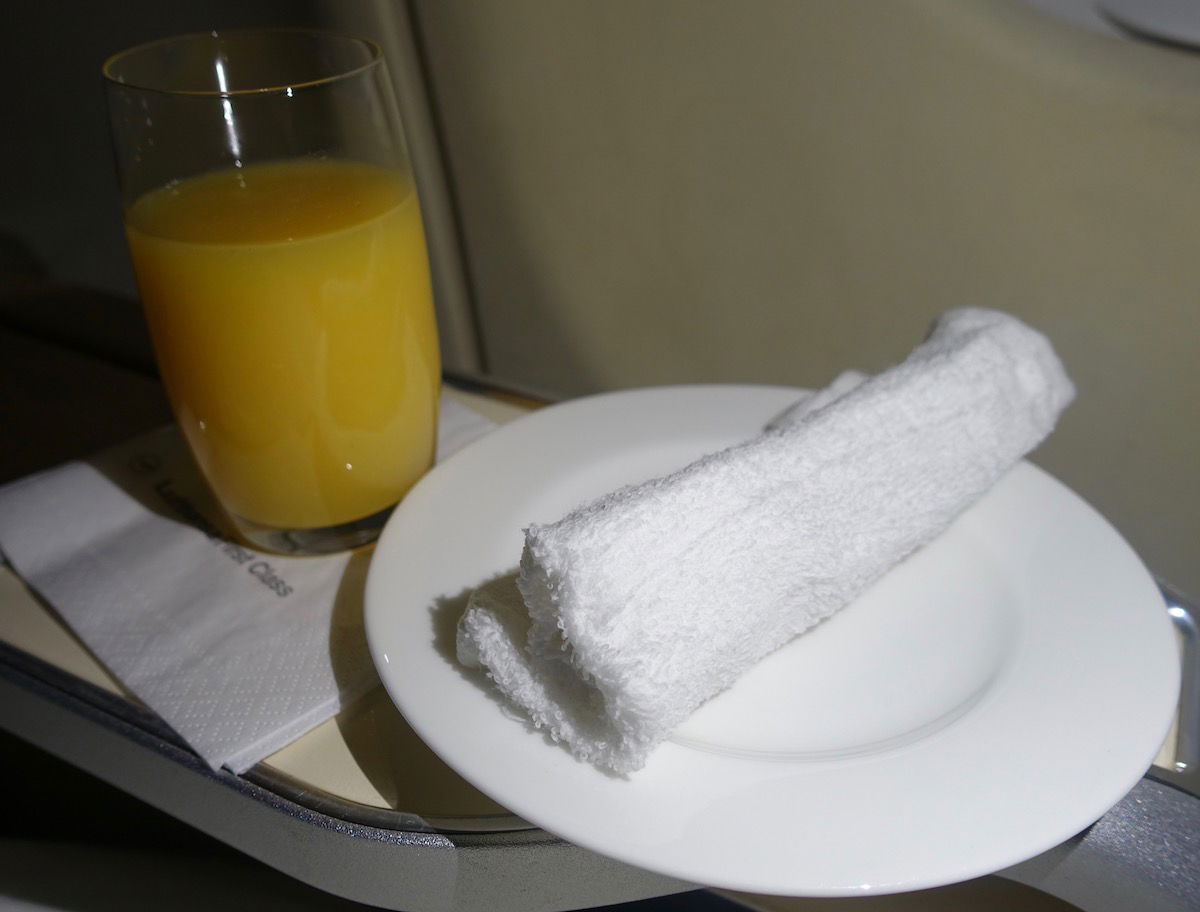 Lufthansa first class orange juice & warm towel
The breakfast menu read as follows: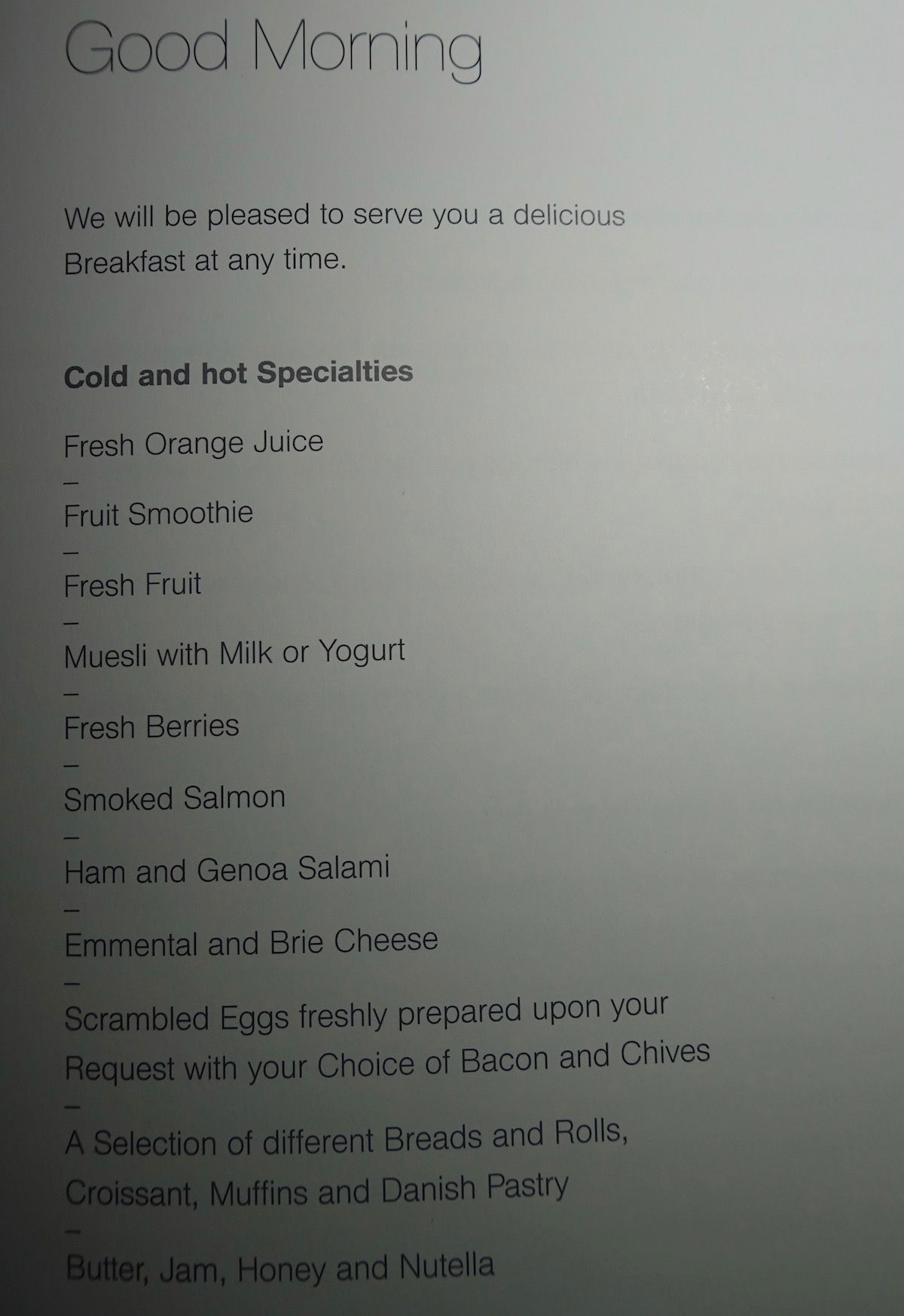 Then a cart was rolled down the aisle with all kinds of breakfast options, including cold cuts, cheese, muesli, yogurt, fruit, and more. To start I selected some plain yogurt, berries, and muesli.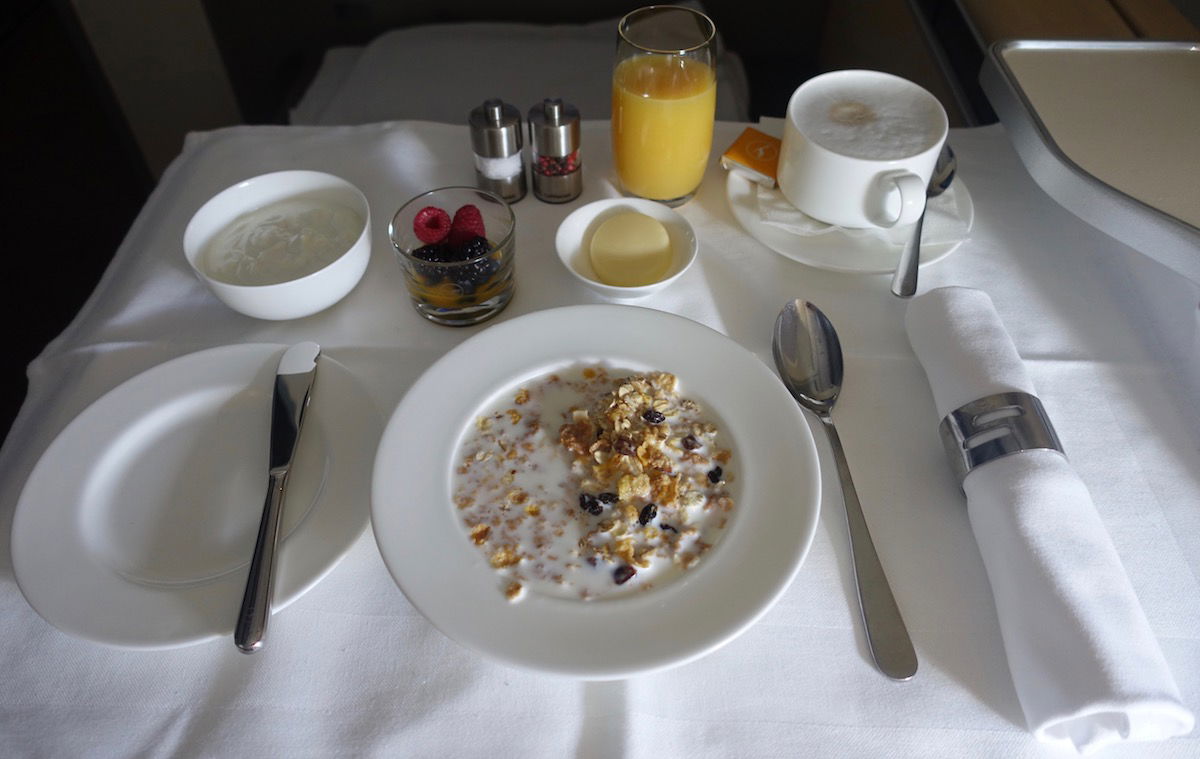 Lufthansa first class breakfast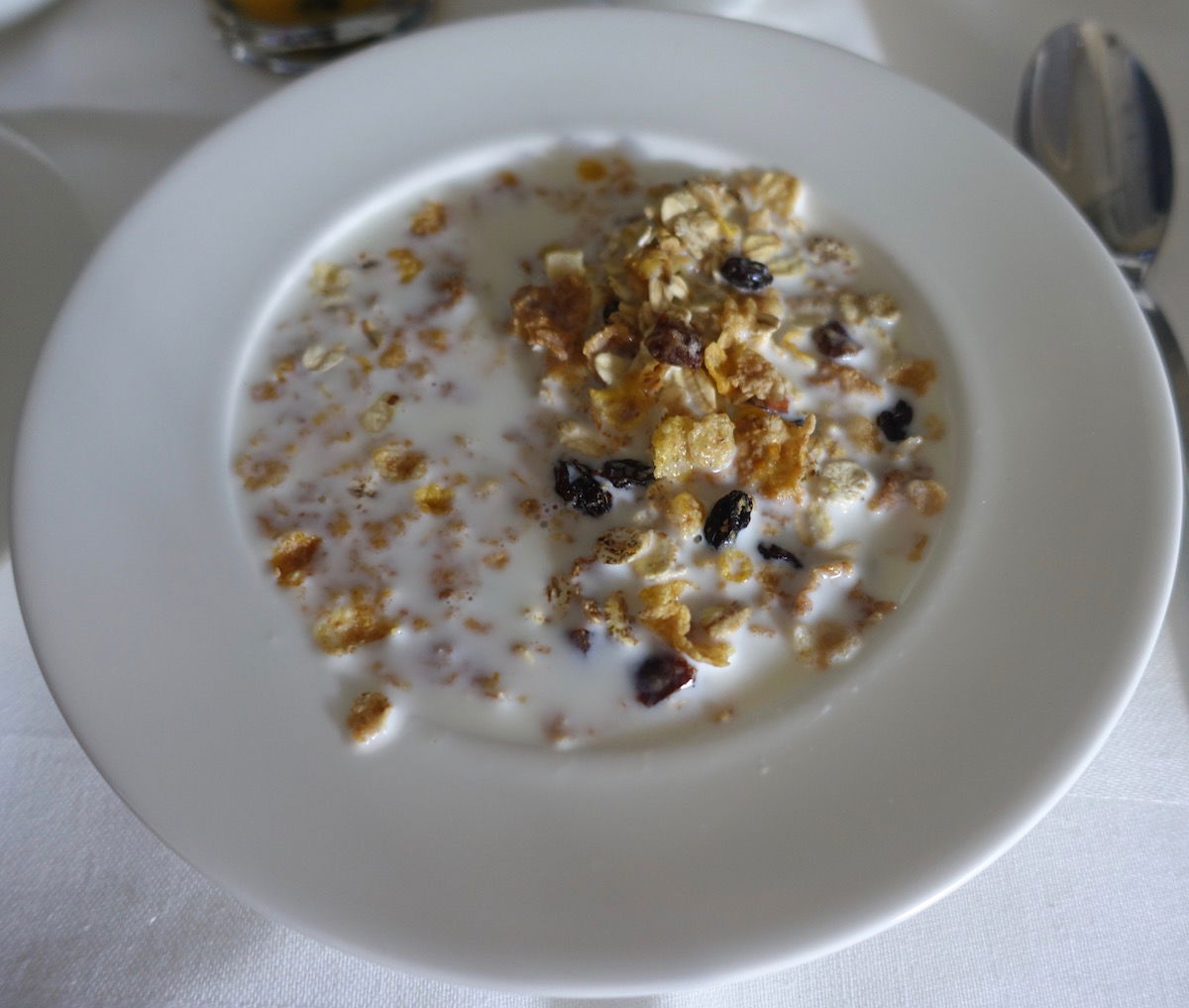 Lufthansa first class muesli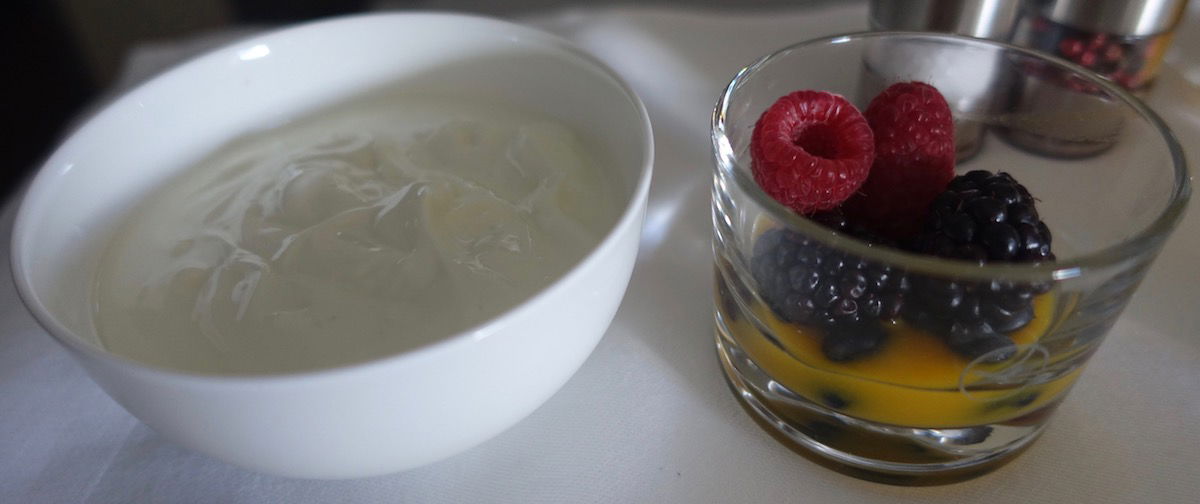 Lufthansa first class yogurt and fruit
I also ordered a cappuccino, which wasn't very good. It was super watery.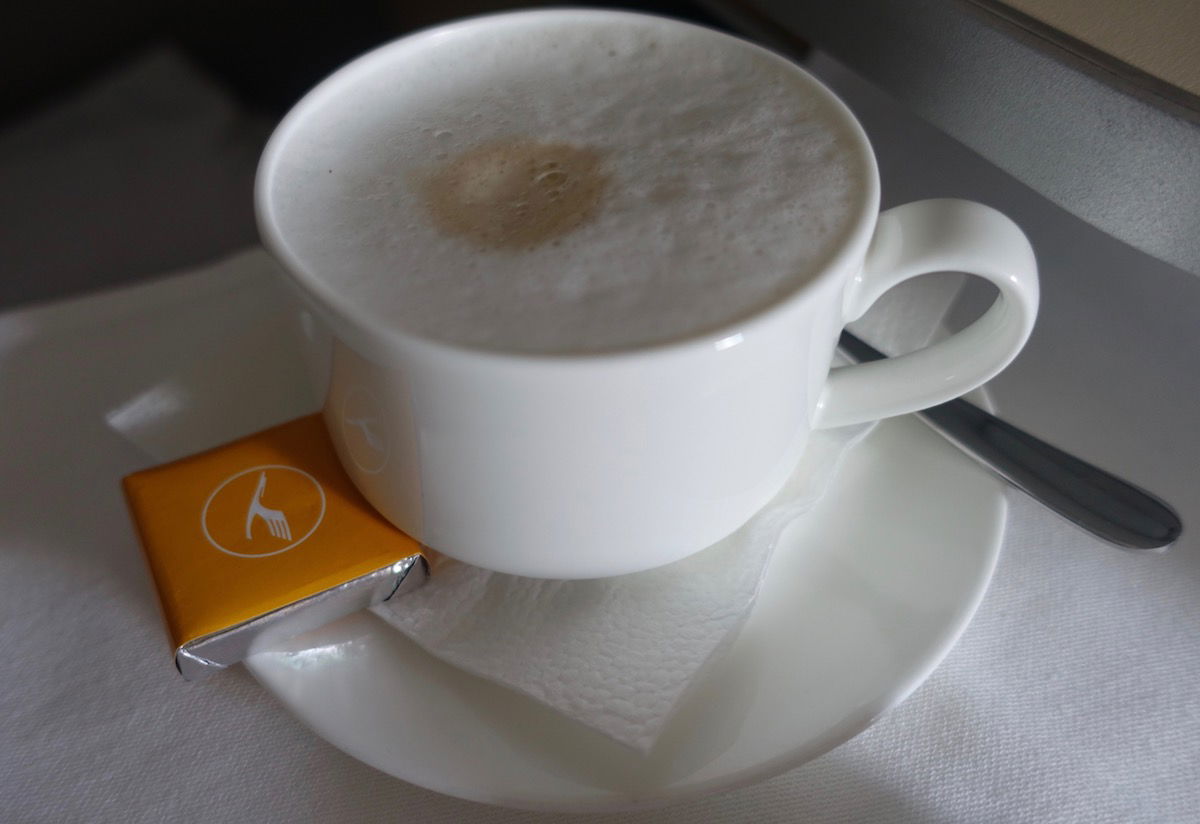 Lufthansa first class cappuccino
One of the nice things about breakfast on Lufthansa is that they have freshly prepared eggs. When they brought out the first breakfast cart the flight attendant asked if I wanted some eggs. I said I did, and asked for scallions but no bacon. After about 20 minutes the other flight attendant came by to clear my tray and ask if she could get me anything. I said that I still hadn't received my scrambled eggs.
She returned two minutes later with scrambled eggs, though they had bacon and scallions on them. I explained I didn't want bacon. She returned with them a minute later, though they still had a little bit of bacon on them, so it's clear they just took some off the top. That seems like a very German solution, because I'm sure they couldn't really wrap their heads around why anyone wouldn't want bacon. 😉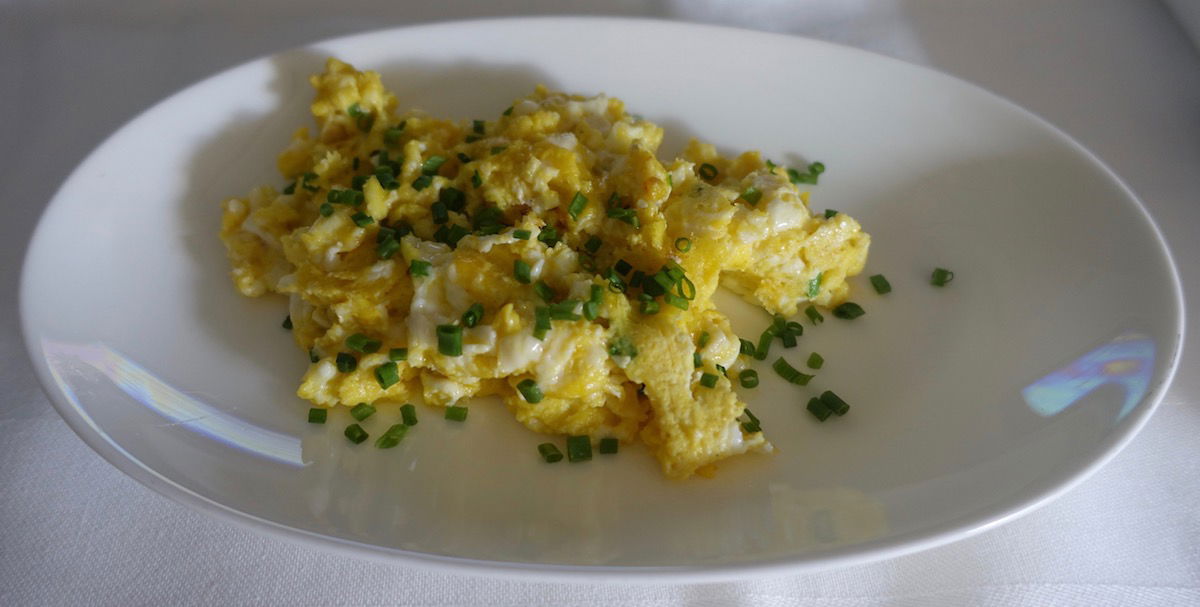 Lufthansa first class scrambled eggs
After breakfast I brushed my teeth and changed out of my pajamas. Then at 1PM we began our descent for Munich. As usual, the views on the approach were gorgeous. On descent both of the first class flight attendants came by to thank each passenger for flying Lufthansa, and wish them a nice weekend.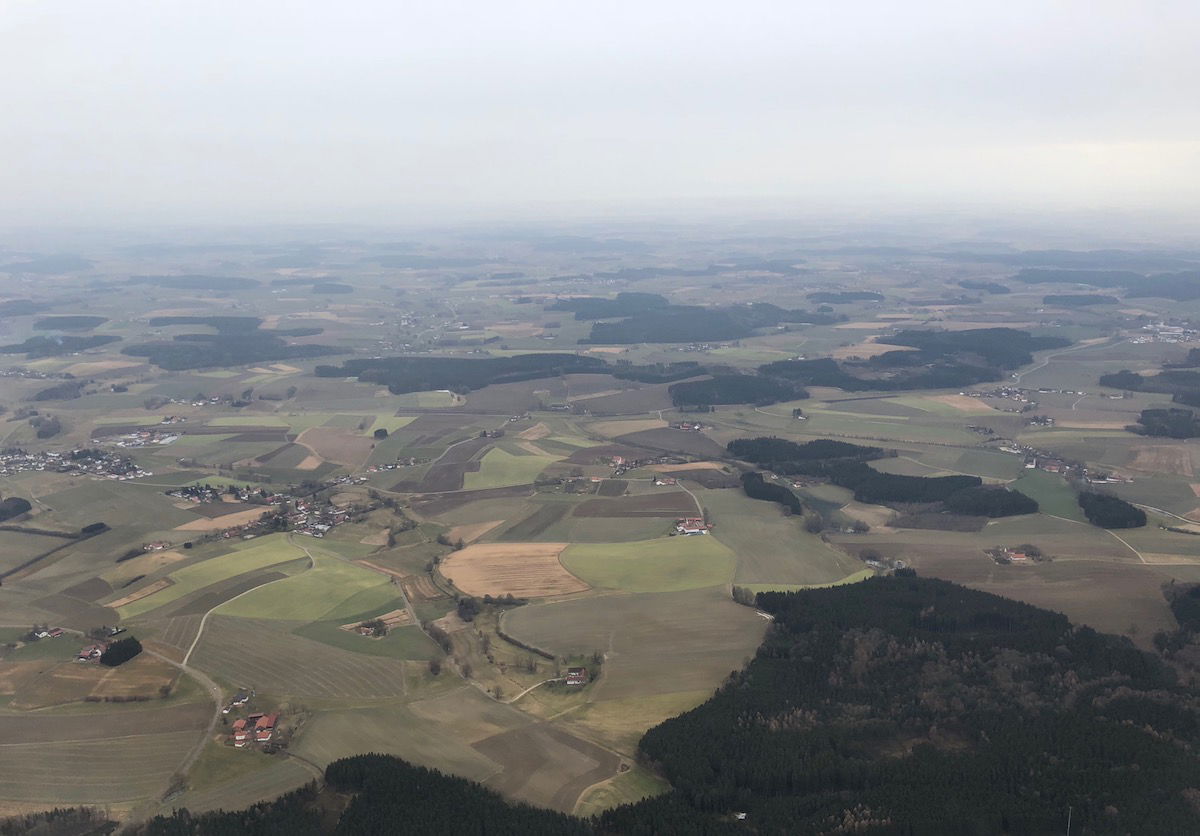 View approaching Munich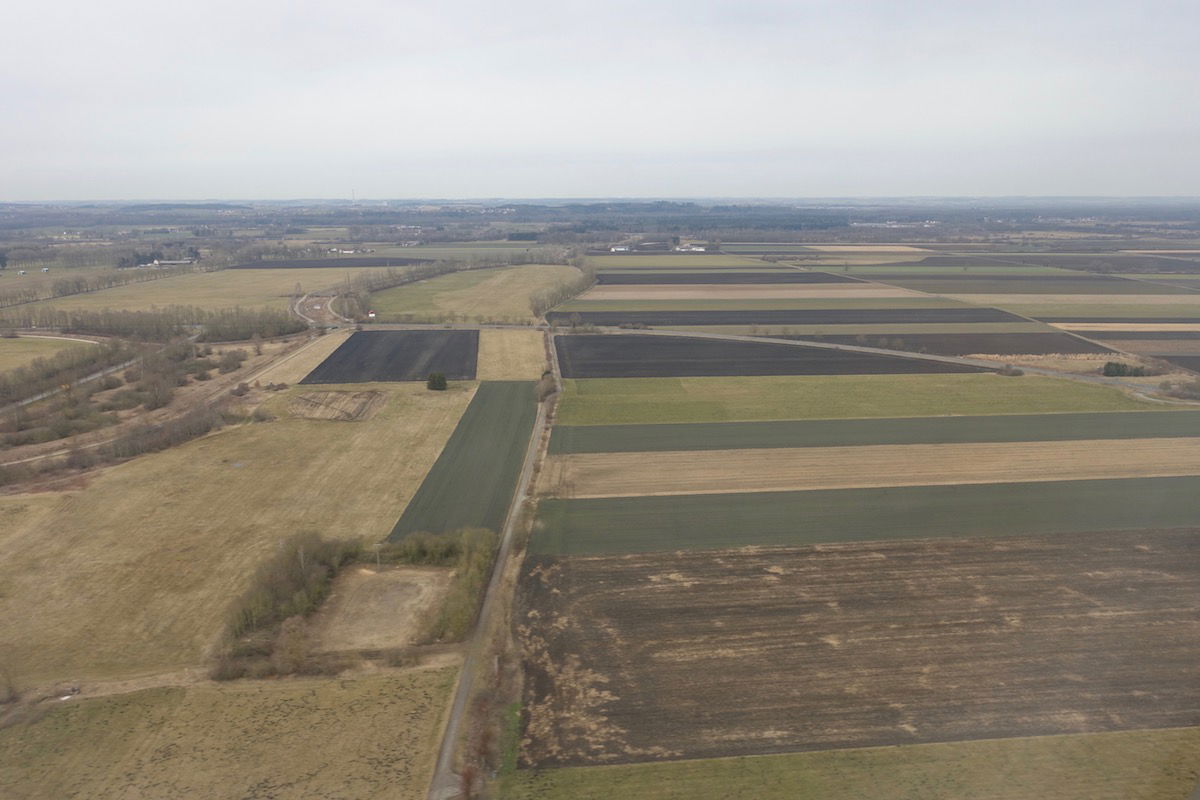 View approaching Munich
We touched down on runway 26R at 1:40PM. From there we had a roughly five minute taxi to our arrival gate.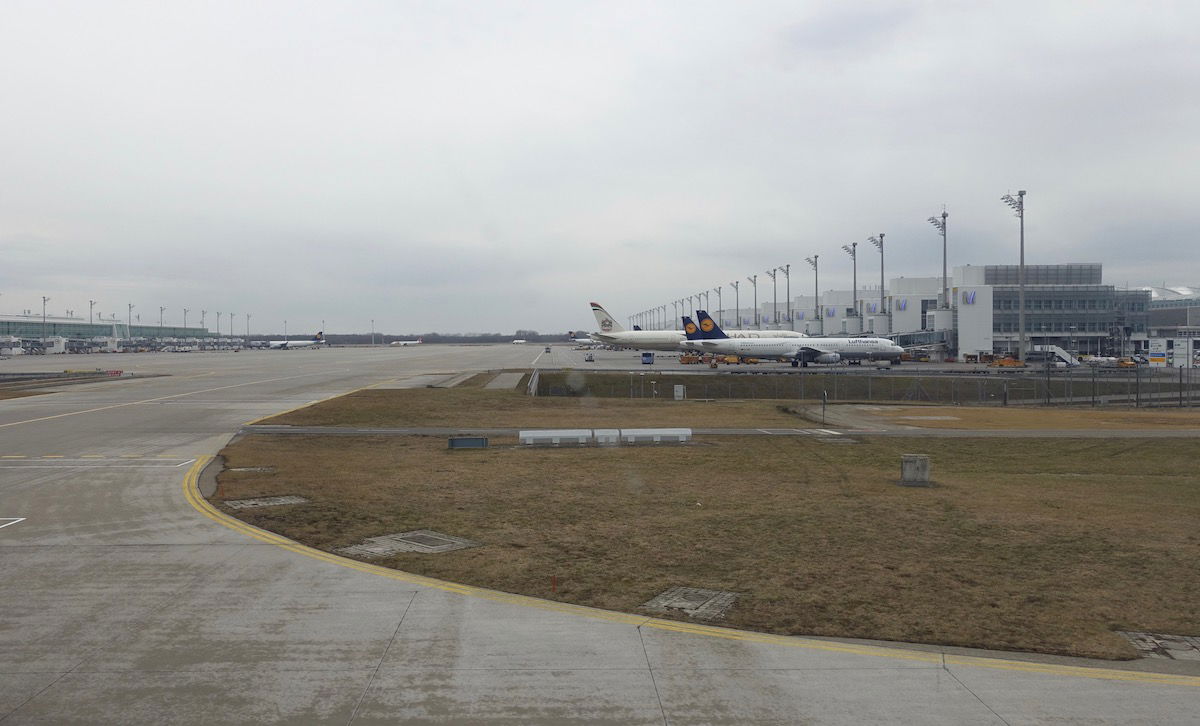 Taxiing Munich Airport
It was a quiet afternoon at the airport, with an Etihad 777 and then a bunch of smaller Lufthansa jets. There were very few widebodies at the time.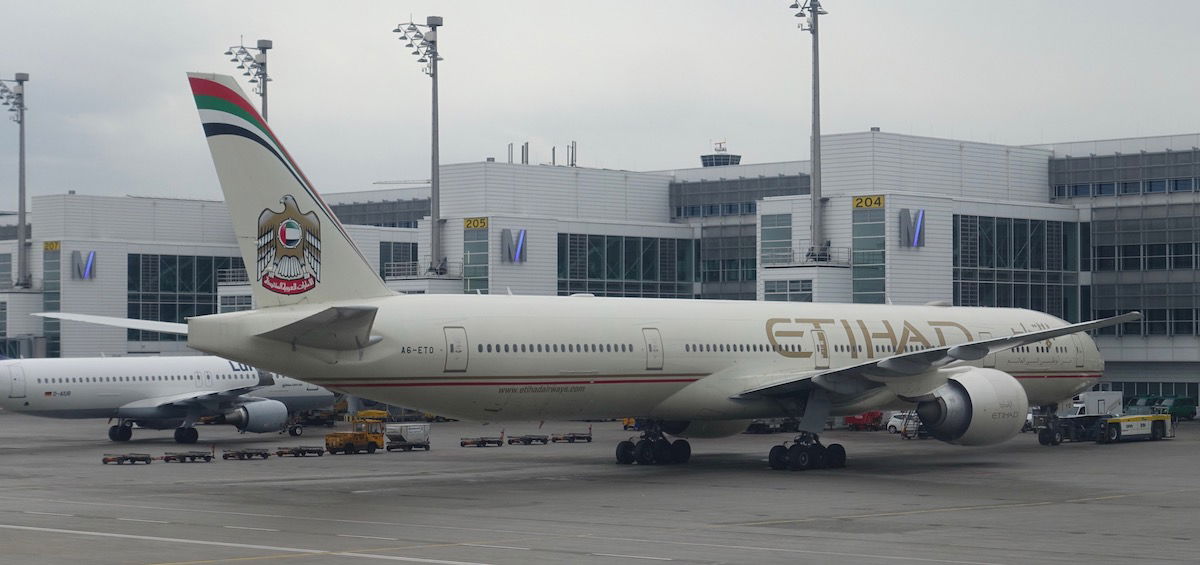 Etihad 777 Munich Airport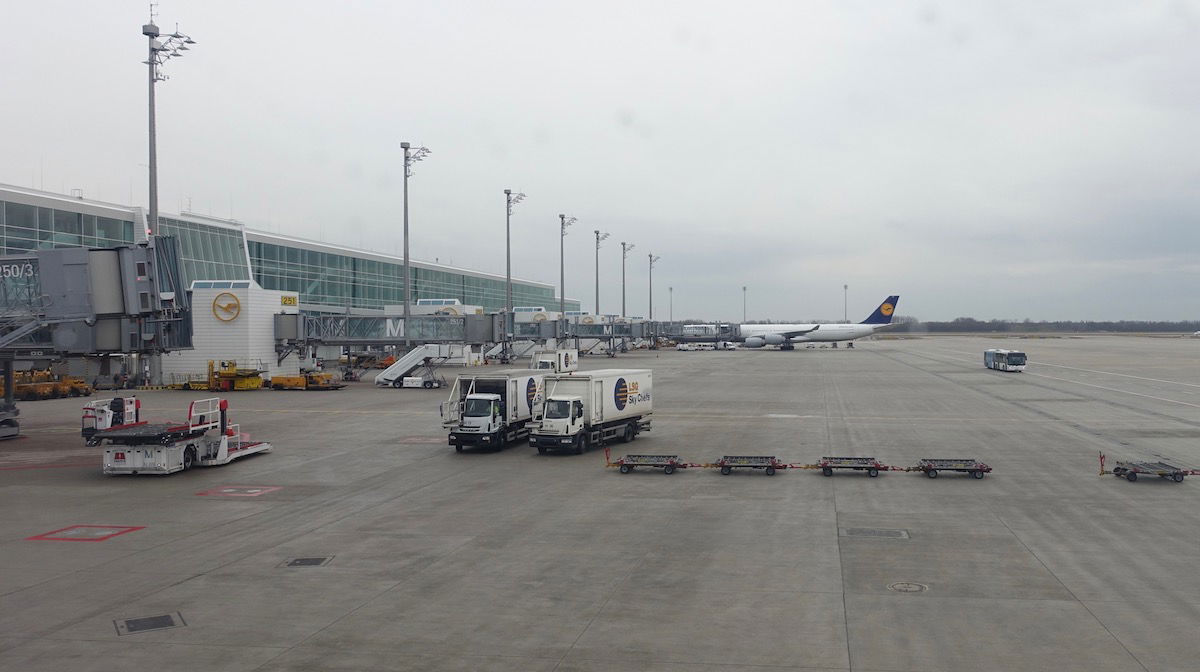 Arriving at gate in Munich
I bid farewell to the crew, and made my way towards Lufthansa's new first class lounge.
Lufthansa A340 first class bottom line
I've long been a Lufthansa first class fanboy, and the airline deserves a lot of points for the consistent experience they offer. Lufthansa has excellent first class ground services, among the best service of any western airline (only in first class, though, in my experience), a very elegant cabin, fast and reasonably priced Wi-Fi (and now even free in first class), and generally pretty good food and wine.
At the same time, I feel like other airlines have made so many improvements to their first class over the past decade, while virtually nothing has changed with Lufthansa. The consistency is great, though as each year goes by, I fall less in love with Lufthansa first class.
Don't get me wrong, it's still a phenomenal way to cross the Atlantic, they've just lost most of their edge by not innovating in the past decade. Am I the only one who is starting to feel that way?