I hate travel visas, and actively go out of my way to avoid travel to countries that require you get them in advance without an option to do so electronically. I respect the need for them (theoretically), but with how much I travel it's tough for me to send in my passport to a visa service and be without it for 1-2 weeks. The application process isn't fun either.
One of the cool things that China allows is a 72-hour transit without visa. And I'm actually taking advantage of that right now, as I'm in Beijing for just under 48 hours.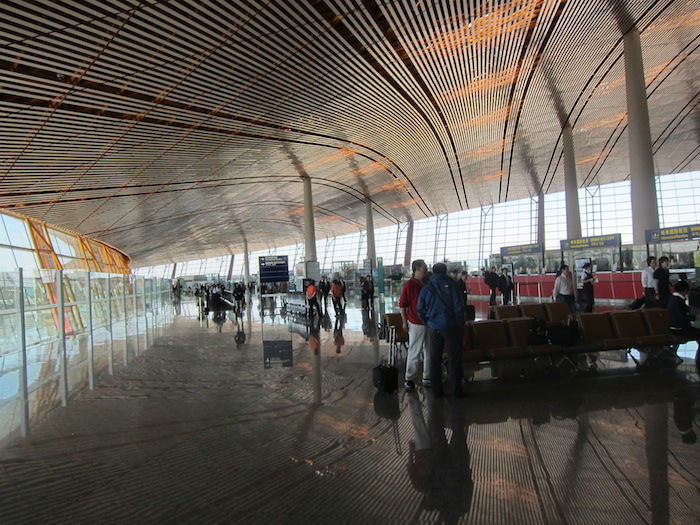 Beijing Airport
China 72 hour transit without visa basics
To qualify, you must be traveling on a passport from one of the following countries:
Argentina, Austria, Australia, Belgium, Albania, Bosnia and Herzegovina, Brazil, Brunei, Bulgaria, Canada, Chile, Croatia, Cyprus, Czech Republic, Denmark, Estonia, Finland, France, Germany, Greece, Hungary, Iceland, Ireland, Italy, Japan, Latvia, Lithuania, Luxembourg, Macedonia, Malta, Mexico, Netherlands, New Zealand, Poland, Portugal, Qatar, Republic of Montenegro, Romania, Russia, Serbia, Singapore, Slovakia, Slovenia, South Korea, Spain, Sweden, Switzerland, United Arab Emirates, Ukraine, United Kingdom, United States.
You must be transiting one of the following airports (meaning you're arriving and departing from the same airport):
Beijing Capital International Airport, Shanghai Pudong Airport, Hongqiao Airport, Guangzhou Baiyun Airport, Chengdu Shuangliu Airport and Chongqing Jiangbei International Airport,Shenyang Taoxian Internatioanl Airport, Dalian International Airport, andXian Xianyang International Airport.
You must actually be in transit, meaning you must be connecting to a third country. This means that if you're flying from Chicago to Beijing and then 48 hours later back to Chicago, that's not transit, since you're not continuing to a third country.
Ultimately you can be on an itinerary that eventually gets you back to the country of origin, it just can't be the next airport you fly to. It also doesn't have to be a logical connection, but rather just to a third country. So for example, I'm flying from Zurich to Beijing, and then from Beijing to Addis Ababa right now. That's not exactly a "logical" connection, but still meets the requirement.
You can find the full requirements for a 72 hour transit without visa on travelchinaguide.com.
My experience with China 72 hour transit without visa
While you would hope the process would be simple, unfortunately it usually isn't.
Let me give an example of our travel day yesterday. We were flying from Warsaw to Zurich to Beijing.
Upon check in at Warsaw we were asked where our visas were. When I explained we were doing a 72 hour transit without visa, the agent had never heard of it, so he walked over to the "visa desk" to verify. He came back and said we needed visas, so I asked if I could talk directly with the "visa desk." He walked us over there, and it seems that the "visa desk" was simply wherever his supervisor was standing. The supervisor had heard of the 72 hour transit without visa, but was confused by our transit to Ethiopia. I showed him the rules, and after a few minutes he agreed and let us proceed.
My friend Andrew somehow misplaced his boarding pass between Warsaw and Zurich, so we had to go to the transfer desk in Zurich. There the agent again wanted to see the visa. We explained the process again, and after looking in the computer she said that transit without visa was limited to a 24 hour stay in China at most. I showed her the relevant documentation, she called a supervisor, and we were eventually sent on our way.
Then at the gate there was another visa check, and the guy couldn't get over the fact that we were transiting China enroute from Switzerland to Ethiopia. He was more amused by it than anything.
Tips for dealing with China 72 hour transit without visa
So what tips do I have to avoid issues with your 72 hour transit without visa? Some of these might sound obvious, but I'll share them anyway:
Arrive at the airport and gate early
While the 72 hour transit without visa is perfectly legitimate, that doesn't mean the agents have actually ever heard of it. So allow a bit of extra time for them to look it up and potentially get a supervisor involved. Similarly, be sure you arrive at the gate for your flight to China a bit early, since there's always a passport check there as well, whereby they stamp your boarding pass to indicate that you're good to go.
Print out your itinerary
Usually I don't print out my itinerary when traveling, but rather just have a copy of it on my laptop. To make everyone's life a bit easier I'd suggest printing out a copy when you're transiting China. You'll be asked to show it at check-in, at the gate, and at immigration.
Stand your ground and stay calm
Just because something is allowed doesn't mean that airline agents know about it. Don't panic if you're told they won't fly you because you don't have a visa. Stand your ground, stay calm, and you'll be fine.
How do you really define "transit?"
One slightly tricky thing is that it's called 72 hour transit without visa, which they only define as connecting to a third country. But practically speaking, are you really in transit in China if you're flying from the US to China to Canada? Per the rules it's permitted, but that doesn't mean all agents will interpret it this way.
So in our case the agent was laughing and asked if going via China was really the most direct way to get to Ethiopia. I just laughed and said the ticket was cheap that way, which didn't get much push back. So to avoid trouble I wouldn't necessarily tell an agent "oh I really wanted to visit China but wanted to avoid getting a visa, which is why I booked it this way," but rather just vaguely comment about how the ticket was cheaper that way, or how it worked best for your travel plans.
Arrival in China
Once you arrive in China, immigration really doesn't care about transit without visa. So if you get on the plane you have nothing to worry about upon arrival. Do keep in mind, however, that typically you're supposed to use a different lane at immigration if you're doing a transit without visa. In the case of Beijing Airport, it was the Diplomatic Line, or "D P" line, as they call it. Sounded more intimidating than it was! 😉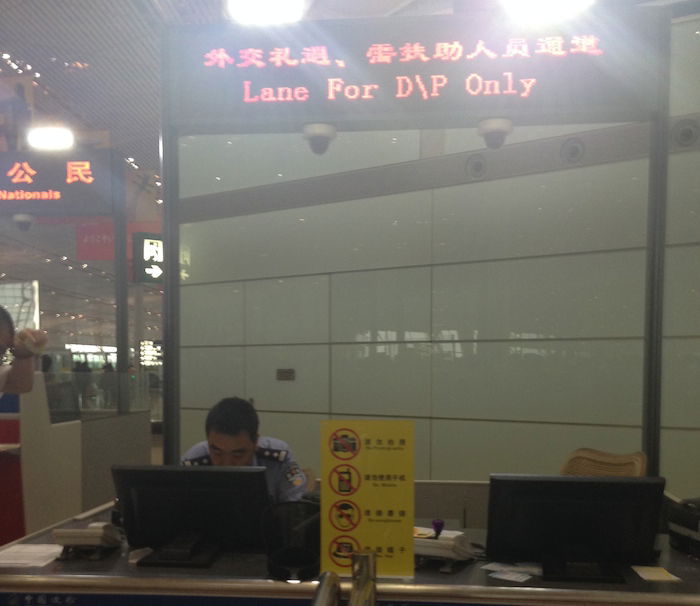 Lane for what?!
While there were only a few people ahead of us in the queue, this seemed to be the lane for everyone with immigration issues, so it took a while for the agent to assist us.
Nonetheless once he did we were through in no time.
Bottom line
72 hour China transit without visa is an awesome thing, but don't expect it to always go as smoothly as you'd like. Don't worry, stand your ground, and you'll be fine, though.


Guangzhou Airport immigration signage