I just wrapped up a Delta SkyMiles business class award to Europe, as I've spent the beginning of the year in Edinburgh and Prague. As some of you may recall on the outbound I flew Virgin Atlantic Upper Class from New York to London, and had an especially fun time at the Virgin Atlantic Clubhouse JFK.
I decided to mix it up a bit for the return, and booked Alitalia Magnifica Class (business class) from Rome to Boston.
Now admittedly Alitalia is kind of the joke of the airline industry, and most would ask why anyone would voluntarily book them when there are other options. Heck, just from posting a picture of the of the Alitalia plane on my Facebook Wall I got the following comments:
"My condolences."
"Eek"
"oh dear"
"Just so you know, boarding time is appr 2 hours past the scheduled departure time! ;)"
"Ouch…"
"You've sunk so low as to fly Aitalia?"
"Did you have a frontal lobotomy on your AA/DL GRU mileage runs…?"
"Yikes.."
"Omg!"
"Do they still fly?"
"Ufff… Creepy."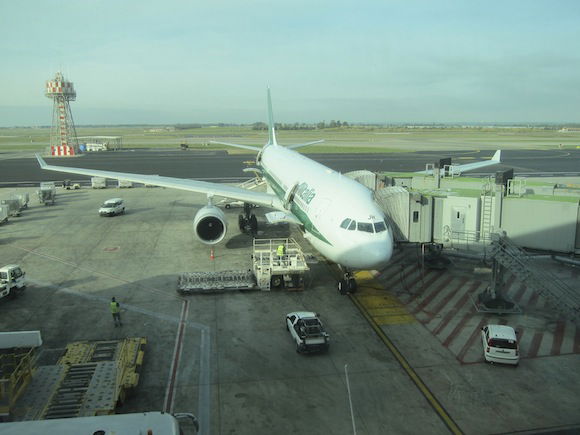 But the fact is that they have a really solid transatlantic business hard product with fully flat seats, if nothing else.
While I'll have a full trip report soon, here are my initial thoughts:
The Alitalia A330 Magnifica Class Seat
So Alitalia's hard product is solid. There are 28 seats in Magnifica Class spread across seven rows (five in the main cabin and two in the mini cabin) in a staggered 1-2-1 configuration. Per SeatGuru, here's the seatmap for the cabin: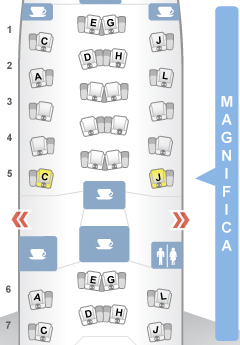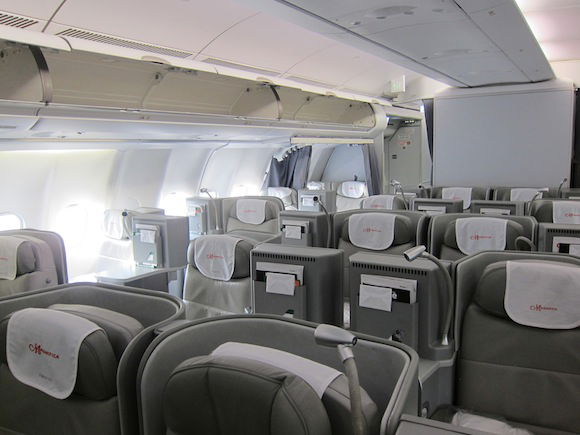 I chose seat 4A, which I'd highly recommend. The seats closest to the windows are the best, as they're extremely private.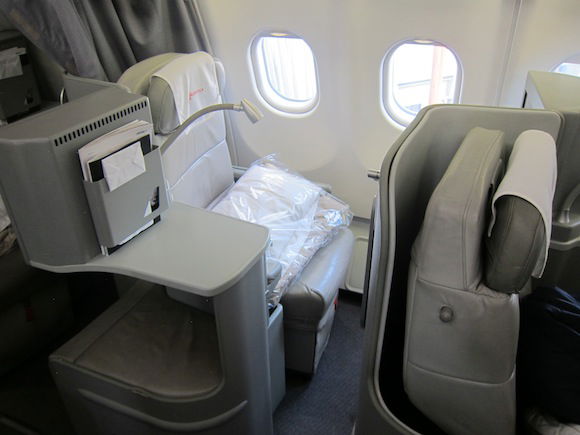 While I prefer the reverse herringbone product offered by American, Cathay Pacific, EVA Air, etc., I'd say that this is probably my second favorite business class hard product.
The product itself is sort of similar to the staggered product offered by Austrian, Brussels, Delta, etc., though the benefit is that there's no restrictive foot "hole." Instead there's plenty of room for your feet, whether sleeping or trying to lounge. The other awesome thing is that the ottoman is perfectly positioned for lounging. A lot of airlines have ottomans where you have to stretch your feet really far to be able to reach it, but this one was the perfect distance from the seat.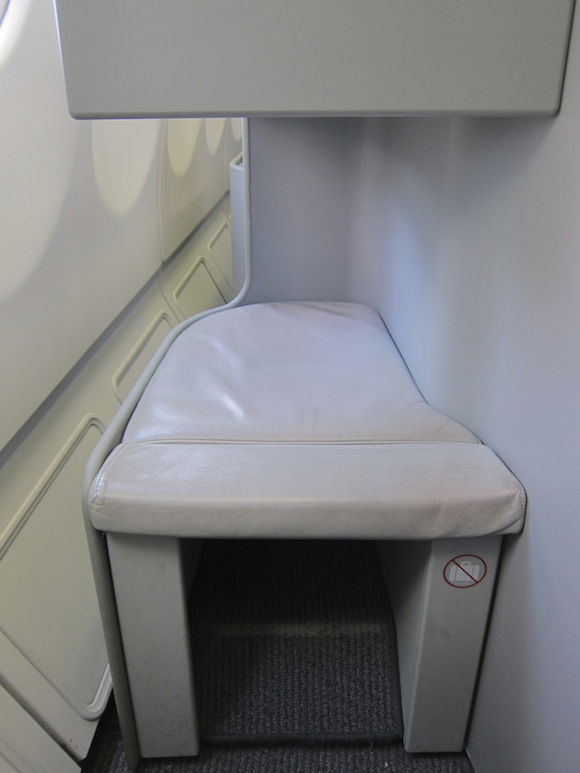 Alitalia Magnifica Class Food
As a true connoisseur of Italian food (I try to dine at Olive Garden, Buca di Beppo, or Maggiano's at least once a week), I have to say the food was great. The meal service started with a variety of appetizers, including steamed renette sliced apples, pullet cake with vegetables, and a spinach and herb omelette.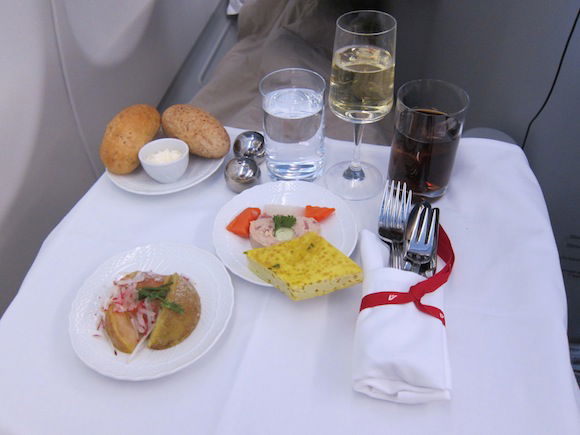 That was followed by a delicious first course, consisting of both rice timbale and pasta with tomatoes and basil.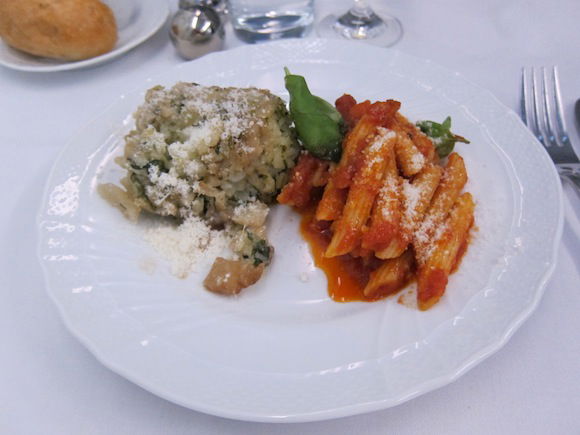 Then the entree was served, which was codfish with polenta. A variety of sides were offered with it, including potato puree, spinach, carrots, and salad.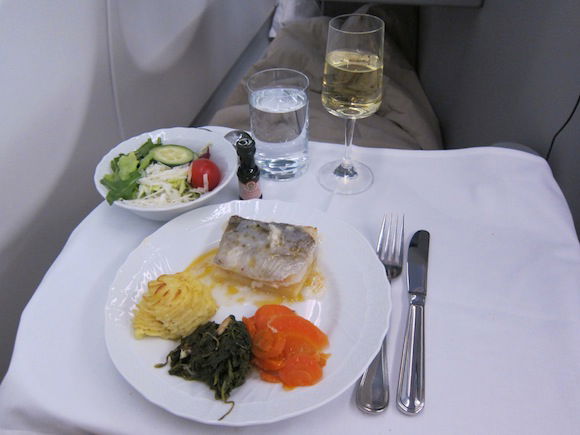 Lastly I was offered dessert, which was a Duchess of Parma cake.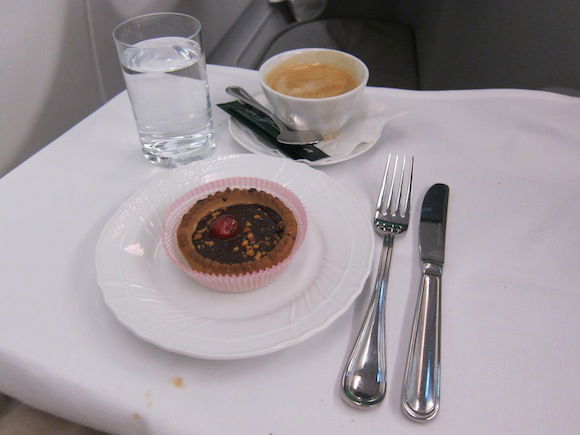 I was impressed that with the exception of the appetizers, all courses were plated on the cart at your seat. This is similar to what airlines with DO&CO catering (like Austrian and Turkish) do, so I'd say the food was maybe only one step down from them. It was a really solid meal, though, definitely one of the better ones I've had in business class.
Alitalia Magnifica Class Service
So this is an area where managing expectations helps. I had really, really, really low expectations of the service based on everything I've heard. But it was actually fairly good. Don't get me wrong, I didn't see the flight attendants once between meal services, but during the meal services they were friendly and smiling. While they weren't proactive in terms of their service, they always got me anything I wanted in a pleasant manner. So the service was much better than I expected.
I Lost My Pants…
This is definitely one of the oddest things that has ever happened to me on a plane. After takeoff I changed into pajamas, and as usual I just tossed my jeans in the overhead bin next to my carry-on. 20 minutes before landing I got up to change back into my jeans, only to find they were missing. The flight attendant saw me looking around the overhead bins like crazy and asked "is anything wrong?" "Yes, I can't find my pants."
Not sure what exactly happened, but they were nowhere to be found. Fortunately I had another pair in my bag, or else it would've turned into a similar experience to my Singapore pajamas incident…
My only explanation is that someone must have taken them. After all, I am a clothing trendsetter in Hong Kong…
Bottom Line
Between the hard product and food this is a fantastic transatlantic business class product. The service was quite good on this sector as well, though apparently that's not something you can count on with Alitalia.
Stay tuned for the full trip report!