I'm not much of an advance planner though am almost always on the road, so this presents a bit of an issue around New Years. Everyone seems to want to go somewhere around New Years, so I usually end up spending New Years at home sitting on my couch eating Cheez-Its and watching the ball drop on TV. After all, most places that people would want to go over New Years are usually sold out months in advance.
So over the past couple of days I started planning some New Years travel. Actually, more accurately, my friends decided on the destinations and I just booked the flights after they decided. So where am I headed? Edinburgh, Scotland, and Prague, Czech Republic. They're both cities I've long wanted to visit, but not especially practical to route through on an award ticket. So rather than making that an excuse I was excited for a bit of an award challenge.
We'll be doing five nights at the Sheraton Edinburgh, which looks like a lovely, newly renovated Sheraton. The paid rate was 301 GBP (~$500) per night.

The Sheraton is a category five property, making it 12,000-16,000 Starpoints per night. When you redeem for five nights with Starwood you get the fifth night free, and on top of that I had a certificate for 35% off a redemption, which was my Platinum renewal gift.
So in the end my five night redemption cost me 33,800 Starpoints, which I'd say is a pretty damn good value for ~$2,500 "worth" of hotel stays, at retail.

The period around New Years in Edinburgh looks like it's straight out of a Monty Python movie, so I'm quite looking forward to that!
Then in Prague we'll be staying at the Radisson Blu Prague, which is a great use of Club Carlson points. Since I have the Club Carlson Visa Signature Card the second night of the award redemption is free.
For flights I was determined to redeem some Delta SkyMiles. After all, I'd like to make a point of reviewing as many SkyMiles/SkyTeam partner airlines as possible in the near future. For the outbound I decided to fly Virgin Atlantic. For about six months now it has been possible to redeem Delta SkyMiles for travel on Virgin Atlantic, though generally availability hasn't been great. However, for the next several weeks availability is spectacular, so that seems like a great use of miles, given that Delta doesn't impose fuel surcharges for Virgin Atlantic redemptions.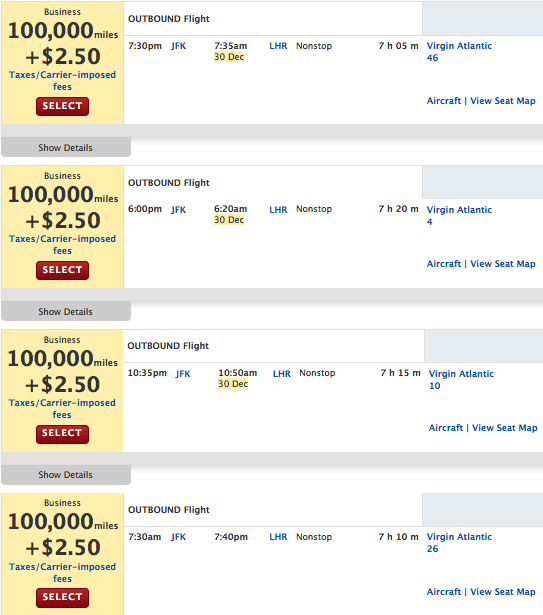 I'll be flying one of Virgin Atlantic's new Airbus A330-300 aircraft, which feature their updated Upper Class product. I've reviewed Virgin Atlantic Upper Class from San Francisco to London and from London to New York, so I'm excited to try the new product.
Also, while I reviewed the Virgin Atlantic Clubhouse in New York a couple of years back, they now have a new lounge which I'm excited to check out.
Then for the return I'm excited to fly Alitalia. From the looks of it they have a really nice fully flat hard product, and hey, I don't think I've ever come across Italian food I disliked, so…
Unfortunately ticketing this award took over a dozen calls to SkyMiles, and required me to redeposit my award three times. I mean, I redeem miles for a living, so when it takes me a dozen calls to book something it means there's something wrong with the system. Or maybe there's something right with the system, since I'm sure Delta loves how difficult it is to redeem their miles. Back in September Delta stopped allowing holds on SkyMiles award tickets, which wouldn't be such a big deal if their website functioned and/or they had competent phone agents. Anyway, more on the booking challenges shortly.
Regardless, excited to have found a good pre-devaluation use of SkyMiles, and to try Virgin Atlantic's new Upper Class and Alitalia's Magnifica Class!
Anyone else headed somewhere fun for New Years?