I'm presently shuttling back and forth between Brazil and the US on Delta (thanks to the mistake business class fare they had earlier in the year) to qualify for Alaska MVP Gold 75K status.
My outbound flight from New York to Sao Paulo was in business class on one of American's brand new 777-300ERs. I've flown American plenty in the past (including from New York to London and back on their new 777-300ERs), so was quite looking forward to finally trying Delta's international business class product. The last time I flew them internationally was nearly three years ago, and that was on one of their old 767s with recliner seats.
So while I'll have a more detailed report soon, I figured I'd start by sharing my initial thoughts:
The seat
Delta's business class on this particular version of the 767-300 consists of staggered seating, very similar to what's offered by Austrian and Brussels on much of their fleet.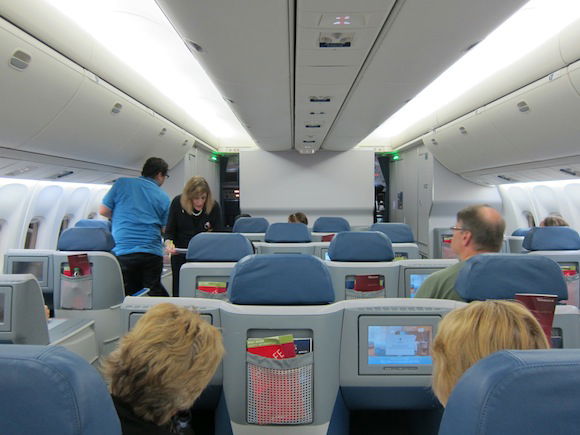 While they're fully flat, I really don't like these seats. The major issue is that because of the way the seats are staggered and designed, the leg "cubby" you have to place your legs in when sleeping is so small. I'm a side sleeper and like to bend my knees a bit when sleeping, and this seat isn't ideal for that.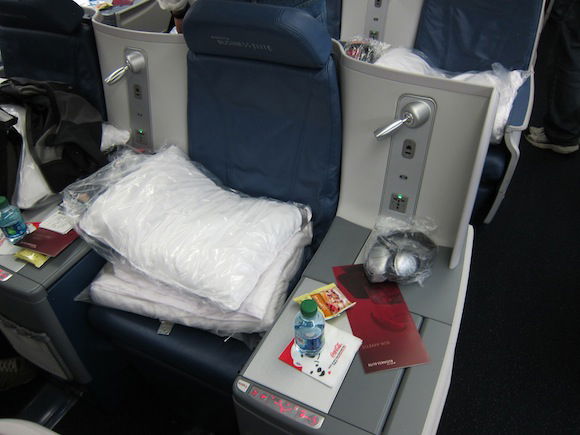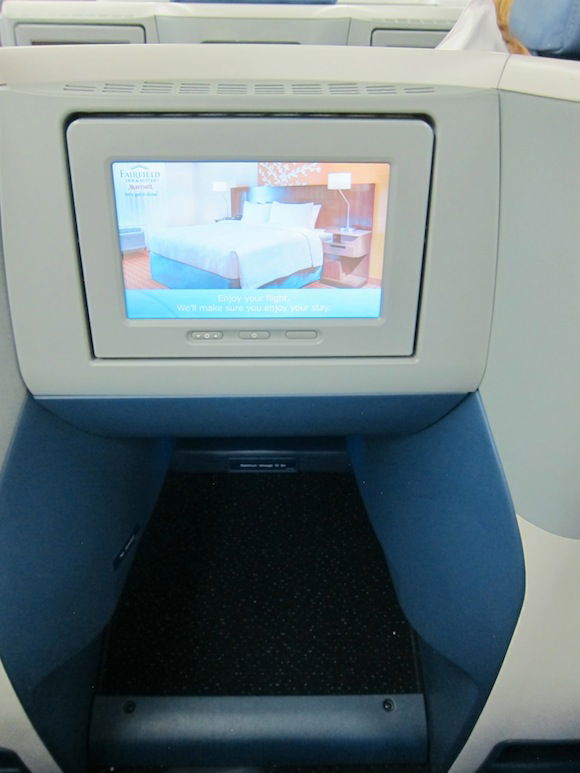 So while I can still sleep in the seat when tired, I'd pick reverse herringbone, herringbone, or standard forward facing fully flat seats over the staggered product offered on this aircraft (it's worth noting that Delta has other aircraft configured with both herringbone and reverse herringbone seats, though).
The amenities
Delta has Tumi amenity kits and Westin bedding — what more could you want?
The Tumi amenity kits are great, not just because the bag itself is practical, but the contents are equally impressive. Along with EVA Air's Rimowa amenity kits, I'd say this is the best business class amenity kit.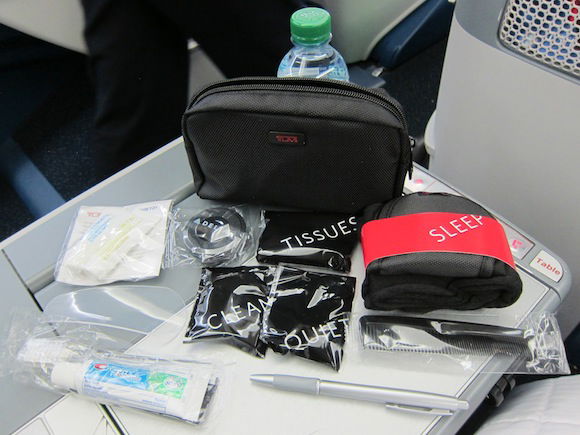 The bedding consisted of a large Westin pillow and ridiculously comfortable Westin duvet, almost similar to what you'd find in a hotel. This is quite possibly the most comfortable business class bedding I've ever had.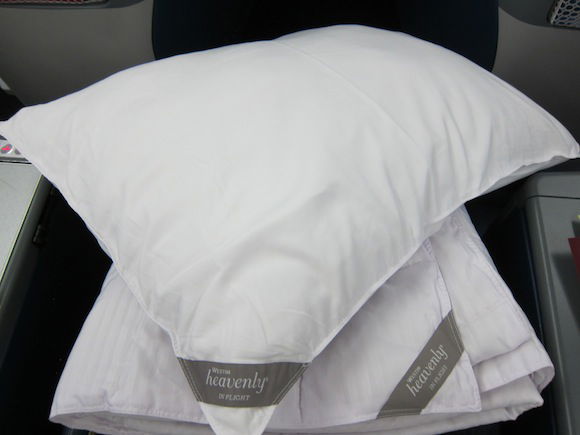 The food
The dinner was really good. The starter consisted of tomato and mozzarella skewers and a beef tenderloin canape.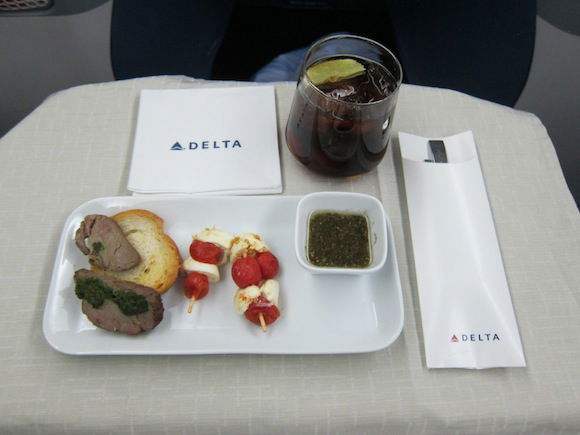 Next the soup and salad were served. It was a broccoli parmesan soup and a salad consisting of cucumbers, tomatoes, and feta cheese.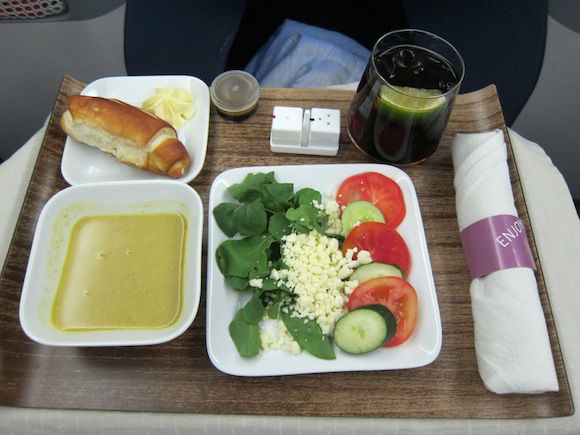 Then the main course consisted or red wine braised beef, which was spectacular (even if it doesn't look it).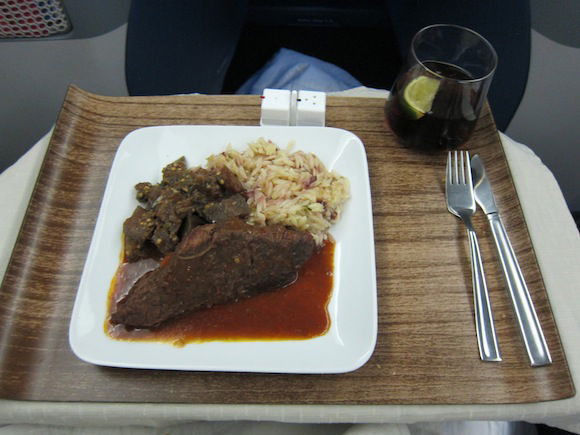 Then there was an ice cream sundae for dessert.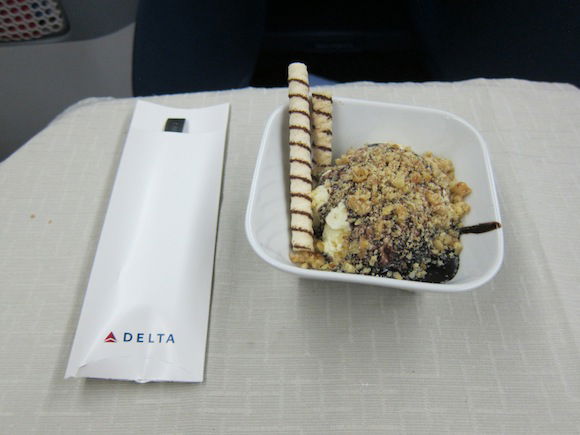 The omelet for breakfast wasn't especially good, though.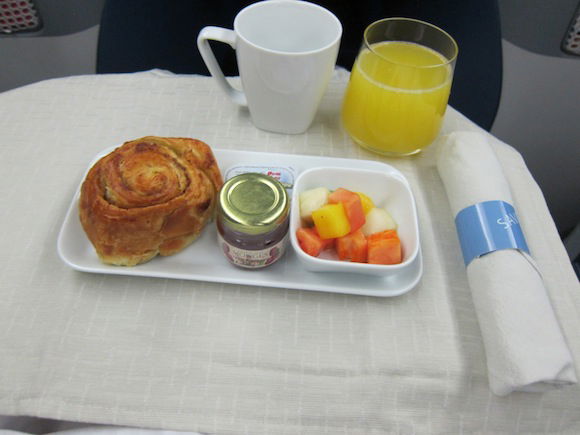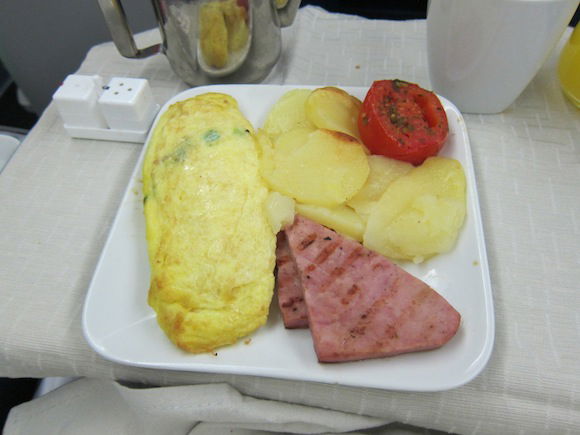 The service
Okay, so the service on this flight was really great, especially after flying down on American a day prior and having a pretty crappy crew. This crew was proactive, friendly, and professional. The purser came around during boarding to introduce herself to each passenger, on approach a flight attendant came around with chocolates and thanked each passenger for their business, and the crew was generally friendly.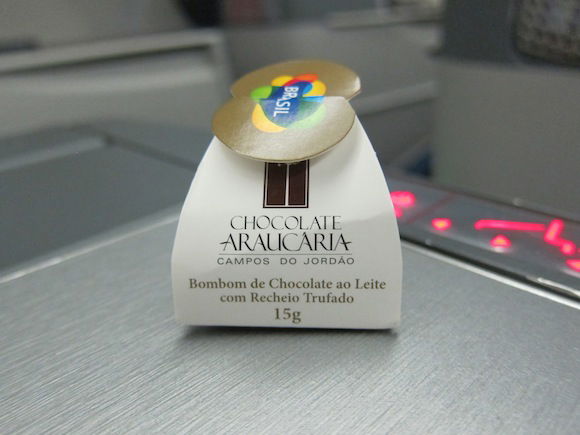 And for that matter in my limited experience with Delta so far, the employees really do seem to go above and beyond, and just hold themselves to a higher standard. I'm impressed.
Bottom line
Delta pleasantly surprised me. I kind of always assumed all US legacy airlines are made the same, but Delta really impressed me with the service, amenities, and food offered aboard. Over my next five international flights with them over the coming week I'm curious to see if my opinion stays the same.
Ultimately the seat itself is the single most important aspect of a business class product to me, and I don't like staggered flat business class seats. So I'd still take a reverse herringbone seat with inferior service, amenities, and food over a seat that I can't really comfortably sleep in.
Delta might not know how to run a mileage program, but they sure seem to know how to run an airline. And I'd love to try them soon on one of their planes featuring reverse herringbone seats soon.