It's well documented that fashion isn't my strength… to put it lightly. So that's why I found what happened this morning to be especially bizarre.
I was having breakfast in the club lounge at the InterContinental Grand Stanford Hong Kong, and was going to the buffet to get some food. Suddenly I'm stopped by a guy sitting near the buffet – "excuse me," he said.
I figured it was a blog reader. There are certain places I almost always run into a reader – the Lufthansa First Class Terminal in Frankfurt, the Thai First Class Lounge in Bangkok, and often even random hotel club lounges. But that wasn't the case this time.
The guy says "I'm a fashion designer and I really like your sweater. Can I have it?" Huh?
I looked at him perplexed, and he continued with "I'll buy it from you, just tell me what you want." I wasn't sure what to say, though responded with "I'm sorry but I'm not really looking to sell it."
He then whipped out his camera and said "can I get a picture at least?" I agreed, so he took a picture of my sweater. He then said "the lighting wasn't very good, can we go over to the window so I can take another picture?" I agreed, still running through my head all the possible angles on what he could be doing.
He then said "how about I buy it from you? How about 300 HKD?" That's less than I paid for the sweater, and I explained again that I really wasn't looking to sell it. I mentioned I bought it at Nordstrom, and he said "oh, I design stuff for them." I then asked him if he just wanted to know the brand/type of sweater, but he responded with "I won't be home for a few weeks so that won't be of any use to me. I need the sweater now." I asked him to let me think about it (think about devising a plan to get the hell outta there, that is), and continued with my breakfast.
As I finished my breakfast and got ready to leave I found that he had switched tables, and was now sitting immediately behind me. "How about 1,000 HKD?" I said "this is the only sweater I have with me on this trip." He responded with "well you're in Asia, it's warm." I said "yes, but I'm flying back to the US." He continued with "well I have lots of sweaters in my room, you can pick one out and take it with you." I sure as hell wasn't about to go to his room.
I paused, and then he suggested that I at least go to the lobby with him so he could make a color photo copy of my sweater. How the hell do you make a photo copy of a sweater?!
Anyway, it seemed like there was no way out, so I agreed to 1,000 HKD in exchange for my sweater.
Below is a picture, so you guys let me know if he was being a total creep and had some weird fetish I don't even want to think about, or if he was just a really, really pushy designer?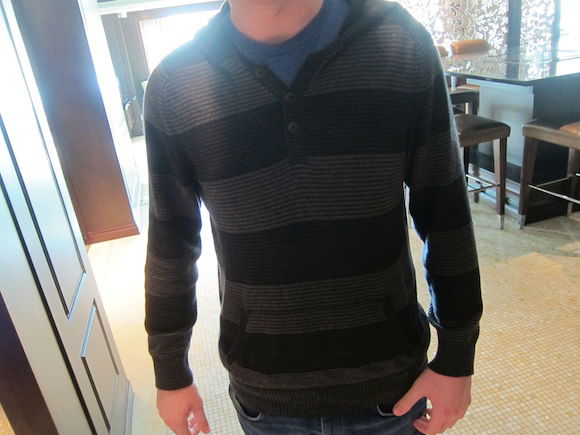 I guess in the end I made some money on an old sweater, so it's not all bad, right? Could this be a new way to fund my trips? Buy the latest fashions and turn them for a profit in club lounges? 😉