It looks like one of the world's best first class products will soon be available on more planes!
Air France's shrinking first class footprint
Air France first class (known as "La Premiere") is one of the most exclusive first class products in the world. Historically first class has been available on the following planes:
All Airbus A380s (there were 10 planes with nine first class seats each, for a total of 90 first class seats in the fleet)
Select Boeing 777-300ERs (there are 19 planes with four first class seats each, for a total of 76 first class seats in the fleet)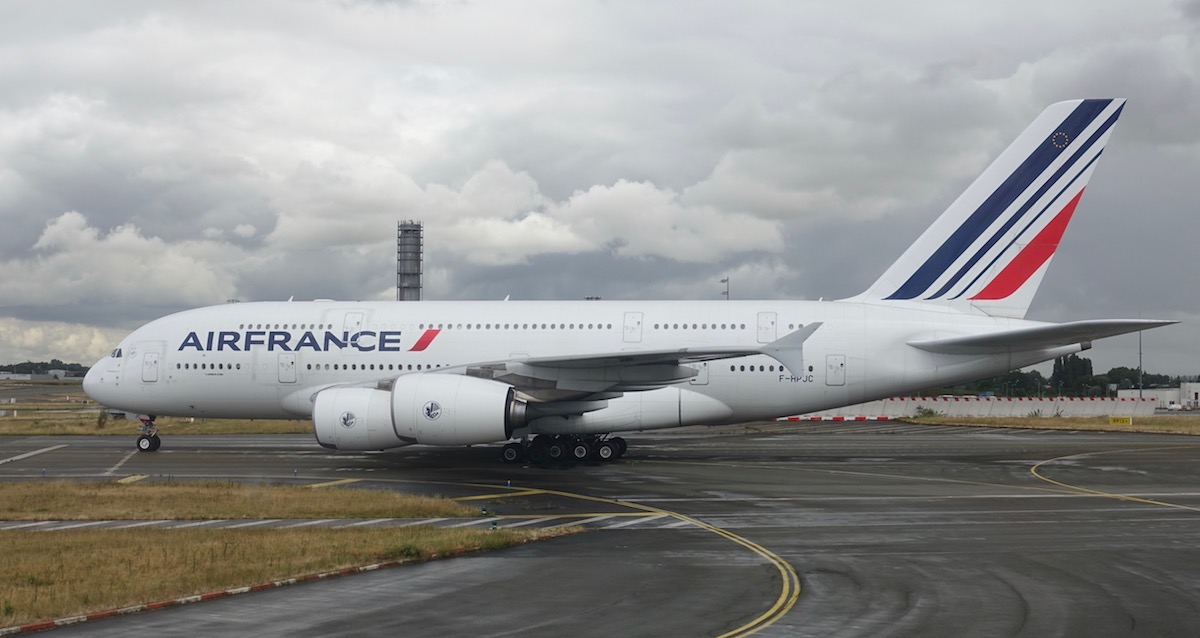 Air France has just retired its entire A380 fleet
Air France has just retired its entire A380 fleet, and with that, over half of La Premiere seats have been eliminated. Now, in fairness, Air France's first class was much better on the 777 than the A380, so I don't view it as that much of a loss without cabins being reconfigured.
At the same time, with A380 first class having been eliminated, I was concerned that the airline might just eventually cut first class altogether, since it may have been difficult to justify with a small footprint.
Air France A350s will get first class
It's being reported that Air France will be installing first class on its Airbus A350-900 fleet. Air France has a total of 38 A350s on order, with six having already joined Air France's fleet. As of now details are quite limited:
We don't know when A350s will be getting first class
We don't know if only A350s delivered at some point in the future will get first class, or if existing A350s will be retrofitted with first class
Along those lines, we also don't know if Air France will adjust its A350 business class product, as it was initially designed for Joon, and differs from business class on 777s and 787s
Air France's A350 business class
The source of this information is the blog for Air France's flight attendant union, which says there was a meeting recently about this change to A350 configurations. I'm working on getting more information about what we can expect.
My assumption would be that Air France will only install first class on a subfleet of A350s, and not the entire fleet. The airline has long felt that there are only so many markets where first class makes sense, and I'd imagine this is more motivated by the A380's retirement than anything else.
Personally I'd guess that less than half of Air France's A350 fleet will get first class (but I could be wrong).
Air France A350
What could Air France's A350 first class be like?
At this point we're getting way ahead of ourselves given how few details there are, but who doesn't enjoy a bit of speculation? 😉
First of all, I would assume that the first class cabin on the A350 will be extremely intimate, much like on the 777. I'd guess that we'll see just one row of seats, probably with four total seats in the cabin.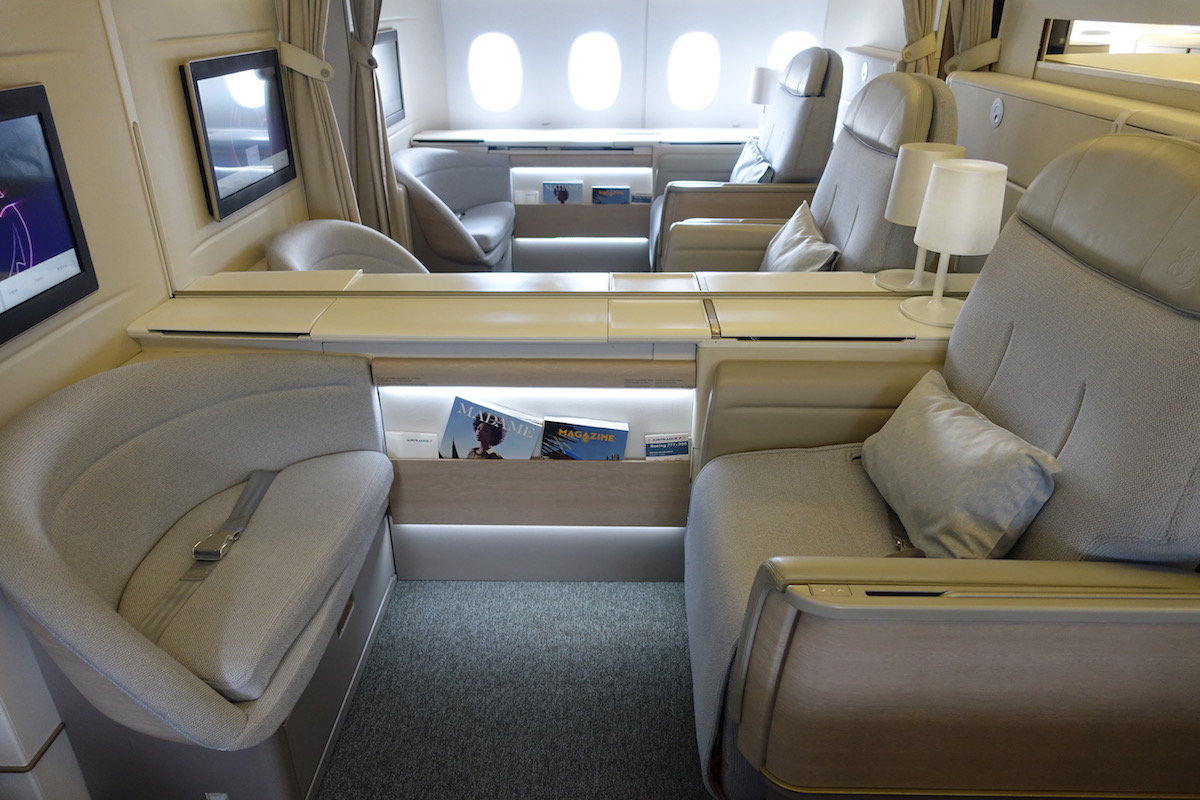 Air France's 777 first class
Air France's 777 first class product is kind of genius. The design is rather simple, with each seat having curtains to give passengers full privacy (rather than just a door that's not very high). This is a product that could easily be installed on the A350.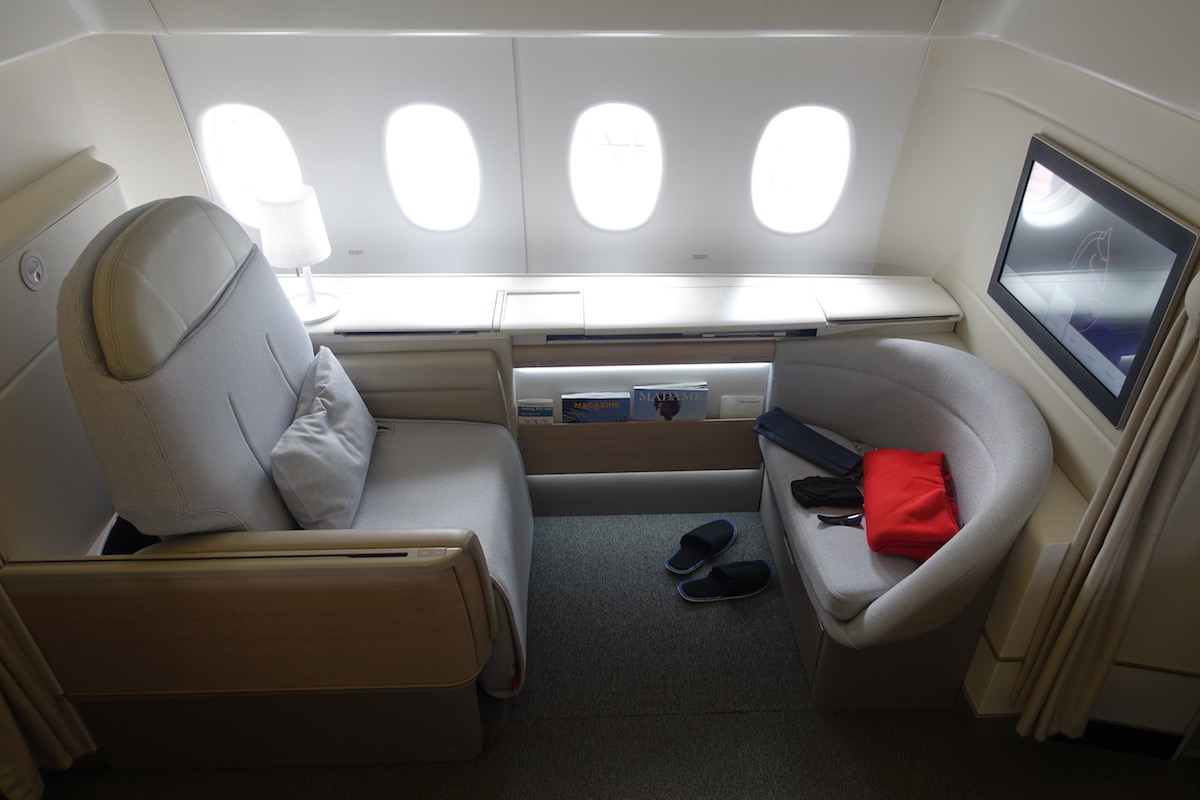 Air France's 777 first class
Could we see Air France come up with a new product altogether? I suppose so, though we haven't otherwise seen much innovation when it comes to A350 first class. Malaysia Airlines was the only airline to install first class on A350s, and that product has since been rebranded as "Business Suites."
While Malaysia Airlines has doors in the cabin, the seats do feel quite tight, so personally I far prefer Air France's concept.
Malaysia Airlines' A350 Business Suites

Malaysia Airlines' A350 Business Suites
I don't know of any existing first class products that could otherwise make sense for Air France's A350, but who knows, they're probably working on something très chic behind the scenes. Starlux Airlines also plans on installing first class on its A350s, which it will start to take delivery of in early 2022.
Air France's flight attendant union isn't particularly happy about first class being added to the A350s, claiming that:
There will be a big galley in the very front of the plane
There will be a much smaller galley by the second set of doors
Between the first and second set of doors will be the first class cabin, plus a business class mini-cabin
As a result, flight attendants aren't happy about the prospect of some business class service having to be performed out of the first class galley
While I can appreciate the frustration in general, this is a common challenge on several planes, and I'm not sure any airline has figured out a great solution to that.
Bottom line
While we'll have to wait for the full details, it appears that Air France intends to install its La Premiere first class product on at least some A350s. If that's the case, it's fantastic to see that Air France's first class will live on long term.
I'm working on getting more details, and if I find out more I'll be sure to update this post.
What do you make of Air France installing first class on the A350?
(Tip of the hat to Clem)