Maybe this is obvious to most, but it threw me off for a bit, and I've been loyal to American for a long time. As most of you probably know, most US airlines offer elite members some sort of upgrade benefit, either using complimentary upgrades or some sort of a "sticker" upgrade perk.
Often we say that airlines offer complimentary "domestic" upgrades, though in reality the upgrades are rarely actually only for domestic flights. But that's often the easiest way to describe the distinction between an upgrade on a short-haul flight and the upgrade on a longhaul international flight, where you may have to use a systemwide upgrade or miles to upgrade.
The basics of American's 500-mile and complimentary upgrades
In eligible markets, American offers different upgrades based on your elite status:
Executive Platinum and Platinum Pro members receive unlimited complimentary upgrades, subject to availability
Platinum and Gold members receive unlimited complimentary upgrades on flights of 500 miles or less, subject to availability
On flights of over 500 miles, Platinum and Gold members can redeem 500-mile upgrade stickers to upgrade to the forward cabin, subject to availability
Gold and Platinum members earn four 500-mile upgrade stickers for every 12,500 elite qualifying miles earned, or they can buy them for $40 each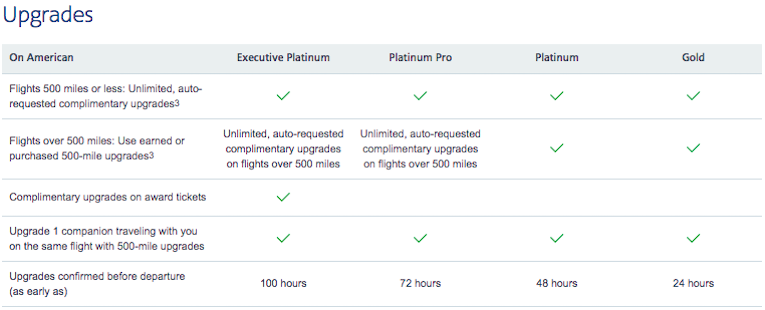 Regions eligible for 500-mile and complimentary upgrades
The above upgrade policy applies in "eligible markets," so how are those defined? First of all, in order to be eligible for upgrades, flights have to be operated and marketed by American and American Eagle. Eligible flights include those within and between the 50 United States, Canada, Mexico, the Caribbean, the Bahamas, Bermuda as well as between the United States and Central America (Belize, Costa Rica, El Salvador, Guatemala, Honduras, Nicaragua and Panama).
My point
Nothing here probably sounds like much of a surprise, though let me share the trap I nearly fell into. I've flown American to Central America before and remember receiving complimentary upgrades.
This week I was scheduled to fly to Quito on a paid business class ticket (it was a cheap fare from the West Coast that would have earned me lots of elite qualifying miles). Due to schedule commitments I ended up having to cancel that ticket as I'd be in Miami, but still wanted to take the trip.
The economy fare was cheap, and business class was wide open. So I thought to myself "great I'll just book an economy ticket so I can earn miles, and then I'll receive a complimentary upgrade, since it looks like this is a slam dunk."
We're talking about a sub-four hour flight that's operated by a Boeing 737 with domestic first class seats, so that seemed reasonable enough.
Then as I went to book, it dawned on me that Quito isn't actually in an upgrade eligible zone. Obviously I knew that Quito isn't in Central America, but for whatever reason in my head I just sort of figured that flights to Northern South America operated by domestically configured aircraft would be upgrade eligible, but that's not the case.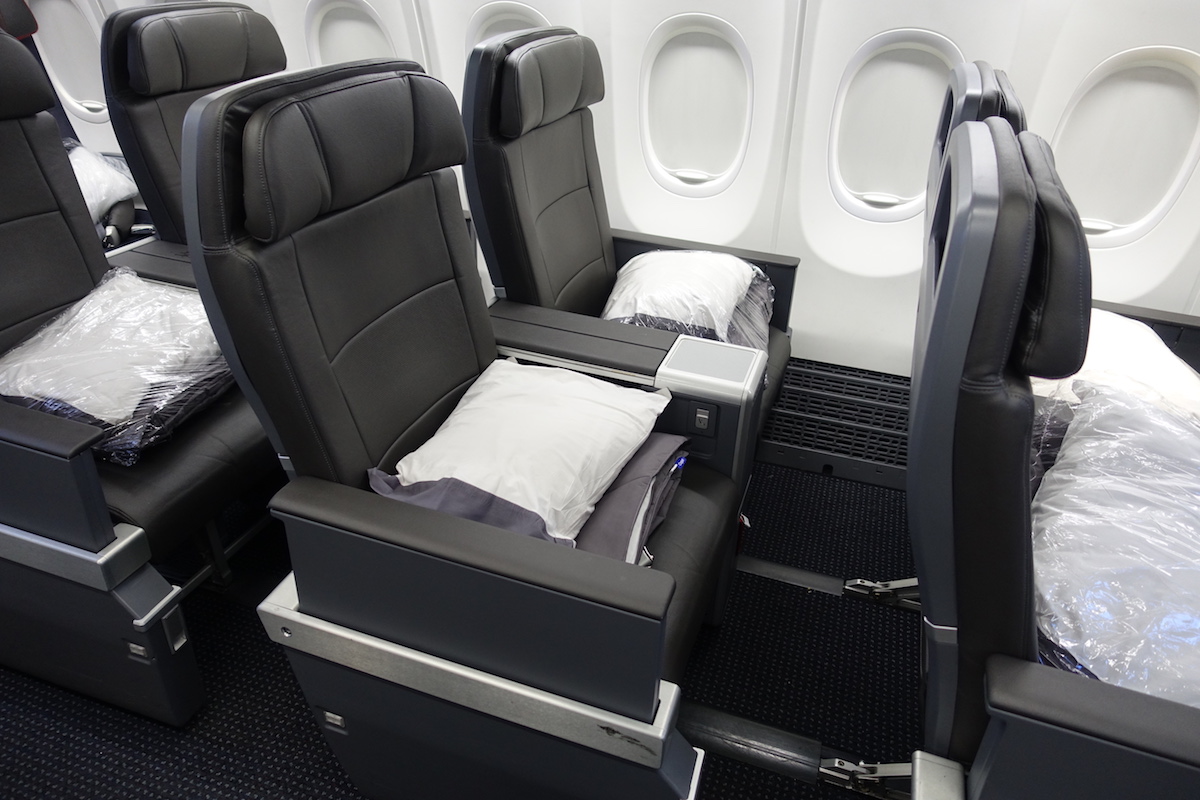 What I ended up booking
If I wanted to upgrade I'd have to either buy an economy ticket and then redeem miles and pay a co-pay, or I could buy an economy ticket and then redeem a systemwide upgrade. Using a systemwide upgrade on a four hour flight on a 737 seems like a waste.
Fortunately saver level award availability was wide open, so I redeemed 40,000 Avios for a roundtrip business class ticket, and I got those Avios by transferring over 29,000 points from Amex Membership Rewards, thanks to the 40% transfer bonus.
I still find the system to be a bit odd. There was no one on the upgrade list and business class was half full before they started processing non-revs.
Maybe this was obvious to everyone else all along, though I figured this was a useful reminder for anyone who may find themselves in a similar situation. I get they need to have a cutoff somewhere when it comes to complimentary upgrades, though the limit does seem sort of arbitrary.