As I've explained many times before, the content of this blog is focused heavily on the journey rather than the destination. So while there are many places I really want to visit, I try to prioritize new airline reviews first. At the beginning of the year I shared 16 airline products I want to review in 2016, and I've been making good progress on that list.
I've already reviewed Finnair business class, Air India first class, Iberia business class, LAN business class, Oman Air business class, and Air France business class.
On top of the airlines I've already reviewed, over the coming weeks I have trips planned in Aeromexico and Avianca business class, Fiji Airways and Air Tahiti Nui business class, and Air Canada and South African Airways business class.
Over the weekend I looked at the list of airlines I've yet to review, and noticed SAS business class was on the list.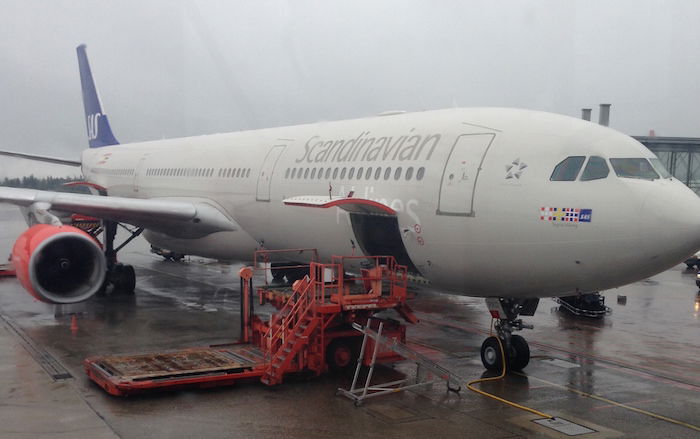 They have a unique new business class product which I'd love to review, and award availability has been uncharacteristically good on them lately. As I was browsing availability I saw business class award space from Los Angeles to Stockholm, on their flight which just launched last month.


SAS' new business class
I was about to pull the trigger on booking it, but then thought "hmmm, if I'm going to Northern Europe in the middle of summer, I might as well make the most of it."
For years I've wanted to visit Longyearbyen, which is the northernmost city in the world (there are some civilizations further north, but this is the northernmost city with at least 1,000 people). In summer there's 24 hours of sunlight (and conversely, in winter there's 24 hours of darkness). As luck would have it, there was award availability on SAS all the way to Longyearbyen.


The glamorous Radisson Blu Longyearbyen
Going alone sounded sort of boring, though fortunately there were two seats, so Ford is coming along with me.
Originally I was going to book the ticket to Stockholm with Avianca LifeMiles. They charge 63,000 miles one-way for business class, and miles can pretty consistently be purchased at a discount, so it seemed like a good option.
However, the flight times to Longyearbyen are a bit strange, so I ended up redeeming Air Canada Aeroplan miles for the one-way ticket. That's because an overnight was required in Oslo in order to make the ticket work, and that can easily be booked via Aeroplan, while LifeMiles doesn't allow extended overnight connections.
Aeroplan charges just 55,000 miles for one-way business class, which I transferred from American Express Membership Rewards. Aeroplan also doesn't impose any fuel surcharges for travel on SAS, so the total taxes were ~$30 per person.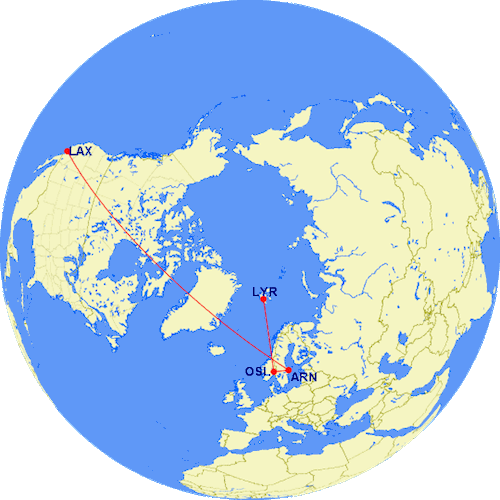 Then I realized I can make an even better trip out of this. Remember how Russia was on our travel list? St. Petersburg is only a few hundred miles from Oslo, so on the way back we'll route through St. Petersburg and Moscow, and then take Aeroflot home. Though I'm still working on the exact details there…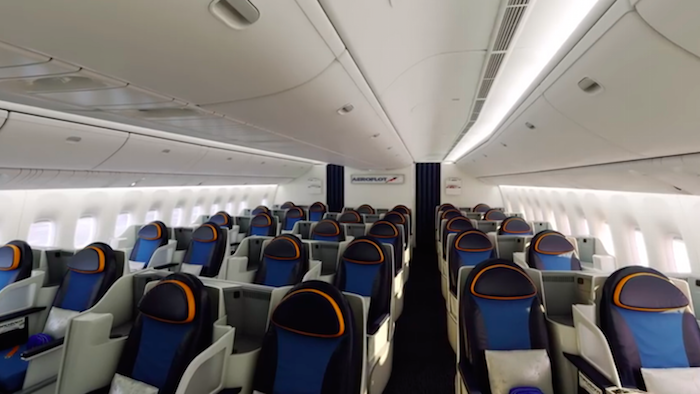 Aeroflot business class
Bottom line
I'm super excited about visiting Longyearbyen, as it has been on my list for years. I've kept putting off this trip given that it's way off the beaten track and the flight times are a bit annoying. However, there's no time quite like the present, so I'm so excited to visit. I'm guessing I'll nearly go crazy with the 24 hours of sunlight, given that I'm more or less solar powered. Here's to hoping the Radisson Blu there has good blackout curtains.