---
Update: LATAM's Madrid to Frankfurt route is being ended in June 2020, as the airline will fly nonstop from Santiago to Frankfurt.
I arrived at Madrid Airport Terminal 4 shortly after 1PM, plenty early for my 3:15PM flight to Frankfurt. I already had my boarding pass in hand (as it was printed when I started my journey), so I headed straight to security.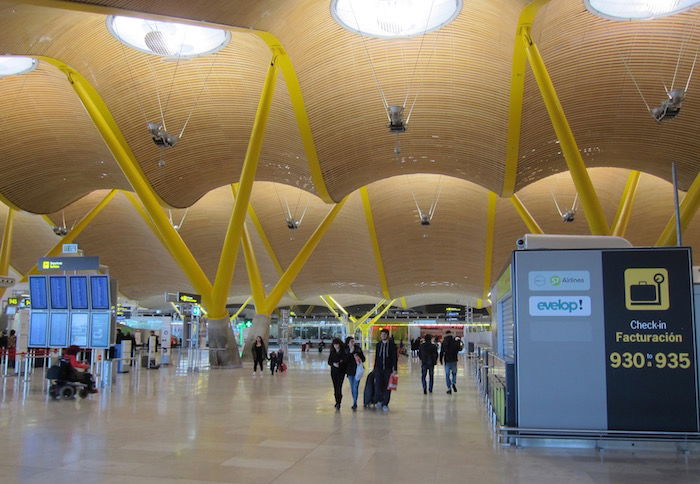 Madrid Airport Terminal 4
Like many airports, Madrid Airport has a dedicated fast track security area, though it's one of the best executed ones I've ever seen. It's completely separate from the other security checkpoints, and almost felt like you were using a private checkpoint. There was no wait, and I was through in a couple of minutes.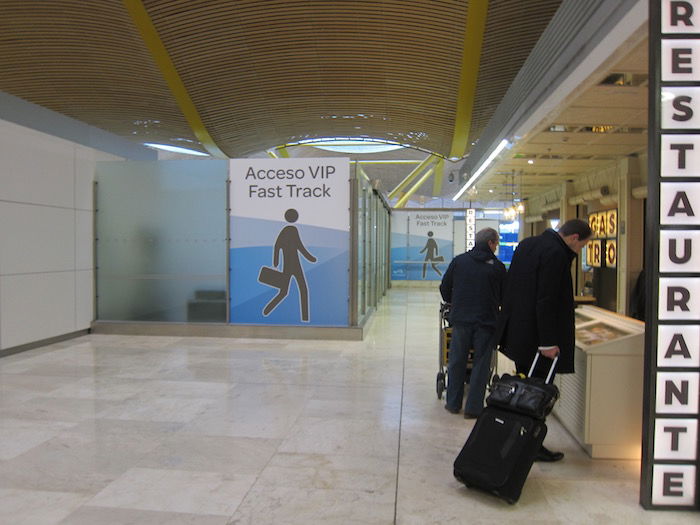 Madrid Airport Terminal 4 fast track security
Once through security I followed the signage towards the R Concourse, which the signs indicated was a 22 minute walk away. While Madrid Airport is beautiful, everything is so spread out. I can't think of any other airport where it takes 22 minutes to get from the security checkpoint to a concourse in the same terminal (I'm sure there are some, but I can't think of them).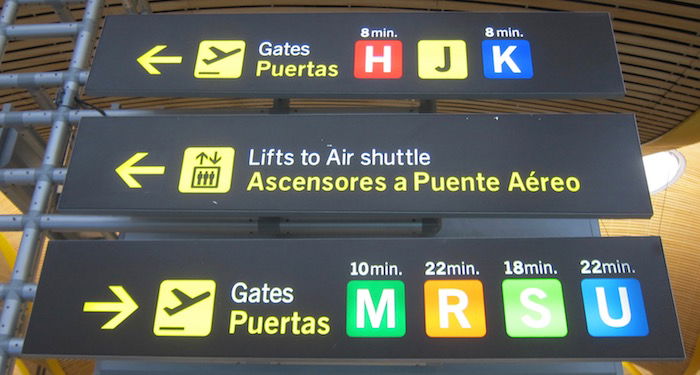 Madrid Airport signage
After walking a while I took the escalator down a couple of levels to the train.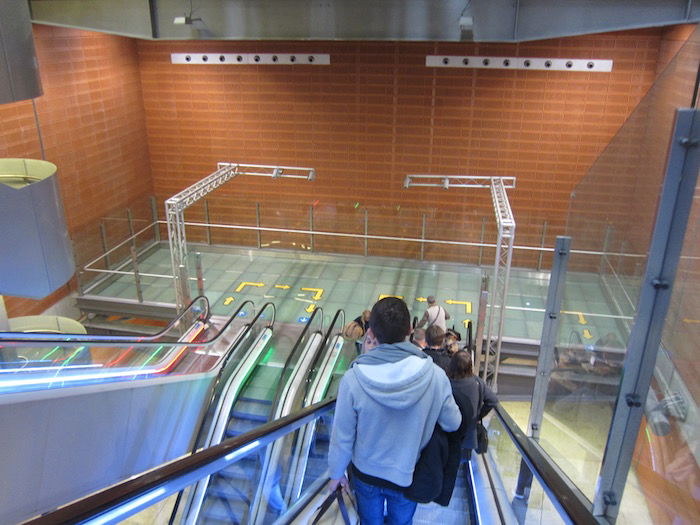 Madrid Airport train system
After a short ride I was in a further concourse, and then it was another 10-15 minute walk to get to the R Concourse. I briefly used the Iberia Lounge located in this concourse. I've reviewed the main Iberia Lounge before, and this one was significantly nicer. That being said, I was only there briefly, so won't be reviewing it this time around.
Boarding was scheduled for 2:30PM, so I left the lounge at around 2:15PM, since I wanted to be among the first aboard so I could snap some pictures.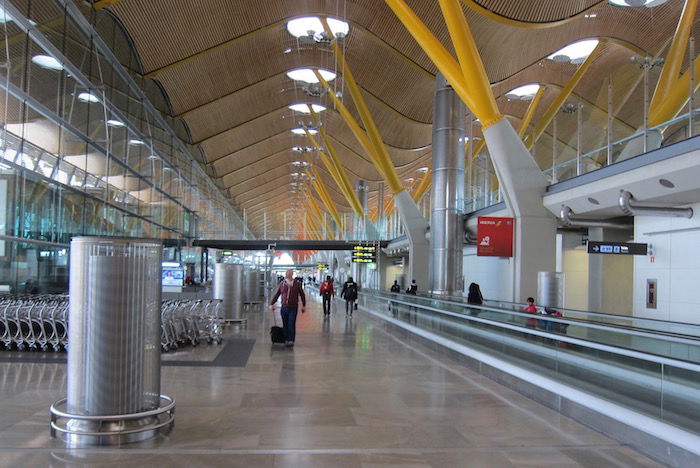 Madrid Airport Terminal 4 airside
The LAN 787 had arrived a bit late from Santiago, so was still being catered.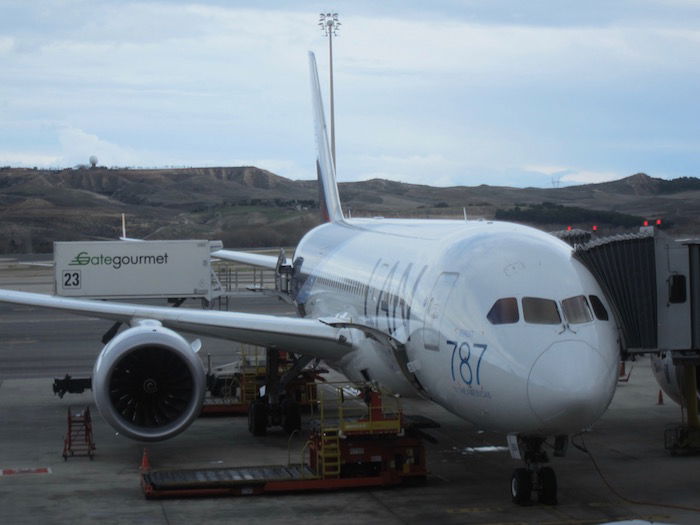 LAN 787 Madrid Airport
I saw the crew sitting in the gate area at R18, as the inbound crew was just deplaning.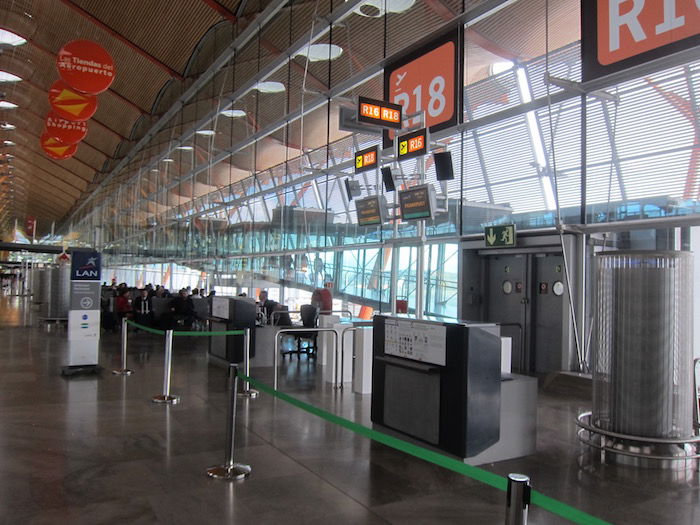 LAN departure gate Madrid Airport
I walked a bit further down the concourse, where I saw an Avianca 787 — another plane I really want to fly.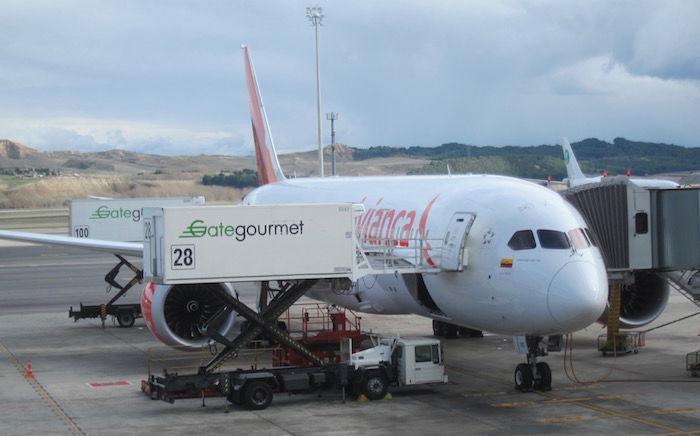 Avianca 787 Madrid Airport
By around 2:30PM the gate area was packed and they began lining people up for boarding. They had a pretty good system, because business class boarded from one end of the gate, while economy boarded from the other end of the gate. What was smart about the system was that the queues went in opposition directions, rather than being next to one another.
When we hadn't yet boarded at 2:40PM, the older German couple behind me was starting to lose it. All my family is from Germany so I certainly know how important punctuality is to them. And they were ranting about the situation. They were saying (in German, so I'm translating) how poorly organized boarding was, that the gate agents didn't do any sort of preparation, etc.
My favorite was when the captain strolled up to the gate shortly before 2:50PM, and the husband said "he should be embarrassed by how disrespectful he's being, this would never happen at Lufthansa." Right, at Lufthansa they'd just go on strike a dozen times a year. Pick your poison. 😉
Finally boarding began at 2:50PM, starting with business class.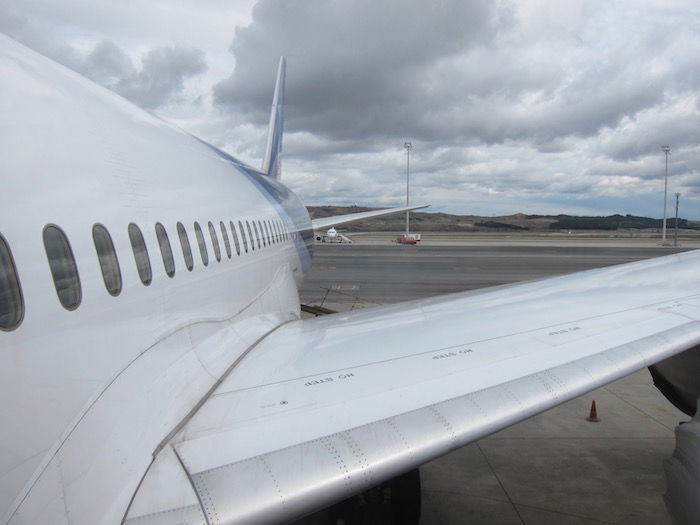 LAN 787 Madrid Airport
LAN Chile 704
Madrid (MAD) – Frankfurt (FRA)
Sunday, February 14
Depart: 3:15PM
Arrive: 5:50PM
Duration: 2hr35min
Aircraft: Boeing 787-8
Seat: 5L (Business Class)
The flight was being boarded through the mid-cabin door. LAN's 787 business class consists of a total of 30 fully flat seats, spread across five rows, in a 2-2-2 configuration.
There were three rows of business class between doors one and two.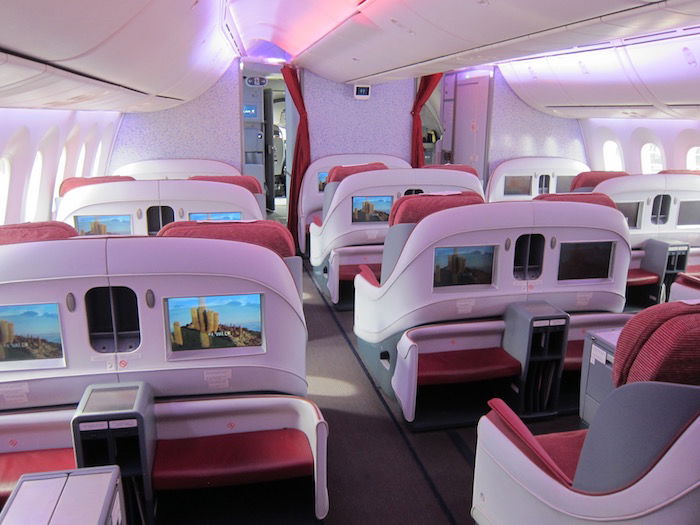 LAN business class cabin 787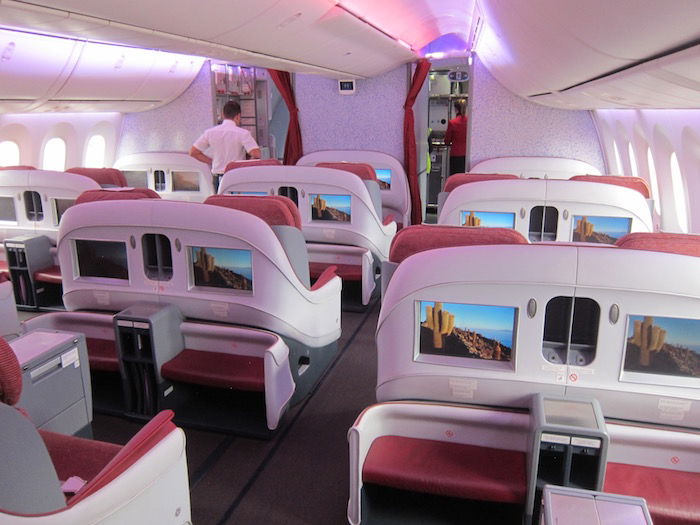 LAN business class cabin 787
However, I was seated in the rear business class cabin, which features a total of 12 seats, spread across two rows.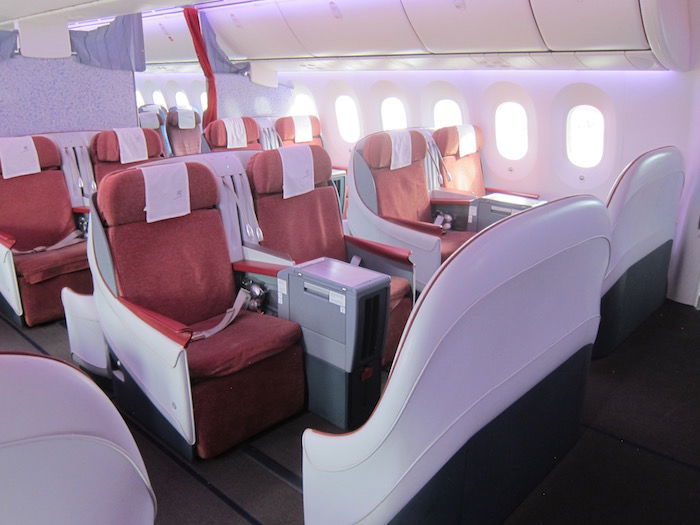 LAN 787 business class cabin
What's sort of funny is that the cabin is extremely exposed, as there's not a curtain between the two cabins. Instead there's just a closet near the entrance and then some privacy partitions in front of row four. It sort of reminds me of the business class cabin mockups Boeing first used when they announced the 787.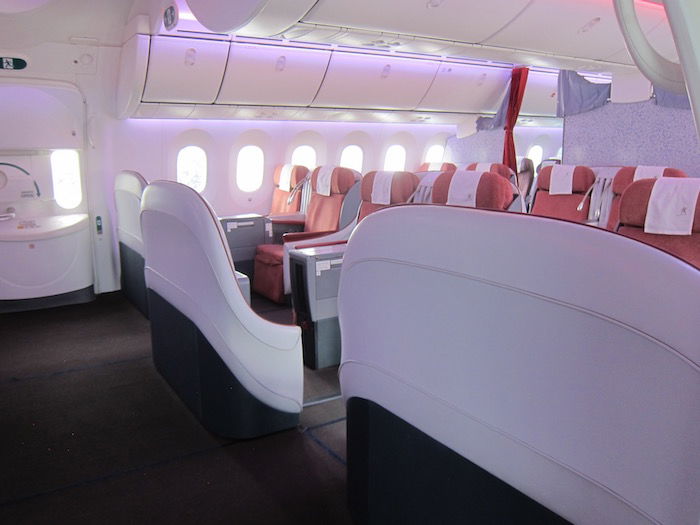 LAN 787 business class cabin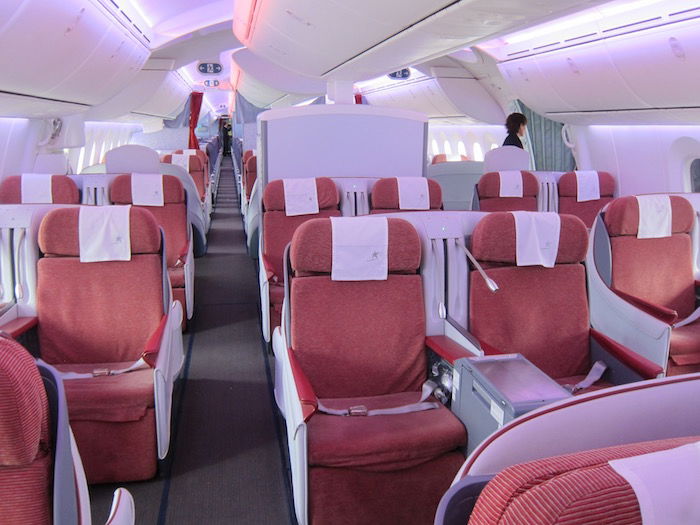 LAN 787 business class cabin
The partitions were there to house the ottomans and entertainment screens.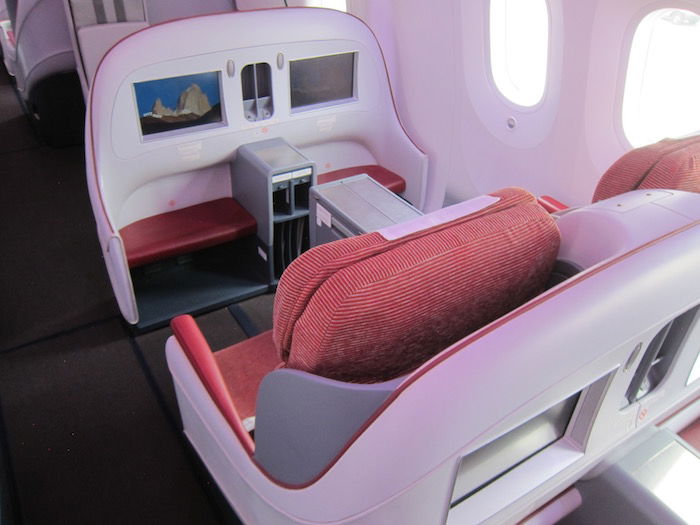 LAN 787 business class cabin
I assigned myself seat 5L. I saw that the flight was almost completely full, so I figured my best shot at an empty seat next to me was to choose a seat in the last row. And it worked.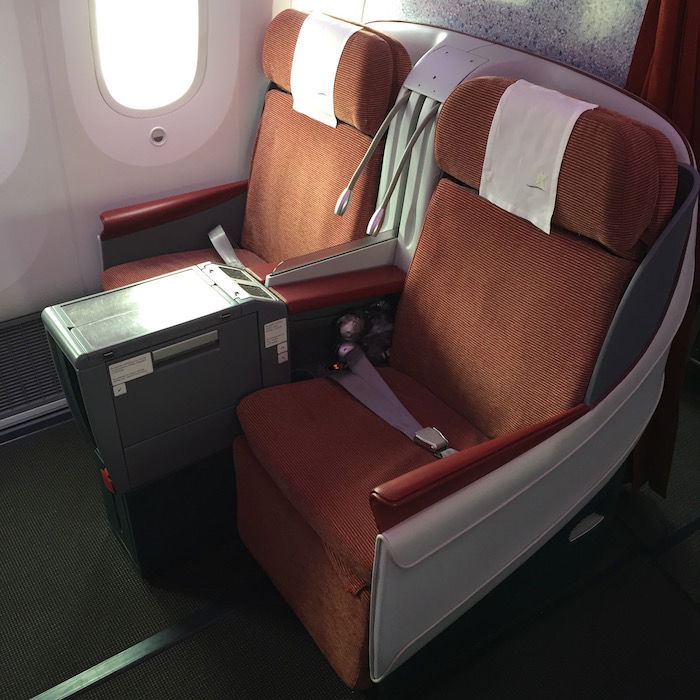 LAN business class, seats 5J & 5L
My seat featured an ottoman, with room to store shoes below it. Then there was an entertainment screen, as well as a coat hanger and a compartment for amenity kits or headphones.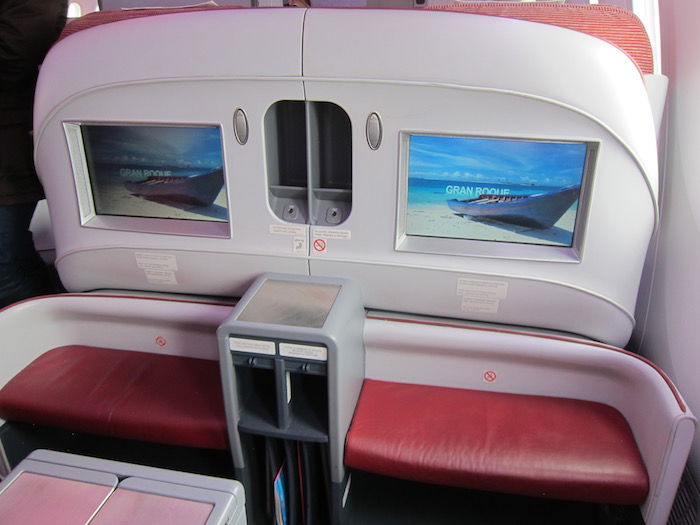 LAN business class, seats 5J & 5L
In the center area was more storage, as well as a magazine rack.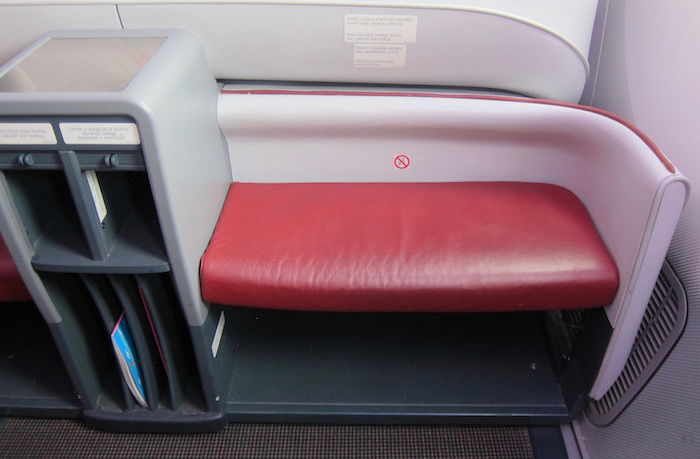 LAN business class ottoman
The seat itself was a cloth material.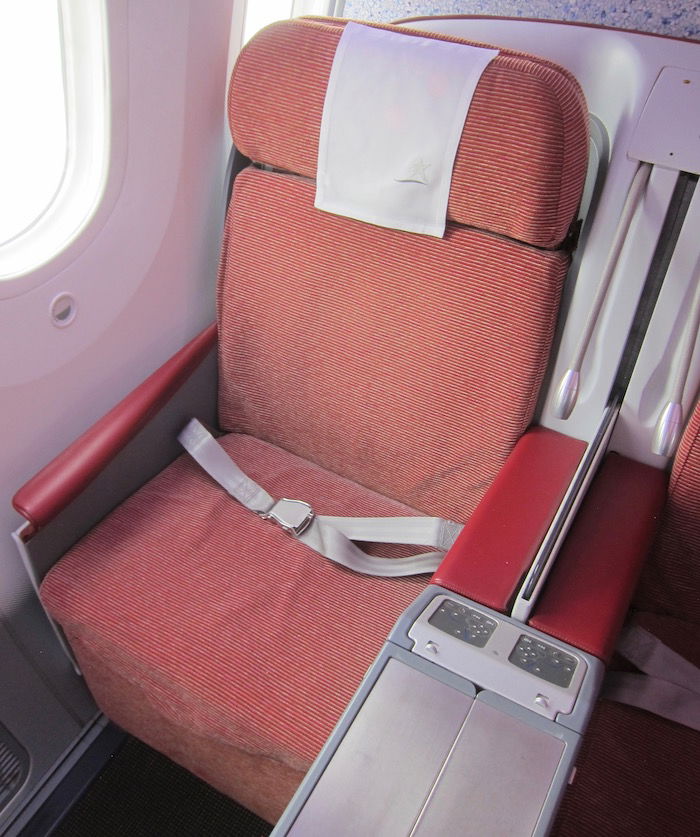 LAN business class, seat 5L
The seat controls were located on the center armrest, and were easy to use.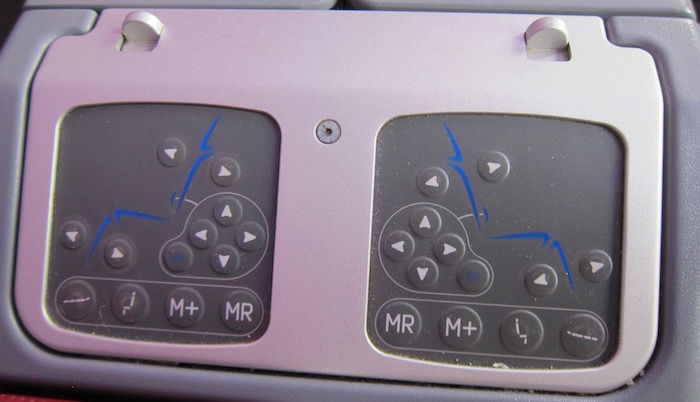 LAN business class seat controls
Then to the left of my seat were 110V and USB outlets, as well as an entertainment controller, headphone jack, and cup holder.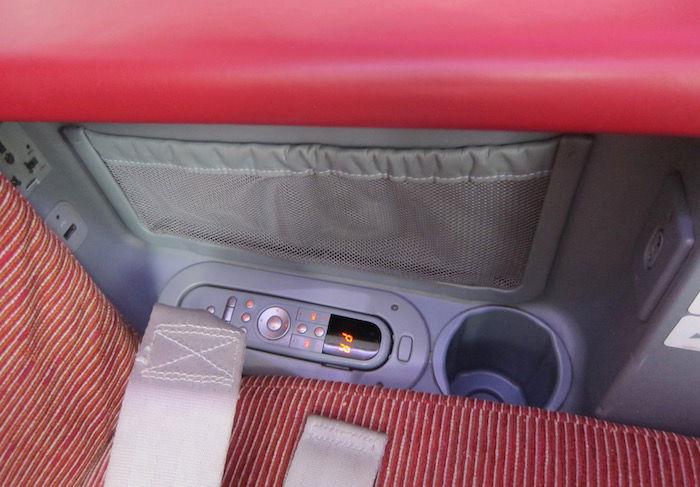 LAN business class entertainment controls and cup holder
Waiting in that area were a pair of LAN branded headphones, which were reasonably comfortable.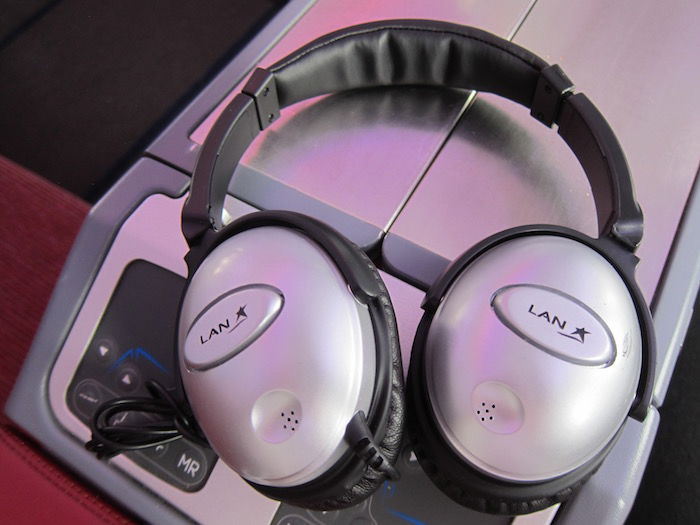 LAN business class headphones
The boarding process could best be described as both chaotic and efficient. The flight was full and everyone seemed to be confused about where they were seated.
Despite that, the excellent cabin crew came through during boarding to offer pre-departure beverages. The flight attendant serving me was a young Chilean guy, and he introduced himself as Cristian. He offered me water, champagne, or a Chilean cocktail (as he referred to it). I chose the cocktail, and it was delicious. I was also offered some mixed nuts with it.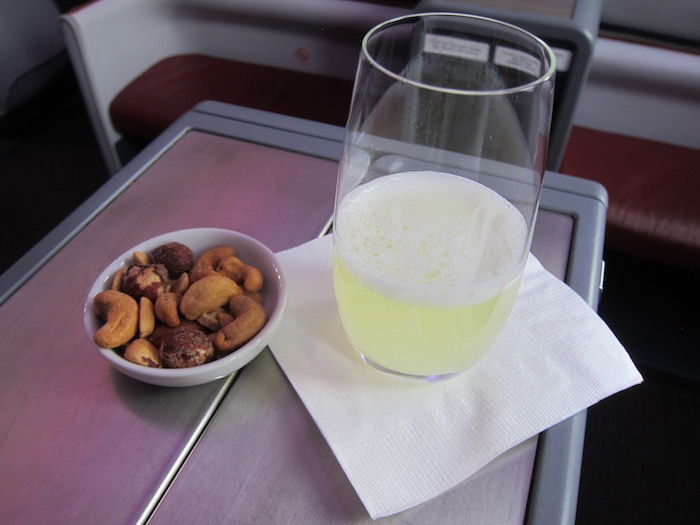 LAN business class pre-departure drink and nuts
By 3:10PM boarding was completed and the door was closed, and at 3:14PM we began our pushback. I got some odd satisfaction out of departing one minute early, after hearing the whiny passengers complaining about our "delay." Too bad I wasn't seated next to them. I also wondered how they were enjoying their flat beds, something else which would never happen on Lufthansa between Madrid and Frankfurt. 😉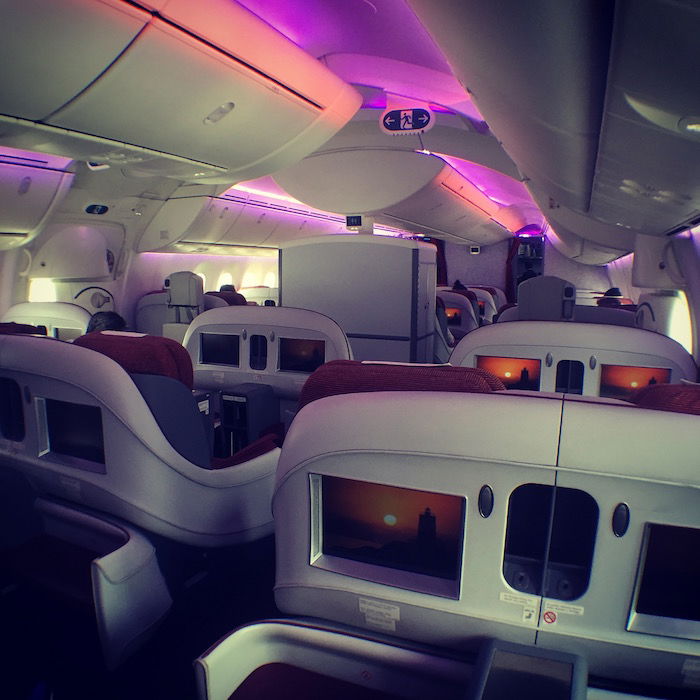 LAN business class mood lighting
The business class cabin was 80% full, with 24 of 30 seats taken.
We pushed back away from a Qatar Airways 787 a couple of gates down from us. Madrid Airport sure does seem to get a lot of 787s!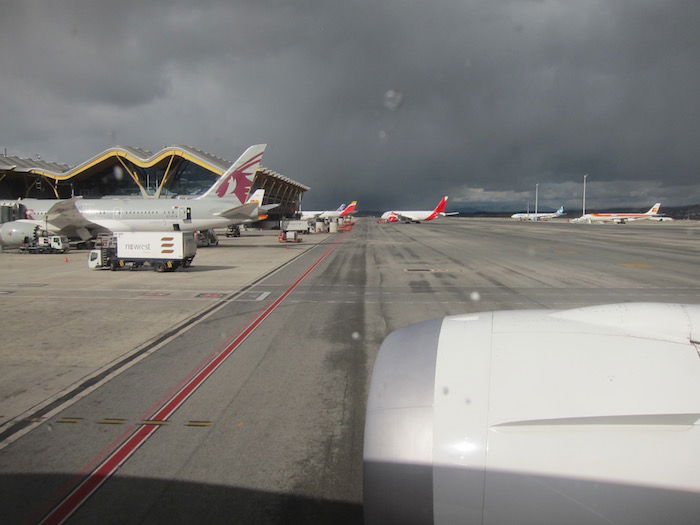 Pushing back Madrid Airport
At this point the weather was rather nasty, with strong winds and dark clouds. As we taxied the flight service manager came on the PA to introduce herself. Interestingly she seemed to be the only female crewmember.
They were having some issues with screening the safety video, and on top of that it's quite long. So we seemed to be taxiing especially slowly, as our departure runway was nearby and the safety video was holding us back.
My eyes were glued out the window at the other planes, including the Iberia A340-300 and A340-600.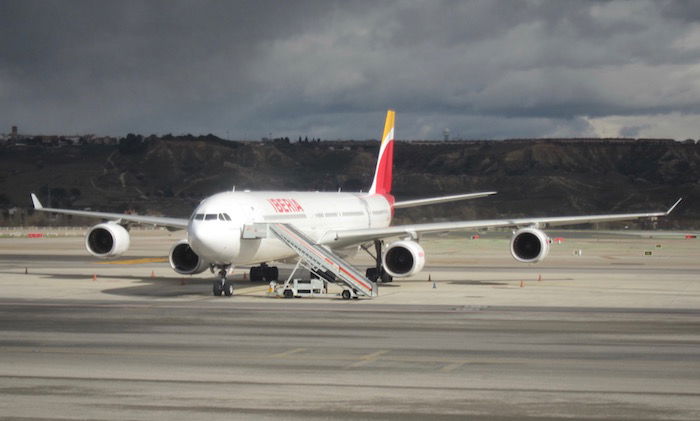 Iberia A340-600 Madrid Airport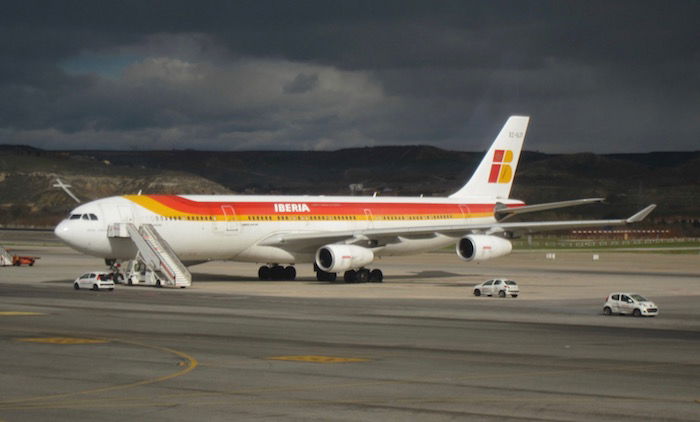 Iberia A340-300 Madrid Airport
As we turned away from the terminal, the sky suddenly looked beautiful rather than nasty, even if it was still full of thick clouds.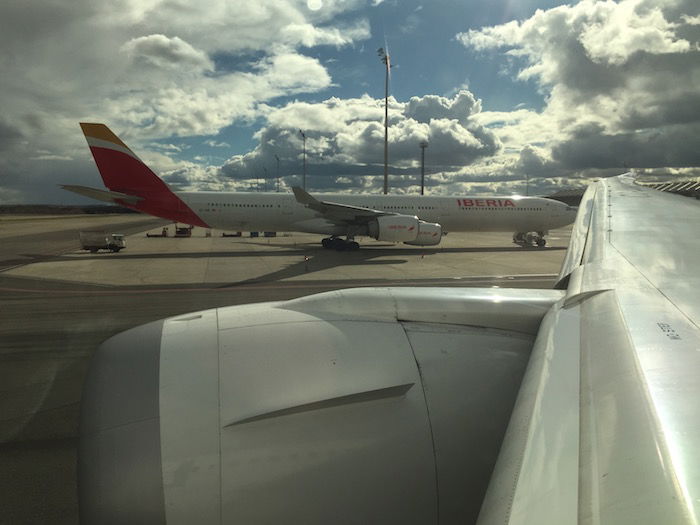 Iberia A340-600 Madrid Airport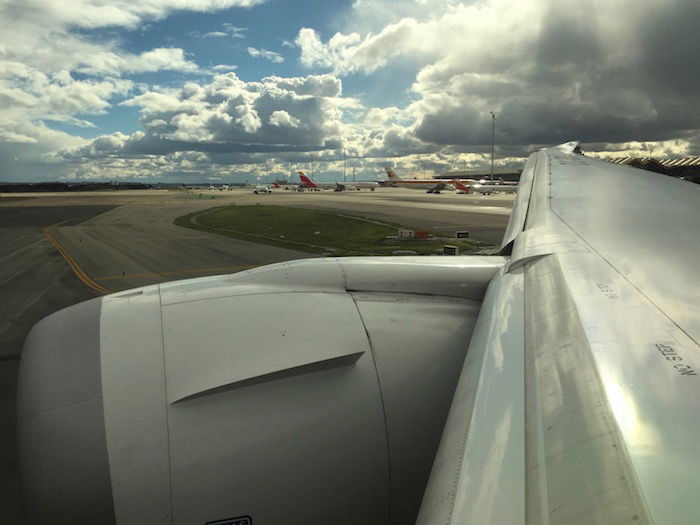 Taxiing Madrid Airport
We made it to runway 36R at 3:25PM, and were immediately cleared for takeoff. Our takeoff roll was smooth, and we hit quite a bit of chop on the climb out, due to the thick clouds.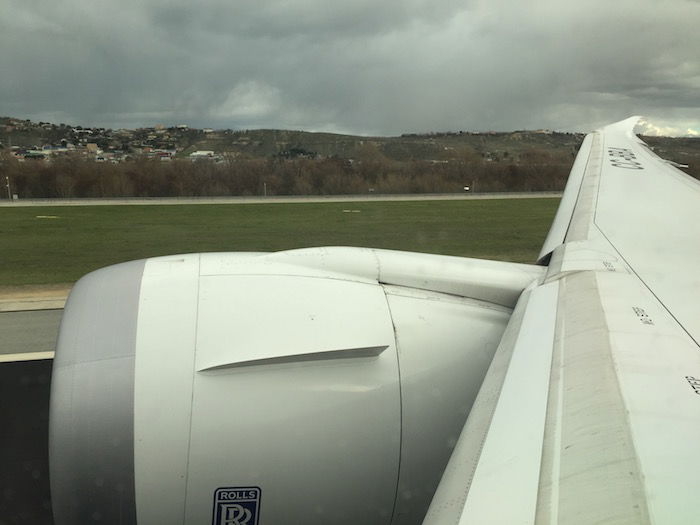 Taking off Madrid Airport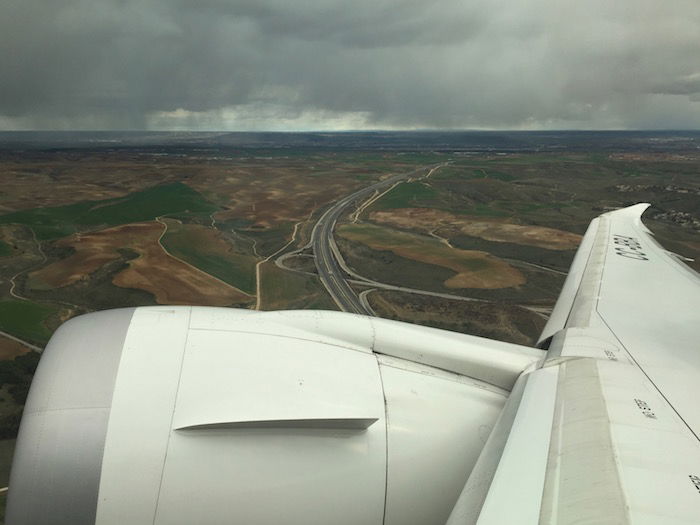 View after takeoff from Madrid Airport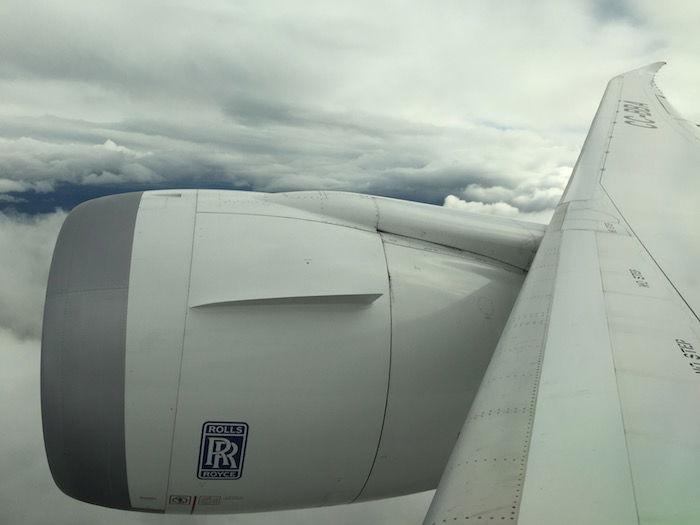 View after takeoff from Madrid Airport
Once above the clouds it was a much nicer day, and about 20 minutes after takeoff the seatbelt sign was turned off. The friendly captain also came on the PA to add his welcome aboard, informing us of our flight time of 2hr15min, and anticipating the rest of the flight would be smooth.
I turned on the airshow to track the progress of our flight, and noticed we were at 40,000 feet.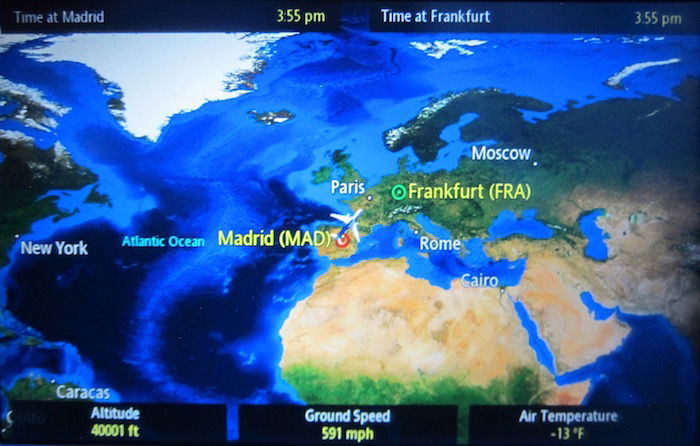 Airshow enroute to Frankfurt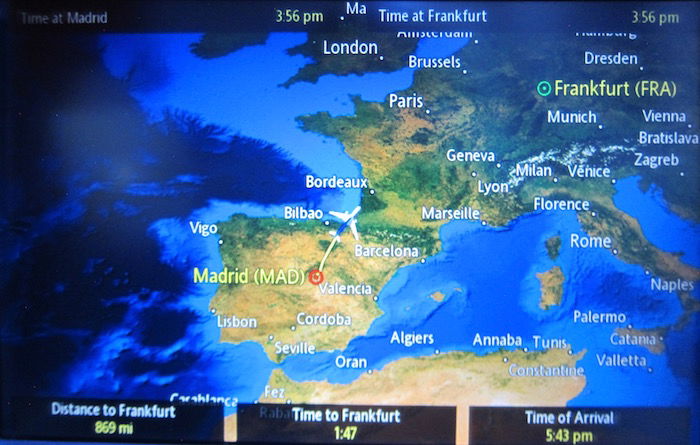 Airshow enroute to Frankfurt
I also browsed the entertainment selection, which was rather underwhelming. It featured a limited number of movies and sitcoms, and on top of that only seemed to have a couple of episodes of each show. Of course that's hardly a problem for a short flight.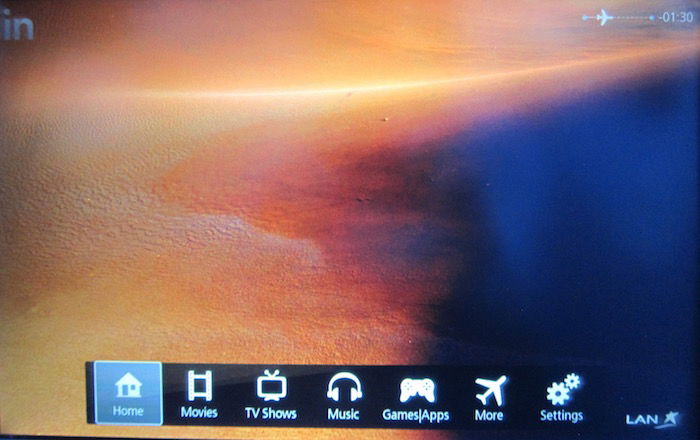 LAN entertainment system
I ended up watching an episode of "Just Kidding," which was fairly amusing. It was like the show "Just For Laughs," except it had kids playing pranks on adults. The intro video was creepy, though: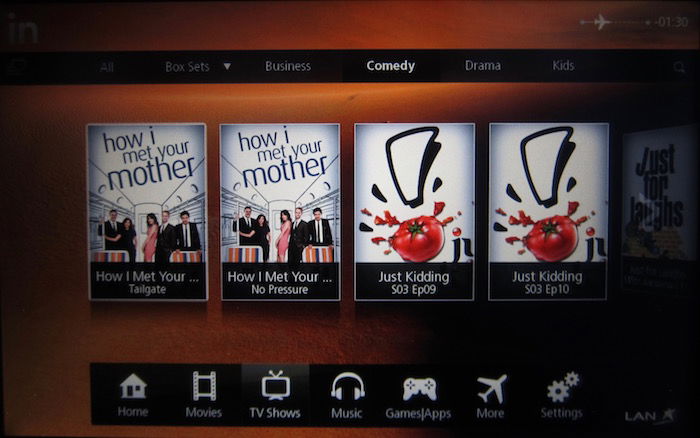 LAN entertainment system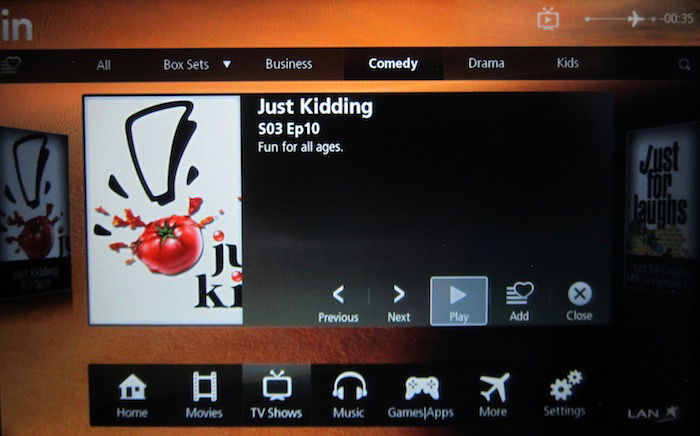 LAN business class entertainment selection
About 40 minutes after takeoff hot towels were distributed.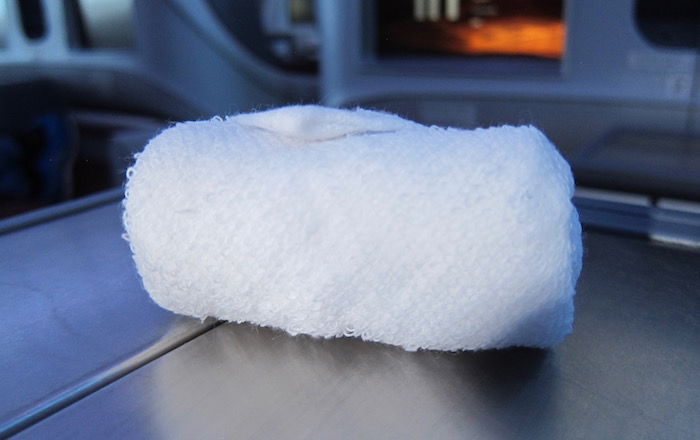 LAN business class hot towel
Then about 10 minutes later the crew passed through the cabin with the cart to begin their meal service.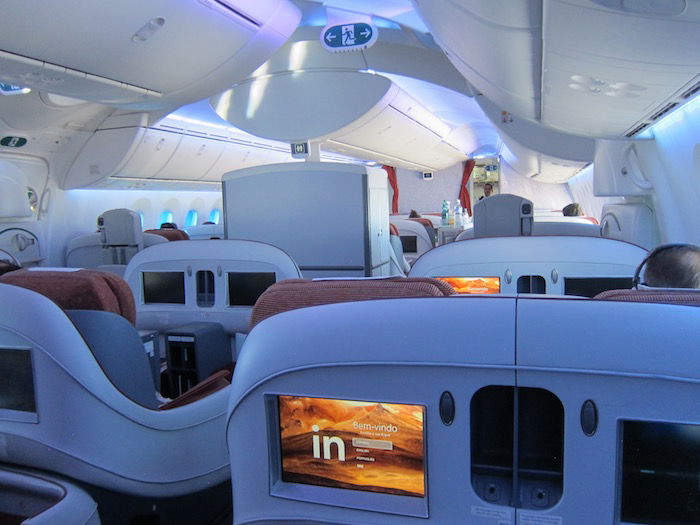 LAN business class view as service starts
As is the norm on intra-Europe flights, there was no choice of snacks. Fortunately this one was right up my alley — it was a plate with salad and salmon, and was delicious.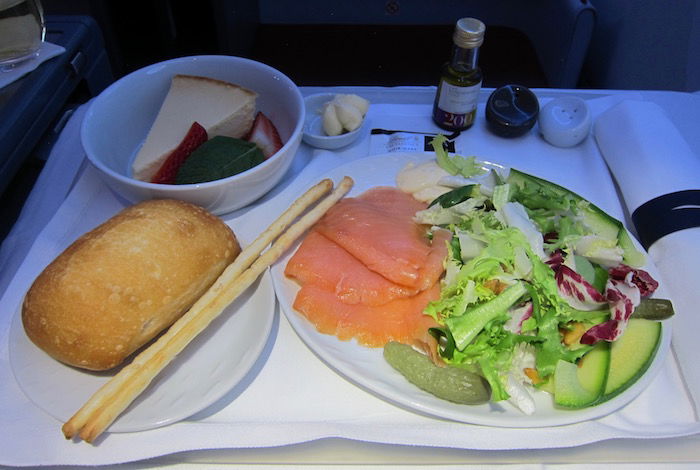 LAN Chile business class snack — salad, salmon, and cheesecake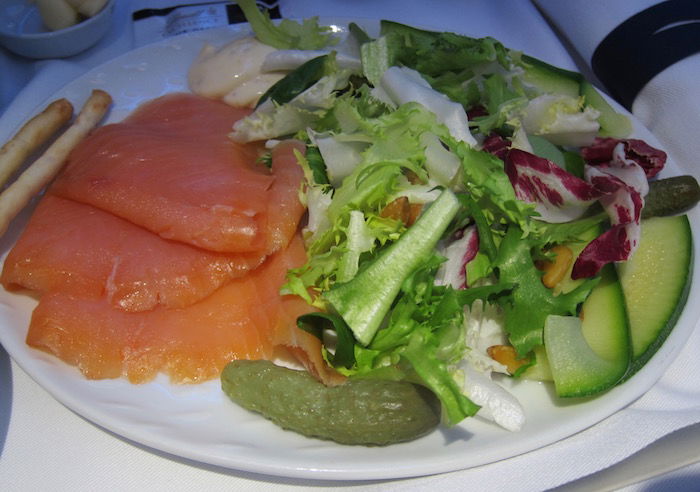 LAN Chile business class snack — salad with salmon
It was also served with some cheesecake, which was equally good.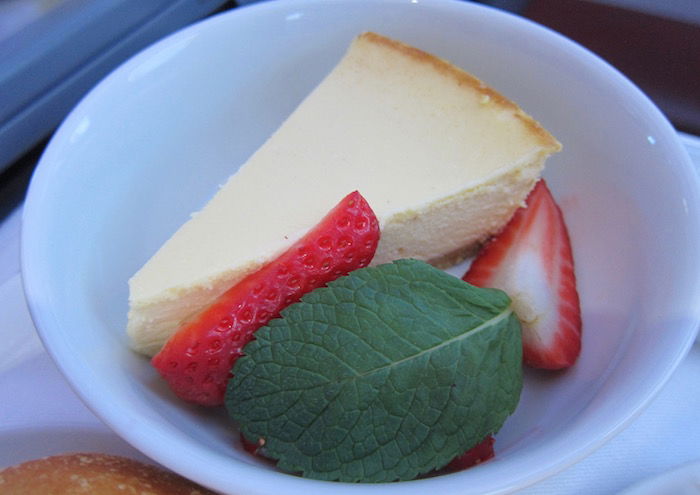 LAN Chile business class snack — cheesecake
I was offered a selection from the breadbasket, and could choose between white bread, wheat bread, or grissini.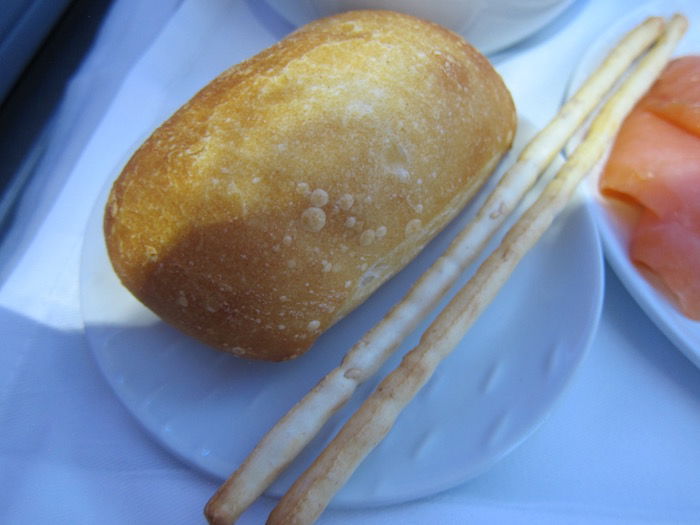 LAN Chile business class snack — bread and grissini
As Cristian offered me a drink he said "our sommelier recommends a chardonnay to go along with this meal. Would you like to try it?" I loved the recommendation, and followed his advice — it was excellent. I also had a sparkling water.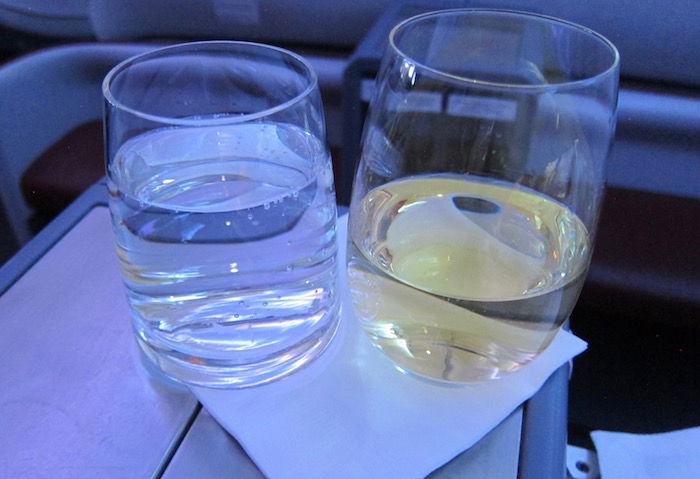 LAN Chile business class water & wine
The crew came through the cabin two more times with the cart, both to clear plates and also to offer refills. Cristian was fantastic, and whenever I said "thank you" he'd say "it's a pleasure."
Once my snack was cleared I ordered some coffee with milk, which was served in a massive mug. I wish more airlines had mugs like LAN's.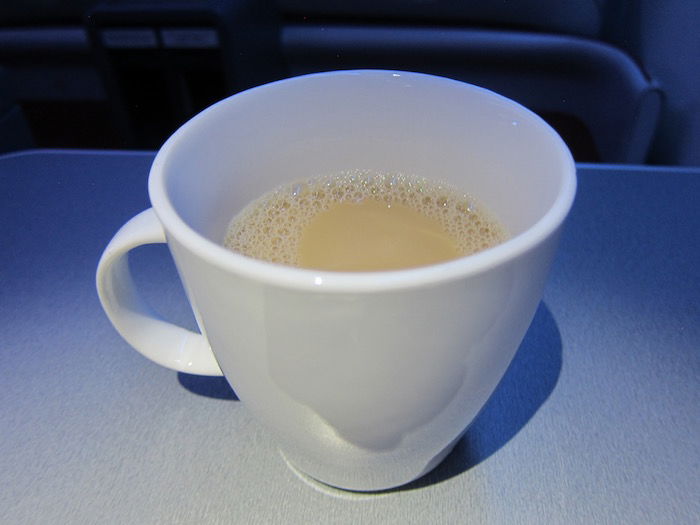 LAN Chile business class coffee
After the meal I checked out the lavatories, which are located at the very front of the cabin (one on the right and then one by the cockpit). They're quite small, though were in good condition. For that matter, the 787 lavs in general tend to be quite nice, at least compared to other planes.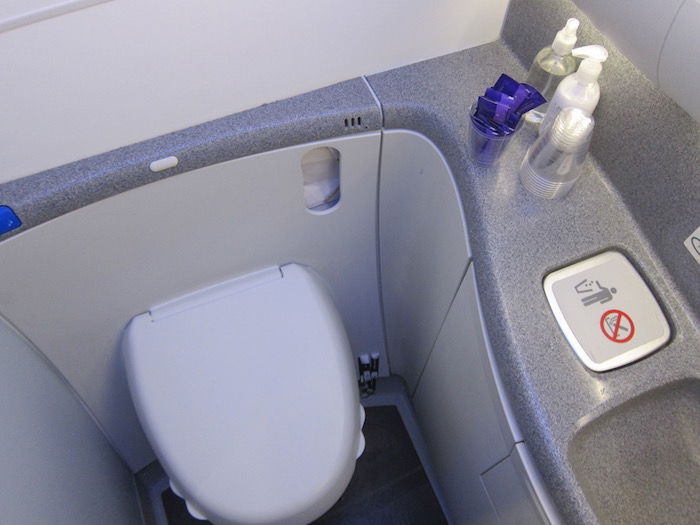 LAN Chile business class lavatory
While blankets aren't generally proactively offered on intra-Europe flights, I asked for a blanket, which they were happy to provide. It was thick and duvet-like, and would have been lovely on a longer flight.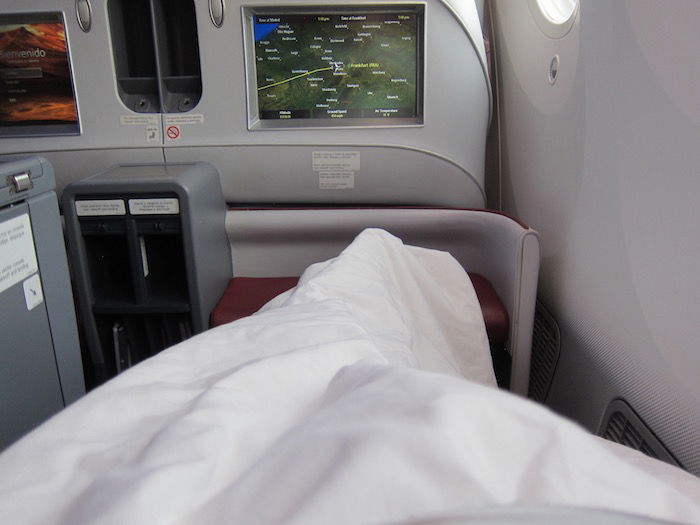 LAN Chile business class blanket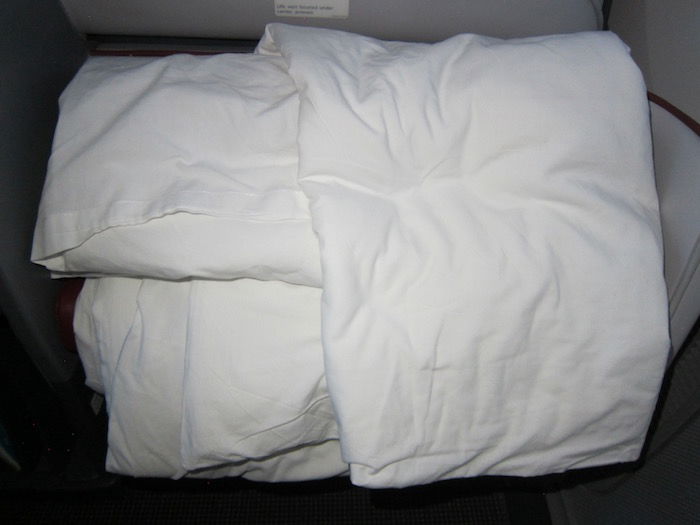 LAN Chile business class blanket
After finishing the shows I was watching I switched back to the airshow, where I noticed we were slowly approaching Frankfurt.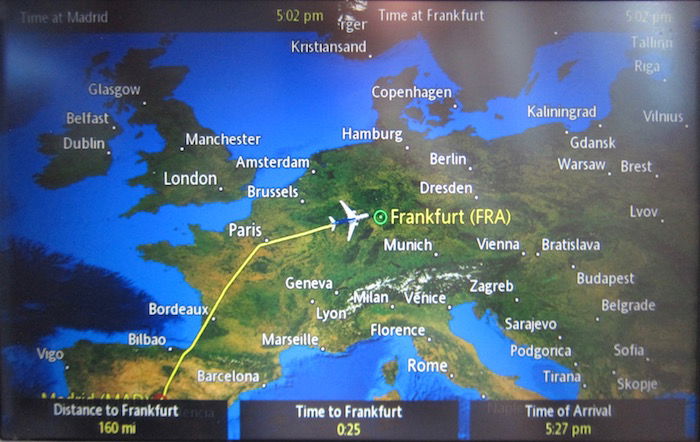 Airshow enroute to Frankfurt
About 20 minutes before landing the captain came on the PA to give us updated arrival information, informing us we'd be landing at 5:25PM.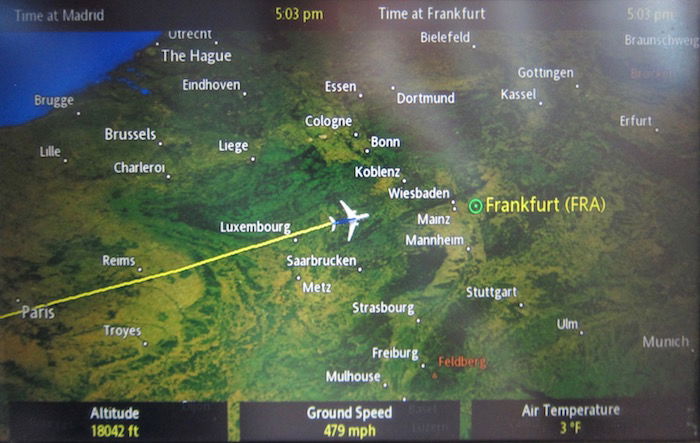 Airshow enroute to Frankfurt
Our descent was quite smooth, despite the thick clouds.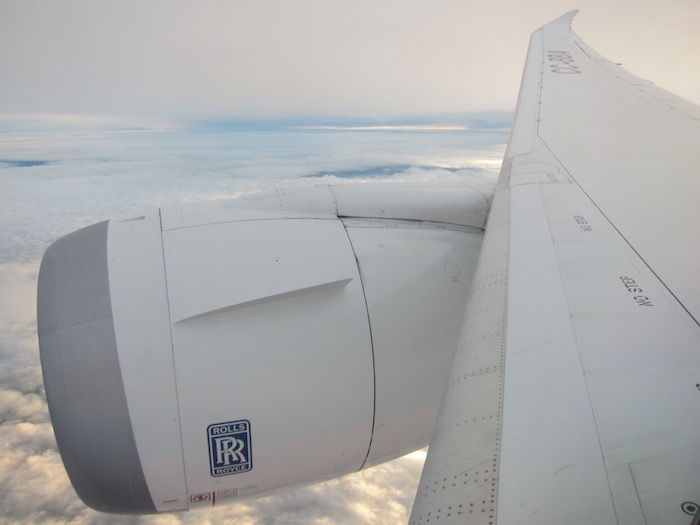 View on descent into Frankfurt
We passed Frankfurt and then turned back East to commence our descent.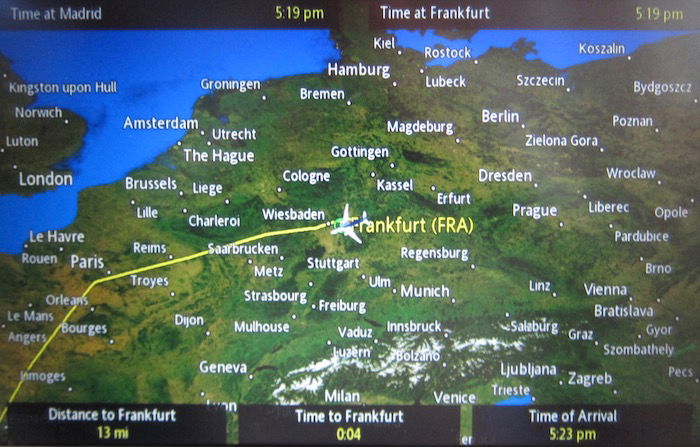 Airshow on approach into Frankfurt
We had some great views of downtown Frankfurt on our descent.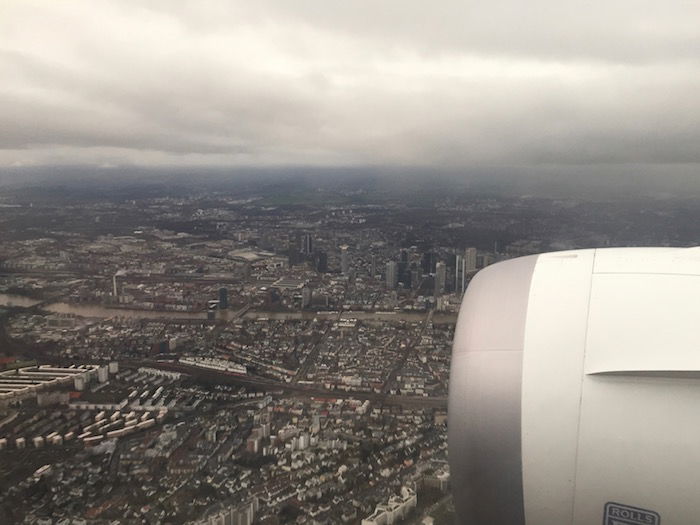 View on descent into Frankfurt
We touched down on runway 18 at 5:25PM.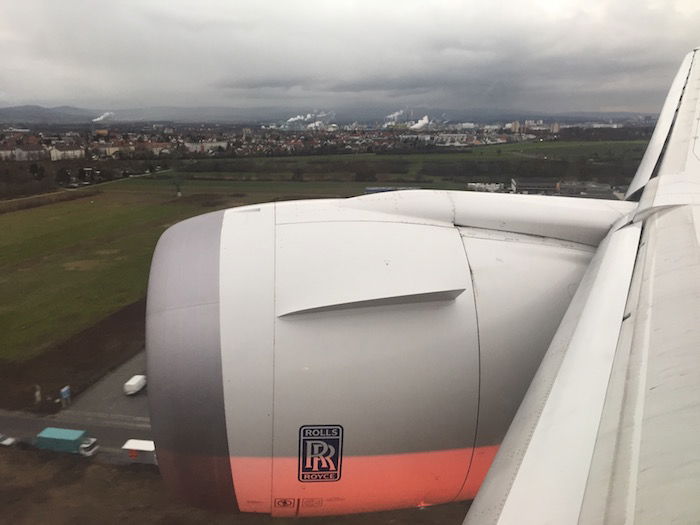 View on final approach into Frankfurt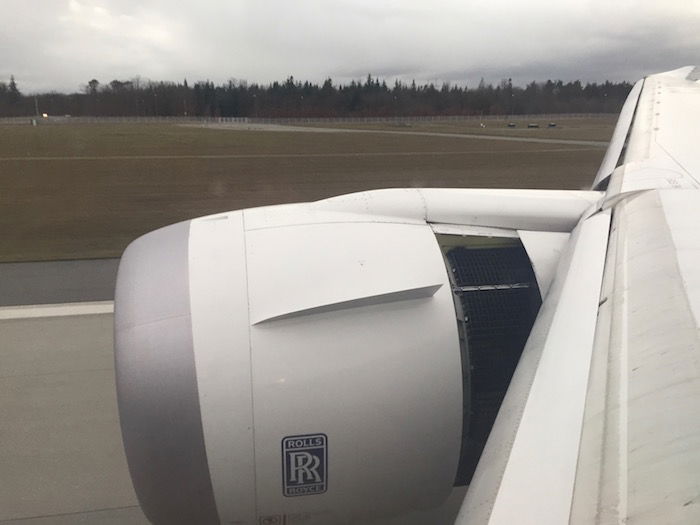 Touchdown Frankfurt Runway 18
This is the furthest runway from the terminal (at least when you're landing), so it was quite a taxi from there. After the flight service manager made her landing announcement they played some wonderfully relaxing piano music.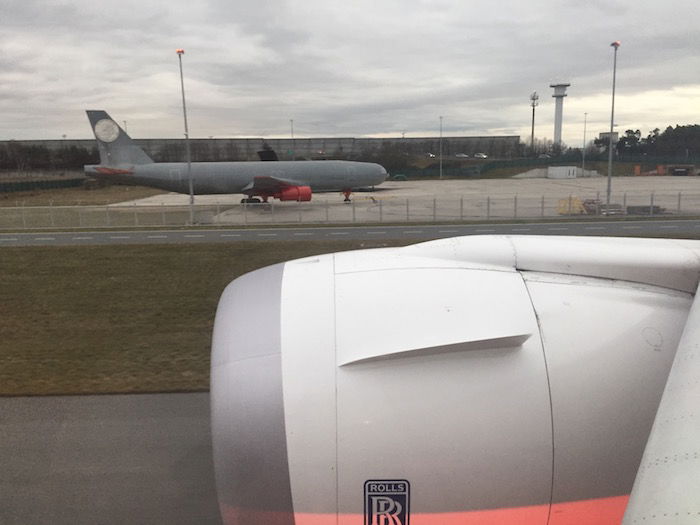 Taxiing to gate Frankfurt Airport
Our taxi to our arrival gate took 20 minutes.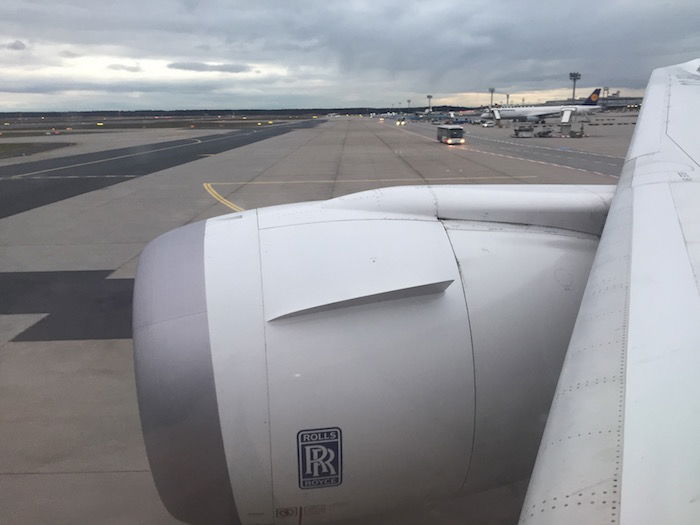 Taxiing to gate Frankfurt Airport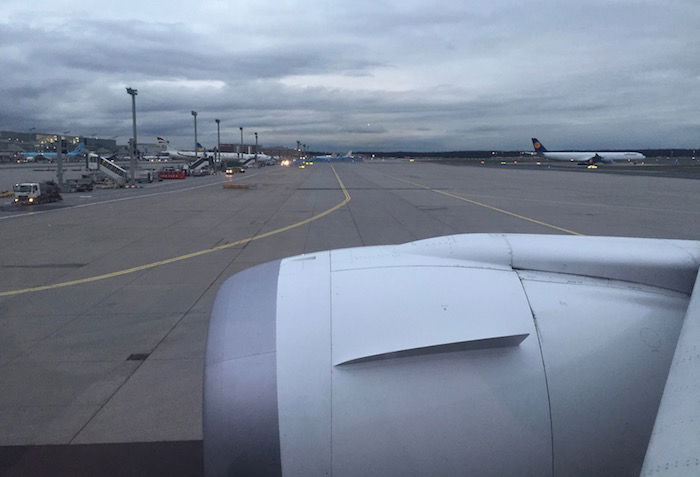 Taxiing to gate Frankfurt Airport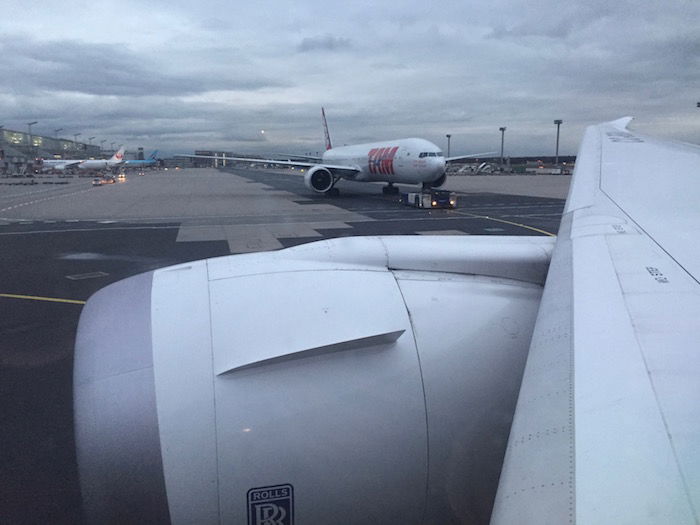 TAM 777 Frankfurt Airport
We eventually pulled in next to a Turkish 737, for an arrival at 5:45PM, about five minutes ahead of schedule.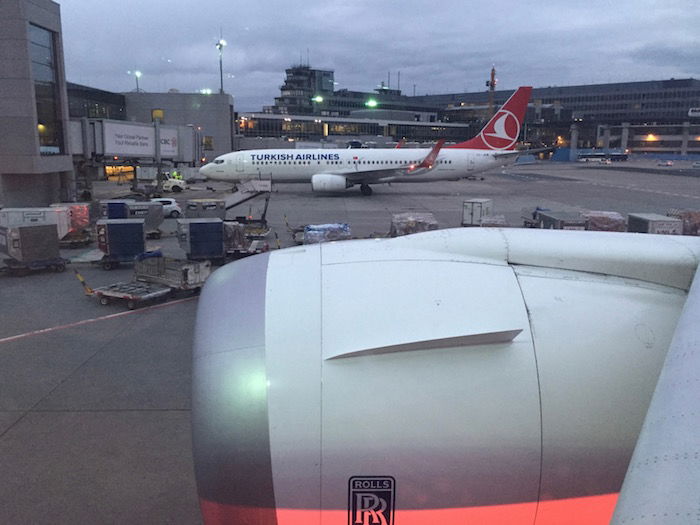 Arrival gate Frankfurt Airport
Upon deplaning I had a great view of the LAN 787, thanks to the elevated arrivals hall at Frankfurt Airport.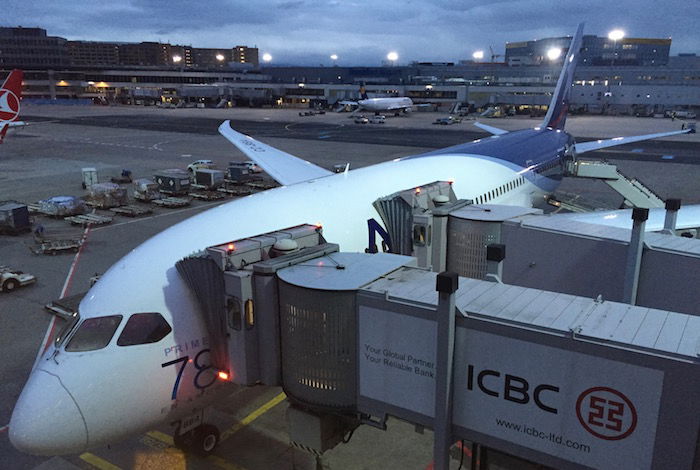 LAN Chile 787 upon arrival in Frankfurt
And from there I was off to the real highlight of my journey, as I'd finally be flying Oman Air!
LAN 787 business class bottom line
I should judge this flight based on two criteria — the actual flight I took (which was an intra-Europe flight), and the potential to take this flight on a longhaul flight, given that the plane usually flies longer routes.
For an intra-Europe flight this was unbeatable. Usually intra-Europe business class is just economy with a blocked middle seat, so this flight delighted in just about every year.
But what about as a longhaul flight? I'd say LAN's soft product is fantastic. The flight attendants were great and the snack was delicious. As far as the seat itself goes, a forward facing fully flat seat is nice if you're traveling with someone, but is less ideal if you're traveling alone, since you could sit next to a stranger.
Ultimately LAN doesn't have my favorite business class hard product, but if traveling with someone I think it would be very nice.
Overall I was very impressed by LAN Chile, and in particular by the service and food.
If you've flown the LAN 787, what was your experience like?