Every so often I think it makes sense to go back and explain the basic "mission" of the blog, as I see it. I've been writing OMAAT for over eight years, and traffic growth over the years has been (and continues to be) beyond my wildest dreams, with well over 100% growth year over year.

The site gets well over a million unique visitors per month, and that's something I'm outrageously grateful for. Given the number of new readers, I therefore think it's worth sometimes reminding people of what I do and why I do it.
In September 2014 I wrote a post entitled "What Is A Travel Blogger?" The point was to talk about what really constitutes a travel blogger, and whether being a travel blogger requires focusing on the destination. So if you haven't read that post, perhaps go back and read it, as it's a useful starting point.
Reader Jared left the following comment on a post I wrote a couple of days ago about the worst airline lounge I've ever been to:
You need to spend less time in lounges, airports and aircraft and actually see the world. I am not that much older than you, and I find your activity useful to many of us who are looking for a bargain upgrade or trip, but you are missing out on so much more that you could be gaining from actually traveling the world and experiencing the cultures around the world.
I have a thick skin, and I'm pretty sure "people telling you how to live your life" is part of the job description of being a blogger. I assume Jared's intentions are good (I have no reason not to), and I appreciate what he's saying. I think it's also a good opportunity to address such comments once again remind people of what I do and why I do it.
All the time I get emails from readers asking for tips on becoming a travel blogger. There are thousands of travel blogs out there, all with different goals. Plenty of people have travel blogs solely for the purpose of keeping their family and friends updated on their travels, which is great. So to me success isn't "measured" in numbers.
But for those looking to grow their readership, I think it ultimately comes down to having unique content and a unique viewpoint, being consistent/not getting discouraged, and blogging for the right reasons. It was years before I made a dime off the blog, and I'd certainly continue to write it even if I didn't earn a dime through it ever again. It's my "baby."
But I think there's something lost with the above perspective about spending "less time in lounges, airports, and aircraft." The issue is that spending time in lounges, airports, and aircraft is my job. If someone else goes on a "business trip," they're not told "you need to spend less time working and more time seeing the world." But I get why the standard is different for people like me, so I figured I'd address it.
It's important to pick out a niche when you're starting a blog, and for me that niche is the journey, and not the destination. And I'm not sheepish about admitting that.
Why? Well, for one, I'm passionate about airlines, airplanes, etc. I'm passionate about destinations as well, but I don't feel like there's as much value I can add there.
If you want to know what to do at a destination, there are a million and one amazing resources on the internet, many of which will contain much more insider's knowledge than anyone visiting for the first (or fifth) time will have. Nowadays I rely on this blog to make a living as well, so while it's my passion, it's also my source of income. I could never compete in the destination "space" (not that I'd want to anyway). Because I truly don't think you can be an expert on all (or even most… or even a useful number of) destinations.
Airlines are a different story, though. There are only so many products out there, and when you've tried enough you can form useful perspectives, which adds value for people (I think). And thanks to the wonders of Google, when you search for reviews of many first & business class products, you'll find that sometimes my reviews come up towards the top, which is awesome (because it brings people to the site, and helps continued growth).
But here's the thing — while I open up a lot about my life on the blog, my life isn't exclusively what you see on the blog. I do sightsee when I'm traveling, it's simply an aspect of my life I choose not to document too heavily. Why?
Since I live in hotels and on planes, I spend a good chunk of my life documenting everything I do. As much as it's what I'm passionate about, travel isn't really a "vacation" for me. By putting down my camera and my notepad when I'm sightseeing, I can actually unwind and relax.
I'm already behind on trip reports. I spend almost every waking hour where I'm not sightseeing working on the blog, and I realize it seems like I'm always behind on trip reports. I'd rather have my focus be getting out the posts in a timely manner where I feel I can add value, rather than focusing that time on destinations and getting even further behind.
While it would be nice to supplementally write about what I'm doing at the destination, the time I'd spend doing that would (ironically) take directly out of the time I have to actually see places. When I'm traveling I'm not spending all day sightseeing. I'm usually working most of the time, maybe walk around for an hour or two, and then have a local meal. But I'm also incredibly fortunate, because I get to do that on a consistent basis, while others get maybe two weeks per year of vacation. I wouldn't have it any other way.
Much of my time traveling is spent with this view…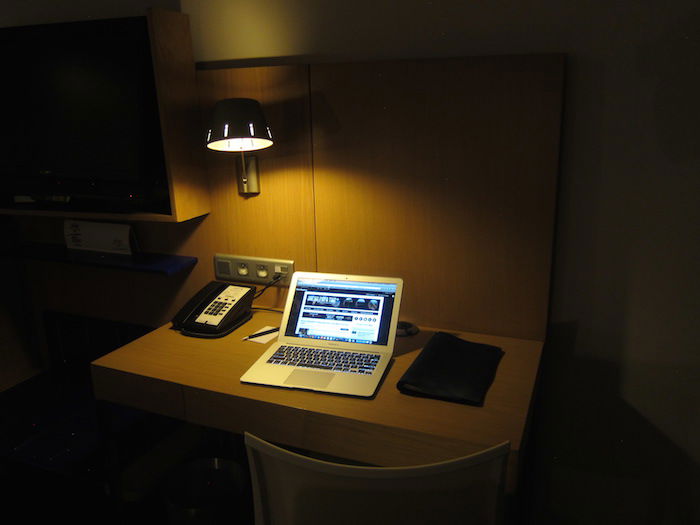 …or when I'm lucky, this view. 😉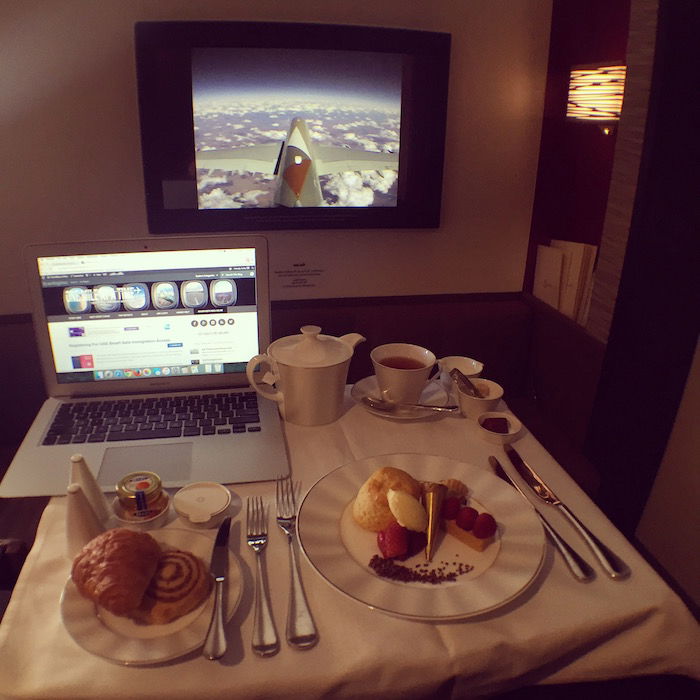 Bottom line
Hopefully that provides some insight into why most of my writing revolves around the journey rather than the destination. For destinations and activities, TripAdvisor is awesome, as it gives you the perspective of hundreds of reviews. Beyond that, there are plenty of excellent travel guides out there, written by local experts. I'll never be able to compete with them, so instead I choose to write in an area where I feel I can add a lot of value.
While my life isn't sightseeing 24/7/365, I wouldn't have it any other way. Thanks to you guys for all the support over the years.