Given that I spend all day booking award tickets, ExpertFlyer is one of the most useful websites for me. ExpertFlyer is a paid subscription service which costs $99.99 per year for the "premium" version, which is what I use, though they also have monthly plans available.
Ultimately just about all the information they display can be found publicly, though ExpertFlyer saves me time since it puts everything into one, easy to search place, from seatmaps, to flight availability, to fare rules, to award availability on select airlines.
But what I think makes ExpertFlyer worth it even for those that don't spend hours a day searching for award availability is that they let you set up availability alerts for the following airlines:
Aegean Airlines, Aer Lingus, Aerflot, Aerolineas Argentinas, Air Canada, Air Europa, Air France, Air New Zealand, Air Tahiti Nui, Alaska Airlines, Alitalia, American Airlines, AVIANCA, British Midland, Brussels Airlines, China Airlines, China Eastern Airlines, China Southern Airlines, CSA Czech Airlines, Delta, El Al, Emirates, Etihad Airways, Finnair, Frontier Airlines, GOL, Hainan Airlines, Hawaiian Airlines, Iberia, Icelandair, KLM, Korean Air, LOT, Malaysian Airlines, Martinair, OpenSkies, Qantas Airways, Shanghai Airlines, Swiss, TAM, Tarom, Turkish Airlines, and United Airlines.
While you can set up availability alerts for revenue tickets (for example, if a flight is sold out and you want a seat on it, you could set an alert so that you would be emailed when space opens up), the most practical application for me is for award tickets. As a premium member I can set up 30 availability alerts at a time.
What does that mean? Say you want to fly Qantas first class to Australia in Decemer. Yes, that's nearly impossible. What you could do is set up an alert for up to 30 individual flights whereby you specify the fare class, and if the space opens up ExpertFlyer will email you.
To set up an availability alert, log into your ExpertFlyer account and click on"Create New Flight Alert" towards the bottom of the sidebar.

The next page will give you a form you have to fill out in order to set up the alert.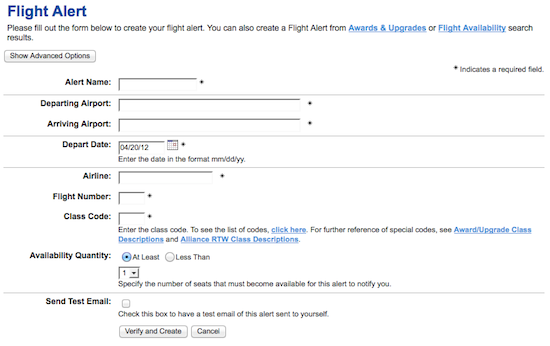 I think for the most part it's pretty self explanatory. Just enter an alert name (usually I'll enter the origin and destination cities and date, like "Dec1LAXSYD"), the departing airport, the arriving airport, the date, the airline, and the flight number. The only part that's potentially complicated is the "Class Code." There you have to enter the right fare bucket. The good news is that they have a convenient chart with the fare classes for each type of fare.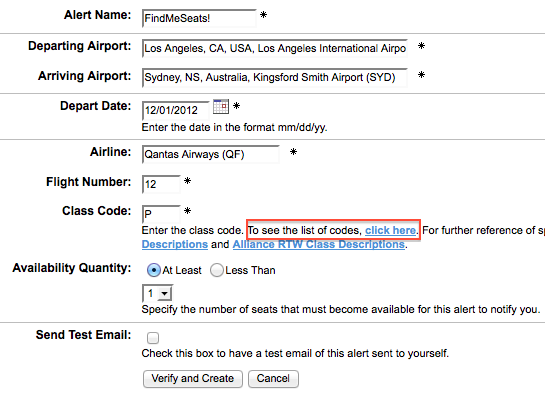 In this instance I want Qantas first class award space, so after referencing the chart I see that it's the "P" fare class I want, so I enter that.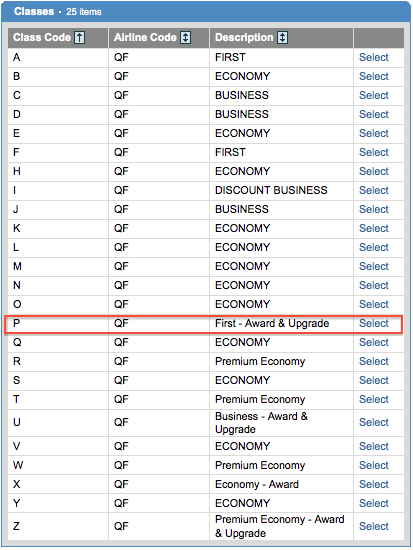 Once you have that, the last thing you have to specify is how many seats you want to monitor for, and then click "Verify and Create." If there are any issues (like the flight number not operating on that date) you'll get an error message at that point. If space opens up you'll receive an email, which is awesome.
So what are the most practical uses?
If you book a business or first class award ticket, and one or two segments is only available in coach at the time of booking. You can set an alert for a higher cabin, and if the space opens up ExpertFlyer will let you know.
If you're currently booked on an itinerary with a connection but want a nonstop flight instead.
If you're shooting for an aspirational award and nothing is available, it can't hurt to set up an alert to see if space opens up. You might just be surprised.
I wish, however, that ExpertFlyer would:
Track more airlines than they display award availability for, like ANA, Asiana, Cathay Pacific, Lufthansa, etc.
Allow you to set up more than one alert at a time. In other words, I'd love to be able to set an alert for first class award space on any nonstop American flight between San Francisco and Chicago for a certain date. At the very least I wish that after you submit the form it would save it if you want to set up a similar alert, because it can be cumbersome entering the information over and over.
Anyway, it's a feature that I think a lot of people don't know about but would get a lot of value out of, and more than justifies the annual fee for me. And in case there was any question, I'm not being compensated by ExpertFlyer for this post in any way. Hell, I don't even know anyone at ExpertFlyer. I just happened to remember how awesome this is when availability opened up for a flight I was monitoring yesterday, and ExpertFlyer let me know.