I'm writing a series of posts about some of the tools and services I most use for managing, earning, and redeeming points. While I often mention these websites and services in passing, I've never written dedicated posts about them, so that's what I'm trying to do now.
In this post I wanted to talk about how and why I use AwardWallet, which is a tool that allows you to easily manage and track your miles & points balances. In separate posts I talked about Google Flights, ExpertFlyer, point.me, Seats.aero, MaxMyPoint, aeroLOPA, and more.
Why I use AwardWallet to manage my miles & points
For those of us who are super involved in miles & points, it can sometimes be tough to keep track of your various loyalty accounts. How do you remember the passwords of the accounts? How many points do you have in each account? When do your airline miles and hotel points expire?
That's where having an AwardWallet account can come in handy. AwardWallet allows you to track your loyalty points balances in once place. The process is pretty easy:
You can then upload the account details for as many loyalty programs as you'd like; you can use one AwardWallet account to manage the loyalty program accounts of many people, so I have all my family members' accounts linked to my AwardWallet
AwardWallet can then store your loyalty program account numbers and passwords, and then you can always refresh your account balances through AwardWallet
Not only does AwardWallet refresh the balances of your account, but it can also help you keep track of the expiration of points, as well as certificates and other loyalty perks
I find AwardWallet to be the easiest place to keep track of all my loyalty program account numbers and passwords. I also update all my account balances through AwardWallet on a daily basis. This can be done in the background, and it's the best way to make sure that miles & points don't go missing. There's quite a bit of fraud in the frequent flyer world, so this is a great way to minimize your odds of having an account hacked or points stolen.
If you have an AwardWallet Plus account, you can also be told when your various points balances or certificates earned through programs are expiring. That's super handy.
Now, there are a few limitations and concerns that people have:
Some people don't like the idea of sharing so much info with a third party; I totally get that concern, though given the number of data breaches we see with frequent flyer programs, I think there's huge value to constantly tracking your points balances
AwardWallet doesn't support all airline and hotel programs, as some loyalty programs (like American AAdvantage) have demanded that AwardWallet not track accounts
With many loyalty programs having set up two factor authentication, the process of refreshing balances is a bit more manual than in the past, as you often have to enter the codes you're emailed while accounts are updating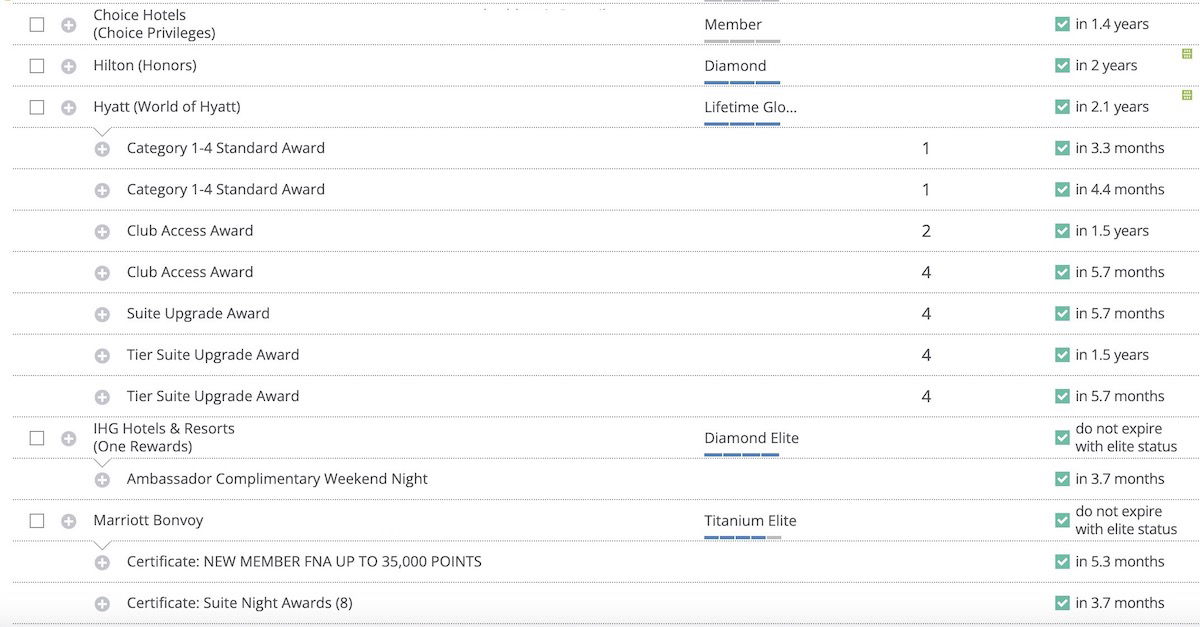 Is AwardWallet Plus worth it?
The basic version of AwardWallet is free, and this allows you to keep track of all your frequent flyer accounts, and update your balances. Then there's AwardWallet Plus, which is the premium version of AwardWallet, and which costs $30 per year. As far as I'm concerned, this comes with two most valuable perks:
Automatically displaying the expiration date of all of your miles & points balances, while the free version only lets you track the expiration date of three account balances
Updating your account balances in parallel, rather than one at a time, which makes the process of refreshing the balances of dozens of accounts much faster
In the comments section, I'll paste a bunch of invitation codes for six free months of AwardWallet Plus. Just paste an eligible code in the AwardWallet Plus upgrade section of the website. For what it's worth, I don't have any financial relationship with AwardWallet, beyond just posting my generic referral link to the service, which any AwardWallet user has access to. That seems to get me some AwardWallet Plus upgrades, and then in turn I can share those here.
I do think AwardWallet Plus is worth it if you have a lot of balances to keep track of. Hopefully you can just find free upgrade codes, but even if you can't, $30 per year isn't much to spend for the peace of mind of easily tracking all your points balances.
Bottom line
I use AwardWallet to keep track of all my loyalty program accounts. I use it to store all my airline and hotel loyalty program passwords, update the balances of all my frequent flyer accounts, keep track of my points and certificate expirations, and more.
I know I'm not alone in using AwardWallet for these purposes, though if you don't yet have an account, it could be worth signing up.
What has your experience been with AwardWallet?