Today's an exciting day in the miles & points world, as we're seeing the launch of point.me, which I'd consider to be the most useful award search tool to date. This really puts the ability to redeem points into the hands of consumers in a way we've never seen before.
It's also personally something I'm excited about, both because I've been lucky enough to be involved (full disclosure: I have a stake in the company), and also because it marks a new beginning for PointsPros, the award booking service I launched eons ago.
What is point.me?
Perhaps the purpose of point.me is best explained in the form of example. Us miles & points geeks make a full time hobby out of learning how to maximize our rewards. Meanwhile others redeem their points for gift cards, toaster ovens, or garden gnomes, in many cases getting significantly less than a cent of value per point.
Of course we try to guide our friends and family in the right direction — "well, you could transfer your Amex points to British Airways Executive Club and then redeem for travel on American at a great rate." I'm sure I'm not the only one who has said that to someone, and then got a blank stare.
Over the years we've seen all kinds of award booking concierge services pop up, whereby you can pay a fee to have a human help you redeem your points. But we've never seen an efficient, automated search tool that can quite literally walk someone through the whole process. That's where point.me comes in:
You can run a single search, and point.me will search award availability with 30+ loyalty programs and 100+ airlines
Results will be sorted not only by the number of points required, but can also be sorted based on expert recommendations (and real expert recommendations, not "expert" recommendations or recommendations from sponsors)
If you have transferable points currencies (Amex, Capital One, Chase Citi, etc.), point.me will walk you through the process of transferring points and booking your ticket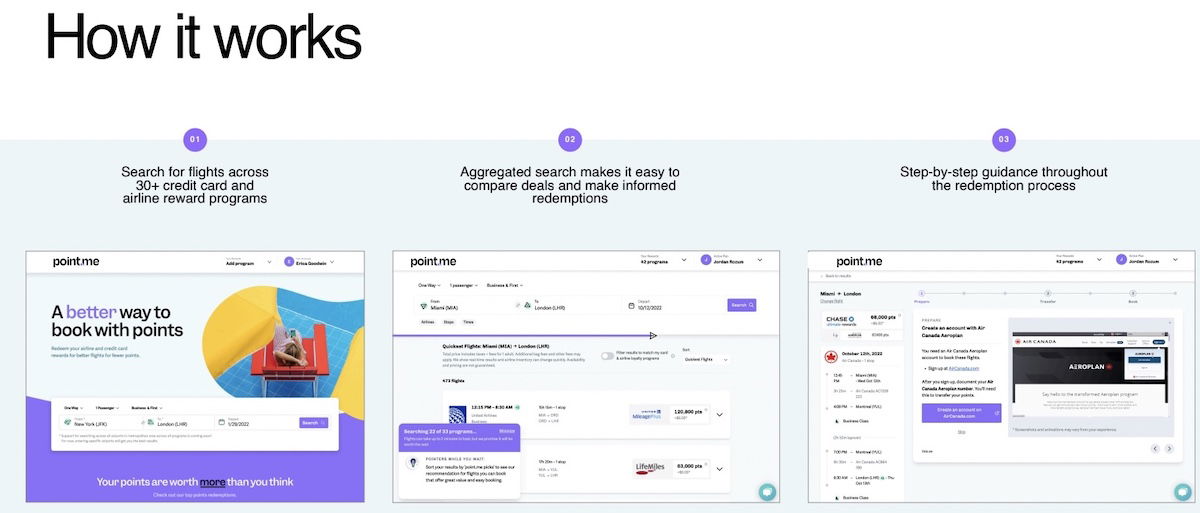 We've never seen redeeming points for aspirational travel be made this accessible before — this makes it possible for anyone with points to plan their dream trip, even if they don't have the knowledge.
I'll write a separate tutorial about how to use point.me. Let me say that point.me isn't perfect yet. I'd say it's beyond a beta phase, but there are still some improvements to be made. For example, there will eventually be a multi-day search option, more partners will be supported, search speeds will be improved, etc. Just keep in mind the complexity of the searches being executed (the site makes it look easy, but it isn't), and that these searches aren't cheap to run.
What makes point.me special
In theory anyone could hire a bunch of engineers, spend many millions of dollars trying to develop an award search tool, and hope for good results (a certain website may or may not have been trying exactly this for years, with not much to show for it). However, what matters more than anything is having actual experts behind this who live and breathe points, and that's where other similar endeavors have fallen short.
Some of the brightest minds in miles & points are behind this, and I can't even describe the amount of effort that has gone into making these results as useful and valuable as possible, rather than just trying to engineer something that's good enough. For example, if you sort results based on "point.me picks," that factors in my points valuations and program rankings, rather than which program is willing to write the biggest check.
My friend Adam is behind point.me (he ran Juicy Miles, which has now been rebranded as point.me), as is "our" very own Tiffany. They both have a ton of experience in miles & points, and with managing award booking services. On top of that, literally dozens of miles & points geeks (including me) have been providing input to create the best product possible.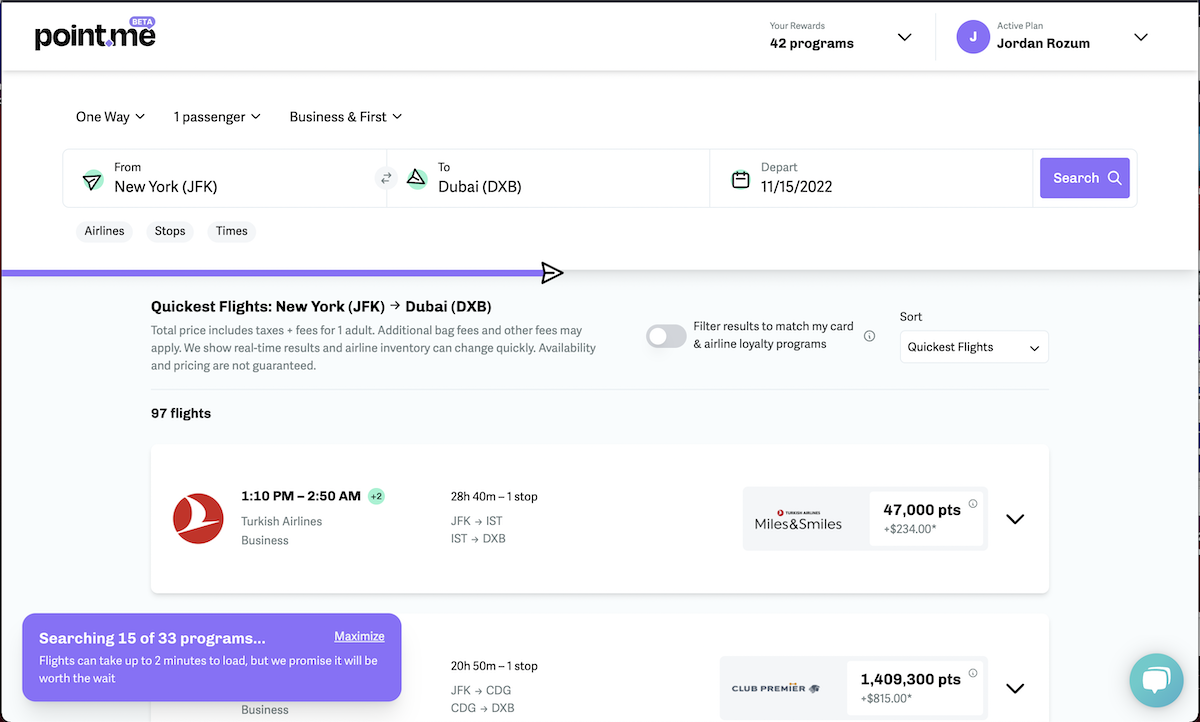 How much does point.me cost? (try it for free!)
If you want to sign-up for point.me, there are a few membership options:
There's the point.me starter pass ($5), offering unlimited searches for 24 hours
There's the point.me standard plan ($12 per month or $129 per year), offering unlimited searches and more
There's the point.me premium plan ($269 per year), offering a 10% discount on all concierge services, a personalized miles & points "checkup" annually, and five starter passes to gift friends and family
There's also a personalized concierge service available through point.me, for those who want a human touch. That costs $200 per person per booking, and can be used for award bookings, mileage run planning help, and even a credit card consultation.
OMAAT readers can get a complimentary 24 hour pass (the same one that would usually cost $5) by registering with promotion code OMAAT. Just click on "Sign Up" and then go to the "I have a code!" section. Give it a try, and let us know what you think (though again, if you're a super advanced miles & points person, this product isn't necessarily designed for you).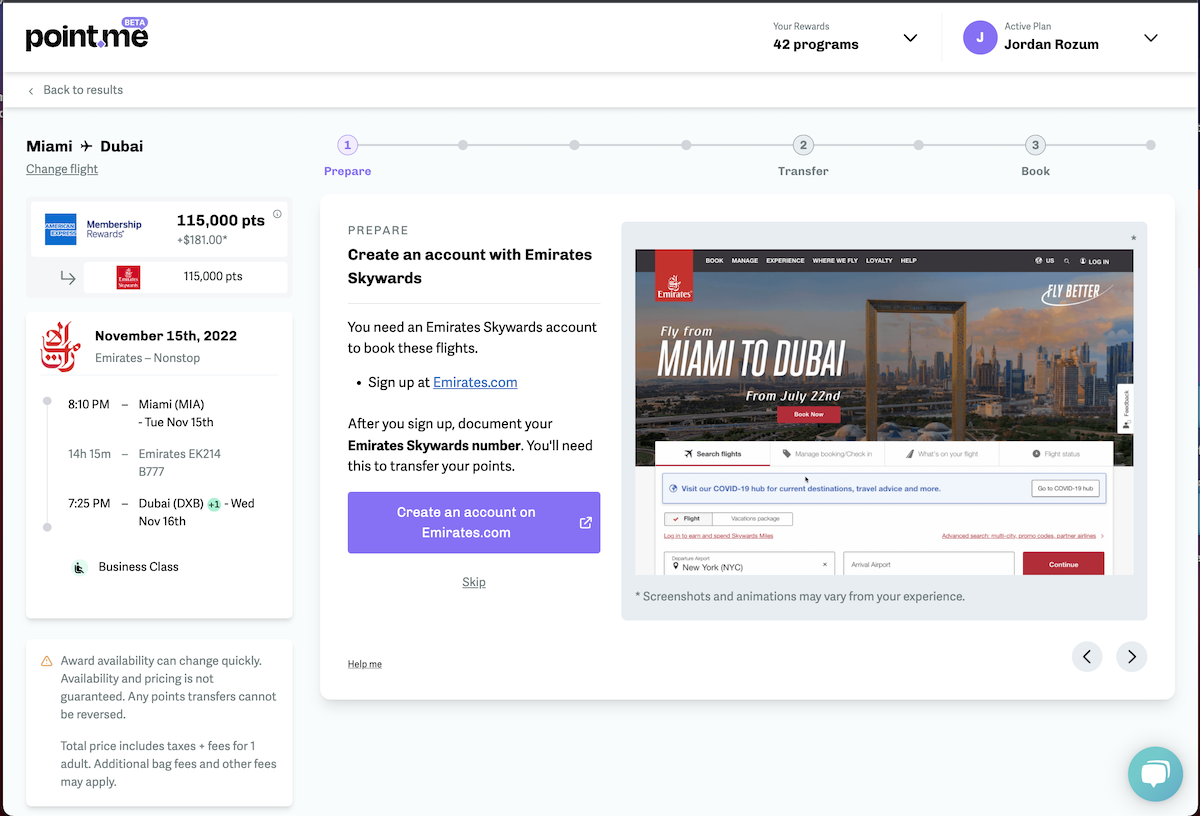 This is also a new era for PointsPros
As mentioned above, in high school (15+ years ago) I started PointsPros, which is an award consulting service where we helped people redeem their points. That grew over the years, thanks to some awesome, passionate colleagues, to the point that we've helped people redeem well over a billion points. Thanks to their skill I was able to take a more hands-off role, as I focused more on the blog.
The launch of point.me also represents an exciting new chapter for PointsPros, as we're joining forces. Our whole PointsPros team is now working with point.me, and won't just provide award concierge help, but will also provide their expertise to make the award search tool as good as possible. I'm also excited to contribute more to helping to build point.me into as good of an award search tool as it can be.
I'm immensely proud of how far PointsPros has come, as well as for all of the people who have used PointsPros over the years. As far as I'm concerned this isn't the end, but rather just an exciting continuation.
Bottom line
point.me is officially launching today, which is a great new site for helping people redeem their miles. In addition to a concierge service, we're seeing a self-serve award search tool unlike anything that has been on the market before. This award search tool not only displays award availability across 100+ airlines, but also walks you through the process of actually booking your ticket.
While this won't necessarily be for those who spend hours a week searching award availability for fun, this is a game-changer for those who want to get value from their points, but don't know how. Not only does this walk you through the process of redeeming points, but it uses an unbiased methodology to make recommendations.
Remember, you can get a free 24 hour pass to point.me by registering with promotion code OMAAT. And if you're a miles & points super user, maybe have a friend or family member give point.me a try, so that they can see all the possibilities with their rewards points.