Google Flights is probably the single most useful resource for researching and tracking flight prices. Admittedly this isn't exactly cutting edge, as Google Flights has been around for years, and hopefully most OMAAT readers already use it.
However, I figured I'd share the basics of why I find Google Flights to be valuable, and how I go about using it. It's one of the tools that I find most useful for travel planning, along with AwardWallet, ExpertFlyer, point.me, Seats.aero, MaxMyPoint, aeroLOPA, and more.
Why you should be using Google Flights
Plain and simple, Google Flights should be the first website you visit when you're starting the process of booking an airline ticket with cash. Google Flights is great because it lets you compare fares across a wide variety of dates, allows fare tracking, and gives you all kinds of options to customize your search, which you won't find when searching through an online travel agency or airline website.
Note that Google Flights is more of an aggregator of information than anything else. Typically when Google Flights shows you fares, you'll get a link to either the website of an airline or to an online travel agency to book, as most fares can't be booked directly with Google Flights. In 99% of cases I recommend booking directly with the airline, as that simplifies flight changes, schedule changes, etc.
Google Flights is best option for comparing airfare
When you go to Google Flights, it doesn't look that different than most online travel agencies. You can enter your origin, destination, travel date, whether you're traveling one-way or roundtrip, the number of passengers, and the class of service you want to travel in.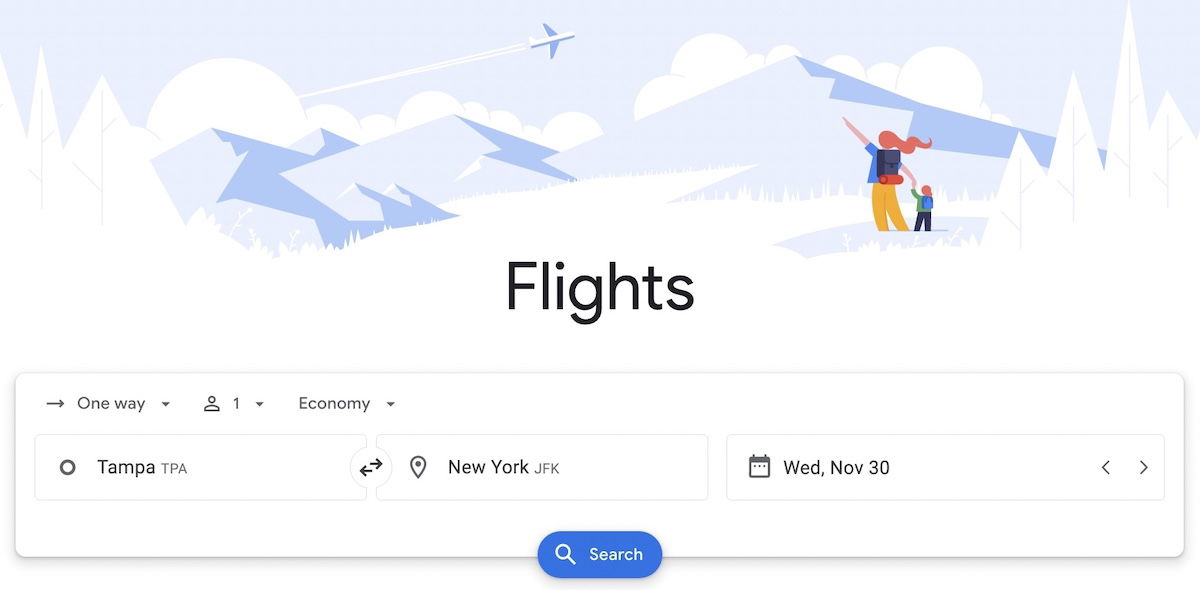 The first thing that makes Google Flights awesome is that when you get to the results page, you'll immediately see a pricing calendar that shows you options for two months at a time. You can search an entire year of pricing in a given market in less than a minute.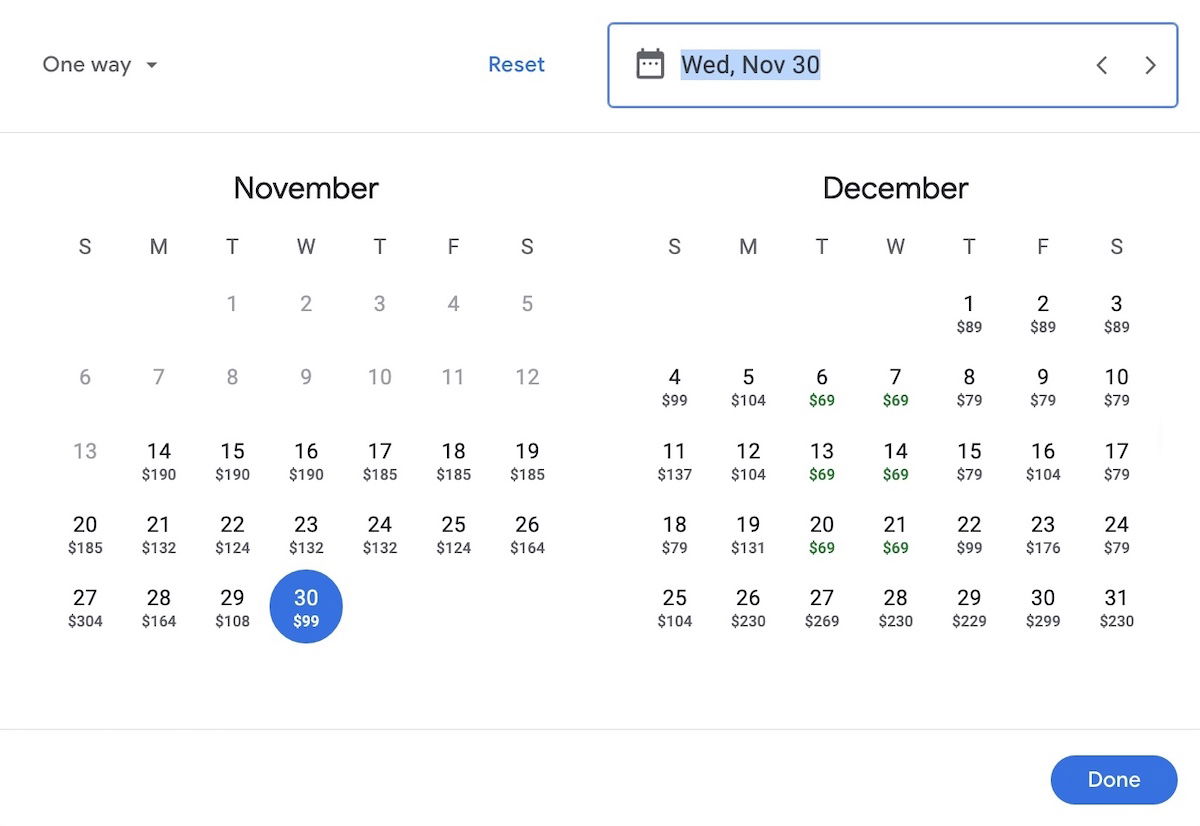 While Google Flights will show tons of options, you'll see that "best flights" are first shown, which is based on price, convenience, and overall value. I appreciate just how much information Google Flights shows with each flight option. If a fare doesn't include a carry-on, you'll see that restriction listed.
Beyond that, you'll see seat pitch on the plane, whether there's Wi-Fi, whether there's in seat power and USB outlets, whether there are televisions, etc. Of course keep in mind that in some cases this might not be accurate, but more often than not it is.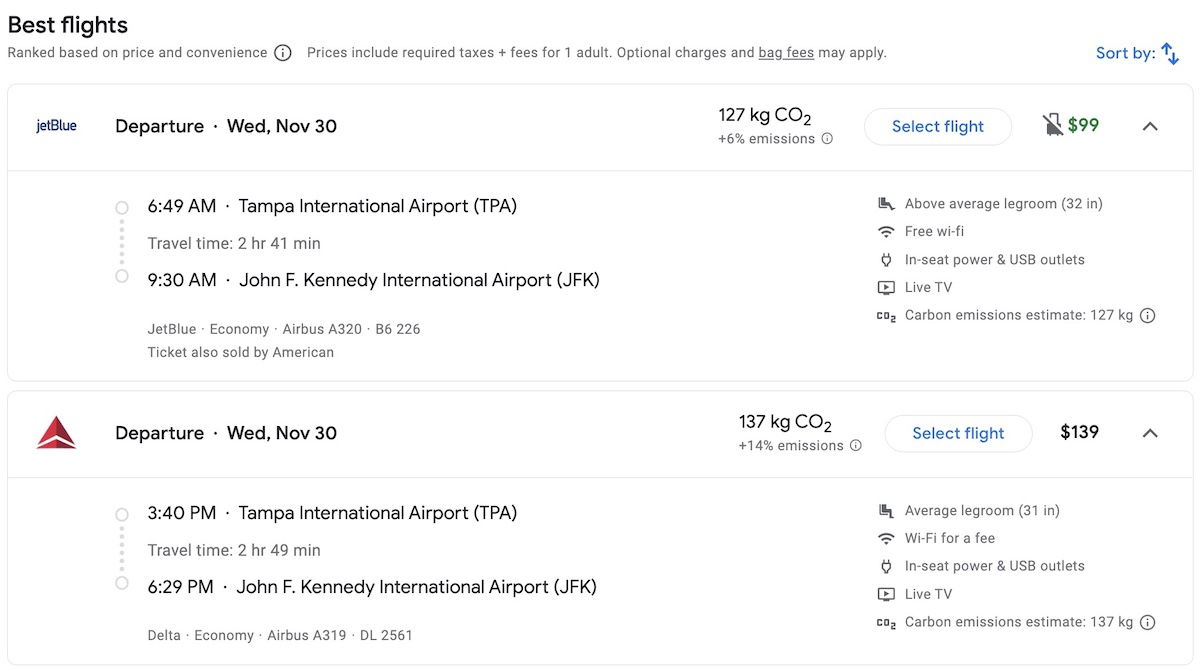 In some cases this information is really useful. For example, if you're curious if your British Airways business class flight will feature Club Suites, Google Flights shows flights with Club Suites as featuring an "individual suite," while flights without Club Suites are shown as featuring a "lie flat seat."


It gets much better than that, though. Once you execute a search, you'll see all kinds of filters. You can choose based on the number of stops, the airlines or even alliance, whether a fare includes bags, the price, the flight times, the connecting airports, or the duration. While you can't filter out basic economy fares as such, you can filter out fares that don't include a carry-on bag, which would cover the most punitive basic economy fares out there.

These filters will also be applied to the calendar feature, which is one of my favorite features of Google Flights. In other words, if you want to find the cheapest nonstop flight on a given airline at a particular time of day throughout the year, you can easily do that with Google Flights.
When you select a flight, Google Flights will tell you if your fare is typical, cheap, or expensive, based on historical data. You can make of that what you will, since obviously there are a lot of factors that go into airline pricing. In other words, just because a fare is marked as expensive, doesn't necessarily mean it's going to get any cheaper.

Using Google Flights with flexible destinations
Do you just want to travel somewhere, but don't know where? Google Flights can help with that too. Google Flights lets you search airfare from a specific origin, to an entire country, or even continent.
For example, you could enter Tampa as your origin, and the entire country of Germany, or the entire continent of Europe, as your destination. You'll then be presented with a map that shows you all the possibilities.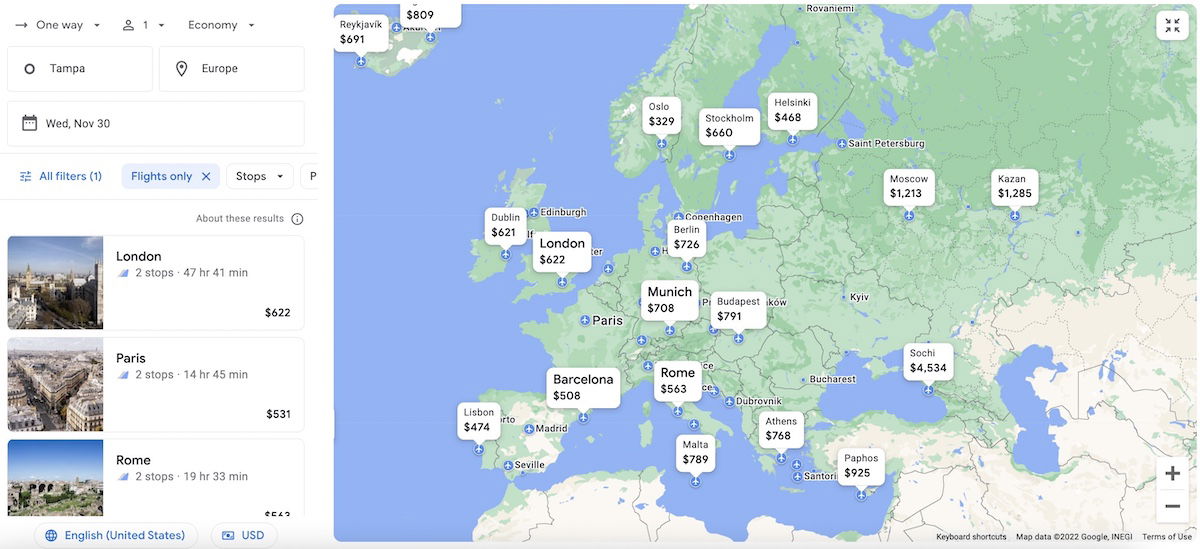 If you have a better sense of where you're looking to go, but want to choose between a few airports, Google Flights can help with that too. For example, you can enter multiple origin and destination airports, assuming you have that flexibility and are curious to compare.

Google Flights lets you track flight prices
My single favorite feature of Google Flights is the ability to track the prices of flights:
This is useful if you want to book a specific flight, but want to wait for the price to (hopefully) drop
This is useful if you've already booked your ticket, but are flying with an airline that doesn't have change fees; that way you could reprice your flight, and get a voucher for the difference
Take a Miami to New York American Airlines first class flight for next spring, for example. While these tickets cost under $400 within a few weeks of departure, right now they price at $700+ several months out. So if you were interested in keeping an eye on these flights, just click the little "track prices" button, and you'll receive an email if the price of the flight changes.
You can request price tracking for one particular flight, or for an entire day of availability between two city pairs, based on your parameters. You can set as many alerts as you'd like.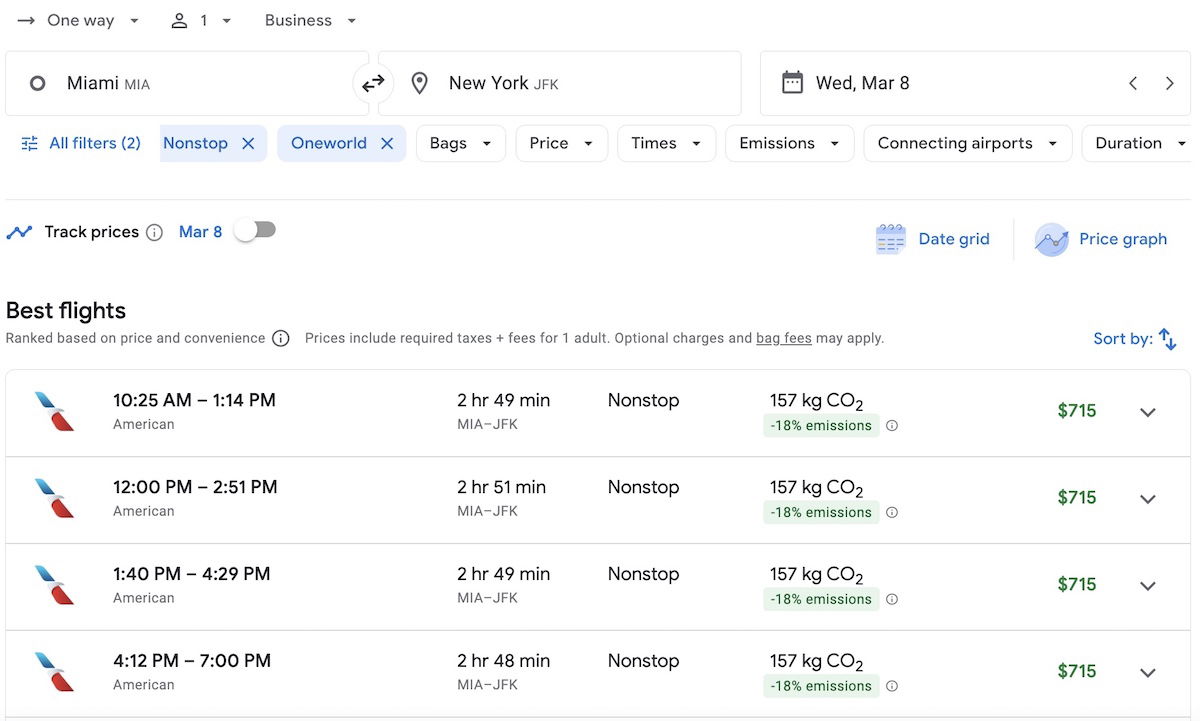 There's then a dashboard connected to your Google account, which will also keep track of the historical price changes.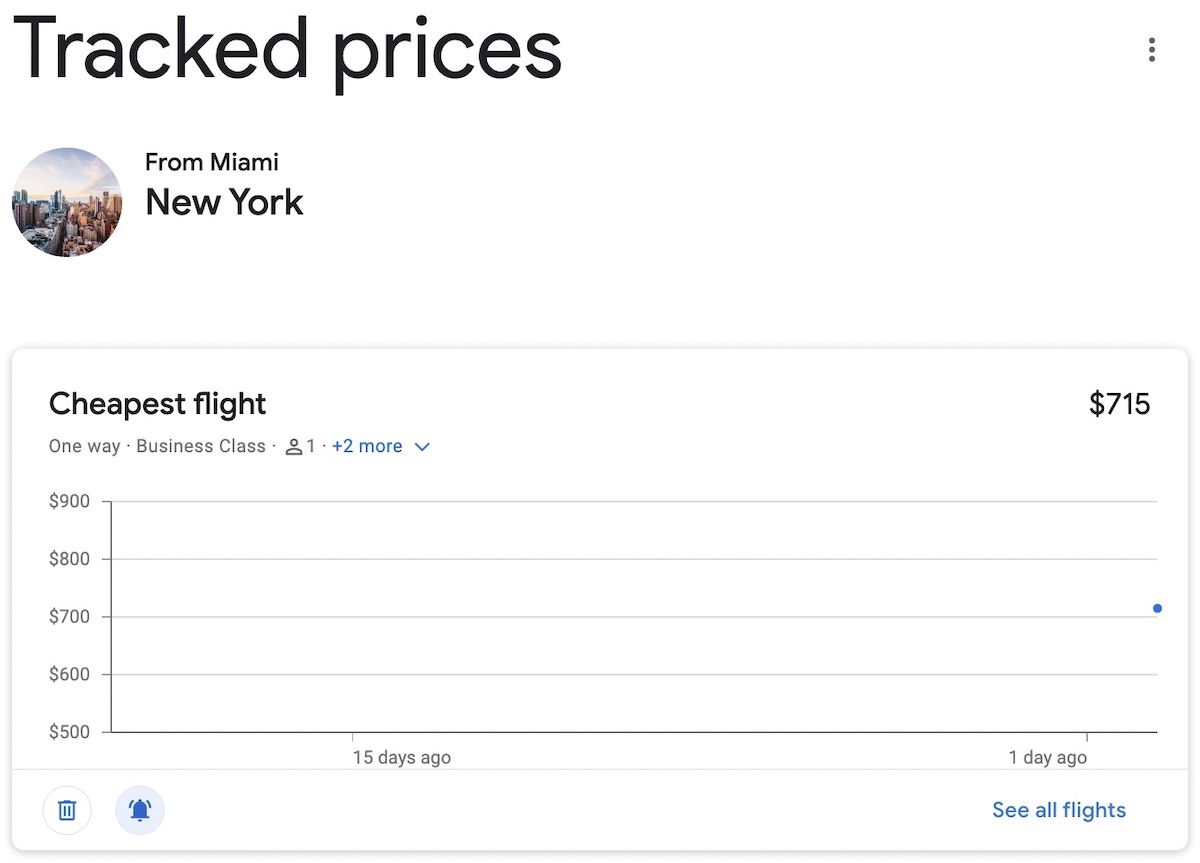 I use the Google Flights price tracking feature constantly, and it saves me a lot of money on flights.
Bottom line
Google Flights is the single most useful resource for booking airline tickets with cash. The website makes it easy to compare the price of airline tickets across months, and customize your search based on endless features, from airline, to departure time, to connecting airport. It can even be useful if you don't know where you want to go, but want to keep your options open.
Google Flights also provides all kinds of useful details about flight amenities, from legroom, to the availability of Wi-Fi, to the type of business class seat you'll get.
My single favorite feature of Google Flights, though, is the price tracking capability. This allows you to track how airfare changes for a particular itinerary over time. This can be useful whether you want to wait until a fare drops to book, or if you want to reprice an existing ticket, and get a voucher.
If you use Google Flights, what has your experience been like? Any important features I'm missing?