The Private Suite LAX, which Ben reviewed in November 2017, is a fascinating concept. A private terminal operated by security specialists Gavin de Becker and Associates, the Private Suite allows you to skip LAX altogether by accessing the facility via Imperial Highway (the southern boundary of the airport, where the cargo facilities and hangars are accessed), rather than World Way, the heavily congested terminal loop.
Once you've pulled up to the gate, the professionals at the Private Suite take care of your bags, check you in, and give you a private (or, as I'll explain below, semi-private) room stocked with snacks, booze and other goodies, to wait in until it's time for your flight, at which time they'll whisk you through a private TSA screening and drive you to your plane in a BMW.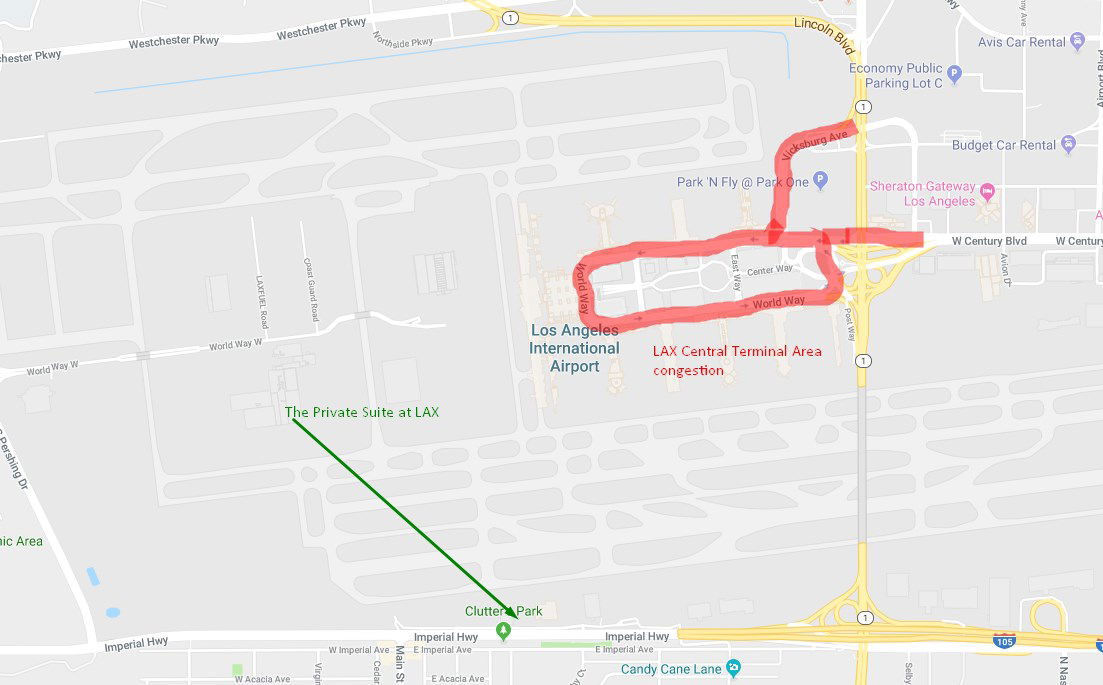 That all, of course, comes at a pretty penny. Advertised rates are steep. With a $4,500 annual membership, access to the Private Suite is $2,700 one-way for domestic and $3,000 one-way for international journeys, for up to 4 passengers.
Without the annual membership, access is $3,500 one-way domestic and $4,000 one-way international for up to 3 passengers. (Membership comes with additional perks like complimentary pre-ordered meals, valet parking, limited spa services, and such.)
I'm curious how many people at the Private Suite are paying full freight, myself. For a reason that I suspect has to do with both United Airlines buttressing its limp hub status at LAX, and the Private Suite sensing a synergetic opportunity, United and the Private Suite launched a partnership in May, essentially giving United passengers the opportunity of buying into a shared United suite for $1,250 per person for a domestic flight, and $1,495 per person for an international flight, provided you were flying on a business or first class fare.
You can guess that this probably had limited appeal to United passengers, since in December the airline made the shared suite experience more tempting — United opened up its shared Private Suite to all of its passengers, and while the $1,250 per person rate for a domestic flight is still quoted, first-time users got a special offer — $375 for a one-way domestic itinerary for up to 4 people, and $500 for a one-way international itinerary.
Since I had cross-country travel in December for the holidays booked on United, I thought I would take advantage of the offer.
Booking the United Private Suite
The booking process couldn't have been simpler. I emailed [email protected] to inquire about the offer, and received a response within less than three hours confirming the promotional pricing of $375 one-way for a domestic flight, valid for up to 4 passengers, with the caveat that the promotional pricing is good for travel on United metal only originating or concluding at LAX. The email contained a link with a promo code that I could use to fill in passenger details and flight information.
Once I completed the form online and provided my credit card information, I got a confirmation email immediately, and the process at this point transferred over to the Member Services team at the Private Suite.
A couple of days later (my travel was still weeks away), I received an email with a "booking promise" from the Private Suite with arrival and check-in details. The email suggested I arrive as close as possible to 90 minutes prior to departure, in order to allow time to drive to the plane and deliver my checked bags. The email also requested a copy of each passenger's ID (in order to secure the permissions required to check us in, print luggage tags and the like) and contained directions to the terminal.
Although it was just two of us traveling on our itinerary, the week before the flight I learned that a friend would also be on the same flight, so I called the Private Suite to see if we could add him to the reservation, which was easy. I just emailed the team a copy of his ID and his record locator number, and we were all set.
Arriving at the Private Suite
We were flying out of LAX the Friday before Christmas, one of the busiest days of the year for travel. But we didn't flinch. Our Uber driver flew by the exits on the 405 for Century Boulevard, which were already backed up, and we glided on the westbound 105 and exited onto a quiet stretch of Imperial Highway. We didn't hit congestion once.
It's abundantly clear that Gavin de Becker takes security and privacy very seriously from the moment you pull up to the terminal gate. There's a guard booth and a friendly (but imposing) fellow who checked our names against the roster, which took about 3 or 4 minutes.
To be noted, signs everywhere confirmed that no photography was allowed past the gate (which is why this is a …. text-heavy report). The steel gate (the sturdiness and unbreachability of which would make Ann Coulter shiver with excitement) opened and we were waved through.
On the other side of the gate, there's essentially a big circular driveway backing onto a breezeway, and we pulled right up to the breezeway, where we were greeted by a number of friendly Private Suite staff, who immediately got to unloading our Uber. The staff asked us which bags we were checking and which we were carrying on — the checked bags got whisked away, while our carry-on bags got wheeled to our suite.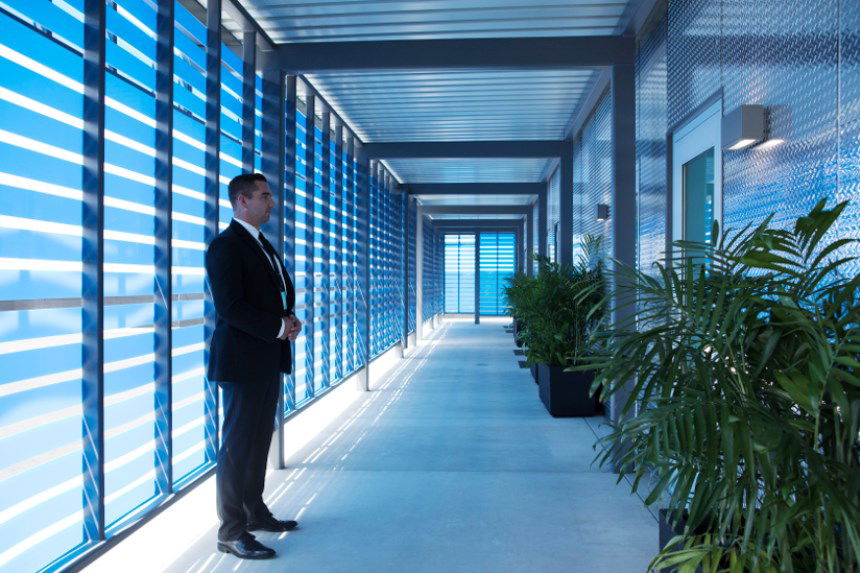 *The Suite…
So this is where, dear reader, I fail you (if I didn't already fail you at the Ann Coulter joke above). I was expecting to review a shared suite, which I'd been told was about double the size of a regular private suite. From what I've read on FlyerTalk, I was expecting:
A not-uncrowded room, potentially, depending on the time of day
Free booze and snacks, but the "goodies" (earphones, toiletries, etc.) that Ben described would be available for a charge
A potentially shared ride to the plane, if other passengers were on the same flight
But — miraculously — we were led into what I quickly deduced was an actual private suite. Our friend had already checked in and was doing work in the room, and we took a look around. I asked our Private Suite representative and he confirmed that we were upgraded; I certainly wasn't going to ask questions and wasn't going to look a gift horse in the mouth.
The upgrade had zero to do with OMAAT (no one at OMAAT knew I was using the Private Suite, and no one at the Private Suite knew I write for OMAAT from time to time), and seemed to be a one-off circumstance of extreme serendipity.
I would definitely not expect to be upgraded to an actual private suite if I were booking a United Private Suite, although I would go out on a limb and say the shared suite experience is nothing to sneeze at. (I'd also argue that the suite itself, shared or private, is the least sexy part of the experience anyway.)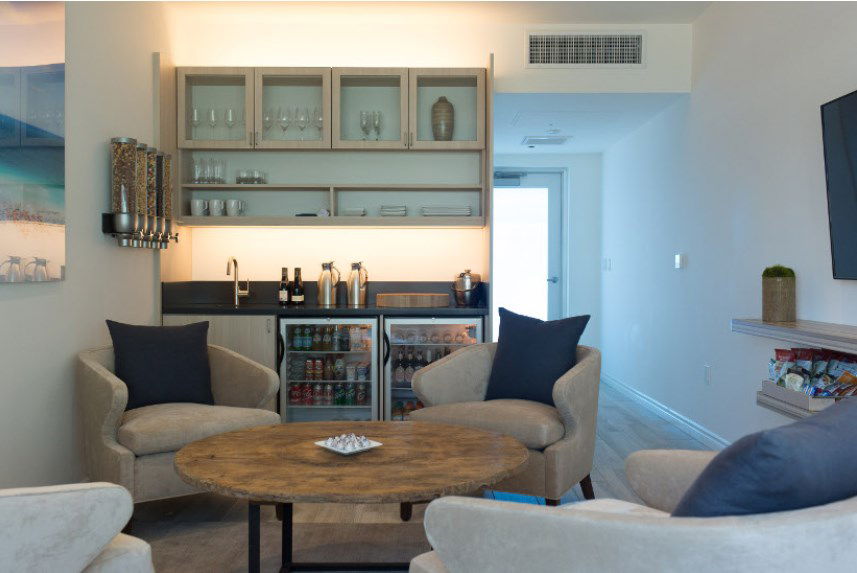 Ben has reviewed the suite before, but I'll provide my quick impressions. Spacious and relaxing for 4 people, with a daybed along the window and four chairs surrounding a coffee table. Plenty of room to move around, and killer views of the tarmac. Decor that recalls a Summerfield Suites (i.e., pleasant and comfortable but decidedly neutral).
The bar was well stocked with Stag's Leap red wine, half-bottles of Pommery champagne, and high end brands of liquor including Bulleit bourbon, Tito's vodka and Casamigos tequila. The fridge was stocked with juices, sodas, and pre-made cocktails in cans (which were more delicious and less sugary than you'd think, and far from the Spirit Airlines BuzzBalls Ben has reviewed).
Snack-wise, we had an array of "higher end" chips, dips, snacks, and sweets — nothing resembling a real meal, but all the sorts of brands you'd find at Whole Foods, and perfectly tasty for our purposes.
That said, if you think that booking the United Private Suite, or even the Private Suite at full fare without a membership, means you'll be treated to a buffet feast akin to The Wing lounge in Hong Kong, you'd be incorrect. If you care less about privacy and convenience and more about food and beverage selection before boarding your United flight, you'd actually be better off at the United Club (which would cost you substantially less, anyway).
But food and beverage aren't really the point of the Private Suite.
The bathroom was perfectly nice — it does lack a shower, as Ben has pointed out — and is stocked with a ton of travel-sized toiletries, all for the taking. I'm not ashamed to say we loaded up.
Similarly, the room itself is stocked with useful gadgets free for the taking, as well. I'd forgotten my earbuds so was pleased to see that they'd supplied pretty decent ones (far better than the earbuds United would give you for free in First).
I was most excited about grabbing a few of the Carry-On Cocktail Kits that Ben had swiped from the Private Suite on his visit, but disappointed (and I say "disappointed" with a HUGE grain of salt, since we were positively giddy the whole time we were there) that they no longer seem to stock the kits.
In any event, we had about an hour in the suite to relax and catch up and gear up for our holiday trip home, and it was the greatest indulgence of all not to have interacted with anyone other than an efficient Private Suite employee, and not to have set foot inside an LAX public terminal. As we all mused to each other, "I never realized how much I hate other people until I realized I could avoid the airport altogether."
The Security Process
I understand that the Private Suite has scheduling down to a ballet, since they try to shuffle parties through the TSA security clearance room in such a way that no two Private Suite customers will ever interact or even see each other unless they're in the same party. (I'd imagine multiple United Private Suite passengers on the same flight, however, would undergo the security check together.)
About 50 minutes before our scheduled takeoff, a Private Suite representative gently knocked on our door and gave us a 5-minute heads up to gather our belongings, which we did.
The representative handed us our boarding passes and IDs (which we'd given to him when we arrived) in a sleeve and led us down the breezeway to a small facility with a couple of TSA agents who checked our passes, whisked us through the security check (which, as you could imagine, was quick) and led us to the waiting SUV, which they'd already packed with our carryon bags.
Driving to the Plane
To be honest, as cool as the entire experience is, it all pales in comparison to driving across the LAX airfield in a private (or even shared) vehicle. That we happened to be doing it during magic hour was even better. It was a 5-10 minute drive that I wanted to last forever. Beyond the views of the aircraft, the experience of circumnavigating LAX and seeing facilities and features you'd never otherwise see was priceless.
Because we were out of the Private Suite "secure area," I was able to snap some photos of the drive.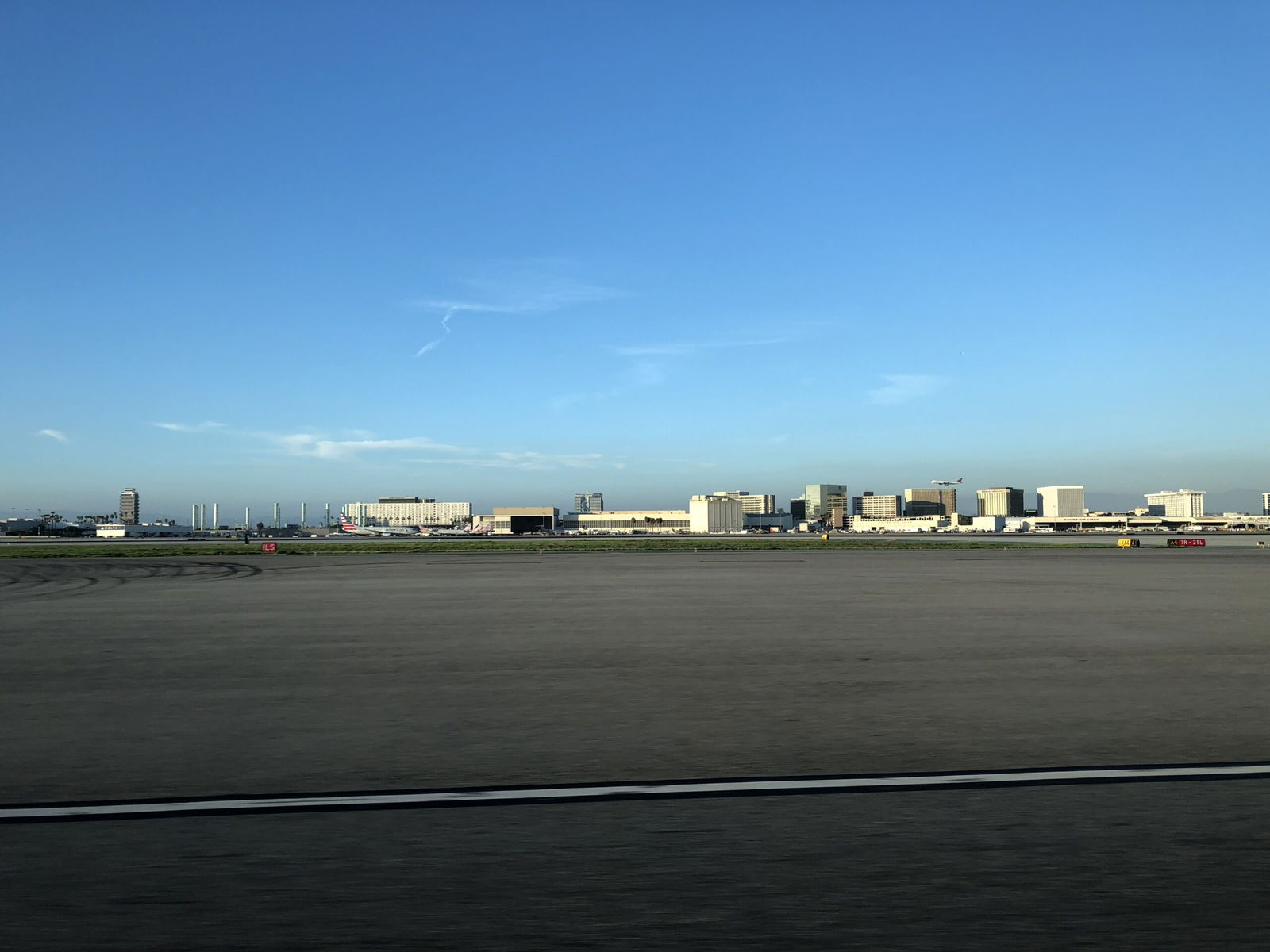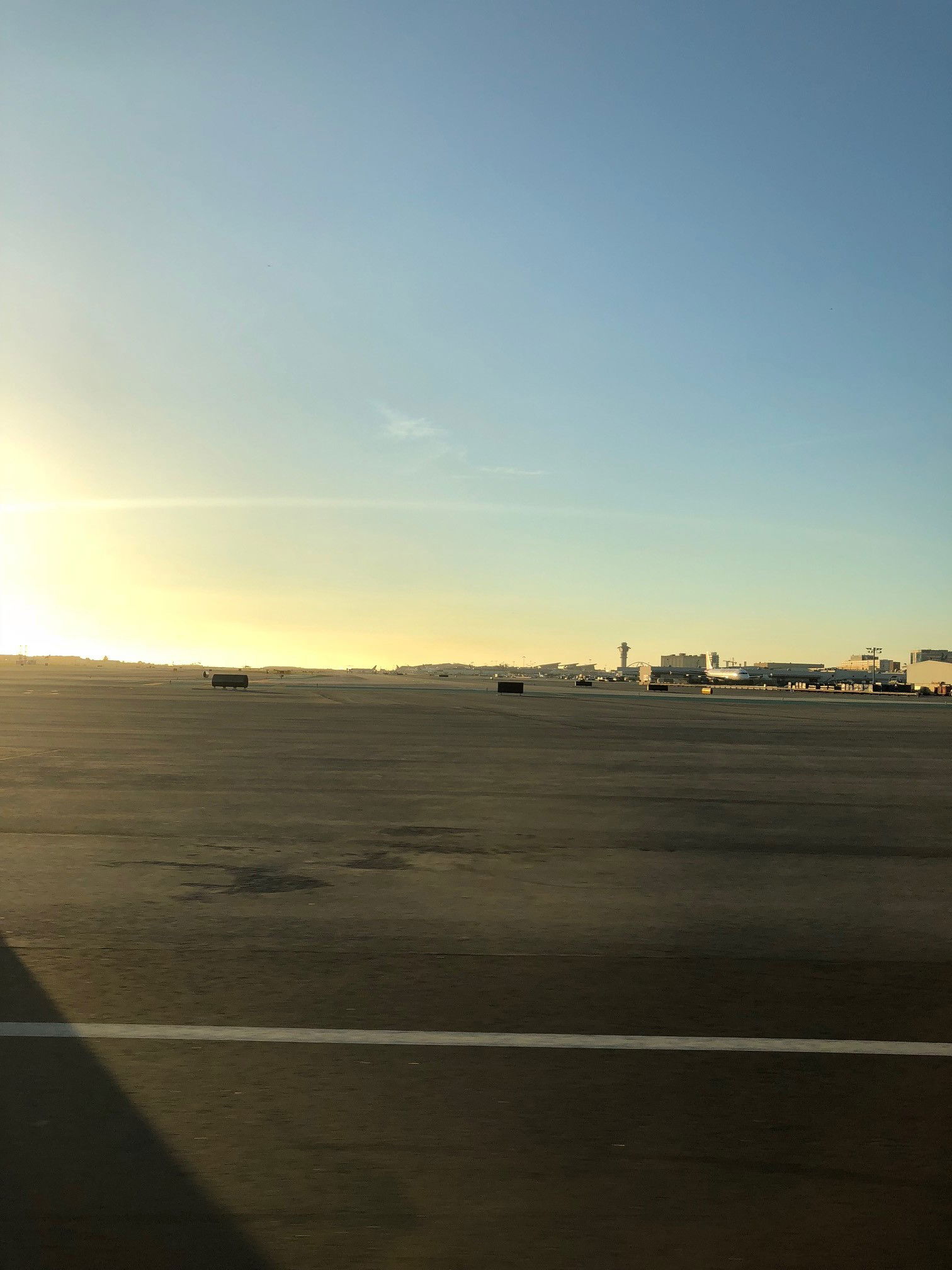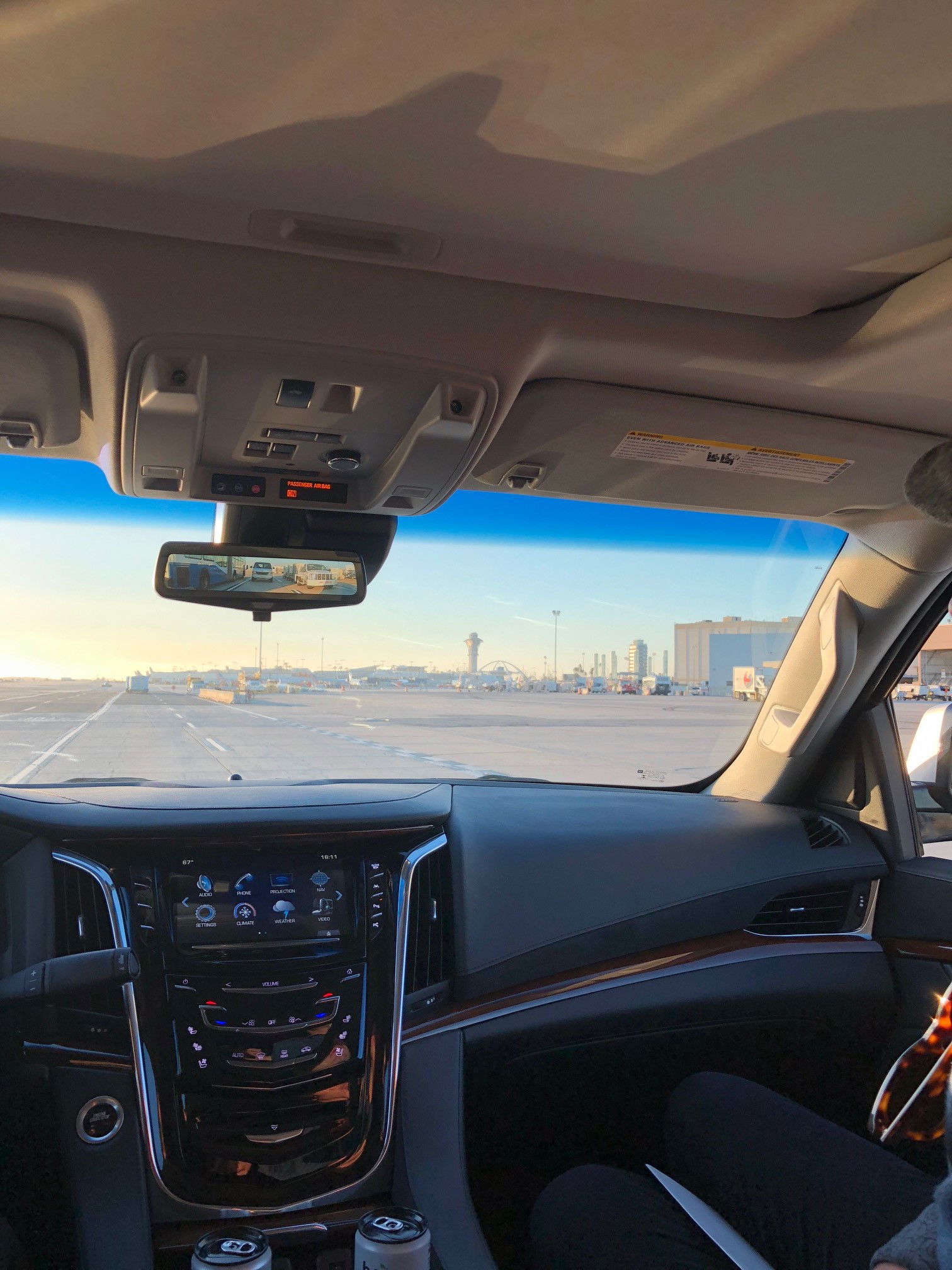 Eventually the SUV pulled directly up to our plane, which was a pretty jaw-dropping experience. We unloaded and walked up a set of metal stairs that led directly to the door at the end of the jetbridge where it meets the aircraft.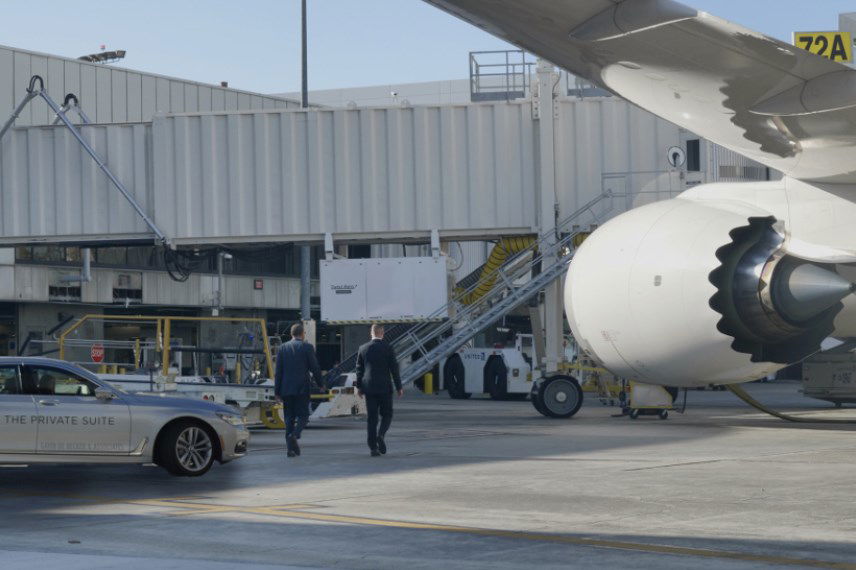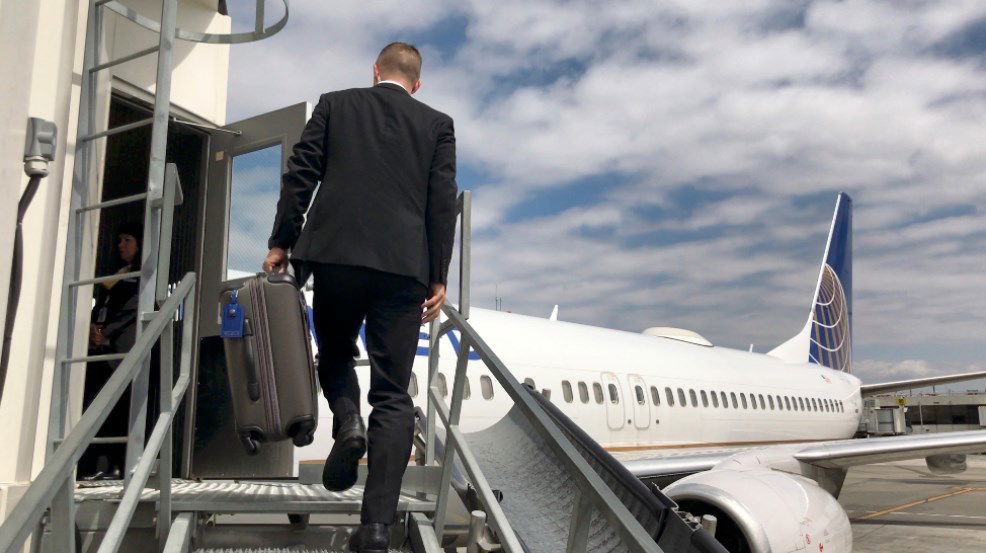 And then we made our way to our seats on a United 737 and back to reality.
Bottom Line
We were truly lucky and fortunate to have been upgraded from the shared United suite to an actual private suite, but I'm not sure that the experience itself would have been radically different, other than that we might have seen a couple of other passengers here and there, and perhaps been a little less likely to hoard toiletries and freebies since they wouldn't have been complimentary.
Those are minor factors that make the experience "fun," but not critical, particularly since we had no real exigent need for privacy or solitude.
To me, the value in the Private Suite is:
Avoiding LAX altogether
Stress-free, easy security process
Being driven to your plane across the tarmac
Others may find value in the extreme privacy and security measures taken by the Gavin de Becker team, although that was immaterial (and unnecessary) for me personally.
It's hard to overestimate how wonderful it is to avoid stress points on those factors, even for a veteran traveler. For pre-Christmas travel and a way to unwind after some exhausting weeks at work, the Private Suite experience was a real treat.
At $375 for 3 of us, it was also a bit of a no-brainer. Would I do this for $1,250 per person, the quoted United non-promo rate? No. (And, frankly, for three of us it would be cheaper to just book a private suite directly with Gavin de Becker.) And it's worth noting that the promo rate is only valid for first timers.
To me, this was a magnificent one-off I'll likely never experience again, like Steph's ride on Delta's Porsche. If you have upcoming United travel out of LAX (or into LAX, although I see far less value in that experience), I think it's strongly worth considering if you have $375 burning a hole in your pocket and want to geek out at the experience.
It's also strongly worth considering if you are traveling with an injury, a small child, a dog, a fragile and priceless carry-on, or any other situation in which you'd appreciate ease, lack of commotion, and point-to-point delivery.
I wish the Private Suite all the success in the world, as I think it fits a unique niche in air travel, particularly out of LAX. That said, the pricing is ordinarily prohibitive for most travelers, and I'm not sure what the Venn diagram of "can afford a Private Suite membership without flinching" and "can afford private air travel" looks like (I suspect there's massive overlap). Still, the United promotional pricing is way too good to pass up.
If the Private Suite isn't in your budget, there are thankfully other, easier ways to make your airport stay more enjoyable with airport lounge benefits (even if is hard to compare to this!)
This is a phenomenal experience, and I'm already sad about the next time I have to fly out of LAX out of Terminal 7, Terminal 4 or god forbid, Terminal 3…
Have you taken advantage of the United Private Suite promotional deal at LAX? If so, what was your experience like?