---
Earlier this year The Private Suite opened at LAX, which is the new uber-exclusive facility for those who want to skip the terminal altogether (and are willing to pay for the privilege). It goes without saying that I've been fascinated by this concept, and a few weeks ago The Private Suite reached out to me to ask if I wanted to experience their service. That's an opportunity I couldn't turn down, so they provided this service for me prior to my Asiana flight to Seoul Incheon.
In the interest of full disclosure, I was a guest of The Private Suite and didn't pay for this experience, but all opinions expressed are my own.
How much does it cost to use The Private Suite?
The cost to use The Private Suite depends on whether you're traveling domestically or internationally, and whether you're a member or not. If you're a member (which costs $7,500 per year), you pay $2,700-3,000 per visit. Meanwhile non-members pay $3,500-4,000 per visit, assuming they want a private space.
Do note that members have access to all kinds of other benefits that are outlined below, including the ability to book meals, book a pre-flight massage, get an in-suite manicure or haircut, arrange a doctor's visit, valet their car for free, etc. Basically whatever you could possibly want done they'll arrange for you, it seems.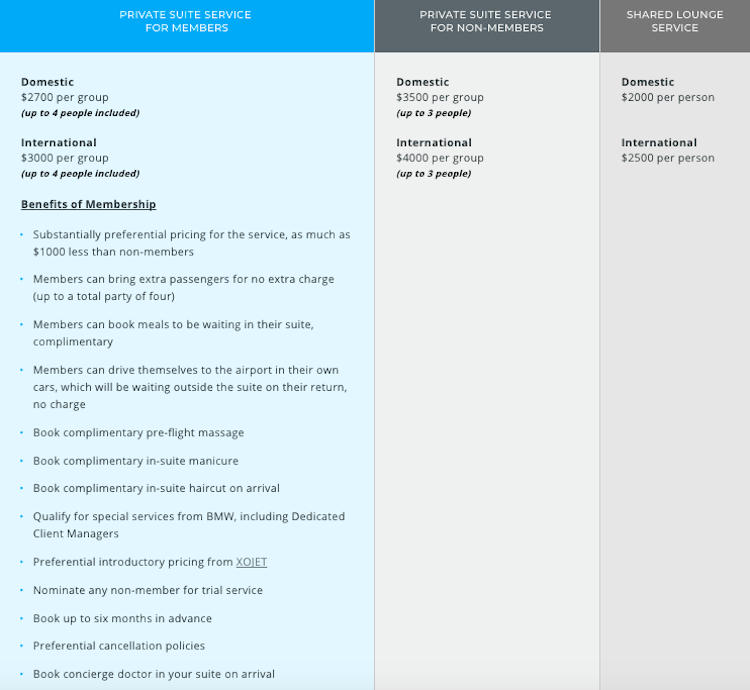 My assumption was that they're mostly targeting celebrities (though apparently that's not true — more on that below), though I think the language choices on The Private Suite's website otherwise paint a picture of who they're targeting with this service.

The Private Suite pre-arrival experience
Before arriving at the airport I had to fill out a form, and was asked to provide a copy of my passport, airline confirmation number, etc. The Private Suite checks you in for your flight, and asks that you arrive two hours before departure for international flights. The process was really easy, and they responded to all emails within minutes.
I was also emailed a menu and asked if there was anything from it that I wanted to order, which I could either have in the lounge, or take with me to go. I imagine most people using the lounge aren't doing so for the meal, but rather for the privacy. Presumably they could arrange to get you whatever you'd like, with the below just being a basic list. Members even have the benefit of getting whatever you'd like catered.
The menu read as follows: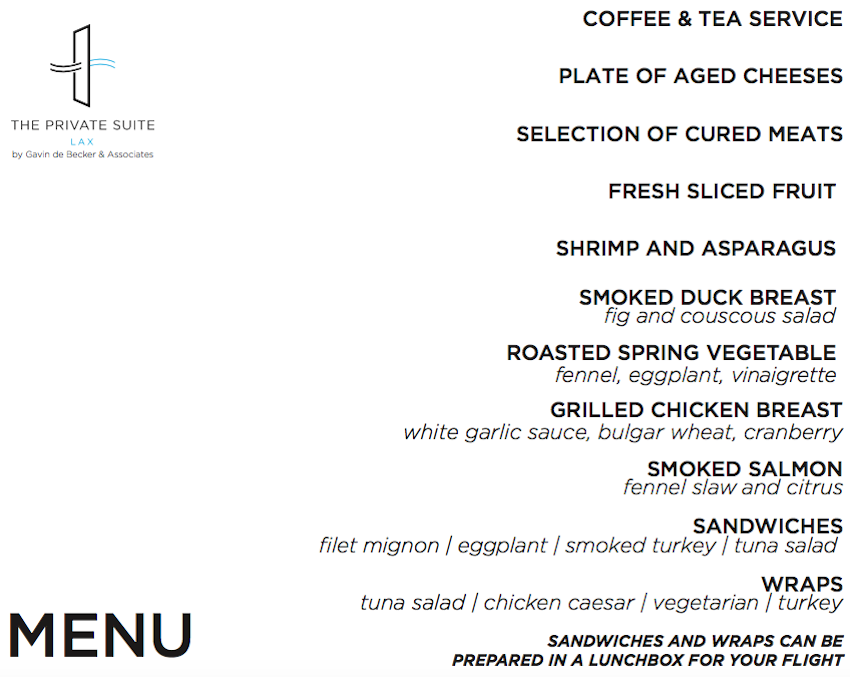 The Private Suite photography & privacy policy
I've never in my life been anywhere with security and privacy as strict as The Private Suite. The man behind this concept is Gavin de Becker, who has a background in security.
The Private Suite has a strict no photography policy, with the exception of in your suite and in the car. So I wasn't allowed to take pictures of the entrance to the facility, of the public areas, of the security area, etc. This is not only to protect the privacy of their guests, but also apparently due to their overall arrangement with LAX, given that this is essentially a sterile area.
So you'll see that some of my pictures below are renderings or professional pictures provided by them. When that's the case I'll mark them as such.
The Private Suite review
Now let's get into the actual review. My flight from Los Angeles to Incheon was departing at 12:10PM, though I got to the airport plenty early, at around 8AM. The Private Suite facility is located on the south side of the airport, so it's just south of runway 25L, near the cargo ramp. The facility is located off Imperial Highway, and is near the cargo offices.
I took an Uber to the airport, so suffice to say it was an awkward conversation being dropped off there.
"What terminal are you leaving from?"
"I'm not going from a terminal today, it's just the address in there I'm departing from."
"What is it?"
The exterior of The Private Suite compound is unassuming, and we pulled up to a double set of gates, where a rather serious-looking guard took my ID and then opened the gate. I think it's worth noting that nowadays LAX has a huge amount of congestion, and often it can take 20 minutes from the time you get off the interstate for LAX until you're actually at the terminal. The Private Suite lets you skip that congestion.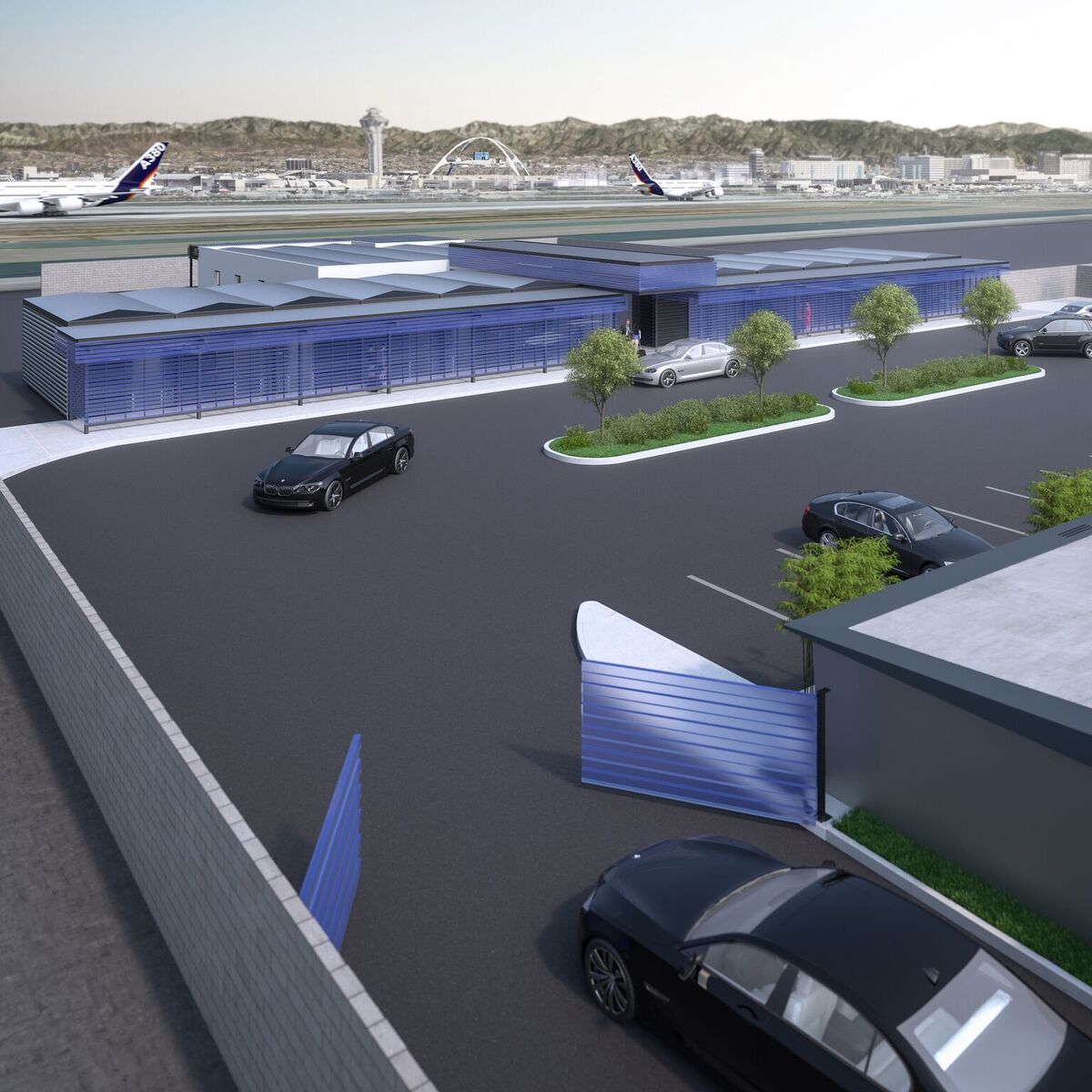 The Private Suite LAX entrance (photo credit: The Private Suite)
Just inside the gate was the dirveway where people can be dropped off. There I was greeted by a guy who escorted me right to my suite.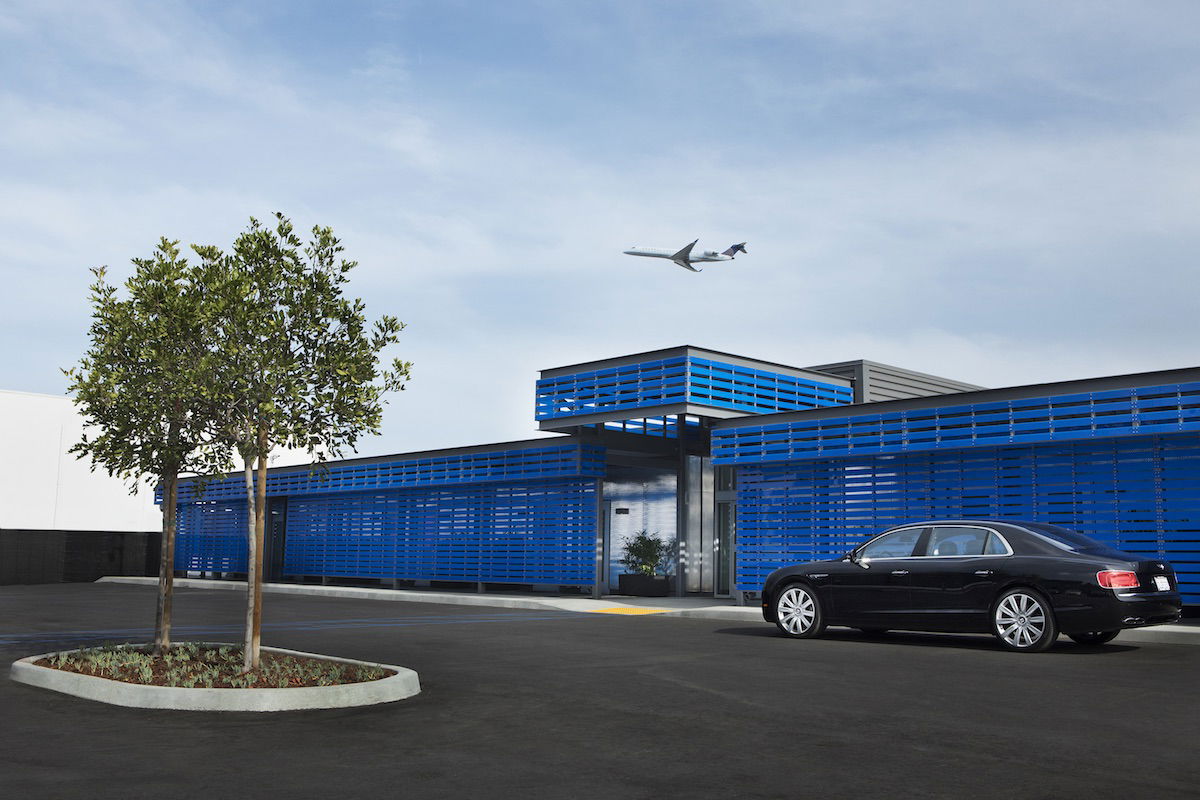 The Private Suite LAX exterior (photo credit: The Private Suite)
There's an exterior hallway right by the entrance, and that's where the dozen or so suites are located. So you relax in your suite before going through security. In total it was 17 steps from when I got out of the car to when I was in suite #10.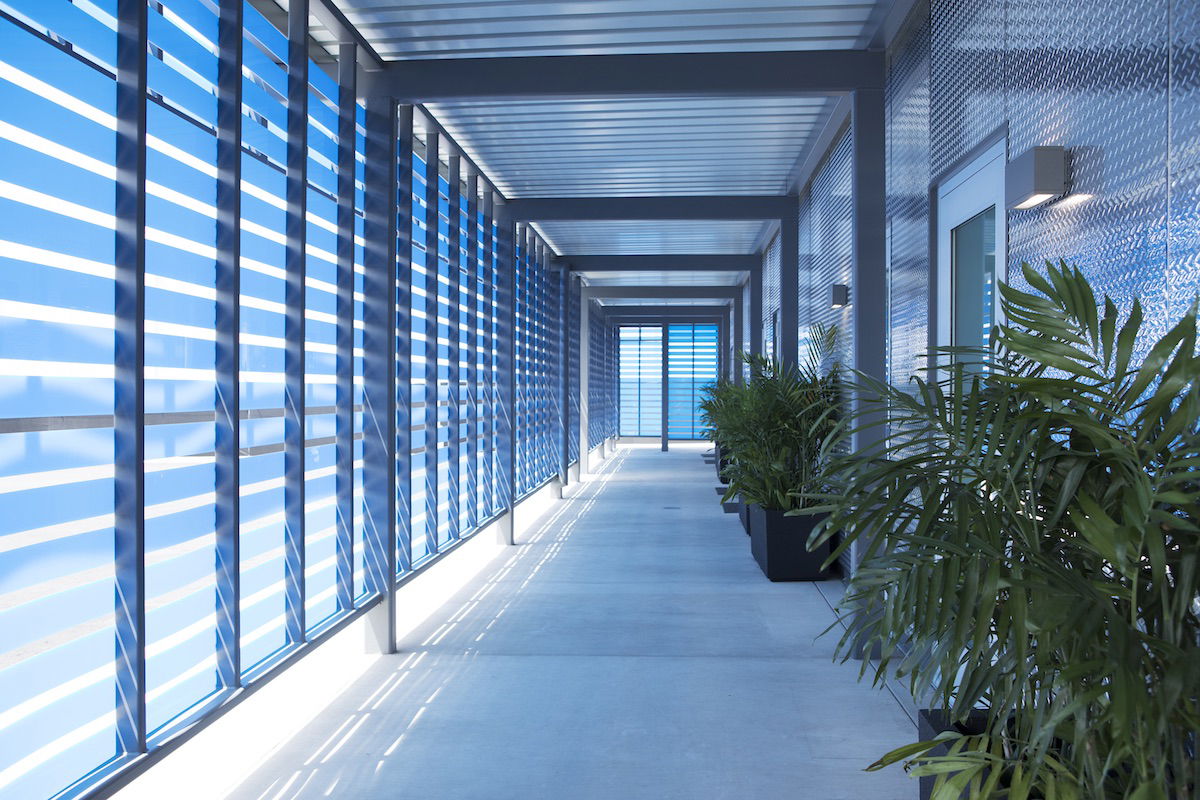 The Private Suite LAX exterior (photo credit: The Private Suite)
As we walked there, the guy said to me "if you need anything, just pick up your phone and give us a call. We'll get you when it's time to board." In many ways service here is exactly the opposite of what you'd find in a first class lounge, and that takes some getting used to. I imagine many of the people who use this facility want utmost privacy, and they don't want to interact with people or be fawned over.
The whole experience here felt both isolated and peaceful, and I think that's exactly what they're going for. Those are two feelings you don't often associate with commercial air travel.
Anyway, my private suite felt a bit like a living room. There was a long entryway with a bathroom to the right and a bench to the left.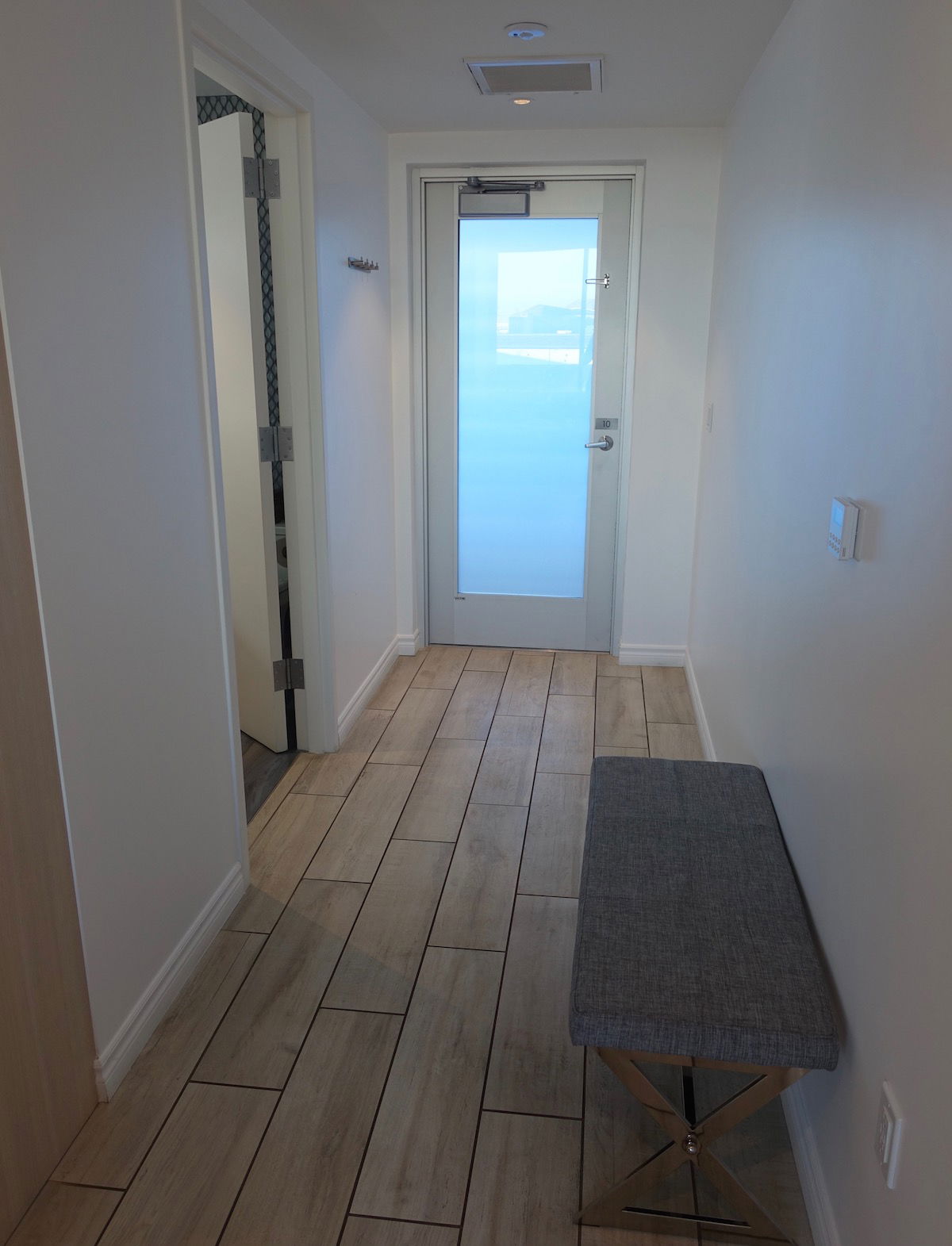 The Private Suite LAX entrance
The suite had four comfortable chairs surrounding a table.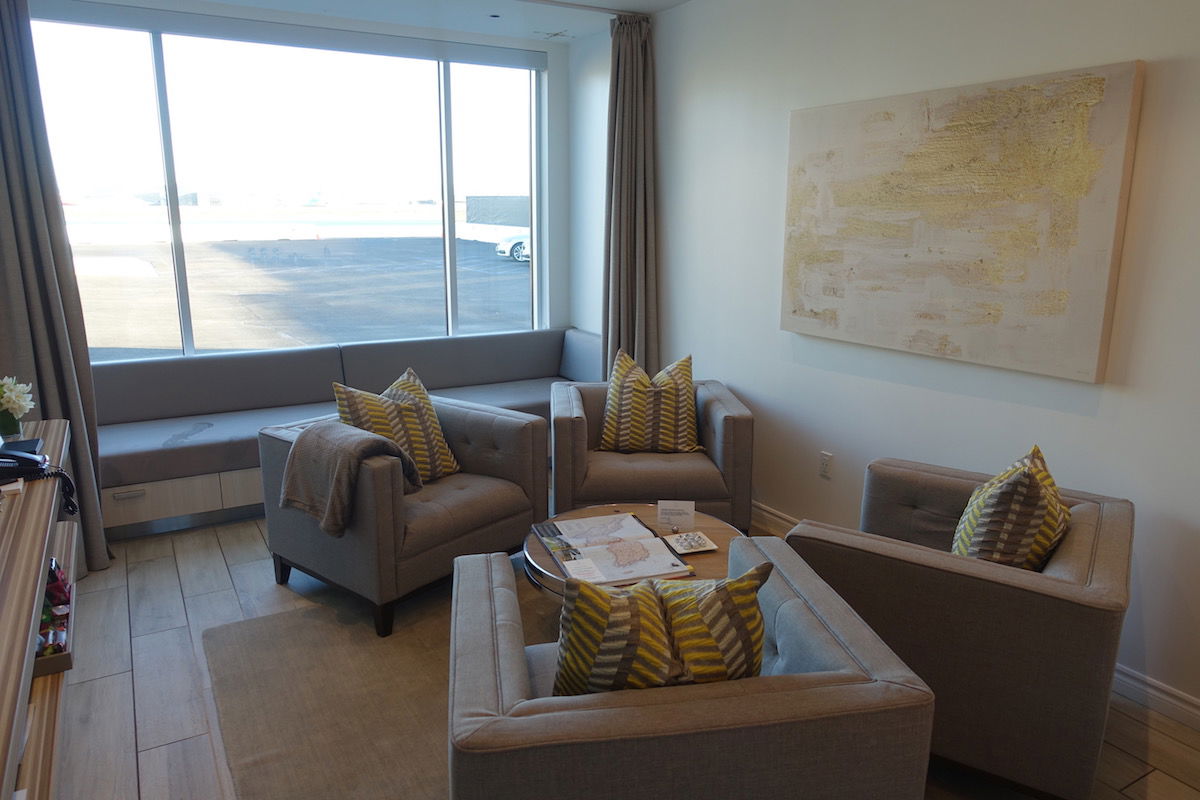 The Private Suite LAX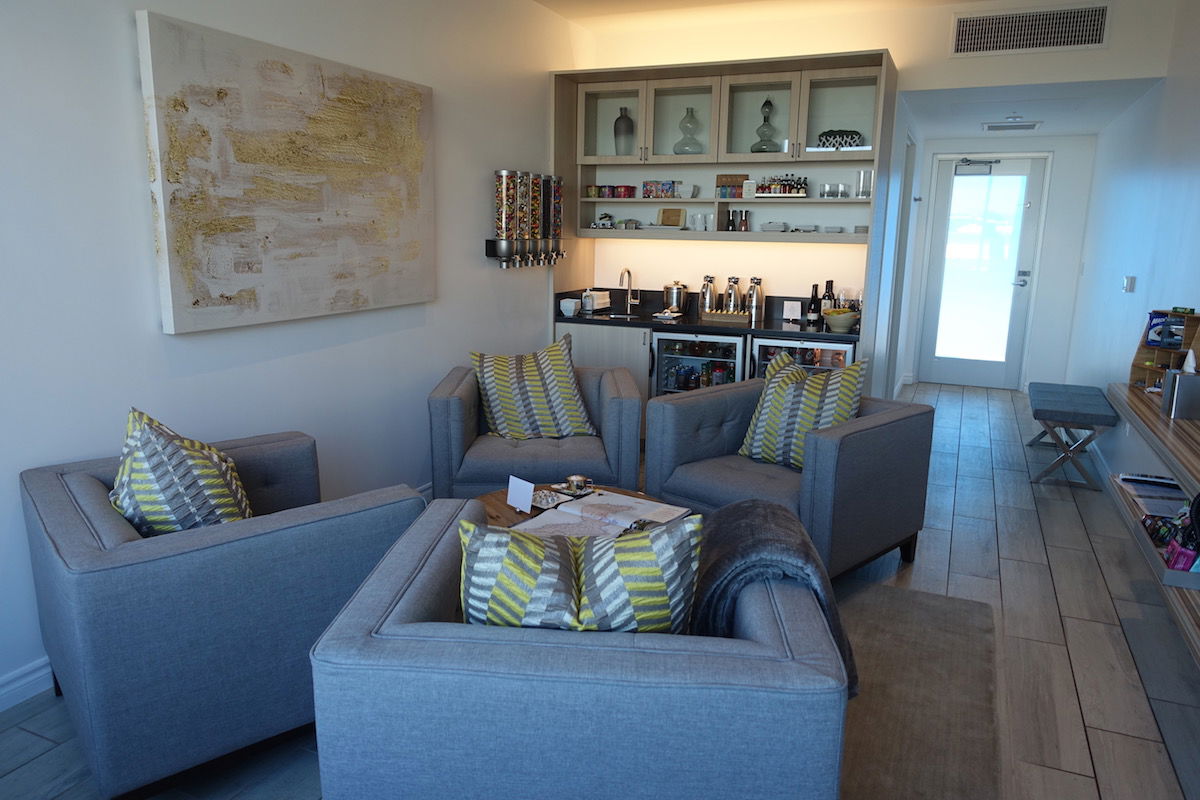 The Private Suite LAX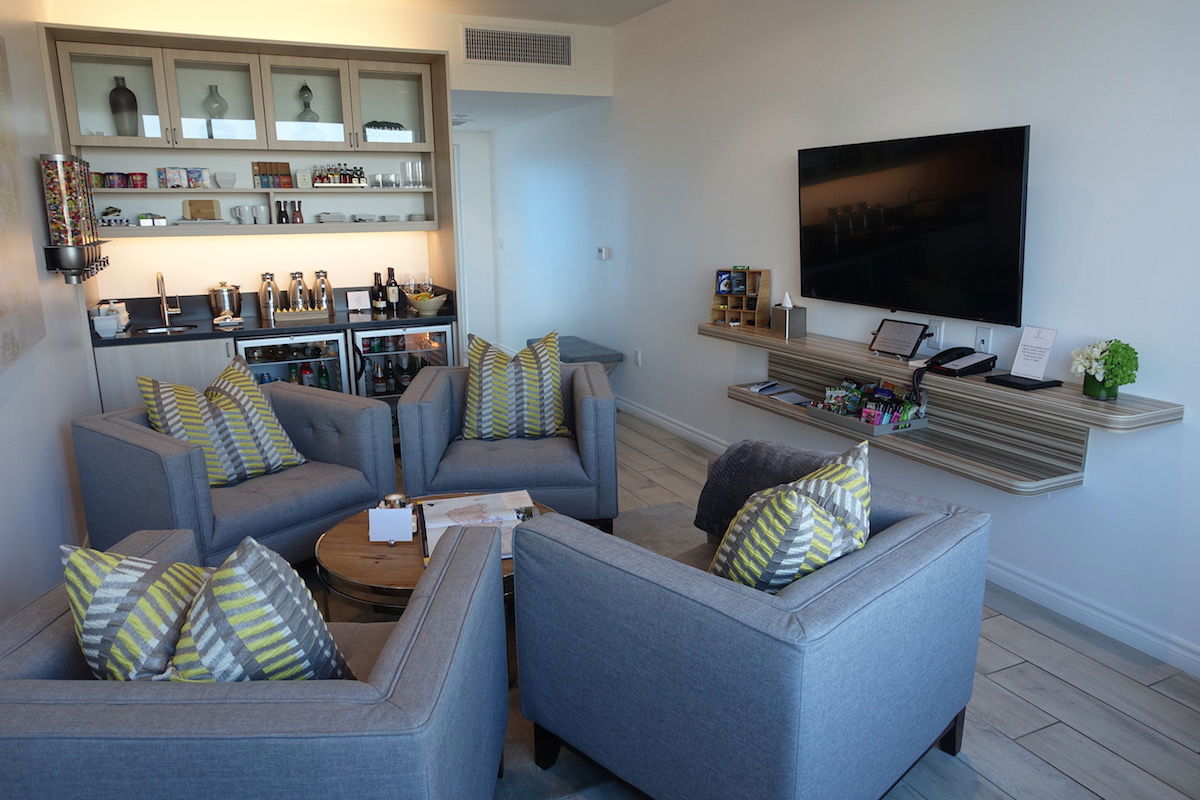 The Private Suite LAX
I was impressed by the attention to detail. On the table was a book with maps of countries, and the book was open to the page with a map of South Korea, which was my destination for the day.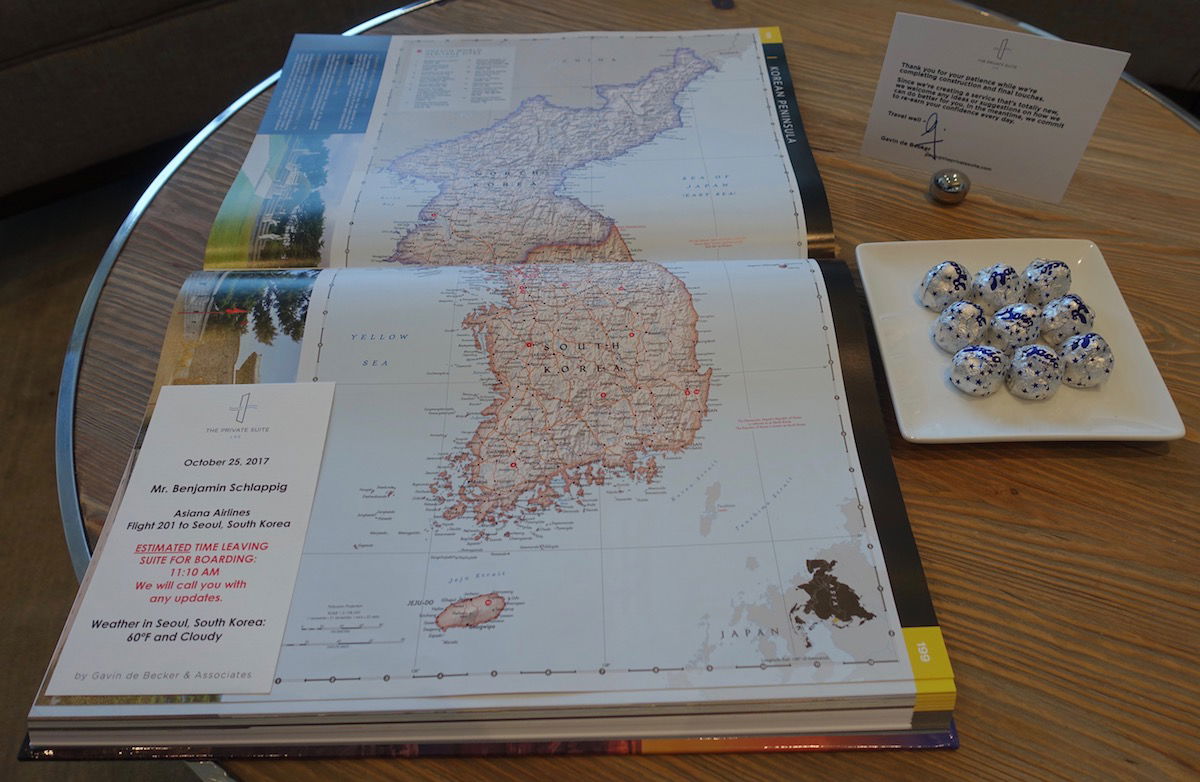 The Private Suite LAX map
Also on the table was a card sharing my approximate departure time leaving the suite, as well as the weather in Seoul. And nine chocolates… just what I need within arm's reach.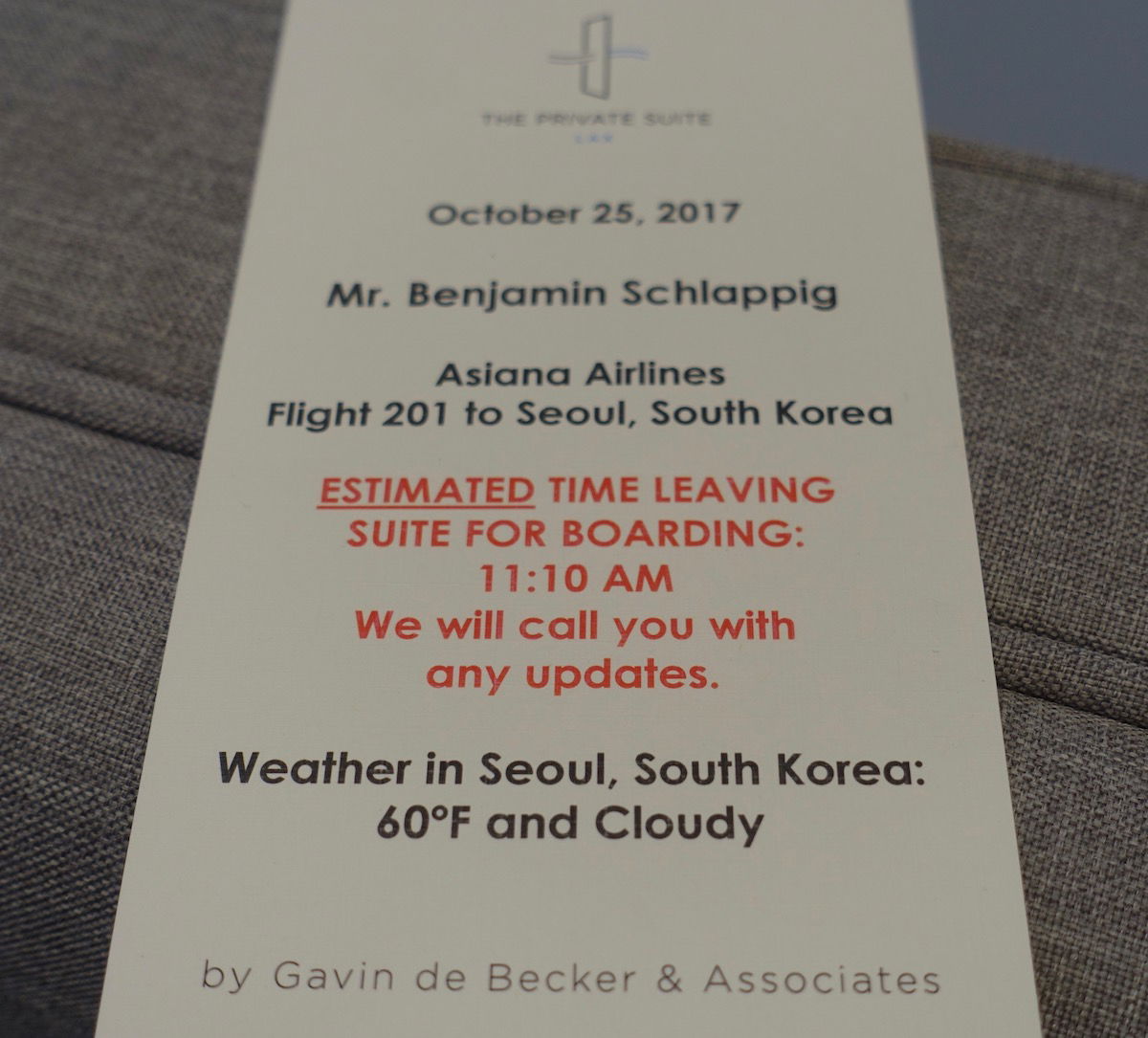 The Private Suite LAX departure card
By the window was a daybed of sorts, and underneath it were some pillows and blankets, should you want to relax.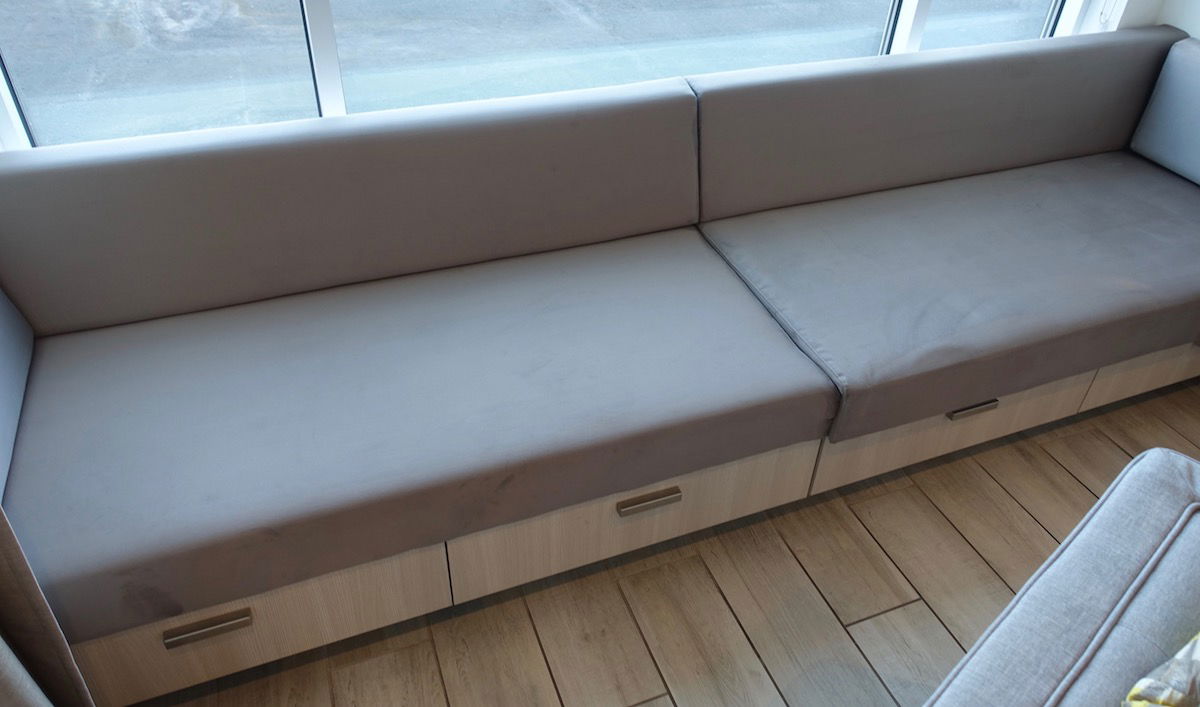 The Private Suite LAX daybed


The Private Suite LAX bedding
The lounge had views of The Private Suite's fleet of BMW 7-Series, as well as the taxiway near the cargo ramp. Hello Nippon Cargo 747-8!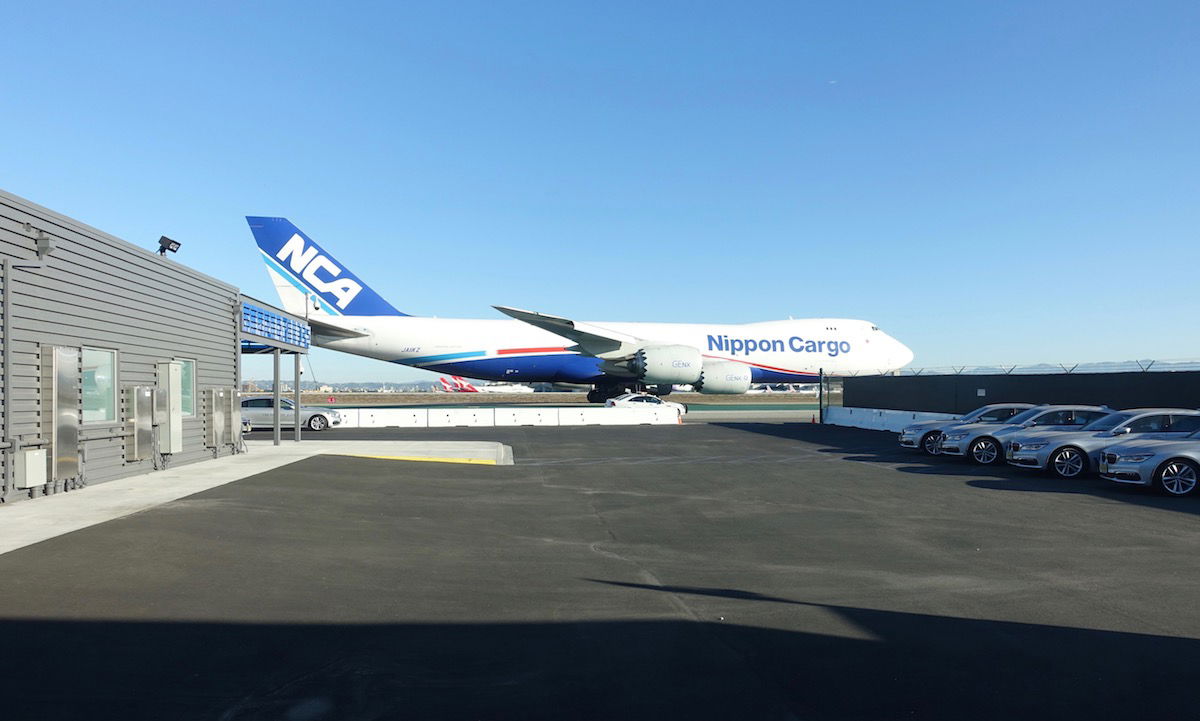 The Private Suite LAX view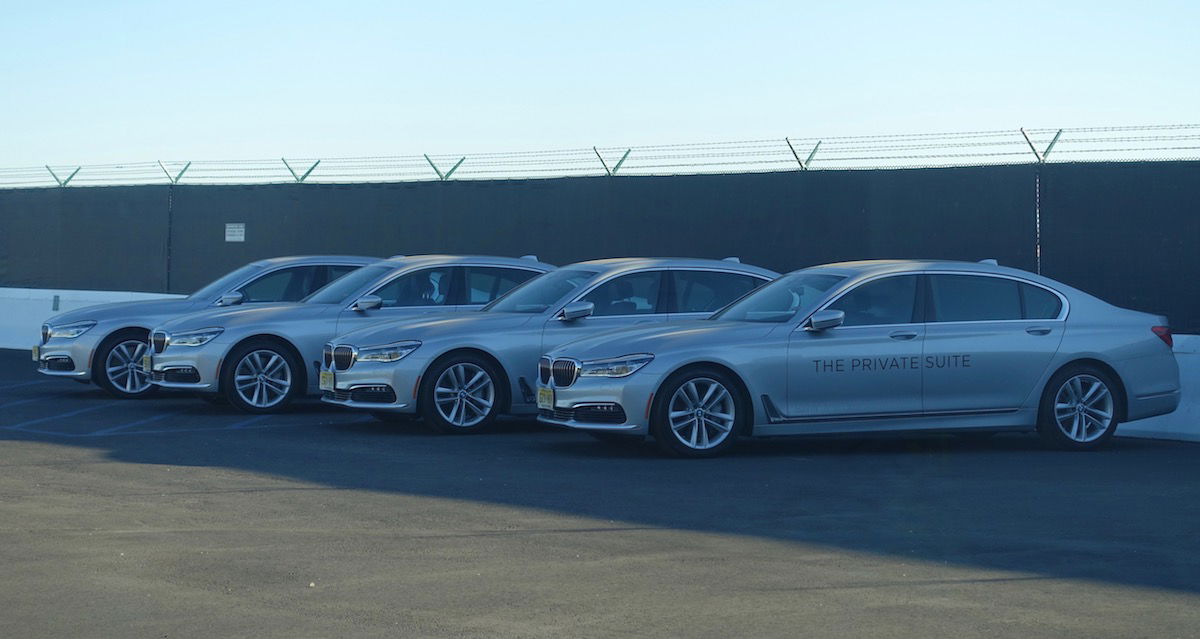 The Private Suite LAX BMW 7-Series cars
The craziest part of the suite was that it almost felt like a CVS. They had E-V-E-R-Y-T-H-I-N-G in the suite. And yes, guests are encouraged to take this stuff. There's even a duffel there which you can use to pack more stuff to go, should you so choose. 😉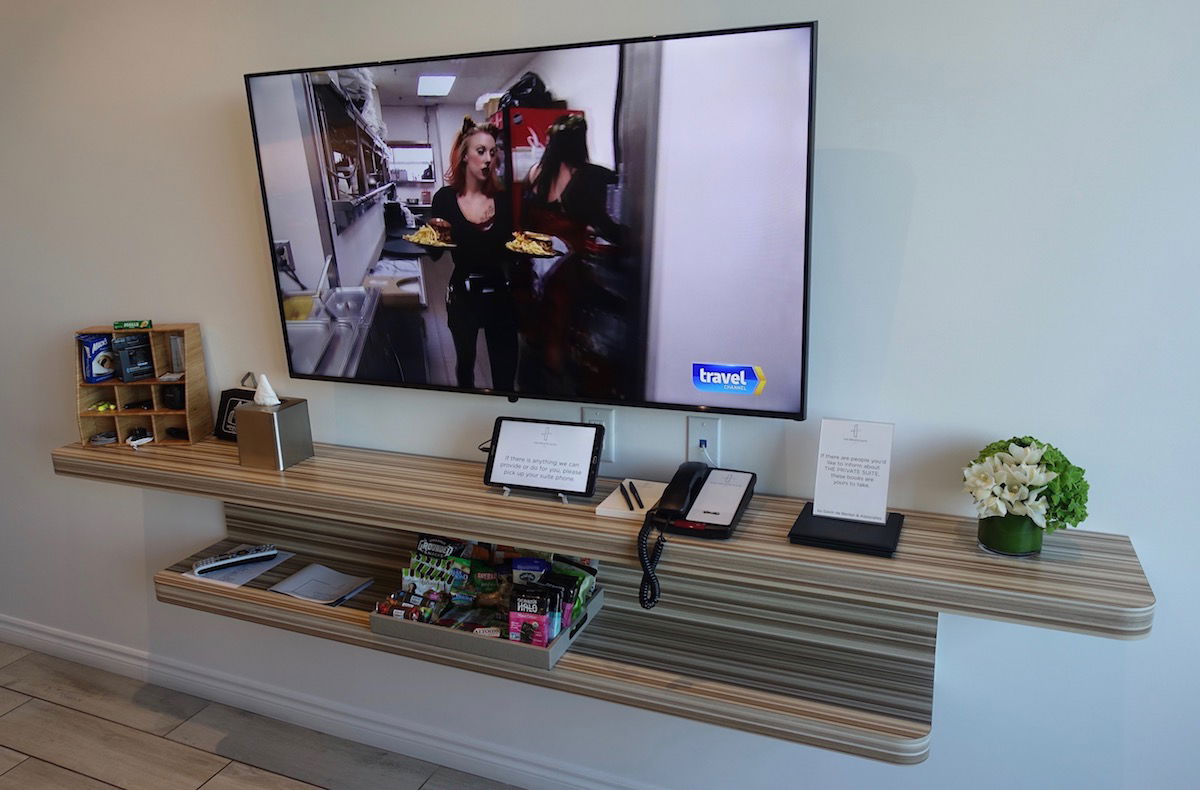 The Private Suite LAX TV
Next to the TV were all kinds of travel essentials, ranging from eyeshades to headphones to power converters to earplugs to duffel bags. The selection was endless.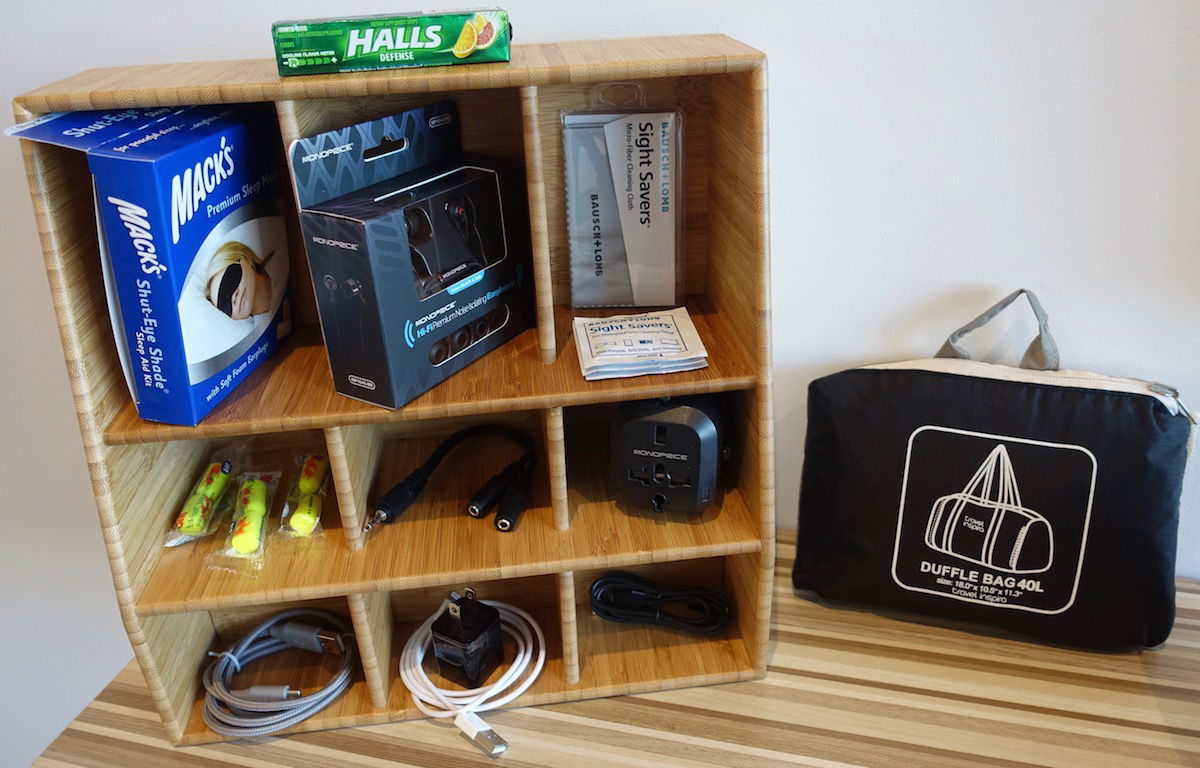 The Private Suite LAX gadgets
Underneath the TV were a variety of packaged snacks, including cookies, chips, gum, nuts, etc.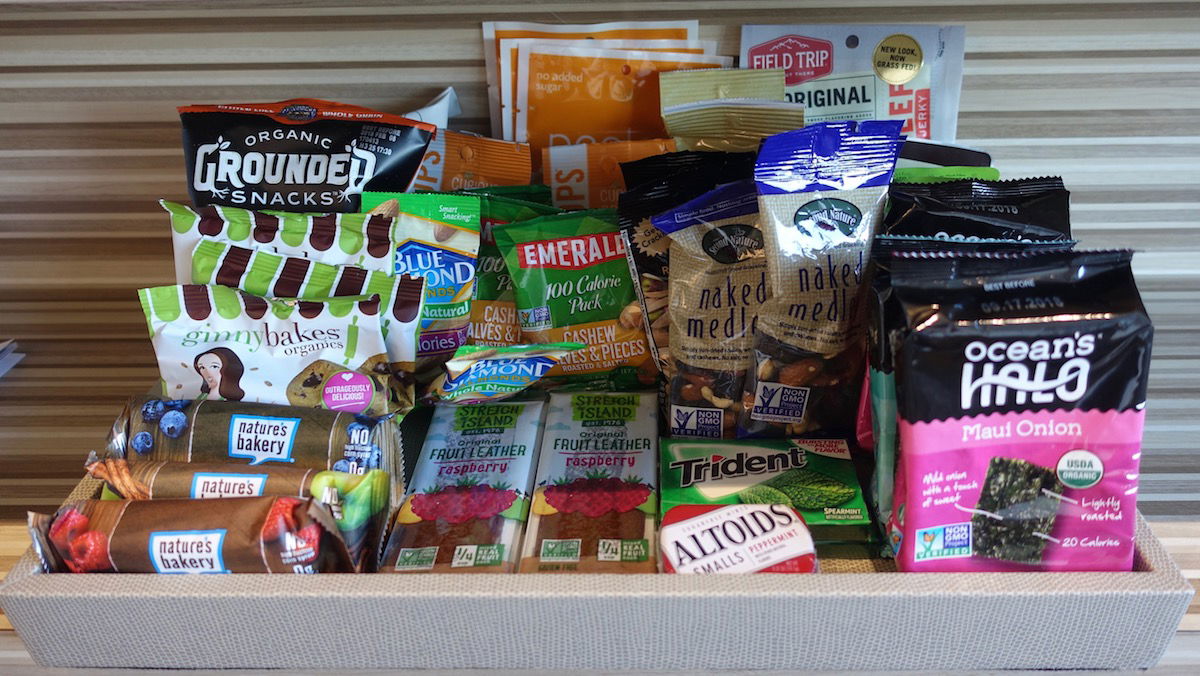 The Private Suite LAX snacks
Then closer to the entrance of the lounge was a further selection of drinks and snacks.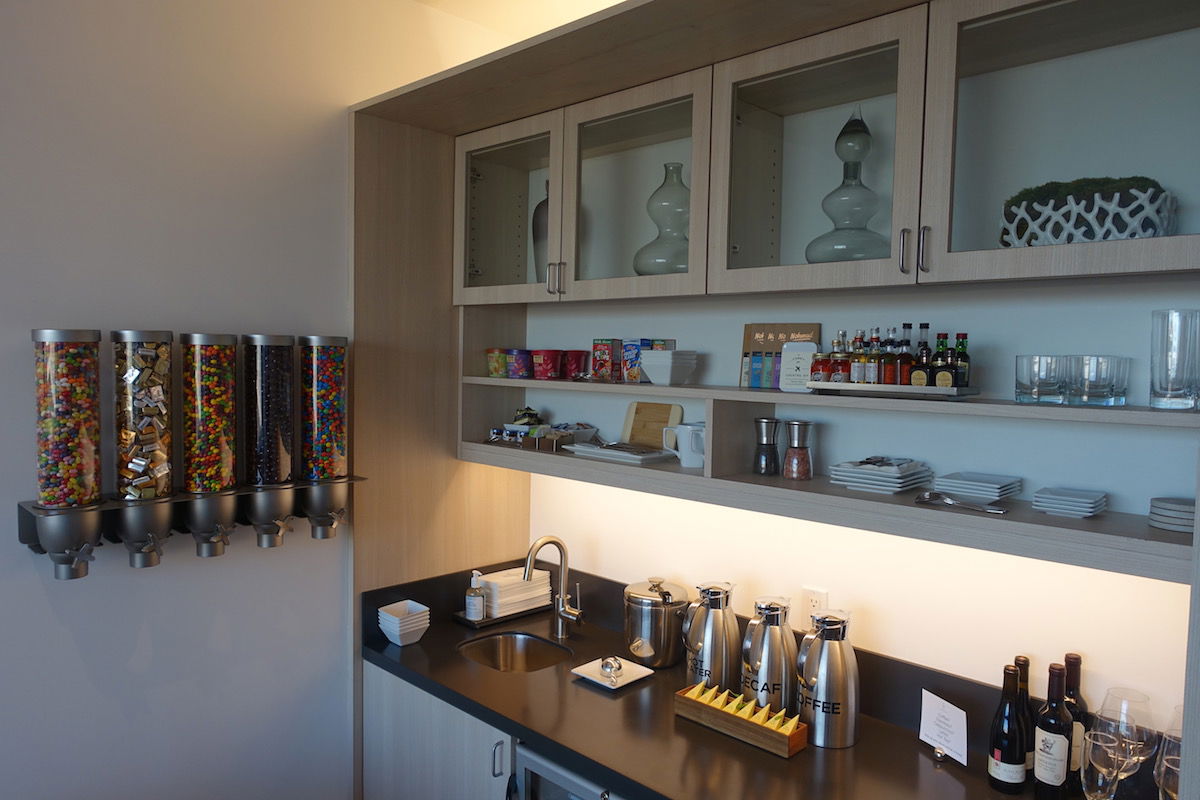 The Private Suite LAX bar
Waiting in the suite were three hot canisters already filled with fresh coffee and hot water. On top of that, espressos, lattes, and cappuccinos are available on request.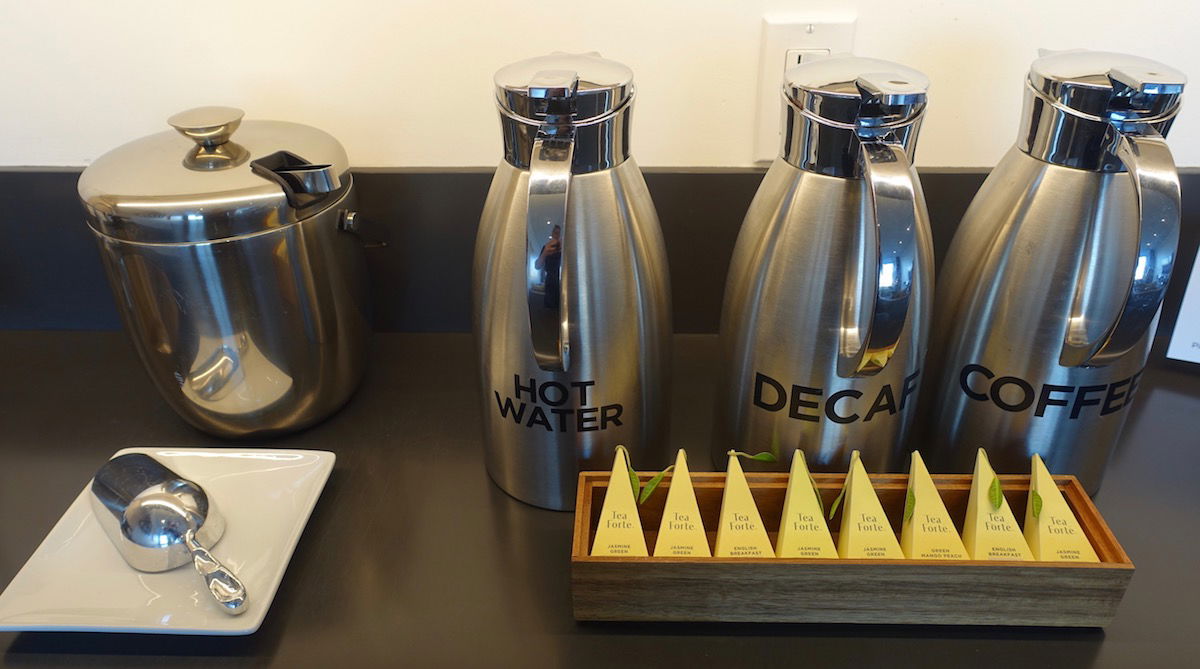 The Private Suite LAX coffee & tea
There were four types of red wine.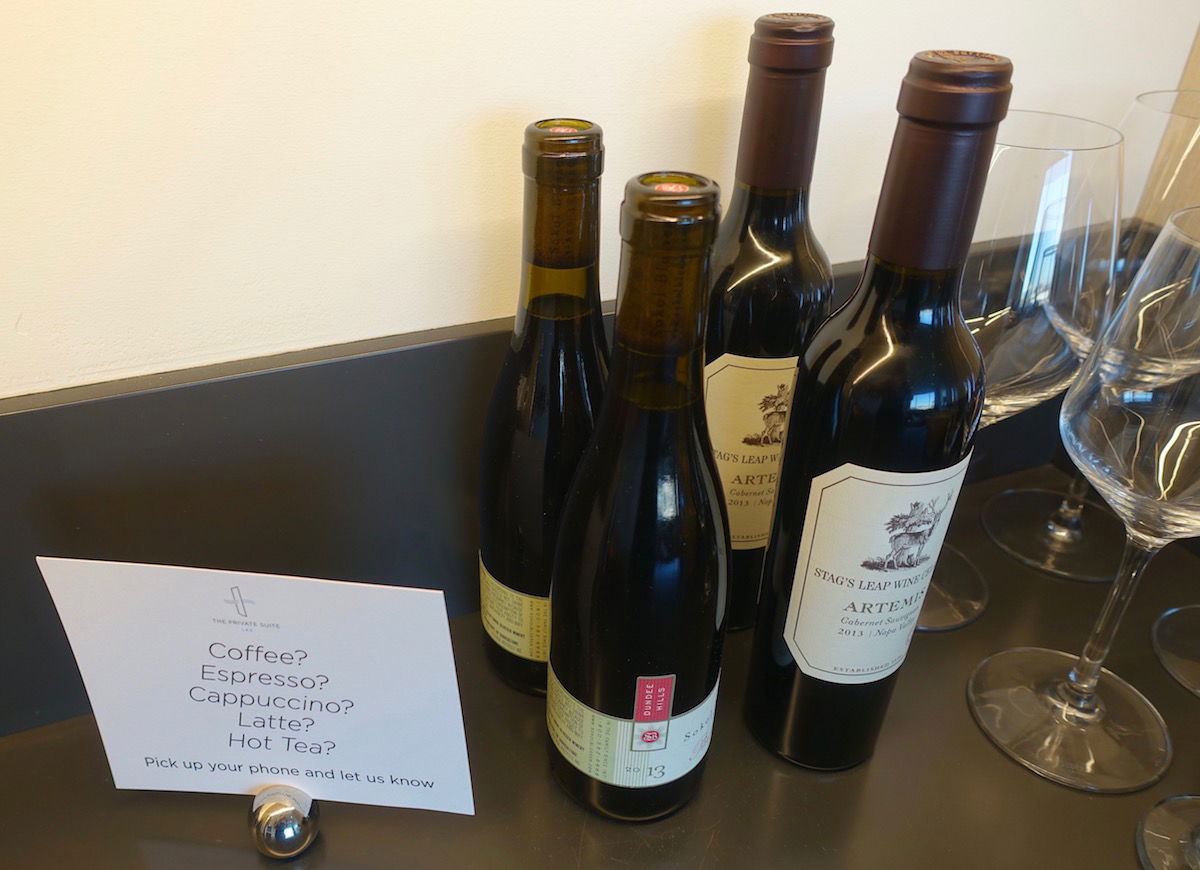 The Private Suite LAX wine
There was a selection of self serve liquor minis.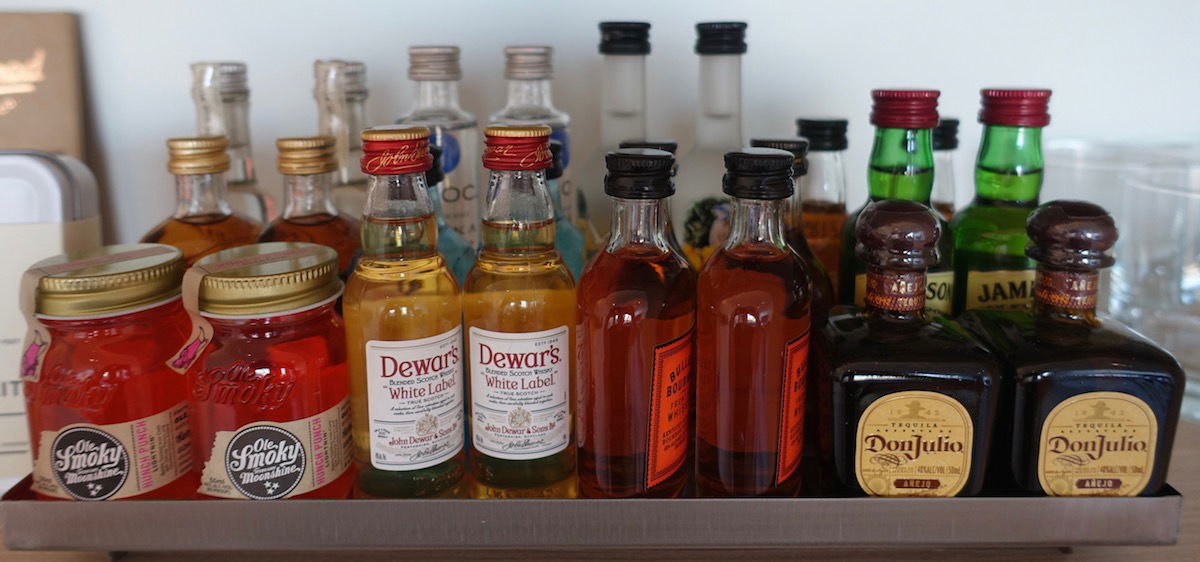 The Private Suite LAX snacks
Then there were two mini-fridges stocked to the brim with drinks and fresh snacks, including champagne (Laurent-Perrier), white wine, beer, all kinds of milk, water, juice, etc. Seriously, I can't get over how well stocked the suites here come.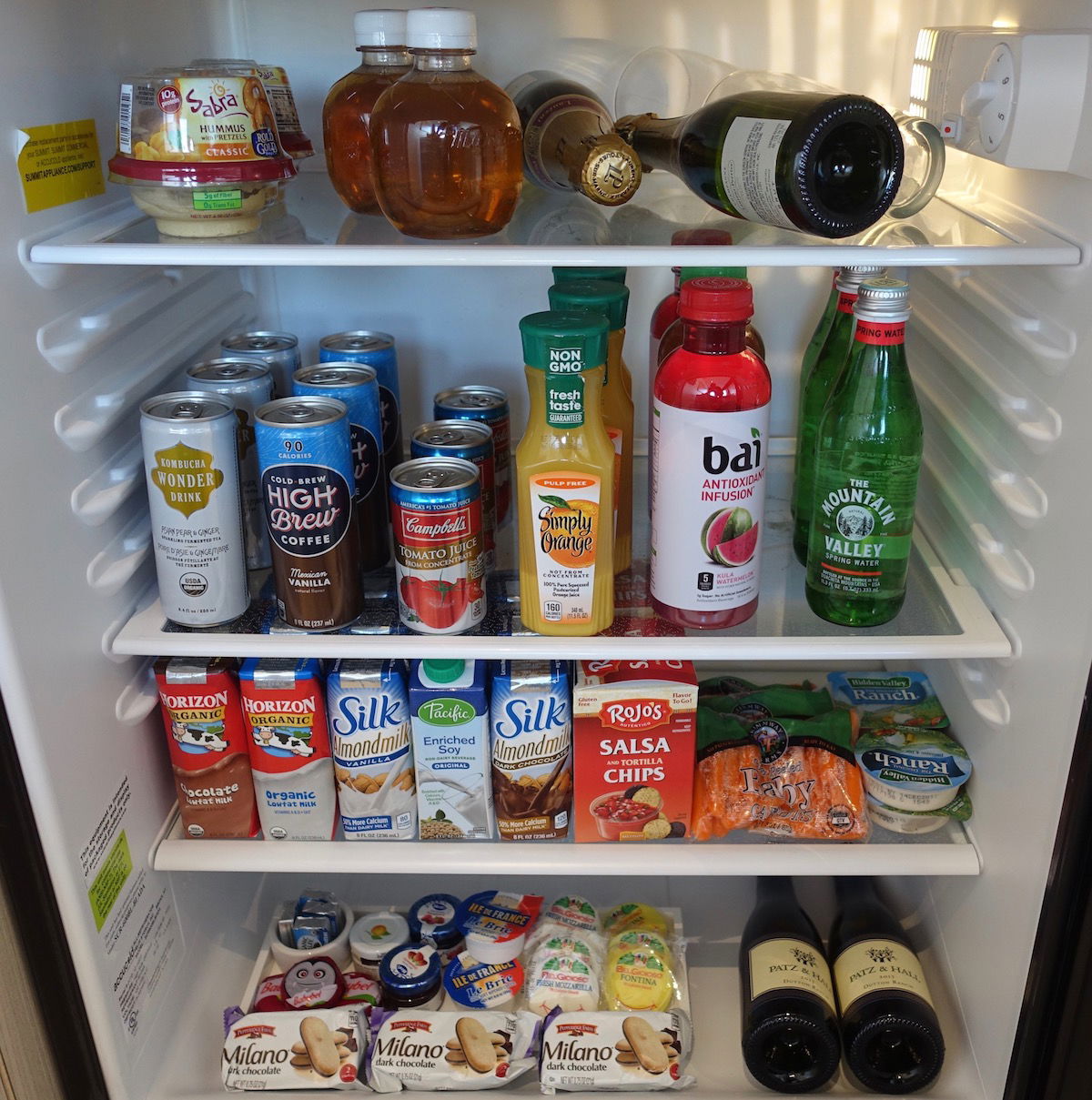 The Private Suite LAX mini-fridge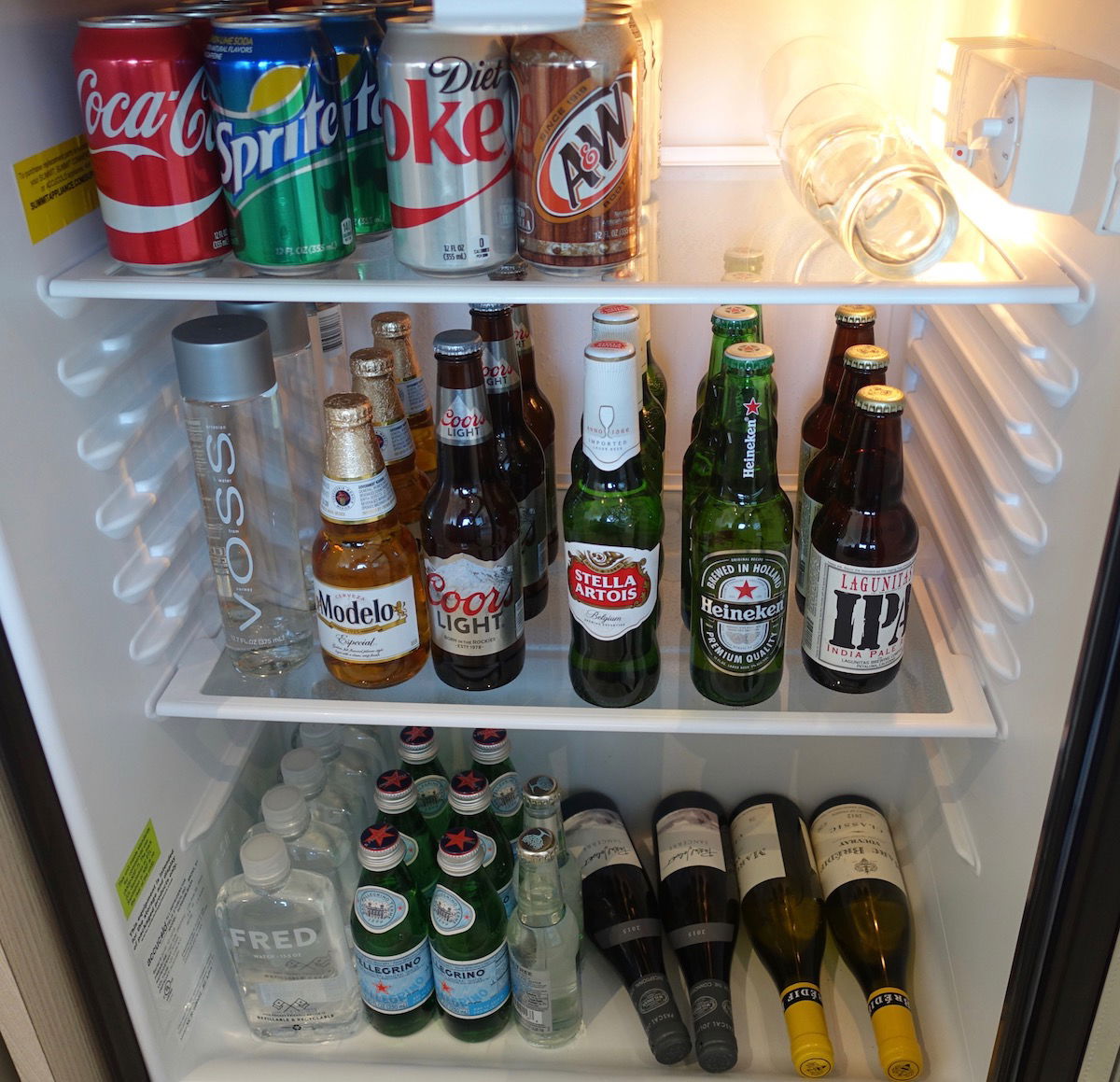 The Private Suite LAX drinks
Then there were a few breakfast options, including instant oatmeal, cereal, etc.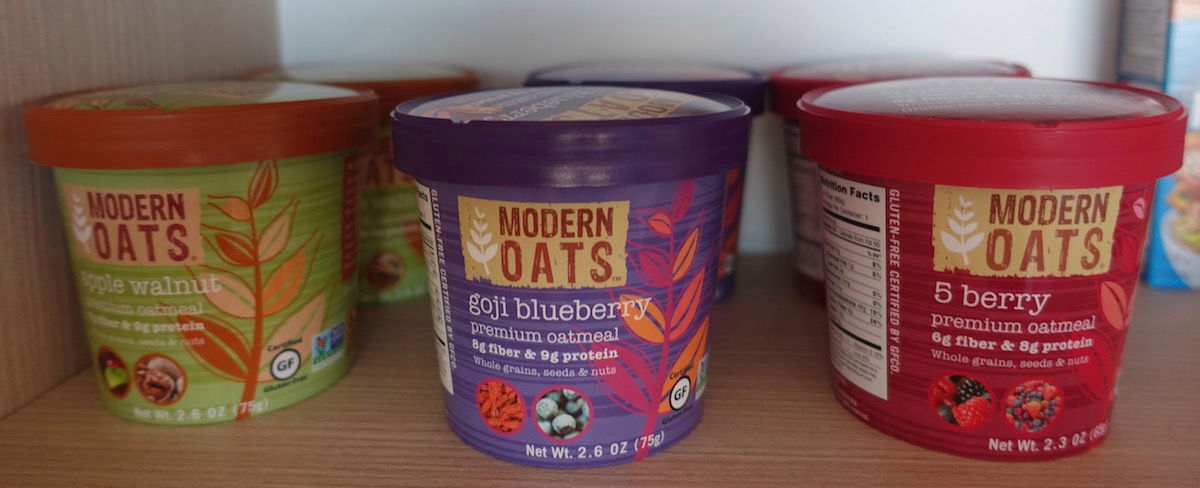 The Private Suite LAX snacks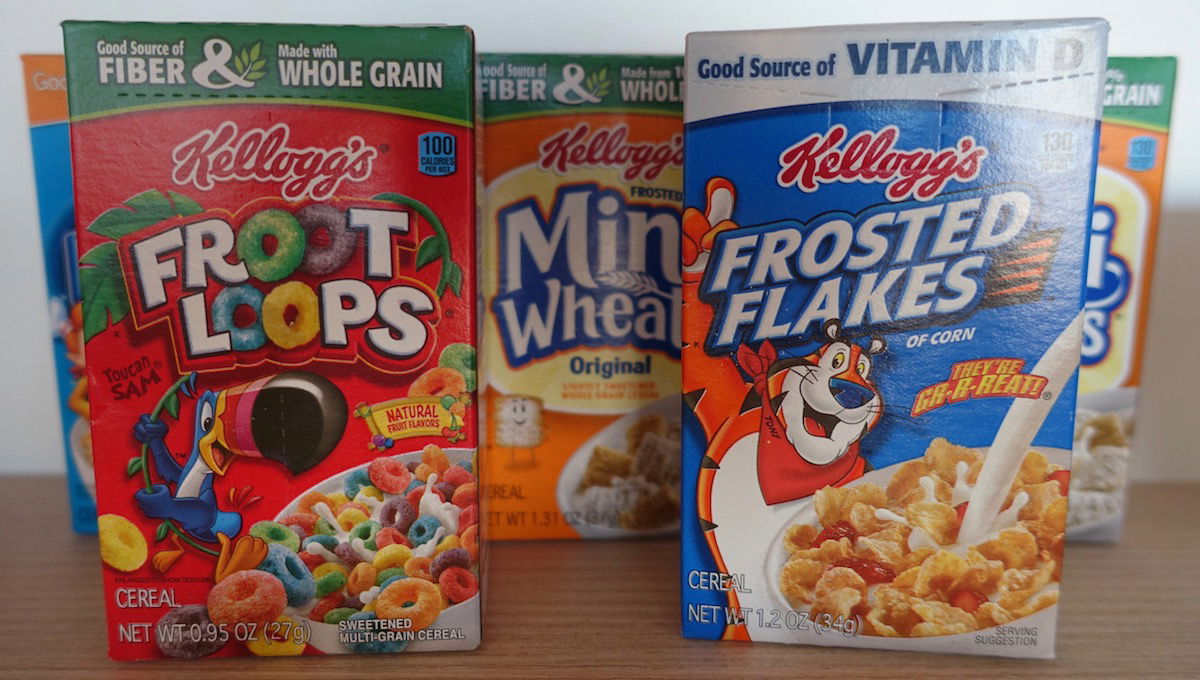 The Private Suite LAX snacks
There was also a large selection of Nohmad chocolate.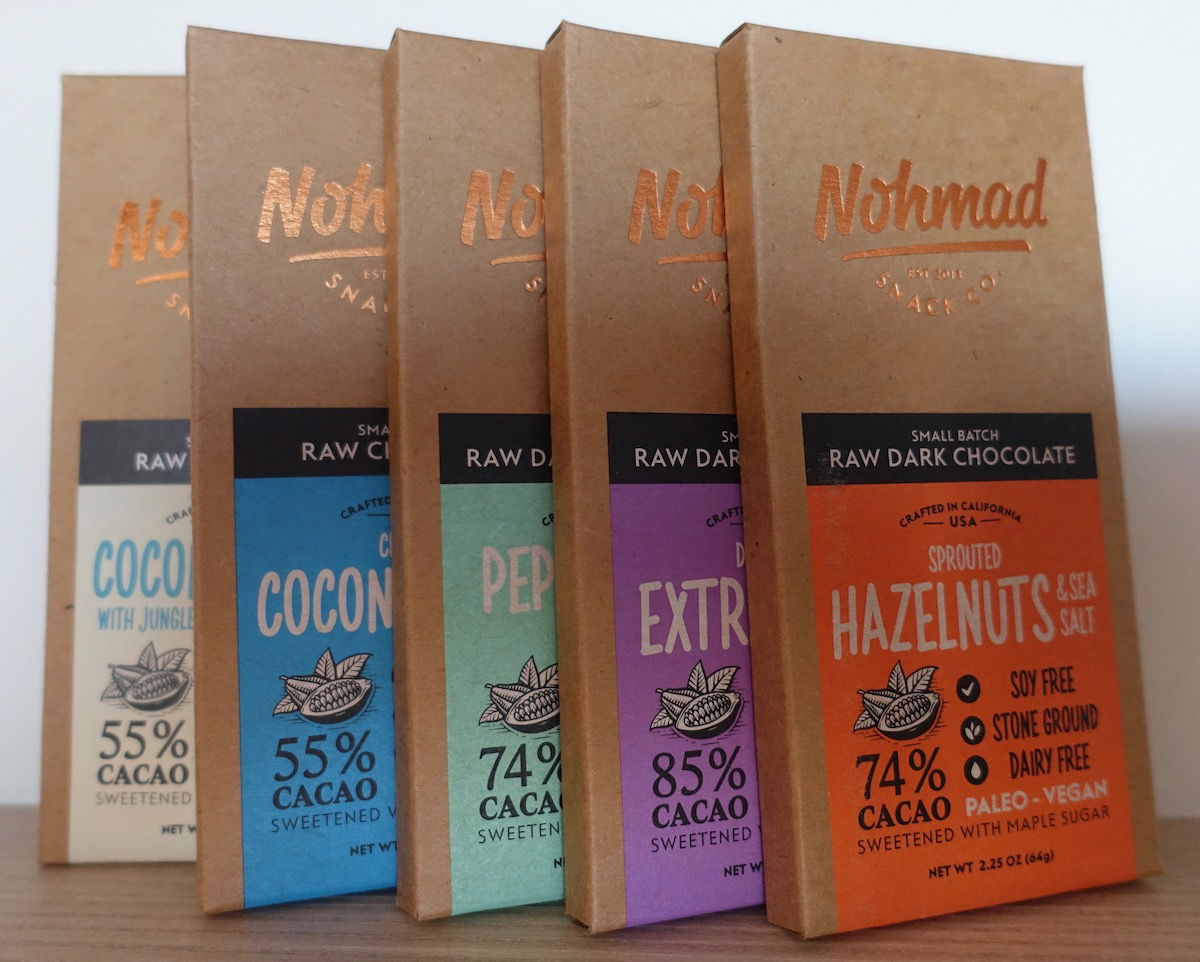 The Private Suite LAX snacks
Then there was a Carry-On Cocktail Kit, which I tested out on a subsequent flight.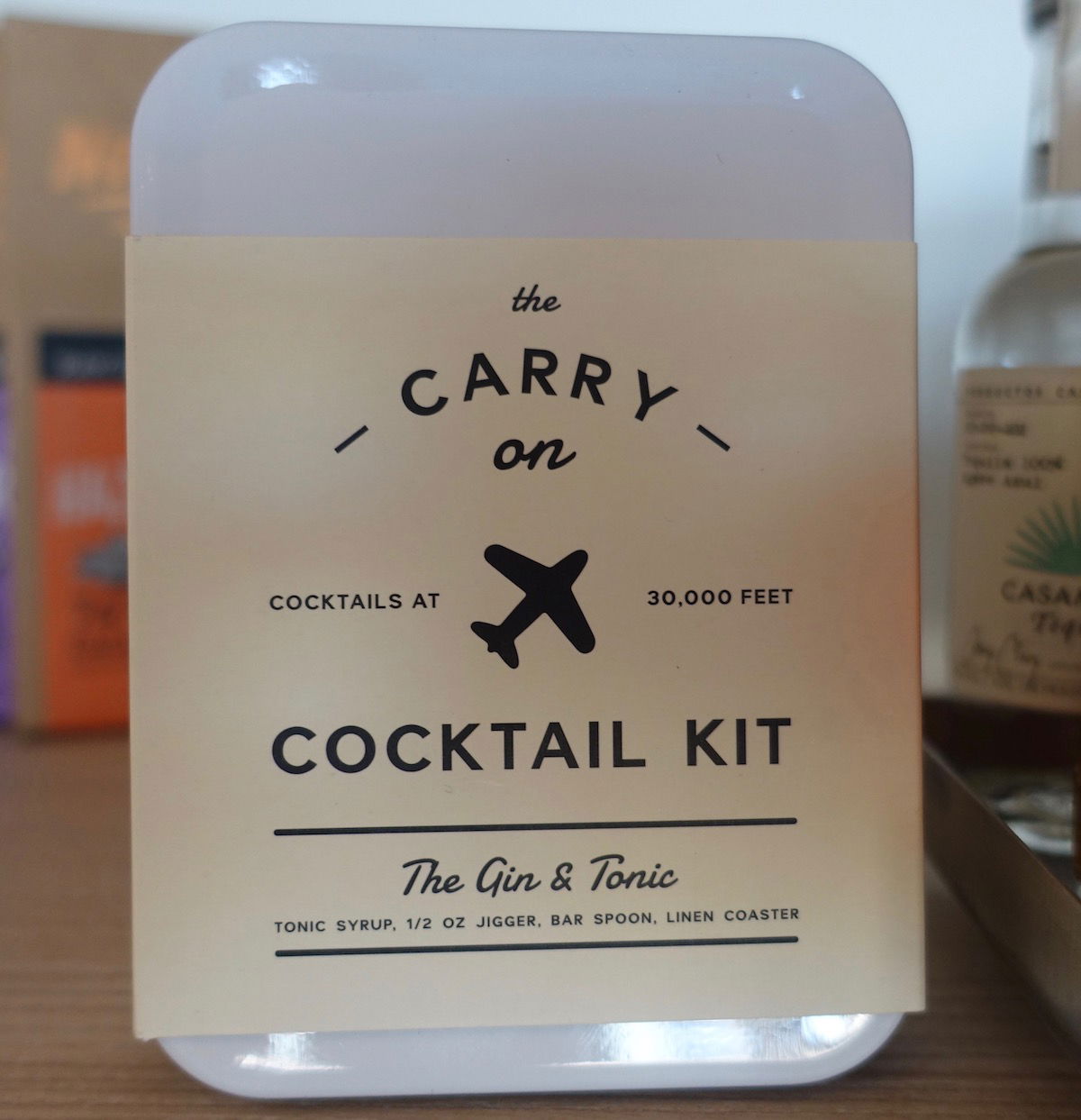 The Private Suite LAX Carry-On Cocktail Kit
There was a bowl of fresh fruit.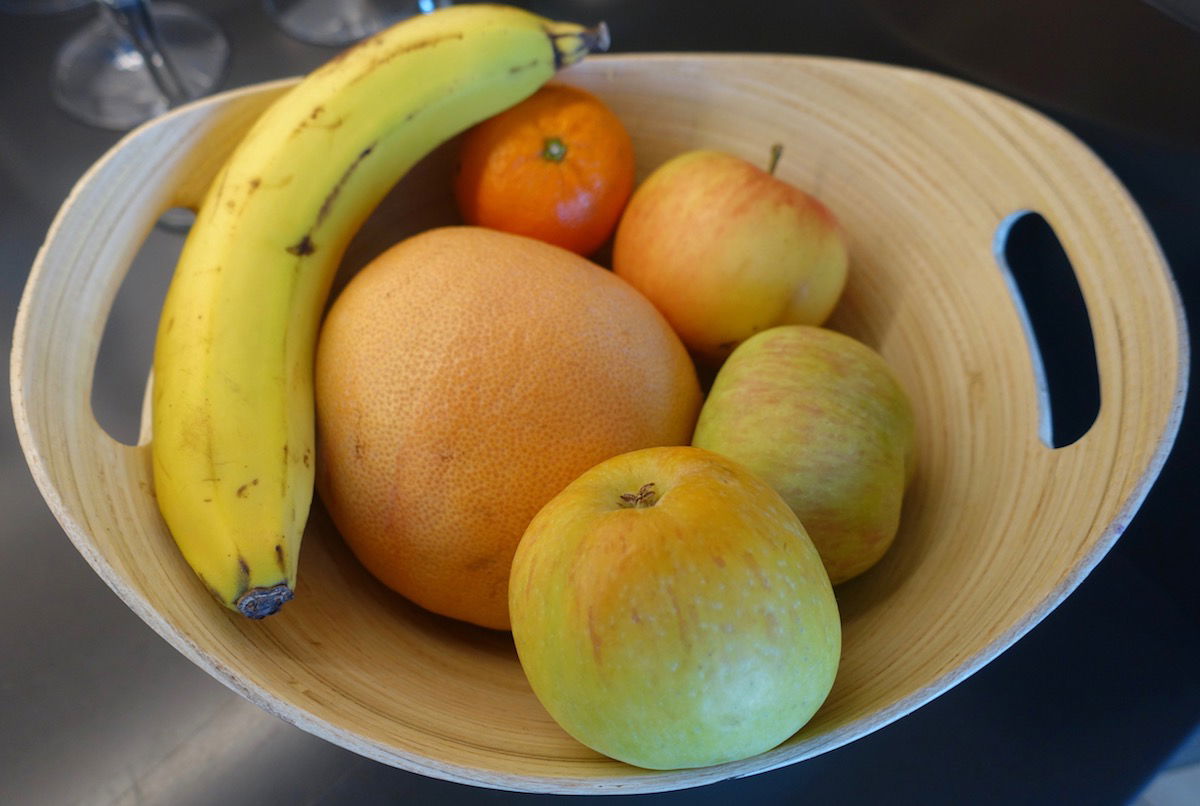 The Private Suite LAX fresh fruit
And there were even Snack Towers of Sadness, as Tiffany calls them. Even uber-premium lounges aren't spared from these. 😉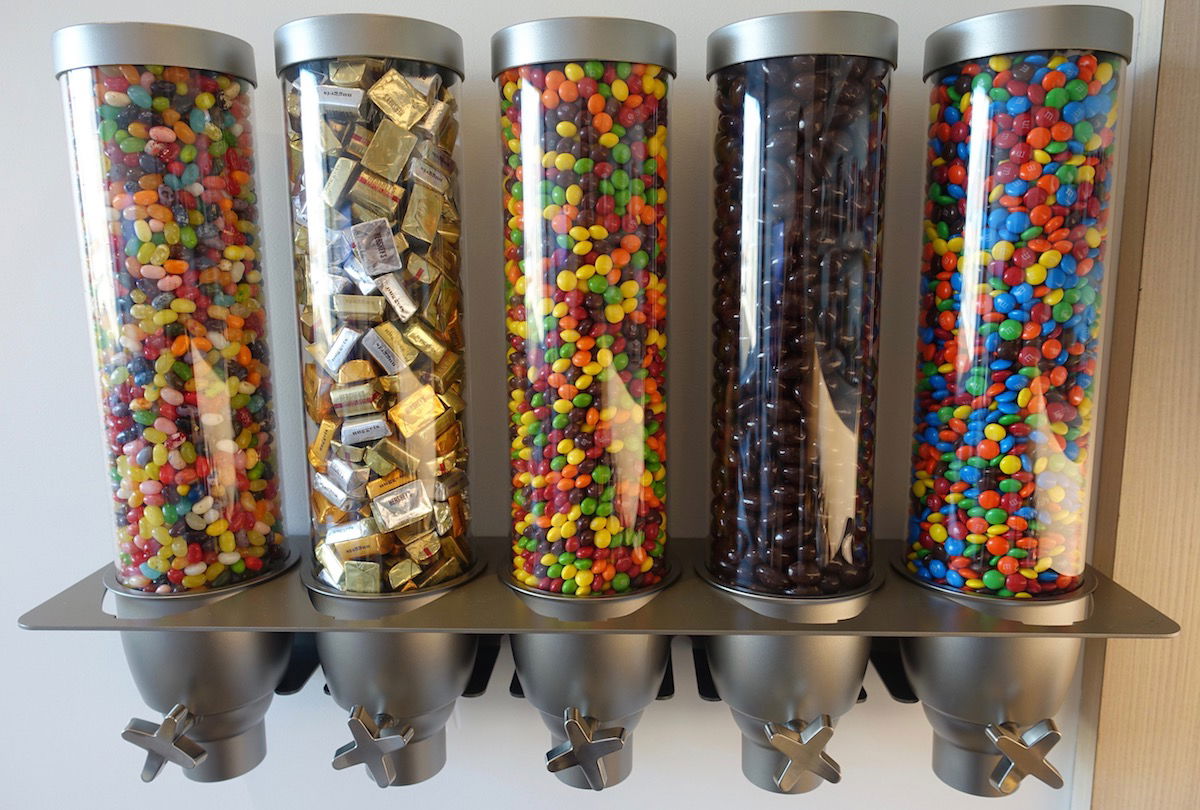 The Private Suite LAX snacks
The lounge also had a private bathroom. While the individual suites don't have showers, The Private Suite facility does have a shower spa for members, so it is an amenity they offer.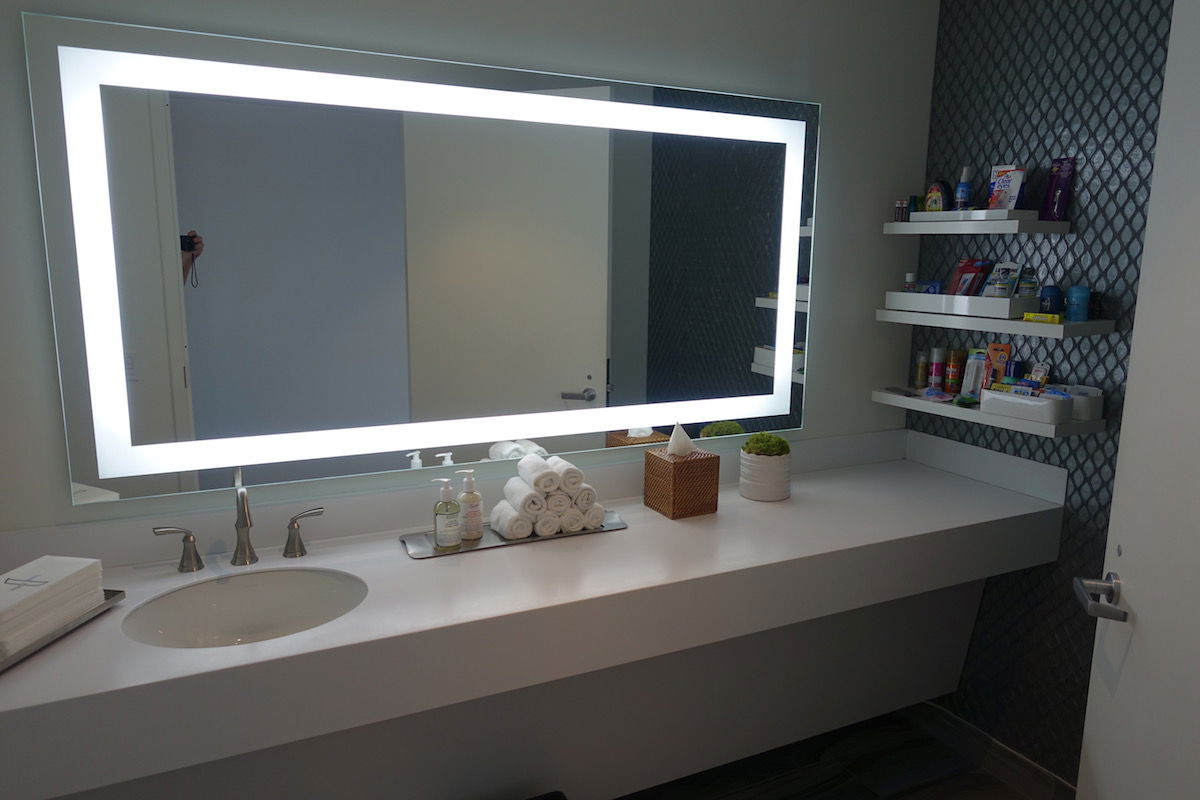 The Private Suite LAX bathroom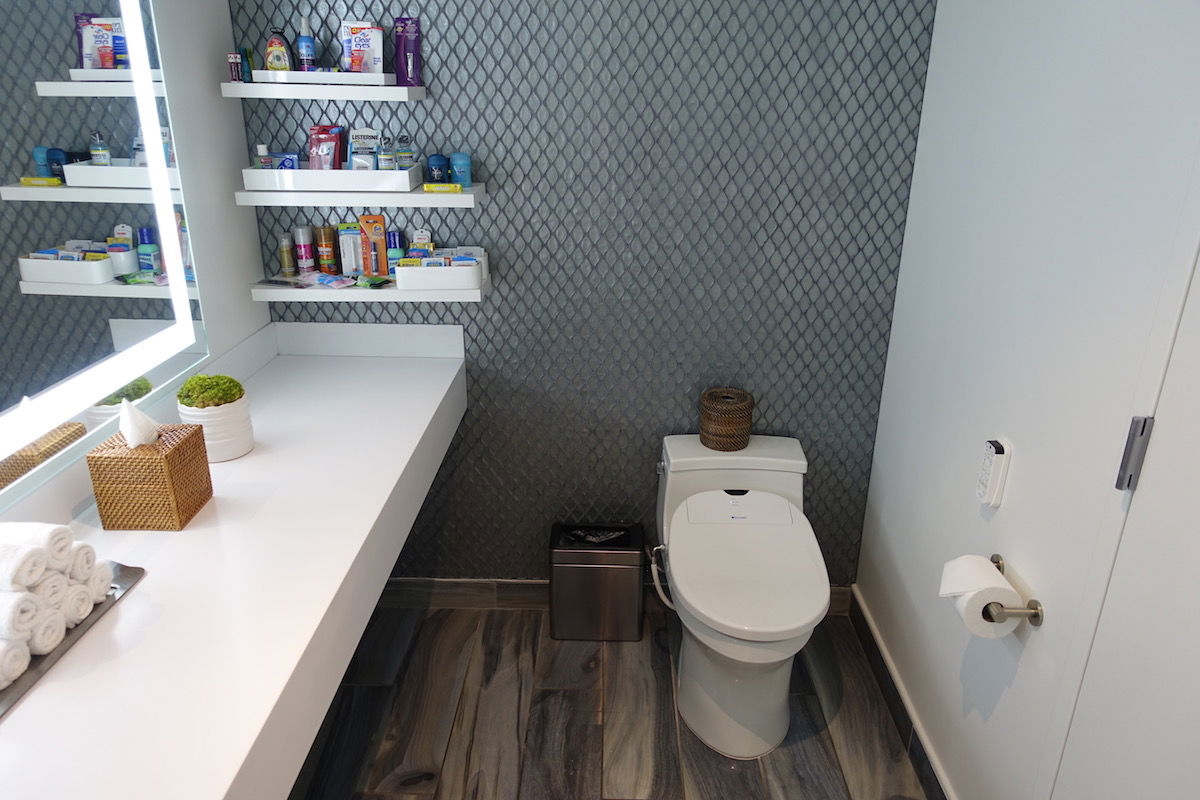 The Private Suite LAX bathroom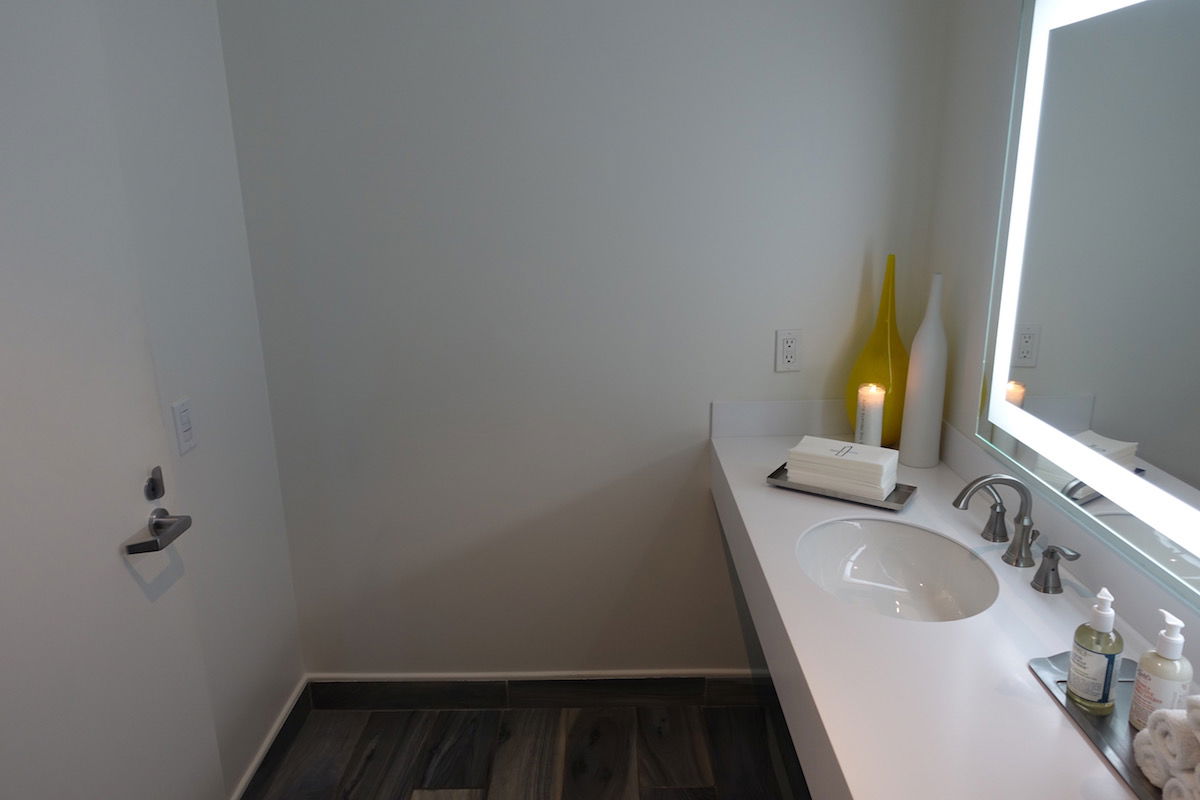 The Private Suite LAX bathroom
There was a real candle in the bathroom, and they had Kiehl's toiletries.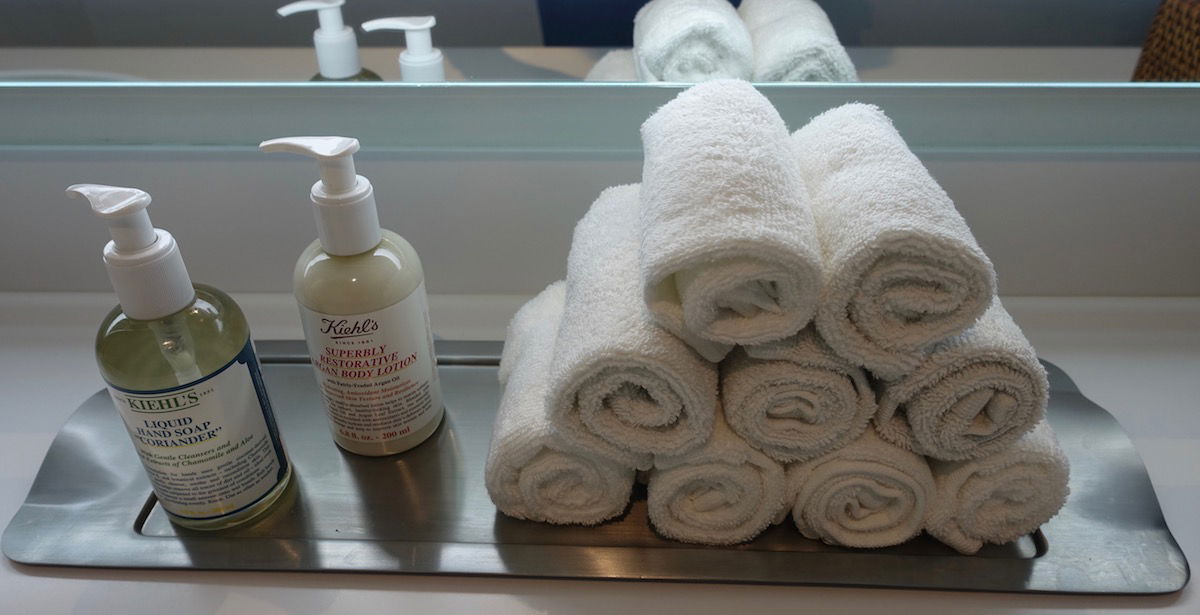 The Private Suite LAX hand towels & toiletries
Much like the rest of the suite, the bathroom was basically a convenience store, with everything from chapstick to nail clippers to floss to a comb to medicine.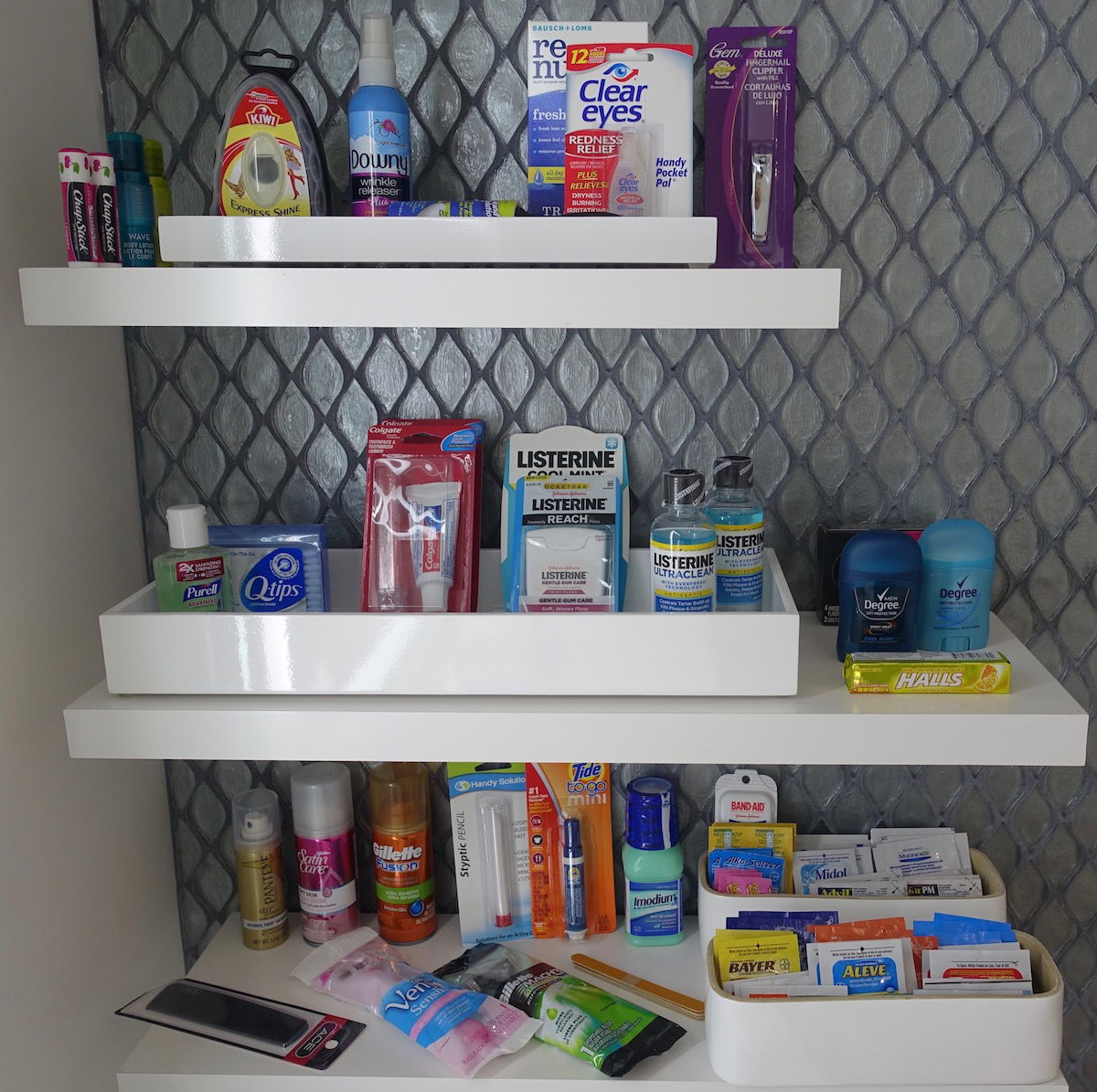 The Private Suite LAX toiletries
Also in the suite was a children's toy menu, which had things for kids of all ages (and arguably even adults who act like kids).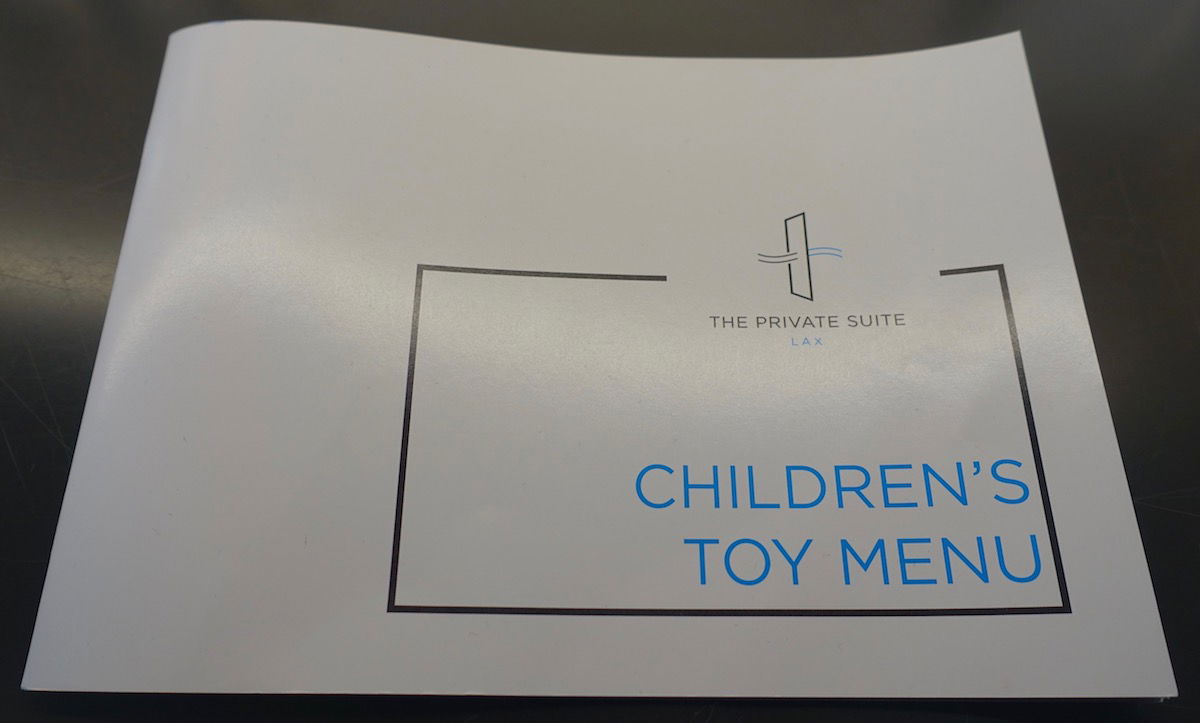 The Private Suite LAX children's toy menu
Here's the full selection: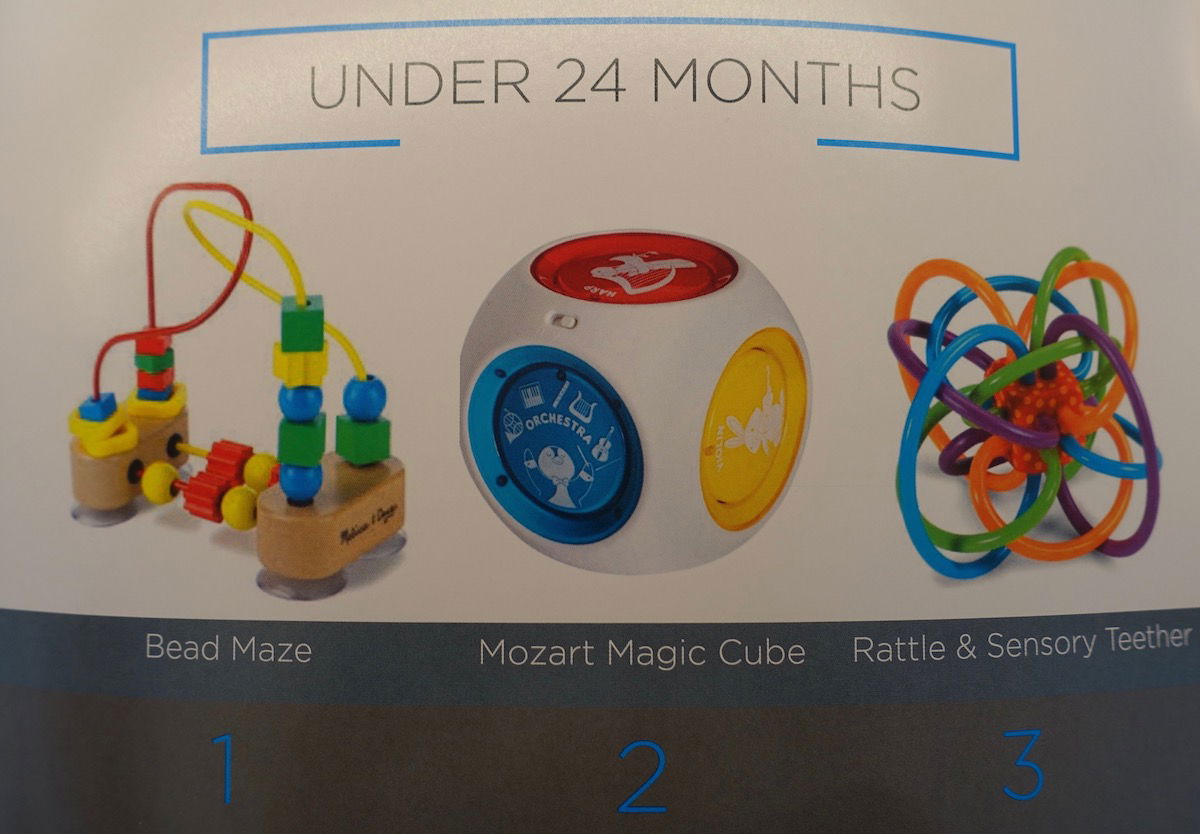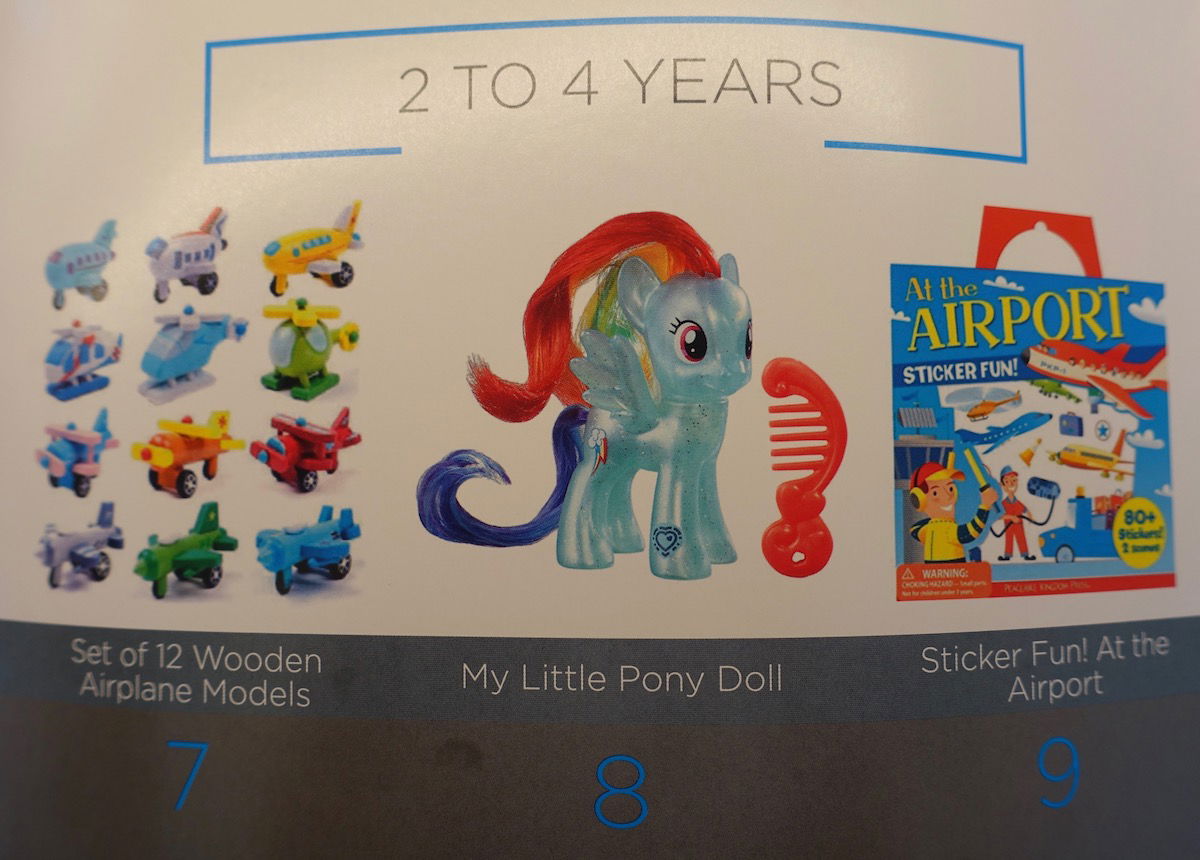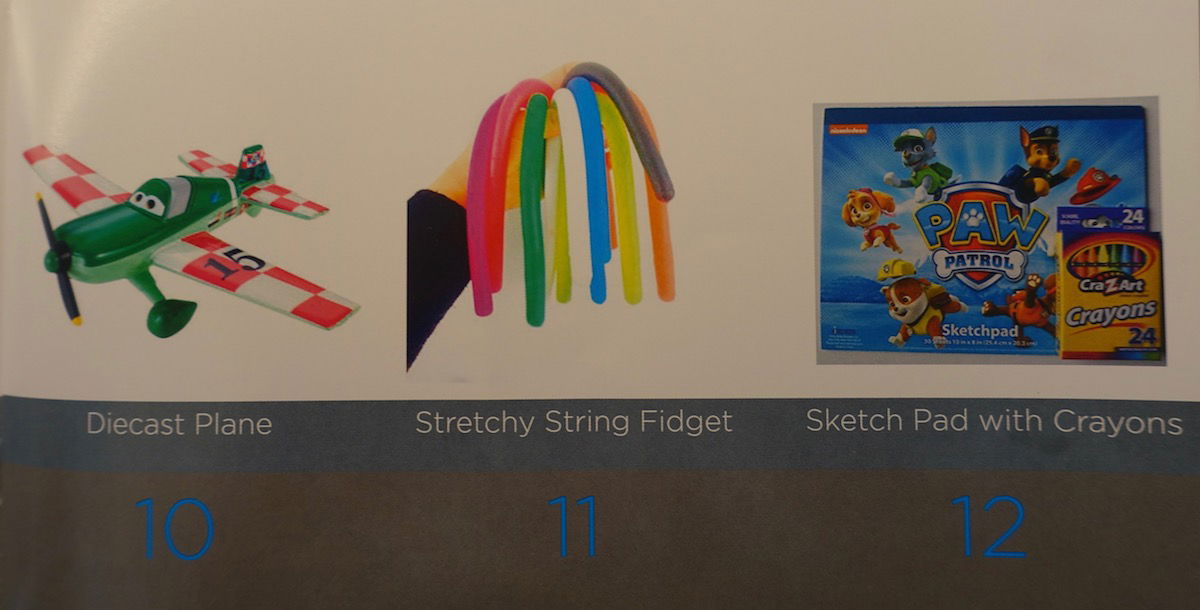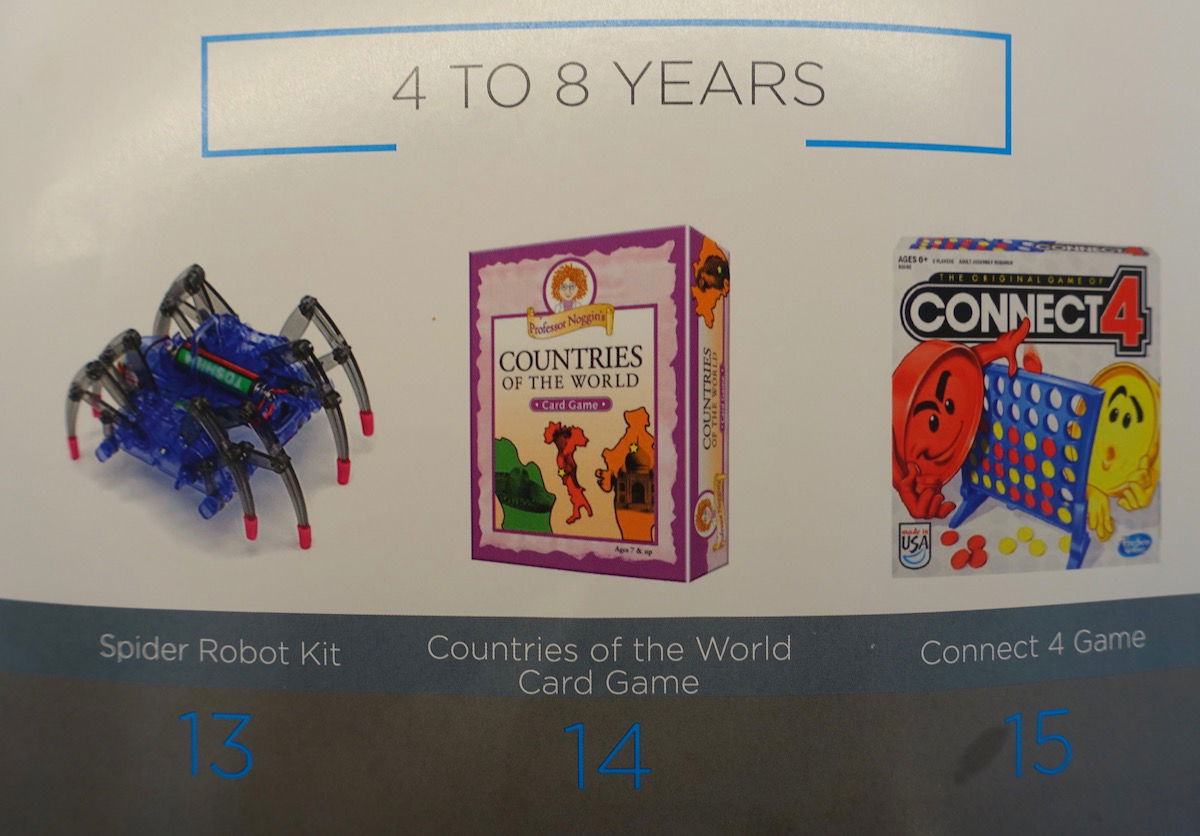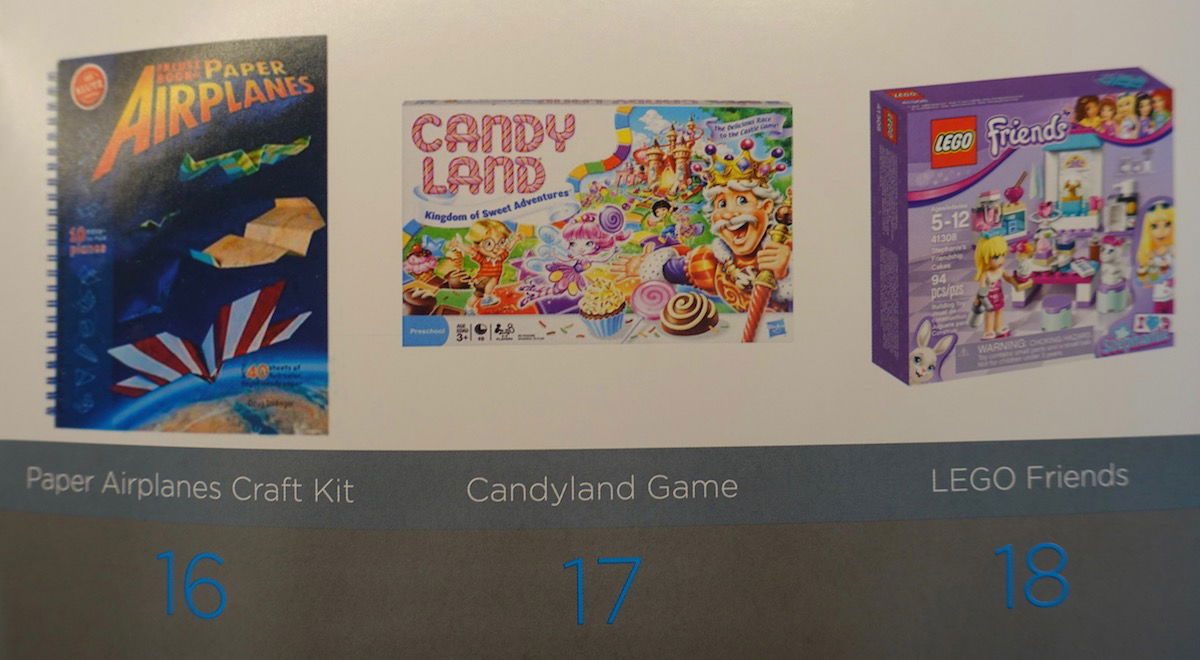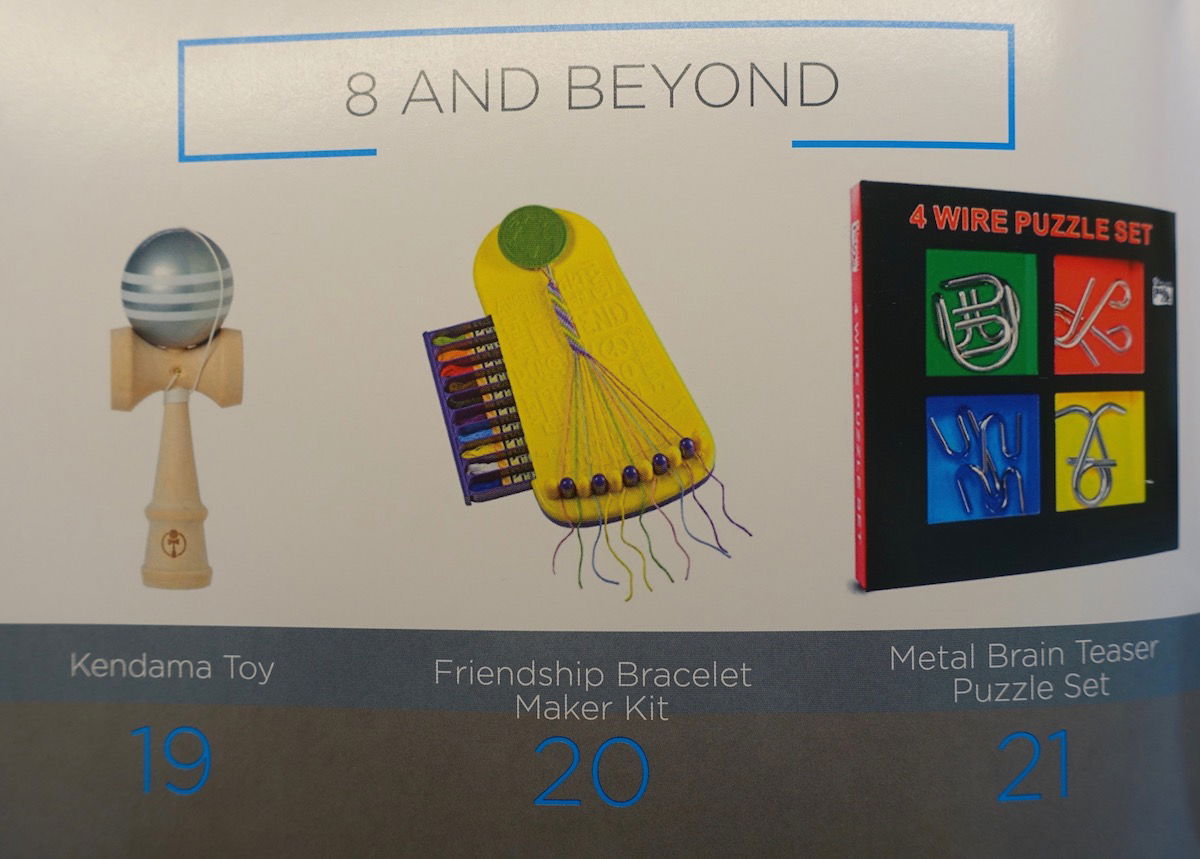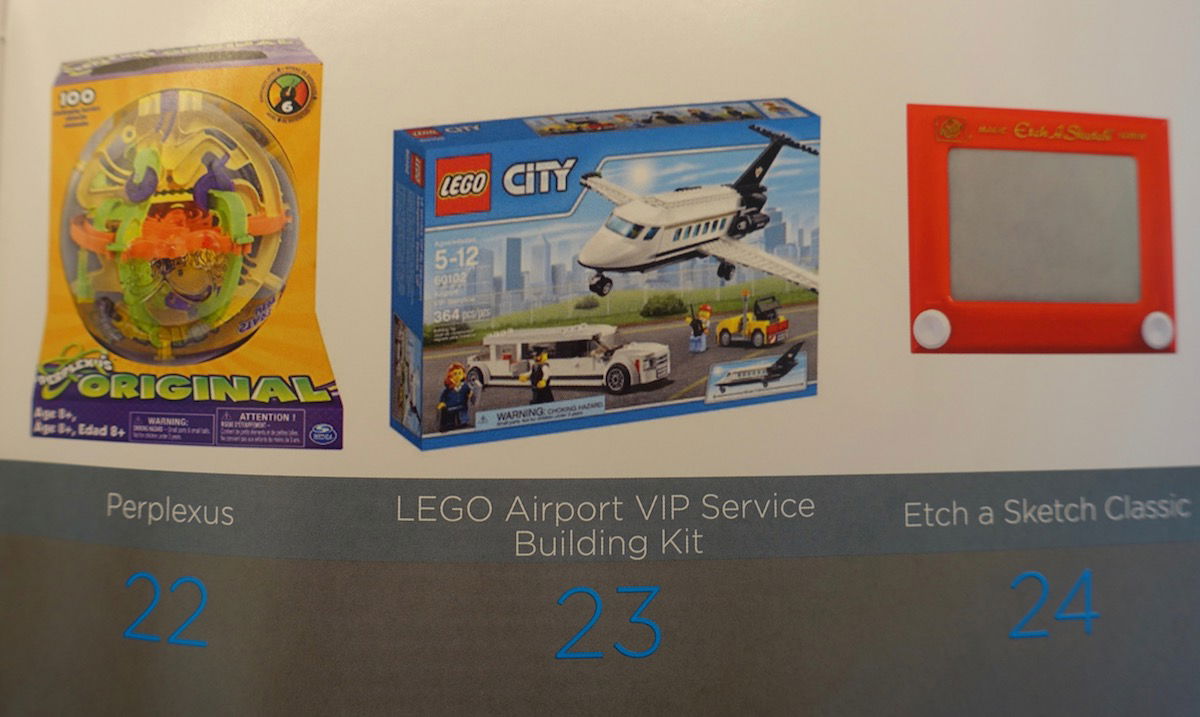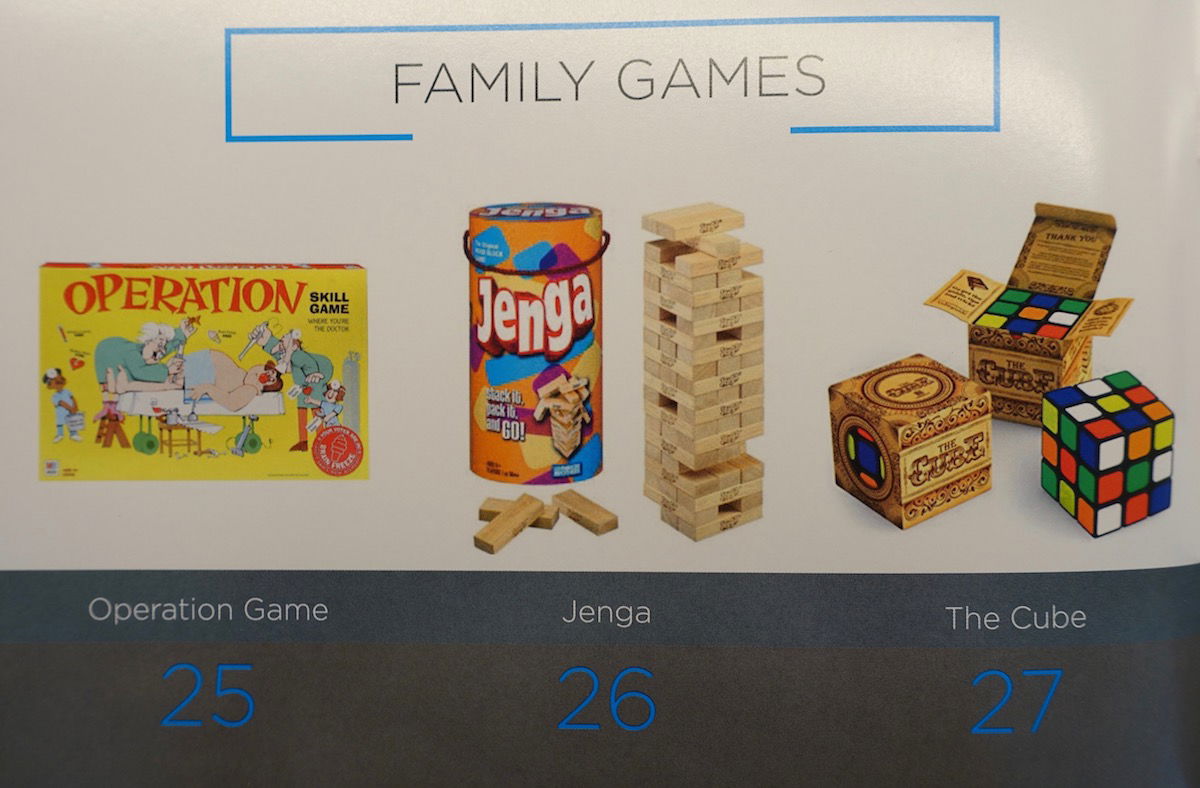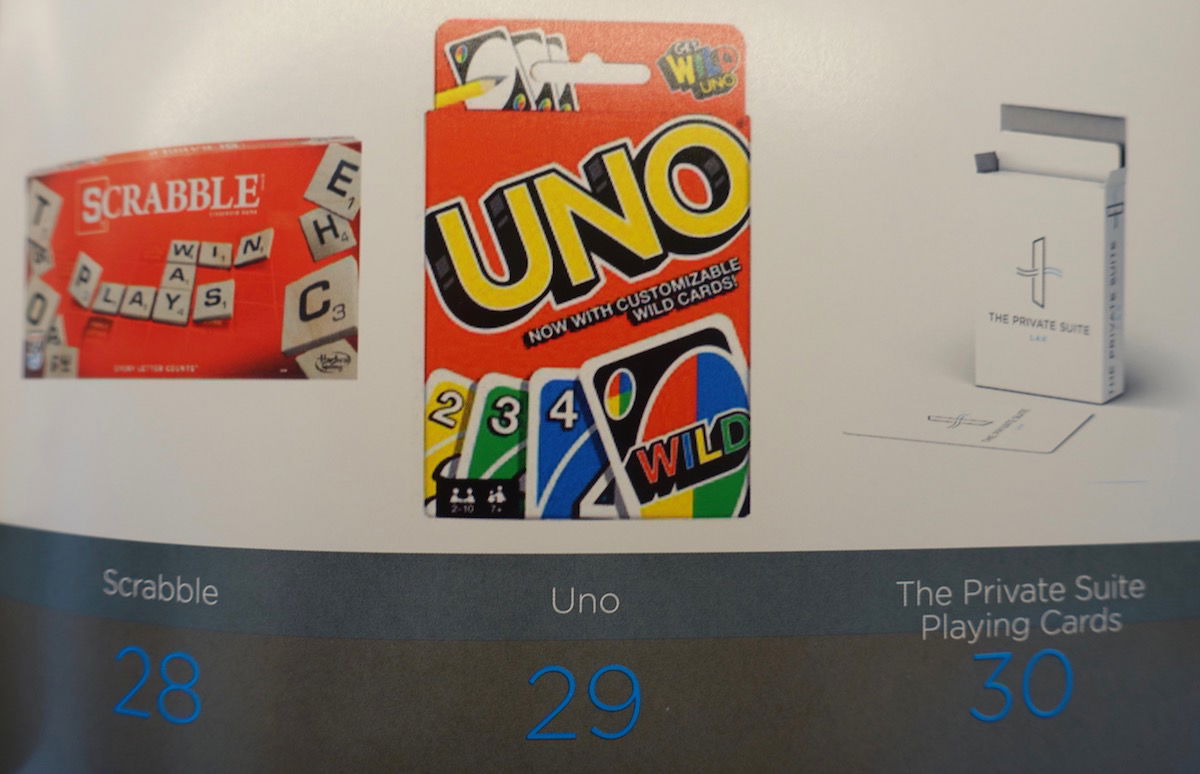 After settling into my suite I connected to the Wi-Fi, which was fast, as you'd expect. As I was told when I arrived in my suite, I could pick up the phone if I wanted anything, so I decided to call for a cappuccino. Someone picked up after just one ring, and said a cappuccino would be brought over right away. A few minutes later my phone rang (rather than a knock on the door), and I was told that my cappuccino was ready outside whenever I was. Sure enough, there was someone there with a cappuccino.
At first I found it weird that they called rather than knocked, but when I thought about it it made perfect sense. What a subtle yet deliberate touch. When someone knocks on the door you feel a sense of urgency, while if someone says "it's outside when you're ready," that doesn't create the same sense of urgency. Impressive.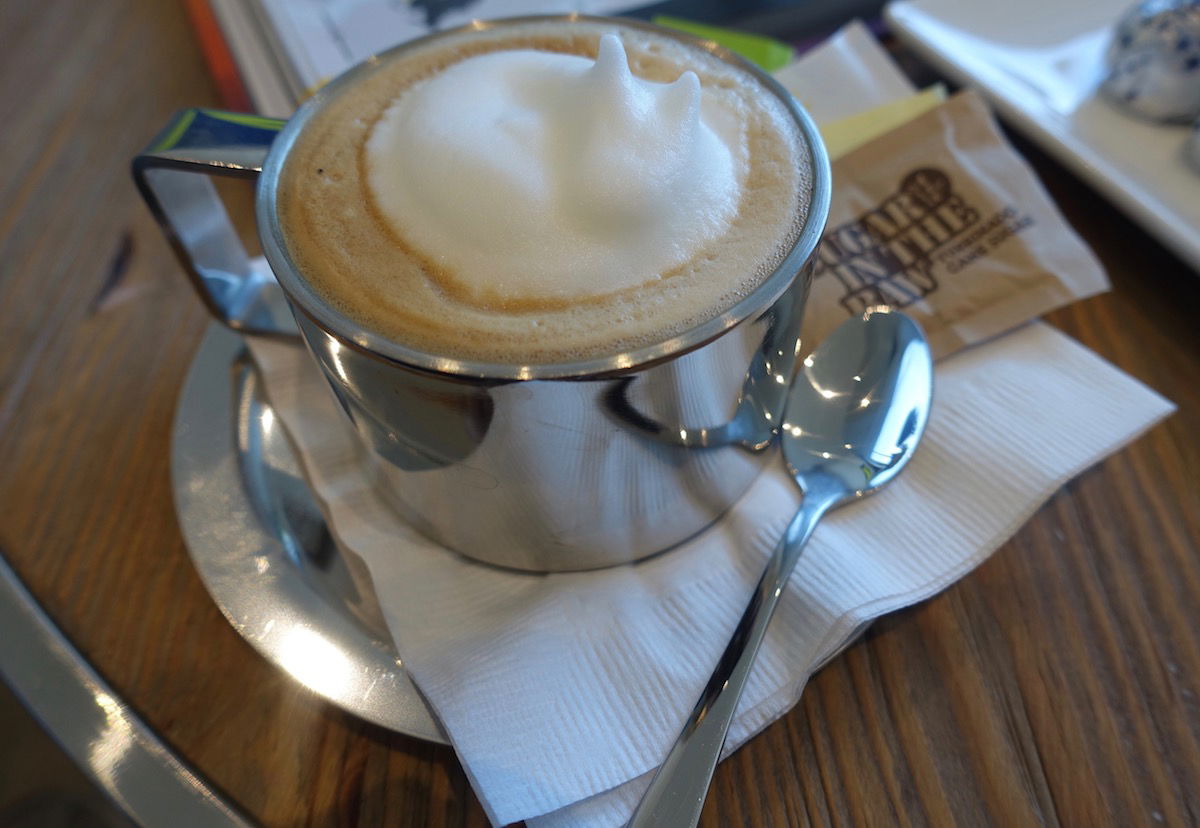 The Private Suite LAX cappuccino
I spent a couple of hours getting some work done, doing a Facebook Live, and just generally walking around in circles due to my excitement surrounding where I was.
Sure enough, at 11:10AM on the dot my phone rang. "Sir, there's a team leader outside your door waiting to take you to security and the aircraft." So I walked outside, we turned right, and then we turned right down a hallway where there was a reception desk, and then past that was the TSA checkpoint.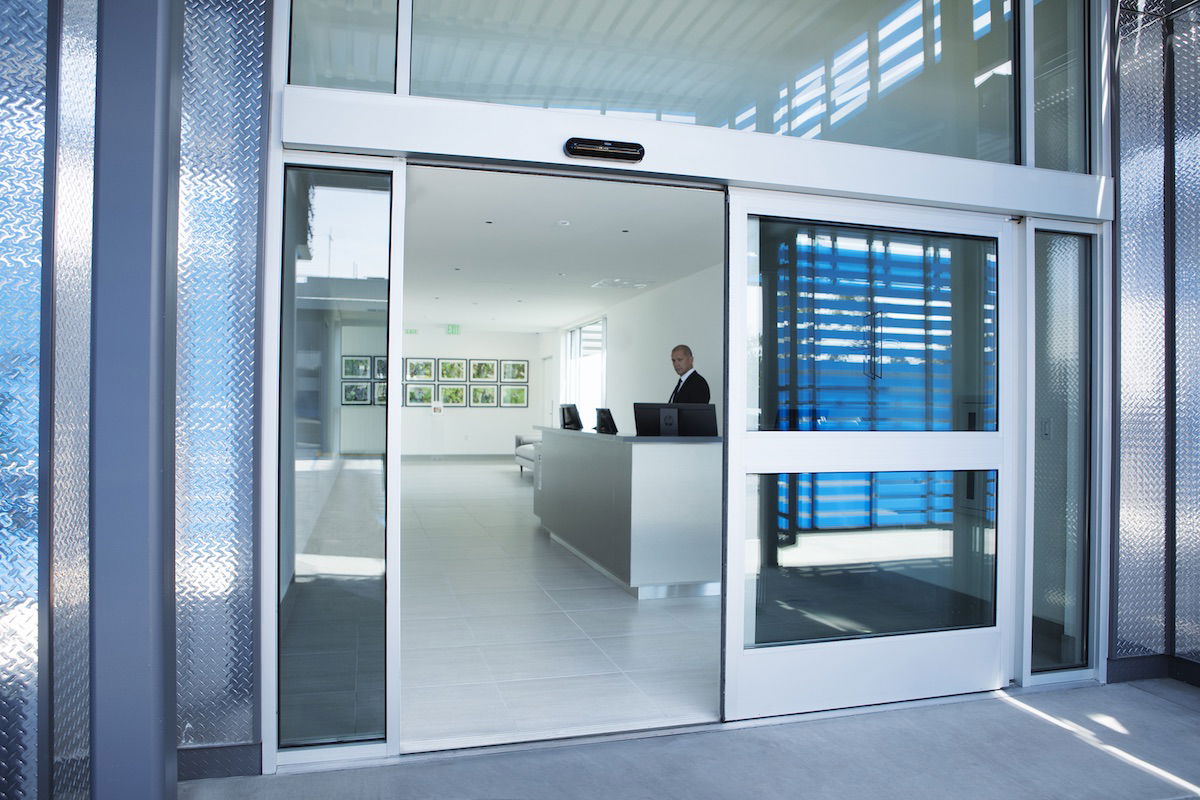 The Private Suite LAX entrance to security (photo credit: The Private Suite)
This is probably the most surreal part. We're all used to hating the TSA experience, how rude TSA officers often are, the yelling, the general unpleasant energy surrounding the experience, etc. At The Private Suite there's a TSA checkpoint that's staffed with four officers. THERE WERE FOUR TSA OFFICERS JUST FOR ME (one to check my ID, one for the metal detector, one for the x-ray, and one in case my bag needed a secondary search). I couldn't help myself, and when I saw this I had to laugh out loud. I've had a lot of crazy premium experiences, but having four (mostly) smiling TSA officers to myself was a new experience. It was so surreal that I almost waned to go through security again.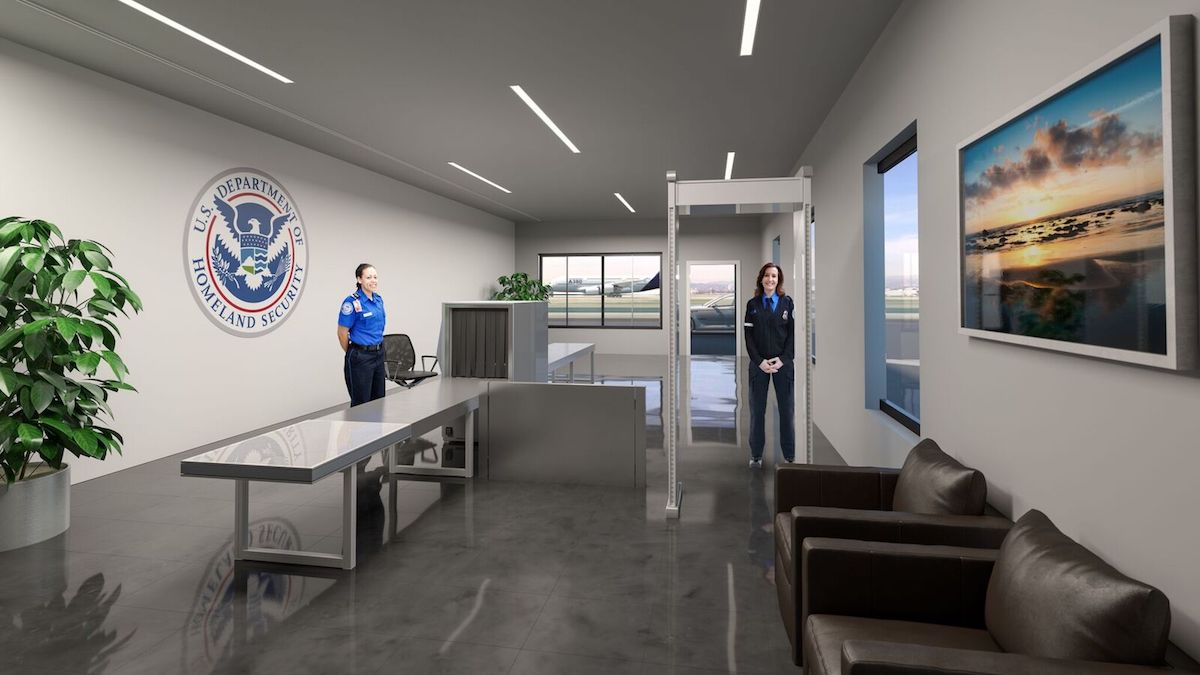 The Private Suite LAX security checkpoint (photo credit: The Private Suite)
For what it's worth, The Private Suite also has a dedicated immigration facility, though since I was departing and not arriving, I didn't need to use it.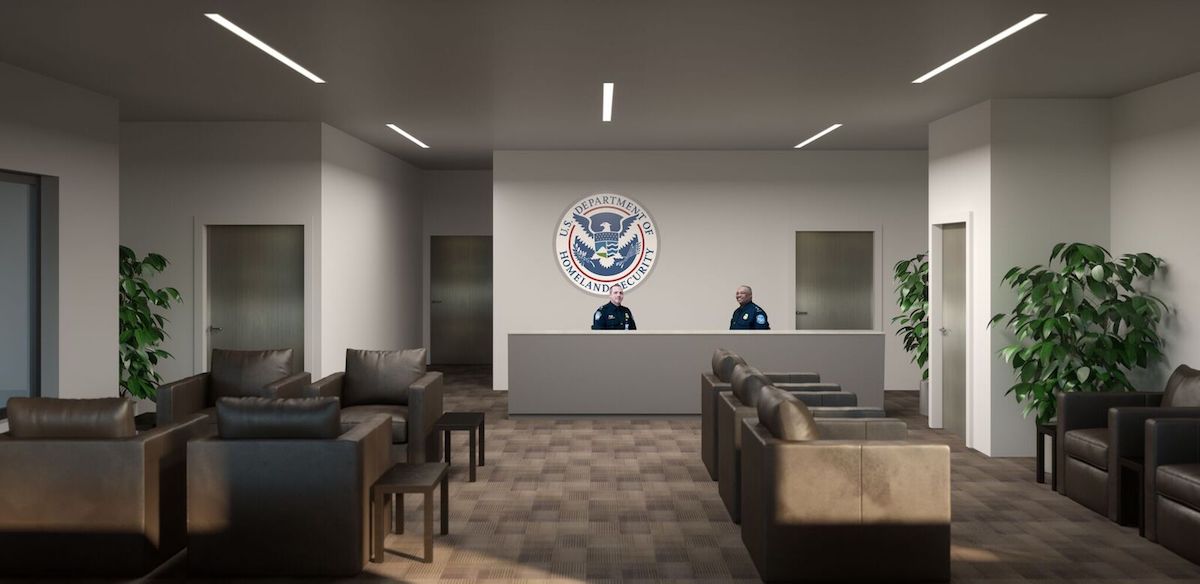 The Private Suite LAX immigration facility (photo credit: The Private Suite)
Just outside the checkpoint was a 7-Series BMW that would take me to the plane.

The Private Suite LAX car transfer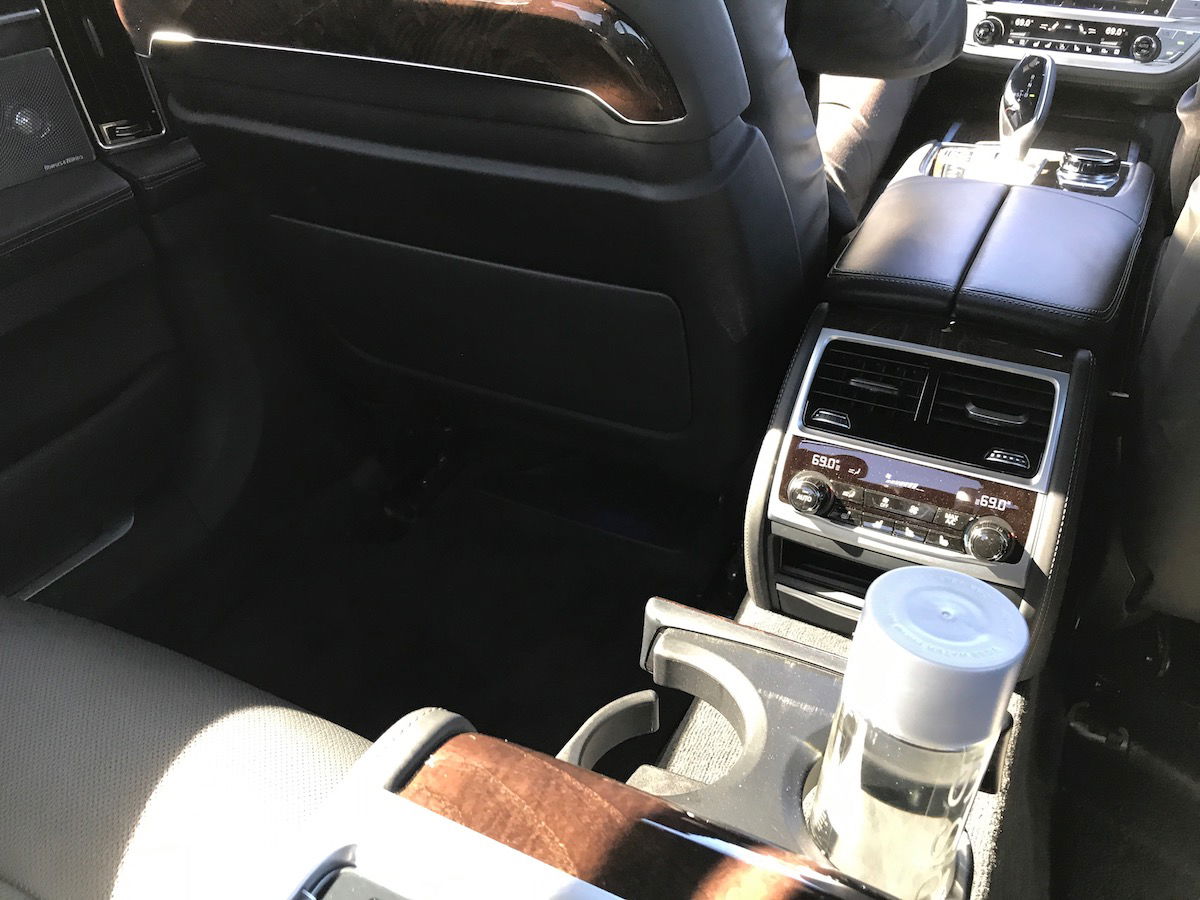 The Private Suite LAX car transfer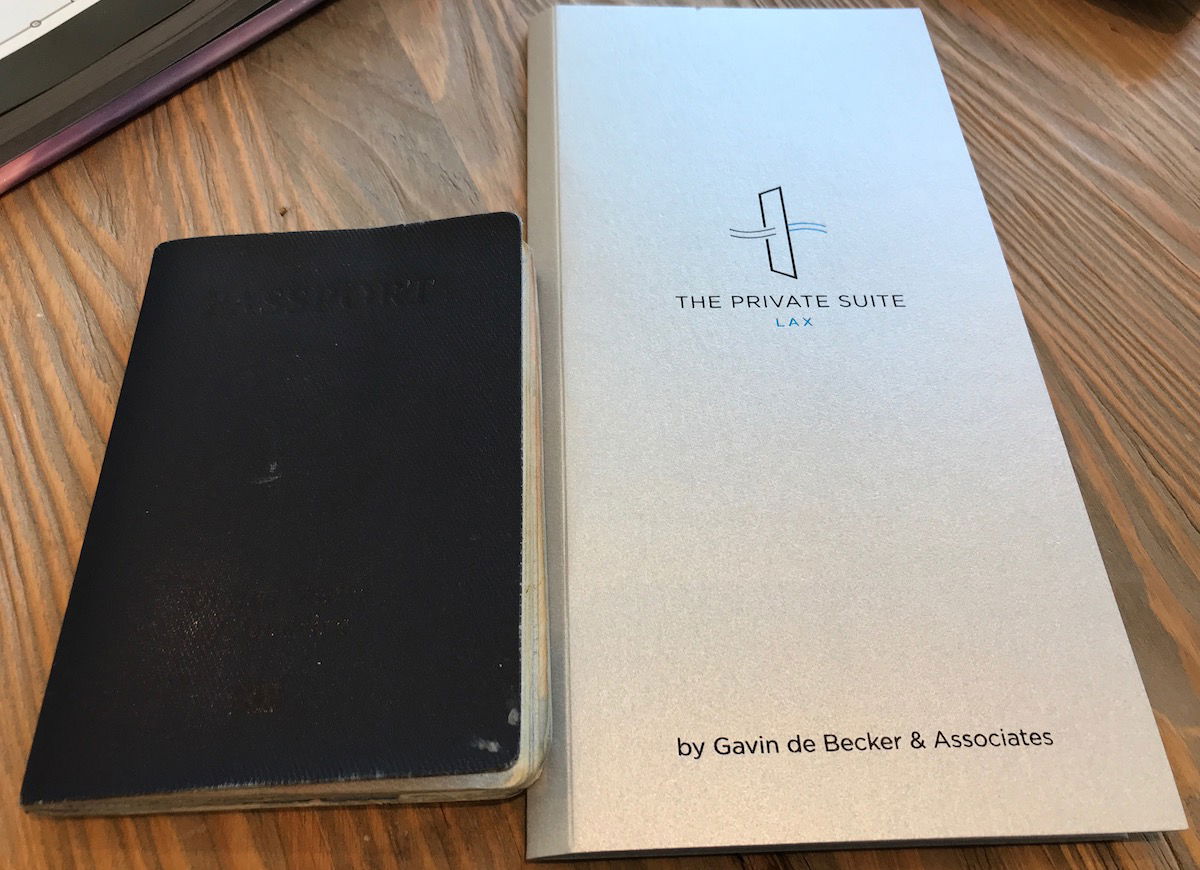 The Private Suite LAX passport & boarding passes
The Private Suite is located on the south side of the airport, so you have to drive all the way around runways 25L & 25R to get to the terminals. That's quite a long ride, though as you can imagine, I was thrilled by that, since being driven around a global hub in a luxury car is basically a wet dream for me.

Being driven to Tom Bradley International Terminal
Apparently even those traveling from The Private Suite don't get priority over airplanes. Hmmm… 😉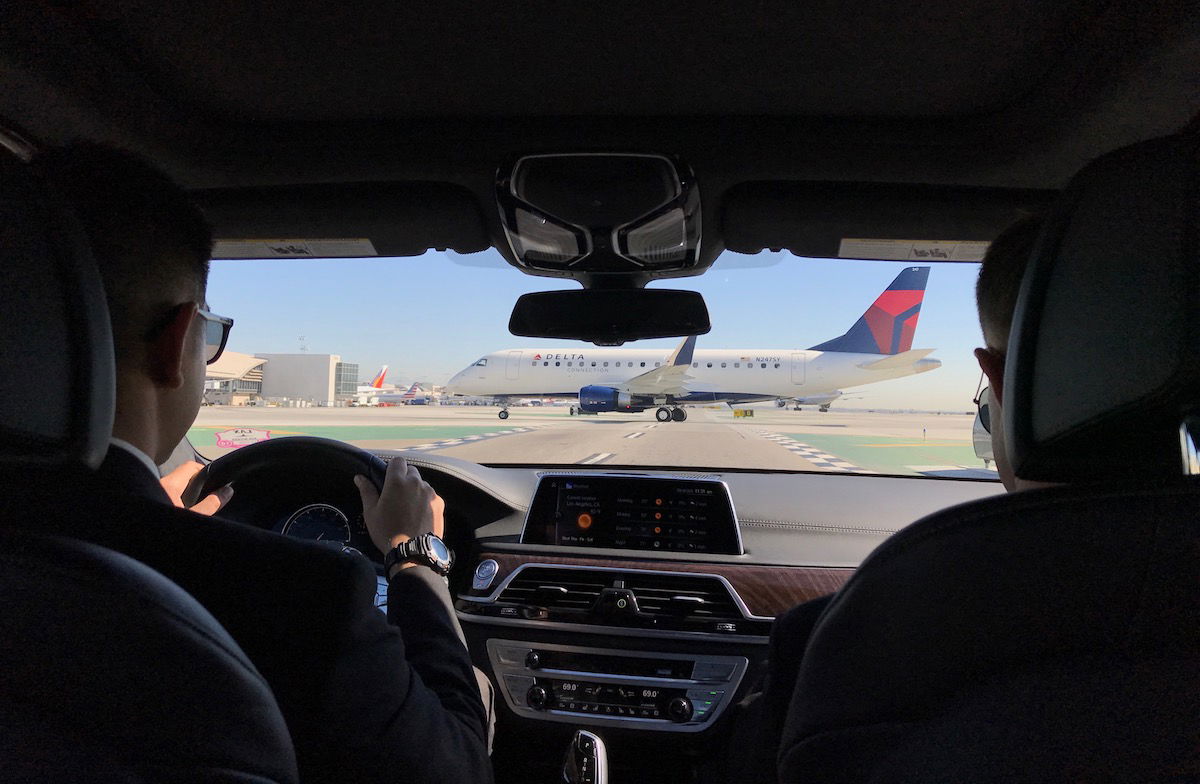 Being driven to Tom Bradley International Terminal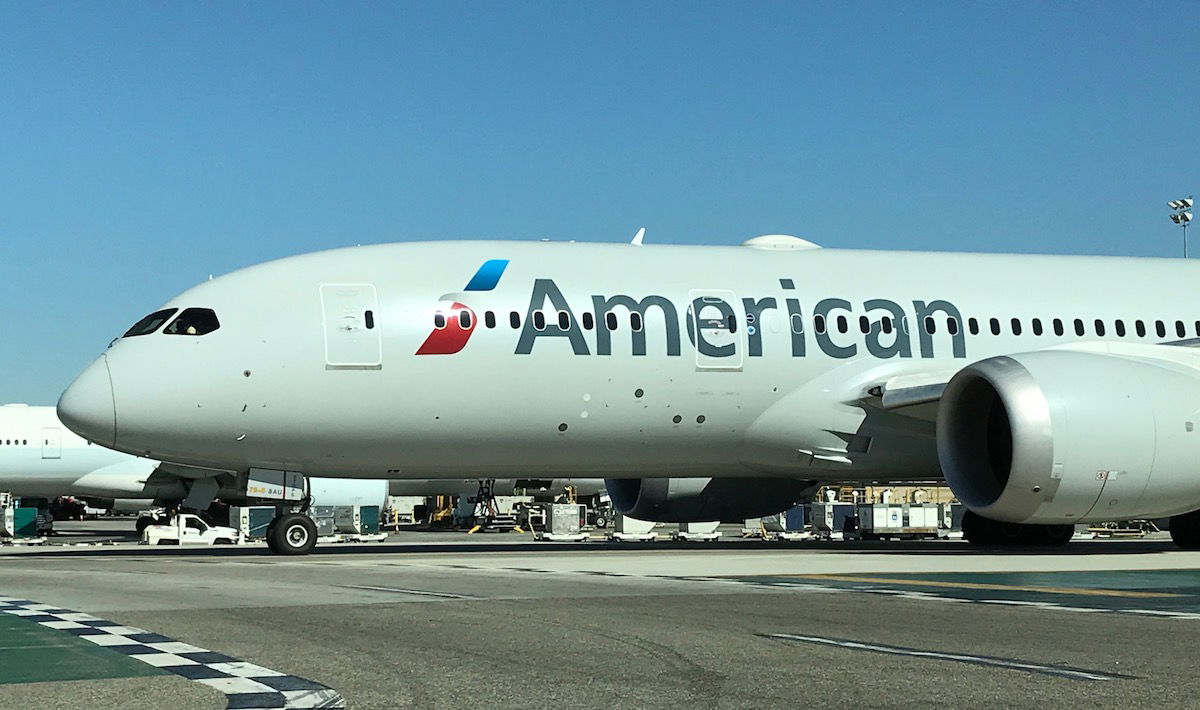 American 787 LAX
All too soon, Tom Bradley International Terminal was in sight.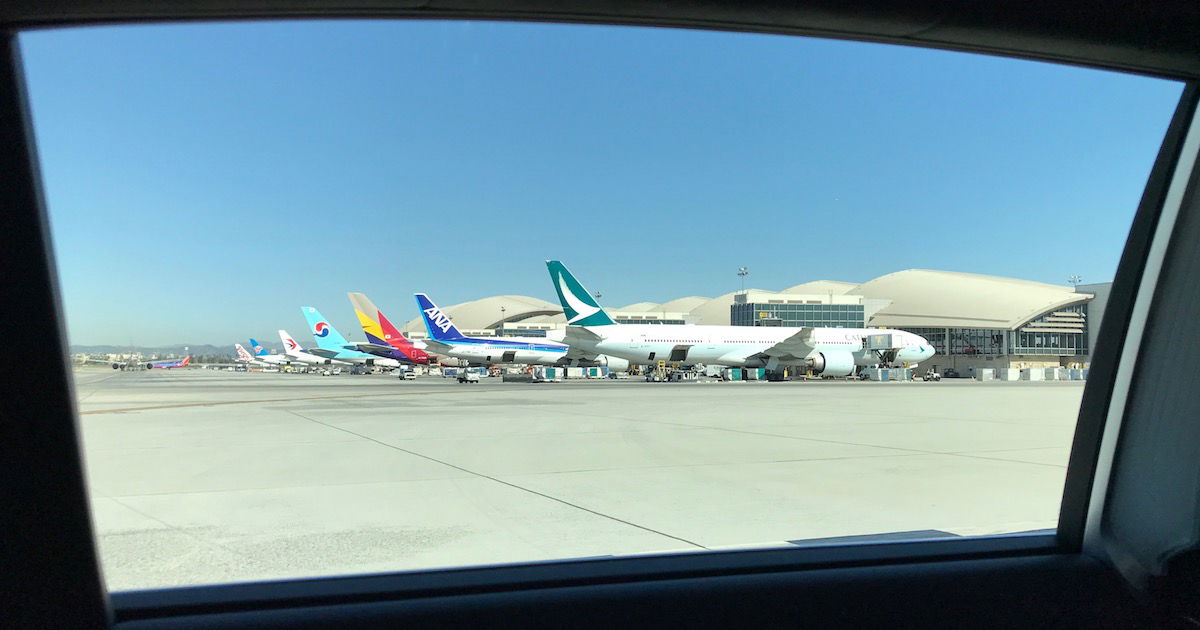 Being driven to Tom Bradley International Terminal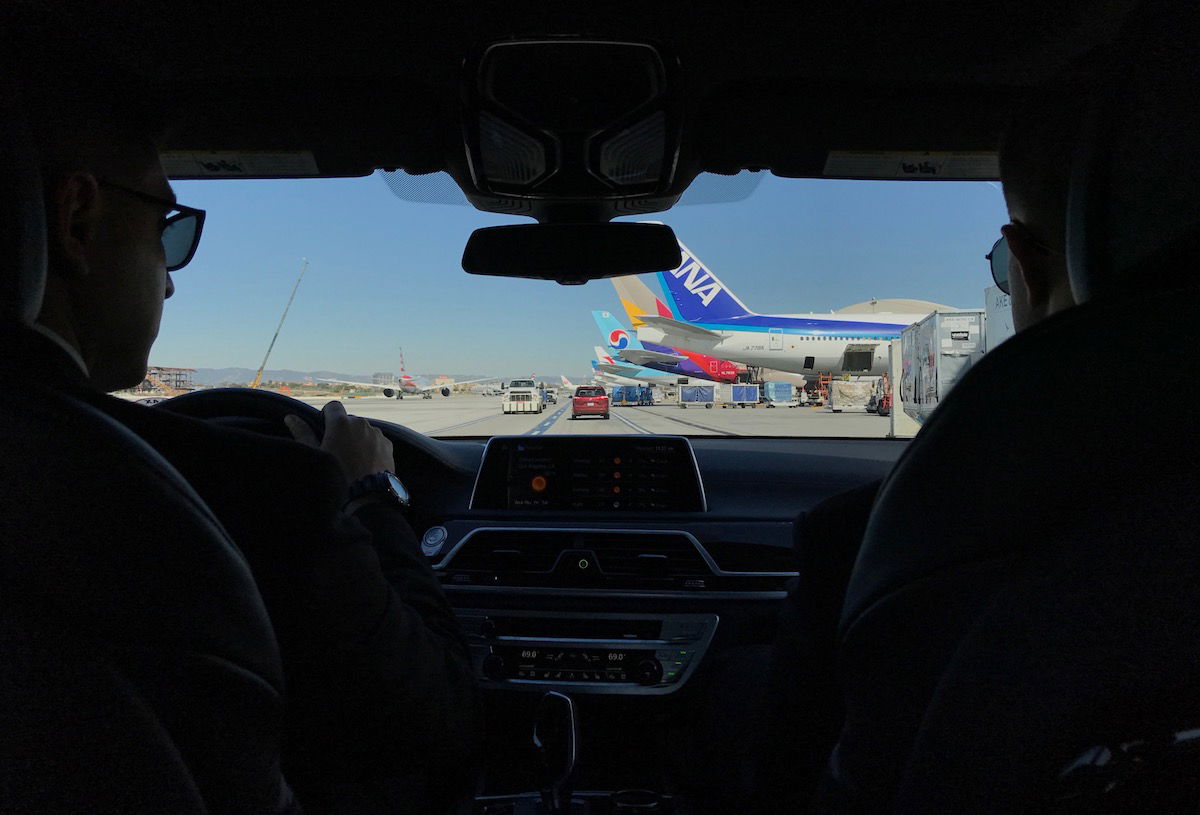 Arriving at Tom Bradley International Terminal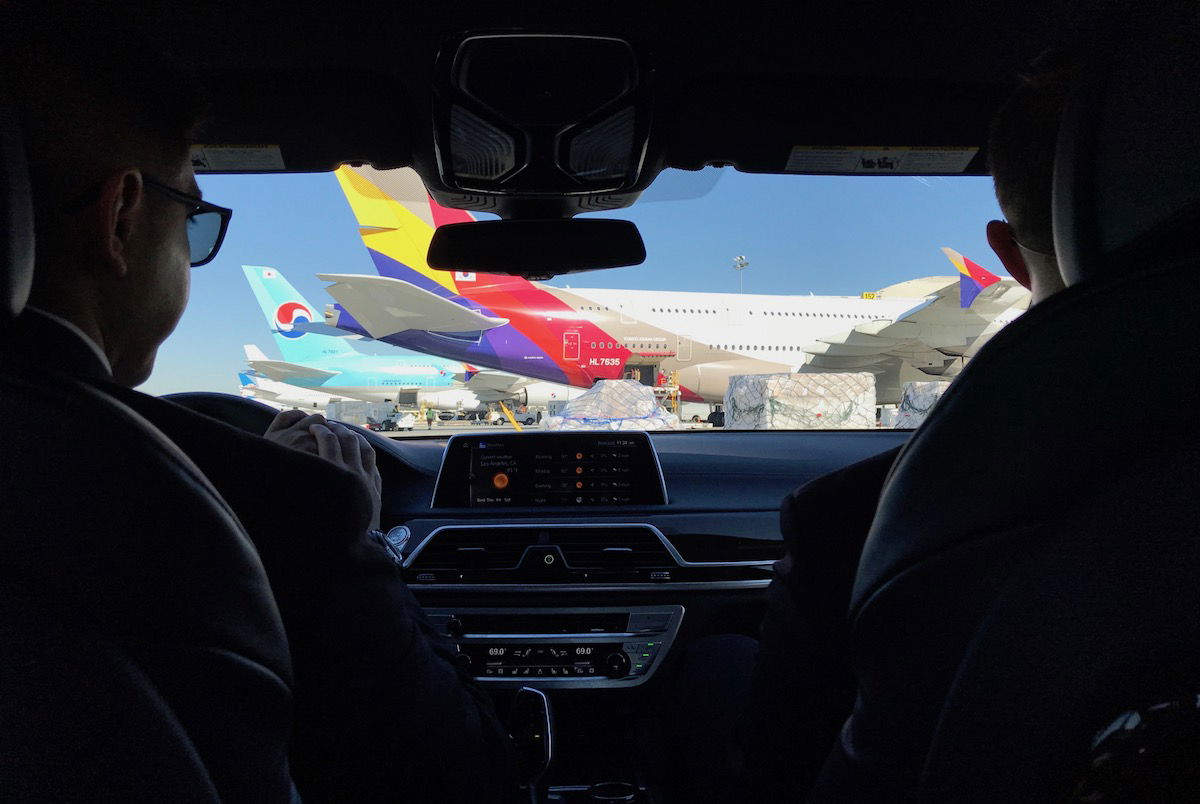 Arriving at Tom Bradley International Terminal
In the car was a driver and a "team leader," so my expectation was that the team leader would be taking me to the plane. Nope. We parked between the Asiana A380 and an ANA 777, and then the team leader handed me over to someone else, who would be taking me to the plane.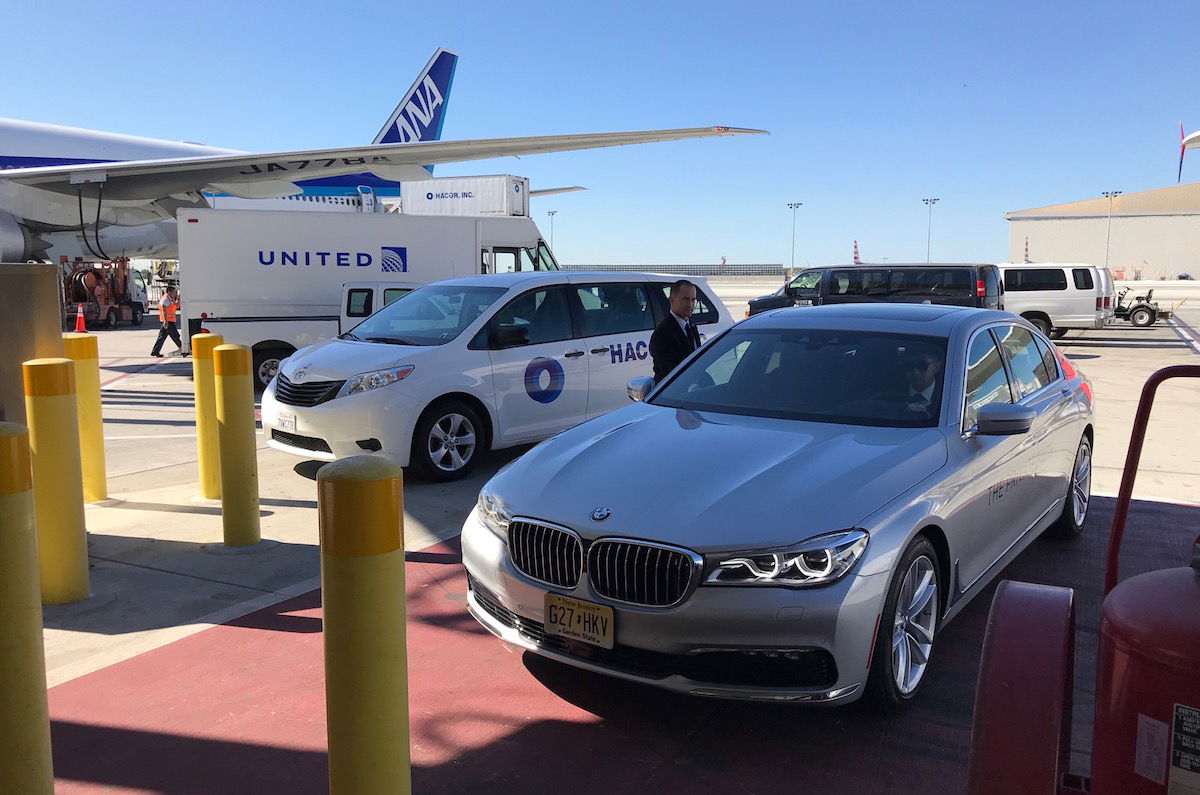 The Private Suite transfer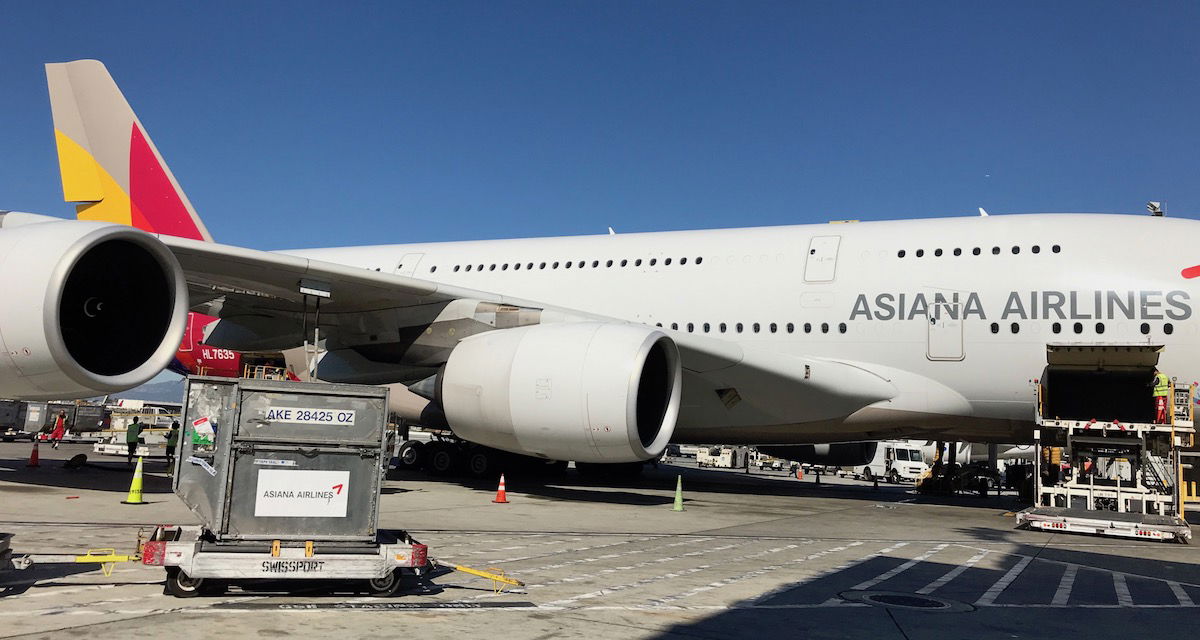 Asiana A380 LAX
The Private Suite has a different agreement with every airline; with some airlines they'll let you take the stairs up to the jet bridge and board directly that way, with others you can take the elevator, and with others you need to take a nearby elevator.
In this case I was taken up a side entrance, and the guy escorting me apologized because one of the elevators was broken, so he said we'd have to enter through the gate next door instead.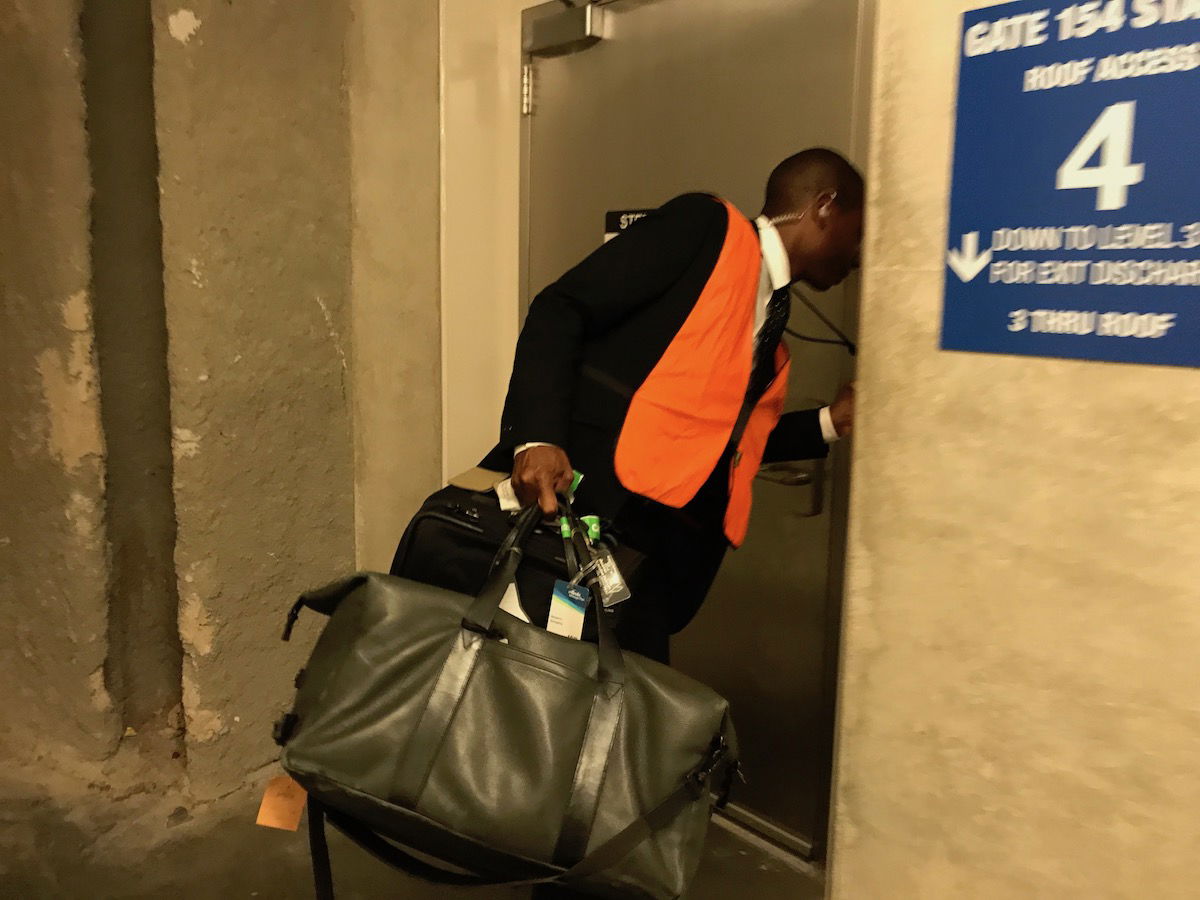 The Private Suite transfer
Once we got to the terminal level, I was handed over to one of Asiana's managers, who walked me all the way onto the aircraft.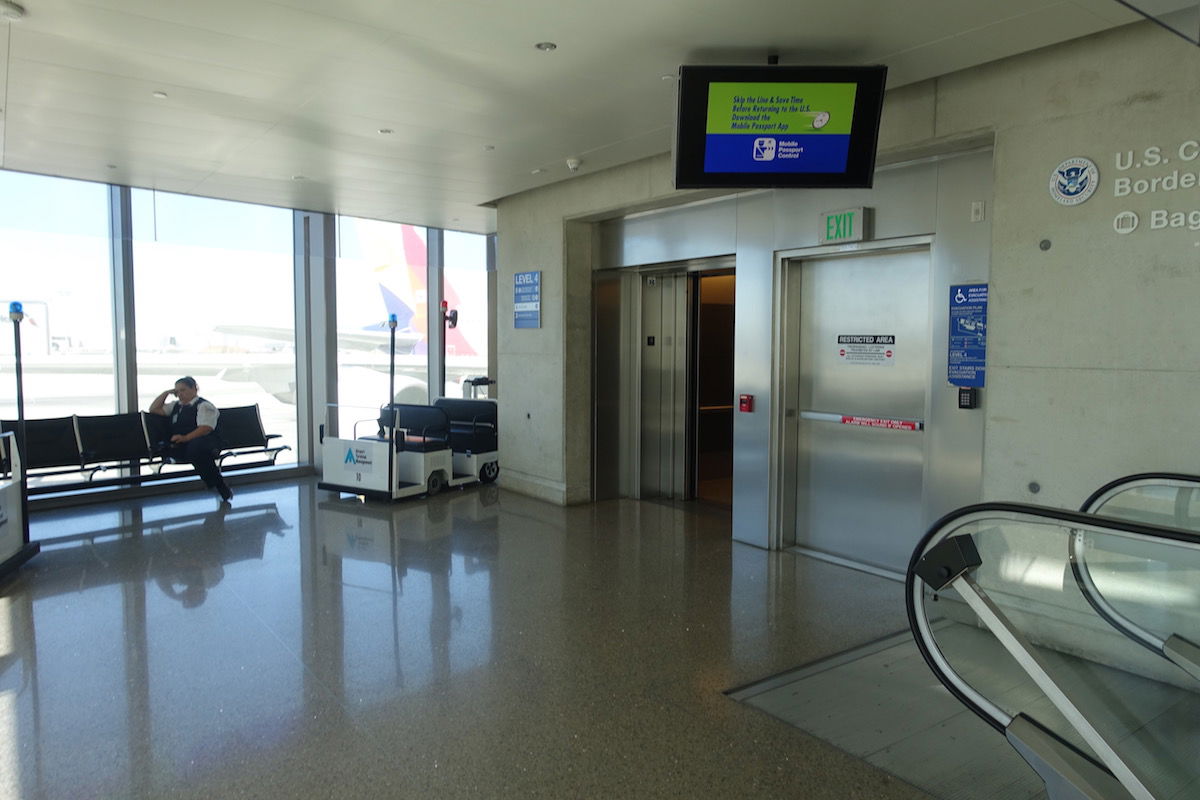 The Private Suite transfer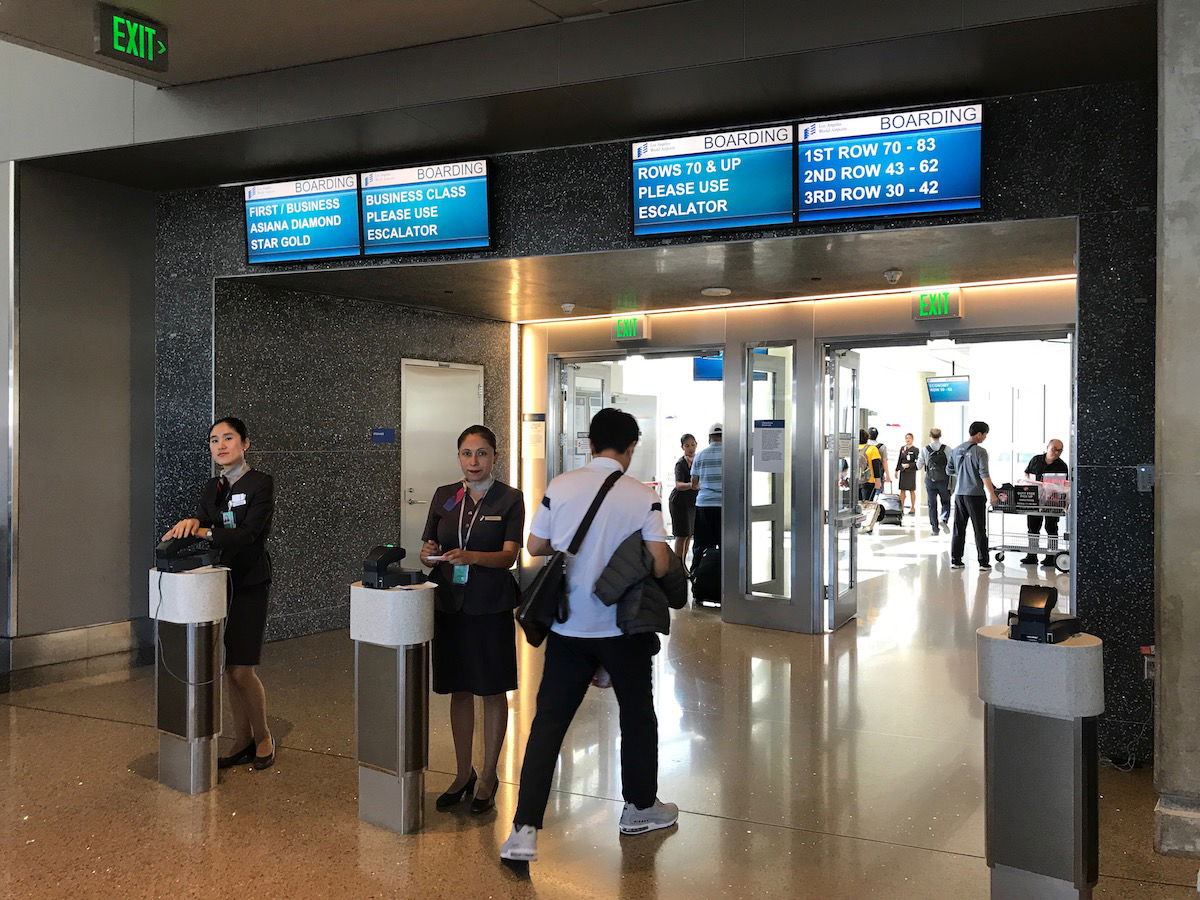 Asiana A380 departure gate LAX
Man, I wanted to savor the last portion of the experience, though it was at most 60 seconds from when I got out of the car to when I was on the plane, which is sort of a shame. I barely remember it.
The part of the experience that takes getting used to
Those of us who fly first & business class often are probably used to being pampered, constantly looked after, being addressed by name, etc. For example, what I love about the best first class products is how attentive the service is.
This experience is completely different than anything you'll find in commercial aviation, and that takes some getting used to.
Being in a suite like this feels lonely. Once I got there I sort of thought to myself "boy, it's quiet in here." I was also expecting I'd constantly be addressed by name, and almost expected that it would be like The Etihad Residence, where you're basically within 10 feet of a butler at all times.
But their target audience is people who value peace and privacy, so I imagine this is exactly what they want. They want privacy, and they don't want anyone around them. I suspect they don't constantly want to be addressed by name, or have people engaging in small talk with them.
I probably exchanged a total of 100 words with the staff members there. I was always addressed as "sir" and not by name. In the car there was no small talk. They were friendly and professional at all times, but it was almost like having a badass security detail, as they never cracked a smile.
I can honestly say I've never felt as fancy as being driven to my plane at LAX by two guys with earpieces (there's just something about earpieces that adds legitimacy to things).
Bottom line
I was expecting this experience to be somewhat similar to the first class ground experiences offered by Air France in Paris or Lufthansa in Frankfurt. It wasn't. At all. Instead it was unlike anything I've ever experienced before.
My assumption was that the people who are going to pay thousands of dollars to avoid the terminal aren't just random travelers who are looking for a special experience, but rather are going to be people who value privacy above else. I think that's something that can't be understated when it comes to this experience. As someone who isn't a celebrity, in many ways I can't relate to the concept of wanting to be completely left alone. But I imagine that's exactly why certain people would appreciate this service.
I think it's also worth emphasizing that this experience is highly customizable. What I got was the "base" experience, but from haircuts to massages to showers to manicures to five course meals to just about anything, it seems like The Private Suite can arrange it. Heck, I'm sure you could even arrange if you wanted someone in your suite at all times addressing you by name every 10 seconds. 😉
My biggest question is that I wonder how big the market for a service like this really is. Huge celebrities typically fly private, and if you're flying private there's no need for something like this. And even for rich people, several thousand dollars per visit is a significant amount. So it seems like they're targeting super wealthy people and huge celebrities who still fly commercial, and I'm not sure how big that market is. Who knows, perhaps they'll work out a special contract with one of the major studios that offers this service to select people. I'm sure they've done their research on this, and have a much better understanding of the market than I do.
I asked Gavin (the founder) about their target customer, and to my surprise he said that most of their customers aren't even famous people or those seeking to avoid people, but rather people seeking to avoid congestion, lines, delays, hassle, car traffic getting to LAX, long walks through crowded concourses, etc. He says that the main product they offer is something you can never get at a major commercial airport — peace. So they're focused on logistics and peace, rather than just avoiding people.
I'm incredibly grateful to have experienced this… what a ground experience it was. This was by far the most exclusive ground experience I've had in my life, and I'll never forget it. This is different from any lounge I've ever experienced. LAX is a messy, congested airport, so being able to so skip it altogether is something that many people will find value in.