Review: Spirit Airlines Booking & Check-In Process
Review: Spirit Airlines Big Front Seat A319 Los Angeles To Seattle
---
A few weeks ago I flew Spirit Airlines from Los Angeles to Seattle. While I've already shared my initial thoughts on the experience, in this post I'll be sharing my full review of the flight.
Spirit 253
Los Angeles (LAX) – Seattle (SEA)
Monday, July 31
Depart: 6:17PM
Arrive: 8:57PM
Duration: 2hr40min
Aircraft: Airbus A319
Seat: 1A (Big Front Seat)
At the door I was greeted by two friendly flight attendants, who looked at me like I was from another planet when I started snapping pictures of the plane. I guess I can't say that I blame them.
My flight was operated by an A319, featuring a total of 145 seats. This included 135 standard economy seats, which feature just 28″ of pitch (which is apparently so bad that SeatGuru marks all Spirit seats as yellow/caution).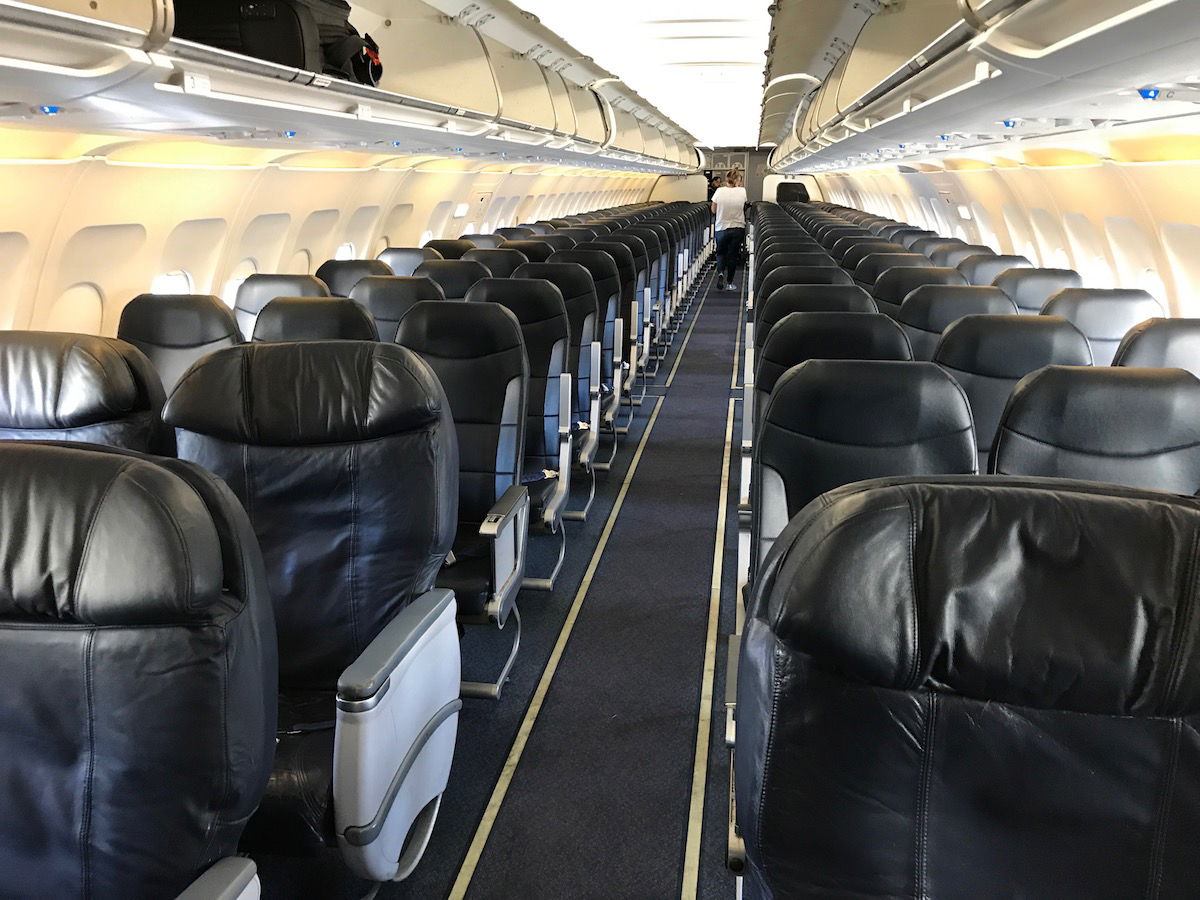 Spirit Airlines A319 cabin
I have to say, though, that the legroom didn't look that bad. I felt like the seat cushions may have been shorter than on other airlines, which might explain why the legroom isn't that terrible.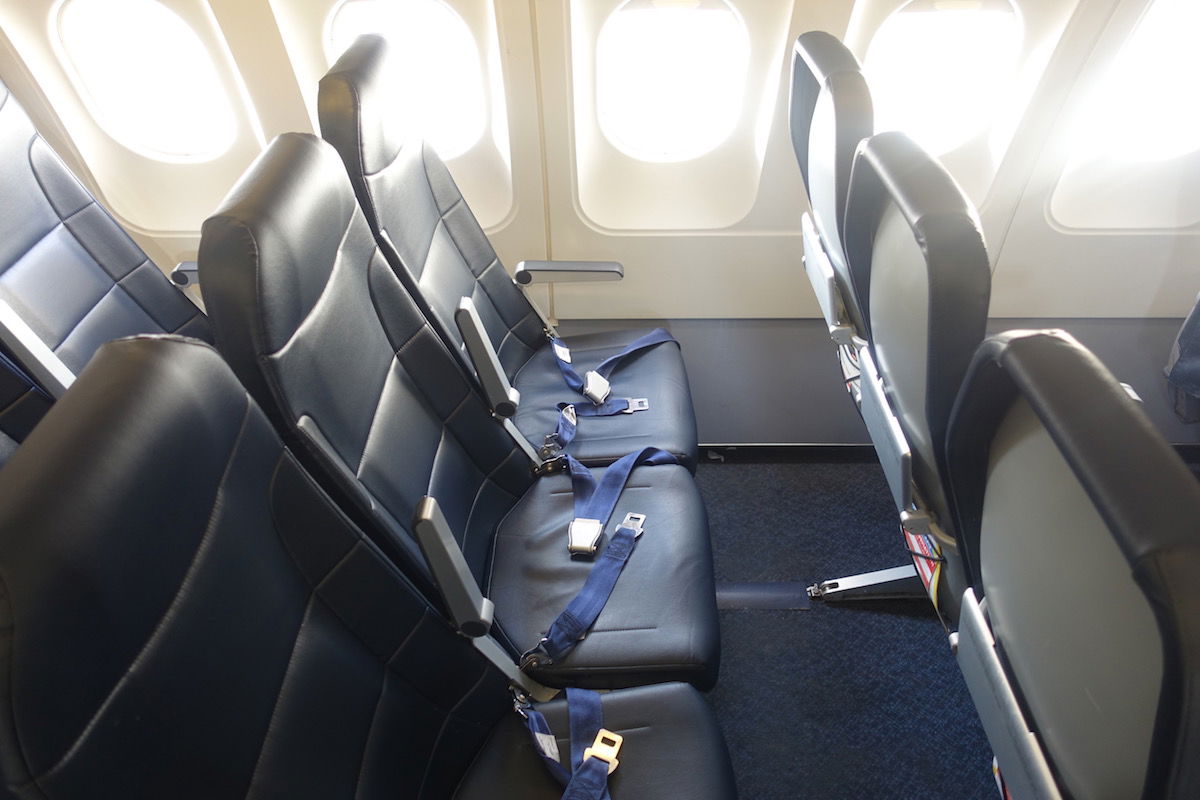 Spirit Airlines economy seats
One thing that's unique about Spirit is that they also have 10 "Big Front Seats," which are basically standard first class seats in a 2-2 configuration (the right side of the cabin has three rows, while the left side has two rows). These looked to me like United's old first class seats from about a decade ago.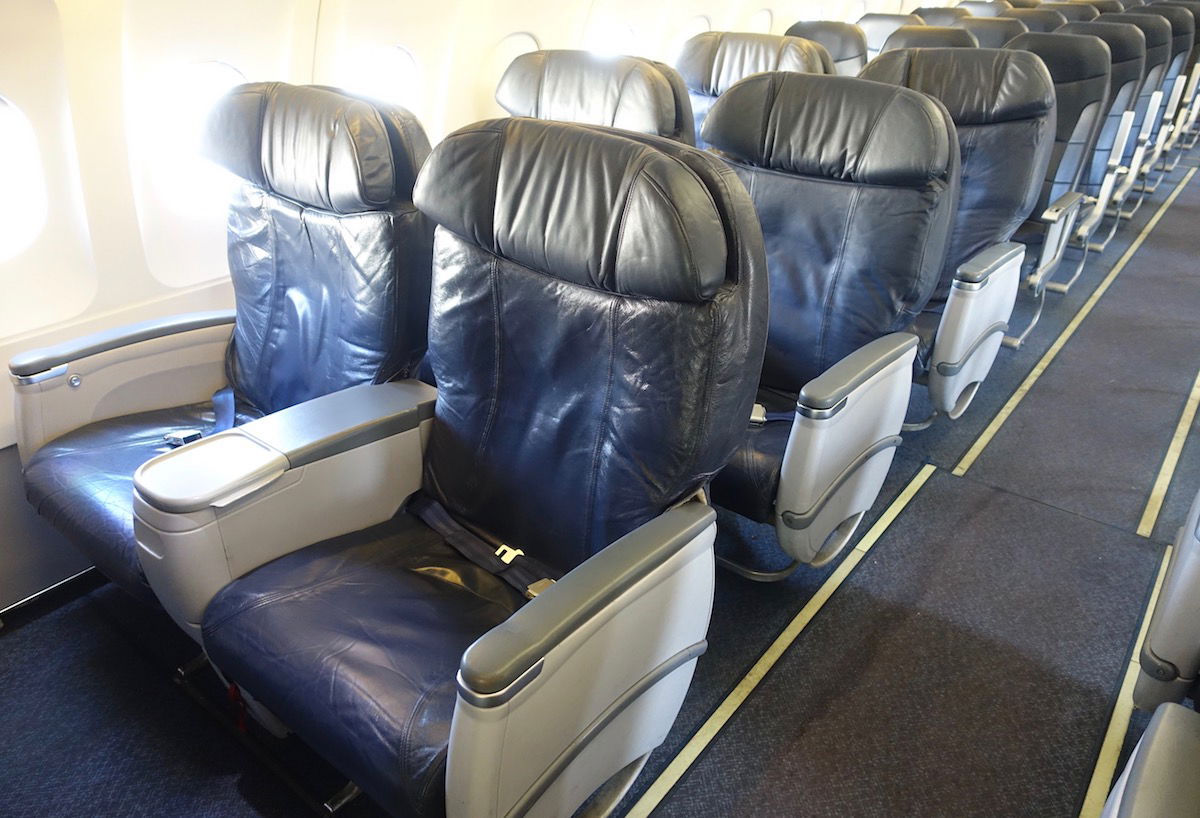 Spirit Airlines Big Front Seats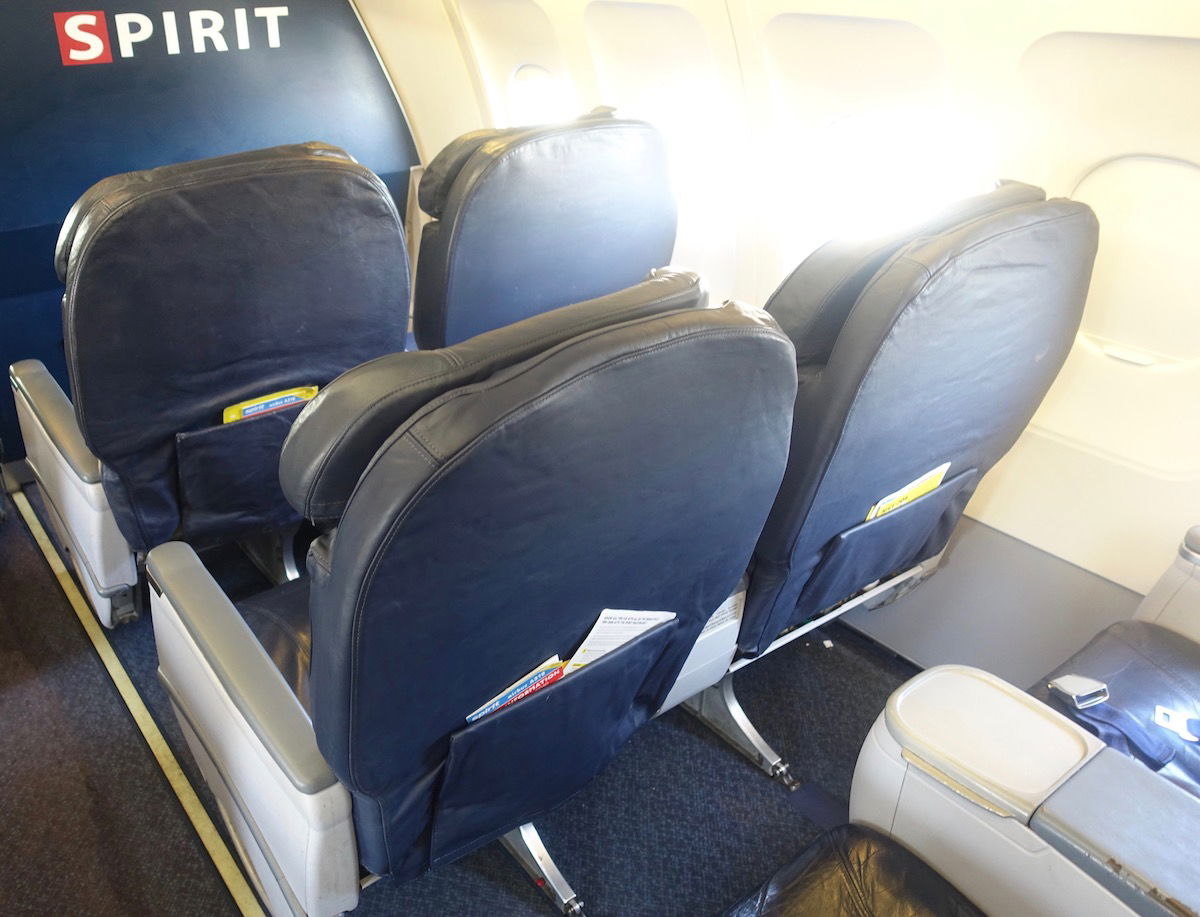 Spirit Airlines Big Front Seats
This really is such a fantastic value. The seats don't come with any extra services, though for only $32 extra for this flight, it was quite a deal (then again, I get that a lot of people flying Spirit want to pay the absolute minimum, so it's not practical for everyone).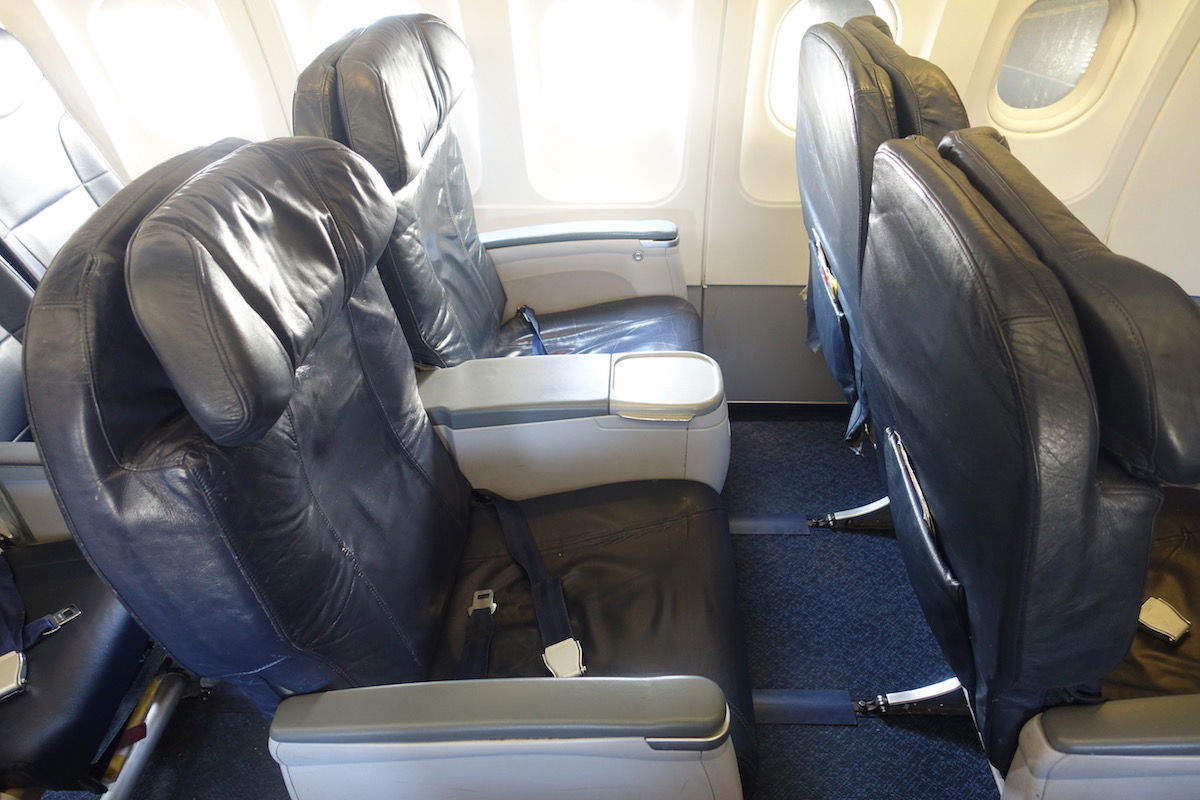 Spirit Airlines Big Front Seats
I had assigned myself seat 1A, the window seat in the bulkhead.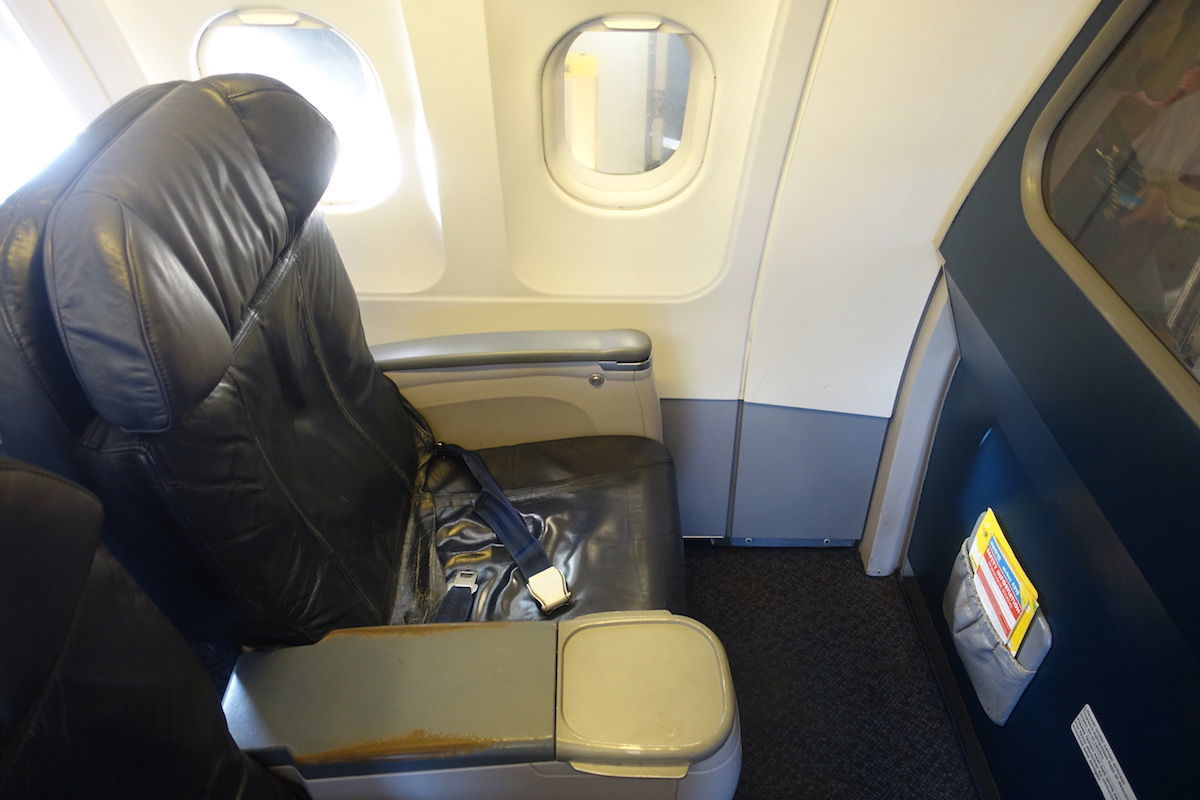 Spirit Airlines Big Front Seat
Spirit only has very small tray tables in their standard seats, while the Big Front Seats have the same tray tables you'd find in first class on most airlines.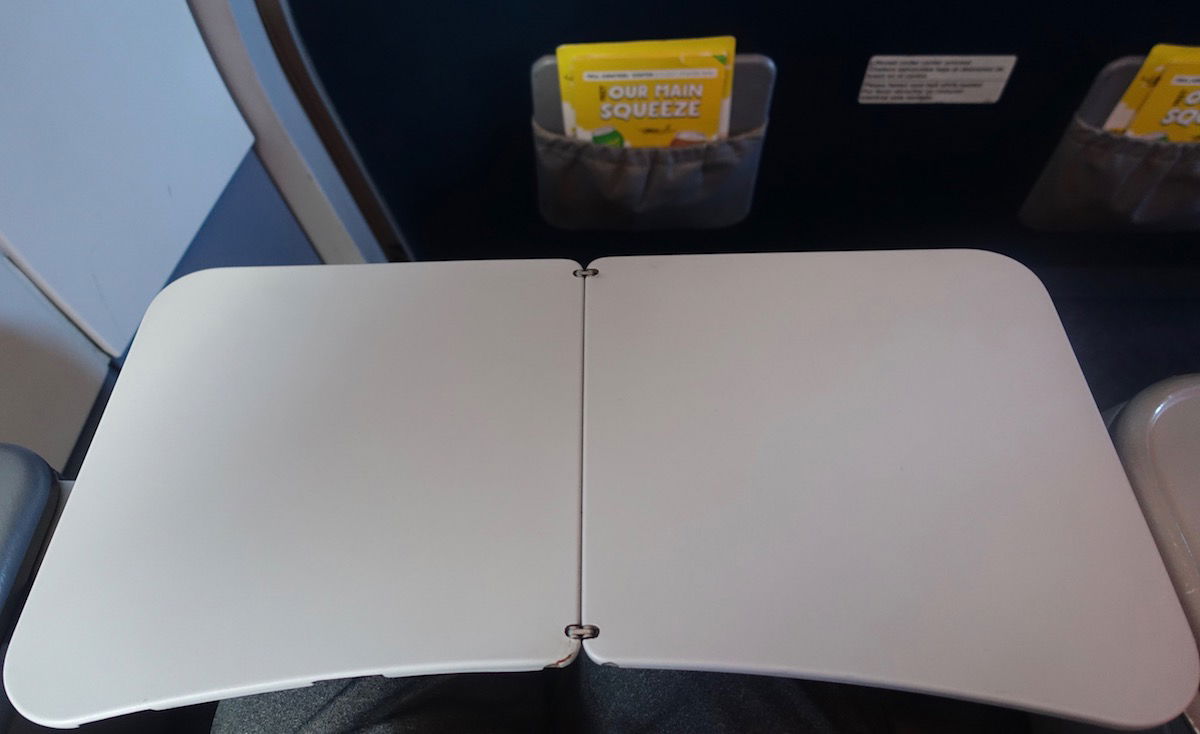 Spirit Airlines Big Front Seat tray table
Sitting in the bulkhead was a bit strange, since there was a see-through partition in front of it, so you were more or less face to face with the flight attendant.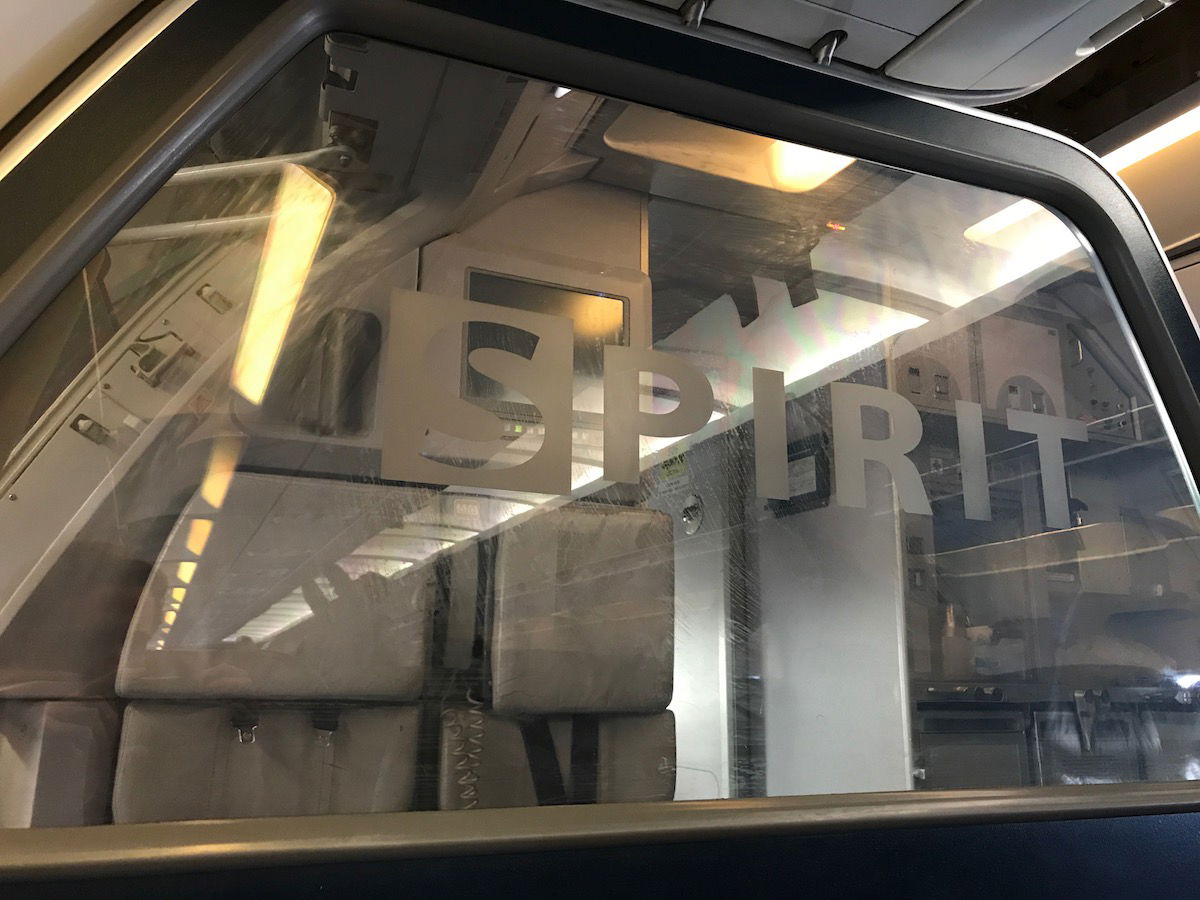 Spirit Airlines Big Front Seat bulkhead
Boarding was an adventure, as every seat on the plane was taken. Here's the thing — I'm happy that Spirit Airlines makes flying more accessible, and that's in everyone's best interest. At the same time, the crowd on this flight reminded me a lot of the people you'd find sitting at slot machines in Las Vegas at 6AM on a Sunday morning smoking cigarettes and still drinking. It actually made me sort of sad.
The guy seated next to me seemed to be upgraded last minute since they didn't sell all the Big Front Seats, and his wife was seated several rows back in the standard seats.
During boarding the lady came running up to her husband and said "that [n-word] tried to move my bag in the overhead bin. I'm also sitting next to a [certain s-word]." I was floored.
A few minutes later I heard someone use the c-word, though I didn't catch the context of that. Just wow…
Boarding was relatively efficient, given that most people didn't have carry-ons, meaning that there was plenty of overhead bin space. By 6:20PM boarding was complete, at which point the captain made his welcome aboard announcement, and informed us of our flight time to Seattle of 2hr10min. We didn't push back for over 20 minutes, and twice the captain got on the PA to explain that this was due to a couple of American planes blocking the taxiway.
At around 6:30PM the manual safety demonstration began, and we were airborne shortly before 7PM. I couldn't help but laugh at Spirit Airlines' after takeoff announcements. In the same way that other airlines would welcome aboard members of their loyalty program, Spirit says "we'd like to add a special welcome to our valued $9 Fare Club members." Hah.
Service began pretty quickly after takeoff.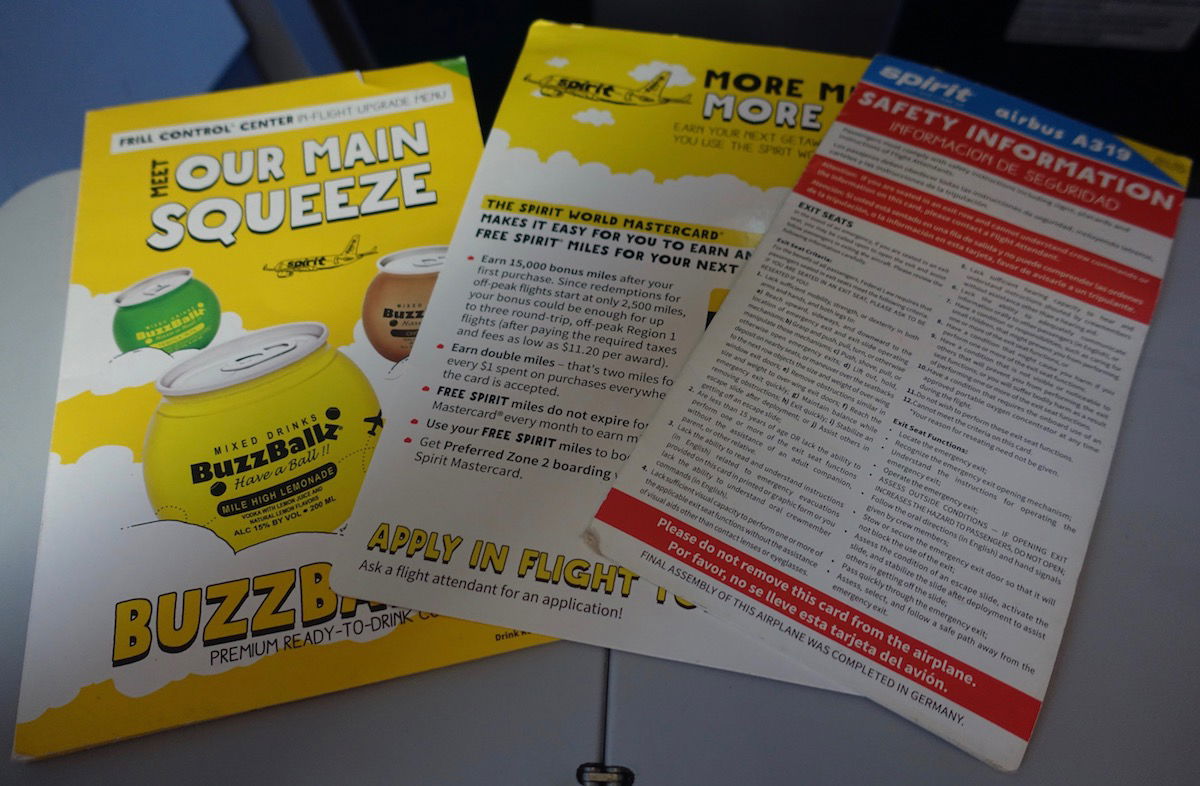 Spirit Airlines menu, credit card pamphlet, and safety card
Everything on Spirit needs to be purchased, and as a result, the service is really quick, given that few people actually buy something. The menu read as follows: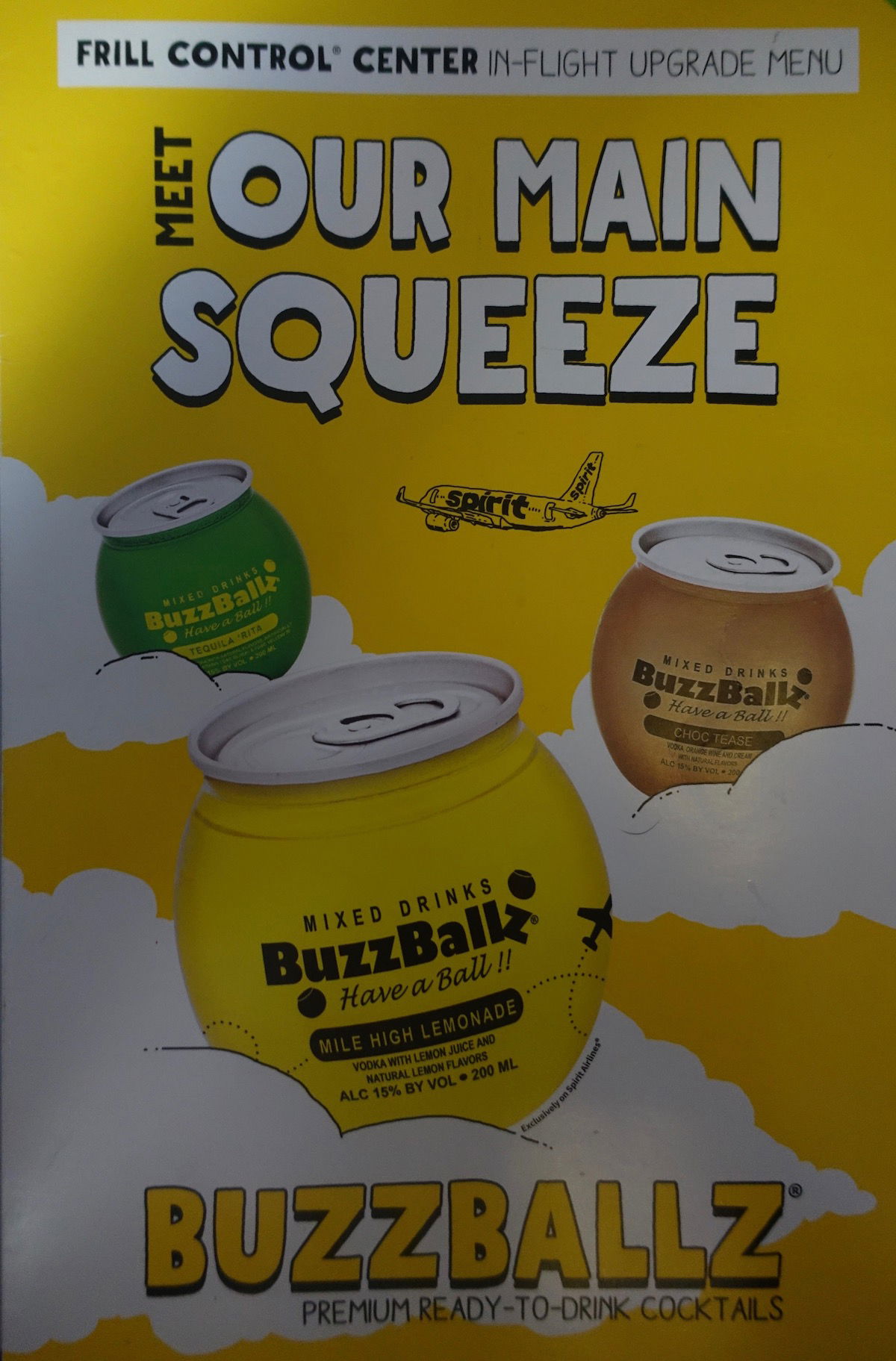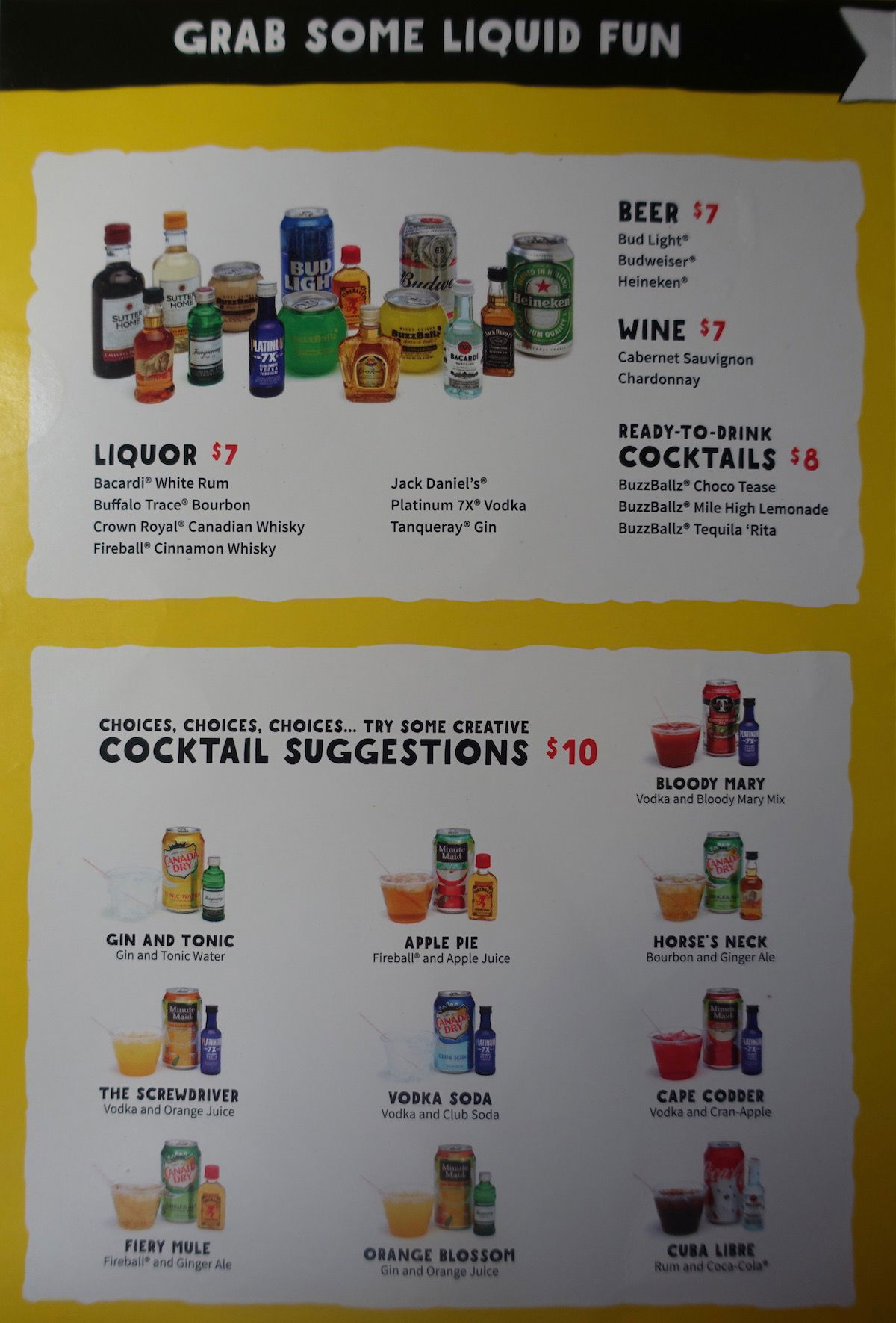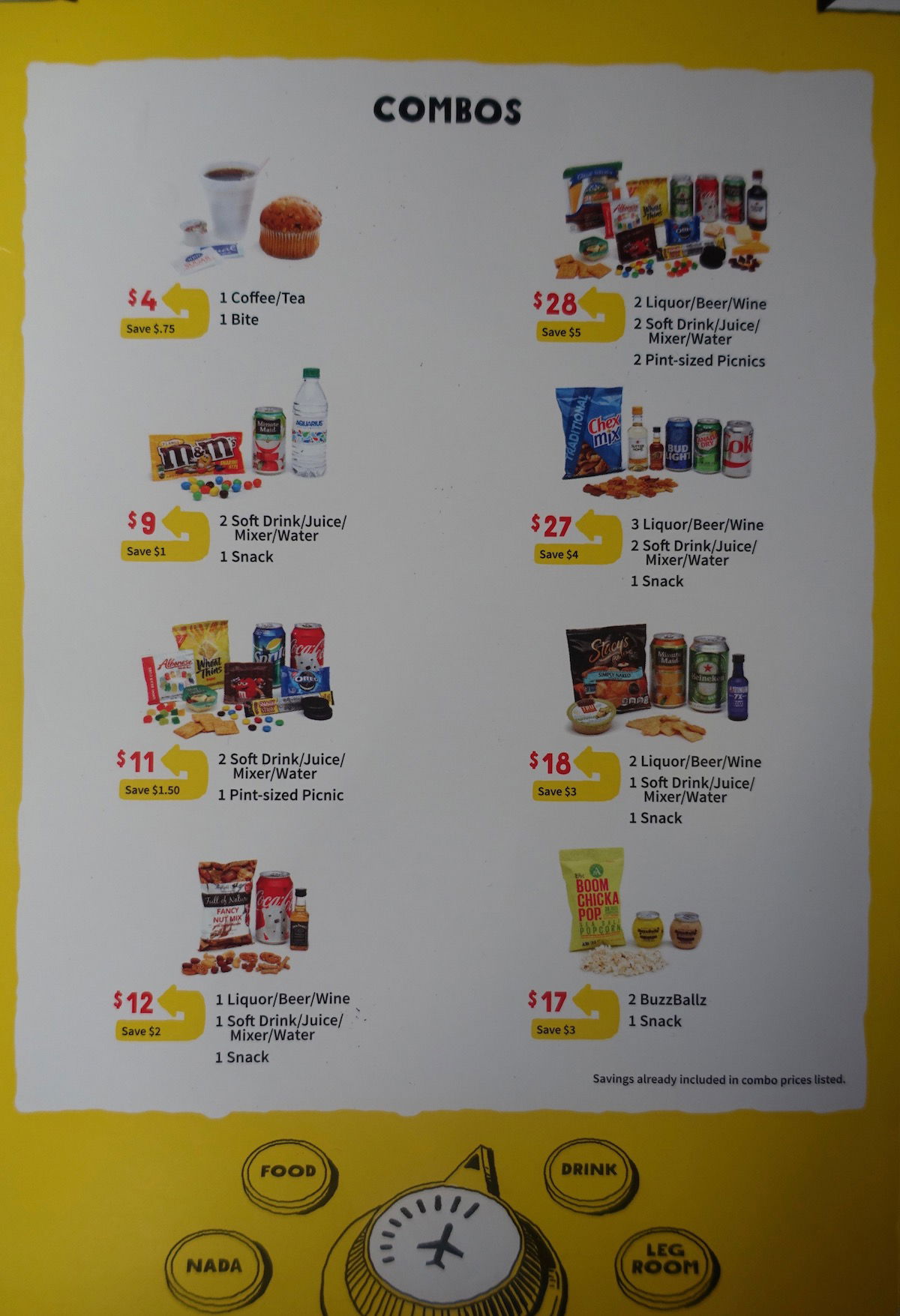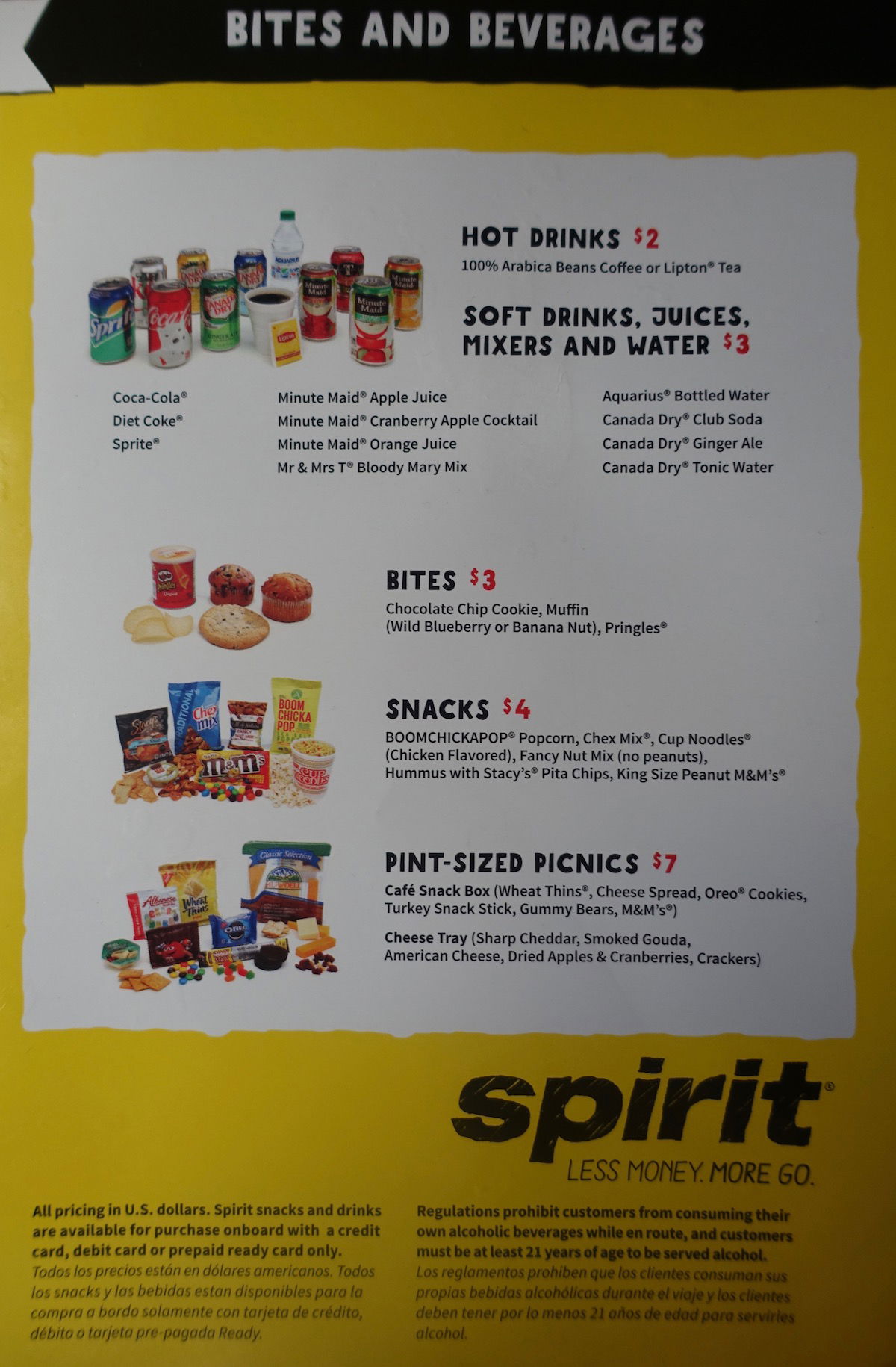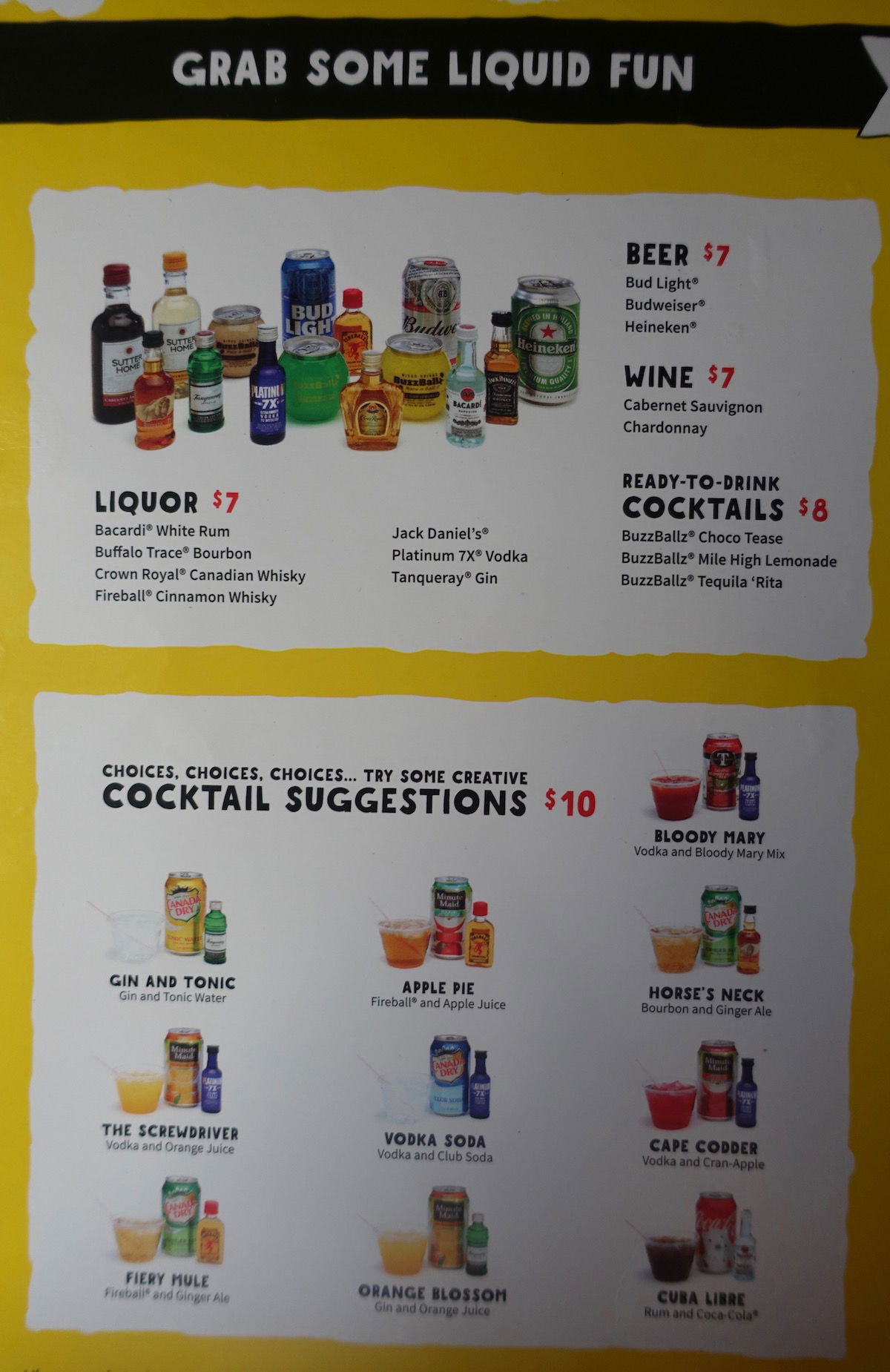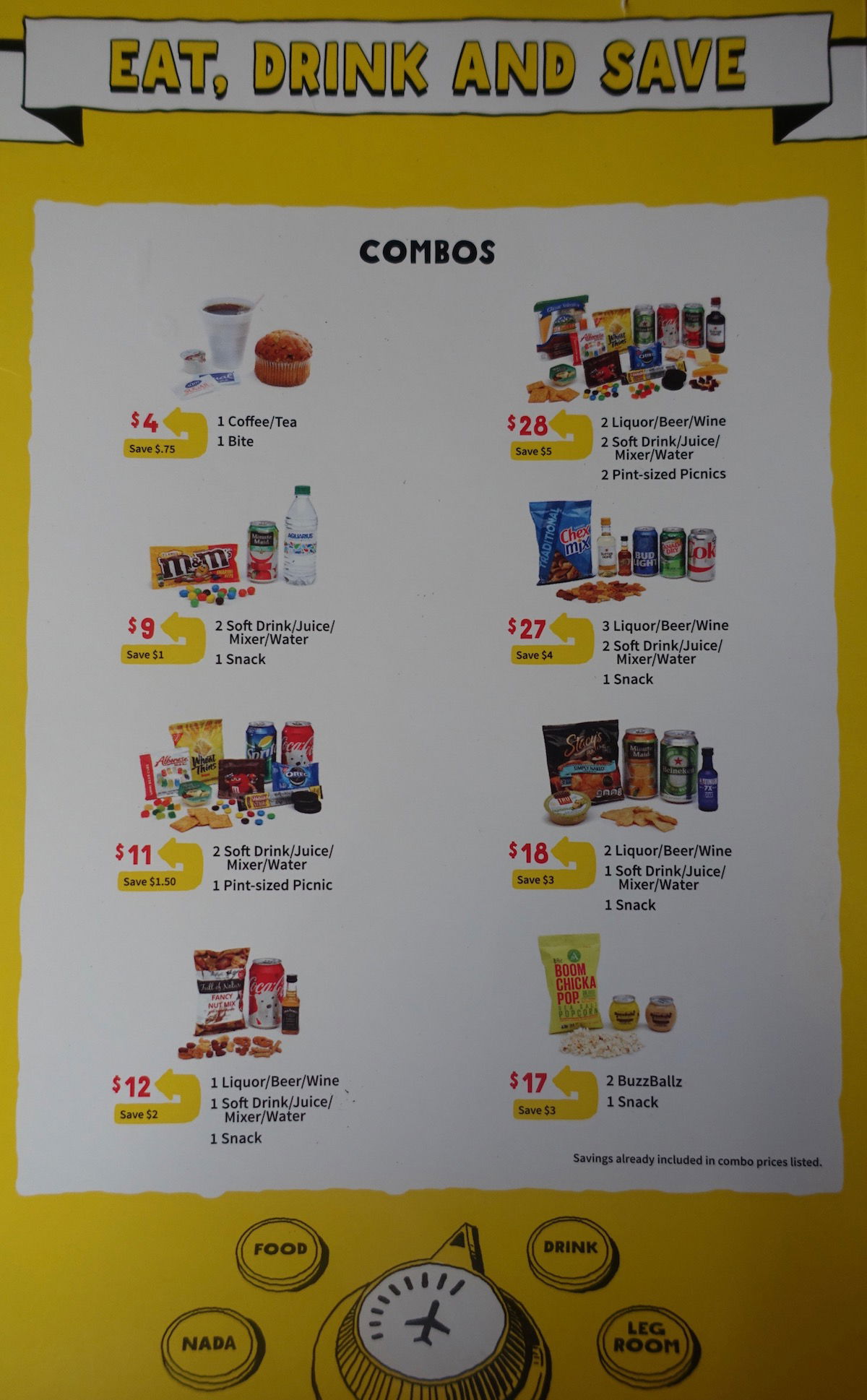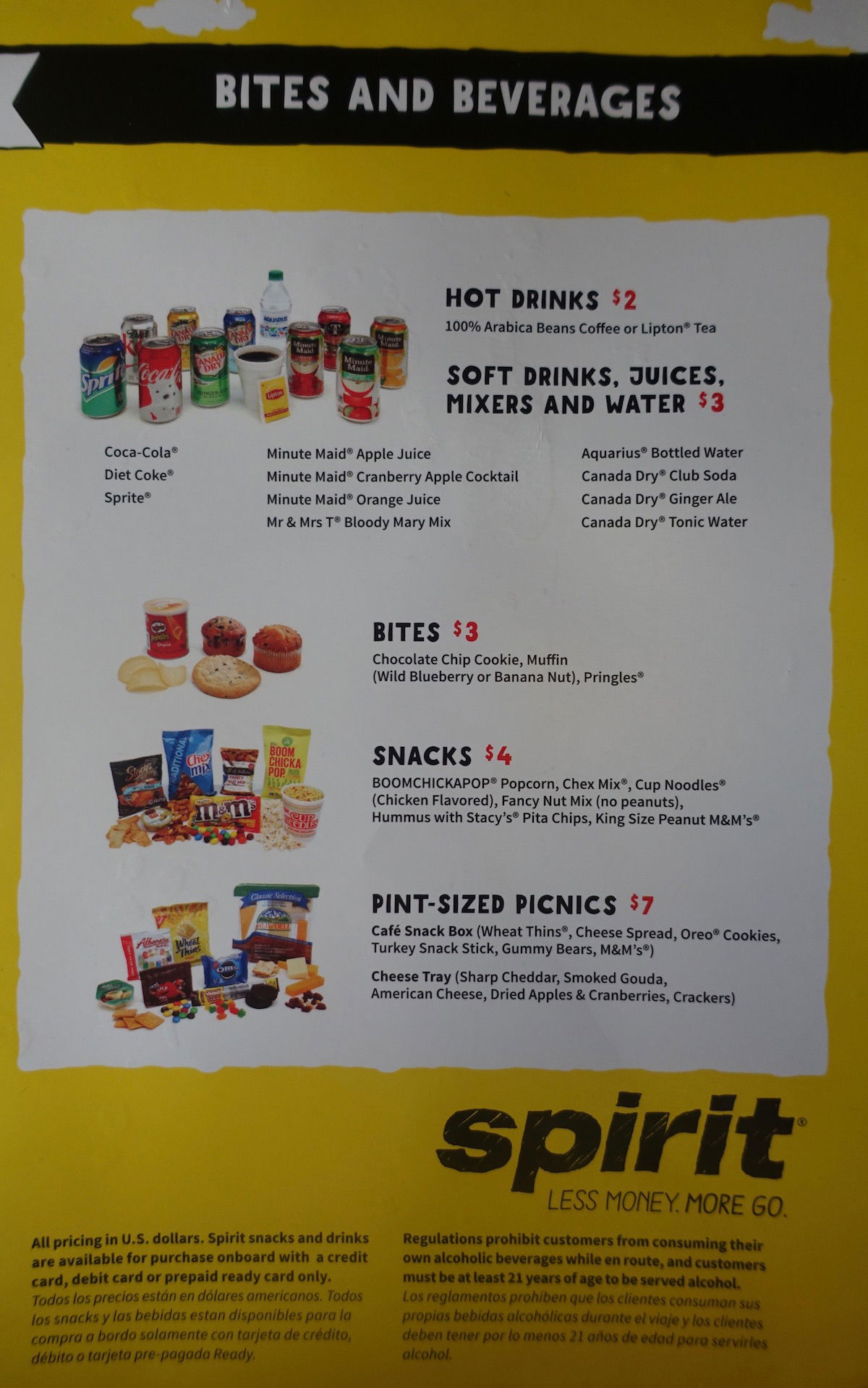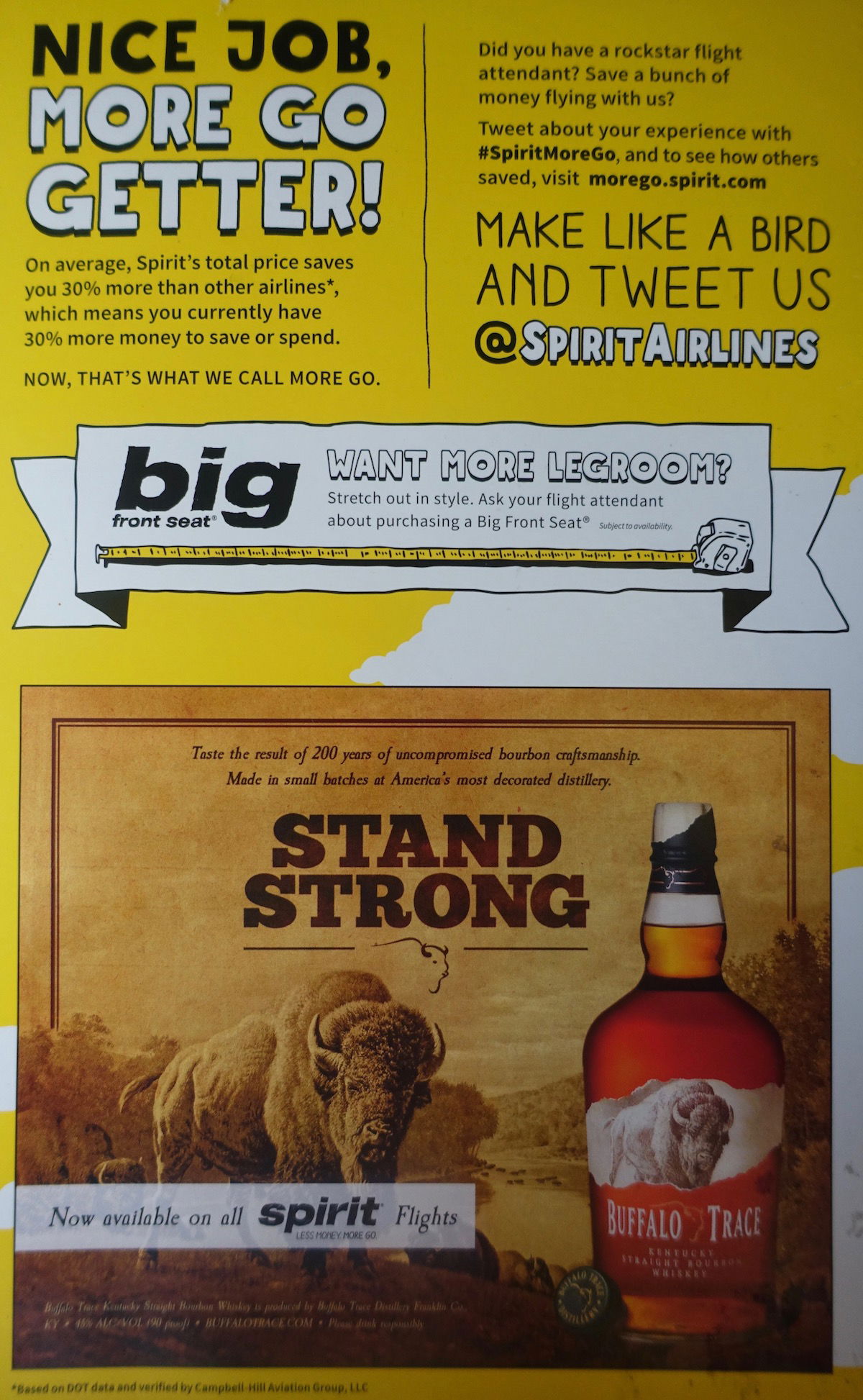 To say that I was intrigued by Spirit's "BuzzBallz" ready-to-drink cocktails would be an understatement. I figured I had to try them all. I was also under the impression that they served canned wine, so I figured I had to order one of those as well. My assumption, however, was that there was no way in hell they'd sell all that to me. So I had to come clean.
"I'm writing a story about Spirit Airlines, and have heard so much about by the BuzzBallz cocktails. I promise I won't drink them all, but is it okay if I buy all three and a bottle of wine, and just test them all out?"
"Of course. And just so you know, the BuzzBallz Mile High Lemonade is exclusive to Spirit. Let us know what you think."
I also added in some "fancy nuts," because why not?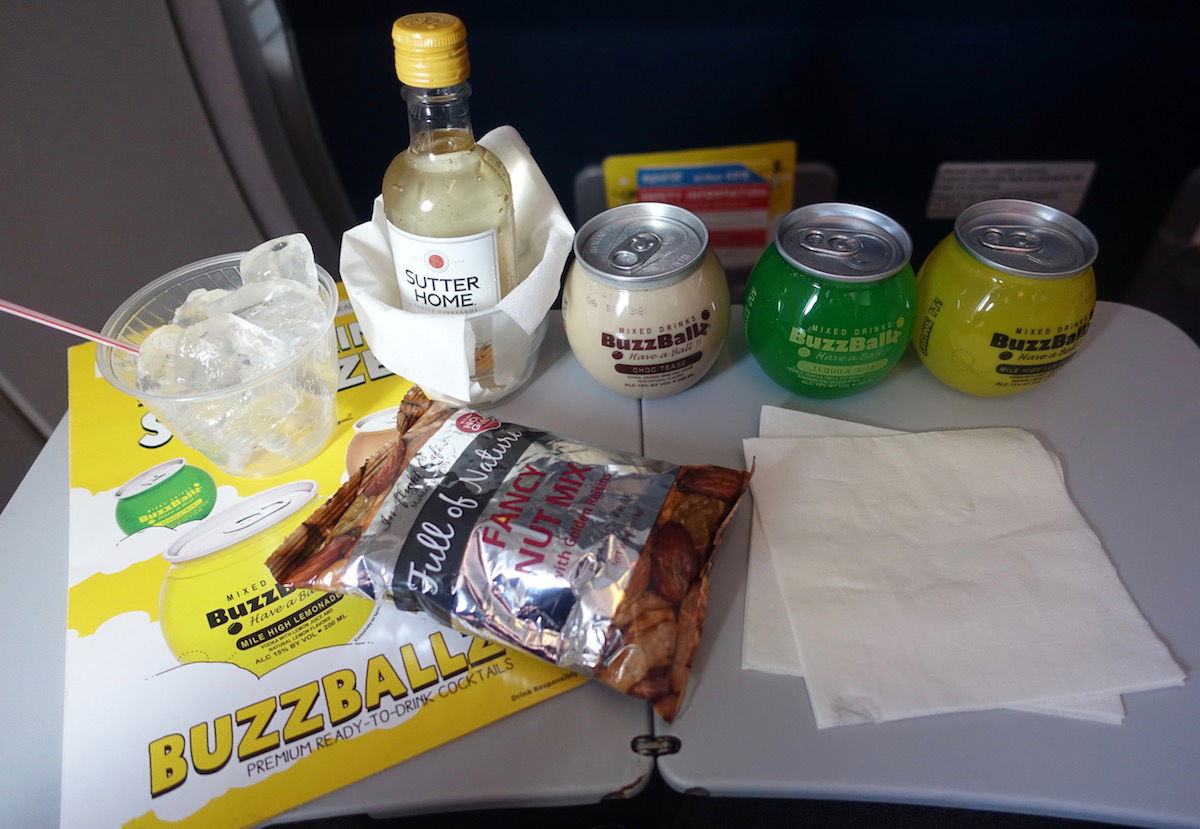 Spirit Airlines wine, cocktails, and snacks
However, as it turns out, I guess that explanation wasn't necessary. The guy next to me said "that sounds good, I'll have exactly the same," and they sold that to him without issue. Only on Spirit Airlines would someone copy an order of three cocktails and wine.
So how were the BuzzBallz cocktails? Actually quite good:
The Mile High Lemonade tasted like lemonade, except it was fabulously alcoholic
The Choc Tease tasted like Baileys with milk… yum, yum, yum
The Tequila Rita was by far my least favorite, and tasted like a terrible margarita with way too many chemicals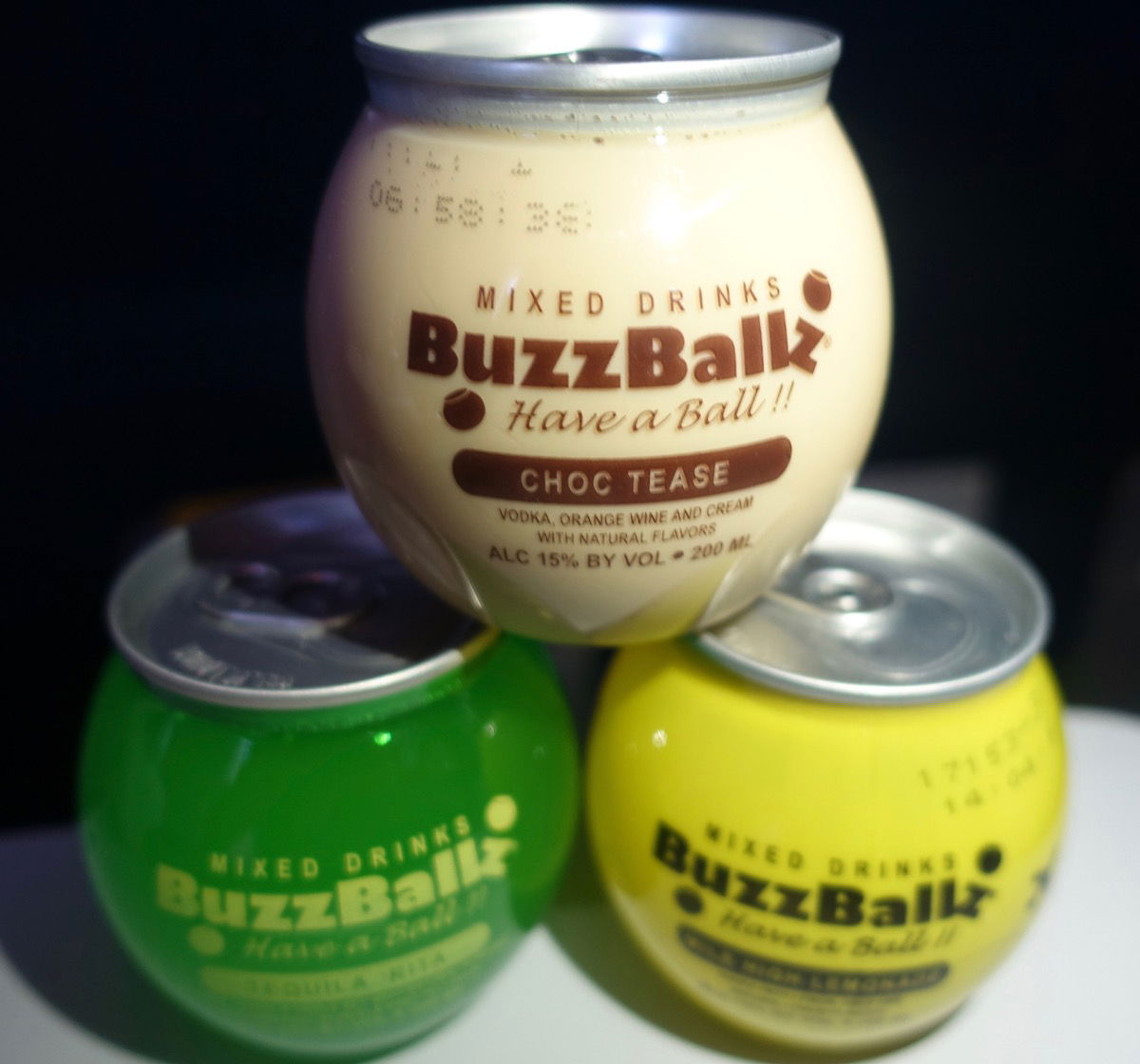 Spirit Airlines BuzzBallz cocktails
The guy next to me had no fingernails, and his fingers were dirty. On top of that, he picked his nose during boarding as if he was trying to set a new world record. But with each cocktail he'd spend maybe 30 seconds trying to open it, and then asked me if I could do it, saying "I don't have fingernails, can you open it for me?"
Of course I was happy to help, I just wish he had asked before spending so long trying to do it. When I saw he was going to start his third cocktail, I proactively offered. "You want me to open that for me?" He said "I'll try first." Of course he couldn't do it, and then asked me to open it.
As a germaphobe, that whole experience was something, alright.
The guy then ended up ordering two more of the Choc Tease drinks, because apparently four drinks on a two hour flight isn't enough.
After the service I checked out the lavatory at the front of the cabin. The crew announced several times that passengers should stay seated until the lavatory is empty, and to not congregate near the galley or lavatory. Despite that announce, there was always a line for the lavatory. If booking a Big Front Seat, that's one reason I'd recommend a window over an aisle, since the aisle passengers constantly had people standing above them.
The lavatory itself was fine.

Spirit Airlines lavatory
During the flight there were two long credit card pitches for the Spirit Airlines Mastercard, that were even longer than the pitches on most other airlines.
On the plus side, they did something really cute on descent. They have a "lucky middle seat passenger" contest (I believe it's on every flight?), where they hid something in one of the tray tables of a middle seat passenger. That person won 5,000 Spirit miles. Now, those miles are mostly worthless, but I think it's a really cute concept.
We began our descent at around 8:30PM, and were treated to a gorgeous Pacific Northwest sunset (which fortunately even Spirit can't charge extra for, though the windows were filthy). We touched down shortly after 9PM, and got to the gate about 15 minutes behind schedule. The guy next to me tried to get up and nearly fell. I wonder why?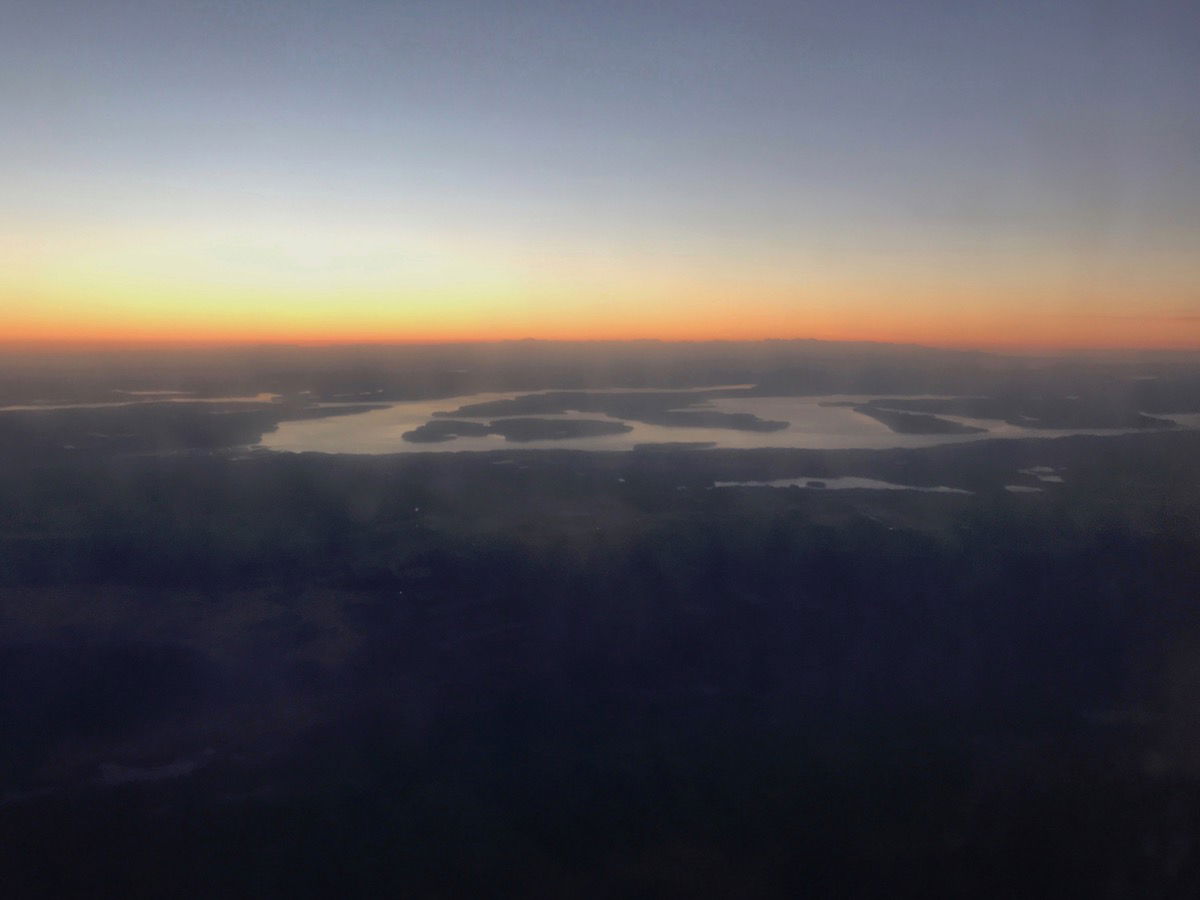 View on approach to Seattle
Spirit Airlines Big Front Seat bottom line
When you take the passengers out of the Spirit experience, it's actually not bad at all. The flight attendants were friendly, and the buy on board offering is fine. Sure, I wish they had Wi-Fi or power ports, but that's not going to happen. The Big Front Seat also represents a great deal for anyone who values a bit of comfort.
My only issue with Spirit is the passengers. I'm happy that travel is made more accessible, but I don't think I've ever heard so much racism or bad language as on this flight. And this was a Los Angeles to Seattle flight, which is pretty civilized as far as Spirit routes go. I can't imagine what a Spirit redeye out of Las Vegas on a Sunday night is like.