As I explained in the introduction post to the trip report, I decided to book us on United Airlines from Tampa to San Francisco. In this post I wanted to share some general thoughts on our experience flying with United, both in terms of the hard and soft product.
Why we booked United Airlines
This trip was only planned on very short notice, so I was booking flights just a day in advance. With no nonstop options available, United seemed like the best option when paying for first class (there were no decent award options available). Why?
We could fly from Tampa to Chicago to San Francisco, with the Tampa to Chicago flight on a Boeing 737-900, and more importantly the Chicago to San Francisco flight on a Boeing 787-8 with United's new Polaris seats
The last two available Polaris seats on the Chicago to San Francisco flight were the "honeymoon" seats right next to one another, so it seemed like it was meant to be (if there is such a thing)
The connection time was the perfect length (just under an hour), and the flight timing worked well for us
United is generally my least preferred of the "big three" US airlines when flying domestically. I find Delta generally offers the best customer experience, while being based in Miami I've been loyal to American, and I at least appreciate that American has high speed Wi-Fi, which is something I value greatly.
United Airlines first class catering
Virtually all airlines have adjusted service as a result of coronavirus, so what's United's first class catering like at the moment? The catering options were more or less the same on both flights.
First of all, like American (and unlike Delta), United is mostly serving its full drink selection in first class. Everything is served in unopened cans or bottles, with plastic cups.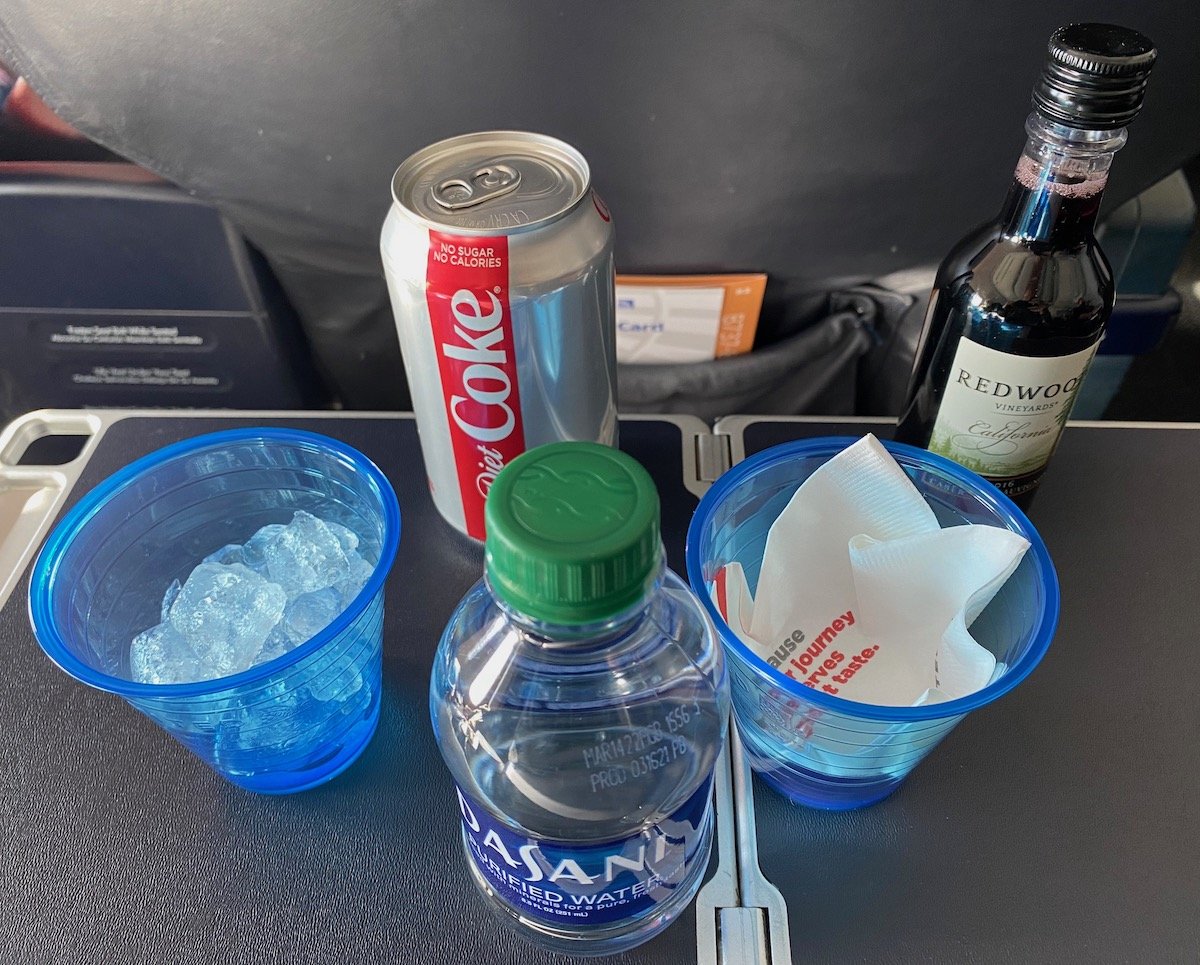 United Airlines first class drink service
Then for flights over 2hr20min, United offers the choice of a snack box or a warm sandwich (for flights out of some airports there's no sandwich option).
The "Select Snackbox" was perfectly fine, and exactly what you'd expect. It had a couple of types of crackers, a couple of types of packages cheese spread, beef salami slices, almonds, dried apricots, and a mini-Toblerone.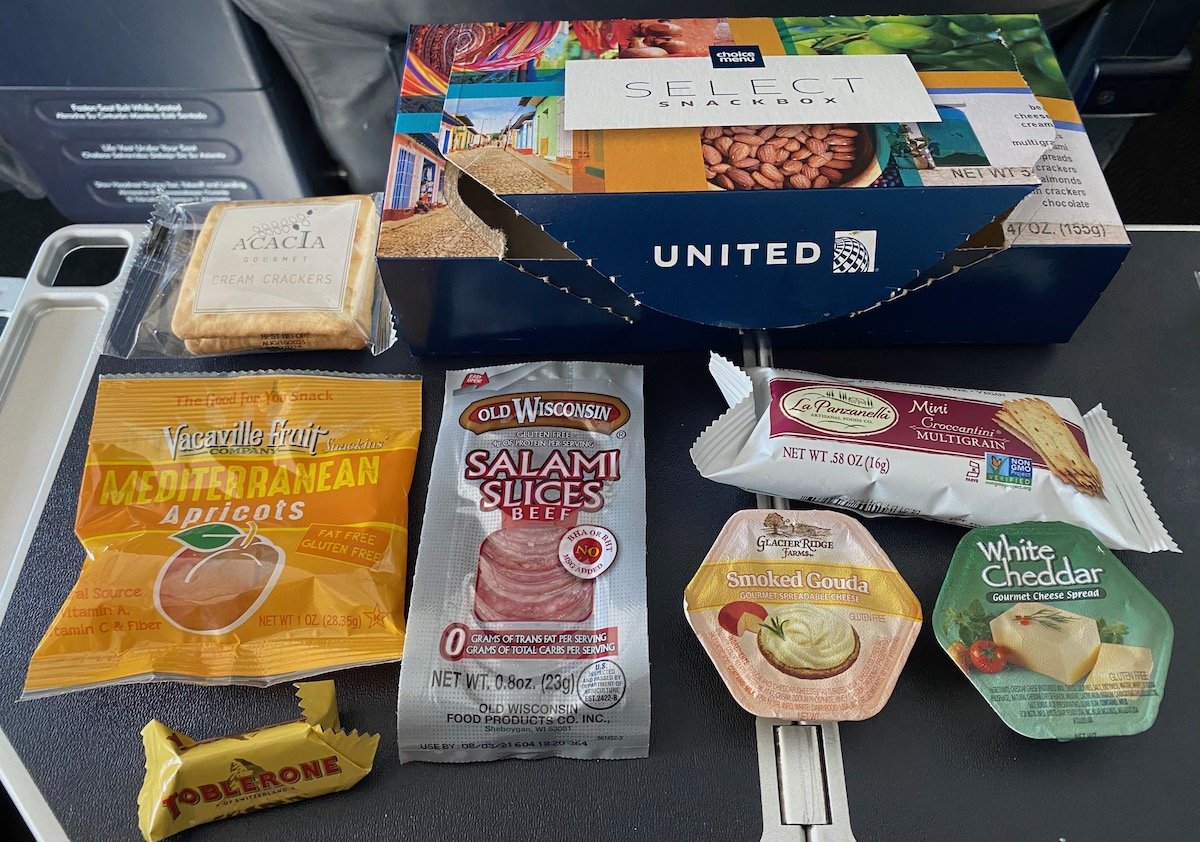 United Airlines first class snackbox
However, there's another food option for passengers, and that's a sandwich. On one flight that's all they had available by the time they got to me, so that's what I had.
I don't proclaim this lightly, but this was quite literally the most disgusting thing I have ever been served on a plane, and that's saying a lot. It was described as a "carved chicken on Italian focaccia," and it apparently had "artisan" focaccia, chicken, provolone, parmesan garlic butter, and kale cream cheese.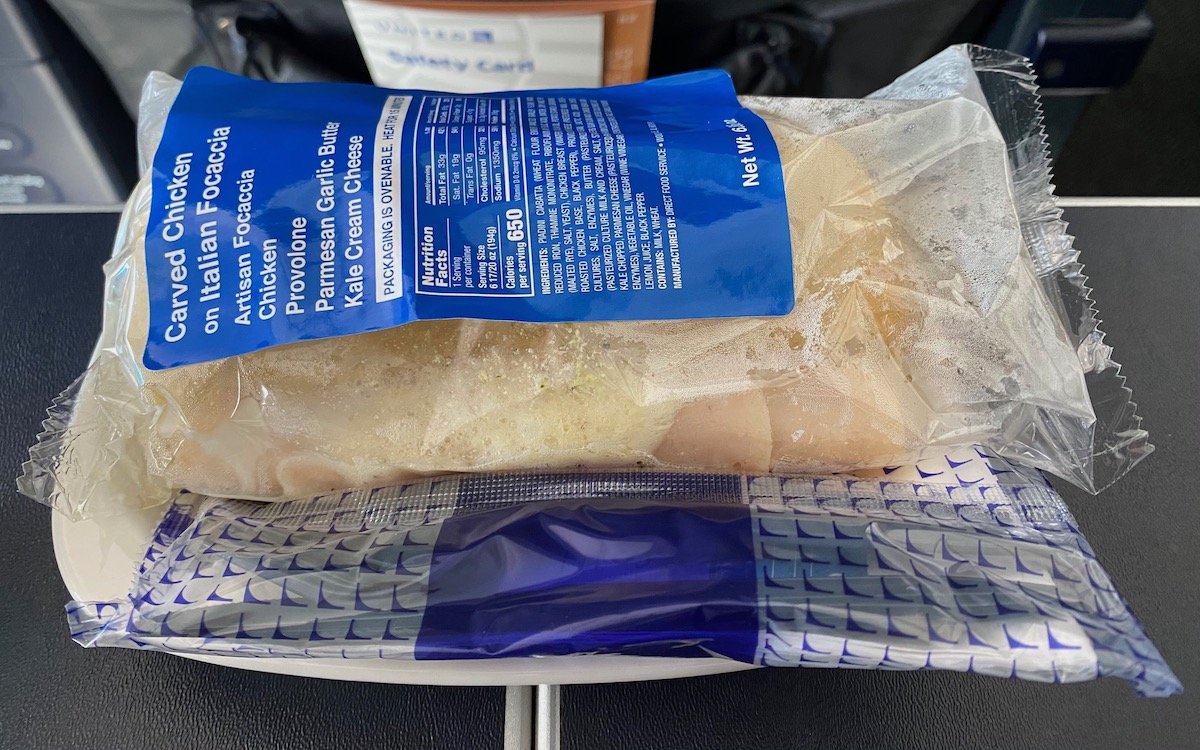 United Airlines first class sandwich
First of all, let's talk about the nutrition contents. This small sandwich had 650 calories (fine, whatever), and 33g of fat (42% of the recommended daily allowance), and 19g of saturated fat (94% of the recommended daily allowance). And let's not even talk about the sodium or cholesterol.
"Well this will surely be a real delicious indulgence," I thought. I can't even put into words how this thing tasted. I had one bite and decided to call it a day, because it was simply terrible — the bread was dry, the taste of the chicken couldn't help but make me feel bad for the sad life that the poor animal must have lived to taste like that, and the melted cheese looked like microwaved… well, nevermind.
I couldn't help but wonder, who is the "artist" behind the focaccia? And who "carved" the chicken? And was the parmesan garlic butter and kale cream cheese really necessary?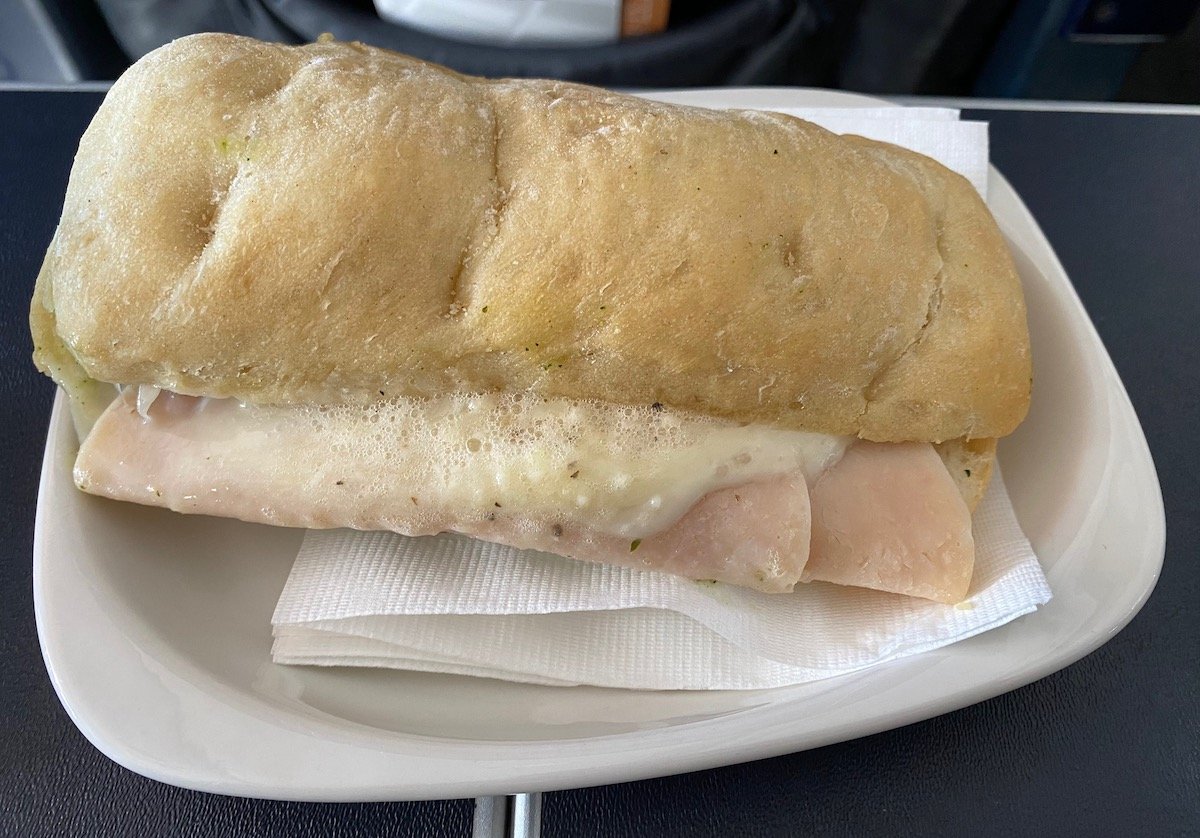 United Airlines first class sandwich

Mmmm, butter and cream cheese!
Let me be clear — I'm all for airlines reducing service due to coronavirus, and I'm not even opposed to airlines offering no service to minimize the amount of time people have their masks off. But I just don't know how any company can serve this in good conscience.
It made the American Airlines "lobster roll" taste like fine dining by comparison. And for that matter it made me appreciate the cold but edible turkey sandwich that American currently serves in first class.
United Airlines first class seating
What did I make of United's seats? I enjoyed our flight on United's 737-900. I found first class seat padding to be excellent. On top of that the legroom and usable space was very good. There was also live TV, though that's not something I care much about.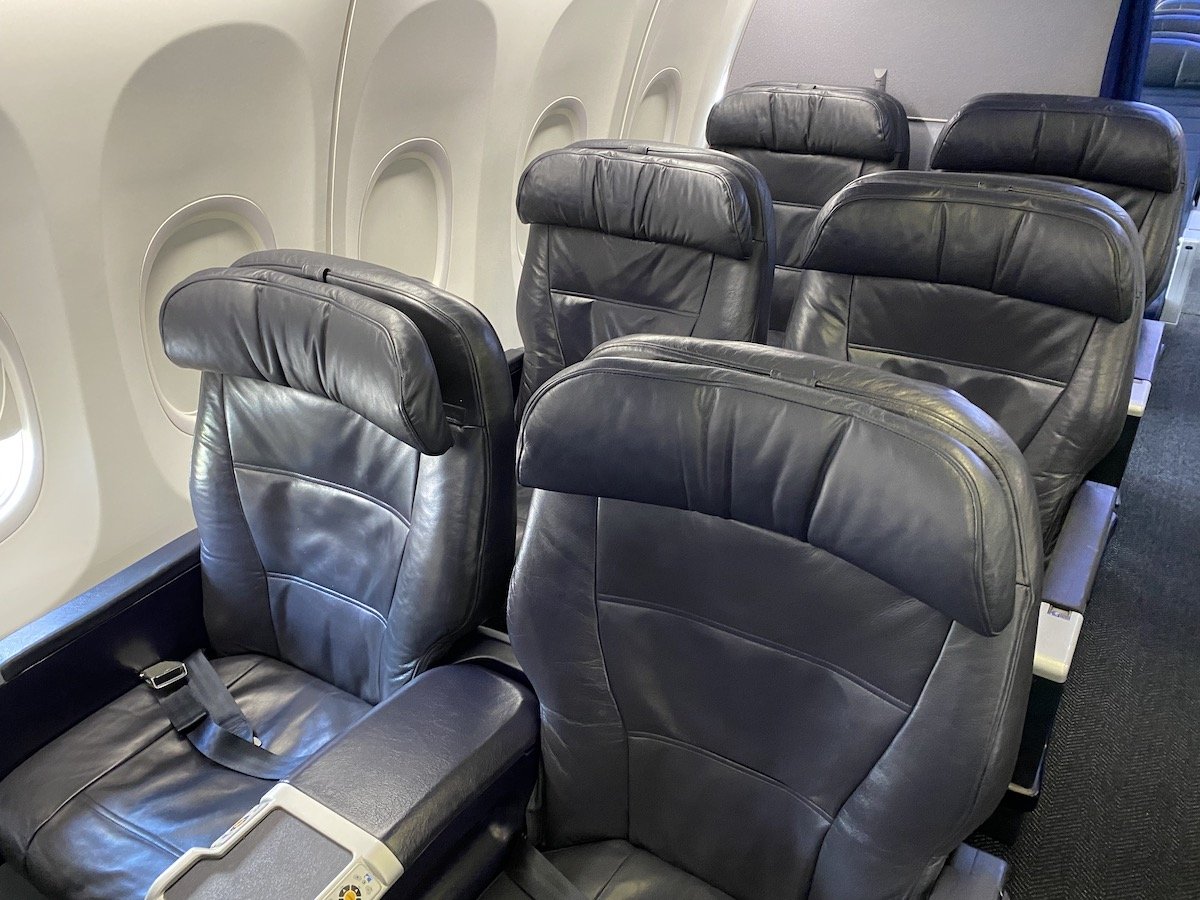 United Airlines 737-900 first class cabin
On balance this configuration was so much more comfortable than American's "Oasis" first class configuration.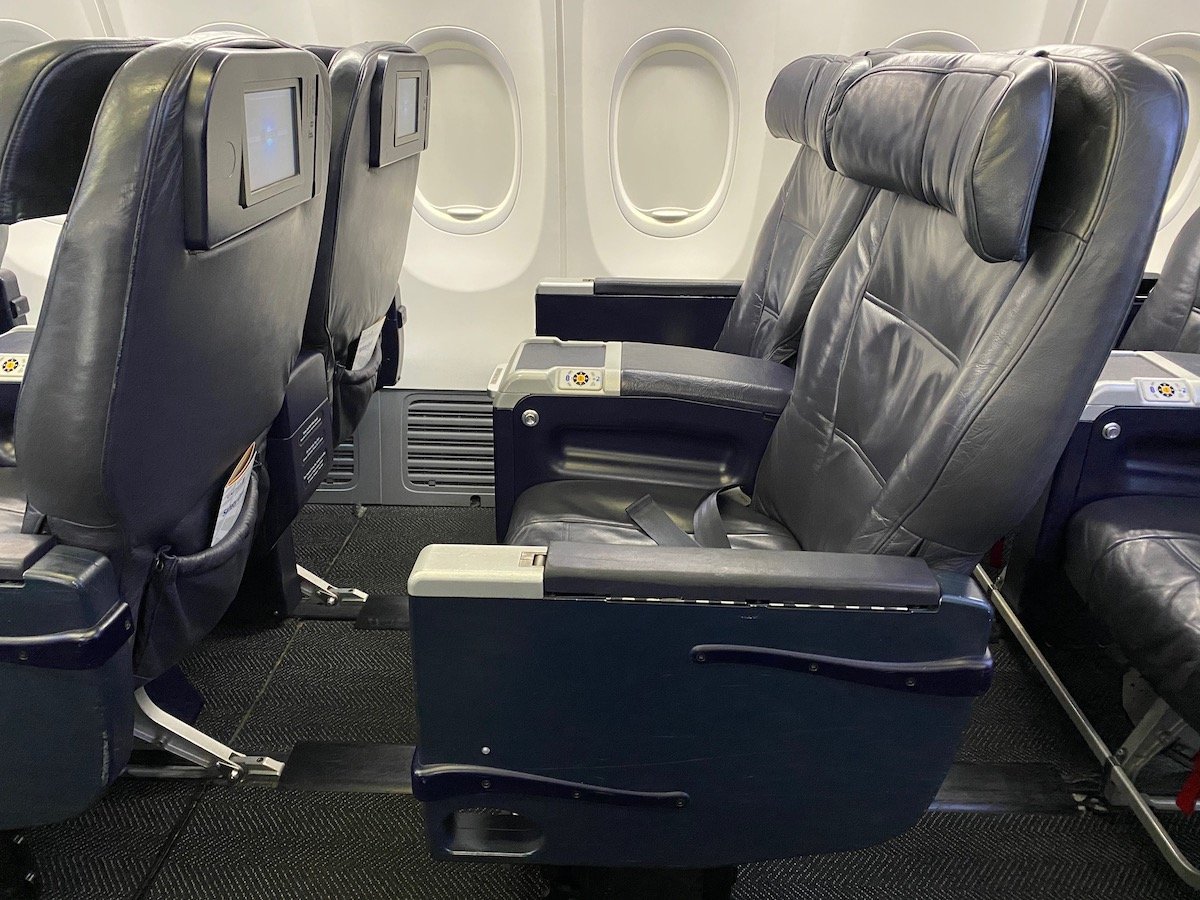 United Airlines 737-900 first class seats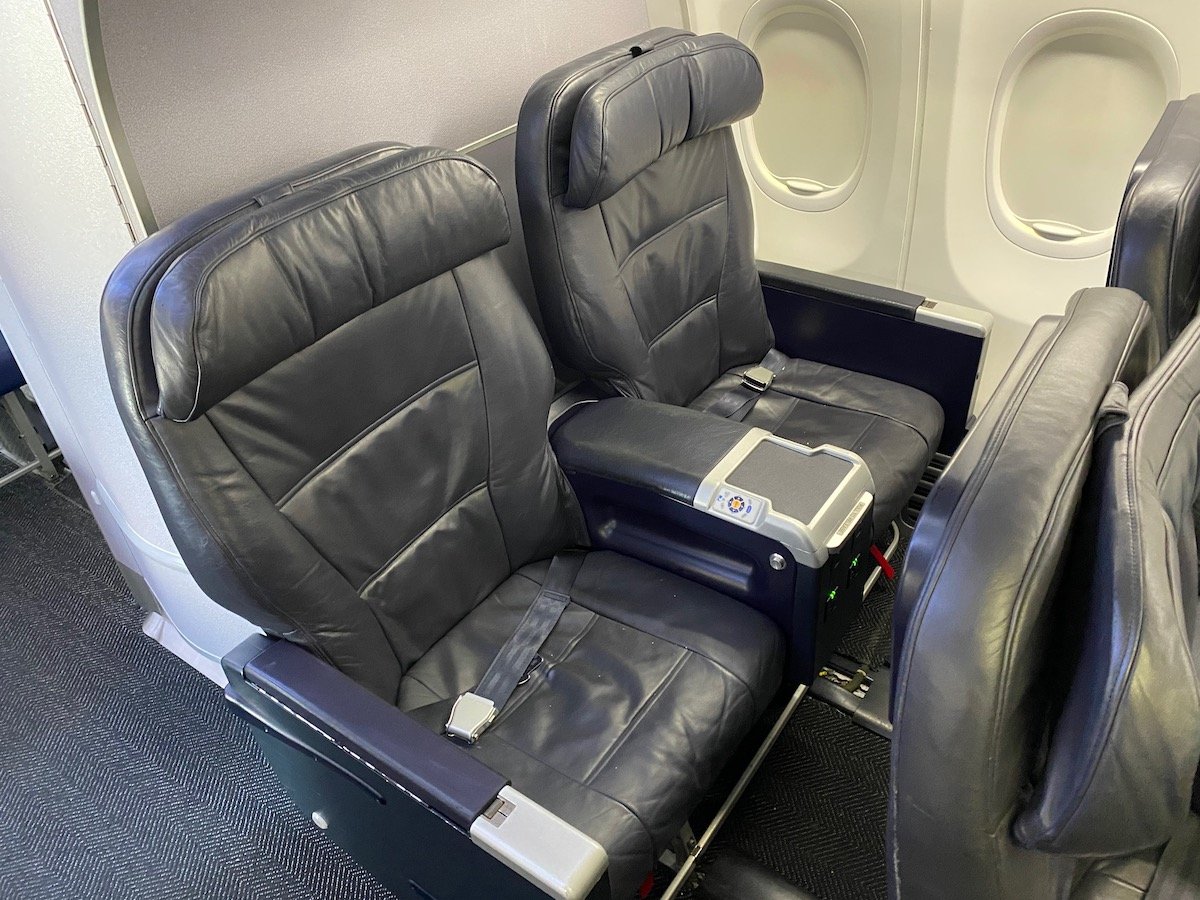 United Airlines 737-900 first class seats
The real treat was flying a Boeing 787-8 with new Polaris seats from Chicago to San Francisco. I've reviewed United's 787 Polaris business class on a long haul flight before, and it's an excellent product. Getting international business class seats on a domestic flight is always such a treat, and this was no exception.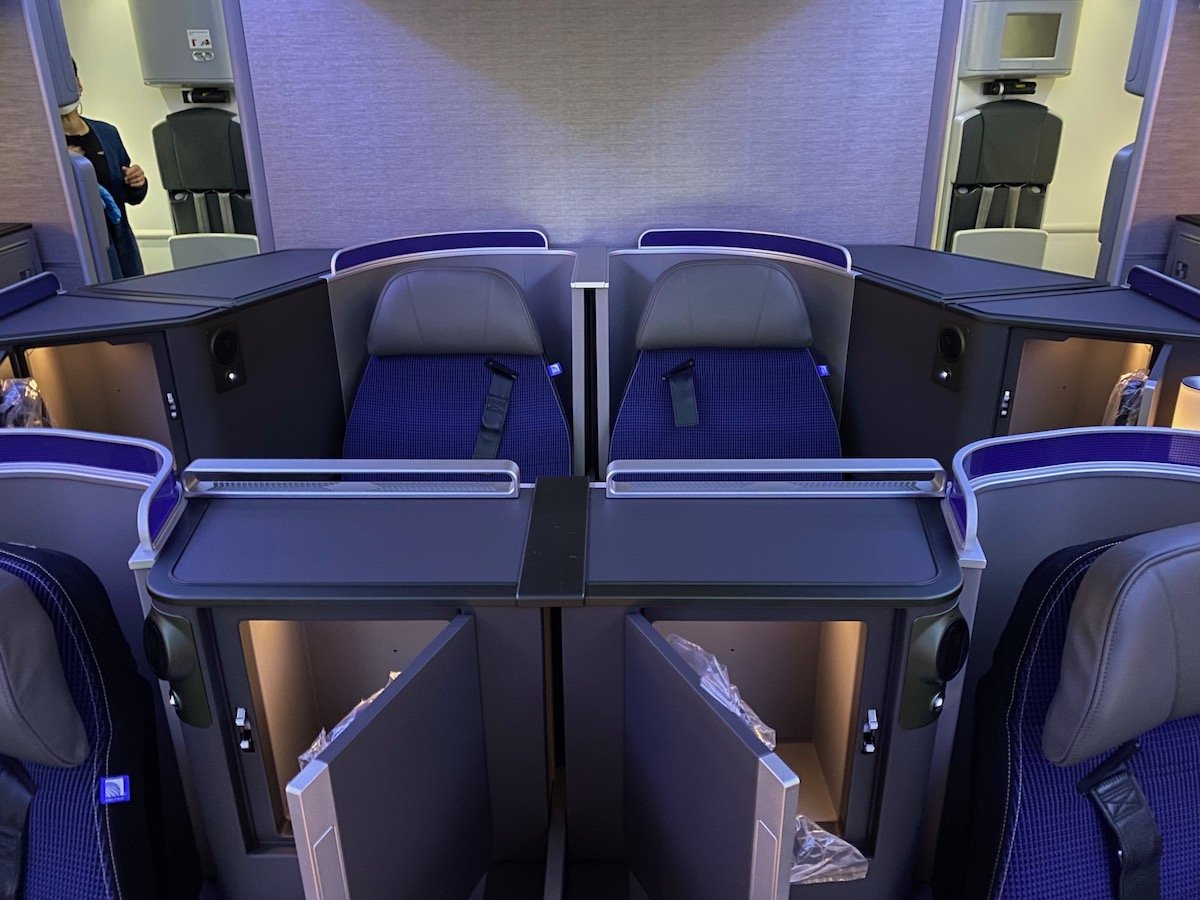 United Airlines 787-8 Polaris seats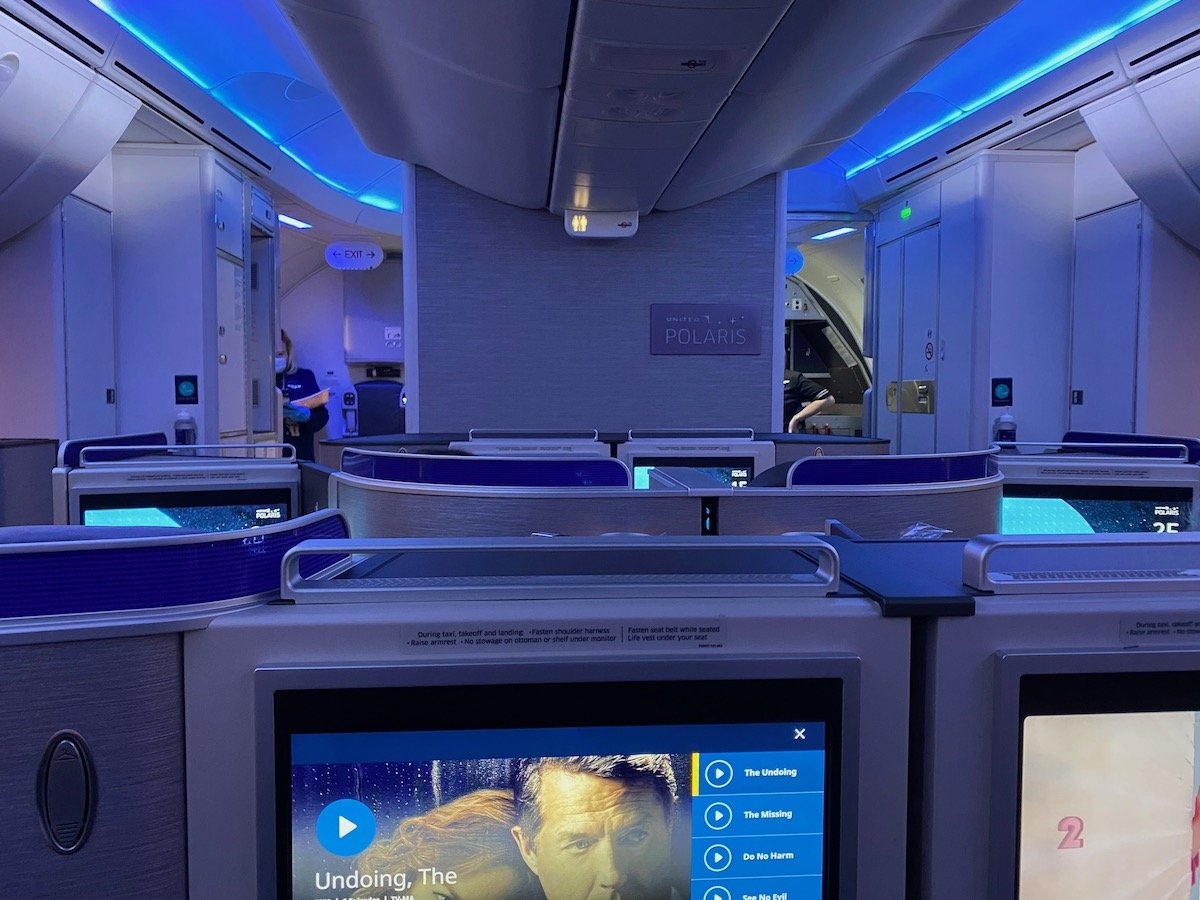 United Airlines 787-8 Polaris seats
I knew this itinerary was the right decision when I saw my mom spending the entire flight either watching a movie or sleeping, all while reclining her seat.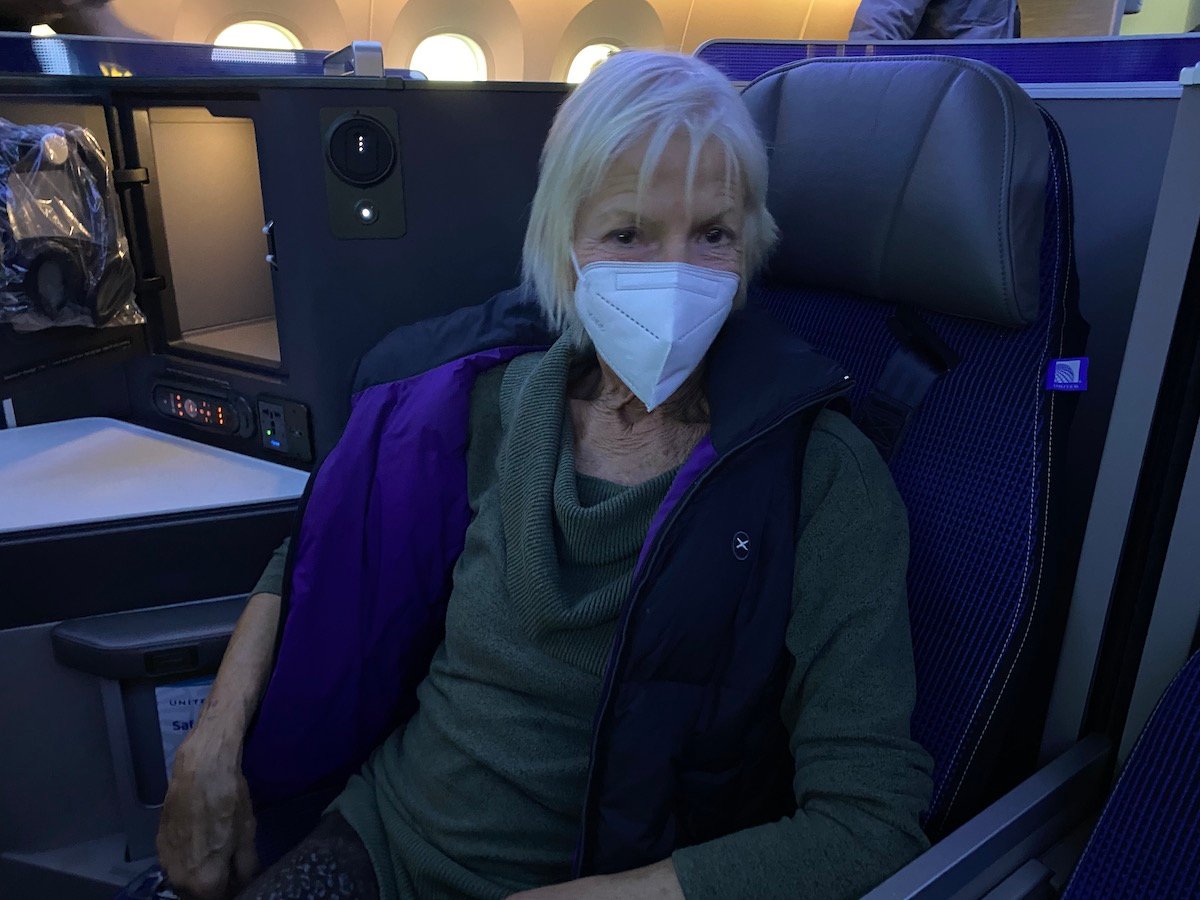 Mom happy about our United Polaris seats!
United Airlines coronavirus precautions
All airlines are of course promoting things like mask wearing, enhanced cleaning, etc., but I was surprised by the lack of sanitizing wipes.
On the first flight we weren't offered any sanitizing wipes — not during boarding, and not with the snack. Fortunately I brought my own (and hand sanitizer), though I'm curious if this was a fluke or just how United operates.
Meanwhile on the second flight we were handed a sanitizing wipe at the door, but that was it. There wasn't one with the snack box.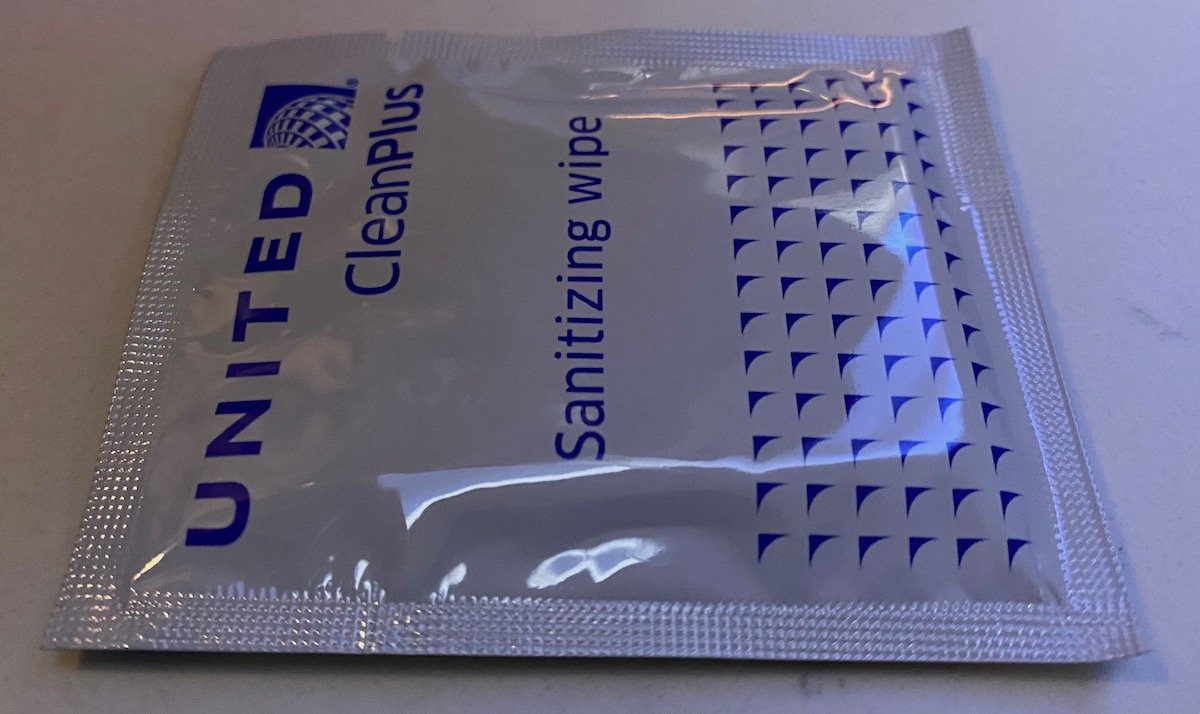 United Airlines sanitizing wipes
It's a bit ironic to me that airlines have cut inflight service to minimize contact (which is logical), and now serve you something that you basically eat entirely with your hands (which is… less logical).
United Airlines Wi-Fi
Again, not specific to flying during coronavirus, but what exactly is United's deal with Wi-Fi? The airline still doesn't offer high speed Wi-Fi on narrow body aircraft, unlike American and Delta. Are there plans for United to introduce faster Wi-Fi, or does the airline think Wi-Fi is just a fad that's gong away soon?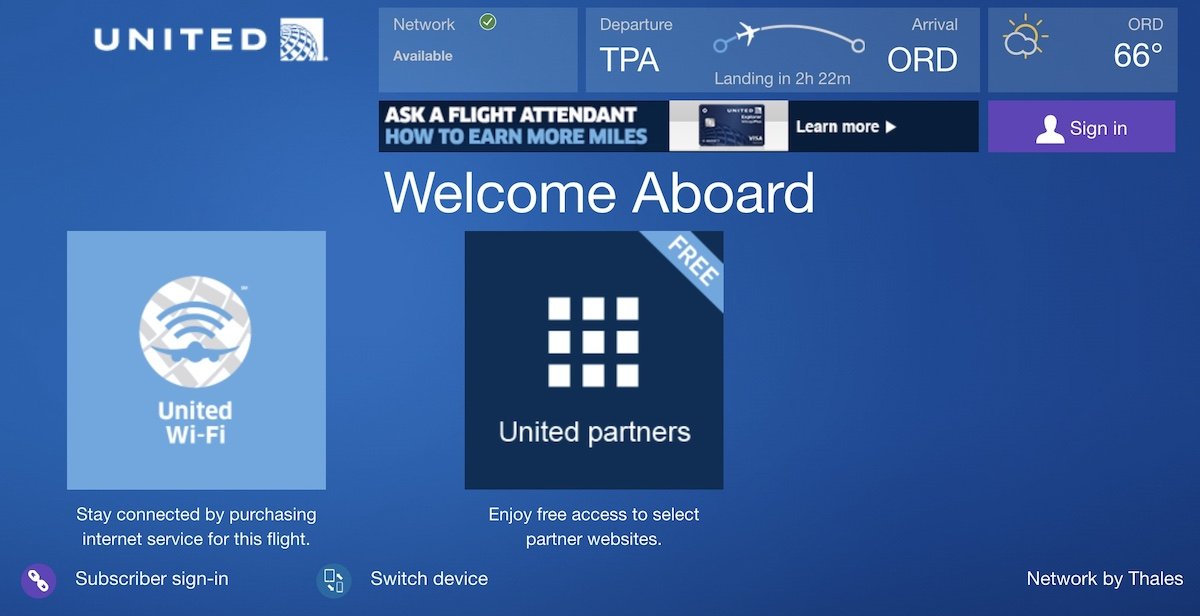 United Airlines has the worst Wi-Fi of the "big three" US carriers
I'm not used to flying long distances anymore!
This has nothing to do with the flight as such, but I couldn't help but reflect on how I'm clearly not used to flying a lot anymore. Or maybe I'm just getting old. Or more than likely both.
In my youth I'd fly for 48 hours straight and feel energized, and even going back a couple of years I'd do some extreme round-the-world flying, without feeling particularly exhausted.
It was over nine hours from when we boarded our first flight in Tampa until we deplaned in San Francisco, and my gosh I was so exhausted. I don't know how I used to fly so much back in the day. Next thing you know I'm going to start getting jetlagged when flying between Eastern and Central timezones. 😉
Bottom line
Ultimately we were happy with out decision to fly United from Tampa to San Francisco, given the circumstances.
As is the case with most airlines, United has adjusted its inflight service due to coronavirus. While I'm totally in favor of that, I'm not sure coronavirus can be blamed for the "sandwich" that United is currently serving.
If you've flown United first class since the start of the pandemic, what was your experience like?