Aloha from Hawaii! Hawaii has been an extremely popular destination for people to travel to in recent months, though traveling there without having to quarantine requires pre-travel testing, as part of the Hawaii Safe Travels program.
This isn't as easy as just getting tested and bringing a copy of the negative result to the airport, but rather there are quite a few hoops to jump through. In this post I wanted to outline that process, and also share some of the things that I learned.
Who is allowed to travel to Hawaii?
Hawaii is not only open to all Americans, but also to anyone who is allowed to travel to the United States in general. However, Hawaii requires travelers to either quarantine or get tested:
Those arriving in Hawaii have to quarantine for 10 days
The only way to skip that quarantine is to participate in the Hawaii Safe Travels program, which requires taking a coronavirus test within 72 hours of the scheduled departure of your nonstop flight to Hawaii; if you upload the negative test result and complete all other requirements and documentation prior to travel, you can skip the quarantine
Note that starting at some point this summer, Hawaii plans to no longer require vaccinated travelers to get tested, though that policy isn't in place yet (it's expected to be rolled out somewhere around July 4). Also keep in mind that entry requirements are always subject to change, so make sure you check Hawaii's official travel website for the latest details.
What is the Hawaii Safe Travels program?
Safe Travels is the name of the portal that Hawaii uses for granting entry to the state. You have to go to the Safe Travels website to create a profile, complete a health declaration, share personal details, and upload your coronavirus test results, among other things.
Step-by-step: Hawaii Safe Travels program
The Hawaii Safe Travels portal is kind of tedious, to put it mildly, and that's probably by design. I'll provide a step-by-step guide of my experience, and also share what I learned along the way.
A few things to note upfront:
It's extremely important that all the forms you complete and all the documents you upload are accurate, or else you could run into issues, so triple check your work
Each adult needs their own profile in the Safe Travels portal; I'm traveling with my family (in this case a party of four) and I did all of our applications, so suffice to say that this was a bit time consuming
There are different orders in which you can complete the requirements, so the suggestions I outline below are intended to be the most efficient, though there are other approaches you can take as well
The most stressful part of this process was timing our tests (given the strict timeline), and then patiently waiting for the results to come in prior to travel
Step #1: Decide how you want to get tested
The state of Hawaii will only accept a Nucleic Acid Amplification Test (NAAT) from a trusted testing and travel partner (you can find a full list of those here). In general there are three directions you can go, and the best option largely varies on where you live:
There's the option of an in-person test at all kinds of partner locations, including places like CVS and Walgreens; this typically costs ~$100-150 per person
There's the option of an at-home test with a company like Vault Health, whereby you video chat with someone who watches you spit in a tube, and then you overnight it to them; this typically costs ~$100-150 per person
Some airports with direct flights to Hawaii have on-site testing with results available in less than 30 minutes, because they have an on-site lab; this is typically the most costly option, at ~$250
I know a lot of people have had good experiences with the at-home test kits. Personally we decided to just do in-person tests at CVS, since there was one near us, and it seemed more convenient than having to get on a video call, then bringing the boxes to the mail to be overnighted, etc.
Step #2: Decide when you want to get tested
This might seem like a silly point, but it's not. Hawaii requires you to be tested no more than 72 hours from the scheduled departure of your nonstop flight to Hawaii (this means that if your flight is delayed you should be okay). If your flight ends up canceling, you miss a connection, or you get rebooked, you could be out of luck, so it could make sense to leave a bit of leeway.
Conversely, if you wait too long you might not get your test results in time. Our flight to Hawaii departed DFW at 1PM Central, and we decided to get tested at 3:30PM Eastern three days prior (the last appointment of the day), so that's 70.5 hours before departure.
Step #3: Get tested
This is easy enough. Make sure you show up for your appointment (whether in-person or virtual), do everything punctually, make sure your name is correct on the test, and avoid getting coronavirus. 😉
Step #4: Create a Hawaii Safe Travels account, upload trip details
While you could do this before getting tested, there's not really a need to. Go to the Hawaii Safe Travels website, and create an account for each adult traveling (if you're traveling with a child, you can add them to your account).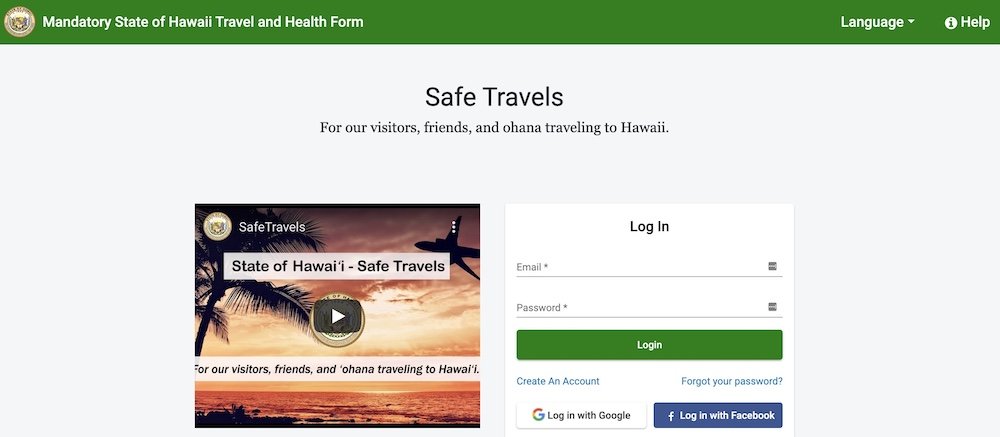 The process of registering is easy enough — first you'll just enter your email address and pick a password.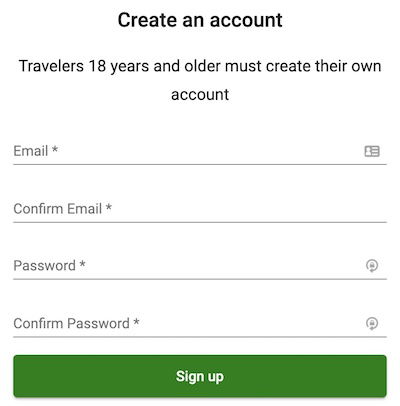 Then you'll have to enter some basic personal details. Make sure you enter a valid phone number (which you'll have to verify), because this will be used to communicate with you.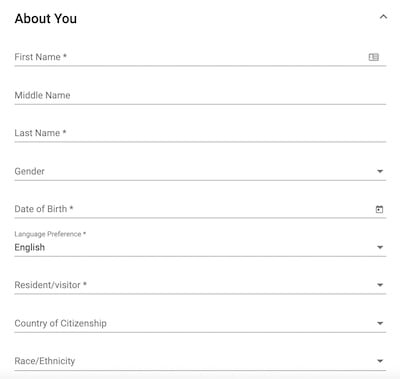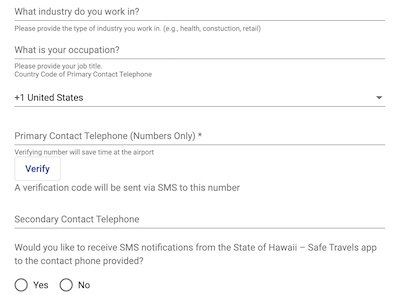 Once your account is created, you'll see a dashboard showing multiple options, including the ability to add trips, complete a health questionnaire, and upload documents.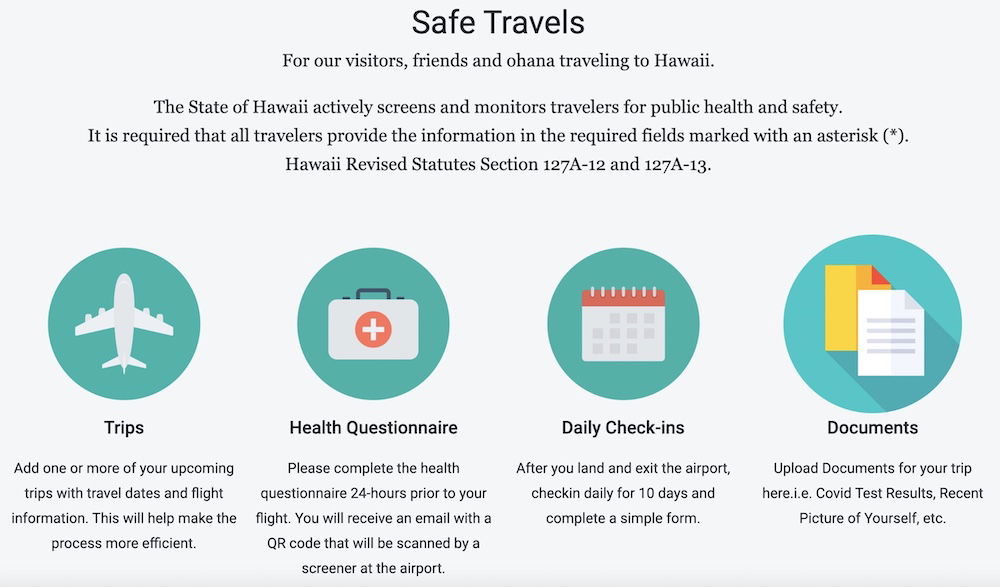 At this point I'd also recommend completing the "Trips" section, assuming your travel details are all finalized. You'll be asked to enter all the details about your trip, ranging from your arrival and departure flights and dates, to where you'll be staying.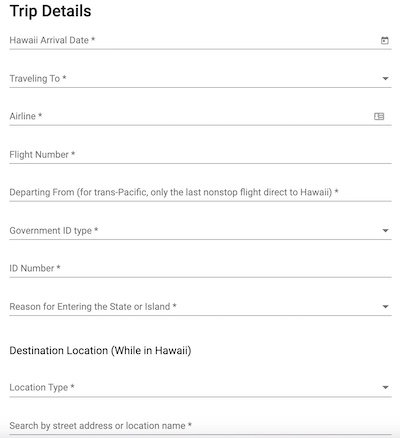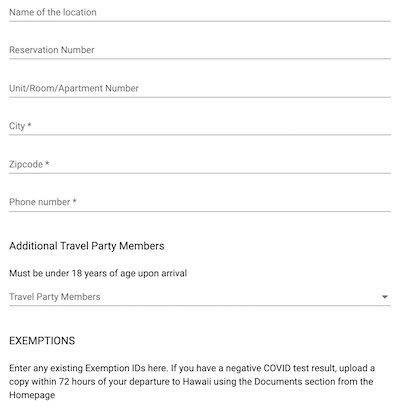 Step #5: Upload test results, complete health questionnaire
I'd recommend completing the final step of your Hawaii Safe Travels process within 24 hours of departure, just so you can get it all done at once.
First you'll want to go to the "Documents" section of the Safe Travels portal. There you'll need to upload a picture of yourself (an informal selfie is fine, this doesn't have to be professional), as well as your negative test result in PDF format.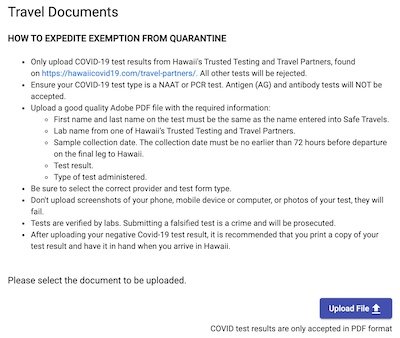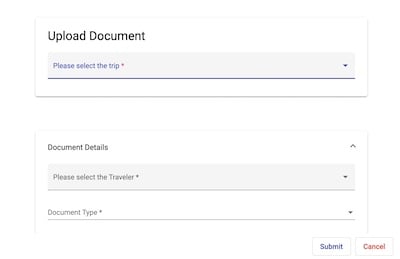 When you upload your negative test result you'll be asked to select the provider of the test, and then the system can almost immediately verify the negative result.
Lastly, within 24 hours of departure you'll need to complete a simple health questionnaire.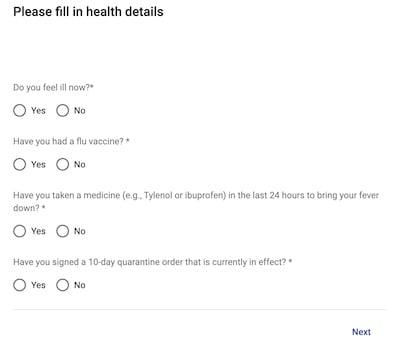 Read this carefully, because once it's submitted it can't be done again.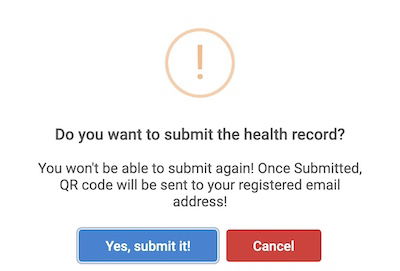 Step #6: Retrieve & save your QR code
With this process being done, you'll be sent an email with a QR code. This is your key to entering Hawaii seamlessly. Make sure you not only save the email, but ideally take a screenshot of your QR code so that it's handy on your phone.
For that matter, if you're traveling with people who aren't particularly tech savvy, I'd even recommend printing out the QR code, so that it's easier to present.
You'll potentially have to show this quite a bit — not just when you land in Hawaii, but also when you check-in for your flight, and potentially even after that.
Our frustrating(ish) testing experience
We used CVS Health for our coronavirus testing, which cost $139 per person (traveling to Hawaii isn't cheap — for four people we're talking about $576). CVS states that test results for Hawaii are typically returned in one to two days, though no guarantees can be made.
The testing process itself was easy enough. Testing was self administered and at a drive-thru, and the person at the drive-thru window just kind of talks you through the process. I really tried to jam the thing up my nose, because I didn't want to have one of those inconclusive test results, which happens sometimes.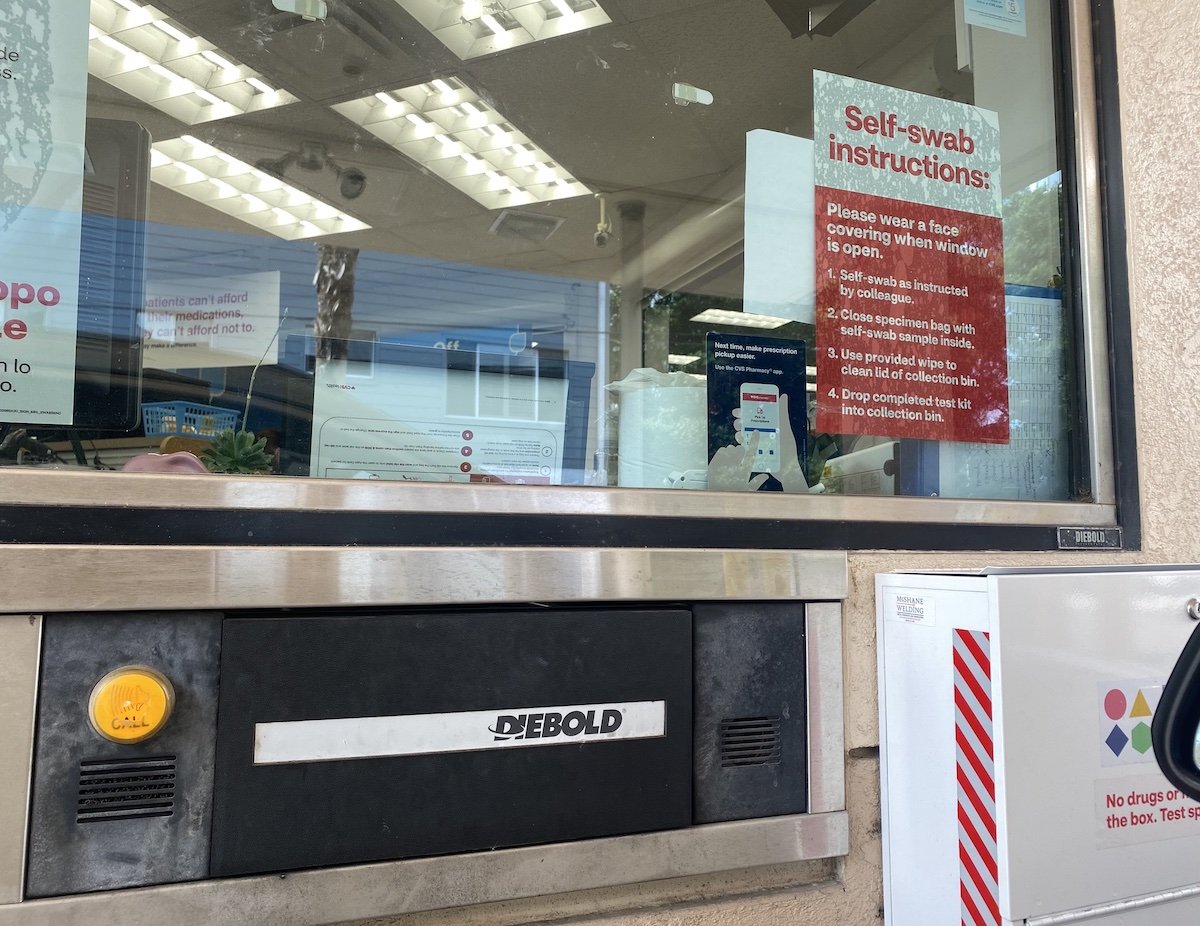 We got tested at around 3:30PM. The first test result came in two calendar days later, shortly before 4AM, so just over 36 hours later. The next test result came in less than an hour after that, at around 5AM. The next test result came in an hour after that, at around 6AM. And then for the fourth test (which also happened to be mine)… nothing.
For context, we were flying from Tampa to Hawaii via Dallas, and our flight was departing Tampa at 7AM the following morning.
Throughout the day there were no further results for me, so as you'd imagine I was quite worried. And go figure there's no customer service with this stuff, so it's not like you can phone up a number and someone will actually help you figure out if your test is lost, or what.
I started to look into other options. Fortunately I had planned a very long layover in Dallas, so my backup was to spend another $249 to get tested at DFW, with the results that come in quickly.
Fortunately I woke up the following morning and found that my result had finally come in, about 56 hours after I took the test.
Personally I'd highly recommend planning your testing so that there's a backup option. For example, if I had planned a shorter layover at DFW I wouldn't have had that backup, and I would have been so stressed about this, given what a special trip this is with my mom.
What happens when you arrive in Hawaii?
What's the arrivals process like in Hawaii with the Safe Travels program? We arrived at Kahului Airport (OGG) in Maui in the afternoon, and upon deplaning all passengers with a QR code had to queue in a single line. We were told to have our QR code and photo ID ready, and were then directed to one of roughly a dozen tables.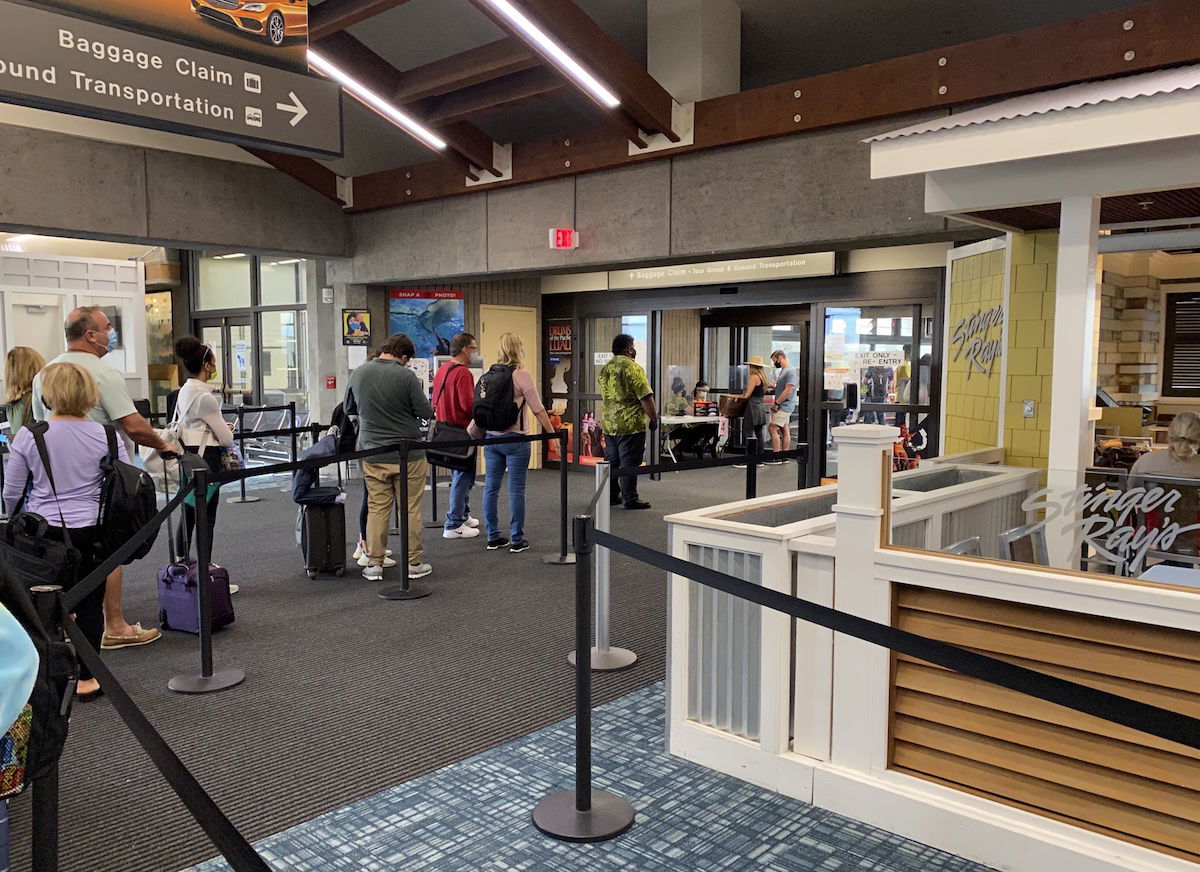 At these tables a representative scanned our QR code, reviewed our profile, and checked our ID. At that point we were sent on our way. Surprisingly this wasn't the last time we had to show our QR codes — we also had to show then when going to the rental car center, as well as when arriving at our hotel.
With the exception of during the arrivals process, oddly there's not actually any verification that the QR code is valid, but rather they just glance at it to make sure you have a QR code (even though you could easily use someone else's for these purposes).
Bottom line
While it's fantastic that Hawaii is open to visitors and many will appreciate that the state is doing pre-travel testing, there are definitely some hoops to jump through.
Especially if you're traveling as a family, the cost of pre-travel testing will quickly add up. The actual Safe Travels portal process isn't that complicated, but rather the frustrating part is the uncertainty and stress associated with waiting for your pre-travel testing results to come in, especially given how much is on the line.
I know some people avoid traveling to other countries because of the requirement to get tested prior to returning to the USA, though personally I find that to be much cheaper (since a rapid test suffices, and many hotels are set up for this), easier (since there's no paperwork), and less stressful (since your entire vacation isn't potentially on the line while you wait for a test result).
If you've traveled to Hawaii with the Safe Travels program, what was your experience like?