I've been experiencing a bit of a travel drought lately, as I've been (mostly) at home for about three weeks now. On one hand it's kind of nice to have a normal(ish) schedule and wake up and go to bed at a reasonable hour, though on the other hand as someone that gets restless pretty easily, it has been damn near torture to be in one place for so long.
I've been meaning to try American's new business class for a long time now. Initially I was going to fly their inaugural 777-300ER flight to Sao Paulo late last year, though that got pushed back, and I've had several schedule conflicts since then. Anyway, American invited me to experience their new business class product early in the week, so I'll finally get to experience it to London and back. I'll be flying the New York to London service, and funny enough I flew exactly the same flights just a few weeks ago before the route started being operated by the 777-300ER, so I doubt much will change on the service front. That being said I'm really excited to try the new seat, which looks spectacular. I've flown Cathay Pacific's new business class, which is a similar type of seat, and thought it was on par with many first class products out there. I'm hoping American's is the same, and will have plenty of updates from onboard given that the 777-300ERs are equipped with Wi-Fi.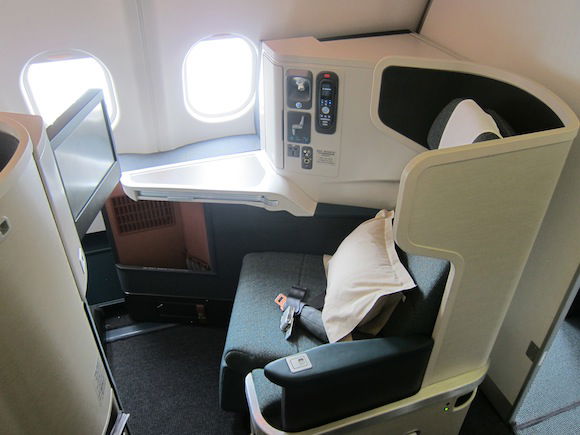 Cathay Pacific's new business class
I'll be spending two days in Europe and rather than terminating my travels in London (which I've visited several times) I figured I'd go somewhere new. As a result I redeemed some Avios to fly to Amsterdam for two nights, and will be staying at the new Andaz there.
I'm still trying to decide how I'll pay for it, since I have two nights there. The rate is 242.12 Euros (~$316USD) all-in or 18,000 Gold Passport points per night. I value Gold Passport points at 1.6 cents each, so that means I value 18,000 points at ~$288USD. As a Diamond member I earn 6.5 points per dollar spent at Hyatt, so I'd be giving up ~2,000 Gold Passport points per night by booking an award stay, which I further value at $32. So in other words an award stay would really "cost" me 20,000 points per night, or $320 factoring in the points I'd be giving up. This is about as close to breakeven as I've ever seen on the redemption front.
In instances like this I usually just split the difference. I book an award stay for one night and a paid stay for the other night. This is because Hyatt doesn't award stay credits for award stays, and I'd get one elite stay credit whether I book a cash rate for one or two nights. I'm always thinking about requalifying for Diamond status, so I "value" a stay credit at maybe $60. Anyone else use the same strategy when they're faced with choosing between a paid stay and award stay when it's otherwise a "breakeven" proposition?
If anyone has any (non-brownie/red light district) tips for what to do in Amsterdam I'd love to hear 'em!