---
One of my guilty pleasures when traveling is sampling High Teas around the world. It's such a ridiculous tradition ("Why yes, I'd love an entire tower of cake in the middle of the afternoon. Why not?"), but it's fun anyway. Especially because a full afternoon tea tends to be a lengthy endeavor, and it's rare to just sit down for two hours in the middle of the day to talk.
While there are numerous options for afternoon teas in Dubai, my mom also wanted to have a meal at at.mosphere, the tallest restaurant in the world. We decided to kill two birds with one stone (and save spend an obscene amount of money in the process), and booked High Tea at the Burj Khalifa for our last day in Dubai.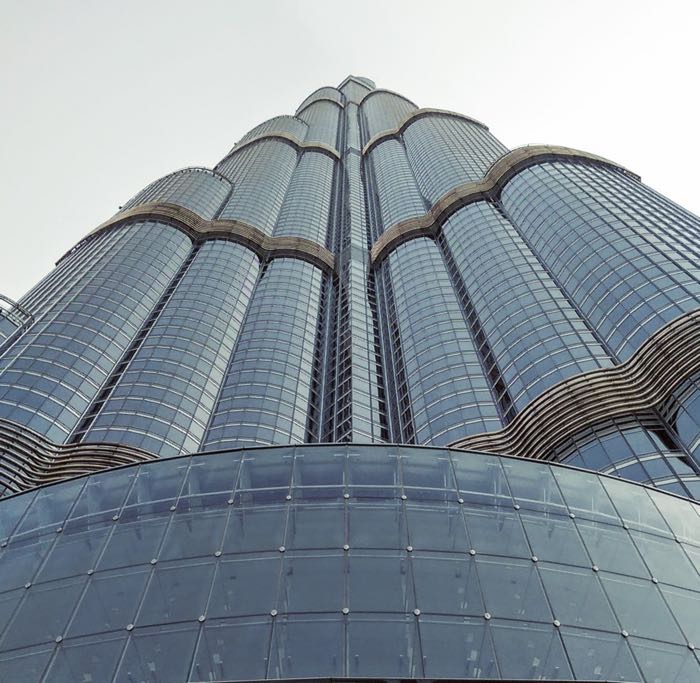 I thought the timing was rather brilliant — I made our reservation for 2:30PM, which would allow us to linger at the Park Hyatt in the morning. The Burj Khalifa is adjacent to the Dubai Mall, which meant we could spend a few hours browsing the shops before heading to the airport for our redeye flight to Singapore.
Booking afternoon tea at the Burj Khalifa
This entire trip was booked rather last minute, but I was able to secure a reservation just a few days prior by emailing [email protected]. High Tea is offered in the At.mosphere lounge between 12PM and 4:30PM daily.
Unlike afternoon tea at the Burj al Arab, At.mosphere doesn't have set seating times. So you could make a booking for noon and stay for four and a half hours, though I'm not sure that is recommended.
This is as good a place as any to note that this is not a cheap outing. At all. When Ben took his Dad to lunch at this restaurant he summed it up thusly:
Now, it's not cheap. And when I say it's not cheap I mean it's the most expensive place I've ever had lunch. Ever. By, like, a factor of five.
And that really applies to the afternoon tea as well. The prices are nearly all-inclusive (though one of the signature tea varieties has an up-charge, which seems unnecessary to me), and include the service charges and taxes. The per person costs depend on where you sit in the lounge:
AED 580 (~$158 USD) for a window table
AED 530 (~$145 USD) for a non-window table
We chose a seat by the window, because let's face it — you're already paying hundreds of dollars for freakin' hot water and finger foods. So what's an extra $25ish at that point?
Afternoon tea at At.mosphere
Upon arriving at the Armani Hotel we made our way through the building to the private At.mosphere lobby. Our names were checked against a list, we were offered mints for the elevator ride, and were whisked away to the dedicated elevator.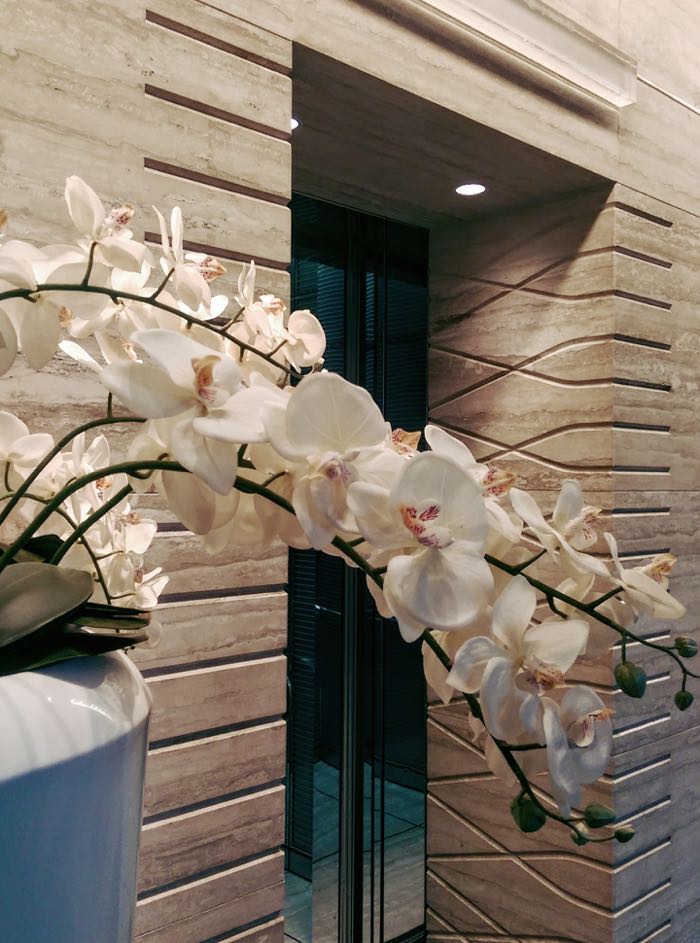 The At.mosphere Restaurant is on the 122nd floor, and the elevator is fast. I was grateful for the mint, but my ears were still unsettled when we reached the top.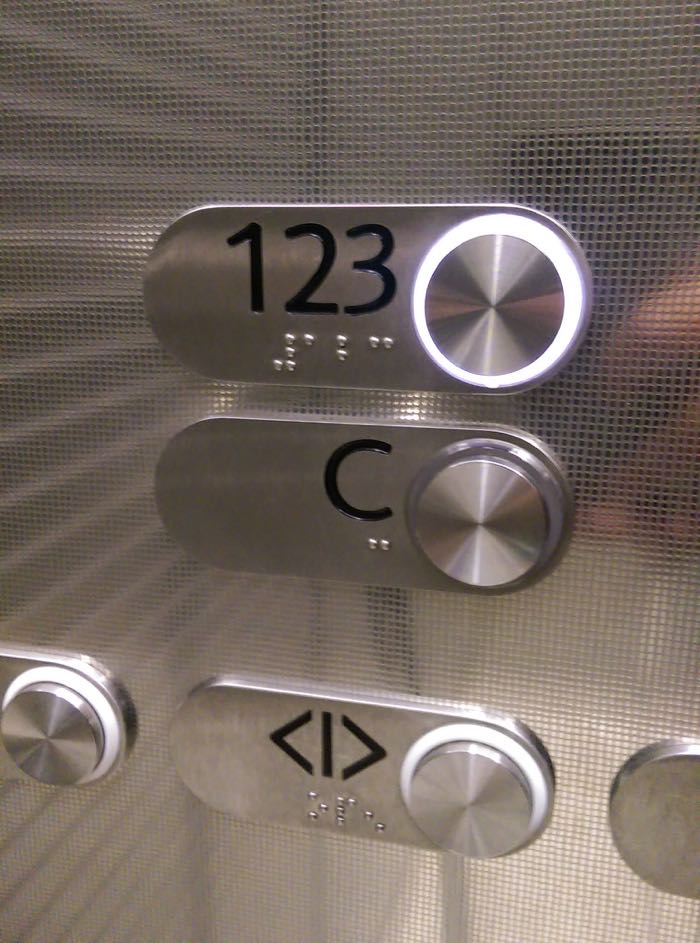 The seating arrangements in the lounge are very soft and cozy, and the floor to ceiling windows mean even the seats set away from the windows have a decent view.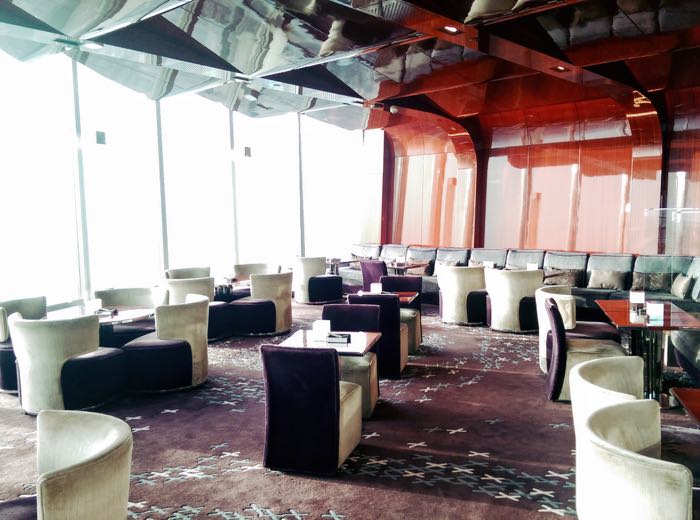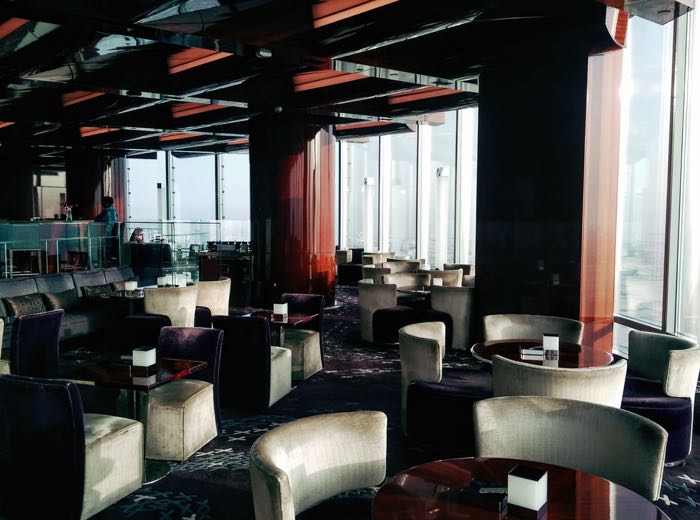 Even with less than lovely weather you still get a sense of how very high up the restaurant is. Those buildings look downright tiny!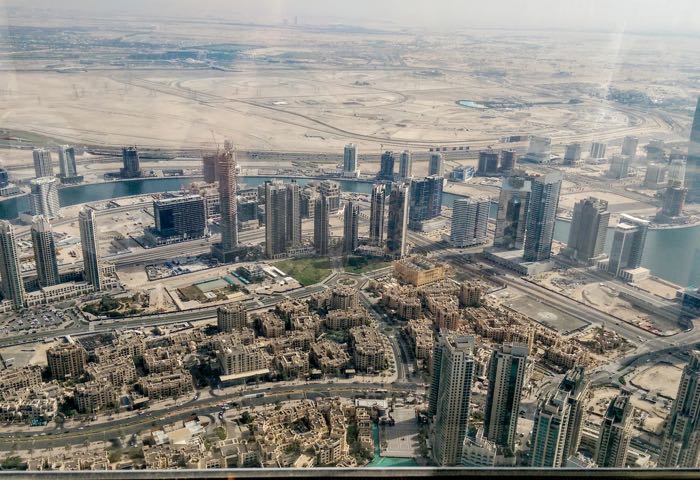 We were seated immediately, and then presented with a bottle of Luc Belaire Rosé.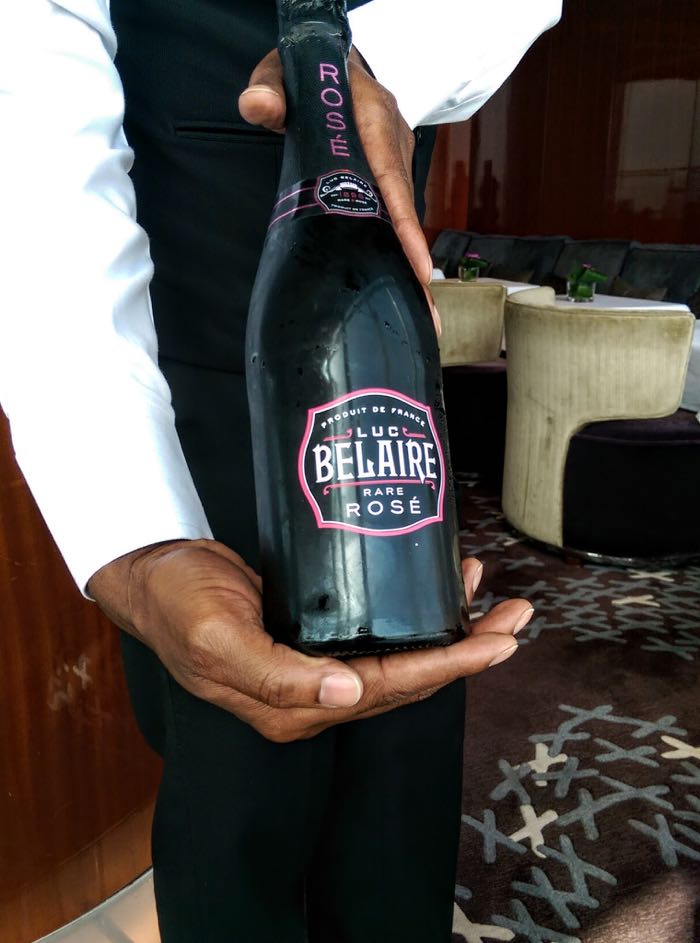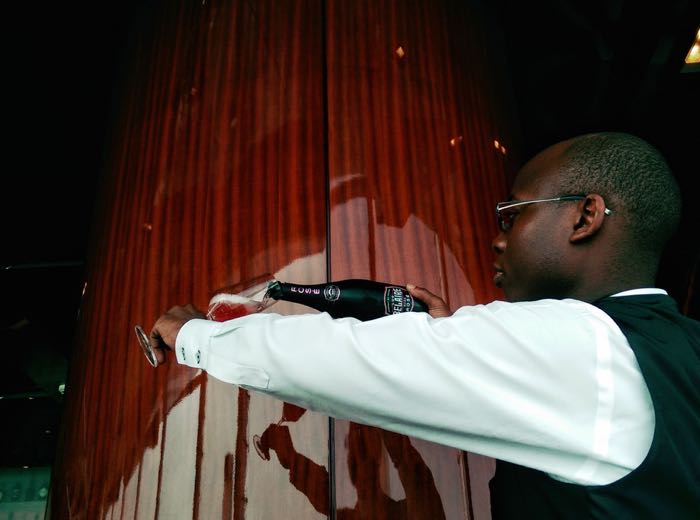 I always enjoy Rosé, and this one was quite nice. The bottle was left on ice near our table, and our glasses were refilled throughout the afternoon, which was a nice touch. Most of the high teas I've attended have offered a single glass of something sparkling to start, so if you're looking for some "value" here, we may have just found it. 😉
I can't believe I have been to enough afternoon teas to know how many glasses of bubbly are typical. Mercy.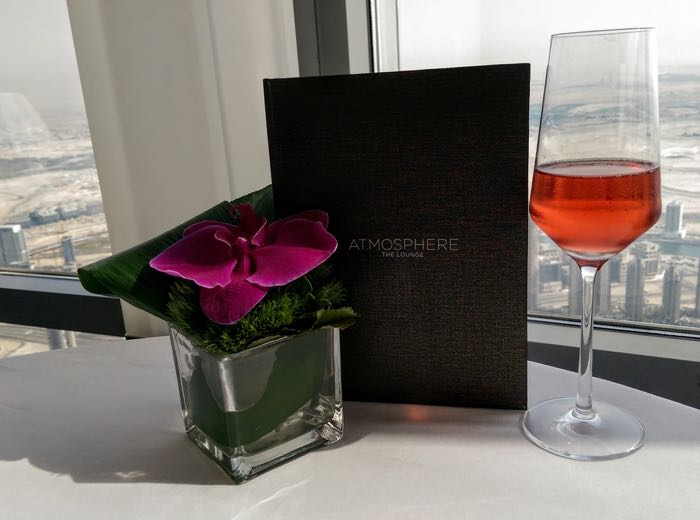 From there, we were presented with tea menus. Both the "traditional" and vegetarian options had two choices for the main course, followed by six pages of beverages (click through to see the full menu):
The berries and cream were brought out to start, and were of course accented with gold leaf. Anything else would have been barbaric, I'm sure.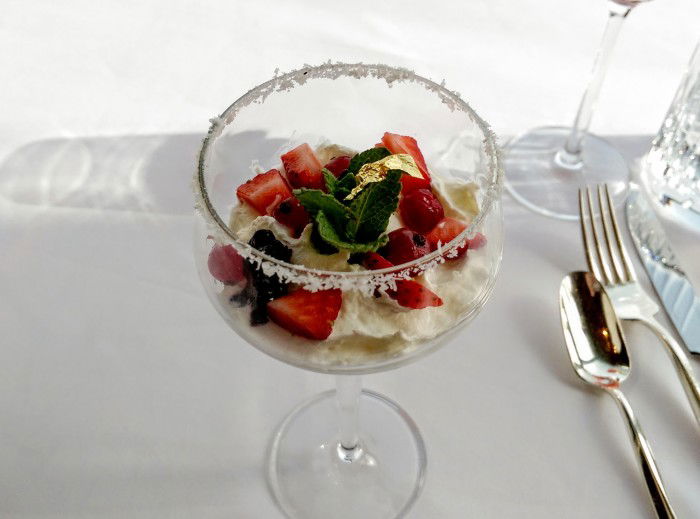 At our waiter's suggestion we ordered a "Red Sand" and "Miraculous Mandarin," both of which were delicious: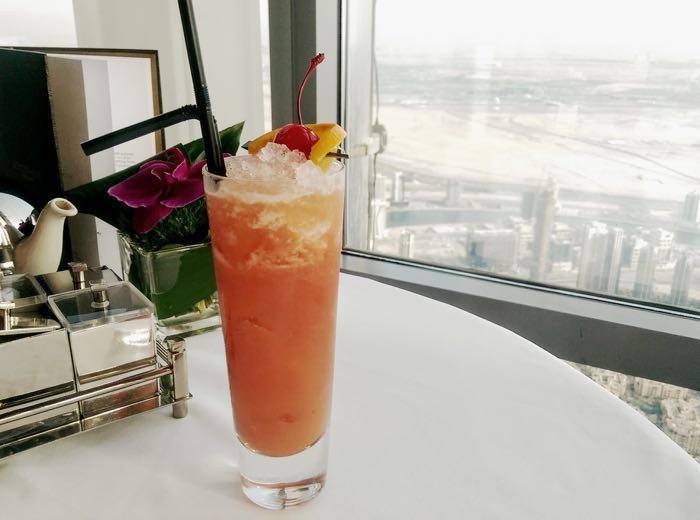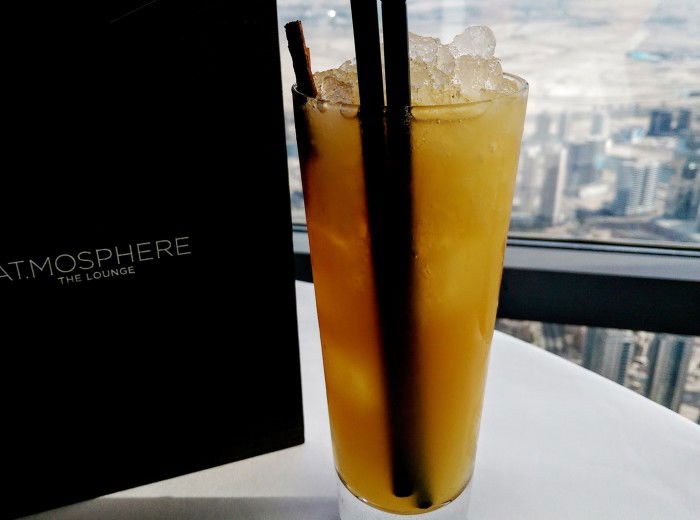 An assortment of sandwiches and savories were brought out as well: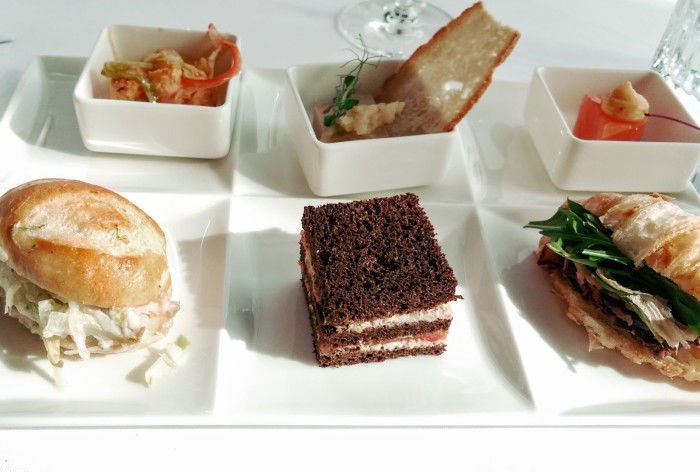 The sandwiches were followed by the mains (we ordered one of each just for variety):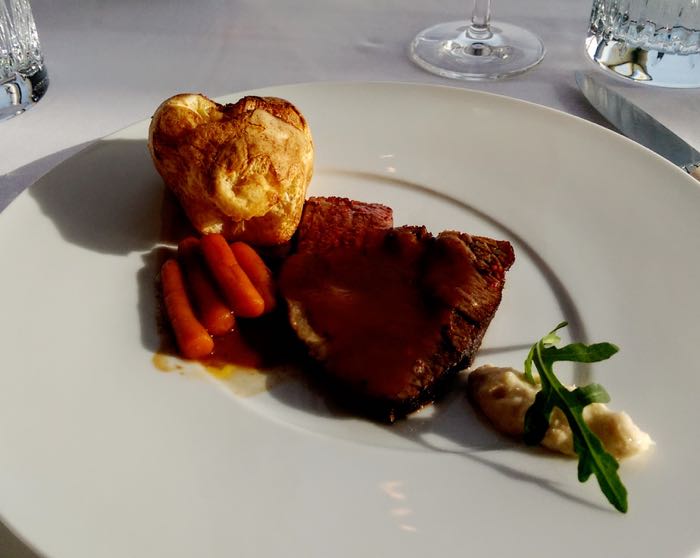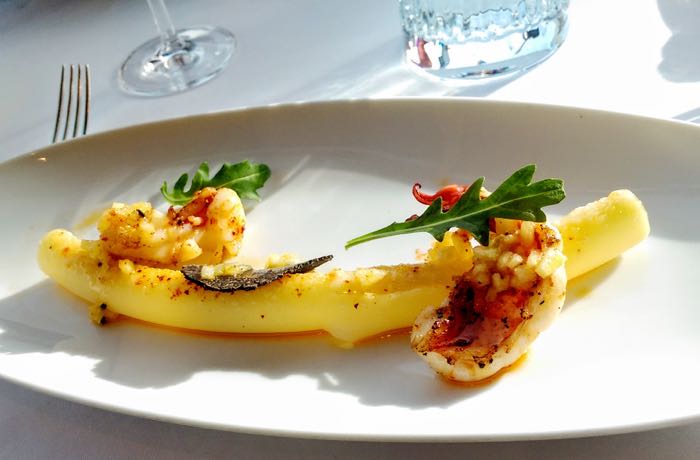 And oh my goodness everything was delicious.
I don't typically have high expectations for the actual food at an afternoon tea — I tend to feel it's more about the experience and the presentation — but everything we tried was very high quality.
By this point we had been in the lounge for about an hour, and had made our way through most of the bottle of Rosé. I don't think the service is intended to take that long, but we weren't in any particular rush.
We then ordered actual tea. Mom selected the "Red of Arabia" while I chose the "Indian Nights."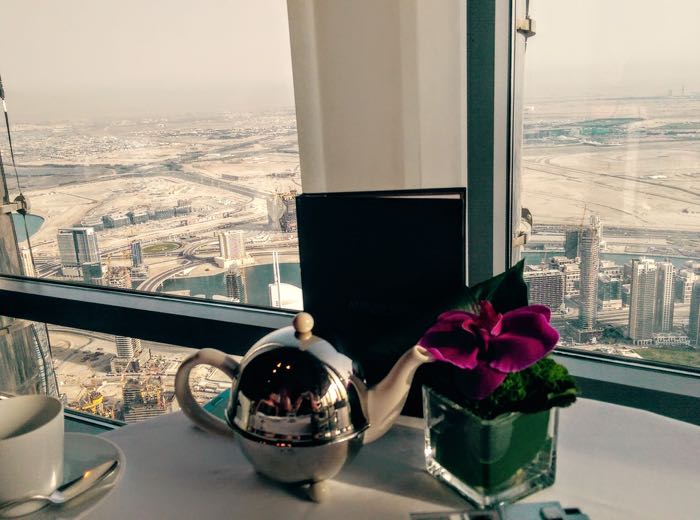 I think my mom may have ordered tea just because she was excited about the sugar service.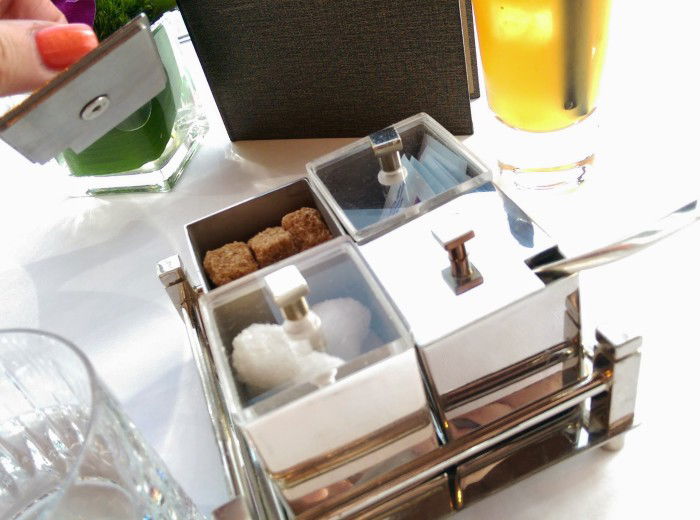 Along with the tea came the tower of cakes and scones, which was beautifully presented: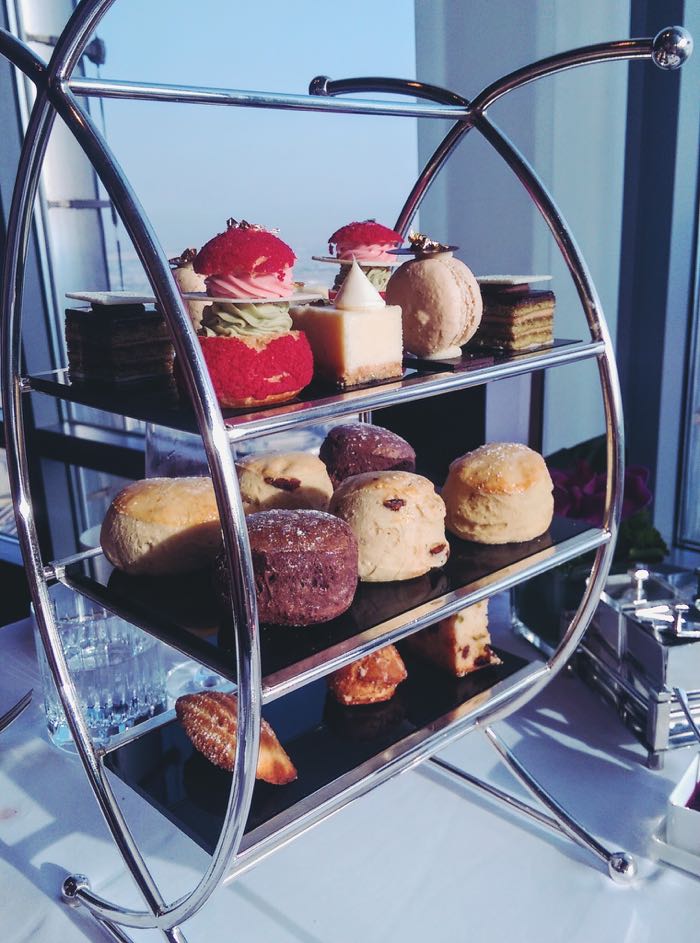 I mean, just look at the layering on that cake: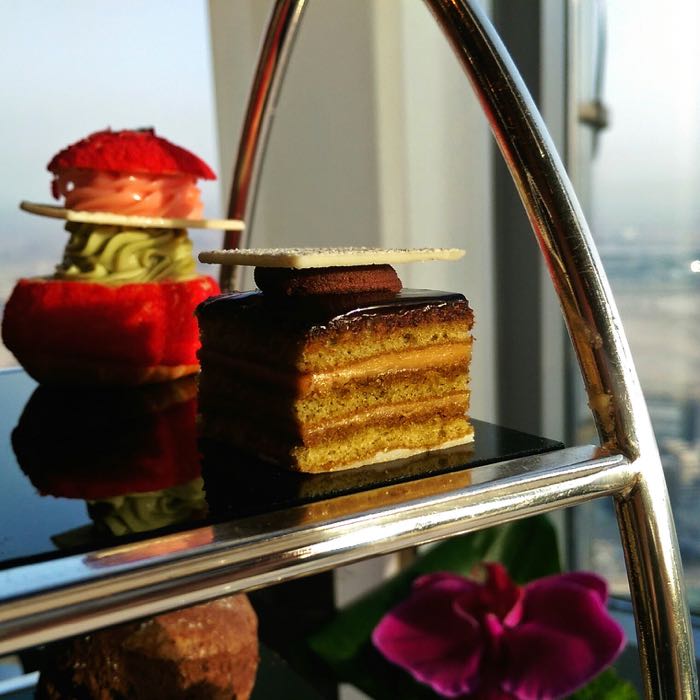 We ended up lingering in the lounge until nearly 5:30 — we had a ton of food to eat, my mom had to exchange life stories with all the staff including the bathroom attendant, etc. Eventually the bill was presented, and I was very excited to at least be getting double points. 😉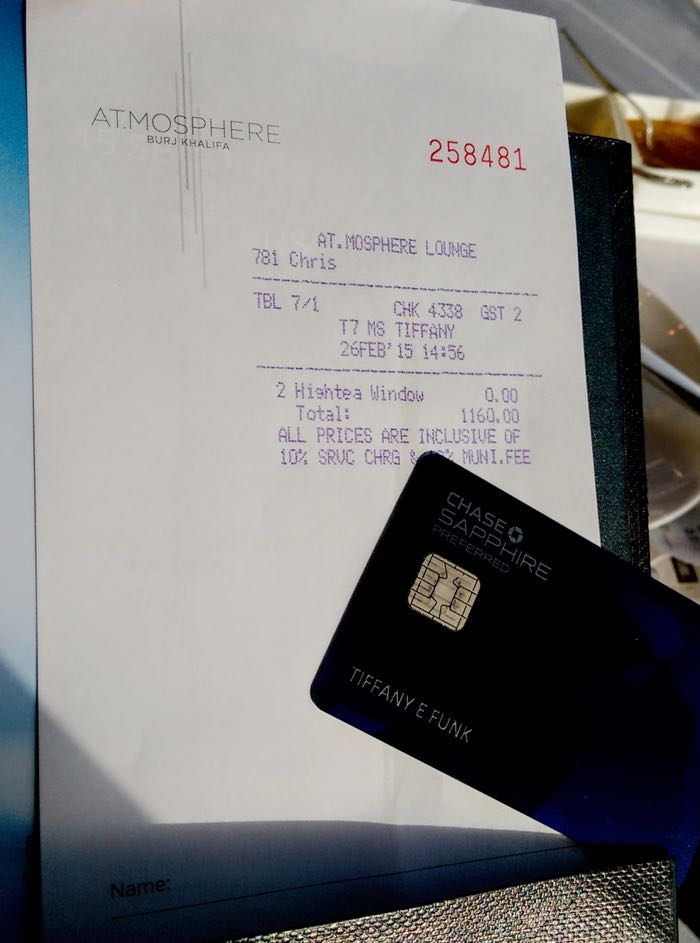 After we'd finished, we took the opportunity to enjoy the evening, and the twilight views of the Burj Khalifa.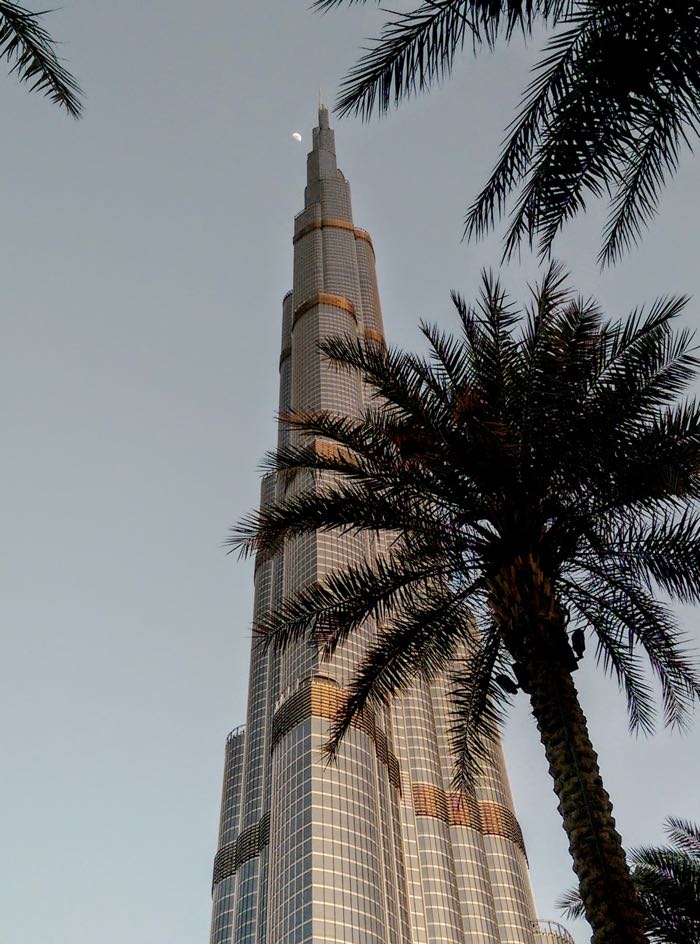 It's only a short walk from the Burj Khalifa to the fountains of the Dubai mall, which made for a perfect finale to the outing.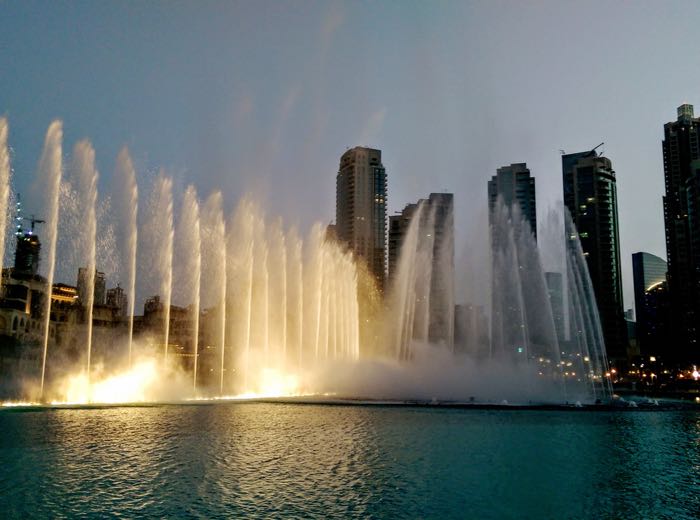 Burj Khalifa afternoon tea bottom line
If you're looking at having an extravagant high tea in Dubai, and are comfortable with the expense, this is a great option. The pricing is comparable to the Tea at the Burj al Arab, and there is something fun about being in a restaurant 122 stories above the ground.
Compared to the price of lunch or dinner I think the afternoon tea is probably the better "value," particularly if you don't have foodies in your group. While the offerings at the tea were delicious, nothing was particularly unapproachable.
It's still ridiculously expensive, and probably not something I'd do again, but it was awfully fun.
Has anyone been to afternoon tea at At.mosphere? What did you think?