---
We left Abu Dhabi mid-afternoon, and had the hotel organize a car to take us to Dubai. A taxi between the two cities is generally ~250AED, and this was the same rate. So it's not inexpensive, but is realistically the best option unless you've rented a car.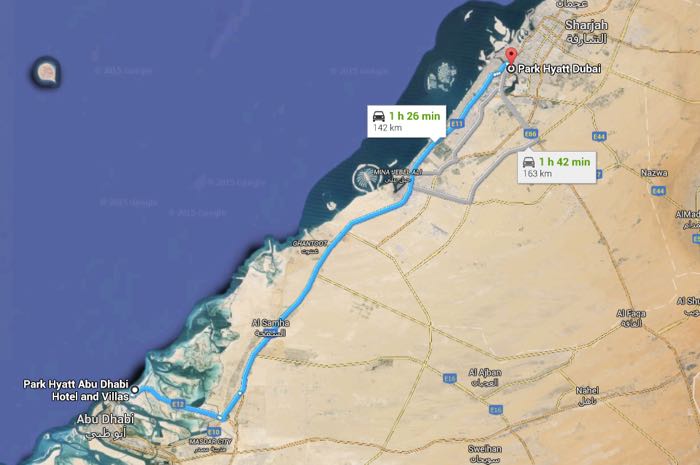 Traffic wasn't horrible by Dubai standards, but it still took nearly two hours before we arrived at the Park Hyatt Dubai. Check-in was efficient, and we were assigned a Park Suite on the far end of the property.
The Park Hyatt Dubai (and specifically this room type) has been reviewed several times here on OMAAT, and I don't have much to add.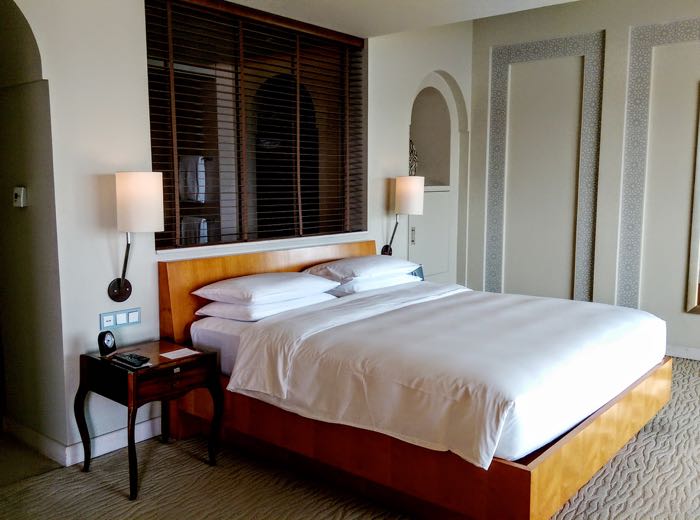 The property is nice, though probably due for a refresh, the service is decidedly "meh" which I consider par for the course in the UAE, and the temperature controls in the shower really are more complicated than the SkyMiles pricing engine.
My mother, however, would like you all to know that this is a hotel "designed by men, for men. Why aren't there outlets near the mirrors in the bathrooms? And why does that chair face towards the television rather than that lovely view? And the bathtub. Oh my."
She had a lot to say about the tub, actually (apologies for the behind-the-camera giggles, this was even funnier in person):
We did have a lovely view though, which was perfect for watching the seaplanes during the day: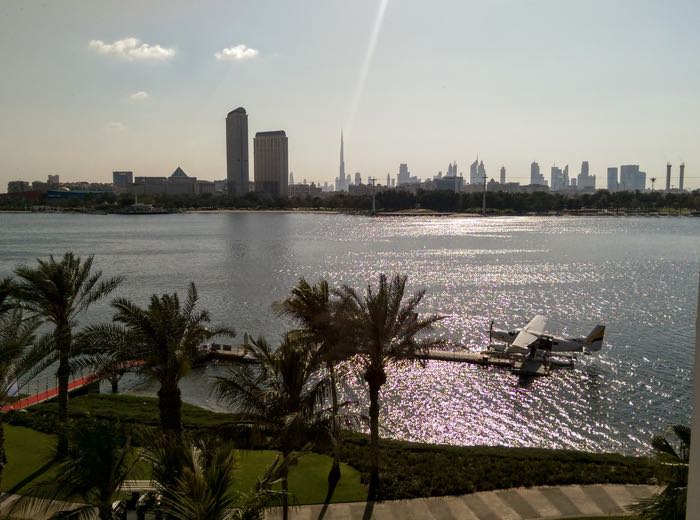 Or watching the sunset while listening to the evening call to prayer: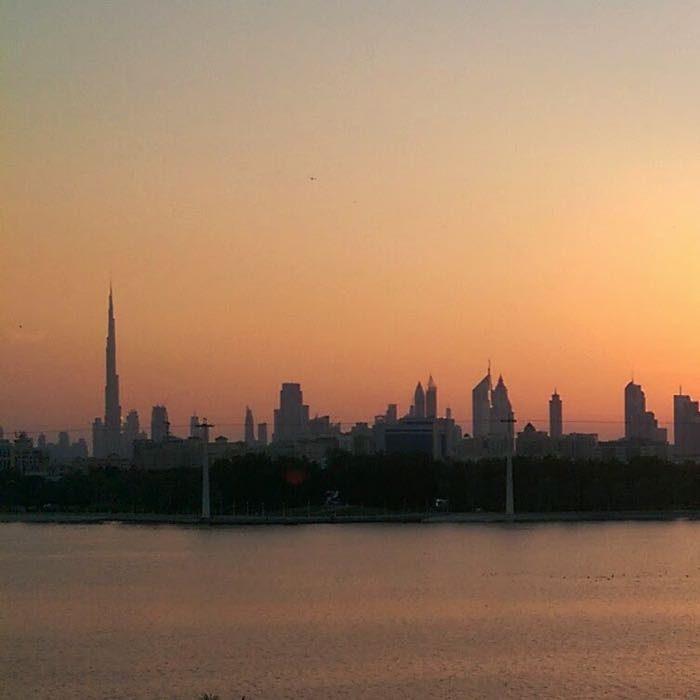 Things to do in Dubai
This is tricky, and is a big part of the reason why Ben doesn't really go in-depth on the destinations he visits. Dubai is hardly off the beaten track, and there are thousands upon thousands of guidebooks, blogs, travel specials, and what have you making suggestions for Dubai. There are also great day trips (I love the Musandam region of Oman, for example), and lots to do if you want to get out of town a bit.
So I really don't think I can be comprehensive here, and instead will just go through some of the things we did.
Dubai Museum & Bur Dubai
Bur Dubai is an interesting and older part of town along the Dubai Creek. I think it's a fun neighborhood to walk around, and many of what some would consider the more "cultural" attractions of Dubai are in this area. There are several historically significant buildings, a nice heritage center, etc.
The Dubai Museum is in the Al Fahidi fort, and is immediately noticeable due to the very large dhow.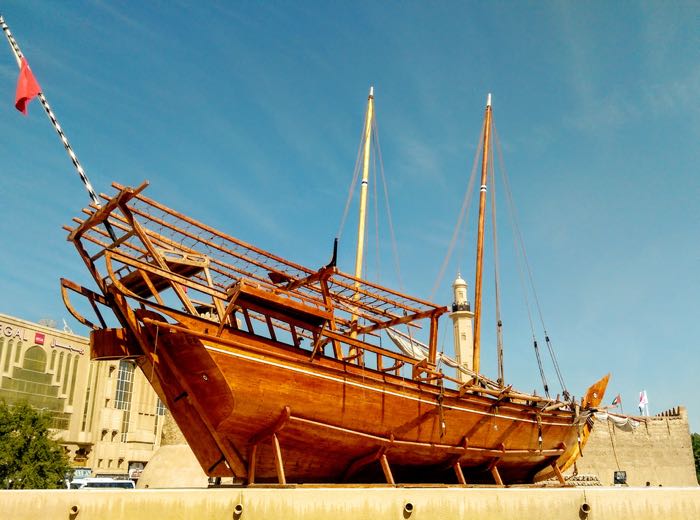 While you can (and should) explore parts of the fort, the main part of the museum is actually underground. This provides a nice respite from the heat, but the exhibits do rely very heavily on waxwork dioramas. And taxidermied flamingos.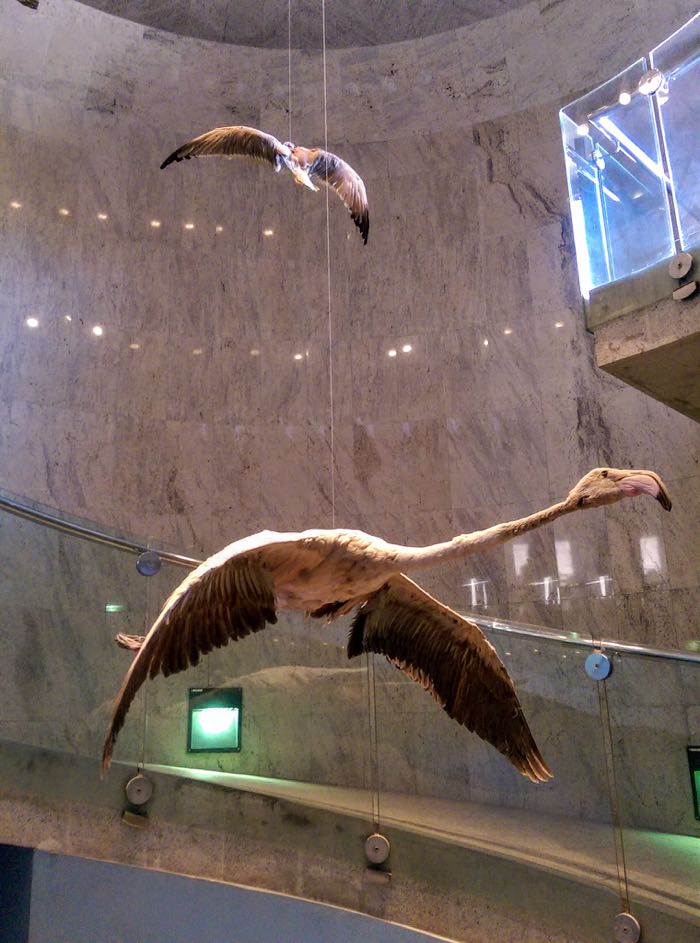 Mom likes museums, and birds, but…
In general I like to just wander in cities, and this is a great area for that. The textile souk is also in the neighborhood, and if you don't mind slightly pushy (but not like, aggressively so) touts, this is a good place to pick up pashminas and things like that.
Dubai Creek
The creek is still used for shipping and general transport, and it is possible to take cruises and such if you'd like. We opted to just take a quick abra ride across to the Diera side of the creek. The station is just a few steps from the textile souk, and the crossing is 1 AED per person.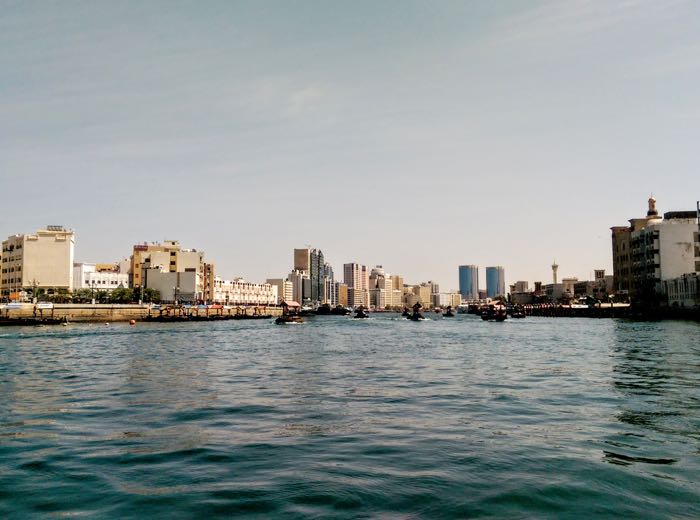 There aren't any signs saying this, so just watch what everyone else does. The small boats run pretty much constantly, so when one pulls up, people pile in. The ladies tend to all sit together (this may even be a rule, who knows), and when the boat is full the voyage commences. The captain often doesn't ask for payment until the middle of the creek, so again — just watch what others are doing.
Being on the water is the best way to get a close-up view of the other dhows and boats, even on a short ride.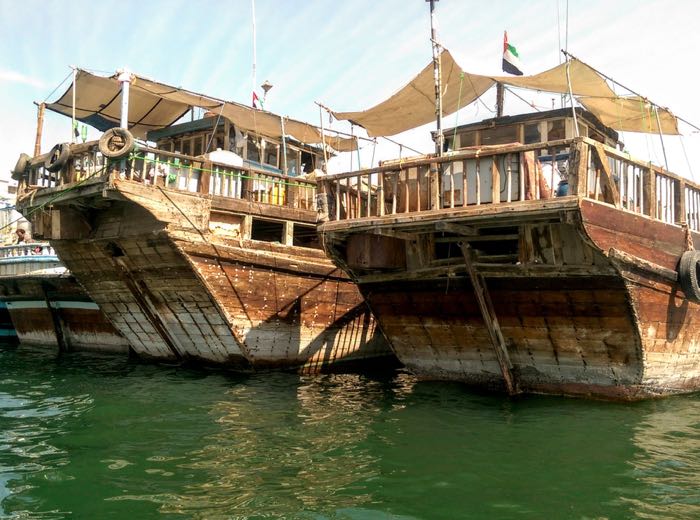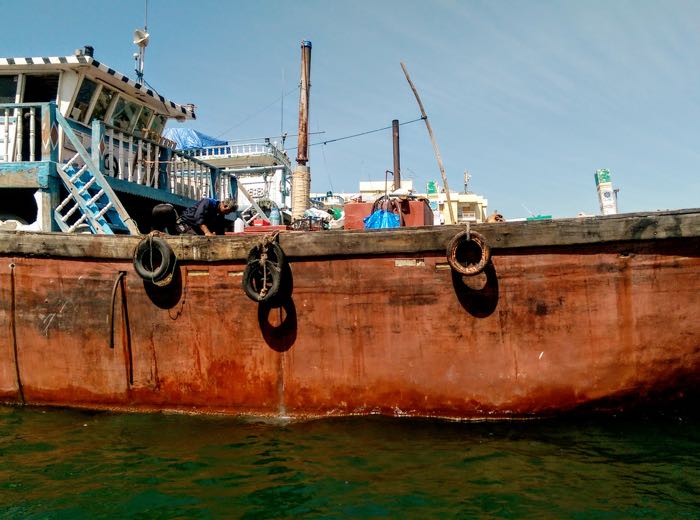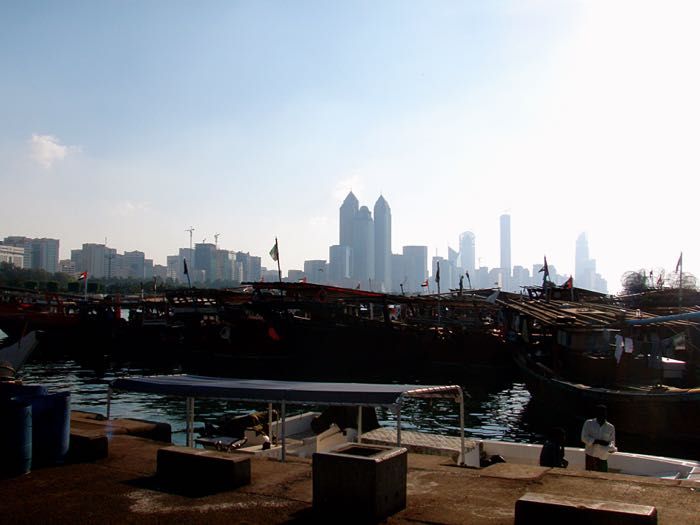 The Gold Souk and Spice Souk
Both of these are on the Deira side of the creek, and it's fun to just wander and people watch. The spice souk starts almost immediately from the abra station, so it's hard to miss.
The spice souk seemed to be less interesting than it was in prior years. I don't know if this is because more of these goods are becoming available at the mega-markets, or if we just caught it at a dull time of day. It still smelled amazing, but was less vibrant than what I've experienced before.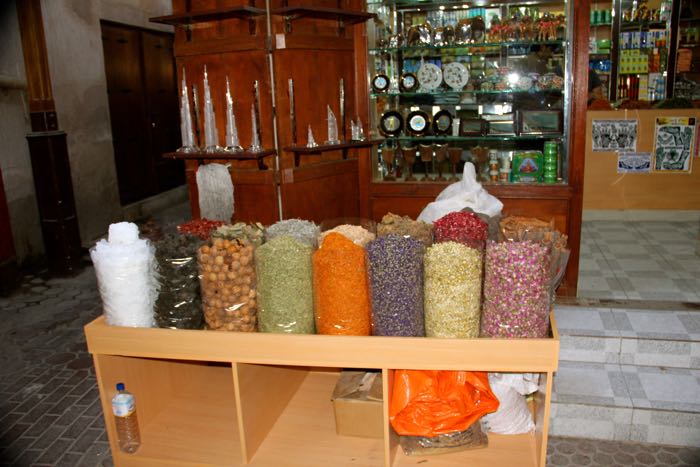 If you're meandering the alleyways of the spice souk, you'll eventually find wider pathways, which will bring you to the gold souk.
And everything starts to look very sparkly and expensive.
On this visit nearly everyone I saw was a tourist, which was a bit unfortunate, but might have been due to the time of day or day of the week. If you're shopping for gold, it's worth noting the price of gold is set by weight, and then the craftsman or retailer adds a "make price" to set the final total. More intricate pieces might have a lower weight, but a much higher make price, and so on.
You can negotiate the make price, but if you're going in with the mindset of finding a "bargain" you are probably going to be disappointed. You might find more unique or exotic pieces than you'd find elsewhere, but in my experience the prices are pretty typical.
It's also worth noting that many of the streets in the three areas I've just described look like this: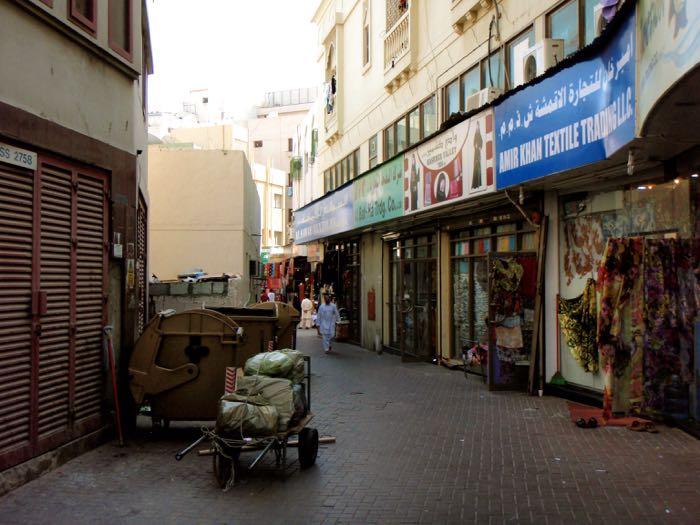 Which I'm totally comfortable with, but you might not be. Either way, I'd recommend exploring the area on Google Street View ahead of time. Maps aren't terribly useful, so having a general sense of what to expect is probably helpful.
Malls and modern souks
If, like my mother, you quickly discovered that souks and alleyways are not for you, you can still get a sense of the culture at the more modern souks. To be fair, these are somewhat like going to Epcot and saying that's the same as Paris, but it can be a good place to pick up more souvenir-type items.
I like the souk at Madinat Jumeriah, which is a haul from the Park Hyatt, but very convenient to the Burj al Arab.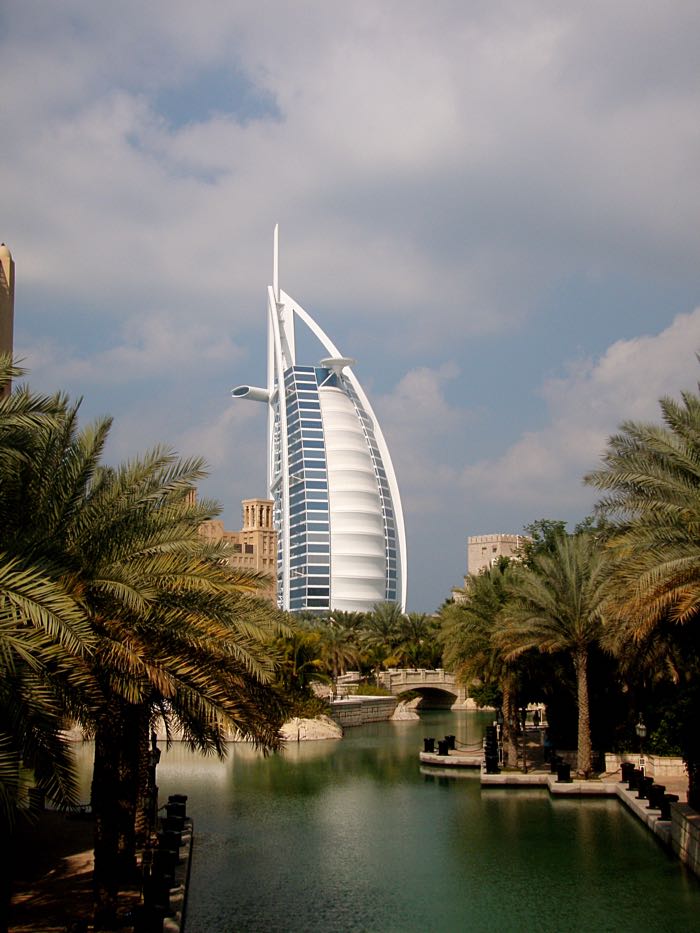 You can take abras through the canals, have lunch, and do some shopping. If you go into it thinking "outdoor retail center" versus "Arabian marketplace" you'll have a fine time.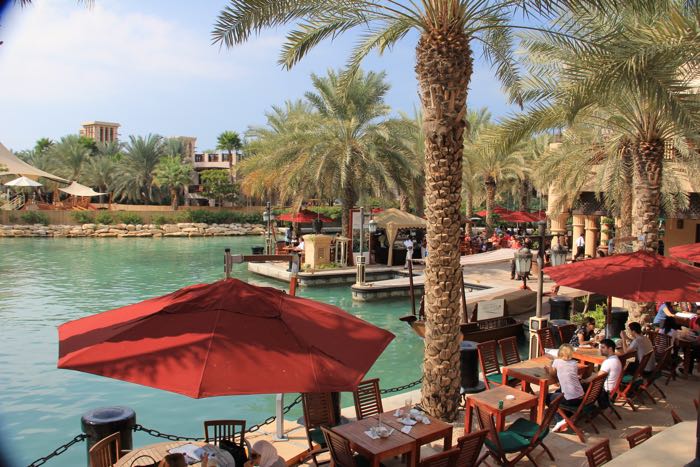 Traveling as a woman in Dubai
This is about to be the most disappointing advice section on the internet, because to be perfectly honest, I don't give much more thought to traveling in Dubai than I would anywhere else.
In fact, I actually feel safer in the UAE than many places in California.
I will note that if I don't cover my (usually very blonde) hair, that there are a lot of comments and many too-long looks from the guest worker population. It's not significantly worse than walking by a construction site in Manhattan, but it can feel weird, especially in a foreign country. I've never had anyone approach me, or even try to start a conversation, for what it's worth, but I also don't go out drinking alone, talk to strangers on the street, or otherwise put myself in riskier situations.
For just walking around (day or night) I wouldn't worry more than you usually would. While my mom has traveled extensively in the past, she's had some not-good experiences, and basically lives in a Chico's catalogue nowadays. So she was creeped out, but that was likely due to the past perspective combined with all the "new," versus anything in particular.
From a macro perspective I've also never had issues with customs or immigration in the UAE, or really any interactions with the government there at all beyond stamping my passport. However, while there are no laws against women traveling unaccompanied in the UAE, women are not equal in the eyes of the law, so if something does happen, and a male is involved (particularly an Emirati male), things could be complicated.
I do travel to the Middle East with a copy of my marriage certificate and a letter from my husband. It's gross, and probably somewhere between unnecessary and useless, and I am not even recommending that as a precaution you should take. But if it makes you feel better, you can.
And from a safety perspective, I wouldn't hesitate to travel to the UAE by myself, with other women, my nieces, etc.
Overall
While Dubai is far from being my favorite city in the world, I do love the juxtaposition of old and new, and the constant bustle of (problematic) construction.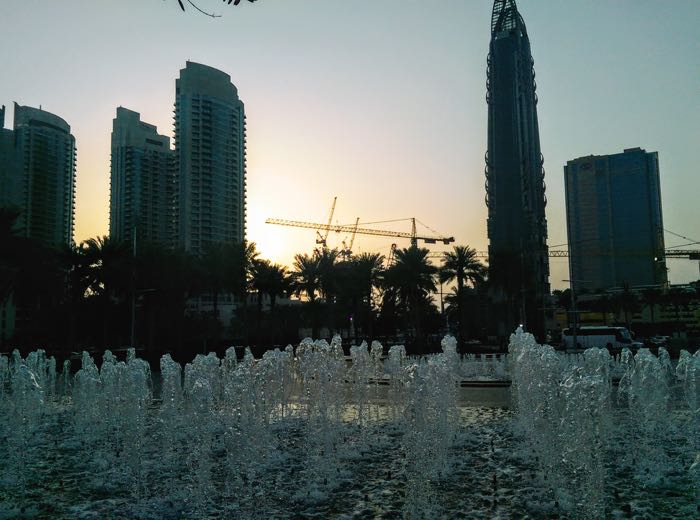 It's a great city for a short stopover, and while I tend to enjoy the rest of the UAE more, there are plenty of things to do outside of the malls and restaurants.
What are your favorite things to do in Dubai?