In February 2015, Singapore Airlines announced that they would be introducing a new premium economy cabin. It seems to be a really solid product, and over the past year progressively more planes have been outfitted with the new cabin, so that it's now available on quite a few routes.
Up until now it hasn't been possible to redeem Singapore KrisFlyer miles for an upgrade or award in premium economy, though it looks like that's finally changing. Along with it, a few other changes are being made to Singapore KrisFlyer, none of which are too bad.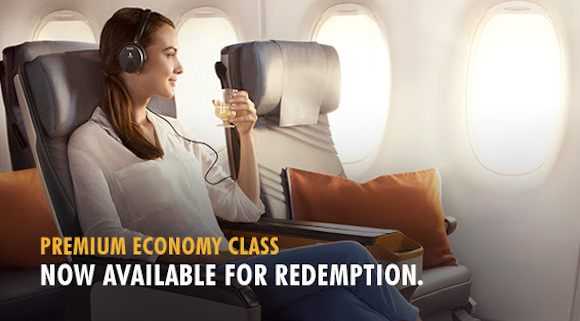 Redeem KrisFlyer miles for Singapore Airlines premium economy
As of May 24, 2016, it will be possible to redeem KrisFlyer miles for travel in premium economy.
Here's the award chart which includes the cost of one-way travel in Singapore premium economy (the second row in each section represents the cost of premium economy awards):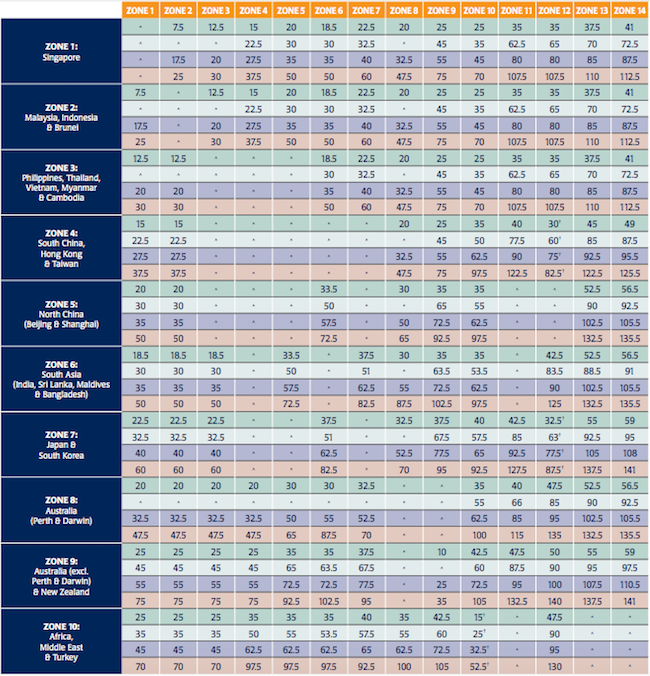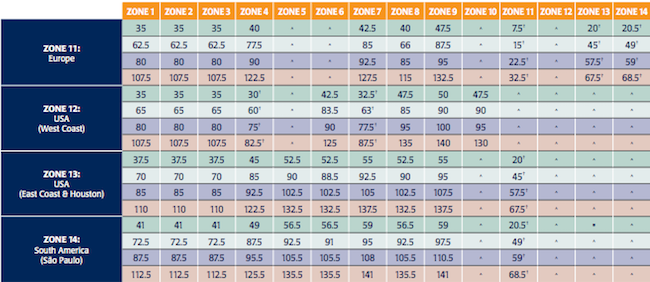 The premium economy award redemption costs are roughly in line with what I was expecting. They're (obviously) priced between economy and business class, but generally seem to be priced closer to business class than economy. So I still think business and first class redemptions represent a better value, pending availability. To me it always seems like premium economy should be priced closer to economy than business when redeeming miles, given that that's how it is for revenue tickets.
It's worth noting that you can only redeem KrisFlyer miles for premium economy on Singapore Airlines. On partner airlines you can still only redeem for economy, business, or first class.
Redeem KrisFlyer miles for premium economy upgrades
Now, here's the bad news, which is probably the reason I'm most opposed to premium economy. Singapore Airlines has a one cabin upgrade policy, and they're adding premium economy upgrades as of June 1, 2016. While you could previously upgrade from economy to business class, you can now only upgrade from economy to premium economy, or from premium economy to business class.
Here's the KrisFlyer upgrade chart, which will show you the cost of upgrades from economy to premium economy, from premium economy to business, and from business to first.
I'd say the upgrade pricing is pretty reasonable. To give some examples of one-way upgrade costs between Los Angeles and Singapore:
Economy to premium economy will cost 32,500 miles
Premium economy to business will cost 45,000 miles
Economy to business presently costs 65,000 miles (though won't be possible as of June 1)
So if you do want to upgrade to business class, you'll ideally want to choose a flight without a premium economy cabin, so that you can upgrade from economy.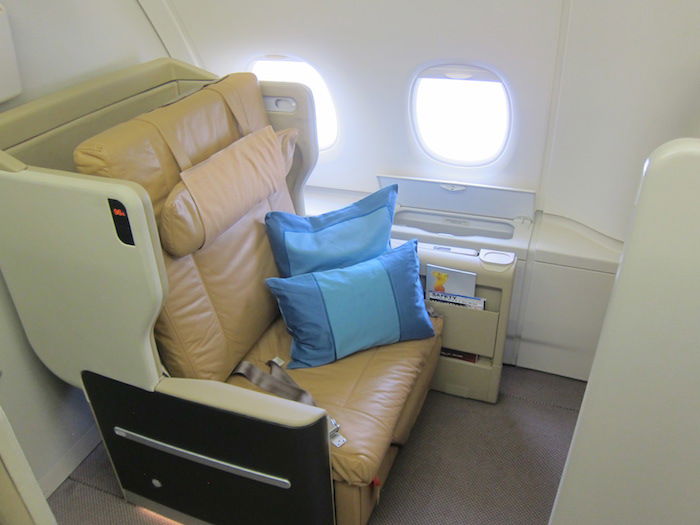 Singapore Airlines Business Class
Other minor KrisFlyer changes
Singapore KrisFlyer is making some other minor changes to their award chart. As of May 24, 2016, Zones 11 & 12 will be consolidated. Previously KrisFlyer broke Europe into two zones, though now they'll both be part of the same zone, and the higher rate zone will apply for all those flights. So that's a negative change, but not a big deal in the grand scheme of things.
Furthermore, at the moment Singapore Airlines has three award tiers — Saver, Standard, and Full — and as of May 24, 2016, Singapore KrisFlyer will be eliminating the Full award level. Full awards had near last seat availability, meaning they were almost always available. They were also ridiculously expensive.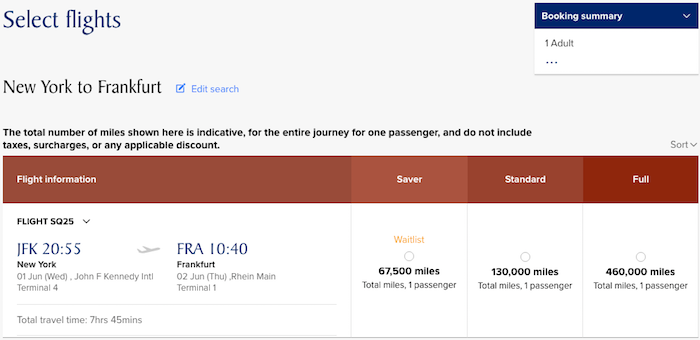 Instead Singapore KrisFlyer will just have Saver and Standard awards.
Contrary to popular belief, those Full level awards were likely the most costly to Singapore Airlines, which is probably why they eliminated them. That's because people booking those awards were often booking the last seat in a cabin, and that seat could have otherwise sold for a significant amount. Conversely, Saver awards are typically only available when there would otherwise be empty seats, so the opportunity cost is much smaller.
What's especially interesting is the following:
For members who have ticketed at Full award levels, flights departing from 24 May 2016 will be rebooked to a Standard award, and we will refund you the difference in KrisFlyer miles. We will process these transactions and contact affected members once the rebooking has been completed.
There's potentially quite an opportunity, if you're looking at traveling over a peak date and only a Full award is available. You can book it now, and then be refunded the price difference between it and a Standard award, even if the Standard award was never available.
Why I'm (ultimately) happy about these changes
I've written extensively about Singapore KrisFlyer, which is transfer partners with all four major transferrable points currencies, including Amex Membership Rewards, Chase Ultimate Rewards, Citi ThankYou, and Starwood Preferred Guest. I love the program because KrisFlyer is the only program through which you can consistently book premium cabin awards on Singapore Airlines, which is known to be one of the best carriers in the world.
Their award redemption rates are very attractive, so I'm happy to see that devaluing their premium cabin award chart isn't otherwise part of this.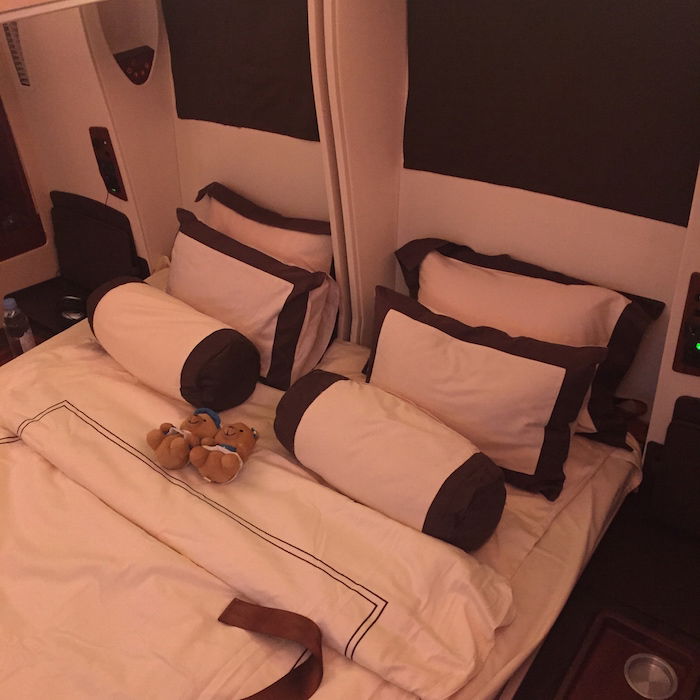 Singapore Airlines Suites Class
Bottom line
Singapore Airlines' new premium economy looks great, and now you can finally redeem miles for it or upgrade to it. While I'm a fan of airlines introducing premium economy, and totally understand the logic behind it, for frequent flyers it's typically bad news.
American is also introducing premium economy, and in a recent post I shared my concerns about what it means for AAdvantage.
In the case of KrisFlyer upgrades from economy to business class are no longer possible on flights with a premium economy cabin. However, what I'm happiest about is that they're not making other changes to their program, given how lucrative it is.
Could you see yourself redeeming miles for Singapore premium economy, either for an award or upgrade?