One of my favorite American Express Membership Rewards transfer partners is Singapore Airlines KrisFlyer, given that they allow you to redeem miles for Singapore Airlines A380 Suites Class, which is one of the most aspirational premium cabin products out there.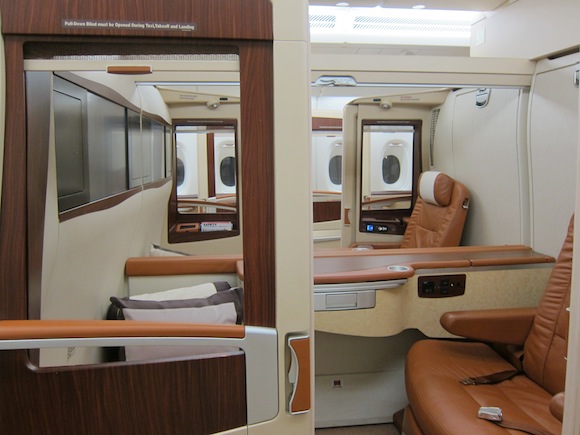 Singapore Airlines A380 Suites Class
This is actually only a fairly recent development. Up until late 2012 it wasn't possible to redeem KrisFlyer miles for travel in Singapore Airlines Suites Class at the saver level. Instead they only made Suites Class available at the highest award level, which cost roughly a million miles roundtrip between the US and Asia.
But in late 2012 they changed that policy, and began releasing some A380 saver Suites Class award availability. Initially they didn't make Suites Class available at the saver level to the US, but rather just for flights within Asia, and to Europe and Australia. However, within a couple of weeks they began releasing saver level availability to the US as well.
As of now the general "policy" seems to be that:
Singapore Airlines will sometimes release two Suites Class award seats on flights within Asia, and to Europe and Australia
Singapore Airlines will only release at most one Suites Class award seat on flights to the US
Availability was actually fairly good to the US for quite a while, accounting for the fact that they only release one seat per flight. At the beginning almost every date had availability.
However, a couple of days ago reader Lantean left the following comment, which also generally reflects what I've observed as of late:
Hi Ben,

I am looking at using Krisflyer miles for A380 suites saver ticket JFK-SIN… for this year only 4/15 is available! It gets a little better for Jan or Feb next year, but not great. For the return SIN-JFK only 11/10 is available this year… and again it's better for Jan and Feb next year.

What would you advise I do? Last time you posted about redeeming Krisflyer miles it seemed like availability was way better.

Or do we have to book a year in advance now?
While I can't quantify it, Singapore has definitely been releasing less Suites Class award availability across the board.
In the past I just about saw two A380 Suites Class award seats per flight between Singapore and Sydney/Melbourne, while nowadays it's not nearly as common.
And the US routes are even worse. New York to Singapore (via Frankfurt) is extremely difficult to find space on, as Lantean notes, and Los Angeles to Singapore (via Tokyo) is also difficult, though not impossible.
The other thing about Singapore Airlines is that they're not great about releasing last minute award space when seats go unsold. For example, once they release their one A380 Suites Class award seat on US bound flights they won't typically open up more space, even if the cabin is wide open.
So is Singapore Airlines just getting much stingier?
I don't necessarily think so. I think it's somewhat reflective of the recovering economy, and the fact that there just aren't as many empty seats to fill (even though when there are empty seats, Singapore still doesn't seem to be making award space available).
Anyway, ultimately this is still much better than how it was in 2012, where you just couldn't redeem miles for Singapore Airlines Suites Class. If you can plan ahead there are some amazing awards to be had!
At just 91,375 miles one-way between Los Angeles and Singapore (when factoring in the 15% discount for booking on singaporeair.com), that's a heck of a deal for 21 hours in A380 Suites Class.