Benjamin is taking me on another amazing trip to countries I've always wanted to see (I still wish to visit India someday)! This time, on the Airbus A380. I'm so humbled and excited to spend at least two weeks with him. Thank you, lovebug, for putting up with me for so long.
It all started at the gate in Dallas watching the crew board the Airbus A380. They looked so professional wearing their red hats and beige scarfs, smiling all over their faces with good posture.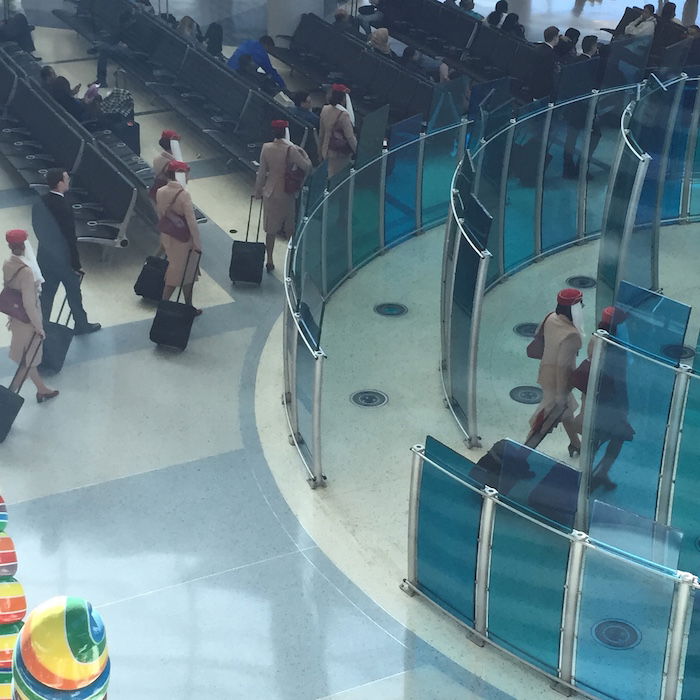 Once I entered the first class cabin I was flabbergasted. The glamor, color variation, chic and shine, made me speechless. The cabin seemed bigger, too, which I believe is due to the flat overhead compartments.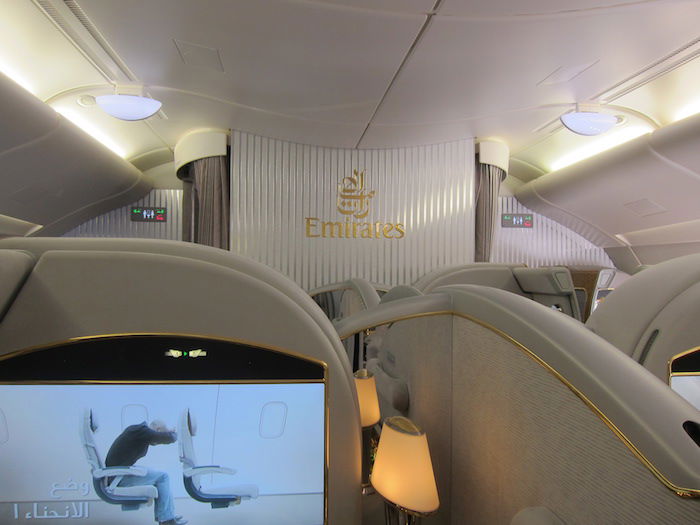 Once I took my seat I was stunned by the amount of personal space I had. The glittering interior almost made me feel uncomfortable at first, but became soothing after a while (especially once the "stars" lit up the ceiling). The Dom Perignon was just the right drink to start that beautiful journey. The flight was very smooth with virtually no noise from the engines, and we were lucky to have only one other passenger in first class.
The service was good but not amazing. The flight attendant serving my aisle did not smile nor did she go above and beyond in any way. She must have had her period, I thought.
After a few more glasses of Dom and some caviar I took a shower at 38,000 feet. How amazing! The room was bigger than my bathroom at home. The floor was heated, and there were more toiletries than I needed.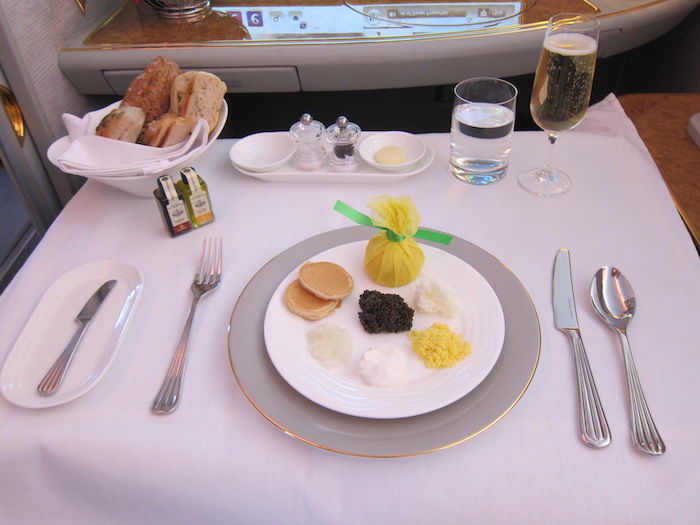 I really felt like I was on top of the world.
I tried to space the five minutes of water out as much as I could so I could get the most out of it. It was just amazing.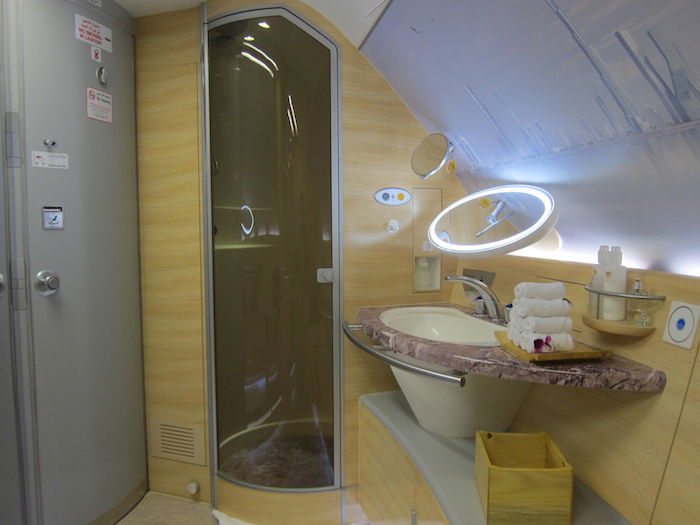 We had some more champagne and a few appetizers, and then went to the bar. We asked the bartender what drinks she would recommend. We had two espresso martinis, which were delicious.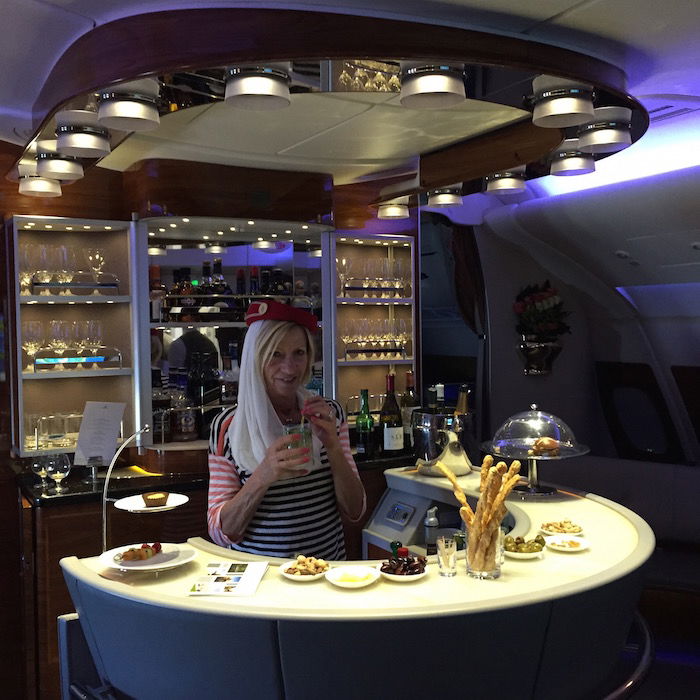 I also tried the Hennessy Paradis, which my husband recommended. He is right, it is an outstanding cognac, but for me too strong. I still wanted to enjoy the flight, after all.
The person serving us at the bar was outstanding. She was very outgoing, professional, and smiled nonstop. I could tell she enjoyed her job.
After napping for a few hours we only had two hours to go to Dubai, and the crew asked if we wanted something to eat. While I wanted to take advantage of the dozens of the things on the menu I hadn't tried, I was just too full.
To get a bit of exercise I walked around the cabin again before landing and counted just how few people there were. Business class seemed to have more flight attendants than passengers.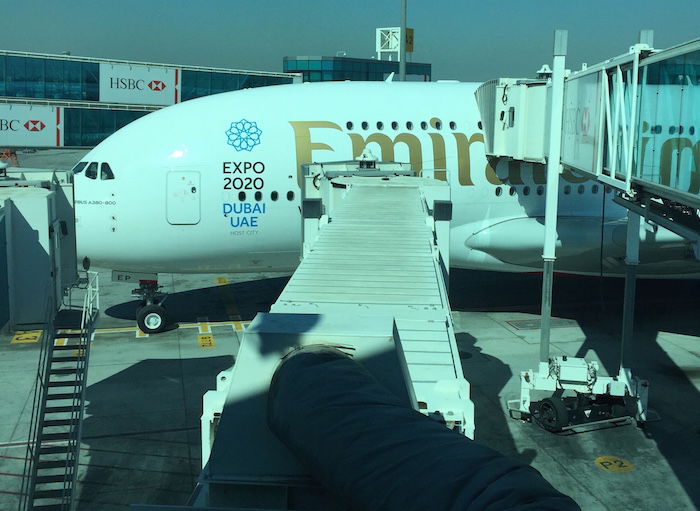 I have flown first class maybe a dozen times before, but this was by far my best flight ever. Besides the not perfect service on my aisle, everything else made me speechless and want to do it again. I think my husband was right when he said "If you have never flown Emirates first class you have never flown first class."
But to be sure I'll have to try all the other A380s as well. 😉