We only had about a 10 hour window where our schedules overlapped, and Ben was gracious enough to agree to visit Cairo during our layover even though it meant he'd be touring on no sleep. Had he realized how much of an art and history geek I am he might have retracted the offer, but I think he still had a good time 😉
Some people love structured tours. I am typically not one of those people — I love nothing more than wandering a new city at my own not-German pace, but that's not necessarily practical on a short layover, and wasn't something either of us felt particularly comfortable with in this case. So I'm not an expert at choosing tour guides by any means, but this worked out well for us.
I'm also not an expert at Egypt — this is truly just a rundown of what we were able to put together last-minute, so hopefully other people will be able to chime in with more specific recommendations.
Booking a day tour in Cairo
We were specifically looking for a driver and guide combo, so after reading through the reviews on TripAdvisor, I decided to book through Ramses Day Tours. They run a supplemental site for Egypt Last Minute Travel, and as we're often last-minute kind of people it seemed like a good match based on that alone 😉 They responded promptly, and were beyond patient with me as we hammered out the details of our tour.
We both had flight delays, and weren't even sure we'd actually be able to make the tour until about midnight the evening prior, just to give you an idea of how flexible they were.
We were quoted a price of $60 a person for a day tour of Cairo, which included a driver and licensed Egyptologist, all the admissions to the various complexes, etc. That seemed reasonable enough, and I didn't negotiate, even though we ultimately scaled back the agenda significantly.
Would you recommend your tour operator?
Absolutely. Beyond the initial communication, which was fantastic, the entire experience was just incredibly professional.
Our guide, Mina, was waiting in the lobby 15 minutes before our scheduled meeting time. He was sharp and courteous, and did an excellent job of explaining what we were seeing and why it was interesting. He was also very well prepared — he had maps of ancient Egypt to give us some background info as we drove, then had a ton of information loaded onto a tablet as well. So when we were looking at the Sphinx, for example, he had photos handy of what it looked like pre-excavation, along with artist renderings of how it likely looked in antiquity.
More importantly, he did an excellent job of balancing Ben and I, which is something even we struggle with. 😀 I love history and architecture, while Ben is generally more interested in current events and economics. Mina bounced between explaining how something was constructed in ancient times with answering Ben's demographic questions. That might be standard practice for a tour guide (I generally don't hire them, so don't know), but I still thought it was impressive.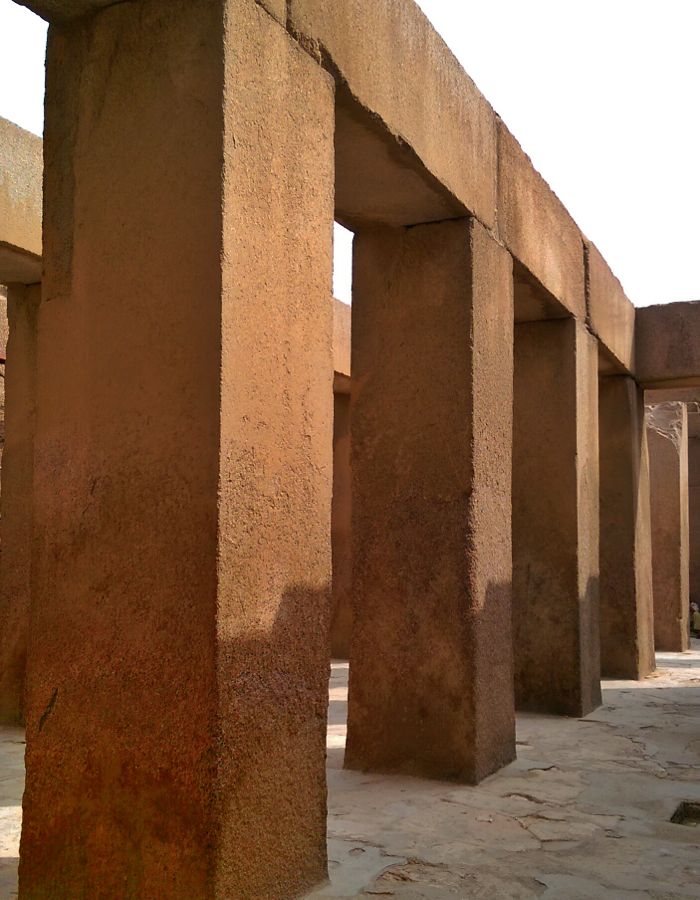 How much time do you need to visit the pyramids?
Well, the disclaimer here is that when we don't have other people with us, Ben and I tend to be extremely "efficient" tourists, and don't typically have a lot of time to linger regardless, so our pace is maybe not a great indicator. Everywhere we went was also nearly devoid of other tourists, which certainly sped things along.
But as a general outline, we left the Le Meridien Cairo Airport at 8AM, and walked all around the Giza Plateau, including the pyramids, Sphinx, and the temples. We weren't in a particular hurry (for us), and there were no queues (or really any other tourists at all).
Afterwards we spent about 45 minutes cruising the Nile on a traditional felucca.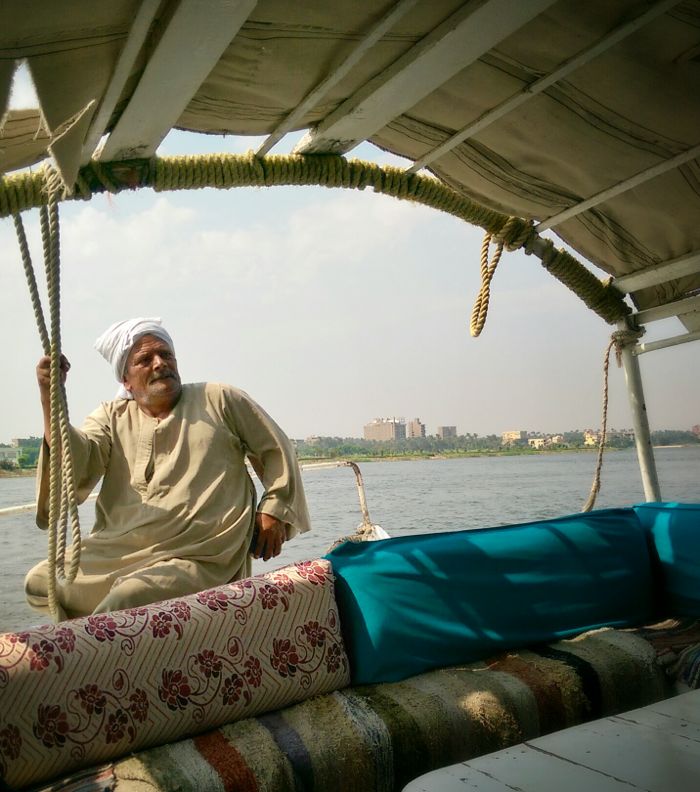 We finished up by driving through parts of old Islamic Cairo and some of the other interesting areas of the city, and were back at the hotel by about 12:30PM. We'd planned on spending more time, but we were both falling actively asleep at that point, so it seemed best to cut it short.
So even on a relatively short layover it should be possible to at least go to the pyramids and back, and your tour company can advise you as to what makes sense given traffic and your schedule.
Is Egypt safe for tourists?
It sure felt safe!
We (and especially our mothers) were concerned about safety as well, which is partly why we'd booked a guide to begin with. I might have have been a bit more apprehensive had Ben not been with me (I tend to think abundant wariness is the best approach for a solo female traveler), but at no time did I ever feel at all threatened. Not even when I schlepped from Terminal 1 of the Cairo airport to the hotel in the middle of the night, which was pretty sketchy.
Beyond that, everyone we interacted with was incredibly welcoming.
You know those irritating vendors that swarm tourist sites all over the world trying to sell you things you don't want? There were several handfuls of those around the pyramids, and each time we responded with a "No, thank you" we received a "No problem. Welcome to Egypt" or a "Thank you for visiting my country" in reply.
There are also lots of protections in place for tourists. There are special tourism police everywhere, and apparently "normal" police can't even pull a registered tour driver over. Both the hotel and the guards at Giza logged the plate number of the van and our intended destination upon departure. We were also told that the military has actually gone so far as to provide an escort for Americans who want to go to the pyramids and other sites. If you don't want that (and I certainly didn't) your tour guide will happily tell the guards you're from somewhere else.
So while I think you could still be scammed by a camel owner, or potentially pickpocketed in a crowd, I don't know that there's a real threat to physical safety if you're on the "tourist track." I wouldn't necessarily get drunk and wander around alleyways, but I wouldn't do that in the US either.
Would you go back to Egypt?
Absolutely and unequivocally. In fact I'm going tomorrow. 😉
Truly though, I would stay longer, explore the old parts of Cairo, visit more of the country, and even bring my nieces. I'd spend as much time and money as I reasonably could.
Ben generally does a good job of keeping his blog politics-free, so I won't get into it further, but Egypt was heavily dependent upon tourist dollars prior to 2011. And the effects of losing that revenue are visible and pervasive.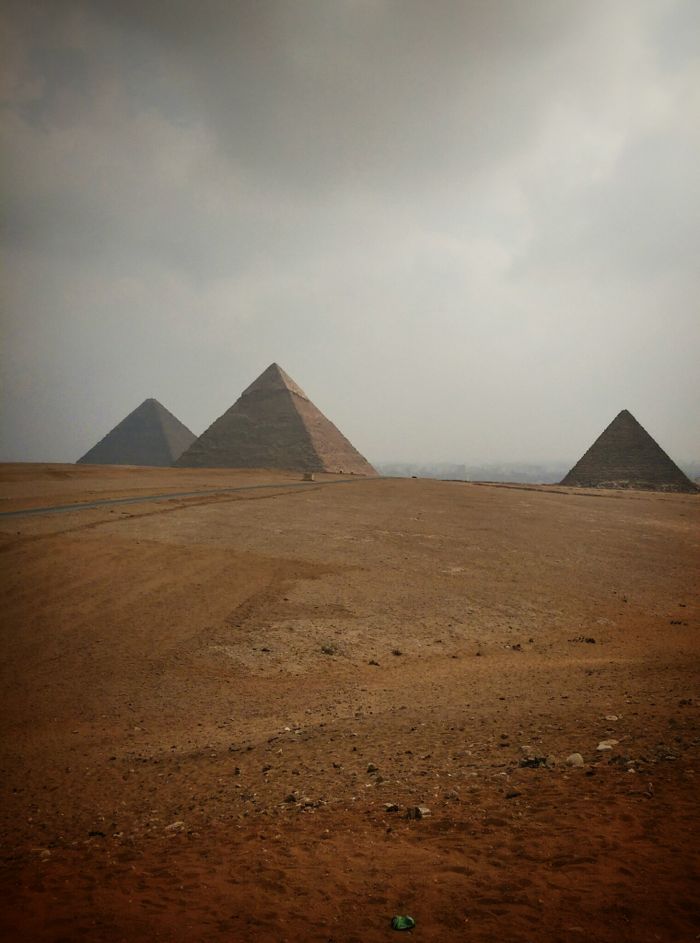 It's pretty cool to have a wonder of the ancient world all to yourself, but when you see the thinned out herds of camels, or the rows of vacant merchant stalls…
If you've been hoping to visit Egypt, just go. Now is a great time.
Has anyone else visited Egypt recently, be it on a stopover or otherwise? Any tips or suggestions?