Collectively I've spent a lot of time in the Middle East, so I'm pretty familiar with the Ramadan customs. As an "outsider," the most practical implication of Ramadan is that those observing it fast during daylight hours for about a month (Ramadan goes from May 26 through June 24).
Non-Muslims are free to eat during the day, though you'll notice that things are often a bit different. For example, I've written in the past about how Ramadan impacts Emirates, Etihad, and Qatar. While all three airlines still serve alcohol onboard, they adjust other policies slightly. For example, Etihad and Qatar don't serve alcohol during the day in their flagship lounges during Ramadan.
While I've flown Gulf carriers during Ramadan, the experience didn't seem radically different than usual. That's probably largely because those airlines carry a lot of passengers who don't observe the tradition, despite where the airlines are based.
Well, yesterday I flew Saudia from New York to Riyadh to Dubai, and it was a very different experience, which doesn't come as a surprise. Ramadan sure is challenging when travel is involved, given that daylight hours are always observed based on where you are. For example, if you have a 15 hour westbound daytime flight, it's entirely possible that you'll have to fast for nearly 24 hours.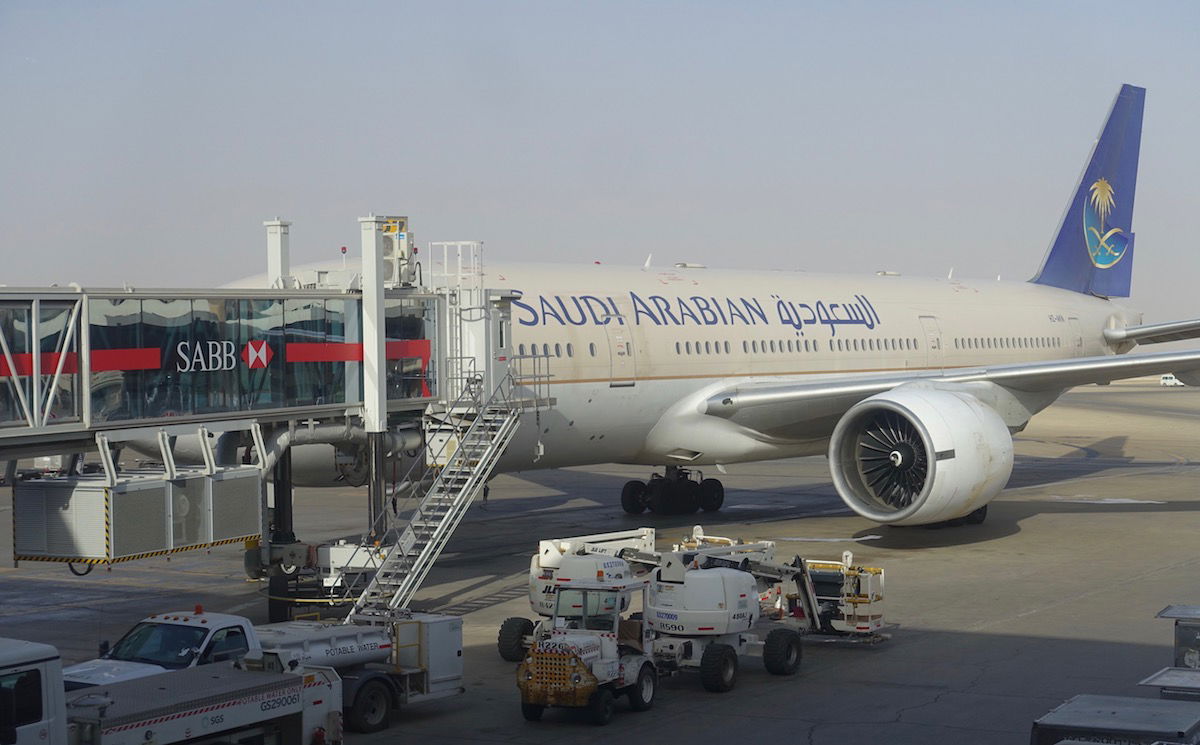 But yesterday I was flying eastbound, and it was interesting nonetheless. My flight from New York to Riyadh left at 5PM and landed at around 12PM the next day. It was light for the first two hours and the last four hours of the flight. So I ate as I usually would, and both meals were during daylight hours.
I got the sense that I was just about the only person on the plane not observing Ramadan. The service was attentive as could be, and my dinner was done before the sun set, while my breakfast started after the sun rose.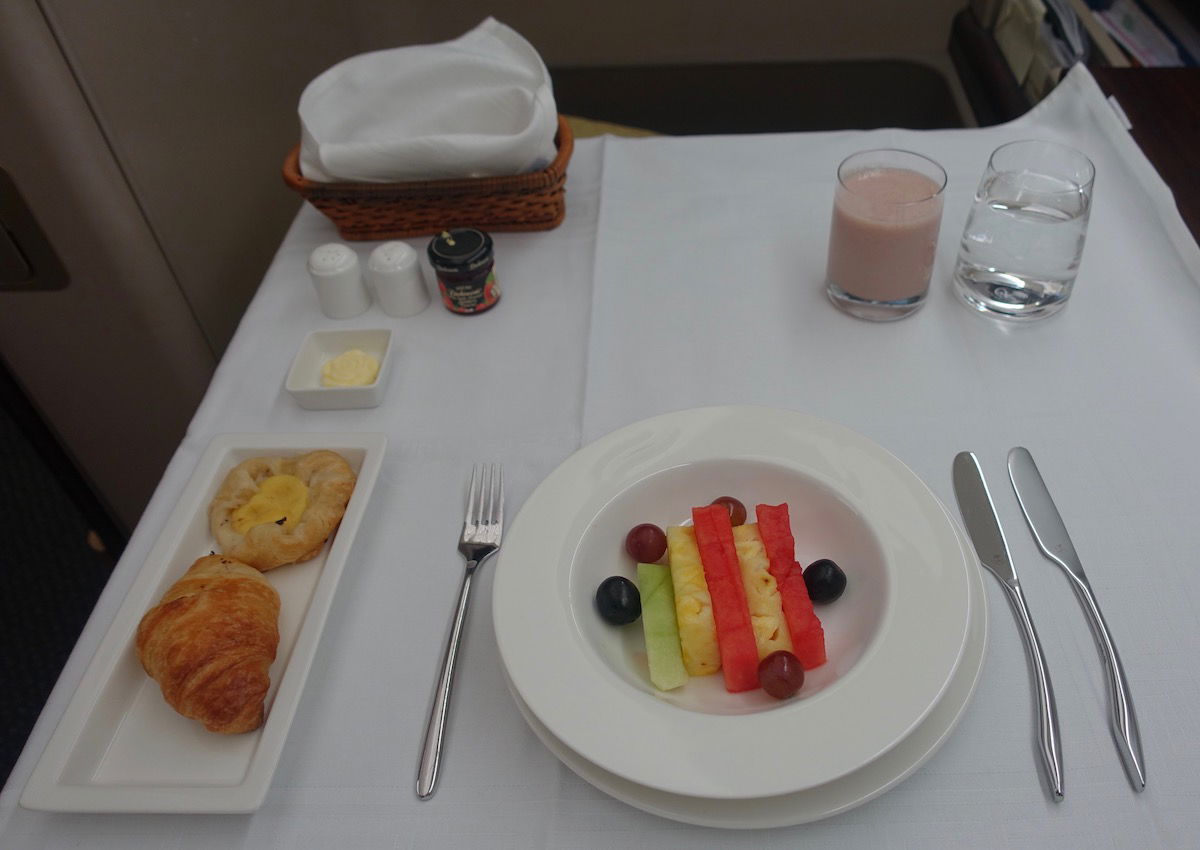 Meanwhile it was dark for roughly the middle half of the flight, for a total of maybe five hours. During that time the crew served two back to back meals in economy, since those passengers wouldn't be able to eat again until the following night.
The flight attendant serving me explained how on a recent westbound flight to the US they had to serve five meals in economy — the normal two meals plus a mid-flight snack for non-Muslim passengers, plus the Iftar (meal after sunset) and Suhoor (meal before sunrise). So they were serving meals almost nonstop.
Also interesting was that as soon as the sun set, there was an automated PA saying "ladies and gentlemen, it is now time for Iftar. May Allah accept all our good deeds." That's an announcement you don't often hear on a flight!
More interesting, perhaps, was my flight from Riyadh to Dubai, which left at 6:05PM and arrived at 9PM (there's a one hour time change). The flight was just 70 minutes, and it got dark about 40 minutes into the flight.
After takeoff the lovely (Filipino) flight attendant asked if I was fasting. When I said I wasn't, she served me my meal.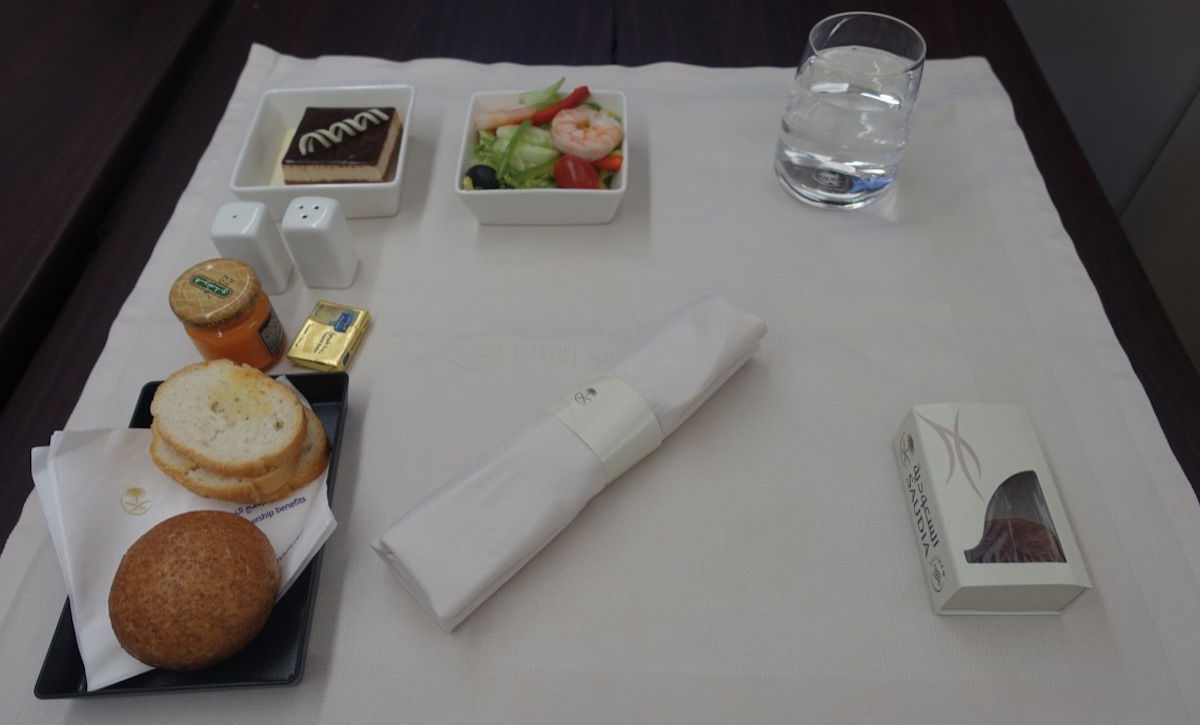 About 30 minutes before landing, as we were starting our descent, there was an announcement over the PA saying that it was time for Iftar, at which point service began for just about everyone else on the flight.
Bottom line
The logistics of Ramadan and travel sure are interesting. Understandably people are really hungry if they've been fasting all day and the sun finally sets, so it requires quite some effort on the part of the airline to coordinate all this.
For example, the Jeddah to New York Saudia flight departs at 5:40AM, which is exactly when the sun rises. So those observing Ramadan can't eat for the entire 13hr50min flight, and then they land in New York at 11:50AM, which is nearly nine hours before sunset.