I've written in the past about how some airlines have onboard chefs, and what they actually do. In theory the concept of an onboard chef is awesome — no, they won't be cooking with open flames onboard, but they should have the ability to customize your meal quite a bit. Rather than being limited to what's on the menu directly, you're instead limited to the sum of the ingredients of the dishes they have onboard.
But that's also the problem: there's huge variability with the quality of onboard chefs. Sometimes they're basically dialing it in and aren't creative at all, while other times they're incredibly inventive and go above and beyond to customize the experience. To me the former invariably leads to disappointment. If you're going to have such a position, make sure the chef at least adds value and makes the experience unique, and does something you wouldn't expect a flight attendant to do.
In June I flew Saudia first class from New York to Riyadh, and I was impressed by the chef's ability to customize the experience.
On Saturday Matthew from Live and Let's Fly and I took the 16 hour flight from Jeddah to Los Angeles (which in my case was the return portion of my ticket). The onboard chef on this sector was simply incredible, easily the best I've had on any airline. Chef Rahmi was from Turkey and had been in Saudi Arabia for two years, and he was flawless. I've never had a chef so passionate, enthusiastic, hardworking, and creative with the service.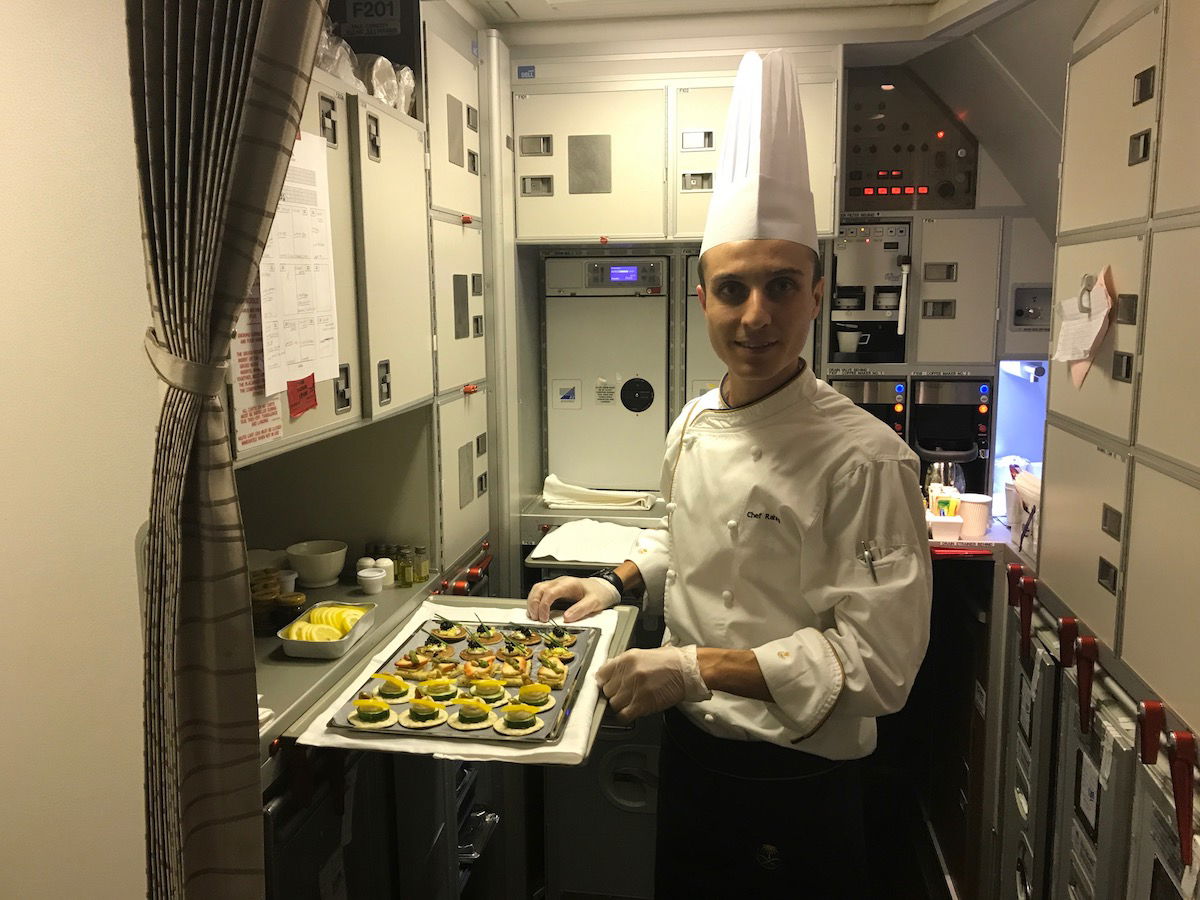 While there was a menu, there may as well not have been, based on the degree to which he offered to customize everything. There wasn't a single dish he prepared for me without asking exactly how I wanted it prepared.
He even took it upon himself to prepare some canapés with the main meal. I don't even think this is part of the suggested service, but rather he put each of them together piece by piece in the galley using his own creativity. And to think that this was 13 hours into the flight, when he must have been exhausted. Amazing.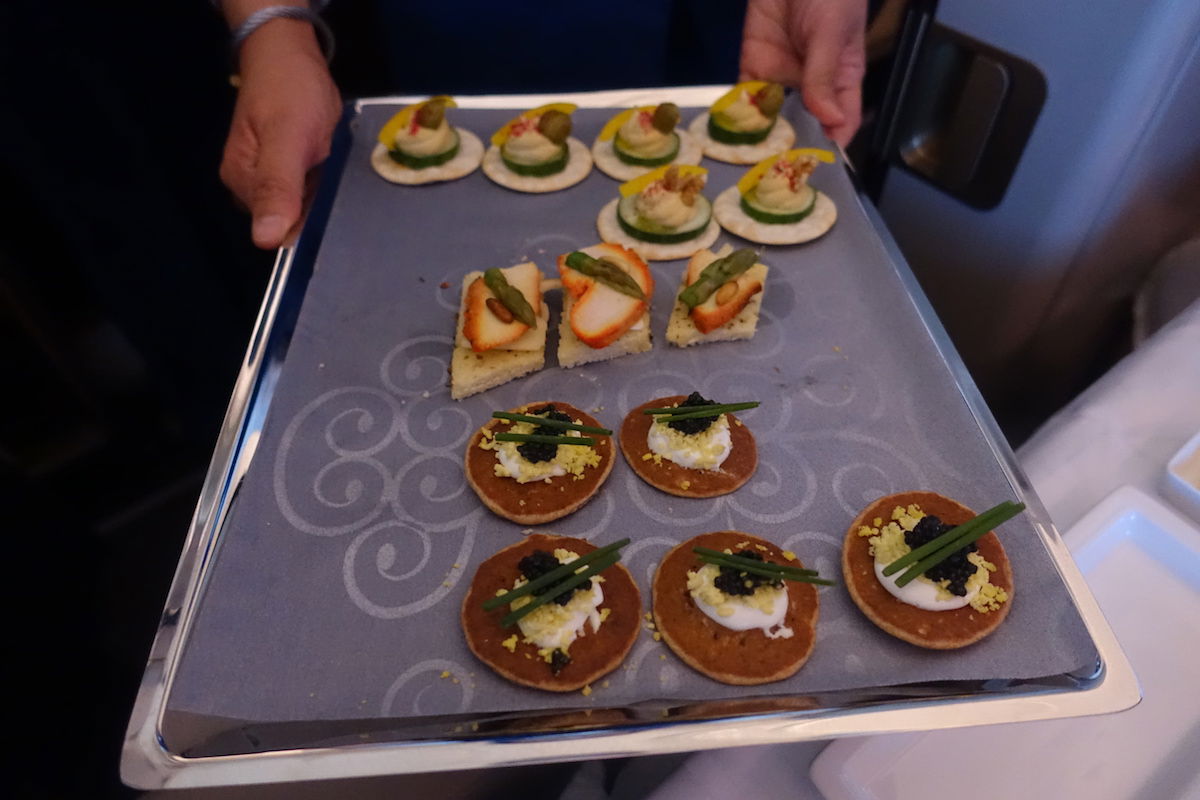 For breakfast I ordered crepes. "How would you like the crepes? I can prepare them with chocolate, berries, or do you prefer something more savory?"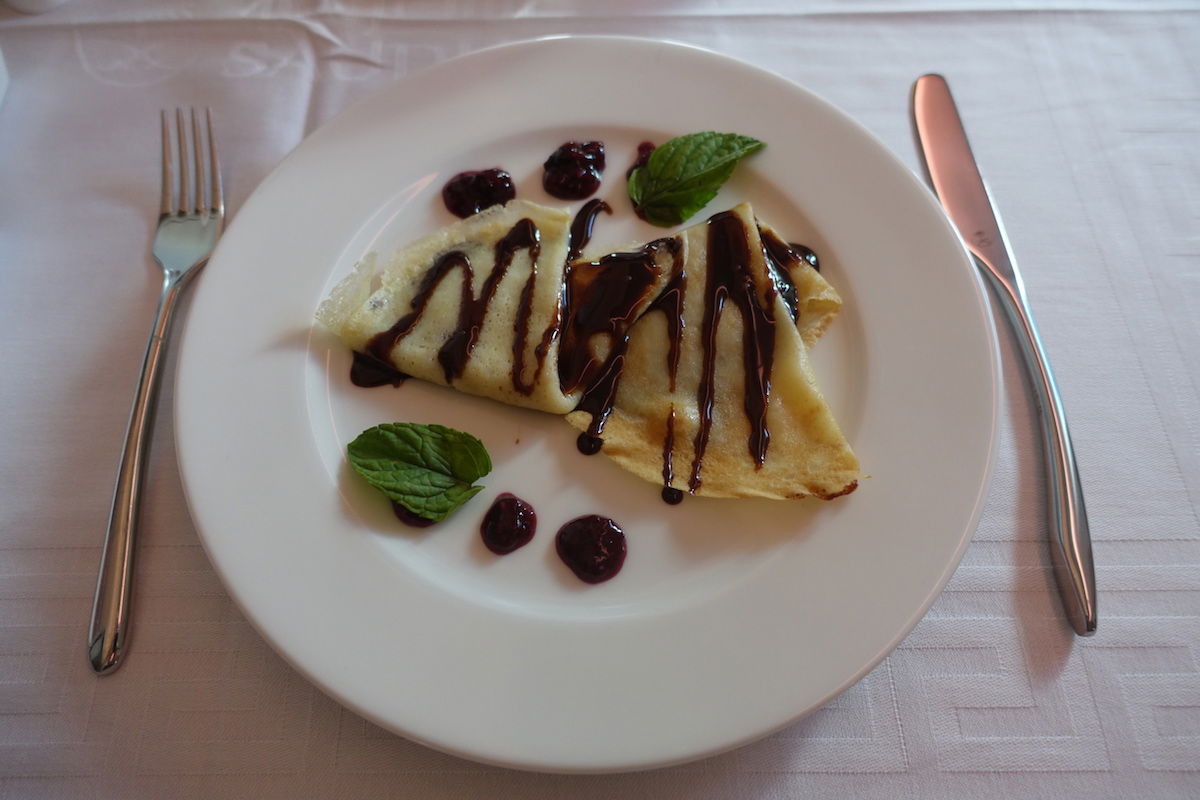 I also ordered scrambled eggs for breakfast. "Are you sure you want them scrambled? I can prepare them any way you'd like?"
"Scrambled works for me."
"Great, would you like them soft or hard? What can I accompany the eggs with?"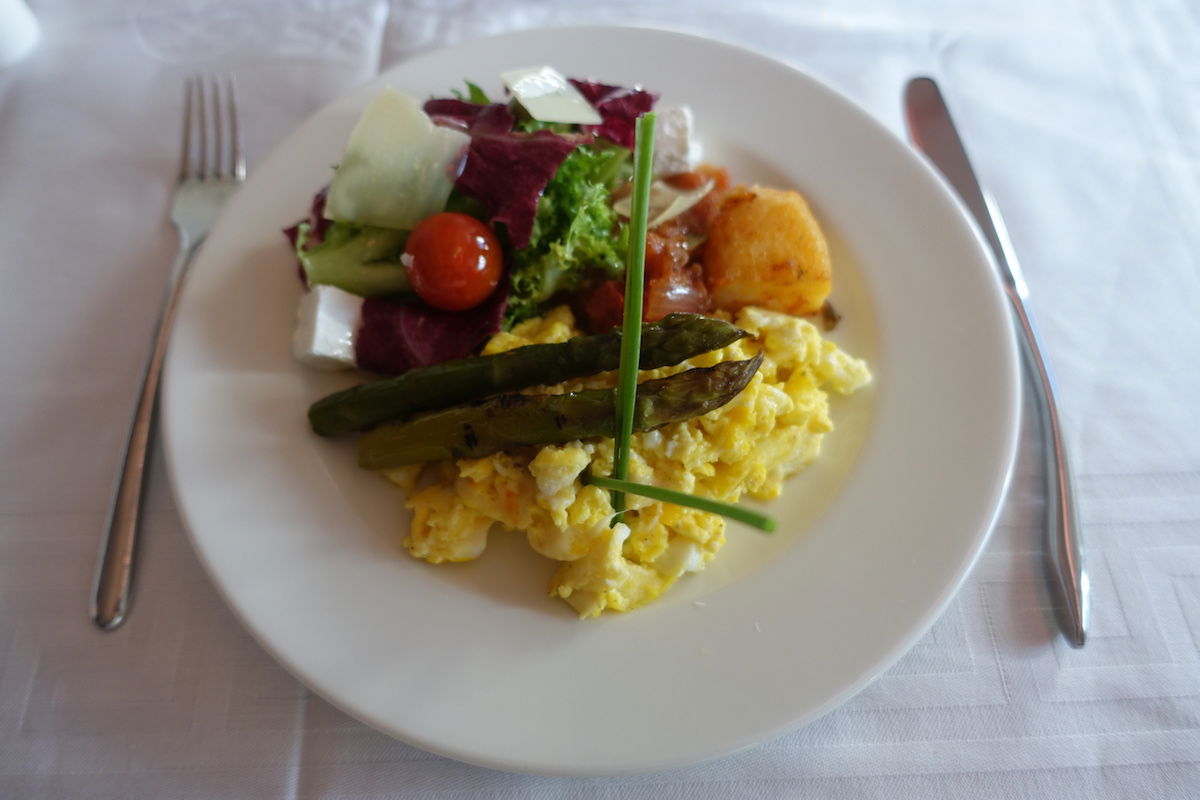 For the next meal I ordered lobster thermidor.
"How would you like that prepared? I can put some vegetables, pasta, potatoes, or anything else you'd like."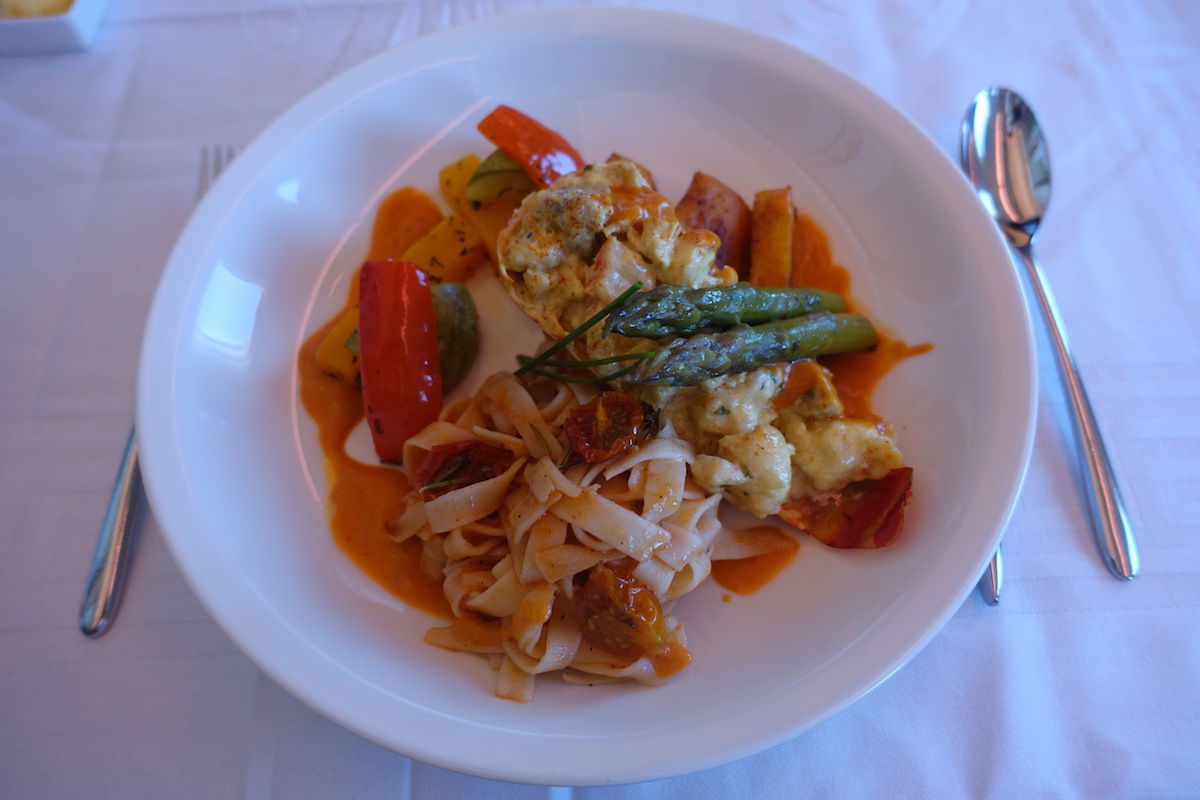 Heck, even the caviar course wasn't straightforward.
"Do you just want the caviar in the tin, or would you like me to get a bit creative?"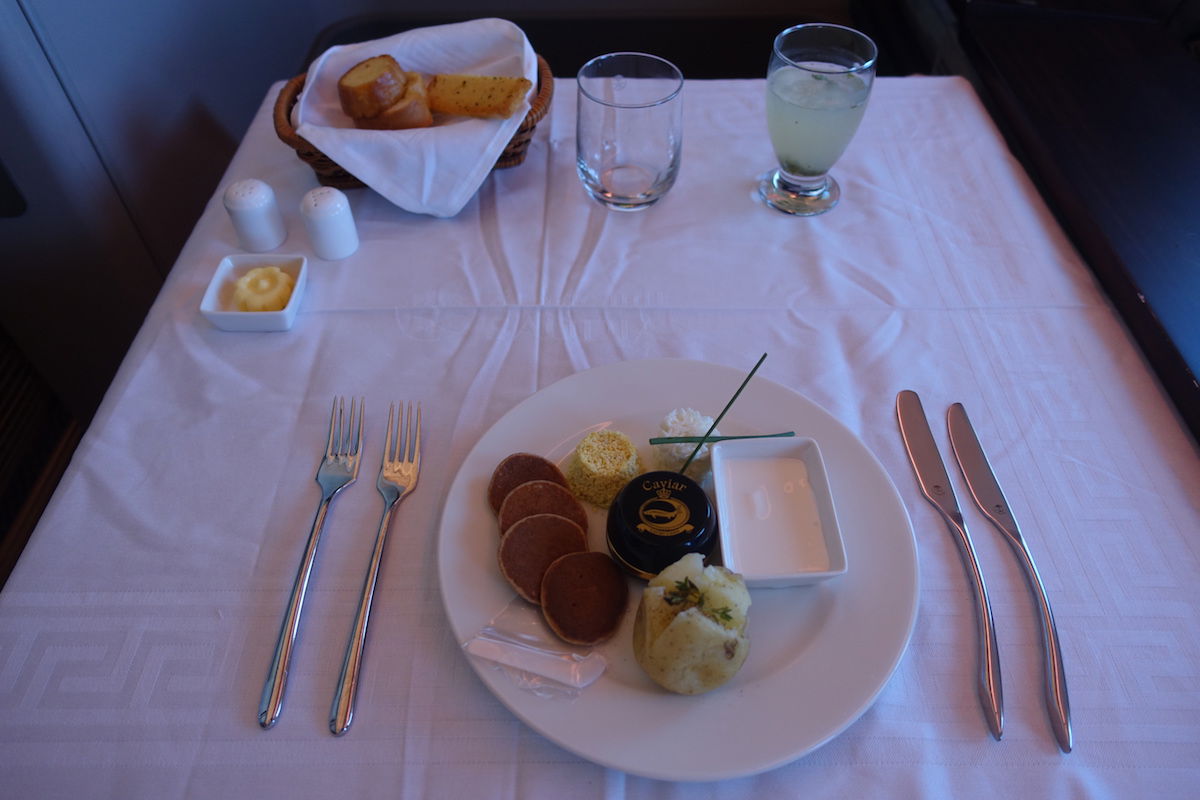 Fortunately it wasn't just chef Rahmi who was great, but the ladies taking care of first class were phenomenal as well, despite a full load up front (due to operational upgrades — the flight was oversold).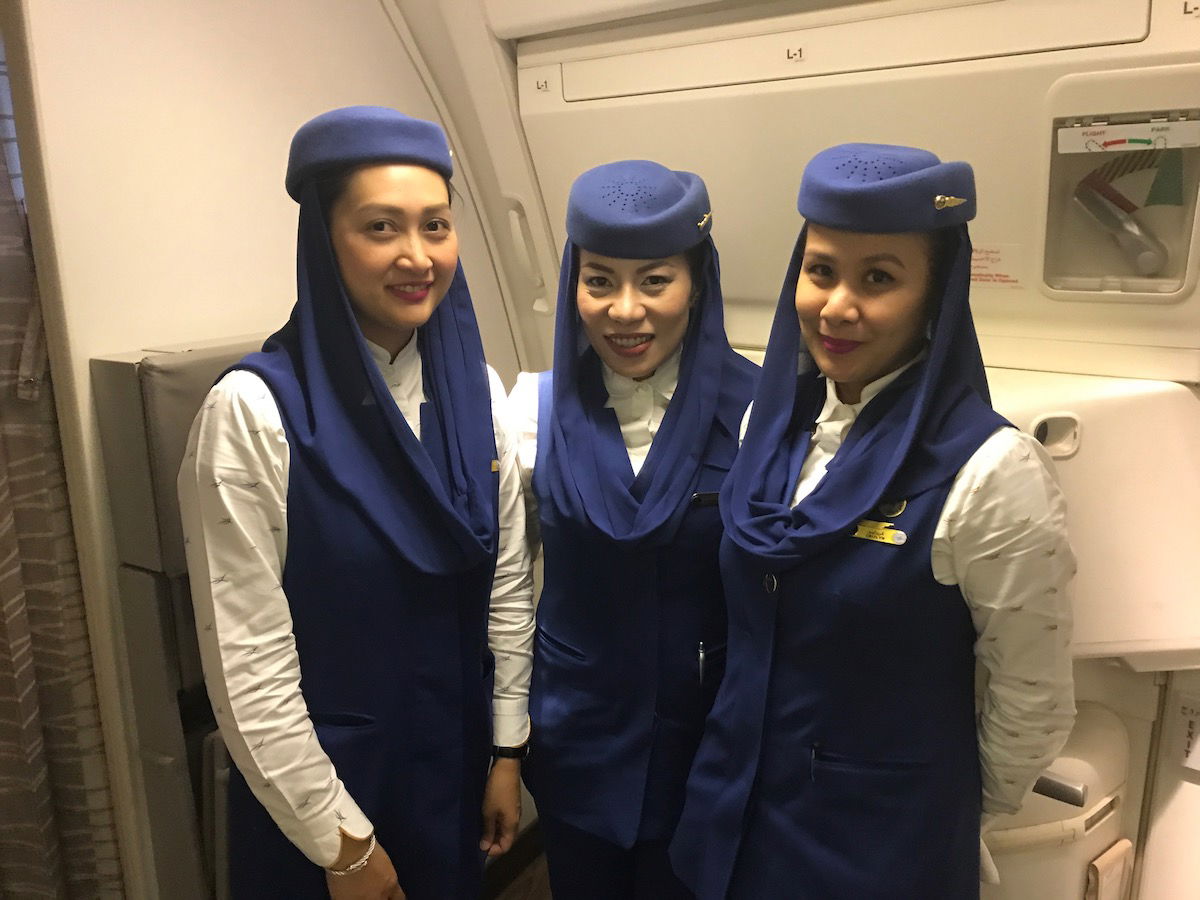 This was Matthew's first flight in Saudia first class, so check out this post for his thoughts on the experience.
Bottom line
It does't matter what industry we're talking about, it's always nice to interact with people who are passionate about what they do. On some airlines I've found the chef concept to be totally for show. For example, I've had more not-great chefs on Etihad than good ones (though I've had a few excellent ones too).
However, Rahmi was the best chef I've had on any airline. His passion and creativity was top notch, and on top of everything else he sure encouraged trying everything (and they also never ran out of anything). On Etihad I've had some chefs look at me like I have two heads when asking for both an appetizer and soup, while when ordering a five course meal, Rahmi said "are you sure you don't also want a mezze? Or another dessert? Or…?"
While I'll have a full trip report soon, kudos to Rahmi and the rest of the crew for making this an exceptional flight.