Saudia's latest airport for international growth is one you may have never heard of.
Saudia expanding out of Neom Bay, Saudi Arabia
Saudia is adding international flights out of Neom Bay, Saudi Arabia (NUM):
As of June 2022, the airline flies a once weekly Airbus A320 to Dubai (DXB)
As of December 2022, the airline will fly a once weekly Boeing 787 to London (LHR)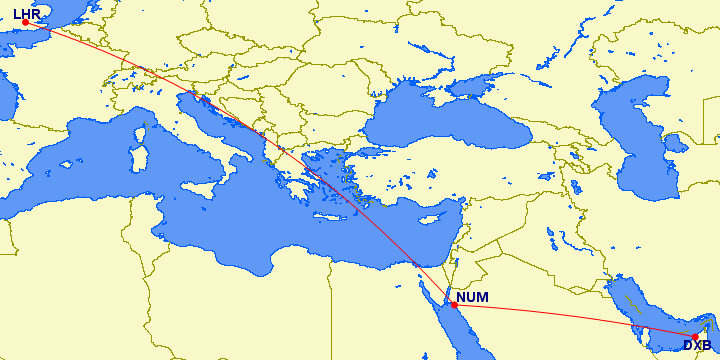 Saudia is the only airline offering commercial service to the airport — the airport first got domestic service as of June 2019, and then international service started in June 2022.
It's no coincidence that the airline is the only one to offer service to the airport, as Saudia and the region even have a partnership for this service. Therefore the airline will operate this service regardless of economic viability (then again, that's often not a primary consideration in Saudi Arabia).
Neom Bay is located in the very northwest corner of Saudi Arabia, on the Gulf of Aqaba, near Egypt and Jordan. Neom Bay Airport is located just 30 miles from Sharm El Sheikh Airport, though getting between the two areas isn't exactly easy.
All of that is great, though you may be wondering "why would Saudia operate once weekly flights to Neom Bay from Dubai and London?" Well…
Neom is Saudi Arabia's futuristic "smart city" concept
So, what exactly is Neom Bay, and why would Saudia operate international flights there? While there's not a whole lot there yet, Neom is Crowne Prince Mohammed Bin Salman's $500 billion futuristic mega project. Most significantly, this is where "The Line" is being built, which is Saudi Arabia's new smart city that looks… almost not real?
The Line is intended to eventually house nine million people, who will live in interconnected societies run by artificial intelligence. This will be a 170 kilometer coastal strip that will be free of cars and streets, and will allegedly have zero carbon emissions. Excavation is underway, and it's expected that this will open in the coming years.
The region is also expected to have a massive airport by 2030, which will be one of the largest in the world when complete.
This plan was first announced in 2017, and is part of Saudi Arabia's 2030 Vision.
So while there's not a whole lot in Neom Bay yet (other than workers), it's pretty clear that this service is intended to already create direct links to Neom Bay, and to provide easy connectivity for business travelers to the region who may be involved with this development.
Bottom line
If you find yourself looking at the departures board at Heathrow Airport, and are confused by a flight to Neom Bay on Saudia, now you know why this service exists. Neom Bay is slowly getting international service, with once weekly flights from Dubai and now London.
While there's not a whole lot in Neom Bay yet, this is the airport for Saudi Arabia's new futuristic megacity, including The Line. I'm curious to see how all of this plays out.
What do you make of Saudia's flights to Neom Bay?