Introduction
Review: American Business Class A321 Los Angeles To New York
Review: British Airways Lounge New York JFK
Review: Iberia Business Class A340 New York To Madrid
Review: Iberia Arrivals Lounge Madrid Airport
Review: Hilton Madrid Airport
Review: LAN Business Class 787 Madrid To Frankfurt
Review: Oman Air Business Class 787 Frankfurt To Muscat
Review: Oman Air Lounge Muscat Airport
Review: Oman Air Business Class A330 Muscat To Bangkok
Review: Le Meridien Suvarnabhumi Resort & Spa
Review: Oman Air Lounge Bangkok Airport
Review: Oman Air Business Class A330 Bangkok To Muscat
Review: Oman Air New Business Class A330 Muscat To Frankfurt
Review: Sheraton Frankfurt Airport Club Suite
Review: Air France Lounge Frankfurt Airport
Review: Air France HOP Business Class Frankfurt To Paris
Review: Air France First Class Ground Experience Paris
Review: Air France Business Class 777 Paris To Toronto
---
My layover in Frankfurt was about 12 hours, as I was landing from Muscat at around 7PM, and departing the following morning to Paris at around 7AM.
I decided to book the Sheraton Frankfurt Airport, which I've stayed at about a dozen times before. It's connected directly to Terminal 1, so is extremely convenient if you just have a quick overnight.
The Element Frankfurt Airport is also quite nice, though is about a 5-10 minute drive from the airport. Meanwhile the Hilton Frankfurt Airport is also walking distance from the terminal (it's located in the nearby Squaire), but the walk is about an extra 10 minutes in each direction.
Besides, I'm a Starwood loyalist, so the Sheraton Frankfurt Airport was an obvious choice. The rate I paid was about 115EUR, which was pretty good for this hotel, especially on a weekday.
This review will be brief, given that I didn't leave my room after checking in, and left early the following morning. So check out my previous review of the Sheraton Frankfurt Airport for more details. What do I love about the Sheraton Frankfurt Airport?
It's extremely convenient
The staff are professional and friendly (especially by German standards)
The club lounge is fantastic, with a great food & drink spread
There's just some quality to this hotel I love which I can't quite explain; maybe it's a function of all the memories I have of Frankfurt Airport growing up, from visiting family in Germany, but staying at the Sheraton makes me sort of nostalgic
The reason I'm writing this review is because this stay was the first time I've ever been upgraded to a suite at this hotel. I'm not sure if it's because they were busy, if it's because my Ambassador is awesome, because I'm a frequent guest, or what, but I figured I'd review it.
I'd note that at this hotel SPG Platinum members aren't technically entitled to suite upgrades in the club tower. That's because the club area of the hotel is considered to be a separate "tower," and as a Platinum member you're entitled to the best available room (including a standard suite), with certain exclusions. Here are the relevant terms (bolding mine):
Upgrades to best available room at check-in, including Standard Suites.1

Subject to availability at check-in for the entire length of the stay, provided the room was not booked through a pre-paid third-party channel. Specialty Suites such as, but not limited to, premium view, Presidential, Honeymoon, and multiple bedroom suites are excluded. This benefit does not apply to all-suite hotels. Best rooms are identified by each property and may not include upgraded Towers level accommodations unless Towers level accommodations were booked originally.
So you can either get a renovated room in the club tower, or a suite in the non-club tower, which largely isn't renovated. I always choose a club room. However, in practice Platinum Suite Night Awards can be used to upgrade to the club suites at this hotel, which is why I think this review is worth writing.
With that in mind, upon landing I took the train from Terminal 2 to Terminal 1, which took just a few minutes.
I then proceeded to the check-in hall.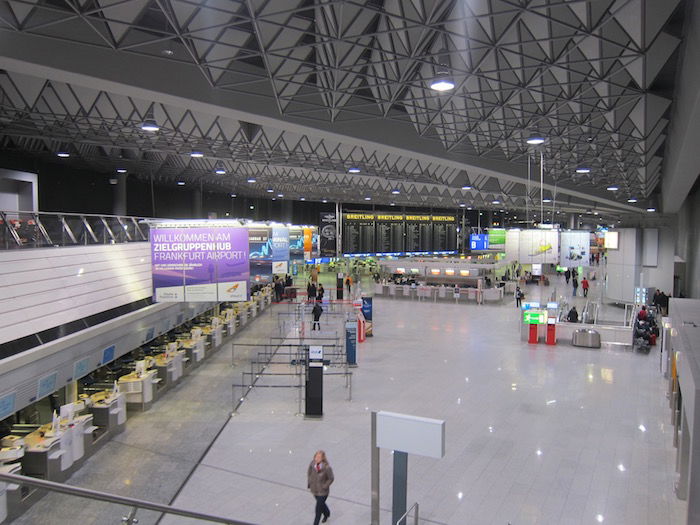 Frankfurt Airport Terminal 1
From there I took the escalator up a level, and then turned left into the hallway which leads to the Sheraton Frankfurt Airport.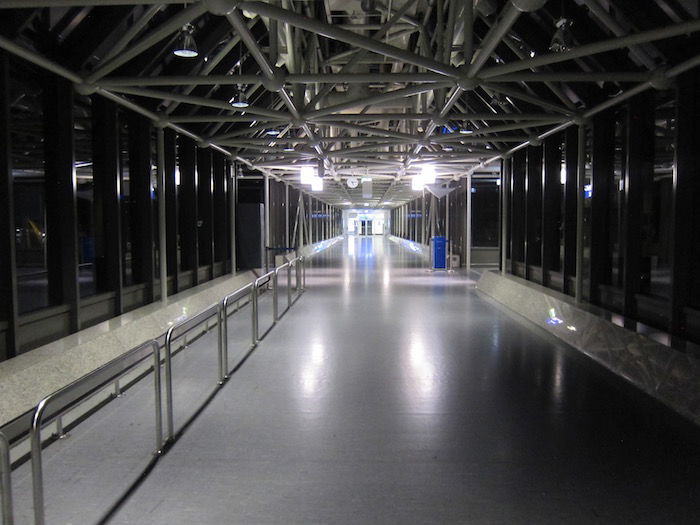 Walkway to Sheraton Frankfurt Airport
The check-in process was quick, and the associate was friendly. I used my Citi Prestige® Card to pay for the stay, given that the card offers triple points on hotel stays.
Within minutes she gave me a key to my suite on the seventh floor, #7219.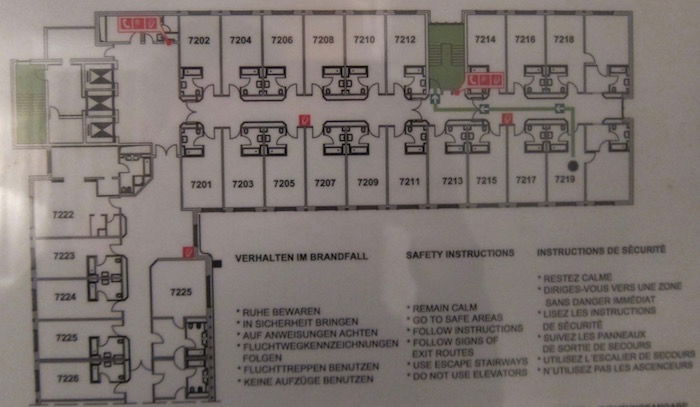 Sheraton Frankfurt Airport floorplan
Upon exiting the elevator, the suite was located at the very end of the hallway and to the right.
The living room was just past the entrance, and was quite nice. It featured a couch which seats three, as well as a chair, all facing a coffee table.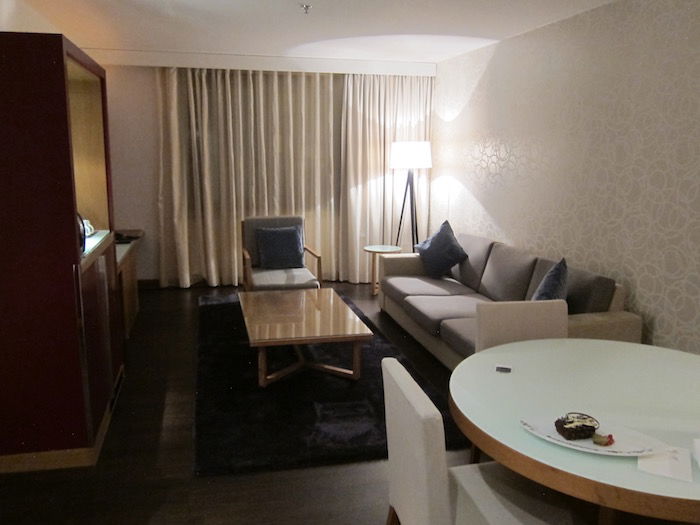 Sheraton Frankfurt Airport club suite living room
Then there was a dining table with four seats close to the entrance.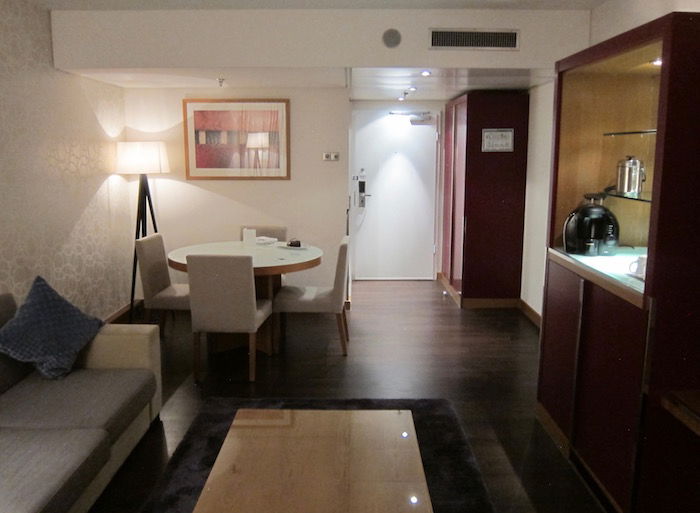 Sheraton Frankfurt Airport club suite living room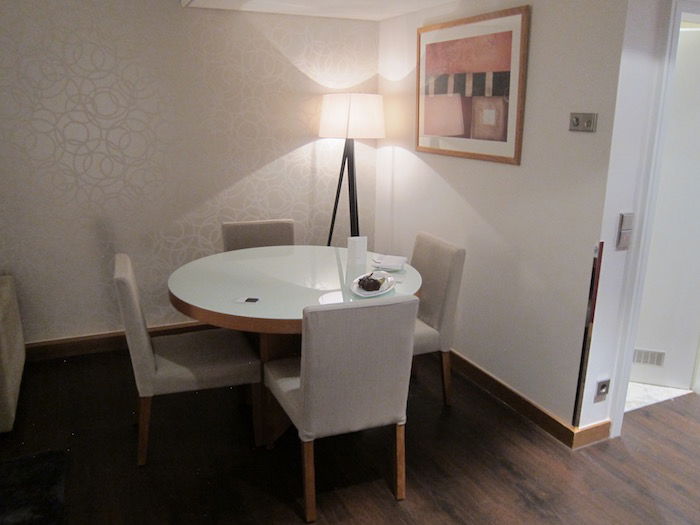 Sheraton Frankfurt Airport club suite dining area
Waiting on the dining table was a pretty awesome welcome amenity consisting of a chocolate cake (great, just what I needed after stuffing myself on four Oman Air flights), which I promptly devoured. It also had my Twitter and Instagram handle on it. This hotel is big on social media, and I've interacted with them on social media in the past, which might explain this (I've never before received a welcome amenity from them).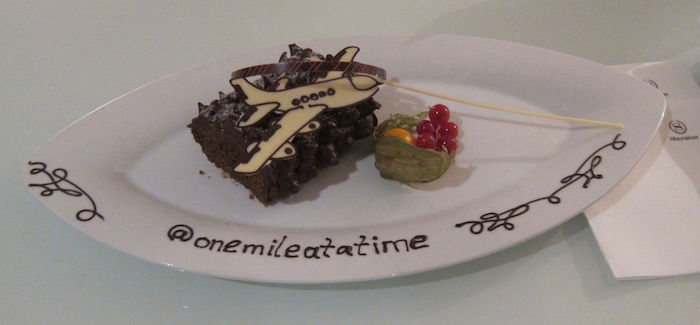 Sheraton Frankfurt Airport club suite welcome gift
Across from the couch was a coffee machine as well as the minibar. Oddly this hotel charges for in-room coffee, which you don't see often. On the plus side, they do set up a complimentary coffee and croissant station in the lobby in the wee hours of the morning, which is a feature I love.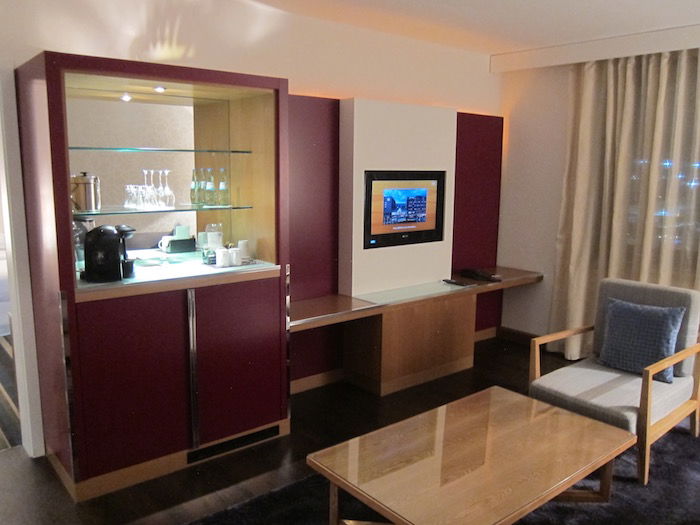 Sheraton Frankfurt Airport club suite living room
Back by the entrance was a small guest bathroom, with a sink and toilet.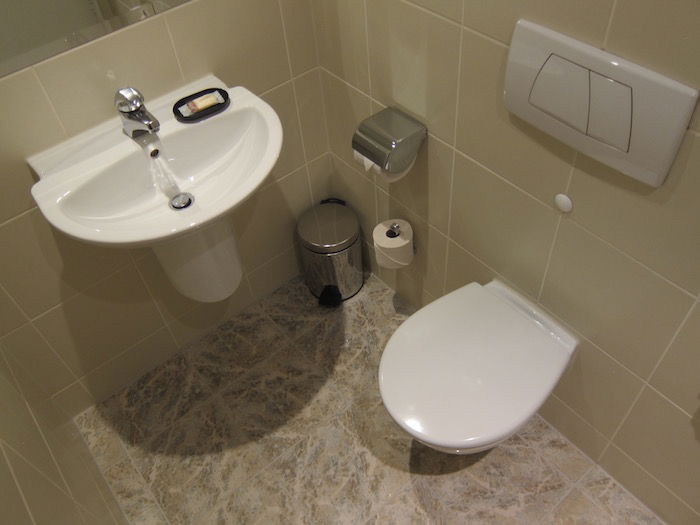 Sheraton Frankfurt Airport club suite guest bathroom
The living room was separated from the bedroom by a door.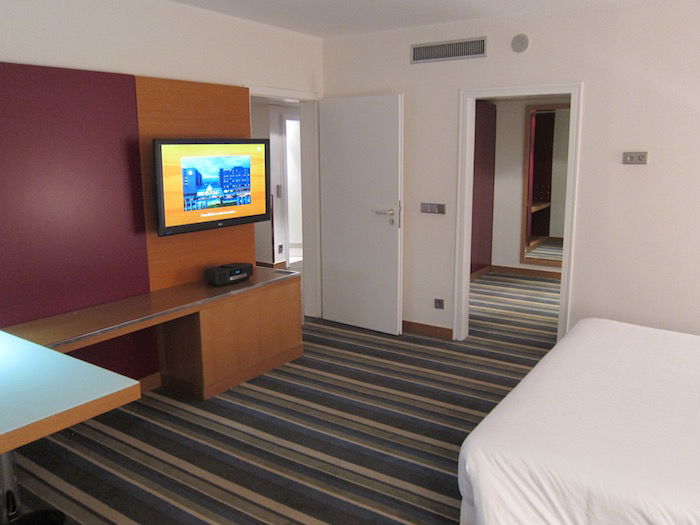 Sheraton Frankfurt Airport club suite bedroom
The bedroom was about the size of a standard room at this hotel, and was even designed almost identically. It featured a chair in the corner, a desk with an office chair across from it, and a king size bed.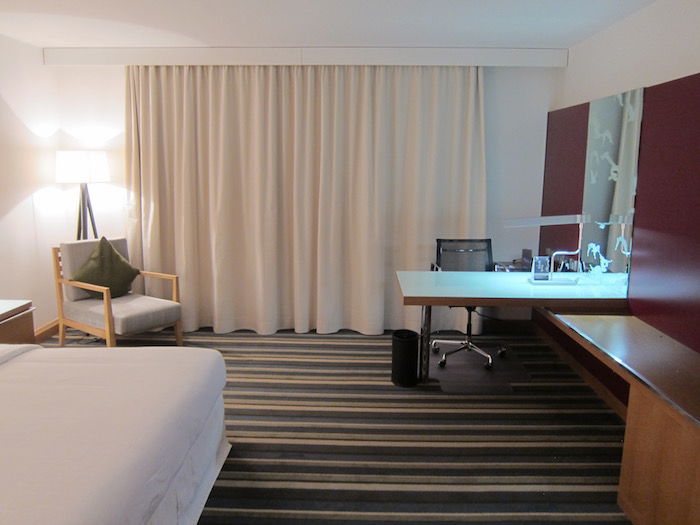 Sheraton Frankfurt Airport club suite bedroom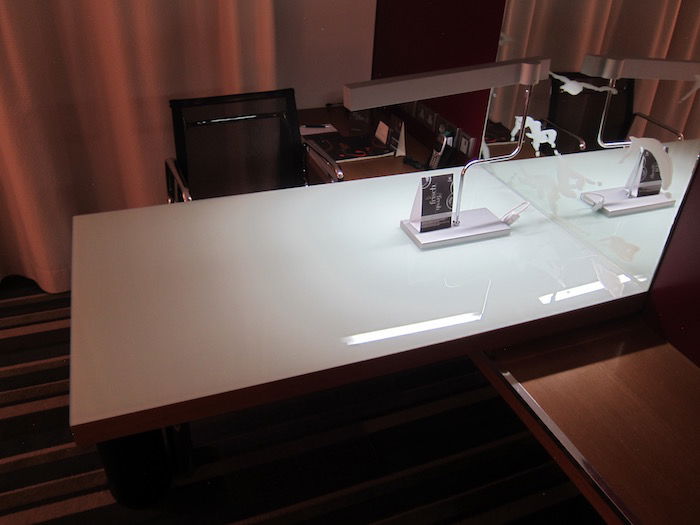 Sheraton Frankfurt Airport club suite desk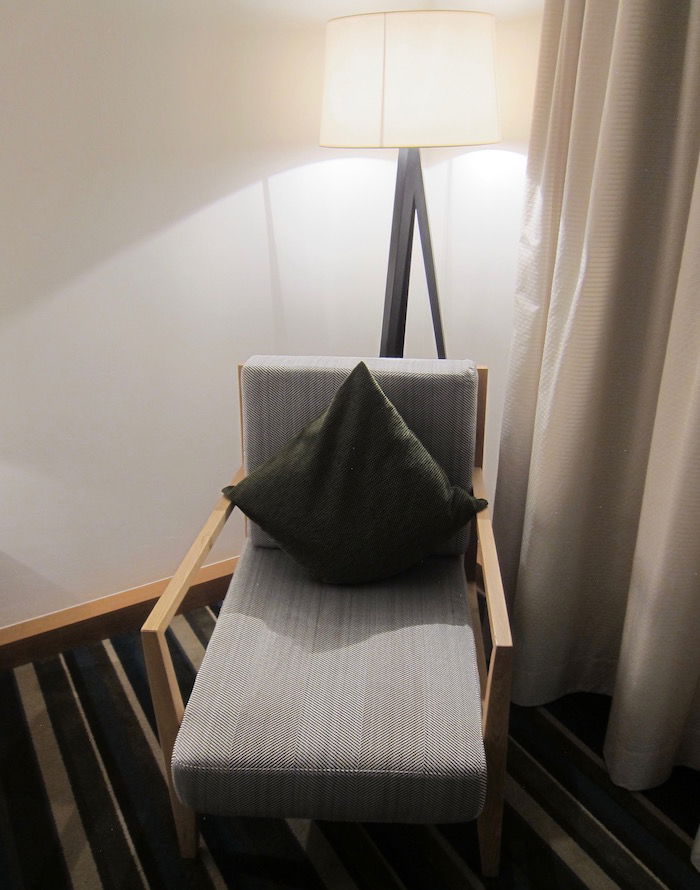 Sheraton Frankfurt Airport club suite bedroom chair
The bed was comfortable, though wasn't your typical Sheraton Sweet Sleeper Bed. As I often find to be the case in Europe, the bed wasn't quite as plush.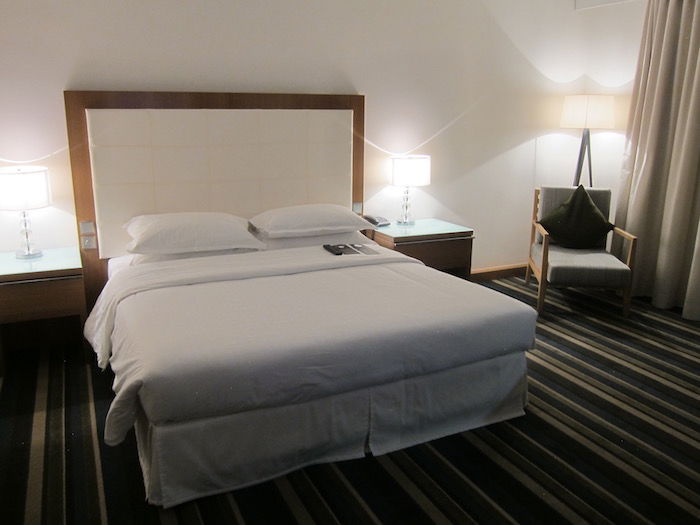 Sheraton Frankfurt Airport club suite bedroom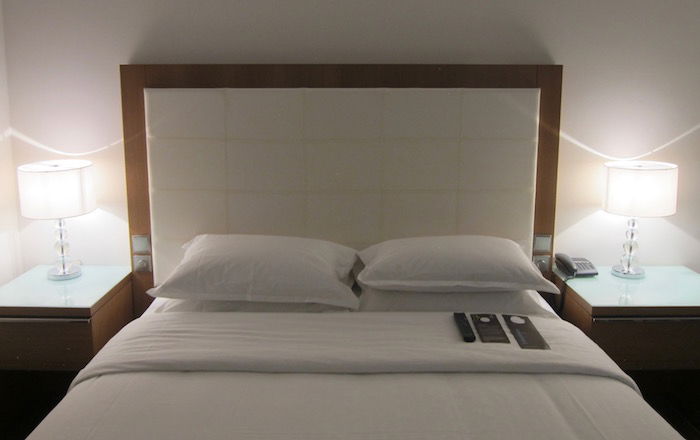 Sheraton Frankfurt Airport club suite bedroom
Past the bedroom was a large room with a closet, which was connected to the bathroom. The room featured a luggage rack in addition to the closet.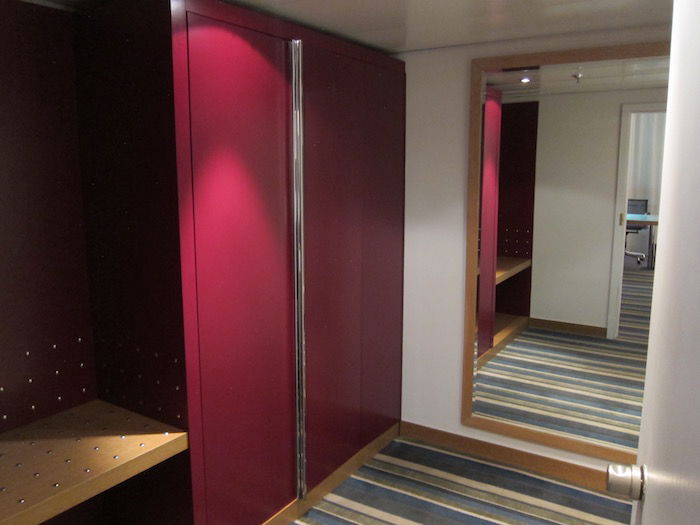 Sheraton Frankfurt Airport club suite closet area
The suite bathroom was virtually identical to the bathroom in a standard room, with a toilet, sink, and shower/tub combo.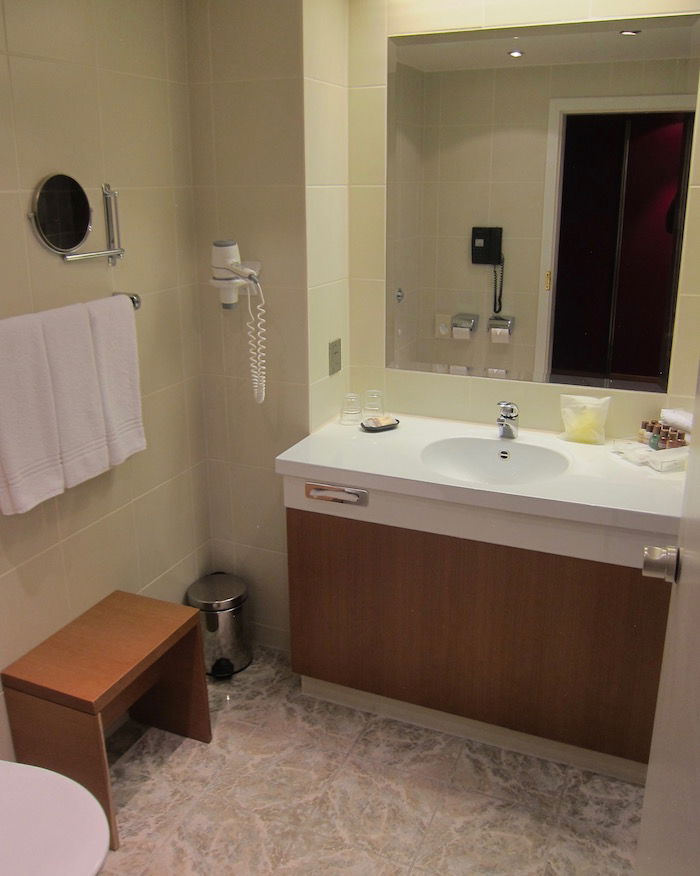 Sheraton Frankfurt Airport club suite bathroom
While I usually hate shower/tub combos, I love the ones in Germany, since they also have a handheld "nozzle." The water pressure and temperature control were excellent.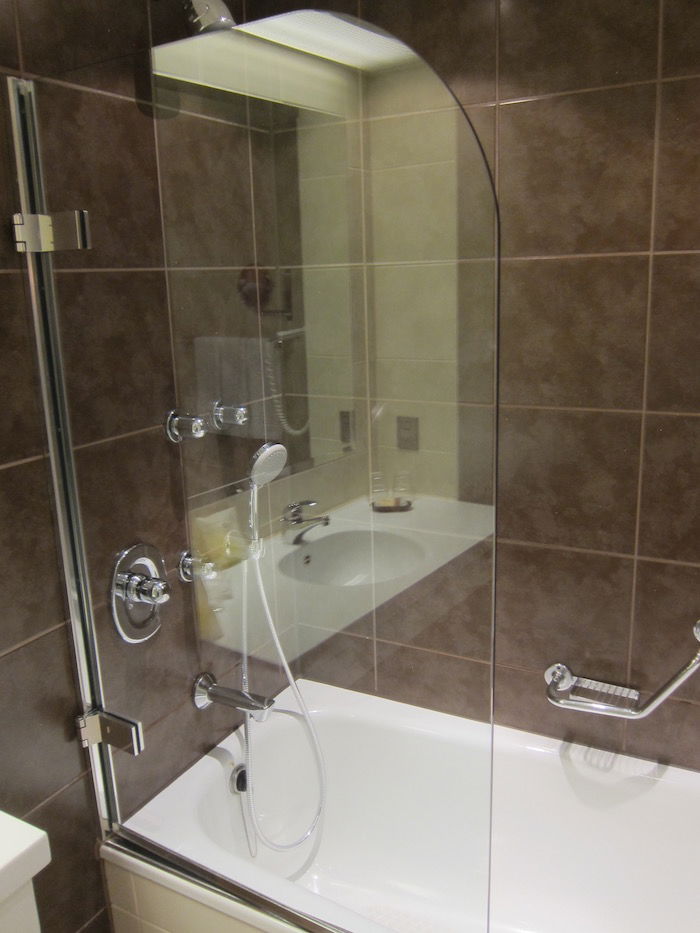 Sheraton Frankfurt Airport club suite shower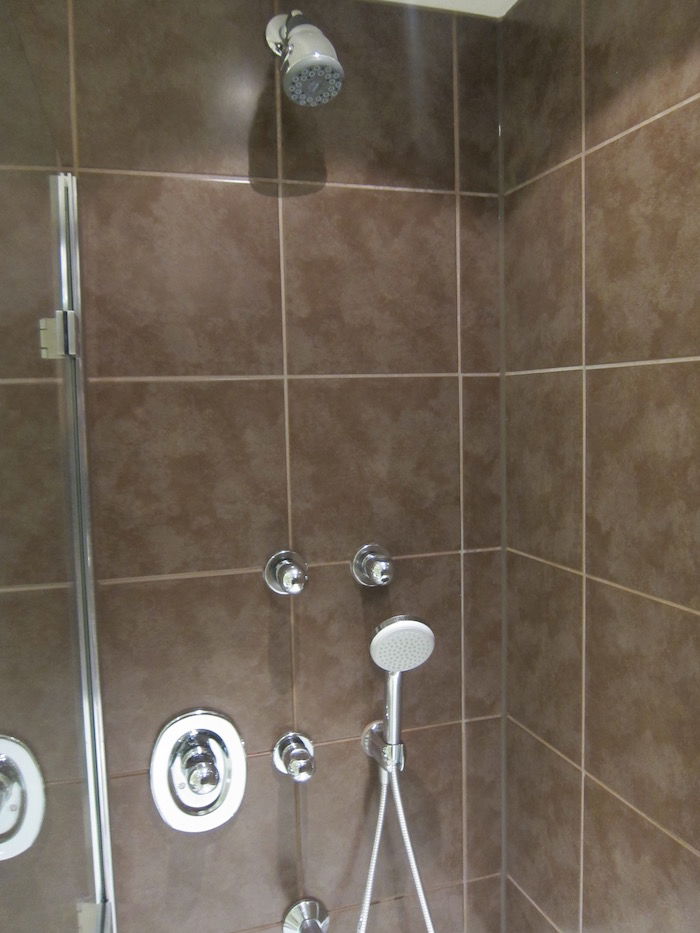 Sheraton Frankfurt Airport club suite shower
Toiletries were the Sheraton brand standard ones, which are… bleh.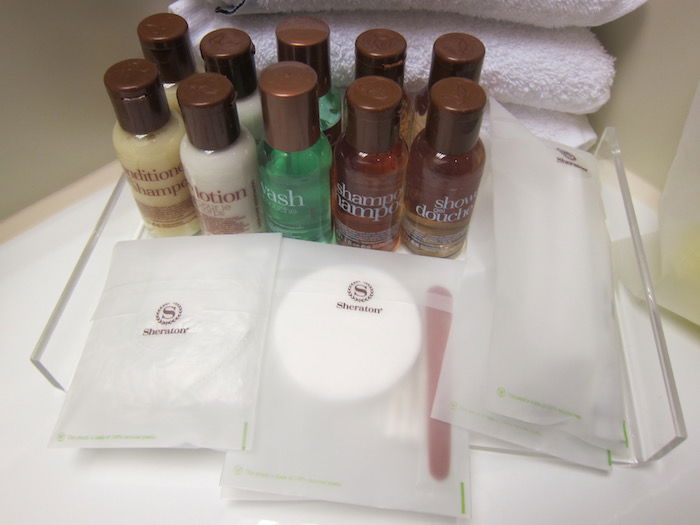 Sheraton Frankfurt Airport club suite toiletries
I got some work done upon landing, and then got to bed at a reasonable hour, before waking up again at 4AM the next day to fly back to the US. I checked out at around 5AM, and then took the train from Terminal 1 back to Terminal 2.
Sheraton Frankfurt Airport bottom line
This was a fantastic stay at the Sheraton as usual, and that's not even accounting for the fact that I didn't use the club lounge. The suite was nice and spacious. While there's not much value to a suite when I'm traveling alone, I would have found this really useful if I were traveling with someone. I tend to have really crazy hours when traveling, so it's nice to have a separate living room so someone can sleep while I'm working.
Given that the suites aren't part of the upgrade pool, I might consider applying a Suite Night Award here at some point, if I were staying for much longer. Then again, when staying longer I tend to go into the city, so perhaps the need for that won't arise.