A couple of weeks ago I wrote about how I finally earned SPG Ambassador status, which is achieved after 100 elite qualifying nights in a calendar year with Starwood.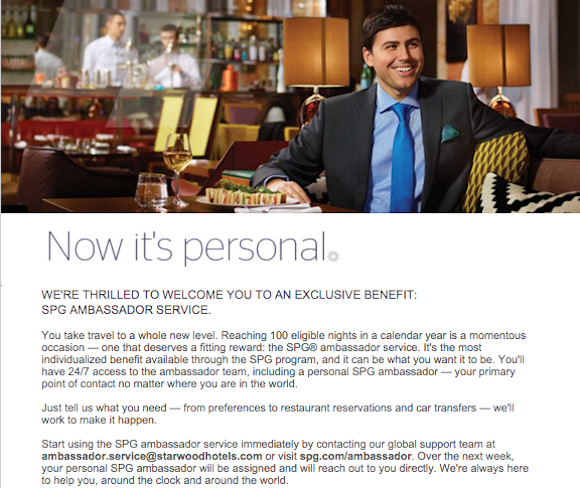 I've been a Platinum member for years, which requires 25 stays or 50 nights. I've long commended Starwood for offering marginal perks for earning 75 or 100 elite qualifying nights, as it gives you an incentive to "over-qualify."
Admittedly I've only had the status for a couple of weeks, though I figured I'd share my initial impressions based on a few Starwood stays and also my initial interactions with my Ambassador.
First of all, for a bit of background, here's how Starwood describes Ambassador service:
When you have 100 eligible nights in a calendar year, you are rewarded with our highest level of service. You're matched with an SPG® ambassador who is your point person every time you stay with SPG. Your ambassador has the knowledge and resources to make your stays as personal and enjoyable as possible.

The more your ambassador gets to know you over time, the more he or she can provide the personal touches that make each trip special. Whether it's an early arrival, shopping, a meeting venue or a restaurant for a client dinner, your ambassador will scope out the local scene to find the best your destination has to offer.
Initial interactions with my Ambassador
My Ambassador contacted me within a couple of days of earning Ambassador status, and introduced himself and explained a bit about the program. As I've often said on the blog, I'm a pretty independent traveler, and also think I have a good grasp of what's reasonable to ask for and what isn't. Based on my interactions with him, there are a couple of things I found interesting:
I was asked for my preferences of snacks and drinks. He explained that one perk of Ambassador status is getting welcome amenities more often, though it certainly won't happen with all stays. But it's nice that they at least take note of what you like, as presumably they add it to your profile so hotels can delight as much as possible. For example, I don't really like red wine, so it's nice to be able to specify that, as it's wasted on me as an amenity.
Check-in times matter. When making reservations I've historically not really indicated my check-in times, as I assumed it served no purpose. He explained the more I indicate my preferred check-in times, the more he can help get me the best upgrades possible. If I'm checking in at 2PM, for example, I might not get the same upgrade as if I check-in at 8PM, since some of the premium rooms might be filled by other elite members with guaranteed 4PM check-out. So I've gotten in the habit of always adding my check-in times to reservations.
My second stay as an Ambassador was at the St. Regis Doha, and I had a huge smile on my face when I had the below welcome amenity waiting for me, which I thought was adorable. I don't expect welcome amenities often (or at all), but this one put a huge smile on my face.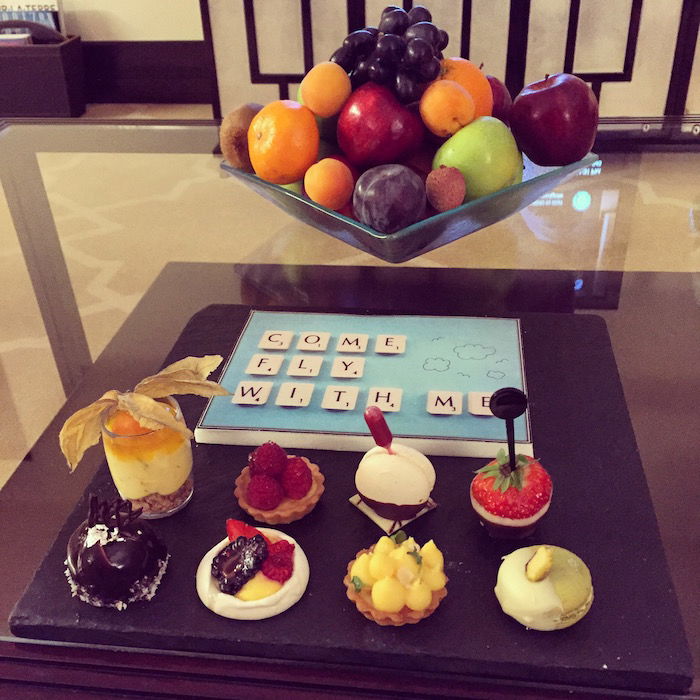 I also can't complain about the upgrades I've received on the past two stays, though that's likely more a function of staying at properties outside the US than having Ambassador status. I don't expect my luck to continue at US airport Sheraton properties… 😉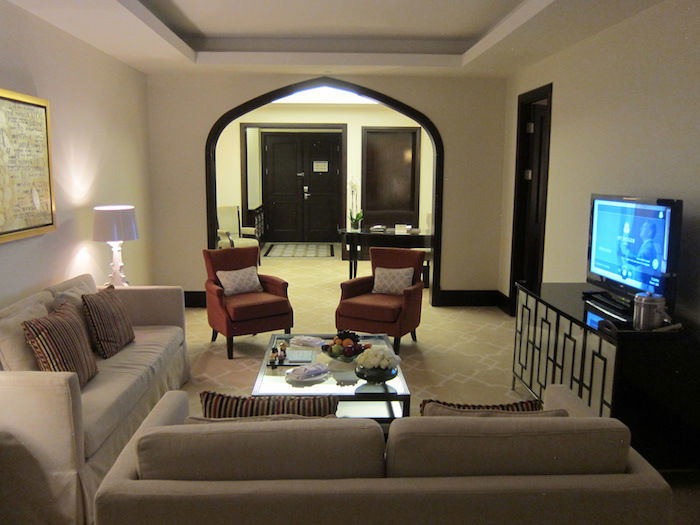 Not all suites…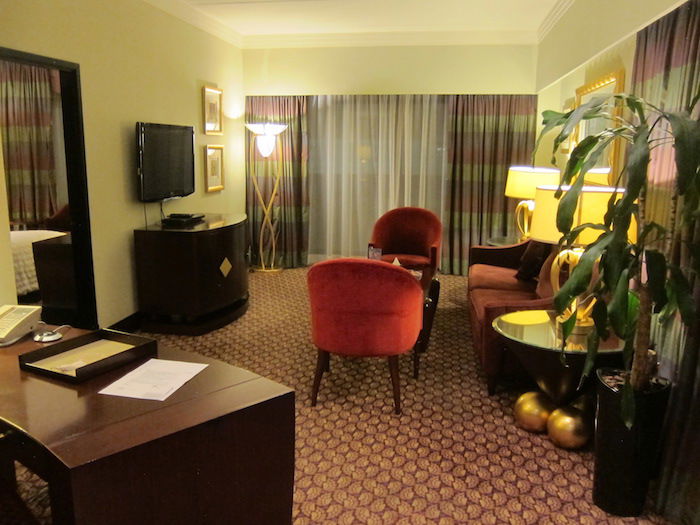 …are created equal, though!
For what it's worth, I was recognized as a Platinum member on my stays so far, so I don't think hotels really note the added Ambassador status, which is perfectly fine of course.
What are my expectations of the program?
I'm a pretty independent traveler, so I'm not someone who typically needs help making hotel reservations, arranging transportation and dining, etc.
I'm not expecting Ambassador service to help me break the rules. In other words, I don't expect they'll help me refund a non-refundable reservations, get a presidential suite upgrade, etc.
I do see a lot of value in having a point of contact who can add a "human touch" to things, though.
Let me give an example — I have an upcoming stay at a hotel which is notoriously non-compliant with SPG (to say the least). I made a "Your24 check-in request," and the hotel is pretty wide open the night before. Despite that, the request still hasn't cleared. If it doesn't clear by tomorrow, I feel like I could reasonably reach out to my Ambassador and he could make it happen.
Without that kind of service it's easy to feel like you don't have a point of contact at a company who can add that human touch. So there's plenty of value in that.
I'd say in general there's just value in having a human touch. I feel like if I had a special stay he could help make it more special, and if I had a problem on-property he could escalate it.
Bottom line
While admittedly I've only had the status for a couple of weeks, so far SPG Ambassador status is exactly what I expected. Is it life changing? Nope. But I also don't expect it to be. Instead it's nice to have that "human touch."
I doubt I'd go out of my way to earn it in the future (in other words, if I'd otherwise end the year with 70 elite qualifying nights I wouldn't stay an extra 30 nights to requalify), but it's an awesome perk for those of us who spend more nights in Starwood beds than any other.
To other Ambassador members, anything else I should know?