Introduction
Review: American Business Class A321 Los Angeles To New York
Review: British Airways Lounge New York JFK
Review: Iberia Business Class A340 New York To Madrid
Review: Iberia Arrivals Lounge Madrid Airport
Review: Hilton Madrid Airport
Review: LAN Business Class 787 Madrid To Frankfurt
Review: Oman Air Business Class 787 Frankfurt To Muscat
Review: Oman Air Lounge Muscat Airport
Review: Oman Air Business Class A330 Muscat To Bangkok
Review: Le Meridien Suvarnabhumi Resort & Spa
Review: Oman Air Lounge Bangkok Airport
Review: Oman Air Business Class A330 Bangkok To Muscat
Review: Oman Air New Business Class A330 Muscat To Frankfurt
Review: Sheraton Frankfurt Airport Club Suite
Review: Air France Lounge Frankfurt Airport
Review: Air France HOP Business Class Frankfurt To Paris
Review: Air France First Class Ground Experience Paris
Review: Air France Business Class 777 Paris To Toronto
---
For my stay in Bangkok I was landing at 7PM, and then my flight out of Bangkok was two day later at 9AM. I love Bangkok as a city, though in this instance I had a lot going on, so decided to just stay as close to the airport as possible, since I knew I wouldn't have much time to sightsee.
If I truly wanted the most convenient hotel I would have booked the Novotel Bangkok Suvarnabhumi Airport, which is across from the terminal. That being said, the hotel isn't especially nice and is also quite expensive, so I figured I'd instead stay at the closest hotel which belongs to one of my preferred chains.
That was Le Meridien Suvarnabhumi, which is about a 20 minute drive from the airport. It's located inside a golf complex, so even once you turn off the main street it's another 5-10 minute drive to the entrance of the hotel.
Upon arriving at the hotel I was assisted by a bellman and directed to check-in, which was located inside the lobby and to the right. The lobby was beautiful and rather grand, with high ceilings and nice finishes.

Le Meridien Suvarnabhumi lobby

Le Meridien Suvarnabhumi lobby
The associate checking me in was friendly, and presented me with a couple of welcome letters.
For what it's worth, I had outright paid for a suite for my stay here. When I booked, the rate for a suite was the same price as the rate for a standard room, so I paid ~$140 per night. That's not that cheap by Thai standards, but for outright booking a suite it was a pretty good deal, in my opinion.
The letter outlined all the things I'd receive as a club guest. The "concept" sounded pretty lofty:
The Le Meridien Club concept was introduced with the sole aim of ensuring the utmost in comfort, personalized services and recognition catered to you, the discerning traveller. We have basically created a hotel within a hotel to accommodate your individual needs and requests.
Sounds nice, eh? Per the welcome letter, you receive the following benefits as a club guest:
Complimentary buffet breakfast at Latest Recipe
Complimentary washing and pressing of two garments per person per stay
Complimentary non-alcoholic refreshments at Latitude Bar throughout the day
Complimentary drinks & canapés at Latitude Bar from 6PM until 8PM

Le Meridien Suvarnabhumi welcome letter
Then I was also offered a Platinum welcome letter, which highlighted many of the same benefits.

Le Meridien Suvarnabhumi welcome letter
The associate escorted me up to my suite, located on the fifth floor. The hotel has a beautiful exterior hallway, which leads to the elevators and guest rooms.

Le Meridien Suvarnabhumi walkway
We took the elevator up to the fifth floor, and then turned right and walked down the open-air hallway towards my room, 518.

Le Meridien Suvarnabhumi exterior hallway
My room was just a short walk down the hallway on the left side

Le Meridien Suvarnabhumi room entrance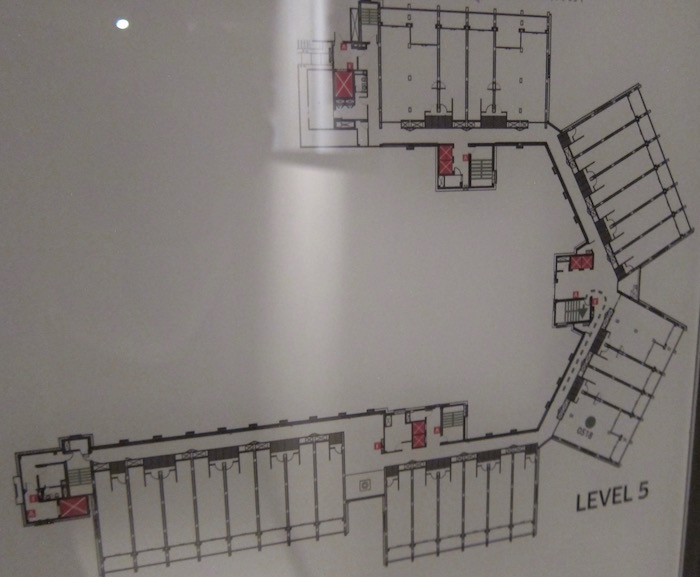 Le Meridien Suvarnabhumi floorplan
The suite itself was beautiful. It featured a large entryway, and then a small dining table and bench (of sorts) to the right.
Then the living room had a couch with coffee table, facing a flat screen TV.
Next to the dining area was an illy coffee machine, which was easy to use.
There was a welcome amenity waiting on the coffee table, consisting of beer (which I don't drink), some nuts, and some sort of rice crackers, along with whole fruit.
The bedroom was separated from the living room by a door. It featured a king size bed, a desk area, and then a curved couch in the corner.
I found it a bit odd that the only desk in the room was in the bedroom, given how big the suite was. While it's not a big deal, I always prefer working in the living room when possible so I don't get tempted to crawl into bed, and then end up falling asleep.

Le Meridien suite bedroom desk

Le Meridien suite bedroom sitting area
The bedroom was separated from the bathroom by a sliding glass door, and then there was a further curtain for added privacy. I'll never understand hotels which make it complicated to have some privacy in the bathroom.
Fortunately the bathroom itself was beautiful, and featured a sink, huge soaking tub, walk-in shower, and partitioned off toilet/bidet.
It wasn't a big deal since I was traveling alone, though I did find it strange that the suite didn't have double sinks.
The shower had two showerheads, and the water pressure was excellent.
The bathroom was stocked with Cinq Mondes toiletries, which I quite liked.
The suite also had two balconies, which were connected. The balcony off the living room featured a couch and two chairs, while the balcony off the bedroom featured a daybed.
The room faced the golf course, which I found to be peaceful.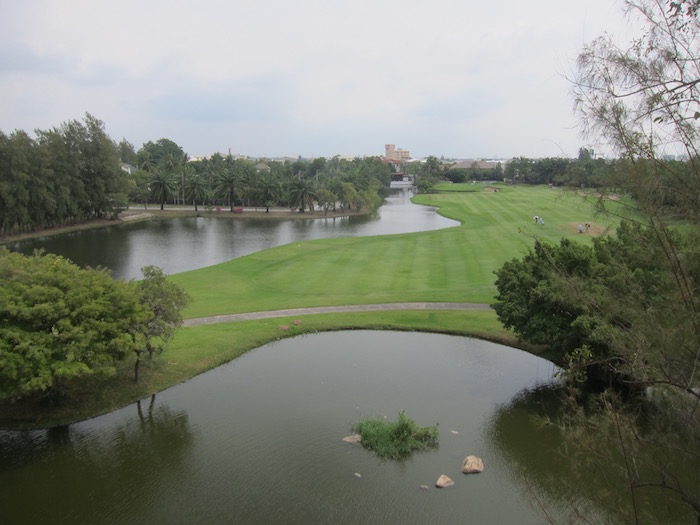 Le Meridien suite balcony view
All-in-all I thought the suite was beautiful, though it had some puzzling kinks, none of which were deal breakers.
I had breakfast the first morning of my stay at Latest Recipe, the hotel's main restaurant. Breakfast is served there from 6AM until 10:30AM.
In theory the restaurant was quite nice, and the buffet spread was extensive. I got to the restaurant at 6:05AM, and found it was already quite busy.
Prior to the stay I wondered who would stay at a hotel near a golf course near the airport, which isn't actually that close to the airport. Well, I had my first interaction with other guests at breakfast, and it answered that question for me — tour groups. Tons and tons of tour groups.
Even though it was only a few minutes after the restaurant opened, there were already dozens of people there, and it was chaotic — there was yelling, people were touching everything on the buffet with their fingers, and people would literally grab plates and plates of food at once rather than finishing some food and then getting more once they were done.
While I usually like to go to breakfast with my laptop and have a relaxing cup of coffee before getting food, that wasn't happening here. It took 15 minutes until a server brought me coffee, and that was after repeated requests.

Le Meridien Latest Recipe breakfast buffet

Le Meridien Latest Recipe breakfast buffet

Le Meridien Latest Recipe breakfast buffet

Le Meridien Latest Recipe outdoor seating
As far as the food itself goes, I'll let the pictures speak for themselves. As you can see, the spread was extensive, but the quality just wasn't there. Most hot items were lukewarm, and things just didn't taste very fresh.

Le Meridien Latest Recipe breakfast buffet

Le Meridien Latest Recipe breakfast buffet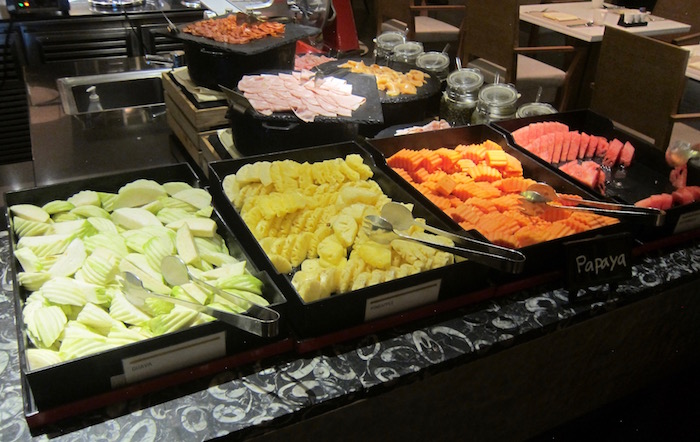 Le Meridien Latest Recipe breakfast buffet

Le Meridien Latest Recipe breakfast buffet

Le Meridien Latest Recipe breakfast buffet

Le Meridien Latest Recipe breakfast buffet

Le Meridien Latest Recipe breakfast buffet

Le Meridien Latest Recipe breakfast buffet
Okay, now here's where my real issue with the hotel starts, and I covered this briefly in a previous post.
The hotel sells club rooms, and the hotel's welcome letter talks about how with Le Meridien "club concept" they've "basically created a hotel within a hotel to accommodate your individual needs and requests." This is a bold-faced lie.
The hotel is still fairly new, so my assumption was that maybe the hotel's lounge just isn't open yet. Well, as it turns out they're not actually planning on opening a lounge. So when you book a club room you basically get complimentary breakfast in the restaurant, complimentary soft drinks throughout the day at Latitude Bar, and then two cocktails at Latitude Bar between 6PM until 8PM.
I'm curious which part of that embodies their "hotel within a hotel" concept?
Latitude Bar is located just off the reception desk, and the space itself is nice, with plenty of seating.
The bar itself is pretty cool looking as well.
In theory this is a bar where there's supposed to be table service I assume, though after sitting there for a while I decided to get up and order a coffee myself. That was brought to me. I sat there for a while longer working, and while other people were being served, the girl working there never came back to see if I wanted anything else, even though she clearly saw me sitting there.

Le Meridien Latitude Bar coffee
I figured it was a fluke, and that maybe it was a miscommunication, or otherwise it might have just not been a good day for her. So I went back in the evening for happy hour. I sat there for 20 minutes and other people were being served, but I wasn't offered anything. So I walked up to ask what drinks club guests could order, and was offered the following menu:

The servers came up to others to ask what they wanted, but never asked me. Instead I had to go up to the actual bar to place my order. Furthermore, the hotel advertises club access as coming with two drinks and "canapés." When I inquired about the canapés, I was informed the nuts and crisps were them. That's the first time I've heard those referred to as such.

Le Meridien Latitude Bar gin & tonic
I'm pretty easy going, and the only reason I'm writing so much about this is because getting two drinks out of them was truly like pulling teeth.
And it wasn't just incompetence, but it was also unfriendliness. I find Thailand to usually be one of the most hospitable places in the world, but the staff in the bar just weren't friendly. Not one bit.
I don't know if they just generally weren't friendly or didn't like serving club guests having stuff for "free" (even though they paid for access in most cases), but regardless, it leaves a bad taste in my mouth.
After the happy hour was over I decided to order some food in the bar, and had some pad thai and mango sticky rice, both of which were decent, at least.

Le Meridien Latitude Bar pad thai

Le Meridien Latitude Bar mango sticky rice
I spent most of my time in my room working, though I did visit the gym once, which was fairly well equipped (and empty).
The hotel also had a pool, which seemed fairly small given that this is a secluded resort, so you'd think it would be popular. Then again, no one was using it when I looked at it, so maybe it isn't in fact too small.

Le Meridien Suvarnabhumi pool area
I'll just leave you guys with a few more random pictures of the resort.

Le Meridien Suvarnabhumi exterior

Le Meridien Suvarnabhumi exterior

Le Meridien Suvarnabhumi grounds

Le Meridien Suvarnabhumi grounds
Le Meridien Suvarnabhumi bottom line
Physically I thought the hotel was nice. While there are certain aspects of the suite which weren't practically designed, all things considered I thought the rooms and resort were up to brand standards and generally impressive.
I have three major issues which would prevent me from returning to this hotel. One of which I knew going in (and was fine with), and two of which I wasn't expecting.
First of all, the location of the hotel sucks. It's an airport hotel of sorts which isn't actually that close to the airport. And beyond that, the hotel is truly in the middle of nowhere. There's not even a small town within walking distance, but rather you're tucked away inside a golf resort. Perhaps it's nice for golfers, but in reality this hotel's market seemed to be big tour groups. I imagine they're getting quite a good deal, since others have no reason to stay here.
My second issue was with the hotel's policies. They advertise club rooms and they advertise an experience which is a "hotel within a hotel." That's not the case. Being a club guest gets you a few things for free, but that's it. Furthermore, they advertise canapés with the evening drinks. Those don't exist either. I don't have an issue with the concept of what they're doing as such, but I do take issue with them selling club rooms when there's not actually a club, and claiming that the current arrangement is temporary, when that's not actually the case.
My last (and biggest) issue was with the service. The service throughout the resort was just consistently less friendly and attentive than I've grown accustomed to in Thailand. The service in Latitude Bar was especially disappointing, both in terms of friendliness and attentiveness. I genuinely felt like I was inconveniencing them by being at Latitude Bar, both during the day and in the evening.
Despite the property being nice physically, I wouldn't return.