---
While the 787 I flew from Frankfurt to Muscat featured Oman Air's new business class product, this flight featured their old business class product. Going into the trip, this is the flight I was most excited about. The reason I decided to fly Oman Air now was because I wanted to be able to try their old business class product before it goes away.
So, was it as awesome as I had hoped?
Oman Air 815
Muscat (MCT) – Bangkok (BKK)
Monday, February 15
Depart: 10:00AM
Arrive: 7:00PM
Duration: 6hr
Aircraft: Airbus A330-200
Seat: 12A (Business Class)
I boarded through the second door at around 9:35AM, where I was directed left into the business class cabin.
Oman Air's A330-200 aircraft have a total of 20 business class seats, which are in a 1-2-1 configuration. There are a total of three rows (12 seats) in the forward business class cabin, and then another two rows (eight seats) in the rear business class cabin.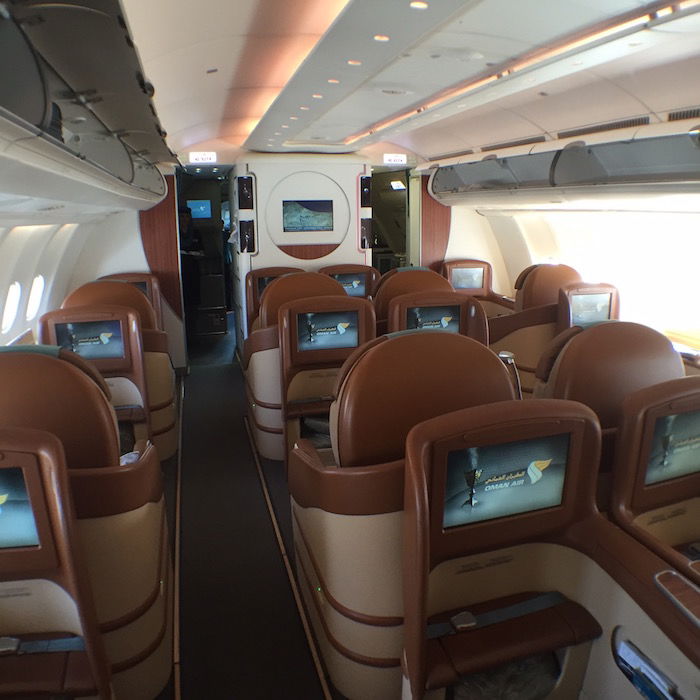 Oman Air business class cabin A330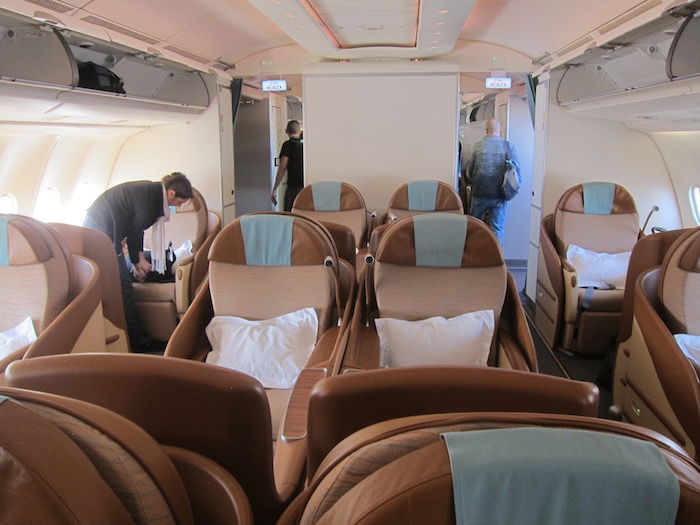 Oman Air business class cabin A330
I have to stop for a second and share my level of excitement for when I boarded this plane. What makes me giddy about onboard products isn't just the most cutting edge features, but there's also something I love about a cabin which feels like it's from a different era (which doesn't have to be a bad thing). Perhaps the last time I felt more like a kid in a candy store than on this flight was when I boarded the Etihad A380 for the first time.
But there was something so fabulously timeless about the design of the cabin, which felt like it was from a decade or two ago, but in a comfortable way. With the design of the cabin I was sort of expecting some of my fellow passengers to smoke cigars.
Oman Air's business class on these planes is literally what other airlines considered a standard first class product up until a few years ago.
I had selected seat 12A, the window seat in the last row of the forward cabin.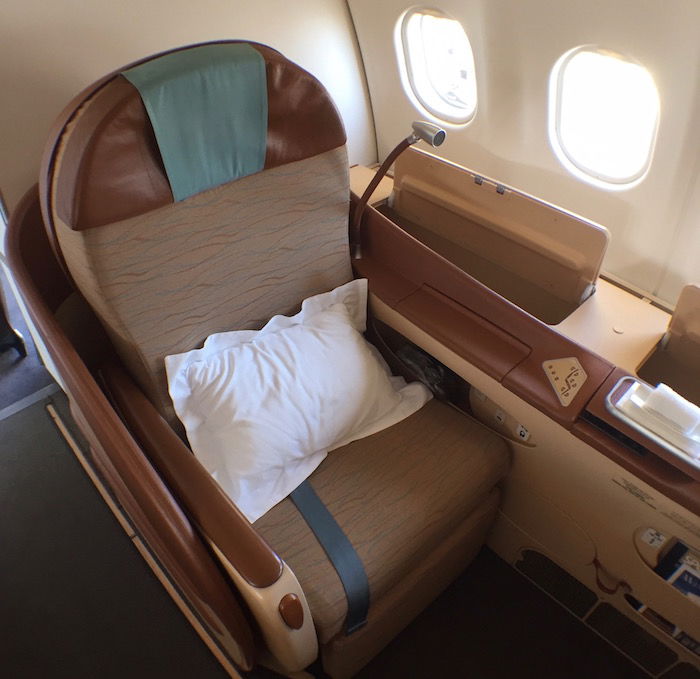 Oman Air A330 business class, seat 12A
The amount of personal space in these seats is unreal. You have four windows to yourself, and also two huge storage lockers along the side of the cabin.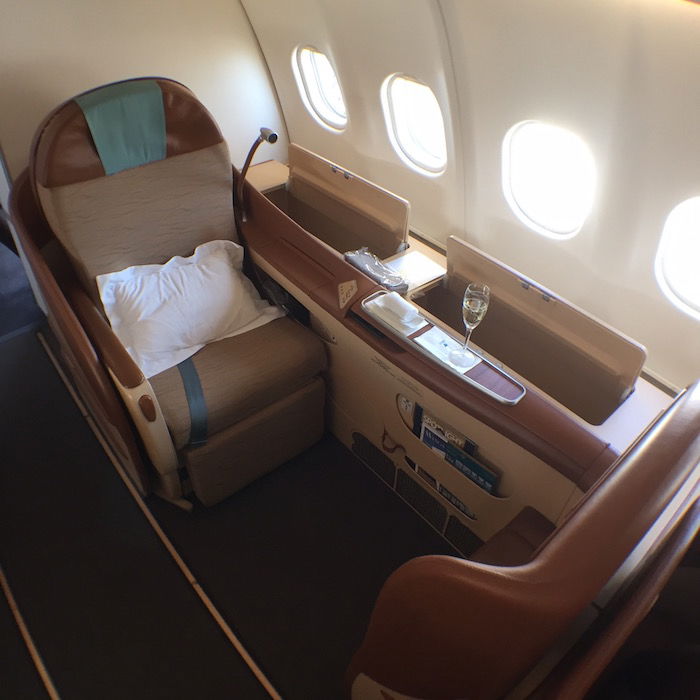 Oman Air A330 business class, seat 12A
The storage lockers are huge, and could easily fit a laptop bag, or anything you'd want out during the flight.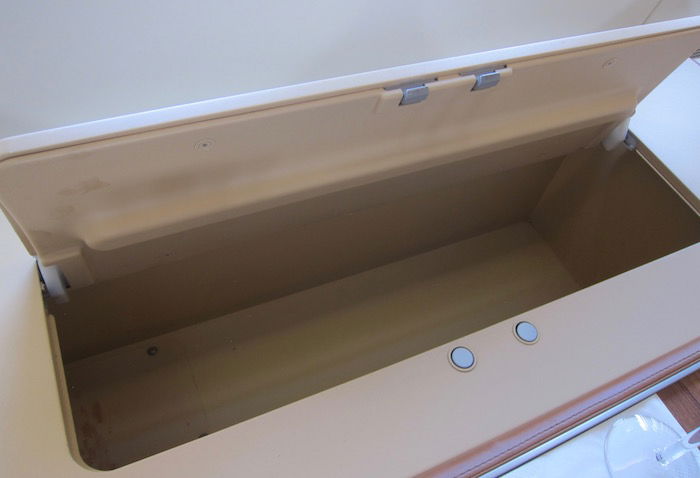 Oman business class storage
If anything, they're a bit of a waste, when you see just how much of the side of the cabin is taken up by these lockers, when they could otherwise be used for additional seat width. Then again, I guess Oman Air thought they were already being generous enough with business class personal space.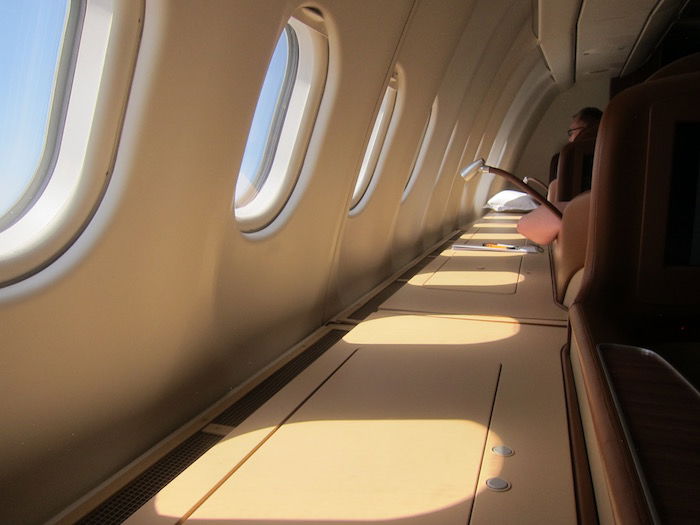 Oman business class lockers
In the front center of the cabin along the bulkhead were two displays, which seemed to have some sort of Omani jewelry… or something?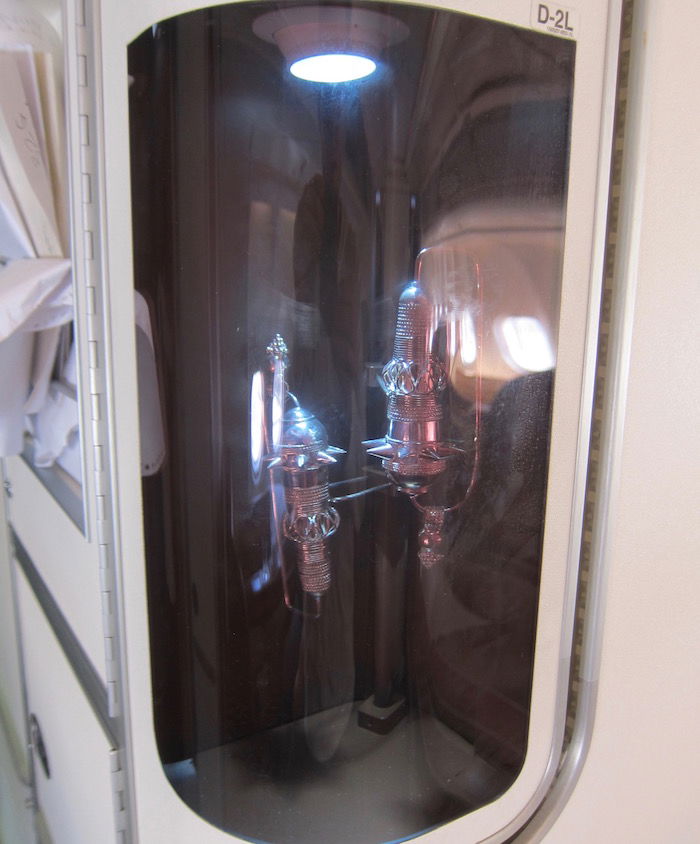 Oman Air A330 bling
The center seats weren't quite as spacious, though there was a privacy partition between them which went up. When raised, you couldn't see the person next to you.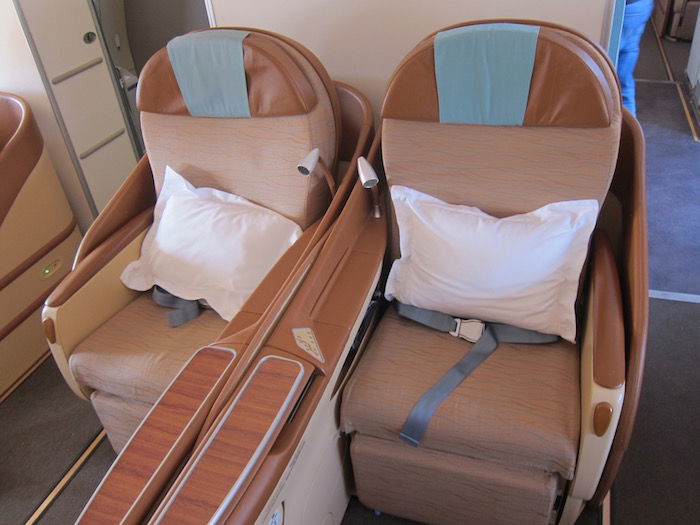 Oman Air A330 business class center seats
Each seat also has an ottoman, which doubles as a buddy seat, based on the presence of a seatbelt. There aren't many business class seats out there which offer dining for two!
There was even more storage below the ottoman, which is where the pillow and blanket were stored during boarding (they were identical to the one I had on my last Oman Air flight).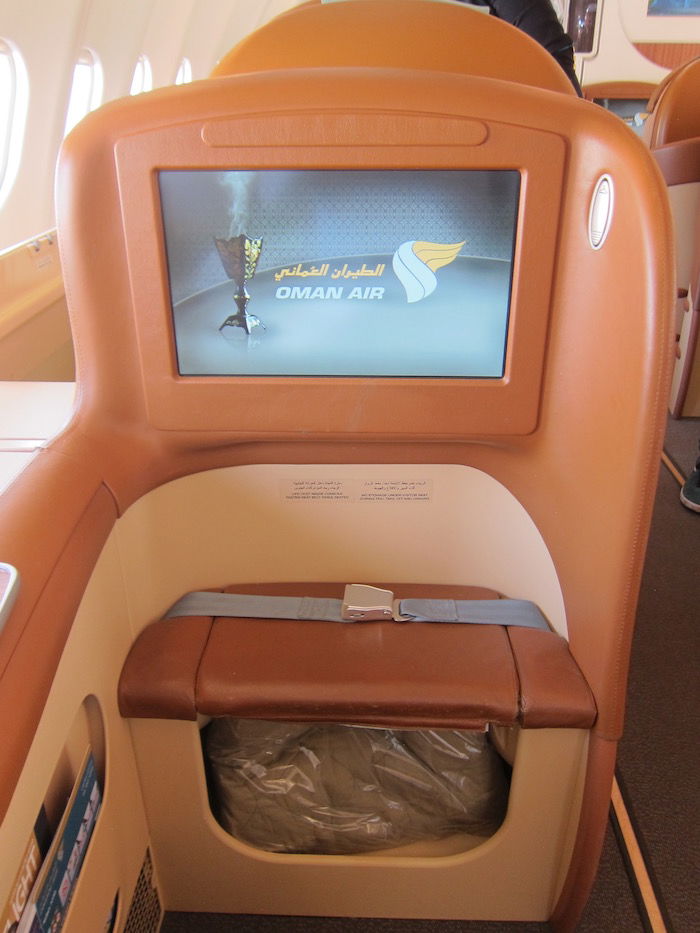 Oman Air business class seat ottoman A330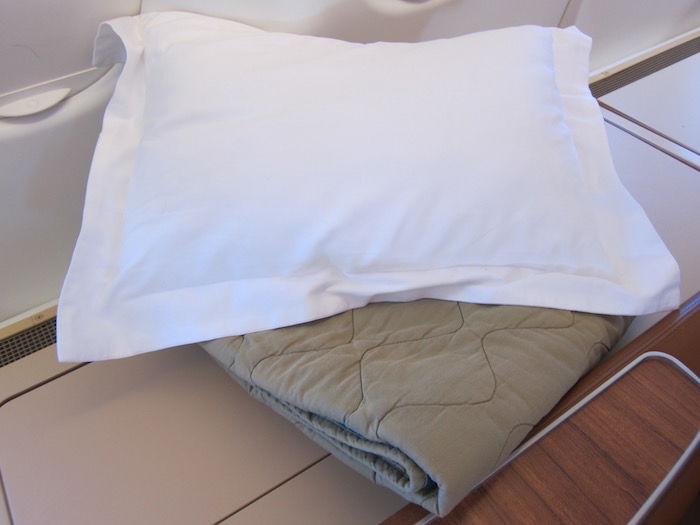 Oman Air business class pillow & blanket
To the left of my seat were the controls, which were simple to use — there were three pre-sets, and then three other aspects of the seat you could adjust individually.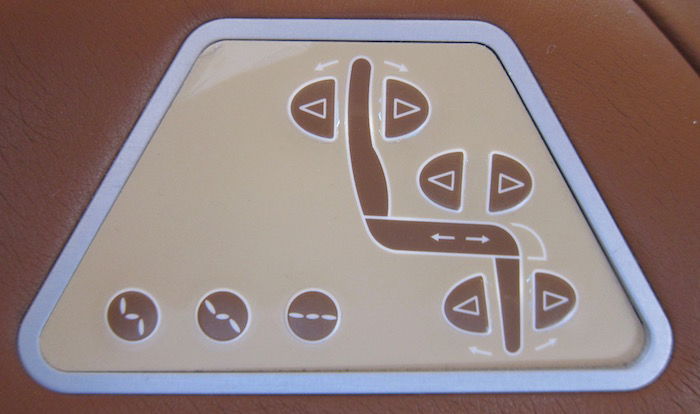 Oman Air business class seat controls A330
Below the seat controls and to the left of the seat were the headphone jack and USB outlet.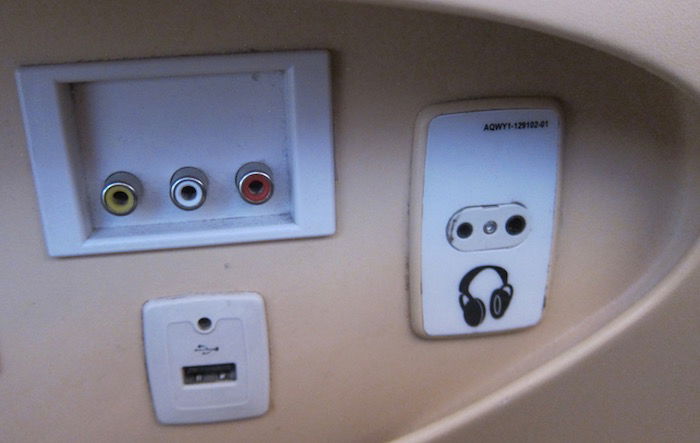 Oman Air business class headphone jack and USB port
Then in my armrest was the fairly standard entertainment controller.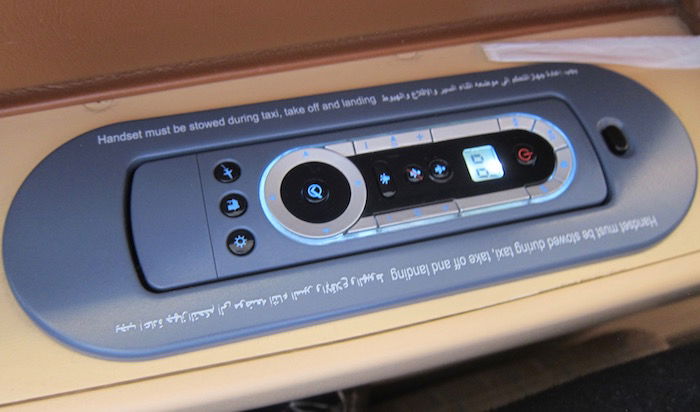 Oman Air business class seat entertainment controller
Once settled into my seat, the first thing I noticed again was the boarding music, which I love (be sure you listen to the whole thing, as there are two separate tracks). Somehow it sounded even better in this older cabin than on the newer 787, if that even makes sense.
Once settled in, the flight attendant serving my aisle came by to introduce herself. She was Romanian, and for that matter, the entire crew on this flight was "foreign," as far as I could tell. There were no Omani flight attendants, unlike on my Frankfurt to Muscat flight.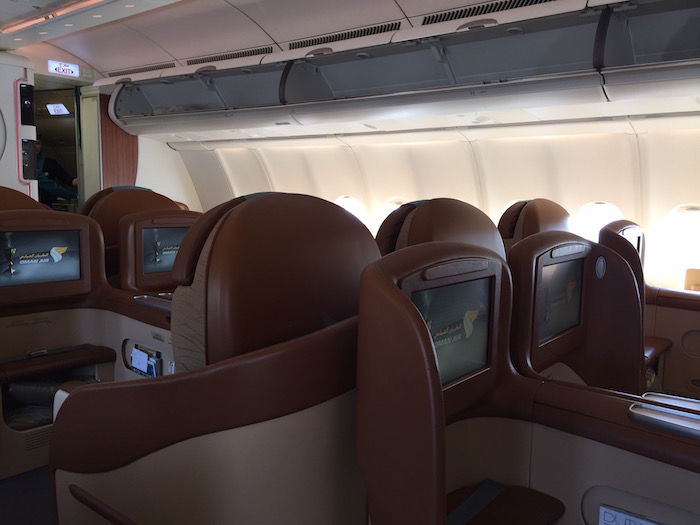 Oman Air business class cabin
The lovely flight attendant asked if I wanted anything to drink before takeoff, and I ordered a glass of champagne, which was served with a warm towel.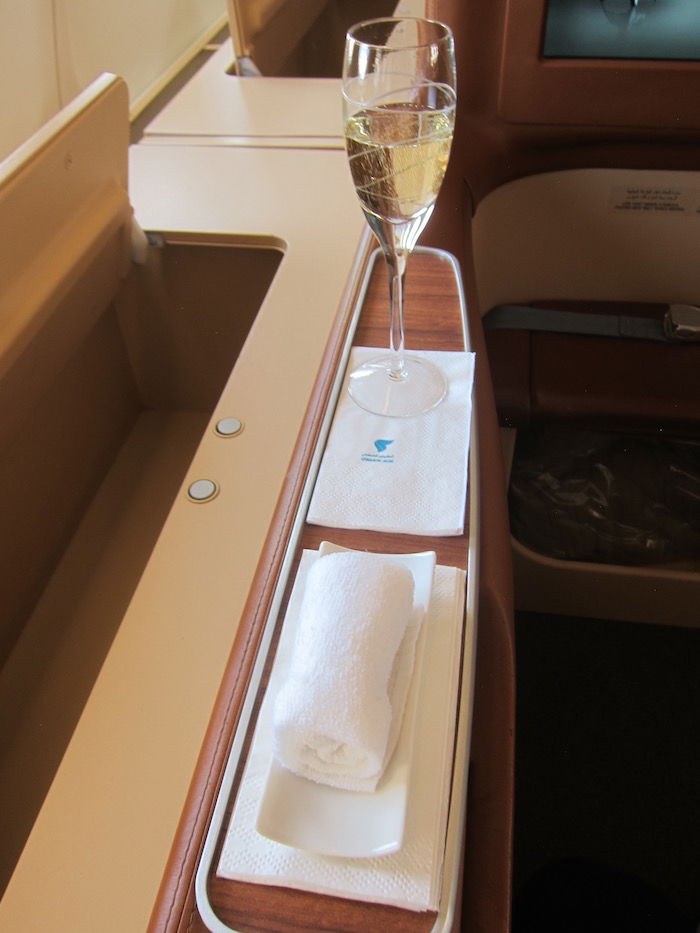 Oman Air business class pre-departure champagne & warm towel
Shortly after offering me a beverage, the flight attendant returned with the menu for the flight.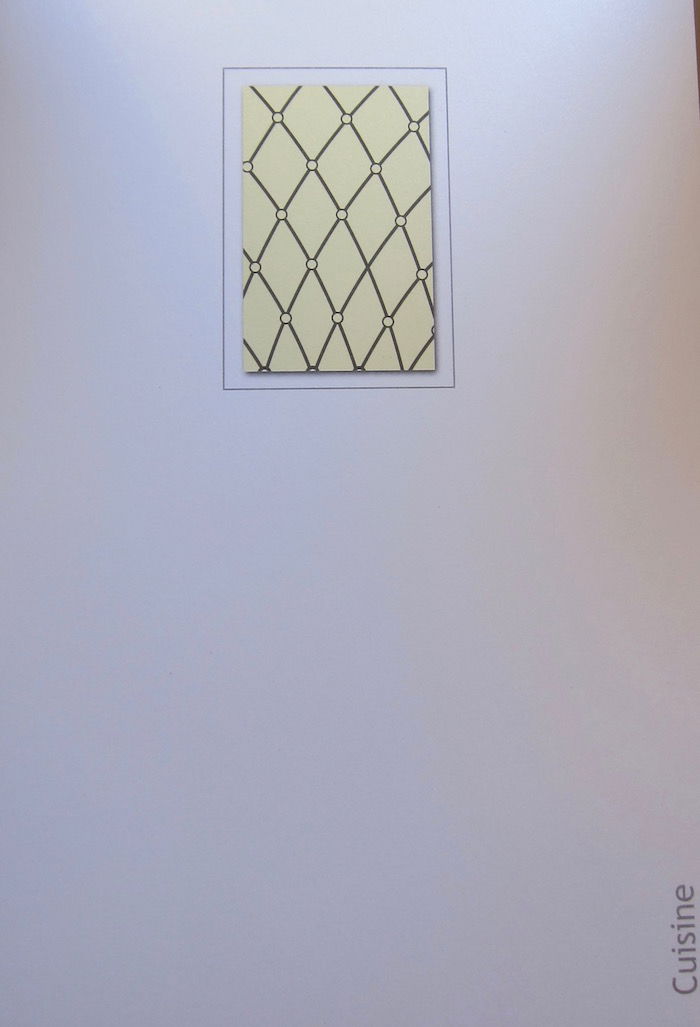 Oman Air business class menu
She also brought me an amenity kit (which had the same contents as on the last flight).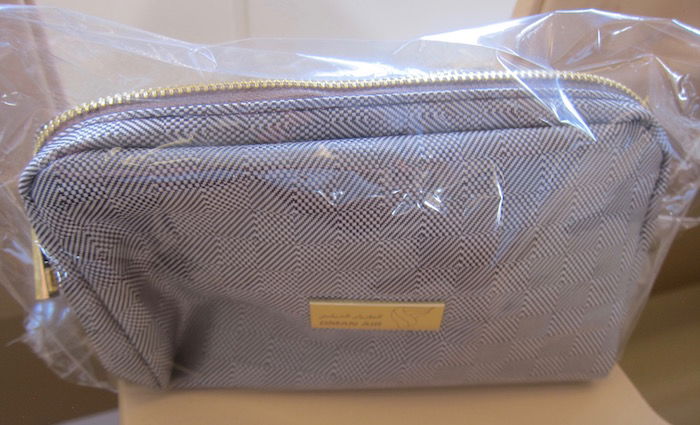 Oman Air business class wine list
And lastly two crewmembers came around with Arabic coffee and dates. This time the dates were packaged, and weren't as sweet as on the last flight.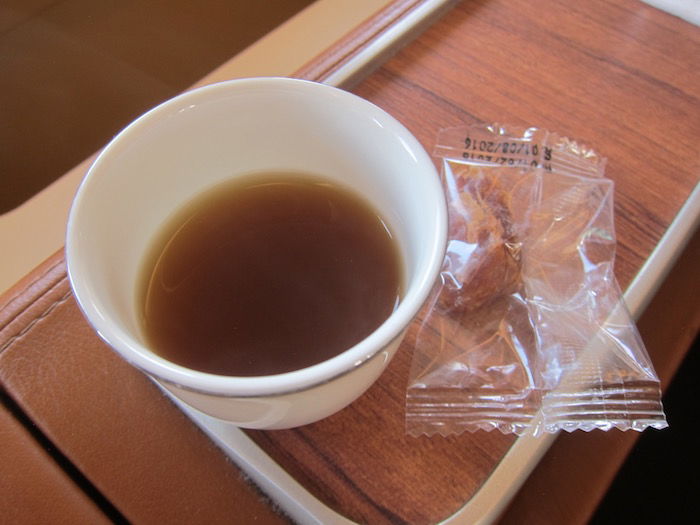 Oman Air business class Arabic coffee & date
While waiting for departure I headed to the lavatory to change. There are two lavatories between the two business class cabins, and then a further lavatory by the cockpit.
The toilets themselves were decent enough, and featured a few premium toiletries.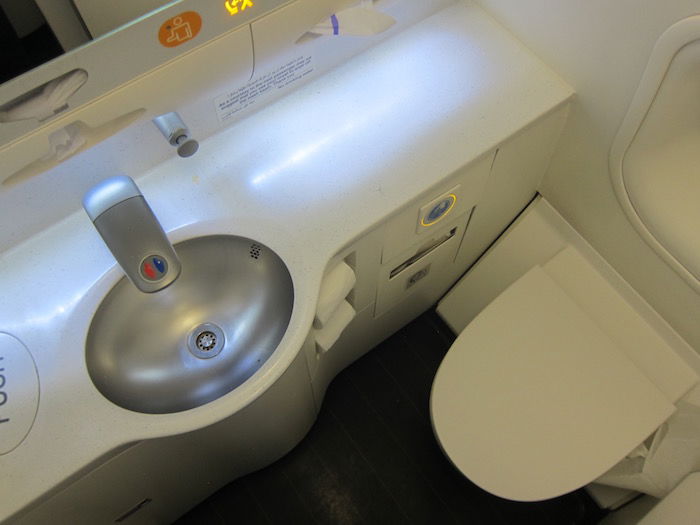 Oman Air A330 business class lavatory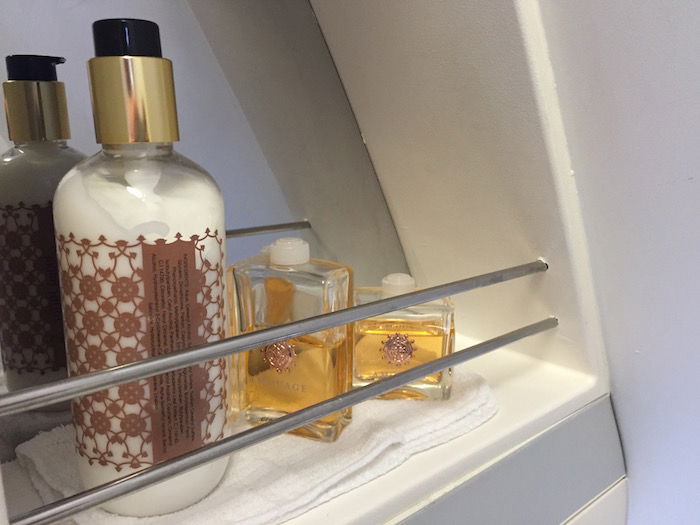 Oman Air A330 business class lavatory toiletries
The most interesting thing was that the toilets had bidets, which I've only otherwise seen on Japanese airlines. Funny story about how I finally figured out it was a bidet, though. I used the toilet and then hit the button to the side of the toilet, assuming it was the flush button. And then it started spraying. I figured my mind was playing tricks on me and I was going crazy, having just gotten off two consecutive redeyes. So I hit it again, and the same thing happened. That's the point at which I realized what it really was. Oops!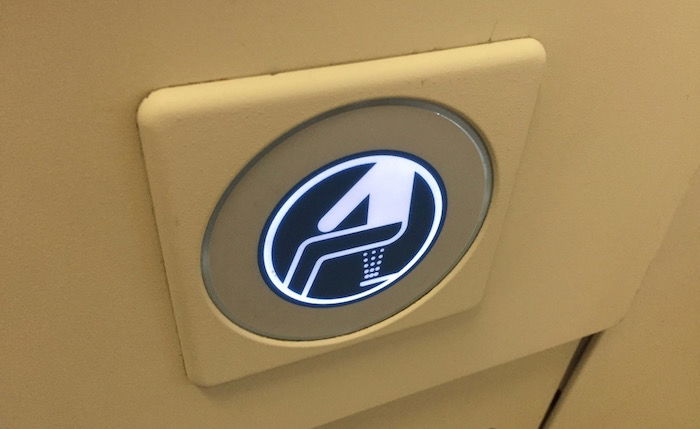 Oman Air A330 business class lavatory bidet
The boarding process was really efficient (despite the flight being full), and at 10AM sharp the door closed, right on schedule. The business class cabin had six of 20 seats empty. This was after there were several operational upgrades, as economy was oversold. Most of the business class passengers were Omani, while there were three other American/European passengers seated in row one (more on them later).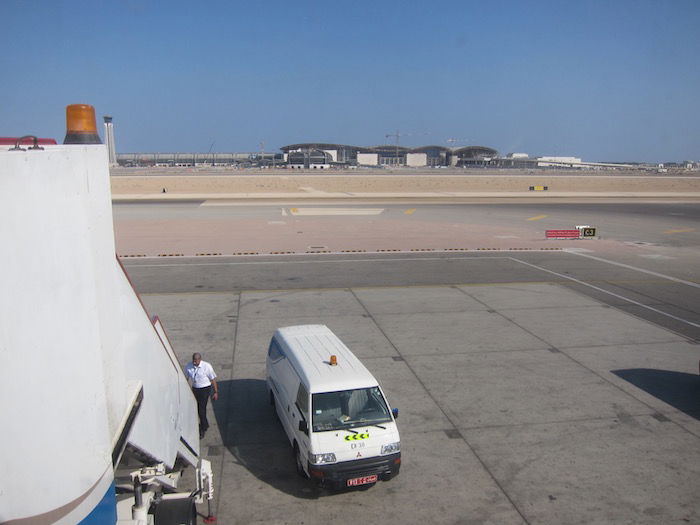 View of Muscat Airport's new terminal
Shortly after the door closed, the (Omani) captain came on the PA to inform us of our flight time of 5hr15min and cruising altitude of 39,000 feet. He expected we'd arrive in Bangkok on schedule.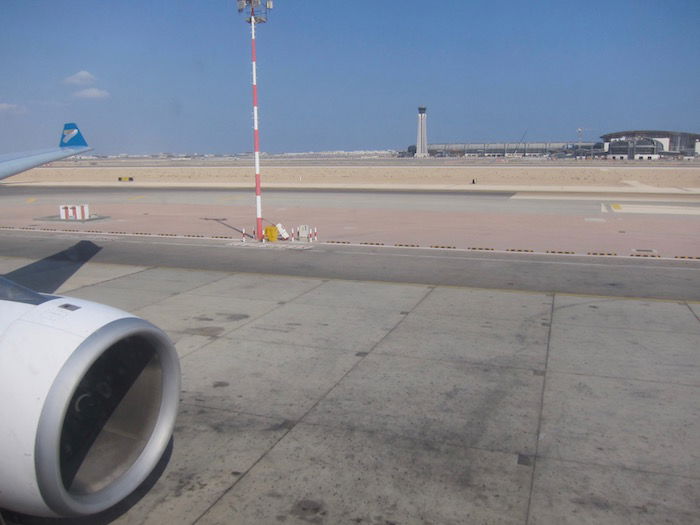 Taxiing Muscat Airport
A couple of minutes later we began our taxi, behind an Oman Air 737.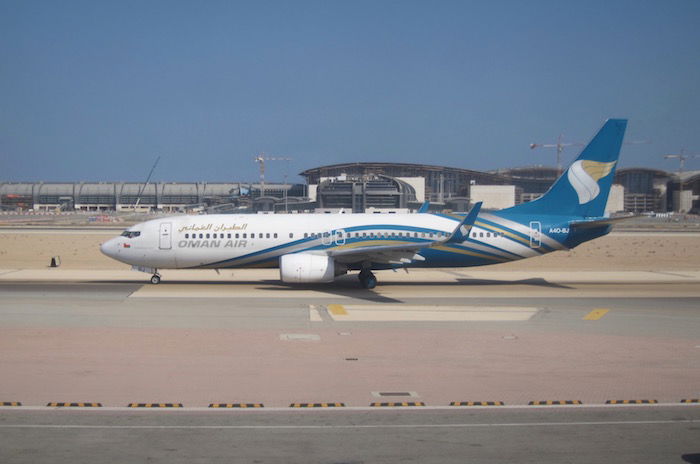 Oman Air 737 Muscat Airport
At this point the safety video began to play.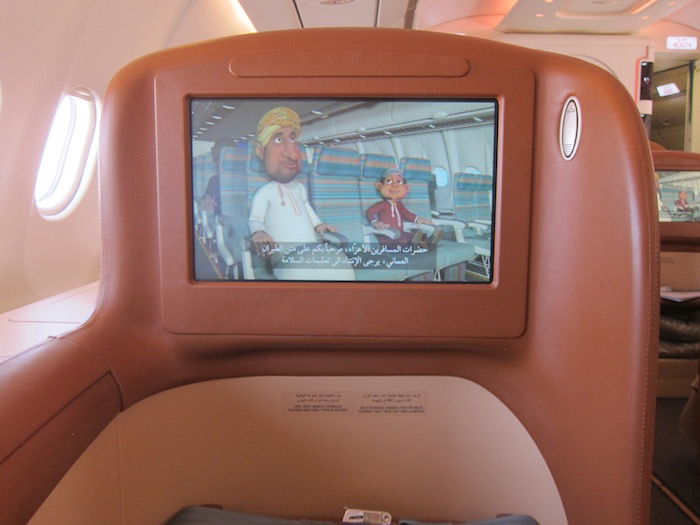 Oman Air A330 safety video
As we taxied out we had a great view of the new terminal, which I'm very excited to try once it opens (hopefully) next year. Maybe I'll get to try it in conjunction with Oman Air's new flight to New York, if that ends up materializing.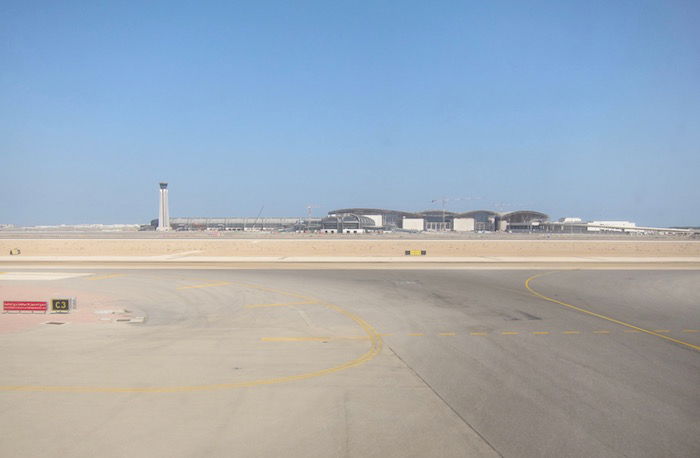 Muscat Airport's new terminal
There was also a good view of the other traffic on the tarmac, including an Emirates A330, Oman Air A330, and Oman Air 787.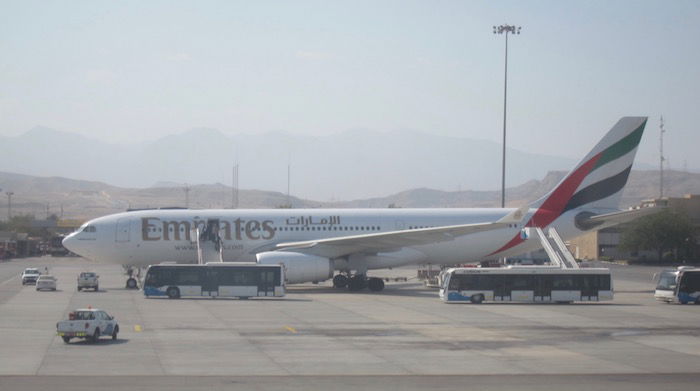 Emirates A330 Muscat Airport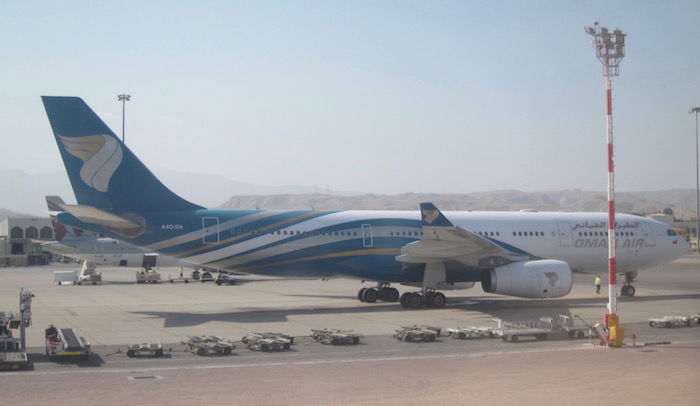 Oman Air A330 Muscat Airport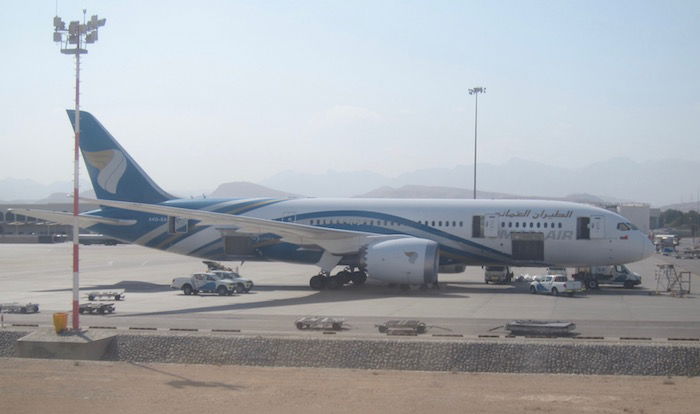 Oman Air 787 Muscat Airport
As you can see, Muscat's Airport isn't nearly as busy as those in Abu Dhabi or Dubai.
We taxied out to runway 26R, which took about 15 minutes.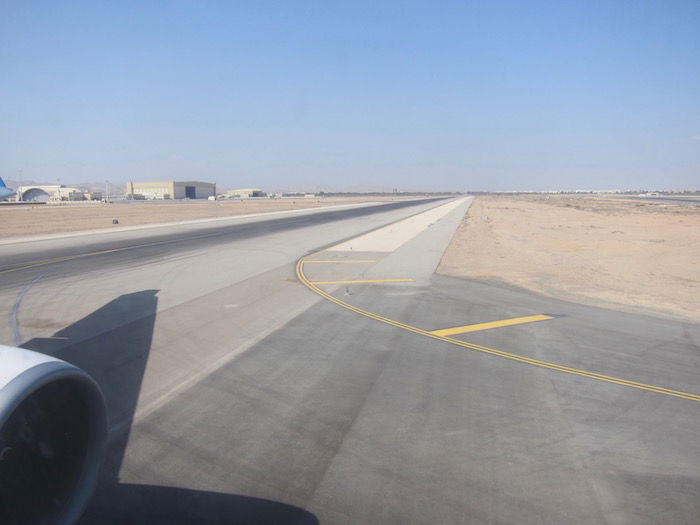 Taxiing to runway Muscat Airport
As we were taxiing there, the Oman Air 737 from earlier was just taking off.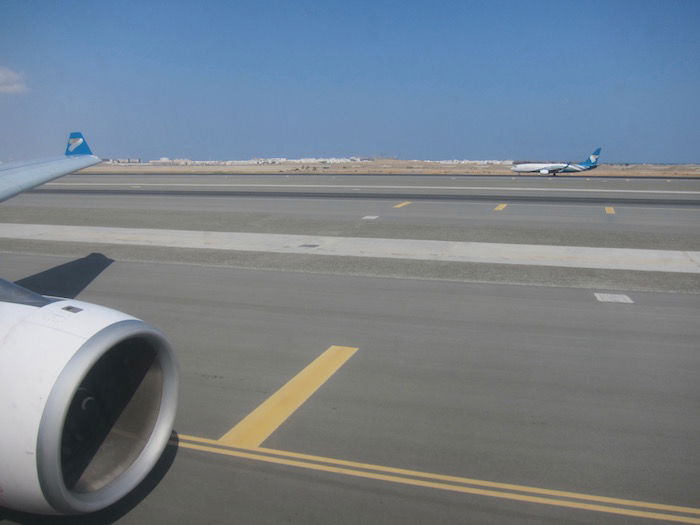 Taxiing to runway Muscat Airport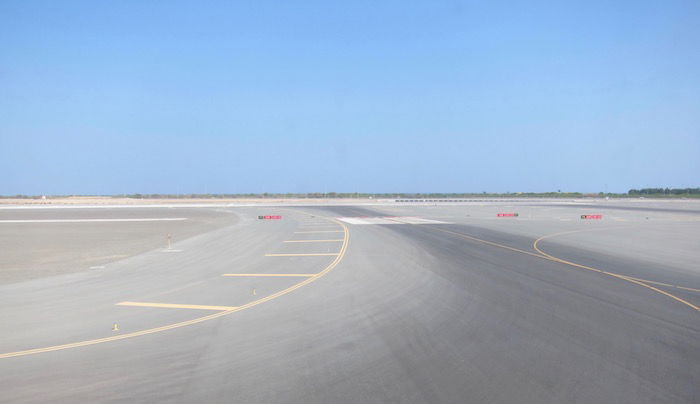 Taxiing to runway Muscat Airport
As we reached the runway we were immediately cleared for takeoff.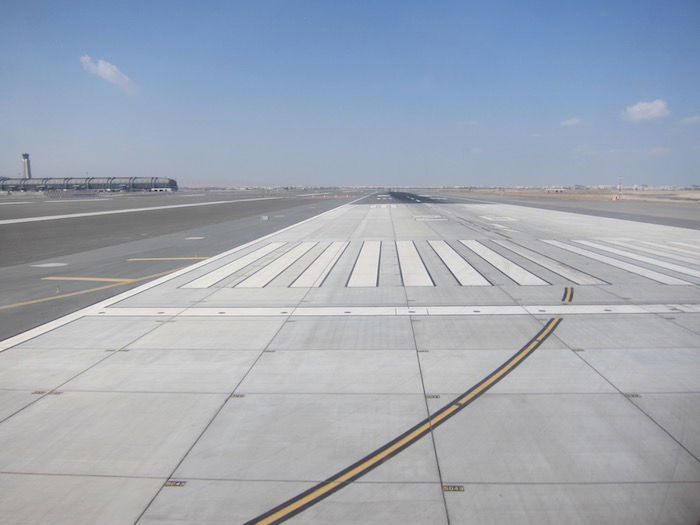 Taking off Muscat Airport
The Oman Air A330 has a nose camera, though the angle and zoom of it make it quite useless, since you can't actually see anything.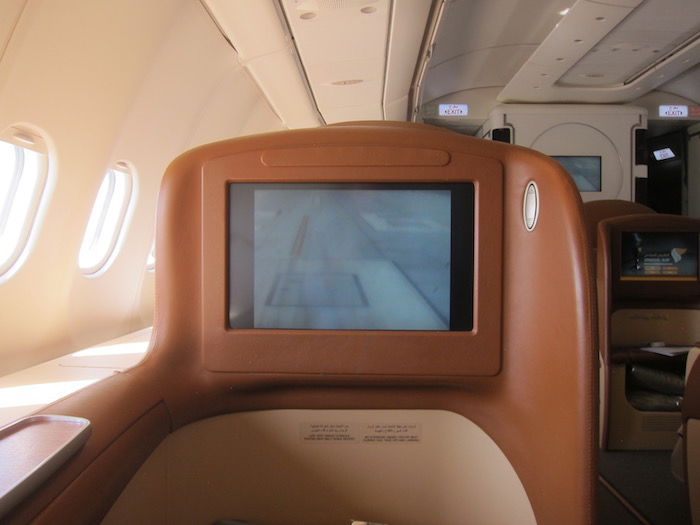 Oman Air A330 nose camera
The views of Muscat on the climb out were beautiful. Oman is probably the most beautiful country in the region thanks to the landscape, which you can get a small sense of on the climb out.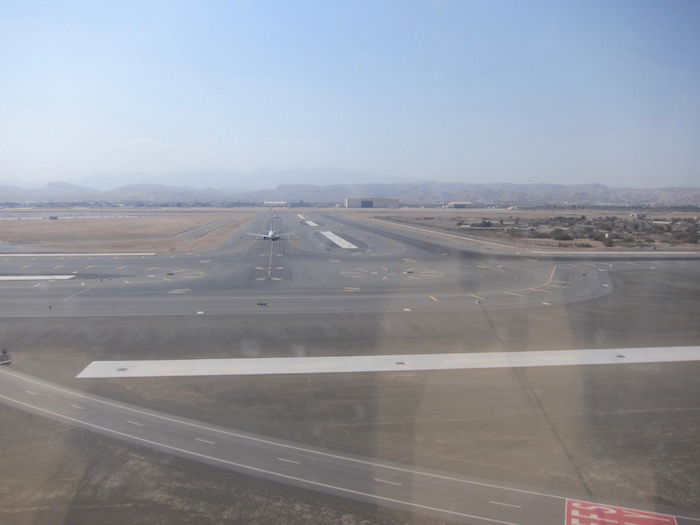 View after takeoff from Muscat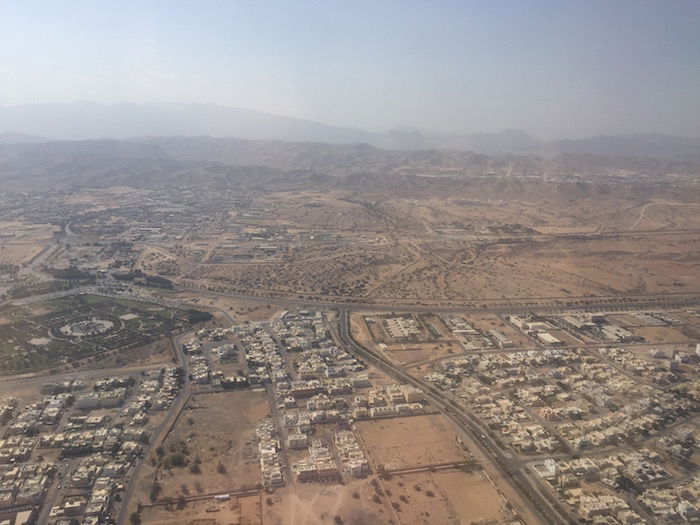 View after takeoff from Muscat
After takeoff I switched to the airshow.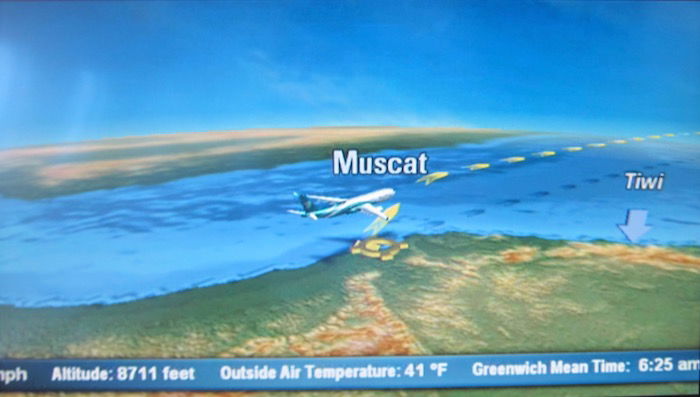 Airshow enroute to Bangkok
Less than five minutes after takeoff the seatbelt sign was turned off. At that point the cabin supervisor, Tanushree, made her after takeoff announcement, informing us that the crew was Filipino, Romanian, Thai, Polish, Slovakian, French, and Hindi. That sounded pretty standard to me for a crew on a Middle Eastern airline.
Moments later the curtains between the galley and cabin were drawn.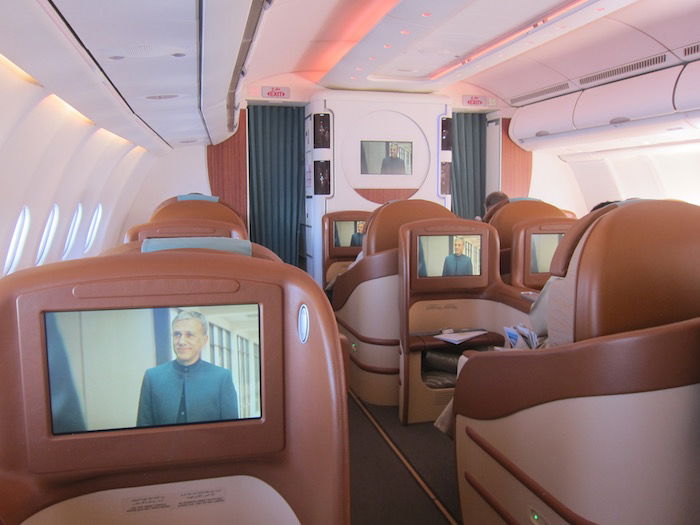 Oman A330 business class cabin after takeoff
At that point Tanushree passed through the cabin to welcome aboard all business class passengers, and hand out landing forms for Thailand.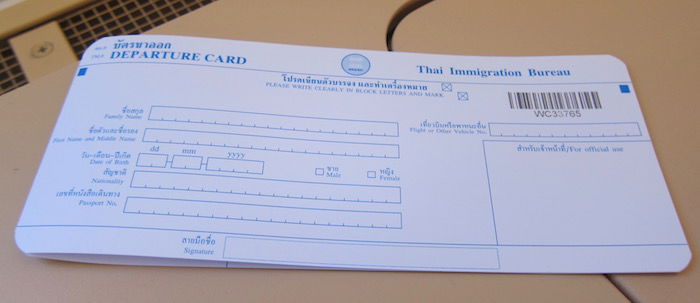 Thailand immigration form
She also explained that we could eat whenever was convenient, and said her colleague would return shortly to take meal orders.
The lunch menu read as follows: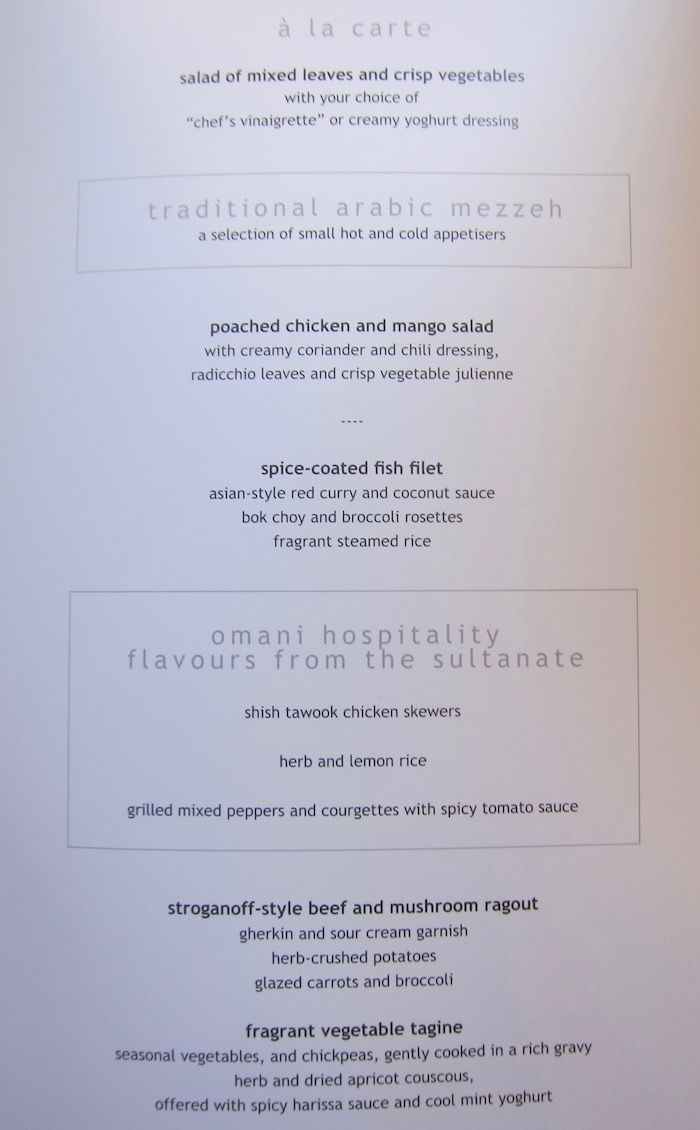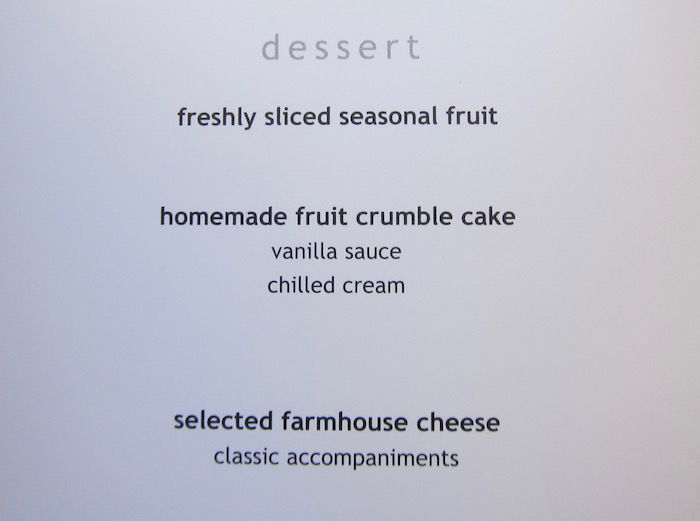 And the wine list read as follows: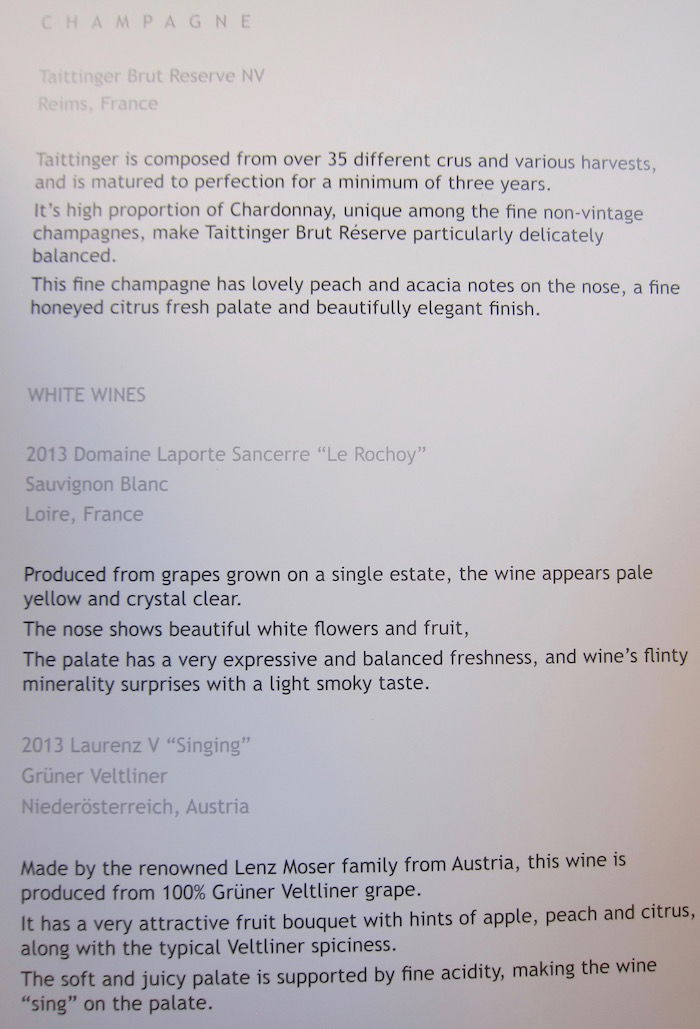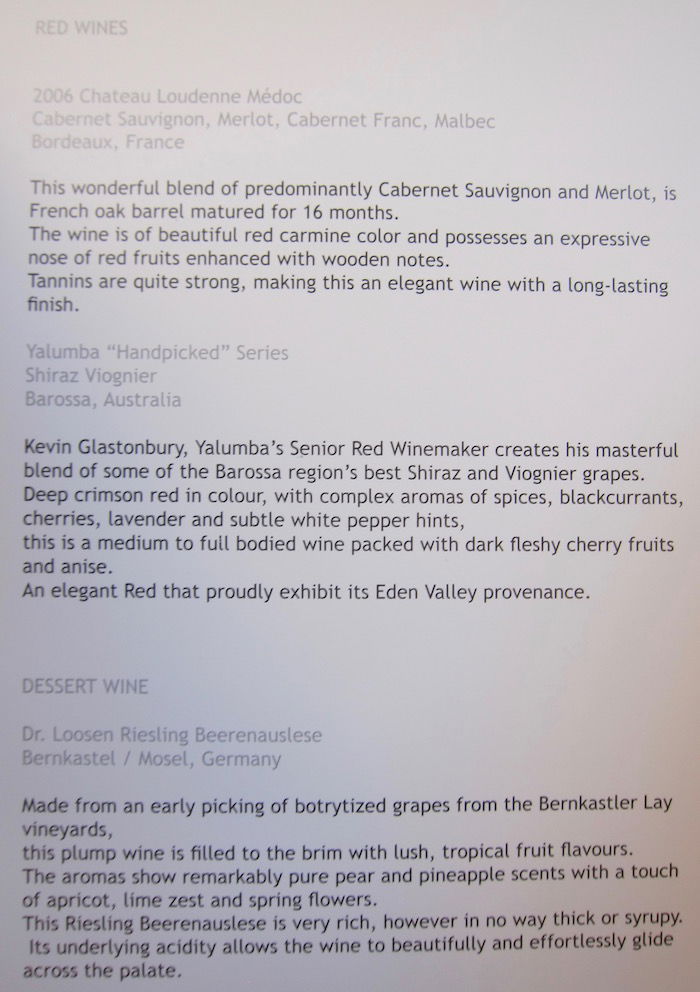 As on the last flight, service again began with mixed nuts and champagne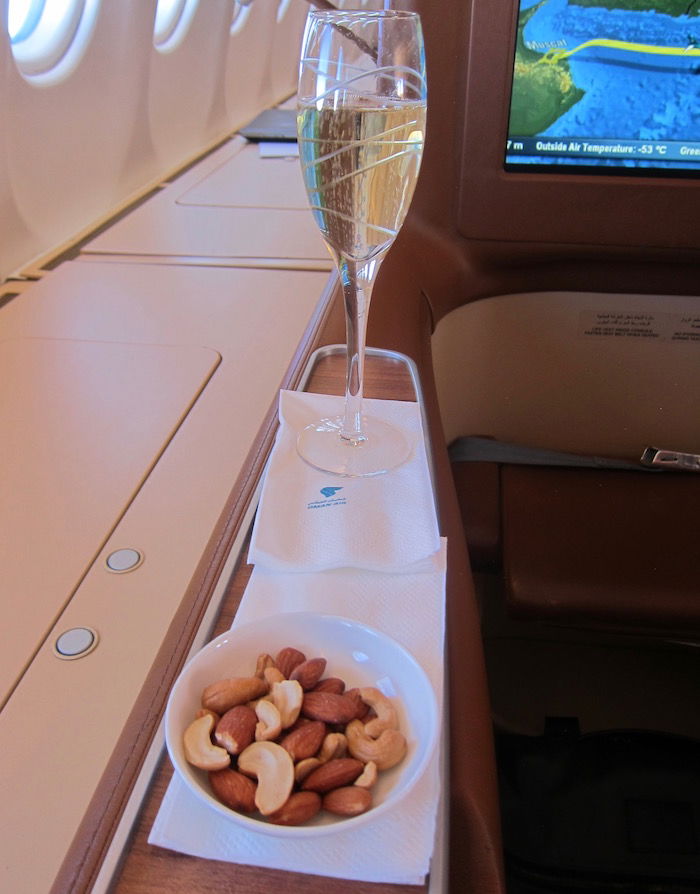 Oman Air business class lunch — champagne and mixed nuts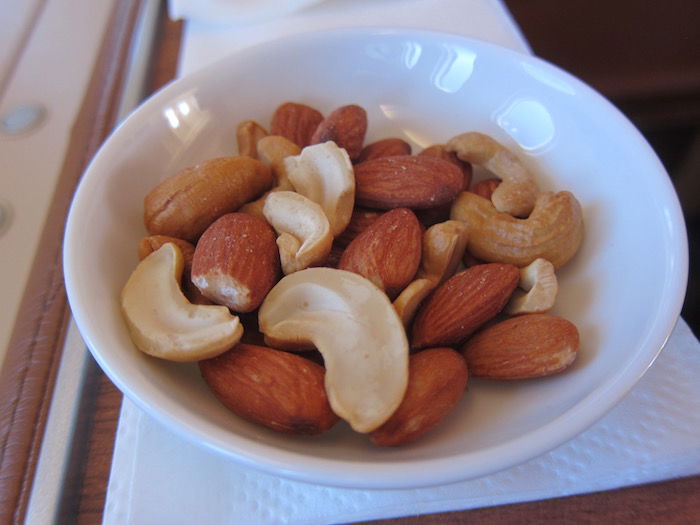 Oman Air business class lunch — mixed nuts
Moments later my table was set, and I was offered some water.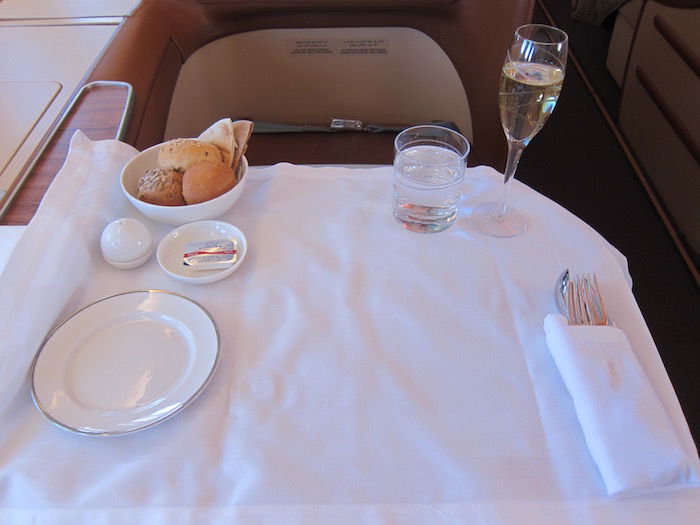 Oman Air business class lunch table setting
For the starter I once again ordered the mezzeh. I know I had it on the last flight, but I wanted to see what it was like catered out of Muscat. It didn't disappoint, both in terms of taste and presentation. Don't worry, though, because on the return I selected different meals.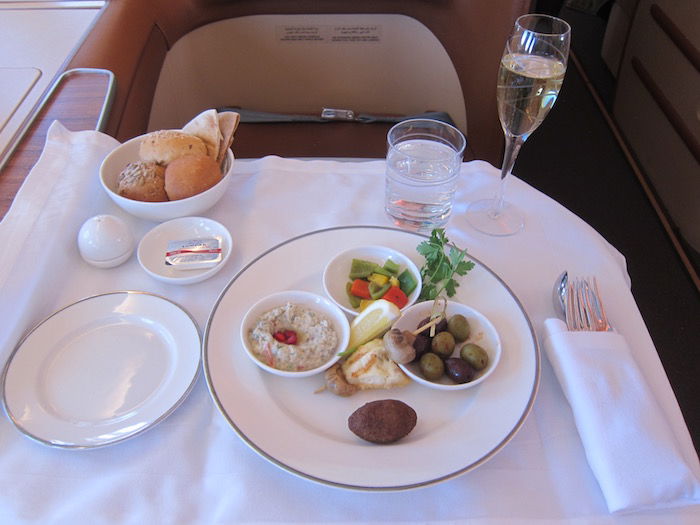 Oman Air business class lunch starter — Arabic mezzeh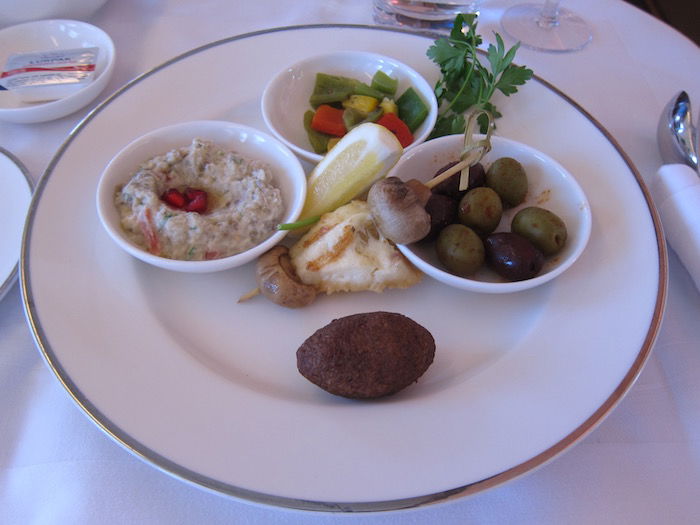 Oman Air business class lunch starter — Arabic mezzeh
For the main course I once again selected the Omani dish, which consisted of shish tawook chicken skewers. It was fantastic.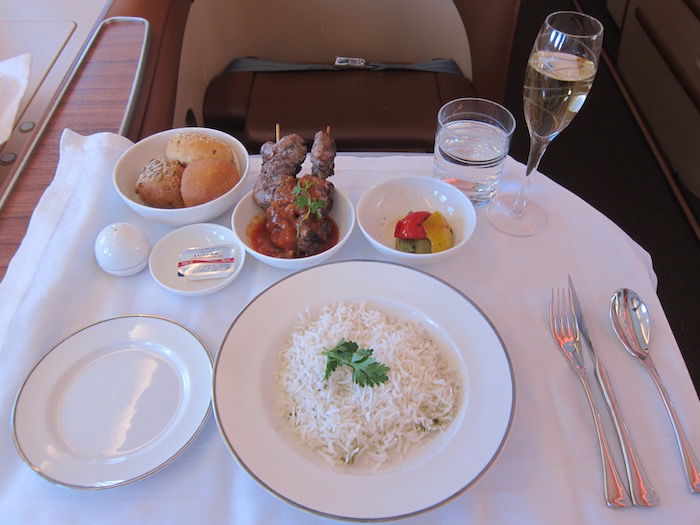 Oman Air business class lunch main course — Omani lunch
I was a bit put off by the color of the meat at first, but then realized that was due to the preparation and not the chicken itself.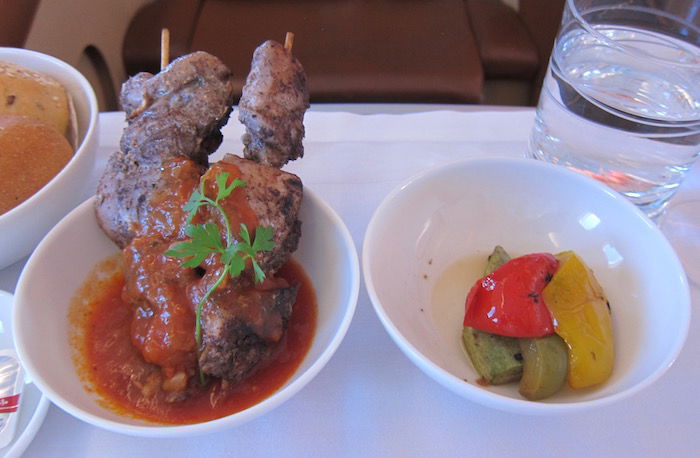 Oman Air business class lunch main course — shish tawook chicken skewers
For dessert I had the fruit crumble cake, which was spectacular. It was light and sweet, but also refreshing. That's a tough balance to strike. The dessert I had on my previous Oman Air flight was possibly the best airplane dessert I've ever had, while this might have been the second best.
I ordered a cappuccino to go along with it, though this one tasted like it was powdered. I also found it strange that the cappuccino was served with a plastic spoon, which seems to be the service standard for coffee drinks, based on my subsequent flights with Oman Air as well.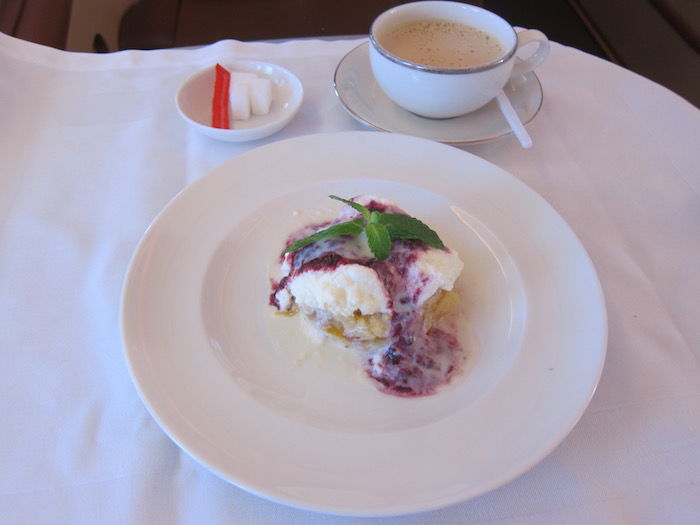 Oman Air business class lunch dessert — homemade fruit crumble cake
The meal service was complete about 90 minutes into the flight, and was once again fantastic. Oman Air doesn't have the most drawn out or elaborate meal service, but the food looks and tastes top notch.
The flight attendant serving me was also fantastic. She was attentive and friendly, and was much more proactive than the last crew.
Upon the conclusion I was offered a bottle of water, which was tiny.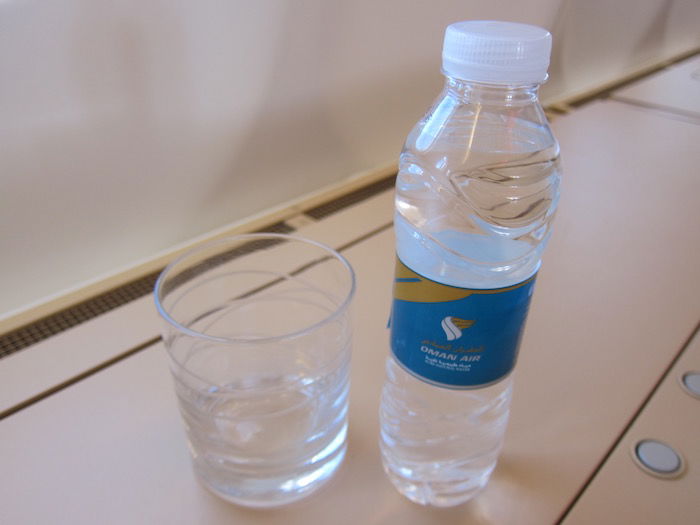 Oman Air business class bottled water
This flight also featured OnAir Wi-Fi, with the following options to choose from: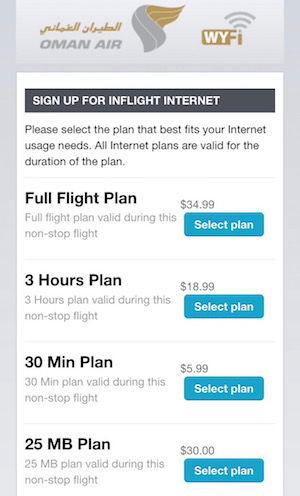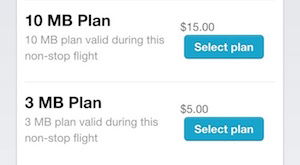 I purchased a full flight plan for $34.99. Going in I realized that we'd be flying over India, where the internet connection is always blocked, so I'd only get a few hours of use out of it. That being said, I assumed if I purchased a three hour plan it would simply run out over India.
I learned my lesson on the return, where I purchased the three hour pass. That's because the subscription is paused when the Wi-Fi is deactivated over India. So a three hour pass on the return lasted me almost the entire flight. That's worth knowing if you're flying Oman Air to/from Asia.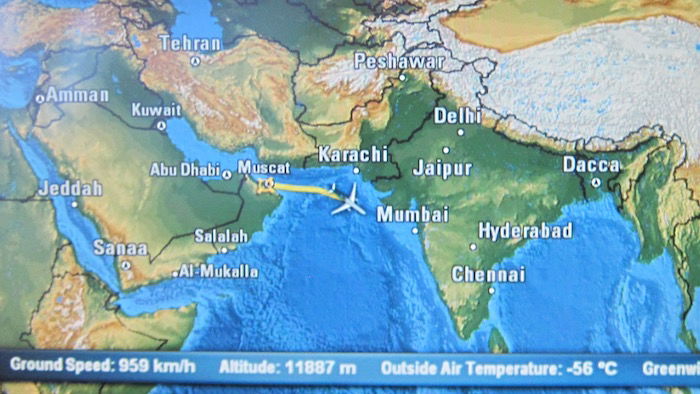 Airshow enroute to Bangkok
The other passengers in the cabin made for some interesting people watching. In the first row were three Westerners who were drunk off their asses. They sat together in the center section facing one another and talking the whole flight, and got progressively louder and louder.
At one point the captain came out of the cockpit to use the lavatory, and one of the passengers went up to him to shake his hand, and congratulate him for flying the plane so well. They. Were. Drunk.
The flight attendants did their best to pace out their drink consumption, and over time they progressively sobered up… a little.
Meanwhile in the second row and across from me the passengers participated in the prayer, and sat in their "buddy seats" while praying so they could face towards Mecca.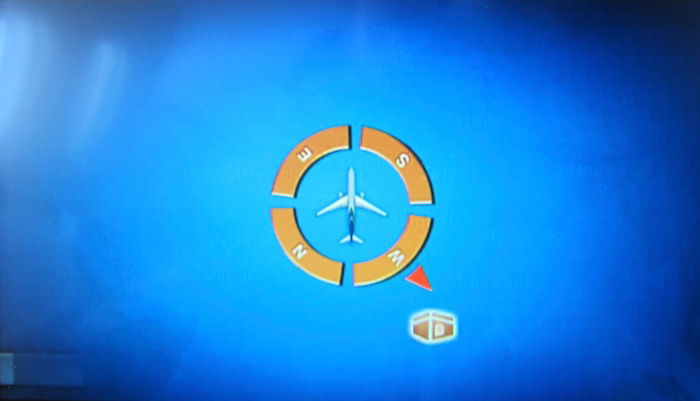 Mecca arrow
The combination of drunk people being rowdy and people praying had me a bit confused. Meanwhile I was sitting there (peacefully) drinking my champagne, so I wasn't sure if I was supposed to hide it while they were praying and looking at me, or…
As we were over India I spent a good amount of time looking out the window, and then browsed the entertainment selection.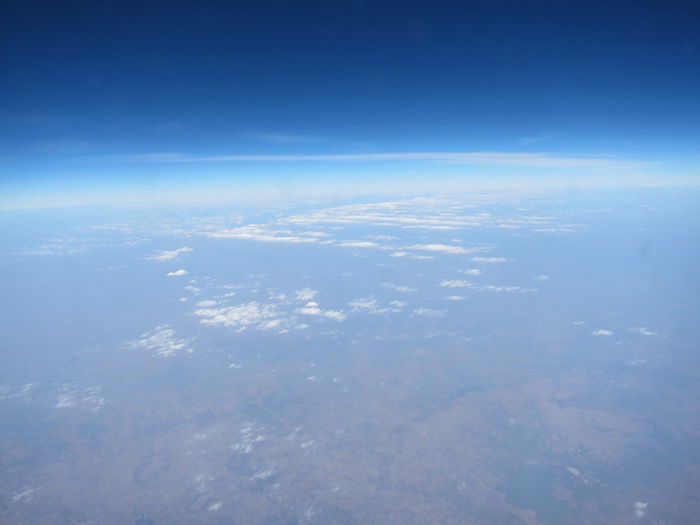 View over India
While the system has a different interface than on the 787, the selection itself seemed to be very similar.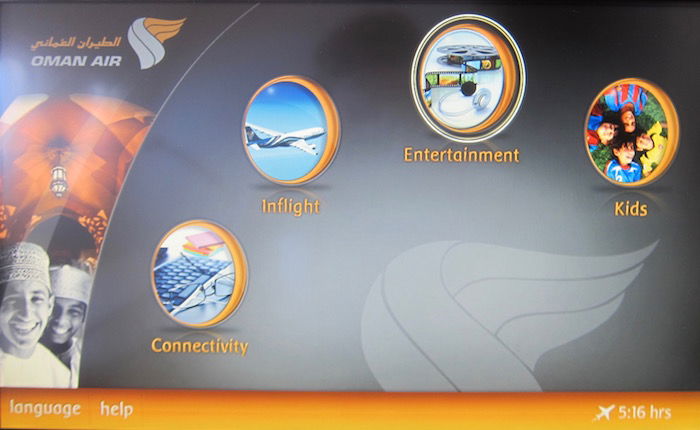 Oman Air business class entertainment system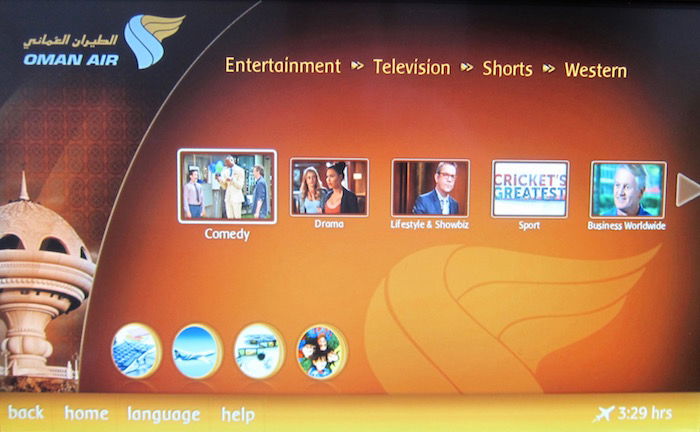 Oman Air business class entertainment system
I ended up watching a few sitcoms.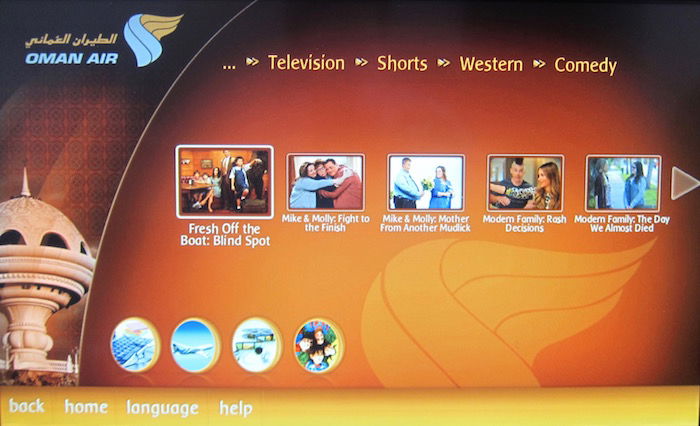 Oman Air business class entertainment system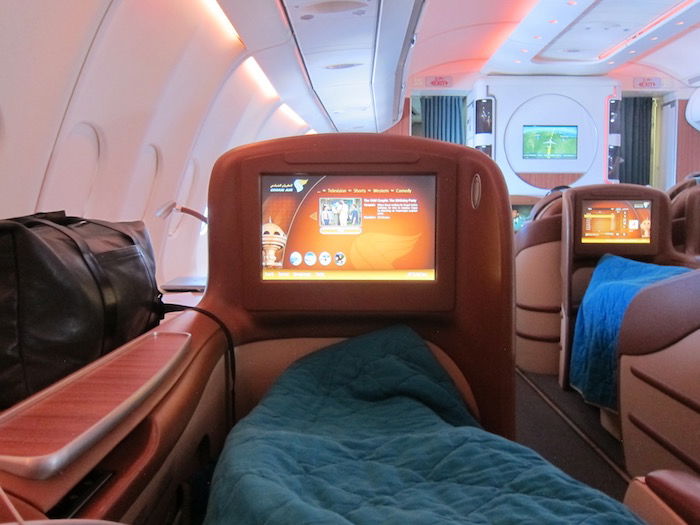 Relaxing in Oman Air business class
While watching the shows I ordered a cup of coffee, which was proactively served with some sweets.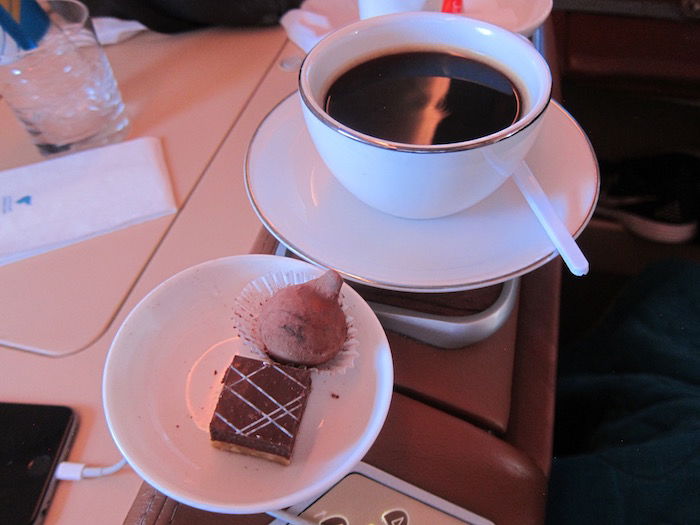 Oman Air business class coffee and sweets
When we were about halfway over India I decided to rest for a bit. When the flight attendant saw I was going to sleep she came by to ask if I wanted to be woken for the snack before landing, which I agreed to.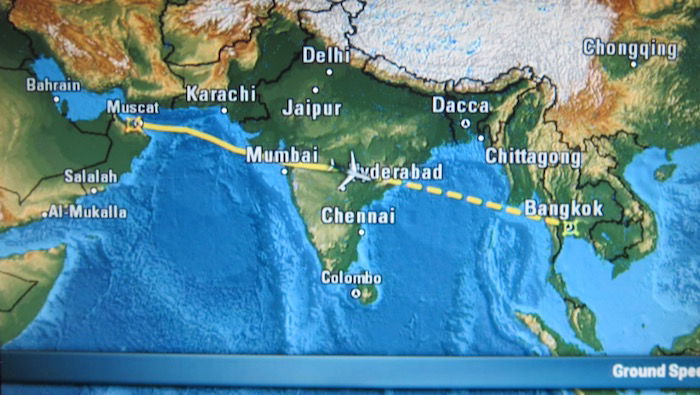 Airshow enroute to Bangkok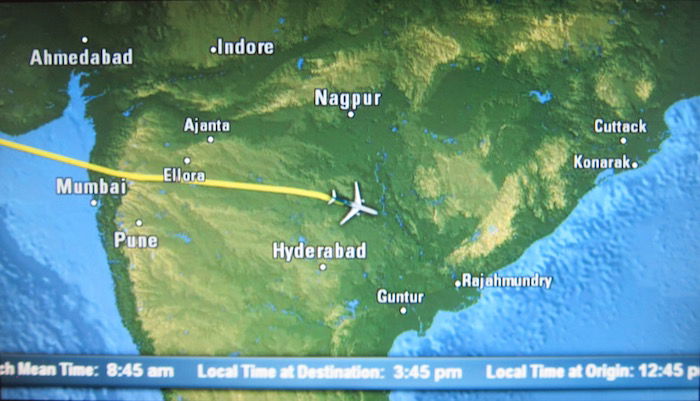 Airshow enroute to Bangkok
I napped for maybe an hour, and woke up as we were slowly approaching Thailand. While the seat itself was comfortable, it wasn't especially wide, and it does lack privacy. So as much as I think the product is cool, I prefer the window seat I had on the 787.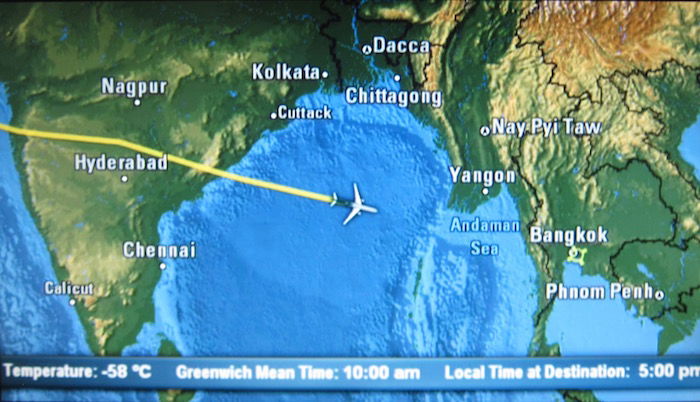 Airshow enroute to Bangkok
About 80 minutes before landing I was offered my pre-landing snack. The refreshment menu read as follows: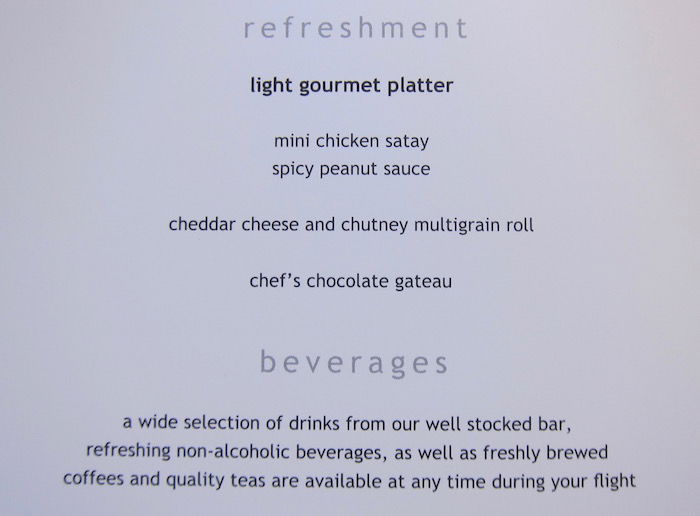 Most of Oman Air's flights are fairly short, so a small snack is perfect, in my opinion. In this case I was offered chicken satay, a cheese and chutney multigrain roll, and a chocolate gateau.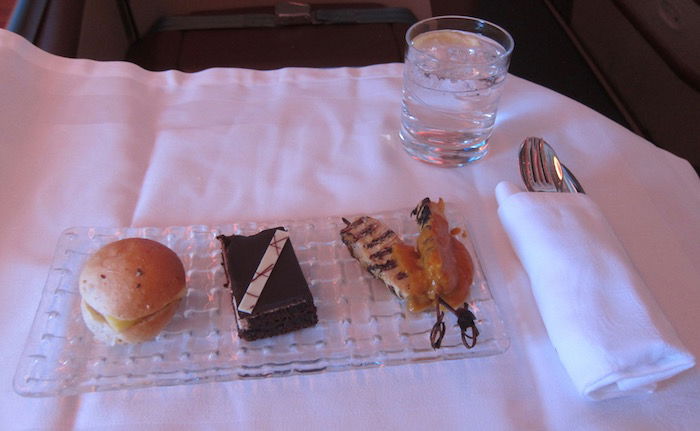 Oman Air business class pre-landing snack
The satay and chocolate gateau were great, while the roll was dry and tasteless, as you'd probably expect. But all things considered, I thought it was a very nice snack.
For the next half hour my eyes were mostly glued out the window.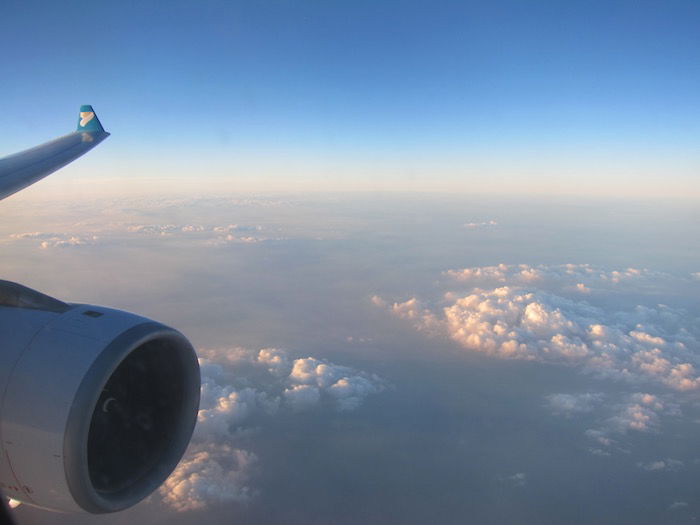 View approaching Thailand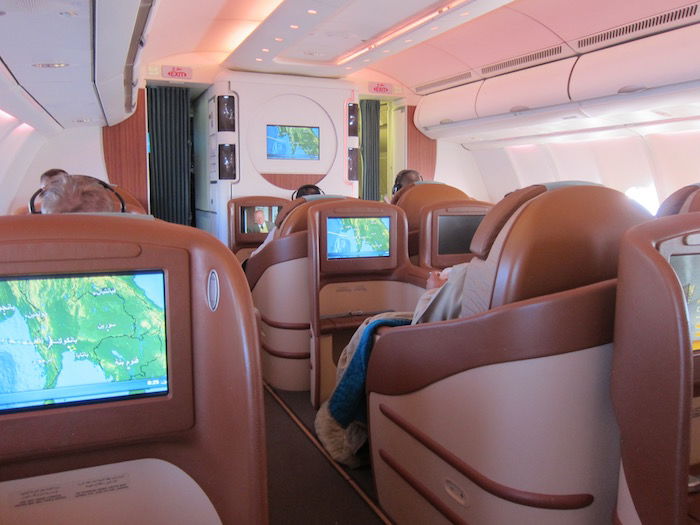 Oman Air business class cabin approaching Thailand
As we began our descent the cabin supervisor made an announcement with tips for avoiding MERS, which I believe is standard for flights to Thailand (or perhaps it's specific to Oman Air or flights from the Middle East, since they recently had a case of MERS on a Muscat to Bangkok flight).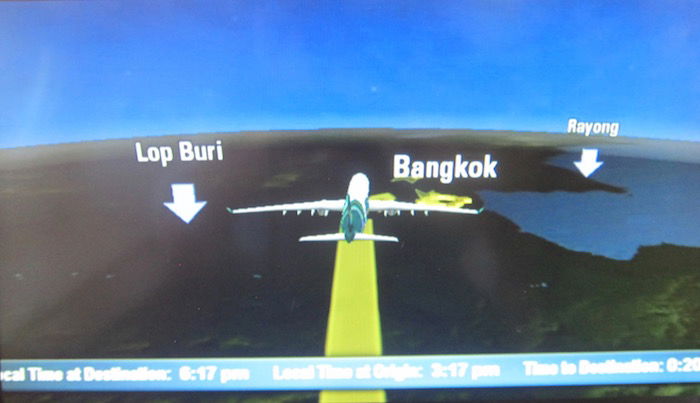 Airshow approaching Bangkok
As we descended into Bangkok, Tanushree came back through the cabin to ask how the flight was, and wished me a nice time in Thailand.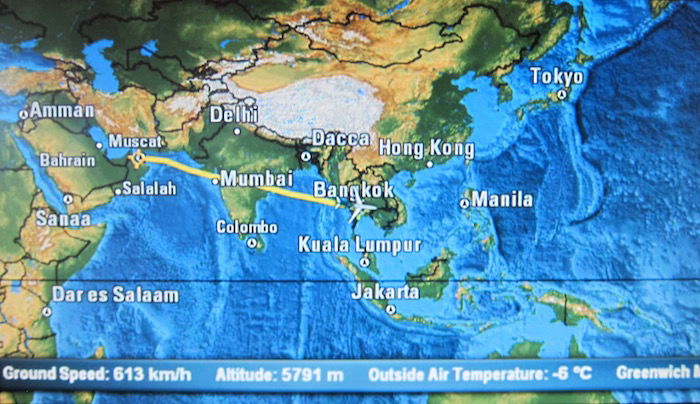 Airshow approaching Bangkok
About 20 minutes before landing the captain made his goodbye announcement, informing us we should be on the ground at 6:40PM, and to the gate shortly after that.

Airshow approaching Bangkok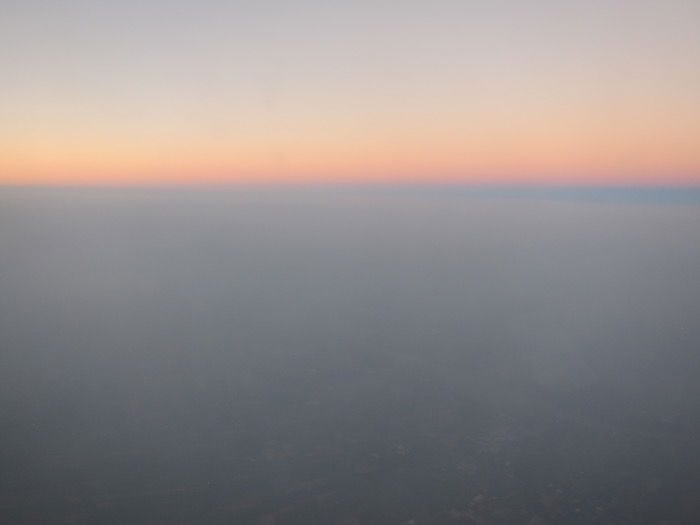 Sunset on approach into Bangkok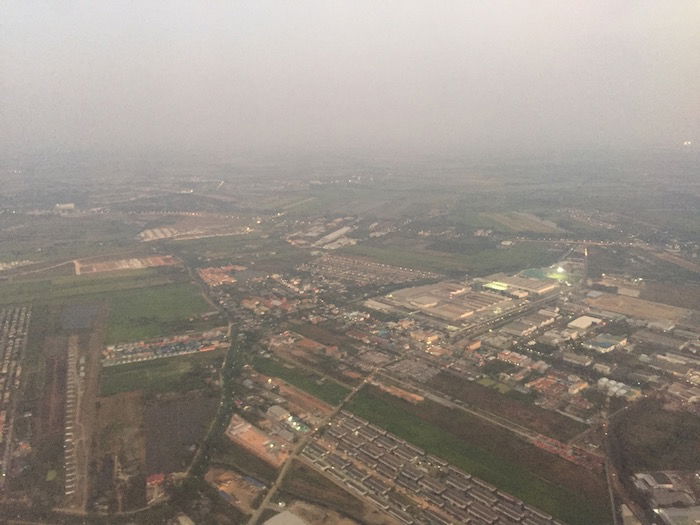 Sunset on approach into Bangkok
Finally at 6:40PM we had a smooth touchdown in Bangkok, and from there it was a 10 minute taxi to our arrival gate.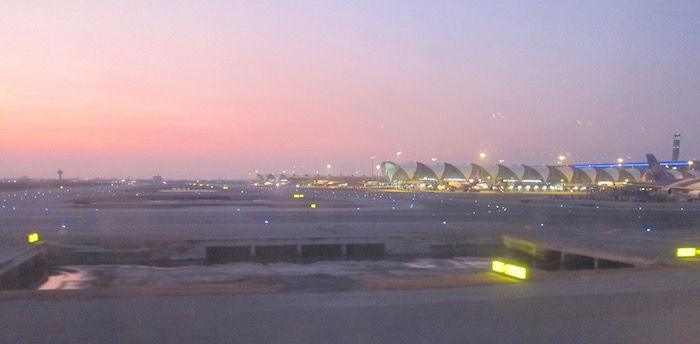 Taxiing Bangkok Airport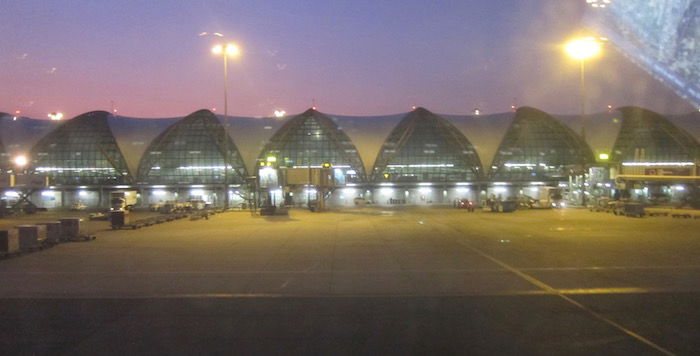 Arrival gate Bangkok Airport
We parked right next to an Emirates 777.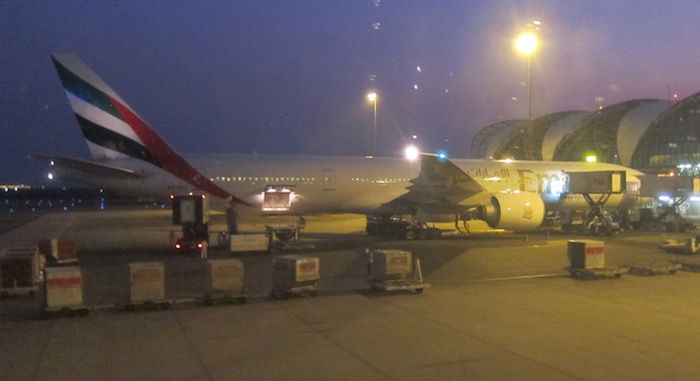 Emirates 777 Bangkok Airport
Upon landing I was impressed to find that there were two representatives meeting the flight, which had the names of five business class passengers on two signs. I'm guessing these were the passengers who had ordered the Oman Air chauffeur drive service.
Go figure those five passengers were us and then the three super drunk guys from the first row. In theory we were supposed to go with one other passenger since he didn't have checked bags, but since he was traveling with the other people, he stayed with them. That was a blessing, because they were stumbling walking super slow.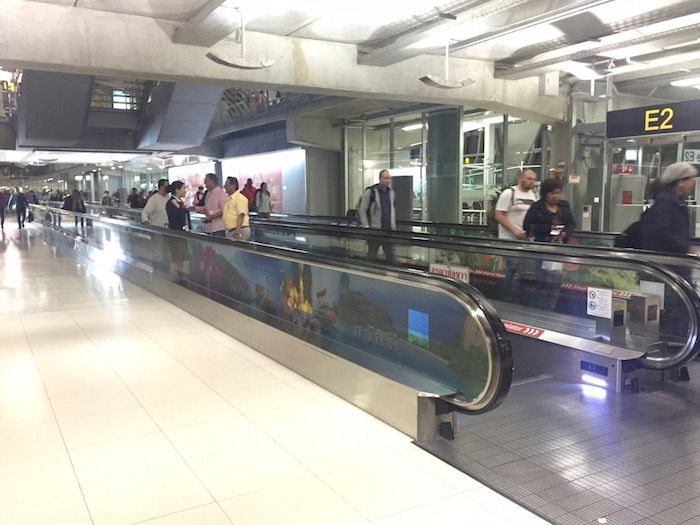 Bangkok Airport terminal
The walk to immigration took about 10 minutes, and as we walked there we were handed fast track cards for immigration.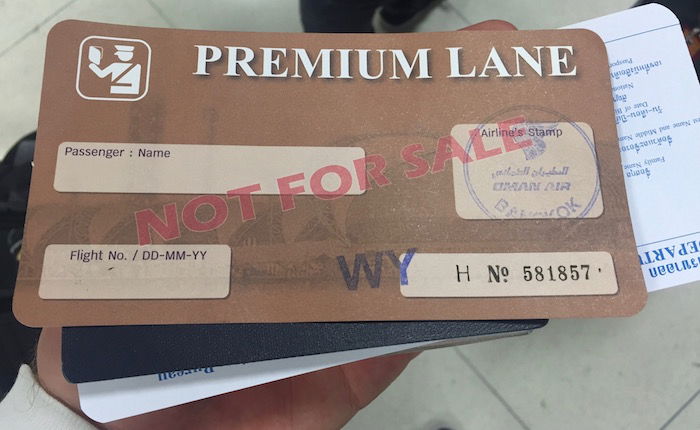 Bangkok Airport fast track immigration card
Thailand does a fantastic job with fast track immigration, so we were through pretty quickly.
In the arrivals hall the friendly Oman Air representative escorted us to the car that was waiting for us.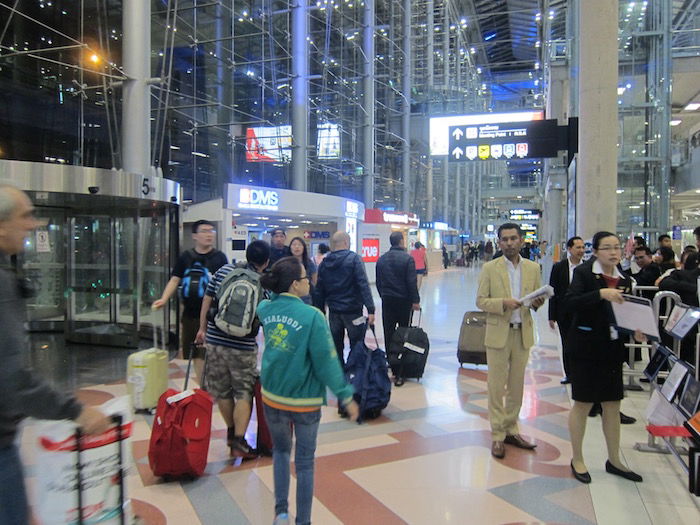 Arrivals hall Bangkok Airport
I was a bit surprised to see that Oman Air's chauffeur service consisted of a somewhat beat up Toyota. Ultimately I appreciate that they offer such a service at all, but it was just a bit of an adjustment compared to the premium cars I'm used to with other airlines. It was still much nicer than a Bangkok taxi!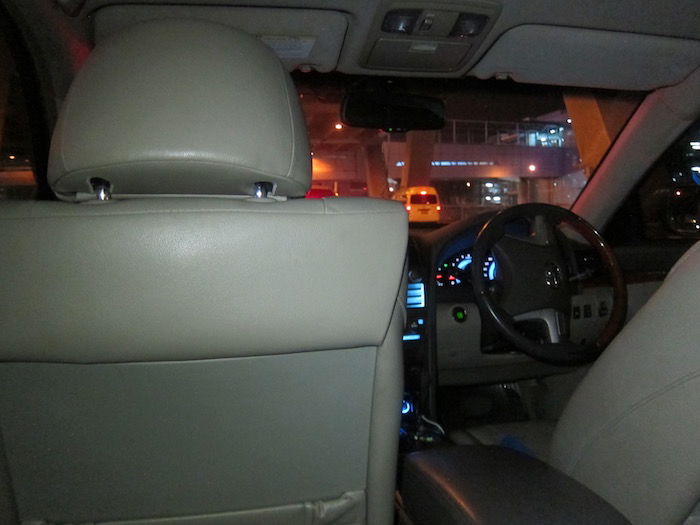 Oman Air chauffeur Bangkok Airport
Unfortunately there was a bit of a miscommunication. When I filled out the form online I specified I was staying at Le Meridien Suvarnabhumi, which is the closest Starwood property to the airport (it's about 20 minutes away). I wrote both the name and the address when I filled out the request form, so figured that settled it.
When I got in the car the driver said "Le Meridien?" and I said "yes!"
I knew the drive was supposed to take about 20 minutes (based on looking at Google Maps before my flight, though I didn't look at the exact directions), so when we were still driving 25 minutes later, I asked how much further it would be. He said it would be another 30 minutes or so. And that's the point at which I realized he was talking us to the property in the city.
He apologized profusely and changed course, but ultimately what should have been a 20 minute drive turned into one which lasted over an hour.
Bottom line
I'm so thrilled to have finally flown Oman Air's A330 business class. I love Oman Air, and there was something about this flight which made it especially enjoyable. It was like a step back in time, but not in a bad way. Oman Air's old business class product is so much better than anything else which was offered when it was first introduced.
That being said, I do think I prefer the window seats in Oman Air's new business class product, which I wasn't expecting to be the case.
Everything about this flight was delightful, though, from the seats to the cabin to the service to the food. Well, perhaps except my fellow passengers in the first row.
Which would you prefer — Oman Air's new or old business class product?