---
While airberlin is about as "no frills" as airlines get, I do find them incredibly convenient for getting around Europe. Since they joined oneworld it's great to be able to redeem British Airways Avios for travel on them, given that their availability is generally excellent and you can book last minute.
After flying Lufthansa first class from Vancouver to Frankfurt and spending the night at the Sheraton Frankfurt Airport, we had a pre-dawn flight to Catania.
We redeemed 7,500 British Airways Avios per person for the flight, and on account of our oneworld Emerald status were able to get seat assignments in advance for free. We assigned seats 4A & 4C, with the hope of getting an empty middle seat, given that it was a pre-6AM flight on a Sunday morning.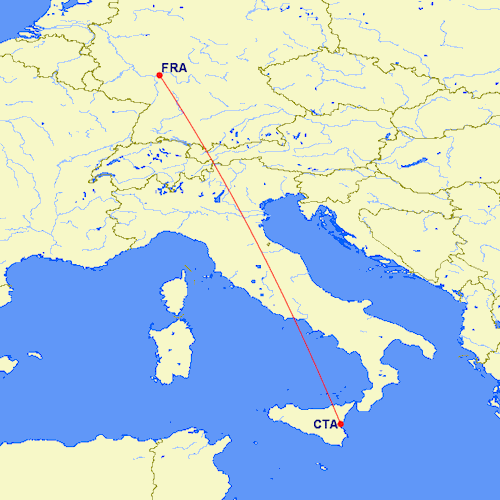 Frankfurt to Catania map
Airberlin operates out of Terminal 2 in Frankfurt, while Lufthansa and some of their partner airlines operate out of Terminal 1. The Sheraton is connected to Terminal 1, so we had to take the train over to Terminal 2.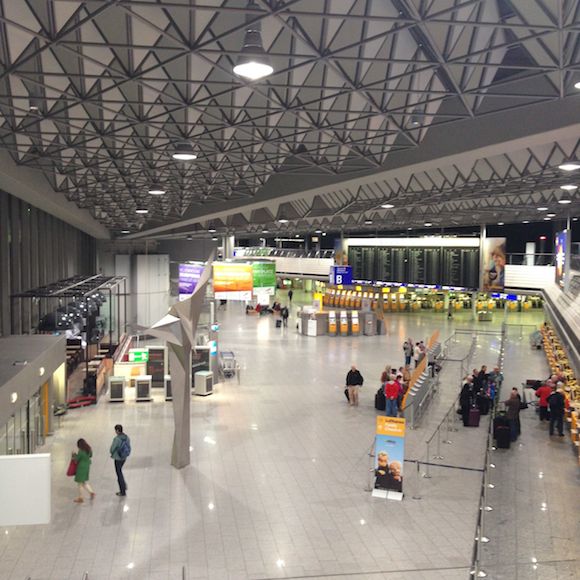 Frankfurt Airport Terminal 1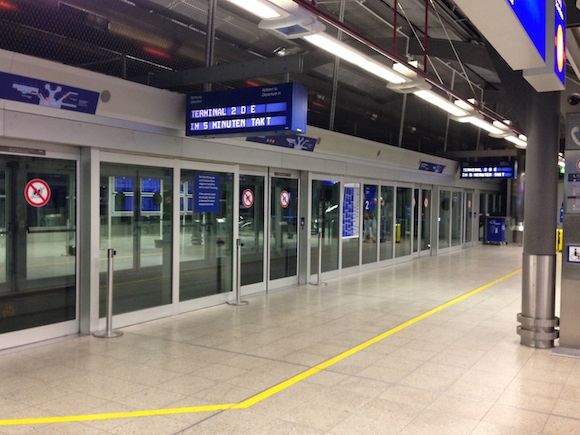 Frankfurt Airport Terminal 1 train station
Once at Terminal 2 we cleared security, as we had checked in online and had mobile boarding passes.
As you'd expect, the terminal was dead at 5AM. Airberlin uses the Iberia Lounge in Frankfurt, though it doesn't open until 6AM. So we just grabbed some seats and used the free terminal Wi-Fi for about 20 minutes.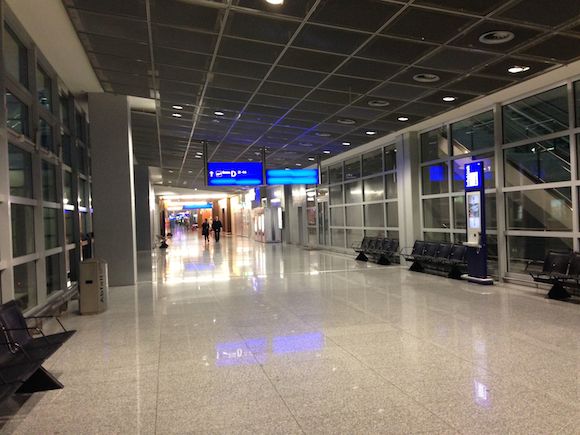 Frankfurt Airport Terminal 2 airside
Our flight was departing from a remote stand, so at our departure gate (E21) all boarding passes were scanned and then everyone was in the "waiting room." Boarding began at 5:30AM, and as you'd expect it was a total free-for-all.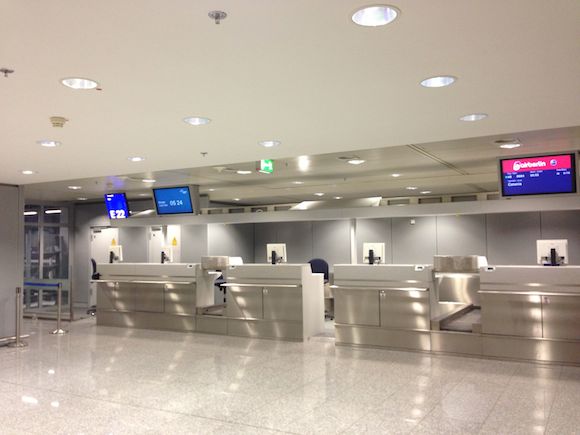 Airberlin departure gate
We proceeded onto the bus, which they certainly maximized the capacity ofl. From there it was just a short drive across the tarmac to our A320.
airberlin 8884
Frankfurt (FRA) – Catania (CTA)
Sunday, May 4
Depart: 5:55AM
Arrive: 8:20AM
Duration: 2hr25min
Aircraft: Airbus A320
Seat: 4C (Economy Class)
Boarding was done through both the forward and rear doors. Since we were in row four we boarded through the front. At the door we were greeted by two cheery flight attendants holding baskets of candy.
Airberlin's A320s are what you'd expect from a low cost carrier, with 174 seats, each offering 29-30″ of pitch.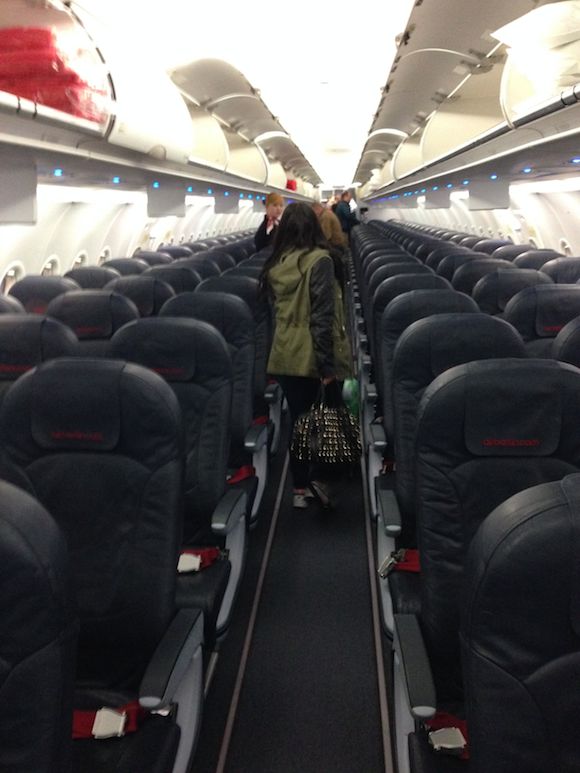 Airberlin A320 cabin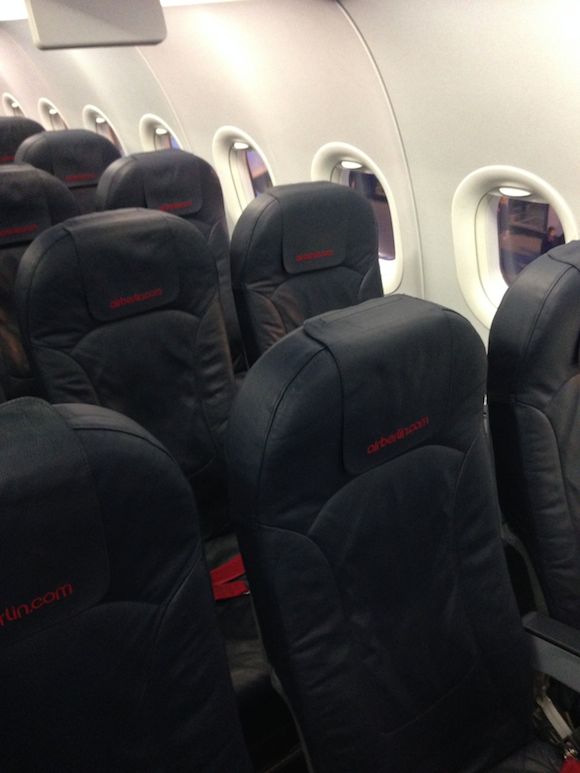 Airberlin A320 cabin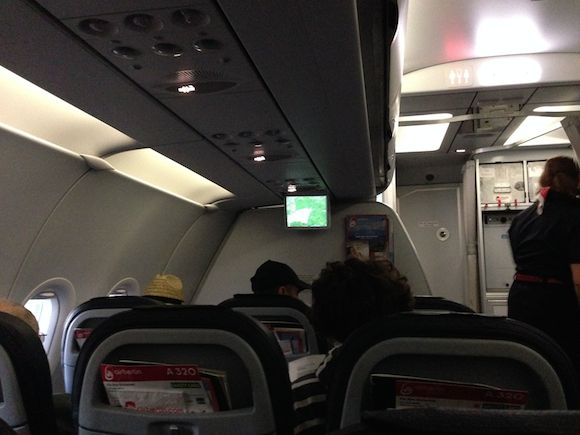 Airberlin A320 cabin view from 4C
Legroom was limited, as you'd expect, though not uncomfortably so. Each seat has only 29-30″ of pitch, but since they're slimline seats the legroom isn't that restrictive.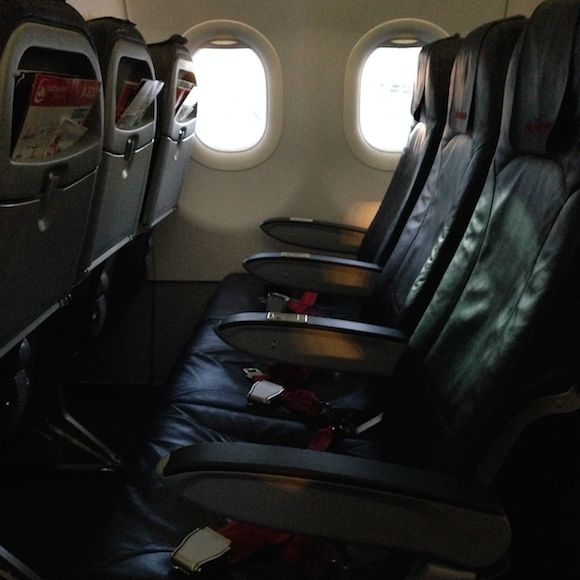 Airberlin A320 legroom

Boarding was efficient, and a few minutes before our pushback the captain came on the PA to inform us of our flight time of two hours (or as I like to think of it, roughly two episodes of Real Housewives), which he anticipated would put us into Catania early.
Our taxi to Runway 25 took about 10 minutes, so we were airborne shortly after 6AM.
About 30 minutes after takeoff the beverage service began. Airberlin isn't ultra-low cost in the sense that soft drinks are free.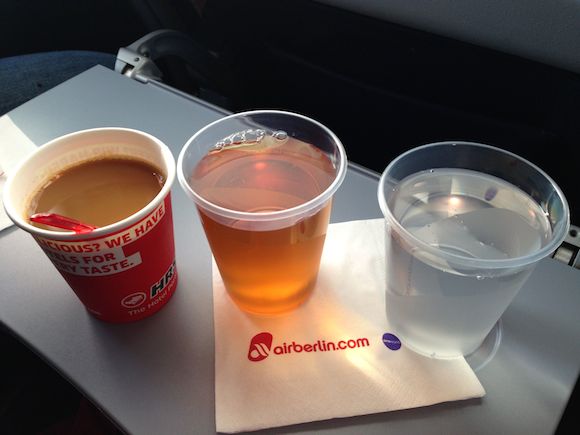 Airberlin beverage service
We were also offered the choice between a cheese sandwich and a ham sandwich. I selected the former.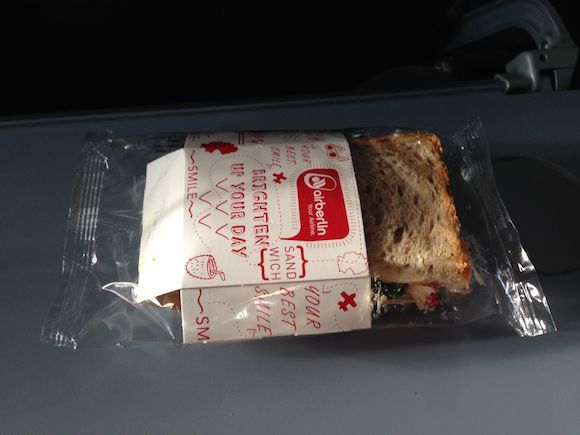 Airberlin snack service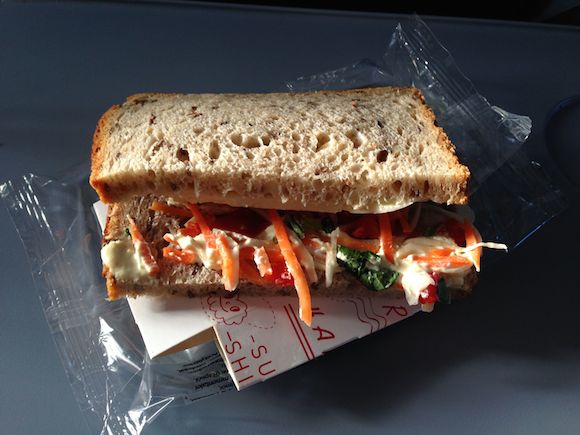 Airberlin snack service
Airberlin has a really good buy on board food menu. On my airberlin flight from Catania to Munich last year it sure felt like business class between the food and drinks I was able to purchase!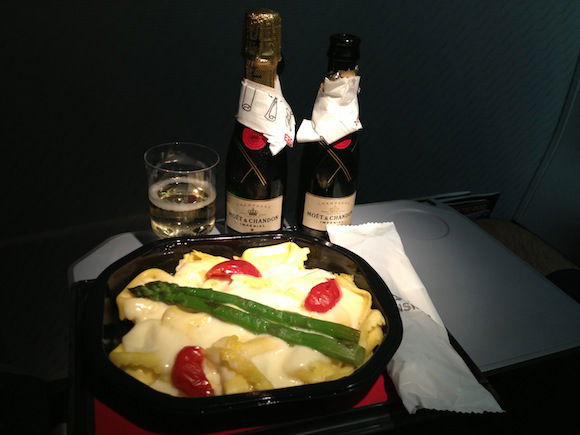 Airberlin buy on board options on flight last year
As it turns out they didn't have any food for purchase available on this flight, given how early it was departing. Wish I had known that in advance, as I was quite hungry.
Usually I like to work on planes, though the legroom was so limited that I couldn't really open my laptop screen without it being in my face. So instead I just caught up on a couple of TV shows.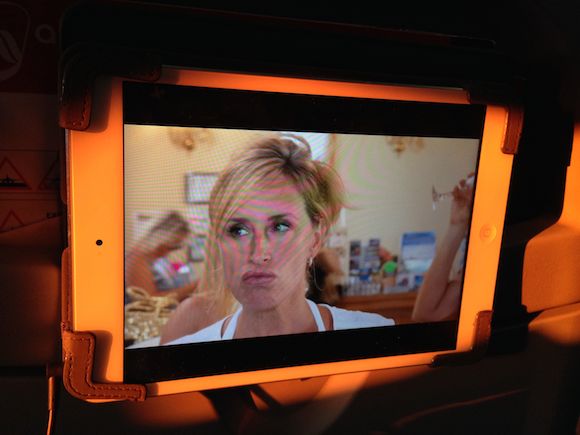 Airberlin inflight entertainment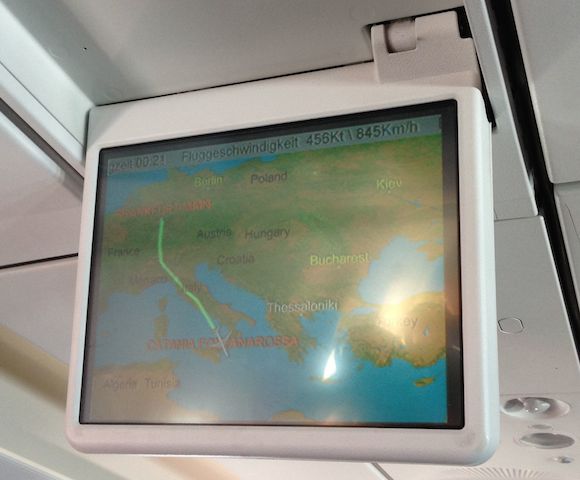 Airberlin airshow
Soon enough we began our descent into Catania. We flew out over the water, and then landed into the East.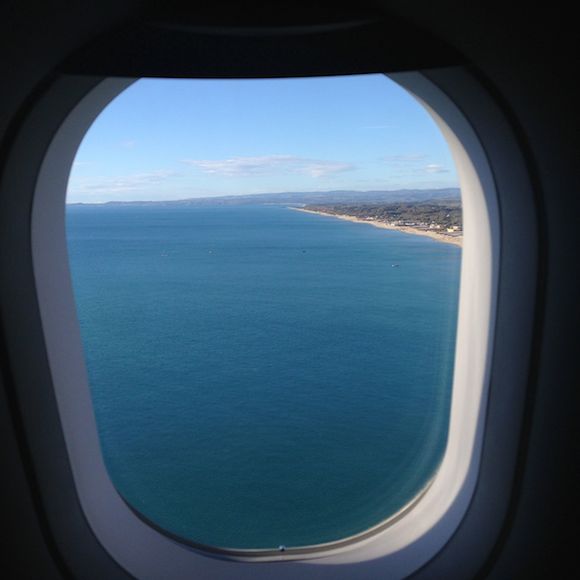 View on descent into Catania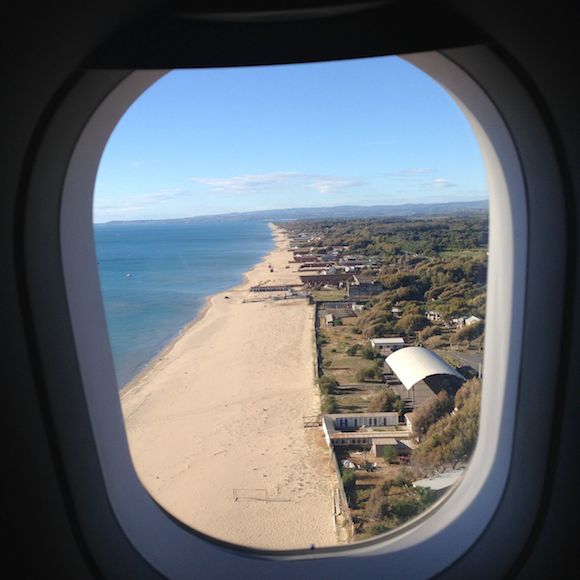 View on descent into Catania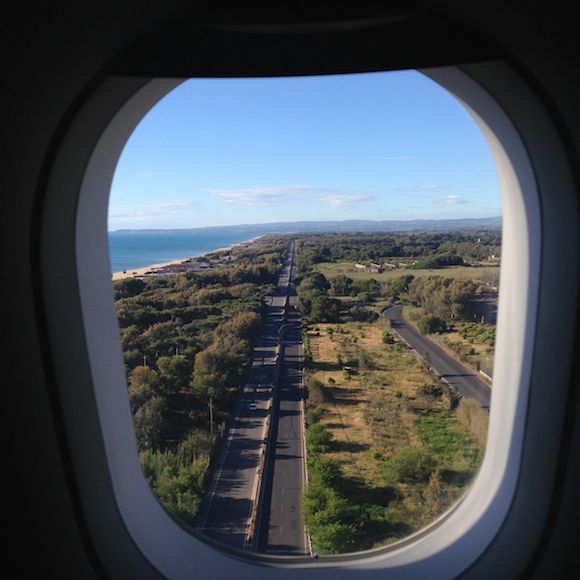 View on descent into Catania
We had a smooth touchdown and quick taxi to our remote stand. Grrr!
On the plus side, there were nice views of Mount Etna on the taxi in. The traffic at Catania Airport really cracks me up. It's one of the few airports where Alitalia would be considered the "premium" carrier.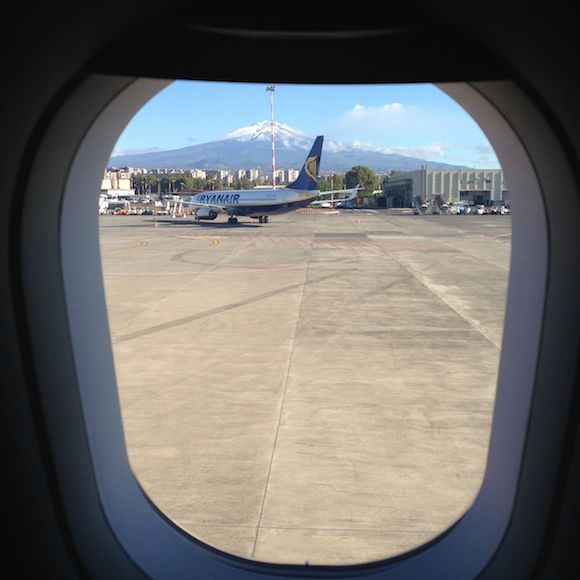 Taxiing at Catania Airport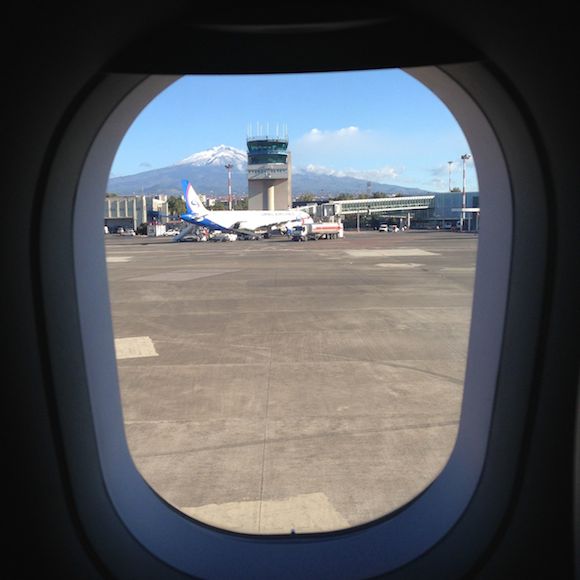 Taxiing at Catania Airport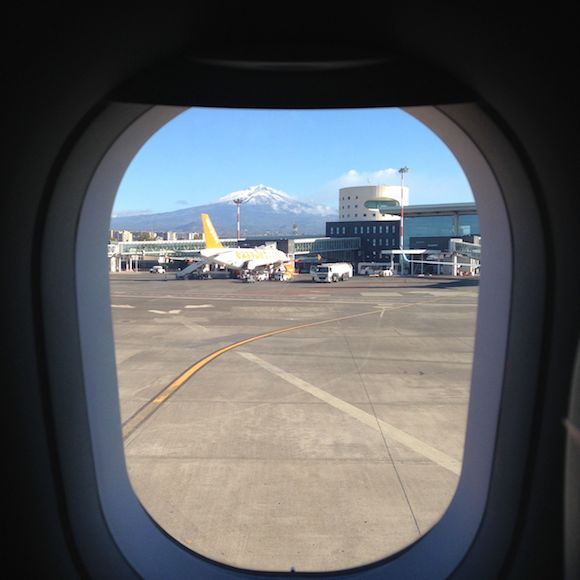 Taxiing at Catania Airport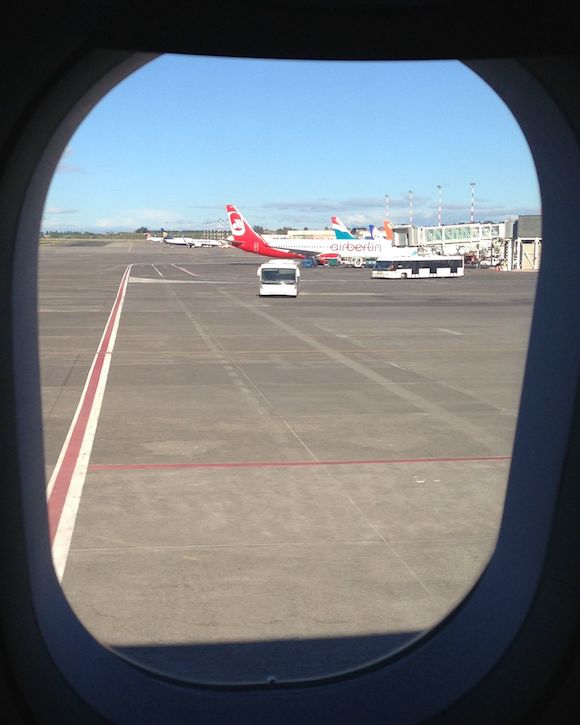 Taxiing at Catania Airport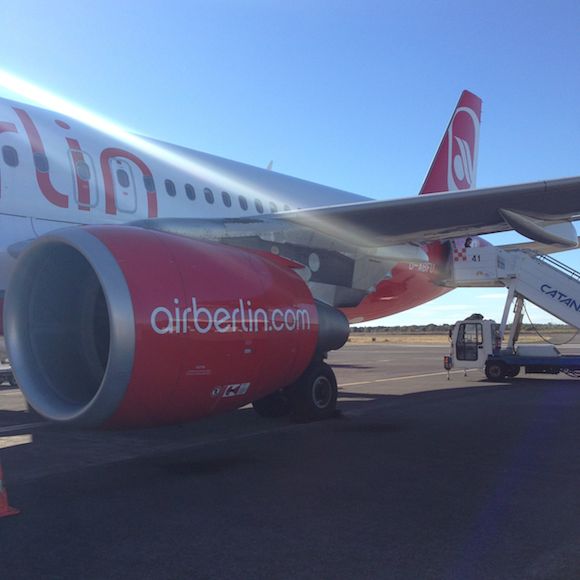 Airberlin A320 upon arrival
Bottom line
Airberlin is a perfectly pleasant way to get around Europe. It's by no means luxurious, but the employees are friendly and you can't beat the ease with which you can redeem points for last minute travel on them. Even though they might not be the most "full service" airline, I love when airlines like airberlin join an alliance, so you have additional benefits for travel on them that you didn't have before.