---
Delta 427
New York (JFK) – Los Angeles (LAX)
Sunday, April 12
Depart: 9:05PM
Arrive: 12:49AM (+1 day)
Duration: 6hr44min
Aircraft: Boeing 757
Seat: 2C (Delta One)
We boarded a bit late, around 8:50pm, and I turned left at the boarding door to enter the "Delta One" cabin of the 757, formerly known as BusinessElite (or just business class). The 757 cabin is particularly intimate, with 16 seats in a 2×2 configuration. Roughly half the JFK-LAX and JFK-SFO flights by Delta are operated on widebodies with direct aisle access, and the remainder are on the 757 fleet with the slightly staggered 2×2 seating.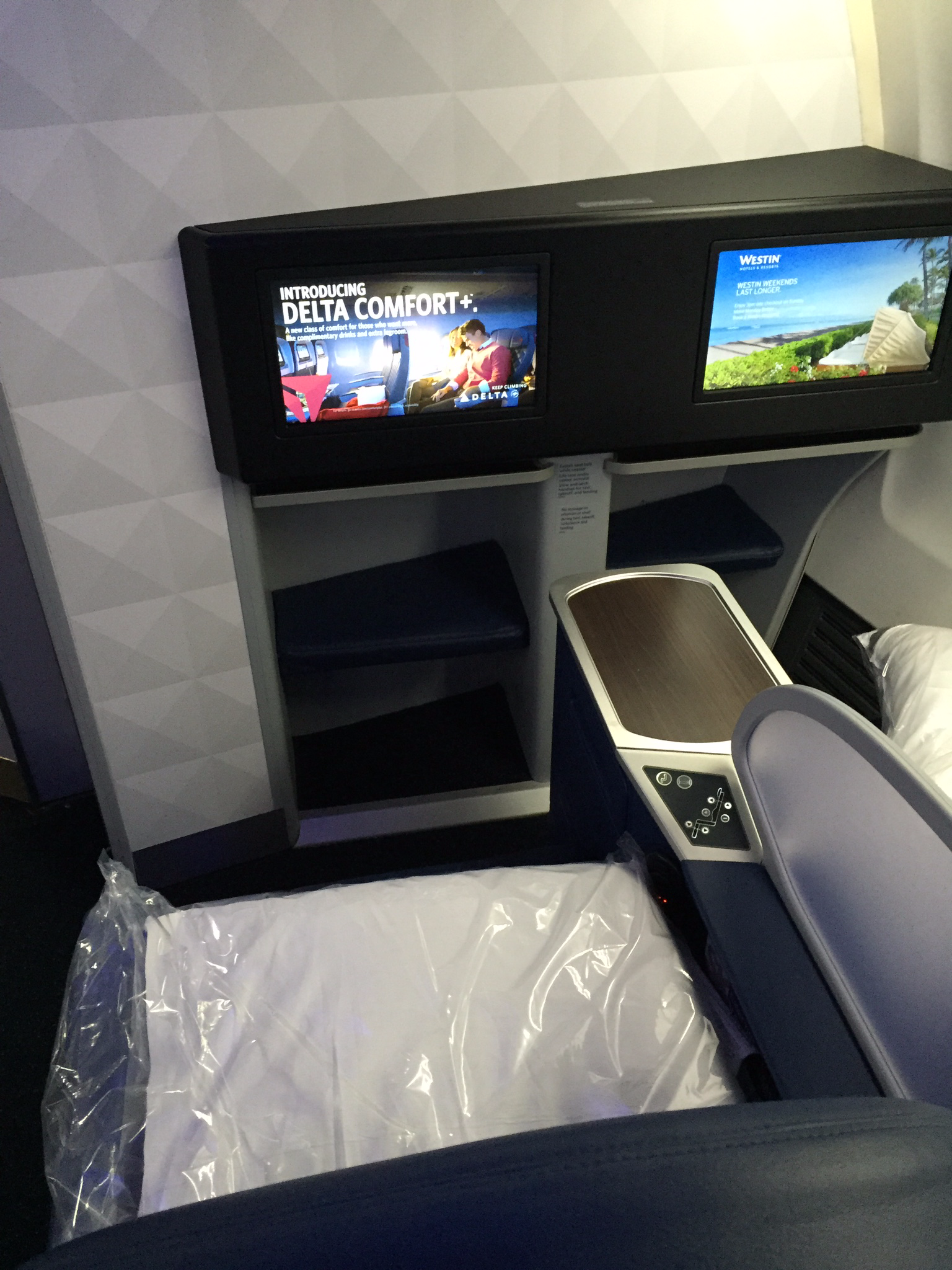 I took my seat, 2C (an aisle seat), on which was placed an enormous plastic-wrapped Westin Heavenly pillow as well as a considerably-sized Westin Heavenly comforter. Behind my headrest was a cubby with a power outlet and separate USB port, as well as a bottle of Dasani water and a set of noise-canceling headphones. The seat was quite comfortable (though not yet rebranded from "BusinessElite" to "Delta One") and I appreciated the large, high-definition seatback screen in front of me.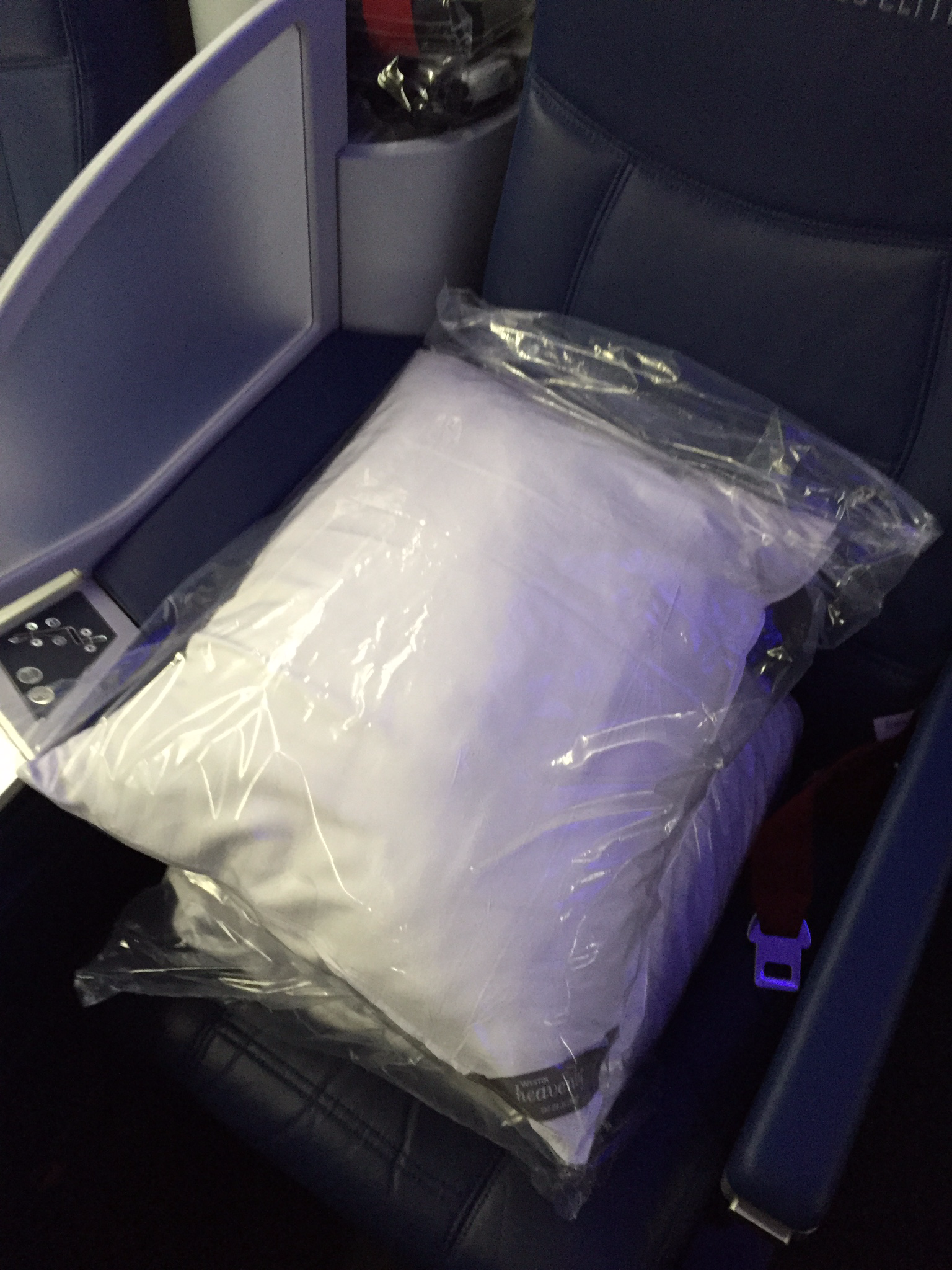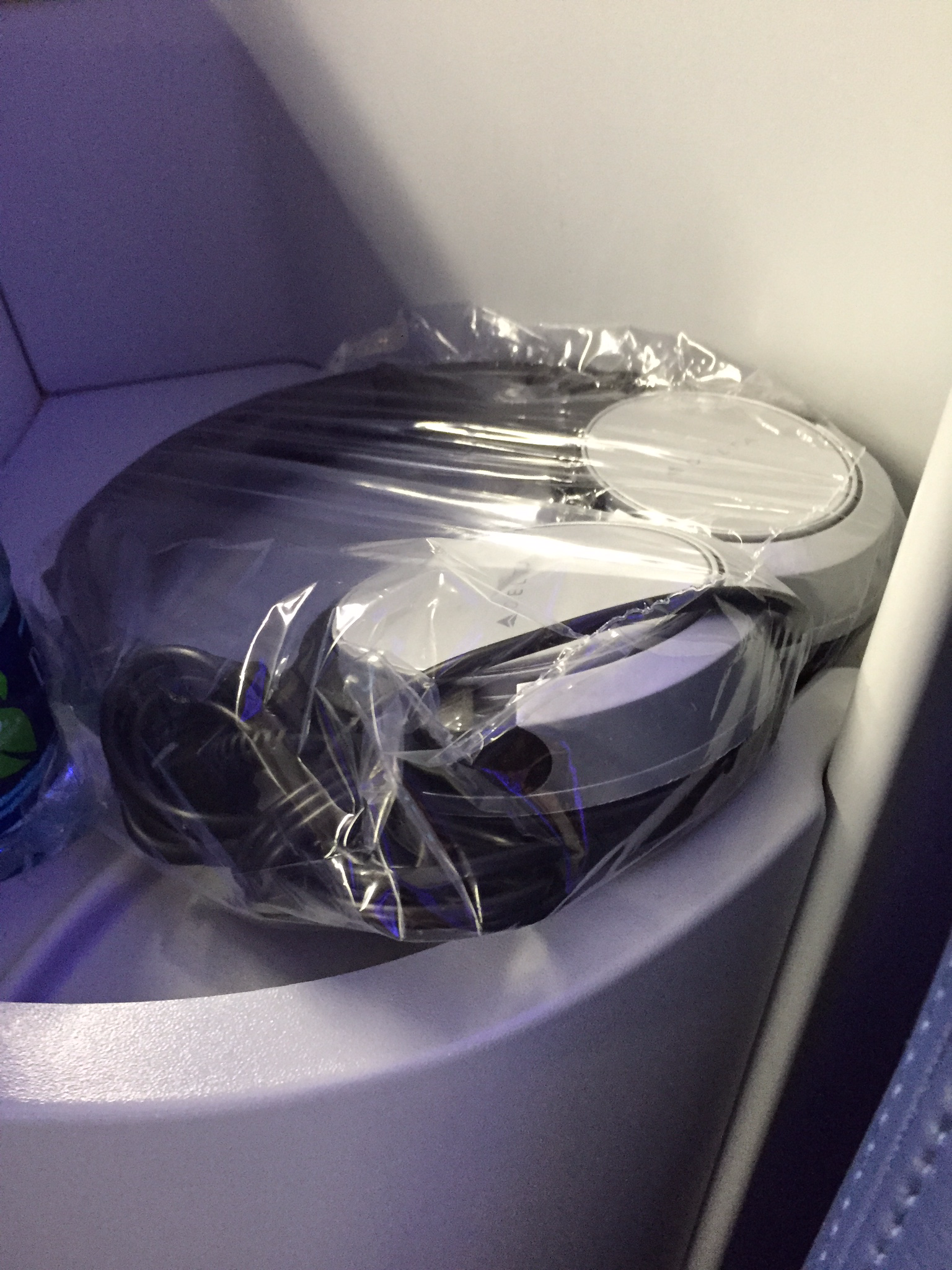 On my armrest was a Tumi-branded amenity kit, which was filled with practical goodies, including eyeglass cleansing wipes, dental floss, Crest toothpaste, a full-sized pen, and Malin and Goetz-branded lotions.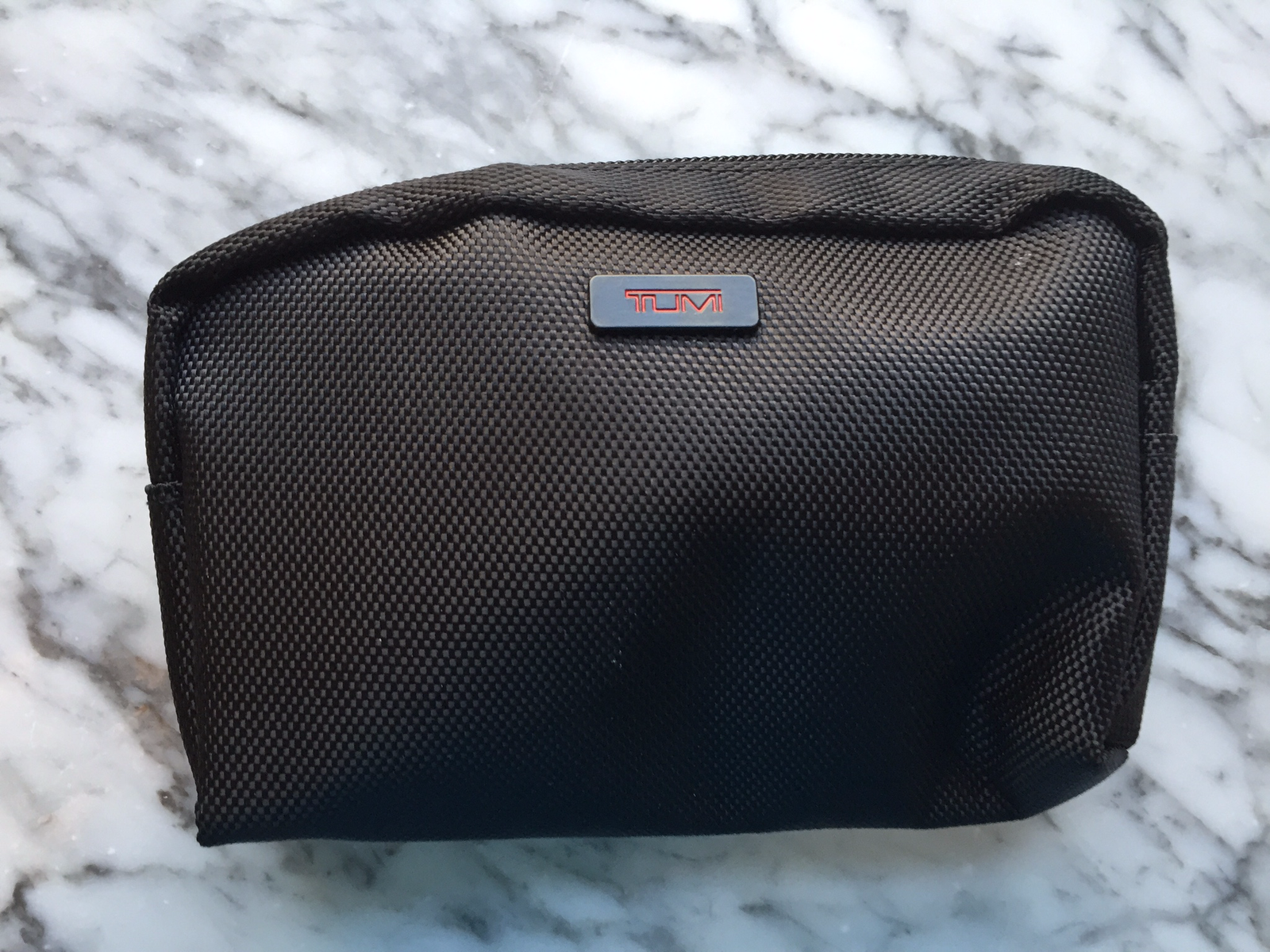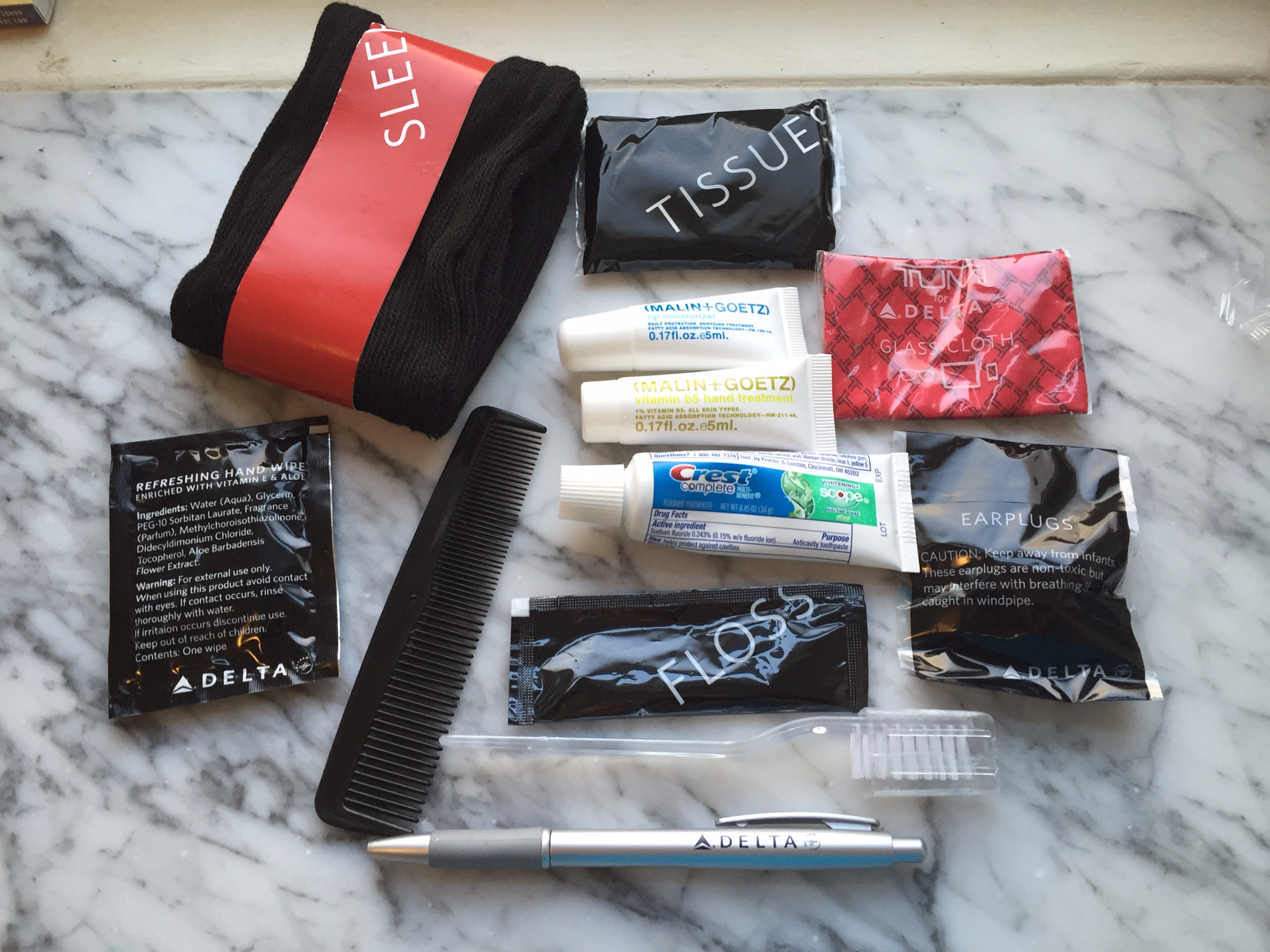 Prior to pushback, one of the flight attendants came by to offer sparkling wine or orange juice and packages of mixed nuts. I chose the sparkling wine, which was a cava from Spain.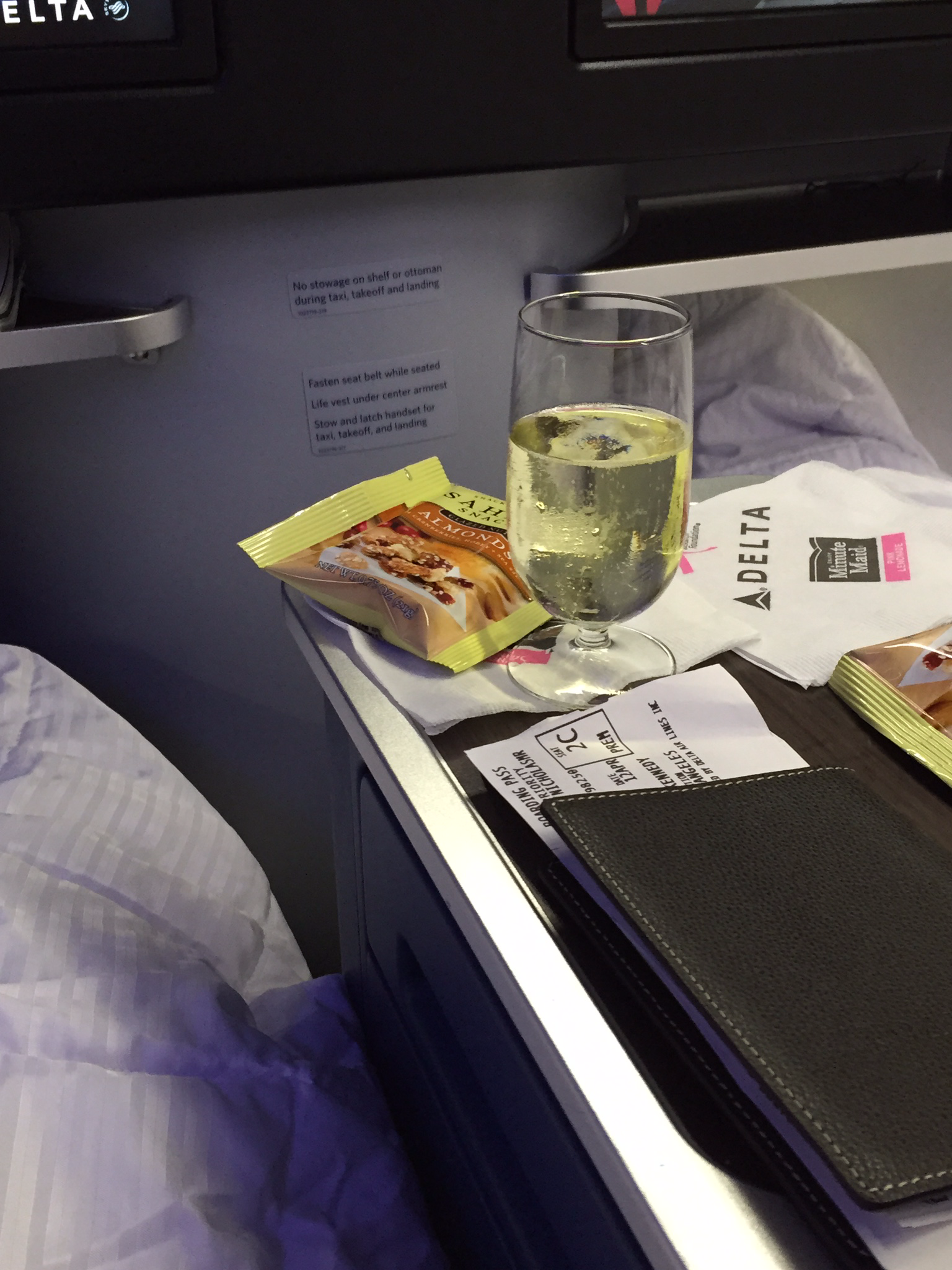 As I settled in with the bubbly, the captain came out from the flight deck to personally introduce himself to each of the Delta One passengers. I thought it was a nice touch, and he was extremely friendly, chatty and personable with each and every one of us, asking us about our destinations, where we were from, what we did for a living, etc. The flight attendants were also warm and friendly, but it really cemented the "warm welcome" feeling to get a sincere hello from the pilot.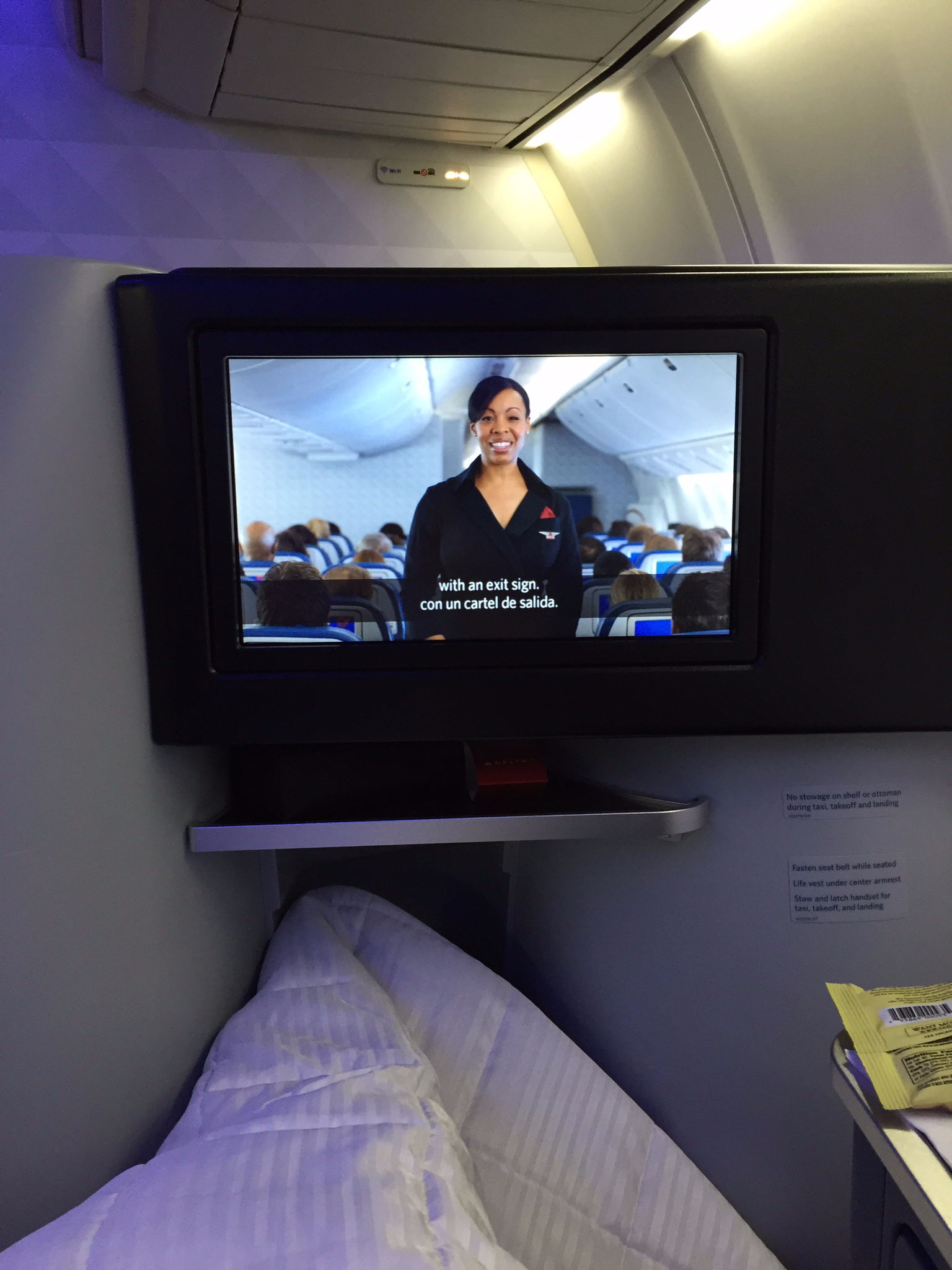 Menus featuring the new "Delta One" branding were passed out before pushoff. They were printed on recycled card stock, and looked handsome and elegant.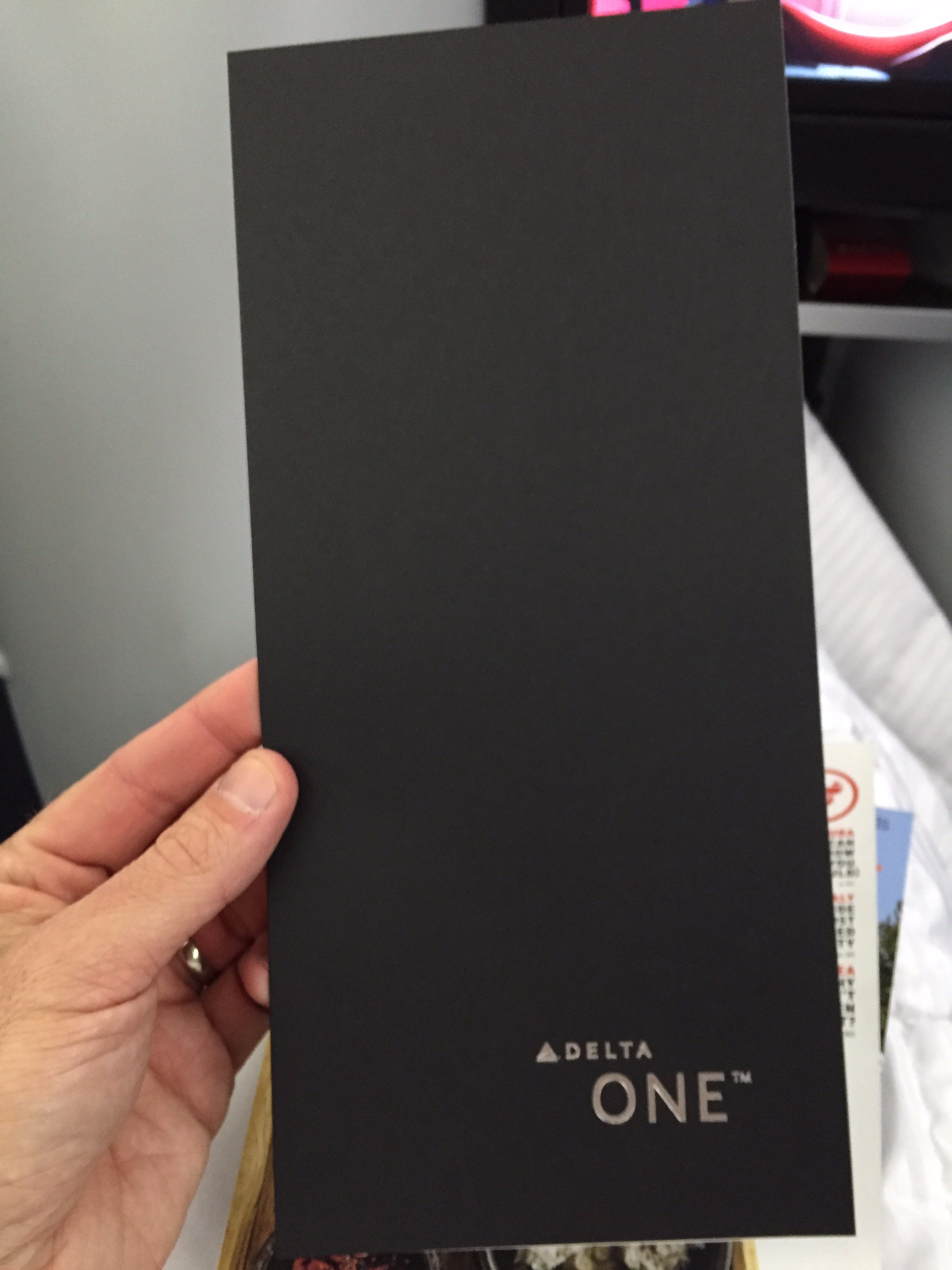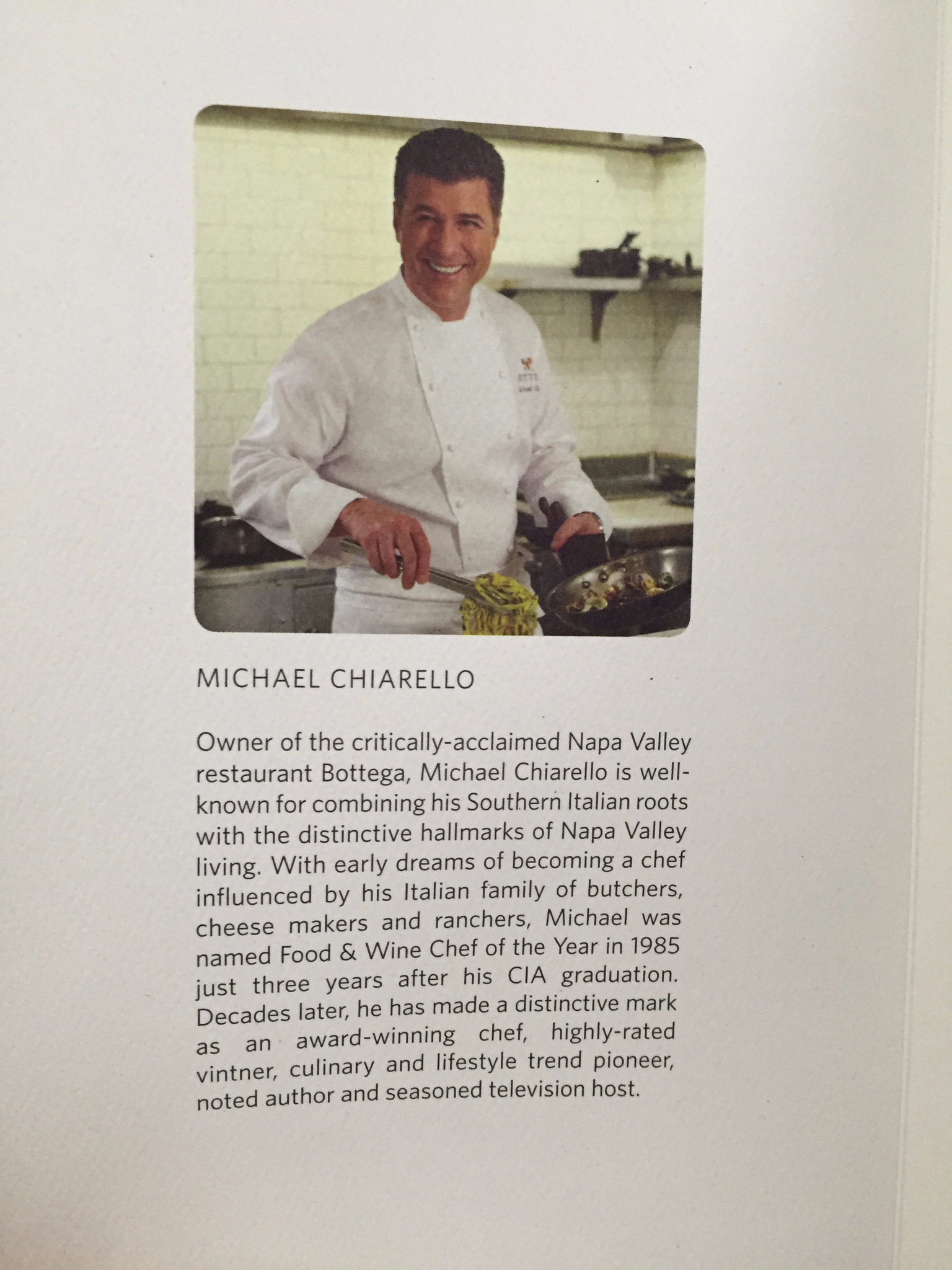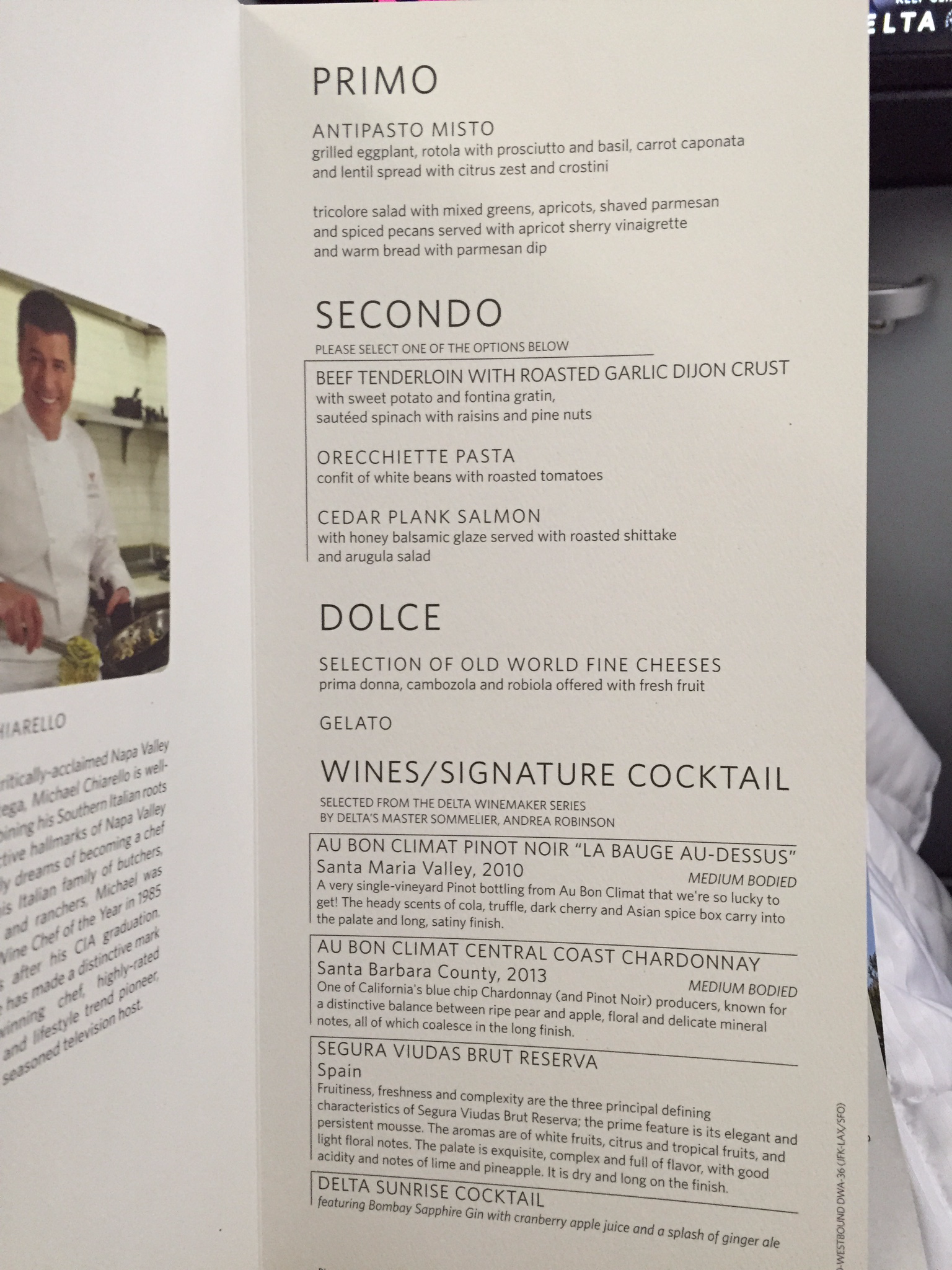 I thought the menu selection was impressive for a late night flight, especially considering that comparable airlines, such as American, don't even serve dinner after 8pm in their first class cabins (much less business class).
Very shortly after takeoff, the flight attendant set my table and I requested a glass of the Au Bon Climat Pinot Noir, which is actually a wine I'd had before and quite liked. It's a delicious red, and at $30 a bottle, a surprisingly premium selection for a domestic airline.
A minute or so later, he brought out an appetizer tray with a series of small plates, including a white parmesan spread with olive oil toast, a prosciutto and cheese roll-up, and a delicious walnut salad. It was beautifully presented.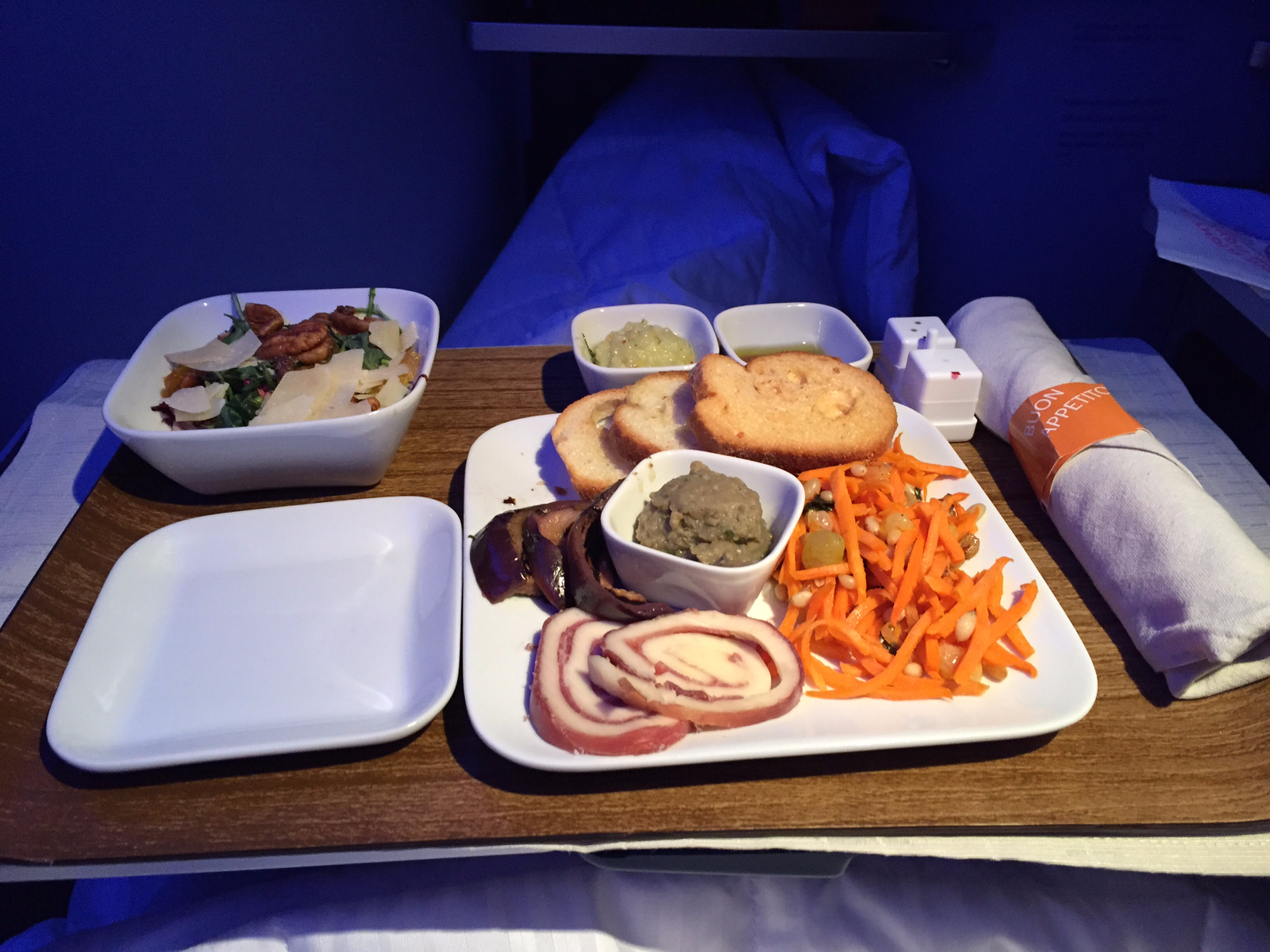 Following the first course, the flight attendant came by to take my dinner order. Although the beef tenderloin with garlic dijon crust sounded delicious, I wanted something a bit lighter, so I selected the cedar plank salmon.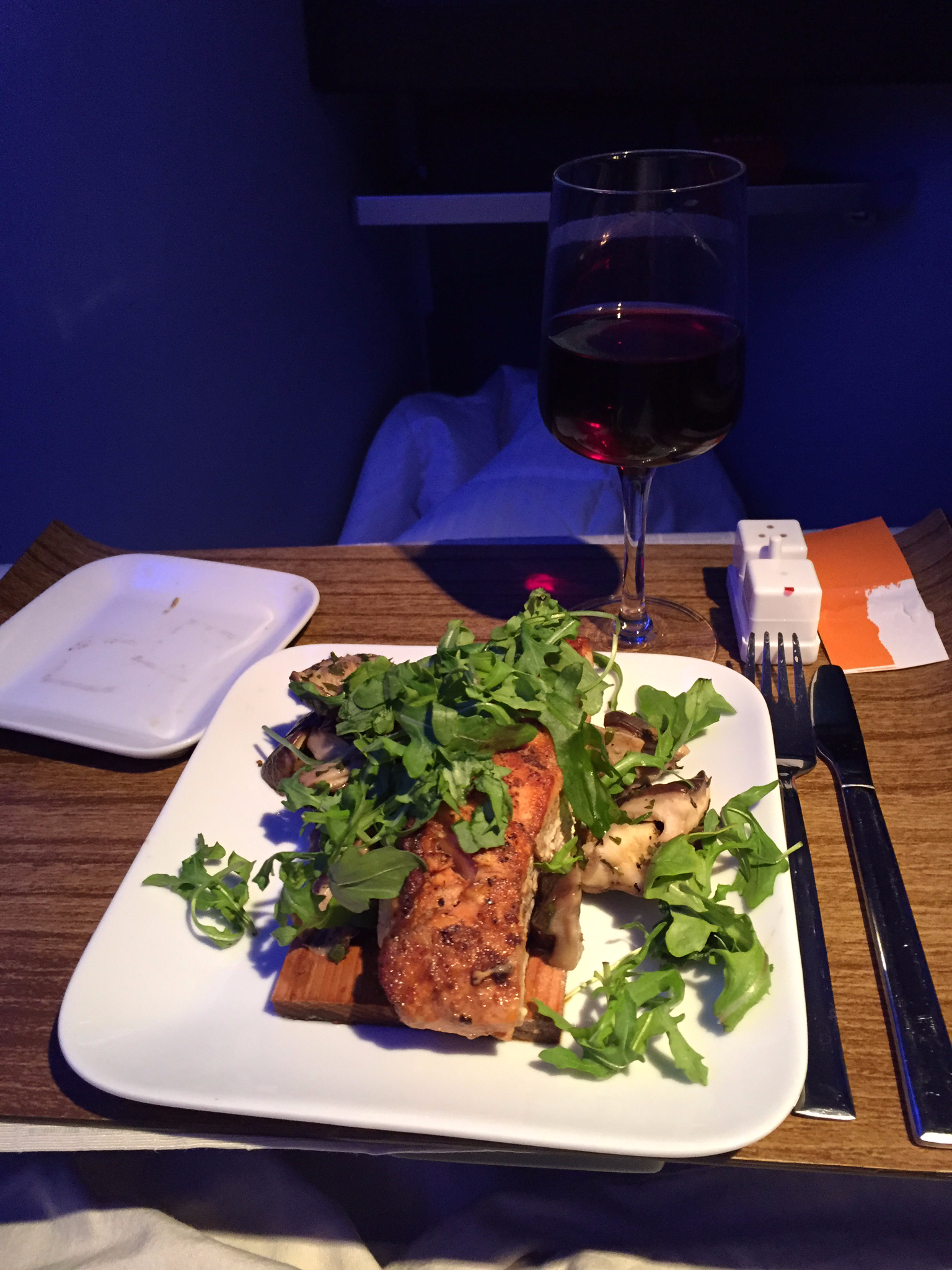 The salmon was restaurant-quality, topped with a peppery arugula and a side of hearty shiitake mushrooms. It's certainly the best looking dish I'd ever had on a domestic airplane before, and it tasted very, very good. (I find fish a little harder to pull of on planes than, say, red meat, but the cedar plank infused the salmon with a lot of flavor.)
Following the main course, I decided to watch a movie on the DeltaStudio inflight entertainment system, but I was hesitant to watch something new since I was exhausted and liable to fall asleep halfway through.
DeltaStudio has an extensive variety of TV and movie selections (including an Australian TV favorite, "Please Like Me," I discovered from a Delta flight last year), covering all the genres.
The horror genre was well represented.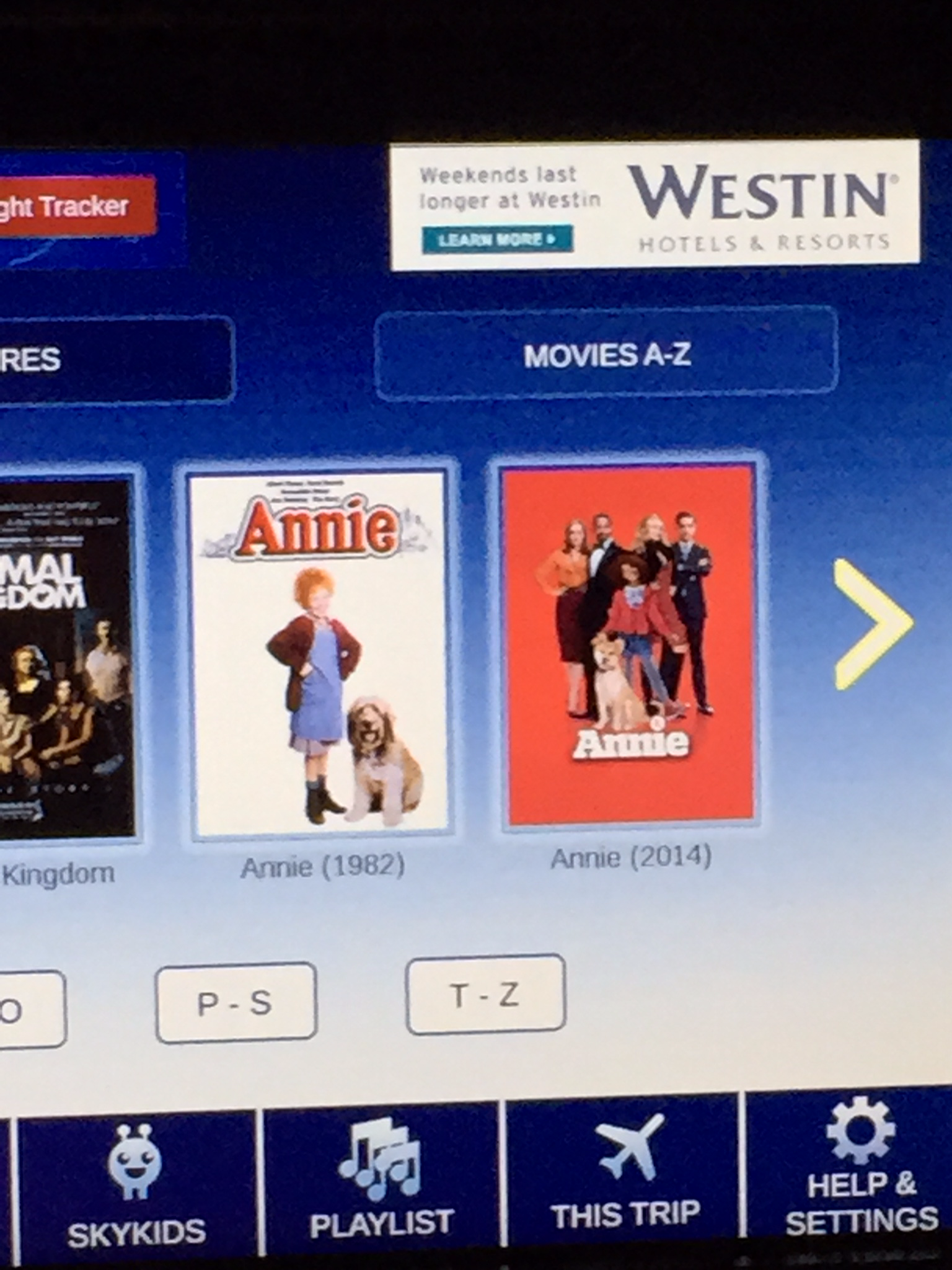 The thought of someone watching either, if not both, versions of Annie was nearly enough to make me sick to my stomach again, so I scrolled on through and decided to watch an old favorite, Erin Brockovich. I actually really enjoy watching older, seen-before movies inflight at night, because my attention can drift without me feeling guilty.
Almost immediately after the movie ended, I dozed off for a couple of hours, for nearly the remainder of our journey. My seatmate, too, was asleep for most of the flight. It should be noted that she got up a few times during the night to use the lavatory and I only noticed when I was awake, since the slight staggering of the seats meant that she could step over me without any disturbance on my part. It's not as ideal as all-aisle access (which Delta One offers pretty much exclusively on international flights), but the staggering lessened the feeling and the inconveniences of having a neighbor.
Just prior to landing, the flight attendants came by with a tray of mints, which I thought was a nice touch. Headwinds were light, so we landed a bit early, and were taxiing by 12:30am. At that point, I just wanted to get home as soon as possible, so I (and most everyone else) was grateful for the early arrival. Unfortunately, as we were towed in to the gate, we all got a firsthand glimpse at the supreme competence of LAX crew, as the jetway just sat there unattended for 20 minutes. I got to overhear some of the conversation between the ground crew and the flight deck, and it seemed like the jetway operator was either running late to work, or just wasn't otherwise reachable. Eventually, a disheveled and disgruntled woman strolled up to the jetway around 12:55am, rolled her eyes, and moved the bridge toward the aircraft door. Great work, LAX!
While we were at the gate but stuck, the captain once again came out to chat to each of the Delta One passengers, ensure we had a good flight, wish us a safe journey or trip home, and so forth. It really helped ease the tension and lighten the mood in an otherwise annoying situation.
Delta One Bottom Line
Ben will say I'm just a "Delta apologist," but my flight from JFK to LAX on Delta One exceeded every one of my already heightened expectations.
You could argue that the JetBlue Mint Suites or American's A321 First Class offer more private seats, but with JetBlue your inflight entertainment, catering and overall service are a notch lower. American's First Class doesn't even offer dinner service after 8pm, and if you're on a flight that does serve dinner, the food is underwhelming (not to mention, its First Class is a substantially higher-priced product that's not officially a comparable class to Delta One).
United's p.s. service, while undoubtedly the nicest domestic product United offers, has similar seats but inferior catering, bedding and generally inconsistent service, while Virgin America offers style, great service and a stellar IFE system but recliner seats and catering which are empirically not competitive.
I don't think there's any disputing that Delta offers the best food, drink, entertainment and bedding in the sky between New York and L.A. When you add the warm and personalized service and the little touches (the Tumi kit, welcome drinks served in glassware and not plastic, the packet of breath mints at the end), Delta One is pretty hard to beat. It certainly feels like a special service and light years beyond ordinary domestic first on any airline.
I'm going to say it: when all is said and done, and you factor in hard product and soft product, there is simply no better way save for a private jet to get between Los Angeles and New York than Delta One.
Ben/Lucky here… my thoughts?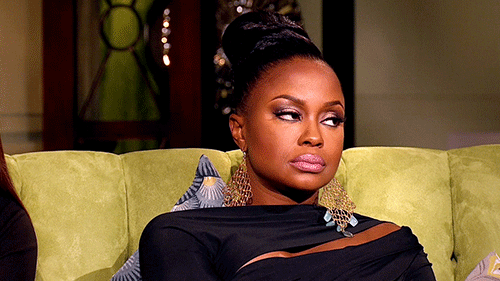 Stay tuned, I think it's time Nick and I have a bit of a debate on this topic, after all this Delta/SkyTeam apologizing he has been doing. 😉