---
While Ben, and many of his readers, are preparing for (in some cases, multiple) trips to Beijing from Washington in American Airlines business class thanks to that now-famous mistake fare, I suspect I'm not the only one among you who purchased tickets from LAX (or other West Coast gateways) to Madrid as a result of the great SkyTeam Fare War Sale of 2014.
I'd never been to Madrid before, so I was excited to spend a few days in a city known for its food, culture and history. I was traveling with a friend of mine, and when we initially looked into our hotel options, we noticed that some of the best options out there lacked rooms with two beds, and those hotels that did have twin beds (and I mean twin beds — rooms with two queen beds in Europe are rarer than, say, taste and understatement are in Dubai) were disproportionately expensive.
There is a distinct lack of internationally branded chain hotels in central Madrid, other than the InterContinental, a handful of "AC"-branded hotels which are part of Marriott's Autograph Collection and, notably, one of the grande dame hotels of the city, the Westin Palace Madrid. It's worth noting that hotels in Madrid are not as exorbitantly priced as hotels elsewhere in European cities, and with the Euro at historical lows, you can easily stay at a luxury hotel for under $250 a night.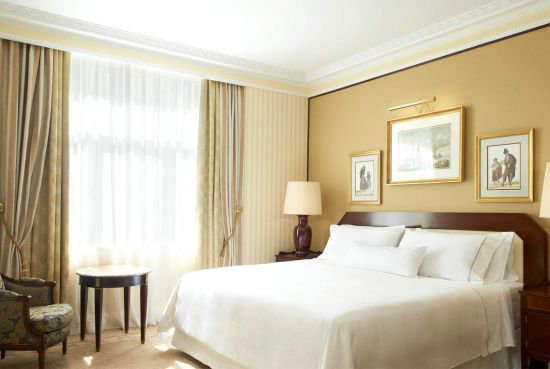 While the Westin offered rooms with two single beds, we ultimately decided that the location in the touristy museum district and the fussy, old-school decor of the hotel weren't our style for the trip.
I'm a Hyatt loyalist (though I do have membership in SPG), so with no Hyatts to be found, I didn't feel any particular need to stay in a hotel out of points, either on the redemption or the earning side. Madrid is in some ways the perfect city for people to step out of the hotel loyalty box.
A few other independent luxury hotels are new to Madrid and look sensational, like the quizzically-named Only You Hotel & Lounge (which, to boot, was a steal at under $150 a night), but in most cases these hotels didn't even offer two beds to a room.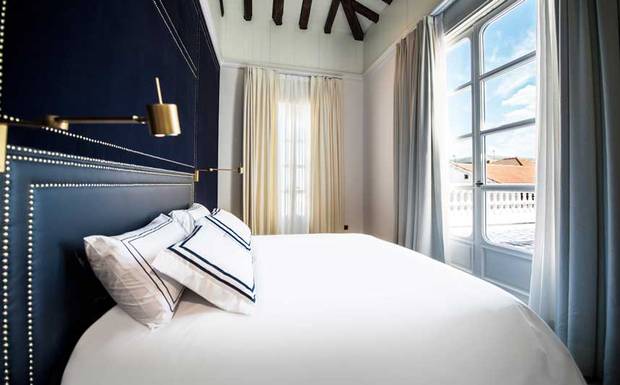 (Very recently, after we'd already booked an apartment instead of a hotel, the gorgeous, brand-spanking-new The Principal Madrid hit the hotel scene. If I go back, I'd consider staying there in a heartbeat.)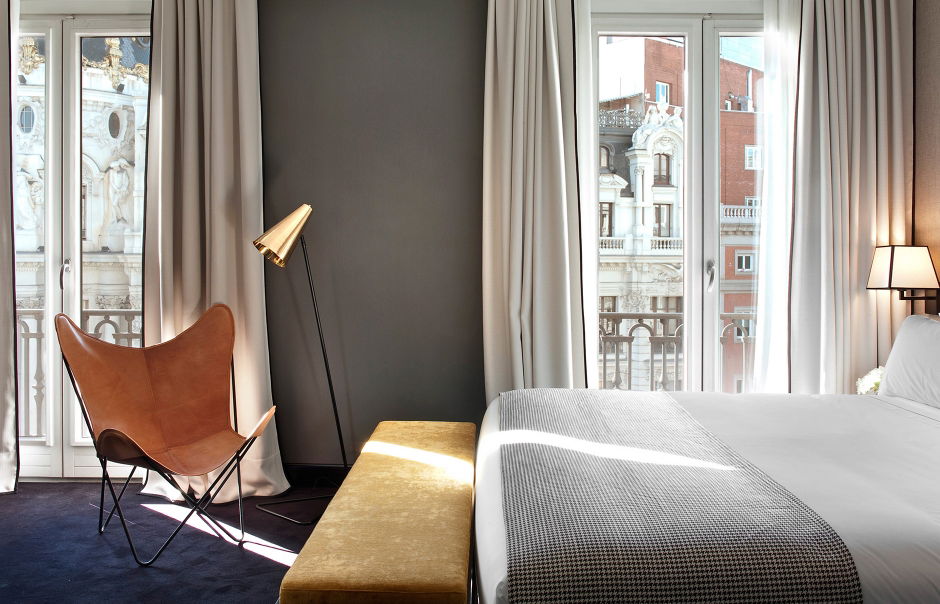 On a previous trip to Barcelona years ago, I shared a rental apartment with a friend and had a good experience, so I looked around online for apartment rentals in Madrid and was totally blown away.
In the U.S., you may be able to find a few well designed rental apartments in major cities, perhaps on Airbnb. But Europe is flush with stylish, large, and centrally located rental apartments aimed purely at the visitor trade. Though there are a number of rental agencies, we liked the options we saw through a rental agency called Letsroom.
Ultimately, we rented an incredible apartment with high ceilings, period detailing, beautiful balconies overlooking the Tribunal Supremo (Supreme Court of Spain), a stylish kitchen, and two big bedrooms with well-equipped bathrooms, for a total of €200 a night (or the equivalent of about $210 at current exchange rates), which was not just competitive with most hotel rooms, but would offer us a great deal more space as well as individual bedrooms.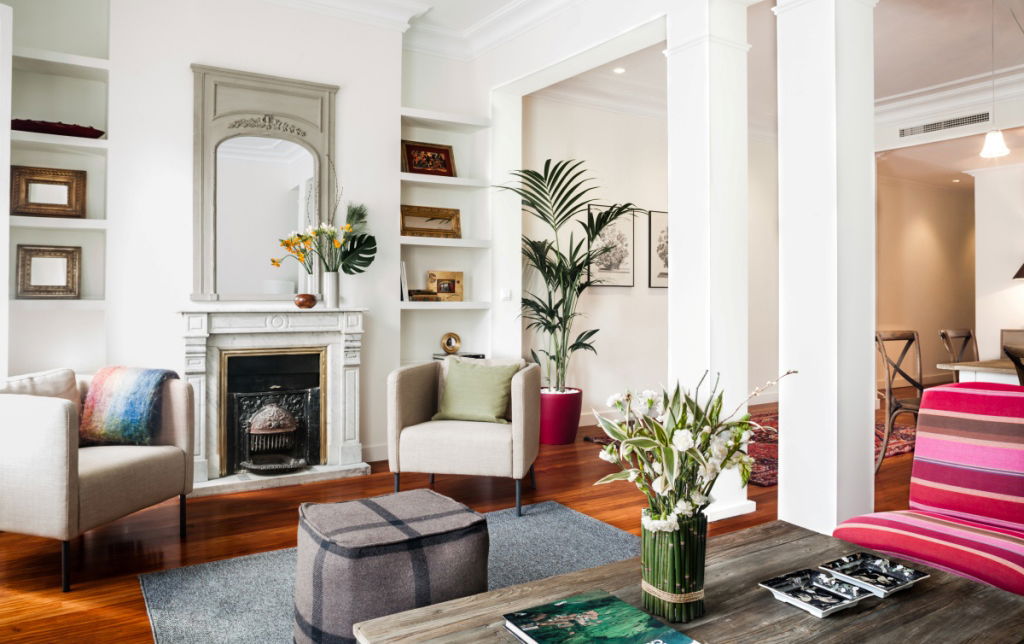 For us, the apartment worked out great, but there are some pros and cons of apartment rentals versus hotels you may want to consider before your next trip to Europe.
Pros
Bang for your buck (or Euro). Many very well-outfitted apartments can be had for a fraction of the price of a luxury hotel. Given that there are two- and three-bedroom luxury apartments regularly available for well under (and in some cases much well under), say, $350 or $400 a night in Madrid (and elsewhere), rental apartments can be the only practical option for a group of friends to stay under one roof without paying for multiple hotel rooms or an exorbitant multi-bedroom suite. Even if it's just you, or you and a mate, you might appreciate the extra space you'd get out of an apartment that you wouldn't in a cramped Euro-style hotel chamber.
Live like a local. Many European hotels, particularly those belonging to worldwide chains, are located in business or cultural districts. That can be fantastic if you're in a city for business purposes, or if you've come to a city only to see museums and department stores. For instance, the Westin Palace Madrid is directly across from the famed Prado museum, so if your goal is to bounce out the hotel door and into a tourist attraction, you're golden. However, I love exploring a city's vibrant neighborhoods, testing the pulse of local nightlife and eating in neighborhood restaurants, and many short-term rentals are located smack dab in the middle of the "fun" parts of town, as ours was.
Come and go as you please. Not that either of us were traveling anonymously or secretively, but it was lovely to be able to run errands, walk around, return to the apartment whenever we wanted, leave early for a morning walk or just hang out without interacting with staff, housekeeping, doormen, etc. every time. Of course I love a warm hotel staff as much as the next guy, but sometimes it's nice to be able to not worry about housekeeping waking you up.
It feels more like home. (Almost) everybody loves a hotel, but there are certain creature comforts in being at "home" that an apartment can provide. Our apartment was equipped with a washer/dryer and high speed internet that didn't involve typing a code every 24 hours. Our closet and storage space was enormous and we were able to unpack without feeling like we were living out of a suitcase. We stocked the fridge with beer and soda, made coffee every morning, and would come home with bread and cheese and wine for an early evening snack.
Cons
Lacks that hotel "feeling." One of my very favorite aspects of travel is staying in hotels, particularly ones that are imbued with a history, charm or luxury that are very "of the place." You just feel pampered when you're greeted at the door, when your bed is made twice a day, when you've a chocolate mint on your pillow. At an apartment, you're pretty much on your own (though the agencies will provide extra services upon request).
Toiletries? This is a minor issue as far as things go, but we'd somehow assumed that the apartment would be stocked with shampoo, conditioner, body soap, etc. (as rentals sometimes are in the United States). Our apartment was not. It wasn't a big deal to run out to the drugstore and pick some basics up, but there's something so reliable about never needing to pack those basics when you stay at a hotel.
Hotels have insider knowledge. A hotel concierge is one of my favorite resources in any new city. They can not just make dinner reservations and provide you with maps, but they are an important link to the city, and are filled with tips and advice that can prove invaluable when you are foreigner wandering around in a strange new place. If you don't have local contacts otherwise, renting an apartment can leave you without that peace of mind. However, if you're good to go with a guidebook or some blog recommendations, then you might not miss a concierge at all.
No onsite restaurant or bar. Not a huge deal for me, but sometimes one of the great pleasures in staying at a hotel is a pre-dinner cocktail at a lobby bar or a lavish hotel breakfast. You can certainly walk out your apartment door and find a nearby bar or bakery to fill that void, but if you value the immediacy of food and drink (and room service) then an apartment may not be for you.
No points! Ben may ban me from this blog forever if I don't point out the obvious — that you can't (yet!) earn points from staying at rental apartments and you can't (yet!) redeem them for aspirational stays. Very true! But given the runaway success of companies like Airbnb, I wouldn't be surprised at all if Airbnb started a loyalty program at some point.
Bottom Line
You may be a regular reader of Ben's blog because you're a hotel nut, but if like me you're "hotel neutral," but simply accustomed to staying in hotels as a matter of course, it may be worth looking into rental apartments in certain situations, in particular when traveling with friends (especially with multiple friends), staying in cities without good options in the Hyatt, Starwood or Hilton universes, or staying in places (such as ski resorts, for instance) where the price differential between an apartment/condo rental and a hotel is enormous (e.g., luxury ski hotels can easily run $1,300++ a night for even a basic room, whereas ski condos can rent for $400/night just next door).
As for me, I loved our apartment in Madrid, which I thought was perfectly located, extremely comfortable (seriously, with beds to rival a Four Seasons), nicely decorated and an absolute bargain.