Delta, which is no doubt the greatest "innovator" of any US legacy carrier, put out a press release yesterday entitled "Delta Redefines Cabin, Upgrades Premium Economy Options."
Delta is taking the whole "redefining" thing pretty literally, because they're simply renaming BusinessElite (Delta's international business class product) as Delta One, and renaming Economy Comfort (which offers a few extra inches of legroom in the first few rows of economy) as Comfort+. Oh, and they're changing seat covers. Apparently we're supposed to be excited about that?
Here's a video outlining the new cabins:
https://www.youtube.com/watch?v=wL6vjaRckNM
Starting March 1, 2015, Delta customers can choose between:

Delta One, formerly BusinessElite, is offered on long-haul international routes; also between New York-JFK and

Los Angeles

or

San Francisco

*
First Class is offered on short-haul international and domestic routes**
Delta Comfort+ offers an upgraded experience on all two cabin aircraft around the world
Main Cabin experience is provided everywhere Delta flies offering a high standard of customer service
Basic Economy offers Main Cabin service with fewer flexibility options available in select markets.

Newly designed Delta One, First Class and Delta Comfort+ seat covers will be installed on aircraft through mid-2015.
Here's their chart explaining the "new" cabins: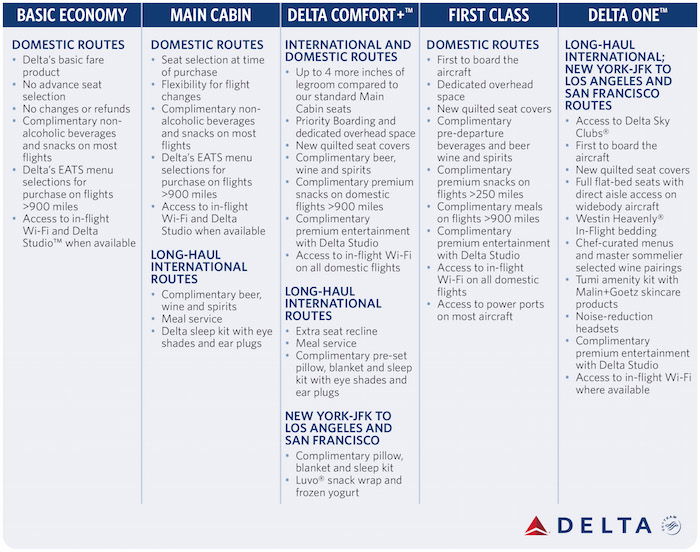 The only service change here is that those in Comfort+ receive "complimentary beer, wine and spirits," and "complimentary premium snacks on domestic flights >900 miles." Sounds nice, right? Well, until a couple of days ago Delta gave Gold Medallion members seated in economy a drink voucher at check-in, which they could use regardless of whether they were in Main Cabin or Economy Comfort. So for elite members this isn't really an improvement.
Beyond that, As of March 1, 2015, Gold Medallion members will no longer receive access to Economy Comfort/Comfort+ seating until 72 hours before departure:
SkyMiles Diamond and Platinum Medallion members will continue to enjoy complimentary upgrade eligibility to First Class and will also receive complimentary access to Delta Comfort+ seats at booking. On March 1, 2015, Gold and Silver Medallion members will continue to enjoy complimentary upgrade eligibility to First Class as well as complimentary access to Delta Comfort+ seats starting 72 hours and 24 hours prior to departure, respectively.
So Diamond and Platinum Medallion members can continue to select Comfort+ seats in advance for free, Gold Medallion members can select those seats 72 hours out, and Silver Medallion members can select them 24 hours out.
Bottom line
Delta is brilliant at marketing. We're seeing a marginal improvement of their extra legroom economy offering here, but that's the only change. That's coming at the expense of Gold Medallion members getting access to those seats in advance.