---
Air Europa 1098
Amsterdam (AMS) – Madrid (MAD)
Wednesday, April 8
Depart: 11:05AM
Arrive: 1:35PM
Duration: 2hr30min
Aircraft: Boeing 737
Seat: 1F (Club Business)
Our flight to Madrid from Amsterdam was delayed by nearly two hours due to industrial strikes in France, which seem to be about as reliable a source of delay in Europe as snow is to O'Hare or fog is to SFO.
At the end of the jetway just before the boarding door was a selection of newspapers and magazines, so I grabbed an International New York Times and headed into the business class cabin, which, as you undoubtedly know by now from Ben's numerous intra-Europe trip reports, is really just a row of three standard economy seats with a blocked middle seat. In this case, the blocked middle seat served as an armrest and drink holder, and the seats themselves were leather, and perfectly comfortable.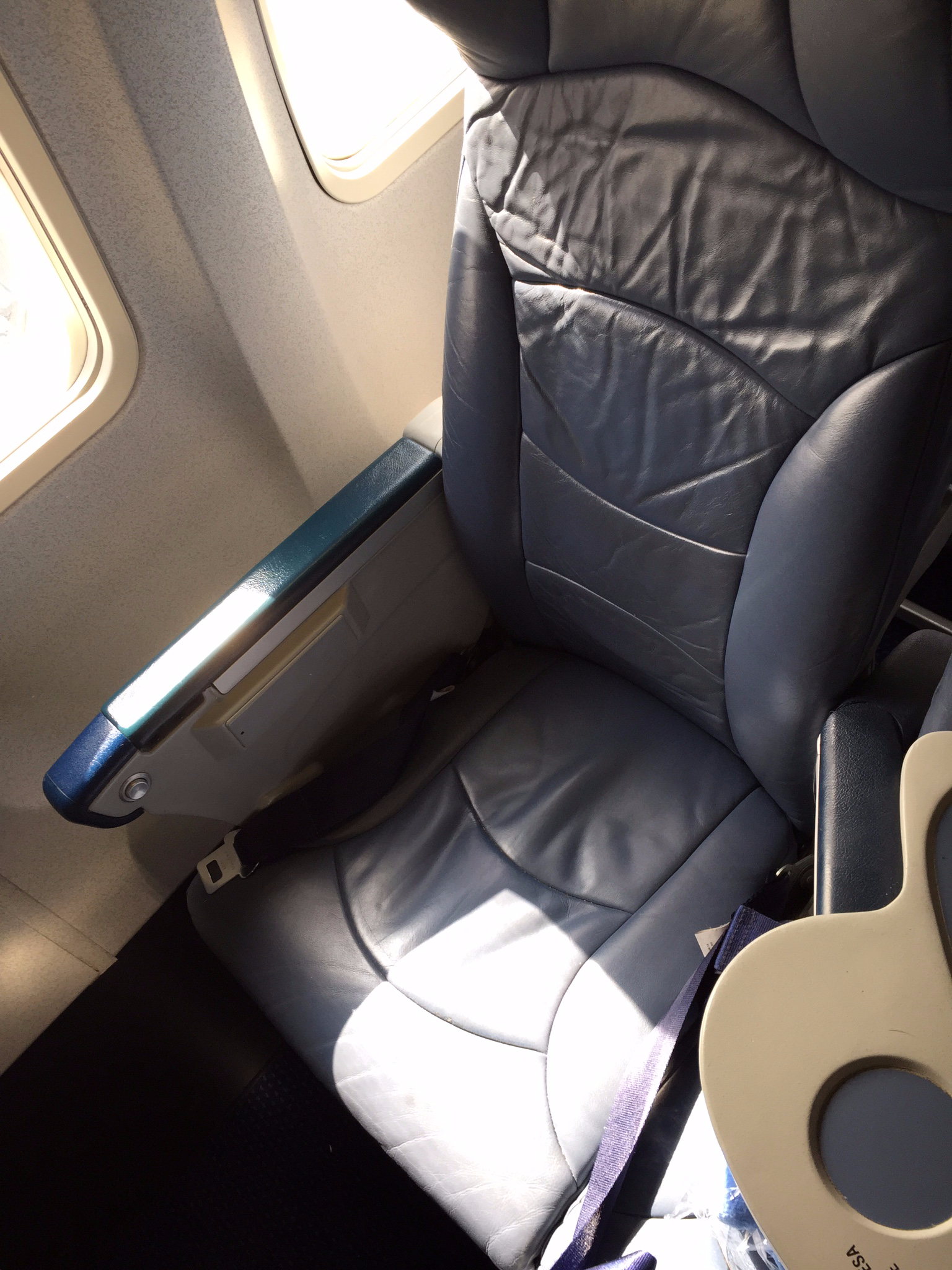 My friend and I were the only passengers in the business class cabin, and the flight attendant was absolutely delightful. I had no idea what to expect from Air Europa, other than not to expect much, but he was on the younger side and clearly eager to practice his English, so he joked around with us quite a bit and it was quite enjoyable.
He offered refreshments and I chose a beer. Their selection of beer was limited to Corona (which I thought was an odd choice within Europe, but hey) and Mahou, a local Madrid beer. I chose the Mahou beer and quite enjoyed it.
Eventually, he came by with a tray of… something resembling lunch. Now, I'm looking back over my notes, and I see no photos of it on my camera, so I apologize in advance for this, but your take-away should be this: you'll be fed on Air Europa, and it will be extremely basic (I think it was bread and some ham, or maybe I just assume it was ham, since everything in Spain has ham in it, even probably the Kosher meals at the local Chabad in Sevilla). I think the food was actually classified as a snack, but it was presented on a tray, and it wasn't actively bad.
The flight was otherwise uneventful, but I was surprised at what an "also-ran" airline Air Europa feels like. I know Air Europa is one of the main SkyTeam partners within Europe, but they are worlds behind Air France and KLM in just about everything. I mean, they're basically the Cambodia Angkor Airways of Western Europe. It's not that the flight attendant was not warm and friendly (he was awesome!) or that we didn't get where we were going safely (we did), but everything about the plane and the airline seems a bit unpolished.
I mean, check out the in-flight magazine…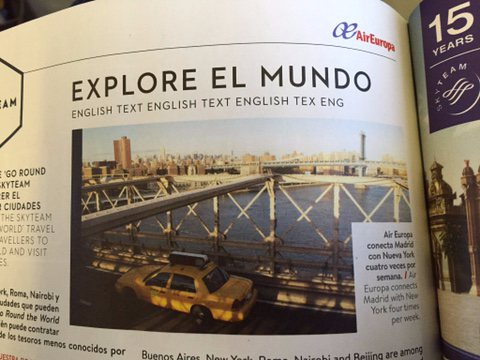 What's more, the Air Europa/SkyTeam terminal at Madrid Barajas Airport feels very much the red-headed stepchild compared to the much larger (and presumably more amenity-filled) Iberia terminal. I understand that Madrid is a dual hub for both Iberia and Air Europa, but the fact that Air Europa is the second banana to Iberia is just sort of sad all-around. I haven't flown Iberia, but I've heard it described as something akin to the "Amtrak of the Skies."
Spain has a checkered past with its airline industry, with the defunct Star Alliance partner Spanair now a recent memory, mismanaged into oblivion. The Spanish government has built two ghost airports, one of which was partially the subject of a 2013 Almodóvar movie, I'm So Excited, which satirized the corruption and less-than-stellar competence of the Spanish aviation industry in general. (But don't watch that movie on my account — it's one of Almodóvar's worst.)
Air Europa Club Business Bottom Line
Look, Emirates it ain't. But Air Europa is an essential SkyTeam partner on flights to/from Spain and other SkyTeam hubs in Europe like Amsterdam, Rome, Paris and London, and may well be unavoidable if you're building an itinerary on KLM, Air France or Alitalia with Madrid as your ultimate destination. Luckily, Air Europa's intra-Europe flights are relatively short, and the service is perfectly genial. Would I fly Air Europa from New York or Miami to Madrid? Not in a million years. (I also wouldn't fly Iberia on those routes, let alone from Los Angeles, for that matter.) However, I had no issues whatsoever with my flight from Amsterdam to Madrid, and while the airline is "unpolished," in got me there safely and in friendly hands, which is all I could ask for.