---
Having had a harrowing experience on my flight from Madrid, I was desperate to land on solid ground and head to an Air France business class lounge for a bit of rest before my next flight.
I just wanted solid ground.
Upon deplaning, I noticed my connecting flight to New York was leaving from Terminal 2E, Gate M49, and we had arrived into terminal 2F. Now, in most airports, you'd think, "oh, Terminal 2E and 2F must be right next door to each other."
Not at Charles de Gaulle!
Now, I'd known that Terminal 2E was sprawling and not particularly close to Terminal 2F, and that the whole concept of "Terminal 2" was really a universe of multiple terminals located a mile from another complex of terminals comprising "Terminal 1." But what I didn't know was that the "M" gates of Terminal 2E aren't connected to the "K" gates or the "L" gates. They're all separate buildings with various methods of getting from one to the other.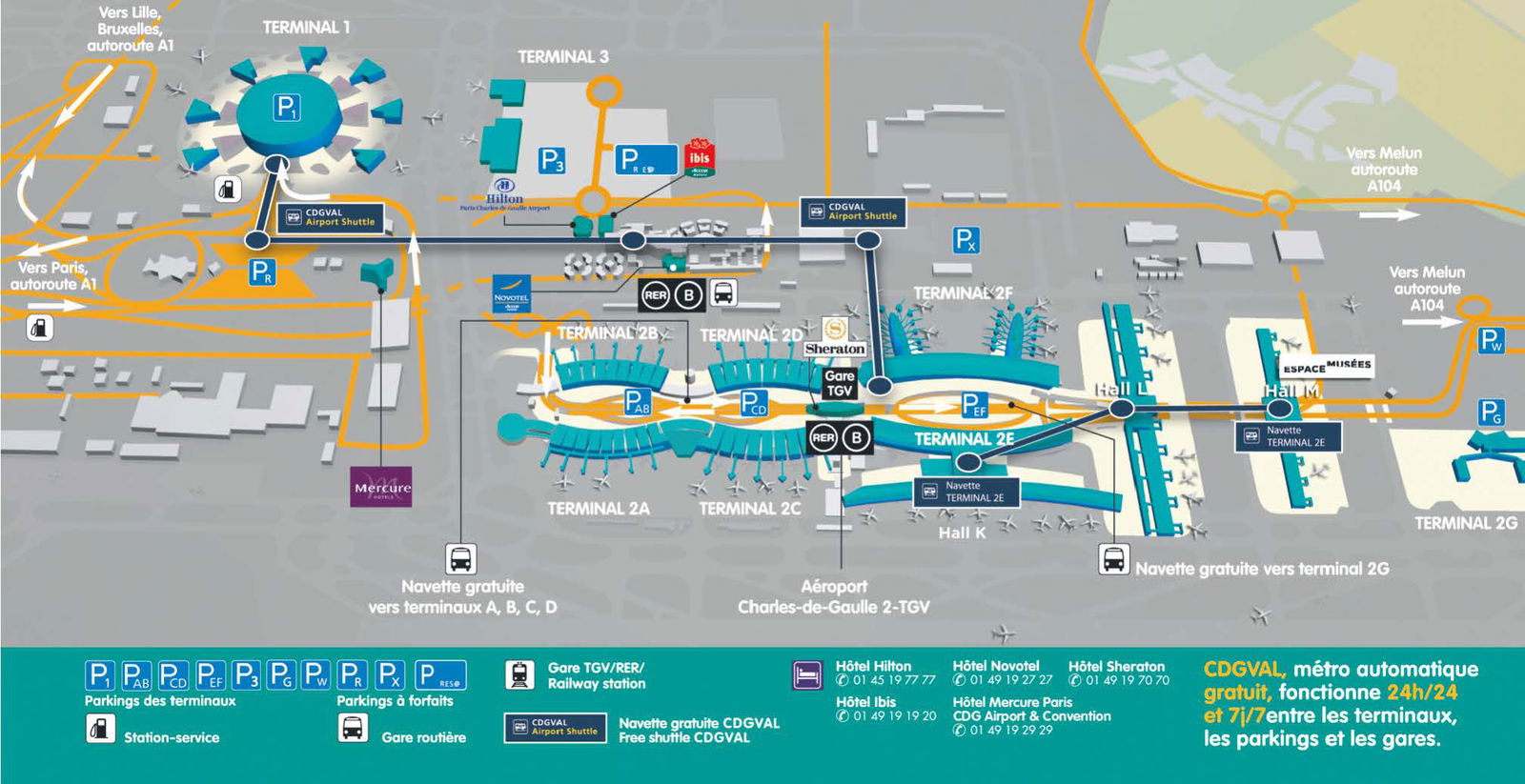 So, feeling queasy anyway, I walked and walked and walked, went through a random passport control check, and kept walking, following the signed for Terminal 2E, "Portes M." Kept walking.
And walking.
(And wanting to just sit down somewhere since my nausea was still in full force.)
And finally, followed an escalator down to a waiting area where I realized: the only way to get to the M Gates from Terminal 2F is by shuttle bus. By a rickety, fume-y shuttle bus.
"Excusez-moi, monsieur," I asked the nearest employee as sweat drenched from my pale face. "But is the shuttle bus the only way of getting to the M Gates? Is there any other way?" (I asked that in French, by the way, but I'll spare you the pretension of writing it out that way.)
"Non. La navette seulement."
So I endured a bumpy, diesel fumed shuttle bus ride that curved around every which way until finally, it dumped me off at the M Gates. I rushed out in desperate search for the lounge.
The M Gates are a beautiful, airy hall, by the way, filled with too many luxury boutiques and high-end eateries to count.
I quickly found the Business Class Lounge (Salon d'Affaires) and entered. It's worth noting there's a Clarins spa in the lounge, but that it unfortunately closes at 1:30PM. I wandered around and found the "relaxation area," with chaise lounges, but I did not find the relaxation area particularly relaxing (at least in my then-current state) or private, although it was airy and well-lit, with touches of artificial "landscaping" that were quite pleasant.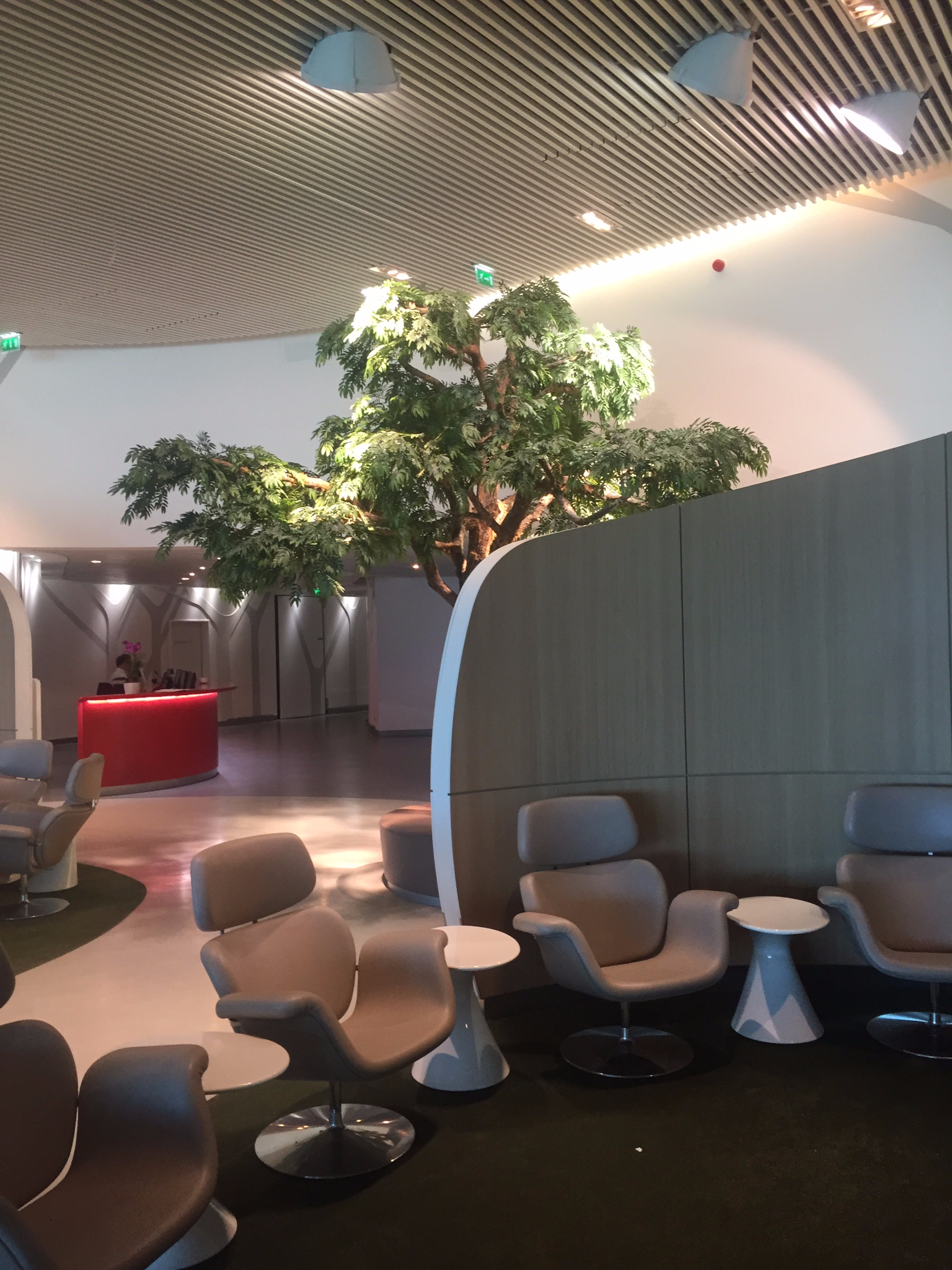 No matter, because almost as soon as I reclined, I felt a powerful wave of nausea kick in and I hightailed it to the restrooms. Once I had involuntarily emptied myself of every piece of Serrano ham I'd eaten in all of Spain, I decided to use the shower rooms.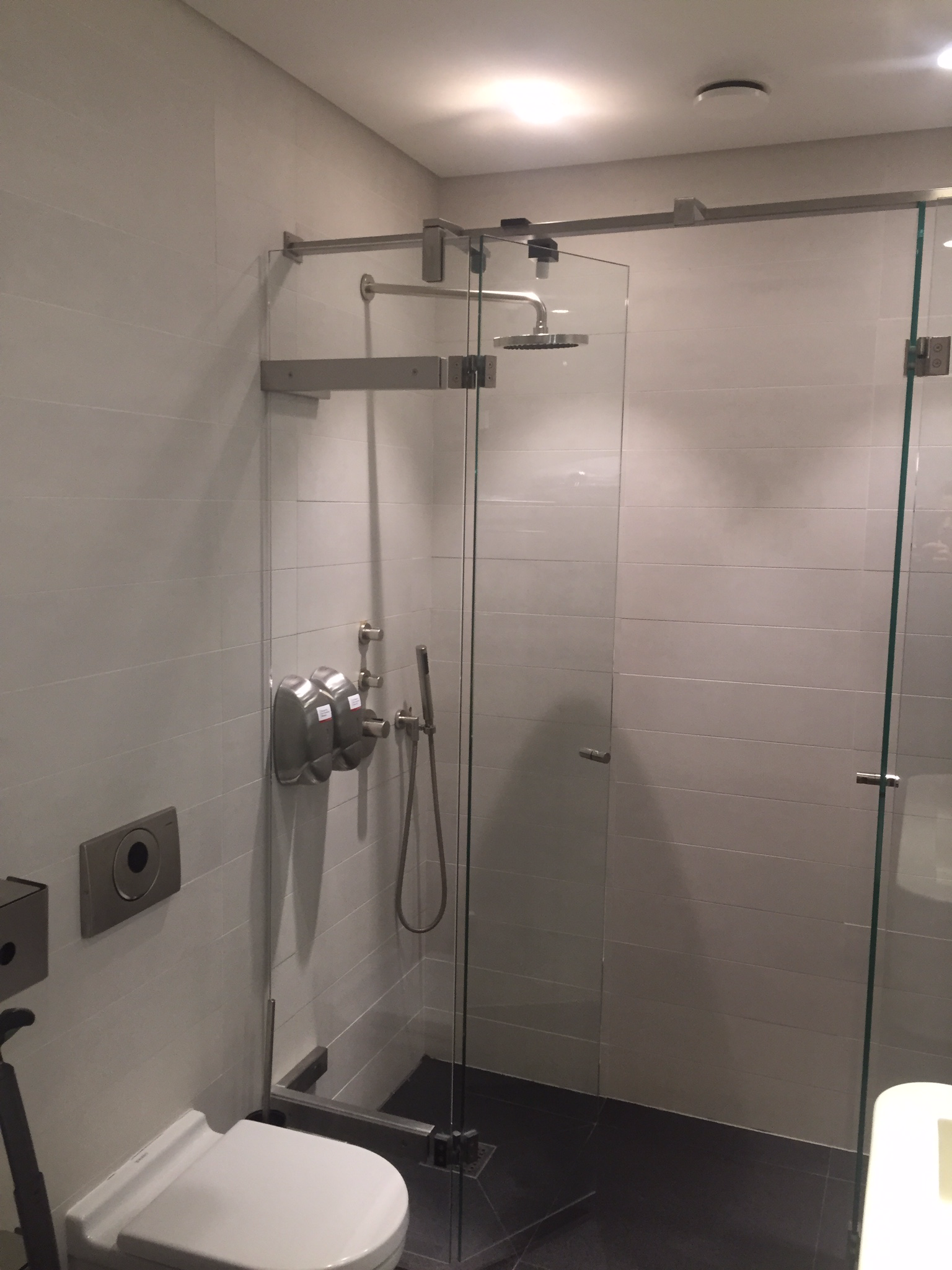 The shower rooms are located behind the Clarins spa, and are basic (though I appreciated the hair dryer), but a cold shower made me feel a bit better than I had beforehand.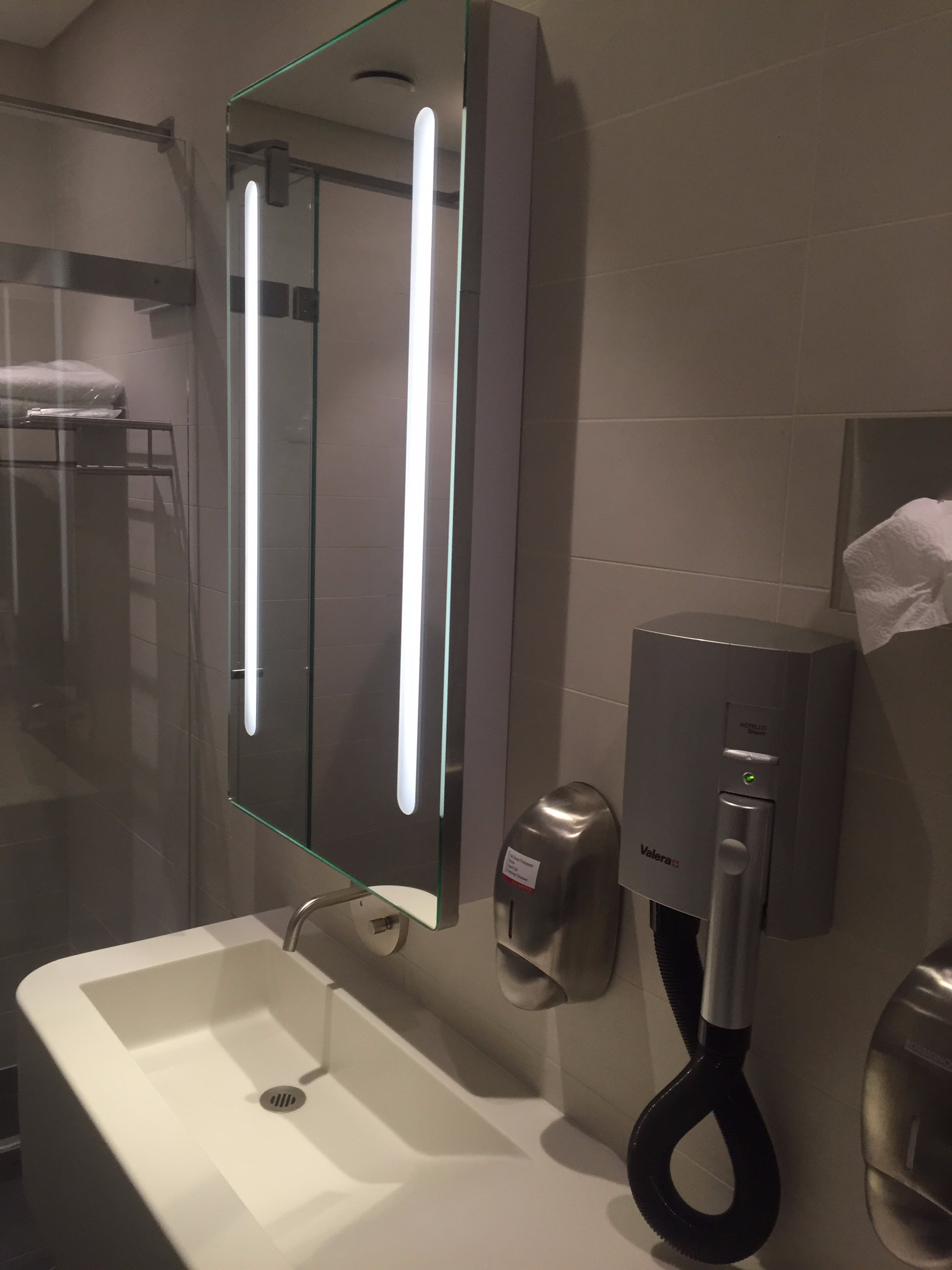 The lounge was fairly empty. Interestingly, there were only two flights departing from the "M" Gates for the entire rest of the day (and note that it was only mid-afternoon) — our flight to New York and another flight to Ouagadagou, Burkina Faso. Needless to say, you could generally tell pretty quickly who in the lounge was headed to JFK and who was headed to Burkina Faso, typically by how loudly they talked and pointed at things (and by that, I'm referring to the New Yorkers).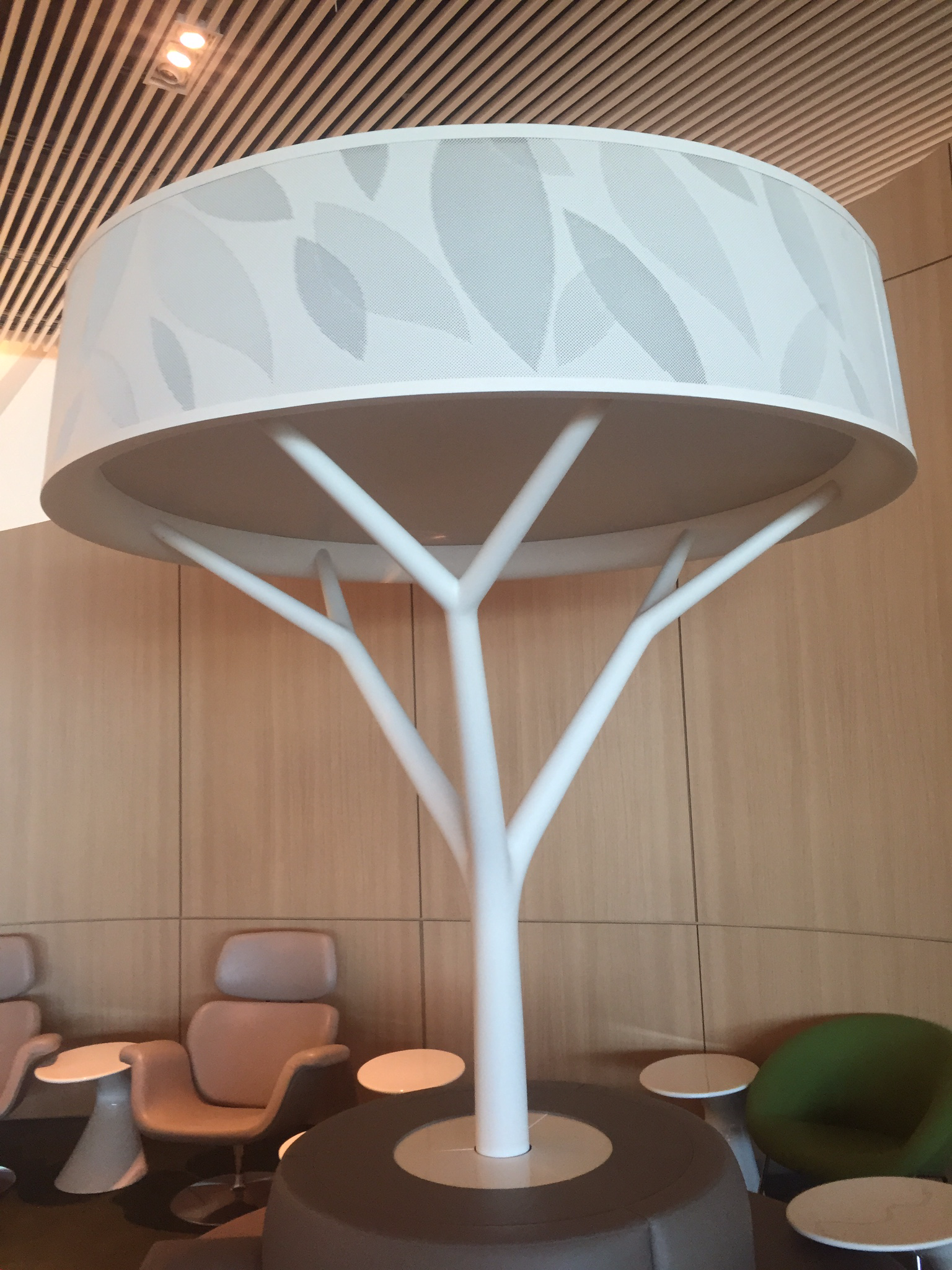 I'm really not quite sure I get how CDG's operations work. The hall containing the M Gates is massive, with at least two dozen gates and thirty or forty restaurants, stores, newsstands, etc. And yet the entire building was open for business for two flights. It would seem to make a lot more sense for Air France to consolidate its operations around a few gate areas and leave the (inconveniently-located) satellite gates for overflow as needed.
I wandered around to check out the food and beverage area of the lounge for the sake of you dear readers, since my appetite was still hours from returning.
Because of the mid-afternoon timing and the lack of outbound flights, the food offerings were relatively spare. They seemed to consist of breads, cheeses, fruit, and the like, but to be honest I didn't want to really inspect the area too much since the sight of food alone was making my skin crawl.
However, for y'all's sake, I did swing by the self-serve bar area, which was impressively stocked. They had a variety of wines, and the champagne on offer was Deutz, a very respectable bottle of bubbly that retails for about $40 in the United States. Had I been in a position to drink, I would have happily tasted it for the sake of Ben's blog.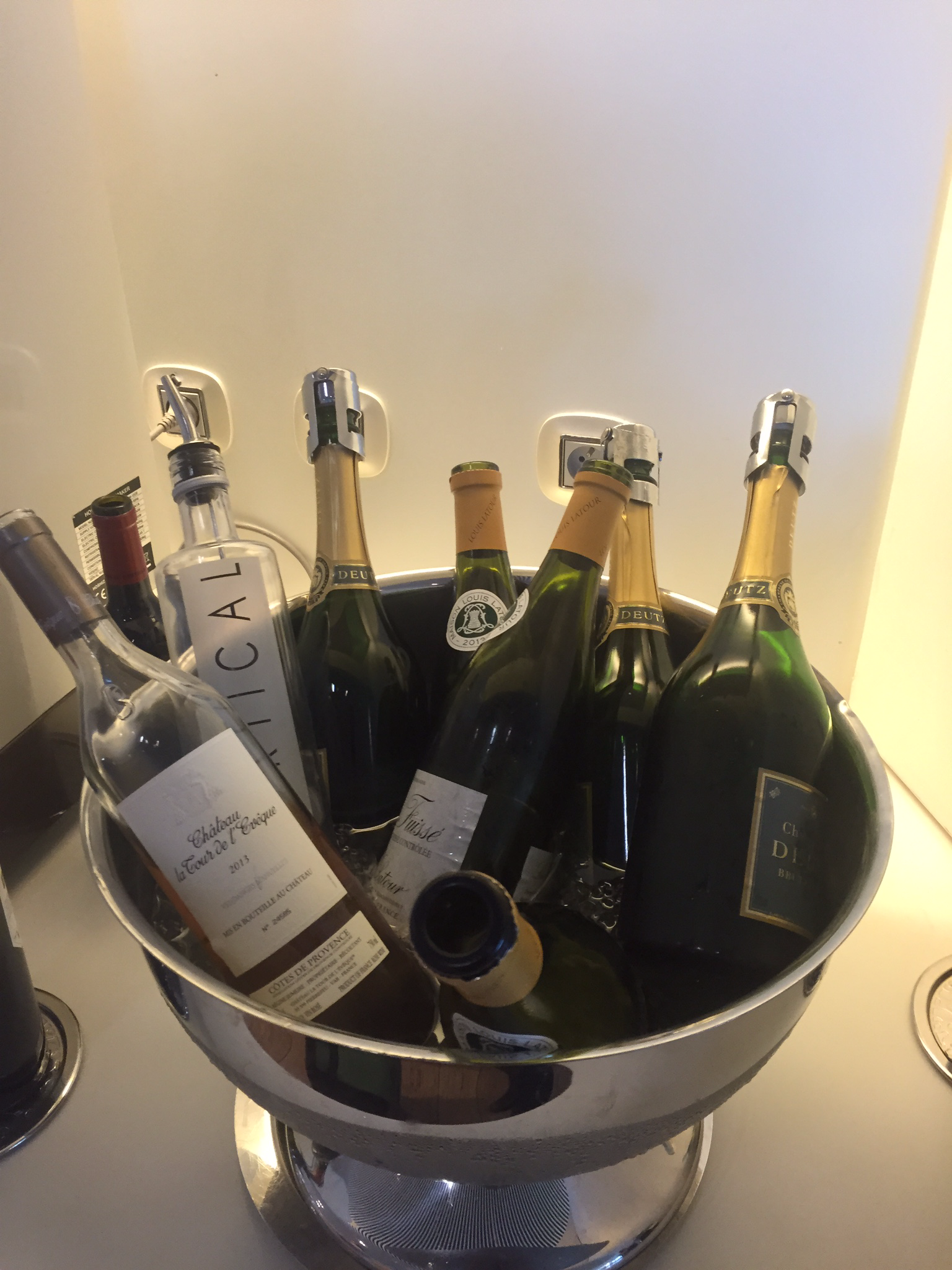 In any event, I headed back to the check-in desk to ask if they had any antacids or pain relievers available, or if there was a pharmacy in the retail area of the M gates, and was told no, but that all of those medicines would be available onboard. It was just about time to board, anyway, so I headed toward my gate to settle myself in my seat with an Alka-Seltzer as soon as possible.
Air France Business Class Lounge Bottom Line
Again, since I was feeling quite sick hungover, I didn't get to use or experience as much of the lounge as I'd wanted to. However, physically, the lounge in the M gates is an enormous space, with a very new, modern and "refreshed" feeling. Air France has tried to make the space feel airy and bright with the addition of greenery walls and artificial "landscaping," and the lounge does feel quite relaxing.
I was disappointed that the hours for the Clarins spa were rather limited and that it was closed during my visit, and I'm not sure I understand Air France's thinking behind that, especially since it was within ordinary business hours.
Though I didn't pay special attention to the food spread for the sake of suppressing my nausea, it looked serviceable, but my no means impressive and certainly rather spare for a Sunday afternoon. The alcohol and beverage selection, however, was on point. Air France really prides itself on taking a very "French" approach to wines, and in my experience they've always had a more-than-impressive spread of white, red, rose and champagne wines available for consumption.
The M Gates have quite a bit of luxury shopping and food and wine outlets, however, and the airy and swanky feel of the departures hall itself is worth exploring a bit. In some cases a business class lounge can feel like a retreat from a crowded, unpleasant terminal, but this isn't the case here.
It's certainly worth popping in for a bite to eat, a glass of champagne and a spa treatment (if you can get one), but don't feel obligated to spend all your connection time here. You may find yourself bored.
If you're not flying in a premium cabin, thankfully there are a number of other lounges available to passengers in Paris, thanks to a credit card with lounge access.