---
After seven flights back and forth between Brazil and the US, I was rather excited for the final journey back home, flying Sao Paulo to New York to Los Angeles. And I was happy that it was on American, since all I wanted to do was sleep, and they have the superior hard product (reverse herringbone vs. the staggered seat on Delta).
After a quick visit to the Admirals Club we headed down to gate 22, where our flight began boarding at 10:20PM.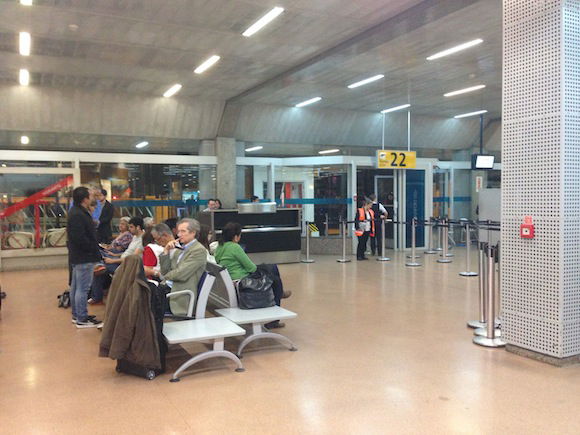 Departure gate
American 950
Sao Paulo (GRU) – New York (JFK)
Sunday, December 1
Depart: 11:05PM
Arrive: 6:05AM (+1 day)
Duration: 10hr
Aircraft: Boeing 777-300ER
Seat: 4A (Business Class)
My upgrade for this flight cleared way in advance, so I had my choice of seats. I chose seat 4A, which is in the mini cabin located in front of door 2L. I prefer the mini-cabin for how private it is, and especially since most passengers board through door 2L, so it's very quiet during boarding.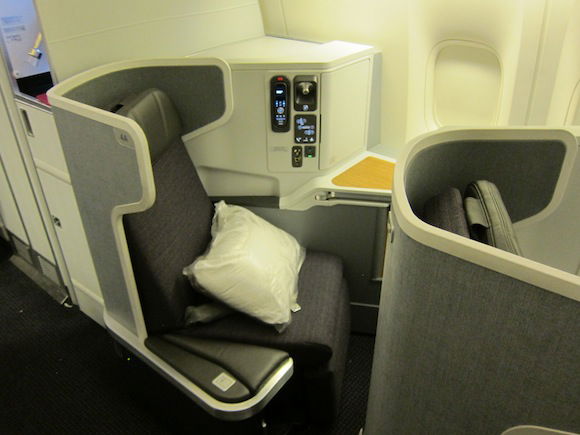 American 777-300ER business class, seat 4A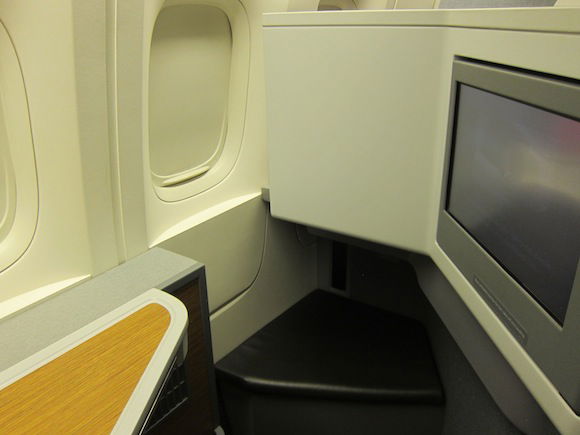 American 777-300ER business class, seat 4A
Waiting in the storage compartment next to the seat was an amenity kit, headphones, and a bottle of water.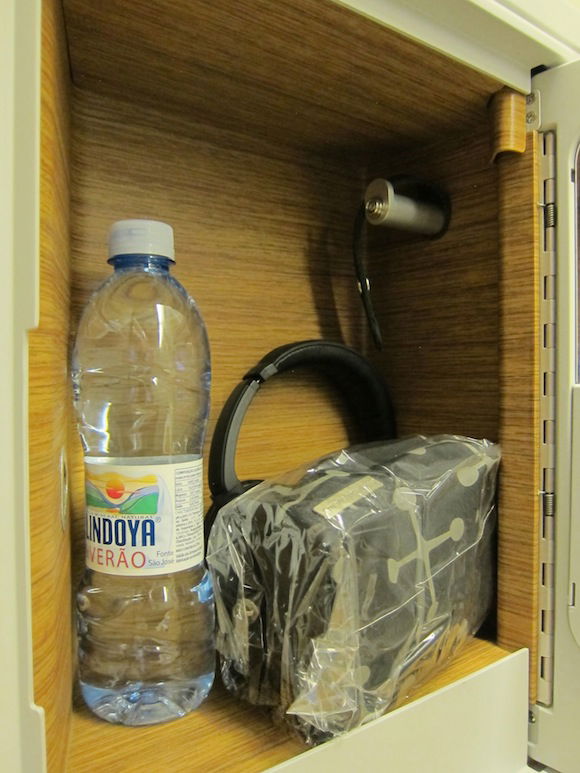 American 777-300ER business class, seat 4A storage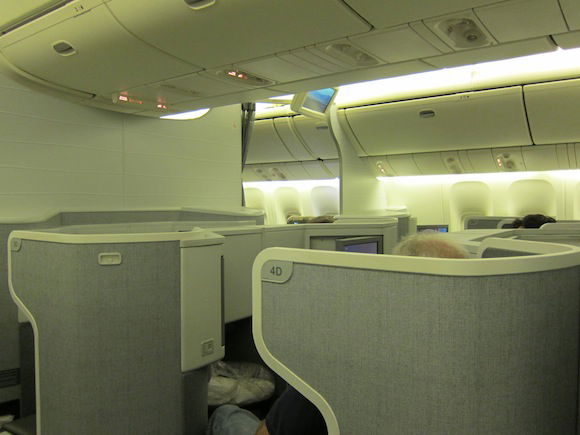 American 777-300ER business class mini-cabin
It was only a few minutes after I stepped on the plane that I could tell it would be a great flight. I'm generally pretty critical of American's JFK based flight attendants that work international flights (I find the more junior JFK based flight attendants working domestic flights to be friendlier), but the flight attendant working my aisle was amazing. Her name was Paschal, and she was from the Netherlands, grew up in in Tennessee, and now lives in New York.
I don't mind when JFK based flight attendants have a bit of attitude, as it's almost "cultural." And Paschal sure had attitude, but in a good way. I don't think I've ever heard as many one liners coming from a flight attendant before the door even closed as I did from Paschal.
Anyway, as boarding finished up menus were distributed for the flight.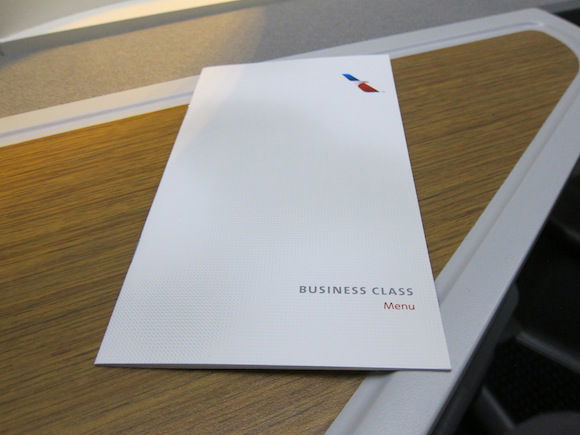 American 777-300ER business class menu
Shortly before pushback the captain came on the PA to advise us of our flight time of 9hr23min, which would put us into New York early.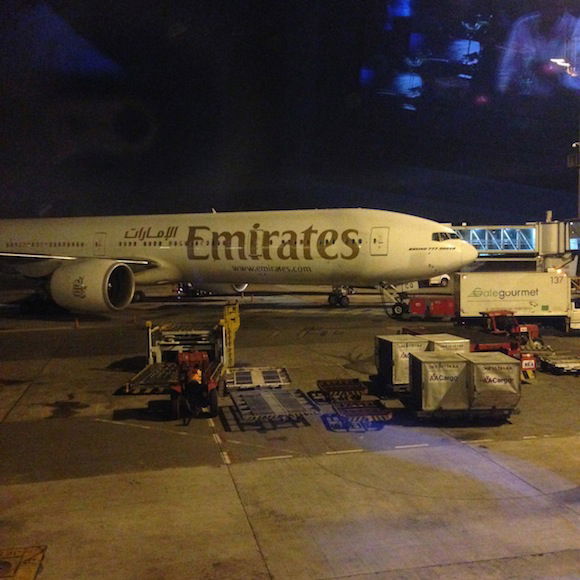 Emirates 777-300ER
We began our pushback on schedule, and I browsed the entertainment selection. I decided to watch the One Direction movie, because, well, why not?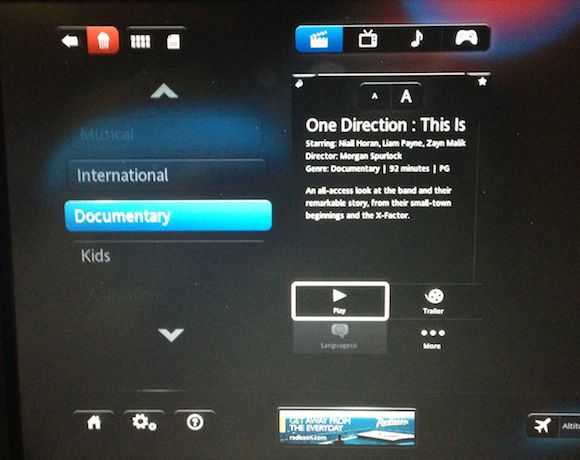 American 777-300ER entertainment
We taxied out to runway 9L, and were airborne by around 11:15PM. The climb out was smooth, and about 30 minutes after takeoff the dinner service began. The menu read as follows: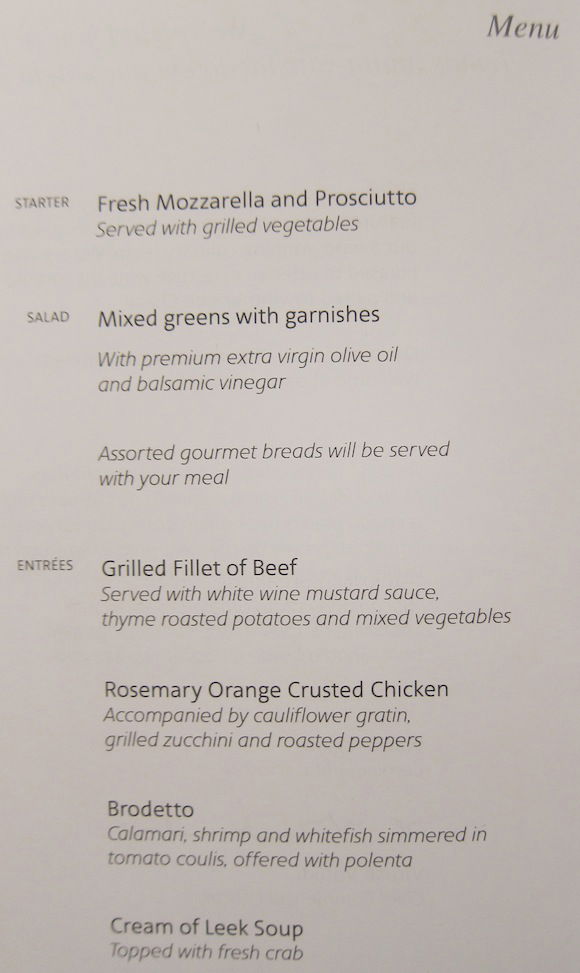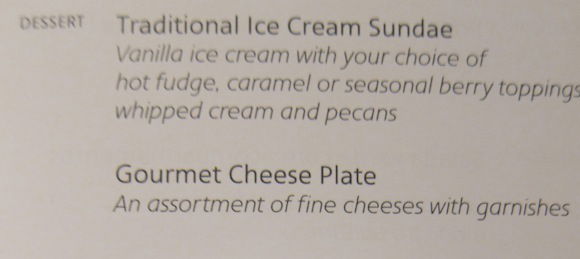 And the wine list read as follows: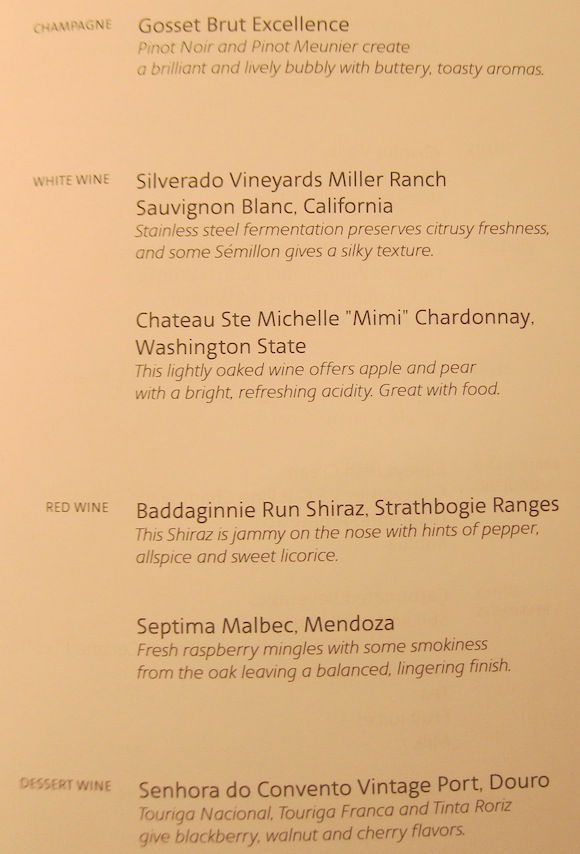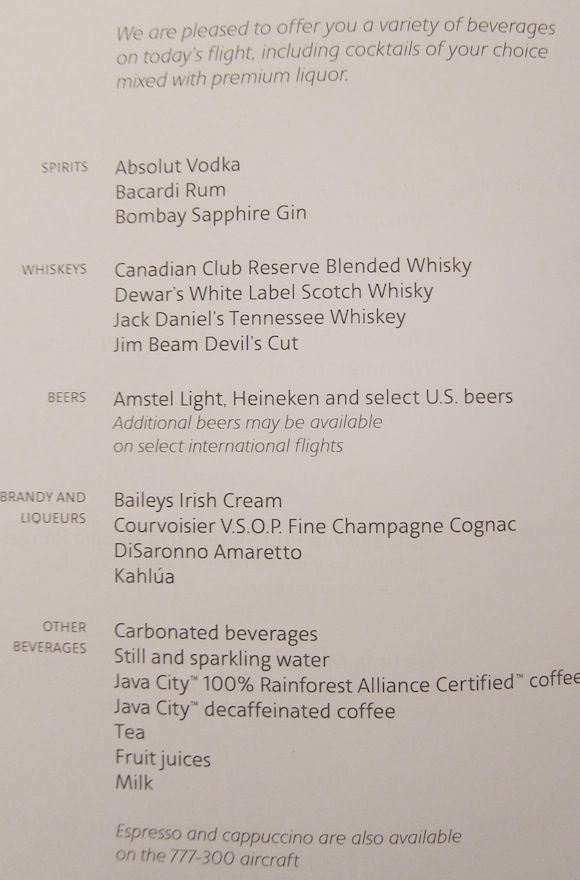 Service began with drinks and hot nuts. After six flights on Delta with only packaged almonds pre-departure, I was quite excited about American's hot nuts.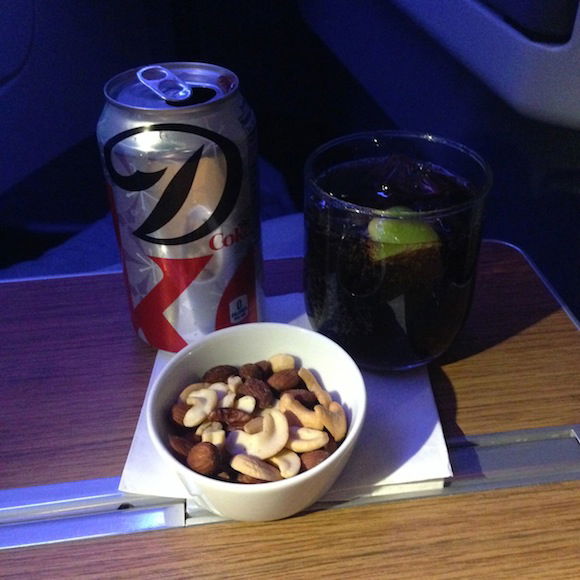 Hot nuts and Diet Coke with lime
Next the starter and salad were served on one tray. The appetizer consisted of mozzarella and prosciutto.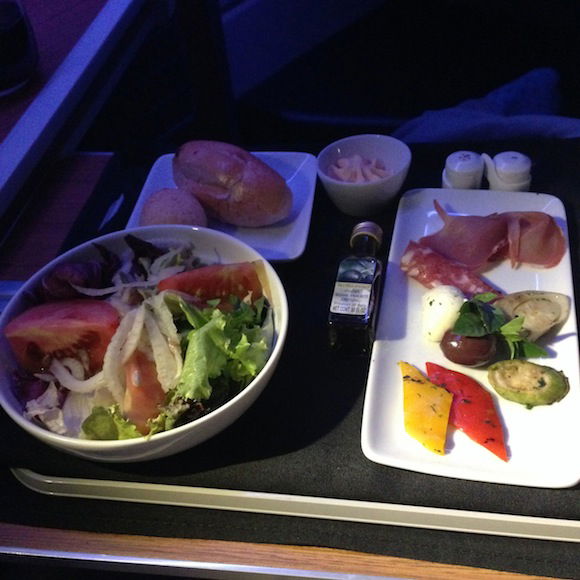 Dinner service — fresh mozzarella and prosciutto appetizer and mixed green salad
For the main course I ordered the fillet of beef. While the beef out of Sao Paulo on Delta was amazing, sadly the same wasn't true for American's.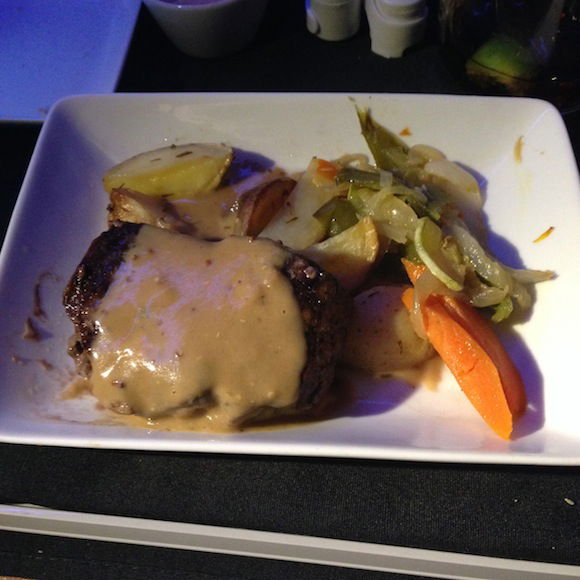 Dinner service — grilled fillet of beef main course
Then for dessert I had an ice cream sundae (and a moment with Harry Styles, clearly).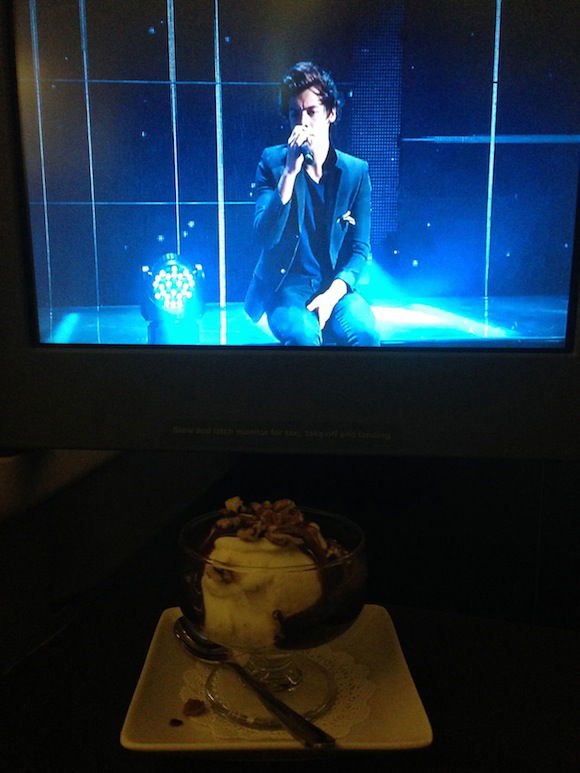 Dinner service — ice cream sundae and Harry Styles
One of the (theoretically) exciting aspects of American's new 777-300ER is that it has an onboard cappuccino machine. I'm a cappuccinoholic, and the business class menu even lists that "espresso and cappuccino are also available on the 777-300 aircraft." However, in my experience that's really only intended for first class and not business class.
Fortunately Paschal was awesome, and she was kind enough to serve me all the cappuccino my heart desired. And I have to say the presentation was pretty snazzy as well!

Dinner service — cappuccino
I spent a couple of hours after dinner browsing the web, thanks to the fact that the 777-300ERs have Wi-Fi. The speed was pretty good as well, since I assume most people on the flight were sleeping. Eventually I managed to nap for a couple of hours, and then about 90 minutes out of New York the breakfast service began. The menu read as follows: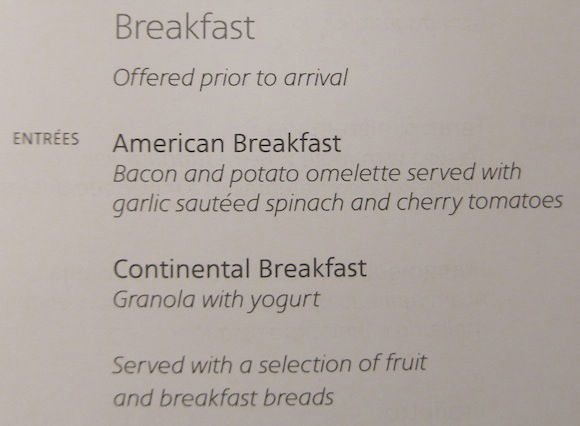 I selected the continental option, which consisted of fruit, granola, yogurt, and a croissant.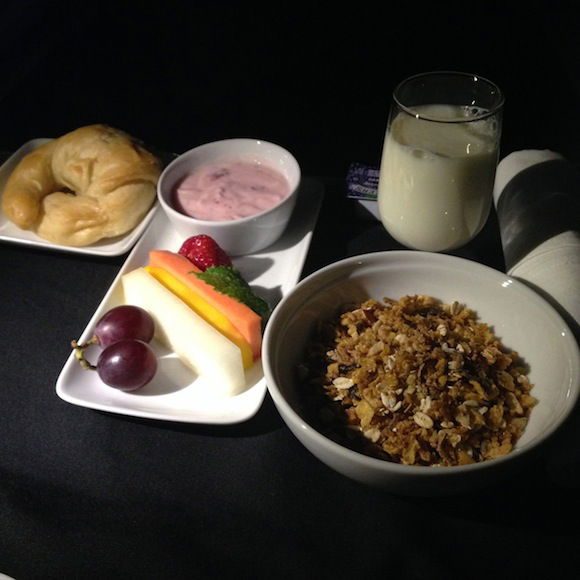 Continental breakfast
We began a gradual descent around 45 minutes out, and touched down in New York about 15 minutes ahead of schedule. Our taxi to the gate was quick, and thanks to Global Entry and Pre-Check we were in the American Flagship Lounge waiting for our connecting flight to Los Angeles within 20 minutes.
This was a really pleasant on the whole. I love American's new reverse herringbone hard product and the fact that they have Wi-Fi on international flights, which to me are two of the most important features for business class nowadays. While the food wasn't especially good, the great service from Paschal more than made up for any shortcomings in that regard.
As I always say, it's really tough to beat the value of booking economy on one of American's 777-300ERs and upgrading to business class with one of the eight systemwide upgrades that I receive as an Executive Platinum member annually.