We flew from Los Angeles to New York on the 12PM flight, and had a roughly two hour layover before our flight to Sao Paulo. While the business class cabin on the New York to Sao Paulo flight was wide open when we booked back in August, unfortunately, the upgrade didn't clear in advance, and the day before departure business class was even completely sold out. So I was mentally preparing myself for my first longhaul flight in coach in nearly a decade.
Fortunately day of there were some cancellations, so we both cleared into business class at JFK. We spent our short layover at the American Flagship Lounge in New York, which we could use on account of our Executive Platinum status and same day international travel.
We headed to the gate at around 9:30PM, in anticipation of our 9:40PM boarding time.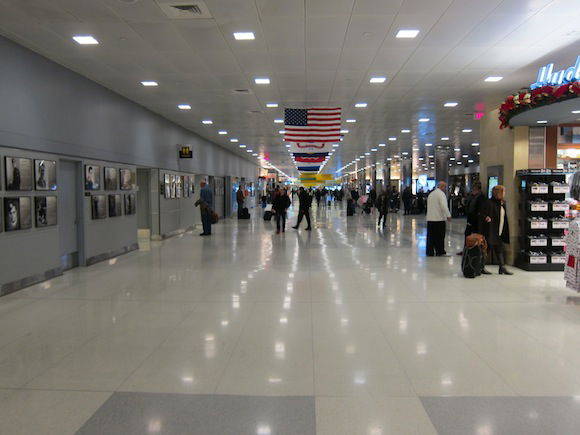 JFK Terminal 8
Our flight was leaving from gate four, and boarding began as we arrived.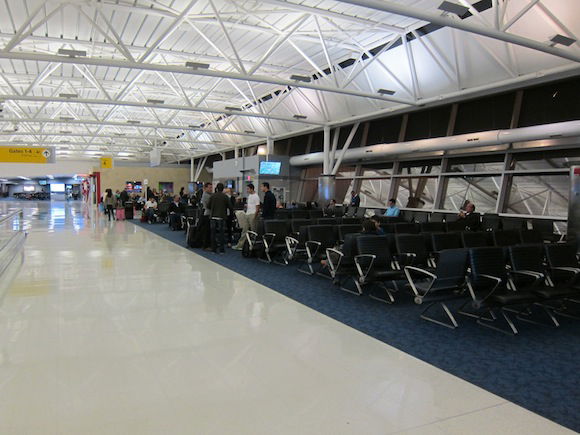 JFK Terminal 8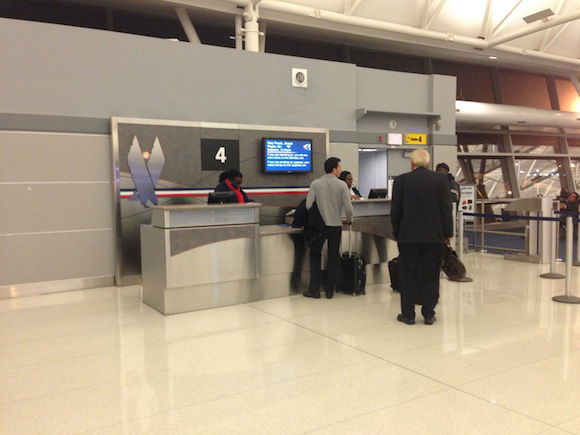 JFK Gate 4 departure
American 951
New York (JFK) – Sao Paulo (GRU)
Thursday, November 21
Depart: 10:20PM
Arrive: 10:55AM (+1 day)
Duration: 9hr35min
Aircraft: Boeing 777-300ER
Seat: 9G (Business Class)
Since my upgrade cleared last minute I was assigned seat 9G, a seat in the "center" section of the cabin. American's business class on the 777-300ER is in a reverse herringbone configuration, with only four seats per row. I flew American's new 777-300ER business class from New York to London last March and wrote a thorough review, so if you'd like more cabin pictures I'd recommend checking out that trip report.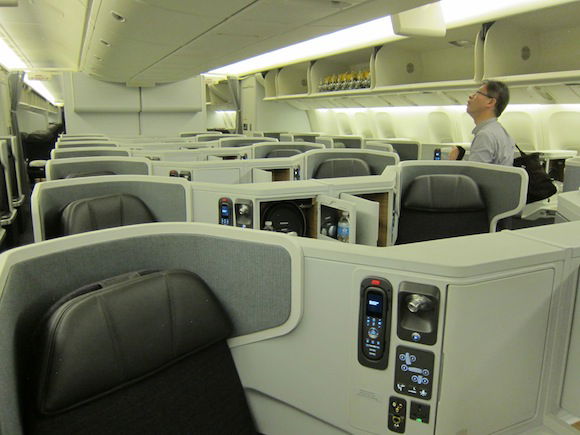 American 777-300ER business class
Anyway, even though I technically had a seat in the center section, it's still extremely private. It's so private that you can't really easily converse with your seatmate, given the privacy shields between seats.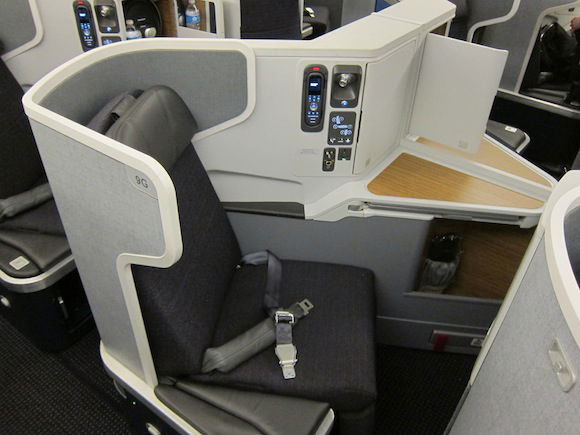 American 777-300ER business class, seat 9G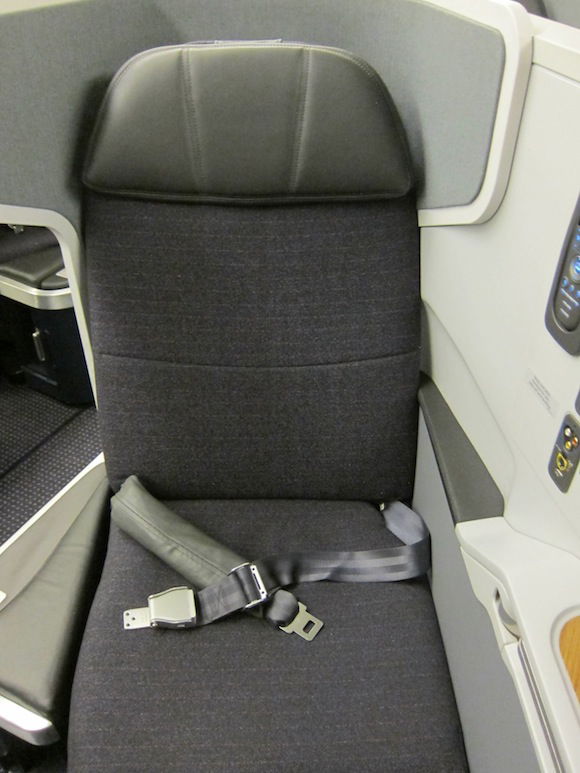 American 777-300ER business class, seat 9G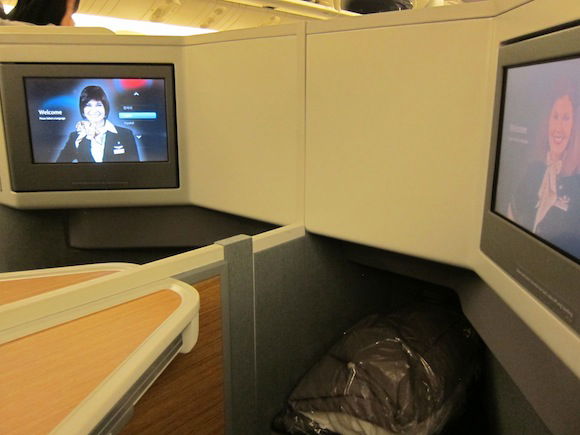 American 777-300ER business class, seat 9G
Below the seat on the left is a large storage compartment, where a pair of slippers were stored in the pouch.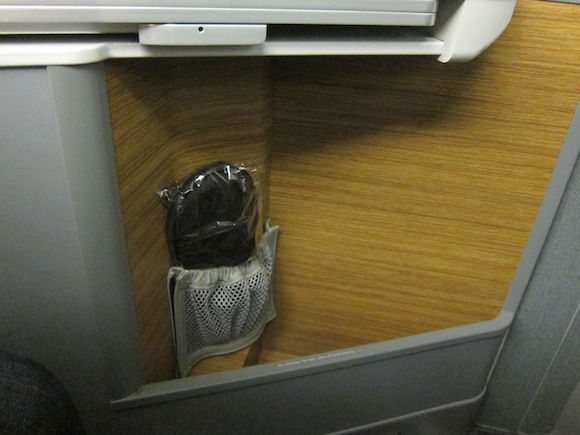 American 777-300ER business class, seat 9G storage
To the left of the seat are the entertainment controls, seat controls, reading light, and power port, all of which are intuitive.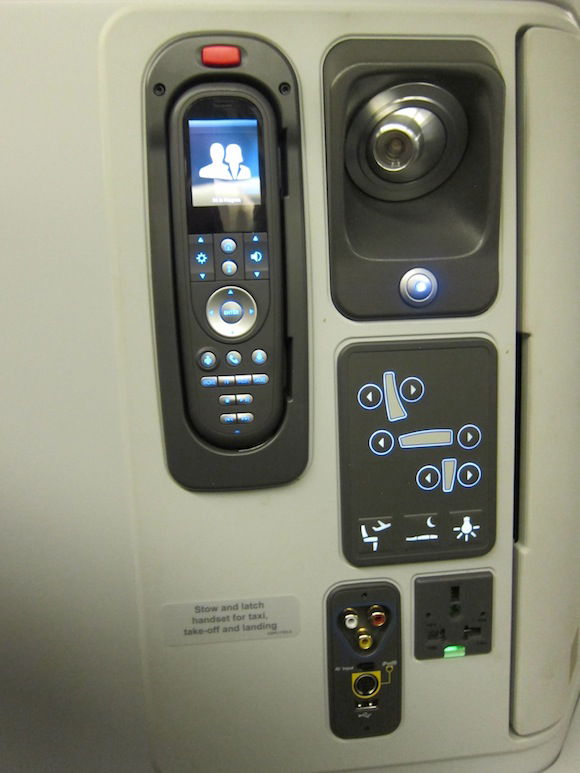 American 777-300ER business class, seat controls, entertainment controls, and power
Next to that is a compartment, where I found a pair of Bose headphones, a bottle of water, and the amenity kit. I've always appreciated that American offers Bose headphones in business class, as they're one of the few airlines to offer them.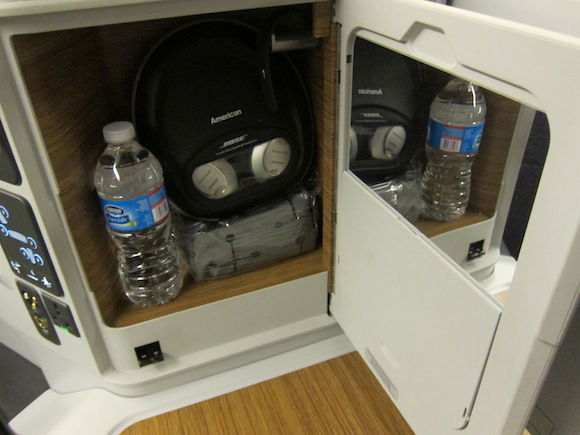 American 777-300ER business class, storage compartment
American's business class amenity kits are basic, though have all the necessities. I also love that they also offer slippers, which most airlines don't.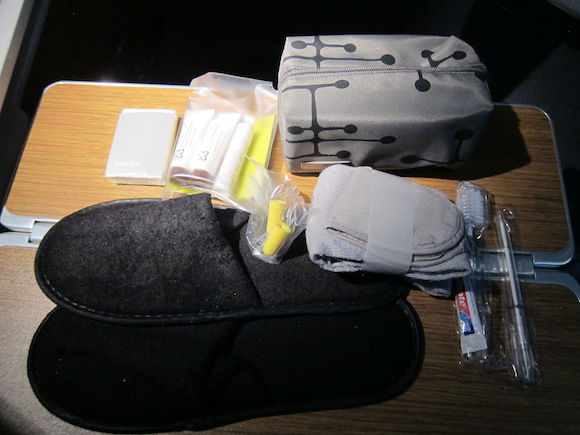 American 777-300ER business class amenity kit and slippers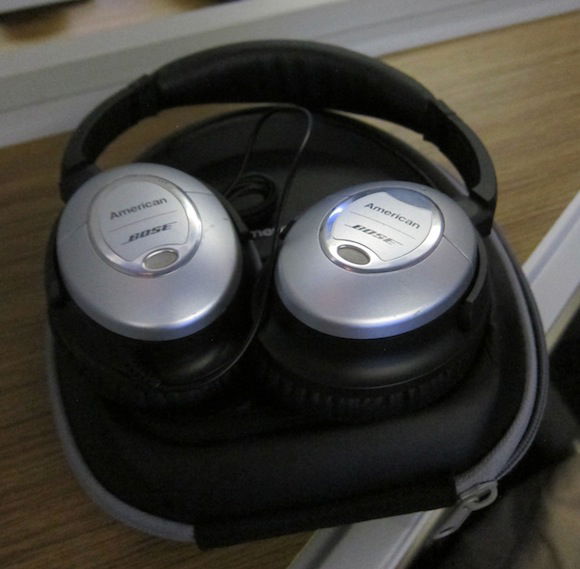 American 777-300ER business class noise canceling headphones
Also waiting at my seat was a pillow and blanket.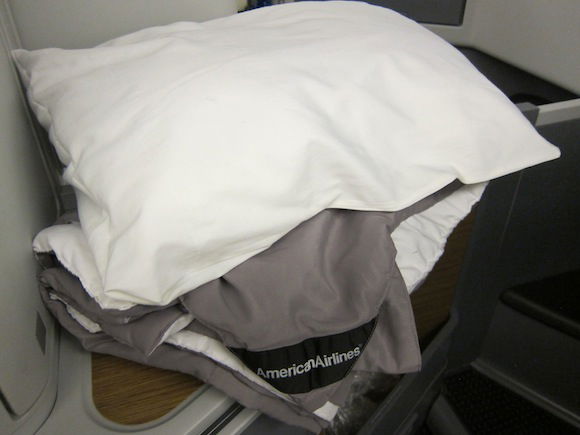 American 777-300ER business class pillow and blanket
The cabin filled up pretty quickly, and about halfway through boarding the cabin completely lost power and was dark for a few minutes. Within a few minutes the power was back on, at which point the captain came on the PA to apologize. He also informed us that our flight time would be 9hr6min, and that he anticipated we'd arrive in Sao Paulo on schedule.
Shortly thereafter pre-departure beverages were offered, which were quickly followed by the menus for the flight.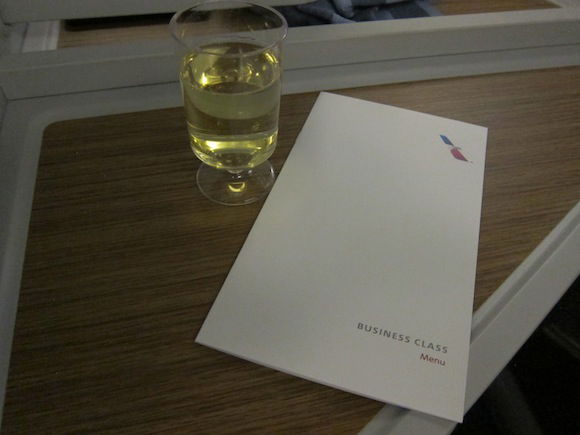 American 777-300ER business class pre-departure beverage and menu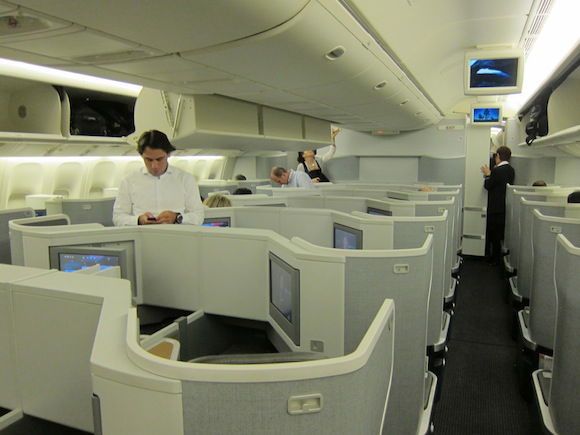 American 777-300ER business class cabin
At around 10:30PM we began our pushback, and shortly thereafter the safety video began to play.
The taxi was fairly quick by JFK standards, and at 10:50PM we were airborne. I browsed the entertainment selection during our taxi out. It was extensive, though I had some shows on my iPad that I watched instead.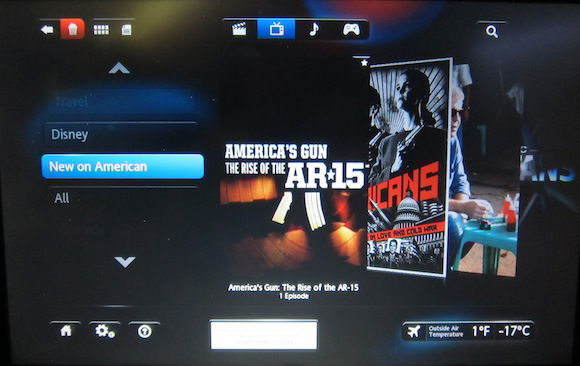 American 777-300ER business class entertainment selection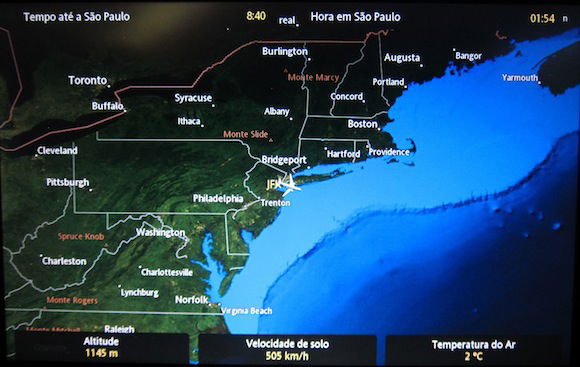 American 777-300ER business class airshow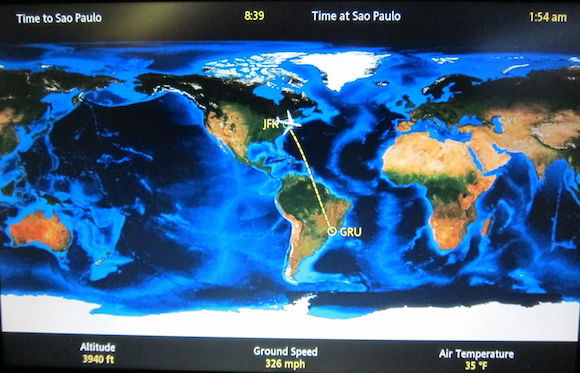 American 777-300ER business class airshow
The seatbelt sign was turned off about 30 minutes into the flight, and at that point the flight attendants slowly began preparing for the meal service. At least I assume that's what they were doing, though I didn't see them for the first 75 minutes of the flight. At that point they came around to begin the meal service.
The dinner menu read as follows: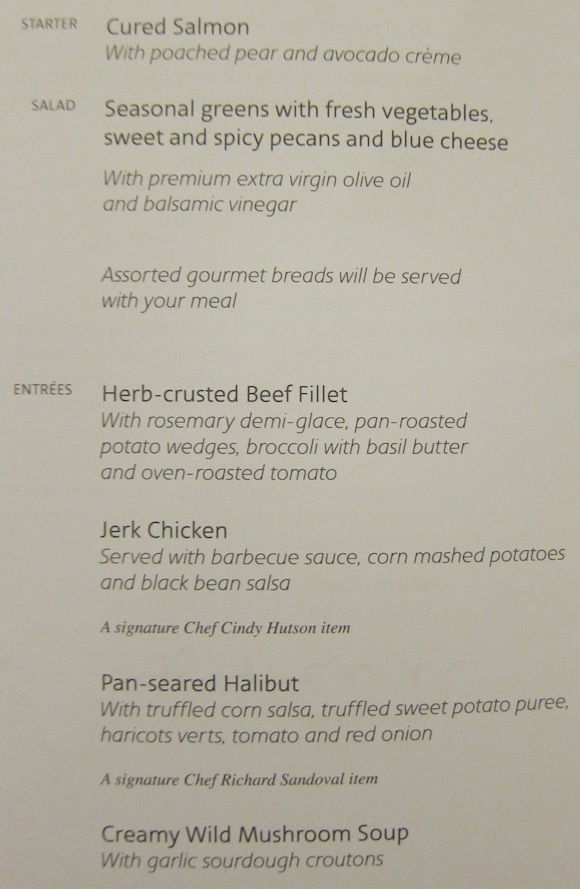 And the wine list read as follows: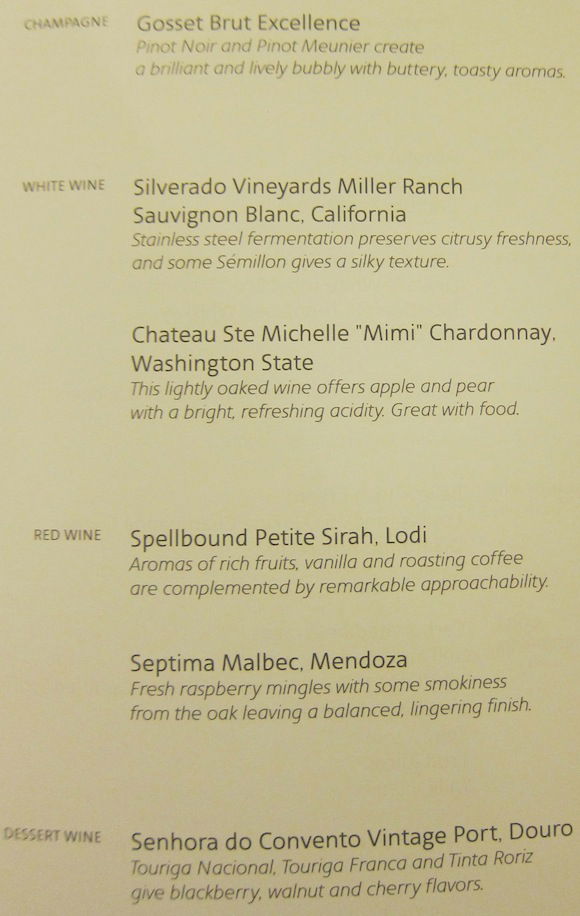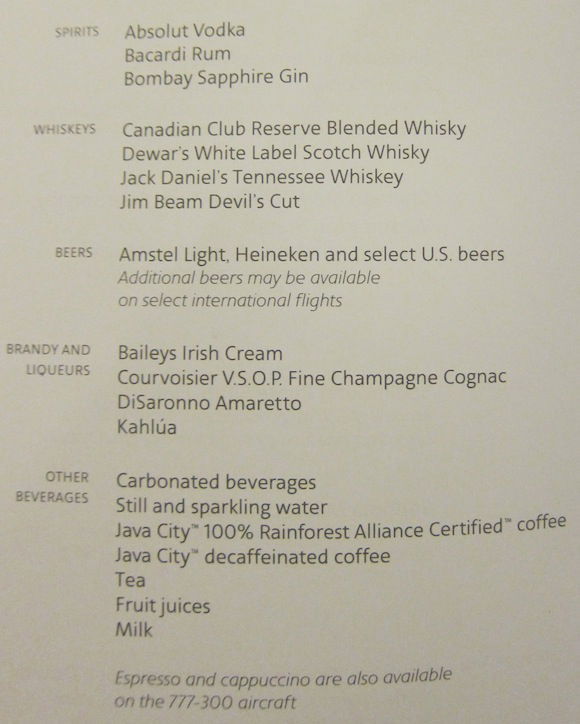 Service began with drinks and hot nuts. I ordered a Diet Coke with lime.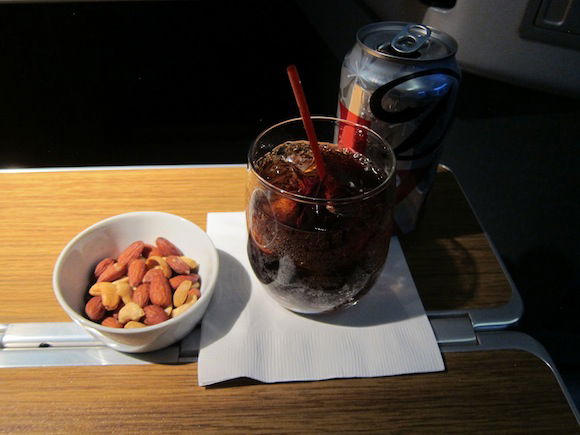 Hot nuts and Diet Coke with lime
Just under two hours into the flight I was served dinner, which was all on a single tray. It consisted of a cured salmon appetizer, salad with pecans and bleu cheese, and pan-seared halibut. The salmon and salad were good, though the halibut was room temperature by the time it was served. The halibut seemed like it would have tasted good if it were served properly, though it was totally dried out, so I just had a bite and sent it back.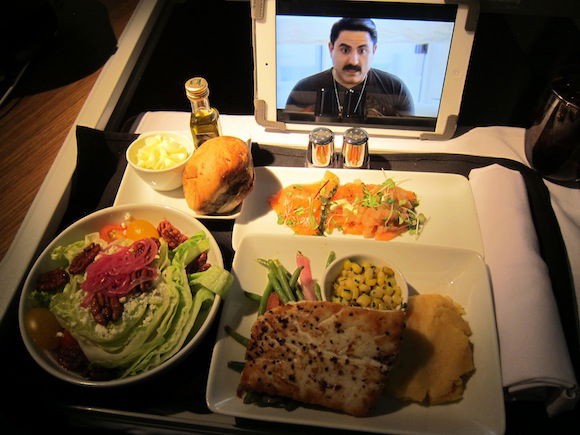 Dinner service — appetizer, salad, and main course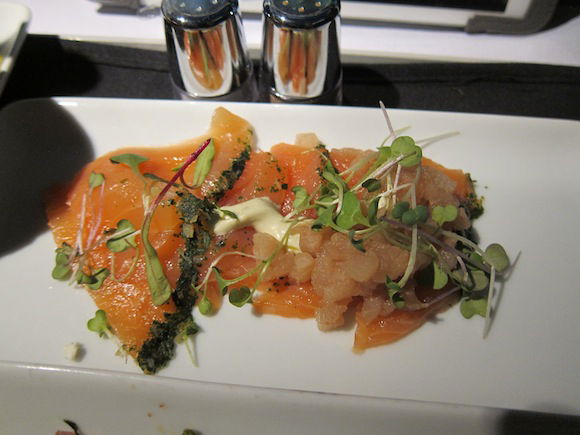 Cured salmon appetizer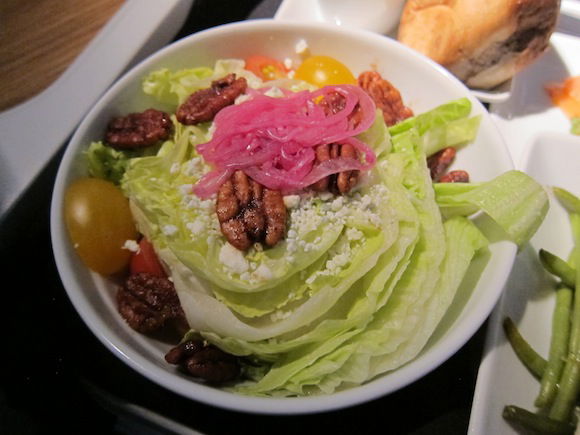 Seasonal greens with fresh vegetables, sweet and spicy pecans, and bleu cheese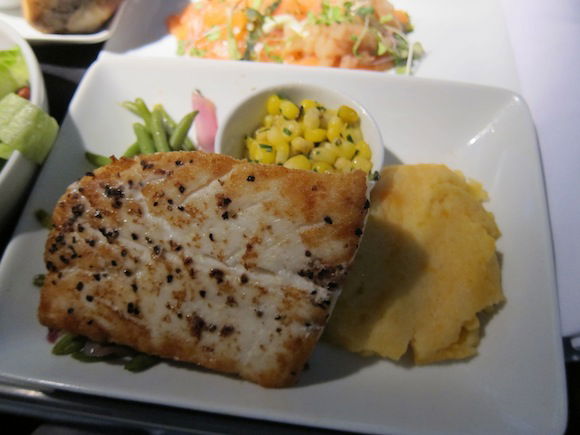 Pan-seared halibut with truffled corn salsa, and truffled sweet potato puree
Meanwhile my friend had the beef, which he enjoyed.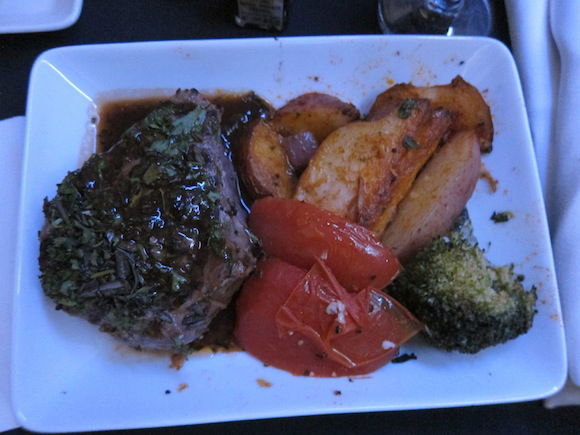 Herb-crusted beef fillet
For dessert I had an ice cream sundae with hot fudge and nuts.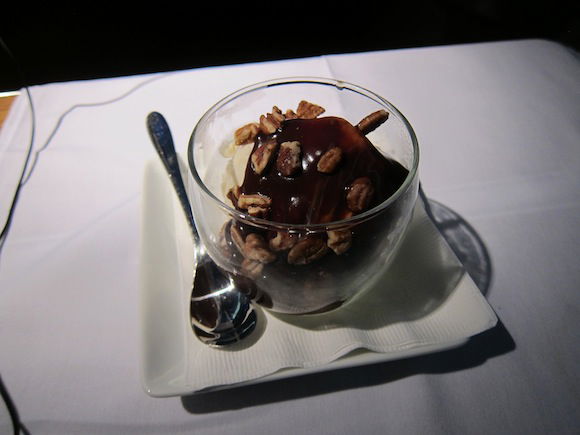 Ice cream sundae
So, about the service…
The crew wasn't actively rude. But they were quite possibly the most indifferent crew I've ever had. They didn't do anything wrong, they just didn't do anything right. I don't think I ever got a smile, a "you're welcome" in response to my "thank yous," and don't think they once came through the cabin between meals. On one hand I can appreciate the entire meal being served on one tray, though ideally on a nine hour redeye it would be served less than two hours into the flight. I'm also not sure the crew once spoke to me in a full sentence, but rather always in fragments ("something to drink?" etc.). That being said I generally haven't had good experience with American's JFK based crews, and find the ones based in Los Angeles, Chicago, and Dallas to be much better.
I couldn't help but laugh at the notice I saw in the galley about how to treat premium passengers. I guess this crew missed the memo. 😉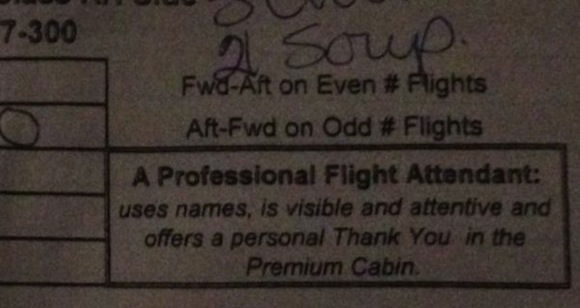 American 777-300ER business class meal sheet
After the meal service the snack bar was set up in the galley. It's an outrageously nice spread, though somewhat unnecessary on a nine hour flight. It's nice to see American investing some money in their premium cabins outside of the hard product, though.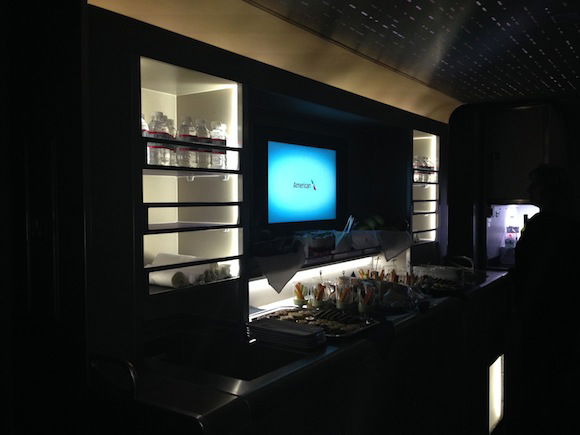 American 777-300ER business class snack bar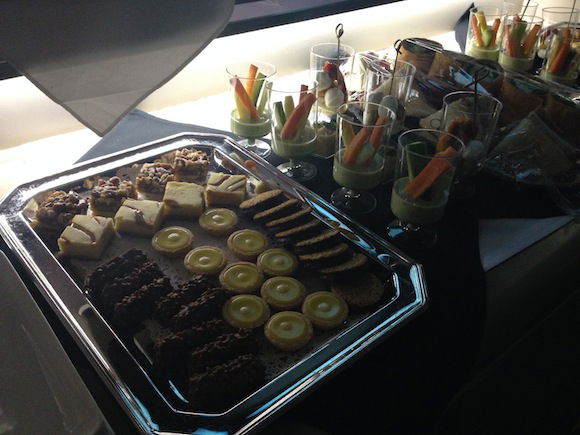 American 777-300ER business class snack bar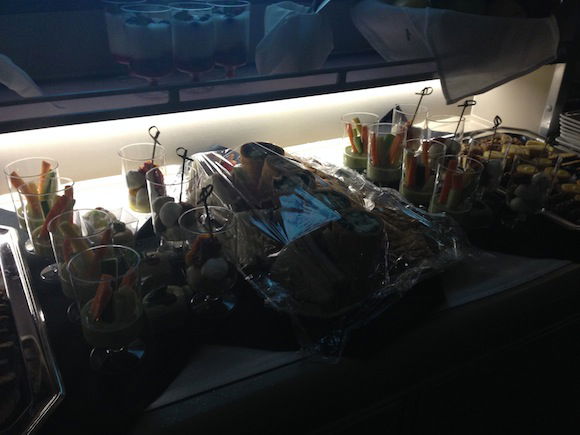 American 777-300ER business class snack bar
Anyway, after dinner there were about six hours left to Sao Paulo, so I reclined the seat into the fully flat position and fell asleep within minutes. I woke up about 75 minutes out of Sao Paulo.
Reverse herringbone seats are simply the best business class seats out there, and as good as many first class seats in my opnion. They're so spacious and comfortable that it's one of the few products I can fall asleep in even when not tired. At the end of the day business class is all about the hard product, in my opinion, and this one is tough to beat.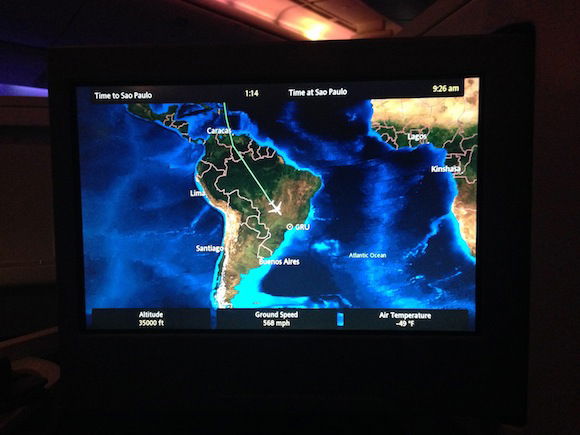 American 777-300ER business class airshow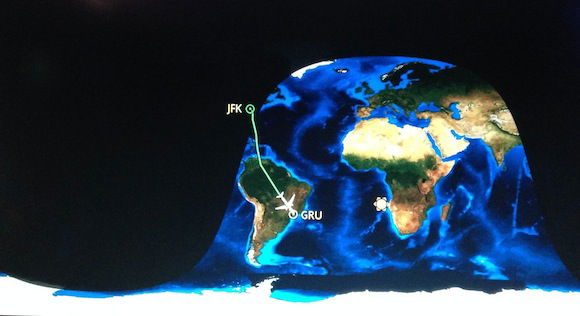 American 777-300ER business class airshow
I woke up to the cabin lights being turned on for the breakfast service. The menu read as follows: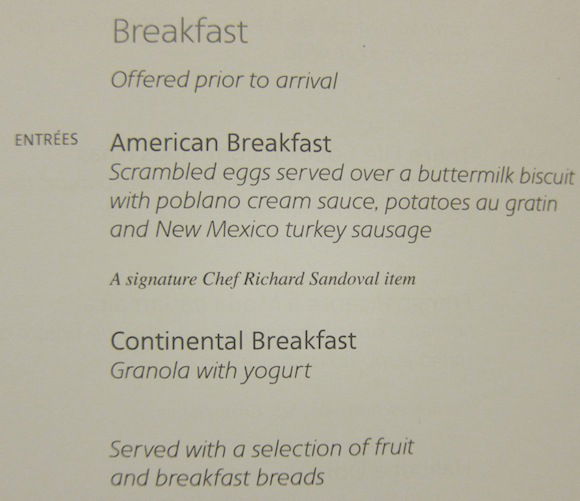 For breakfast I selected the egg dish, which was one of the best I've had on American.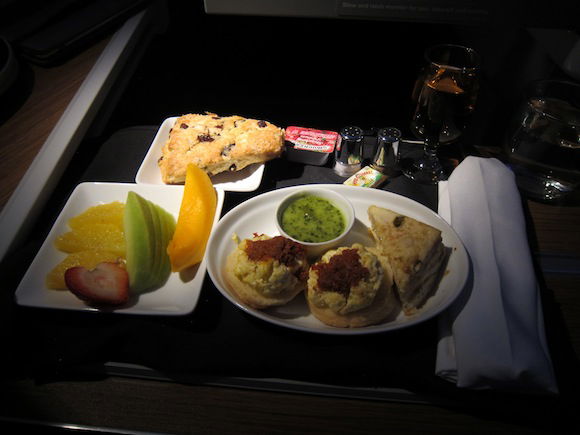 American breakfast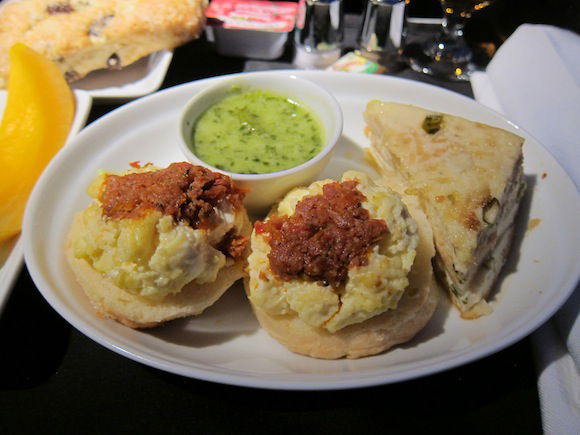 American breakfast
About 30 minutes out the captain came on the PA to inform us we were initiating our descent shortly, and at 10:40AM we had an extremely firm touchdown in Sao Paulo. I was kind of sad I wasn't seated at the window since I always love getting an aerial view of a new city, though ultimately I had seven more flights to/from Sao Paulo with window views.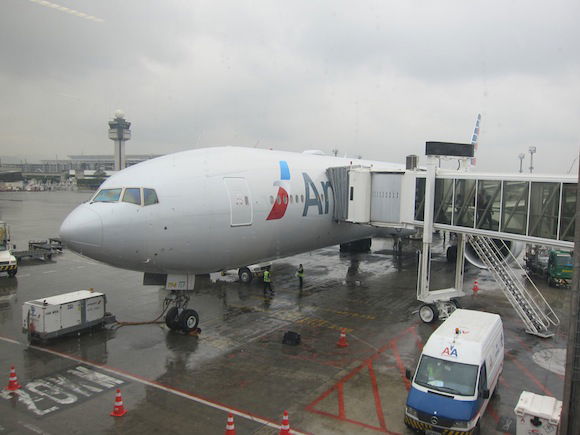 American 777-300ER upon landing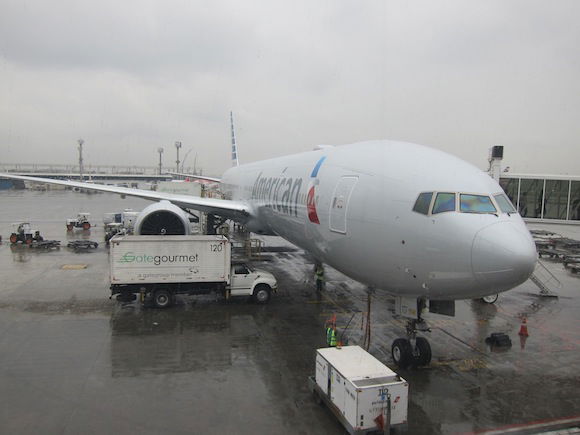 American 777-300ER upon landing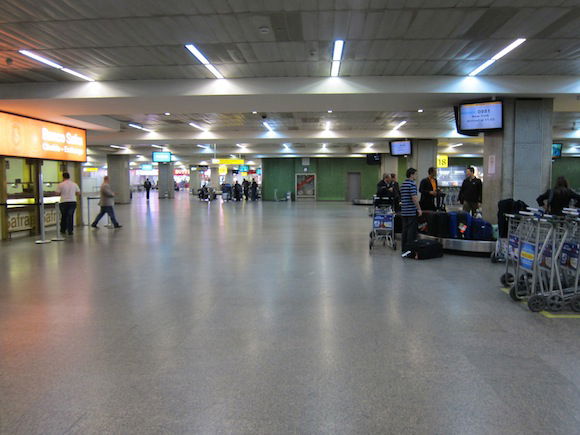 Sao Paulo Airport arrivals hall
Upon landing we quickly headed for immigration, where there was only a very short queue. We were through in a matter of minutes, at which point we jumped in a cab to the Grand Hyatt Sao Paulo.
While the service on this flight left a lot to be desired, it's impossible to beat American's hard product on the 777-300ER, and also the value of booking a discounted coach fare and upgrading to business class with one of the eight systemwide upgrades I get each year for earning Executive Platinum status. I can't wait till a majority of American's longhaul fleet features the new product.